Opus 279 (June 29, 2011). Down the Ol' Rabbit Hole this time for some FAT FELINE FESTIVITIES, beginning with the obligatory group photo.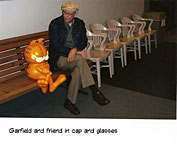 Garfield is the only comic strip character who celebrates his birthday regularly, every year—year in, year out—and the older he gets, the longer the festivities transpire. The birthday is officially the anniversary of the date the strip began, June 19, and in recent years, that date is preceded by a week of anticipatory strips in which Garfield contemplates, usually with mild spasms of alarm, his advancing age. This year, as you can readily tell from the adjacent visual aid, Garfield's birthday fell on Sunday, which permitted creator Jim Davis space enough to develop a gag the comedy of which is enhanced by a couple panels of pure timing.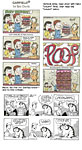 Below the Sunday's merry commemoration, I've posted the first two daily strips from 1978; even then, Davis was celebrating his cat's birth—albeit the day after the actual birthday.
This year's anniversary is not one of the Big Anniversaries—one of those that is divisible by ten, say—but 33, by being a double-ditto, is repetitive enough to qualify as a "round figure," sufficient cause, I say, for fanfare and a flourish of trumpets, the latter in the form of the illustrative material that concludes our party.
I visited PAWS, the Garfield headquarters in the middle of Indiana, in 1998 on the eve of the strip's 20th anniversary, and we posted the results of that interview in Harv's Hindsight for June 2008. I encourage you to re-visit that posting by way of joining in the solemnities at hand. You'll be astonished—delighted, as I was—to know that all the people mentioned in that 1998 article are still on the job, doing the same work they were doing then. Kim Campbell, whom I phoned last week to check with, is still public relations director, as she has been, now, for nearly thirty years. Ditto Gary Barker, who is still penciling Garfield. Several years ago, Barker left Indiana, moving to Florida; but he continues blue-penciling the strip long-distance. The rest of the strip's collaborative production team—Eric Reaves on lettering and Lori Barker (no relation to Gary) on inks—are likewise still on board. And so is Brett Koth, who still joins Davis in gag-writing sessions although he doesn't come to PAWS as often anymore: instead, he and Davis collaborate via e-mail and the Web. And he now lives in Virginia, not Florida.
I say I'm delighted to learn they're all still there because we've become accustomed, as a society, to frequent turn-overs in staffing; so it's nice to know that the work at PAWS—and the employment atmosphere—is sufficiently rewarding and engaging to retain the staff.
Garfield, which is a highly visual strip on Sundays—the jokes almost always depend upon the pictures not just the words—continues to fluctuate between verbal jokes and visual ones, but the Sunday strip, as I said, is often a highly animated episode in which the pictures tell the tale—as we can see in the three examples at hand.
Good visual gags need the space that Sundays afford strips. But there may be another reason for such visual extravaganzas as these: Brett Koth has a history in animation, where gags are often extremely visual.
Koth was working in animation at Marvel Productions in Los Angeles early in 1986 when he heard that Davis was looking for someone to assist on the art for his new strip, U.S. Acres—someone with animation experience who could also help with storyboarding on future tv projects. Koth and a colleague, Bob Scott, were both hired and split the drawing duties on U.S. Acres for the rest of its regrettably short run, after which Scott went back to California and Koth stayed on to help generate comedy for Garfield.
Koth's animation background may account for some of the more exuberant visuals in the strip, but he also worked in Southern California amusement parks doing on-the-spot caricatures on demand for $2.25 each, so past experience isn't always a guide to present behavior. Besides, Koth's other enterprise these days is starkly static and markedly verbal. In March 2010, Koth's syndicated comic strip, Diamond Lil, about a tart-tongued old bat, was launched. This enterprise is almost entirely verbal: 75-year-old widow Lil puts her long life's experience to work every day, saying exactly what is on her mind. Words are her weapon; and they are the comedy.
| | |
| --- | --- |
| | |
Koth had been pitching comic strip ideas unsuccessfully to syndicates for years. Diamond Lil just fell out of his head one day. And she emerged fully formed, a whole personality at once. In his first attempt to put her into a strip, he drew her in a supermarket, where she purchased a cart-load of Lean Cuisine and a suitcase of Schlitz beer. "Once I had that," Koth said, "I was off and running."
His running includes the loosest loopiest line in syndication these days: Lil may not move much, but Koth's line is a joy to watch. You can find more about Koth and Lil at A Nickel's Worth, scottnickel.blogspot.com for January 20, 2010; Nickel is another of the PAWS entourage.
Davis is enthusiastic about Koth's new endeavor. "I've been his biggest cheerleader to get his own strip started," he told Kevin Kittredge at the Roanoke Times when the paper ran a story about the local (Lexington, Virginia) boy making good in the funnies. Like Koth, Davis spent a long time in "apprenticeship"—Davis with Tom Ryan's Tumbleweeds, a strip about the Old West that never lives up to Hollywood's expectations for it; so Davis is quite conscious of what it means to get your name on your own creation: "Having your own baby is just extra special," he said.
Davis sees Diamond Lil as a kindred character to the mother on tv's "Golden Girls"—Sophia Petrillo, played by Estelle Getty. Said Davis: "She can say anything she pleases. She has attitude." Diamond Lil is "pure Brett," he concluded. And Ann Telnaes, a longtime friend of Koth whose animated editorial cartoons appear at washingtonpost.com, agrees: "She's Brett in drag," she joked.
Davis, on the other hand, is not Garfield. He is Garfield's owner, Jon Arbuckle. "When I write for Jon," Davis explained, "all I have to do is conjure up my college dating days. I was the fraternity strikeout king! ... In a day of bell-bottoms, I still sported jeans with a six-inch peg. Accessorize that with a bright red Ban Lon shirt and matching Hush Puppies (avec red socks), and, well, you get a reputation."
If Garfield is a fount of humor that "points out people's foibles in a humorous way"—as Davis believes it is—then Jon Arbuckle, Garfield's hapless owner, is the strip's resident foible. Three or four years ago, another such foible—a real life one—Dan Walsh, realized that he and Jon Arbuckle were very much alike. Walsh came home from work in Dublin, Ireland, and sat around his apartment "watching bad movies, drinking lots of coffee, making catastrophic attempts at calling girls for dates, and playing my guitar when no one wanted to listen." His life, he said, was like Jon Arbuckle's—"lonely, disheartened, crazy, and disillusioned."
With this realization came another: if Garfield weren't in the strip, then Jon and Walsh would be "kindred spirits." Playing around with the notion, Walsh started photocopying Garfield strips without Garfield. He just deleted the cat, leaving Jon to blather on in his clueless way. Walsh recognized at once that he "wasn't just looking and laughing at Jon's existential angst": he was also laughing at himself and his family and friends.
"Some of the results made me think, some made me sad, some made me titter, and some made me laugh until tears streamed down my face. It was so totally and utterly and perfectly hilariously depressing!"
Fascinated, Walsh started posting the doctored strips on the Web at garfieldminusgarfield.net. Before long, he realized to his utter astonishment that thousands of other idlers had found the site and visited it in leapfrogging numbers, heaping them up to record highs. Then Davis found the site. He wrote Walsh, saying GarfieldMinusGarfield was "an inspired thing to do" and thanking Walsh for enabling him to see another side of the cat.
Just about then, Garfield Minus Garfield graduated into print. Walsh wrote an Introduction from which I've been quoting; and Davis contributed a "note" and more. "I was immediately struck by the simplicity and the honesty of Walsh's concept," Davis wrote. "Essentially, Garfield does the color commentary on Jon's hapless existence. Strip away Garfield's superfluous comments, and you're left with the stark reality of Jon's bleak circumstances: without Garfield, it's more comforting in a left-handed sort of way. More often than not when we laugh at a gag, it isn't because it's funny: it's because we're thinking, 'Isn't that true.' After reading Garfield Minus Garfield, we realize that we aren't the only insecure people on the planet. And loneliness? Who could be lonelier than Jon Arbuckle? How comforting. I guess loneliness loves company."
Finding Walsh's "variation on Garfield" a lot of fun, Davis contributed some of his own manufacture to the volume, and we've posted a few here; see if you can tell which are Walsh's and which are Davis's. Before we get to that effusion, we've posted other visual insights into the Garfield mystique by way of celebrating the Orange Cat's 33rd anniversary. And you can prolong the festivities by re-visiting Harv's Hindsight for June 2008, where we reprise that encyclopedic article that appeared on the occasion of the cat's 20th anniversary.
To find out about Harv's books, click here.