Opus 276 (May 5, 2001). The Year of the Rabbit continues to wend its wayward way through April and into the month of May, and all of us at Rancid Raves Intergalactic Wurlitzer wend right along with it, offering this time another monster-size installment of Rants & Raves.
Our headline stories this time: the Village Voice makes a spectacular goof while assessing the cartooning profession as a grossly underfunded career, we announce the winners of the Pulitzer and the Herblock prizes in editorial cartooning and critique the alleged criteria (without at all questioning the validity of the choices), and we try to answer the question: Why didn't we know Bill Blackbeard died until six weeks later? In addition, we publish a long-lost Dr. Seuss story, report the closing of the U.S. office of Tokyopop, post a few editoon reactions to the assassination of Osama bin Laden, and review the Ziggy scandal: he doesn't wear pants. Plus reviews of Skippy vs. the Mob, Working with Disney, Denis Kitchen's Chipboard Sketchbook, 101 Funny Things about Global Warning, Old Farts Are Forever, Wild Wood [Wally]: 100 Pages of Art and Text, Edie Ernst: USO Singer and Allied Spy, The Complete Peanuts: 1979-1980, Erik Larsen's Herculian, Butcher Baker, Last Issue of Fantastic Four, Stan Lee's Starborn No. 4, and The Mission. Immediately below, we list all the topics covered this time, in order, so you can wend your way to those that most interest you and slip unabashed by those that don't pique your curiosity at all.
NOUS R US
Free Comic Book Day and "Thor"
First Silver Age Comic Book to Break $1 Million
Scrooge McDuck Is the Richest
Garfield is 30, Ziggy is 40 and So Is the Comics Buyer's Guide
Ziggy's Nudity Issue
New Animated Peanuts, Not Much
Too Many Superheroic Movies
Royal Weddings Cartooned
GOSSIP & GARRULITIES
Downturn Still in Comics Shops
Tokyopop Shuts U.S. Office
Village Voice on the Fate of Cartooning
Sendak and Seuss Return
EXTRA: Long-Lost Seuss Story Posted in Rancid Raves
PRIZE WINNERS IN EDITOONING
Pulitzer: Mike Keefe
Herblock: Tom Toles
Criterion Criticized
Troubletown Ends
WHY DIDN'T WE KNOW BLACKBEARD DIED?
EDITOONERY
Some of the Best This Month
Libyan Cartoonist Killed As He Cartoons
THE FROTH ESTATE
Civil War
Osama bin Laden Assassinated; Cartoonists React
Film Critic Wins Caption Contest
Newspaper Comics Page Vigil
Gas Alley Bids Good-bye to Brenda and Little Orphan Annie
BOOK MARQUEE
Skippy vs. the Mob
Working with Disney
Denis Kitchen's Chipboard Sketchbook
101 Funny Things about Global Warning
Old Farts Are Forever
Wild Wood [Wally]: 100 Pages of Art and Text
Edie Ernst: USO Singer, Allied Spy
The Complete Peanuts: 1979-1980
FUNNYBOOK FAN FARE
Erik Larsen's Herculian
Butcher Baker
Last Issue of Fantastic Four
Stan Lee's Starborn No. 4
The Mission
THE SPREADING PUNDITRY
Plutocracy in America
Paul Ryan's Scam
Our Motto: It takes all kinds. Live and let live. Wear glasses if you need 'em.
And our customary reminder: don't forget to activate the "Bathroom Button" by clicking on the "print friendly version" so you can print off a copy of just this installment for reading later, at your leisure while enthroned. Without further adieu, then, here we go—
NOUS R US
Some of All the News That Gives Us Fits
We're just a few ticks on the clock away from Free Comic Book Day (FCBD), on which day, Saturday, May 7, comic book shops pay homage to their raison d'etre by giving away a certain number of comic books. And you thought their reason for being was to sell comic books, eh? Not on May 7. At least, not for selected, specially-manufactured-for-the-event titles. When the event began several years ago, comic book shops simply permitted customers and visitors, lured there by the prospect of free comics (these were the folks for whom the idea was originally conjured up), to glom up as many of comic books from the freebie pile as they could carry.
Subsequently, as FCBD became institutionalized, two things happened: first, comic book publishers in producing books expressly for the occasion, converted many of them into simple (and blatantly so) promotional pamphlets for the rest of the publisher's line; second, comic book shopkeepers began rationing the freebies, putting out at one time only a few of the titles supplied by publishers. You can't fault them: after all, they had to buy the books they were now giving away for free. But now, if you go to your favorite shop with the object of picking up, say, a copy of IDW's Locke & Key ("soon to be a tv series") or Drawn & Quarterly's John Stanley's Summer Fun, you won't know in advance if those titles will be available for the taking when you get there. Used to be you just went early and hoped. Now you're left with just hope no matter how early you go. You won't find out until you get there which of the touted FCBD titles the shopkeeper has put out for pick-up just then.
Again this year, a superhero flick opens the door for FCBD by premiering on Friday, the day before. This year, it's "Thor,"starring Chris Hemsworth, who, for USA Weekend (April 15-17) recalled the first time he donned the requisite costume: "I walked onto the set, and Anthony Hopkins and I were in our full get-ups. We looked at each other, and he said, 'Well, there's no acting required here, is there?'"
*****
ANOTHER COMIC BOOK has joined the million-dollar club: a copy of Amazing Fantasy No. 15, the issue in which Spider-Man debuted, graded 9.6 (Near Mint) by the Certified Guaranty Company (CGC), sold for $1.1 million on March 7 in a private sale brokered by ComicConnect.com. This copy, "the highest graded copy to day," according to Brent Frankenhoff at Comics Buyer's Guide (CBG), is "the first Silver Age comic book to break the million-dollar barrier and joins only three other comics sold for that amount or more": Action Comics No. 1 (Superman arrives), $1 million on February 22; Detective Comics No. 27 (Batman begins), $1,075.500 on February 25; and another copy of Action Comics No. 1 for $1.5 million on March 29. Next we'll hear that Iron Man has joined the club; then Doctor Strange and Scooby Doo. Funny, neither of the illustrious Captains America and Marvel has joined the club yet.
"The Book of Mormon," that irreverent and potty-mouthed musical created by "South Park's" Trey Parker and Matt Stone (graduates of the University of Colorado just up the road from Rancid Raves Worldwide HQ), will go into the Tony Award ceremonies with 14 nominations, just one short of the record held by "The Producers."
Scrooge McDuck topped this year's Forbes' list of the richest imaginary characters; his wealth, mostly gold in coins, soared 30 percent this year to an imaginary $44.1 billion. Of the fifteen listed, five are comics characters: in addition to Uncle Scrooge, Richie Rich is in fourth place; Tony Stark, sixth; Bruce Wayne, eighth; and C. Montgomery Burns from "The Simpsons," twelfth. ... The Wyndham Grand Pittsburgh Downtown, a hotel, is collaborating with Pittsburgh's ToonSeum, to provide on-going exhibition space. ... Steve Bodner, master of the caricature of gross albeit recognizable distortion, displays a limited animation enterprise at http://stevebrodner.com/2011/04/15/ saleh-plays-dress-up/ ... Daniel Frankel at Parallel Universe on MSN reported that Warner Bros. Pictures and Legendary Pictures announced April 10 that Michael Shannon will star in the role of General Zod in director Zack Snyder's new Superman film, titled, "Man of Steel." Henry Cavill plays the new Clark Kent/Superman in the film, the cast of which also includes Amy Adams as Lois Lane, and Diane Lane and Kevin Costner as Martha and Jonathan Kent. ... When Warner Bros tweaked the new Wonder Woman costume for the better, it appears it wasn't the end of the story—those offensive shiny pants are back, but there's also a third costume in the offing, although not yet (as of April 18) visible. I gather that all three rigs will be used in the forthcoming production. ... The last three issues of the Sunday supplement magazine Parade carried three cartoons in the "Cartoon Parade" feature, a return, perhaps, to the glory days or yore?
From ICv2.com: After a Near Mint copy of Amazing Fantasy No. 15, spotlighting the first appearance of Spider-Man, set a sales record for Silver Age comics, it probably should come as no surprise that a 9.9-graded copy of Incredible Hulk, No. 181 (November 1974), which features the debut of Wolverine, should sell for $150,000. Still the sale represents a new high water mark for a "Bronze Age" comic. No comic published in the 1970s has ever sold for more than this book, which is the highest-graded copy of Hulk No. 181 in existence.
Also at ICv2.com, they've noticed that Boom!, the presumptive publisher of Disney comic books, has stopped soliciting for new issues of its Kaboom! titles based upon such classics as Walt Disney's Comics and Stories, et al. The supposition is that Disney is bringing all those products back into its tent to be published by Marvel, which became a Disney armature two years ago. "Boom! has done a nice job with its Disney titles; will Marvel do as well? So far, the biggest change has been in format, where Marvel has announced magazine-sized titles for both its Muppets- and Pixar-based titles."
Danish cartoonist Kurt Westergaard, notorious for his caricature of the Prophet Mohammed wearing a turban shaped like a bomb with a lit fuse, said April 15 that he had not been informed that he was on trial in Muslim Jordan and that in any case would not attend. "I have no intention of going even if I am asked to," he said, quoted by straitstimes.com, adding, "I do not want to risk becoming familiar with the Jordanian prisons, which would be hell. I have not done anything illegal in Denmark. I only did my job and I will always defend the right to freedom of expression," he concluded, reiterating meanwhile that he had "never had the intention to offend Muslims and their faith with my caricature." The drawing, he continued to insist, was "a condemnation of terrorists who commit acts of terror in the name of Islam."
North of the border on this continent, the Canadian Press reported that the Sun News Network launched on April 18 with a showing of Westergaard's cartoon and the rest of the Danish Dozen on the fledgling network's very first show, "The Source with Ezra Levant." "Levant discussed his decision to publish the cartoons back in 2006 when he was editor of the Alberta-based political magazine the Western Standard. A graphic of the magazine spread appeared onscreen during his Monday show that clearly showed the 12 controversial caricatures of Muhammad. 'What's the big deal?' said Levant. 'We just showed it. Nothing bad happened.'" Meanwhile, in Afghanistan, Islamic hooligans continue to seize upon whatever provocation they can find to riot in the streets and kill people, claiming they are acting to preserve and protect the sacred traditions of their so-called religious beliefs. This time, they got all weirded out because that nutjob in Florida, Terry Jones, claiming to be a preacher of the Winnfield moustache (that's the name of the style he affects), burned a copy of the Koran, just as he promised he wouldn't last year. Which side is the more foolish is debatable. Jones of the Church of the Moustachio is a blatant publicity-seeker with a one-trick stunt, the performance of which endangers lives of Westerners throughout the Muslim world; but the hysterical Muslim hoodlums, so opposed to idol worship that they condemn making images of Muhammad because they might be tempted to worship the pictures, seem perilously close to treating their holy writ as an idol.
Fantagraphics announced in March that will join comics historian Rick Marschall in producing a line of books, Marschall Books, devoted to reprinting comics, cartoons and graphic humor, drawing upon Marschall's extensive collection of original art, complete runs of comic strips (beginning with 1893 strips), humor magazines, political cartoons, comic books, protest graphics, posters, toys and games, postcards, greeting cards, pinbacks, cartoonist letters and sketches, biographies and anthologies. Among the publishing projects mentioned in the press release, "a definitive three-volume history of cartoons in advertising." But the list of possibilities is nearly endless.
Anniversaries Go On and On
Garfield is 30 this year, and Ziggy is 40, and so is the Comics Buyer's Guide (CBG). In honor of the fat orange cat, Papercutz announced that it will celebrate the history of Jim Davis' comic strip with the publication of two volumes based on the "new hit Cartoon Network show"—Garfield & Co., Vol. 1: Fish to Fry; and Vol. 2, The Curse of th Cat People."
Ziggy also gets a book, Ziggy: 40 Years, "a lavish hardcover featuring the best Ziggy panels spanning 1971-2011," quoth a press release. I'm not convinced that we're any the better for four decades of Ziggy's sentiment-soaked witticisms, but 40 years' worth suggest I'm not typical in holding this opinion. However, I have a nominee for the best Ziggy panel ever. It was perpetrated in December 2009 at the instigation of Stephan Pastis, whose Pearls Before Swine was concluding a sequence in which Rat expressed outrage that the Ziggy character never wore pants. His moral sensibilities offended, Rat went on a rampage to remove this blot on the escutcheon of American decency. At DailyCartoonist, Alan Gardner reported that Pastis phoned Ziggy's Tom Wilson, explaining the Pearls storyline and asking if, on December 16, Ziggy could wear pants to coincide with the conclusion of the Pearls story. At his blog, Pastis rehearsed the conversation, saying that he told Wilson: "Rat is going to declare victory and say that you—Tom Wilson—have agreed to put pants on Ziggy. Do you think there's any way you can put pants on Ziggy that day in your panel?" Wilson said, "Sure."
He was, Pastis attested, "as accommodating as can be. He could not have been nicer."
After Pastis did his finale strip, he e-mailed Wilson to remind him that December 16 was the pivotal date, and Wilson confirmed that Ziggy would wear pants on that day.
But he didn't.
On the next day, however—December 17—the panel we've posted at Rancid Raves Gallery below appeared. (You can quick like a bunny scroll down there and see it.)
Wilson tweeted that there had been "an unfortunate mix-up in cartoon placement for the week." Pastis fired up his blog on the 17th:
"Fine, he still isn't earing pants. But Rome wasn't built in a day. And, sure, Ziggy creator Wilson had agreed to put pants on Ziggy yesterday, but maybe he needed to warm up to it. Take a few baby steps. And today's panel is that first step. One small step for Ziggy, one giant leap for decency. The 'Pants on Ziggy' people's movement has borne fruit."
WE MAY NOT BE AN IMPROVED SPECIES as a consequence of reading (or of avoiding) Ziggy, but we're undoubtedly a much more sophisticated and aware coagulation of funnybook readers because of CBG. It started, as several of its articles in the commemorative June issue (No. 1678) assert, as a monthly adzine in tabloid newspaper format, cobbled up by Alan Light, a 17-year-old comics fan in Moline, Illinois, and dated February 1971 (the third issue is dated May). Called, then, The Buyer's Guide for Comic Fandom (quickly, in the custom of those yesteryears, dubbed TBG), it consisted almost entirely of ads and was distributed free for its first two years: printing and postage expenses were covered entirely by ad revenues. How Light unearthed the initial bunch of advertisers and, subsequently, promoted TBG and stupendously increased its circulation (and, hence, its ad rates) is an epic the telling of which the current editors of CBG forego regaling us with. In the initial issues of The Comics Journal 30 years ago, when it was called The New Nostalgia Journal, editor Gary Groth created a minor sensation by detailing the ruthless practices Light employed to stifle all competition. But that's another story for another day.
Although silent on that subject, CBG's editors devote several pages of their anniversary issue (which, alas, runs to a meager 58 pages, perhaps an all-time low) to reprinting the covers of some of the more noteworthy issues, including Light's last issue, No. 481 (February 4, 1983), in which he thanked his parents, who "never questioned my sanity when I told them I wanted to quit college and publish a paper about comic books of all things." He sold TBG to Krause Publications, a specialist in hobby periodicals, and Krause hired Don and Maggie Thompson as editors. The Thompsons had been hanging around in fandom since at least 1960, when they published a fanzine called Comic Art, arguably the first of the breed, and Don was a practicing newspaper reporter in the adult world, so the choice was a happy one. Their first issue, No. 482 (February 11, 1983), carried the new streamlined title, The Comics Buyer's Guide (from which "The" was eventually deleted), and was entirely typeset; until then TBG's typography had been by typewriter, its ads often hand-lettered by the advertiser. That amateur informality disappeared with Krause underwriting the effort. With the February 23, 1996 issue (No. 1162), CBG was redesigned as a square, bound newspaper; then it went monthly as a magazine in June 2004 with No. 1595, glossy covers and a few slick paper pages within, fore and aft, embracing the usual allotment of newsprint pages.
With its third issue, TBG published a letter from Tony Isabella (who still writes a column for CBG) and soon thereafter was publishing text articles as well as ads. With No. 18 (August 1, 1972), TBG went bi-weekly, and two years later, weekly (with No. 87, July 18, 1975). By then, it was publishing a gossipy column by Murray Bishoff, whose name doesn't crop up in this issue of landmarks and remembrances. (Bishoff graduated to grown-up journalism as managing editor of the Monet Times in Monett, Missouri, where, saith Wikipedia, he gained a measure of notoriety researching and writing about the 1901 fifteen-hour lynching spree in Pierce City, Missouri, during which white residents murdered three African American residents and inspired nearly 300 others to flee the city.) Shortly after Bishoff became a regular contributor, cat yronwode (who refused to capitalize either her name or the first person pronoun) was producing an increasingly ambitious weekly round-up of news and reviews; she isn't mentioned in this anniversary issue either. The Thompsons were also doing a column called Beautiful Balloons, which is mentioned, eulogized even, in this issue: Maggie does a whole song and dance about the column and its name.
In this celebratory issue, most of the current CBG columnists tell us how they got involved with the magazine, but Craig "Mr. Silver Age" Shutt pauses to remember 1971 as a year of several watershed events in comics. Jack Kirby had just left Marvel for DC in October 1970, so 1971 was his first full year producing material for DC; The New Gods, The Forever People, and Mister Miracle all debuted in 1971. The notorious Comics Code was modified somewhat early that year, attempting to accommodate the country's evolving mores. Marvel sought to evade even the modified Code by producing a couple of black-and-white magazines, Savage Tales and Kull the Conqueror. DC and Marvel increased comic book cover prices from 15 cents to a quarter, compensating for the increase with a bigger page count. At DC, Carmine Infantino was made publisher, the first artist to occupy the position, resulting in the arrival of several new artists. Rolling Stone featured the Hulk on its issue for September 16, and inside, a big story on comics and their creators, perhaps the first time a national magazine (albeit a counter-culture publication) had devoted so much attention to what had always been seen as a minor, junk-publishing enterprise—funnybooks. And in 1971, Air Pirates Funnies included scabrous versions of Disney mice (having sex and doing drugs) in its July and August issues, prompting Disney to sue for copyright infringement. The case and its subsequent appeals went on for years; it was finally resolved when ug cartoonist Dan O'Neill agreed not to draw any more Disney characters.
Quite a year.
Leave Peanuts Alone
The new animated Peanuts, "Happiness Is A Warm Blanket," isn't so hot, saith Charles Solomon, animation historian, who conveyed his review at herocomplex.latimes.com, to wit (in italics):
The new film is largely based on two long continuities that Charles Schulz drew decades ago about Lucy trying to break Linus of his blanket habit. In early 1961, she buried his blanket, forcing him to dig up the entire neighborhood searching for it. Lucy made the blanket into a kite that blew away in mid-1962.
Despite the solid source material, the story rambles aimlessly. Several minutes elapse before the plot actually begins and the narrative is padded with irrelevant moments taken from decades of Schulz's work. Violet, Patty and Shermy, whom Schulz lost interest in and dropped from the strip, turn up to re-create some of the first published Peanuts strips. Obvious commercial breaks and the 44-minute running time remind us that the film was crafted to be a one-hour TV special. In fact, this is the 45th entry in the series but the first without Melendez, suggesting just how much pressure was on the new team [writers, son Craig Schulz and Stephan (Pearls before Swine) Pastis; drawn by Bob Scott, Vicki Scott and Ron Zorman].
Mark Mothersbaugh, the Devo co-founder whose music credits in animation includes "Rugrats" and "Clifford the Big Red Dog," delivers a score that is pedestrian at best, and the animation itself is surprisingly uneven. Sometimes the characters have the lively feel of the old specials; sometimes they stand or move awkwardly. The backgrounds include garish colors Schulz never used, and they're too big and fussy. Although Schulz's earliest strips featured broad exterior vistas and carefully rendered rooms of mid-century furniture, he quickly abandoned that look. He stripped his settings to an almost arid minimum, focusing tightly on the characters.
During one of the many false endings of "Warm Blanket," Linus stands atop Snoopy's dog house and bluntly denounces everyone else's failures and insecurities. The moment is completely out of character for the gentle, theologically oriented Linus — and a very, very long way from his understated recitation of the Gospel of St. Luke, the moment that spoke to the Holy Ghost that was at work in the best "Peanuts" animation.
RCH: We all knew Schulz was right when he determined that no one should continue his work. Now we know it all over again, and we have an object lesson to invoke.
A Surfeit of Superheroism
Writing in the May issue of Vanity Fair, James Wolcott says he's had enough. Running through the list of impending comic book superhero flicks—"Thor," "X-Men: First Class," "Captain America: The First Avenger," "The Avengers," "Iron Man 3," "Green Lantern," another Superman reboot, ditto another Batman, and on and on—he finds his enthusiasm waning. None of these movies are fun anymore, he says: "The more ambitious ones aren't meant to be much fun, apart from a finely crafted quip surgically inserted here and there to defuse the tension of everybody standing around butt-clenched and battle-ready. ... The superhero genre is an American creation, like jazz and stripper poles, exemplifying American ideals, American know-how, and American might, a mating of magical thinking and the right stuff. But in the new millennium no amount of nationally puffing ourselves up can disguised the entropy and molt. ... Since Vietnam, whatever the bravery and sacrifice of those in uniform, America's superpower might hasn't been up to much worthy of chest-swelling, chain-snapping pride (invading a third-rate military matchstick house such as Iraq is hardly the stuff of Homeric legend). ... The movie that mirrors this post-millennial letdown isn't a movie at all but Julie Taymor's Broadway musical "Spider-Man: Turn Off the Dark," savaged and mocked for months by just about everyone with Internet access. ... The haphazard storytelling of the musical muddled Taymor's vision-idea, but at least there was an idea here to muddle, which is more than most superhero movies have."
It's been a few years since I've seen one of these epics, but judging from the last Batman movie I saw, the genre is distinguished by loud noise and exploding visuals, not ideas.
Marriage at the Upper Crust
In honor of the royal wedding of Prince William and commoner Kate Middleton, London's Cartoon Museum mounted a special exhibition of satirical drawings about the monarchy and nuptials through the years. "The Cartoon Museum," writes Sophie Grove at herocomplex.latimes.com, "is a quirky converted dairy in a back street tucked behind the British Museum with a library and a permanent exhibition of around 2,000 cartoons, caricatures and comics from 18th century engravings to modern-day animation and comic strips." The special exhibition, "Marriage à la Mode: Royals and Commoners In and Out of Love," is "a revealing, barbed view into changing attitudes toward marriage, class and morality in British society."
Among the pictures on display is William Hogarth's 1743 series of scathing caricature engravings titled "Marriage à la Mode" — the story of a wedding across class lines and for all the wrong reasons. "The engagement gathering isn't going well," Grove says, describing the first picture in Hogarth's series: "A scrofulous groom-to-be gazes admiringly in a mirror, while his distraught, porcelain-skinned fiancée sobs into a handkerchief. At their feet, a shackled pair of dogs symbolize the ill-fated union that is to come."
The exhibition runs a little thin beginning in the Victorian era, Grove observes, when "the shenanigans of the upper classes were deemed off limits to the press." The blackout lasted through the early 1930s when the press displayed remarkable restraint in not mentioning the affair that the Prince of Wales, heir to the throne, was conducting with the American divorcee, Wallis Simpson, whom he later gave up the throne to marry. But by the 1970s with the savage advent of such visual excesses as those produced by Gerald Scarfe and Ralph Steadman, satire was back. Scarfe's version of the nuptials (for The New Yorker, May 2) can be found at Rancid Raves Gallery below.
"The visual vitrol" that plagued the marriage of Prince Charles and Lady Diana Spencer "makes today's images of Kate Middleton look mild," said Grove, citing the remark by the show's curator, Anita O'Brien: "So far, Kate has been exemplary in her behavior: she hasn't put a foot wrong."
Too bad for cartoonists.
SATIRE, HOWEVER, WAS SCARCELY DEAD at the Royal Wedding. It was perched on the heads of most of the ladies in the crowd. Any time the Queen is in attendance, British women are expected to wear hats. The Queen always wears a hat when she's out in public, and her hats are always remarkable—plain, unadorned, but notably large. Otherwise undistinguished, you might say—if you didn't opt for "ugly." For the wedding of William and Kate, she wore a bright yellow hat with a wide brim and a crown of surprising altitude. It came close to rivaling Abraham Lincoln's top hat. Perhaps as a subliminal critique of Her Majesty's choice of chapeau, the women in Westminster Abbey and beyond were wearing the most outlandish headgear—swirling knots of cloth, riots of fake flowers, off-kilter tilts, lopsided brims of vast dimension, frizzes and fizzes, curls and loops. Acts of stand-up comedy, every one. If they weren't staging a satiric protest against the dictate of custom that required them to wear hats, they should have been. It sure looked like satire to me.
GOSSIP & GARRULITIES
It's contest season again. The Comics Buyer's Guide lists its nominees for the annual CBG Fan Awards in the June issue of the magazine, and I just got a ballot listing the Eisner Award nominees. I voted in one of these polls one year (it was probably the year my Milton Caniff biography was among the nominees and I voted for it), but I usually don't vote because the categories, particularly with the Eisner, are much too esoteric for me. Best Reality-based Work? Best Publication for Kids? Best U.S. Edition of International Material (Asia)? CBG's categories are easier to sort through, albeit a little simple-minded—Favorite Inker, Favorite Character. Highschool stuff. But the real reason I don't vote is that I don't read enough comics to recognize names or titles in all the categories. And how can one decide which comic book has the Best Lettering—in an age when most lettering is done by a computer program? Best Coloring? All coloring these days is pretty stunning stuff. When TBG was the industry bible, we all bemoaned the sad state of coloring in American comic books compared to the painterly look of European comics. Now we've caught up. Took only 40 years.
Time magazine's May 2 "double issue" lists the world's 100 most influential people. Gratifyingly, Sarah Livingston Palin isn't among them—although Michele Bachman is. There are numerous other silly choices (Mia Wasikowaska, "an actress who is bold enough to be shy"; actors Colin Firth, "a king with a common touch" and Chris Colfer "for his pitch-perfect portrayal of a gay teen"), but the list is infused with dozens of persons who are not white Westerners, indicating an enhanced cosmopolitanism that we are not used to seeing in American publications. Still, David and Charles Koch (pronounced "kook" despite the advisory "coke") are here, rapid right-wing bankrollers of Tea-bagging ideologies; as is Arianna Hufington, "baroness of the blogosphere." But no cartoonists. Unless you count Pixar's John Lasseter. No Art Spiegelman. No Garry Trudeau. No Charles Schulz, and if Gabrielle Giffords is there, extolled by Baracko Bama's text as "a symbol of civility—embodying the best of what public service should be," Schulz could surely stand for the best that comic strips can be.
IN THE LATEST ISSUE of the Previews catalog (April, No. 271) we find a great wad of Doctor Who stuff; he must be making yet another come-back. And in another indulgence of high camp, you can buy a Wimpy Kid action figure. What's the action? Whimpering? You can also get a Snow White statuette: based upon the Grimm Fairy Tales incarnation, she's dressed in a short-skirted schoolgirl outfit, pictured below in the Rancid Raves Gallery at the end of this Terribly Informative Section.
Too many publications in Previews are dubbed "events"—"a comic book event." A comic book event is somehow better than a simple comic book? Among the "events" are DC's Flashpoint series and Marvel's Fear Itself. I confess that I got tired of these integrated issue min-series almost from the beginning. They pretty quickly evolved into little more than marketing machinations: in order to fully grasp the import of such "events," you had to buy every title partaking of the theme—twenty? thirty titles?—and you had to read them in order or you'd be more baffled than usual. That's labor-intensive, kimo sabe, and I'm a funnybook reader for the fun of it, not the work. So for 3-4 months now, I won't be buying DC books or Marvel's because I can't understand what's going on in a given title without having read all the titles in the series. Sigh.
Wonder Woman's old uniform is back in No. 612 of the eponymous title. Or so it appears. That didn't take long. Image and Dark Horse, freed of the compulsion to produce only superhero adventure titles, are publishing some engaging titles dealing with human dimension themes, seems to me. And at Avatar, a whole batch of Warren Ellis titles are offered again. Bluewater is going into biobooks in a big way with titles featuring Lady Gaga (expanded and revised in defiance of the subject's objection to being comicbooked), George Carlin, Hillary Clinton, Keith Richards, and Tiger Woods (how big a role will the bimbos have in this title?).
Don Rosa's magnum opus, The Life and Times of Scrooge McDuck, is being offered again, and Classic Comics has arrived at yet another of its sumptuous reprint series, John Culllen Murphy's Big Ben Bolt Dailies, 1950-1952, the story of a gentlemanly prize fighter limned by one of the medium's superlative illustrators. And Sunday Press is back with another in its landmark vintage newspaper-sized reprints, Forgotten Fantasy: Sunday Comics 1900-1915, compiling runs of beautifully rendered strips usually overlooked by fanciers of the funnies—such as Lyonel Feinigner's Kinder Kids, Winsor McCay's Wee Willie Winkie, and George McManus' Nibsy the Newsboy, plus Naughty Pete, The Explorigator—all beautifully drawn and handsomely printed in those golden years of yore, and now painstakingly restored digitally and reincarnated by the man who loves four-color beauties, publisher Peter Maresca.
In one of those anomalies that infect publications of the sort Previews is, we have Warlord of Mars: Dejah Thoris No. 4 being touted in a variety of cover renderings of Dejah Thoris herself, an understandable marketing ploy because her costume is nearly nonexistent, and we all know that pictures of barenekidwimmin sell—well, whatever it is they're deployed to sell. On page 262, Dejah's ample left breast appears in a stunning profile, tipped by the tiniest of pastie-like coverings (the sort of thing Janet Jackson so memorably revealed during a Super Bowl halftime show a few scandal-ridden years ago); then—here's the anomaly—on page 278, the same cover appears again, but this time, Dejah's spectacular diamond-studded boob is covered, blotted out—totally obscured—with a yellow censoring starburst bearing the legend "Risque Cover." The second, er, "appearance" (or, if you will, "non-appearance") takes place on a full-page ad of Dynamite Entertainment books, constructed, we suppose, by the publisher, which proves to be more sensitive to the threat of hyper moralism than Previews publisher Diamond, which, we suppose, reproduced the cover exactly on the page for which it is solely responsible. Ah, what fun we're having in these tediously moralistic times. (On the other side of the $ubscriber wall in Rancid Raves Gallery below, we're posting the two objects of our ridicule in this paragraph.)
RANCID RAVES GALLERY
And here, safely on the far side of the $ubscriber's wall, are the pictures we've alluded to ere now—Scarfe's royal couple, Ziggy without pants (still), Snow White in a tiny skirt, and the variously adorned hooter of Dejah Thoris.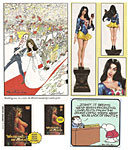 Downturn Plunges on
Glen Weldon at npr.org reports that retail sales of both monthly comics and graphic novels are down "and have been for a while. For thorough, clear-eyed accounts of exactly how far down 'down' is, and why 'down' can mean either 'flat' or 'not all THAT bad, depending on how and what you measure,' the website ICv2 is indispensable. Things are tough all over," Weldon continues: "Borders' recent bankruptcy is only beginning to hit the sales of graphic novels hard." Weldon went on, toting up signs of a withering comics industry: Top Cow "consolidating efforts—and staff—with its parent, Image Comics"; Wizard ceasing its print version. "And as we noted last year, the manga market, once booming, is now bust-ing out all over. Big picture: It's not looking good. Now, sure, 'not looking good' has been the comics status quo for years now, and no one seriously thinks comics are going away. But there are some hard questions to be asked about the quality and quantity of stuff publishers continue to crank out, now that readers are spending less."
The Beat recorded on April 15 the biggest casualty so far: Tokyopop shutting down its U.S. operations as of May 31. "The German office will stay open to handle publishing rights and the film division will continue. Founded in 1997, Tokyopop and its founder Stu Levy were at the forefront of the manga revolution in the U.S., introducing such hits as Sailor Moon, Chobits and Love Hina to the US market in the 'unflipped' format for the first time. Sales surged as the manga bookstore revolution took over in the early part of the last decade." Levy left a parting message: "Over the years, I've explored many variations of manga culture ... Some of it worked, some of it didn't—but the most enjoyable part of this journey has been the opportunity to work with some of the most talented and creative people I've ever met." And he finished with a defiant flourish: "Now, fourteen years later, I'm laying down my guns. Together, our community has fought the good fight, and, as a result, the Manga Revolution has been won—manga has become a ubiquitous part of global pop culture. I'm very proud of what we've accomplished —and the incredible group of passionate fans we've served along the way (my fellow revolutionaries!)."
VILLAGE VOICE FAUX PAS BIG TIME
Greenwich Village's crusading tabloid devoted its entire April 6 issue to what Politico cartoonist Matt Wuerker called "the irony of cartooning being hugely popular while cartoonists have a hard time making ends meet." The Voice's "Comics Issue" headline read: "If Cartoons Are So Big, Why Don't They Pay?" But the crushing irony was committed by the paper itself, Wuerker scoffed, noting that Roy Edroso, who wrote the article, admitted halfway through it that many of the cartoonists whose work illustrated the piece "aren't getting paid but have contributed work for the exposure." Said Wuerker: "Sums up the new media economy perfectly. It's so ironic it would make a funny cartoon."
But Poynter's Jim Romenesko recorded "harsher criticism from writer and cartoonist Mimi Pond," who posted her reaction in the Voice comments section: "Village Voice, you have got some nerve printing this story after you asked me and god knows how many other cartoonists to contribute free work for this issue—with the stipulation that it would be 'good exposure' for me. You can go fuck yourself! You used to pay me decent money back in the 80s to do full-page cartoons for Mary Peacock's V section. The 80s were very very good to me. I had a real career as a full-time cartoonist and illustrator. I stopped for a minute to have children and then when I looked up again, my career had fallen off a cliff. So thanks, Village Voice. Thanks a lot."
Dan Perkins, who produces the comic strip This Modern World as Tom Tomorrow, pointed out that "the Village Voice Media chain is one of the major culprits in this—their decision to 'suspend' cartoons [in 15 papers in 2009] dealt a serious blow to the struggling subgenre of alt-weekly cartoons." Tom Tomorrow returned to the pages of the Voice within a few months. But others are still out in limbo.
At first, Voice editor Tony Ortega explained with a straight face, telling Romenesko: "This was a special issue celebrating and commiserating with cartoonists on the tough state of their industry. In order to fill it out with so much art, we asked some artists to donate their work. We then felt we couldn't do that without disclosing publicly [they weren't paid]. I figure it's better to speak up about something like that than do otherwise."
A confused noblesse oblige at best. The next day, Ortega wiped the egg off his face, apologized and said all the cartoonists would be paid. "I wanted to have a big special comics issue, but I had a limited budget. So in a well-meaning effort to make this work, I asked some cartoonists to provide work without compensation. In the last couple of days, it's been pointed out to me quite clearly that this was not the best way to help out the cartooning industry. The thing is, we're not a company that expects people to work for free for the exposure. And I'm making this right: I'm paying all of the artists in the special issue. And hopefully buying them beers and working with them again soon."
Fine. Now that the episode has been cleansed of its peccancy, we can quote Edroso about the ludicrous conditions under which freelance cartoonists—no, make that most cartoonists—labor.
Almost no one who calls him/herself a cartoonist makes a living at it. Syndicated cartoonists come close: although the per-paper rate might be as high as $100/week (depending upon the fame of the comic strip and the circulation of the newspaper), some papers pay only $5/week. My guess is that $15/week is a good average. Mort Walker, Jim Davis, Garry Trudeau, Scott Adams, Dean Young, Jim Borgman and Jerry Scott, and a dozen or so more with 1,000 or more subscribing newspapers might be millionaires; but most cartoonists, even syndicated ones, are borderline paupers like all the rest of us.
And I suppose comic book artists fare no better, although Edroso doesn't say anything about them. Good ones, those who are popular with comics fans, do well; others don't. And many of the most brilliant stylists are living in other countries—in South America, the Phillippines, Spain—where standards of living don't require huge quantities of income. They do all right with a corporate pittance.
Editorial cartoonists are a vanishing breed as newspapers try to get out of the budget red by firing editoonists. And magazine cartooning has been all but dead for decades.
But to scrape together a living, nearly all cartoonists do other, albeit sometimes related, things: they teach, do illustrations, give lectures and workshops to wannabees, blog, draw trading cards, write and/or illustrate children's books (if they're lucky and very very talented) and do whatever else seems likely to (1) bring in money and (2) advertise their availability to do paying work in some drawing-related endeavor. They all diversify to put food on the table and pay the rent.
"Most comics people have to hustle at the outset of their careers," Edroso writes. " That's expected. At least it makes for funny stories." And he goes on with Tony Millionaire's tale (in italics):
In his salad days, for example, Tony Millionaire (Maakies, Sock Monkey, Drinky Crow) would take the train from New York to towns in Westchester County, and look on a map "to find where the streets were curvy," he says, "because you'd know that's where the hills were." Then he'd walk up to the lavish hillside homes and leave cards in mailboxes or tucked into screen doors, announcing that he would draw the house for a small fee. His success rate was three gigs per hundred cards.
"Yeah, I really outsmarted the world," he laughs, "and got into a job that paid hardly fucking anything."
The New York Press picked him up at $35 a strip and eventually upped it to $100. When Millionaire went to the Voice, they gave him $150. In cartooning, that's a bidding war. The pathetic pay gets less funny as you get further along in your career. [End italics]
Edroso cites the experience of Harvey Award and Xeric Grant winner Jessica Abel. In addition to making graphic novels (La Perdida, Life Sucks, Radio: An Illustrated Guide with Ira Glass), she edits the Best American Comics series, teaches, gives workshops and lectures, does illustration, and blogs. "But busy is good, right?" Edroso asks, rhetorically.
"It is and it isn't," says Abel. "It's not all stuff that pays. Like the website [for her and Matt Madden's Drawing Words and Writing Pictures book] doesn't pay anything. I want to do it, I enjoy doing it, it's valuable in many, many ways. But it doesn't pay me a cent. And I spend a lot of my time doing that."
She feels she has to do it, and a lot of other self-promotional stuff, "because if you don't," she says, "your career is going to suffer." But she's painfully aware that it keeps her from working on comics ideas "that might turn into something great."
What about the online future? "Computers are the future, right? They certainly are, which means that while a few intrepid pioneers have a staked profitable claims, most Web comics are still looking for a waterhole.
Edroso turns to Dorothy Gambrell, whose Cat and Girl is "one of the best-known webcomics." Gambrell thinks "neither [print nor online] is better than the other, but one is happening now and the other no longer exists. Now it's easier to reach people online, so it's easier to make a living that way," she says. But the living isn't much, Edroso points out:
"Gambrell has posted her revenue mix for 2010 as a chart, and it is a fascinating document. The chart shows how much of her income came from prints, original art, merchandise, conventions, publication work, the Donation Derby feature through which she accepts money from fans and draws cartoons about how she spent it. She reports that in 2010 she made $21,098.54." In other words, she's very possibly poverty-stricken.
The official, government poverty line for 2011 was set at $22,350 (total yearly income) for a family of four. Dunno if Gambrell is married or how many children she has. Wikipedia says that "most Americans (58.5%) will spend at least one year below the poverty line at some point between ages 25 and 75." But it sounds to me as if Gambrell is making a career of it.
And she's not alone.
Jason Yungbluth, who drew Deep Fried, "a big underground hit with the comics cognoscenti 10 years ago," now works the Web with installments of his "ever-evolving epic, Weapon Brown, starring a sort of grown-up, weaponized Charlie Brown, plunked down in a dystopian future."
Yungbluth sells book compilations of his cartoons on his website. "A third of his income comes from the site; another third comes from freelance assignments (he frequently appears in Mad magazine), and the rest from a one-night-a-week gig teaching cartooning. So how's he doing? "I have a roommate," he says. "I drive a good car, but a very old car. I rent, I don't own. Put it this way: I'm on Medicaid."
He hopes to produce a Weapon Brown graphic novel and he's saving money, hoping to be able to pay for a table at the New York Comic Con to launch the book in 2012. "Those are expensive tables. I'm trying to find someone who'll split some space with me."
Most freelancing young cartoonists learn pretty fast that "making comics wasn't ever going to be about making money." They do it out of the sheer love for the medium. But wouldn't it be nice if they could make a living at their passion?
AT THE HERBLOCK FOUNDATION, alarm over the dismal future foretold for editoonists has prompted the governing board to conduct a survey, preparatory to issuing a report "on the future of editorial cartooning in the face of the massive technological advances that are reshaping the American news media." The report will serve the founding purposes of the Foundation, which was established and funded by cartoonist Herb Block to foster editorial cartooning. Herblock once wrote about his profession: "Cartooning is an irreverent form of expression, and one particularly suited to scoffing at the high and the mighty. If the prime role of a free press is to serve as the critic of government, cartooning is often the cutting edge of that criticism." And, hence, vital to the functioning of democracy.
Over th signature of chairman of the board Frank Swoboda, a letter went out to editorial cartooners at the end of March, aiming to collect data about the present state of the profession. The accompanying questionnaire probes editoonists' sources of income and syndication status as well as job requirements and the like. Respondents are also asked to offer "any thoughts" they may have "regarding the current state of editorial cartooning and what, if any, changes you believe are needed to assure survival of the art form in the digital age."
Foundation representatives will also interview syndicates, newspaper publishers, and journalism school officials "as well as experts in emerging technologies" and "any other thoughtful individuals who might have something worthwhile to say."
It's a noble and needed endeavor, and I wish it success in every sense.
Cartoonist Storytellers for Children Return
FOLLOWERS, ADHERENTS AND OTHER DEVOTEES of children's literature created by cartoonists were no doubt delighted at the news that new books by two giants at the craft will appear this fall. Maurice Sendak (whose controversial In the Night Kitchen was inspired by Winsor McCay's Little Nemo) has written and illustrated his first new book in 30 years. Bumble-Ardy tells "the story of a young pig who has never had a birthday party so on his ninth, he takes matters into his own hands and invites nine pigs over for a forbidden party," Deborah Netburn reports at the Los Angeles Times. Sendak first developed the character in 1971 for a Sesame Street short, and the character lodged in the backroom parts of the author's mind. "He was funny. He was robust. He was sly. He was a sneak. He was all the things I like," Sendak said in a New York Times interview. In the Sesame Street project, Bumble-Arby was a boy, not a pig, but those he invites to his party are all pigs, nine of them, whom he offers birthday cake and wine; in a surrender to current over-active sensibilities, "wine" becomes "brine" in the book. Perhaps, however, the book will preserve Bumble-Arby's mother and the "glorious epithet" she shrieks when she comes home to find it full of "swilling swine": "Split, get lost, vamoose, just scram, or else I'll slice you into ham."
The rhyme evokes the other author making a surprising comeback. Random House breathlessly proclaimed in early April that it would publish in September seven "lost" stories by Dr. Seuss (aka Theodore Seuss Geisel, doncha know). But the Seuss sauce in The Bippolo Seed and Other Lost Stories was scarcely "lost" in the usual sense. All these stories were originally published in Redbook magazine in 1950-51 and qualify as "lost" only insofar as they've never been collected in book form. "Random House," wrote Rebeckah Denn at csmonitor.com, "describes the stories as 'transitional' ones in Seuss's approach to writing for children, written in a period during which he shifted from writing predominately in prose to his well-known rhymes." Among the stories in the book is "The Strange Shirt Spot," called the "inspiration for the bathtub-ring scene in The Cat in the Hat Comes Back."
The stories, known mostly to Seuss scholars and collectors, surfaced in an entirely modern manner: Dr. Seuss's art director stumbled into eBay and saw magazine tearsheets for the stories on sale. No word about whether they are illustrated by Seuss in his distinctive flap-foot style, but my guess is they are. Meanwhile, here's a sample of Seuss's work from his cartoonist period, poached from the September 27, 1930 issue of the humor magazine Judge. PLUS—fanfare! ruffles! flourishes!—a 6-page long lost story! Discovered, quite by happenstance, by Yrs Trly in the March 1938 issue of Judge. Send out bulletins! Notices! Sky-writing aeroplanes!
PULITZER PRIZE FOR EDITORIAL CARTOONING
Editoonist Mike Keefe found himself on the front page of his newspaper on Tuesday, April 19, as a proud Denver Post announced that he'd won journalism's highest honor for editorial cartooning: "Just when he figured his window of opportunity had closed, longtime Denver Post editorial cartoonist Mike Keefe on Monday won this year's Pulitzer Prize for editorial cartooning," wrote reporter Kevin Simpson.
"I am gobsmacked," said Keefe, 64. "In recent years, the Pulitzer has gone to much younger folks who are newer in the business. I've always done pretty classical editorial cartooning. I thought my day had passed."
Unlike that younger generation Keefe referred to, he does no animated editoons on a regular basis. His cartoons appear Wednesday through Sunday, and on Sunday, he and letters editor Cohen Peart do a weekly "Name that 'Toon" feature to which readers contribute captions to Keefe's drawings. Off campus, he and retired (involuntarily from the Pittsburgh Post-Gazette) editorial cartoonist Tim Menees create satirical news and visual commentary at President Ruttles website, ruttles@sardonika.com,
Finalists in editorial cartooning were Matt Davies of the Journal News in Westchester County, N.Y., and Joel Pett of the Lexington Herald-Leader in Kentucky. Both have previoulsly won.
Like all candidates for the Pulitzer, Keefe submitted a portfolio of 20 editorial cartoons, which judges cited for their wide range and the way he used a "loose, expressive style to send strong, witty messages." Alas, this is the lingo of people who don't quite grasp what editorial cartoons do: all editoonists produce "strong, witty messages" on a "wide range" of topics or they couldn't keep their jobs, and their drawing styles differ, some drawing loose, sketchy pictures; others, tight renderings complete in every detail. Neither manner is superior (more Pulitzer-worthy) than the other. But, what the hoot—Keefe's stuff over the last year was more than pretty good: he deployed visual metaphors inventively, ingeniously—unexpectedly—to create powerful and memorable images. Keefe's work shows up regularly in our Editoonery department (in this very issue, as it happens—and as recently as last time, Opus 275, if you'd like to revisit a couple).
When he began at the Post, Keefe's drawing style, deploying a fragile wandering line, strenuously resembled Gahan Wilson's. For the last couple decades, though, Keefe has evolved a strong clunky but simple outline style for delineating his gnarly anatomies which he then decorates with restrained flicks of hachuring. Hardly, I would say, "loose"; "loose" is Pat Bagley, a champion at it.
Keefe's winning this year complete's the Post's record: all of its editorial cartoonists have been Pulitzer winners since Paul Conrad won in 1964, just before leaving for the Los Angeles Times; and his successor, Keefe's predecessor, Pat Oliphant, after figuring that the Pulitzer committee usually gave the Prize for sentimental, maudlin cartoons, doped out one of his own tear-jerkers soon after arriving at the Post and won with it in 1967.
Keefe told Simpson that his style has evolved from "analytic" early days, when he dissected the work of his favorite cartoonists to figure out how they arrived at their takes on issues of the day. With time, that process became internalized.
"It's rare to get one of those 'light bulb' ideas," Keefe said. "Mostly, it's a long process of selecting a topic, writing down what I believe about this issue and then looking for connections to other things that are happening in society that I could possibly use as a metaphor to make my point. Sometimes humor is the vehicle, sometime irony, sometimes drama. It's all over the place."
Simpson reported that Keefe joked that he's lucky to get paid for doing basically the same thing he did in third grade, when he doodled in the margins of his notebook and made fun of the teacher. Turning serious, he said his colleagues shared in his award.
"This is recognition of the whole paper," he said. "I get support from the editorial page, the art department and reporters. I couldn't have done this without you guys."
Although he felt he had some strong entries in his portfolio, he had no inkling that this would be his year. "It's up and down, like being a baseball player—if you're hitting .300, you're doing well," Keefe said. "I felt good about this year, but I didn't know if this would be a Pulitzer year. It caught me by surprise."
Keefe joined the Post in 1975, launching his second career. The first, commenced after two years in the Marine Corps, was as a math instructor at the University of Missouri-Kansas City, where he completed course work toward a doctorate, but he also cartooned for the school newspaper, the University News. Watergate was headlining the news then, and Keefe became an expert at rendering Prez Nixon's ski-chute nose. "With material this rich," Keefe once wrote, "I was fooled into believing that cartooning would always be easy." He gave up math and went to the Post.
Post publisher William Dean Singleton said Keefe's work underscores the importance of newspapers in generating original content, which, ironically, eventually winds up on the Internet, contributing to the slow extinction of the print medium.
"Mike's award certainly is symbolic of the hard work that our entire staff does every day," Singleton said. "And it emphasizes once again that virtually all content starts with print newspapers."
He called the Pultizer recognition "long overdue," adding: "Mike's been here almost 36 years, and he's put out award-winning work almost since the day he arrived. The two who preceded him were legends. I think Mike is now a legend too."
In the same issue of the Post with Keefe on the front page, the paper published a full-page ad inside, announcing his achievement and printing some of his 20-cartoon portfolio. Hereabouts is the cartoon part of the ad.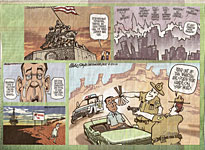 CURIOUSLY, THIS YEAR the Pulitzers arrived with almost no anticipatory rumors and excited speculations paving the way. The untoward circumstance attracted the attention of Roy J. Harris Jr. at Poynter, who wrote about the "evaporated" buzz about this year's top journalism prize:
"Why has discussion nearly evaporated this year about who will win in the 14 Pulitzer journalism categories? (There are also seven prestigious Pulitzers for arts-and-letters and music, of course.) In addition to a shrinking supply side—with fewer journalists these days trying to pry the names of finalists from jurors who met at Columbia University March 7-9—it could be argued that there's a much weaker demand side, too. In part, the decreased pre-Pulitzer interest stems from the explosion of other, earlier journalism-award announcements."
For editorial cartoonists, nearly a dozen awards wait every year to be conferred upon a steadily diminishing number of practitioners—the Herblock, National Headliner, Sigma Delta Chi, Thomas Nast, NCS's Reuben, Robert F. Kennedy, John Fischetti, Berryman, and Ranan Lurie. And most of these are awarded before the Pulitzer winner is announced, which, Harris observes, puts the 19 Pulitzer Prize board members in the position of "annointing" work that has already been recognized. Understandably, there is less fuss and feathers by the time we reach the end of the parade.
Another reason for the seemingly diminished buzz may be that part of the world that delighted in buzzing is smaller: print journalism, which is still the chief focus of the Pulitzer, is scarcely as ubiquitous or powerful as it once was. And buzz these days, if it occurs at all, occurs on the Web or tv, not in newsprint.
THE MOST RECENT WINNERS OF THE PRIZES enumerated a couple paragraphs ago (the Herblock, National Headliner, etc.) all appear in the third annual Prizewinning Political Cartoons: 2011 Edition, edited by Dean P. Turnbloom, who supplies a description of each award (plus a caricature of the person for whom the award is named) and a short biography of each winner (112 8.5x11-inch pages, color; Pelican paperback, $19.95, less at Amazon). The winners herein: Mark Fiore, Matt Wuerker (twice, once as Pulitzer runner-up, once as winner of the Herblock), Robert Ariail, Tony Auth, Nate Beeler, Dwayne Booth ("Mr. Fish"), Mike Peters*, John Sherffius, Dana Summers, Stephen Breen, Bill Day, Alexander Hunter, Mike Keefe (the Berryman), Mike Luckovich*, and Jack Ohman*. All except those marked with an asterisk (*) are accompanied by several of their cartoons, and since the cartoons are award-winners, the book as a whole is vivid testimony to the power of editorial cartooning.
John Sherffius' brilliant deployment of symbols is always striking, and it's nice to see several of his all at once, but the eye-opener for me was the work of Alexander Hunter, who joined Sun Myung Moon's Unification movement in the early 1980s and wound up as art director of Moon's Washington Times, established in 1982. Apart from illustration and design, Hunter does a weekly full-page cartoob, sometimes in comic strip format, which, as you can see from the examples near here, is well-drawn and memorably eloquent
VARVEL GETS HIS
Alan Gardner at DailyCartoonist.com received a tweet by Gary Varvel on April 18 (at just the time the Pulitzer winners were announced) saying Varvel received this year's Robert F. Kennedy Journalism Award for editorial cartooning. Said Gardner: "Gary did a 11-part series, called 'The Path of Hope,' that highlighted some of the underprivileged living in the Indianapolis area. ... Twice a month, Gary would head out of the office and interview individuals, their friends, pastors, teachers and those who work to help a less fortunate person climb out of their difficult circumstances. Gary tells me that he even spent a week traveling on the local bus system to better understand how difficult it was for one family to simply get fresh groceries because the bus route takes so long from the store to their home (think about the slowly melting ice cream or other refrigerated foods). 'The Path of Hope' gave Gary a full color page to tell their story. For speed in producing the page, he blends his line art with photo art processed to look cartoonish. Along the way, Gary says he's grown to appreciate the challenges some people are given in life and their tenacity to pull themselves, and pave the way for others, to get out of poverty."
Here are a few Varvels to marvel at.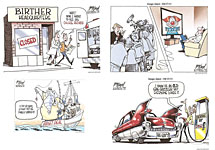 TOLES GETS ANOTHER HERBLOCK
When in 2001 the legendary Herblock died at 91 leaving vacant at the Washington Post the editorial cartooning chair he'd occupied there for 55 years, speculation ran rampant through the profession about who would succeed to the nation's most influential editooning perch. The suspense ended a year later when Tom Toles moved into Block's old office. A couple weeks ago, Toles picked up, poetically speaking, the rest of his legacy when he was awarded the Herblock Prize.
Mike Cavna at ComicsRiffs reported that Toles is the eighth cartoonist to win the award, which was created in 2004 "to encourage editorial cartooning as an essential tool for preserving the rights of the American people through freedom of speech and the right of expression." What the Pulitzer is to journalism generally, the Herblock is to editorial cartooning specifically—the most prestigious award in the field. Toles received a tax-free $15,000 cash prize and a sterling-silver Tiffany trophy.
"The Post swept the awards," Cavna said, "—Ann Telnaes, who creates animated cartoons for Washingtonpost.com, was the first finalist to be publicly announced."
"I walk in Herblock's slippers," Toles told Cavna, alluding the Herblock's customary garb at work. "I am highly honored."
Toles won the Pulitzer in 1990 while at the Buffalo News. A graduate of the State University of New York at Buffalo, he has also drawn for the Buffalo Courier-Express, New York Daily News, and the magazines New Republic and U.S. News and World Report. Previous recognition of his cartooning excellence include John Fischetti Award, the H.L. Mencken Free Press Award, the National Headliners Award and the Overseas Press Club Thomas Nast Award.
The judging line-up for the Herblock this year included two editoonists, both Pulitzer winners—Politico's Matt Wuerker and the Philadelphia Daily News' Signe Wilkinson—as well as Harry Katz, curator of the Herb Block Foundation.
Cavna quotes all three about their choice. Wilkinson commented: "Day in and day out, Tom Toles uses his minimal style to maximalist effect. ... He is a worthy heir to Herbert Block." Wuerker said: "It's a magical combination of sharp and timely political insight mixed with humor, all served up with a disarmingly whimsical drawing style." And Katz, waxing a little more poetic than insightful, said: "Working with the cauldron of Washington politics he cooks up a potent brew of humor, outrage and irony, representing the best traditions of American political cartooning."
Soon after the announcement, the judges decided to "lift the veil" about their decision-making process, and Cavna posted the results, as voiced here by Wilkinson and Wuerker (in italics):
Before the judging, it was agreed that this year the finalist would also be recognized. We knew the job was to come up with two top cartoonists. We had a great, broad sampling of political cartooning today: lots of traditional single-panel cartoons, plenty of stellar 'altie' work, a number of great ventures into cartoon journalism and, of course, the animation submissions. We even had cartoons rendered with actual oil from the BP spill.
In the apples and oranges comparisons that are such a big part of the process, it was hard to measure the simple punchy genius of single panels by the likes of Lexington Herald-Leader's Joel Pett and the (Illinois) State Journal-Register's Chris Britt against long-form docucomics that went beyond the headlines, like those submitted by the (Portland) Oregonian's Jack Ohman, the Boston Globe's Dan Wasserman and Indianapolis Star's Gary Varvel, or for that matter animated reporter's sketchbooks such as the engaging submission from the Sacramento Bee's Rex Babin.
The Free Press's Mike Thompson's finger on the pulse of Detroit crime and United Features's Bill Day's attention to child abuse were both powerful uses of our medium. For taking us where cartooning had not gone before, Universal Uclick's Ted Rall's enterprising trip to Afghanistan was particularly noteworthy. Salt Lake Tribune's Pat Bagley's wonderful loose humorous style and his engagement with his readers made him a contender. The 'alties,' led by Matt Bors and Jen Sorensen, all made it to the semifinal pile, as did Investor Business Daily's Michael Ramirez, whose graphic punch and strong, clearly expressed political opinions kept him in the running right up to the end.
We all agreed that, to the best of our abilities, we'd not judge according to our political bent but solely on the quality and consistency of the cartooning found in the portfolios we were looking at. Though former (N.Y.) Journal News cartoonist Matt Davies [now with the Hearst papers] had what we all agreed was the single best cartoon of the year, "Peek-a-Boo" on WikiLeaks (by the way, a non-animated black-and-white single panel ), the quality and creativity of the Toles and Telnaes portfolios put them at the very top. Choosing between the two was excruciating and took a while, but in the end we felt the overall consistency of Toles's complete portfolio made him the winner, with Telnaes No. 2 by a hair ... or a .3 Micron line. [Terminus italics.]
This discursive roll call of the final contenders is much superior to the Pulitzer committee's rather lame attempt to say what they were thinking: at least with the Herblock group, we get a notion of the sort of daunting assignment the judges undertook. Stacking up the competition suggests a measure of Toles' and Telnaes' achievement, and then the judges say explicitly that they were looking for quality and consistency, consistency ultimately deciding the issue.
BUT "CONSISTENCY" AS A CRITERION is alarmingly shaky when we realize that the judges were looking at a portfolio of only a couple dozen cartoons from each cartoonist's annual output. Each cartoonist would naturally fill his portfolio with what he regarded as his best work, creating an artificially induced consistency that may not be so much in evidence over twelve months' cartooning. "Consistency" becomes thereby an ineffective criterion because it must be presumed to be everywhere in the portfolio: and if it's everywhere in the portfolio, then it cannot distinguish one cartoon from another, or the work of one cartoonist from that of another. By an ancient axiom of logic, anything that's everything winds up being nothing.
That leaves "quality," and it leaves it as illusive a criterion as ever. (Besides, what, exactly, is "consistency" in editorial cartooning if it isn't "consistent quality"?)
But this clutch of judges offers a clue about what they mean by "quality" in the cartoon they confidently dubbed "the best of the year." I've included this exemplar with three of Toles' efforts in the proximate visual aid.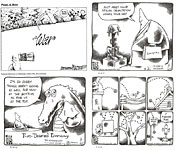 Examining it, we can see that the governing metaphor is the "peek-a-boo" window created by Wikileaks. Comparing the view through that tiny aperture to the panoramic mayhem we see on the other side of the wall, we realize that Wikileaks is hardly a comprehensive portrayal of what's going on in the wars in Iraq and Afghanistan. That's part of Davies' message. The import of Wikileaks' divulgence is therefore somewhat diminished.
But when we note what spectral Death is saying, Davies' composition assumes another aspect, complicating and thus multiplying its meaning. Judging from its remark, Death—and its handmaidens, the governments and military forces at work on the far side of the wall of War—seems to resent the peeping tom's prying into the bloody business being so efficiently dispatched over there. Death et al would much prefer to pursue their grisly operations without the interference of busybodies who want to get at the "truth" of the ways a political war is being waged. In sum, the window Wikileaks opens on the wars may be infinitesimal, but in such ghastly matters, any peek, however small or short, makes a convenient secrecy difficult, if not impossible, to maintain.
By this insight, we may assume, I think, that "quality" for this year's Herblock judges has to do both with the clarity of the metaphorical language and with its nuances, complexity inherently deepening the meaning of any such endeavor.
One of Toles' cartoons performs in a similar fashion. The helmeted rifle as tombstone combined with Congress's comment makes a powerfully ironic statement about gays in the ranks. And the comic strip that portrays the strategic deviousness of Obama's presumed manipulations is an equally clever deployment of metaphor to depict the imagined expertise of the Prez's machinations behind the scenes.
But "Two-Teared Economy" achieves a slightly greater measure of complexity. The two tears in the picture are a pretty puny demonstration of commiseration; crocodile tears always are phony, by definition. But with a different spelling, "two-tiered economy" deftly alludes to the class warfare inherent in any confrontation these days between the Republicans and the Democrats (and most of the rest of us, too). The two tiers are the rich and the not-rich.
The next step in translating Toles' picture is to realize that the person the croc is addressing is sitting on a plate: he's destined to be the creature's next meal. No wonder, as he contemplates his dinner, the croc isn't weeping tears of genuine sympathetic understanding. And to make sure we realize that getting eaten is the fate of all of us on the plate, the croc makes another appearance in Toles' corner at the lower right: it's not a handkerchief the croc is holding but a napkin, an accouterment of the dining table.
Complexity and nuance are undeniably vital ingredients in the best editorial cartoons. In other words, the best editorial cartoons do more than merely throw stones at those with whom the cartoonist disagrees. (And even if we carp about the operational validity of such alleged criteria as "consistency" and "quality," we do not, in the least, question the validity of this year's choices: Keefe and Toles are undeniably first-rate, unflinching editorial cartoonists. It's just difficult for judges to describe how and why they are so good.)
TOLES' PROFESSIONAL BIOGRAPHY is outlined at Politico.com/click by Keach Hagey, who calls Toles a chip off the old Herblock. Majoring in English, Toles found extra-curricular satisfaction in doing three-dimensional illustrations for the campus newspaper, The Spectrum, and when Toles showed some of his creations to the editor of the Buffalo Courier-Express, Douglas Turner, he was hired part-time as a caricaturist. But Turner began at once nudging Toles towards political cartooning. Toles resisted:
"I said 'No, I don't want to do that,'" he recalled. "'I don't have the skills. I don't have the interest. I don't have the knowledge.' That seems like a pretty good case, right? Three disqualifiers."
But, said Hagey, Turner wanted him to try it anyway, so he did. "I kept trying to get out of it. Hated it. Just hated it. And I was pretty bad, in my opinion. But he just kept at it and at it and at it."
Turner pushed because he saw something special in the young artist., telling Hagey: "He had a political consciousness, and he just saw through all the crap. He had the moral strength."
Toles claims his evolution into a fully fledged editoonist was a long slow process, but it was accelerated when the Courier-Express was bought by Cowles Media Company in 1979. His new bosses, instead of choosing a daily cartoon from several possibilities he offered them, told him to pick his best idea and that's what would run.
Said Toles: "All of a sudden the content of what was going into these [sketches] changed completely. I was amazed at how much I had been tailoring. I didn't do anything I didn't believe in, but it was 'What can I do within this framework that's actually going to get in the paper?' So then it changed a lot. I started doing what I wanted to do."
There was an initial outcry from readers, Hagey reported: "One day," Toles said, "every single letter in the paper was a condemnation of me. Every single one." But the publisher stood by him. "He said, 'Just keep doing what you are doing,' and it's been that way ever since."
And when Toles came to the Post in 2002, he demanded a similar relationship with editorial page editor Fred Hiatt, and he got it. "Luckily," Toles said, "Herb had that deal, so it's been the same since then."
Toles regularly stoked a certain amount of unhappiness for the first eight years of the new century by criticizing the Bush League. "While he said he has no trouble finding absurdities to mock under the Obama administration," Hagey observed, "he admits it falls closer to his own sensibilities."
Said Toles: "Obama is the kind of president I like. He's thoughtful in the way I like. He's liberal, moderate in the way I sort of think of myself."
Toles said he doesn't relish making readers angry, but that's a natural consequence of editorial cartooning: "Cartooning is essentially a negative art form," he said. "It's a criticism form." Added Hagey: "He credits his own weirdness with helping him come up with the original ideas required for political cartooning. While there is a mechanical process of reading the news and making lists that leads up to his creative effort, and a mechanical process of refinement and execution that follows it, the central leap he has come to see as a result of 'bad wiring.'"
Toles explained: "It's kind of like this big electrical storm, and things are associating with things in ways that normal brains don't do quite as easily," he said.
"For the last few years," Hagey added, "Toles has found a new outlet for his electrical storm, as the drummer for the journalist-government bureaucrat supergroup Suspicious Package, a five-piece band with members from the Office of the U.S. Trade Representative, Bloomberg, the Los Angeles Times and the Department of Housing and Urban Development."
During his day job, though, Toles keeps the beat by pounding miscreants in public life.
Troubletown's Troubles End in April
LLOYD DANGLE WORKED FOR A FEW YEARS at the Village Voice and others of the ilk, then self-syndicated his Troubletown cartoon, beginning with the San Francisco Bay Guardian in 1988. At blog.cagle.com, Daryl Cagle reported that "Dangle grew his list of subscribers to upwards of 30 alternate newsweeklies and lefty political magazines before tough economic times hit the newspaper industry and slowly whittled his list down." In March, Dangle announced that after more than two decades, he's "retiring" his strip to move on to other projects; the last strip appeared at the end of April. Cagle interviewed him, asking the obvious question: why quit now? To which Dangle said:
"I have changed over 22 years, and the thrill is gone. Having to read so much news and opinion to stay on top of events is a grind that I would like to be free of. It has nothing to do with the state of the industry though. I've been satisfied with my relationships with my newspapers and thrilled that I've had the readership I've had."
One of the projects he'll now have time for is finishing the novel he's writing. "Of course, [book-] publishing is a crap shoot," he acknowledged, "but at least I'll be able to amuse my friends with it."
Dangle also expects to do a little cartooning. "After a break I imagine that I'll get the bug from time to time," he said. "I'm going to continue blogging at troubletown.com, where I'll post sketches and commentary and share weird things that I discover. I also tweet acerbic comments occasionally."
Asked about his favorite cartoonists, Dangle named "young up and coming" cartoonists like Jen Sorensen and Matt Bors. "I also love the old timer Pat Oliphant. David Sipress is my favorite of the New Yorker style cartoons." But he doesn't think there's much of a future for cartooning with the models we're familiar witih. "The Internet hasn't been our friend," he said. "I hope they find a way to make it work."
As a commentator who leans over to the left, Dangle doesn't have a high opinion of Obama: "Obama is a stuffed suit who put together a very convincing, even inspiring campaign, but is now governing as a moderate Republican. Why he's so hated by the right is baffling to me."
Conservative cartoonists bore him: "I find [conservative] cartoons tedious except for the ones I really like. Conservatives, when they try to be funny, annoy me, but not so much that I would write them the kind of e-mails I receive. I find liberals ridiculous too."
Here, by way of waving a fond Rancid Raves farewell, are a few Troubletowns.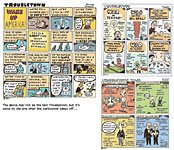 Fascinating Footnit. Much of the news retailed in the foregoing segment is culled from articles eventually indexed at rpi.edu/~bulloj/comxbib.html, the Comics Research Bibliography, maintained by Michael Rhode and John Bullough, which covers comic books, comic strips, animation, caricature, cartoons, bandes dessinees and related topics. It also provides links to numerous other sites that delve deeply into cartooning topics. Three other sites laden with cartooning news and lore are Mark Evanier's povonline.com, Alan Gardner's DailyCartoonist.com, and Tom Spurgeon's comicsreporter.com. And then there's Mike Rhode's ComicsDC blog, comicsdc.blogspot.com and Michael Cavna at voices.washingtonpost.com./comic-riffs . For delving into the history of our beloved medium, you can't go wrong by visiting Allan Holtz's strippersguide.blogspot.com, where Allan regularly posts rare findings from his forays into the vast reaches of newspaper microfilm files hither and yon.
QUOTES AND MOTS
"Our lives begin to end the day we become silent about things that matter."—Martin Luther King, Jr.
About developing new tv shows, network boss Jack Donaghy (Alec Baldwin) said: "We produce more failed pilots than the French Air Force."
"Intelligence tests are biased toward the literate."—George Carlin
"Education is the inculcation of the incomprehensible into the indifferent by the incompetent."—John Maynard Keynes
A FOOTNOTE TO AN OBIT: WHY DIDN'T WE KNOW?
Bill Blackbeard Died and None of Us Knew for Six Weeks Thereafter
It started with Bob Beerbohm. More or less. He started looking for his old friend and the search led to the obituaries. For the last 6-8 months, Beerbohm had been feeling that he ought to go see Bill Blackbeard. It was an old habit gnawing away at him. It was, he said later, "an intense need to see Bill." And if he hadn't had that feeling, we might not have found out for a much longer time that Blackbeard, "the man who saved the comics," had slipped away from us on March 10.
A dealer in comics since the early 1970s when he and John Barrett and Bud Plant opened the Berkeley Comic Art Shoppe on Telegraph Avenue a few blocks away from the University of California Berkeley campus, Beerbohm regularly visited Blackbeard, first at the San Francisco Academy of Comic Art on Ulloa Street in San Francisco's Sunset District, then, after Blackbeard left there, at his mobile home in Santa Cruz. He had met Blackbeard in 1972 when he'd dropped into the Shoppe and engaged Beerbohm in conversation about comic strips. Soon thereafter, Beerbohm made his first visit to the SFACA, and he was blown away by "the mountains of comic strips and bound volumes all carefully indexed and sorted."
"I became an ardent fan of his work," Beerbohm wrote, "supporting him in every way I could." It led to a life-long friendship, founded in a mutual passion for collecting old newspaper comic strips.
When Beerbohm was asked in late 1996 by the Overstreet people at Gemstone to co-create what became known as the Platinum Era section of the Price Guide, he went to the SFACA to start reclaiming "lost" comic book knowledge. "We spent several days going through drawer after drawer with Bill saying, 'What took you guys so long?' to decide to explore the comic books published before the advent of Famous Funnies in1934."
And Blackbeard had a surprise to show Beerbohm: "a very short run of Hugo Hercules, a newspaper strip which ran late 1902 through early 1903 in the Chicago Tribune, drawn by the otherwise unknown cartoonist J. Koerner. Hugo was the first super hero in comics: he had super strength [which he displayed by] hurtling a burning house into Lake Michigan. He also had super speed, running faster than street cars, etc. Bill published a couple color examples in his slip-cased double volume Comic Strip Century. It is entirely possible that a very young Chicago resident named Philip Wylie read Hugo since that is the name he gave his super-heroic character in his much-later book The Gladiator (1930) which, in turn, teenagers Jerry Siegel and Joe Shuster absorbed as they invented their comic strip about a Lost Son of Krypton." (If Wylie read Hugo, it had to be in reprint: Wylie would have been only 2-3 years old while the strip was running. But it's a nicely poetic idea, and it's an easy way to explain the name choice.)
Beerbohm also played a role with Blackbeard in rounding up material for the Fantagraphics' continuation of the Krazy Kat reprint project initiated by Eclipse in 1988. "Amongst other artifacts shown in the various volumes, I supplied all the photographs of George Herriman without his hat, demonstrating once and for all that the greatest comic strip of all time was created by a person of color."
Continuing a reminiscence recently, Beerbohm said: "We had many a fond philosophical argument over what constituted a 'comic strip' as he was of the 'old' school who in the 60s had some sort of conclave that determined that a comic strip had to have word balloons, something I have never agreed to. Especially so when Bill would declare that my beloved Foster Prince Valiant Sunday pages were, in (his) fact, not comic strips but illustrations for a prose narrative.
I remember when I first breezed through his Santa Cruz digs on Sea Cliff Drive with my newly acquired Obadiah Oldbuck by Topffer (1842 Wilson & Co NYC; first edition). This is America's first comic strip and also comic book. I placed it in front of him, but he just could not quite make the leap past Yellow Kid. But the stuff I was showing him form my travels made him waver eventually."
For several years, Beerbohm would stop by Blackbeard's Santa Cruz domicile when returning from the San Diego Comic Con to his warehouse near his home in Freemont, Nebraska. The ritual was interrupted for several years lately as Beerbohm recovered from hip replacement surgery and lost contact, temporarily, with Blackbeard. But after this year's WonderCon in early April, Beerbohm responded to the nagging urge he felt to visit the famed collector. Beerbohm was planning to fly to the Bay Area on business, and he thought he'd make a detour to Santa Cruz.
When he tried to phone Blackbeard, he found that the phone number had been disconnected. Beerbohm then phoned Ohio State University's Cartoon Library, thinking curator Lucy Caswell would have a good phone number. Lucy, Bob discovered, was mostly retired, but her successor, Jenny Robb, referred him to Gary Groth at Fantagraphics. When he got Groth on the line, he learned that Blackbeard was in a nursing home. Groth gave him a viable phone number, and Beerbohm dialed, but the line was busy.
It might have been Groth phoning the nursing home. Groth and his partner Kim Thompson had not been in contact with Blackbeard for about nine months. Their last use of the SFACA trove had been for the Krazy Kat volumes, the last of which was published a few months ago. But when Beerbohm phoned him, Groth decided to find out what was happening with Blackbeard and phoned the nursing home. It was Friday, April 22.
When he asked for Blackbeard, they told him he was deceased. When he pressed for details—when and cause of death—they refused, saying privacy laws prevented them from giving such information to anyone not on a "next of kin" list. Groth then phoned me, and I went to work on the obituary that we posted at the online Comics Journal on Monday, April 25, and here at Rants & Raves a day later.
Beerbohm, meanwhile, finally got through to the nursing home an hour or so after Groth's phone call. His experience was the same as Groth's:
"The lady who answered said a Bill Blackbeard was not on their roll call list, so she clicked me over to their medical records department. That person informed me Bill had passed away some time ago. It hit me like a ton of bricks had fallen on my head.
"'What?'" is all I managed to get out at first.
"After going round and round with her for some minutes, I realized privacy laws dictated they were not going to divulge any information whatsoever as I was not on a 'next of kin' info list. I asked her finally if Bill had still been alive during the time of Wondercon which had been the first week end of April, and she told me he had died some time before that. A bit of anger overtook me when it sunk in that Bill had passed away months ago and no one knew. 'Why is that?' is the question still on my mind. Tears came to my eyes as I realized I was too late to ever say good bye in person to my friend of almost 40 years. One last chat about the wonderful world of comics which had absorbed life full time for some of us for so long."
Beerbohm remembered when Blackbeard told him he was selling his comics hoard to OSU: "I asked him 'why,' and his reply was, 'Bob, at some point one thinks more about Metamucil than anything else, besides I am keeping the 'good stuff' for another decade—everything earlier than 1920.' We laughed together."
But Beerbohm's question hangs in the air: Why did no one know that Blackbeard had died? The man whose passion for collecting comic strips had launched hundreds of reprint projects slipped away without anyone knowing? "Why is that?"
OF THOSE WHO SHARED BLACKBEARD'S VISION, one of the last to see him was Peter Maresca of Sunday Press Books, which has published a half-dozen stunning reprints of Sunday funnies, beginning with Winsor McCay's Little Nemo.
"I don't think there would be a Sunday Press Books without Bill Blackbeard," Maresca wrote in his Tribute at The Comics Journal online (tcj.com). "And if he had not spent those many years mining the trash of our short-sighted libraries, sorting, clipping, cataloging, Xeroxing, and of course, writing and editing, I'm pretty sure that the wealth of comics reprints we enjoy today would be greatly diminished, as would the broad appreciation and acceptance of the true American art form known as the comic strip. Bill was certainly aware of his accomplishments, but of greater importance to him was that he was having such fun doing it all.
"Bill was a friend and a mentor," Maresca continued. "I first met him in 1980, but only got to know him well in the last decade. I visited with him a few times a year since he moved from San Francisco down to Santa Cruz. The last visit was just before Christmas, 2010; his mind and movement were considerably slower than just a few months earlier, but he still talked about projects present and future. Somehow I thought he'd keep going forever."
At tcj.com, we can find numerous other tributes to Blackbeard—recollections by friends and colleagues and encomiums for the man who saved the comics. But Pete's remarks, both at tcj.com and in notes to me, seem to shed light on why no one knew for such a long time that Blackbeard left us. When Blackbeard moved to Santa Cruz, he set up housekeeping with his wife Barbara in a mobile home—near the ocean, he told Maresca, so she could surf every day.
Maresca went on: "Once, I think in 2007, I went to the trailer and he was looking terrible, said he was having a hard time breathing, and I decided to take him to the hospital. He said he had been in bad shape for over a day. I asked him about his wife. He said she wasn't around and we left it at that. Turned out he had heavy duty pneumonia and was in the hospital for a few more days, treated with IV antibiotics. The next time I called him, a few months later, the phone was disconnected. I freaked. Called Kim Thompson who gave me the number at the nursing home. I don't know if Bill's wife was out of the picture completely at that time, but he never did mention her.
"I watched his health deteriorate steadily over the last eight years, but his spirit—his love for and devotion to his calling—remained strong to the end. Art Spiegelman and I took him out to lunch one day shortly before he was forced to move from his trailer to the nursing home in Watsonville, a few miles to the south. Unfortunately, there was no one around to give him the home care he needed. He could barely walk, occasionally needed oxygen, but during our visit he made only slight reference to his ailments, as if they were a minor nuisance, and much preferred to hear more about what we were doing. Art was in Santa Cruz that day to speak on his No Towers book and how he channeled the early comics artists to help himself through frightening times. I had just released my first Little Nemo collection, conceived with great encouragement from Bill. I listened as he told stories and shared his knowledge of comics history, expanding an appreciation of both the medium and the work he had done to bring it to a modern audience."
If Barbara was no longer around in Bill's last couple years, that might explain why he passed from among us with so little initial attention. The nursing home personnel probably knew nothing about his life and signal achievements: from their perspective, a simple notice in the local newspaper (date of death, maybe nothing more) was routine and deemed sufficient.
Nursing homes are usually fairly depressing places, Maresca noted. "But Bill was remarkably upbeat about it all, saying they treated him quite well. I visited many relatives in nursing homes (big Italian family), and they ALL spent some time bitching about it, but not Bill. I never really knew Bill until he moved to Santa Cruz, don't know what he was like in the heyday. Maybe he was a bit more forceful? But I was thinking—hell, when I start dying everybody's going to know about it and I'll be sure to get attention and sympathy. But the Bill I knew wasn't that kind of guy. Didn't want to ever put anybody out, never expected things of others. I know he loved it when I could get down there and talk comics for a few hours, but would never think of calling me to ask when I'd be down again. Well, maybe he was like me and thought he'd be playing with the ol' comic strips forever.
"I found his kindness and support to be boundless. And so was his emotional energy, even as his physical energy left him. Funny thing—I would often feel jaded about comics strips, having collected, clipped and compiled for nearly 40 years, but with each visit to Bill, I felt a contagious enthusiasm, realizing there still much to learn, still new ways of viewing old creations. On occasion, I would bring down an old strip he had never seen, unlikely as that may seem, and he'd light up like a schoolboy at the drugstore comics rack on delivery day. Quite a guy."
Yes.
EDITOONERY
Afflicting the Comfortable and Comforting the Afflicted
IN HARVESTING THIS MONTH'S CROP of ripe editorial cartoons, I thought I'd have eight of them: four powerful visual metaphors, wracked with impact on deadly serious subjects; then four highly comical cartoons devoted to the silly preoccupations that have captivated our sensation-starved body politic. So much for that diet, as you can see here.
As usual, I've provided a Red Circled Number on each exhibit to which the ensuing examination is, perforce, keyed. Probably the best way to join in the festivities is to print out each of these visual aids and have them before you, in succession, as we applaud the devices by which the editoonists make their comments persuasively mnemonic In every instance, we begin with the cartoon at the upper left and then gallop along clockwise until we've run off the page.
IN RED ONE, Daryl Cagle captures in a single deft image a memorable metaphor for the effect that the nuclear threat in Japan has had on the nuclear power industry, employing a bloodless act of hari kari (notice that only electrical sparks gush from the wound). "Also known as sepuku," answer.com tells us helpfully, "hari kari is an ancient form of ritual suicide that defeated samurai, or those whose shame was 'too unbearable,' would use to restore their honor in death. In sepuku, one would take a wakizashi (short sword) and disembowel oneself. The less noise you made while doing this, the braver you were and therefore the more honorable, however this did not last long because not long after you had begun, a close friend, comrade, or enemy would put you out of your misery by cleaving your head from your shoulders in one swift blow of the katana (another Japanese sword)." Helpful, as I said. And sepuka perfectly denotes what's happening in Japan: the nuclear power industry is killing itself by the faults in its very design. If there's a katana, we don't know, yet, what it is.
Cagle also gives us our next exemplary cartoon, this time a comic strip, a format that permits the repetition that gives his commentary its comedic impact by emphasizing the hypocrisy of Congress' Grumpy Old Pachyderm, who, after harping ceaselessly on the dire urgency of the need to cut spending in order to reduce the burgeoning deficit, takes up as its first piece of business another in its tedious succession of attempts to end abortion. Sort of puts the lie to the claim that cutting spending is all that important, eh? Nate Beeler also deploys the comic strip format to unhorse the hysterical contention, fed by the ever vigilant so-called news media, that shutting down the government would end all the life-support systems the government supplies. Although you couldn't tell from watching tv news, "essential" services would continue despite the shutdown—typically, police, fire fighting, postal service, armed forces, utilities, air traffic management, and corrections. So the posturing politicians who claimed a shutdown would deprive soldiers serving in Afghanistan of their pay, and their wives and families at home of the usual spousal allowance, were full of crapulous balderdash. As usual.
I didn't include a Scott Stantis cartoon on the subject because his picture serves only to identify the speaker—in this case, an ordinary somewhat overweight patriotic American in a bar, watching tv news report on the imminent government shutdown and saying, "Could be worse—they could start up again."
By the way (although not at all incidentally), although some Federal government workers—clerks and such like, minor officials who perform routine services for the public—would be sent home without pay, members of Congress would continue to draw the monthly portion of their $174,000 annual salaries. A bill that was introduced by Senator Barbara Boxer would have suspended congressional paychecks in any government shutdown; it passed the Democrat controlled Senate but was blocked in the TeaBagged House. Ironies abound. While Congress was contemplating how to avoid a shutdown and its vociferous members were bloviating about the Impending Doom of All Things Governmental, they all took a 10-day vacation at the end of March. So much for the attention our political leaders devote to the urgencies of the commonweal.
"Could be worse—they could come back to 'work.'" And they did. And as predicted, it's likely to get worse.
This month our dutiful Congress will presumably come to grips with its customary demagoguery, this time about raising the debt ceiling, but no matter how the issue is resolved—and it will be resolved—the solution will involve the financial contributions of the next couple generations of Americans, and Steve Breen gives us a perfect image for an overweening Congress creating this unfeeling legacy.
WITH RED TWO, we begin with deadly (literally) serious but quickly, given our propensity as a nation to get silly at the slightest provocation, turn our attention to the silly preoccupations. David Fitzsimmons provides the seriousness about death: Newsweek headlined its issue for March 13 with the news that 2,405 persons in the U.S. had been killed by guns since the slaughter at Tucson. The number has doubtless continued to rise, easily topping 4,000 by now, assuming the killing went on at the rate established between January 8 and March 13 (i.e., 268 per week). Next in clockwise order, Tom Eagan introduces our silliness rampage with commentary in comic strip form. The strip's hook to contemporary events is its allusion to reality tv. The strip, or series of mug shots, is mostly verbal, but the form allows repetition to stack the deck for an inevitable tumble in the last panel wherein we meet ordinary us, just tryin' to cope. Rhetorically, Eagan takes a tidy turn by alleging (sarcastically) that reality is as crazy as the objects of his scorn in the preceding panels.
Next we get to the real comedy of the month, Donald Trump's highly vaunted (by himself) entry into the presidential election race by turning birther. Cagle adroitly deploys the familiar image of evolution, which, as he reverses the process, supplies his opinion of the intellectual capabilities of the would-be candidate, who has "devolved" rather than "evolved" to arrive at an interrogatory worthy of a primate. David Brooks, the esteemed conservative columnist for the New York Times, had this to say on the subject of Trumpery: "In every society, there are a few rare souls who rise above subservience, insecurity and concern. Each morning they take their own abrasive urges out for a parade. They are so impressed by their achievements, so often reminded of their own obvious rightness, that every stray thought and synaptic ripple comes bursting out of their mouth fortified by impregnable certitude." Couldn't agree more—with both Cagle and Brooks.
But then, on April 27, Obama released the long form of his birth certificate. Although O'Bama's calling a press conference for the purpose may make it seem he's been co-opted by the birthers (Trump trumpeted that he was proud to have "accomplished something that nobody else has been able to accomplish"—namely, provoking Obama into producing another birth certificate, a more detailed one), the Prez made tactical use of the occasion to chastize the news media for focusing so much on trivial "side shows and carnival barkers" rather than the important issues of the day.
Producing the birth certificate will accomplish nothing, as Obama himself admitted: there will still be doubters who will find something to doubt about the legitimacy of his presidency. Trump, in the same sentence that proclaimed his pride at forcing the birth certificate into the open, demonstrated the idiocy of the birthers by saying: "Now we have to look at it. We have to see it. Is it real?"
Or in the immortal words of Richard Pryor: are you gonna believe me or your lying eyes?
Mike Keefe produced what we hope is the last word on the unquenchable and irrational persistence of birthers and their ilk: he depicts an obviously nutty fruitcake of a citizen (with an upside-down colander serving as a helmet on his head; not pictured here) who says: "Okay, so he was born in Hawaii—show me proof that Hawaii's a legitimate state."
Fact is, those who doubt that Obama was born in the U.S. are not going to be convinced of his citizenship by anything—birth certificate, contemporaneous announcements in two newspapers, marching bands, fireworks in the parking lot, even an intergalactic formation of UFOs. Nothing will convince them. No fact, however indisputable, will persuade them to abandon their cherished beliefs.
Trump is naturally immune to any such criticism. "He can't be embarrassed," columnist Mike Littwin said, "—that's what Trumpiness is all about. That's how he came to be dubbed the short-fingered vulgarian. He is damn proud. Why not? He was on tv again."
And Trump and his allies immediately moved on to another unexplored area, wondering how Obama got into college, places like Columbia and Harvard. Trump wants to see Obama's academic transcripts, implying that maybe Obama got into these prestigious institutions not through merit but by affirmative action—"as if there were no other way for someone like, you know, Obama to have succeeded." For more in this vein, consult our Spreading Punditry department at the bottom of the scroll. Here, we leave the matter by noting yet another conspiratorial theory a-borning, voiced by Gingrich the Newt, who said about the release of the birth certificate: "Why did it take so long [to release it]? The whole thing is strange." A plot, no doubt, deep-dyed and fraught.
Finally, to return (mercifully) to the pictures at hand—our ostensible purpose here—we have John Darkow's hilarious representation of Saudi Arabia's reaction to the worldwide attention the region is getting with popular uprisings that demand more freedom and democracy, exactly those aspects of civic life the Saudis don't want to infect their happy autocratic monarchy. Darkow's little playlet might well be a caricature of our own foreign policy perspective in the region: we jump into Lybia while standing on the sidelines in Syria, where "president" Bashar Assad, like Muammar Khadafy is gunning down his own people. When Khadafy started doing the same thing, NATO, prompted by the U.S., leapt into the fray. I am prepared to accept whatever explanations our rational Prez offers for this seeming two-facedness, but I gotta admit: it sure looks strange.
WITH RED THREE, we get really comical, headlining Trumpiness, of course. His antics are exactly the sort of thing Pat Oliphant, upper left, thrives on, and he goes the whole way here. Next in clockwise order is Breen, which I include here not because of its inherent brilliance (it's a good editoon but not great) but because of the Mallard Fillmore strip beneath it, another instance of not particularly great editoonery. In the latter, cartoonist Bruce Tinsley got the name of the AAEC wrong; but he's not a member, so he can be forgiven. Breen, who is a member, got it right.
With Keefe at the lower right, we get back to business. Several editorial cartoonists have ridiculed the emerging field of clownish Republican presidential candidates, but Keefe did it better than most, starting his clown metaphor with the old circus act of cramming 42 clowns into a volkswagen. And Mike Lester, always a pleasure to watch, gets the relationship between Koran burning and violence in the Muslim street just right and produces unforgettable visual hilarity at the same time (as he usually does).
IN RED FOUR, WE RETURN to seriousness with the ponderous debate over budget matters, pausing at the upper left with Bob Englehardt, who depicts the real culprits behind the ostracizing of unions in Wisconsin and elsewhere in the name of balancing the budget. Or as Jane Hascall, a chum from my college daze, said: "Remember when teachers, public employees, Planned Parenthood, NPR and PBS crashed the stock market, wiped out half of our 401Ks, took trillions in TARP money, spilled oil in the Gulf of Mexico, gave themselves billions in bonuses, and paid no taxes? Yeah, me neither."
Then we get to Paul Ryan. He materializes again in this Opus under The Spreading Punditry at the bottom of the scroll, where we subject his motives to severe scrutiny. Here, we observe, first, at the upper right, his debut on the cover of The Week magazine, which is distinguished among a gaggle of newsmagazines for its use of cartoon imagery—caricature chiefly—on its covers; this likeness was perpetrated by the perceptive Fred Harper, whose cover caricatures show up once or twice a month. Harper has Ryan perfectly—the supercilious smile, the big languid blue eyes, the bulbous schnoze, and the luxuriant hair (which, speaking as a bald person, I'm genetically envious of). This mild-mannered appearing young man is the person who, in the name of Ayn Randishness, is going to send older Americans out in the cold of the commercial health insurance world, where they will have to fend for themselves. You wouldn't think he'd be that cruel, would you—looking at him, I mean.
Pat Bagley is the next to take a shot at Ryan. His cartoon was produced just a day or so after Ryan introduced his Machiavellian dream budget machine, and when I saw this cartoon, I thought I saw an echo in the unicorn and rainbow streamers of a surrealistic painting by Marc Chagall, who was fond of turning earth-bound creatures into air-born mythological ones. When I surfed the Net for Chagall's unicorn, I found several. He liked unicorns. And some of them were flying, but none had the rainbow streamers we see in Bagley. So I asked Bagley if he'd used any such source as inspiration, and he said he hadn't. Just a happy vignette of Ryan astride a fantastic stead, flying into the night-time sky and lighting it all up with glitter. That alone, without any resonance from other visual imagery, is enough to indict Ryan for unrealistic political grandstanding—for fantasizing, in other words.
Next comes another of Lloyd Dangle's final Troubletown oeuvre. Herein, he piles up the indictment of Wisconsin's governor Scott Walker in terms that also evoke the Ryan scam. The Koch brothers, by the way, were substantial donors to the Walker campaign fund.
FOR THE LAST of our monthly survey with Red Five, we continue an examination of budgetary matters, beginning, at the upper left, with R.J. Matson's deft deployment of visual metaphors to demonstrate the effects of Paul Ryan's budget plan. Each of the visual elements in the cartoon fit perfectly into the over-all scenario. Obama is the Boy Scout, whose good deed helping the deficit requires jaywalking—or, rather, disobeying the onerous traffic signal—while SuperRyan beckons the old lady into his care, which entails throwing her under the bus. Nicely done. Incidentally, the destination sign at the top of the front of the bus (which I inadvertently lopped off when copying the cartoon) reads: Poorhouse.
In Tom the Dancing Bug, Ruben Bolling, like Lloyd Dangle, takes the implications of the Walker/Ryan plans to their logical conclusion, resulting in a sledge-hammer attack on the so-called logic of the plans. Unlike the specimen of Dangle we just witnessed, the Dancing Bug explores a single aspect of the issue rather than firing off a scattergun at all the fallacies masked by Ryan's bland good looks.
Below Bolling we have Jack Ohman, whom we don't see often enough around here, with his indelible imagery suggesting how wholly irrational is the rhetoric inherent in the Garrulous Old Pachyderm's budget. If not irrational, at least destructive.
At the lower left, we arrive at the next chapter in our assay of editooning this time with a cartoon by Egyptian cartooner Sherif Arafa, who, despite the governmental control of everything in Egypt, persisted in producing cartoons about the corruption that reigned in his country under Hosni Mubarak. Here in an adroit two-panel cartoon, he suggests what life will be like now that Mubarak is gone: Egyptians have rolled away the great black object that blocked the sun; the first panel shows what life was like before Mubarak was rolled away. Writing in Editor & Publisher for April, Rob Tornoe (himself an editoonist) observed that "it's fitting that cartoons would come into play in the historic overthrow of Mubarak's government—after all, the ancient Egyptians were the first civilization to have editorial cartoons."
Arafa, a dentist by trade, "has drawn cartoons for ten years at the state-run Rosa el-Youssef magazine in Egypt, struggling daily to give voice to criticism of the regime without triggering the censors in a country where free speech is too often trampled. ... Despite the barriers and the dangers he faces as a government critic, he wouldn't want to draw anywhere else."
The Arafa cartoon at hand would not have been possible before Mubarak stepped down. Although Arafa could be critical of some aspects of Egyptian life and government, he was not permitted to do cartoons about specific politicians, particularly Mubarak. To circumvent such restrictions, "Arafa created a character called 'The Responsible' that he featured in his cartoons, enabling him to say what he wanted without the risk of upsetting government censors."
While a number of "opposition" newspapers have been allowed in recent years, "none has been so bold as to print a caricature of Mubarak. According to Arafa, fellow Egyptian crtoonist Essam Hanafy was arrested for criticizing a minister, and opposition writer Abdel Haleem Kandeel was kidnapped, tortured and thrown naked onto a desert highway in the middle of the night."
But Arafa still finds "cartooning in Egypt interesting and joyful. I used to get tens of cartoon ideas just by driving to work every day," he said. "Everything is sarcastic. Official speeches are saying the opposite of what you see around. When you have a vision for a better future, you'll have a great motive to criticize everything the government did.'"
And in the future, he expects more freedom to comment on the follies of his government.
BUT IN LYBIA, at least one cartoonist was not so fortunate. New Yorker cartoonist Liza Donnelly, writing on April 15 at the magazine's website, reported: "Kais al-Hilali, a 34-year-old cartoonist, was shot and killed late in March while painting one of the political street murals for which he was locally famous. According to witnesses, he had just drawn a caricature of Muammar Qaddafi on a wall in Benghazi [the first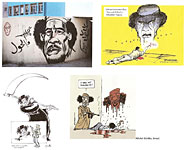 picture in our array at your elbow] when a bullet hit." Donnelly didn't say if al-Hilali was deliberately targeted or accidentally shot. She goes on: "The network of international cartoonist is tight, and when a fellow artist dies unjustly, word travels fast. It saddens and enrages cartoonists, and their response is to draw."American editoonist Jeff Danziger, similarly enraged, adds to the agonized outcry his visualized voice at the upper right. More cartoons by al-Hilali-s admirers can be seen at http://www.newyorker.com/online/blogs/newsdesk/2011/04/kais-al-hilali-libya-artist-cartoonists.html#ixzz1JlkUAxr7



READ AND RELISH
Tina Griego, a Denver Post columnist who retails human interest stories (with the emphasis on "human"), recently wrote about a Jewish neighborhood on the west side that has moved away. And she repeats the following story told to her by Libby Rosen, who, with her husband, owned Phil's Supermarket in the old now vanished neighborhood (in italics):
A lady came in and she says, "Libby, I want a herring."
So I put my hand in the barrel and I only had one herring. I pulled it out and she said—she talked to me in Yiddish—"That's really, really very nice, but maybe you have a bigger one?"
So I put that herring back into the barrel and pulled it out again and she said, in Yiddish, "That's very nice. I think I'll take both of them."
THE FROTH ESTATE
The Alleged News Institution
Time magazine celebrated the 150th anniversary of the Civil War's April 12 start with a cover story that spent 8 pages systematically destroying the myth that the war wasn't about slavery at all but about state's rights, a favorite fairytale of the long lost Confederacy and its maudlin adherents. "North and south shared the burden of slavery," David Von Drehle's piece begins, "and after the war, they shared in forgetting about it. But 150 years later, it's time to tell the truth." He goes on to quote from Lincoln's Inaugural Address:
"One section of our country believes slavery is right and ought to be extended, while the other believes it is wrong and ought not to be extended. This is the only substantial dispute."
It was, Von Drehle says, "not a controversial statement at the time." Everyone agreed: slavery was the issue and the cause. But after the devastation and carnage of the war, everyone tried to forget in an effort to "move on." Von Drehle's article is a welcome corrective, tracing the history of that forgetfulness as well as outlining the actual slavery-based origins of the dispute that ended with 620,000 Americans, Northerners and Southerners, dead.
IT WOULD BE HARD NOT TO GLOAT. In announcing the death of Osama bin Laden, Prez Baracko Bama surrendered to the temptation only slightly—enough to re-affirm U.S. dedication to fighting terrorism and to assert that the assassination of bin Laden demonstrates our tenacity in that cause. But the so-called news media declared a mardi gras over the announcement, and started at once parading through the streets, blowing bugles and throwing beads to the throngs on the margins. Repeatedly, it was asserted that bin Laden was not so much assassinated as he was "brought to justice." O'Bama said the same thing. Claptrap.
This is the lingo of another time, of the Old West. It reminds me of Louis L'Amour characters swaggering around in pursuit of some miscellaneous miscreant and threatening to "read to him out of the book," the "book" being a rifle; and "reading" meant something quite different that decoding language. Picturesque and slangy euphemism but not of our time. "Bringing someone to justice" smacks of two-gun GeeDubya's "dead or alive" pronouncement. It's pure euphemism, as I said—a polite way of vowing bloody vengeance for a crime or insult. In our everyday world, bringing someone to justice involves a court of law and a gaggle of legal trappings. Bin Laden was killed, ostensibly for crimes that no court of law has yet found him guilty of. Justice may have been served but only in a poetic, not a legal, sense. No matter. Let us not in the jubilant rejoicing over the death of a genuinely bad guy resort to euphemism to describe a justifiable execution. "Vengeance is mine, saith the Lord," in asserting that only He could extract revenge (Romans xii: 18). But if it's okay for the Almighty to exact it, it's okay for us, too, and we shouldn't be bashful about recognizing our act for what it does: it avenges the deaths of those thousands who died on September 11 and thereafter under the hot sun of Iraq and Afghanistan.
And it was the right thing to do. Not only did bin Laden deserve to die—without a trial, just as those he ordered killed had no trial—but killing him immediately removed countless roadblocks and distractions that would have cropped up had he been taken prisoner with the object of bringing him to trial. Not the least of which is the question of where he would be tried. Congress has effectively forbidden trials of the Guantanamo detainees taking place in this country out of abject fear that their presence here would inspire acts of terrorism. What might Congress do if confronted with bin Laden and a place to try him?
Not a few of the hysterical newscasters referred to bin Laden over and over as the "mastermind" of al Qaeda. Not likely. Bin Laden was a charismatic personality who served as inspiration for many acts of terror around the world. But I doubt that he "masterminded" any of them. In a few cases, he may have approved of a plan that someone else masterminded. Probably approved of the 9/11 scheme. But he almost certainly did not conceive of the plan or pull the many strings needed to put it into action. Remember, he got his baptism under fire in Afghanistan when he joined a ragtag collection of would-be warriors trying to drive the Soviets out of the country; the most military experience he had was on a night raid during which he managed to shoot a rifle in the direction of the foe. Then he fled the field. So did everyone he was with; courage under fire was not their forte. And however trivial the "military" action, it was scarcely the sort of thing that "masterminding" describes. "Mastermind"—phooey: tv news hyperbole.
"Head" of al Qaeda? Again, not likely. Al Qaeda is not, after all, an organization that has a head. When we express that belief, we are under the influence of our experience of military and corporate hierarchies: in our experience, anything with a seeming organizational name has an organization chart with someone at the top, at the head. Al Qaeda, however, is, at best, a widely scattered bunch of hoodlum street gangs, unemployed armed mercenaries, and religious fanatics loosely allied through a sense of loyalty to bin Laden and the hatred for the West that he embodied and inspired.
Now, don't misunderstand: I think he was guilty of fostering terrorism, a jihad that resulted in the deaths of thousands of innocent people. He certainly deserved the kind of "justice" he got. Although a hangman's noose might have appealed to me better than the bullet he got in the head. But the "justice" he got wasn't justice in the usual, legal, sense of the word. Nor was he a mastermind; and al Qaeda isn't an organization, tightly knit and centrally controlled.
And here, just to round out this diatribe with a chuckle or two, are a few editoons on the subject of bin Laden's demise, beginning at the upper left of the first of our two visual aids with the first one I saw, cropping up at Cagle Post (cagle.com).
| | |
| --- | --- |
| | |
Then, clockwise on the same page, two more from a little later in the day (Monday, May 2). All three are from countries other than our own; in order, Martin Sutovec, Slavakia; Peter Broelman and then Pat Zanetti, both Australians. The "foreign" origins may have occurred because these cartooners' newspapers went to press "yesterday" while ours are still getting printed, so our editoonists haven't showed up yet (as of 3:30 pm, MST, May 2). And all three depict bin Laden's arrival in Hell. Partly, that's coincidence; partly, it's because these three seemed funnier than the rest of the early arrivals at Cagle Post. Many of the others were simply breast-beating triumphalist blurts, crowing eagles and the like. This trio at least found comedy in (1) Osama scaring even the devil at his very doorstep, (2) birthers and their looney leader, Trump (always good for a laugh around here), and (3) that tired old notion that virgins will minister to the needs of martyrs—although in this case, since Osama winds up in Hell instead of Heaven, there are no virgins, right? Makes sense to me.
Among the later postings, bin Laden in Hell was a prevailing theme. That surprised me at first. Then, after cogitating about it for a moment, I realized that if you're faced with a deadline, as all editoonists are, bin Laden in Hell is a notion that quickly dispenses with a couple of concerns. First, sending Osama to Hell was a consummation devoutly wished in the aftermath of 9/11; here, cartoonists were able to enact that wish visually. Second, and perhaps more important, depicting bin Laden in Hell with the Devil Himself enabled the cartoonist to avoid the more grisly aspects of the assassination. And they avoid seriousness altogether, resulting in a kind of comic relief.
At the lower left, however, we get serious with Mike Luckovich, who manages to invoke simultaneously two images to rejoice in bin Laden's demise—the usual toe-tag of the morgue, plus an ironic reminder of GeeDubya's premature declaration of victory.
Our next page begins at the upper left with Mike Lester, who splatters blood but gives the image both a comedic and a vengeful gloss by reminding us all (as if we need it) of those whose deaths bin Laden is largely responsible for. Going clockwise to the right, we have John Darkow getting almost silly with the "witch is dead" theme. I'm not sure what he intends with this. Are we to understand that our joy at bin Laden's death is excessive and, therefore, silly? Looks like it to me.
Next, Mike Keefe manages an image that ties bin Laden's death directly to tragedy of 9/11. The explosion in bin Laden's face is a bit of a stretch, but the tower-beard image makes the connection handily.
The last cartoon on this visual aid, at the lower left, has nothing to do with Osama—or with terrorism either, unless you're spooked by the F-word. This is the winner of the cartoon captioning contest published in The New Yorker on May 2. Notice the name of the caption writer. Yup: that's famed movie critic Roger Ebert, who wrote expansively, delightedly, about his win at guardian.co.uk, to wit—
I FINALLY WON The NewYorker cartoon caption competition. The cartoon caption writer is never satisfied. Week after week, year after year, I faithfully entered the cartoon caption contest run by The New Yorker, only to be passed over for winners that I believed were inferior to my own little gems. The magazine was obviously getting tens of thousands of entries. Who read them? What kind of a job was it?
Now I have been declared the winner of contest No. 281. Congratulations have poured in. Less attention has been paid to certain Nobel winners. That is because few people hope to win a Nobel, but everyone thinks their captions are better than the winning ones.
In a blogpost, Robert Mankoff, the magazine's cartoon editor, reveals that not only does the magazine read all the entries, it preserves them in a database. Correcting my hyperbole, he was able to conclude I had not entered every week, but only 107 times—which placed me in "569th place out of 502,416 unique entrants, who have submitted a total of 1,595,506 captions".
Mankoff reprinted four of my earlier losing entries, and there is the cause of my discontent. One of those entries, which even Mankoff describes as "great", was rejected by the magazine's caption contest board of censors. The cartoon shows a naked man seated on an aeroplane. My caption: "Now watch how I lift my tray table to its original and upright position." I think that's a funnier caption than the one I wrote for my winning entry.
Still, winning the contest under any circumstances at all must be counted as a career milestone. I can now say I've appeared in The New Yorker. The magazine has seemed heroic to me for decades, and there was a frisson in the thought that I had run up against its high moral standards, considering how hard Harold Ross and William Shawn, its first two editors, fought to keep such low-lifes as me out of its pages.
HERE AT RANCID RAVES UNDERGROUND HQ, we're delighted that Ebert won. It gives us something to ponder gleefully instead of brooding and ranting about Osama, assassination, or the folly of the Froth Estate.
PERSIFLAGE AND FURBELOWS
"The law, in its majestic equality, forbids the rich as well as the poor to sleep under bridges, to beg in the streets, and to steal bread." —Anatole France
"Lawsuit, n. A machine which you get into as a pig and come out as a sausage."—Ambrose Bierce
"Judges, as a class, display, in the matter of arranging alimony, that reckless generosity which is found only in men who are giving away someone else's cash."—P.G. Wodehouse
NEWSPAPER COMICS PAGE VIGIL
The Bump and Grind of Daily Stripping
CARTOONIST REACTIONS TO the Universal Uclick's takeover of United Media have started to surface. The takeover, reports Editor & Publisher's Rob Torne, "reduces the number of large syndicates providing content to newspapers from three to two, with King Features being the other." Said Universal's John Glynn, vice prez of acquisitions and rights: "We think this puts us in a great position. In the short term, it means one less guy [syndicate] selling against us." But, he continued: "The real opportunity this deal presents is online. It deepens our list of online content," he finished, one eye on the mobile outlets for online material.
Some cartoonists already syndicated are cautiously optimistic; they, after all, are already in circulation. But some, among them Graham Nolan, who draws Rex Morgan for King, are not so sure. Said Nolan: "This just means one less option on the road to traditional syndication for cartoonists. Not a good sign."
I agree. Several centuries ago, when I was a mere broth of a boy seeking national distribution for my comic strip, I took it around to several syndicates headquartered in New York. One stop was King Features, then the biggest of the bunch. The usual ritual for supplicants like me was to leave a "presentation booklet" at the syndicate for review, then return in a week or so to get the verdict. At King, however, the process was much less elaborate.
After describing to a receptionist the nature of my errand, she made a phone call and then told me to take the elevator to an upper floor. There, in the elevator lobby, I was met by some nameless factotum of the syndicate. He looked at my lowly booklet, which presented about a month's worth of strips, said he liked what he saw but that King wouldn't buy it because they wouldn't want to try selling it. King had so many strips in circulation that any new strip would probably result in another King strip losing its place.
"If we took it around to newspapers," he explained, "every editor who bought it would make room for it by kicking one of our strips out of the paper."
Could be he was merely being kind: instead of telling me my work was lousy, he told me about the dilemma King faced in considering any new strip. Maybe I wasn't ready for prime time, but my experience suggests Nolan's fears are well founded.
Good-bye, Brenda
By way of providing a suitable send-off for the retiring redhead, here's Jim Scancarelli's tribute in Gasoline Alley for Sunday, March 20, wherein, at the Old Comics Retirement Home, Brenda Starr is welcomed with great enthusiasm and pomp. Last August, Scancarelli also bid adieu to the other Tribune Media Services' redhead, Harold Gray's orphaned Annie, who disappeared in June. Annie, you'll note, didn't actually appear: in a perversely prescient moment, Scancarelli sent her off to wander the world with Brenda Starr's boyfriend, little knowing, of course, that Brenda was doomed, too.
CIVILIZATION'S LAST OUTPOST
One of a kind beats everything. —Dennis Miller adv.
THANQUES to John Cook at Gawker, we have met the champion fraud and overweening hypocrite of the week. Cook reports that Jonathan Tasini, "the litigious freelancer who's suing the Huffington Post for not paying its contributors," has a blog of his own where he invites readers to contribute. "No, he doesn't pay them." When Cook confronted him, Tasini said, "Oh, I see what you're doing. Are you comparing my little blog to the Huffington Post? That's absurd."
"He's right," Cook quipped, "—the Huffington Post generated enough money to make it an attractive target for a frivolous attention-seeking lawsuit. Totally different."
But the story doesn't end there. Tasini is apparently making a career out of suing and defrauding. He successfully sued the New York Times "for stiffing freelancers out of digital licensing fees," and he unsuccessfully ran for Congress in 2010. He also created a short-lived non-profit organization the stated purpose of which was to protect creators' rights. He collected more than $108,000 in donations by August 2002, then spent it conjuring up a website and paying himself consulting fees and travel expenses.
But you should go to Gawker.com and read Cook's report: it's laced with finely honed sarcasm too pointed to miss. If, like me, you can't find a way to search Gawker, then google "Jonathan Tasini sues Huffington Post," and you'll soon see Cook's headline.
THE SAME WEEK, in the category of Egomania Gone Barking Mad—again at Gawker.com— we found out that Dilbert creator Scott Adams concocted a pseudonymous personality he used to laud himself and bash critics on message boards. Caught, he confessed his "sockpuppetry" (as Adrian Chen called it), saying: "I am Scott Adams. I'm sorry I peed in your cesspool."
We shouldn't be surprised at Adams' high-handed treatment of fans and foes: after all, he's the guy who invented the pointy-haired boss. Doubtless there's a infectious strain of satire embedded in the pseudo-Scott.
"BACK IN THE 1980s, during the savings and loan crisis, 800 people went to jail" for breaking the laws and other financial malfeasances. So far this time, Denver Post columnist Mike Littwin observes, none of those presumably responsible for the current worldwide recession have seen the inside of a prison.
In the same vein, James Israel, publisher of Humor Times, writes: "As most of us endure economic hardship, brought on by irresponsible corporate 'persons'—financial 'geniuses' who also bought off legislators to help them privatize their profits while socializing the losses—the oil behemoths are enjoying record earnings. What is wrong with this picture?" (Humor Times, as I've said before, is a monthly feast of editorial cartoons and a few satirical columns: $18.95/12 issues at Humor Times, P.O. Box 162429, Sacramento, CA 95816.)
McDONALD'S, which, the Grumpy Old Pachyderm predicted, was supposed to plunge into bankruptcy, utterly destroyed by the increase in the minimum wage a few years ago, has plunged up instead of down: the fast-food empire went on a hiring binge April 19, signing up as many as 50,000 new workers, who will generate an estimated $54 million in federal, state, and local tax revenues. Once again, the dire prognostications of the GOP prove absolutely, profoundly, politically self-interestedly wrong wrong wrong.
AND, LEST WE FORGET, among art historians who ponder such matters are several, too many to discount, who maintain that the Leonardo da Vinci's Mona Lisa is actually a self-portrait of the artist. Elsewhere, the New York Times reports that cats kill about 500 million birds a year in the U.S., more than a thousand times the number of birds killed by power-generating wind turbines. And, finally, in Madrid, 62-year-old Pedro Soria Lopez won a sleeping contest by snoozing for 17 minutes in a noisy shopping mall: he bested his competition, who slept longer (18 minutes), by snoring so loudly (registering 70 decibels) that he earned extra points. In days like these, it's great to be alive, kimo sabe.
BOOK MARQUEE
Previews and Proclamations of Coming Attractions
This department works like a visit to the bookstore. When you browse in a bookstore, you don't critique books. You don't even read books: you pick up one, riffle its pages, and stop here and there to look at whatever has momentarily attracted your eye. You may read the first page or glance through the table of contents. All of that is what we do here, starting with—:
Skippy vs. the Mob: The Fight for Vesey Street nd the American Soul
By Percy Crosby with an essay by Joan Crosby Tibbets
208 12x6-inch pages, b/w; Rosebud Archives, paperback, $24.95
WE MENTIONED THIS LANDMARK volume in Opus 272; it collects, the publisher's press release divulges, "the only continuity Percy Crosby ever drew in his widely-syndicated Skippy strip, and features a comprehensive essay by the artist's daughter, chronicling an astonishing history of fraud, persecution, and betrayal." Crosby took on organized crime, and organized crime turned on the upstart cartoonist, effectively destroying him through the corporate machinations of the Skippy peanut butter people, who had adopted Crosby's character's name and the strip's iconic fence as the label on their product. The peanut butter aspect of the operation (as well as the history of the strip and Crosby's spectacular artistry) is discussed in Harv's Hindsights for April 2004; and the continuing saga of the fight is taken up in Ops. 70, 123, 172, and 272.
In the book at hand, Crosby's daughter presumably examines the peanut butter battle in the context of her father's 1930s crusade against Al Capone and his ilk. I haven't seen the book yet (but I've ordered a copy through the Rosebud website, the only outlet I could find for it); it purports to be illustrated with photos and Crosby's political cartoons and miscellaneous artwork in addition to the strips.
Working with Disney: Interviews with Animators, Producers, and Artists
By Don Peri
210 6x9-inch pages, b/w, no illustrations; University Press of Mississippi, hardcover, $55; paperback, $25
PERI IS THE ULTIMATE DISNEY FAN, he claims: a Baby Boomer who's watched Disney films all of his life, he met 30-year Disney veteran Ben Sharpsteen in 1974 and collaborated with him on his memoirs, which, unpublished, resides in the Walt Disney Archives. Peri then began interviewing other graduates of the Disney Studio who had known and worked with "Uncle Walt." The University Press published the first collection of the Peri interviews in 2008, Working with Walt: Interviews with Disney Artists, and we reviewed it here in Opus 225. This volume publishes another 15 interviews, including those Peri conducted with Frank Thomas, Ollie Johnston, and Marc Davis—three of Disney's legendary Nine Old Men of Animation—Dave Hand (first director, "after Walt," of short-subject cartoons and of "Snow White") and cast members at Disneyland on opening day, a couple of Mouseketeers, and others, among them Walter Lantz, who never worked for Disney but was a contemporary in early animation.
Among the things about Disney that impressed all of these interviewees was his relentless drive to surpass himself, to do something better this time than it had been done the last time. Disney called it "plussing." Said Frank Thomas: "Walt kept hunting. ... He loved Hiawatha—the idea of Hiawatha, the poem. He said, 'Unlock your thinking. Try to think of something new. There is something in [the poem] that people like. There's a magic to it. There's mystery to it. There's something in that subject matter. I don't know what it is. Don't think film. Maybe it's live. Maybe it's in a theater out in the woods. Maybe it's on a mountaintop. I don't know where the thing is or what you do with it, but there's an idea there that someone could get hold of.' Well, this is the way he was all the time. 'An idea there that somebody could get hold of.' No limitations on him."
The word he heard most often about Disney, Peri said, was awe. "They were then and for the rest of their lives in awe of him." Peri quotes artist Herb Ryman: "So each person that you talk to and each person you interview will have a little part of the puzzle, the jigsaw puzzle that [is] the portrait of Walt Disney."
But the interviews, in addition to offering deep insights into Disney and the operations of his Studio, are laced with other fascinating tidbits. Ollie Johnston, before going to work at Disney, attended Stanford University, where, he discloses, "they didn't have any life classes [in the art department]. Mrs. Stanford, way back in the early 1900s, had come in and found a nude model there, and she said no more models. So we had to drive up to San Mateo two nights a week to work from a model in a little small private art school."
Marc Davis remembers his first contact with Disney. He'd written a letter to Disney, "and I got a reply," he says: "I don't know how they made the mistake, but [the reply] began, 'Dear Miss Davis, Sorry, at the present time we are not hiring women artists.' I wish I'd kept the letter!"
The Walter Lantz interview sheds new light on the incident of Oswald the Lucky Rabbit, the Disney creation that was stolen by Charles Mintz, who had insinuated himself into the Disney operation by marrying Disney's distributor, Margaret J. Winkler, and then, in 1928, finessing Oswald away from Disney by claiming that he, Mintz, owned the Oswald copyright. Not so, said Lantz: the Oswald copyright was always owned by Universal, for whom Disney as well as Mintz was producing animated cartoons. Devastated by what he supposed was the loss of Oswald, Disney invented Mickey Mouse. "Universal didn't want any part of it," Lantz remembered, "—they said that mice wouldn't go." But Universal wanted its own cartoon department and asked Lantz to set one up. Lantz, who by then had ten years experience in animation, said he would, "providing I could redesign the rabbit. I made him a white rabbit, which is not the Disney rabbit at all." Disney's Oswald was all black, and he was reincarnated in Mickey but without long ears.
The animation studios in those days, Lantz said, comprised a pretty friendly group. "If an animator [in his studio] had come to me and said he wanted to go to work for Disney, I'd call up Walt and I'd say, 'Walt, this fellow thinks he can do better with you.' He'd say, 'How much you paying him?' I'd tell him. He'd say, 'I can't pay him any more than you're paying him.' That was the end of it. But if you could get an increase going someplace else, okay—God bless you, go ahead. ... We had a wonderful group, and we still have. I think that animated cartoonists are a wonderful group of people."
Woody Woodpecker was Lantz's most celebrated creation, and Woody was voiced at first by Mel Blanc until Warner Bros signed Blanc to an exclusive contract. Said Lantz: "I started shopping around, tried various voices. I decided on using Gracie, my wife, who had a lot of experience in the theater and was a good reader. It's a speeded-up voice anyway, you know. We shoot it straight up and then speed it up. She's been doing it now, oh, since 1950."
And there's more, much more. This book and the Peri predecessor are available at upress.state.ms.us.
Denis Kitchen's Chipboard Sketchbook
By Denis Kitchen
130 6x9-inch pages, b/w mostly with flecks of color; Boom! Town, hardcover, $19.95
THE BOOK OF BOREDOM is what you might call this tome. But you won't be bored: you'll be vastly amused by this collection of doodles Kitchen committed while bored in bored meetings and other convenings he was subjected to while running Kitchen Sink Press. To stay awake, he says in the Introduction (the only text in the book, merely five pages of it, and some pages are half illustration), he doodled with a Sharpie pen and Uni-Ball Micro ballpoint on the cardboard backing of tablets of writing paper—what printers call "chipboard." Sometimes, as with Erik Larsen's Herculian volume (reviewed below), cartooning is just fun. Fun. And/or funny. And this fugitive from the Kitchen is another instance of this happy confluence. Greg Sadowski's design results in the entire content being printed on paper that strenuously resembles chipboard, so we get the authentic experience of seeing Kitchen's pictures in their native habitat. Nifty stuff, as you can see from the samples arrayed nearby.
| | |
| --- | --- |
| | |
The entire sordid story of Kitchen and his Sink Press is related in copious detail in Harv's Hindsight for September 2009, should you want to re-acquaint yourself with it for the sake of deeper appreciation of the whole Kitchen enchilada.
101 Funny Things about Global Warming
By Sidney Harris & Colleagues
112 5x7-inch pages, b/w; Bloomsbury hardcover, $13.95
HARRIS'S COLLEAGUES are mostly fellow New Yorker cartoonists, but Ben Katchor is here with a four-page strip entitled "In the Shade" in which persons whose skins are sensitive to sunlight go to elaborate extremes when outdoors to walk as much as possible in the shade of the buildings. Lee Lorenz is in this book, as is Gahan Wilson and, as I said, other New Yorker cartooners, all producing an array of single-panel gag cartoons about pollution, disappearing shore lines, and bare survival in the New Age. But it's mostly Sidney Harris, whose disjoined line is one of the most amusing and enthralling in the business. Samples show up near here.
Old Farts Are Forever
By Lee Lorenz
128 6x6-inch pages, b/w; Andrews McMeel paperback, $9.99
ANOTHER NEW YORKER CARTOONIST presents, herein, his view of aging, gracefully or not. Lorenz introduces this collection with this: "Just as people begin to look like their dogs, cartoonists begin to look like their people. This notion hit me one day when I looked in the mirror and discovered that, after so many years of drawing old farts, I had become one." I like Lorenz's style as much as Harris', and in the selection arrayed above next to the Global Warming samples (as in the book itself), we can watch as he administers his energetic brush in an increasingly slapdash manner as time weaves its way. But vintage or recent, the pictures are a delight to behold.
Wild Wood: 100 Pages of Art and Text
Edited by Greg Theakston (yes, inventor of "theakstonizeing")
154 8x11-inch pages, b/w; Pure Imagination paperback, $25
ANOTHER EXAMPLE of "theakstonizing" that, herein, ranges from astonishingly good reproduction to complete desecration, lines lost and shading gone entirely awry. But the book is worth owning for a single legendary item: the Wood masterpiece of a comics art storytelling guide, "Wally Wood's 22 Panels That Always Work," poorly reproduced in the book but we've included it in the visual aids here anyway because you're not likely to see it anywhere else soon. Another rare artifact herein is Wood's Prince Valiant try-out page, a stunning imitation of Hal Foster.
Adopting the narrative mannerisms of a hard-boiled detective, editor/publisher Theakston regales us with a story about how he met and disappointed Wood, then interviews several notables who began as Wood's assistants—Joe Orlando, Ralph Reese, Dan Adkins, and Paul Kirchner, all of whom testify to Wood's seemingly inexhaustible capacity for work and his contribution to their own development as comic book artists. Kirchner is the most detailed on the latter topic:
"It wasn't so much outright teaching: you just picked up things. ... I used to do rough pencils and layouts, and Woody would go over the job and make corrections. Watching him correct my work was the best kind of education: he would leave what was good and correct and alter my weak points. I could see exactly where my work needed help."
The Wood work includes material from as early as 1950 and as late as 1975, but not all of the content here is dated or sourced. Sabu Comics, No. 2, April 1950, includes two stories, one of which seems too clumsily inked to be Wood. Also scattered throughout is pulp art from 1957 (wash drawings mostly); mildly risque girlie gag cartoons; unpublished humor art from the sixties; the entire 1967 comic book adaptation of the "Fantastic Voyage" movie; and The Destructor, No. 2, April 1975, penciled by Steve Ditko and inked by Wood.
Edie Ernst: USO Singer, Allied Spy
By Brooke McEldowney
96 8.5x11-inch pages, b/w; Pib Press paperback, $19.99
AN ABSOLUTELY ENTHRALLING story of love and sex and the tenterhooks of espionage, this volume reprints the longest continuity in modern comic strip history, the ten-month tale told by the grandmother at McEldowney's 9 Chickweed Lane about her World War II career as a USO singer. I mentioned this book last time in Opus 275, but, upon reflection, I decided the story deserves more than the passing applause I gave it when I finished reading it, just before post time. Edie, the grandmother, was, during the 1940s, a spectacularly seductive beauty. She was recruited to spy on German POWs and managed to fall in love with (1) her American handler and (2) a German officer who was a superb singer. The former was sent off on a suicidal mission and presumed dead. Edie was separated from the latter at the end of the War. Both, however, show up about ten years later. How Edie deals with two men, both of whose love she returns, passionately, is the rest of McEldowney's tale, which he tells with his usual narrative flourishes of humor and compassion.
As I mentioned last time, Pib Press is McEldowney's imprint, so you should order directly from him at either pibpress@gmail.com or Pib Press, P.O. Box 942, Kennebunk, Maine 04043. You won't regret it.
The Complete Peanuts: 1979-1980
By Charles M. Schulz
340 6.5x8.5-inch landscape pages, b/w; Fantagraphics hardcover, $28.99
THIS LANDMARK SERIES continues apace, two volumes a year, without fail, now fifteen volumes, each book a quiet triumph of understated design by Seth. This volume begins with a Foreword by tv's Al Roker, who was the last to interview Schulz as the cartoonist was slowly, day by day, dying. Roker, he tells us, was a comic strip fan since he was seven, when he discovered Peanuts. He dreamed of becoming a cartoonist (or, "better, an animator") and clipped and saved Peanuts, pasting them up in a notebook in strict chronological order and rejoicing when, at the age of 12, he saw Franklin, a kid who looked like him—i.e., an African American—arrive in the strip in July 1968. By then, Roker had discovered the Fawcett-Crest reprints of the strip, realizing that "somebody" had stolen his idea, collecting all the strips in book form.
The book, as all its predecessors, concludes with an exhaustive index to the content and a short biography of Schulz by publisher Gary Groth. This massive archive-worthy reprint project has only twenty years to go, ten more volumes. Three strips to a page, every page dated. A historian's dream. A Peanuts fan's delight.
FUNNYBOOK FAN FARE
Four-color Frolics
An admirable first issue must, above all else, contain such matter as will compel a reader to buy the second issue. At the same time, while provoking curiosity through mysteriousness, a good first issue must avoid being so mysterious as to be cryptic or incomprehensible. And, thirdly, it should introduce the title's principals, preferably in a way that makes us care about them. Fourth, a first issue should include a complete "episode"—that is, something should happen, a crisis of some kind, which is resolved by the end of the issue, without, at the same time, detracting from the cliffhanger aspect of the effort that will compel us to buy the next issue.
ERIK LARSEN'S giant-sized 8x12-inch comic book one-shot, the 48-page Herculian, features a 24-hour comic that Larsen produced at a friend's house during a single 24-hour period. The book also includes a smattering of bizarrely humorous pieces, both short and shorter. One is entitled "Mickey Maus," wherein a pasty-faced Mickey shows up with a bunch of Spiegelman mice, all in the striped uniforms of WWI Nazi concentration camps; Mickey says, "I guess those Nazis aren't all bad: at least they're letting us have a shower."
There are six one-page comics entitled "Reggie the Veggie," starring a man with no legs who sits, throughout—all six pagers—on his wheeled cart, motionless, with virtually nothing happening. In one, a fly lands on his nose and then flies off; in another, Reggie is snowed on. Wonderful, sick nonsense.
The title piece, a 24-page epic, is entitled "Guy Talk" and takes place in a diner where two friends have met to have a cup of coffee. One of them tells the other that he plans to get married; the other guy, disparaging marriage, tries to talk him out of it. While this is earnestly transpiring, the superhero Herculian shows up and engages in a savage fist-fight with a buxom superheroine and her vicious dog. The guys continue their talk, oblivious to the property damage and all-out havoc being wrought all around them. The ending is another of the shaggy-dog endings that distinguish the rest of Larsen's oeuvre in this tome. Aside from the dubious comedy (which I enthusiastically applaud), the book offers a generous display of Larsen's best high-energy drawing, sample pages of which we append here.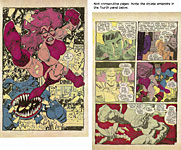 BUTCHER BAKER by writer Joe Casey and artist Mike Huddleston is another hilarious send-up of superhero comics. To begin with the most obvious, the first issue is a pulsatingly exuberant hodge-podge of drawing styles, from crisp black-and-white line to smattering brushwork, flecked occasionally with blue and red color, enhanced by full color (mostly fleshy tones) whenever Baker, "the Righteous Maker," is in an amorous mood, surrounded by toothsome barenekidwimmin—which he is, often.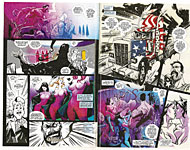 Much of the tale is narrated in the nastiest gonzo street argot by Baker, who flashes back and forth through a career of mayhem ("the greatest life ever lived," he says), but he eventually gets to the business at hand: hired by Jay Leno and Dick Cheney to destroy the specially built prison that incarcerates super villains—and to obliterate said villains at the same stroke—Baker sets off in his "beloved Liberty Belle," the super-powered cab of an 18-wheeler, eventually reaching his destination and incinerating the prison, the Crazy Keep, blowing it up and all inside, an act Baker feels "might end up as my Greatest Triumph—a final act of pure righteousness—but it's not, not even close." Well then, what is? Tune in next issue.
In ending the first issue on a note of ostensible triumph for Butcher Baker, Casey and Huddleston have, seemingly, unhinged the cliff-hanger mechanism by which we are usually seduced into buying subsequent issues. But the cliff-hanger is vital only to serial stories that depend upon plots, and Butcher Baker apparently does not: it depends, instead, upon the outrageous personality of its protagonist. Baker's obscenity-enriched rant throughout is characterization enough—and his carnal sybaritic lifestyle completes the picture. The finishing touches are added with the issue's other complete episode (other than the blowing up of the Crazy Keep), which involves Baker and the state trooper who goes after him, perceiving, rightly, that Baker in the Liberty Belle, passing by at 127 mph, is exceeding all speed limits combined and therefore sets off in heated pursuit. Baker, however, foils the lawman, crowding him off the road; whereupon, the trooper, upside-down in his capsized cop car, vows vengeance, saying, "This prick—whoever he is—just made my supreme shit list." More to come?
We'll come back because we want to see just how much more scabrous Baker will get in subsequent salacious sallies.
Here at last we have gonzo comics in the most fevered imitation of Father Hunter S. Thompson hissownself. Oh, and Ronald Reagan shows up, too—when, in one of his previous triumphs, Baker rescues his ass. (Ooops: I'm slipping into the lingo of the charade; sorry.)
Butcher Baker is the satiric comedy of extremities, making fun of superhero comics and all of us delirious fanboys—and a hoot throughout, picture and story.
THE LAST ISSUE of Marvel's flagship title, Fantastic Four No. 588, ends the series on a suitably quiet note. No words are spoken for 40 of the book's 48 pages, as the remaining FF and most of the rest of the Marvel Universe mourn the death of Johnny Storm, aka the Human Torch. Even Doom shows up and, uncharacteristically, says nothing. The usual volubility of the Marvel minions is muted, silent, out of respect, we assume, for the traditions of mourning: there are no words to express genuine grief.
Only on the last eight pages do any characters speak—and then only Spider-Man and young Franklin as the Webslinger tries to comfort the youngster and help him come to grips with the death of a relative. The two perch on an upper ledge of a tall building, enveloped by the silence of a distant cityscape. Writer Jonathan Hickman displays a deft hand in conducting a conversation that broaches the delicate subject directly but without maudlin sentiment. Nicely done.
Nick Dragotta's pictures are exemplars of clarity, no fussy feathering here—just linear definition, enhanced by Paul Mounts' colors. And Mark Brooks turns in a similar linear performance for the Spider-Man and Franklin epilogue, "Uncles." After that, Hickman explains the reason for ending the title and starting anew.
The idea, apparently, is to revive the FF as the seminal superhero club: the original group has become, over the years, a little set in their ways, let's say, but the new bunch (a quartet again with the addition of Spider-Man) will necessarily be "a modern Marvel Universe book." Saith Hickman: the relaunch is "about injecting the First Family back into the Marvel Universe proper." And for that, they get new uniforms.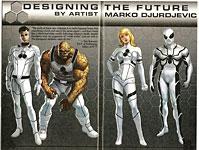 For the legions of Marvel fans, ending the company's flagship title seems almost blasphemous, but at least, the last issue of Fantastic Four is a stunningly memorable one.
STAN LEE'S Starborn, which is actually written by Chris Robertson, has reached its fourth issue, and we find Benjamin Warner, the ostensible hero of the piece—a would-be sf novelist—stranded in another world, much of it of his own imagining, whence he has been transported by his highschool crush, Tara Takamoto, who turns out to be a shape-shifting martial artist, now sworn to protect Benjamin, who is actually the scion of this fantasy world's emperor. Ben has acquired the Gauntlet, described as "the ultimate weapon," but since he doesn't know how to use it, he relies upon Tara to protect him. He spends most of the issue alternating between being terrified and being enthralled at the thought of actually living in the world he has previously imagined. The stylized angular art of Khary Randolph is nice to look at, but confusing as visual narrative: we see design where we should be able to discern people and actions. Since there are almost no backgrounds in the book's panels, the visual content is reduced to flash and sound effects.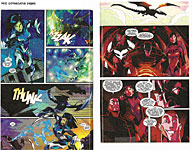 What I saw at first as the thematic core of the title, how a writer (Stan Lee?) copes with the world he invents, shows up in this issue only incidentally. I'll check back again later.
IN THE MISSION, writers Jon and Erich Hoeber offer a leisurely paced horror story in which an unassuming protagonist, Paul—just an ordinary white-collar worker in the ordinary albeit recession-infected corporate world—is given a mission by a stranger who calls himself Gabriel. The assignment: kill a man named Neal Corman. Paul is suitably appalled (pardon the expression) and declines the dubious honor. But Gabriel ("You can call me Gabe") has powers—and he demonstrates that he can kill Paul by giving him cancer. Paul still resists, but he finds Corman, who is playing with his daughter. Contemplating the scene, Paul thinks Corman is a loving father, possibly "the dad of the year." But when he goes into the courtroom where the custody of the daughter is being decided, he watches in horror as Corman pulls out a pistol and starts killing people. Suddenly, Paul realizes that if he'd completed his mission as Gabriel directed, the lives Corman snuffed out would have been spared. The first issue ends there, a stunning cliffhanger.
During domestic interludes at his home, Paul shows himself to be a loving husband and father, a caring individual—not admirable, perhaps, but one of us. One of the issue's completed episodes is Paul's first encounter with Gabriel; another is his second encounter except this one ends with Paul seemingly accepting his assignment. Still, the purpose of a completed episode is served: we see the protagonist in action, his personality on display.
The Hoebers' tale is visualized by Werther dell-Edera with stark simplicity: bold lines, spare shading, plenty of solid blacks. The backgrounds are a little too geometric for my taste (they seem draw with a ruler and a compass), but they provide the essential locale and do not detract from the story, which is otherwise amply illuminated by the pictures.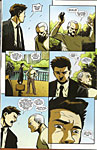 In the second issue, Paul gets another chance at Corman: Gabe's assignment this time is to save the girl (Corman's daughter), whom Corman has kidnaped, and kill Corman in the process. Paul traces Corman to his lair, a sparsely furnished hotel room, where he finds the villain writing in blood in the walls and vowing to kill his daughter: "I have to protect her innocence," he says, "I can't let her go to hell like me." Corman knows what Paul is there to do, and just as Paul holds a gun to Corman's head, Corman leaps out of the window to his death—an odd act of redemption that saves Paul both the trouble and his moral identity. Mission accomplished. But the title goes on: No. 3 is advertised. What moral dilemma will it present?
ONWARD, THE SPREADING PUNDITRY
The Thing of It Is ...
PLUTOCRACY REIGNS
I've lately been reading a little about Lincoln Steffens, the great muckraking journalist of the first decades of the last century. He said the corruption of politics by business interests had a single, over-riding objective: "to make the state officials, the legislature, the courts, all part of a system representing the special interests of bribers, corruptionists, and criminals; that acts of bribery and corruption done as a series of felonies form a continuous process which transforms the theoretically democratic government of the state and its cities into a plutocratic system which disserves the people and serves the seekers of privileges. ... Political corruption is, then, a process. It is not a temporary evil, not an accidental wickedness, not a passing symptom of the youth of a people. It is a natural process by which a democracy is made gradually over into a plutocracy. ... If this process goes on, then this American republic of ours will be a government that represents the organized evils of a privileged class."
I'd say we're pretty much there. The Democrats contribute too, but the Republicans make it obvious: ours is a government run for the benefit of the wealthy—millionaires, their banks and their corporations. Among the latest revelations is Rep. Paul Ryan's budget scheme which will privatize Medicare. Instead of a health care system being funded by government, the government will give everyone an allowance of money when they reach retirement age, and retirees will use the money to buy medical insurance.
That effectively caps the cost to the government at the amount of the annual allowance. The usual criticism of the plan is that while medical costs are sure to rise, the allowance is likely to stay the same—or, at best, lag behind increases in medical costs—so Ryan's plan would result in slowly depriving Americans of any kind of medical financial assistance as they grow older. That is undoubtedly true, but there's an even more insidious element in Ryan's plan.
The government will give money to citizens who will use it to buy medical insurance. Translated, that means the government is taking taxpayer money and putting it into the coffers of the already rich and powerful—business interests, insurance companies being businesses. Hence, my invocation of Lincoln Steffens.
The same logic explains the oft-touted drive to privatize Social Security: take the taxpayers' money and put it into stocks and bonds, subject, as such things are, to the manipulations of Wall Streeters—i.e., the rich and powerful—who use the money to make more money for themselves.
I can't imagine this kind of legislation actually getting enacted—particularly after the recent collapse of Wall Street and the Great Recession that followed. But it could happen.
It could happen because the government is populated almost entirely by wealthy people who want to get their hands on the steady stream of money coming in from taxpayers. Congress meets chiefly to figure out how to divvy up the tax revenue. The so-called common weal is not very high on the list of congressional priorities, seems to me.
I knew without knowing any of the details of Ryan's scam that it wouldn't be good for ordinary Americans. As soon as he started talking, he said his plan would give "power" to individuals to control their lives, their medical care and so on. Right: as far as I can tell, that means, "You're on your own, sucka." This attitude represents an abdication of social responsibility, not to mention a betrayal common humanity. In Old Testament terms, no one is any longer his brother's keeper.
Ryan believes that his plan would engage normal market forces by which the costs would be forced down by competition. These are the same market forces that would cause the tax breaks given to the wealthy to trickle down to the rest of us in the form of greater employment and the like. Remember how that worked? Right: it didn't. Moreover, quoth syndicated columnist Froma Harrop, "Economists have found 'virtually no evidence in support of the Bush tax cuts as economic elixir,' writes former Reagan Treasury official Bruce Bartlett."
Had Congress and Obama let the Bush tax cuts expire in January according to plan, "projected deficits for the next 10 years would be $3.3 trillion lower than they are, according to the Congressional Budget Office," a bipartisan operation. That's $3.3 trillion. Seems that amount would take a huge swipe at the deficit.
The debt crisis, many commentators agree with Mike Littwin, "was born of the Bush tax cuts, which didn't create enough jobs or enough revenue—and the two wars that we paid for off the books."
So much for market forces.
BUT REPUBLICANS AND THEIR HYSTERICAL CHEERLEADERS, the TeaBaggers, insist that they were elected last fall to curb government spending and that means reducing the cost of Medicare. Dutiful legislators are forever reminding us that their most important duty is to obey the will of the people. Yet they appear not to know much about the will of the people.
For example, conducting hearings in March about land management of the whopping 264 million acres the government owns in the West, Republicans expressed alarm that environmental concerns would further cripple the economy and eliminate jobs by increasing restrictions on public land use by businesses. They maintained, in defense of this concern, that they were just carrying out the will of Westerners—demanding that more public land be opened for mining, timber and oil companies through reducing environmental restrictions, which, ultimately would produce all those jobs that Westerners wanted. It appears, however, that the steadfast Republicans don't actually know what Westerners want.
A January 2011 poll of registered voters in five states (Colorado, Montana, New Mexico, Utah and Wyoming) reveals that most Westerners are more concerned about the environment than they are about the success of businesses that would exploit it: 75% of respondents believe that stringent environmental standards and a strong economy can co-exist; 81% believe that environmental laws should not be relaxed for oil, gas and mining companies; and 75% view wind and solar power as job creators as well as better energy sources than fossil fuels.
Over the five states, 80-87% think money can be found to protect the environment despite state budget problems; 56-70% believe the EPA should closely regulate carbon emissions; and 72-79% agree that environmental protections should be maintained. (All of this data comes from a April 17 Denver Post article.)
With similar resolute abandon, the Giddy Old Pachyderm ignores recent (as of end of April) Gallup polls that show only 11% of Americans think deficits are the most important issue facing the country. The same GOP that created the deficit problem by refusing to raise taxes to pay for wars displays an astonishing disregard for public responsibility when ignoring Gallup polls that show only 13% of Americans want a "complete overhaul" of Medicare. The same poll (cited by Joe Klein in Time for April 25) showed that a plurality of Republicans—fellow elephants!—namely, 33%, "wanted no cost controls on Medicare, with another 28% preferring only minor changes."
So what, exactly, is the "will of the people" all those GOP conspirators keep talking about?
When Republicans claim that their assault on the size and scope of government is supported by "the American people," they're probably not talking about any of the Americans earning less than $250,000 a year—that is, most of us. A recent NBC/Wall Street Journal poll revealed that 51% of the populace thinks government should do more, not less. "That's not exactly a mandate," writes syndicated columnist Eugene Robinson, "for slashing federal, state and municipal programs and trying to turn public employees into a caste of untouchables."
THE POLLS MAY BE WRONG. Or, more precisely, the results they produce may veer off in unexpected directions, yielding strangely inexplicable tangential attitudes. The Denver Post's Mike Littwin lately noted that "polling shows that fewer people now believe that global warming is real"; then asked: "Is that change really about global warming or is it about politics?"
He continues: "If we doubt all our institutions—and the polls say we do—what do we share? If there's a democratization of truth, it has to mean more than reading one article on climate science and thinking you're qualified to deconstruct the work of a scientist who's spent his entire life studying it.
"We have faith in little else," he goes on, "but believe every poll that confirms what we already believed."
I'm guilty, of course; as are we all. But we have, at least, Truth, as immutable as eternity itself. "If you're of a certain age," Littwin concludes, "you grew up believing in truth, justice and
the American way. It was taught to us by the Superman announcer who saw no irony in an illegal alien promoting the American way."
Now you know why I love Littwin.
PAUL RYAN, NATURALLY, IS IN THE FOREFRONT these days of the self-deluded pachyderms advocating a steadily diminishing future for America through programs designed to fulfill the "will of the people." Not really. As we've amply demonstrated, these programs are designed merely to appear to cater to the will of the people while actually moving deliberately towards the Ayn Rand world that came into fictional being when Atlas shrugged.
Ryan is a an Ayn Rand acolyte. He got into public service, he once said, because of her. He is so passionate about Rand's philosophy that he requires his staff to read her tracts.
The biggest of the Rand tracts is her 1957 novel Atlas Shrugged, which I managed to read about two years later. Running to more than 1,000 pages, it was Rand's fourth and last novel, one she considered her magnum opus: it dramatizes her objectivist philosophy, according to which all human endeavor is undertaken for entirely selfish reasons. Even the rankest altruism is essentially selfish: we do good because it makes us feel better, a selfish motive. The notion is mildly liberating, but Rand makes it the lever that overturns the world.
In the book, a mysterious and charismatic capitalist named John Galt convinces other movers and shakers to go on "strike," to abandon their productive positions in business and industry. And as they do, the society itself collapses. It collapses because, as Rand believed with theological certainty, civilization is sustained by capitalists, the most productive citizens: it is their drive and genius that generates wealth and fosters social well-being, not the labor of workers, whom she sees as parasites. Having philosophically established selfishness as a good thing, Rand's Galt appeals to the selfish interests of fellow capitalists: why should they sacrifice themselves for the sake of a bunch of lazy, parasitic workers? And yet that's precisely what they do if they enable a government that attends so assiduously to the well being of unproductive members of society—i.e., the workers, the poor, the halt and the lame.
According to Rand, when government enacts social welfare programs, it effectively punishes the strong, the wealthy, and rewards the weak, the parasitic working class. Social programs such as Social Security and Medicare take money from the wealthy, the strong and powerful, weakening them—and, perforce, undermining the very capitalistic economy that their genius has engendered. Ryan's plan for the budget will put money back into the hands of the strong and powerful whose productive drive created civilization to begin with.
Moreover, from Rand-Ryan's perspective, a government budget that reduces—even eliminates—taxes for the wealthiest citizens is not simply giving them a tax break: instead, these most productive of citizens are being protected against exploitation by lazy people for whom the "safety net" of social welfare programs like Social Security has become "a hammock that lulls able-bodied citizens into lives of complacency and dependency."
Ryan is not just balancing a budget (which balance, by the way, won't be achieved under his plan until 2040!): no, he's saving the world. And a man so motivated is not likely to be easily deterred. He's acting out a religious faith, not an accountant's math. And religious faith is an aspect of belief, not rationality.
Remember, Atlas Shrugged is a work of fiction. Make-believe.
To find out about Harv's books, click here.