Opus 273 (February 2, 2011). THE YEAR OF THE RABBIT DAWNS. Now that the stars, betraying a heretofore unexpected waywardness—unnoticed, apparently, by the legions of astronomers and astrologers who make their living staring at the sky—have shifted around in the heavens, rendering the signs of the Zodiac and horoscopes everywhere obsolete and meaningless, it's time to adopt the Chinese Lunar calendar, according to which, starting February 3, we find ourselves in the Year of the Rabbit, the fourth in the 12-year cycle of the Chinese calendar. A few misguided practitioners of fen shui quake in alarm at the dawn of this year because, they say, the metal and wood associated with the Year of the Rabbit portend conflict and disruption. But here at Rancid Raves, where the rabbit is associated with warm fuzzies, close analysis, happy harmony and occasional flashes of wit, the Year of the Rabbit is the occasion for expansive expressions of jubilation. The Rabbit "epitomizes gentleness, refinement and charm. He resolutely turns his back on conflicts of any kind." And in the person of our very own mascot (whom we call Cahoots even though his actual name is, of course, Harvey), the Year of the Rabbit is the Perfect Time to become a Rants & Raves $ubscriber/Associate.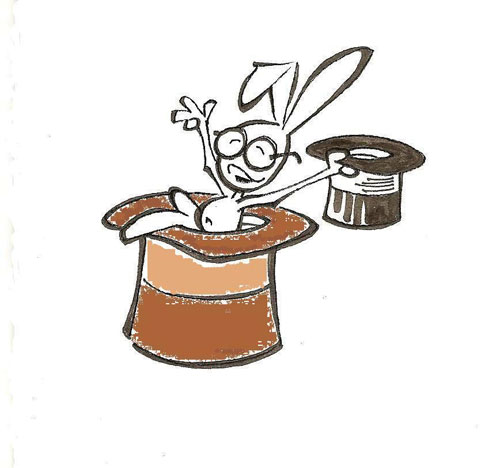 Our special Year of the Rabbit subscription offer: we will not raise our rates. Instead, we'll offer subscriptions at the same Paltry Fee of $3.95/quarter (which kicks in after the inaugural Trial Month fee of $3.95).
Introducing the Year of the Rabbit with the perversity that has so often distinguished Rants & Raves, we begin by reviewing the events and some of the best in cartoonery of the previous year, 2010. Yes, this is our Year-End Review issue—perversely late by a month, just to stay in step with our previous tardiness about Christmas and Wish Lists of Books You Should Own. But we also devote several linear feet to an examination of the Tucson Tragedy and how the nation's editorial cartoonists dealt with it. And we review The Cape, the funnybook and, everso briefly, the tv show. Here's what's here, by department, in order:
NOUS R US
Comic Code Goes Defunct
Wonder Woman Back on TV?
DICK LOCHER HANGS UP HIS FEDORA
Joe Staton and Mike Curtis on Dick Tracy
Dick Tracy Museum Online
Editoonist John Trever Retires
THE YEAR 2010 IN REVIEW
Big News of the Comic Book Year
Cartoon News of the Year
Best of the Year
Some of the Best Editoons of 2010
PASSIN' THROUGH: Those Who Left Us in 2010
EDITOONERY
Tragedy in Tucson
Musing from the Frontline by Ed Stein
Mark Twain Purified
FROTH ESTATE
FUNNYBOOK FAN FARE
The Cape
BOOK MARQUEE
Pelican Publishing's Best Editorial Cartoons of the Year (BECY)
Meeting Charles Brooks, BECY Editor
Our Motto: It takes all kinds. Live and let live. Wear glasses if you need 'em.
And our customary reminder: don't forget to activate the "Bathroom Button" by clicking on the "print friendly version" so you can print off a copy of just this installment for reading later, at your leisure while enthroned. Without further adieu, then, here we go—
NOUS R US
Some of All the News That Gives Us Fits
The Code Goes Defunct
With the dawn of the new year, DC Comics has ceased using the Comics Code Authority Seal of Approval, which has identified its comics as appropriate for all ages for over 50 years. Instead, it will use its own rating system for DC Universe and Johnny DC titles. That system has four ratings: E - Everyone: Appropriate for readers of all ages; may contain cartoon violence and/or some comic mischief. T - Teen: Appropriate for readers age 12 and older; may contain mild violence, language and/or suggestive themes. T+ - Teen Plus: Appropriate for readers age 16 and older; may contain moderate violence, mild profanity, graphic imagery and/or suggestive themes. M - Mature: Appropriate for readers age 18 and older; may contain intense violence, extensive profanity, nudity, sexual themes and other content suitable only for older readers. All DC's Vertigo titles will continue to be "For Mature Readers."
As soon as the news came out from DC, Archie Comics, the last remaining subscriber to the Comics Code Authority, announced that it, too, was getting out. According to Newsarama, Archie had made the decision some time ago and hadn't been submitting its books for approval for "a year or more," but held off announcing the defection until DC took the plunge. With these two desertions, the Comics Code Authority is "pretty much defunct," said Alan Gardner at DailyCartoonist.com. Marvel withdrew from the Comics Code Authority in 2001, and Bongo last year. Without members, the Authority has no funding and therefore can't function.
It is serenely appropriate that Archie Comics should be the last publisher to leave the Code room, turning out the light as it left. John Goldwater, one of the trio of founders of MLJ Comics out of which Archie emerged, was, as he himself claimed, "the prime founder" of the Comics Magazine Association of America (CMAA), which invented the Code and enforced it with a pre-publication review board called the Comics Code Authority. From CMAA's founding and incorporation in September 1954, Goldwater served as CMAA president for twenty-five years until he voluntarily relinquished the office, whereupon the board of directors created the position of Chairman of the Board, in which capacity Goldwater served for several years. It has been supposed that Goldwater's enthusiasm for creating CMAA was inspired mostly by his desire to put William Gaines' EC Comics out of business. (For the entire sordid tale of Goldwater's aspirations and impersonations, visit Harv's Hindsight for the summer of 2001.)
*****
A new "Wonder Woman" will air on NBC, according to Deadline Hollywood, which adds that the Diana Prince character will be a crimefighter and a corporate executive trying to balance the different aspects of her life. David E. Kelley has been shopping the series around for quite some time, and NBC picked it up on the second time around. Meanwhile, in the funnybook, WW has lost that nifty motorcycle jacket she adopted as her new uniform several months ago: she is now content to wander around, righting wrongs, in her red bustier and black leggings.
A former teacher at a middle school in Boise, Idaho, has been sentenced to 15 months in prison for possessing obscene cartoons depicting child sexual abuse, reports the Associated Press. "Investigators found 70 cartoon images of youthful animated characters—including characters from 'The Simpsons'—engaged in sexually explicit conduct. The investigation began in December 2008 after German Federal Police discovered evidence that 33-year-old Steven Kutzner's IP address offered a child pornography file for download."
Police have seized a "large amount" of weapons and ammunition from an Arlington businessman while trying to ascertain if comments he allegedly made online were intended as a threat to U.S. Congressmen, reports Brock Parker at the Boston Globe. After the Tucson tragedy, Arlington police received information that Travis Corcoran, 39, who runs the online comic book business HeavyInk.com, posted a comment online saying "one down, 534 to go," a clear reference to Giffords and the other 534 members of Congress. Corcoran subsequently redacted the comment and surrendered his weapons and ammunition to police at his home on Evergreen Lane in Arlington last week after his firearms license was suspended.
DICK LOCHER HANGS UP HIS FEDORA
After 32 years drawing and/or writing Dick Tracy, Dick Locher is giving up stewardship of the iconic cops and robbers comic strip, which turns 80 next October 4. Born just two years before the cleaver-jawed sleuth, Locher, who has Parkinson's, told Michael Cavna at Washington Post ComicRiffs blog that it's time to move on; he plans to do "normal things" with his family, to travel and to paint the American Southwest.
Starting March 14, Dick Tracy will be written by Mike Curtis and drawn by Joe Staton. "We're fortunate to have found a creative team that has a passion and a feel to carry on the combined legacy of Locher and Tracy's creator, Chester Gould," said TMS executive Jan Guszynski. Staton and Curtis have worked together on Scooby Doo, Richie Rich, and Casper the Friendly Ghost. Staton has enjoyed a long career in comic books, starting in 1971 at the now defunct Charlton Comics, where he became a fan favorite on E-Man. He worked briefly at Marvel and was art director at First Comics for three years in the 1980s but spent most of his comic book career at DC Comics, on such titles as Justice Society of America and Green Lantern. Colleagues Shelley Pledger and Shane Fisher will do the lettering and inking and Sunday coloring, respectively.
Locher joined Gould as his assistant in 1957, inking and coloring the strip for four years, after which, he set himself up as an advertising agency. In 1973, Gould recommended Locher to fill the vacant editorial cartooning chair at the Chicago Tribune, and the Trib hired Locher despite his having no experience in editooning. When Gould retired from Tracy after 46 years, another assistant, Rick Fletcher, took over the drawing. Fletcher died in 1983, and Locher, still editorial cartoonist at the strip's flagship paper, the Tribune, returned to do the drawing. The same year, Locher won a Pulitzer, the first of several awards he would receive for editorial cartooning. He took over scripting as well as drawing Tracy in 2005 when writer Mike Kilian died. For the last year or so, Locher's pencils on the strip have been inked and embellished by Jim Brozman.
Locher, who has been in frail health for the last few years after surviving a bout with cancer, has long regarded himself as the steward of Chester Gould's creation, an American icon, and he aimed simply to maintain the legend.
"For a long and wondrous 32 years, I've been in the right-hand seat of Tracy's squad car," Locher said in a statement. "I can only hope that in this time I've entertained my readers and lived up to the lofty expectations of Chester Gould's glow. It's been an incredible ride, but this is where I step off."
Locher will continue to draw political cartoons for Tribune Media Services. "It's too much fun to stop doing it," he told Cavna.
And I say: you did an outstanding job, Dick, often more than mere stewardship. Take the rest of the day off. (That last quip is one of Locher's own, which he deployed as a way of saying "job well done.")
"I'VE DRAWN THOUSANDS OF COMICS," said a jubilant Staton. "I've drawn detectives and funny comics. Whenever I've answered the question, 'What is your dream project?' Dick Tracy ranked high on the list. I've been wanting to do this since I was 3 years old," he told Tracie Simer at the Jackson Sun in Tennessee.
The dramatically eye-patched Curtis has written mostly funny comics, including some original work. He discovered Staton as a fellow Tracy fan when they met at a comics industry conference in Memphis in the mid-1980s. They soon learned they had grown up 25 miles apart from each other. They both bought second-hand comic books in Jackson at the same store but never ran into each other.
"We lived parallel paths, and they finally overlapped," Staton said. "We've known each other quite a while. Whenever we get together, this dream project would come up"—doing Dick Tracy.
Conjuring big plans with Staton for Tracy's 80th year, Curtis has stories plotted through July. He writes out the daily strips in a rough strip format, scans them and sends them to Staton, who then draws in the characters and scenery.
"We all have our take on how we're doing it," Staton said. "For my part of it, I'm trying to emulate exactly what came before us. The influence of the original art is such a basis of how I start, how I draw anything."
As we can see from the adjoining pictures—photos of Curtis and Staton and a couple panels from their Tracy—the strip's visual ambiance is successfully revived by Staton. Judging from the movement from the first panel here to the second, the solo talking head era of Locher's last years on the strip has been banished.

GOULD'S DICK TRACY lives on at the Chester Gould-Dick Tracy Museum, which for years occupied rooms in the old courthouse on the town square in Woodstock, Illinois—Gould's hometown for decades—but became a virtual presence when it could no longer afford the courthouse. Online (dicktracymuseum), the Museum displays 1940s examples of Dick Tracy, biographies of villains, a Fan Letters Gallery and a Doodles and Drawings Gallery (featuring never-before-published material from the Tracy archives), and, since last October, a membership headquarters.
Recently, it launched "a special sneak-preview video trailer for the upcoming feature-length documentary on Gould entitled, 'Chester Gould—An American Original.' The documentary is scheduled to air on Chicago PBS-affiliate, WTTW-11, next October to commemorate the 80th anniversary of the comic strip." The trailer features commentary from the film by Max Allan Collins, Dr. Garyn G. Roberts, Dick Locher, Jean O'Connell and Mal Ballairs—"a MUST SEE for any Tracy or Gould fan!"
The Museum has also produced The Sunday Project, a full-color giant-size reprint series that aims to republish some 2,431 Dick Tracy Sunday pages in their original color and format for the very first time. "Each Sunday page in the series is scanned in high resolution from the original newsprint in either Chester Gould's own archives or Shel Dorf's pioneering scrapbooks. Each page is printed on quality #90 stock, measuring 11×17 inches in size and embossed with the official seal of the Museum for authenticity. Additionally, each volume includes 4 bonus pages featuring never-before or rarely published examples of historical material related to Dick Tracy, Chester Gould and their broader legacy. Shipping is included in the price of each volume [$400-$750, depending] and you can anticipate receiving your order within two weeks of purchase. The timing of subscription shipments will vary." Alas, the website says all of these gigantic tomes, four so far, are "temporarily unavailable." Presumably, since the mode of reproduction is essentially photocopying (of a very high order of clarity), the editors, Jeff Kersten and Matt Hansel, could be persuaded at sheldorfcollection@yahoo.com to revive production. Dunno.
I have the first two volumes (review copies sent to me without charge) and can testify to the quality of the effort. The photocopied pages are inserted in plastic sleeves and preserved in 11x17-inch binders, painstakingly and carefully assembled by hand. Among the bonuses in the first volume is a color photocopy of the telegram New York Daily News publisher Joseph Patterson sent to Gould, telling him that he was interested in syndicating "Plain Clothes Tracy."
Here's a photography of Kersten, the motivating force behind the project, and a provocative Dick Tracy strip he did a few years ago.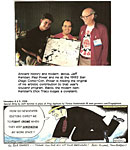 Yes, this is a perfect example of an instance of my reviewing and promoting the work of a friend and/or acquaintance. The photo, apart from its inherent interest (if any), reveals my connection and possible bias. Clearly, though, if you can afford a $500-plus book, you are an obsessive enough afficionado of Gould and his creation, my suspect relationship to the perpetrator of The Sunday Project will not matter to you. As for the online Museum, that's information about a free preoccupation: nobody gets paid anything, and all who are interested (but, like me, impoverished) can benefit, to each according to the measure of his or her fascination with Dick Tracy.
AND THE RANKS DROP ANOTHER ONE
After 34 years as the staff editoonist at the Albuquerque Journal, John Trever is retiring, reports Rob Tornoe at Tornoe's Cartoon News (blog.cagle.com). As he looks back on his career, Trever told Tornoe that he enjoyed a pretty free rein: "In 34 years I've probably had only a dozen cartoons or so killed. On one occasion when my cartoon and an editorial differed over a local development project, and the editor pointed out to the developer that the editorial had supported the project, I was quite flattered to be told that the developer replied, 'Yeah, but one Trever cartoon is worth a thousand editorials.'" An outspoken conservative, Trever endured his share of outraged reader complaint, but, he added, "I was picketed only once."

His cartooning career got a boost when he was 13 and won a national contest for drawing a favorite comic strip character with an essay about the newspaper comics' vital importance to the culture. Said Trever: "Part of the prize was going to New York to meet cartoonists like Walt Kelly, Milton Caniff, Bill Mauldin and others in the National Cartoonists Society, which needless to say, made a big impression on a 13-year-old."
Trever will continue to draw one cartoon a week for the Sunday paper, but he concluded his syndication by King Features at the end of 2010.
"I guess I should feel guilty, giving up an editorial cartoonist's position in this environment," Trever said, "but it was never my desire to kick the bucket—or the ink bottle—and keel over at the drawing board. My wife has retired from Montessori education and I'll be 68 this year, well past my Social Security 'use by' date. Plus I admit to being a bit tired of the daily deadline grind. Now my ever-patient wife can plan on an earlier dinner hour and the dog gets a little more play time."
As for the future of newspaper editorial cartooning, Trever subscribes to the prevailing opinion: "Satirical graphic commentary will continue to flourish, but it may not come from cartoonists such as myself who were lucky enough to spend their careers as full-time staffers on daily newspapers."
Nothing in the report of Trever's retirement hinted that he would be replaced. If his position is retired along with him, the ranks of full-time staff editorial cartoonists will number only about 76, down from 100 in May 2008.
Fascinating Footnit. Much of the news retailed in the foregoing segment is culled from articles eventually indexed at rpi.edu/~bulloj/comxbib.html, the Comics Research Bibliography, maintained by Michael Rhode and John Bullough, which covers comic books, comic strips, animation, caricature, cartoons, bandes dessinees and related topics. It also provides links to numerous other sites that delve deeply into cartooning topics. Three other sites laden with cartooning news and lore are Mark Evanier's povonline.com, Alan Gardner's DailyCartoonist.com, and Tom Spurgeon's comicsreporter.com. And then there's Mike Rhode's ComicsDC blog, comicsdc.blogspot.com and Michael Cavna at voices.washingtonpost.com/comic-riffs . For delving into the history of our beloved medium, you can't go wrong by visiting Allan Holtz's strippersguide.blogspot.com, where Allan regularly posts rare findings from his forays into the vast reaches of newspaper microfilm files hither and yon.
PERSIFLAGE AND FURBELOWS
A missive received through e-mail: This year we will have 1/1/11, 1/11/11, 11/1/11, 11/11/11. To make this an even stranger year, try this out! Take the last 2 digits of the year you were born plus the age you will be this year and it will equal 111. Magic.
RCH: Funny thing is, the same magic works if the year is 2010 or 2009 or 2008—any year, in fact.
THE YEAR 2010 IN REVIEW
BIG NEWS OF THE COMIC BOOK YEAR
Diamond Comic Distributors released its year-end market report, saith ICv2, and sales of comics, graphic novels, and magazines from the Diamond catalogue to comic stores declined 3.5% in 2010 vs. the previous year. "Q3 was rocky, but sales revived somewhat in Q4." Like anything derived from numbers, what you get depends upon what you see.
In the year-in-review report at the Comics Buyer's Guide (in No. 1674), editor Brent Frankenhoff and columnist Andrew Smith, casting rolling orbs over the landscape, reported that print comic book sales were up slightly, only 1%; but graphic novels were down 20%, which accounts, no doubt, for the over-all decline Diamond sees. Sales of manga continues "its depressing slide," noted CBG, "with projections for a 20% decline this year—adding up to a 50% drop since 2007." Manga publisher Viz dropped 40% of its staff, and DC Comics discontinued its manga imprint, CMX—and two other imprints, Zuda and Wildstorm.
Dunno whether the slump in manga sales is responsible, but Borders continues to bleed red ink. It has retained bankruptcy counsel, reported ICv2, with a February 1 deadline for publishers to turn debt into loans, and it has cut 45 staff positions at its Michigan headquarters, plus three more executives, senior VPs of marketing and business development and a VP of real estate. This latest round of job cuts follows a previous announcement that the nation's second largest traditional bookseller was closing a Tennessee distribution center and laying off over 300 employees. "Borders has been delaying payments, which included stopping payment on at least one check for October shipments, according to the Wall Street Journal. Meanwhile, Barnes & Noble issued a statement letting publishers know that it expected any additional credit granted to Borders to be granted to it as well, saying 'We expect publishers to offer the same terms to all other booksellers including Barnes & Noble and independent booksellers.' Borders execs are meeting with New York publishers this week, as it tries to restructure its financing. At stake are nearly 700 bookstores, and around 8% of trade book sales. Borders has a higher percentage than that of manga sales, due to its strong support of that category throughout this decade. It's also an important outlet for other graphic novels and some games."
But the news in the literary and entertainment realm is not all bad. Relying on figures from the week of the New Year's holiday, Hollywood Reporter says Broadway, despite the blizzard, brought in $35 million, according to the theater trade group Broadway League. That's $6.9 million more than last year. The top earner was "Wicked," which set a record for the highest-grossing show in Broadway history, with $2,228,235 for its standard eight performances. "Lion King" also approached the $2 million mark for the first time on Broadway, with $1,993,370. A close third was the accident-plagued "Spider-Man: Turn Off the Dark," which is still in previews, grossing an impressive $1.88 million.
"For comics in digital form," CBG continued in its year-end report, "—which only sold between $500,000 and $1 million in 2009—numbers were expected to jump approximately tenfold, to around $6-8 million for 2010." CBG's data were assembled before the actual end of the year, and the percentages and amounts may change a bit, but CBG had enough information on hand to proclaim "the Digital Age has arrived."
Here's Diamond's top 10 graphic novels for the year, based upon sales in comic stores (in the order of their supremacy, staring with the top seller): The Walking Dead Vol. 1, Kick-Ass Premium HC, Walking Dead Vol. 11, Scott Pilgrim Vol. 6, Superman: Earth One HC, Scott Pilgrim Vol. 1, Walking Dead Vol. 12, Walking Dead Vol. 2, Walking Dead Vol. 13, Scott Pilgrim Vol. 2. Isn't Scott Pilgrim a zombie hunter? No, just a slacker drawn in manganese manner. So the news of the year in comic books is that slackers have been outnumbered by zombies.
The biggest news in comics collecting and investing, CBG's primary province, was the sale of three comic books for over a million each: two copies of Action No. 1 (Superman's debut) sold for $1 million and $1.5 million by ComicConnect; and a copy of Detective No. 27 (Batman's debut) sold for $1,075,500 by Heritage Comic Auctions. CBG rejoiced: "Comic books have been thrust into the conversation about what a well-balanced investment portfolio can contain."
It was a banner year for comics-related headlines in the mainstream press. In addition to the auction-price values of "holy grail" comics like the aforementioned, staid old Archie Comics racked up columns in newsprint and hours of airtime by getting Archie married—first to Veronica, then to Betty—in one of the most ingenious storylines in the medium; and then, perpetuating the flood of publicity, a gay student arrived at Riverdale.
(Archie editors maintain that they're merely reflecting real teen life, and, if we are to judge from tv series, they're right. "Gay characters have gone from one-time guest stars ... to an expected part of teen-centric television," wrote Jennifer Armstrong in Entertainment Weekly's recent special report on "Gay Teens on TV" (January 28). "The percentage of schools with gay-straight alliance clubs is up from 25 percent in 2001 to 45 percent today. ... The average coming-out age is now 16 (down from 19-23 in the 1980s)." Armstrong quotes ABC Family Exec VP of programming Kate Juergens: "With our millennial audience, it's what they expect to see." And the "relentlessly pioneering" Canadian teen drama, "Degrassi," is responsible for no less than eight prominent lesbian, gay, bisexual, or, yes, transgender characters in its ever rotating cast" since 2003. These days ... Adam (played by Jordan Todosey, a 15-year-old girl) is struggling to explain to friends that he's female-to-male transgender." Said co-creator Linda Schuyler: "The lines of sexuality are not just drawn between gay guys and lesbian girls but there is a sliding scale of sexuality, and that's something new. We thought, 'We gotta start portraying these characters.'" But advocacy groups are aiming for even more—namely, empowered characters. Too often gay characters are depicted struggling to come out or struggling with their identity. Realistically, many gay teens have a lot going for them and aren't just victims of bullying.)
Elsewhere in the trans-media, Image's Walking Dead comic book series is often mentioned in stories celebrating the unexpected popularity of the tv show based on the comic, and Spider-Man on Broadway kept falling out of the ceiling, headlining the Marvel character as well as the show. Comic book superheroes persevere in producing blockbuster successes at movie house box offices. "The Green Hornet" won the revenue sweepstakes on its opening weekend, January 14-16, raking in $34 million. (A lot but not much compared to the annual take of "Toy Story 3," $414.9 million; or "True Grit," $137.9 million since opening December 22.) Although Dynamite Entertainment has revived the character in a series of comic books lately, the Green Hornet was a radio star rather than the hero of four-color fantasy; the radio show, starting in 1936, inspired comic book incarnations, beginning in 1940, but none of several publishers' subsequent comic book series lasted very long—I suppose because they lacked the distinctive hornet buzzing sound effect that distinguished the radio program.** (The asterisks we just left hanging should inspire you to scroll down to some more discussion of "The Green Hornet," which you can find when the asterisks crop up again at the end of this section.)
Hitting some other high spots: Dark Horse acquired rights to some Gold Key characters and began publishing adventures of Dr. Solar, Dr. Spektor, Magnus, Mighty Samson and Turok. IDW produced a veritable flood of reprint projects (which has so far dried up somewhat by the end of the year), the Smurfs and Stan Lee returned, the former at Papercutz and the latter lending his name (and, we assume, concepts) to new super hero titles at Boom! And at least one new comic convention got started—Chicago Comics and Entertainment Expo (C2E2)—while Wizard, which had severely undermined its erstwhile Chicago success, rebounded by adding more cons around the country to its schedule, now numbering 18.
CARTOON NEWS OF THE YEAR
Islamic hooliganism continued to elbow other cartooning news out of the way whenever some self-righteous Muslim decided to issue a fatwa against a cartoonist. Scandinavian cartoonists remain targets for marauding Muslim thugs, and here in the U.S., a Seattle cartoonist, Molly Norris, inadvertently launched "Draw Muhammad Day" and had to assume another identity and go into hiding in fear for her life. At his Washington Post blog, Comic Riffs, Michael Cavna quoted Norris: "If I had wanted my one-off cartoon to be the basis for a worldwide movement to draw Mohammed, then at this moment I should be thrilled. But instead I am horrified!"
And when tv's Comedy Central caved to Muslim hooligan pressure and censored "South Park," 19 editorial cartoonists signed a petition condemning the network. Among them was the Philadelphia Daily News political cartooner, Signe Wilkinson, who told Cavna: "I feel more strongly than the statement—and am particularly appalled by Comedy Central's lack of spine."
In newspapers, Cathy Guisewite ended a 34-year run of her semi-autobiographical comic strip Cathy, a glass-ceiling shattering comic strip about a young career woman produced by a young career woman. Said Guisewite: "I have loved doing this job and feel blessed to have done this for a living, To be able to last this long and to be paid to turn every [personal] 'disaster' into money [is special]. To turn every bathing suit disaster—to get back at some clerks—and every calorie blunder and shopping blunder into a [comic strip]—it's been great."
And two other female cartoon heroines ended their role-model runs: Harold Gray's Little Orphan Annie in June after 86 years, and Dale Messick's Brenda Starr the second day of January 2011 after nearly 70 years.
In February, Eduardo Barreto, the most innovative deployer of the visual resources of the comic strip medium since Frank Cho in Liberty Meadows, became too ill to continue drawing Judge Parker. The year saw other unhappy endings: three more full-time staff editorial cartoonists lost their positions, but Ted Rall's well-publicized return to cartoon the quo of the status in Afghanistan kept a spotlight on the high value of cartooning in an commentary mode.
The bad news generally was overshadowed by the good. Mark Fiore collected the first Pulitzer awarded for animated editorial cartooning, and at 9 Chickweed Lane, cartoonist Brooke McEldowney ended a continuity that lasted about ten months, shattering the notion that today's tv-saturated newspaper comic strip readers will not tolerate long storylines. And Mort Walker's Beetle Bailey passes the 60th milestone year and persists in garnering accolades even as it continues tickling the risibilities of all kinds of readers, regardless of their political and societal persuasions or inclinations.
In South Africa, the celebrated editoonist Zapiro persisted in pushing the boundaries of freedom of speech and of the press in his long struggle to ridicule President Jacob Zuma out of power, and Zuma finally struck back with a hefty law suite, as yet unresolved. Schulz heirs at last achieved what Sparky couldn't—ownership of Peanuts. Elsewhere in the Froth Estate, both Editor & Publisher and Newsweek magazines got reprieves from their death sentences at the last minute.
BEST OF THE YEAR
The best comic books I encountered during the year were the Daytripper series and Incorruptible series. It was a bonanza year for reprints, among the best of which were King Aroo, Bringing Up Father (the legendary tour of the country, dubbed "Sea to Shining Sea" in this volume); and the first years of Blondie, Li'l Abner, Captain Easy and Al Williamson/Archie Goodwin's Secret Agent Corrigan; and Gahan Wilson's Playboy Cartoons, the fabled "Tiger Tea" sequence in Krazy Kat, and Milt Gross's complete comic book work. But the most refreshing of all was the latest collection of Tatsua Ishida's online comic strip, Sinfest, under the title Sinfest: Viva La Resistance (216 8x10-inch pages, b/w; Dark Horse paperback, $14.99).
A hilarious concept, brilliantly executed, Sinfest is a highly irreverent look at secular American society, mostly in its pop culture manifestations. "Irreverent" here sometimes means altogether blasphemous: the star of the show, the diminutive Slick, a model of pornographic aspiration and sexual ineptitude, tries to sell his soul to the Devil (the sale was pending for years, then accepted, then rejected and then finally processed) mostly in exchange for having better luck with women. (To no avail, it must be added.) God has a bit part in the proceedings as a hand-puppet in the sky and seems not to object at all to Slick's unabashed longing for sex, drugs, and power. Monique would be Slick's romantic interest if she weren't so fickle: admired for her face and her tush (which she, unaffectedly, calls her "ass"), she has "many tramp-like qualities but deep down inside she's still a tramp." Other characters wander on and off stage; many of them are cuddly innocents, some even religious fanatics, who become the targets of Ishida's unabashed secular (atheistic?) darts. Overall, the objects of Ishida's satire include most aspects of popular culture, with its emphasis on lust, sex, drugs, power, and our preoccupation with pop icons—none of which the egomaniacal Slick seems capable of attaining, despite his fervent desire. Sinfest is without quibble or question THE best drawn comic strip on the Web—bold outlines (creating images sometimes elliptically), fineline extensions, deftly spotted blacks, panel compositions adroitly achieved, cunningly applied gray tones—and it would be one of the best drawn comic strips in the newspaper if it hadn't been turned down routinely by syndicates (reportedly, eleven times). Relying solely on the hints in the preceding sentences, you can readily see why syndicates are bashful about it. But you shouldn't be: visit sinfest.net and see for yourself. And then order all of the four paperback compilations of the strip. You won't be disappointed.
Among the best graphic novels were Ted Rall's The Year of Loving Dangerously and Joe Sacco's Footnotes in Gaza. And Jerry Robinson's long anticipated biography is a treasure, too.
** These two asterisks harken back to "The Green Hornet" of a paragraph or so above. I haven't seen the movie, but a local reviewer here along Colorado's Front Range wrote: "It's a surprisingly fun film, one that mixes side-splitting hilarity with top-notch, exhilarating action. ... often bold and brazenly original, telling a vigilante-origin story that is truly unlike anything we've seen from the last decade's wave of comic-book movies." The writer is Jonathan Lack, and he's persuaded me to see the movie. Before getting into his review, he wonders why "The Green Hornet," since it's such a satisfying flick, was consigned to January, which, he goes on, being not a good month for movies—"few people go to movies in January"—is the month that "studios dump their worst garbage into theaters." Hadn't heard that before. About January as a motion picture desert, I mean.
AN INTERLUDE AT CIVILIZATION'S LAST OUTPOST
One of a kind beats everything. —Dennis Miller adv.
Mamie Van Doren, the blonde bombshell who was signed by Universal in 1953 as that studio's competition for Marilyn Monroe, will be 80 next month, and she's still, as Susan King says in the Los Angeles Times, "living la vida sex symbol." She can be seen "in various stages of undress at mamievandoren.com," maintains a presence on Facebook and Twitter, has written a column for Hustler for the past two years, and has a country music album, Still a Troublemaker, available for downloading on iTunes and Amazon.com.
And Tempest Storm at 83 is still stripping. Or she was as recently as 2007, when I read an article in the public prints about her. Saith Wikipedia: "Along with Lili St. Cyr and Blaze Starr, she was one of the best known burlesque performers of the 1950s and 1960s. She is regarded as having one of the longest careers as a burlesque performer, spanning more than 50 years." In the 1950s, she appeared frequently in Denver as a headliner at the Tropics nightclub. In 1954, she was invited to the University of Colorado's Boulder campus to be photographed by a student lensman. She was to meet him at the student center, but her driver mistakenly let her off on the opposite side of the campus, so she walked across the vast quad to the student center, attracting droves of salivating male college students on the way. By the time she reached the student center, she was leading a veritable army of panting males. They were so enthusiastic that they tore a door off the hinges to follow her into the building. If you Google "Tempest Storm," you can find videos of her performing at various ages, but every door in sight is steadfastly hinged.
In Baltimore, for the second year in a row, the mysterious "Poe Toaster" failed to put in an appearance at the gravesite of the famed poet. Since (perhaps) 1949, every January 19 on the anniversary of the Edgar Allan Poe's birth, an anonymous devotee has slipped into the tiny cemetery where the poet is buried and left three roses and a bottle of cognac at the grave. Last year for the first time since the inauspicious beginning of the tradition, the Toaster didn't show up; and he was again this year a "no show" although the curator of the Poe House and four others were graveside, patiently, vainly, waiting. On August 15, 2007, according to Wikipedia, "Sam Porpora, a former historian at the Westminster Church in Baltimore where Poe is buried, claimed that he had started the tradition in the 1960s. Porpora said the claim that the tradition began in 1949 was a hoax in order to raise money and enhance the profile of the church. His story has not been confirmed, and some details he gave to the press have been pointed out as factually inaccurate. The Poe Toaster's last appearance was on January 19, 2009, the day of Poe's bicentennial." Jeff Jerome, the Poe House factotum who stayed at the gravesite this year until 5:45 a.m., said he'll be back next year, but if the Toaster doesn't appear then, he said, "I will officially pronounce the tradition dead."
And now, back to the Rancid Raves year-end report.
SOME OF THE BEST EDITORIAL CARTOONS OF THE YEAR
Editooning the Big Stories of the Year
Editorial cartoonists focus on somewhat less momentous events than those that infect the comics and cartooning universes. Compiling from various news organizations' lists, here, apparently, are the top newsstories of the year, which I've arrayed below in more-or-less descending order of significance (the biggest stories at the top):
Gulf Oil Spill
Health Care Reform
Midterm Elections
U.S. Economy: Recovery Slow, Unemployment Still High
Haiti Earthquake
Tea Party Movement
Supreme Court Makes Corporations into People
Chile Mine Disaster
Withdrawal of Combat Troops from Iraq
New Surge in Afghanistan
Wikileaks
Immigration Law in Arizona
New Regulations for Wall Street
Obama's Victory over Lame Duck Congress
Don't Ask, Don't Tell
Sarah Palin Antics
Pat-downs in Airport Security
Keep in mind that the ranking of these newsstories is not achieved by considering their importance to the survival of the human (sic) sapiens; no, the basis of the hierarchy is the amount of coverage they attracted in so-called "news" organizations. The biggest stories, then, are those that got on tv most often and on the front pages of the nation's newspapers.
Almost all of these stories are reflected in the 37 editoons I've chosen to represent some of the best editorial cartooning of the year. "Best" is always a highly relative term, and one person's best is not, ipso facto, anyone else's. And I don't pretend to have seen all the editorial cartoons published during the year, hence my "some of the best" waffle. As a general rule, I picked exemplary cartoons that made the best use of the resources of the medium—imagery, visual metaphor—to produce pictures that are memorable for their melding visual comment to issues both political and social, controversies and the news of the day itself. In my accompanying discourse, I point out ways in which these purposes are fulfilled in the cartoons we'll look at. The objective for the editorial cartoonist is, always, to express an opinion in a way that will provoke discussion, which results, almost incidentally, in summarizing aspects of an issue in a visual-verbal shorthand that will sear brain cells enough to make the comment unforgettable.
Here are my choices, four cartoons to a page for the first five of nine pages. The circled numbers in red will give us a reference point as I pause to make picayune observations in the ensuing deathless prose about the topics or the cartooner's skill.
You might want to print these out so you'll have each one at hand as I put them successively under the microscope.
Red No. 1 offers three of the most vivid images on three of the top stories of the year, plus Kevin "Kal" Kalaugher's telling picture at the bottom left, a visual metaphor for the U.S. dilemma far away. Clockwise from the upper left: John Sherffius often deploys raw symbols to make his statement, and here, he's used a seismographic image of the earthquake in Haiti into which he imposes an agonized image of the population. I've lost track of the name of the next cartoonist, but his transformation of the oil-soaked bird's head into a gasoline pump nozzle effectively shifts the blame for the disaster from BP to our own insatiable appetite for oil products. Steve Greenberg gets the exit from Iraq just right with a vivid image.
In Red No. 2, still going clockwise from the upper left, we have Tom Toles' image of the Israeli-Palestinian problem—which, judging from Toles' picture, shouldn't be a problem at all—and then Mike Keefe's horrifying insight into the Iranian danger. Jimmy Margulies reveals that the Democrats' working behind closed doors is the equivalent of the Grumpy Old Pachyderm's closed mind—closed and locked closed. And Toles' assessment of the GOP health care plan is a provocative visual metaphor.
Red No. 3 deals with various kinds of closed mindedness. I don't agree with Mike Lester's protest at the upper left, but his image is a powerful endorsement of the opposition to building a mosque near Ground Zero. Continuing clockwise, Ruben Bolling reduces the brouhaha over Juan Williams' alleged bigotry to an absurdity worthy of Tom the Dancing Bug wherein a succession of panels permits the piling on of silliness until its absurdity is so obvious that the Williams flap is revealed as an unwitting (that is, mindless) anomaly rather than a conscious xenophobia. And Margulies shows up again with an appropriate scathing image for the Arizona immigration law.
The Nazi imagery continues in Red No. 4. Clockwise from the upper left, we start with R.J. Matson's lumbering behemoth representing "corporate free speech" grinding democratic governance under its wheel, an image that repeats Daniel Fitzpatrick's classic portrait of Hitler's 1938 invasion of Czechoslavakia on the right. Matson's cartoon is effective on its own but not nearly as powerful as it becomes in the shadow of Fitzpatrick's nightmare metaphor of brute military force; for any reader who remembers Fitzpatrick's picture, the impact of the Matson picture is magnified several times. Keefe's picture of the power of corporate speech enabled by the Supreme Court verdict gains impact when we realize that corporations are represented by the fat lady in the timeless utterance, "It's not over until the fat lady sings." She's singing; ergo, it—democracy—is over. Ed Stein's take on the same issue is not as fascinatingly intricate, but it gains power for its simple unequivocal bluntness.
In Red No. 5, Toles' portrait of the election as a kind of unthinking no-exit ping-pong game with an automobile as the ball elevates the exercise to the ludicrous hilarity it is; notice that the car is being destroyed. Next on the clock, Mike Konopacki, a no-holds-barred pro-labor cartoonist, supplies an unflinching visual metaphor for the election in which the GOP is seen (correctly, I'd say) as the arsonist who burned down the house—and yet, the burned-up home-owner still re-elects the guy.
(On tv the other night, I watched the Senate minority leader, Mitch McConnell, remarking that nothing the Obama administration has done is "working" to fix the economic dilemma, which, he alleges, was in fact caused by Obama's machinations. Funny: in my history book, the Great Recession was caused in part by policies followed by the Bush League, including deficit spending for eight straight years. Does McConnell really think the American public has no memory at all of anything earlier than 2008? And if nothing Obama is doing is "working," why is the Dow-Jones average approaching 12000? Nuts. As a wiser man than I said, the GOP is working from a different set of facts that the rest of the world is—facts, in fact, that are more fiction than actual. Take Michele Bachmann, for instance, who asserted in a recent speech in Iowa that "the very founders who wrote [the Constitution and Declaration of Independence] worked tirelessly until slavery was no more in the United States." As another wise man said: you are entitled to your own opinion, Michele, but not to your own facts. The facts belong to us all and they don't change to suit our divergent opinions. And yet, despite the elephantine revisionist history and wholesale verbal abuse of facts, the GOP is re-elected—which proves, I suppose, that we get the government we deserve.)
Next around the dial, David Fitzsimmons provides an apt image of the actual victors in the election, and Clay Bennett supplies an eerie image of what's next: evoking Alfred Hitchcock's "Psycho" shower scene, that shadowy image on the other side of the shower curtain is the Tea Party patriot, tea bag emblems of his faith dangling from his tri-corner chapeau. He's waiting to strike. His victim, Liberty herself. In Hitchcock's movie, remember, the guy who murdered the lady in the shower was the psycho, ergo Bennett's opinion of the Tea Baggers.
Red No. 6 offers an array of images for the new Congress and its agenda. Bill Schorr starts us off with his metaphorical assessment of the likelihood that Republicans will work with Obama (when pigs fly). And Keefe supplies a visual metaphor for the implementation of the GOP plan advocated during the fall campaign. Mike Luckovich's fat pig image of the deficit is a time-honored image, but having the hog growing fatter off the Bush Era tax cuts for the already overweight is memorable—as is the tiny Grumpy Old Pachyderm, giving pitiful voice to the contradictory position of the GOP. And sarcasm drips—gushes—from Tom (aka Dan Perkins) Tomorrow's dramatization of the GOP attitude about taxes. Only in comic strip form can this indictment be heaped up to such satiric heights.
With Red No. 7, we get a few doses of the absurd to remind us how trivial our preoccupations sometimes get. Canadian Cam Cardow's picture of airport security is fittingly hilarious, but he gives it a bitter barb with the two turbaned terrorists at the left of the hysterical guard. Matt Bors gets to the truth about repealing "Don't Ask, Don't Tell" in just three panels. The next visual metaphor (by a cartoonist whose signature I can't read; sorry) highlights how our obsession with playing Whack-a-mole distracts us from what should be absorbing our attention; the Whack-a-mole image for an attempt to control or suppress Wikileaks is inspired. And I can't resist Jeff Danziger's imagery of Glenn Beck and Sarah Livingston Palin as air-heads. Yeh, it's been done before, but here we have an appropriate comment on the significance of an air-head interviewing an air-head.
Equally risible is Pat Bagley's opening salvo in Red No. 8, which vividly dramatizes the Giddy Old Pachyderm's inability to discern the more pressing of crises bearing down upon us. So vivid is the image that I can hear the GOP screaming! And Keefe is back with a metaphor for who was the better poker player during the lame duck session that closed the 111th Congress last month. Below Keefe, Pat Oliphant has, as usual, thrown caution to the winds in order to concoct what I think is the most laughable albeit accurate assessment of the efficacy of trickle-down economics I've seen. And Tony Auth has captured with a telling image the uncanny ability of the rabid Right to misinterpret facts, reconstituting them to suit its agenda. A strikingly memorable image.
A few more miscellaneous issues from the expired year comprise Red No. 9. Nate Beeler's empty swimming pool is not a picture of Obama's health care reform that I agree with, but the metaphor is a powerful one. And the visual details—the patient accompanied by his drip-bag on a little trolley, right out of "Gray's Anatomy"—make me smile in happy satisfaction. In Auth's metaphor about our oil dependency, those are tiny oil derricks in Uncle Sam's bed of nails. Continuing around the clock, Clay Bennett deploys an imagery he frequently resorts to—a picture that characterizes a certain kind of misguided enterprise as essentially self-destructive by showing how the well-intentioned effort has the presumably unintended effect of destroying something essential to its well-being. And Stein's ransom note captures perfectly, with an enviable bluntness, the posture of the GOP in the lame duck session of Congress. A beaut, Ed.
Finally, as a sort of Grand Finale, here's Tom Eagan's Deep Cover summary of the year for the Grandstanding Old Pachyderm, a persuasive use of the strip format, a succession of panels culminating in the crescendo of caustic comment (excuse the clanking alliteration) (eh, wait—don't excuse it; revel in it, tap your toes and snap your fingers: enjoy the language, rejoice).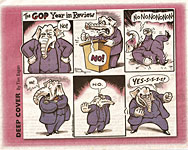 WE'RE ALL BROTHERS, AND WE'RE ONLY PASSIN' THROUGH
Sometimes happy, sometimes blue,
But I'm so glad I ran into you---
We're all brothers, and we're only passin' through.
Old Folk Ballad Lustily Sung By Walt Conley in His Trademark Husky Rasp of a Voice at the Last Resort in Denver, Lo These Many Years Ago
Here are some of the cartooners who passed over the Great Divide in 2010. I've given the year of birth only; since they all died in 2010 (except David Levine, who died December 29, 2009), you can do the math (as they say) to determine their ages.
*David Levine, 1926; caricaturist, painter
Frank Interlandi, 1924; editoonist, newspaper cartoon panels (The Cynics Corner, Below Olympus); twin brother, Phil Interlandi, Playboy cartoonist
Marvin Stein, 1925; comic books, Funnyman
Jerry Grandenetti, 1926; comic books, tv storyboards, advertising
Don Sherwood, 1930; assists on various newspaper strips, including Sergeant Preston of the Yukon, also his own Dan Flagg
Bill Murphy, 1931; magazine cartoonist, Playboy, Esquire
*Dick Giordano, 1932; comic book illustrator, editor
*Henry Scarpelli, 1930; newspaper comics, Little Sport and Archie
*Peter O'Donnell, 1920; wrote several British newspaper strips, chiefly Modesty Blaise and Romeo Brown
*Frank Frazetta, 1928; comic books (including White Indian), ghosted Li'l Abner; his own Johnny Comet/Ace McCoy; fantasy painter par excellence
Howie Post, 1926; newspaper strip, The Dropouts, and comic books
*Tony DiPreta, 1921; ghost on several comic strips, then Joe Palooka and Rex Morgan, M.D.
*Al Williamson, 1931; comic books (chiefly EC until inking for Marvel late in his career), ghost on several comic strips, then Secret Agent Corrigan and Star Wars
Ken Muse, 1925; general contract cartooning, plus comic strip Wayout
Joe Messerli, 1930; comic books, animation, freelance; helped or did solo newspaper strips Ella Cinders, Napoleon and Uncle Elby, and The Flintstones
*John Callahan, 1951; magazine cartoons from a wheelchair
Eddie Kean, 1924; Howdy Doody comic strip
*Paul Conrad, 1924; giant editorial cartooning talent, Denver Post and L.A. Times; three Pulitzers; eulogized here by one of John Sherffius' masterful deployments of symbol—in this case, "Truth" rendered in Conrad-signature style.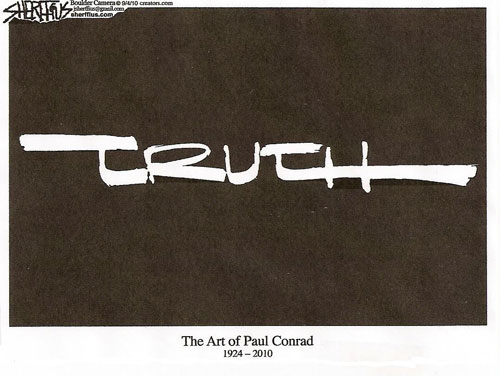 Howard Brodie, 1915; combat artist, WWII, with Yank, the Army weekly magazine, and, afterwards, courtroom visual reportage, usually for CBS News, for which he drew Jack Ruby at his trial for killing Lee Harvey Oswald and Sirhan Sirhan for the murder of Robert F. Kennedy and many others of the more sensational trials. His drawing of black militant Bobby Seale, gagged and strapped into his chair, "become the image that epitomized the trial of the Chicago Seven, the leaders of protests at the 1968 Democratic National Convention."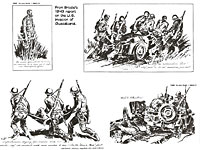 Stuart "Stoo" Hample, 1926; assist on newspaper strips Long Sam, Robin Malone, Inside Woody Allen
Jim Seed, 1927; ghost or assist on numerous newspaper strips, including Dr. Guy Bennett, Jane Arden, Steve Roper, Judge Parker, and Rex Morgan M.D.
*Leo Cullum, 1942; magazine cartoonist, chiefly in The New Yorker
Mike Esposito, 1927; comic book artist
Bill Keough, 1936; editor The Gag Recap, a monthly survey of published magazine cartoons which informed cartoonists of where their work had been published (in case they weren't keeping track themselves); an invaluable service
*Alex Anderson, 1920; creator of Rocky the Flying Squirrel and Bullwinkle Moose
*Harvey Pekar, 1939; the man who couldn't draw who made himself famous with comic books; Entertainment Weekly's year-end issue provided an unusual obit, a visual from one of Pekar's most frequent collaborators.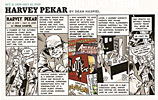 Haspiel wrote about Pekar as well as drawing about him: "He was a curmudgeon with a heart of gold. ... He taught us there are many versions of the truth. I was sadden and shocked [to hear of his death], but his entire life is in comic book form. ... I heard while at a Jewish funeral that the kindest thing you can do is to pick up the shovel and spread the dirt across the grave to put them to sleep. Well, you'll hear more stories and people will talk about Harvey Pekar. That's a way to help 'spread the dirt.' This normal guy found the extraordinary in the ordinary and [in doing so] showed how extraordinary he truly was."
We posted appreciations of the cartoonists marked with an asterisk (*). The list itself arrives here via Mike Rhode at ComicsDC.blogspot.com, who assembled much of the material from D.D. Degg.
And now, the Best of 2010 behind us, we return to our regular programming.
EDITOONERY
Afflicting the Comfortable and Comforting the Afflicted
THE NEW YEAR began when a guaranteed laugh-provoker, ol' Marcus Twain hisownself, had a book of his, the nefarious American masterpiece Huckleberry Finn, disemboweled and bowdlerized (twine down the scroll for more on this topic), but on January 8, Twain was blown off the editorial page as a suitable subject for editooning by the hideous Tucson tragedy. Among the earliest reactions was that of editoonist Steve Benson, just up the road in Phoenix at the Arizona Republic (and at the upper left in our first visual aid).
| | |
| --- | --- |
| | |
Benson, like Canadian Steve Nease at his right—and, continuing clockwise, East Coasters Signe Wilkinson and Tom Toles—saw the gunfire as a logical extension of extremist political rhetoric. (Nease's transmutation of the commonly used logotype symbols of the Republican and Democrat parties into weaponry is ingenious as well as damning.) But as cartoonists heard more about the murderous madness in that Safeway parking lot, they found variant explanations, among them, Sarah the Palin, whose SaraPac had posted a map of the U.S., targeting Democrat candidates for defeat by using the crosshairs of rifle sights.
The Alaskan huntress of the year—who has recently demonstrated her sportsmanship by beating halibut to death with a stick—was pretty soon the symbol for the vituperative contumely of right-wing rhetoric, and Sarah Livingston Palin didn't help matters by taking down the map right away and then posting a note on her Facebook page: "On behalf of Todd and my family, we all pray for the victims and their families, and for peace and justice." Exactly the sort of thing Lalo Alcaraz so gleefully attacks in his reaction at the right of the map. Her defense, an entirely credible one —adopted at once by her rabid supporters—simply invokes freedom of speech, but as Adam Zyglis ingeniously demonstrates just below Lalo, that hardly suffices.
As the liberal enthusiasm for attacking Palin spread (culminating, rhetorically, in the hilarious exaggerations of Pat Oliphant at the upper left in our next exhibit), conservative editorial cartooners reacted predictably, going on the attack, Glenn McCoy first among them, followed around the clock by Eric Allie and Canadian J.J. McCullough, both producing vivid images castigating liberals.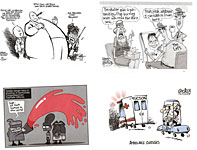 Michael Cavna at the Washington Post's online Comic Riffs blog saw the developing warfare right away: "In these polarizing times, some cartoonists reacted to the shooting of Congresswoman Gabrielle Giffords by immediately taking up sides. across the political aisle." And cable tv gasbags joined gleefully in, some immediately blaming the inflammatory rhetoric of the political right as inspiring the skinheaded killer, Jared Loughner, who, it developed, was more crazed than committed politically; others, on the right, struck back vehemently—so vehemently that I'm tempted to wonder if they protest too much.
At the conservative Washington Examiner, editoonist Nate Beeler was incensed at those of his brethren who, he believes, willfully misconstrued the facts to turn the tragedy partisan. Cavna quotes him: "I watched as some of my cartooning compatriots callously ignored the facts and used this tragedy to make political attacks. It might be acceptable to use the facts of an incident like this to make a strong point on politics or policy, but that's not what happened. These cartoonists shirked their duty to readers. They exploited these nonpolitical murders to create vitriolic partisan cartoons denouncing vitriolic partisanship.
"By every account I've read," Beeler continued, "the gunman, who experts say is likely schizophrenic, acted alone and without a coherent political agenda. By ignoring this fact, these cartoonists exhibited willful blindness and intellectual laziness. As keepers of the public trust, cartoonists should be smarter than that."
Distributed by New York Times Worldwide, a cartoon by Jeff Danziger particularly incensed Post readers, Cavna said. "In response to the tragedy, Danziger drew a shooter pulling the trigger from within a teapot, metaphorically tying the Arizona crimes to the Tea Party movement."
The hardnosed Danziger was unfazed by the criticism. The shooting suspect "wasn't a member of the Tea Party ... ," he said, "but I think the point still is, the Tea Party's influence is larger and there's political pressure to take a violent stance toward big government. It's that kind of thoughtless approach that affects some nutcase like this—this psychopath, this sociopath. In a place like Arizona, where everyone's gunned up to the nostrils, the Tea Party influence is still there."
Although Danziger struck a defiant stance in responding to Cavna, I can't find the offending cartoon at Danziger's website. Perhaps it was never there; perhaps he took it down.
Regardless, Beeler was scarcely pacified. "Now, I'm not a member of the Tea Party," he said. "I'm a journalist who makes a living drawing his opinions. What that means is I need to be rigorous in my research of all sides of an issue before reaching a conclusion—knee-jerk is the last thing I should be. With this tragedy, we can have a discussion about guns or mental-health services. We can always talk about civility in politics, as I believe that's a virtue. But trying to pin these six senseless murders on political enemies is a shameful act and a dereliction of duty."
In his cartoons, as we'll see in a trice, Beeler put his pictures to use in the service of his words, beginning with a nasty but telling image of pundits and partisans as vultures about to rip into Loughner's carnage.
Ed Stein, whose cartoons are carried by United Feature Syndicate, told Cavna that he's curious to see how his artistic peers respond as the facts continue to come to the fore. "As far as my colleagues are concerned," he said, "most of the work I've seen is what you'd expect right after an event like this: expressions of horror and sadness. Some cartoonists, however, jumped right into the partisan fray, accusing the left of politicizing a tragedy. Others went right after Sarah Palin and Fox News. I think those were premature at best, and did nothing to calm the polarizing debate. I'll be interested to see how many of us back off of the partisanship and look for some common ground. ... We all want the other guy to search his soul." (For more of Stein's musings on the subject, scroll down to Musing from the Frontline.)
Stein's first cartoon on the subject, just below two of Beeler's hereabouts, duplicated the map at SarahPac in a wordless indictment of Palin's gunslinging campaign strategy.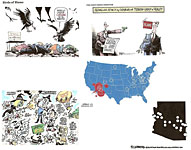 The other map, a bullet-riddle state of Arizona, was the first reaction of the Arizona Daily Star's liberal David Fitzsimmons. Fitz, a resident of Tucson who lives near the scene of the crime, went to the grocery store parking lot to see for himself what was happening, and he was interviewed by CNN.
"I'm pretty shaken, frankly," he said. "This is a very surreal, dream-like experience." But as a practiced observer of Arizona politics, Fitz wasn't too surprised: "The Right in Arizona, and I'm speaking very broadly, has been stoking the fires of a heated anger and rage successfully in this state. This is a gun-happy state," he continued when asked to elaborate. "I myself enjoy guns from time to time. I'm not against gun ownership. But for this state, it has become a fetish. This is an intense gun culture, and the politics of the state are far to the Right, the rabid Right.
"It's tough for me because I knew Congresswoman Giffords," he went on. "She held great promise as a blue-dog democrat. She was very intelligent, articulate and informed congresswoman, who thought a great deal about the future of Arizona. It's just heartbreaking for me that such an individual would be struck down. This is very emotional for me," he finished. "I grew up in Arizona. I've spent all my life here, and it has evolved into a state that generates a lot of political heat. That's as kind as I'll be today."
Later that day after the interview aired, Fitz was chagrined at the vehemence of his remarks. "Today I have offended many with my emotional, partisan and inappropriate remarks broadcast on CNN regarding the horror of this day," said he, quoted in his paper. "As Congresswoman Giffords battles for her life, let us join in prayer for her, for the dead and for the injured. Reflecting on the moment, I know my remarks would have disappointed Congresswoman Giffords, a public servant who is admired for her nonpartisan, gracious and intelligent approach to public discourse."
During an earlier insanity last year, Fitzsimmons had expressed his view of the state's politics by casting several of its politicians as characters in the Land of Az, an allusion, as we see in the second of his cartoons in our exhibit, at the lower left, to L. Frank Baum's classic. By the time of his apologetic remarks in the Star, however, Fitzsimmons was scarcely alone in fanning the flames of partisan discord.
IN HER COLUMN at cagle.com, Tina Dupuy lambasted Palin for her cowardice. "Sarah Palin has a right to display images on her sites SarahPAC, Facebook and TakeDownthe20.com. On those sites she had riflescope icons over the districts of Democratic congresspersons who voted in favor of health care reform. She stated in bold red letters: 'We've diagnosed the problem. Help us prescribe the solution.' In March, shortly after TakeDownthe20.com was launched, the window of Congresswoman Giffords' Tucson office was shot out with a pellet gun. Giffords alluded in an interview to 'the rhetoric and firing people up ... on Sarah Palin's targeted list. But the thing is that the way that she has it depicted has the crosshairs of a gunsight over our district. And when people do that, they've got to realize there's consequences to that action.' There were reports of Tea Party protesters outside her office with signs like, 'It's time to reload' and 'One way or another, you're gone.'"
Palin has turned the hunter's shotgun lingo into political coinage, exhorting her vociferous followers to "take up arms" and "reload" rather than "retreat." Sounds to me like an incitation to violent action, inadvertent though it may be. But what got Dupuy's wattles in an uproar is when Palin took down her target map and then expressed sympathy for the victims of the shooting. Said Dupuy:
"Palin had an opportunity to have a 'bullhorn moment.' She had the opportunity to rise to the occasion and prove all her critics wrong. She could have proven she truly is a leader. That she's not just a capitalizing catty mean girl who can't tell the difference between an opponent and an enemy. That she is worthy of all this presidential buzz and not just skating by on some mushy conservative platitudes and good looks. She could have come out strong and expressed regret for demonizing a member of Congress who was shot in the head with a 9mm. But instead—she cowered. Pitiful. To be clear, I'm not blaming Sarah Palin for 20 people being shot—six of them dying from their injuries. I'm blaming Sarah Palin for taking down her 'take down' map sans comment. I'm not blaming her for throwing bombs. I am blaming her for not uttering remorse when they explode. Palin wants her followers to 'stand up'? Her first."
After a few days, Sarah the Grizzly Momma struck back in a long Facebook message and Vimeo.video: "President Reagan said, 'We must reject the idea that every time a law's broken, society is guilty rather than the lawbreaker. It is time to restore the American precept that each individual is accountable for his actions.' Acts of monstrous criminality stand on their own. They begin and end with the criminals who commit them, not collectively with all the citizens of a state, not with those who listen to talk radio, not with maps of swing districts used by both sides of the aisle, not with law-abiding citizens who respectfully exercise their First Amendment rights at campaign rallies, not with those who proudly voted in the last election."
On the face of his remarks—as isolated, philosophical assertion—Reagan is irrefutable. But in context, his ringing assertion is not so unassailable. It embodies his political stance as cheerleader for the America of yesteryear, where the rugged individual prevailed in a Walt Disney small town America where everyone knew everyone else and all looked out for their neighbors. As a philosophical objective, admirable. But we abandoned Disney for Harvey Kurtzman's Madness long ago: according to Kurtzman's satire, ours is a cynical, profit-driven society the members of which look out for themselves, not their neighbors. Rugged individualism with a vengeance.
Kurtzman may be no more correct than Disney, but, regardless, Reagan was blowin' political smoke, manufacturing a dream, not describing an achievable reality. Leaders do that, they dream of a better world, and we follow them because we hope for something better than we have. But we must not let an admirable vision blind us to the reality we live in as Sarah Grizzly would have us do. In the reality we live in, our individual acts have consequences beyond our personal fates, and sometimes what we do as members of groups impinges upon others in the group and beyond it.
Hugh Holub at the Tucson Citizen put it this way: "There is something everyone who doubts the connection between a climate of hate and violence needs to experience. Visit the Holocaust Museum in Washington D.C."
That may be a trifle extreme, and I'm not trying to make Nazis of Momma Grizzlies or Rush Limbaugh or Bill O'Reilly. But Nazi Germany of the 1930s provides a case study of how unspeakable things can be done if large numbers of people muster in mass movements in support of ideas that inspire those acts.
Truth be told, though, I don't know why I'm bothering to examine Sarah the Palin's alleged "argument": methinks she doth protest too much. And for those who are not Shakespeareans, the quotation refers to a character who, by protesting too much, in effect declares his guilt.
New York magazine faults Palin for failing to acknowledge that maybe that map of crosshairs was somehow inappropriate. "Missing completely is any acknowledgment at all that, upon reflection, the crosshairs map was inappropriate anyway. ... But Palin goes much further than defending her crosshairs. Though many calls have been made over the past few days for a calmer political discourse, one based on respect for the other side instead of demonization and violent rhetoric, Palin doesn't see anything wrong with the political climate. ... Palin just can't give an inch. She can't acknowledge that there's any way she should be acting that is any different than how she has been doing things all along. ... In Palin's world, calls for politicians to tone it down a bit are tantamount to 'intolerance of differing opinion' and the 'muzzling' of dissent. In her stubbornness, in her unwillingness to cede any ground ever, Palin is forced to argue against freedom-stomping straw men. But we guess this is the mindset you get from being an oppressed minority."
Palin invokes victimhood with a bizarre allusion to anti-Semitism: "[E]specially within hours of a tragedy unfolding, journalists and pundits should not manufacture a blood libel that serves only to incite the very hatred and violence they purport to condemn. That is reprehensible."
"Blood libel," the magazine writer goes on, "—whether Palin knows it or not—is the term for the anti-Semitic slur that Jews kill Christian babies and use their blood to make matzoh. (Impossible, since that would require matzoh to taste like something.) Surely she was just copying the phrase from an op-ed in the Wall Street Journal by conservative political commentator Glenn Reynolds. And we get what she means, at least: She thinks the media is making up wild, evil accusations about her. But it probably isn't the best term to throw around."
Or maybe it was: a debate over the appropriateness of Palin's usage displaced for a few hours in the news cycle the accusations that she was the virtual shooter in Tucson.
PERHAPS THE HUBBUB BEGAN with Arizona's Pima County Sheriff Clarence Dupnik, who held forth at a press conference after the shooting, saying, among other things, that "the fiery rhetoric that has taken hold in politics may be free speech, but it's not without consequences. To try to inflame the public on a daily basis, 24 hours a day, seven days a week, has impact on people, especially those who are unbalanced personalities to begin with." While Dupnik's most frequently quoted statements skewer violent political rhetoric in general, regardless of partisan allegiance, among his earlier comments are those that cite the Tea Party campaign attacks on Giffords last fall. Dupnik, a Democrat like Giffords, used the Tea Party as the most vivid example of the sort of thing he condemned.
At The New Yorker, Hendrik Hertzberg was a little more specific: "Giffords' Republican opponent in the November election, whose campaign poster showed him cradling an assault rifle, held a gun-themed fund-raiser: 'Help remove Gabrielle Giffords from office. Shoot a fully automatic M16 with Jesse Kelly.'"
Writing his column in the Denver Post, Mike Littwin agreed, mostly, with Dupnik: "We live in a world where Tom Tancredo can be a legitimate candidate for governor [as he was in Colorado] and say that Barack Obama is more dangerous to the United States than al-Qaeda or the Soviet Union. In Nevada, Sharron Angle can say people might need to take 'Second Amendment remedies.' What's the proper response? You can laugh, of course, but what if you take any of it seriously? What are you supposed to do? Where does the logic, or illogic, lead? Sure, it's posturing. And it's posturing when a debate over health care policy somehow becomes a debate over whether government is 'taking away our freedoms.' And yet Giffords' office was vandalized after she voted for health care reform. Our great political debates have turned into sport, with your own cable-ready cheering squad. The issues aren't more divisive. The talk is just louder. And soon Glenn Beck would be saying the apocalypse is upon us."
I didn't come across these partisan-sounding comments until much later—days after the mindless murders. When reports of the shooting started coming in, my first reaction was: this is what happens in an atmosphere of extremist talk, of incessant vilification of others based solely upon their political beliefs, of shotgun metaphors. I was thinking of the so-called "town hall" meetings of the summer of 2009, of rallies at which some participants came armed, their weapons, they said, symbolizing Second Amendment rights (and apparently clueless about the intimidating impact of bringing firearms to a political meeting). Tea Baggers, too, but, like Dupnik, I thought of them as examples, not as the sole culprits. Ditto the gasbaggery of conservative radio and tv talk shows, the genius of which, as David Von Drehle wrote in Time, "is for dramatizing trivial things; there is no other way to remain outraged 24/7."
If you must fill airtime 24/7, what do you fill it with? Gasbaggery. The Tucson tragedy was perfect for the purposes of "a relatively small but very loud and influential cabal of political commentators," Von Drehle said, "who immediately harvested Loughner's atrocity as fuel for their noise machine."
Syndicated columnist David Sirota blamed broadcast media for rewarding instead of rejecting the journalism of invective. But he understands how it happens: an intense "pursuit of audience share ultimately rewards the loudest violence-glorifying demagogues in the noisy rabble. The situation is being further exacerbated as many media outlets transform their business models from mass broadcast to niche narrowcast—a shift that allows relatively small fringe mobs to sustain the most vituperative voices of hate. Add to this a recession that is reducing resources for real journalism, sprinkle in our dehumanizing politics of vilification, and America has built a media economy that incentivizes violent bombast."
If the chief noise-makers are Right wing-nuts, I can't blame them: they have more to feel victimized about. They have long assaulted mainstream news media for what they deem its liberal bias. In effect, everywhere they look, they see liberal bias because nowhere can they find news reportage that agrees with or supports their own predispositions; hence, it's all biased. And it's enough to make a person angry and incendiary. Understandable but dead wrong.
MANY THOUGHTFUL COMMENTATORS are rejecting out-of-hand the idea that our media-fueled incendiary political discourse caused the deranged young man in Tucson to rampage. A study by the Secret Service concluded, The Week said, quoting Alix Spiegel at NPR.org, that so-called "political assassinations" are "rarely motivated by partisan anger ... assassins target famous people primarily to be noticed themselves." Psychologist Robert Fein, who worked on the study, said most attackers "struggled with acute reversals and disappointments in their lives" and were eager for notoriety. "By killing a political figure rather than a Hollywood celebrity, for example, the attackers hope to 'associate themselves with a broader political movement or goal. That allows them to see themselves as not such a bad person.'"
According to one of his friends, Loughner didn't watch cable tv or listen to radio talk; instead, he was most influenced by an anti-government conspiracy film "Zeitgeist" that he watched on the Web repeatedly as his mental capacity deteriorated. That and "truther" documentaries that claim the government planned 9/11. "Zeitgeist," according to Michelle Goldberg on TheDailyBeast.com, quoted in The Week, "depicts a secretive banking cabal that uses debt to enslave the population, so as to create a single world government that will control people's minds. ... Loughner may not have been a partisan [in the usual political sense], but he did find justifications for his anti-government rage in the 'shadowy, conspiracy-mad subculture where the far Right and the far Left meet.'"
And then there are people like me who remember that inflammatory rhetoric about the "baby killers" who perform abortions deserving a similar fate, followed, before long, by the killing of an abortion doctor. No one seemed to question the cause-and-effect relationship in the abortion murders. So why is the Tucson case different?
For one thing, because some liberal voices are going after the Growly Old Pachyderm, the Tea Baggers, or Sarah Livingston Palin, all of whom have fanatic supporters who can't wait to leap to their defense, shrieking: "No, no, no—it's not the political discourse that is at fault: it's just the crazy guy, so we need to refine our mechanisms for finding crazy guys before they shoot someone."
Loughner's photo, plastered all over tv screens for a week, shows us what a murderous crazy looks like, so all we need to do is call the cops every time we see someone with a similar hairdo, glazed-looking pop-eyes and smirk, right?
A nanny nation that wants to make us all safe bike riders by dictating that we all wear helmets when astride our bikes also wants to make laws that will eliminate the likelihood that shootings like Tucson's ever happen. Nice ideas, both; but how practical? Helmets, yes; finding crazed shooters before they shoot? Not so much. Loughner and Seung Hui Cho at Virginia Tech in 2007 radiated warnings of their unstable mental conditions, but no one acted appropriately.
The impossibility of that assignment is matched by all the other alternatives. The anti-gun folks chime in and demand stricter gun control laws. Well, unlikely: the Second Amendment protects guns and gun owners. The only ambiguity in the language of the Second Amendment is that which has been insinuated over the years by lawyers, whose profession trains them to find puzzles where the rest of us see clarity. And such laws as we have already about prohibiting the sale of firearms to the mentally unbalanced have already proved impractical and therefore unenforceable. Still, I wonder if we'd offend the founding fathers if we outlawed semi-automatic pistols and rifles, the weapons that are designed solely for the purpose of killing as many people as possible. These aren't sporting weapons, except for those who practice a particularly twisted kind of sport; and they aren't for hunting either.
William Falk at The Week wondered along the same lines and followed his reportorial instincts to a local gun club, where he found a "very friendly group of guys" to whom he put the question: why insist on legal access to weapons of mass destruction? "One day, they explained, we may need weapons with serious firepower to fight the military and the police in an armed rebellion against [a tyrannical] government." Falk was somewhat astonished but decided that this belief was not a fringe conviction. "The belief in the 'right of revolution' is a fundamental tenet shared by tens of millions of gun enthusiasts, and is at the heart of the National Rifle Association's determined—and successful—fight against gun-control laws." If the government turns tyrant, "our guns" enable us to protect ourselves and assert our freedom.
Avid supporters of gun rights are deadly serious about this fantasy. With a child-like naivety, they apparently believe that a population armed with semiautomatic weapons is a match for the might of a high tech military force with tanks, airplanes and guided missiles.
A widely held conviction among gun fanciers is that an armed population makes for a safer society. As a friend of mine said: "If everyone were armed—some with concealed guns—we'd all be more polite because we wouldn't know who was capable of acting against us with deadly force." He was kidding. Almost. The contention is that if we all carried handguns, we'd be able to stop armed criminals—or crazed shooters—before they committed crimes or senseless slaughters. The best defense against gun violence, they say, is for citizens to shoot back. Loughner's rampage put the proposition to the test.
Arizona with its wild and woolly Old West heritage is the perfect laboratory. Last year, it became the third state (after predominantly rural Vermont and Alaska) to allow citizens to carry concealed weapons without a permit, and you can carry them into bars, too, as long as you're not drinking. And, sure enough, an armed citizen was near the Safeway parking lot in Tucson and came to the rescue, drawing his 9mm semiautomatic pistol as he approached the melee in progress.
He saw a young man on the ground and an older man standing over him, waving a gun. The man on the ground was Loughner; the older man had wrestled Loughner to the ground and disarmed him. The gun he was waving was Loughner's. But Joe Zamudio, the armed citizen on his rescue mission, didn't know any of this.
Fortunately, Zamudio hesitated, and when he got near the man waving the gun and tried to wrest it from his hand, bystanders shouted that he had the wrong man. Zamudio then jumped on Loughner and helped subdue him.
But Zamudio said afterwards, "I could have very easily done the wrong thing." He could have shot the wrong man—a hero shooting a hero.
The story goes to the heart of the gun rights debate, Denver Post columnist Littwin wrote, "—whether more guns make us more or less safe."
Molly Hennessy-Fiske and Neela Banerjee at Tribune Media Services summarized the dilemma. "Gun-rights advocates say Zamudio's quick action showed that a well-armed—and well-trained—person could protect himself and the public. [Zamudio admitted to not much training: just target shooting.] Gun-control advocates see his story as an example of how Arizona's gun-friendly culture and lax gun laws have not only failed to make the streets safer but also have potentially endangered lives."
The TMS reporters quote Kristen Rand, legislative director for the Violence Policy Center in Washington: Gun-rights people "always say, 'What if someone with a concealed weapon was there and could stop this?' Well, there was, and he almost shot the wrong person.'"
Zamudio says he noticed at the last moment a telling detail: the gun being waved around was in the process of being reloaded and was not ready to use. But he also says: "I was lucky. Honestly, it was a matter of seconds. ... In that short amount of time, I made a lot of really big decisions really fast ... I was really lucky."
Littwin observed that Zamudio said having a gun gave him the courage to rush the shooter. "But others, who weren't armed, did the same thing." And by the time Zamudio got there, others had subdued Loughner.
Had there been another armed citizen in the panicky crowd he approached, that Good Samaritan might have mistaken Zamudio for the original shooter and might have shot him. "A hero shooting a hero shooting a hero," Littwin muttered.
But it probably won't matter. The gun debate will go on. And it won't matter. The NRA and the gun lobby won the debate years ago. And polls show American's losing interest in the issue, Molly Ball said at Poltico.com. Moreover, she noted, among politicians an NRA endorsement has become as coveted by Democrats as it once was for Republicans alone.
And here, in the proximate vicinity, are the views of a few editoonists on the issues we've thus far belabored.
The first three, going clockwise from the upper left, are all more conservative than liberal. Dave Granlund takes a predictably conservative position. Ditto Brian Fairrington, whose take, however, seems ingenious (and whose preference for drawing fat women from the rear is enthralling). Mike Ramirez provides a schematic guide to everything the incident is not, despite liberal clamor; nonetheless, the cloud of "nots" around Loughner's head suggest a cultural backdrop of the kind that fogs one's thinking (about which, more below). Pat Oliphant's sardonic depiction of the Four Pillars of U.S. Government is probably more true today than it was when he drew it, now that we've learned that some congresspersons are packing concealed heat when they go to work.
On the next page, Cal Grondahl puts the essential question with a memorable image, and Fitzsimmons ends his role in the debate with a picture just as controversial as some of his earlier remarks. One reader said he wasn't a member of NRA but after seeing Fitz's cartoon, he was considering joining because "every country in world where the citizens were unarmed, ultimately became a dictatorship of some kind." This inspired others to comment along these lines: "Yeah, I'd like to see some kind of a source on that. Especially since we've just been reminded how unarmed people can overthrow dictatorships in Tunisia (nobody remembers East Germany, Czechoslovakia, Poland, etc.?)."
I CAN'T HELP THINKING, THOUGH, that the brouhaha about whether the raucous Right is at fault here, or the insidious Left, misses a somewhat larger point. Even in my first awareness of Tucson's tragedy I never thought that the vehemence of our political debate actually incited the shooter to act. It's a mistake to look for a direct cause-and-effect relationship. The language of our political contests forms a rhetorical backdrop, but the backdrop does not incite: it does, however, inadvertently condone. And by condoning, it effectively permits. The Oklahoma bomber may supply a more accurate model for what's awry than the Right's Sarah the Palin, Rush Limbaugh, Bill O'Reilly, Glenn Beck, Ann Coulter or the Left's equally outrageous Keith Olbermann (who, at least, apologized if he'd said anything that incited the Tucson massacre).
Timothy McVeigh bombed a government building in Oklahoma City in 1995 as an act of revenge against the federal government for its handling of the Waco Siege. Reportedly, he also hoped to inspire a revolt against what he considered to be a tyrannical government. McVeigh was a militia movement sympathizer, and he was undoubtedly surrounded by like-minded people in such an environment, people who, wittingly or not, made him feel they supported him in his bloodthirsty inclination. And in fact, he had at least two henchmen who joined him in executing his plan.
Most of us seek support from friends and colleagues for whatever we do, and McVeigh, in this, would be no different than any of us. If it was McVeigh's militia environment that nurtured him and sustained him in his murderous scheme, it can't be so much of a leap to suppose that the toxicity of our political discourse can foster in unbalanced personalities ignoble fantasies that can result in "acting out" in extreme ways consistent with the "program" inherent in vitriolic advocacies.
Hampton Sides found in Loughner's act of savagery an echo of James Earl Ray's 1968 murder of Martin Luther King. Sides, author of Hellhound on His Trail, a narrative history of the King assassination, wrote in Newsweek: "Certainly the culture of hate ... was complicit in Ray's crime. George Wallace may or may not have understood the far-reaching consequences of the statements he was putting out in 1968. He wasn't literally saying 'Go kill King.' Yet Wallace and other segregationists created an inflamed environment in which a confused but also ambitious man like Ray could think it was permissible, perhaps even noble, to murder King. The signals Ray was picking up enabled him to believe that society would smile on his crime."
Human nature is not likely to change. And neither is the fundamentally violent nature of our culture. Our history is bloody with violence, from the so-called Indian Wars to the gunfight at OK Corral to My Lai to Blackwater. The Stranger, a free weekly newspaper in Seattle, supplied a telling picture of our history of violence on its cover for January 13-19—a map that mimicked Palin's crosshaired map, but marked the sites of political assassinations (and attempts) from Abraham Lincoln to Gabrielle Giffords.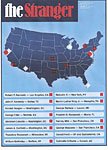 Our language is laced with the metaphors of the battlefield and the prize fight. All of it provides a cultural backdrop that tolerates, even if it does not actively encourage, violence as a legitimate course of action.
Would it were otherwise.
The inherent violence of our culture is part of the problem, but only part of it, perhaps the root but not the cause. The culture shapes the language, and the language is often violent. The language will go on being there, not inciting to violence so much as condoning it—in effect, giving permission to the unhinged to follow their murderous muse.
Alas, we can no more legislate against the language than we can against the culture itself. We have a problem without a remedy. And we have already learned to accept this unwholesome fact. Shootings like that in Tucson or at Virginia Tech in 2007—even at Fort Hood a year or so ago—are seen as simple aberrations, the isolated acts of madmen, the accidents of societal ills or inabilities. And yet every time one of these supposedly inexplicable acts occurs, our first instinct is to find a way to prevent the next one. The instinct is commendable: it re-affirms our essential humanity. Ours may be a violent culture, but we still aspire to something better than the tooth and claw of the jungle.
President Barack Obama captured this ennobling impulse in his remarks at the memorial service for the victims of the shooting in Tucson on January 12. His talk was a remarkable example of rhetoric to a purpose: midway, it took a sharp turn from grief and sorrow to exhortation and aspiration and a national purpose. He began by mourning for the dead and injured, and then he recognized the courage of those who helped—the two husbands who threw themselves between their wives and the shooter, the woman who wrenched a clip of ammunition away from the killer, the men who wrestled him to the ground—and in cataloguing their heroism, he began to consider what we can do to "honor" their selflessness, and soon, he came to nine-year-old Christina Taylor Green, and suddenly, his speech pivoted: with her young life and its expectations for a happy and fulfilling future as the fulcum, Obama levered sorrow into hope, even resolve.
"In Christina we see all of our children," said the young father who is also President of his country, "—so curious, so trusting, so energetic and full of magic. So deserving of our love. ... We may not be able to stop all evil in the world, but I know that how we treat one another, that's entirely up to us. And I believe that for all our imperfections, we are full of decency and goodness, and that the forces that divide us are not as strong as those that united us. That's what I believe, in part because that's what a child like Christina Taylor Green believed."
Before concluding his speech, Obama also said: "We may ask ourselves if we've shown enough kindness and generosity and compassion to the people in our lives. ... We recognize our own mortality, and are reminded that in the fleeting time we have on this Earth, what matters is not wealth, or status, or power, or fame—but rather, how well we have loved...."
And maybe even if we cannot stop aberrations, we can find a way to realize some of the goodness and decency within us by speaking to one another politely.
David Brooks, New York Times columnist and commentator of the PBS NewsHour, went a little beyond hope to political pragmatism: "What has to come is a sense of humility, that the reason people reach out to one another is because alone no one has the resources to conduct intelligent policy. You need back and forth, you need the conversation. And if you don't respect that conversation, if you think you can do it alone, that your side has 100% of the Truth, of course you will behave uncivily. If you don't have that humility, that sense that you need the other side, it will be hard to be civil. But we have to have that sense of civility that we need the back and forth or else we'll be carried away by the falsehood in our own position."
Disharmony and disputation are built into the Constitution itself. Its framers installed checks and balances because they realized that a functioning democracy must be at war within. Part of any governmental impulse is to control the population; the other part, the population, resents and resists control. The checks and balances prevent either side from overpowering the other. But the heart of the American Revolution was to defend individual liberty against government. The revolutionary values were, as George Will pointed out recently (quoting Samuel Huntington in American Politics: The Promise of Disharmony), "individualistic, democratic, egalitarian, and hence basically anti-government and anti-authority," all of which "unite in imposing limits on power and on the institutions of government." Will concludes: "America is an inherently 'disharmonic society' because the ideals of its creed are always imperfectly realized and always endangered."
And disharmony is itself a danger, essential but dangerous if it clings too fervently to ideology, which is also essential but dangerous. To paraphrase Clinton Rossiter in Parties and Politics in America (quoted by John B. Judis in The New Republic), there is no America without democracy, no democracy without politics, and no politics without compromise and moderation. The art of politics, as someone much wiser than I said long ago, is compromise. Essential to compromise is pragmatism, a desire to get something practical accomplished. What undermines compromise is political ideology when it trumps pragmatism.
What we are experiencing these days is not a disharmonic disputation over the means of pragmatism but simple name-calling by a political party that is, Judis says, "ideologically cohesive, disciplined and determined to take power, even at the cost of disrupting the political system." The entire agenda of the GOP since losing control of Congress has been to stop government, to cripple it so that a frustrated populace will return Republicans to power. As Senate minority leader Mitch McConnell has so memorably put it: the goal is to make Barack Obama a one-term president. That's it. That's the whole GOP agenda. It has no other governmental goals. It wants to repeal the health care reform legislation but has nothing to put in its place.
To achieve these dubious purposes, the rabid Republican senators have filibustered legislation that they previously favored but now oppose simply because the Obama administration supports it. What childishness.
Civility is not just nice. It is not merely a mark of civilization itself. It is essential to the functioning of democracy. Civility muffles ideology, thereby muting the destructive impulses inherent in any partisan political system in which different political parties seek power over their rivals. Civility eliminates name-calling. The editors of The New Republic suggest that political debate stay within certain limits, the first of which is to refrain from "the smug and poisonous" rhetorical vice of suggesting that "Democrats or liberals are not real Americans," that their beliefs are "alien to the country." By exaggerating the polarity inherent in this rhetoric—"by framing the choice as capitalism versus socialism or liberty versus tyranny—Republicans have largely eliminated the possibility of compromise." How can you compromise with those whom you have effectively labeled as enemies of the country?
And so the first rule of civility is: refrain from name-calling. The second rule is: debate ideas, not personalities. The goal must be pragmatic possibility, not ideological purity.
*****
On the same NewsHour broadcast referred to above, Mark Shields, Brooks' cohort in commentary, repeated the gist of something a friend, Allan Ginsburg, had said: What we had in Tucson was a white, Catholic Republican judge murdered on his way to greet a Democrat Jewish woman member of Congress who was his friend. Her life was saved initially by a twenty-year-old Mexican American college student and subsequently by a Korean American combat surgeon and then it was all eulogized and explained by an African American president. In a tragic event, we have a remarkable statement about the country and the diversity that is its unique strength.
MUSING FROM THE FRONTLINE
A Little Soul Searching
By Ed Stein at his blog, January 11, 2011 (verbatim):
IF EVER THERE WAS A TIME for a little self-reflection, for some soul searching, as Pima County Sheriff Clarence Dupnik said, it is now. So far, pretty much everyone seems to think that the other guy needs some serious introspection, but that his or her own soul is just fine, thank you. So here goes my own personal look inside.
Editorial cartooning is a funny business (no pun intended). The best cartoons are the strongest, most aggressive, least ambiguous ones. We want to say things as pointedly as possible, yet many of us are extremely uncomfortable with what has become the national shouting match that passes for political dialog. Most of the cartoonists I know wrestle with this dilemma constantly. We want to inform the debate, not simply preach to the converted. The easiest way to draw a cartoon is to take the talking points of the day, liberal or conservative, and just parrot what's already being said. The hardest cartoons to create are those that are truly original, that look skeptically at the arguments of both sides, that try to find new ways to present social and political arguments. The best cartoonists write from a personal philosophic point of view that may be aligned with a conservative or a liberal political philosophy, but is at least a few steps removed from the party platform. The cartoonists I admire are mortified at the idea of a being a shill for a political party. The test of a good cartoonist is the ability to criticize those he agrees with.
I struggle with this with every cartoon I draw. Here's what happens: Bill Clinton does something I really dislike, but I dislike his critics even more, and I am reluctant to add fuel to the fire they are stoking. What to do? Grit your teeth and criticize Clinton. Or Obama, or whoever, friend or foe alike. It's not easy to do in this era of hyperpartisanship, of inflammatory language, of charges and countercharges, of trumped up outrage and bold-faced lies. But if you don't, if you succumb to the temptation to purely partisan work, you are not fulfilling your role as a journalist. I want to draw strong, pointed cartoons. At the same time, I try to make my work as fact-based as I can, and to avoid the invented scandals and hyperbolic charges that dominate the conversation.
Some rules to follow: Don't draw people in Nazi uniforms, even if some pundit claims that the president is worse than Hitler. Avoid convenient labels like leftist, fascist, commie, socialist. Make arguments based on fact, not rumor. Above all, make certain before you draw a cartoon that you are not simply addressing the partisan topic of the day. Know the difference between a real story and an invented political outrage. Ask a simple question: Is this really an issue? Does it have any effect at all on the average person, or is it just another political diversion?
The other dilemma we cartoonists face, and it's a subtler one, is that we often don't really know what's going on. It's easy to assume, for instance, from the public statements he makes, that a president is not up to the task of confronting a foreign adversary. So we draw Bush, Sr., or Clinton or Dubya or Obama fighting bullets with ineffectual words, or swatting a North Korean dictator with a purse, or whatever image we come up with to show weakness or fecklessness. What we often don't know, as the recent Wikileaks releases have shown, is what diplomatic steps are being taken behind the scenes. So, the president we are lampooning may well be coordinating highly effective international sanctions in secret as we draw.
Finally, there are only so many hours in the day, and one of them has a deadline attached. I research as much as I can, but I can't read and listen to everything. I prefer sources that align with my own political bent, of course, so the New York Times and NPR are my primary sources. My conservative colleagues prefer Fox News and Reason magazine. Each of us will be receiving a vastly different spin on the same story, sometimes to the point that we don't even agree on what the news is. It's a dangerous practice. I've found that having a lively debate (which I have frequently, and which I enjoy enormously) with my conservative cartoonist friends helps us all to find some kind of common ground; we moderate each other's views and help each other build some small bit of respect for the arguments of the other side.
One last thought on the current debate over whether the inflamed language of the political debate might have led to the shooting spree in Tucson: the Left (myself included) is all over it, pointing fingers at the outrageous rhetoric coming from the Right. The Right is incensed that the Left is trying to make political hay from this tragedy, and points out (correctly) that this guy is a nut case of the first order, and for all we know might never have watched Glenn Beck or even seen Sarah Palin's infamous map. Can't both sides be right? Jared Lee Loughner may be certifiable, and the average person certainly doesn't respond to the goadings of talk show hosts or irresponsible political personalities with Glocks, but isn't it within the realm of possibility that unstable loonies can get pushed over the edge by the overall tenor of the debate?
The commentators on the Left would do well to tone down their accusations until they have some actual information, and the pundits on the Right might at least consider the idea that their actions have consequences.
While we're waiting for either of those miracles to occur, I have a (nuanced, I hope) cartoon to draw.
STEIN'S FIRST CARTOON after the shooting was the one mimicking the SarahPac map, published on January 9; his next cartoon (January 10) appears in the adjacent visual at the upper left, perhaps a more measured response to the tragedy but still sharply biting.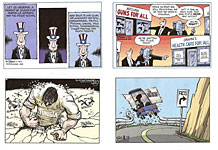 His first cartoon after the foregoing essay is the next in clockwise order here, dated January 17, perhaps not so nuanced, but stubborn irresponsibility always deserves to be hit between the eyes.
Incidentally, speaking of Congress's new agenda now that the House is in GOP hands, despite their insistence throughout the fall campaign that JOBS would be first on the order of business, the actual first was repealing the health reform legislation, after which came another approach at banning abortion (this time through denying insurance coverage) that shoved JOBS out of the way. Hypocrisy deserves a swift kick in the balls.
Still going clockwise from below Stein's second cartoon, here's Allie again, this time with an even more telling image, summarizing the on-going brouhaha as conveyed by the ever-alert news media. Finally, at the lower left, we have Pat Bagley, one of the few editoonists who chose to comment on the earthshaking revolution in Tunisia (about which, we'll have another sentence or two to pen, below at Froth Estate).
HUCKLEBERRY FINN, RACISM, AND THE SOCIAL ORDER
"All modern American literature comes from one book by Mark Twain called Huckleberry Finn." —Ernest Hemingway
Efforts to sanitize classic literature have a long history, Michiko Kakutani points out in the New York Times. "Everything from Chaucer's Canterbury Tales to Roald Dahl's Charlie and the Chocolate Factory." Huckleberry Finn and To Kill a Mockingbird and Of Mice and Men—a trio of victims of censorship or suppression because they have the word nigger in them. "There have even been purified versions of the Bible—all that sex and violence!" And then in the 1980s, Kakutani remembers, authors like Joseph Conrad and Herman Melville were threatened with exile from the classroom because their works projected "colonialist attitudes" or didn't feature enough women.
So when Alan Gribben, a professor of English at Auburn University at Montgomery, Alabama, edited a new edition of Huckleberry Finn in which he substituted the word slave for nigger, he was joining a long albeit benighted parade of literary do-gooders who seek to decontaminate our reading matter as well as our language. Gribben's reason for "editing" Twain is that he is afraid the book is falling off too many reading lists because of Twain's use of the verboten word. And Gribben provoked a predictable reaction among editorial cartooners, some of which we see here.
| | |
| --- | --- |
| | |
Starting clockwise at the upper right, John Cole captures the spirit of Twain's novel with a direct but somewhat "edited" quotation from the original, turning the tables on Gribben; and then Jeff Danziger carries on in the spirit of the PC censor, destroying the book's authenticity by purging its vernacular language. (Danziger can't resist broadening the cartoon's scope: under the name of the riverboat is inscribed "Don't Ask, Don't Tell," keying off "queen," of course.) Jimmy Margulies deploys a recent coinage in popular culture to make his point, a point made loudly by many lovers and students of literature. Said Kakutani: "Authors' original texts should be sacrosanct intellectual property, whether a book is a classic or not. Tampering with a writer's words underscores both editors' extraordinary hubris and a cavalier attitude embraced by more and more people in this day of mash-ups, sampling and digital books—the attitude that all texts are fungible, that readers are entitled to alter was they please, that the very idea of authorship is old-fashioned."
The Hartford Courant's Bob Englehart, whose smiley face caricatures so beautifully the Politically Correct and its self-satisfied delusions, had more to say in straight prose at his blog:
"My daughter asked me on Facebook what I thought about the censoring of The Adventures of Huckleberry Finn. I hadn't heard of the clamor at that point and responded in general about book banning and how it's good for business. 'Banned in Boston' was a great advertising campaign to sell any book when the Watch and Ward Society ran things in Beantown. Makes me shiver to think of it. Frankly, I think Alan Gribben's project to change Twain's language will result in more sales for the original.
"There was a popular cartoon panel called There Oughta Be A Law back in the last century that highlighted some of the funnier human absurdities and the cartoonist suggested new laws to correct things. Well, I've got one. There oughta be a law that says literary text can't be altered without the author's written consent and since this author's been dead for 100 years now, it ain't going to happen. My God, if they're going to change something from the literary past, they should change anything written by William Shakespeare and put it into English.
In the interest of honesty and truth in labeling, the new book should be called Alan Gribben's Attempt To Have the Adventures of Huckleberry Finn Taught In Backward School Systems."
Englehart's outburst was applauded by several engaged bystanders who encountered the blog:
From Just Another Vet—Literature reflects the truth of the times it was written in. To alter it is to create a lie. To lie, saying that the word nigger never existed, is to bury your head in the sand and forget the past. And as the old saying goes, "those who forget the past are doomed to repeat it."
From Jeff Reed—I've never been a big fan of the slippery slope argument, but I think it applies here. As absurd as this "modification" is, I think we're missing the bigger picture. If we're going to erase/modify offensive language in books, why don't we erase/modify offensive times in history? I find it offensive that America ever partook in slavery to begin with; should we tell our children that it never happened? Do we really want to get in the same boat with the people who are trying to convince us the holocaust never happened?
From Paul—My anecdotal contribution: walked past a bookstore with a window display featuring a dozen or so "banned" books. Where's Waldo was there. I just had to ask. The book included a beach scene, and out of the hundreds of people depicted, the self-righteous, puritanical would-be censors zeroed right in on the young lady sunbathing (on her stomach), with her bikini top untied in back. The only skin exposed was—[shiver]—her back. I didn't laugh, and neither did the bookstore owner; I felt more anger than anything else.
And then we have Ruben Bolling, who devotes an entire installment of his Tom the Dancing Bug to an exploration of how all of Huckleberry Finn could be modernized to suit 21st century sensibilities. (If you can't read Tom here, go to glogs.gocomics.com.)
HOWEVER WELL-INTENTIONED Gribben's effort, slave is not a suitable substitute for nigger. Slave is an economic term: it denotes property. Nigger is a racial term, often an epithet but in the ante-bellum South of Huck Finn's time, it denoted more the ignorance of the person who used it (who didn't, apparently, know how to properly pronounce negro) than the social status of the person being denominated. To remove this word from Twain's masterwork is to undermine the satire, the social criticism at the heart of the book.
Huckleberry Finn was about phonies long before either J.D. Salinger or Holden Caulfield ever thought of it. Generally speaking, the novel attacks the dangerous artificiality of so-called respectable society by pitting against it the fundamental goodness of unsocialized human nature— Huck Finn vs. Miss Watson, whose essential traits appear again in caricature as the phoney Duke and King, the con men Huck and Jim encounter as their raft drifts south on the Mississippi. Critic Leo Marx writes: "Miss Watson is the enemy. ... She pronounces the polite lies of civilization that suffocate Huck's spirit." Jim is her property, and Huck's moral dilemma is that he knows Jim is a runaway slave and that it is his obligation in the social order for which Miss Watson stands to see that Jim is returned to his owner. If Huck doesn't, he is violating the moral sense of the social order, and by so doing, he believes (having been thoroughly conditioned by "society") that he's committing a sin punishable by damnation. Finally, having wrestled with this socially imposed imperative, Huck writes a letter to Miss Watson, telling her where Jim is. But then, after remembering fondly all the things he and Jim have done together, he tears up the letter, saying: "All right, then, I'll go to hell."
It is a central moment in the novel. Huck's fundamentally sound moral sense wins out over the phony morality of respectable society. The word nigger is not just an instance of Twain's characterization of Huck through the use of the vernacular speech of the day: nigger is the verbal symbol of the internal struggle Huck's moral dilemma precipitates. It is the socially approved term for negro slaves, and by using it, Huck shows that he aspires to a place in that social order. He has internalized that aspiration; it is deeply embedded in him. So when Huck decides he'll go to hell rather than betray the man who has become his companion and friend, he betrays instead his own socially-sanctioned aspiration, his place in society. Without the word nigger, we cannot realize how deeply ingrained in Huck are the morally bankrupt precepts of the society in which he grew up, and his sacrifice of a place in that phony heaven for a place in hell loses its impact.
The novel's thematic meaning remains intact. At the end of the book, Huck chooses to "light out for the Territory [the West]," rejecting Aunt Sally's attempt to adopt him and civilize him. "I can't stand it," he says, "—I been there before." Without the word nigger, the irony of Huck's concluding remark is robbed of much of its emotional power.
THE FROTH ESTATE
The Alleged News Institution
By the last week in January, we were finally seeing on tv news vague allusions to the revolution in Tunisia accompanied by pictures of the protestors in the Egyptian streets and elsewhere in the Arab world as the influence of the ouster of dictatorial rule in Tunisia spread to Yemen and Algeria and even Jordan and other countries where oppressive regimes have held their populations captive for decades. It took several weeks or a month before the Tunisian contagion started spreading, but it seems in full flower now. Were it not for the devotion of the news media to regaling us with heart-wrenching stories about the survivors of the Tucson tragedy, journalistic enterprise might have fostered such democratic upheavals throughout the Arab world. No matter: the Web and Twitter and cell phones have accomplished what journalism used to do when it was a responsible medium.
One evening while I was watching footage of the Egyptian streets, I saw a man walking by, holding up for the tv camera a political cartoon condemning the rule of Mubarak or demanding that he leave the country. Not speaking Egyptian, I couldn't tell which, and the camera didn't stay on the cartoon long enough to make out much of it. But it was clearly a visual political comment.
THE DUTIFUL NEWS MEDIA declared on election night last fall "that the big story of 2010 was the rise of the Tea Party," writes Jim Hightower in The Hightower Lowdown for December. But the reportage "ignored the much bigger story: the ascension of America's narcissistic moneyed elite to the political throne."
Hightower, by the way, is the guy who said: "Two wrongs don't make a right, but three lefts do."
AS OF EARLY JUNE LAST SUMMER, a total of 32,578 jobs had been phased out of newspapers since early 2008, according to Paper Cuts, a blog that keeps track of announced buyouts and layoffs (from Columbia Journalism Review, July-August).
MOTS & QUOTES
For all the talk of political polarization and the anger of the right wing, you don't see this in everyday life as you gad about the byways. You're not accosted by irate people demanding that they get their country back. The Internet is full of old growlers, of course, and if you opine on public issues, you'll get anonymous mail calling you a baby-killer, torturer, tool of Satan, cat strangler and babbling idiot, which you accept as your due, like the static electricity you collect walking across a carpet. A slight shock, but it doesn't turn on any light bulbs.—Garrison Keillor
FUNNYBOOK FAN FARE
Four-color Frolics
An admirable first issue must, above all else, contain such matter as will compel a reader to buy the second issue. At the same time, while provoking curiosity through mysteriousness, a good first issue must avoid being so mysterious as to be cryptic or incomprehensible. And, thirdly, it should introduce the title's principals, preferably in a way that makes us care about them. Fourth, a first issue should include a complete "episode"—that is, something should happen, a crisis of some kind, which is resolved by the end of the issue, without, at the same time, detracting from the cliffhanger aspect of the effort that will compel us to buy the next issue.
You may have already seen NBC's new superhero series, "The Cape," about a framed cop who fights crime by donning an empowering cape. Entertainment Weekly's Ken Tucker says the show is "steeped in comic-book lore ... [and] melodramatic, sure, but its sincerity takes it far: I felt a kid's thrill when the Cape sewed his own mask and tied it on for the first time. It's probably doomed to cult status, but 'The Cape' is primal fun." Well, maybe. But after seeing the first episode, I've given up: I can believe a man can fly, but I can't believe a cape can be made to do the things we see therein. The formula for "The Cape" mixes a little Doc Savage in with leftover Batman with a villain or so from Spider-Man. Mixed greens at best.
But IDW's comic book of the same title is not much fun at all in its debut issue. Eric, the narrator, and his friend Nicky play superheroes as kids, and Eric has a cape his mother made him. One day while poised for flight from a tree limb high off the ground, Eric falls and is badly injured. Forty staples to his skull, shunt in his brain and half-a-dozen follow-up surgeries keep him in and out of hospitals for the next ten years, and he still has headaches. He reacts by becoming a complete slacker and a drunk, alienating his girlfriend, who apparently loves him even though he is, to all intents and purposes, worthless. She finally leaves him. And he sulks and drinks some more. One night, finding the cape of his youth, he wraps it around himself. He is astonished to find that he levitates. He flies. He goes to find his former girlfriend, who confesses she still loves him, and he takes her on a flight. Then, high up in the air, he toys with her: referring to her having "dropped" him, he drops her, and she lands in a concrete fountain, sans water. Smashed to pieces, no doubt. Hovering over her unconscious body, Eric vaunts his prowess: someone has to be the bad guy, he says.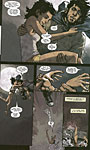 And that's bad enough for me. The first issue contains two complete episodes—Eric's accident and his dropping his girlfriend. But Eric is such a thoroughly reprehensible character, I can't imagine anyone wanting to continue reading this tripe. Zach Howard's drawing is slick and attractive, and his storytelling skills highly accomplished. But Jason Ciaramella's hero is so unlikeable that no amount of good artwork can rescue the title.
Could be that the first issue will turn out to be all a dream, I suppose. But I'm not sure I care enough about that to buy the awakening second issue.
EVERY ONCE IN A WHILE, I pick up a title I am no longer following just to see how it's going. I read the first 3-4 issues of Billy Batson and the Magic of Shazam, so I sprang for No. 6, now drawn by Stephen DeStefano and written by Art Baltazar and Franco. Lively stuff, and it reads almost like Hoppy the Marvel Bunny, star of Fawcett's Funny Animals title. I suppose that's by design. Pictures are fun to look at; action breakneck and amusing. Good show.
CIVILIZATION'S LAST OUTPOST
One of a kind beats everything. —Dennis Miller adv.
Now is the time for all good men to come to the aid of the profession and restore its dignity. Rancid Raves is joining Washington Post's Dana Milbank who has called on fellow journalists to observe a "Palin-free February." Said Milbank, who admits to having written about the Alaskan governor-shirker 42 times: "We are up against a powerful compulsion, and we must take this struggle day by day." At last: a noted journalist who admits that Sarah Livingston Palin is not news : she is a happening, but no more newsworthy than, say, Paris Hilton.
Here's another one from The Week—Dr. Marie Catherine Klarkowski, a German dentist, has discovered a new way to alleviate her patient's pain: she bought low-cut dirndl dresses for herself and her nurses to wear while attending her customers because, she explained, "The sight of cleavage gets patients narcotized and distracted from pain rather quickly." Male patients, we suppose.
BOOK MARQUEE
A Moderately Short, Even Brisk if not Brusque, Review
Pelican Publishing's annual round-up of what editor Charles Brooks calls the Best Editorial Cartoons of the Year (206 8.5x11-inch pages, b/w; paperback, $14.95) arrived in time for me to give it a glancing blow with this year-end opus of Rancid Raves. This year's installment (subtitled "2011 Edition" although its content is cartoons published in 2010) is pretty much the same sort of thing it's always been: the cartoons are given generous display (most of them, half-page; a few, three-to-a-page), and the front matter consists of the cartoons that most recently won the Pulitzer, National Headliner, Sigma Delta Chi, Thomas Nast, Scripps Howard, John Fischetti and Herblock awards. The content is arrayed in chapters by subject—Midterm Election, The Obama Administration, Politics, Spending, The Tea Party, Foreign Affairs, Ground Zero Mosque, The Military, Air Travel, Health, The Courts, Education, Sports, Society, The Environment, and Other.
The selection of cartoons is somewhat flawed by Brooks' conservative warp. "I am very conservative," he said in a recent interview with capitolweekly.net; "One of the best compliments I ever received was from President Richard Nixon, who said that I was their Herblock." Cartoons about Obama are usually anti-Obama, sometimes viciously so. Of the 7 cartoons in the chapter on The Courts, for instance, four sneer at Obama's nomination of Elena Kagan to the high Court; one turns Obama into a "heckler" (as in "You lie!") for criticizing the Supreme Court's decision on corporate funding of election campaigns; and two, perhaps surprisingly, ridicule "The Supremos" for their decisions on owning fire arms (with the "r" in Supremos configured like the logo for "The Sopranos" tv series). These two suggest, correctly, that Brooks doesn't ban cartoons critical of conservative positions, but the skew of his perspective is clear.
Retired from active editooning since 1986, Brooks is 90, and I suspect his judgement about what makes a good editorial cartoon is bent in the direction of his vintage years (although he would probably disagree; see the ensuing fragmentary biography about him). As one of the profession's Grand Old Men, he seems more willing than perhaps he should be to give younger, unknown cartoonists some visibility, and as a result, his selection for the book includes a lot of bush leaguers and second-stringers. More seriously, the profession's view of this annual compilation is that its editor's conservatism effectively bars the more radical liberal cartoons, so few (well, none) of Ted Rall's stripe are included; and some of the profession's top flight cartoonists do not deign to participate in the process.
Editoonists are solicited every fall to submit five of their best cartoons, and Brooks selects from those submissions. No cartoonist is therefore represented by more than five cartoons; and most (but by no means all) of those with four or five are conservative cartoonists.
Still, the Pelican volume is the only annual omnibus compilation this year: the Cagle.com site's rival tome, co-edited by Daryl Cagle (liberal) and Brian Fairrington (conservative) is on hiatus this year. But some of what might've been its content can be found at Cagle.com: scroll down the left-hand column and click on "Best of the Year," which will take you to the section "2010 Year in Review," where you can pick from among an array of cartoonists whose best work, as determined by Cagle and his minions, has been assembled for your entertainment. And edification. Pelican is also publishing another editoon compilation, Prizewinning Political Cartoons: 2011 Edition (paperback, $19.95), a 112-page volume of cartoons by the cartooners who won the awards showcased in the opening pages of the Brooks book (listed above). Edited by Dean P. Turnbloom, whose cartoons can be found in USA Today and on CNN.online and who describes himself as "a naval civilian previously employed as a defense contractor," this volume is due in March.
CHARLES BROOKS has been compiling this yearly volume since 1972, part of the time during his 38-year career as editoonist at the Birmingham News, where his proud conservatism was doubtless an asset. He studied with Vaughn Shoemaker at the Chicago Academy of Fine Arts after two years at Birmington-Southern College. Wikipedia asserts that his cartoons for the Birmingham News championed the American character, an attitude that led him to attack the Ku Klux Klan and similar abuses.
Brooks hoped to get a comic strip syndicated when he got out of the miliary after World War II but had no luck. When he noticed that the News was running syndicated cartoons, he applied for the editorial cartooning job and got it. The annual series of Best Editorial Cartoons came about because of Spiro Agnew, Brooks explained. Milburn Calhoun, president and owner of Pelican Publishing in Gretna, Louisiana, liked what he saw of Brooks' work in the Birmingham News and asked to illustrate with cartoons a book he was publishing about Agnew, then a darling of the conservatives.
"After finishing this job," Brooks said during an interview with the capitolweekly.net, "I suggested to him that he publish an annual book of best editorial cartoons. For years, I had seen such a book of gag cartoons [probably the Best Cartoons of "Year" series edited by Lawrence Lariar for Crown Publishers, 1942-70], but none of editorial cartoons. He agreed, if I could get the okay of editorial cartoonists, and they would have to agree not to charge for their cartoons. He explained that he could not make a go of it, if he had to pay large sums for individual cartoons."
At the time, Brooks was president of the Association of American Editorial Cartoonists (AAEC), and he put the proposition before the membership: if the cartoonists would forego payment, Calhoun would donate some of the money from book sales to AAEC. "They voted unanimously to try the book. We started the book, thinking it would be a good history of the year in editorial cartoons. It has proven to be exactly that, and is used widely in universities and schools as a teaching tool."
Brooks' favorite editoonists include Vaughn Shoemaker, Daniel Fitzpatrick, John T. McCutcheon, even Herblock, Bill Mauldin and Paul Conrad; among contemporaries, Michael Ramirez, Mike Luckovich, Ed Gamble and Nick Anderson—the last three much more liberal than the first. Among comic strip cartooners, he likes Charles Schulz, E.C. Segar, Chic Young, and Mort Walker.
Looking back over the last half-century, Brooks thinks editorial cartoons have changed in at least two ways. First, there are fewer labels these days, and he feels that's an improvement. The cartoons he selected for the book almost all have labels (Public, Rangel Ethics Committee, Big Business, etc.) but only a few are as festooned as editorial cartoons were 70 years ago. (Here's one with three politicians in it, labeled, in succession, Bill Clinton, Obama, Joe Sestak). But he's not so much in favor of the other change:
"Many cartoonists now go in more for humor than trying to push political philosophies," Brooks complained. "The spot on the editorial page is too important for just humor; what is needed is a hard biting cartoon saying something about government. [When cartoons are highly partisan politically], they are better cartoons, when they show what the cartoonist believes and wants the reader to believe. That is the essence of an editorial cartoon. It is an editorial in graphic form. The lead editorial on the editorial page propounds the opinion of the editor, and the editorial cartoon presents the opinion of the editorial cartoonist. When I believed very strongly in a certain issue, I would draw several cartoons showing three or four different reasons why I'm for it. I spaced them not too close together but days apart; I feel this is a good way of encouraging the reader to think as I do—by repeating the same message from different angles. I don't think cartoonists should hesitate to make fun of politicians with whom they disagree. Looking back, some of my cartoons that I think were among the best was where I took words right out of a politician's mouth and hung him with his own words. It's a waste of space on the editorial page to just pat a politician on the back for doing the right thing. That's what he's paid for."
In selecting cartoons to the Best book, Brooks said he looks for "a pungent message, [something] easy to understand and well-drawn, with humor if possible. I don't like labels, unless absolutely necessary. We always try to represent the complete spectrum of political opinion in the book, so the reader has a cross-section view of cartoonists nationwide and in Canada."
I'm not sure he's achieved that "complete spectrum of political opinion" although his conservatism does not go so far as to convert the book into right-wing propaganda. Some liberal cartoons make it into the volume. But some of the wannabe cartooners don't draw well enough, I'd say, to meet Brooks' proclaimed standard of "well-drawn."
ONWARD, THE SPREADING PUNDITRY
The Thing of It Is ...
Just about every time John "Blubberer of the House" Boehner talks about the recent legislative achievements of that Republican-controlled body, he says they are merely doing (at last) what the American peeepul wanted them to do as indicated by the results of the midterm election. His newly-discovered loyalty to the will of the American peeepul is wonderful to watch, especially considering how willfully he ignored the expression of that will as manifest in the results of the 2008 election, which turned the Giddy Old Pachyderm out of the White House and increased Democrat seats in Congress. Obviously, the will of the American peeepul is something Boehner can obey or ignore whenever it does or doesn't suit his convenience. "In fact," as Jim Hightower put it, since 2008, "Boehner has done all he could, by hook or crook, to stomp to death the progressive agenda" that a much larger majority of the electorate voted for only two years ago.
Boehner's mantra is childish posturing, a pretense built on revisionist history, something, alas, that the GOP has grown inexcusably adept at.
*****
Our Motto: It takes all kinds. Live and let live. Wear glasses if you need 'em.
To find out about Harv's books, click here.