Opus 270 (December 9, 2010). In a long and longing ramble of an installment, our Big Stories this time include a highly critical look at The New Yorker's annual "cartoon issue," a report on Ted Rall's Afghanistan venture (plus a glimpse of his incendiary Anti-American Manifesto), mini-reviews of numerous Papercutz books, discussion of the latest casualties among the editorial cartooning ranks, Stan Lee's Soldier Zero and the Wonder Woman movie (not). Here's what's here, in order, by department, beginning with an apology and/or correction:
Odds & Addenda: An Apology
NOUS R US
Spider-Man Crashes on Broadway
Sale of Comics and Graphic Novels Down
Lennie Peterson Is Back with The Big Picture
Wuerker Wins Berryman
Who's Palle Huld?
Garfield Snafu
Big Nate: The Wimpy Kid
MAGAZINE CARTOONING
The New Yorker's Annual "Cartoon Issue," A Little Lame
What Is Minimalism Anyhow?
Newcomers at The New Yorker
Playboy Limps Into Christmas, Without Stockings or Other Raiment
RAGHEAD RITUALS AND A NEW REVOLUTION
Life With Ted Rall & Company
NBM AND THE EUROPEAN CONNECTION
Part One: Papercutz and the Smurfs
Biography of Peyo
Biography of Papercutz
The Hardy Boys and Nancy Drew Graphic Novels
Harry Potty and a New Line of Parody Titles
Rick Parker
EDITOONERY
Three More Lose Jobs
Kirk Anderson's Lovely Rant
Ramsey's Buck-up
Last Month's Cartoons
Everyone's Own Facts & GOP Fictions
The Ethics of Partisan Journalism and Political Donations
Mallard Fillmore Speaks His Mind
THE FROTH ESTATE
U.S. News and World Report Goes Digital
Newsweek Becomes a Daily Beast
Under-reported Stories of 2009-2010
Writing Sports Stories with a Computer
RANCID RAVES GALLERY
Lascivious Pix
DEPARTMENT OF JIVEY
BOOK MARQUEE
Barnaby a-Borning
The Economist's Kalendar for 2011
Was Superman a Spy?
The Peanuts Collection (Memorabilia and Scraps of Art)
Shameless Art (Pin-ups, Of Course)
Holy Sh*t! The World's Weirdest Comic Books
FUNNYBOOK FAN FARE
Stan Lee's First Soldier Zero
Incognito
All-New Wonder Woman Disrobes
Why Is There No Wonder Woman Movie?
ONWARD, THE SPREADING PUNDITRY
Senator "Twitch" McConnell and Statesmanship
Blue Dog Democrats, Unemployment under Reagan, and Earmarks
And our customary reminder: don't forget to activate the "Bathroom Button" by clicking on the "print friendly version" so you can print off a copy of just this installment for reading later, at your leisure while enthroned. Without further adieu, then, here we go—
Odds & Addenda. Way back in Opus 224, I reviewed an essay by Patrick Rosenkranz in a book entitled Underground Classics, and I complained that he didn't question or qualify ug cartoonist Robert Williams' paranoiac assertion that in the early 1970s, he and his cohorts feared that a government "clamp down" was coming: "We know for a fact that they were reconditioning internment camps in eastern and southern California. Our phones were being tapped, and the cops were watching down the street. It was just continual surveillance. Either we were going to get forced into the army or we'd get thrown into an internment camp."
While I could accept the possibility of the Feds' eavesdropping on ug cartooner phones, the internment camp idea seemed to me over the top, and I said Rosenkranz ought to have made some editorial remark to the effect that Williams' "facts" here were dubious. Well, like the man said: even paranoids have real enemies. As I was about to discover.
A few weeks ago, I recycled the review on my Hare Tonic blog at tcj.com, and soon thereafter, undergrounder Jay Lynch, an old friend, wrote me about my resistence to Williams' "facts": "On Williams' quotes on the paranoia of the era over surveillance: Many of us did get our FBI files under the old Freedom of Information Act which confirmed said surveillance. And documents have been released and countless books written about the Fed's MK ULTRA program which further confirm that we were being watched by the Fed. So it would seem to me that the surveillance issue would be well known by the average reader of 1960s lore. And going into MK ULTRA would have been as unnecessary for Rosenkranz to have gone into as, say, the reason for Nixon's resignation."
I had forgotten about J. Edgar Hoover; had I clawed memory of him and his paranoia up from the back of my mind, I wouldn't have questioned Williams' claim about being surveilled. That's not really so preposterous, given the times, and it, by itself, wouldn't have prodded my dubiousness. But the internment camps—I still think that's a little farfetched. For the early 1970s. Lynch tells me I'm being naive, and he may be right. In any event, I don't question the existence of internment camps today: GeeDubya and Darth Cheney have worked their subrosa magic wonderfully. (Although I never thought I'd use "magic" and "wonderfully" in the same sentence as "GeeDubya" and "Darth Cheney.")
My apologies to Williams and to Rosenkranz.
NOUS R US
Some of All the News That Gives Us Fits
Broadway's Spider-Man, "Turn Off the Dark," did not exactly flop on its "preview" night, November 28, but it fell short of the promise implied by the extensive treatment it received that night on "60 Minutes." The $65 million stage production attempts to do with wires from the ceiling what the Spider-Man movies do with special effects—make the Webslinger swing into action, flying through the air with the greatest of ease over the heads of the audience, which, on this auspicious occasion, numbered 1,900. But the machinery was balky and the show stopped for various adjustments four times, with actors dangling in mid-air for minutes at a time. The mechanical failures, however, apparently had no effect upon the audience, which, for the most part, endured interruptions patiently and with warm understanding—and did not, in noticeable numbers, demand its money back for tickets that cost as little as $140 and as much as $375. Nor was the potential audience much influenced. According to report on "NBC Nightly News" the next night, most of those who planned to see the show are still eager to witness the most expensive production ever mounted in American theater, an attraction that prevails whether the machinery works or not. The show is scheduled to open January 11; but don't hold your breath: delays have been the history of this production. As of December 5, at least three of the show's actors have suffered injuries severe enough to keep them off-stage.
"The Walking Dead," the new series on AMC that has just concluded its inaugural 6-show season to rave reviews by critics and fans, is based upon the comic book of that name from the so-called mind of Robert Kirkman, who, contemplating the next season of the tv version, cautions funnybook-spawned fans of the tv series: "You may not have the insider knowledge you think you have. Things may play out differently with Rick and Shane. And that's great."
In Newsweek for November 22, editoonist Rob Rogers snared both of the cartoon slots that the magazine fills each week. ... And in The Week magazine for December 10, Ed Stein got two of the five editoon slots. (We'll show you one of his on the other $ide of the wall.) ... Free Comic Book Day in 2011 is May 7. For the first several years of this annual event, it was scheduled to coincide with the release of a blockbuster movie about a comic book superhero, but lately, FCBD has plowed a free-standing rut for itself: the first Saturday in May every year. ... Fox has announced that they have renewed "The Simpsons" for a 23rd season, making it the longest running comedy in tv history. ... Martin Sheen has been cast to play the role of Uncle Ben in the forthcoming Spider-Man movie, according to Deadline Hollywood. Sheen will join Rhys Ifans as the villain, Emma Stone as Gwen Stacy, and Andrew Garfield as Spider-Man. Sally Field is in talks to be Aunt May. The movie is slated for release July 3, 2012. ... DelawarePunchline.com is a new online humor magazine from editoonist Rob Tornoe; the December issue is up and free and full of humor columns and cartoons of all sorts.
The most recent issue (No. 1673, January 2011) of the Comics Buyer's Guide, once the industry's holy writ, had only 58 pages. The magazine's dimension shrunk a year or so ago when it dropped its monthly price guide feature, which pandered exclusively to wealthy collectors rather than readers of comics. But the diminished page count is less ominous than the almost complete absence of advertising. The previous issue had 40 more pages, and all of them were ads—for one company, Comic Haven Auction. Can CBG survive with such an anemic advertising allocation? Ironically, its forerunner, The Buyer's Guide (TBG, as we used to say), was, for most of its early history, all ads.
Year-to-date over-all sale of comics and graphic novels through Diamond Comic Distributors are down by 5.79% compared to sales over the first 11 months of 2009; graphic novels show a somewhat smaller decline, 4.35%. "To be fair," ICv2 reported, "comic sales didn't suffer nearly as much as most other entertainment sectors during the worst of the great recession in 2008 and 2009. The difference between graphic novels and comics would have been smaller save for what transpired in November. Dollar sales of periodical comics in November were down 10.2% when compared with November of 2009, but graphic novels rebounded strongly with a 14.84% jump over November 2009 fueled by the release of the latest volume of Robert Kirkman's The Walking Dead, which has got plenty of 'juice' thanks to the highly popular debut of "The Walking Dead" on tv. ... The first volume of The Walking Dead, which was originally released in 2004, also made the top ten, a sure sign that the tv series is having an effect on sales."
After reporting declining sales in the Top-Selling 300 comic book titles and in graphic novels in the third quarter, ICv2 got to wondering: what if the decline in the Top 300 category were offset by increases in the rest of the range, all those titles that aren't in the Top 300? So they did some careful re-casting of figures and formulations. The conclusion? "Sales below the Top 300 may be growing in importance, but when we look at a fairly long period (10 months) either they aren't big enough in the aggregate to make much difference, or their sales are changing at about the same rate as the Top 300's. If anything, looking at year-to-date numbers, sales on the titles below the Top 300 are shrinking faster than sales in the Top 300, at least in periodical comics." No rousing news there.
Mort Walker went back to his alma mater, the University of Missouri in Columbia, to help with the festivities of opening an eatery in the new student union. Named Mort's, the place honors UM's famous graduate and the hangout he frequented when matriculating there, The Shack. Quipped Walker: "This new eatery has all the wonderful things The Shake had—tables, chairs, a ceiling." He said he got a kick out of celebrating The Shack: "It's like celebrating a dumpster." ... Also in October, Walker was presented with the Cartoon Art Museum's "Sparky" Award for 2010. Named after Charles M. "Sparky" Schulz, the award recognizes significant contributions of cartoonists who embody the talent, innovation and humanity of the Peanuts creator. Past recipients, listed in the September-October issue of the NCS Cartoonist, include Sergio Aragones, Gus Arriola, Dale Messick, Will Eisner, Creig Flessel, Phil Frank, Morrie Turner and Schulz himself.
Cartooner John Backderf, creator of the uproarious scatologically satiric altie strip The City, was excused from jury duty by an Ohio judge when Derf, responding to a question, said, Yes, he did know someone who had been convicted of a crime. As reported in The Week, Derf said: "I had a close friend in high school who killed 17 people." That was serial killer Jeffrey Dahmer, who ate parts of his victims and froze the rest in his refrigerator. His life story Derf turned into his first graphic novel.
Dark Horse will celebrate its 25th anniversary next year; this year, Greg Evans' Luann is passing the same quarter century milestone (with a superlative retrospective collection that we'll review next time; available only online through Evans' page at TheCartoonistStudio.com/Greg). And Jan Eliot's Stone Soup has passed its 15-year marker. ... Lennie Peterson is back with his autobiographical strip, The Big Picture, in which he sardonically records his nefarious adventures and attitudes as a failure and layabout—at the opposite extreme, that is, of a continuum with Keith Knight's The Knight Life at the other pole, recording the success of the author. This time, The Big Picture is running exclusively at GoComics.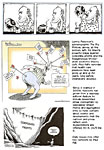 Politico's Matt Wuerker won the Berryman Award for excellence in editorial cartooning. It's been a stellar year for Wuerker, noted Michael Cavna at ComicRiffs.com: he won the Herblock Prize in April and was named a finalist for the Pulitzer. Said Wuerker: "I'm thrilled to get the Berryman Award. I share it with all the other ink-stained wretches out there doing such great work as political cartoonists. I only wish more of them were as fortunate as me to get to work with such smart, trusting editors like mine here at Politico. It's a dream perch for a cartoonist." According to the judges, "Matt's drawings blend satire, irony and the right amount of anger to skewer the politically powerful of all persuasions." (Well, yes—but don't all good editoons do these things? You'd think the judges could say something about what makes Wuerker's wuerk unique.) Honorable mention for this year's Berryman went to the Post's Tom Toles; Daryl Cagle of MSNBC; and Jimmy Margulies of the Record (New Jersey). The Berryman comes with a $2,500 prize; honorable mention is worth $500.
DANISH ACTOR Palle Huld died on November 26 in a Copenhagen retirement home; he was 96. He was a stage actor and also appeared in over 40 Danish films between 1933 and 2000, but his niche in history verges on the nearly undivulged. In 1928 at the age of 15, said Margalit Fox at the New York Times, Huld won a competition sponsored by a Danish newspaper that wanted to send a teenager around the world to celebrate the centennial of Jules Verne's birth by reenacting Phileas Fogg's trip "Around the World in Eighty Days" in Verne's 1873 novel with that title. There were stipulations: the winner had to be a teenager, had to circle the globe unaccompanied, and had to complete the trip in 46 days, using any conveyance but the airplane.
The paper, Politiken, picked Huld from several hundred applicants. Huld, a Boy Scout, had quit school and was working in an automobile dealership. He left Denmark on March 1, 1928, "and as he traveled by rail and steamship, the world press chronicled his every move, through England, Scotland, Canada, Japan, the Soviet Union, Poland and German," Fox notes. "It also recorded his triumphant homecoming, after just 44 days, to a cheering crowd of 20,000 in Copenhagen." Huld subsequently wrote a book about his adventure, A Boy Scout Around the World, published in 1929.
Among the cheering throng hailing Huld upon his triumphant return, was, perhaps, a 21-year-old cartoonist named George Remi, who would, the next year, launch a comic strip feature about a teenage boy reporter, Tintin, who would travel the world in search of news and adventure.
Some Tintin historians have included Huld among the possible inspirations for Herge's intrepid boy reporter. Herge himself apparently never spoke about the matter, and Pierre Assouline, the author of the latest of the cartoonist's biographies, Herge: The Man Who Created Tintin, told Fox he'd never heard of Huld.
But coincidences are hard to overlook. Huld was a Boy Scout, and Herge, at the time, was drawing a comic strip about a Boy Scout. Given the worldwide notice Huld received, it's hard to believe Herge, scribe to Scouting, wouldn't have about him. Moreover, as Fox notes: "Like his comic book incarnation, Huld was fresh-faced and freckled with a turned-up nose and unruly red hair. On his journey, he was often photographed wearing plus-fours, Tintin's breeches of choice."
Pretty conclusive evidence, seems to me.
GARFIELD FANS CAN JOIN THE ORANGE FAT CAT in his daily doings by uploading a photo of themselves at pixfusion.com. Soon after, presto!—the facial photo will appear at the summit of Jon Arbuckle's body (or Liz Wilson's) where the comic character's head ought to be but, now, isn't. Now, it's your face instead. "A four-pack of animated comics costs 99 cents to personalize and can be streamed," saith Matt Moore at the Associated Press. The operation is destined to move to iPhone and iPad and other mobile platforms. Said Jim Davis, Garfield's creator: "It's really a nod to where the industry is going. Everything's going online."
On November 11, Garfield suffered from Davis' nodding off several weeks before in approving for publication that day a strip in which Garfield threatens to swat a spider, who responds with a rant: "If you squish me, I shall become famous. They will hold an annual day of remembrance in my honor, you fat slob!" And, after a pause, the spider continues: "Does anyone here know why we celebrate 'National Stupid Day'?" No one apparently noticed through the production cycle that the strip would appear on "an annual day of remembrance," Veteran's Day.
Davis, appalled, rushed to issue an apology, saying the strip, which "seems to be making a statement about Veteran's Day, has absolutely nothing to do with this important day of remembrance." It had been written almost a year ago, "and I had no idea when writing it that it would appear today—of all days." When the strip went into the production queue, Davis didn't realize that it would run on Veteran's Day. "What are the odds?" he said. "You can bet I'll have a calendar that lists everything by my side in the future." Davis noted that his brother served in Vietnam and his son, in Iraq and in Afghanistan. "You'd have to go a long way to find someone who was more proud and grateful for what our veterans have done for all of us. Please accept my sincere apologies for any offense today's Garfield may have created. It was unintentional and regrettable."
BIG NATE IS FOLLOWING in the Wimpy Kid's wimpsteps and vice versa. Drawing in a simple wooden style—much like Scott Adams in Dilbert but somewhat larger and with fatter lines—Lincoln Peirce created his comic strip about middle schooler Nate Wright in the early 1990s and got it syndicated in 1991 by United Media. With his distinctive multi-cone hairdo, Nate is a self-described genius, the syndicate publicity says: equipped with only his hairdo, a No. 2 pencil and the unshakable belief that he is destined for greatness, "he fights a daily battle against overzealous teachers, undercooked cafeteria food and all-around conventionality." Although it runs today in about 200 newspapers, Big Nate is not what the average citizen would call a roaring success. Until the Wimpy Kid books came along and showed just how to make a fortune with simple wooden-stiff artwork.
Last March, HarperCollins Children's Books launched the first of a six-book series starring Peirce's character: Big Nate: In a Class by Himself. At least two other titles have been released: Big Nate Strikes Again and Big Nate From the Top. The first two are more-or-less original effusions for the books; the third title begins to exploit the fertile ground of reprints, harvesting its content from the strip's 20-year inventory. This could go on forever, or at least to within a couple months of infinity.
These volumes are obvious attempts to cash in on the Wimpy Kid Phenomenon. And a certain perverse poetic justice lurks therein. Jeff Kinney, the Wimpy creator, was a big fan of Big Nate, saying: "Lincoln Peirce is one of my cartooning heroes, and Big Nate ranks as a comics classic. Year in and year out, Big Nate is among the best comics on the funnies page." When Kinney was an undergraduate at the University of Maryland (from whence cometh Frank Cho and Aaron McGruder—the place is a hothouse of cartooning talent), he wrote to the Baltimore Sun, calling Peirce's strip "the best of the new generation of cartoons that make the comics page worth reading."
Is it, then, too much to suppose that Kinney, after realizing he would probably not become a political cartoonist, stared at Peirce's "comics classic" and said to himself: "I could do that." And did, creating the first of the Wimpy wonders.
Fascinating Footnit. Much of the news retailed in the foregoing segment is culled from articles eventually indexed at rpi.edu/~bulloj/comxbib.html, the Comics Research Bibliography, maintained by Michael Rhode and John Bullough, which covers comic books, comic strips, animation, caricature, cartoons, bandes dessinees and related topics. It also provides links to numerous other sites that delve deeply into cartooning topics. Three other sites laden with cartooning news and lore are Mark Evanier's povonline.com, Alan Gardner's DailyCartoonist.com, and Tom Spurgeon's comicsreporter.com. And then there's Mike Rhode's ComicsDC blog, comicsdc.blogspot.com and Michael Cavna at voices.washingtonpost.com./comic-riffs . For delving into the history of our beloved medium, you can't go wrong by visiting Allan Holtz's strippersguide.blogspot.com, where Allan regularly posts rare findings from his forays into the vast reaches of newspaper microfilm files hither and yon.
Quotes and Mots
This time, a sampling of inscriptions on t-shirts. You have to know that these alleged witticisms are intended to be on t-shirts: in the strange and wonderful way that comedy works, if you saw them as stand-alone mottos or bumper stickers, the humor is diminished. Here are some:
In dog beers, I've only had one.
Life is short: buy the shoes.
Just call me butter because I'm on a roll.
I before e except after c. Weird?
My garage needs me now. The least I can do is be there for it.
Handyman's rule: cut to fit; beat into place.
*****
I sometimes mourn urban progress. For many years, the Shubert Theater in Chicago was across the street from Burt's Shoes; then Burt's Shoes was replaced by Payless Shoes and poetry died an unremarked death.
MAGAZINE CARTOONING FOR ALL IT'S WORTH
The annual indulgence from The New Yorker showed up a couple weeks ago. Dated November 1, the so-called "cartoon issue" is, as usual, a mixed blessing at best; at worst, a grudging nod in the direction of the artform that keeps the magazine afloat—beguiling readers as well as filling coffers. Some years ago, the magazine's management acknowledged that its Cartoon Bank generated enough income to tip the balance sheet from the red to the black. And even the effetely journalistic editors have sometimes admitted that most of The New Yorker's readers skim through each issue to smile at the cartoons before getting serious with the articles.
Still, the blessings of the "cartoon issue" are mixed. On the one hand, it's gratifying that one of the last two remaining major markets for magazine cartoons thinks cartoons are important enough to warrant an annual celebration of this sort; on the other hand, it's disappointing that, after the promising 1997 beginning of the series that featured text pieces about cartooning and/or cartoonists, the magazine hasn't subsequently been able to find much to write about in connection with the artform or those who practice it. I once offered my essay on World War I's doughboy cartoonist Wally Wallgren, famed cohort of New Yorker founder Harold Ross at the Stars and Stripes, who, perversely, never made it to Ross's new magazine when it got launched; but they were having none of it, so I sent it to Hogan's Alley. (If you didn't see it there, you can find it here, in Harv's Hindsights for February 2009.)
Instead of a text piece about cartooning or cartoonists, the editors have in recent "cartoon issues," including this one, published an article about a comedian, thinking, apparently, that since cartoons incite laughter, anything that provokes laughter is suitable fodder for the "cartoon issue." This year, it's 27-year-old Aziz Ansari, whose parents immigrated to South Carolina from India before Ansari was born, so he speaks with a Southern accent rather than the British-inflected Indian. If you watch "Parks and Recreation," you'd recognize him as Tom Haverford, "an inept ladies' man"; but I don't watch "Parks and Recreation," so I don't recognize him at all, but I'm looking forward to reading the article even though it's not about a cartoonist.
The 122 pages of this issue of The New Yorker are like most issues: they carry a generous sprinkling of cartoons throughout. It qualifies as the "cartoon issue" by reason of an 18-page section devoted entirely to cartoons: 18 single-panel cartoons of the usual sort plus 8 manifestations of Roz Chast, a 4-page comic strip by Zachary Kanin ("Noah's Ark," funny but pointless except for its irreverence), and 6 of the past winners of the magazine's weekly Caption Contest, ostensibly celebrating the Contest's fifth anniversary but actually a cheap way to fill 2 more pages with reprints rather than fresh inventions.
I've never quite understood the fascination Chast holds for The New Yorker audience. Her comedy takes the form of determined cataloguing, which, admittedly, is usually a mildly (it aims for no more) and insightfully amusing assessment of our societal foibles; but her drawings are close to the worst among equals. (The worst are the attempts of Bob Mankoff, the magazine's cartoon editor.)
WAIT! Time out! We interrupt this epidemic of logorrhea for an Important Denial followed by an Object Lesson. Denial first: I don't really think Roz Chast's drawing is the worst in the magazine, maybe not even close to the worst. I got carried off by the sentence as I was writing it—it and the next one. Object Lesson: I fell into the pit that an amateur writer sometimes staggers into: casting around, desperately looking for words to string together, he finally pulls together enough for a sentence, which, upon inspection, he thinks is just too cute or clever and so he lets it stand there even though he doesn't, quite, agree with what he just wrote. In my case, I liked the "worst among equals" fillip, but I also realized that I didn't think Chast actually made that grade so I stuck "close" in there, which led me, pell mell, into who the worst drawer might be, and Mankoff's "attempts" qualified him. Nicely ironic, he being the cartoon editor, and I still believe his drawings are the worst in the magazine. But Chast, as it stands right now, is the victim of a sentence gone rogue rather than considered opinion.
Good writers, as opposed to amateur scribblers, are careful not to be seduced by witty sentences into saying things they don't believe. Years ago, witnessing just such a performance by a writer whose facility with words I admired, I realized that some of what he'd written he probably didn't quite believe—but he liked the seeming astuteness or hilarity or euphony of the sentences that were proclaiming these half-truths, so he left them alone. I decided I wouldn't do that. But here, I just did. Or I just about did. So now I'm trying to redeem myself by saying what I actually believe about Chast's drawings, deploying, for the purpose, a modicum of precision.
They're pretty lame, the drawings. ("Lame" is the word I was toying with before I got sucked into the "worst among equals" formulation. I should have stuck with "lame.") They're lame because her line lacks confidence, and so do her compositions. The faces of all her characters look the same, and her command of anatomy is tenuous: she can't draw hands (or, to judge from the evidence persistently before us, ears), and the arms of her characters look like spaghetti. And the cross-hatching that she does is more knitting than shading. Yes, her drawing still might be close to the worst in the magazine, but she's not alone. She's with Ed Koren's shaggy humanoids and Bruce Eric Kaplan's wide-stance matrons and David Sipress's tiny-footed wobblies and Barbara Smaller's finicky shading that is desperately searching for a reason for being in the drawing.
I realize I'm being irreverently hard on these eminences, but when I think of Peter Arno and Helen Hokinson and Charles Addams and George Price—not to mention Sam Cobean, Whitney Darrow Jr., Chon Day, Alan Dunn, F.B. Modell, Saul Steinberg, Gluyas Williams and Eldon Dedini (to let slip the names of a few of the Grand Masters of the Medium)—I have to wonder how this other lot get published so often in a magazine renowned for what it calls its "drawings." It is a mystery best explained by the cartoon editor, whose own drawing ability is just a shade worse than these others.
There. I think that's what I really mean. And now we can rejoin our garrulity at exactly the place where its irrepressible flow was interrupted.
HEREIN, CHAST GETS the first 4 pages of "The Funnies" section. The cartoon section that is the heart of the "cartoon issue" is thereby kicked off by lame drawings. Four pages of them. In person, Chast is a very funny lady; she was one of the speakers at the OSU Festival of Cartoon Art last month, and she was lively and thoroughly engaging with wickedly perceptive comments on both the world at large and her cartoony version of it. Not at all the wizened maiden aunt in a shawl sort of personality her cartoons lead you to imagine.
Two of the cartoons in "The Funnies" are treated with the kind of disdain for visual art that suggests the editors don't really want to do a "cartoon issue" at all. These two drawings are printed straddling the gutter, which means that parts of each drawing are obscured, tucked into the magazine's binding in willful disregard for the cartoonists' having drawn them the way they did because they thought the entire drawing, including all its parts, should be viewed. From the editors' perspective, the cartoonists were obviously misguided in this infantile conviction.
Considerations other than artistic reign in other departments of the magazine—on the cover, for instance. The mailing label that sends each week's issue unerringly to subscribers is pasted on the cover art, defacing it. The magazine pays great sums for the art that decorates its covers (in 2004, Eldon Dedini noted that he could make $4,000 for a cover drawing), but then defiles it by laminating a foreign object onto it. In one memorable instance, a drawing by Sempe of the interior of a gigantic theater with an orchestra on stage and a single diminutive individual in the audience, the label was pasted over the person in the audience thereby obliterating altogether the humor, which rested entirely on the contrast between the tininess of the only patron in the midst of the vastness of its ocean of seats.
Seized every once in a while by a nearly uncontrollable sense of outrage at this kind of abuse, I have occasionally written the art director, Francoise Mouly, to urge that if the label cannot be moved to the back cover (a maneuver that the Post Office doubtless wouldn't object to), then at least use an adhesive that permits a subscriber to peel the label off in order to behold the cover art in a wholly unblemished state. As it is presently, if you peel off the label, you take part of the artwork with it, as you'll see in a trice.
I met Ms. Mouly at the OSU Festival and asked about the label. Her response revealed that the label has been an issue at the magazine for some time: I'm not the only reader whose artistic sensibilities have been offended. But since the capacious machinery for applying the mailing label has been set up for several light years and admits of no tinkering whatsoever, nothing, she averred, can be done about the desecration. We can put a man on the moon, but we can't retool the mailing label machine. Too bad. Sad.
The "cartoon issue's" cover is more cartoony than the usual cover art, as you can see nearby.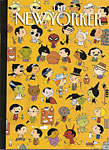 (The telltale evidence of the location of the mailing label is betrayed by the white scar just below the table at the lower left.) With this array of decorative circles, cartoonist Ivan Brunetti provokes us into playing a Who's Who game. Without studying very much, I can identify Edgar Allan Poe, Miss Liberty, Elvis (or an Elvis impersonator), Groucho Marx, Shakespeare, Popeye and Olive, and such comic book icons as Spider-Man, Batman, Wonder Woman, the Hulk, Superman, Robin, and so on. It's a pleasant diversion and the array is undeniably cartoony and also makes a nice design in a wall-papery way, but the picture is mostly highschool geometry—circles and such other shapes as can be produced with a compass and a ruler.
Brunetti has committed this kind of "art" before, and he's about to do it again on the cover of Marvel's Strange Tales II No. 3, as we can see in the other visual aids assembled near here. Brunetti, who teaches courses in design, illustration and the graphic novel at Chicago's Columbia College, is an unusually articulate and observant practitioner of the arts of cartooning; he has written a book, Cartooning: Philosophy and Practice, which is due in the spring, and I'm looking forward to reading it. But I hope he gets the spheroid phase of his cartooning out of his system before committing too much more of it.
Chris Ware performed a similar exercise with tiny circles for the cover of the June 14-21 issue of The New Yorker, the Literary Issue. His usual drawing style, which also has a ruler-and-compass aspect, I like better despite its wallpaper effects. The kitchen scene of another of his New Yorker covers was attached in publication to a fold-out two-page comic strip that exploited the traditional grid layout of comic book pages by treating the pages like a board game. Fascinating stuff but hardly hilarious. Then again, I don't think Ware aims to be comical: his artistic intention is to exploit the form for his own amusement—and ours, mild though it may be.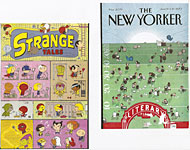 SOME OF OUR MORE EXCITABLE COHORTS call Brunetti's and Ware's spherical mannerisms "minimalist art." Giving this style a name imparts a measure of status and dignity. But it's only marginally minimalistic as perpetrated by Brunetti amd Ware. At your elbow now are some examples of genuine minimalism: Jim Ivey's caricatures (followed by a page from his sketchbook); Mark Tonra's short-lived comic strip spasm of graphic brilliance, Jimmy; even, just under Jimmy strips, one of my scribbles, but most certainly, Tonra's other short-lived comic strip (circa 1997), On Top of the World, about life in a prison.
The ostensible stars of OTOTW are two convicts, Mugs, the little guy with a Napoleon complex, and his humble and resilient cellmate Knuckles, the big guy. The prevailing plot is their indefatigable engineering of an escape that is usually foiled. But Tonra was canny enough to know that a little of that goes a long way (albeit, not much beyond prison walls), so he cast the strip with an assortment of personages whose interests and assorted afflictions would provoke gags of the non-escaping sort. They are pictured, left to right, immediately below the OTOTW visual aid: Knuckles and Mugs, the foppish warden, Lackey (a guard), Princess the Warden's daughter, Cozzer Swindle (Mugs' irrational uncle and overconfident attorney), Ma (Mugs' pugnacious and protective mother in deep denial exceeded by a mother's pride), Kappy (the oldest living Civil War veteran in captivity), and Noozy, tattletale and confidant—a street-smart ankle-biter with a thirst for nickels.
Ivey and Tonra are assuredly minimalists. But not so much Ware and Brunetti. They're practitioners of geometry, not drawing.
Possibly my antipathy towards stick-figure minimalism is prompted by too much stick figure shtick these days. Not only is there too much of it, but it's now being treated as an artform, a grievous insult to any kind of artistic sensibility on the sidelines. Stick figure artistry (see how terrible that sounds?) is more in evidence online than in print, but this primitive visual form is starting to seep into books. From explosm.net, Cyanide & Happiness has morphed into a print volume, followed, with unseemly haste, by Ice Cream & Sadness. I must admit, however shamefacedly, that the drawings by Kris Wilson, Rob DeBleyker, Matt Melvin, and Dave McElfatrick are a little more persuasive than many other manifestations of the mannerism: the figures look like scraps of cloth hanging in a closet, which gives them at least weight. Besides, in our proximate example (next up), the toilet is perfectly rendered in a nearly realistic way.
Another practitioner of a slapdash minimalism that approaches stick figuration, Eric Kim, has earned my grudging admiration by adapting all 36 of Shakespeare's plays to two-panel narratives in an 88 6x6-inch page paperback entitled, strange as it may seem, The Complete Plays of William Shakespeare, merely $9.99 from inkskratch.com (with two k's). No lover of the works of the Avonic Bard can afford to deprive himself for long of possession of this masterwork. I made some gestures at a review in Opus 265; since then, I've acquired my copy of the tome and can show you two of Kim's adaptations, Taming of the Shrew and Lear. Enjoy. And if you think this treatment of the Bard is a desecration, remember what ol' Willy Wagstaff himself said: "Brevity is the soul of wit." And shtick figuration is the tool of nits.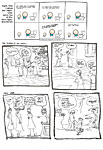 A FEW MORE pictures before we depart the premises of The New Yorker.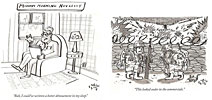 Two cartoons by Farley Katz, who has another cartoon in the "cartoon issue." Katz is relatively new to the pages of the magazine—his first published cartoon therein was, I gather, in the issue for February 4, 2008—and these two cartoons might be historic: they both appeared in the same issue, September 6, 2010. Seldom does The New Yorker publish two cartoons by the same cartoonist in the same issue; and never before, to the best of my knowledge, two cartoons by a comparative newcomer. (As soon as I wrote that sentence, the November 22 issue arrived—with two cartoons by two cartooners! Chast and Smaller. Sigh.)
Interviewed at the blog.CartoonBank.com, Katz said he taught himself to draw by copying the Ninja Turtles and got into trouble in the third grade when he drew an erotic scene with the turtles. He pitched some cartoons to Mad while still in high school but didn't sell any. At Harvard, he worked on the storied Harvard Lampoon, where he met Zach Kanin, also destined to be a New Yorker cartoonist. After college, Katz went to Los Angeles, thinking he could write for television but ending up writing for the Internet instead at comedy.com. He admits to making "a lot of YouTube videos that are now a source of great embarassment to me. Most of the videos involved eating pizza. They would pay for our props, so we always worked pizza into every video so we could get a free meal."
Then Kanin told Katz that Mankoff was looking for an assistant at The New Yorker and Katz applied and got the job, which was mostly sorting out the thousands of submissions for the weekly cartoon captioning competition. It was a privileged position: he sold his first cartoon after only "several months" of submitting; most neophytes submit for so many years that they are no longer neophytes by the time they're published.
Another signature that showed up about the same time as Katz's is "e flake," which stands for the unlikely name "Emily Flake." Asked if that is her real name, she said: "All too real, my friend, all too real."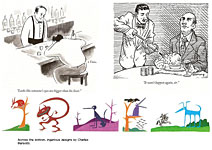 When not doing cartoons for America's most sophisticated weekly magazine, Flake does them for alternative weekly newspapers, usually in the form of a comic strip called Lulu Eightball. Flake calls herself an "illustratrix." She explained it to fellow New Yorker cartoonist Drew Dernavich, who interviewed her in July 2008: "I hit upon 'illustratrix' because technically it just means 'lady illustrator' and I thought it would be interesting and memorable. Same reason I like to show up for portfolio reviews bleeding from the eyes, say, or speaking in tongues."
You can tell right away that this Flake is one tough pastry.
She got into cartooning, she said, "because when I shoot for serious, I hit maudlin, and things get uglier from there." She doesn't consider cartooning an art or a craft necessarily. "I consider it a tasty, life-giving millstone hung round my neck. A beloved millstone. Also, maybe a little something like necromancy."
Occasionally, the editors of altie weeklies take umbrage at some of the Flakey language in her cartoons. "My editor in Birmingham sometimes objects to quirks of accent or wording, questioning my use of the word 'turlit' for 'toilet'in a panel featuring pantsing; and the Charlottesville paper recently declined to run a particularly filthy strip called 'X-Rated Acts of Tenderness.' And I have edited myself on a couple occasions, substituting a rash gag for a harelip joke and not using the line 'The only Chinese things I want right now is rocks and pussy.' But generally speaking," she concluded, "I am given a great deal of leeway. I am a lucky girl."
Operating, I suppose, from the aged axiom that "the style is the man" coupled to another equally hoary myth, "you are what you eat," Flake believes certain foods make her funnier. "Chocolate cream pie helps me to be hilarious whether I'm eating it or throwing it," she explained. "Does bourbon count as a food? What about nitrous?"
What about coffee? "I take it black as my heart," she cooed, "and bitter as my soul."
End of interview.
The other new style I've noticed lately—in at least one cartoon that was published in the September 27 issue—is signed "esmay." Which could be "E.S. May." Or "E. Smay." But is probably Esmay. About him (or her) I have yet to discover any biographical or professional fact beyond the bare appearance of his cartooning style, which seems grossly cross-hatched with nicely definitive outlining.
One of the best things in the "cartoon issue" is the series of color spots by cartoonist Charles Barsotti. The New Yorker has always run tiny spot drawings by anonymous artists to break up the dull gray monotony of its columns of type, but a few years ago, the magazine began featuring the work of a different artist in each issue, using a series of spots by the same individual and crediting that person on the table of contents page. Sometimes the spots even depicted a sequence of actions or incidents. This time, the spot artist is Barsotti, a graduate of Hallmark Cards and once cartoon editor for the Saturday Evening Post, which folded in January 1970. He says William Shawn (The New Yorker's second editor, who succeeded founder Harold Ross at Ross's death) and cartoon editor Jim Geraghty "unfolded" him, and he became a contract New Yorker cartooner. He also tinkers with design, as you can tell from his spot drawings parading across the page under Flake and Esmay.
Despite all the carping herein about The New Yorker's imperfect realization of my hopes for a "cartoon issue," I rejoice at the magazine's annual tribute to gag cartoonists and their artistry. As you can tell, my disappointment masks a fervent hope for better and better, but at least we're starting at pretty dang good.
IN SHARP CONTRAST to the festive celebratory aura festooning The New Yorker, in Playboy, the other last great outlet for magazine cartoonists, we have what might be the prolongation of a dirge. Without the equivalent of the Cartoon Bank, Hugh Hefner's skin mag is desperately flailing about to survive an ongoing financial crisis. A recent report has Hef selling at auction quantities of the original art produced for the magazine over the years, but "cartoon bank" this is not. It's an auction—a sell-off— not a bank, not a savings and loan institution; and the artwork consists, I gather, of the original illustrations for short stories and articles, not, yet, cartoons.
I've been tracking Playboy's declining deployment of the cartoon artform over the last couple years. But when this year's December issue arrived, I was momentarily cheered: after a year of comparatively thin issues (averaging 120-130 pages each), the anyule Christmas issue, usually the magazine's next-to-biggest issue of the year (the biggest being January's, which comes out about Christmas time), toted up 198 pages. "Big" by present-day Playboy standards.
And there seemed to be quite a few more cartoons than have lately been offered in the typical issue. A substantial proportional increase in full-page cartoons: a total of only 7 but that's a leap from November's 5 and just 4 in last May and June. (Not including Olivia's pinuptoon.) And the smaller dimension cartoons numbered 18, including a 2-page spread of 7 cartoons from "Christmases past." That's 25 total, compared to 14 in November, 12 in May and 20 in June (including 8 John Dempsey reprints in a 2-page spread).
But the accurate measure of cartoon usage is in the ratio of cartoons to total pages in the magazine because the number of cartoons is a factor of the number of pages (in theory, the more pages, the more cartoons; and vice versa). The ratio in December's issue is 1/8, including the cartoons from Christmases past; in November, 1/10; in May, 1/11; and in June, 1/10.5. In other words, in December, mathematically, we could encounter a cartoon every 8 pages; in November, every 10 pages; etc. So December's issue, even considering the greater page count, was friendlier to cartoons than November's or May's or June's. But this December is a far cry from the colossuses of bygone Yuletides: in 1967, the December issue numbered 320 pages; in 1972, 346 pages (both with a concomitant compliment of cartoons).
This December issue contains other matters of interest. First, Olivia's pinuptoon is Bettie Page, a nostalgic homage, no doubt, to the iconic pin-up's January 1955 appearance, her first in the magazine, wearing an extremely abbreviated Santa costume (just the cap) for the "Christmas issue." And one of the full-page cartoons is one of the late Rowland B. Wilson's, not the best of his work but better than nothing and a pastel reminder of yesteryears. Don't know if it's a reprint, but I suspect not; it's probably culled from Playboy's extensive inventory of purchased cartoons not yet published.
Staying in the cartooning arena: you can obtain a daily desk calendar of reprinted Playboy cartoons—that's 365 cartoons, one a day, for 2011; available online at theplayboyshop.com. That's in addition to the magazine's other calendar, the customary wall hanging calendar of Playmates past, which is also touted in this issue.
Beyond cartoons, we find several signs of Playboy seeking new sources of revenue by branding products other than barenekkidwimmin. Playboy cigars and fragrances are advertised; and we are alerted to a forthcoming line of Playboy booze—gin, whiskey, etc. Each product getting at least a lavish, full-page ad; the liquor, two pages for each kind.
But there are also signs of scrimping and saving. As every accountant knows, the bottom line can be improved in two ways—by increasing revenue and/or by reducing expenses. Playboy has been systematically cutting costs by reprinting the treasures of the past. In this issue, an extensive 8-page section of pictorial pulchritude from issues published in the 1980s is thinly disguised as a review of the decade: some of the tinier photos depict such eminences of the period as Ronald Reagan, ET, Prince, Edwin Meese ("Reagan's moral paladin," who supervised a study of the effects of pornography on Americans, producing an illustrated report as pornographic as the material it studied), and the advents of AIDS and Mel Gibson. But the bigger pictures on each page were of the Playmates of the period.
The oddest aspect of this homage to the past is the accompanying article by Neal Gabler. Entitled "Why We Love the 80s," the piece never mentions or even alludes to the dozens of pictures of naked women that we would expect this text to be discussing, given its proximity and title. Instead, Gabler conducts a screed in prose: "The 1980s ... was the most schizoid of the decades—both boom and bust, both libertine and churchy, both full of bluster and full of doubt—and in retrospect it seems less a distinct era than a 10-year exercise in willful obliviousness manifested largely as hyperbolic rhetoric and gaudy exhibitionism ... all posturing and profligacy...." After that introduction, Gabler cherry-picks the decade—the rise of the religious right, rampant drug use, death of John Lennon ("closed the door on the 1960s with its remnants of idealism and hope"), Madonna ("the decade's muse," her "material girl proclaiming her sex wasn't for free and it wasn't for fun: it was a commercial transaction just like everything else in the decade")—creating with soaring rhetoric and searing examples support for his argument about the distinctive "personality" of the period. But as much as I admire the pyrotechnics of his styling, what he finds distinctive about the 1980s, I find peculiar to most of the second half of the century.
Ironically, this pictorial and verbal homage to the 1980s perfectly embodies in the abstract the essence of the Playboy publishing philosophy: for the sake of social and marketing acceptability, surround pictures of unencumbered feminine embonpoint that are the real attraction of the magazine with a smoke-screen of sober texts on cultural issues that completely ignores (or pretends to) the magazine's raw appeal.
The cover and the front sections of the magazine have lately made Playboy indistinguishable from laddie magazines like Maxim, a market niche Hefner is clearly hoping to gain a share in, but with the interior pages, Hef is proclaiming Playboy's difference with brash excess. In addition to the 8-page section devoted to photographs of the bare-ass ladies of the 1980s, this issue offers two photo essays examining the unadorned female epidermis plus the usual monthly Playmate: 6 pages of the latter and 8 of Kendra Wilkinson and another 6 of a woman channeling ballet in the buff. Not counting the occasional nude in the customary year-end survey of "Sex in Cinema," the Christmas issue of Playboy declares its unrivaled place in publishing history with 28 pages of pictures of ecdysiastic wimmin. Altogether, that's 14% of the magazine devoted to the distaff birthday suit. No laddie mag manages a similar feat. If nudity will secure Playboy a niche in the voyeur market of today's men's magazines (as it did in bygone times), issues like this will do the job.
Speaking of calendars, which we were a few tirades back, I have been a votary in the annual ritual of the pin-up calendar since before I remember. I no longer buy Playmate calendars, but I still admire them, sometimes in an envious mode. A dozen years ago, I gave in to what had become a yearly temptation—to do a pin-up calendar of my own devising. The difference from the usual run of women in the buff is that my barenekkidwimmin are cartoons of lascivious ladies, accompanied by representatives of the avian and amphibian communities (a crow and a frog) making snide remarks about the displays going off all around them. I committed this spasm of self-indulgence with a calendar for 1997 and then reissued it for 1999. Whilst unpacking a box the other day, I ran across what remains of my experiment, a dozen or so calendars for the last year in the millennium. I will reluctantly part with them for merely $15 each (including p&h). Here's a sample of two of the more prominent months and an order blank that you can print off and send to me with your check. Do not dawdle: only a few copies of this cultural landmark are left.
| | |
| --- | --- |
| | |
WITHOUT WINDING UP ANY SORT of Death Watch, I've been keeping a close eye on the cartoon content of Parade, the newspaper Sunday supplement magazine, which, until the last few months, offered a feature called The Cartoon Parade, usually 3-4 cartoons per issue. Recent issues, however, have seen the number drop precipitously to one. But November 28's issue was back to 3. Alas, they're tiny—about 2x2 inches, running down a narrow column instead of splendidly across the top of the page.
PERSIFLAGE AND BADINAGE
Jane Fonda on relationships: "It doesn't start with love, right? It starts with sex and grows into love." A new trend, no doubt. All this time, I thought romance began with lust. Raw realism.
"Take another drink and walk a little slower: life is not sweet, but it's nourishing."—Larry Calloway
"Never ascribe to malice that which can adequately be explained by incompetence."—Napoleon
*****
Surely, you jest.
Yes, I jest. And don't call me Shirley.
In fond memory of Dr. Rumack (Leslie Nelson)
RAGHEAD RITUALS AND A NEW REVOLUTION
Ted Rall, gadfly columnist and raging iconoclast cartoonist, lately of the wilds of Afghanistan's fly-infested deserts where he spent the month of August with two other crazed cartooners, Matt Bors and Steven Cloud, is back to plague his country with the Truth As He Sees It (several acres of which we share as common ground). In his journalist garb, Rall took to the pages of the venerable Editor & Publisher to assail the highly dubious practice of embedding reporters in Iraq and Afghanistan. Embedded reporters can't report on Afghanistan, Rall said: they report only what they see "through the carefully monitored lens of the U.S. military." Traveling with soldiers, they become battlefield buddies with the soldiers—a plus: they see the horrendous difficulty of the military assignment and ordinary acts of heroism; but they don't talk to Afghans—a distinct minus: they can scarcely report on the status of the military mission, which is to win the hearts and minds of the country's citizens, if they don't talk to any citizens.
Traveling with the troops is supposed to make a reporter safer. Not so, Rall said: "More journalists have gotten killed by IEDs and crossfire while traveling with U.S. and NATO forces than going it alone, independently." True, perhaps; but since almost all reporters travel with the military, comparing their fate to that of the few unescorted journalists is bound to produce just the statistic Rall reports.
"Embedding is a dubious idea at best," Rall said. "It magnifies the media's inherent bias for the fighting men and women from 'their' side, and it exposes journalists to the accusation that they are shills for the occupation. ... Important stories—those that don't involve U.S. military operations—never get covered."
The embed program is not just bad journalism: it's bad for the allied mission itself.
The Rall trio stumped the country unembedded. Unlike embedded reporters, they saw and talked with Afghans. "Not talking to Afghans is part of the reason the U.S. military is losing the war," Rall said. "They don't ask Afghans what they want. We did. Their answer was usually the same: 'Please, no more soldiers. We don't need them. We need help.' By help," Rall concluded, "they mean reconstruction and jobs programs."
RALL AND HIS COMPANIONS went to Afghanistan because they wanted to see whatever it was that the embedded journalists weren't seeing. Rall had been before: he'd gone to Afghanistan in the fall of 2001 to report on the invasion. It was dangerous then. "I was one of 45 members of what we loosely called a 'convoy,'" Rall said, "—we went in together, and when rogue Northern Alliance soldiers began hunting us down to kill us, we fled together. During the three weeks in between, we were on our own."
And he and Bors and Cloud were on their own this time, too, for most of their time in country. For a month, from dingy hotel rooms, they drew cartoons about what they saw and heard, and when they got back, Rall and Bors were interviewed by various news media, including Funny Times, which, otherwise, stays focused on editorial cartoons, gag cartoons, and humor columns.
Asked what he thought was the most important thing about Afghanistan that Americans should know but weren't hearing about, Rall said:
"There is lots of reporting from Afghanistan, but it's so obsessively focused on U.S. troops that it is effectively useless. Oddly, the war is irrelevant to the lives of the Afghan people. It's possible to spend day after day, even in major cities, without ever seeing a U.S. or NATO soldier. Most of the battles occur in remote areas near the Pakistani border. And there are virtually no independent reporters raveling unembedded.
"The main takeaway," he continued, " is that the U.S. isn't even trying to provide basic security for the Afghan people. American forces have the technology and Afghans have the intelligence necessary to stop the neo-Taliban and their new criminal gangster allies. [See R&R, Opus 267.] But they aren't lifting a finger to do so. As a result, the Afghan people are being terrorized—and not only by them, but by the Afghan National Police, who are hopelessly corrupt, underpaid, and under-equipped."
Asked about the Afghans' attitudes towards Americans, Bors answered: "Afghans love Americans regardless of what they think of our government. Unlike many Americans, they are able to separate people from the actions of their government, probably as a result of a lifetime of repressive and corrupt governments that never paid attention to the people's needs. They assume it's like that here"; i.e., Americans, like Afghans, are "different" from their government.
After his experience in Afghanistan, would Bors venture again into such an environment?
"Yes," he answered promptly. "I'd like to visit other war-torn hell holes that my country has invaded and report back on what I see.."
Rall was asked what changes, if any, have taken place in Afghanistan since his 2001 trip.
"Infrastructure is a big change," he said. "Back in 2001, it was the 14th century: no electricity, no food, no water, no phones, no businesses, no nothing. Donkeys were the principal form of transport. Now there are cell phones, cars, and the donkeys are gone. Electricity four hours a day might not sound like much, but it's enough time to charge your devices. Technology makes it easier for travelers, and also for Afghans. I know that their lives have improved in that respect."
"And yet," Rall told Michael Cavna at ComicRiffs, "people are pessimistic. Mostly, this is because the U.S. and its Allies got started late. ... Nothing substantial got started until 2005. By then, it was too late for the U.S. to make a good first impression. Also, Afghans think we haven't done nearly enough: we're a superpower, so why haven't we been able to make more happen faster? Also, the security situation has deteriorated."
In the Funny Times interview, Rall continued: "The high spirits and hopefulness I saw in 2001 are gone. They know the neo-Taliban will be running things next year or by 2012, that the rapists will be ruling the nights again as they did pre-1996. Afghans are staring into the abyss. They're scared and angry and know the future looks bleak."
The neo-Taliban, Rall said, "are the madrassa kids [graduates of fundamentalist religious schools], alienated twentysomethings looking for a mission in life. Unlike the old Taliban [which were motivated by religious beliefs], they have little sense of destiny or religion. They're amoral and dangerous." (See Opus 267 for more of what Rall said about the "new" Taliban.)
Yes, they saw Taliban. "We frequently passed through areas controlled by the Taliban," Rall said. "It might be more accurate to call them 'not controlled by the government.' The Taliban come and go in areas with low government presence. Anyway, we talked to people I'm pretty sure were sympathetic to or were actual members of the Taliban.
ASKED WHAT WERE THE SCARIEST moments of the trip, Bors quipped: "Using the bathroom after Ted." But he went on to recall the night that they were "unceremoniously kicked off" a reconstruction base where they'd settled in for the night. It was the only time the cartoonists were being "protected" by armed guards. Said Bors: "They drove us in a convoy of hummers to the local, bullet-riddled hotel in the middle of the night, alerting the entire town to our presence. Las they drove us, the only thing I could think about was how ironic it would be to get IED'd during the only drive we took escorted by armed guards."
The cartoonists had decided to spend the night at the reconstruction base "on a lark," Rall explained when talking with Cavna. "They agreed to let us, but then their commanding officer ordered them to kick us out because we weren't accredited with the International Security Assistance Force (ISAF). In the middle of the night! You have to understand: there are many Afghans who have never been outside at night. The night belongs to [violent criminals]—and now the Taliban. Instead of being low-key, they drove us, lights flashing, in armored vehicles into town. We thought we'd be IED'ed. Then, upon arrival, the soldiers, bristling with weaponry, delivered us to a hotel with no security whatsoever ... full of tough-looking Afghan men breaking fast [it was Ramadan]. We would rather have walked in. Also, couldn't they have waited until morning? It was irresponsible; they endangered our lives as well as their own. It merely confirmed my belief that dealing with the authorities only causes trouble. Reporters should have nothing to do with the military."
"There was nowhere to go," he went on in the Funny Times interview. "We were stuck there for three days, knowing that we could be kidnaped at any moment. It was low-grade terror. We went about our business and hoped for the best. Worrying wouldn't have accomplished anything, so we didn't."
The funniest thing that happened to them was in a hotel room in Chaghcheran, Bors said. "We were attacked by at least 50,000 flies. I might be exaggerating slightly there, but not by much. They flew in our eyeballs, flew in our ears when we were trying to sleep. Eventually, we were driven mad and started laughing hysterically and making up crazy stories about the flies, kind of like how crazy people in insane asylums act." He paused. "You had to be there," he said. "But I'm glad you weren't."
Rall chimed in: "The bargaining was always the craziest and funniest thing ever. In Afghanistan, a deal is never a deal. You settle on a price for a good or service—a meal, a taxi ride, hotel room, whatever—and you shake on it. Then, after you receive it, they demand twice as much as you all agreed. When you balk, they yell at you until you pony up more dough. What's funny is that, by American standards, they have no leverage. After all, you've already eaten the meal or stayed in the room or been delivered to your destination. And you're leaving town. And yet, it works. It drove Matt and Steve crazy. I thought it was funny watching their response to this perfidy."
"Afghans view you as an ATM," he told Cavna. "But it's worth it. And for every dishonest Afghan there's one with fierce integrity."
Said Cavna: "You went there largely to report the story of the Afghan people, away from the war zones—how they live, how they cope. Do you feel you were able to 'get' that story? That you had both sufficient time and access?"
"The best you can do is scratch the surface," Rall said. "Which we did. I feel like we got the story as well as anyone could. Certainly we did a better job than the embedded reporters who spend all their time on base shopping at the PX. No one talks to them at all. But I could have used much more time. ... There's never enough time. Still, I'm fairly confident that I have a decent understanding of what's going on and how Afghans see things at this, the beginning of the end of the U.S. occupation of Afghanistan."
IN 2001, BEFORE AND AFTER going to Afghanistan, Rall maintained that one of the reasons the U.S. invaded the country was to secure the safe installation of a proposed pipeline route through Afghanistan from untapped oil fields in Kazakhstan north of Afghanistan to the port of Karachi in southern Pakistan. And so we invaded Afghanistan instead of, say, Pakistan or Tajikistan or southern Kyrgyzstan—where the training camps for radical guerilla outfits like Al Qaeda were actually located. And once we'd ousted the Taliban, we installed Hamid Karzai as president: Karzai is rumored to have once consulted with (and perhaps still does) Unocal (Union Oil Company of California, a subsidiary of Chevron), the oil giant whose interests we were expected to advance with that pipeline (or, if not Unocal, Karzai may have consulted for one of the many oil companies that are part of the CentGas consortium sponsoring the Trans-Afghanistan Pipeline project). So one of the things Rall wanted to know was how work was progressing on that pipeline.
"Begun in 1995," Rall said, "this oil and gas scheme got a lot of attention, particularly in Michael Moore's 'Fahrenheit 911.' Has construction begun? No reporter has tried to find out."
But Rall did. He went where the pipeline should be and found no evidence whatsoever of any construction. "They never broke ground," he wrote in E&P.
Still, Rall doesn't think his explanation for the invasion of Afghanistan in 2001 is wrong. "At the time," he wrote me when I asked about it, "I said that the pipeline was either the reason or one of the major reasons for the invasion. I didn't discount geopolitical considerations such as intimidating Iran, India, Pakistan and China, not to mention the fact that the war was a dry run for the main event, the invasion of Iraq. I don't think I was wrong. Asian news outlets are still full of stories about the presidents of Turkmenistan, Afghanistan and Pakistan meeting to discuss the pipeline. Major banks have signed on. Roads have been built to service this thing. So the pipeline isn't some wacky conspiracy theory. But it is also true that construction has not begun—and likely never will. (Which, by the way, I predicted back in 2001 as well.)"
Pipeline or not, Rall's cartoons and those of Bors and Cloud reveal a good deal more about Afghanistan than the so-called "news" media reports we've seen. Rall's cartoons will be published in a book from Hill and Wang in the fall of 2011. Until then, here's a short gallery of his Afghanistan work and that of Bors and Cloud.
| | |
| --- | --- |
| | |
MEANWHILE, Rall, having just completed one stunt, is embarked on a new one: his latest book, The Anti-American Manifesto, is stirring up the natives. Rall, fed up with our nonfunctioning political machinery that cannot grow out of its current bitterly partisan mode, suggests it's time for a revolution—not a tea party, but an outright revolution, which, he insists, is the only way to bring real change to the American political system. We don't need to merely throw the rascals out by voting against them: we need to storm the citadel and shut it down and put something better in its place. At least, I think that's what he's saying; I haven't read the book or, even, seen a copy, but I've been watching Rall being interviewed and seeing what his cohorts in the editorial cartooning fraternity are saying.
At RussiaToday on YouTube, Rall said: "The Anti-American Manifesto is addressing the fact that neither the Democrats nor the Republicans are able or willing to address the biggest problems facing the U.S. today, which are the economy, the environment, healthcare and the wars. And now you have to ask yourself as an American do you want to tolerate the system that is unresponsive and not going to go anywhere, or do you want to change it. The Anti-American Manifesto is not anti-American: it is anti the American government, or more specifically, this American government. We can do better and that's what I want to do."
On Dylan Ratigan's MSNBC show, Rall posited that political change comes about through one of four ways: political process, bond and insurance markets (essentially, an economic revolution, I gather), passive resistance, or violence. Violence, he said, is the last resort. But, he continues, "no meaningful political change has ever taken place without violence or the credible threat of violence."
The political process has been thoroughly discredited in recent years; its been established as completely nonfunctional, so it cannot achieve change. The money markets have bought and paid for the government and both are co-conspirators in devising ways for the public at large to support the political and financial moguls but not the middle class or anyone else in the lower tax brackets. (I'm guessing that's about what Rall says in his book—judging his previous diatribes and the current screed.) Yes, passive resistence would be nice, he admits: "If you could get everybody to stop paying their mortgage, say, it would work. But you can't even get everybody to stop littering."
That leaves violence. Or the credible threat of violence. "It's up to the people," Rall said, and then he quoted John Loche, who maintained that the people have "an obligation" to revolt when government fails. And our government, Rall would say, is failing.
If Rall is seen as advocating violent overthrow of the government, he can get himself into pretty deep hot water with the feds. I asked him if the FBI has been knocking on his door lately, and he said: "Aside from the funny clicking sounds on my phone, I haven't heard from them." And then he remembered: "But those clicking sounds were there before the book." Without having, yet, read the book, I can only suppose Rall dodges the issue by couching his argument as a metaphysical contemplation rather than as a program urging action. We get some hint of the way he may be going in his explanation to Ratigan of his choice of title for the book, The Anti-American Manifesto: "That's what everyone will call it anyway," Rall said. He just got there first.
NBM AND THE EUROPEAN CONNECTION: PART ONE, PAPERCUTZ
In one of my earlier lives, I went down to the sea and ships with Johnny Masefield, who knew what we'd find there well enough—the flung spray and the blown spume and a vagrant gypsy life where the wind's like a whetted knife and the best we could hope for was a merry yarn from a laughing fellow rover. And I spent three years sailing the deep blue Mediterranean, bounding over the heaving main (or vice versa) and occasionally putting in to port. We were often in Cannes, but for a few days in the winter of 1961-62, we anchored off Marseilles. The horizon seaward was spiked by the tower of the famed Chateau d'If, the fortress island prison from which Edmond Dantes escaped in a canvas wrap to become the Count of Monte Cristo. Otherwise, Marseilles was a colorless port, a dull gray business-like sort of place compared to our more frequent port-of-call, the frivolous sunny recreational Cannes with its white sand beach, bikinis, storied Carlton Hotel, and palm-lined Boulevard de la Croisette. But we went ashore whenever we could anyhow, regardless of the clime or ambiance. A drink's a drink for a'that, Robbie.
One day when wandering by myself along the waterfront, I came to a book shop on a side street corner. In contrast to neighboring windowless stores, which sealed themselves up against the impertinence of the prying eyes of passers-by, the book shop's outward walls were all window, and the lighted interior made the place glow warmly, beckoning rather than foreboding in that otherwise gray neighborhood under equally gray skies. I don't speak or read French very well (despite having passed a test on it for some of the initials after my name), but I could tell it was a book shop: looking in through the window, I saw little else but books. So I went in.
There, heaped up on a table near the window, were piles of books with cartoon characters on the covers. Thick books, two inches of 9x12 inch pages. One of the words on the cover was "album"; another was Spirou. Opening one, I could see that each of these tomes bound together a dozen or more previous issues of a magazine. Flimsy but glossy paper. And each issue of the magazine Spirou included several full page comic strips. Different strips. Detective strips, cowboy strips, Arabian flying carpet strips, little kid gang strips, serious seafaring strips, strips about pilots and soldiers, animals and knights in and out of armor, and the French king's musketeers. Most of the strips told stories serially, one or two pages in each issue of the magazine, continuing in subsequent issues. (Later, I learned that after a story had concluded, the serial pages of a given title would be bound together in a single book publication, called an "album," giving the term a second meaning, the one that endures today, the first usage having fallen victim to history). I couldn't read a word in the speech balloons, but I bought a half-dozen of the bound-together collections of back issues of Spirou magazine, selecting them at random from the piles, and carried them off.
Back aboard ship, I thumbed my way through each of the albums, admiring the drawings in the strips, the proliferation of styles—some realistically rendered; others, cartoony. But even if the people were bigfoot caricatures of the human [sic] sapiens, the backgrounds were copiously detailed—still without being photographically illustrative—lending to the doings depicted an undeniable authenticity, the kind of faux reality upon which any self-respecting visual art depends. Here, just at your elbow, are some of the things I saw and studied, a glorious profusion of antic energetic styles.
A few years later, after I'd escaped the nautical life (it was, after all, but a fleeting thing) and returned to the drawingboard, the Spirou albums became part of my studio morgue, the visual reference file that any cartoonist keeps close at hand. And when pawing the albums' pages to assemble the gallery of samples we've just wandered through, I renewed my acquaintance with some of the pictures I'd copied pieces of—a candelabra with candle-wax dripping, the folds of a drape suspended on a bar over a doorway.
And I remembered being intrigued but baffled by the miniature blue characters called "Schtroumpfs" who had cropped up en masse in a strip of the medieval adventures of Johan and Pirlouit. If the strip had been drawn in a realistic manner, the arrival of the Schtroumpfs would have fractured the aura of authenticity, but Johan and Pirlouit and their friends and foes were rendered as cartoon characters, not real people, and so the Schtroumpfs did no violence to the ambiance of the strip. These dwarfies with their cone-shaped hats (known as Phrygian caps) multiplied in the pages of Spirou, showing up on game pages and in a mini-comic book bound in the middle of some issues. (Pull out the pages and fold them twice, making tiny 4x6 inch booklets—miniature comic books of miniature people.) Years afterward, the tiny happily contented trolls immigrated to these shores, and they were called Smurfs; they proliferated briefly and then seemed to fade away. Or perhaps my attention was simply diverted elsewhere.
The Smurfs were animated in movies and on tv, but never showed up in print, it seemed to me. In print, they existed only in my memory of those pages of the albums now stowed safely away in the subterranean depths of the Rancid Raves Book Grotto. So when Jim Salicrup, editor-in-chief at Papercutz, sent me copies of two of its newest series, I was all ears and rejoiced: here, at last, were the Schtroumpfs in print where I could watch them for long intervals, at leisure, rather than trying to appreciate their antics as they flickered too quickly by in their animated incarnations.
The second book in the series, which appeared in my mailbox with the inaugural volume, rehearses the origin of the blue imps in Johan and Pirlouit. Finally, that mystery is solved! But it merely whetted my appetite to know more about the characters and their creator, who signed his work "Peyo." So I looked him up in the Google caverns. You can do the same; but here are the high points of what you'll find.
BORN IN 1928 IN BRUSSELS, Belgium, to an English stockbroker father and a Belgian mother, Pierre Culliford found his pen name in the utterances of a juvenile English cousin, who had trouble pronouncing his French nickname, Pierrot, which kept coming out "Peyo." Peyo quit school at 16 and took a job as a projectionist's assistant in a movie theater. He also briefly attended the Fine Arts Academy in Brussels but, according to encyclopedia.com, he is mostly self-taught. At the conclusion of World War II, Peyo joined a graphic art studio, CBA (Compagnie Belge d'Animation), where he met other young cartoonists who would eventually become household words—Andre Franquin, Morris and Eddy Paape. When CBA went bankrupt, Peyo freelanced to ad agencies and sold comic strips to newspapers. One strip featured a Native American named Pied-Tendre (Tenderfoot) and his diminutive scout Puce (Flea); another regaled readers with the adventures of a young page in medieval times, a blond kid named Johan.
By 1949, Peyo was producing comics for the Le Soir newspaper—Johan and a strip about a cat named Poussy—but his career goal at the time was to get published in Le Journal de Spirou, a highly popular weekly comics and stories magazine for young readers. But it wasn't until Franquin had made it to Spirou and could introduce Peyo to the magazine's editors that Peyo had his chance. He reworked Johan, changing the young hero's blond hair to black, and in 1952, Peyo and Johan debuted in Spirou.
Spirou was one of several comics or youth magazines that flourished in the last part of the 1930s in the wake of the success of Le Journal de Mickey and the weekly adventures of Herge's Tintin in Le Petit Vingtieme. First published April 21, 1938 by Jean Dupuis, who put the operation in the hands of his sons Paul and Charles, the magazine was named after the title character in its lead comic strip. Spirou (a word meaning "squirrel" or "lively mischievous kid" in Walloon, the dialect of French-speaking people of Celtic descent in southern Belgium) was initially a young elevator operator in the Moustique Hotel (an allusion to Dupuis flagship publication, Le Moustique), and he has worn his red bellman's uniform for most of his life, much of which has been spent adventuring in a comedic mode. In his early adventures, Spirou was accompanied by his pet squirrel, Spip, who joined the bellhop on June 8, 1939. Subsequently, in 1944, the strip's cartoonist, Joseph Gillain, known as Jije, introduced a human cohort, Fantasio. In 1946, Jije turned the strip over to his new assistant, Franquin, who produced the strip for the next 23 years and is considered its definitive author.
Franquin wrote longer more complex stories and introduced a gallery of recurring secondary characters, and his supple brush and lively renderings gave the strip its distinctive carefree look and established Jije's style of drawing as the chief rival to the Herge school's ligne claire (clear line) technique. Jije's manner, subsequently dubbed the "Marcinelle school" after the town in which Spirou's offices were located, is action-oriented, pulsing with vivid movement, while Herge's style is more static, atmospheric more than energetic; Franquin's line is flexible, vibrant with movement, and Herge's is staid, descriptive rather than emotive. By 1952, Franquin had so firmly established himself with Dupuis as master of the magazine's title strip that when he brought Peyo around to meet the editors, it was akin to offering Peyo a position.
Johan was successful enough almost from the start, but when, in 1954, Peyo gave Johan a pint-sized sidekick, the exuberant but bumbling Pirlouit (in English, Peewit, pronounced "Peewee"), the strip became one of Spirou's most popular features. But it was the arrival of the Schtroumpfs that made Peyo's fortune.
In October 1958, Johan and Peewit find a magic flute only to have it stolen. In pursuit of the thief, they encounter a tribe of blue dwarfs living contentedly in colorful mushroom houses in the forest. It's this story that Papercutz has reprinted in the second of its two inaugural Smurf books. Peyo intended the Schtroumpfs (just "three apples high," he specified) to disappear after this adventure, but they proved so popular that he brought them back again and again in their own strips, which were published at first as those miniature comic books I saw bound into Spirou. It was obvious that Peyo was no good at prognostication: he once said about the Schtroumpfs, "three years from now, no one will talk about them any more." He didn't foresee Pirlouit's popularity either.
The Schtroumpfs were blue, it is said, because Peyo believed children liked the color. The origin of the name is a Peyo legend. The story is that Peyo and Franquin were having dinner together at a restaurant one evening, and one of them (which is still a mystery), instead of saying, "Pass the salt" said "Pass the schtroumpf." This hilarious scrap of nonsense gave Peyo both the generic name of his miniature blue trolls and, at the same time, one of the feature's most popular aspects with young readers. A distinction of the Schtroumpf language is that "Schtroumpf" can be substituted for any noun or verb at the whim of the speaker—at the schtroumpf of the speaker, one might say.
The basic appeal of the Schtroumpfs resides largely in their appearance. With tiny bodies and heads of an equal size, stubby tails and bulbous noses, and funny stocking caps, the Schtroumpfs are simply cute as all get-out. Peyo's storytelling is supremely professional: he deploys the resources of the medium to meet the demands of his story with polish and panache. All the action is pictured from the same perspective, which accents and sustains our awareness of the Schtroumpfs' small size. While he blends words into his pictures, much of any story, particularly the comedic element, is conveyed mostly through the pictures: the humor is consistently more visual than verbal, much as it would be in an animated cartoon—as if Peyo had brought with him to comic strips his early experience in animation. Which he undoubtedly did. Except for Papa Schtroumpf (and, later, King Schtroumpf and the Schtroumphette), these blue mites are not individualized; they are unnamed members of a tribe. Sometimes in a given story, if a prankster is called for, one of the cast will be called Joker Schtroumpf; but usually, they go about their business without names. And the business is wholly unspecified. They all live happily in a mushroom village in the woods, but what they do for a living is anyone's guess. Whatever it is, it doesn't matter: cuteness is the Schtroumpfs stock in trade, and that's all they need to be. And they can't be as cute in any medium other than a cartooning medium, comics or animated cartoons.
In 1960, Peyo concocted another strip, Benoit Brisefer (called Steven Strong in English), about a small boy with superhuman strength which he loses whenever he gets a cold, and, later, yet another, Jacky et Celestin, but Peyo soon gave up cartooning in order to supervise the burgeoning Schtroumpf empire. To meet the demand for the characters, Peyo established a studio. The merchandising of the Schtroumpfs began almost at once, and animated films soon followed—first in France, then elsewhere. In the U.S., Hanna-Barbera produced a Saturday morning Smurf series that ran from 1981 to 1989. In print, Smurf albums (17 of them) have appeared in 25 languages (Johan and Peewit rank next with 13 albums but fewer languages). The Ice Capades included a Smurf routine for a season, and a Smurf theme park opened in Metz, France, in 1981, but it failed and was absorbed by a Six Flags production.
The editor of Spirou, Yvan Delporte—who assumed the chair in 1955 when Charles Dupuis relinquished it in order to devote attention to albums—was frequently Peyo's collaborator, writing many of the Schtroumpf stories, but Peyo maintained control and thereby the quality of the work. Said he: "I refuse to entrust my business to professionals who would either sell me a bill of goods or neglect the quality for a larger profit. And on no account will I accept that. I want to supervise everything so that my little characters stay attractive and the same as they've always been."
Peyo died on Christmas Eve, 1992, but his studio continues to produce material over his name. His son Thierry Culliford, who assumed leadership in the studio in the 1960s, is, I assume, the guardian of Peyo quality today. The Papercutz series, up to three titles at the moment, is not likely to fall short of the standard Peyo set: their page size (6x9 inches) is smaller than the traditional album's 9x12 inches; but the pages are exact reproductions of the original printings, and the tidier size reflects the dimension of the Smurf world without sacrificing any of the clarity of the imagery.
IN ADDITION TO THE SMURFS AND THE MAGIC FLUTE, which rehearses the origin of the Smurfs in Johan and Peewit, the first volume in the Papercutz series, The Purple Smurfs, is available. In December, The Smurf King is due. All are 56 pages (except the Flute, which is 64 pages), full color; $5.99 in paperback, $10.99 in hardback. Incidentally, The Purple Smurfs was initially entitled The Black Smurfs and it's never been published in English before, said Salicrup. "The reason is that there was a concern that the story would be misinterpreted and be found offensive to African-Americans," he explained. "While we believe that there is nothing at all racist about the story, we can see how the story could very easily be taken the wrong way, especially by children." So Papercutz adopted Hanna-Barbera's solution when the studio adapted the story to animation: "We simply changed the black smurfs to purple smurfs," said Salicrup.
Salicrup and his partner Terry Nantier, founder and president of NBM Publishing, pursued the rights for the Smurfs for years. "It took so long because two movie studios were involved for some time, making the rights issue a little confusing," Salicrup told me. "Once we announced that we got the rights, Adam Grano, a designer at Fantagraphics, posted online an open letter to Terry, explaining why he should design the Smurf books for us, and we were delighted to work with him. I can't tell you how happy and proud Terry and I are to be publishing The Smurfs: it's exactly the type of comics we hoped we could publish when we first started Papercutz. We both think that these comics are classics, and should remain in print, just as the Tintin comics have always been available in North America. We simply think that The Smurfs are great comics for all ages."
A concern for how youngsters might interpret The Purple Smurfs is natural for Papercutz, which was established in 2005 by Nantier and Papercutz co-owner Salicrup to provide graphic novels of interest particularly to tweens and teens, ages 8-14. Salicrup was long associated with Marvel (he edited Spider-Man No. 1 by the trend-setting Todd McFarlane) and with Topps Comics, where he was editor-in-chief for comics featuring such licensed properties as the X-Files, Bram Stoker's Dracula, and Zorro.
"Terry and I started talking about starting a company together in the late 90s after I left Topps Comics," Salicrup said. "We both thought there was an opportunity for a comics publisher targeting younger readers, especially girls. It takes time for such projects to get started, so I worked a couple of years as Senior Writer/Editor at Stan Lee Media in Los Angeles while waiting for Papercutz to come together. When I returned to New York City, I also got involved with Lawrence Klein and helped him start the Museum of Comics and Cartoon Art (MoCCA). Soon Terry and I were back putting together our plans for what would become Papercutz—Terry's daughter, Sylvia, suggested the name."
ITS FIRST PAPERCUTZ TITLES were graphic novel adaptations of Hardy Boys and Nancy Drew mysteries, written by Scott Lobdell and Stefan Petrucha and drawn by Lulu Award winner Lea Hernandez and Sho Murase. "These classic characters are poised to make an impact in the exploding graphic novel market," the publisher's website announced. But graphic novels are nothing new to NBM: "With the years of experience we have in graphic novels, I don't think anyone can accuse us of hopping on the bandwagon," said Nantier, who, as we'll see anon (in Opus 271), pioneered the graphic novel in the U.S. over 30 years ago.
With the inaugural titles, Salicrup was on familiar ground: "Taking well-established characters and adapting them to appeal to new generations of fans is something I tend to specialize in," he said. "The trick is simply keeping the heart and soul of whatever made the characters successful to begin with, and telling new stories in as contemporary a manner as possible. It also doesn't hurt to have great talent as Scott, Stefan, Lea, and Sho to make the characters come alive in such new and unexpected ways. Carolyn Keene and Franklin W. Dixon would be proud!"
F. W. Dixon was the first author whose name I remembered as a youth, reading his Hardy Boys adventures as fast as I could find them, and looking for more "F.W. Dixons." It wasn't until I was an aged gaffer in my thirties that I learned there was no Franklin W. Dixon: he is a fiction, a pen name invented and owned by Edward Stratemeyer, who ran a fiction factory that supplied a raft of ghost authors with plot outlines from which they wrote stories for young readers. Leslie McFarlane, a young Canadian momentarily displaced to Massachusetts where he was working as a reporter on the Springfield Republican, was the first ghost for F.W. Dixon and wrote over 20 of the books, beginning with a trio all published in May 1927: The Tower Treasure, the House on the Cliff and The Secret of the Old Mill. McFarlane's last Hardy book was The Phantom Freighter, written in 1946. He wrote other things, too—novels, scripts for tv, radio and movies.
In the initial Papercutz Hardy Boys adventure, the brothers Frank and Joe find and return a stolen ancient jeweled necklace, the Ocean of Osyria—which lends its name to the escapade—in order to prove that their best friend, Chet Morton, didn't steal the item; he's being blamed for it because of his involvement in an Internet auction, a nice contemporary touch. The Hardy brothers (followed by their girlfriends) travel to the Mideast, get shadowed by alleged government agents, and are, for a brief time, held captive by some bedouin bad guys (another nod at contemporaneity). Scott Lobdell does a credible job of conjuring up the spirit of the Dixon tales with the chatty banter between Frank and Joe and their obvious respectful affection for each other. Lea Hernandez's pictures deploy an impressively flexible line but are often devoid of background detail in the usual manga manner. Action sequences bristle with a lot of whizzing action lines but otherwise frequently don't clearly depict the action. Storytelling skills—particularly panel composition—seem to me weak: the camera focuses sometimes on extraneous rather than key visual elements in a scene. Atmospheric perhaps, but not much help in advancing the story, which is the chief purpose of pictures in the comics medium.
In the most recent Papercutz Hardy Boys title, in a "new case files" series, the brothers meet zombies (of course: the concept of the Papercutz books is to appeal to tweens, and zombies are what tweens are into these days, tovarich), and Paulo Henrique, whose command of visual storytelling is much better than Hernandez's, employs aspects of the manga mode that are not as much in evidence in the first of the series: in moments of high emotion, the rendering morphs into a manga style wherein the characters' facial features are distorted into childish versions of themselves. Again, the idea is to appeal to an audience that, in this case, has been doting on manga books lately; I'm glad, though, that the Papercutz books don't read from back to front.
I never read Nancy Drew books as a kid, so I can't vouch for writer Petrucha's success (or failure) in capturing the essential mood of the prose series. But Sho Murase's storytelling is more adept than either of the Hardy Boys illustrators so far. And in the most recent title, in the "new case files" series, linear outlines of the first issues have faded into the faintest of lines, the pictures now constructed of planes of modulated color. Very nice looking.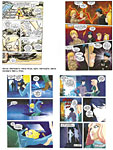 Incidentally, Carolyn Keene, tracer of Nancy Drew, is no more a real person than F.W. Dixon. She is also an invention of Stratemeyer, who, before setting out on his own, ghosted for Horatio Alger, whom he greatly admired. Carolyn was first named Louise, and her first ghost was Mildred Augustine Wirt Benson, who wrote from Stratemeyer's outlines the first three Nancy Drew books, published in April 1930: The Secret of the Old Clock, The Hidden Staircase, and The Bungalow Mystery. Stratemeyer always inaugurated a new series by publishing three of its titles at once, each one referring to the other two by way of stimulating sales. Such trios were called "breeders" for obvious reasons. Stratemeyer also invented the Rover Boys, the Motor Boys, and the Dana Girls, the first three adventures of the last, attributed to Carolyn Keene, were actually written by McFarlane on Stratemeyer's instruction for a distaff Hardy Boys series.
With the success of the first graphic novel Hardy Boys and Nancy Drew titles, Papercutz expanded its list swiftly (faster than any publisher I can remember, fast enough that Salicrup can be excused calling Papercutz "the feisty, upstart graphic novel publisher"), adding Zorro, Totally Spies!, even The Life Story of Pope John Paul II—"in comics!" Salicrup rejoiced. Then came Bionicle, Disney Fairies, Geronimo Stilton, Classics Illustrated (Wind in the Willows, Great Expectations, The Invisible Man, and Poe's Raven and Other Poems and Ambrose Bierce's Devil's Dictionary, both the latter colorfully adapted by the master of gruesome, Gahan Wilson).
WHILE PAPERCUTZ AIMS AT YOUNG READERS, most of the books appeal to older readers, too—the Classics particularly and the revived Tales from the Crypt, which, recently, has featured a couple of satiric send-ups written by Stefan Petrucha, the first of which, in Tales No. 8, is drawn by Rick Parker (we reviewed it in Opus 253 if you care to refresh your memory). Parker parodied Jeff Kinney's so-called drawing style in the Wimpy Kid series for "Diary of a Stinky Dead Kid," a tale that combined the current fascination with stick figure drawing and an equally compelling obsession with zombies, and the issue was so popular "that it hit Amazon and BarnesandNoble.com's children's best-seller list before it was released [advance orders, I assume—RCH] and has gone back to press for the sixth time for a total of 75,000 copies," according to the Papercutz press release. And the book is still selling; at this rate, it may rival Papercutz's best seller, Geronimo Stilton, about a time-traveling mouse.
The rousing success of the issue saved the title: Salicrup was contemplating discontinuing the Papercutz tribute to William Gaines' EC classic horror comic, Tales from the Crypt. But the astonishing sales of No. 8 not only rescued the title: it prompted the launch of an all-parody imprint, Papercutz Slices. Parker returned for Tales No. 9 (64 6x9-inch pages; $6.99 in paperback; $10.99 in hardback) to draw the EC-inspired "Ghoulunatic" framing sequences that introduce each of three stories. In the first story, Glugg, the Stinky Dead Kid, returns, for which occasion, artist Diego Jourdan abandons the Kinney stick-figure style for full-color cartooning. "Glugg is celebrating his death day (the one-year anniversary of his death) and his only living friend gives him the perfect present—a dead dog," said Salicrup.
The other stories lampoon "all the countless manifestations of the Wizard of Oz" with Frank N. Balmed's Wizard of Ooze in "Wickeder," starring Dotty, who is on trial for the death of Alfalfa, the Wickeder Witch; and the Gulf oil spill with "Kill, Baby, Kill!"
Parker, whose wickedness as a satirist is legendary here at Rancid Raves, is on hand for the launch of Papercutz Slices, too. Intended to offer a succession of parodies of "favorite pop culture phenoms," the series' premiere issue aims at a celebrated boy wizard with "Harry Potty and the Deathly Boring." Written by Petrucha, this Potty story ostensibly condenses into one opus the entire Potty oeuvre—Harry Potty and the Sorceror's Stoned, Harry Potty and the Secreting Chamber Pot, Harry Potty and the Pain in My Asskaban, Harry Potty and the Omelette of Fire, Harry Potty and the Border of Phoenix, and Harry Potty and the Half-drunk Wimp—all drawn by the notorious Parker.

Note in the cover drawing the Stinky Dead Kid whose Parker portrait appears on the roll of toilet paper, an example of the sort of Mad-inspired satirical witticism Parker is most adept at.
Parker was interviewed in the newsletter BookSmack! by Martha Cornog, who introduced him this way: "Comics megamensch Stan Lee once dubbed Rick Parker 'the Leonardo Da Vinci of Beavis and Butthead.'" By way of validating Parker's credentials as a satirist, I hereupon recite the harrowing tale of what happened when we sat next to each other in Artists Alley at one of the pre-Wizard Chicago Comic-cons.
Parker was then riding high the crest of his fame drawing Beavis and Butthead comics, and his fans clamored for his autograph, throwing themselves at his feet under the table. It didn't take more than an hour or so before Rick realized just how acquisitive—how greedy and insatiable— his clamorous fans were. "They'll take anything," he said, "—anything with a fragment of me on it." Scribbling away signing whatever his fans thrust in front of him, Rick soon exhausted the ink in a felt-tip marker, but he didn't throw it away. "Watch this," he said to me, and he lettered his name on the marker, and when the next butthead showed up, Rick sold him the dried-up, "autographed" marker for five bucks. "See?" he said, winking at me.
It was at this moment that I began to appreciate and admire the savagery of Parker's satiric spirit. Since the Butthead days, Parker has wandered far and wide in the vineyards of cartooning: his artwork has appeared in the New York Times, Village Voice, The NY Press, The Daily News, The Chicago Tribune, on "60 Minutes," CNN, Marvel Comics, DC Comics, Nickelodeon Magazine, Cracked and on and on—"from bathroom stalls to the walls of the best New York galleries," his website proclaims.
Cornog concludes: "Parker's recent work centers not on badly-behaving humans but on paranormals with attitude"—namely, Stinky Dead Kids and Harry Potty and the like.
Drawing Harry Potty was something of an ordeal, Parker said. "I have never worked so hard on anything in my life! I was told that I needed to do 50 pages in five weeks (35 days), so the deadline was tight. Since I wanted to pencil, ink, letter, and color the job all myself, I thought, 'How will I even manage this?' I decided that the only way to do it was to seclude myself in my room and work nonstop, 18 hours a day, seven days a week until the job was done. I was working from 7:30 in the morning when I got up straight through til 11:30 at night. I ate in my room; dishes piled up. I didn't bother getting dressed or showering. My 63-year-old back, hand, and eyes hurt. I became giddy and started laughing at odd things. It was a strange feeling—I actually thought it might kill me.
"Then after about a month," he concluded, "I could see that I was going to be able to do it. I was going to be able to finish it on time or within a couple of days of the deadline. It was a great feeling—like escaping being shot while charging across an open field. I personally delivered the job to the writer and editor in New York because I wanted to see the look on their faces. I actually took a photo of [writer] Stefan Petrucha smiling as he read it. For me, it doesn't get much better than that."
Parker didn't set out to be a cartoonist, he told Cornog in answer to a question. "In the beginning, I wanted to be a comedian, to make people laugh. Jerry Lewis was my idol. But I soon realized I was too shy to go onstage, so I stayed home and drew pictures of frogmen and monsters, which other kids seemed to like."
Parker's Potty looks a lot like the movies' Dan Radcliffe; ditto several other characters. But Cornog claims his Valuemart (Voldemort) looks like the Grinch, to which Parker said: "I thought I had better try for a decent likeness with the main characters but got a little more creative and had more fun with the villain. I wasn't consciously trying to make Valuemart look like the Grinch, but I believe any noseless green character winds up looking like the Grinch."
Parker has just self-published his own graphic novel, gruesomely entitled Deadboy, which Cornog describes as "an exuberant romp through a surreal and quite elegantly colored landscape" with "Dada and Dante influences in the adventures of Parker's antihero and his sidekicks." Deadboy is the first long story that Parker wrote as well as drew.
Said Parker: "After nearly a lifetime of illustrating other people's ideas, and a couple of serious health issues, I thought I'd better sit down and do something of my own before it was too late. It took me 14 months to get it out of my system, and, in my opinion, wound up being the best cartooning work I ever did."
As you might expect after all this fanfare, I'm looking forward to it.
Papercutz's Hardy Boys series is now available in 20 volumes; Nancy Drew, in 21. Meanwhile, a new Smurfs movie, combining live action and computer-animated Smurfs, is due next summer. Next time in this corner, having paved the way to NBM through Papercutz, we hope, barring incident, to take a look at some of the recent NBM titles, pausing, at first, to rehearse the history of the publisher.
EDITOONERY
Afflicting the Comfortable and Comforting the Afflicted
MORE CASUALTIES. Gannett, the behemoth newspaper chain that owns 85 newspapers, including USA Today, initiated a spasm of lay-offs lately, including, as of November 10, the Pulitzer and Herblock winning editorial cartoonist at the Journal News in Westchester County, New York, Matt Davies. Davies was pink-slipped last year, but his editor convinced the Gannett suits to revive the position. And a few days later at another Gannett paper, Mississippi's largest daily, the Clarion Ledger in Jackson, its award-winning cartoonist, Marshall Ramsey, was cut back to 20 hours a week—but still expected to produce five cartoons, from home, with no benefits. And by month's end, Drew Sheneman, who has been with the Star-Ledger in Newark since graduating from Central Michigan University in 1998, accepted a buyout, leaving the paper's staff but continuing to produce cartoons for it on a freelance basis. These three job losses reduce the nation's number of full-time staff editoonists to about 70 (depending upon how you count), down from 101 in the spring of 2008, a 25-30% casualty rate in a little over two years..
In any business other than newspapering, lay-offs like these (which included other staffers, at the Clarion Ledger, 14 more) are usually committed for the sake of survival: a business suffering a loss of revenue, say, seeks to improve its financial status by cutting costs, salaries. But in newspapering, that's not the case—and more so with Gannett than just about any other newspaper chain. Gannett's shares have declined in value over the last year, and its revenues are down—only $1.64 billion; but that's better than the $1.61 billion forecast by analysts. And despite diminished revenue, Gannett reported a third quarter net income of $1.58 million. Gannett, in other words, is scarcely in any danger of financial collapse.
Gannett's papers are making a profit, but they aren't making enough profit to satisfy Wall Street investors, who, now, own most newspapers, as well as Gannett itself. So Gannett, which refers to its newspapers as "profit centers" not journalistic enterprises, intends to increase its profits by reducing its expenses—namely, staff salaries. The corporation could be forgiven its draconian measures if it were actually a case of cut cost of die; but it's not. It's rapacious greed that is assuaged by such firings.
Born in London, England in 1966, Davies moved to the U.S. in 1983 and began drawing editorial cartoons full-time for the Journal News in 1993. He won both the Pulitzer Prize and the Herblock Award in 2004, and he's a past prez of the Association of American Editorial Cartoonists (AAEC). And he's not saying much in the aftermath of his firing; laying low, maybe he hopes the suits will change their minds again.
Ramsey, 39, a two-time Pulitzer finalist, is a 1991 graduate of the University of Tennessee. His collegiate cartoons won the John Locher Memorial Award, the top prize awarded to college editorial cartoonists. He has also illustrated several books, including six children's books for financial expert Dave Ramsey and one for chef and author Robert St. John.
Sheneman, 35, also won the Locher Award while in college, plus the Charles Schulz Award from Scripps Howard and the Deadline Award from the New York Society of Professional Journalists.
"I'm very lucky to have a very loyal following here who have been very vocal about what happened," Ramsey told Michael Cavna at ComicRiffs.com. "I have a huge fan base. ... What happened to me ... is a temporary bad thing that will turn into a long-term blessing," he said, adding, when he talked to Alan Gardner at DailyCartoonist.com, that the downturn presents "new possibilities and innovations and allows me to grow in ways I could not before. It's not a total loss, but did come as a shock."
Ramsey noted that he will be starting a business. "In the meantime," he told Cavna, "I will be speaking, drawing, laughing and inspiring my way across Mississippi and the Southeast. This sort of thing is happening to people everywhere. I'm determined to show that this isn't the end of the world. It's just a new one."
More on Ramsey's upbeat reaction in a trice, just after Kirk Anderson's rant.
Sheneman, watching the ranks of full-time staff editoonists thin over the last years, says he took the buyout because he realized he wasn't going to make it to retirement as a staff cartoonist. Interviewed by E&P's Rob Tornoe, he said: "I figured now would be as good a time as any to start reinventing myself and figuring out what's next."
What's next includes a lot of what he used to do: the Star-Ledger contracted for two cartoons a week, plus a full-page comic strip for the monthly magazine, and Sheneman will continue syndicating national-themed cartoons. He also plans to explore other possibilities—perhaps a children's book or animation or concept art for video gaming. Despite these inclinations, "I plan on continuing to draw editorial cartoons for as long as someone is willing to print them," he said.
And he believes the editorial cartoon, despite its presence on the endangered species list, isn't going to disappear. Said he: "It's been a vital form of opinion and satire for hundreds of years and will continue to be for many, many more. ... In terms of the business model, I think cartoonists will move towards a freelance based economy. To a large extent, that's already happened. I think editorial cartoons will be one of a variety of things an artist will do to earn a living."
It seems scarcely coincidental that the occupational adjustments imposed upon Davies and Ramsey came just after the Election. Editoonist Steve Greenberg is both sympathetic and outraged. He was laid off by the Ventura County Star (Calif.) just two days after Election Day 2008, and he told Cavna that such timing only underscores the relevance and importance of his profession: "The fact that newspapers tend to lay off editorial cartoonists right after big elections ironically proves the value of the cartoonists. Editors know the cartoons help shape the issues, give weight to election endorsements, make the case for or against candidates and issues more effectively than written editorials, and resonate with readers. They know the cartoons are too valuable to cut when big things are on the line. Once those [big] things are past, the bean-counters immediately forget and go back into their cartoonists-are-a-luxury fog."
Cavna chimed in: "As the number of full-time staff positions for newspaper cartoonists dwindles into the dozens, some editorial artists say they're baffled by the reasoning behind the reductions. Why, they ask, does the drawing board so often become the chopping block?" And Greenberg commiserated: "Again and again, newspapers cut the very people who make their publications unique and attract readers." Newspapers, he continued, "especially stupidly cut the visual, quick-impact, irreverent people who can most appeal to younger online readers the newspapers urgently need. It's shortsighted and counterproductive."
Incidentally, Greenberg punctuated a peripatetic editooning career up and down the West Coast with a steady barrage of attacks on environmental abuse and has just self-published, through Lulu, a collection of these cartoons, Fine-Tooning the Planet (120 7x9-inch pages, b/w; paperback, $14.50 or download for $9.99)—the only such collection I'm aware of. He's been hitting the topic for years—at papers in Los Angeles, Southern California, San Francisco Bay area, and Seattle—and this compilation, with a foreword by the father of Earth Day, Denis Hayes, spans 20 years of battering away at global warming, the lust for oil, overpopulation, the air we breathe, and toxins and other such hazards. Here is one of his, plus samples of the editorial wares of Davies, Ramsey, and Sheneman.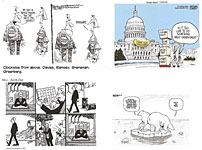 Copies of the book can be ordered from the cartoonist at www.greenberg-art.com. Since getting laid off by the Ventura County Star, Greenberg has been freelancing to LAObserved.com, the Jewish Journal of Los Angeles and the Ventura County Reporter.
And now that we're sufficiently worked up about the injustices being perpetrated upon the innocent heads of editorial cartoonists in the name of pinch-penny economics, this might be a good time to uncork Kirk Anderson's wonderfully sarcastic venom about the state of the newspaper business and its attitude toward political cartooning—a lovely screed of an essay from 2009. Of course, it won't accomplish much—but we'll feel better afterwards. Anderson, who produced, you may remember, the masterful satire Banana Republic that we reviewed here in Opus 238, said this piece was commissioned by Minnesota Public Radio, "—otherwise I wouldn't have written it." He admits he has nothing new to say on the topic, but he shrieks all the right stuff so needlingly well, exactly the sort of scream of outrage that we need right now; so here's Kirk:
Who Killed the Editorial Cartoon?
By Kirk Anderson (August 18, 2009)
The profession of editorial cartooning isn't so much dying as it is simply entering a new phase in the circle of life — the phase where the corpse is eaten by maggots and turned into dirt.
This nutrient-rich soil will help future generations of satire to grow and prosper, and the cycle continues. Pessimists are fond of looking at maggot-infested corpses and seeing only the negative; I see helpful maggots hell-bent on progress. Motivational speakers remind us that the Sanskrit word for "opportunity" is the same as the one for "loss of job, profession, life savings and health care." We editorial cartoonists know that when one window closes, another one opens, even if it leads onto the window ledge of the 41st floor. True, cartoonists are just above mimes and poets in social significance; is the nation really losing anything?
Editorial cartoons used to have power and influence. This was back in the days of Thomas Nast, when the corrupt politician Boss Tweed famously said of Nast's blasts, "Stop them damn pictures! I don't care what the papers write about me. My constituents can't read. But, damn it, they can see the pictures!" (True quote.) Editorial cartoons might still carry such power today were it not for the destructive rise in literacy.
But now there is enormous competition for the public's attention. Back in the late 1800s, if you weren't looking at an editorial cartoon, you were checking out hog scrapers in the Sears-Roebuck catalog. This was back when people went to church just for something to do, as preachers were about the only available form of entertainment next to bear-baiting. Editorial cartoons must have spoken to people like a burning bush. Today we find a burning bush in every commercial, a burning train wreck on every news broadcast and an inferno on every AM radio show. An editorial cartoon must blow up bridges, flash breasts and teach your child Spanish, just to be noticed.
Or maybe not. People still read books. Books! Some books are still in black and white, and some don't even have pictures. Similarly, people still enjoy live stand-up comedy. In a world where we demand the latest and the fastest, people still pay to see a mortal simply stand on stage and talk to them. Just a guy. No different from Caveman Dave telling stories around the campfire. We've had satire ever since Cavewoman Bernice drew a buffalo stampede on a cave wall, trampling Caveman Dave. We will always have and will always need satire, whether it comes in a 2D drawing or a Zenga Bot X9000.
One of my favorite editorial cartoons is George Orwell's Animal Farm, which is not an editorial cartoon at all in the traditional sense, but an editorial cartoon in the form of a novel, with its brilliant use of metaphor, humor, insight and outrage. Satire may come in the form of Mark Twain, Jonathan Swift, Shakespeare or Stephen Colbert's scorching and divine presentation at the White House correspondents' dinner.
We satirists in the editorial cartoonist cult have long referred to ourselves as "buggy-whip makers," with newspapers playing the role of buggies. That would be a problem, if the passing of the horse and buggy had rendered the nation devoid of transportation. But the horse and buggy were just one form of travel, and editorial cartoons are just one form of satire, to be replaced by something better when it comes along. Unless there's a government bailout.
I can hear you say, "Isn't the future of editorial cartoons online? And in animation? My neighbor's daughter has an online cartoon, and people in Belize and Lithuania are reading it." The pessimists reply, "But how do you make money?" The optimists say, "Volume! Sure, people don't pay for content, but if enough people don't pay for content, surely you reach a critical mass of nonpaying customers!" The pessimists say, "People don't pay for content."
Editorial cartoons are dying because newspapers are dying, or perhaps "adapting." Or "entering a new phase in the circle of life." Some of the damage is self-inflicted. Some newspapers want safe cartoons that won't bring phone calls from advertisers, and safe cartoons are as fascinating as safe NASCAR.
To the extent we cartoonists oblige, self-censor and draw nonthreatening gag cartoons about swilling beers at the White House, we're part of the problem and deserve our enforced dirt nap. Life will go on without editorial cartoons, just as it will without bank regulation. The death of newspapers is not so different from the death of any other commodity: eight-track tapes, perhaps. That is, if eight-track tapes were fundamental to a functioning democracy.
*****
ALL, HOWEVER, IS NOT EVER LOST. Or so we might conclude from reading MarshallRamsey.com blog, where he posted what he'd written on January 8, 2010, because, he says, "it motivated me to get moving this morning. Hope it does the same for you." Excerpts in italics:
Nineteen years ago, I crossed over a stage and into an uncertain world. It was 1991. George Bush was in the White House. We were at war with Iraq. The economy was sliding into the toilet. I was graduating at a very bad time to find a newspaper job. Particularly one as a cartoonist. I could go nowhere but down. And down I went.
Fulfilling my parent's worst nightmare, I moved back home and landed a job as a high school janitor. When the economy went into the toilet, I was cleaning it. I pushed a trash barrel with a copy of my diploma on it, walked with my lip out and threw the mother of all pity parties. It was such a big party that I even had snacks. I was miserable. And I let everyone know it.
About six months had gone by and I had hit rock bottom. I hated my job. I hated everything. It was about that time I reread the Parable of the Talents. When it comes to religion, I am a very private man. But it was a powerful moment for me. I was the servant who was burying my talents instead of using them. It was a bolt of lightning. It was a wake-up call. I needed to get on the stick.
I started drawing again. T-shirts for the Cross Country team. Caricatures for the teachers' husbands. ... The harder I worked, the better my attitude got. And the better my attitude got, the more things started to change for the better. One of my friends at the school set me up with her daughter. (She saw something in a janitor with all his teeth, I guess.) Another teacher told her newspaper editor friend that she knew of a talented young man with a great attitude. A few weeks later, I was hired at the Marietta Daily Journal. My career was born. ...
I fell on my face at Pope High School in Marietta, Georgia. Yet, I fell with style. And I learned how to get back up with grace. What seemed like the worst time of my life turned out to be my best. Why, you ask? Not because I learned how to wax a cafeteria floor or clean crap-covered toilet paper out of a stopped-up toilet. No, remember that girl I dated? She's my amazing wife and wonderful mother of my three boys.
Sometimes your worst moments in life turn out to be the seeds of your finest ones.
*****
LAST MONTH'S CROP OF EDITOONS included more than a few that hit my funnybone and curdled a few of my remaining brain cells in sympathetic outrage. I'll be going by the "page" numbers circled in red on the accompanying visual aids; and my comments, unless otherwise noted ("unless otherwise noted"—an easy shorthand, now almost symphonic in economy), start at the upper left and go in a clockwise direction. I recommend that you print out the exhibits as we come to them so you'll have them at your elbow when I talk about them. Or not. Suit yourself.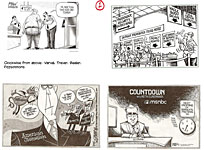 On Page 1, I've included only two of the deluge of cartoons on the airport security flap, Gary Varvel's and Greg Trevor's, both of whom usually lean a little to the right. (I mention that because I lean—careen, more like—to the left, and as a result, I don't often include right-leaning cartoons in my monthly retrospectives; so, see how fair and balanced I am?) Their usual tilt, however, is not apparent here, where they've simply produced two very funny comments. I'm not sure doctors require that male victims cough anymore, but those of us who remember, appreciate Varvel's effort; and the proctologist pose in Trevor's panoramic is delightful. Only one of the several on this topic that I saw depicted a naked woman—Daryl Cagle's; oh, well—I can dream, right?
Nate Beeler's Olbermann cartoon is not a particularly brilliant visual metaphor: it's keying off the name of the show, "Countdown," which is okay and even ingenious as an intellectual exercise albeit not bluntly impactful in the manner of the usual visual metaphor. I've included it chiefly to give me an excuse to comment on Olbermann's suspension. First, a two-day suspension without pay, even at Olbermann's presumed pay rate, is too mild to be much of a punishment. So what's all the fuss about? Second, MSNBC is obviously showboating—loudly demonstrating its supposed journalistic integrity in contrast to Fox's lack thereof. (Although if you catch Shepard Smith's evening news, you're getting pretty good journalism more often than not.)
Olbermann's crime, dividing up a piddling $7,200 donation among three Democrat candidates, scarcely undermines his status as the kind of tv "journalist" he purports to be. Numerous pundits pointed out, Olbermann is not a "reporter": he's a commentator who usually champions Democrats and condemns Republicans on a nightly basis. As William Kristol said: "If he wants to put his money where his mouth is," what's wrong with that? Particularly in an age in which money has been denominated "speech." Do we have freedom of speech or not?
But freedom of speech is not the issue. And neither is so-called journalistic objectivity, which is supposedly compromised if a tv "news analyst" puts his money where his mouth is. LATimes.com's Patrick Goldstein, quoted by The Week, has it right: "The issue isn't objectivity so much as independence. Olbermann's viewers certainly know his views [so his role as a political donor can hardly shock them], but by actually giving money to Democrats, Olbermann crossed the line from punditry into active participation in party politics. That's a serious 'breach of journalistic independence.'"
Which brings us to David Fitzsimmons' cartoon wherein the metaphor is the temptation of American Journalism by pesky li'l devils and angels perched on its shoulders, a classic image, with olde timey journalists Walter Cronkite and Edward R. Murrow playing the angels. We often veer off into thinking that partisan journalism is a new phenomenon, but it isn't: most American journalism until about 1920 was partisan. Throughout the 19th century, most newspapers were overtly the mouthpieces of one political party or another. It wasn't until the advent of news services, notably the Associated Press, that "objectivity" became a journalistic credo. And the reason for being "objective" was not journalistic integrity: the AP purveyors knew that papers would not buy its news service if it contained political views the papers didn't agree with. To be "objective" was the only way the AP could expect to assemble a list of subscribing newspapers. But however venal the motive, the result was admirable: journalists were gradually persuaded to stick to the facts in their reporting, to be "objective."
THE RETURN OF PARTISAN JOURNALISM inaugurated by Fox News some years ago has all but obliterated the standard of objectivity in favor of what one side or the other calls the "Truth." A sad journalistic mistake: the facts of any matter are usually ascertainable; the "Truth," almost never.
What is the Truth about the Strategic Arms Reduction Treaty the ratification of which Arizona's Senator Jon Kyl, a rabid right-winger, is leading Republican opposition to? Here's Washington Post's E.J. Dionne (admittedly, a liberal-seeming columnist, but, given the facts he musters herewith, his tilt is immaterial), who writes: "The new START treaty shouldn't be controversial. It is supported by conservatives as varied in their views as Robert Kagan, a neo-conservative interventionist, and Pat Buchanan, a paleo-conservative isolationist, not to mention such establishment Republican [foreign policy] luminaries as James A. Baker III, Henry Kissinger and Senator Richard Lugar." The Truth about the START treaty and whether it improves or undermines the security of the U.S. is less material in this instance than the ascertainable fact that it is supported by a host of highly qualified albeit ideologically varied personages.
It was Daniel Patrick Moynihan who so memorably said that everyone is entitled to his own opinion but not to his own facts. And the Grunting Old Pachyderm has lately become expert at promulgating its own facts. Take, for example, the GOP's refrain that the new health care law is to blame for double-digit rate increases now being sought by insurance companies in various states. Senate Minority Leader Mitch McConnell cites a newsstory about a Washington state insurance provider that blamed premium increases on the new law, but the state's insurance commissioner, to whom the insurance provider applied for approval of its new rates, said the increase had "absolutely nothing to do with health care reform." And the insurance company later admitted the law was only partly at fault, according to FactCheck.org.
House Republican Leader John "Marblemouth" Boehner issued a press release in September that spotlighted a Seattle Times story about "whopping" rate increases and a report on rising premiums by the Kaiser Family Foundation as evidence that rates will "skyrocket" because of the new federal law. "But his examples are bogus," saith FactCheck. "The Kaiser report gave absolutely no indication that 'health care costs will skyrocket under ObamaCare.' ... The Kaiser report [which noted increases from 3 to 14 percent] was the result of an annual survey of more than 3,000 companies that was conducted between January and May 2010—before the mandated changes in health care coverage went into effect. In fact, these increases ... took effect before the law was even signed."
The main cause of double-digit rate hikes, said FactCheck, "is rising medical costs." And the increase in premium rates affects only about 6 percent of those with health insurance—only those with individual policies; most people's health insurance is provided through employers, and "they won't see as much of an increase in premiums because many of their policies already include the required benefits." The Washington State Office of the Insurance Commissioner told FactCheck that rate increase changes requested because of the health care law are expected to be less than 5 percent; increases due to rising medical costs average 13.12 percent for individual plans and 15.54 percent for small-group plans. And yet "Republican leaders in Congress have pinned all the blame on the new law, and they've left the false impression that the premium increases they tout will affect all, or most, of the insured instead of just those buying insurance on their own."
If we had genuinely responsible news media, we'd find these facts in the news columns of newspapers or in broadcasts of news on tv and the radio instead of having to search them out in Internet niches. In the fondly recalled traditions of old school journalism, the news media felt an obligation to do more than provide platforms for Boehner and McConnell to spew forth their half-truths and misrepresentations. Old school journalism may not have discovered the Truth, but it usually published the facts. Or so we wish to believe.
But ascertaining the Truth may be somewhat beside the point. My point, at least, is that if news organizations want to be believed—if they want an attentive public that trusts their reports—they should abandon partisanship and return to factual reporting. Some might argue that the "facts" vary depending upon one's political persuasion. That was the impetus that created Fox News : conservatives alleged that most news organizations reported the wrong facts, or facts that weren't actually facts; so Fox came into existence to report the facts that the so-called "liberal news media" were leaving out. But that's balderdash. Trained journalists know how to tell the difference between facts and opinions and between ascertainable facts and hidden agenda facts. Report the former; ignore the latter.
Reporting ascertainable facts is old school journalism, I realize. But old school is not bad school. Old school journalists were independent reporters, habitually cynical perhaps (the professional hazard run by any reporter who seeks to ascertain facts without political favoritism) but not seduced away from the facts by anyone's Truth. That kind of independence fosters in editorial cartoonists a freedom to make fun of fools and their follies without regard to their political ideology; in reporters, the freedom to report ascertainable facts without political taint. The old school is better because it nurtures an integrity that breeds trust among consumers. And NPR and MSMNB are therefore to be applauded: NPR because in firing Juan Williams, it proclaimed its adherence to independence; MSNBC because in suspending Keith Olbermann, it re-affirmed the value of journalistic independence.
AND WHILE WE'RE ON THE SUBJECT of journalistic ethics (these days, a oxymoron), we take a detour to Petaluma, California, where, at the Argus Courier, Steve Rustad, a freelance editorial cartoonist under contract with the newspaper, had his contract suspended in early November when it was discovered that his graphics and advertising firm, Rustad Marketing (i.e., Rustad himself), had, during the local mayoral campaign, produced cartoons that attacked the Democrat candidate, who subsequently lost to the Republican. Rustad's cartoons were comic-book-like covers for four mailers for which he was paid a total or $3,925 (less than $1,000 per drawing). Brett Wilkison at the neighboring Santa Rosa Press Democrat further reported that the Argus Courier alleged, accurately, that Rustad's contract, like all contracts with freelancers, enunciated an ethics policy that prohibited the contractor's involvement in political or business activities that created a real or apparent conflict of interest for the newspaper; freelancers are also prohibited from accepting assignments from current or potential news sources—a somewhat ludicrous provision since virtually everyone is a "potential news source." But the other part, about getting involved with a political activity that might create an apparent conflict of interest, seems realistic enough.
Rustad's supporters, among whom is numbered his wife, blogging at Drawn and Quartered (because her husband was not allowed to speak on the matter), talked about the cartoonist's freedom of speech being violated and wondered how a freelancer could be suspended. How can you suspend a non-employee? But these are false issues. It's the provisions of the contract, which doubtless call for the Argus Courier to use a Rustad cartoon every week, that have been suspended, not Rustad himself. And if the terms of Rustad's contract prohibit him from getting involved in political campaigns, then those are the terms he agreed to, although he says he didn't know he'd agreed to such limitations. He probably read most closely the terms that stipulated the paper would buy cartoons from him and at what rate; the paper admitted it was just "a modest sum." What? $20/cartoon? That wouldn't surprise me. But if he missed the ethics clause, that's his fault, not the paper's. In any event, Rustad was suspended for violating the terms of his contract, not for supporting a particular political candidate, who was also the candidate supported by the paper. And the paper, in suspending the cartoonist, was not preventing him from speaking; Rustad did that himself when he signed the contract, agreeing to the terms under which his speech would be permitted.
Admittedly, the action is discolored by the origin of the knowledge that Rustad was producing art for a political campaign. He didn't sign the drawings, but someone in the opposing political party recognized his style and complained to the newspaper, raising questions about the paper's ethics policy. Presumably, the complaining individual didn't know what the paper's ethics policy was but assumed that its editorial cartoonist shouldn't be campaigning for any candidates. The fact that Rustad was paid as a commercial artist to draw the pictures—implying that he wasn't drawing the pictures out of political conviction—is, in the final analysis, immaterial. His editoons in the paper favored the same candidate, so obviously his sympathies were engaged. Despite the malodorous taint of partisan politics that infects the situation, Rustad is not the wronged party. He violated the terms of the ethics policy contained in his contract, a policy that is not so much intended to foster objectivity—in a political cartoonist? don't make me laugh—as it is to assert the political independence of the commentator.
OOOoops: SORRY ABOUT THAT. While I was looking another way, what I thought would be a momentary digression developed into a full-scale detour. Let me get back on track again by going to Page 2 of cartoons from last month.
Steve Sack's comment on the Juan Williams case is not a stirring example of editorial cartooning, but it does make a point that hasn't been much discussed in the brouhaha over sinister airplane passengers in Muslim garb; worth noting, I think. Most of the cartoons about GeeDubya's memoir, Decision Points, make fun of him by depicting him as too stupid to write a book. (And, indeed, that may be the case: Jacob Weisberg in Newsweek says GeeDubya's former speechwriter, Chris Michel, "did an impressive job structuring a readable narrative around a series of major events"—his work wholly unacknowledged in the published result.) Pat Oliphant takes off in somewhat the same direction, continuing his Uncle Dick and his empty-headed nephew shtick but adding a gloriously vicious dig about GeeDubya's destructive policies. Down in the corner, Punk is saying: "I think I'll wait for the movie"; and his little buddy adds: "And then not see it." Oliphant must've loved pulling out his vintage caricature of little boy GeeDubya.
But Jeff Danziger takes another tack altogether and goes beyond ridicule to psychological profiling.
Most of the prose commentators I encountered (all more-or-less liberal, of course) found the book shallow, showing GeeDubya unreflective and therefore impervious to doubt. "Bush breezes through fundamental and earth-shattering decisions without slowing down to acknowledge their moral complexity," said Joe Klein in Time.
I watched GeeDubya tout his book with Oprah and Matt Laurer. With Oprah, the former prez was jovial and joking. When she pointed out the hypocrisy of his being on her show, flogging his book, when he claimed only to want anonymity, GeeDubya grinned his frat-boy grin and said, "Well, you don't wanna believe a politician." Hoo-ha! Wow. Funny stuff. He was for most of the interview a smart-mouth wise guy, full of banter and bullshit.
He was more serious with Lauer, although he did crack a joke or two. Asked about whether waterboarding was torture, his response was stunningly brief: "The lawyers said it was legal," he said with his characteristic smirk.
And it is this Bush, the smart-ass frat-boy who likes fart jokes and being the boss that Danziger captures in his memorable cartoon. Everything is there—the preoccupation with inane funny stuff (the bobble-headed toy), the mischievous but knowing self-satisfied smirk. And the ever-present arrogance: morality is never an issue; just go for the joke, the laugh that you can command because you're commander-in-chief. "Watch—." Perfect. No exclamation point; just a command, issued in the full expectation that there are sycophants enough around him to obey. All in a single picture. Masterful.
Danziger's Bush is exactly the sort of superficial personage whose grasp of morality is so feeble that he can say, with apparent feeling, that one of the "most disgusting moments" of his presidency was when Kanye West accused him of being a racist. This soon to be immortal utterance captures the essential GeeDubya in words as surely as Danziger's cartoon does in an adroit blend of picture and words. Bush's chief concern is himself. Not those who died in New Orleans. Or in Iraq. Or in Afghanistan. Bush's book is all about him; and so was every decision he made. If "mistakes were made" during his presidency, they were made by someone else. Not him, not this "preening dunce empowered by historical fluke and nepotism," as David Harsanyi wrote in the Denver Post.
(In the other corner, Kanye West has forgiven GeeDubya for his insensitivity. BusinessInsider.com reported that at his concert in New York City on November 23, West went on a short rant during which he defended his earlier apology to the former Warlord, saying, "There is no leader in history that… didn't get villainized that way who didn't get killed at war or commit suicide. So any man that lives through it deserves one moment of redemption.")
Moving on, I'm not sure what Bill Schorr's Conrad cartoon means, actually. But I came across it just a few weeks ago—long after Paul Conrad's death, too late to commemorate that sad occasion. But even without understanding, exactly, what the cartoon may mean, I liked it. Is it Nixon talking? Both presidential shades have their mouths open. It's probably Nixon. But where is "back"? That's the puzzle. Back to Earth? To the White House? Or to Hell? Has the Devil granted Nixon a visa to visit Heaven? It doesn't matter, really—Earth or Hell. At first blush, I assumed the latter, but when I started thinking about it, I suspect I over-thought it. First impressions with editoons are better to go with than whatever rationale you eventually dope out if you have to belabor it. The point is that Nixon is clearly uneasy that Conrad, his career-long nemesis, is on the premises. And Nixon realizes, apparently, that he, Nixon, shouldn't be in Heaven. In Nixon's apparent uneasiness or guilt we have the ultimate compliment to Conrad: even in death, he can make Nixon squirm. Just as he did when they were both alive.
On Page 3, we have Rob Rogers' dextrous visual metaphor depicting the outcome of the Election: both the Tea Party and the GOP are puppets of the Special Interests who funded their campaigns. Nate Beeler's visualization of the task facing the "lame duck" Congress is another memorable image; and the duck, frantically flapping in vain, adds a welcome dimension of pure visual comedy. Mike Keefe's double-headed locomotive accurately demonstrates the irreconcilable elements in the GOP/Tea Party plan for legislation: how can you reduce the deficit while reducing revenue? Possible only if your train runs both directions at once—clearly, obviously (now that Keefe has pictured it for us), an impossibility. And Mike Luckovich shows the plotters in conference, plotting, to absolutely no effect, of course.
On Page 4, Pat Bagley's deft caricature of Boehner captures not only the likeness of the new Speaker but the illogic of the GOP program, which, Bagley reveals at the end, is merely Boehner blowing smoke, as usual. The cartoon reminds me of what E.J. Dionne recently wrote about the alleged GOP take-over: "The most striking aspect of Republican behavior since their party's electoral triumph is a haughty assumption that the voters rejected everything Obama represents and that he ought to capitulate on all fronts right now. Anyone who fails to see things this way just doesn't 'get it.' So certain are the president's opponents that they and only they represent the will of the nation that they feel empowered to undercut Obama even on issues related to our nation's security." Not to mention issues that they favored until Obama adopted them.
But the results of the Election hardly support the GOP assumption. In the first place, the number of people who voiced their opinions about their government was much much lower than the number that voted Baracko Bama into office: only 75 million people voted in the recent Election; 130 million voted in 2008's presidential race—and 120 million of them also voted for a representative in Congress. So this election, in terms of voter turnout, doesn't look like America speaking with a very loud voice.
Secondly, the sort of victory the GOP is claiming for itself suggests that the voters turned out every Democrat running. Not so. In fact, most of the Democrats running for re-election were re-elected—roughly 196 of the 255 who held seats before the election. That's 77%. Moreover, the New York Times, analyzing the myths of the midterm election, noted that "voters were fairly evenly divided on what many Republicans made Exhibit A in their case that the Obama administration had overreached: the new health care low. Exit polls found that 47 percent of voters said Congress should leave the law as it is or expand it and that 48 percent said Congress should repeal it. Not exactly a ringing mandate for repeal," despite ol' Marblemouth's proclamations to the contrary.
And the touted power of the Tea Baggers? In Alaska, the Tea Bagger favorite won the Republican primary, unhorsing the party's incumbent senator, Lisa Murkowski. But she ran anyway as a write-in, and won (despite the hurdle that spelling her name threw up)—facing down the Tea Bagger power and Sarah Livingston Palin's endorsement of her opponent.
The Tea Party fragment of the GOP, while largely responsible for the Republicans assuming control of the House, is a strange bedfellow, and one with insistent demands that may make life for Boehner a little less like a victory lap. Tony Auth has it just right, I think, when he calls his tea pot a Trojan elephant. John Darkow's visual is a compelling and informative one: that Gigantic Old Pachyderm is not likely to be jumping through Tea Party hoops for long. And Bagley concludes today's lecture with a comic strip editoon that dramatizes the undemocratic not to say uncivilized agenda of the Tea Baggers.
AND NOW, FOR SOMETHING COMPLETELY DIFFERENT. Usually, I have a hard time understanding conservative political cartoonists. When they aren't just flinging mud, casting aspersions, and calling names—which makes their point-of-view easy to discern—they draw cartoons structured on assumptions so foreign to the inherent and irrefutable logic of my way of thinking that I can't see the point of their attacks. The mud seems muddled. Bruce Tinsley in his Mallard Fillmore strip usually spends his time name-calling, so he's easy to understand (and to ignore). But after the Juan Williams episode with NPR, Tinsley took his talking duck on another kind of trip. For a couple of weeks, he performed understandable satire, as we can see on the sampling I've posted here from that sequence.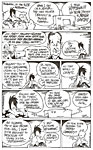 I knew the satire was a cut or a slice or two above mere vituperative contumely, but it still took me a while to dope it out. Finally, I realized the obvious; I'd been looking too hard. The target of the satire is Liberal Thinking, of course—with respect particularly to Muslims and other minorities that liberal-leaning Americans think deserve the same break as the rest of us. Mallard, we see, is fired because his bosses think he's intolerant, a typical liberal reaction (just as Williams was fired for seeming to be intolerant of Muslims in his now-notorious exchange with Bill O'Reilly on Fox). But Mallard's bosses only think he's intolerant; we know he's not, not in the usual sense, that is.
After that disclosure, Tinsley gets in a dig at Olbermann for holding to an opinion regardless of the millions of Americans who disagree with him (all good Christian conservatives, we assume). Then a quick slap in the liberal faces of all news media other than Fox, including Wolf Blitzer (for being stupid). There was more. Another week's worth. But at least it wasn't mere name-calling for the sake of smear.
THE FROTH ESTATE
The Alleged News Institution
Just a reminder: we dwell here, from time to time, on newspapers and magazines partly because my indoctrination as a journalist was in newspapers and magazines and so I'm interested; but also because the fate of newspaper comic strips and editorial cartoons is hinged upon the fate of print journalism: what happens to newspapers (and magazines) will doubtless influence the future of comics and cartoons, so it behooves us to pay attention. And so we do.
U.S. NEWS AND WORLD REPORT, having dropped back a year or so ago from a weekly to a monthly news magazine, is now, with the December issue, giving up on print altogether after a distinguished 77-year run. Henceforth, the "magazine" will be entirely digital, emphasizing its "news you can use" focus of recent years.
Meanwhile, over at Newsweek, one of the last two venerable weekly news magazines—saved, just last summer, by millionaire Sidney Harman—the editor chair left vacant by the tireless and sagacious Jon Meacham was filled by Tina Brown, the enfant terrible wundkerkind of international journalism, who, after just four years as a working reporter, became editor of England's Tatler magazine in 1978 at the tender age of 25. And she's never stopped since. After six years spent rejuvenating that publication, Brown crossed the ocean to became editor of America's monthly Vanity Fair. There, she pioneered celebrity journalism and became one of the most visible magazine editors in the country. Then in 1992, she was invited to revive the flagging fortunes of the venerable New Yorker. Brown introduced photography, color, and shorter articles, increasing circulation. The magazine was still losing money when she left, but it was a better magazine with a better chance to get clear of the red (which it did, once it cashed in with Cartoon Bank).
In 1999 Brown went out on her own, launching Talk magazine, a vehicle of gossip and celebrities, but despite her experience at such endeavors, it failed to find an audience; it was closed in 2001. But Brown kept keeping on. She hosts a show on CNBC, Topic A with Tina Brown and writes a column for The Washington Post Style section, and in October 2008, she partnered with IAC/InterActiveCorp (which operates more than 50 Internet businesses in 30 countries) to found The Daily Beast, a website of news and commentary, culture and entertainment that quickly became one of the top news sites on the Web.
Brown will continue to be editor-in-chief of TheDailyBeast.com while performing the same function at Newsweek. Accompanying her is her DailyBeast business partner Stephen Colvin, who launched The Week magazine in the U.S., as well as Maxim. When her Newsweek appointment was announced, she said she was looking forward to yoking TheDailyBeast's "animal high spirits" and "vibrant versatility" to Newsweek's legendary "journalistic depth." Said she: "Working at the warp-speed of [TheDailyBeast's] 24/7 news operation, we now add the versatility of being able to develop ideas and investigations that require a different narrative pace suited to the medium of print. And for Newsweek, TheDailyBeast is a thriving frontline of breaking news and commentary that will raise the profile of the magazine's bylines and quicken the pace of a great magazine's revival. The metabolism of TheDailyBeast will help power the resurgence of Newsweek, and Newsweek amplifies the range of talent and audience TheDailyBeast can reach. The two entities together offer writers, photographers and marketers a powerful dual platform."
She talks a good game; she did when she started Talk, too, but I suspect Talk ran into the Internet and couldn't meet the competition. This new marriage sounds like a mighty opportunity if not a sure-thing. I haven't seen any evidence of her presence in Newsweek yet, but I'm hopeful. Perhaps she'll restore the playful "New week" in the logotype of the magazine for its table of contents page; hope so. That was the most inventive of the adjustments Newsweek made to adapt to a world in which news was conveyed by digits not movable type.
Meanwhile, across the street, Time marches on.
PROJECT CENSORED'S annual report on the most under-reported newsstories of the year, Censored 2011: The Top Censored Stories of 2009-2010, is now available through the website, projectcensored.org, or from Media Freedom Foundation, P.O. Box 571, Cotati, CA 94931 for $19.95 plus $3 p&h. "Censored" is the sensation-mongering term deployed by Project Censored: only a few of the stories have actually suffered outright censorship. "Under-reported" is a better term, but it's an awkward locution for the title of a book; so "Censored" reigns. The Project's contention, mostly proven, is that various political or corporate pressures converge upon the nation's newssrooms to mute coverage of events or incidents that might undermine the continued welfare of the politicians or corporations who exert the pressure. To fully appreciate both the nature of the pressure and its consequences, you need to peruse the book itself. Here are the top 25 under-reported stories of 2009 and 2010:
1. Global Plans to Replace the Dollar
2. US Department of Defense is the Worst Polluter on the Planet
3. Internet Privacy and Personal Access at Risk
4. ICE Operates Secret Detention and Courts
5. Blackwater (Xe): The Secret US War in Pakistan
6. Health Care Restrictions Cost Thousands of Lives in US
7. External Capitalist Forces Wreak Havoc in Africa
8. Massacre in Peruvian Amazon over US Free Trade Agreement
9. Human Rights Abuses Continue in Palestine
10. US Funds and Supports the Taliban
11. The H1N1 Swine Flu Pandemic: Manipulating Data to Enrich Drug Companies
12. Cuba Provided the Greatest Medical Aid to Haiti after the Earthquake
13. Obama Cuts Domestic Spending and Increases Military Corporate Welfare
14. Increased Tensions with Unresolved 9/11 Issues
15. Bhopal Water Still Toxic Twenty-five Years After Deadly Gas Leak
16. US Presidents Charged with Crimes Against Humanity as Universal Jurisdiction Dies in Spain
17. Nanotech Particles Pose Serious DNA Risks to Humans and the Environment
18. The True Cost of Chevron
19. Obama Administration Assures World Bank and International Monetary Fund a Free Reign of Abuse
20. Obama's Charter School Policies Spread Segregation and Undermine Unions
21. Western Lifestyle Continues Environmental Footprint
22. 1.2 Billion People in India to be Given Biometric ID Cards
23. Afghan War: Largest Military Coalition in History
24. War Crimes of General Stanley McChrystal
25. Prisoners Still Brutalized at Gitmo
*****
ELSEWHERE. Here's a new wrinkle in the frayed tapestry of print media in its scrap with digital ether. A company called Narrative Science, "born out of collaboration between the Medill School of Journalism and the McCormick School of Engineering and Applied Science at Northwester University," has devised a way of computerizing prose reportage about matters involving data—census data, crime data, financial statements and sports. The computers read a collection of data and then write newsstories.
For a sporting event, for instance, the computer uses the same data a reporter would use to write a recap if he didn't attend the game—"box score, play-by-play, player stats, player trends, team statistics." But it's not formulaic: "We use a range of statistics and draw in the things that end of up being interesting," said a spokesman for Narrative Science, interviewed in the Columbia Journalism Review (November/December 2010). "If a player is close to breaking a record or a team record, we can notice those things and articulate them."
The goal of the program "is to generate stories in places where publishing organizations simply don't have the manpower to write these stories. Local newspapers are fighting for survival. If we can provide highly localized content inexpensively, they can fill two more pages and sell ads. With that extra money, they can hire someone to write the stories we can't touch."
The future of the daily newspaper is just around that corner.
RANCID RAVES GALLERY
Pictures Without Too Many Words
Some things don't change much. The hypnotic effect upon the male psyche of images of the female of the species, for instance. And so the next two visual aids won't surprise you, given my well-known proclivity for perusing pictures of the opposing gender. On the first exhibit, it was the cover of Guitar magazine that stopped me cold. Or heated me up, you might say. Until I saw this cover on the newsstand, I never realized how sexy a guitar was. And the charade continues inside the magazine with page after page of pictures of shapely images—guitars invariably accompanied by women in their scanties.
And while on the subject of things you don't see very often, the next image (to the right of the guitar) comes from Entertainment Weekly. Maybe Dave Stevens wasn't the first artist to turn a heart-shape into a feminine tush, but whoever designed this ad is surely in the same fraternity. And I never thought I'd see this seductively comical image in a mainstream periodical. So much for prognostication here at the Rancid Raves Intergalatic Wurlitzer.
| | |
| --- | --- |
| | |
Just to show that comics, too, can blossom with distaff embonpoint, here, in the lower left quadrant of our second page of illos, is the ad from the November Previews for a Vampirella comic book from Dynamite. Only the nipples are left to the imagination. At the top of the page, we leave funnybooks behind, or beneath, us. When I first saw the photo at the upper left, I could scarcely believe that it was possible for anyone to wear a garment so skintight; but you can't deny your eyes their truth. Down the right-hand column are two startlingly similar images: at the top, the illustration in an ad in Playboy for some sort of aid that will make sex better; below, a echo in sheer pin-uppery, same issue. Okay: nothing unusual about pin-up art in a Playboy ad for sexual potency, eh? I thought not.
THE DEPARTMENT OF JIVEY
Herewith, another Visit with Jim Ivey, Retired Editoonist and Upstart Beach Comber, who sent along some cartooned footnotes to the brief biography I proffered into Opus 266. He entitled his submission "Thru' My Eyes," suggesting, in an accompanying epistle, that "his eyes" are not "everyone's eyes" and might, therefore, be biased on the subject at hand. I, however, doubt that Ivey is any more biased than any of us. He also enclosed the cartoon essay "Editorial Cartooning 101," and a visual comment on Sarah Livingston Palin's latest book. Jim's missives come in No. 10 envelopes that are often decorated on the back with his reactions to current events; and I'm posting at the end of this extravagance several such artifacts that came this way during the Recent Disturbance.
CIVILIZATION'S LAST OUTPOST
One of a kind beats everything. —Dennis Miller adv.
The gaseous crowd that oversees and bemoans most of civilization is aghast that someone could have hacked into our sacred web precincts and scarpered off with ostensibly secret stuff. I'm sure that anyone modestly versed in the intricacies of ordinary Internet activities knows that nothing on the Internet can be kept secret from a reasonably skilled hacker, of which there are probably a few thousand, worldwide. Write this down: the Internet is not private. It's electronic air, and everyone can breathe it. So never put anything on the Web that you don't want everyone to know. Everyone might not be interested, but they can find you whether they are or not.
And then there's that Monstrous Tax Increase that Congress is supposed to foist off on the 2 percent of Americans who are the most wealthy and can surely afford it. All smoke and mirrors, kimo sabe. First, it's a "tax increase" only because by removing a "tax cut" the net result is you pay more taxes—ergo, an increase. But the Giddy Old Pachyderm loves to use "tax increase" to describe what is actually the elimination of a reduction; mathematically, it's the same thing, true, but "tax increase" fits more handily with the GOP's rote condemnation of Democrats as the "tax and spend" party. Secondly, the "increase" we're talking about is 3 percent. Admittedly, 3 percent for someone making a few million a year is a big chunk of money, but compared to the millions left after paying taxes, it's not much. Finally, the "increase" (of a whopping 3 percent, remember) would apply only to earnings in excess of $250,000. But you wouldn't know that from listening to the news media diligently quoting, on and on and on, whatever double-talking politicians say.
In England, just ten days after Prince William and Kate Middleton announced their engagement, a tabloid royals reporter, James Clench, produced the first book on the royal romance. The Week explained: Clench cobbled up the tome with older newsstories and added 4,000 words he pounded out in a single 48-hour stretch.
BOOK MARQUEE
The Briefest of Reviews and Proclamations of Coming Attractions
"Cushlamochree!"—and with that exclamation, so familiar to comic strip afficionados who will rejoice the most (including moi), ComicsReporter's Tom Spurgeon (onetime managing editor at the Comics Journal) announced that Fantagraphics has reached an agreement to publish a major, all-but-complete collection of Crockett Johnson's famed Barnaby. Says Spurgeon: "One of the best comic strips of the 20th Century and one of the most beloved older strips for a generation of devoted adult comics fans, Barnaby had become in the last decade and a half the great unassigned strip collection. The deal was negotiated by Eric Reynolds on Fantagraphics' behalf. The first volume will come out in April 2012 to coincide with the release of Philip Nel's much-anticipated biography of Johnson—The Purple Crayon and a Hole To Dig: The Lives Of Crockett Johnson and Ruth Krauss—from the University Press cf Mississippi. Nel will serve as series consultant and write an essay that will be paired with introductions from comics luminaries. Reynolds will be the series editor. Dan Clowes will supply the art direction."
What a joy! As Spurgeon elaborates, Barnaby, [which] began publication in April 1942, revolved around a five-year-old named Barnaby Baxter and his fairy godfather Jackeen J. O'Malley. "The basic twist was that O'Malley was as far from the typical fairy protector as one might imagine." He had pink wings, but otherwise, he was W.C. Fields: he smoked a cigar (which doubled as his magic wand), and his magic-making seemed confined mostly to cons he perpetrated in relationships with several other oddly-depicted members of the fantastic world just beyond our ken—a timorous ghost, a talking dog, and a mental giant. "Barnaby became a darling of those members of the cultural intelligentsia inclined to read the funnies, and was the recipient of perhaps the most unguarded words of praise in Dorothy Parker's long career: 'I think, and I'm trying to talk calmly, that Barnaby and his friends and oppressors are the most important additions to American Arts and Letters in Lord knows how many years.'" These may be the most famous and most frequently quoted words Parker ever penned or uttered.
"For all that praise," Spurgeon continues, "Barnaby was only a moderately successful strip." It reached just 64 papers in syndication. There were two hardback book collections (1943's Barnaby and 1944's Barnaby and Mr. O'Malley), a stage-play adaptation, and a radio show. In 1985-86, a 6-volume paperback series from Del Rey reprinted much of the strip's run (through May 1946; Johnson had turned the strip over to Jack Morley and writer Ted Ferro by then), but these books are as hard to find as the 1940s hardcovers. "Barnaby's reputation was of course absolutely enhanced by Johnson's much-loved work in kids' books, including the Harold series kicked off by 1955's Harold And The Purple Crayon."
Interestingly, Johnson redrew the early sequences of the strip for the reprint projects. And he left out altogether one sequence, which, I will someday demonstrate, he realized violated the essential ambiance of the strip. More in that vein when the time comes.
*****
Kevin "Kal" Kallaugher, The Economist's editorial cartoonist since 1978, is back with the second annual Economist Kalendar, a caricature-infused wall-hanging for 2011 in which various notable dates are, er, noted on the calendar for each month and then keyed by date number to the relevant portion of a panoramic visual comedy above, in which numerous dignitaries and eminences are caricatured doing whatever it is they are remembered for. We've posted part of July's day-by-day grid near here just below the month's panorama.

By way of decoding a portion: On a July 1 somewhere in the distant past, it sez here, the Chinese Communist Party was founded; and you can see, on the right-hand part of the Arc de Triomphe, the Chinese Communist flag, posted here to commemorate the occasion with a tiny encircled "1" keying it to the date below. Just above the crimson flag are collected several personages competing in the International Cherry Pit Spitting Championship at Eau Claire, Michigan on July 3. On the top of the Arc, right near the number 22 in a tiny circle, a caricature of Jon Stewart appears, in recognition of the first broadcast of "The Daily Show" on July 22, 1996. The over-all bike race motif remembers the Tour de France, which concludes on July 24; the Arc de Triomphe was inaugurated on July 29, 1836.
A unique artifact of cartooning, the Kalendar was voted Most Original Calendar, U.S. and International divisions, and Finalist, Calendar of the Year by the Calendar Marketing Association, fully entitling it to be dubbed an "award-winning calendar." They're $15 plus shipping and can be ordered from The Economist website: https://www.economistsubscriptions.com/calnov_2011/?src=/cal_2011&ref=%2Fcal_2011
—or from Kal at kaltoons.com.
PERUSING A CATALOGUE from Edward R. Hamilton Bookseller, a remainder mail-order mogul, I came across an intriguing title and ordered it. Was Superman A Spy? (260 5x8-inch pages, 2009 paperback; Plume Book, $14 originally but only $3.95 from ERH) by Brian Cronin, a Fordham Law School graduate who blogs under the heading "Comics Should Be Good" at cbr.cc, and has been writing an online column, "Comic Book Urban Legends Revealed," since 2005, and he's compiled in this volume many of his findings—130 stories about comic books and comic book writers/artists, 65 of which haven't been online. "Some of them are false," Cronin says, "and some of them are true." Among the true: a big fan of Fawcett's Captain Marvel Jr., Elvis Presley adopted his fictional hero's hairstyle. Among the false: J. K. Rowling's Harry Potter was inspired by Neil Gaiman's Tim Hunter, a young glasses-wearing boy with a forehead scar, in DC's Books of Magic No. 1.
Other fascinating bits and scraps include the intelligence that when Julie Schwartz refurbished the Atom, he gave the diminutive hero's alter ego the name "Ray Palmer," the name of an sf editor friend who was a dwarf, only four feet tall. Another one: DC was sued by Charles Atlas Ltd. when the bodybuilding company learned that a character in Grant Morrison's Doom Patrol (No. 36), Flex Mentallo, was supposed to be what became of the "wimp who got sand kicked in his face at the beach" in the famed Charles Atlas ads that festooned nearly every comic book published in the fifties. Yet another: Alan Moore got revenge on Marvel in the fifth issue of League of Extraordinary Gentlemen: in the mock history text that encumbers many of this series, Moore introduced from a Victorian era newspaper an actual ad for a feminine sanitary product with the brand name Marvel. When DC found out about it, no one was laughing: fearing a reprisal from Marvel, DC pulped the entire press run of that issue and reprinted it without the ad.
There are 125 more such tales in this tome. I wish Cronin had been a little more precise with dates and issue numbers in some instances; but the stories are fun.
Incidentally, E.R. Hamilton has a large graphic novel inventory, both in its print catalogue and online at HamiltonBook.com—most books at stunningly low prices. Many are superhero graphic novels (The Death of Captain America, $5.95; Iron Man Extremis, $2.95), but there are many other titles, too. Shakespeare's "Hamlet" manga, for instance, a couple volumes of Flight, The Pulse, Vol. 1; The James Bond Omnibus (eleven comic strip stories reprinted), Vol. 2 of IDW's reprint of Harold Gray's Little Orphan Annie at half price, $19.95; histories and criticism (The Underground Revolution by Dez Skinn, $7.95; Reading the Funnies: Essays on Comic Strips by Donald Phelps, $2.95), and so on.
At the website, go down the left-hand column to "Graphic Novels and Comics" and click on it; that'll take you to a page with a dozen or so categories of graphic novels and comics. Or you could write for a print catalogue: P.O. Box 15, Falls Village, CT 06031-0015.
*****
Seen at Barnes & Noble: a decorative box containing The Peanuts Collection of treasures, assembled with loving care by Nat Gertler. An elaborate scrapbook of Peanuts memorabilia and Schulz ditto; $35, I think; more than I'll spring for at once, but I'll get it eventually. Several Schulz pencil sketches of his characters, worth the price alone. Full of odd bits pasted in, envelopes with contents of interest and the like, a sort of pop-up book quality.
*****
Shameless Art (112 9x12-inch pages in bare color; ; hardcover, $15) is a spectacular collection of pin-up and paperback book cover art by all your favorites—George Petty, Gil Elvgren (lots), Andrew Loomis, Enoch Bolles (quite a few, and he's not been reprinted much, so this is rare material), Earl Bergey, Mabel Rollins Harris, Rolf Armstrong, Art Frahm, Bill Randall, Earl Moran, Bradshaw Crandell, Peter Driben, Robert McGinnis, James Avati, and a few more (alas, no MacPerson or Ballentine); each painting a full page.
*****
I ordered Holy Sh*t! The World's Weirdest Comic Books (128 5x7-inch pages, color; St. Martin's hardcover, $12.95) from Hamilton or Dover or some other cut-rate outfit (at a price less than the list price) without remembering that its authors, Paul Gravett and Peter Stanbury, are both British and likely to cast their net much wider than the usual American product, which is what Scott Shaw! exposes in his slide show of similar stuff with a focus on covers. Gravett and Stanbury scoured the entire planet Earth for examples and found lots, including the U.S. and its undergrounds but also Italy, France, Brittain, etc. Each comic book gets two pages; one to reproduce a cover, the other for text. Herein we can find, for instance, a spread for Italy's porn-horror version of Spider-Man in which the person bitten is a woman named Virgin Mona, who inadvertently arouses a radioactive spider, which, before it dies, manages to penetrate her, giving her amazing powers— "nymphomania and the unfortunate instinct to strangle her partners whenever she is about to climax." She dons an "impractical outfit exposing her breasts and hardly concealing her crotch and becomes 'The Spider Woman,' doomed never to reach her first organism."
MOTS & QUOTES
"I have all these people to give Christmas gifts to, and you know what I've found? There are some very nice things at the 99-cent store." —Ellen DeGeneres
"Once again, we come to the holiday season, a deeply religious time that each of us observes, in his own way, by gong to the mall of his choice." —Dave Barry
"Something in me resists the calendar expectation of happiness."—J.B. Priestly
"The Supreme Court has ruled that they cannot have a nativity scene in Washington, D.C. This wasn't for any religious reasons. They couldn't find three wise men and a virgin."—Jay Leno
"Christmas: it's the only religious holiday that's also a federal holiday. That way, Christians can go to their services, and everyone else can sit at home and reflect on the true meaning of the separation of church and state." —Jimmy Cannon
"Next to a circus, there ain't nothing that packs up and tears out faster than the Christmas spirit." —Kin Hubbard (Abe Martin)
FUNNYBOOK FAN FARE
Four-color Frolics
An admirable first issue must, above all else, contain such matter as will compel a reader to buy the second issue. At the same time, while provoking curiosity through mysteriousness, a good first issue must avoid being so mysterious as to be cryptic or incomprehensible. And, thirdly, it should introduce the title's principals, preferably in a way that makes us care about them. Fourth, a first issue should include a complete "episode"—that is, something should happen, a crisis of some kind, which is resolved by the end of the issue, without, at the same time, detracting from the cliffhanger aspect of the effort that will compel us to buy the next issue.
THE FIRST TITLE in the much ballyhooed return of Stan Lee to funnybooks is now out, Soldier Zero. But Lee, I suspect, had very little to do with the book: he's listed as "Grand Poobah," but the writing credit goes to Paul Cornell with art by Javier Pina (albeit "character design" by Dave Johnson). Lee's contribution is doubtless confined pretty much to conjuring the concept. And at first blush, the concept looks like Iron Man all over again. At second blush, however, the touted "reality comics" aspect of the Boom series is evident and novel.
The inaugural issue opens with two pages showing an armored being flying through the air, shooting daggers of light from his hands. Iron Man. Then we meet Stewart Trautman, whose service in Afghanistan has left him crippled and confined to a wheelchair. He and another wheelchair personage, a woman, can't gain access to a grocery store because the store is two steps up from street level and their chairs on wheels don't negotiate stairs. Part of this concept's mission, it appears, is to lobby for wheelchair rights. Good work. And, in a later incident in which a helpful acquaintance reaches to the top shelf in the school library to get a book for Trautman, we learn that people in wheelchairs don't like to think of themselves as helpless, and help of the sort just depicted makes Trautman feel helpless even though he doesn't think of himself that way. More reality; more good work.
Later, we go on Trautman's first date with a pretty young woman who, we are persuaded,
found Trautman attractive enough to accept a date with him. She tries several times to ask him whether or not his affliction affects his sexual apparatus, and he, misinterpreting the inclination of her inquiry, regales her (and us) with the story of how he got wounded and confined to a wheelchair. He eventually realizes what she really wants to know, and is about to tell her—"paralyzed from the waist down..."—but before he can blurt it out, they are interrupted by an explosion that buries them under the rubble of the building. (As far as I know, the kind of paralysis Trautman suffers from does not affect his ability to perform sexually because the penis is not a muscle; its sexual function is achieved when it is engorged with blood, and the circulation of blood is not muscular. But we don't get to that part in this issue.)
Up to his waist in rubble, Trautman is able to hold a slab of concrete suspended over the unconscious body of his would-be girlfriend, Lily, until he is somehow transmorgrified into the armored being that we saw cavorting on the book's opening pages. We don't know how, exactly, that transformation occurs. Or why. And in fact, whether it occurs is only dimly hinted at. And the book ends there.
The first issue incorporates at least two complete episodes—the grocery store protest and the date with Lily—and Trautman seems an admirable hero: he's common-sensical about his disability, which he faces matter-of-factly. We want to know what his connection is with the iron-suited being, and we like him well enough to look into the second issue to learn what that connection might be. Cornell deals with the sex question adroitly without being at all offensive. The storytelling—pacing, perspective, panel breakdown—is thoroughly professional: it accomplishes its job without flash or fillagree. And Pina's drawings are likewise thoroughly professional. Actually, they are somewhat better than the run-of-the-mill professional artwork we see so much of today: instead of a lot of compulsive shadowy modeling, often so clumsily done as to distort facial expression and anatomy—the usual shtick these days—we have naked linear drawing, no shading, no cross-hatching. No linear embellishment at all. Straight-forward, unencumbered linework. Drawing of this kind readily reveals the artist's failings whenever he fails, but Pina never does. The nuances of modeling are handled with color, expertly laid in by Alfred Rockefeller.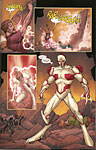 Altogether a successful first issue—and one that is more appealing than I would have expected with Lee at the helm. Too often since leaving the typewriter at Marvel, he has invented new heroes by simply repeating himself. Here, thanks mostly to Cornell, we have something a bit fresher.
This issue concludes with a few pages of The Traveler, one of the other Lee-inspired titles from Boom; and this one looks like the tired old Lee, albeit in a Mark Waid incarnation. Combat scenes of a spandex-clad hugely chested, bicep enlarged being, slinging bolts of light at the landscape while gritting teeth persuasively. But that's the bad guy: the Traveler shows up on the last of this six-page snippet, but he doesn't look much different than the bad guy, all bulgy all over. That's Chad Hardin's doing, not Waid's or Lee's. But the action still seems too evocative of scenes of past glories and gories. Nothing in this preview sample is particularly endearing—except maybe what the Traveler murmurs as he comes to the rescue of the African American girl being attacked by the bad guy: "This is not as easy as it looks," he says as he lowers himself into the fray. I'll wait for the whole issue to appear before drumming up a final verdict.
ED BRUBAKER AND SEAN PHILLIPS are back with Incognito, the title that was introduced with a six-issue mini-series that finished in the summer of 2009. "It's been far too long," Brubaker admits in the inaugural issue of this, the next mini-series, sub-titled "Bad Influences." The star of the series is anti-hero Zack Overkill, a supervillain who, after the death of his cohort brother, testified to something or another and found himself living under the alias Overton in the witness protection program. That was then; now, as the new series begins, it's been a year since he left witness protection to sign on with S.O.S. If I ever knew what the initials stood for, I've forgotten, but it doesn't matter: it could be the FBI or the CIA or some other alphabet outfit. The point is: Zack is now ostensibly a do-gooder rather than a bad guy, and he's sleeping with his boss, Zoe Zeppelin, who'd led the team that caught up with Zack in the first series. So he's not too goody-two-shoes: as the narrator, he tells us things he's up to that his boss probably wouldn't want him doing.
A lot of this issue is devoted to explaining, or alluding to, Zack's superpowered origins (he's not exactly a clone but he was born in a test-tube) and the shadowy bad guys he's battled in the past and confronts now when a bomb explodes in his apartment and an old man attacks him. The old man, it turns out, is a relic of the laboratory run by Lazarus the Returned Man, who could die and come back the next day by transferring his mind to one of several bodies he kept waiting. Zack quips that he was one of those bodies. The bomb and the old man are the completed episode in this issue. The cliffhanger tips up when Zoe tells Zack his assignment is to bring back a rogue S.O.S. agent named Simon Slaughter who is running a terrorist operation. Zack is perfect for the assignment, Zoe says, because, thanks to the bomb in his apartment, none of the bad guys can be sure anymore whether Zack is with the good guys or a freelancing bad guy.
Phillips' Caniff-like visuals impart to Brubaker's grim tale a gritty patina that suits the proceedings, which take place in the shadows most of the time. Brubaker's narrative is terse and elliptical, and Phillips' pictures, steeped in black, are equally evocative rather than definitive. Rarely do we see a face clearly: they are usually clouded with shadow that obscures distinctive features. Since we see so little, everything is ominous, sinister, adding to the menace lurking on every page of the book.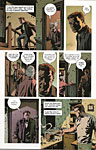 The "Criminal" series this pair have been collaborating on is, like Incognito, a compelling glimpse into unsavory lives. Incognito ramps up the proposition by incorporating a superpowered protagonist.
THE ALL-NEW WONDER WOMAN is up to No. 604, and she's lost the cute motorcycle jacket that gave her new costume its crispy contemporary look. The jacket Is torn to shreds in her battle with the mysterious human fireball who's not only burning but charring before our very eyes. Despite pages of gritting teeth and flinging around bodies, there seems to be a lot of talking inflating speech balloons. That's merely an impression I harbor because I'm not fond of the plot. There are actually lots of non-verbal sequences, but they seem to create more visual drama than dramatic story. And by the end of this issue, WW is down to her red and gold skivvies, looking a whole lot like the Wonder Woman of tradition and lore. Took only four issues for the new costume to wear out its welcome and the star-spangled girdle to return, but without the spangles or the stars—as we see on the Wonder Woman on the left.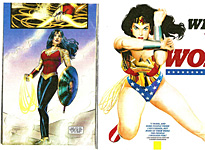 The picture on the right, a delicious rendering of the classical Wonder Woman by Alex Ross, is lifted from the November 26 issue of Entertainment Weekly where the editors and writer Benjamin Svetkey are burning up with a relevant question: where's the blockbuster Wonder Woman movie? Alas, they come up with exactly nothing. Nowhere. "At a time when every other comic book hero in the universe seems to be getting a green light—even Thor, for Hera's sake!—Hollywood still hasn't figured out a way to make a Wonder Woman movie."
Svetkey believes WW is "one of the most popular and enduring creations in all of comic-book mythology, right up there with Superman and Batman in the pantheon of superherodom." Well, no: not quite. If she were, there'd have been a Wonder Woman movie by now. She's a survivor, no question; but as we noted in Opus 266 in discussing the evolution through several variations of he uniform, Wonder Woman has been in a sort of limbo for several decades. Her popularity, such as it is, seems restricted to the suits and typewriters at DC, who wish she'd be as popular with readers as Superman and Batman; but she obviously isn't or they wouldn't be forever tinkering with her concept and costume.
Svetkey observes correctly that Wonder Woman is "an icon of female empowerment" (thanks to Gloria Steinem and her Ms. magazine, which put WW on the cover of the first issue); the problem is that no one has managed, yet, to turn the icon into a functioning flesh-and-blood hero. "As a brand, she's still very respectable," says Rubin Beige, vice prez of a costume company that sells lots of WW costumes. "She's not as big as Lady Gaga," Beige goes on, "but she sells."
Warner Bros, which has the rights to the character, "wouldn't comment," Svetkey says, except to "offer vague assurances that the studio is still planning to make a Wonder Woman movie someday." But Joel Silver, the veteran action producer ("Predator" and "Lethal Weapon" and "Matrix" series) is apparently still looking for a script.
Joss Whedon tried but couldn't produce anything Silver liked. Silver's only instruction: the story had to take place in present-day America, not in the 1940s. Part of the problem with developing a script comparable to those that sparked success for Superman and Batman and Spider-Man is that WW has no city, no place that she's identified with. And she has no gallery of picturesque rogues to pester her. Said Whedon: "She's distant from people in a way that makes it hard to create identification. ... She's above us and different from us."
Perhaps most vexing: "Tone was an issue," Whedon said. "People still think of Wonder Woman as kind of silly ... a kind of goofy lady," thanks to the Linda Carter tv series, 1976-79.
"All these problems," says Svetkey, "—the campy tone of the tv show, the corny costume, the dated 1940s backstory—are reasons it's been difficult for Wonder Woman to get a movie." But maybe it's even simpler than that. Matthew Jennison, who wrote the last script Silver purchased, in 2007, said: "It's just much easier to sell a male action hero to the studios than a female one."
Maybe, but I don't buy it. Lara Croft, Evelyn Salt, Hit Girl, Nikita, Annie Frost, Annie Walker, Olivia Dunham, and Lisabeth Salander in "The Girl with the Dragon Tattoo" strenuously imply Jennison is wrong. There's more to the Hollywood prejudice against WW than a sexist belief that the superhero concept is a male thing.
I think it's the girdle. Too many movie moguls remember the girdle of yesteryear, and they're uneasy about a character who wears a girdle in an age when no foundation garments at all are being worn. And the icon idea makes the whole WW notion awkward. As a symbol of female empowerment, WW is a little bit too much like Betty Crocker—caring, feminine, well-coiffed and good mannered. And the girdle instead of an apron just muddles the image lurking in the back of the mind.
Svetkey, unwilling to give up the idea of a WW movie, parades before us a number of candidates to play the part, including Beyonce Knowles, Catherine Zeta-Jones, Charisma Carpenter (too young and cute), Morena Baccarin (too Linda Carterish), and Sandra Bullock. And Bullock made me pause. The Bullock of "Speed," say, would give WW a very human dimension, taking her off the pedestal. And if her costume would be like the one Jim Lee designed for the recent make-over—clothes that she can fight in, form-fitting, leg-accenting leotards below the waist, motorcycle jacket above, the jacket, worn open, to reveal a red top: tight-fitting but with a modestly dipping neckline, reminiscent of a feminine bustier without oozing too much sex appeal—then maybe we'd get a Wonder Woman movie.
But Svetkey isn't optimistic. And he thinks even Whedon is "souring" on the idea. "If someone else can come along and create a cool Wonder Woman movie and pull it off, that's great," Whedon said. "But I don't necessarily think we need a Wonder woman movie per se. We need more female heroes. We need 'wonder women' movies. But Wonder Woman may not be the wonder woman we need."
Ah, c'mon. Lara Croft, Evelyn Salt, Hit Girl, Nikita, Annie Frost, Annie Walker, Olivia Dunham, Lisabeth Salander—I think we're there, Joss. Just lose the girdle.
AS IF TO PROVE ME WRONG about WW's dubious popularity, the issue of Entertainment Weekly the week after the WW story published three (three!) letters about the article. One nominated Zooey Deschanel to play Wonder Woman in a movie. Another thought if Hollywood is really worried about the character's "emotional relevance," it should consult the Cartoon Network's "Justice League" shows in which WW tries "to understand (and save!) The man's world she is in." The other letter came right to the point: "Forget Wonder Woman. I want to see a biopic about WW's creator, Dr. William Moulton Marston, the inventor of the lie detector, who kept his wife and his mistress under the same roof!"
I knew once this juicy fact about Marston got out (and it's been out and about for some time now), there'd be a demand for more lascivious details.
PERSIFLAGE AND FURBELOWS
Anonymous Query: Have you ever noticed that Peter O'Toole has a double-phallic name?
"In my office in Florida, I have, I think, 30 manuscript piles around the room. Some are screenplays or comic books or graphic novels. Some are almost done. Some I'm re-writing. If I'm working with a co-writer, they'll usually write the first draft. And then I write subsequent drafts."—James Patterson, novelist
"To understand U.S. politics, we can only look to Groucho Marx, who said: 'Politics is the art of looking for trouble, finding it everywhere, diagnosing it incorrectly, and applying the wrong remedies.' Of course, he was joking. The Tea Partiers are not."—Oscar Celador in Publico
Pundits are clueless, saith Jonah Lehrer in the Wall Street Journal. In other words, "our political discourse is driven in large part by people whose opinions are less accurate than a coin toss."
ONWARD, THE SPREADING PUNDITRY
The Thing of It Is ...
Mitch McConnell is a wonder of graceless victor, a model of the Grump Old Pachyderm. He says the GOP's "top political priority over the next two years should be to deny President Obama a second term in office." That's it? That's the single most important thing for the GOP to do? Unemployment eeking up to ten percent, a war in a distant hostile clime, huge deficit and monstrous federal debt—and the most important thing he can find for his party to do is to sabotage any plans O'Bama has to be re-elected? What a statesman. Thinking ahead to 2012, do we really want someone like McConnell in the White House?
Okay: he said "political priority" not "legislative priority." But it seems, from various explanations of his theme, that McConnell can accomplish the former only by sabotaging the latter at every opportunity.
McConnell has offered more than one elaboration on the GOP's top political priority. Once he said this: "After [the Republicans took over both houses of Congress in] 1994, the public had the impression we Republicans overpromised and underdelivered. We suffered from some degree of hubris and acted as if President Bill Clinton was irrelevant and we would roll over him. By the summer of 1995, he was already on the way to being re-elected, and we were hanging on for our lives. The single most important thing we want to achieve is for President Obama to be a one-term president."
So, learning from the unfortunate events that followed the mid-term election in 1994, McConnell has again overpromised—repeal Obamacare, cut spending (the GOP? the spendingest party in the last twenty years? cut spending?), shrink government, etc. But he's learned what the real goal of the GOP should always be: deny any sort of victory to the opposing party.
He also said this: "Some have said it was indelicate of me to suggest that our top political priority should be to deny President Obama a second term. But the fact is, if our primary legislative goals are to repeal and replace the health spending bill, to end the bailouts, cut spending and shrink the size and scope of government, the only way to do all these things is to put someone in the White House who won't veto any of these things."
That's logical, at least. But as an expression of political ambition, it's still a little bluntly extreme. Why has McConnell become so extreme? It isn't just the experience gained in the aftermath of 1994's midterm election. Not even John "Marblemouth" Boehner is that extreme. The explanation is not far to seek. McConnell is the senior senator from Kentucky, where the Republican primary last spring rejected the recommendation of McConnell and others of the old guard Republican apparatus and landed instead on Rand Paul as the party's nomination for senator. And then Paul won in the general election last month. McConnell is just reading the tea leaves: if he wants to be re-elected when he runs again in four years, he's gotta sound like Rand Paul and the Tea-baggers, not like a Republican—or, even, a reasonable, deliberative senator. If he wants the Kentucky Republicans to nominate him for re-election, he's gotta sound as extremist as the Tea-baggers. And so that's what he's doing.
What a joke. So McConnell's real agenda is not unhorsing Obama or getting the GOP legislative agenda passed: no, it's getting himself re-elected.
Anyone surprised?
*****
As you may remember, I'm an O'Bama sympathizer. In fact, I think I see in his supposed "failures" adherence to the underlying theme of his campaign: we need a government in which feuding parties compromise in order to achieve something for the people who elected them. And Baracko Bama is showing the way. No one is picking up on it, of course; too bad.
*****
Among the Democrat members of Congress who were not returned to their offices were many of the so-called "blue dog" Democrats. These are conservative Democrats, too conservative to support Obama's agenda. So who won in the recently concluded midterms? Who lost? The GOP may have gained seats in Congress, but they also lost support on the other side of the aisle, support that had helped deny progress on the Obama program.
UNEMPLOYMENT STATS. The O'Bama Economic Recovery Effort has repeatedly suffered the slings and arrows of the Grandstanding Old Pachyderm because nothing seems to erase the 9.6% unemployed statistic. And now it's up to 9.8%. The GOP will probably never mention that for two years, 1982 and 1983, in the regime of the sainted Ronald Reagan, unemployment stood at 9.7% and 9.6% respectively. In fact, in only one of the Reagan Years did the unemployment rate sink below 7 percent: it was 6.2% in 1987. Since 1950, unemployment has usually run in the 5-6% range, occasionally spiking higher. The peak year in the fifties was 1958 at 6.8%; in the 1960s, it was 6.7% at its highest in 1961; and it reached 8.5% in 1975, the highest of that decade. And then came the skyrocketing Reagan Years that the GOP will never mention.
EARMARKS. Confusion reigns about earmarks. Originally, if a member of Congress specified that a certain portion of already-approved funding be set aside for a specific project, he was "earmarking" that amount for that purpose. It was a way of making sure the money went exactly to one of the things it had been appropriated for instead of being disbursed—dispersed, you might say—on other projects as determined by the administrative machinery of the executive branch of government. Earmarking was a way of re-asserting the purse-strings privileges of Congress. If earmarking is "banned," then Congress has no way to make sure the executive branch won't, in effect, mis-direct appropriated monies to other aspects of the approved project. That's why some congresspersons don't want to give up earmarks.
Earmarking never meant, exactly, to appropriate money for your political supporters' projects back home. The money that was earmarked had already been appropriated; earmarking just made sure it was going to be spent the way the lawmaker in question wanted it to be spent. But over the years, earmarking was increasingly abused. More and more congresspersons used the practice to funnel money to their political supporters, usually big donors: they had projects that fell within the purview of the appropriated funding, but "their" congressperson wanted to be certain they were "rewarded" for their support by making sure their project got the money. And so earmarking became a kind of payback. It's the payback that people opposed to earmarks want to eliminate. But our ever-diligent news media haven't helped explain that much. They just focus on the fireworks.
AND FOR THE RECORD, here, again, is our Annual Report (you can stop reading here if you've seen all this before):
In our seventh year, from November 2009 through October 2010, we posted a total of 705 pages of Rancid Raves (averaging 59 pages a month—about the same as last year's totals, 733 and 61 respectively), plus 78 pages of Hindsight (an average of 6 ½ pages a month; not quite up to last year's 111/9). And so we are once again able to trumpet our accomplishment: what other magazine generates 65 ½ pages of comics-related (mostly) news and reviews and in-depth articles every month for a mere $1.32 a month?
We (Jeremy Lambros, R&R webmaster, and I) produced 19 opuses of Rants & Raves in the last twelve months and posted 8 Hindsight (history and biography) articles. In the aggregate, that's somewhat less than some previous years, but we're still within sight of the terms of our contract with subscribers: our treaty specifies approximately bi-weekly issues of R&R, and we did that five times out of twelve (and in one month, February, we posted 3 R&Rs), but we posted something at least twice a month—at least one R&R and one Hindsight for 10 months.
Last year when we convened for this lacerating summation, I said I planned in the next year (this one, 2010) to shorten R&R, to approach its original 20-page per opus, which I suspect is more reader tolerable because digestible at a single sitting. But we didn't make it. Once in the grip of my obsession, I cranked out 30-plus pages almost every month. And I now realize I'm not likely to change. So for the next year, I'm likely to continue pretty much as we have for the last year—one long R&R every month, plus a Hindsight, one or the other landing in your inbox every other week. Or so. Still, I humbly submit, a bargain at a mere $1.32 a month.
During the last twelve-month, we did long essays on NEA's anyule comic strip, several installments on Islamic hooliganism, early Playboy and its cartoons 1953-59, four African American cartoonists (Morrie Turner, Ted Shearer, Ray Billingsley, and Milton Knight), the shortcomings of NCS' Reuben award mechanism, history of toilet paper (just checking to see if you're still reading) (but we did, indeed, do a short history of toilet paper), the dereliction of American news media, Pickles' twentieth birthday, adventurousness at Archie, South Africa's cartooner Zapiro vs. Zuma (the country's prez), Beetle Bailey's sixtieth, the end of Cathy, and sex in America, and we debunked the notion that newspapers are dying (they aren't, as I said).
And we did career-appreciation obits for Shel Dorf, founder of the Sandy Eggo Comicon, caricaturist David Levine, plus Peter O'Donnell, Frank Frazetta, Al Williamson, John Callahan, Paul Conrad, Leo Cullum, and Alex Anderson.
We reviewed books, too, great heaps of them, including: Nell Brinkley and the New Woman in the Early 20th Century, The Brinkley Girls, Connie (reprint volumes), Tezuka: God of Manga, The Art of Japanese Paper Theater, Best of Punch Cartoons, King Aroo (reprint), The Sandman by Simon and Kirby and their Newsboy Legion, Family Circus (first volume of a complete reprinting), Herblock: The Life and Work of the Greatest Political Cartoonist, Bringing Up Father From Sea to Shining Sea, The Art of Basil Wolverton, DeCarlo's Jetta, Gahan Wilson's Playboy Cartoons (complete), Rip Kirby reprint Vol. 2, Li'l Abner, Captain Easy and Krazy Kat (all reprint tomes), The Complete Milt Gross, Secret Agent Corrigan—to name a few more than a few.
We reviewed more than a few graphic novels, too, among them: Crumb's Illustrated Book of Genesis, Johnny Cash, Skinny by Carol Lay, The Amazing Remarkable Monsieur Leonard, Shortcomings, Logicomix, Why I Killed Peter, and Footnotes in Gaza. And we reviewed numerous first issues of funnybooks and reported news until our feet smelled and our nose ran (we're built upside down and don't know it).
And in the Hindsight department, our long-form essay/historical section, last year we examined and celebrated the histories and artistries of Barney Google, Little Lulu and Henry and Hazel, Little Orphan Annie, Dinette Set, editooner Rob Rogers, and the unknown Bill Hume and Babysan, and Gleason comics' formidible Iron Jaw.
To find out about Harv's books, click here.