Opus 268 (October 7, 2010). Big stories this time include a report on flagging comic book sales and the latest home for the Sandy Eggo Comic-Con, Cathy's final appearance in print, and the burning question of the month: Are the Sunday funnies doomed? Plus the further adventures of the Danish Dozen and their ilk in which Molly Norris disappears and so does the spine of journalism, but Flemming Rose marches fearlessly, determinedly, onward—to our shame and his credit. Comic strip parodies mock Teabagging and the midterm election kerfuffles, and Rancid Raves makes its Pledge to America even as the Mexican flag is deployed as an editorial cartoon. And reviews, lots of reviews, all listed immediately below. Here's what's here, in order, by department:
NOUS R US
Flagging Comic Book Sales
Comic-Con and Sandy Eggo
Sunday Funnies Doomed?
DC Moves Some Operations to West Coast
Flintstones Turn 50
More Funding for OSU's Cartoon Library and Museum
Cathy's Last
THE PROPHET THAT WON'T STOP
Further Adventures of the Danish Dozen
And the Mosque at Ground Zero
TEA STRIPPING
Parodies
Rancid Raves' Pledge to America
EDITOONERY
Mexican Flag Despoiled?
BOOK MARQUEE
Ah Pook Is Here (William Burroughs' "word/image novel"
King Aroo
Rip Kirby, Vol. 2
Li'l Abner
IDW's Blondie and More En Route
Fantagraphics' Popeye and Prince Valiant
Captain Easy
Peanuts at the Halfway Point
Krazy Kat Marches On in Beauty
Complete Pogo
Repuglicans
Ronnie Del Carmen's And There You Are
Doonesbury's Signature Wound
FUNNYBOOK FAN FARE
Rawhide Kid
Kill Shakespeare
Sweets
X-Force: Sex and Violence
Gorilla-Man
And our customary reminder: don't forget to activate the "Bathroom Button" by clicking on the "print friendly version" so you can print off a copy of just this installment for reading later, at your leisure while enthroned. Without further adieu, then, here we go—
NOUS R US
Some of All the News That Gives Us Fits
For the first time since March of 2009 no comic sold more than 100,000 copies in August. Saith ICv2.com: "There was no equivalent for July's X-Men No. 1, which, supported by numerous incentive covers and a heavy marketing push that included launch parties, sold over 140,000 copies. Issue #2, which had considerably less marketing help, sold just over half as many copies, a steep drop even for a second issue. Seventeen titles in the top 25 sold fewer copies than their previous issues, with just six showing increases in circulation."
Douglas Wolk at techland.com reports on a recent discouraging visit to his comics shop:
"It's these four-dollar comics," my dealer sighed as he flipped through my stack at the register. "The more there are of them, the worse we do."
When Wolk expressed amazement—"If the price of a standard comic book climbed from $3 to $4 over the past year or so, that means you're making a third more on each sale, right?"—the dealer explained: "On each comic, yes, but our customers are still each spending about the same total, or even less. Three dollars for a comic might be worth it, four dollars might not, and it's not like there's a boom that means they've got more money to spend."
Which led Wolk into a thicket of economic speculation: "The standard rule of periodical comics sales, as I understand—and this is entirely anecdotal, and corrections to it are very welcome—is that the typical fan who visits a comics store once a week likes to spend roughly twenty dollars a week on comic books. There's something that's psychologically 'safe' about that figure: it's not too much money, and for a long time it's been enough to guarantee a pleasant evening of reading. Twenty years ago, the price of a new mainstream comic book was 75 cents, about to make the leap to a dollar, the same percentage they're currently increasing. For a $20 bill, you could get a stack of a couple dozen titles, with some interesting indie experiments thrown in.
"Since then," Wolk goes on, "the price of comics has zoomed far ahead of the cost of living: $20 in 1990 is the equivalent of a bit over $33 now, while new mainstream comic books have more than quadrupled in price. And what happens when comics abruptly increase their cover prices by a third while adding little or no extra content—and the $20 standard gets you all of five 22-page comic books that take a few minutes apiece to read—is that that value proposition gets a lot less enticing.
"Do sales immediately plummet when prices go up?" he continued. "No; serial comics sales never collapse abruptly unless the product itself drastically changes. They dribble away. In practice, readers quit following particular titles in disgust much less often than they gradually find it not worthwhile to pick them up any more. $4 cover prices don't seem to have tanked any formerly-$3 titles yet, and maybe they're making a little more money in the short term. But look at the monthly sales charts: the slow dribble of sales away from midline titles keeps dribbling, the top-of-the-line sales are nowhere near what they were a few years ago, and the customer base for mainstream comic books is not exactly increasing."
Wolk concludes that comic book publishers maybe ought to reconsider the value propositions—"ways of publishing new material that are irresistibly inexpensive."
STILL SANDY EGGO
Tom Spurgeon at comicsreporter.com reports that Comic-Con International (CCI) has decided to extend its relationship with the city of San Diego and the San Diego convention center, "ending an extensive process during which the city was heavily wooed by convention officials from Anaheim and Los Angeles. According to the official press release, the Con will stay in San Diego through 2015." Said CCI Director of Marketing and Publication Relations David Glanzer: "We made no secret of the fact that we would, in a perfect world, love to stay in San Diego. We just had to be sure that whatever decision we made would really have to have more pluses than minuses. In the end I think we came to a good decision."
The search for a new site was prompted by several factors, among them the supposed scarcity of hotel rooms in San Diego, the increasing cost of those rooms, and the limit of the space in the convention center for exhibits and meetings—which effectively capped the growth of the Con at 125,000 attendees.
Interviewed by Spurgeon, Glanzer said: "We've received assurances that we will have access to more sleeping rooms for our room bloc. This gives us the possibility of doubling the amount of rooms available to our attendees. Rates are always an issue, and the hotels fully understand this. This agreement will hopefully keep hotel rates competitive."
Meeting and exhibit space remain a problem, Glanzer admitted, adding, though, that last year's use of meeting rooms in nearby hotels "helped us. ... The fact that attendees didn't mind going off-site so much was, I feel, a good indicator that things could work if we stayed."
But the Con is still limited by the size of the center to 125,000 attendees and can't increase the number of exhibits. San Diego plans to expand the convention center starting in 2015, but that won't help matters for the duration of the present contract. Said Glanzer: "So while we are faced with flat income, the center has worked with us in allowing signage and the like at the center which helps us defray costs. You know we've been in San Diego for 40 years, and at this facility since '91. We haven't had major sponsorship signage in the past because there was a lack of desire from exhibitors and others, it was just something we never felt we had to do. But of course, times change."
Sponsors who are willing to pay for some of the operational costs will help make up for the income the Con loses by not being able to expand the exhibit, but it won't help lift the cap on attendance. Sign up as early as you can.
I'm glad the Con is staying in the town of its founder, Shel Dorf. I've been attending, more or less regularly, since the mid- (or perhaps early-) 1990s, and I've stayed a hotels all over the map—Mission Valley, Ocean Beach (Shel's old stomping ground and the site for tv's new "The Terriers"), even downtown—which forced me to learn how to get around with public transportation, buses and light rail. I feel pretty confident about navigating the city, and I'd hate to have to learn something all over again in either Anaheim or Lost Angeles. Besides, I doubt that either of those destinations would offer lower fees and rates than San Diego. I can't imagine that Anaheim could: as a tourist attraction for families during the summer months, it scarcely needs a convention to fill hotel rooms—so why should the hotels offer discounted rates? And Lost Angeles is simply a awesome opportunity to get lost. So Sandy Eggo it is. Shel would like it.
SUNDAY FUNNIES ON THE WAY OUT?
I didn't see this one coming even though I'd sort of expected it. Dreading it, more like. In the last week of September, the Mount Airy News in Mount Airy, North Carolina announced that, starting October 3, it would no longer publish the Sunday comics section. The paper cited the usual economic reasons—the high cost of syndicate fees and the dwindling financial resources of the paper: "The decision to eliminate the Sunday comics was made so the Mount Airy News can devote its resources to continuing to focus on its core mission—providing local coverage to Mount Airy and Surry County residents."
Publisher Gary Lawrence explained: "Based on recent studies, Sunday comics have given way to other items of increased interest. Their availability on the Internet makes them readily accessible to those who seek them out. Like many other businesses and the general population, the reality of the current economic situation places us in a position of elimination of this particular item or elimination of several valuable payroll positions. In our quest to provide unique local content, we determined that keeping content-producing local personnel would better serve the community."
The daily comics will continue. Even though they're on the Internet, too.
In covering its butt, the paper alleged that in dropping the Sunday funnies, it was joining "a growing number of newspapers across the nation" that were doing the same thing. I haven't heard of any such trend. Quite the reverse, in fact. Last winter when the Denver Post dropped a couple dozen of the comics it had taken over from its rival the Rocky Mountain News when the News died, the managing editor was interviewed on the evening tv news and said emphatically that she didn't know any newspaper anywhere that was contemplating giving up the comics altogether. The Post's current comics line-up numbers 43 strips and panels; it had been running over 60.
It may be too early to panic. Mount Airy, North Carolina, where Andy Griffith grew up and where Mayberry is preserved (this year's Mayberry Days was just celebrated September 23-26), has a population of only about 8,500 souls. On the one hand, that's not a very populous metropolis so maybe, if size matters, it isn't big enough to start a trend. On the other hand, small town newspapers are financially the healthiest in the country, so if the Mount Airy News is hurting and to preserve its news department eliminates one of the top two reader attractions in newsprint, maybe we should start worrying. Or not.
I contacted officials at three syndicates; none of them was aware of the trend the Mount Airy News invoked to excuse its comicide. CYA to a fare-thee-well looks like to me.
*****
Alan Gardner at DailyCartoonist.com reports that Universal Uclick confirmed that several papers (upwards of 20) have asked for a replacement for [the October 3] Sunday Non Sequitur because it mentions the word Muhammad. Wiley Miller's cartoon by depicts a lazy, sunny park scene with the caption, "Picture book title voted least likely to ever find a publisher … 'Where's Muhammad?'" Characters in the park are buying ice cream, fishing, roller skating, etc. None of the characters are depicted as Middle Eastern. Gardner continues: "Responding to the news that his strip may not appear in some papers, Wiley tells me, 'The irony of editors being afraid to run even such a tame cartoon as this that satirizes the blinding fear in media regarding anything surrounding Islam sadly speaks for itself. Indeed, the terrorists have won.'" Indeed, the reaction of timid editors affirms the accuracy of Wiley's satire. Sad, yes—and fiercely alarming; more in this vein in a trice.
DC Entertainment is moving its administrative, multi-media development and digital production— operations that focus on feature films, television, video games and other media — to the West Coast, a move that will cost dozens of staffers their jobs according to ICv2.com. "DC has so far refused to comment on stories concerning the number of employees that will be let go. The Los Angeles Times reported earlier that 20% of DC's workforce of approximately 250 would lose their jobs as a result of the move, a report that was met with considerable skepticism and criticism from some industry observers. It does appear to be too soon to put any definitive figure on the number of employees who will lose their jobs, simply because many of the 80 who are affected by the shift may not yet have made a final decision on whether to make the move to California."
The New York Times announced that DC named as its new editor-in-chief Robert Harras, a veteran editor there who had also spent five years as the ed-in-chief of rival Marvel Comics. In a press release, DC said Harras will oversee editorial for its comics as well as Mad Magazine and its Vertigo imprint, and will work from the company's New York offices.
ODDS & ADDENDUM
This year's Macy's Thanksgiving Day Parade will have a new star in its lineup, reports Publisher's Weekly: a giant balloon bringing the title character of Jeff Kinney's Diary of a Wimpy Kid series to 3-D life will be among the 15 helium spectacles in the legendary parade. ... John Marshall, who draws Blondie for the strip's manager, Dean Young (son of Blondie's creator, Chic Young), has an assistant, Frank Cummings. Jodi Marze at the Picayune Item, where Cummings used to work, quoted the erstwhile staffer: "I have loved to draw from the time that I was a little bitty boy, [but] I would never have dreamt that one day I would be illustrating for a comic strip like Blondie." ... Last month, U.S. philanthropist Jay. T. Snyder flew 12 disabled Americans to Damascus to meet Syrians similarly afflicted so their combined forces could invent a new superhero. The result, the Associated Press reports, is a Muslim boy in a wheelchair with superpowers. "He lost his legs in a land-mine accident and later becomes the Silver Scorpion with the power to control metal with his mind." His appearance has not, as of this writing (September 27) been firmed up. ... Parade magazine, the venerable Sunday newspaper supplement, has for years printed 3-4 cartoons in its Cartoon Parade; for the last three weeks (and maybe more: I started counting three weeks ago), only one cartoon has been on parade in each issue. Is this cartoon venue another of the endangered species?
On an intensely personal note: my book, The Art of the Comic Book: An Aesthetic History, published by the University Press of Mississippi, is continuing to sell well: since being published in 1996, it's sold 5,224 copies through June this year. No, it's scarcely another Wimpy Kid Going Rogue, but most university press books sell in the neighborhood of 2,500 copies and then retire to an elephant graveyard. The Art of the Funnies: An Aesthetic History of the Newspaper Comic Strip was the next best seller at 4,376 copies; then Accidental Ambassador Gordo: The Life and Comic Strip Art of Gus Arriola with 3,175 copies. All of these masterpieces (need I remind you?) are sold at this website; and copies sold here come with an inscription from the author hisownself, kimo sabe.
"The Flintstones" turns 50 this year, and to celebrate, Boomerang, the Cartoon Network's channel devoted to classic animation, conducted a "Boomerock" salute on Thursday night, September 30, broadcasting the very first "Flintstones" episode ever, Jessica Banov said breathlessly at fayobserver.com. "What makes this time notable," she effused, "is that it's the exact date and hour of the original premiere in 1960. Nifty, huh? The episode's title, for those interested in such trivia, is 'The Flintstone Flyer.' It's about a flying machine that Barney is building, Fred's efforts to avoid going to the opera, and a night at the bowling alley." The celebration included two more episodes and an animated film, "The Man Called Flintstone." On Saturday, October 2, a 24-hour marathon of "Flintstones" episodes unreeled. Banov disclosed "another fun fact, courtesy of Wikipedia. Wilma's full name is Wilma Pebble Slaghoople Flintstone."
Superman comes to the rescue again. A couple facing eviction from the home that had been in their family since the 1950s found a copy of Action Comics No. 1 in good condition when sorting through "junk" in the basement of the house. PRNewswire reports that online research led them to ComicConnect, "and the rest is the stuff of fairy tales." ComicConnect has thrice auctioned rare comics of this ilk for over $1 million.
Dark Horse Comics and Vanguard Publishing have conjured up a treaty that will resolve the confusion over which company will publish Frank Frazetta's White Indian comics. The companies, reports ICv2.com, had reached separate agreements with different members of the Frazetta family to publish the material. "Vanguard will release the Complete Frazetta White Indian Collection, while Dark Horse will publish a second volume collecting all the post-Frazetta ("not Frazetta") material featuring Dan Brand aka the White Indian. Initial direct market orders on the previously announced Dark Horse Frazetta White Indian Collection will be filled with the Vanguard volume following notices to retailers from Diamond Comic Distributors."
Ohio State University trustees on September 17 approved increasing by $3 million to $24.4 million the budget for renovating Sullivant Hall, the future home of the school's Billy Ireland Cartoon Library and Museum. Carrie Ghose at bizjournals.com reports that the project got the go-ahead last year after the cartoon library received a $7 million gift with naming rights from the Elizabeth Ireland Graves Charitable Trust, which manages the estate of Ireland, famed Columbus Dispatch cartoonist from 1898 to 1935. Jeannie Schulz, widow of Peanuts creator Charles Schulz, also gave $1 million and pledged $2.5 million more if the university can attract matching gifts. With just $422,000 in matching contributions left to raise to claim the full gift, the project has $12.2 million in donations so far.The renovation will include a new home for the museum, including a cartoon-character stained-glass window, as well as better rehearsal and performance space for the university's dance department.
*****
IN CASE YOU'VE FORGOTTEN, Sunday, October 3, marked "the end of an era for American women," noted Meghan Daum at the Los Angeles Times: on that day, "Cathy, the weight-obsessed, chocolate-loving, shopaholic comic strip heroine who has appeared in newspapers (including this one) for more than three decades," made her final appearance. After which, a scramble among survivors to fill the vacant slot in over 700 newspapers—a virtual windfall of opportunity not experienced since The Far Side ceased on January 1, 1996, a day after Calvin and Hobbes retired.
At GoComics.com, Universal Uclick has assembled a tribute video on the Cathys, featuring a few of the most popular strips and photos of creator Cathy Guisewite. "It's just one small way we're saying 'Thank You' to a character—and cartoonist—who brought decades of daily joy to millions of newspaper readers around the world."
Here's the last Cathy—ending with a characteristic albeit delightful shock for Cathy's mother.
The title panel is Guisewite's fond good-bye (and thanks) to her readers. Surprisingly perhaps, only a few cartoonists bid Cathy farewell in print, at least a couple of them on Saturday, the day before the finale—probably because they didn't think of doing it soon enough (Sunday strips are prepared about 10 weeks in advance of publication; dailies, only about 4 weeks) or maybe they were mindful that not all daily strips also appear in the Sunday editions of the papers they're published in and wanted to be sure to get their good-byes in. And one, Rob Harrell in Adam, the day after.
At the end of this string of visual aids I've sneaked in the last Annie strip from June 13, which I meant to post at the time and forgot. Fate, no doubt: the last Little Orphan Annie should be acknowledged in the same breath as the last Cathy, two female adventurers nonpariel—both, in their unique ways, conclude by hinting a future developments.

On Saturday, October 2, the day before Cathy expired, the yearlong celebration of Peanuts 60th anniversary ended on the strip's "birthday" with a few notable incidents: the presentation of a formal photograph of creator Charles Schulz to Smithsonian's National Portrait Gallery, which staged a family-and-friends day with events for all ages, and the Smithsonian's National Museum of American History unveiled a case displaying an assortment of Schulz objects, such as drawing utensils; and Peanuts fans across the country are playing an online game, "Countdown to the Great Pumpkin" (greatpumpkincountdown.com).
THE YEAR'S NEW CROP OF COMICS
Alan Garner at DailyCartoonist.com reports that seven new comics features have been launched this year—or are poised for launching. "That's a giant leap from the three that launched in 2009," he says. Here are the features with their debut dates:
Dustin, Steve Kelley, Jeff Parker – King Features (January 4)
Diamond Lil, Brett Koth – Creators (March 1)
Barney & Clyde, Gene Weingarten, Dan Weingarten, David Clark – Washington Post Writers Group (June 7)
Oh, Brother!, Bob Weber Jr., Jay Stephens – King Features (June 28)
Freshly Squeezed, Ed Stein – United Media (September 20)
Thatababy Paul Trap – Universal Uclick (October 4)
Dogs of C-Kennel, Mick and Mason Mastroianni – Creators (October 4)
Steve Kelley and Jeff Parker are both editorial cartoonists in their day jobs. Brett Koth (if I've got the name right) is (or was) in animation and works with Jim Davis on gags for Garfield. Gene Weingarten is a writer for the Washington Post, often focusing on comics. Bob Weber Jr. is an old hand, been around for a while; Ed Stein was editorial cartoonist for the defunct Rocky Mountain News and continues in that vein through syndication; Freshly Squeezed revives characters he created for a comic strip that ran only in the News, Denver Square, concentrating expertly, humorously and compassionately on local events.
THE PROPHET THAT WON'T STOP—AND WHY
(As If You Don't Already Know)
Seattle cartoonist Molly Norris, who inadvertently invented "Everybody Draw Mohammed Day" last spring, is now in hiding after her life was threatened by Islamic extremists. Brian Stelter at the New York Times reports that she has changed her name and has stopped producing work for a local alternative newspaper, Seattle Weekly, quoting the newspaper's editor, Mark D. Fefer, who wrote in a letter to readers that "on the insistence of top security specialists at the F.B.I., she is, as they put it, 'going ghost': moving, changing her name, and essentially wiping away her identity."
A Christian expert on Islam is not surprised that Norris was threatened by extremists and forced into hiding, reported Michelle A Vu at the Christian Post. "Intimidation is one of radical Islam's most effective tools," said William Wagner, author of How Islam Plans to Change the World and a long-time Southern Baptist who currently serves as president of Olivet University in San Francisco."They (radical Muslims) are constantly looking for persons who seem to go against Islam and then threaten them," said he. Added Vu: "Extremists used the same tactic to keep newspapers from republishing the Danish cartoons in 2006 and to force Comedy Central into censoring a 'South Park' episode with the Muslim Prophet Muhammad earlier this year."
Wagner went on: "These threats will continue not because of an increased number of those opposing Islam but because [Islamic extremists] have discovered that it is a good method to put the opposition on their heels and at the same time to give more media attention to their goals."
The Washington Examiner, a conservative-leaning newspaper in the nation's capital city, voiced indignant alarm at Norris' fate: "Incredibly, her plight has drawn precious little media attention, even though it is infinitely more newsworthy than, say, a fundamentalist preacher in Florida threatening to burn Qurans." The Examiner asked the American Society of News Editors for a statement on the issue but got nothing. "This despite the fact that the first sentence of ASNE's Web site describes its mission as supporting 'the First Amendment at home and free speech around the world.' We got a similar response from the Society of Professional Journalists, despite its dedication 'to the perpetuation of the free press as the cornerstone of our nation and liberty.'" The editorial continues: "Freedom of speech and press are in deep trouble when the American government thinks the best it can do to protect a journalist from death threats is to counsel her to go into hiding, and when the elite voices of American journalism can't be bothered to say anything in her defense. ...
"Shouldn't the journalism profession be outraged by what has happened to Molly Norris? And shouldn't they be angered that her government believes it cannot protect her? Imagine what they would be saying if white-hooded members of the Ku Klux Klan were threatening to kill Norris in Selma, Alabama, instead of radical Muslims in Seattle. Would the FBI tell Norris she had to stop being a journalist and go into hiding? And would ASNE and SPJ look the other way as the First Amendment and freedom of the press were symbolically turned to ashes by flaming white crosses?
"The reality is that the FBI fought the KKK at every turn, including when it threatened brave Southern newspaper editors who stood up against racism and violence. And from the start, journalists were prominent figures in the civil rights movement, courageously reporting the truth about the crushing stranglehold of segregation on life and liberty across the old South, often at risk of their very lives. It's time the present generation of American journalists found the same brand of courage many of their fathers showed in the 1960s."
At modbee.com, Ayaan Hirsi Ali and Daniel Huff say it's "time to stand up to extremists. It's time," they continue, "for free-speech advocates to take a page from the abortion rights movement's playbook. In the 1990s, abortion providers faced the same sort of intimidation tactics and did not succumb. Instead, they lobbied for a federal law making it a crime to threaten people exercising reproductive rights and permitting victims to sue for damages. The Freedom of Access to Clinic Entrances Act, or FACE, passed in 1994 by solid bipartisan margins. A similar act is needed to cover threats against free-speech rights.
"A federal law would do two things," they continue: "It would deter violent tactics, by focusing national attention on the problem and invoking the formidable enforcement apparatus of the government. And, its civil damages provision would empower victims of intimidation to act as private attorneys general to defend their rights. Such an act is overdue. Across media and geographies, Islamic extremists are increasingly using intimidation to stifle free expression."
I'm not so sure a federal law will serve the purpose. We already have one, you may remember, that covers the situation: the First Amendment to the Constitution. The problem with the Constitution and all its amendments is that no penalties are suggested for persons who violate the provisions of the document. The Eighth Amendment prohibits "excessive bail" and "excessive fines" and "cruel and unusual punishments" but doesn't define "excessive" or "unusual." Nor does it say what will happen to the poor slob who imposes an excessive fine. Should there be a fine for imposing an excessive fine? Or a jail sentence? Would that make the Eighth Amendment more effective? I'm not sure.
Like any federal (or state or local) law, to be effective, it must be enforced. But the provisions of the Constitution become effective only by performance of the actions sanctioned—by assembling freely, by going to the church of your choice. A journalism profession with a little spine might work the requisite wonders: it could use the freedom of press guarantee to re-establish, again and again—with each incoming censorial barrage—freedom of the press by behaving freely. Take, for example, Flemming Rose.
The Further Adventures of the Danish Dozen
Denmark's foreign minister met September 29 with ambassadors from 17 Muslim countries in a move to head off tensions at the five-year anniversary of the publication of cartoons featuring the Prophet Muhammad, reported Jan M. Olsen at the Associated Press. "The drawings first appeared in the Danish newspaper Jyllands-Posten on September 30, 2005, and sparked fiery protests in Muslim countries four months later. ... Foreign Minister Lene Espersen said she met with the Muslim ambassadors and with the heads of the Organization of the Islamic Conference and the Arab League 'to prevent a new confrontation' over the cartoons."
Meanwhile, Flemming Rose, the editor who published the 12 inflamatory cartoons on September 30, 2005 in Jyllands-Posten, isn't helping—although he is continuing his crusade on behalf of freedom of expression. Telegraphn.co.uk reports that on September 29, the eve of the original publication of the cartoons, Rose released his book on the subject, The Tyranny of Silence, in which the notorious Danish Dozen are, once again, printed.
Rose, who has lived for years under police protection because of threats against him over the initial publication of the cartoons, remains as resolute, even defiant, as he was when Muslim outrage about the cartoons ravaged many cities around the world. Said he: "The violence was committed by people who made a decision to react to these cartoons in a specific way. To publish cartoons, religious satire, in a Danish newspaper is not incitation to violence," he said, adding that he did not regret initiating the publication of the cartoons to initiate a debate on freedom of expression in Denmark. "Of course, I do believe that no cartoon is worth a single human life—unfortunately there are some other people who think otherwise."
The book launch came a day after police said an Iraqi Kurd in Norway admitted to plotting an attack on Jyllands-Posten and two weeks after police said the daily was the probable target of a would-be bomber in Copenhagen.
So far, however, there have been no reports of fresh outbreaks of violence in Denmark because of Rose's book and its reissue of the Danish Dozen. But it's early. After their initial publishing in 2005, it took more than four months to muster enough outrage worldwide to destroy property and kill innocent bystanders. Lawrence Wright in "The Talk of the Town" in the September 20 issue of The New Yorker supplies a succinct review of the history of the Danish Dozen, pointing out that only "muted outcry" occurred among the small Danish Muslim community in the immediate aftermath of the cartoons' first publication. Elsewhere, namely in several Muslim countries, "newspapers published the cartoons to demonstrate that they were tasteless rather than vicious. The cartoons, in other words, did not cause the trouble."
So what happened? Wright asks. And answers his own question: "A group of radical imams in Denmark, led by Ahmed Abu Laban, an associate of Gama's al-Islamiyya, an Egyptian terrorist organization, decided to use the cartoons to inflate their own importance." And to score points in a international propaganda war. They took the cartoons around to various countries and showed them to assorted Muslim leaders, and they "included three illustrations that had not appeared in the Danish paper"—one wearing a pig mask, another showing a dog mounting a Muslim in prayer, the third depicting the Prophet as a crazed pedophile. The leaders to whom these pictures were shown were enraged at the disrespect these drawings rained on Muhammad, and they demanded a Day of Revenge. So far, as Wright concludes, we have had five years of it.
Wright's rehearsal of these events is prologue to his report on the Ground Zero Mosque, which, like the Danish Dozen, did not inspire infuriated protest when plans for it were announced last year. It wasn't until August, less than two months ago, that hysterical right-wing bloggers and talk show gasbags got hold of the information, saw it as political cannon fodder, and stoked public outcry with gross misrepresentations of fact and a few fictions in order to drum up support for Teabaggers and other far-right wackos running for office or for notoriety.
So, it's not too late. In fact, it's never too late for loons and other hysterics to build a band wagon and climb on, tooting horns and beating drums and running off in all directions at once in the service of a cause they only dimly understand if, in fact, they realize at all that they are being used by someone else for a purpose they know not of. Denmark could be in flames within a few months.
But in the meantime, we must thank whatever gods we pray to for the determination and grit of Flemming Rose and too few others like him.
SPEAKING OF MOSQUES, here's Simon Moya-Smith, a Lakota Sioux, writing in Indian Country Today (reprinted in the Denver Post, September 6, 2010): "Since time immemorial, the Black Hills in South Dakota have been a holy place for the Lakota Sioux—my people. And to the Lakota, the Black Hills is where life began. Although the story of creation significantly differs between Sioux and Christians (our messenger from the creator came in the form of a woman), Paha Sapa is not unlike Christianity's Eden in its significance. But here is where today's debate over the mosque and my people's sacred site come together: it didn't matter to the Christians, those innumerable settlers who came west seeking gold, land, riches and religious freedom (ironically) that the Black Hills was our holy site, our sacred location, our Jerusalem. No. What mattered was that their monument—Mount Rushmore—be chiseled into it. And the key here is that it was build on, not near, sacred ground. The American Muslim community wants to build their 13-story mosque near the World Trade Center monument, not on it. And for some odd reason, the desecration of the Black Hills continues in the form of the Crazy Horse monument, still in construction....
"Christians obviously feel they have the constitutional right to build what they want, where they want, when they want. I find it most hypocritical that the same Christians who are for building edifices on sacred Indian sites are the very same voices of opposition regarding the erection of a Muslim mosque near round zero. ... But for the sake of doing away with double standards, I think this unfortunate reality for Indian peoples was worth pointing out today. Okay—now back to the immigration debate."
Nuff said, I ween. Well, not quite—:
*****
From The New York Times, via The Week: About 60 Muslims—electricians, ironworkers, financial analysts, restaurant workers, secretaries—died when the World Trade Center was destroyed by Islamic radicals on 9/11. Muslims who worked in the buildings prayed daily at a prayer room on the 17th floor of the south tower. "It had the feel of a real mosque," said Zafar Sareshwala, a financial executive who sometimes prayed there. "It was so freeing and so calm."
TEA STRIPPING
In the interest of political parity, at the Boston Globe, Ward Sutton and "Tea Party cartooner Joe Smith" have fabricated comic strips that counter the rampant liberalism of, say, Doonesbury and Blondie, with the kind of bedrock leak-through irrefudable conservative so-called thinking that distinguishes all Teabaggery (for which information, I am indebted to Alan Gardner at DailyCartoonist). Here's Sutton, introducing the wily contrivance:
"The newspaper comics page: some find it to be innocuous, even at times irrelevant. But there's a growing concern among a certain segment of the country that the comics page is out of step with mainstream values, if not an outright cesspool of treasonous, pinko propaganda. So in the interest of fairness and balance we present comics reinvented by 'Tea Party cartoonist Joe Smith'—with a little help from Ward Sutton."
Smith and Sutton produced nine parodies in all: Peanuts (aka 'Teanuts'), BC ('BP'), Cathy ('Wrathy'), Ziggy ('Zig Zaggy'), Dennis the Menace ('Dennis the IRS Menace'), Garfield ('Garfailed'), Nancy ('Nancy Pelosi'), and The Family Circus ('The Family (Not a Circus, a Sacred Institution)'). Here are the first two:

The rest can be found at:
http://www.boston.com/bostonglobe/editorial_opinion/cartoons/092410_Tea_Party/
For parody along a different line of alleged reasoning, Gardner pointed us to Michael Cavna at ComicRiffs, who reported that New York magazine drama critic Scott Brown and his writing partner Anthony King started bouncing comic strip spoofs about the midterm election off each other until some of it stuck and became published in GQ magazine.
Said Cavna: "Brown and King, both in their mid-30s, say their humor shamelessly strip-mines the pop-culture reference points of their shared childhoods. (They met in high school in Durham, N.C.) Which is how they arrived at sending up Garfield and Peanuts and even the untouchable Calvin and Hobbes for the magazine. Brown and King self-identify as 'flaming moderates' —though they say the state of polarized politics has doused some of those flames."
They worked with artist R. Sikoryak, a notorious mimicker of cartoonist drawing styles, to create nine the parodies for the GQ feature, "The Midterm Funny Pages." Among the nine are the three posted nearby.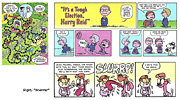 About the Garfield parody, entitled "Boehner," King said: "The parallel of the relationship with Michael Steele as Odie was definitely amazing. That one came to us in an orange flash." In addition to the three I've posted here: a B.C. sendup titled "S.C.," in which South Carolina gubernatorial candidate Nikki Haley, Senate candidate Alvin Greene and Sen. Lindsey Graham stump from prehistoric perches; Rand Paul and Hobbes, in which Kentucky would-be senator Paul (as Calvin) plots to found his own country; an image of a prone, playing-dead Marmaduke, who, in the GQ incarnation is "Blanche Lincoln is Pharmaduke," the "middle-of-the-road" dog having been fender-struck by "Arkansas voters."
Brown and King said almost everything they tried worked: "We rarely self-edit," King kids— except for The Far Side (they say the strip exists too much on its own aesthetic plane) and the soap strip Mary Worth. (Confesses King: "We tried hard, but Mary Worth, she defeated us.")
But none of this would work without Sikoryak's painstakingly precise mockery of other cartoonists' styles. "I enjoy doing political stuff," he said. He scoured digital archives of comics, "striving to be as faithful to each as possible." Said he: "Rather than just say, well, this strip has a scratchy line and this one has a smooth brush line, I found specific poses I could redraw and import. I pulled from and slavishly copied the shading and details for [comic] situations that the original strips would never have."
Fascinating Footnit. Much of the news retailed in the foregoing segment is culled from articles eventually indexed at rpi.edu/~bulloj/comxbib.html, the Comics Research Bibliography, maintained by Michael Rhode and John Bullough, which covers comic books, comic strips, animation, caricature, cartoons, bandes dessinees and related topics. It also provides links to numerous other sites that delve deeply into cartooning topics. Three other sites laden with cartooning news and lore are Mark Evanier's povonline.com, Alan Gardner's DailyCartoonist.com, and Tom Spurgeon's comicsreporter.com. And then there's Mike Rhode's ComicsDC blog, comicsdc.blogspot.com and Michael Cavna at voices.washingtonpost.com./comic-riffs . For delving into the history of our beloved medium, you can't go wrong by visiting Allan Holtz's strippersguide.blogspot.com, where Allan regularly posts rare findings from his forays into the vast reaches of newspaper microfilm files hither and yon.
PLEDGE TO AMERICA
As we've all witnessed, the Gigantic Obstructionist Pachyderm has delivered itself of a "Pledge to America," a gaseous effusion of the usual GOP flatulence, a sort of list of wishes for curing the ills besetting the U.S. Nothing in it is practical (i.e., doable) or, even, pragmatic (i.e., addressing the actual problems). But it apparently makes people feel better to know that one of the Major Political Parties in this land of ours is aware that something needs to be done and has taken a well-publicized step at announcing its recognition of same.
Last week, realizing how helpful it is to the national psyche to be pledged to, the esteemed David Letterman stopped the show long enough to make up a pledge of his own. Taking pencil and paper in hand, Letterman, right there at the desk while on the air, vowed to confect a pledge that would assuage America's worries and ills. After scribbling away for a few minutes, he produced, apologetically, a drawing of a monkey. "I couldn't come up with anything else," he muttered, sadly. I don't know why he's apologizing: I didn't know he could draw at all, and the picture of the monkey is as accomplished a cartoon rendering as many that appear every day on the comics pages of our daily newspaper. Nothing to apologize for, I'd say.
But Letterman got me to thinking. And I decided I, too, should come up with a Pledge to America that would ease the anguish and anxiety among the populace. My pledge, like that of the reviled GOP, is not so much suggesting actual things to do as it is promulgating a scheme by which those things might be done. I found it pinned on a wall in a bookstore in Salida, Colorado. Here it is, the Rancid Raves Pledge to America: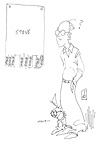 EDITOONERY
Afflicting the Comfortable and Comforting the Afflicted
Early in September, editoonist Daryl Cagle drew the adjoining cartoon as a way of dramatizing the violence rampant in those parts of Mexico where the drug war rages.

"More than 28,000 people have died in Mexico since President Felipe Calderón declared war on drug cartels after taking office in December 2006," reported Rafael Romo at cnn.com. But Cagle's cartoon offended many Mexicans because the cartoonist deployed the Mexican flag in a less than patriotic manner.
Romo quotes Ricardo Alday, a spokesman for the Mexican Embassy in Washington, who said that "as any democratic society, Mexico respects and defends freedom of speech and freedom of expression, in any way it's manifested. Regarding the case of Mr. Cagle's cartoon, we differ on the use he makes of the Mexican flag and the message it conveys."
On the other hand, Mexican cartoonist Paco Calderón reprinted Cagle's cartoon on the front page of the Reforma newspaper, adding his own comment: "I'm not offended by the cartoon. I'm offended by reality and the huarache-wearing Taliban members," he said. Huarache is a type of a Mexican sandal and Calderón was using the reference to talk about members of the seven drug cartels terrorizing Mexico.
Cagle, who is the editorial cartoonist for msnbc.com and operates a website of political cartoons and a syndicate, says his work appears in 850 subscribing newspapers around the world, adding: "All I was looking to do here was make a statement that the violence in Mexico is terrible and make it visually compelling."
In 2008, Romo adds, Mexican pop sensation Paulina Rubio was fined more than $4,000 after posing nude wrapped in the flag for Cosmopolitan, a Spanish magazine.
On or about September 7, Cagle had a good deal more to say on the subject in his blog at his website cagle.msnbc.com, wherein he pointed out various crannies of illogic and irrationality in the incident. Here's most of the blog (in italics):
I've had a crazy week since I drew that cartoon of the Mexican flag with the eagle shot dead by a stream of machine gun bullets. The cartoon illustrates the terrible violence in Mexico ... in a civil war that shows no sign of easing. I got a spirited, angry reaction on my blog and in e-mails from Mexican readers who objected to my "desecration of the sacred Mexican flag."My cartoon appeared at the same time as Calderón's state of the union address to Mexico's Congress in which Calderón claimed to be making progress in the worsening drug war. Mexico's conservative, national newspaper Reforma, and other papers in their chain, published my cartoon at the top of their front pages. The convenient timing of my cartoon "scandal" was an opportunity for Reforma to make an effective front page dig at Calderón, and soon the cartoon was picked up by almost all of the other Mexican newspapers. The Mexican Embassy in Washington responded to the cartoon with a letter to my home publication, msnbc.com, stoking the cartoon controversy even more.
Many outraged Mexican readers pointed out that it is against the law in Mexico to alter the image of the flag—a law that didn't deter Mexican newspapers from printing the cartoon.
There are raw nerves all around. I'm still being deluged with online comments and e-mails, half from angry Mexicans who think the image of their flag must never be tampered with. The Mexican mail is laced with colorful profanity, about how America is the cause of all of Mexico's problems, with our demand for drugs and our guns fueling the violence.
The rest of the responses are supportive of my cartoon, some from Mexicans who say my cartoon describes how they feel, others from angry Americans who see any criticism of Mexico as supportive of their anti-immigrant fervor. Conservative readers seem to take glee in sending me dozens of photos of Mexicans disrespecting American flags in every imaginable way. The Mexican readers write that the American flag is "not the same" and "you Americans respect nothing—you wear your flag in your underwear!" (The flag-underwear reference is a popular one.) I also hear a lot about how "you Americans use your 'freedom of speech' to crap on everyone else!"
Another popular argument is that the "sacred" Mexican flag is just like the Prophet Muhammad, and no cartoonist should dare to draw the Mexican flag just as they wouldn't dare to draw Muhammad. I generally respect religious beliefs and I shy away from religion bashing in my cartoons, but I don't grant the same respect to governments. It is the role of editorial cartoonists to criticize governments and nations, and to use the symbols of nations in our cartoons. Cartoonists all around the world use flags in their cartoons and no country can opt out of criticism because they view their own flag as "sacred". This attitude outrages my Mexican critics, especially since it comes from an ugly, foreign, American cartoonist.
Ever since the Danish Muhammad cartoon crisis I get mail on various topics, from readers who want offending cartoons removed, demanding apologies—"just like with the Danish Muhammad cartoons."
In the old days readers would write thoughtful letters to the editor of their newspaper; now readers expect to interact in real time with the cartoonist; they want to strike back and get retribution for the perceived offense. A few hot-button topics always get the responses: Mexico/immigration, the Confederate battle flag, abortion, gun control, Israel vs. the Palestinians and Islam. The e-mails are always the same: punish, fire or educate the ignorant, racist cartoonist; ban the topic in cartoons; apologize.
Part of the friction comes from a basic misunderstanding of what an editorial cartoon is—some people think editorial cartoons are supposed to be funny jokes. A good editorial cartoon might be funny, it might make readers cry, or think. And sometimes a cartoon that makes readers angry is the most effective cartoon of all.
*****
IT IS A WIDELY ACCEPTED TRUTHINESS that editoonists rejoice at our periodic Election Seasons because politicians running for office commit such wholesale silliness that they make the editoonist's job easier. The candidates are, in effect, walking and balthering cartoons, ready-made.
Not true, entirely. The editorial cartoonist's job is harder during an Election Season than it is during normal times. That's because all editoonists have their collective eye on the same ready-made sillinesses as they spew out on the front pages of the nation's newspapers, and so they all risk producing the same cartoon on the same days. Finding among the crop in any given month of the Election Season any cartoon even approaching distinctive individual originality is well nigh impossible. Or so they say.
Actually, it's easier than you might suppose. Herewith, at your elbow, four from the last few weeks that seem to me either to sparkle with original insight and imagination or, conversely, to molder with commonplaces easily anticipated.

Commencing clockwise from the upper left, we have two in succession by David Fitzsimmons. The first puts into words and pictures what most critics of the Teabaggers have been saying for weeks—although "Your secret's safe with me" seems a twisted novelty. Last week's Time published a letter from a reader who said substantially the same thing; Time put it in 24-point bold letters: "Hey, Tea Partyers, set an example. Are you on unemployment? Stop checks today! Medicare? Cut up the card. Put up or shut up!" The difference is that Fitz's cartoon visualizes the idea and is therefore, perhaps a little more memorable than words alone, however provocatively sarcastic they are.
Fitz's next opus works by exaggerating the circumstances in the Terry Jones debacle to make a workmanlike cartoon out of a real-life situation that was, itself, so cartoonish that it needed little assistance from an editorial cartooner. The idea of downloading the Koran and deleting it seems to me a genuinely inventive notion.
Rob Rogers does what he often does: he points out the comedically terrifying difference between what we say and what we are. But here, he does it with mirrors. Next, Nate Beeler is just plain funny. He gives visual reality to what the Reasonable Among Us believe; whether it's true or not is immaterial.
Our next slide alludes to a subject that we never tire of issuing exhortations about. Education. American public education is in crisis. Again. The American Youth are not being educated. Despite the widely accepted assertion that American schools fail to perform the function for which they instituted, the country managed, against all odds apparently, to survive the 20th Century. Not only did we survive it, we emerged at the top of the heap, nearly, on the international scene. Militarily, no nation can match ours: and we have proved that we can destroy a country without hardly trying. Technologically, too, we reigned supreme for most of the century. And we're still a major threat even if China or Japan is in first place. How this was achieved with the rotten public schools we have is open for fervent debate. But not by me. I'm content.
Every 6-9 years, the American educational system comes in for bashing. Yet it survives pretty much as it's been since the 1930s. And American institutions, political and social and economic, continue to triumph. In the long run. By way of proving just how cyclically regular the criticism is, I'm posting two cartoons in this neighborhood. They aim at a slightly different aspect of life and learning in American schools, but they make my point just the same: we've heard it all before.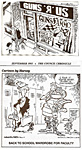 At the top of the illustration is the cartoon Bill Schorr concocted a few weeks ago in honor of our Annual Back to School Festivities. Below that, a cartoon I conjured up 17 years ago when I was drawing editorial cartoons for the member newspaper of the National Council of Teachers of English. Apparently, not much has changed. (The rabbit, by the way, is imitating Arnold Schwarzenegger's pose in promotions for a movie current at the time, "The Last Action Hero," a suggestion that classroom teachers are heroic, too.)
BADINAGE AND BAGATELLES
"Sarah Palin said she would run for president if nobody else steps up—which explains why today, nearly every person in the country announced they were running for president."—Jimmy Fallon
Asked by Personality Parade's Walter Scott whose songs he plays while making love, Rod Stewart was apparently serious when he divulged: "I tend not to put music on when making love because I need to concentrate. You'd think I'd have gotten it right by now, with seven children and another on the way, wouldn't you?" Well, practice makes perfect, as they say. But it's nice to have it widely publicized, at last, that making love takes concentration. It ain't like falling off a log no matter what the over-heated uninitiated Youth of America may think.
"I tend to live in the past because most of my life is there." —Herb Caen, a journalist
"What have future generations ever done for us?"—Groucho Marx, a philosopher
THE FROTH ESTATE
The Alleged News Institution
In 2009, the news programs of the three broadcast networks averaged in the aggregate over 22 million viewers: NBC ranked first with 8.9 million; then ABC with 7.7 million and CBS with 5.9 million. Over at the much discussed (even feared) Fox network, "The O'Reilly Factor," the most popular prime time cable news program, averaged only 3.3 million viewers. In short, comparatively speaking, almost nobody is watching news as it is being filtered through the conservative sensibilities of Fox. So why does the rest of the news universe continue to pay attention to what goes on at Fox?—lamenting its putative (but mostly confected) appeal, bemoaning the imagined size of its audience and therefore its suspected influence. Clearly, as a statistical matter, what Fox thinks and says is of almost no consequence, exactly as it should be. Ironically, it's the other news media that give Fox its power and influence by forever blathering on about its biases and distortions and their postulated impact upon political and public affairs.
Which brings us to the fallacy by which all tv-news media thrive. Politicians react to what they see on the tv-news. Not because they believe it: since much of the political coverage consists of spreading the half-truths the politicians themselves fabricate, they know what they're seeing on the tube isn't true. But they imagine the rest of the viewers—all of us moron citizens—are watching tv-news too and believing what we see. Hence the fallacy: many of us do not believe what we see. And not many of the total population of the U.S., 308 million, are watching anyhow.
So much for the touted power of the press. Yes, it's powerful; but not in the way it imagines it is.
*****
IN THE RELATIVELY PLACID AFTERMATH of the Koran burning episode, David Sirota remembers in his syndicated column historian David J. Boorstin's "most renowned prophecy" and realizes that it's come to pass:
"In his 1961 classic, The Image, Boorstin famously predicted that real news and serious [public affairs] discourse would eventually be replaced by a 'new kind of synthetic novelty' called 'pseudo-events'—synthetic for their media-manufactured artificiality, pseudo for their lack of authenticity. Though these contrivances attract attention, Boorstin correctly pointed out that they typically represent no deeper ethos than vainglory. That describes the hullabaloo surrounding the Florida pastor Terry Jones and his plans to burn the Koran. ... And as pundits and their couch-potato sycophants lit up cable-tv and talk radio with arguments about Jones potentially inciting a terrorist blowback against U.S. troops, few bothered noting that the killing of between 600,000 and 1 million Iaqui civilians in our war has probably done far more to prompt such a blowback. No, we are too mesmerized by the synthetic novelty. ... We don't think to ask uncomfortable questions, nor do we strive for enlightened perspective. We instead tell ourselves that by joining in the cartoonish pseudo-events, we will magically defuse pressing crises—even as our participation in those pseudo-events allows those crises to fester."
*****
HERE'S A REFRESHING DEVELOPMENT, destined to rescue the Republic that Sirota sees sinking into synthetic non-reality. Defrocked New Yorker governor Eliot Spitzer is going out in public again, this time as co-host (with Kathleen Parker) of a new CNN news and opinion program. Spitzer no longer aspires to a political career; he's now, he says, a journalist, a crusading journalist—perhaps even, a savior journalist, as we learn from his interview with Parade's David Gergen (October 3). Said Spitzer: ""Over the last 20 years, the integrity of journalism as reporting has been lost. What we now have is journalistic advocacy, which has diminished the quality of news. I will be a commentator who will try very hard to present fact as fact; opinion will be clearly denoted as opinion."
It's not so much opinion disguising itself as fact that is corrupting journalism, Eliot: no, it's the determined ignoring of the news that has destroyed journalism as a news medium.
BOOK MARQUEE
Unfettered Reviews plus Clamorous Proclamations of Coming Attractions
Ah Pook Is Here, an experimental graphic novel by William Burroughs, celebrated Beat author of The Naked Lunch, will be published next summer by Fantagraphics, announced guardian.co.uk. Burroughs began the project over 40 years ago, teaming with artist Malcolm McNeill to produce a monthly comic strip for the English magazine Cyclops. "After the magazine folded, they worked to develop the concept into a full-length book, which they dubbed a 'word/image novel' because the term graphic novel had yet to be coined. But no publisher was interested, and after working on the book for seven years, the pair eventually abandoned it."
Calling the Pook book not "so much a comic book as an experiment," McNeill said: "Bill once remarked in an interview that '... nobody seems to ask the question what words actually are. And exactly their relationship to the human nervous system.' It was a concern he dedicated much of his life coming to terms with. Using words essentially to determine what words can do," said McNeill. "In the case of Ah Pook Is Here, he recruited images to the cause."
The Guardian also quoted Fantagraphics publisher and acquiring editor Gary Groth, who said the graphic novel was "quite possibly the last great work" by Burroughs, who he called "one of America's most original prose stylists," to be published. "Burroughs once said that 'The purpose of writing is to make it happen.' We are proud to make Ah Pook Is Here finally happen," he added.
Fantagraphics will also publish McNeill's memoir Observed While Falling, about his collaboration with Burroughs.
****
Sid Jacobson and Ernie Colón are writing and illustrating Anne Frank: The Anne Frank House Authorized Graphic Biography (Hill and Wang, $30 hardcover; $16.95 trade paperback). It's "the crown on our careers," said Jacobson. He and Colón, veterans of the comics and graphic novel genres, have become specialists in non-fiction department, having also created The 9/11 Report: A Graphic Adaptation (2006), After 9/11: America's War on Terror (2001) and Che: A Graphic Biography (2009), which we'll be reviewing here later this month or early next. Their Anne Frank goes beyond the period embraced by the girl's diary, reports Carol Memmott at USA Today: it relates the story of the Frank family, starting with her father Otto's birth in 1889 and ends with investigation into the deaths of Anne, older sister Margot and their mother, Edith, in concentration camps, and then goes on to detail Otto's commitment to sharing Anne's diary with the world. As with their other non-fiction efforts, Jacobson and Colon aim for absolute authenticity: "Working from letters, photos and documents supplied by the Frank museum in Amsterdam, which commissioned the project, the biography is as visually and historically accurate as possible—down to the clothing worn by the Franks, the military uniforms of the Nazis, the furniture and layout of the Franks' secret apartment, and Bergen-Belsen, the camp where Anne died in March 1945 at age 15."
Also on the brink of release is Mary-Lou Weisman's biography Al Jaffee's Mad Life (It Books, 240 pages, $27.99) illustrated by Jaffee. "The book," writes Eddy Portnoy at forward.com, "couldn't have a more apt title. Jaffee's engaging tales of his mad, mad, mad childhood are even stranger than his long tenure as a cartoonist at Mad magazine. A journey through the Jewish bizarre, Jaffee's life story starts out as a near-typical one of a family of Jewish immigrants, but then takes a series of crazy twists and turns, one of which lands him on a Birthright-shtetl program."
*****
THE STACK OF BOOKS in my Pending Review Pile here at the Perpendicular Pronoun Press Intergalactic Wurlitzer is about four feet in altitude. And that's just the pile. Stretching in a different dimension, there are also numerous shelves of books in the same category down in the Book Grotto. In the interest, then, of whittling this mound down, let me, forthwith, hasten through several of them with abridged "reviews" just so you know what's out there, eagerly awaiting your perusal.
IDW STANDS FOR IDEA AND DESIGN WORKS, as is plainly evident in any of its now numerous comic strip reprint tomes, the hallmark of which is a bound-in ribbon bookmark. In the "Design" and "Works" categories, we find the books painstakingly designed to display to advantage the classic comic strips that the honchos of IDW's Library of American Comics, chiefly Dean Mullaney, have selected for reviving. In the case of King Aroo, for instance, the oblong shape of the book accommodates three daily strips to each of the 342 7.5x9.5-inch landscape pages, providing a spacious showcase for cartoonist Jack Kent's simple, low-key albeit fully fledged art at merely $39.99. The "Work" involved, first, finding relics of the comic strips in a condition worthy of reproduction (and in this case, Kent's son and heir, Jack Jr., has made available some original art and a hoard of unblemished syndicate proofs) and then couching the entire production in an informative and entertaining context, to wit—Bruce Canwell's introductory biographical essay embellished with a generous array of illustration from Kent's early life and career. Delicious. The "Idea" part is revealed in the astuteness of the management's selection of King Aroo as being worthy of disinterment.
This legendary treasure has not seen the light of day since the 1953 paperback publication by Doubleday of a much too brief selection from the strip's run. Entitled simply King Aroo, it was the only comedic oasis to which we could repair for the savory entertainment afforded by Kent's plot whimsies and visual gambols. The Doubleday opus is introduced by Gilbert Seldes, a critic who is revered in our milieu for a celebrated chapter in his book, The Seven Lively Arts of 1924 wherein he extolls George Herriman's not-yet-famed Krazy Kat as high art, not low scribbling. Addressing himself to King Aroo, Seldes begins by reminding us of Herriman's "personal fantasy" which "had projected his vision into something well-night universal." And then he gets to Kent:
"In this intimidated world, the practitioners of fantasy assert themselves not as direct satirists but as a loyal opposition to the rule of the unimaginative. They say, in effect, that, no matter what you make of this world, there is another you cannot touch. They do not have to say that the world of fantasy is a superior one; merely by reminding us that it exists, they challenge the powers that control our daily lives. Jack Kent brings to the small company of fantasists the primary faculty of being able to create a compact universe that adheres strictly to a logic of its own. The personal center of this comic cosmos is King Aroo himself; his court, cabinet, and royal entourage consists of one individual, Yupyop, who at times is and at times is not a Yes- (or Yop-) man. To the court in Myopia come assorted characters, man and beast, and whatever does not come is encountered on the voyages the King and Yupyop undertake. They arrive from all the bestiaries in the world, including dragons from fairy tales and sorcerers from the court of King Arthur and villains from the melodrama of yesterday (complete with mortgage on the royal grange). There seems to be an endless succession of them, a new batch every week or so, and although some of them recur, it is clear that Kent does not have to husband his strength: he is copious as well as imaginative."
Selden continues: "You are going to see the pictures and wherever you turn you will find a characteristic series, whether it is Yupyop misreading his book of magic and turning the guinea pig into a moose instead of a mouse or the King fighting a most reluctant dragon and being disappointed because—in spite of the storybooks—no beautiful Princess comes to reward him with her hand. It is typical of Kent that presently the Princess does arrive and typical also that she came to borrow a cup of sugar. ... Kent's exuberance of language, the quirks in his vocabulary are as specific marks of imagination as the constantly curving line he favors for the drawing of his small round characters. Perhaps the limitations of space have forced on him the dumpy dwarfishness of King and court and small beasts; perhaps (more likely) that is the way they were spontaneously generated in his mind. However it may be, it is only their bodies that are squeezed and constricted; their minds are gloriously free, they are ready for anything and, in the course of time, everything happens to them."
Here, by way of exemplifying Seldes, are a couple pages of daily strips from IDW's book and a Sunday, whereupon we meet the King and Yupyop and a couple of the denizens of Myopia, Aroo's acre-sized kingdom.
Canwell's essay is about Kent, not Aroo, which is why I've quoted so extensively from the earlier compilation's introduction. Canwell, coyly assuming the guise of a fiction dubbed The Talking Man, recounts Kent's adventures as a child prodigy in drawing, his entry into cartooning as a profession by assisting Elmer Woggon on his strip, Chief Wahoo (where an errant typographical error says the reporter Wahoo teamed up with was Steve Nomad, a portmanteau misapprehension that combines the authentic Steve, whose last name was Roper, with a subsequent strongarm assistant named Mike Nomad), Kent's stint in the Amy during World War II, and, finally, his selling King Aroo to McClure syndicate in 1950. Throughout, Canwell decorates his prose with copious representatives of Kent's youthful cartooning, photographs, and a revealing example of an early invention, a strip called Willy Nilly, that sparkles with what we now recognize as the regal nonsense of Aroo.
King Aroo, like another sublime instance of the cartoonist's art, Barnaby, ran only a short time—just 15 years; and this volume begins with the first release on November 13 and ends two years later. The compilation includes Sundays as well as dailies, but the Sundays, which regale us with a different continuity than the dailies, appear in a separate section rather than being integrated with the weekday offerings. All, a boon to historians (and a persistent editorial policy of IDW in all its reprint volumes), dated with month, day, and year of publication. According to Canwell in an interview by Burgin Streetman in San Antonio Current, Kent retired King Aroo in 1965 and, while hoping to launch another strip, he wrote and illustrated children's books. In the next twenty years before his death in 1985 of leukemia at the age of merely 65, Kent produced 40 such concoctions and illustrated 22 more written by others. But you wouldn't know it talking to the man: he was preternaturally self-effacing.
In an autobiographical spasm, Kent, quoted by Streetman, wrote with becoming modesty: "Getting from 1920 [the year of his birth] to the present with a minimal loss of parts and facilities has been my most noteworthy accomplishment. ... The very 'comic' strip King Aroo ... made me famous for blocks around. Since 1967 have been writing and illustrating children's books. There have been over 40 up to this time (2:45 p.m., but my watch may be slow) and more are in the womb. I'm having fun, my wife is an angel, my son is a genius, and I am thrice blessed." Judging from the Kent on display in King Aroo, his autobiography is a pretty accurate portrait of the man and the artist.
The second volume of what I hope is a "complete King Aroo" publishing project will be out in November. The Talking Man will continue his coy narrative and may tell us why Kent really abandoned his brain-child in 1965. Until then, we have the two-year run at hand to savor. And here, by way of rounding out this essay, is an excerpt from one of Kent's children's oeuvre, Jack Kent's Fables of Aesop.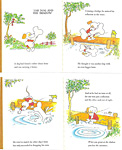 ANOTHER IDW UNDERTAKING will reach its third $49.99 volume in November, the complete reprinting of all of Alex Raymond's Rip Kirby, "the first modern detective," as it says on the cover. The second volume offered strips from December 6, 1948 through September 22, 1951. The format, 11x10-inch pages, landscape binding, with only three daily strips per page, provides ample display for Raymond's surpassing artistry with pen and brush. Alas, the reproduction, while superb, is only as good as the source material, and in some of the sources for this volume—but by no means all—Raymond's more fragile lines have fattened up, robbing the visuals of the high contrast between filagree fine-line and masterfully spotted solid blacks, a hallmark of Raymond's Rip Kirby. Still, enough of the strips are reproduced from good proofs that we have more than a mere sampling of the cartoonist's spectacular styling in black and white.
And we have the stories themselves. As in the previous volume, IDW gives credit to Raymond's co-author, King Features general manager at the time, Ward Greene, who was an accomplished novelist. Greene and Raymond and King's comics editor, Sylvan Byck, met weekly to fine-tune plotlines and write dialogue for the strip, as Brian Walker explains in the introduction to the inaugural volume.
For this volume, Walker again supplies an excellent introductory essay. In the previous volume, he waxed biographical; here, he offers a truncated history of the National Cartoonists Society, dwelling on Raymond's connection to the club; he was its third president.
AL CAPP'S LI'L ABNER is another on IDW's ballooning list. The first $49.99 volume, reprinting the strip from its debut on August 13, 1934 through December 15, 1936, appeared last spring with an Introduction by Denis Kitchen, whose Kitchen Sink Press reprinted the strip in 27 volumes through 1961 before sinking. Unhappily, jamming 5 strips onto each 9x12-inch page, the IDW book scarcely showcases Capp's artwork, which isn't much to rave about at the beginning, when it looked as labored as it was, but after a year had assumed its mature style which deserves a more generous display. Ironically perhaps, this first volume is dedicated to the late Dave Schreiner, Kitchen's long-time friend and editor, who shepherded the KSP volumes into print with just 2 strips to each 9x12-inch landscape page, an enviable vitrine. But the KSP series is out-of-print, and Capp's masterwork, an monument of American satire, deserves preservation, so we are grateful that IDW has undertaken the task.
Bruce Canwell again provides a biographical essay, including a healthy dose of rare photographs and artworks. Among the latter, Capp's comic strip autobiography as manufactured "by Li'l Abner" for publication in Life magazine (June 24, 1946), a condensation of the version Capp distributed to amputee veterans of World War II. Capp was among the several cartoonists in the New York-Boston area who regularly entertained convalescing GIs during the war years with chalktalks committed at nearby military hospitals. After the shows, Capp, who had lost a leg as a youth, was invariably called aside by amputees for private chats. Later, he told his colleagues the discussions always revolved around the same question: what will the girls think? And Capp always gave the same answer: it will make you twice as interesting.
But the treasure in the Canwell contribution lies in four Joe Palooka Sunday strips from the fall of 1933 (October 29 through November 19). In these strips, prize fighter Palooka meets and fights an outrageously uncooth hillbilly named Big Leviticus, whose strength and gross lack of social graces cannot help but evoke Capp's later invention in Li'l Abner, the murderous Scraggs. No surprise: Capp, who assisted Palooka's creator, Ham Fisher, during 1933, reputedly wrote as well drew this sequence.
Years later, Fisher contended that Capp's inspiration for his hillbilly strip came from this sequence in Joe Palooka, which, Fisher strenuously implied, he, not Capp, had conceived and executed. Fisher's claim precipitated a long-running feud between the two cartoonists, ending, at last, in Fisher's suicide in December 1955. With these Sunday Palookas before us, we can easily determine that they were at least drawn by Capp: characteristic hand gestures, for instance, are tell-tale clues. The legend is that Capp wrote the sequence, too, while Fisher was on an extended vacation in Europe. The truth of half of the Capp contention—that he drew the sequence—tends to validate the other half, too—that he wrote it. (And it certainly reads like Li'l Abner; Capp could not have absorbed enough from a Fisher-written story to launch Abner let alone to sustain it for nearly 40 years.) Fisher's plaintive allegation that he, not Capp, had "created" Li'l Abner out of Big Leviticus is probably unmitigated balderdash. But without the evidence of the Palooka strips reprinted herein, we'd lack the kind of proof that establishes the fact.
Like many strips, Li'l Abner retailed a different story on Sundays than it told on weekdays, a tactic that permitted readers of papers that bought only the Sundays to enjoy a complete story; ditto readers of papers that published only the dailies. This volume includes the first ever reprinting, in full color, of the Sundays, which began February 24, 1935, six months after the daily Li'l Abner started; Sundays were among the missing in the Kitchen Sink series.
THE SHELVES OF IDW'S LIBRARY OF AMERICAN COMICS now brim with books of classic comic strips. The Terry and the Pirates reprint was completed at five volumes a couple years ago. On-going are multi-volume compilations for Dick Tracy and Little Orphan Annie. Strips of more recent vintage are also on the list—The Family Circus and Bloom County. And a couple single volume projects top off a feast of masterworks—Scorchy Smith and the Art of Noel Sickles and Bringing Up Father: From Sea to Shining Sea—most of which we've reviewed here before; check the annotated opus Archives. In production with a release date just a few days off is the first volume of Blondie, starting with the strip's debut in the fall of 1930 (280 9x11-inch page, b/w; $49.99). Once we get our hands on that tome, we'll be able to determine, for once and all, whether Blondie began on September 8 or September 15 that year, heretofore a mildly disputed fact: comics entrepreneur Jeff Lindenblatt said a while or so ago that he's been unable to find any published Blondie strips dated earlier than September 15, despite many assertions to the contrary. We'll see. And we'll let you know.
Also in the offing (and perhaps even now out and about), Archie: The Complete Daily Newspaper Comics, 1946-1948. This is the initial run by Bob Montana, who actually concocted most of Archie; and if you don't believe that, dash over to Harv's Hindsights for Spring 2001 (look for John Goldwater, self-proclaimed founder of Archie Comics). Others on their way from IDW: Genius, Isolated: The Life and Art of Alex Toth (November, 2011); Ultimate Alex Raymond Collection: The Definitive Flash Gordon and Jungle Jim (3 or 4 volumes starting in 2011); Miss Fury by Tarpe Mills: The Best of the 1940s (Spring/Summer 2011); The Complete Crawford 1977-1978, that curiously imaginative opus by animator giant Chuck Jones (Christmas 2011); the irrepressible Smokey Stover by Bill Holman (Christmas 2011); and selected 1920s Sparkplug racing stories from Billy DeBeck's landmark Barney Google (out now, 224 10x10-inch pages, b/w daily strips and color for the extras) which includes rare art and ephemera collected and assembled by editor Craig Yoe, who has collected and assembled some of the medium's most hard to find rare art and ephemera for other classics.
Meanwhile, Dean Mullaney said last summer at a panel presentation during the Sandy Eggo Comic-Con that he's been inundated with suggestions for other classic strips to reprint. We'll see, like I said.
FANTAGRAPHICS BOOKS (FB) IS ANOTHER PUBLISHER with an ambitious classic comic strip reprint agenda. Two ongoing projects, E.C. Segar's Popeye and Hal Foster's Prince Valiant, are reprising earlier Fantagraphics orchestrations. The first Fanta Popeye project began in July 1984 and was one of the two pioneering reprint efforts, NBM was the other (about which, more next time). Launched in 2006, the current Popeye enterprise is up to the fifth and penultimate volume in a giant-size 10x15-inch format that permits printing Sunday strips in color at a size approaching that of their original publication; $29.99 each. Sunday pages include the topper Sappo. The earlier Popeye volumes published the Sundays in black-and-white in a series of out-sized 10x14-inch books, followed by the dailies in 8.5X11-inch landscape volumes, a dimension that permitted the strips to be reproduced at slightly larger size than the present undertaking. In the latest volume of the revival, Popeye's father, Poopdeck Pappy, makes his debut, as does the magical Jeep, which, it has long been rumored, was the inspiration for the name of the military vehicle.
Maybe. Maybe not. Wikipedia says this about the naming: "There are many explanations of the origin of the word jeep, all of which have proven difficult to verify. The most widely held theory is that the military designation of GP begat the term "Jeep" and holds that the vehicle bore the designation "GP" (for "Government Purposes" or "General Purpose"), which was phonetically slurred into the word jeep. However, an alternate view launched by R. Lee Ermey, on his television series "Mail Call," disputes this, saying that the vehicle was designed for specific duties, and was never referred to as "General Purpose" and it is highly unlikely that the average jeep-driving GI would have been familiar with this designation. The Ford GPW abbreviation embraced G for government use, P to designate its 80-inch (2,000 mm) wheelbase and W to indicate its Willys-Overland designed engine). Many, including Ermey, suggest that soldiers at the time were so impressed with the new vehicles that they informally named it after Eugene the Jeep, a character in the Popeye cartoons. Eugene the Jeep was Popeye's 'jungle pet' and was 'small, able to move between dimensions and could solve seemingly impossible problems.'" Just like the vehicle. At the appropriate Wikipedia entry, you can find other explanations; but I give a segar to the latter.
For the current Prince Valiant enterprise, as we observed here months ago (Opus 252), Fantagraphics found better source material, to wit—a nearly full set of pristine color engraver's proof sheets of almost the entire Prince Valiant run, carefully preserved by Foster and donated to Syracuse University, which provided scans for Fantagraphics' use. You can, with the aid of a magnifying glass, see that lines that are supposed to be solid are pixilated (masses of dots rather than unbroken line), but that is a quibble that does not detract from the over-all appearance of the art; in fact, by softening ever so slightly the edges of the lines, the pixels add an entirely pleasing effect to the pictures. Apart from having higher quality source material than was available for earlier Valiant endeavors, advances in digital color technology permit more faithful reproduction. Previous editions of Prince Valiant—the Nostalgia Press effort in the 1960s and Fantagraphics' 40-volume set (produced 1984-2004)—recolored the pages, but the color didn't duplicate the appearance of the original publication of the strip, and the linework was often blotchy. But the present effort is wonderfully faithful to the originals: not only is the color itself much much better, but the linear detail is stunning. The current volumes reprint twice as many pages (124) per book as the earlier effort and the pages at 10x14-inches are slightly larger than the predecessor's. But it's the fabulously high quality of the reproduction that makes these volumes a bargain at $29.99 each; Volume 2, reprinting two years, 1939-40, is now available.
In it, Mark Schultz, current writer for Prince Valiant (being drawn nowadays by Gary Gianni) and an accomplished illustrator in the Frazetta-Williamson tradition and absolute master of the Xenozoic (the completeness of which is soon to be released by Flesk), supplies the Foreword in which he contends that Foster was "primarily a cartoonist, working with and exploiting the opportunities unique to the sequential medium" not, as is often argued, "a traditional illustrator squatting on the comics page while remaining largely aloof from comics conventions." In support of his argument, Schultz says that Foster, conscious of the capacities of the Sunday funnies in color, deliberately simplified his drawing mannerisms, resorting to simple outline and high contrast style rather than using hachuring and the other tone-building techniques customarily employed by illustrators. In effect, saith Schultz, Foster is a cartoonist because he used the drawing techniques of cartoonists and did so in the Sunday comics section where cartoonists were published. (Oddly, Gianni swerves off in the other direction, hachuring like an illustrator; nice-looking art in almost any venue but a newspaper's Sunday funnies section, wherein, alas, Gianni's Valiant is too often published at a much too small a dimension to enable us to appreciate the artist's visual effects.)
I, too, hold that Foster is a cartoonist, a conclusion I came to after holding the contrary position for years. My definition of comics, which I call a "description," begins with the notion that the art of the cartoonist consists of blending words and pictures, in which the former invades the plane of the latter via speech balloons, chiefly. My description seems to exclude Alex Raymond's Flash Gordon as well as Foster's Prince Valiant, iconic masterpieces that have served in such confabulations as this to elevate the status of newspaper cartooning to Art. Ditto the somewhat less iconic Tarzan by Burne Hogarth and Lance by Warren Tufts. And for a long time, I agreed with the implications of my visual-verbal blend theory: these works, I said, are not comics. They consist of pictures with text underneath telling a story. They are, perforce, illustrated narratives but not comics.
True: they were published in the Sunday comics section of newspapers. But the place of publication, I said defiantly, doesn't make them comics. Not any more than William Donahey's Teenie Weenies is a specimen of comics: the feature was published in the Sunday funnies, but it consisted of a single picture illustrating a text short story. Not comics despite its venue.
I have since thought better of this flip formulation. After all, the physical relationship of pictures to words in Prince Valiant is the same as in the venerable gag cartoon, and the words undoubtedly amplify the narrative import of the picture under which they appear, and vice versa. The words don't always explain the pictures as they do in a gag cartoon: they are not the key to a puzzle that the picture represents as captions are to the picture in a good gag cartoon. The relationship between pictures and words in Prince Valiant or Flash Gordon seems tangential rather than integral. In most instances of these works of Raymond, Foster, Hogarth and Tufts, the narrative, the story, is carried almost entirely in the text. We can understand the story without considering the pictures.
Well, yes, but—but the pictures in Prince Valiant undeniably create the palpable ambiance of the story; they give it sweep and grandeur. While the words are honing the personalities of the characters, the pictures sometimes create ironic humor over staid prose. And Flash Gordon, without the heroic elegance of its pictures, is a shallow, sentimental saga. Many children's books are not substantially different in appearance from Prince Valiant and Flash Gordon: every page with its brief allotment of text carries an amplifying illustration. Still, Foster and Raymond did a little more for their narratives with their pictures than the average children's book illustration does for its narrative. The pictures supply visual information that fleshes out the narrative text. And the text imparts nuance to the pictures.
The words and the pictures may not blend, precisely, to create a meaning neither conveys alone without the other, but their interrelationship is intimate and complementary. Within the category of pictorial narrative, Prince Valiant and Flash Gordon and Tarzan and Lance are therefore closer to being comics than they are to being illustrated children's books.
And that's where I left this discussion in previous airings—right here, with the question suspended in a warm limbo of imprecision, half-answered, half-unanswered, rather than to belabor it further with a fussy pedagogical exactitude. Art is not precise. And appreciation of the achievements in art doesn't require as much precision as the pedagogue imagines it does. In the last analysis (for the time being), comics are a species of pictorial narrative. So is a rebus. So is Prince Valiant. So are many of today's children's books. "Pictorial narrative" includes all of these as subsets. But the subsets are not interchangeable: each has distinguishing characteristics that set it apart from the others. Maybe Prince Valiant and its ilk belong in a subset all by themselves, but probably they are comics. (For an exhaustive not to say tedious belaboring of this subject, visit Harv's Hindsights for December 2005.)
In any event—regardless of the position you choose to take on the question—the Fantagraphics reprinting of Foster's Prince Valiant is a high performance achievement, superior to anything that has gone before, and worth every penny, volume by volume, of its price.
ROY CRANE'S CAPTAIN EASY is another Fantagraphics endeavor in which Sunday strips are published at a suitably larger dimension, 10x15-inch pages. Using color scans of Sunday pages as published in newspapers, these books duplicate with startling effect the riotous hues of the strip's first appearance. The action is footloose and rollicking, the freewheeling sort that inspired a generation of syndicated cartoonists in the 1930s, and Crane skillfully deployed the resources of the spacious Sunday strip format, varying layouts to give visual emphasis to the action. Beginning with the first Captain Easy strip, July 30, 1933 (which, incidentally, includes a spectacular drawing of a snow-covered mountain range in the manner that Milton Caniff "stole"—Caniff's word—for his own rendering of the Himalayas in Terry), the book concludes with the Sunday for December 1, 1935 and includes many engaging lagniappes and revealing sidebars along the way.
Crane's first foray into the Sunday paper was one-tier gag version of Wash Tubbs (which we saw first in NBM's 18-volume reprint series that started in 1987 and ended in 1992), but, as Jeet Heer tells us in his Introduction, Crane grew weary of the antics of his pint-sized Harold Lloyd hero and concocted the Sunday Captain Easy, focusing on the footloose soldier of fortune that Wash had met in a comic opera prison on May 6, 1929. By 1933, Crane was committed to telling rip-roaring adventure stories, and the Sunday Captain Easy would be the exclusive province of that sort of enterprise. In the early 1930s, he'd toyed with another Sunday strip idea about a buckskin-clad young adventurer in American colonial times. Entitled Frank Battle, a sample of a completed strip is published here for the first time, plus a few pencil sketches. But, Heer says, "that strip was scuttled by the onset of the Great Depression, which made newspapers reluctant to take on a new feature, especially one that didn't have familiar characters." Easy, thanks to several years' exposure in Wash Tubbs, had a familiar face and a crowd-pleasing manner.
Easy inspired a host of imitations, in effect setting the pace for adventure strip heroes. When Joe Shuster drew Slam Bradley, he was pretty clearly inspired by Easy's rugged physiognomy; ditto, Clark Kent/Superman, who looks like Slam Bradley/Captain Easy. (It was Easy's appearance, not his rambunctious conduct, that inspired Shuster; although Heer thinks the early Superman barged around his comic books in the roistering manner of Easy, he didn't.)
Among the other trimmings in the book: syndicate advertisements for Captain Easy, paragraphs from Charles Schulz in appreciation of the strip, and Rick Norwood's illustrated description of the coloring techniques of the Sunday funnies in the 1930s. But as gratifyingly informative as these interludes are, it's Easy's rough and tumble action that captivates, a purely stunning performance for a mere $39.99.
Incidentally, I'm on deck to do an Introduction to a forthcoming volume in the series, and in it, I'll add substantially to unraveling the mystery of Crane's inspiration for Easy. In the meantime, if starved for more about Crane and his successor on Wash Tubbs/Captain Easy, the undeservedly ignored Leslie Turner, you can find more in Harv's Hindsight for July 2002 and October 2004, respectively.
FANTAGRAPHICS' MASSIVE PEANUTS reprint project is now over the half-way hump and, with the lastest volume—the 14th—it's three years into the last half of the strip's nearly 50-year run. When the series was launched in February 2004, promising two volumes a year reprinting two years per volume, I had to take a deep breath to contemplate a publication schedule that would take more than a dozen years to complete; but now that we're over half-way there, I can breathe normally again.
In the latest volume, reprinting 1977-1978, the last of the strip's permanent cast are introduced: Snoopy's brother Spike (consigned to a life in the barren desert) and Lucy's kid brother Rerun (condemned to the backseat of a bicycle). Among the book's highlights (quoting from the FB catalogue): "Charlie Brown, found guilty by the EPA of biting the Kite-Eating tree, goes on the lam and ends up coaching the Goose Eggs, a group of diminutive baseball players ... [and] a tennis-playing Snoopy ends up reluctantly teamed with the extreme type-A athlete Molly Volley, who reappears later in the book, now facing off against her nemesis, 'Crybaby' Boobie."
On this volume's cover is the ever resilient Peppermint Patty, but her presence on the cover, like the appearance on previous covers of other cast members, doesn't signal anything special about the interior content: Patty joined the ensemble in the summer of 1966, eleven years before the strips in this volume. Then, she seemed the juvenile incarnation of a hip swinger. But her expertise—which soon turned out to be an abiding interest in sports—brought her no success in the other principal arena of youthful endeavor, the schoolroom. She is smart and bright but not academically talented at all. She fails at every opportunity.
And in her failure, Charles Schulz presented a merciless indictment of the American public school system: none of Patty's teachers seem aware of her secret talent; none seem able to find a way to get this flower to blossom.
Oddly, in his biography of Schulz, David Michaelis fails to note in Peppermint Patty what the rhetoric of his argument should have alerted him to: she is an almost perfect stand-in for the schoolboy he describes as Charles Schulz. Despite the undeniable esteem that Sparky's classmates expressed for his artistic talents and his ability as a golfer, as an adult, Schulz persisted in believing that no one valued him. He was not only unappreciated, but the "special qualities that marked him," as Michaelis put it, were not even recognized. Peppermint Patty more than Charlie Brown is the alter ego of the Charles Schulz that Michaelis invents.
We all know the ugly duckling is a swan that will somehow emerge from the classroom despite all the pedagogical efforts to proclaim it a duck. With the sporting heart of a true athlete, Patty keeps trying, getting up off the floor every time she's knocked down, another chorus of the strip's overarching theme as embodied in the persistent loser, Charlie Brown, who, like Patty, never gives up. Despite the reputation of the strip's star player as a loser, Peanuts is also about human resilience and hope, hope that rises again like a phoenix from the ashes of each and every disappointment.
HANK KETCHAM'S Complete Dennis the Menace (176 6x7.5-inch pages, all b/w; $19.95), starting in September 2005, is now up to Volume 6, reprinting 1961-62, the eleventh and twelfth years of the famed newspaper cartoon. And in July 2007, Fantagraphics performed another great service to lovers of the cartooning arts by reprinting a passel of Ketcham's elegantly-rendered magazine cartoons, pre-Dennis, Where's Dennis?, with introductions by the current stewards of diminutive five-ana-half-year-old, Ron Ferdinand (Sundays) and Marcus Hamilton (dailies).
FANTAGRAPHICS REACHED A TEMPORARY PLATEAU in its Krazy Kat project in July 2008 with the tenth volume of Krazy & Ignatz, completing with these 1944 strips (George Herriman's last) the Sunday reprinting project launched in 1988 by Eclipse, which brought its series through 1924 in 9 volumes. The Fanta book prints not only the last Sunday (published June 25, 1944), an eerily prescient episode about Krazy's near death by drowning, but two unfinished dailies found after Herriman's death on his drawing board—inked but not lettered, ghostly pencil lines lurking behind the inks. Alas, Fantagraphics opted to print these strips at what appears to be their actual size, which results in their straddling the gutter, effectively obliterating much of the center panel.
Like all the other volumes in this series, the book showcases extra-curricular color drawings that Herriman made for friends and family (birthday and anniversary "cards") and two charming page-size strips he did for Vanity Fair in 1930, plus the customary "debaffler page" whereon Bill Blackbeard, Kim Thompson, and Jeet Heer explain otherwise obscure references in some of the strips. Heer, with Michael Tisserand, also supplies this volume's introduction, "Herriman's Last Days," which, unaccountably, fails to note the actual date of his demise (April 24, 1944). The essay, however, does offer insights from Herriman's granddaughter, Dinah (Dee) Cox, who, at age 74, is surrounded by much Krazy memorabilia, "including a Navajo rug bearing the cartoonist's name."
Cox was nine when her grandfather died, but she remembers how he lived in his last years: her aunt, her deceased mother's sister (the other daughter of the cartoonist), took her to visit Herriman. "He used to sit in the livingroom," she recalls, "—wearing his Stetson and chain-smoking Bull Durhams. He had five Scotties, and he would say, 'Now, I have to go down and buy a leg of lamb for the dogs."
She continues: "When I knew him, he was a recluse. His daughter—my mother—had died [in late 1939], and his wife [Mabel] had died [killed in an automobile accident in September 1931]. Then he had a Japanese houseboy who got hauled off to the internment camps. The only person left for him was my Aunt Toots." At the end of his life, she said, he retreated more and more into his work: "Coconino County and that strip was his reality. He was totally immersed into this world that he created."
Cox confirms her grandfather's race, mulatto, remembering how her aunt often had her hair straightened. But the family's racial heritage was never discussed openly, and it wasn't until Herriman's birth certificate was discovered in the early 1970s that she learned of the family's Creole roots. Moreover, "having just lived in African for several years with her husband and children, she was delighted at the news of her own mixed blood. And having just witnessed apartheid first-hand, she believed she understood why her great-grandparents decided to [leave Louisiana and] move to California. 'We saw where blacks couldn't sit on benches, couldn't eat in restaurants, couldn't go to the doctor. So I saw the reason why my grandfather's family left New Orleans."
While the introduction includes such fascinating and instructive intelligence, it also displays Heer's penchant for formulating opinions from scant evidence and passing them off as facts. In discussing passing references in Krazy to wartime events in the 1940s, he compares Herriman's casual allusions to the "blind jingoism of Terry and the Pirates." Jingoism is usually employed, as I think it is here, to describe a nearly irrational national fervor, which, during World War II, would be called simply patriotism. By using a term with negative connotations, Heer implies that Terry and its creator, Milton Caniff—indeed, the entire United States at the time—were crazy mad for war. Scarcely an unqualified fact, I ween.
But this piece of propaganda is not as serious a misstep as a couple of others. Heer says Gilbert Seldes, the critic who championed Krazy Kat as high art (one of the Seven Lively Arts that his book with that title discusses), was a "friend" of Herriman's. Maybe. Maybe not. If Seldes was a friend, then his pronouncements about the artistic merit of Krazy are suspect—unless he became a friend after the publication of the book. In any event, Herriman and Seldes don't need to be "friends" in order to assert that the cartoonist had once told the critic that "he wanted to be reborn as an Indian."
Then Heer spends a paragraph claiming that the characters in the strip had aged over the years. As evidence, he points to the ascertainable fact that Krazy and company were leaner in the early years than in the later years, when they were plumper, "as if they had gained weight," a sure sign, he supposes, that they were getting older. A dubious assertion. Herriman was as skinny in his old age as he was as a youth. But that's neither here nor there. Herriman's drawing style, his manner of rendering his characters, evolved over the years, and his characters became rounder—cuter—probably a natural stylistic progression rather than visual evidence of aging.
These are trivial quibbles, I admit; but in a volume as historically valuable as this, they will eventually become canonical, integral aspects of the history of the strip. And while "blind jingoism" flags itself blatantly as the author's opinion (and therefore debatable), the Herriman-Seldes friendship and the aging of the characters are not self-evident pseudo-doxy; they appear here as factual assertions, however questionable they may be.
But Heer's detour into prefaccorial fantasies takes only a couple paragraphs in a 3-page otherwise factually informative essay; Herriman's unfiltered visual and poetic genius is in full flower for the rest of the book's 120 9x12-inch full-color pages (paperback, $19.99), worth every single farthing and then some. So Heer may be forgiven his excesses.
Krazy ran in black-and-white until 1935 when color, at last, flowed onto Herriman's antic layouts—and into the Fantagraphic books with the 1935-1936 volume. Most volumes are 120 9x12-inch pages; paperback, $19.95; two (1916-18 and 1919-21) run 160 and 176 pages respectively and cost $24.99.
This series is appropriately capped with a stunning find, Krazy & Ignatz: The Sketchbook Strips, 1910-1913 (160 12x18-inch pages in "color"—mostly b/w pencil sketches, I suspect—hardcover, $75), reprinting Herriman's preliminary drawings for the "basement" kat and mouse strip with which he infested The Family Upstairs strip, wherein a tiny Ignatz first beaned a miniature Krazy with a microscopic brick. Herriman's practice in producing the strip was to draw a complete and detailed version of each strip in a sketchbook before re-drawing it for publication in The Family Upstairs; this tome is that sketchbook, an amazing cartooning artifact. I haven't seen this book yet, but the Fanta catalogue tells us that it includes an essay on Herriman and, for comparative purposes, a generous sampling of the strips as published. Fantagraphics plans to publish a complete collection of The Family Upstairs eventually.
Fanta is also re-visiting the years covered by the Eclipse books in order to produce a uniform set of Krazy for the entire run of the Sundays. The first volume, subtitled "Love in a Kestle or Love in a Hut,"reprints the 1916-1918 Sundays and includes rare art, notes about the Kat's creation, and the usual "debaffler" end notes.
In the same spirit of krazy konquest, FB published in June 2007 The Kat Who Walked in Beauty (114 15x11-inch pages in b/w; hardcover, $29.95), a museum-quality compilation of daily strips from the 1920s, when, for a short time (March 4 to October 30, 1920), Herriman was investing the daily Krazy with the kind of fanciful backgrounds and varying layouts that elevated his Sunday pages to high art. The book also includes the illustrations Herriman supplied for the program booklet for "Krazy Kat: A Jazz Pantomime," a 1922 theatrical extravaganza by John Alden Carpenter.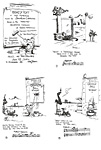 . Herriman's drawings reprise the Carpenter action, which, based upon the strip, reenacts the ritual romance that binds the Kat, the Mouse and Offisa Pup together in an eternal triangle with Krazy, whom Carpenter calls "the world's greatest optimist—Don Quixote and Parsifal rolled into one," at the apex.
Incidentally, the book's title, which is probably supplied by Derya Ataker, from whose collection the content is culled (and who edited the book and furnished its introduction), recalls a Navajo poem, a night chant:
With beauty before me, I walk / With beauty behind me, I walk / With beauty above and about me, I walk / It is finished in beauty / It is finished in beauty.
Herriman, who had a deep affection and abiding admiration for the Navajos, whose venues he regularly visited (and depicted in the shifting landscapes in Krazy), would doubtless have appreciated the tribute inherent in Ataker's title.
IN THE WINGS—a new, revised Complete Pogo, re-commencing the reprint project begun in July 1992 and interrupted in June 2000 at Volume 11, having reprinted the daily strips through February 2, 1954. This fresh endeavor begins where the first project did—with the Pogo incarnation at the New York Star, where creator Walt Kelly served as art director (which duties included editorial cartooning as well as all graphic decorations and furbelows)—but improves upon the earlier version by including, for the first time ever, the Sundays, in blazing color. The series' first volume (11x9-inch pages, $35), slated to appear sometime next year, includes a biographical introduction by Kelly biographer Steve Thompson and high-steppin' footnotes jammed together at the back where the obscure topical references in this satirical masterpiece are explained (by yrs trly).
And that's probably enough touting of the works and productions of the publisher who sends me checks, occasionally, for my contributions to The Comics Journal, in print and at its website incarnation, tcj.com, for which I concoct a blog three times a week on newspaper comic strips. Just so you know how thoroughly corrupt all this seemingly reasonable exposition is.
NOTHING WILL PREPARE YOU for Pete Von Sholly's deliriously biased portraits of Republicans on display in Repuglicans (128 6x9-inch pages, full color; Boom! Town paperback, $14.99), a gallery of some of the better-known Gabby Old Pachyderms (and a few non-GOPers), converted by Von Sholly's fevered imagination (and Photoshop, I suspect) into vampires and zombies and various breeds of rotting corpses. Visual name-calling at its most refined. But words fall far short of adequately describing what Von Sholly has done, so we resort to posting a few of his fiendish works herewith.

Left to right across the top, you'll immediately recognize Karl Rove, Newt Gingrich, Rush Limbaugh, and Mitt Romney; across the bottom, Joe Lieberman, Mitch McConnell, Chuck Grassley, and the ever ebullient Sean Hannity. Von Sholly's ghastly renderings (pun unintended but relished) of 53 more of them appear in this volume, each on a right-hand page and on the facing page, short expository effusions by Steve Tatham (stand-up comic and author of 1001: A Video Odyssey, Movies to Watch for Your Every Mood). Here's his opening annotation on Rush Limbaugh: "A high school dropout, drug addict, and big tub o'goo, the bloviating windbag has undoubtedly done okay for himelf thanks to an army of hypnotized zombies that hang on his every word when they're not busy gunning down abortion doctors or putting Jesus fish stickers on the bumpers of their SUVs." And so forth. For Joe Liberman, Tatham resorts to Seussian verse: "I do not like that man named Joe. / I never know which way he'll go. / He was a friend but then no more. / Seems he's very much a whore. / Is he right or is he left? / Of true allegiance he's bereft. / A man of lousy etiquette / A Grinch who stole Connecticut."
When the publication of the book was announced last February, accompanied only by a reproduction of its cover (depicting Sarah the Palin as a vampire with blood trickling out of the corners of her lips), it was immediately and hysterically denounced by adherents of the GOP, who mustered a catechism of opprobrious adjectives and other parts of speech (sez Tatham) to describe it: stupid, unoriginal, juvenile, infantile, lame, cowardly, a monstrosity, horrible, ignorant, dumb and tiresome. Tatham continues: "Now, I'm not saying that it isn't all those things; I'm just saying those criticisms were lucky guesses. None knew what was depicted or written on its pages." Only the cover had been released, remember. "Apparently," saith Tatham, "you can judge a book by its cover."
In a note accompanying this review copy, Boom! Town editor Chip Mosher avers: "In this current political atmosphere, it is essential that a work like Repuglicans is not suppressed by those who cannot stand freedom of expression." I agree, as you might well expect.
If you prefer a more bipartisan assessment of present-day "political horror," a biographical note at the back of this book refers you to Von Sholly's Capital Hell book from Denis Kitchen Publishing (which I haven't seen, but with the tome at hand as a hint, it must be wonderfully scabrous).
RONNIE DEL CARMEN'S LITTLE BOOK, And There You Are (72 5.5x7-inch pages, color; paperback with flaps, $15), is a perfect charmer. Del Carmen, who won the National Cartoonists Society's Reuben division award for Feature Animation (he storyboarded "Up") last spring, is a story supervisor, production designer, writer and director at Pixar. He has drawn children's books and comic books—a sample of which we append herewith.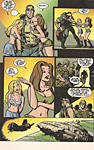 He did two Dark Horse Aliens titles—Mondo Heat and Mondo Pest—about the monstrous warrior depicted here, Herk Mondo, who, here in Mondo Heat, is encumbered by these two lovely lady adventurers. The two books bowled me over when I saw them way back then in 1995-96. And as Paper Biscuit Industries, Del Carmen publishes his own books, of which the one in hand is an exquisite example. This faberge volume does not so much tell a story as it depicts a devotion. It is about the creation of a character, the delectable Nina, "imaginary and gossamer," who gradually assumes an appearance and acquires a personality in the pages of one of Del Carmen's sketchbooks, in which, he says, he makes notes to himself about his plans and appointments as well as pictures of Nina. "Side by side the details of my days move in step with the notes for Nina's story and somehow one becomes part of the other. And so it goes." Until, finally, there you are, Nina, cute and perky and perfectly poised, the ideal modern young woman.
The book's pages offer sketches of Nina in different poses, wearing aspects of her wardrobe. Some of the pictures are pen-and-ink, some are pencil, some are watercolor paintings, or pastel chalkings. Photographs of fabrics drift through the pages. Some of the pages are copied exactly from Del Carmen's journal; some are paste-ups of fragments of those pages.
Some pages carry snatches of text, prose musings of the artist as he contemplates the work before him, the pages of his sketchbook. "Having Nina there has been such a gift," he writes in one place. "I have something to draw and explore any time. Like having a model handy. I only wish I can settle her myriad storylines into one book someday. The nature of her stories tend to converge or splay out rather than progress in linear fashion. Much like dreams, I guess."
In another place: "The work I do during the day is done on a digital tablet. It's natural now to also do my thinking on it because it's right there that Nina will show up in the little pockets of time while [I'm] waiting for files or in between meetings. Nina wouldn't like meetings."
On the last page, we have a gentle envoi, evoking and bidding farewell to the romance the artist has lived in his sketchbook. Del Carmen is having coffee with Tess in a favorite coffee shop. "I enjoy these times," he writes, "no matter how ordinarily repetitive they are. What are we having for lunch? Lunch on a Saturday. Two whole days away from Monday. I try to think of a time in the future when all the days are like Saturday.
"Then I see her. She takes off her wool cap and stands in line to order coffee. Not a local and I will not see her here again. But there she is. Like I've always been drawing her. A heavy winter coat and a scarf; her hair is short and mussed from wearing the cap and her eyes take the world in as it is. I notice the tall guy behind her as she shows him a heavy cup for sale. Ahhh, she has someone. It all turned out okay. I dare not do this, but I get my camera. Nonchalant pictures taken at a public place of no one in particular. I nudge Tess—does she see this Nina? She does. And she agrees—she looks just like her.
"As of this writing," he concludes, "I've not seen her since, and I do have the pictures. I might give them to her someday."
Perusing this volume is like entering the mind and creative ponderings of the artist. All the groping but delightful confusion of creation is depicted here in its chaotic, fragmentary yet somehow functional disarray. Del Carmen is serious about the creative process, but he knows, too, that in its essential aspect it is playfulness, not purposefulness, that results in a fey woman-child like Nina, enchanted and enchanting. And this tender and delightful book captures and conveys that vital playfulness.
On the backcover flap is a prose glimpse of the artist, which concludes: "He (Del Carmen) is still maintained by his wife and kids and is still not allowed too much peanut butter."
SIGNATURE WOUND: ROCKING TBI (120 6x8-inch pages, b/w; Andrews McMeel, $9.99) completes Garry Trudeau's trilogy of Doonesbury books that "examines that impact of combat on American soldiers in Iraq." In this book, we meet SPC Leo Deluca (aka, Toggle), who is missing an eye and suffering from aphasia, a brand of traumatic brain injury (TBI) that is manifest in an inability to articulate ideas. Doonesbury stalwart B.D., the former football hero who, in the first volume of this series, lost a leg to an RPG, was once Toggle's commander, and he shows up to help with the recovery and rehab. As Toggle regains some of his function, he meets Michael Doonesbury's MIT techie daughter Alex on Facebook, and a romance ensues. As with the previous volumes, Trudeau researched his subject thoroughly, both through reading and consultation and by visiting military hospitals and talking with the wounded.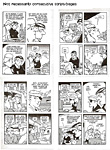 READ AND RELISH
"Question of the day: why do presidents give the White House keys to Bob Woodward? I ask this with all due deference, respect, hat in hand, cape over puddle and other sundry gestures owed by ink-stained wretches like me to The Most Famous Journalist on the Planet. Through several administrations, Woodward has become the president ex officio—or at least the reporter-in-chief, a human tape recorder who issues history's first draft even as history is still tying its shoes."—Kathleen Parker
"When you sling mud, you lose ground."—Adlai Stevenson, a poet
"There's not much comity in comedy anymore."—columnist James Poniewozik, commenting on the Leno-O'Brien fiasco last spring
Back to Kathleen Parker: "Sarah knows just what drives us all nuts and, instead of changing her tune, she turns up the volume—and triples down. Don't like her little red shoes? She'll add a red leather jacket. ... A different version of Madonna, she's a public relations machine who manipulates public perception with well-timed and, recently, sophisticated messaging. ... The genius of Sarah's message whatever it is, is that it doesn't matter what it is."
FUNNYBOOK FAN FARE
Four-color Frolics
I've long been an admirer of Howard Chaykin's work, but with the Rawhide Kid mini-series, "The Sensational Seven," just concluded at No. 4, he has fallen far short of his usual mark. It's Ron Zimmerman's story, you'll recall, in which the gay Rawhide Kid sets out to rescue the Earp brothers, Wyatt and Morgan, who have been imprisoned by the unrepentant and irredeemable Cristo Pike. To this purpose, ol' Rawhide (or, perhaps, "Raw-raw," just to maintain the raucous spirit of the tale) assembles six helpers, Old West legends Annie Oakely, Doc Holiday, Kid Colt, Two-gun Kid, Billy the Kid, and "the noble savage Red Wolf." The story unfolds in two giant wrinkles as Zimmerman leaps back and forth between the cell holding the Earps and the recruiting efforts of ol' Raw-raw—the former full of sibling venom, the latter seasoned liberally with homosexual and heterosexual innuendo. Amid the flipflopping, Pike recruits seven of the old West's most notorious bad guys to face Rawhide and his compadres. Not unexpectedly, this encounter consumes most of the final issue of the 4-issue series, and, also not unexpectedly, the Sensational Seven (that is, Rawhide's gang) wins each individual match-up.
Zimmerman's tale is a fairly routine, even predictable, yarn albeit with occasional flashes of what he supposes passes for wit.. When Kid Colt seems reluctant to join in the action, Annie wins him over by promising him a roll in the hay, but later, when Raw-raw comments that her strategy proved "almost too easy," she snaps back: "For you, maybe. But I'm the one that had to kiss that nasty bastard. Just touchin' his mouth probably gimme nine kinds'a syphilis." To which the witty skag Rawhide reposits: "Well, honey, with the one I gave ya, that makes it an even ten. Hahahaha."
And the story concludes with a few dangling, unresolved subplots: does Kid Colt ever get his roll in the hay with Annie? If not, how does she evade his smelly embrace? Rawhide's disavowed father turns up as the third party in the cell holding the Earps, but the rancorous relationship between father and son is scarcely resolved when Doc Holiday intervenes, saying, "I'll be your Huckleberry," a nearly meaningless allusion to Huckleberry Finn's antipathy-laced relationship with his drunken father in Mark Twain's classic. And the series ends with a huge splash page depicting Rawhide and the Sensational Seven mounted (on bery badly drawn horses) and dashing off as Raw-raw yells: "Sensational Seven—let's ride!" To where? To what purpose? More meaninglessness.
Meanwhile, Chaykin, abetted by colorist Edgar Delgado, is busy undermining the story with the sloppiest artwork by a usually polished professional that I've seen this season. His stylistic adoption of boxy anatomy gives his characters an unwavering stiffness that prevents them from moving with any liveliness and often distorts proportions.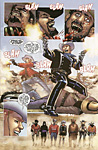 He also achieves the impossible: many of his characters look so much alike that it's impossible to tell one from the other yet when drawing a single character, the individual's face is seldom the same from one panel to the next (in one ludicrous pair of adjoining panels, Pike's nose is distinctly different from one to the other). Page layouts in which Chaykin alternates tight close-ups of faces with distant pictures of characters at full height are so routinely repeated that, instead of enlivening the proceedings, they become boring.
Flawed story; clumsy drawing. Too bad.
AS Coner McCreery & Anthony Del Col/Andy Belanger's Kill Shakespeare lurches on, it acquires more Shakespearean characters in the manner of a rolling snowball picking up debris as it rolls. Hamlet is ostensibly the hero of this piece—the touted "shadow king" who will kill Shakespeare so the king who recruited him can acquire the "magic quill." I'm not sure why he wants it. In the second issue of the series, Iago shows up, playing hooky from "Othello"; ditto Macbeth from the play of that name. There's lots of spooky stuff—dead, dying or enchanted personages appearing out of nowhere, betrayals lurking, eyes being plucked out ("Lear"). Lots of bloodshed and silent sequences that reek of import but have none, an unforgivable abuse of the medium's prowess. The third issue is redeemed somewhat by the appearance of a roly-poly happily carnal Falstaff surrounded by thoroughly lascivious wenches (well wrought by Belanger, whose simple bold lines enliven every page), but it's spoiled by some terrible double entendres and finishes as a mere interlude, a comedic sop thrown to readers like me who dote on characters like Falstaff.
The title's concept is intriguing: invent a tale in which Shakespeare is, for a change, the villain and then parade all his creations through the pages as they plot his demise. But McCreery and Del Col don't dig deep enough here: they're just dropping names and not making them serve any allegorical or metaphorical purpose. Moreover, their contrivance embodies the mechanics of its own dissolution: to bring into the narrative all those characters bloats the plot until it can no longer be recognized. A bloodthirsty King Richard keeps reminding us, a clanking maneuver; still, the idea is fun to watch uncoil. Kill Shakespeare probably appeals most to those of us with vague memories of being forced to struggle through the Bard's Elizabethan verse in high school, but those who have more fully-formed knowledge of the playwright and his plays will be disappointed by the cheap allusion tricks in this tale.
*****
An admirable first issue must, above all else, contain such matter as will compel a reader to buy the second issue. At the same time, while provoking curiosity through mysteriousness, a good first issue must avoid being so mysterious as to be cryptic or incomprehensible. And, thirdly, it should introduce the title's principals, preferably in a way that makes us care about them. Fourth, a first issue should include a complete "episode"—that is, something should happen, a crisis of some kind, which is resolved by the end of the issue, without, at the same time, detracting from the cliffhanger aspect of the effort that will compel us to buy the next issue.
Kody Chamberlain has been working on his comic book Sweets "for a few years," he tells us in an editorial at the end of No. 1, "—stealing time way from other projects every few months to inch my way forward." He did the whole thing—writing, drawing, coloring, lettering. All Kody Chamberlain. It is commendable, and it is nearly a roaring success. But not quite. It is, if we are to judge from the first issue alone, a near miss. Or, rather, a near hit. It almost satisfies all the foregoing criteria. It falls short—just a trifle—in being too cryptic: the mystery that fosters the suspense that will bring us back is so vaguely outlined that we're not quite sure what it all means. There seem to be two crimes being investigated—although they will turn out to be connected. The second issue resolves much of the vagary and revives our interest.
The story is set in New Orleans, and the title of the book, Sweets, refers to pralines that a serial killer leaves at the scenes of his crimes. Investigating the murders are Jeff, a black cop, and Curt, a white cop, whose daughter died recently and whose wife is divorcing him. Curt is distraught and not paying attention to his duties; Jeff intercedes for him with their boss, a fat slob lieutenant with a foul vocabulary, getting Curt a reprieve: the lieutenant is about to fire him. Jeff gets Curt back on the job to help investigate the praline murders. These two developments—successfully interceding with their boss and successfully getting Curt back on the job—are the complete episodes in the book. All else is mysteriousness, fraught with too much ambiguity for serial publication.
One of the murdered is a priest, whose slaying we witness in the book's opening pages; the other is a doctor. Jeff and Curt go to interview the doctor's fellow workers—at least, that's what I suppose they're doing, but at this point, coherence flags. Somebody's place was broken into—whose? The dead doctor's? A researcher? Then in the last pages of the first issue, a mysteriously shaded and baseball-capped individual confronts a madam in whose pay he apparently is; and he may be the city's prosecuting attorney, however that's not clear. But to ascertain the nature of this pair's relationship creates the most mobilizing of the suspense driving us to buy the second issue; yeah, we want to see the murderer caught too, but this other underhandedness is more provocative than a routine serial killer.
Chamberlain's storytelling technique is cinematic, and I don't mean just camera-angles: it's pictures and dialogue, no expository captions. And we are plunged into the middle of several sequences without explanations, so we must determine what's happening from what the characters are doing and saying. This is classically sound storytelling in plays and movies (hence, my "cinematic" accusation). In a movie, this elliptical manner is soon sorted out as the tale unreels: cryptic comments at the beginning are quickly explained by what happens later. But in a serialized story in successive issues of a print medium, ellipsis fosters only muddles matters ("What the hell is going on?"), and we have to wait too long for the next issue—the "later" that will pull it all together. And Chamberlain's arty drawing style, although admirable for its line quality and deft with shadows and angles, adds to the confusion because it's not always clear which characters we're watching. After a couple panels, it becomes clear; but at first, initially in a scene, we're not sure.
The bafflement induced by Chamberlain's storytelling and arty rendering is further advanced by a "cartoony" segment insinuated into the midst of the narrative; nearby, we see the beginning of the segment in the first issue.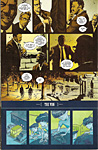 The import of this stylistic diversion is not at all evident. And it's an ingenious device—pregnant with possibilities. We bought the second issue of this title as much to see what Chamberlain might do with this maneuver as to see how Curt and Jeff are doing.
And in the second issue, as I say, the pieces begin to come together. The cartoony segment, for instance, may turn out to be a record of the killer's early years, an insight into how he became so perverted as to be a serial killer. (I hope the cartoony style does not mean he was corrupted by comics or Saturday morning cartoons.)
The excellences in this title are many, and I'm glad to see Chamberlain beginning to tie up the loose ends in No. 2. When the five issues of this title are re-issued as a graphic novel, it will doubtless be one of the best of the season.
X-FORCE: SEX AND VIOLENCE No. 1 (of 3) written by Craig Kyle and Christopher Yost and drawn by Gabriele Dell'Otto brims with flashy action and stunning art—full painted color, one of the most successfully achieved in this mode: faces are recognizable from panel-to-panel, f'instance; ditto bodies and other forms. Sometimes it seems there are too many full-head masks, obliterating all individuality whenever the bad guys show up; and maybe too many of these hooded hoods are dressed in shiney black wetsuits. But over-all, individual passages are so good we easily overlook such tiny carping reservations.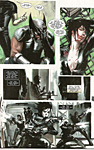 Domino is badly hurt in the opening scene, hoping Foley will heal her seemingly mortal wounds. Then Wolverine shows up and demands to know how Domino got herself so banged up. In a flashback, she explains that she needed money and got involved with the Assassins Guild for a fee, but she abandoned that scheme in order to rescue some girls that another band of criminals, the Hand, was importing as sex slaves. Then the Guild turned on her and beat the crap out of her for taking their money without performing the contracted-for service. End of flashback. After Foley heals her, Dom and Logan encounter the Guild again and after a smokingly violent exchange, Dom and Logan lock lips and meld bodily forms in a passionate embrace that proves Domino was right: Wolverine wants her "in a big way." This is the "sex and violence" part of the series: violence is supposed to provoke lust among certain people, and it surely does here with Dom and Logan. But before they can yank their clothes off and begin furious fornication, the Claw shows up and demands a return of the money Domino was paid. We leave them all there.
The complete episode of Dom working with the Assassins Guild and then leaving them to rescue sex slaves displays her morally-motivated character—and the concluding battle with Wolverine at her side reveals her combat resourcefulness and, incidentally, wit, passion, and feminine form. Ending the issue with the Claw's demand creates enough suspense to catapult us into the next issue. And the artwork is sumptuous.
THE COVER ART FOR GORILLA-MAN No. 1 (of 3) has nothing to do with the interior action. On the cover, the Gorilla-man is surrounded by fawning bimbos in short skirts and plunging necklines; inside, he spends most of his time in a time warp back in the 1930s or in the jungles of present-day Africa. No women to speak of. Except in the opening sequence in which Atlas operative Ken Hale (aka Gorilla-man) foils a Borgia Omega operation to obtain the head of Lucrezia Borgia, floating in a belljar in liquid suspension. The Borgia Omega people are robots and bountiful women in black wetsuits with the front zipper descanted provocatively. The Gorilla-man apprehends one of the loathsome lovelies and carries her off, as we see in our second illustration, ass-end upwards and shimmering in the sunlight seductively.
| | |
| --- | --- |
| | |
The cover, to belabor its irrelevance, is by the dapper Dave Johnson; the interior is crisply rendered by Giancarlo Caracuzzo and handsomely colored by Jim Charalampidis. Caracuzzo's is a somewhat angular style, mostly unembellished by feathering and other linear quirks—so it is attractive and smitteth the eye pleasingly.
Jeff Parker's story, after the opening dispatching of the Borgia Omega crowd, flashes back to Missouri in the 1930s when Ken Hale was recruited as a young boy by Atlas and then alternates between Hale's early service to the agency and his present assignment, which takes him to Africa where he employs a hologram to transform his gorilla-guise into something more humanoid. In Africa, he meets a fellow Atlas agent, and the two of them are supposed to shut down Mustafa Kazun's criminal operation that is giving Atlas a bad name.
The opening episode is the issue's completed one; the rest are on-going tales, and except for the gorilla-guise, the whole enterprise is a routine fisticuff contest without many surprises or twists. Why or how Hale has been turned into a giant monkey is not explained in this issue, and I'm more likely to buy the second issue to find out about that than I am to see more fist-fights between changling apes and menacing mobs, one of which emerges on the last page, ending the issue on a suitably suspenseful note.
CIVILIZATION'S LAST OUTPOST
One of a kind beats everything. —Dennis Miller adv.
As a general rule, critics tend to take themselves more seriously than the rest of the world does. That's no sin: everyone does it, regardless of their hobby horse: if the hobby horse rider doesn't take himself seriously, who will?
But, seriously, a critic does what he does for what is a very shallow reason.
When I first set out to make a living in the world, I did it by teaching English in high school. Years later, one of my former students wrote and asked me why I chose teaching English as a profession. I thought about it and realized that I had no messianic purpose. I liked literature and I liked talking about it with others who liked literature and liked talking about it. I taught literature because that was a way of creating others who could talk about it in ways that were congenial with my own passion. It was a way of bringing about a conversation I enjoyed.
Ditto, in some fashion, comics criticism. I enjoy comics and I enjoy writing. Writing about comics combines both enjoyments. What I write is half a conversation that readers, in effect, overhear. And maybe they supply the other half of the conversation; most of the time, I don't know if they do. But sometimes, I find others who enjoy comics and enjoy talking about the art form. And conversation ensues.
Sometimes my half of the conversation is simply: "I just read a good graphic novel, or a comic strip, or a comic book that I enjoyed and thought you might enjoy it, too. And here's why."
So much for high purpose in comics criticism.
The other thing that criticism does, apart from gratifying the passions of the critic, is to enhance appreciation of the art being critiqued. In fact, I submit that enhancing appreciation is the only legitimate function of criticism (beyond a critic's self-indulgence).
Sometimes criticism is negative. Instead of pointing to something that might be enjoyable, the critic, in effect, says: If you're looking for enjoyment, don't look here. In a decidedly perverse way, this sort of guidance also enhances appreciation: instead of wasting your time here, look elsewhere.
The function of art, to pursue this topic into tedium, is to enhance enjoyment of life. A wise man once said, "The more things you like, the happier you'll be." Makes sense to me. Art—drawing, painting, music, and so forth—provide an assortment of things that one can choose from to like, thereby fostering one's chances at being happy.
As a critic, however, I also harbor the notion that it would also be nice, and highly beneficial to mankind and civilization as a whole, if everyone would do exactly as I tell them—if cartoonists reformed and perfected their practices in accordance with my prescriptions, if other so-called critics started talking about comics as a visual art form as well as a narrative one, and if the Grumpy Old Pachyderm became the GOP of "Yes." But—well, I, like most critics, may be self-absorbed, but, unlike many, I'm not delusional. Not yet.
*****
Ward Cunningham, according to Wikipedia, the developer of the first wiki software, WikiWikiWeb, originally described it as "the simplest online database that could possibly work. Wiki (pronounced witi or viti, is a Hawaiian word for fast.
ONWARD, THE SPREADING PUNDITRY
The Thing of It Is ...
The Teabagger Princess, Christine O'Donnell of Delaware, is accused of believing that masturbation is adultery. On the face of it, this is pure, unadulterated claptrap. But O'Donnell's conviction is actually a carefully worked out syllogism (surprise surprise). It goes like this (quoting Her Highness): "The Bible says that lust in your heart is committing adultery. You can't masturbate without lust." Ergo, masturbation is adultery. She'll be right at home in the Senate: this kind of thinking has typified the political posture of the Gigantic Obstructionist Pachyderm for years.
To find out about Harv's books, click here.