Opus 259 (March 30, 2010). We celebrate Luann's 25th anniversary, list a tidy bunch of web comics sites, quote Stephen King on American Vampire, review IDW's superb Jiggs book and a book of Wolverton's outlandish caricatures, applaud Frazz Sundays, discuss manga and child porn and the threat to manga fans and scholarship, and recite a short history of toilet paper—and more. Here's what's here, in order, by department:
NOUS R US
L.A. Bids for Sandy Eggo
Action Comics No. 1 To Set New Record
Best of Dan DeCarlo
Manga and Child Porn
Luann Is 25
How Are Comic Book Stores?
Origin of the Joker
SOME WEB COMICS LISTED
EDITOONERY
Some of the Best of the Month
THE FROTH ESTATE
Gannett Goes Obscene
FUNNYBOOK FAN FARE
American Vampire and Stephen King
RANCID RAVES GALLERY
Broomhilda and Frazz
PASSIN' THROUGH
Fess Parker
Robert Culp
Peter Aurness
BOOK REVIEWS
Bringing Up Father From Sea to Shining Sea
The Art of Basil Wolverton
CIVILIZATION'S LAST OUTPOST
A Short History of Toilet Paper
And our customary reminder: don't forget to activate the "Bathroom Button" by clicking on the "print friendly version" so you can print off a copy of just this installment for reading later, at your leisure while enthroned. Without further adieu, then, here we go—
NOUS R US
Some of All the News That Gives Us Fits
Los Angeles is vying with Anaheim for the erstwhile San Diego Comic-Con, reports Hugo Martin at the Los Angeles Times. Each city offers unique attractions for the Con. L.A. emphasizes its proximity to the Hollywood studios behind the flood of movies about superheroes, aliens and space travel. Anaheim's selling point is Disneyland, the popular, 85-acre theme park within walking distance of its convention center. And San Diego has sentiment in its favor, but not much else. It can point to its long history with the convention as well as the ocean views from the doorstep of its convention center, but the Con has outgrown the center, and as long as it stays in town, the income from the event is effectively capped.
          Ironically, the man who saved Disney Studio's traditional, hand-drawn animation from oblivion is John Lasseter, reports Bruce Kirkland at the Toronto Sun. "Even though John is the king of digital animation at Pixar," Disney animation director Ron Clements told Kirkland, "he loves hand-drawn animation. He very passionately loves hand-drawn animation!" Adds Kirkland: "Lasseter once told me he cherished the beauty, grace and storytelling possibilities of hand-drawn animation, even though he pioneered digital animation at Pixar. Once he took over the animation departments at both Pixar and Disney, Lasseter put his plan of revival into action. Disney had phased out hand-drawn movies after 2004. Lasseter brought it back with 'The Princess and the Frog.'"
          When Detective Comics No. 27 (Batman's first appearance) sold for $1,075,500 at Heritage Auction Galleries, it trumped ComicConnect.com's sale of Action Comics No. 1 (Superman's first appearance), which had become the first comic to sell for $1 million just a few days earlier. Now it looks as if Action Comics No. 1 could break through the mark set by Detective Comics No. 27. And in fact, it already has, according to ComicConnect. Both of the previous record-breakers were CGC-certified 8.0 on the 10.0 Overstreet grading scale. ComicConnect has just acquired and is now offering for sale a CGC-certified 8.5 copy. A company spokesman confirmed that the firm paid more than the $1,075,500 record price for the issue and intends to sell it for a higher price.
          Mike Peters (Dayton Daily News, Ohio) won the 2010 Headliner Award for editorial cartooning; Dana J. Summers (Orlando Sentinel, Florida) was runner-up followed by Steve Breen (San Diego Union-Tribune).
          At DailyCartoonist.com, Alan Gardner noted that reporters John Berman and Joel Siegel filed a story on ABC News' World News site alleging the decline of number of comic strips in the nation's newspapers. The same story made it to the tv news broadcast; I saw it, but I doubt its accuracy. Or, if accurate—if, say, the Chicago Tribune drops two strips—it's scarcely a wholesale decline leading, rapidly, to complete extinction. Last time out, I reported that Jeanette Chavez, managing editor of the Denver Post, which dropped almost two dozen of the strips it acquired with the collapse of the rival newspaper last year, said in no uncertain terms that nobody she knows in the newspaper business is talking about eliminating comics from a paper's daily content. Nobody, she said.
          At Thiruvananthapuram, Malaya, a bunch of alleged BSP workers stoned the office of a daily newspaper to protest a cartoon carried by it on the currency note garland controversy involving Uttar Pradesh Chief Minister and party supremo Mayawati. The protesters claim that their leader was depicted in a "unsavoury manner" in the cartoon "unbecoming of the journalistic ethics and values."
          From presstv.com: In a letter to Iranian Foreign Minister Manouchehr Mottaki, Basij students from eight main universities in Tehran urged Iranian diplomatic authorities to swiftly cut ties with Sweden until Swedish officials apologize for and take meaningful measures against the insensitive media sources that published pictures of the Prophet with the body of a dog. The letter said that Muslims have been suffering from such biased publicity by certain Western countries in the name of freedom and democracy. It described the move as a Western trend backed by the "international Zionism" in recent years and added that its aim was to violate the sanctity of Prophet Muhammad (PBUH). "We are witnessing the repeat of this nasty conspiracy by certain Swedish newspapers. They hold a grudge against the greatness of Islam and the Qur'an," it said.
          From Scoop: "Since last year's announcement that Archie would team up with IDW Publishing for a series of retrospective hardcovers and trade paperbacks, fans have eagerly eyed the schedule for the name Dan DeCarlo." The wait is almost over: in May, the late artist's work gets is own showcase in Archie: The Best of Dan DeCarlo—Volume One, full-color, 156-page hardcover ($24.99), which will collect strips from the mid-1950s through the early 1970s. And what does the legendary DeCarlo get out of the deal after nearly 50 years limning the Riverdale High gang? The Archie company effectively disowned him a few years before he died, denying, at the same time, the cartoonist any rights to characters he'd invented—Josie and the Pussycats, for instance.
MORE ABOUT MANGA, PORN AND FREEDOM REINS
In the aftermath of the sentencing of Iowa's Christopher Handley for possessing child pornography in the form of seven manga, the question of cartoon images of children in sexually explicit poses has generated both attention and discussion. Like the U.S., Australia bans child porn, and in January, a 28-year-old Queensland man became a registered sex offender after pleading guilty to possessing cartoon pornographic images of child characters from tv's "The Simpsons" and "The Powderpuff Girls." But in Japan, one of only two G8 countries where pornographic images of children are not illegal (yet) provided those who possess them do not intend to sell or distribute them (Russia is the other G8 country), various Tokyo shops offer a wide range of manga comics, anime films and video games "that would be regarded in many countries as the biggest collection of child pornography anywhere," writes Justin Norrie at the Sydney Morning Herald. "Lining the shelves of several stores in Akihabara and other Tokyo districts are thousands of manga stories such as Junior Rape, Under Nine and Unfinished School Girl that hint ominously at the explicit images within. The illustrations in the most hardcore titles on the fringe of Japan's multibillion-dollar entertainment industry are legal under the country's child pornography laws."
          Child porn laws introduced in Japan in 1999 apply only to photographic or live-action video content of real children, and not to manga, anime and video games. Says Norrie: "Experts claim Japan remains one of the world's biggest suppliers and consumers of illegal images and video content of minors because of feeble child pornography laws. Figures released February 18 showed that police last year took action in a record 935 child pornography cases, an increase of almost 40 per cent on 2008. Activists say they catch only a small percentage of perpetrators."
          "Just because real children aren't depicted in simulated pornography," says UNICEF Japan, which leads the campaign for tougher laws, "doesn't mean that real damage isn't being done. Mere exposure to this kind of thing can do irreparable harm."
          Just as we went into the ether with this, I heard about a new law in Japan—just introduced but not yet adopted—that would declare some manga and/or anime child porn. But there's a hitch. Among many resisting calls for stiffer laws is a government adviser, Nobuto Hosaka, a former Social Democratic Party MP, who sees them as a threat to freedom of expression. "I think there's a real danger in giving police the power and discretion to decide when a drawing of a child is indecent or not," he said.
          Yeh, and we've had just a taste of that here.

*****
From Bamboo Dong at Anime News Network (ANN): Frenchy Lunning is a researcher and lecturer at the Minneapolis College of Art and Design. Specializing in Japanese popular culture, she is also the founder and editor-in-chief of Mechademia, a journal that focuses on anime and manga. She is also the co-founder of Schoolgirls and Mobilesuits: Culture and Creation in Manga and Anime, an annual workshop featuring lectures from notable anime scholars and other events. Lunning was brought in as an expert in the case of Christopher Handley. Lunning answered a few questions from ANN regarding her involvement in the case.
ANN: Do you think the ruling will affect academic studies in manga and anime?
Lunning: It will affect the people—fans—who live under the same myth that Mr. Handley did: that your private mail is private. Under the law that Mr. Handley was prosecuted under—a Homeland Security act — we have lost many rights, including the right to privacy in the mail. [I'm not sure about this; I think Handley was prosecuted under another law. But Homeland Security laws have undoubtedly undermined individual privacy.—RCH] And since pornography laws state that pornography is established by "community standards" the Lolicon was judged pornographic and thus illegal under this law. One of the positions I took was that Mr. Handley's community was not the good people of Iowa, but our online fan community. Although I feel this is true, that one apparently didn't sell with the court. Scholarship in this area will continue: one of the advantages of scholarship is that it is primarily words, and the academic press is rarely under much scrutiny: we are too dull for most readers, and certainly for curious postal workers!

ANN: One of the reasons cited for the ruling was that the manga he possessed did not have "literary value," as opposed to works like Lolita. Could you possibly comment on that?
Lunning: It was positioned more as "artistic" value, and yes, that is one of the possible attenuating factors in the labelling of potential "pornographic" works. Having seen the work under discussion, it was average art, except for the orgasm scenes, which were quite interesting, especially when you consider the difficulty in rendering an abstract "feeling." I was prepared to suggest that these scenes were worthy of artistic merit, but the balance of the work was mundane and a little silly.
ANN: How would you compare the environment for manga studies in the United States to other countries?
Lunning: Well, our culture bears the mark of our Puritanical ancestors. Yet our colleagues in other countries have not had that cultural upbringing and it does make a difference. ... Japanese do not hold sex to be "horrific" as we do. This is part of the entire problem. I do not know about many other countries, I know it is also easier in France, mainly because they have a stronger comic book culture there to protect and exert a stronger market demand than we do.

*****
According to the Research Institute for Publications, Japan's manga market has experienced a 6.6% drop over the last year, the largest decline in history reports W. David Marx, Tokyo editor of cnngo.com. Analysts blame the lack of hit titles, general anemic consumption stemming from the recession, and the proliferation of manga fans reading titles at manga cafes rather than purchasing magazines and books at stores. The decline of the manga market may well affect other niches of the entertainment industry: anime, live-action tv, and feature films get creative inspiration from manga. "With fans' sales as the only way to measure popularity," said Marx, "producers may not know which new comic series to adapt to another medium. Hence, we can expect lots and lots of remakes of old manga in coming years."
LUANN IS A QUARTER OF A CENTURY OLD
But She's Still Just a Teenager
Greg Evans' Luann passed the 25-year marker in March, and Evans celebrated the occasion with a commemorative Sunday strip (followed by a daily) in which Luann and her pals appear, fleetingly, as they looked when the strip started—nifty gag, well done.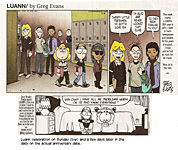 Lasting this long at a single occupation was probably not what Evans thought he would be doing 25 years ago. By then, he'd taught high school art for four years ("and hated it," he said), married Betty, who was an elementary school teacher, trekked off to Australia for a while, worked as a tv camera-man in Colorado Springs, and became a robot operator. This was Maxwell, who bears a more than casual resemblance to R2D2 of "Star Wars" fame; Evans traveled with Maxwell all over his native California and other galaxies far far away, performing at trade shows, malls, promotions, and fairs. He also sold cartoons to magazines so he could say, if asked what he did for a living, "I'm a cartoonist and I run a robot."
          Accounting for his success at keeping a job longer than a couple years, Evans said: "Betty convinced me that I had a good comic strip in me so over a 15-year period, I created several: Flounder Fathers, then Seamy Heights, then Zak 'n' Lou, then Mother Goof, Maiden Voyage, Beowoof, Headline Humor—none of which you've heard of because all were rejected."
          Then one day, he had an inspiration. "I'd been watching my four-year-old daughter primping with play make-up and acting oh-so-feminine and I thought that strip about a very contemporary little girl was just what the comic page needed. As I worked, however, I found that age four was too limiting, so I advanced her to age 13. Ah, adolescence! Who doesn't recall their teenage years with a mixture of joy, pain and acute embarrassment? What a rich subject for comedy and pathos! I gave my main character a 'lovable loser' quality and created a colorful cast of friends and adversaries. Thus, Luann was born."
          Luann's look has changed over the years, as we can see from the accompanying visual aid. But a quarter of a century later, noted Andrea Moss in the North County Times, she's still a teenager. In 1999, Evans added three years to Luann's age (and that of every other teenage character): no longer 13, she's a sweet sixteen, ripe for adolescent romance. But Evans told Moss he doesn't know whether Luann will ever be any older. As a girl just into adolescence, she's popular with enough readers to get syndicated in about 400 newspapers.
          Evans told Moss that he has always been careful about the way he used material from his daughter's life. "If I was going to do something (in the strip) inspired by some antic of hers, I would always do it a year after or a year before, so she was not embarrassed," said Evans. "An example is Luann's first period. I did that before my daughter got to that, because I knew that would be hugely embarrassing."
          Teen sex, homosexuality and adoption (all handled with the greatest sensitivity) are some of the other touchy topics Evans took on in the strip as Luann tackled real-life issues that teens often face.
          In recent years, Luann's brother Brad has consumed some of the strip's storyline: he's fallen in love with a beauteous fellow fire-fighter named Toni, and they now flirt with the idea of just how permanent this relationship will be. With Toni, Evans proves that his streamlined drawing style can limn a genuinely hot babe. Evans also watercolors with marvelous results. Happy anniversary Greg, Luann, Brad, Toni, etc.
AND HOW ARE THINGS IN COMIC BOOK STORES THESE DAYS?
James VanOsdol at Chicago Weekly's Journal of Vitriolic Observer blog (JVO) dropped by the Challengers Comics Store in early March and asked store owner Patrick Brower "a few questions about the health of indie comic shops, circa 2010."

JVO: We've all heard rumors and whispers that the economy is thawing. How bad did it get for comic retail, and where are things at now?
PB: Comic books are the "comfort food" of the entertainment industry: even while everything else is tanking, comics still seem to do okay. They're cheap, disposable and can make you feel good about life and yourself pretty quickly. And once you buy one, you own it. It's not an experience: it's a product you can use over and over. You can read it again and again. And aren't you worth $3, even on the shittiest of days? Sure you are. Just skip one lousy cup of coffee, and you can have a comic book forever. Now that people are starting to have some money again, they most want to treat themselves to the things they've denied themselves for so long, whatever they may be. What they're not, is comics. People have called comics "recession-proof," but when the recession is over that's when the comics industry really starts to feel it.
JVO: What does the advent of the iPad mean for the industry?
PB: I know a lot of people have been waiting for the iPad announcement and what it holds for the future of the printed page. Rich Johnston (BleedingCool.com) as already proclaimed it the first nail in the comic book coffin, but I disagree. First and foremost, all of my tech friends who were anxiously awaiting the announcement were left underwhelmed by the iPad, be it design or lack of function. In fact, I know only one person who actually has a plan to buy one (JVO note: Make that two. I can't wait). That's down from a good 15 friends who were thinking about it. Call me old-fashioned, or blame it on me being a paper retailer, but I just don't see printed comics going away. I see the digital versions only supplementing the actual, tactile comics. I'm only going with my personal opinion here, but the majority of comic fans read comics because they want to own comics. You don't own a digital copy. You can't put a digital copy on your bookshelf. You're not going to have the same memories of your "first digital comic," as you do with real comics. And if you've ever worked with graphics programs, the colors on the screen are never the colors on the page. I applaud the decision of companies such as Marvel releasing their back catalog in digital format, I just don't see iPad comics replacing actual comics.
JVO: Are monthly books a dying breed? Put another way: Are trade paperbacks taking over?
PB: Remember what I just said about physical comics never disappearing? I don't think they will (disappear), but their format is changing. Almost all comics today are written in story arcs which are then collected in larger books called trade paperbacks. Some people also call them graphic novels, but "graphic novel' usually denotes a story that debuts in the longer, single volume, form, not a collection of previously-published work. Single issue comics are getting to be too expensive, and if you've been buying for a lifetime, where do you keep them all? Trade paperbacks are usually cheaper than the issues they collect, square-bound for easy bookshelf display, and contain "DVD extras" not found in the monthly comics. And with most writers writing for the (entire) story, (as opposed to) the single issue, parts three, four and five of a seven-part story are usually pretty uneventful when read as pieces. One of the most prominent writers in the industry today, Brian Michael Bendis, writes solid, entertaining stories that read great when collected, but are boring when read one at a time. Sure, there are still people like Robert Kirkman that master the single-issue cliffhanger, but even his stories are told in six-issue arcs. And simply looking at the sales, trade paperbacks beat single issues, hands down.

JVO: "Iron Man" and comic movies in general: do they help bring in business?
PB: Did you see "Iron Man"? Pretty sweet, right? Do you want to see "Iron Man 2"? Sure you do. Do you want to read an Iron Man comic book? Well don't feel too bad about saying "no" because you are not alone. "Batman" and "Batman Returns" brought a tremendous amount of new readers into comic book stores. Thousands and thousands. Pretty great, right? Well that was almost the only time the comics market saw that kind of an influx. I could list for you a dozen movies you saw that were originally comic books and while you'd say, "I didn't know that was comic book!" you still wouldn't want to read it. That's just the way it works. Here are a few: A History of Violence, Surrogates, Road to Perdition, Men in Black, Art School Confidential, 300, Persepolis, From Hell, Constantine, Whiteout. And there are many, many more. More every day. But a hot comic book property does not translate into comic book sales for the same character. Iron Man (comic book) sales did not go up when "Iron Man" (the movie) came out. Toy sales did, sure—I even bought some Iron Man action figures for myself—but the comics did not. Part of the reason may be that there was no comic out that looked or read like the movie, but a bigger part of that is that people just don't care. Which is too bad, because the current storyline for Invincible Iron Man is amazing.
JVO: How competitive is the Chicago market?
PB: Challengers has been open for just about two years, and before that I served my time at other stores for 17+ years. So I've been a full-time comic book retailer since 1990. In that time the market grew, grew, grew, saw heights it hadn't seen since the 1940's, and then crashed. Hard. At one point, there were almost 7,000 comic book stores in the country. Now there's not even 3,000. And it feels like most of that 3,000 are right here in Chicago; Chicago has a very large number of comic book stores. In 2008, four new stores opened in the city alone. In 2009, at least one more. And it's been years since a store closed in the city. The one-time comic store Kings of Chicago, Joe Sarno (Comic Kingdom), Larry Charet (Larry's) and Gary Colabuono (Moondogs) have all moved on, leaving Chicago Comics as the comic book store people in the industry associate most with Chicago, but there are plenty more. Some are dank, dingy and remind you of your Mom's basement after a flood. Some are packed so tight with stuff that you get claustrophobic. Some are more card and gaming stores than comic stores. And then some are open, airy, bright and comfortable. Just as every neighborhood of Chicago has its own personality, so does every comic book store. And I bet you can find a store and a comic you like. Hell, I challenge you to.
ONCE MORE, THE ORIGIN OF THE JOKER
Last summer at the Comic-Con in San Diego, Jerry Robinson talked about the creation of the Joker at a panel on the psychology of Batman's arch villain. Other panelists, Robin Rosenberg, Michael Uslan, Adam West, and Travis Langley, listened. Later, Langley, aka Papa Llama, reported Robinson's remarks at rocketllama.com; to wit:
Jerry: There was a story that's been repeated that the look of the Joker came from Conrad Veidt.
Travis: From the movie "The Man Who Laughs."
Jerry: "The Man Who Laughs," yes. Well, it's true and not true. What actually happened was, Bob Kane and I never heard of "The Man Who Laughs" before [writer] Bill Finger brought it up. Bill was an aficionado of offbeat films, German Expressionism. Conrad was a well known German actor who carried that kind of aura with him. In that first meeting when I showed them that sketch of the Joker [as a playing card], Bill said it reminded him of Conrad Veidt in "The Man Who Laughs." That was the first mention of it. He said, "I'll show you," and in a day or two, he found a clip of Conrad in that role. He brought it in and it was astounding: it looked so much like the Joker. That was after the fact. The movie had nothing to do with the playing card or how I first came to that image. So it helped Bill kind of visualize the character because he was struck by the similarity. That's how it came about.
Jerry (continuing): If you read the Batman historian Nelson Bridwell, he had one interview where he interviewed Bill Finger, and Bill said, "No, the Joker was created by me" [Jerry Robinson]—an acknowledgment. He can be credited and Bob himself—we all played a role in it. The concept was mine. Bill finished that first script from my outline of the persona and what should happen in the first story. He wrote the script of that, so he really was co-creator, and Bob and I did the visuals, so Bob was also. But as Bill said, "Bob didn't create any of the other characters except perhaps Two-Face." Bill Finger was really the creative genius for Batman. He created all of the other characters except the Joker, and I think he did more on Two-Face than he'd admit himself. I think sometimes Bill was so self-deprecating that he didn't take credit for the things he did do at times because he was so kind of brow-beaten in a way and insecure. It's a tragedy. He died broke and uncredited. That's why I started that award [for writing] in San Diego that's given in his name every year because from the very beginning everything should have said Batman was created by Bob Kane and Bill Finger just like Siegel and Schuster (the creators of Superman).
RCH: Now that, it seems to me, ties down all the loose ends anyone has ever thought of. Thanques to Papa Llama.
*****
Fascinating Footnit. Much of the news retailed in the foregoing segment, and some of what follows, is culled from articles eventually indexed at rpi.edu/~bulloj/comxbib.html, the Comics Research Bibliography, maintained by Michael Rhode and John Bullough, which covers comic books, comic strips, animation, caricature, cartoons, bandes dessinees and related topics. It also provides links to numerous other sites that delve deeply into cartooning topics. Three other sites laden with cartooning news and lore are Mark Evanier's povonline.com, Alan Gardner's DailyCartoonist.com, and Tom Spurgeon's comicsreporter.com. And then there's Mike Rhode's ComicsDC blog, comicsdc.blogspot.com and Michael Cavna at voices.washingtonpost.com./comic-riffs . For delving into the history of our beloved medium, you can't go wrong by visiting Allan Holtz's strippersguide.blogspot.com, where Allan regularly posts rare findings from his forays into the vast reaches of newspaper microfilm files hither and yon.
WEBCOMICS
March 2010 (and April 2009)
Almost a year ago (time flees, alas), feeling more ignorant than usual (which is saying a lot), I asked our New York correspondent, John McCarthy, if he knew the URLs of any webcomics so I could browse some. And John, the very soul of diligence, sent me a bunch. I had asked mostly because I felt I should sample some more webcomics than I'd seen to see if they were actually as primitive looking everywhere as the few I'd dropped in on. But now, almost a year later, I have decided that I shouldn't keep all this information to myself, but I should share it. Which is what I suppose John thought I was going to do in the first place. So I asked him about it, and he sent an up-dated list. Here's John's list with categorical notations.
          He breaks his list into three categories: 1) syndicates, 2) collectives (he puts an asterisk next to my favorite ones), and 3) creator's sites. A couple of John's footnits:
          2) A Collective is just that: a gathering of creators/comics by mutual consent. Cartoonists in a collective may or may not do anything together outside of sharing space on the Web. They may print together, go to cons together, advertise together—or they may not. A cartoonist can also belong to more than one collective.
          3) Creators, no matter what syndicate or collective they belong to, will almost always have their own personal site or sites as well.
          The creators/cartoonists sites (John says) are all ones I read constantly. There are others I'm aware of and that I may read, but these ones I never miss.A great part of following webcomics is that the creators are so approachable. They are in constant contact with their fans/readers and the fans truly appreciate it.
SYNDICATES
www.kingfeatures.com
* www.gocomics.com
www.creators.com/comics.html
www.comics.com
www.copleynews.com
www.ucomics.com
www.postwritersgroup.com
COLLECTIVES
* http://talltalefeatures.com/
* http://webcomicplanet.com/
www.th3rdworld.com/
www.drunkduck.com
www.onlinecomics.net/pages
www.comicgenesis.com
www.txcomics.com
www.keenspot.com
www.indyplanet.com/catalog/pages.php?pID=2
CREATORS/CARTOONISTS
1977 the Comic is a Far Out Webcomic - http://www.1977thecomic.com/
Welcome to Steve Ogden's Moon Town -- http://www.moon-town.com/
Marooned - Twice Weekly Sci-Fi Space Webcomic – http://www.maroonedcomic.com/
Red's Planet -- http://www.redsplanet.com/comic/
Spooky Doofus -- http://spookydoofus.com/
boxcarastronaut.com –http://boxcarastronaut.com/main/
Astray3 -- http://www.astray3.com/
Cuchulainn - the Hound of Ulster - An Tain –http://cuchulainn.oghme.com/?lang=en&navlang=en
Dog eat Doug -- http://dogeatdoug.com/
Zorphbert and Fred - A Webcomic by Dawn Griffin -- http://www.zfcomics.com/
Imagine This -- http://imaginethiscomic.com/
Pinkerton, created by Mike Witmer -- http://www.pinkertonpark.com
Robot Beach - A Webcomic by Matt Forcum -- http://www.robotbeach.com/
Shattered Myth. A Webcomic Adventure in Mythinformatiomm2, –- http://www.shatteredmyth.com/
IMY, a comic strip by Irma Eriksson -- http://www.imycomic.com/
Disclosure - Andy Carolan Illustration and Design -- http://www.andy-carolan.co.uk/
Super Siblings - All ages comic strip for geeks with kids. -- http://www.supersiblingscomics.com/
Console Hopping -- http://www.consolehopping.com/
Rick The Stick - The WebComic - Stick Happens -- http://rickthestick.com/
LegendOfBill.com Webcomic -- http://www.legendofbill.com/
EQComics --- http://eqcomics.com/
Canned Ham by Phil Oliveira -- http://www.cannedhamcomic.com/
Capes -– Babes, a webcomic by Chris Flick -- http://www.capesnbabes.com/
Company Man Comic : Home -- http://www.companymancomic.com/index.asp
Misery Loves Sherman – A web comic strip, a boy, and some aliens by Chris Eliopoulos -- http://www.miserylovessherman.com/
Rabbits Against Magic -- http://www.rabbitsagainstmagic.com/
strangegods - Monday, Wednesday and Friday -- http://www.strangegods.net/
Woody After Hours -- http://www.woodyafterhours.com/
SMALL MARKET SPORTS - Cartoons and Comic Strips about Sports -- http://www.smallmarketsports.com/
Madscott – Mad HAHA not Mad Grrr - Now with MORE Marshmallows -- http://www.madscottcomic.com/
And (RCH again) here's a bunch left over from last April's list; dunno if they still work or not, but give 'em a try:
Sampling of Strips
http://jetpacksandtimemachines
www.curiousoldlibrary.com
www.lunchbreakcomics.com
www.daniellecorsetto.com/gws.html
www.comicssherpa.com/site/home.html
http://wizardsofur.blogspot.com
Some of these, I've visited since last April; most, not. So I'm passing along John's list without editorial comment—a purely informative service of Rancid Raves. But before I go, don't forget to visit Sinfest.com.
BADINAGE & PERSIFLAGE
Casual Friday is spreading—to Mondays in one direction, Thursdays in the other. In fact, judging from the number of tv pundits and politicians I see without ties, shirts open at the collar, Casual Friday has now effectively taken over the entire week. Sloppy dress—pants with holes in them and the like, unkempt appearance (beards, mussed-up looking hair)—has long since infected most areas of American life.
          "There's a reason that your rearview mirror is smaller than your windshield."—Kevin Patterson, Director of Parks and Recreation, Denver
          My lifelong friend Gary George, staring at the salad before him just after I'd called it "rabbit food": "I have to eat greens every once in a while or my shit turns brown."
EDITOONERY
Afflicting the Comfortable and Comforting the Afflicted
In this month's crop of editorial cartoons, the health care reform legislation gets top billing, and in the accompanying visual aid with the red Number 1, we see Scott Stantis depicting Nancy Pelosi emerging with victory in her hands. Stantis, more conservative than liberal, can scarcely be blamed for his stance; and the visual gives metaphorical substance to the contention that making laws is like making sausage (and you wouldn't want to watch either being made). Counterclockwise, we meet the liberal contingent in R.J. Matson, John Cole, and Pat Brady. Cole's image, which was published (as you might guess) around Thanksgiving, is vividly telling. The two comic strip efforts by Matson and Brady emphasize the monotony of the GOP stance.
          In Red 2, scandalous sex, a constant in American life and politics, attracted the attention of (counterclockwise from upper left) Mike Lester, R.J. Matson, Mike Luckovich, and Matt Bors. Lester's image of Tiger Woods is exaggerated, extreme—and hilarious; and perhaps no one deserves the ridicule more than Tiger. Bors puts his finger on the Real Reason for Opposition to Gays in the Military: straight guys are afraid of what might happen if a gay guy sees them naked in the shower. Luckovich is here because he made a mistake, not a big one but a mistake nonetheless: he thought he was adapting the famous painting the Constitutional Convention but it was actually a painting of the signing of the Declaration of Independence, and more than a few sharp-eyed readers (not, alas, moi) caught him at it.
          In Red 3, Matson is back again, this time with an image he purposefully borrowed from one of his more celebrated predecessors at the St. Louis Dispatch, Dan Fitzpatrick, who frequently (as you can see) interpreted the Nazi swastika as a relentlessly rolling juggernaut, crushing all opposition in its path—an accurate enough image in the early years of World War II, beginning with the invasion of Poland at the end of August 1939. Deploying the same image, Matson makes Corporate Free Speech genuinely chilling.
THE FROTH ESTATE
The Alleged News Institution
It's ain't just the bankers who're greedy beyond comprehension: Gannett paid its Chairman and CEO Craig Dubow $4.7 million last year, the company just disclosed in a regulatory filing—a sharp increase over the $3.1 million he took home in 2008. Dubow's 2009 pay included a bonus of $1.5 million, the filing shows, and came after he engineered record layoffs (Gannett shed more than 6,000 jobs last year) and other cost cutting across the company (a one-year wage freeze for employees). And Gracia Martore, promoted last month to president and chief operating officer, got $4 million as chief financial officer—more than doubling her $1.4 million in 2008. Her 2009 bonus: $950,000, the March 18 filing shows. And three other top executives' pay exceeded $1.3 million each, plus bonuses. And all this time, I thought newspapers were in the financial doldrums.

MORE PERSIFLAGE & BADINAGE
Will Durst on the Grumpy Ogre Pachyderm's preoccupation with O'Bama's use of a teleprompter: "When Glenn Beck spits contempt at the President's lame reliance on a teleprompter, he's reading his criticism—off a teleprompter. ... I assumed that the President's appearance in front of a group of GOP congressmen answering questions would put a stop to this ludiculous charge since he skated for an hour and a half without benefit of notes or teleprompter or transmitter hidden under the back of his suit coat. But, no: you guys are like a pit bull with an invisible chew toy. ... At the recent Teabagger convention, Sarah Palin gave a speech mocking the President for using a teleprompter, while she was wearing crib notes inked on her hand. Talk about the Bering Sea calling the Chicago River moist. Hypocrite or retro techno geek? After all, what are notes on the hand besides a fifth grade teleprompter? Hey, Sarah—so how's that inky-palmy thing workin' out for ya?"
          From Planet Proctor, compiled by Phil Proctor: "Gay marriage will encourage people to be gay in the same way that hanging around with straight people encourages gay people to be straight. ... Straight marriage will be less meaningful if gay marriage were allowed; the sanctity of Britney Spears' 55-hour just-for-fun marriage would be destroyed. ... Gay parents will raise gay children since straight parents raise only straight children. Gay marriage is not supported by religion. In a theocracy like ours, the values of one religion are imposed on the entire country. That's why we have only one religion in America."
FUNNYBOOK FAN FARE
Four-color Frolics
An admirable first issue must, above all else, contain such matter as will compel a reader to buy the second issue. At the same time, while provoking curiosity through mysteriousness, a good first issue must avoid being so mysterious as to be cryptic or incomprehensible. And, thirdly, it should introduce the title's principals, preferably in a way that makes us care about them. Fourth, a first issue should include a complete "episode"—that is, something should happen, a crisis of some kind, which is resolved by the end of the issue, without, at the same time, detracting from the cliffhanger aspect of the effort that will compel us to buy the next issue.
*****
In the first comic book he has written, Stephen King takes up the vampire genre but gives it what he calls a typically American aura. American Vampire is about a Wild West outlaw who's a sociopath even before he gets turned into a vampire. Shannon Donnelly at the DailyBeast.com is convinced, talking to King, that Twilight fans won't go for this one. Said King: "There's been a whole spate of vampire stories where the vampires are kind of like boy toys, and they're kind of beautiful, and you want to kind of pet them and take them home with you. I think that the Twilight books, while they do have some crossover, sexually, boys and girls, for a lot of girls, this is an extremely romantic and highly-charged concept that has a sexual element but it doesn't seem as dangerous," King continued. "I go back to that thing about how vampires are terrifically sexy from the neck up and dead from the waist down, because the original vampire thing, the whole element of that was oral, you know? It was basically giving girls hickeys in the middle of the night."
          King is writing American Vampire with Scott Snyder, who intrigued King with a proposal for the story that he sent the famed author of weirdness. The first issue presents two narratives: the opening episode, by Snyder, is about Pearl Jones, a young actress trying to get into movies in the 1920s; the second story goes back to 1880, where we meet Sweet, a vicious outlaw who gets bitten by a vampire in the course of his escape from custody. To some extent the second story gives the first a context (if not, exactly, an explanation): Pearl and her roomie, Hattie, have a nextdoor neighbor who looks like (and most assuredly is) Skinner Sweet, still alive (well, mobile) and still young, like any good vampire. It's Sweet who holds the two pieces together and makes them whole. The girls are intrigued by him; and he, by them. Their exchange with him gives the first story its complete episode. Then an actor on the movie set invites Pearl to meet a movie mogul one evening, and she encounters a flight of vampires there; Snyder leaves her screaming (and us, of course, hoping to find out what happens next time). The Skinner Sweet episode, completed by his escape, ends with one of his former captors beating him to death; but when the brute turns away, we see Sweet's eyes glowing and we know he'll be around for a long time yet.
          And it is the notion of time that attracted King to the project. "One of the things that happens when you write something like this is the themes start to suggest themselves," he told Donnelly. "No matter what format you're working in, whether it's short stories, novels, or comics, you oughta be writing about something or you're wasting your time. And it seemed to me that this was about time, and how we get older. I loved the whole concept of the vampire—the most attractive thing about it is that you never age."
          Although this is King's first try at writing comics (the earlier King-inspired Dark Tower books from Marvel adapted the novels to the comics form, but King didn't write anything), he's always been a funnybook fan, he said. He grew up reading them, reports Donnelly, including the classic EC Comics—like Tales from the Crypt and Tales from the Vault—that inspired his own 1982 film "Creepshow." Said King with a laugh: "They twisted me entirely. And I loved Superman, Captain Marvel, all those guys. I even liked Casper the Friendly Ghost! I probably should be ashamed to admit it, but I did."
          King "fell away from the genre for several years," said Donnelly, and now that he has returned, he finds that it has evolved somewhat and he had to learn about it. Thought balloons for example: he learned that they've been phased out of the medium. "I got this kind of embarrassed call from the editors saying, 'Ah, Steve, we don't do that anymore.' 'You don't do that anymore?' I said. 'No, when the characters speak, they speak. If they're thinking, you try to put that across in the narration, in the little narration boxes.'"
          So King happily re-wrote to fit the new style—though he still laments the loss of the thought bubble: "I think it's a shame to lose that arrow out of your quiver. One of the nice things about the written word as opposed to the spoken word in a movie is that you can go into a character's thoughts. You do it in books all the time, right?"
          Somewhere near the dawn of the current era, one of my pet peeves was that comic book captions carried too much of the story. A good tale is told through the speeches of the characters—what they say and what others say about them—and their actions. Captions intrude, undermining verisimilitude. And if I'd thought about it more, I probably would have railed against thought balloons, too, as being unrealistic and intrusive. So I welcomed the present trend of letting speeches and actions do the narrating. But I think King has a good point here: in prose fiction, we often know characters' thoughts. But in comics these days—awash in cinematic realism—we have to guess. And that's a trifle risky sometimes.
          On another topic, King points out that the influx of other heavyweight authors like James Patterson, Jodi Picoult, and Michael Chabon into comics, along with mainstream movie hits "Watchmen" and the Batman flicks, have done wonders for the genre's reputation: "They used to be kind of the fallen woman of literature, but they've really been spiffed up, and they've got a lot of their reputation back."
RANCID RAVES GALLERY
Pictures Without Too Many Words
Sundays present opportunities for cartoonists to be playful in designing their strips for publication that day. Color offers a chance for inventiveness that was once unique to Sundays, but nowadays, with color running throughout daily newspapers, isn't quite the same. Space, though—the greater roominess of the typical Sunday format—is exploited by several cartoonists. Patrick McDonnell often plays in Mutts with his strip's Sunday layout; and so does Jim Borgman with Zits. But Broomhilda by Russell Myers almost always presents a fanciful design. And so, increasingly, does Jef Mallett in his Frazz. Here's a Broomhilda from last summer that evokes memories of George Herriman's Krazy Kat, plus a flock of Frazzes, the more visually inventive of which must stop Sunday funnies readers in mid-scan so unusual is the imagery. A couple of them I'm throwing in for the seeming wisdom of the dialogue, and on the last exhibit, Mallett evokes Norman Rockwell, so I'm including the image at issue. The echo of the Rockwell painting in the comic strip underscores the strip's message: in the strip, at last, a brown character gets himself into the Rockwell composition.
WE'RE ALL BROTHERS, AND WE'RE ONLY PASSIN' THROUGH
Sometimes happy, sometimes blue,
But I'm so glad I ran into you---
We're all brothers, and we're only passin' through.
Icons of Our Cultural Life Slipping Away
Davy Crockett died on Thursday, March 18. Fess Parker was Davy Crockett to millions of Americans in the mid-1950s when Walt Disney introduced a tv series based on the folk hero. It was Parker's Crockett that made the coonskin cap famous—not Estes Kefauver (about whom, more below). And the merchandising of Disney's Crockett—coonskin caps, guitars, lunchboxes, bedspreads—proved the heretofore untested power of television, which was a new piece of livingroom furniture at the time.
Robert Culp died on Wednesday, March 24—still famous for his role in helping integrate tv in "I Spy," an adventure series in which he co-starred with Bill Cosby, the first African American to fill a starring role in a regular tv series. They were spies with a cover in tennis: Culp was Kelly Robinson, an ace tennis player (as he was in off-screen life), and Cosby was Alexander Scott, Robinson's trainer. The easy bantering relationship between Robinson and "Scotty" showed interracial friendships could work, easier than many heretofore had supposed.
And Peter Graves died on Sunday, March 21. Although famous as the cool spymaster of tv's "Mission: Impossible," Graves was almost as famous in certain subrosa circles as the rumored younger brother of James Arness, Matt Dillon of "Gunsmoke." Graves' obits confirmed the rumor and added that he abandon both his birth name and its spelling (Aurness) in about 1950 in order to avoid being confused with his brother.
*****
Estes Kefauver, the homespun politician from Tennessee, adopted the coonskin cap as a personal trademark much earlier than Parker's debut as Crockett—namely, during his successful 1948 campaign for election to the U.S. Senate. Quoth Wikipedia: "Tennessee political boss E. H. Crump had published advertisements accusing Kefauver of being a raccoon-like Communist puppet. In response, Kefauver put on a coonskin cap during a speech in Memphis, proclaiming: 'I may be a pet coon, but I'm not Boss Crump's pet coon.' He continued to use the coonskin cap as a trademark throughout his political career, which included unsuccessful campaigns for the Democratic presidential nomination in 1952 and 1956, an unsuccessful campaign for the Vice Presidency as Adlai Stevenson's running mate in 1956, and successful Senatorial re-election campaigns in 1954 and 1960." But Kefauver's coonskin cap was not adopted by the youth of the nation as Parker's Crocket cap had been. "At the peak of the fad, coonskin caps sold at a rate of 5,000 caps a day. By the end of the 1950s, Crockett's popularity waned and the fad slowly died out."
BOOK REVIEWS
Critiques & Crotchets
Exquisite. Elegant. Both content and package. I'm talking about IDW's Bringing Up Father: From Sea to Shining Sea (280 10x11-inch pages, some in full color; hardcover, $49.99), "Maggie and Jiggs in the Famous Cross-Country Tour of 1939-40." The book itself, in common with other IDW tomes, is a superb instance of the book-maker's craft and artistry, including, even, the symbolic piece de resistance, a sewn-in ribbon book mark. The introductory materials—essays by Brian Walker and Bruce Canwell, associate editor of the IDW series—are happily laden with information and delightful visual extras: photograph stills from the Bringing Up Father movies in the late 1940s; the Sunday strip for September 1, 1940 in which Jiggs visits his creator, George McManus (we posted a much less clearly defined version in Harv's Hindsight for October 2009); a great self-caricature of McManus' long-time assistant Zeke Zekley; a "Prologue" of McManus' celebrated "Remember When" strips in which Jiggs reminisces about his and Maggie's childhoods.
          Walker's essay, as is typical of his work, is packed with information: every sentence jammed with facts. He settles the illusive question of McManus' birth date by consulting the Register of Birth records in St. Louis, where McManus was born on January 23, 1882. And he puts this legendary Jiggs and Maggie tour in historical context by pointing out that other comic strip cartoonists had taken their characters on extensive travels. The Yellow Kid and Happy Hooligan, for instance, and Mutt and Jeff. And when the strip debuted in Ireland in Dublin's Freeman's Journal, "a joyful song was heard in the music halls," Walker says, and quotes the song:
Oh Paddy, dear, an' did you hear
The news that's goin' roun'
That Jiggs and Mag and Dinty, too
Are comin' to our town.
Delightful. Cranwell's effort is a somewhat breezier treatment but no less informative. Relying quite a bit on the 3-part Collier's article in 1952 and on Cecil Jenson's 2003 interview with Zekley, Cranwell provides glimpses of life in the McManus-Zekley studio. The book performs a long-overdue service to historical truth and accuracy: in the bibliographic indicia, it credits the artwork equally to both McManus and Zekley. Zekley's assistance on the strip undoubtedly permitted and fostered the elaborate detail that distinguished (in every sense of the term) the strip's drawings. And Zeke's mimicry of McManus' manner was flawless: by the end of the 1930s, neither Zekley nor McManus could tell with perfect confidence who had drawn what in the strip. That King Features froze Zeke out after McManus died and gave the strip to someone else far less able is one of the crimes in syndication history (although I doubt Cranwell's claim that Zekley contested McManus' will; to what purpose?). In Harv's Hindsight last October, I told McManus' story in connection with the publication of NBM's collection of the strip's first years, and I've discussed Zeke's involvement in Opus 162, so I won't belabor either matter here (having now steered you to where you can refresh your memory on your own).
          The best part of the wholly excellent IDW book is the strips, their exquisite reproduction. And the strips from this period, 1939-40, without question display the McManus-Zekley artistic panache that made Bringing Up Father a strip without peer. In the book's Preface, IDW's editorial and creative director Dean Mullaney explains that they deliberately chose to skip the strip's early years in order to present the very best of Bringing Up Father: "In this volume is a stand-alone, chronological sequence that is generally considered the pinnacle of the strip. Jiggs and Maggie's trek across the continent is often ranked on all-time Top Ten lists by comic strip historians, and it is my personal favorite from George McManus's storied career. After twenty-five years of working on the strip, McManus is at the height of his talents—the gags are mature and brilliant, while the art shows McManus and his assistant Zeke Zekley at their most confident and detailed."
          The work of drawing the tour was prodigious—representing local landmarks and historic vistas with sufficient accuracy to convince readers, particularly those in the places being depicted, of the authenticity of the tour. McManus had been summoned into the Hearst Presence to consult about having Jiggs' daughter get married to an Englishman who'd wandered into the strip. They decided to acquaint the Englishman with the United States by taking him on a tour of the country in the strip. It was a great publicity stunt because they deliberately stopped in all the major cities where papers carried the strip. Zeke did extensive research, finding distinctive landmarks in every city that could be depicted in the strip. One of the storied sites was Times Square in New York—rendered on a Sunday page that demanded the inclusion of hundreds of telling visual details.
          "It was a huge panoramic scene," Zeke remembered. "Broadway north of 42nd Street. And it took forever to complete. We'd work on it a little at a time, doing bits and pieces on it for several weeks, referring all time to photographs. Well, when we sent that one in, we thought we'd hear something. And the only thing we heard was that the Claridge Hotel had been torn down—" he laughed "—and I'd put it in. I didn't identify it as the Claridge, but people wrote in to say the Claridge Hotel had been torn down. That was the only thing we heard."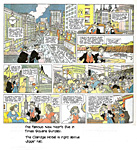 As a visit to the gallery below will demonstrate, McManus' strip has no equal in the felicity of its rendering. The line of unvarying thickness is nearly lifeless, but every panel of the strip is vibrant with visual life—endless details in background and foreground, contrasting solid black shapes, the filigree of furnishings and equipage, patterns and textures and intricate designs. And the crowd scenes—mobs, teeming multitudes, every face and shape unique, none repeated, seemingly, ever. The McManus-Zekley oeuvre of this period is a ringing declaration of the art of comics—the art of drawing for a narrative purpose but also the sheer visual mastery on display. Winsor McCay approached this standard with Little Nemo, but not even McCay would match the endless invention manifest in the pictorial orchestrations of Bringing Up Father, day after day, Sunday after Sunday. Unique. We do not see anything like this again in comic strip history; and we have only hints, intimations, of this sort of excellence before in McCay. Do not miss it; do not fail to buy your own copy of a book that contains a feast of pictorial adventuring of the kind our gallery, below, is but a merest preview.
MORE MANIACAL MUGS
From the Man Who Made Lena the Hyena
At the age of nine, Glenn Bray was smitten by Basil Wolverton's grotesque gallery of outlandish visages, and Bray collected lots of original Wolverton art, much of which appears in The Original Art of Basil Wolverton (272 giant 9x12-inch pages, mostly b/w because it's shot from original art which is, as usual, drawn with black ink on white paper; Last Gasp hardcover, $35). About half the book displays the fantastical caricatures of human physiognomy and anatomy for which Wolverton became celebrated after winning that fabled contest Al Capp conducted in 1946 to discover what a character in Li'l Abner looked like: Lena the Hyena was so ugly she could not appear in the strip. After Wolverton won the competition (with a memorable, not to say nightmare-inducing, portrait of a "balding, oily-haired, bush-browed, snaggle-toothed, boil-encrusted damsel"—as Doug Harvey, no relation, says in his introduction), his Lena did appear in the comic strip and in Life magazine, and "Wolverton's nearly twenty years of professional cartooning were transformed into overnight success." Demand for his unrivaled approach to caricature were "so enormous," Harvey says, "that he was turning away work" as he entered the "classic phase" of his cartooning career, 1950s and 1960s, as the self-professed Producer of Preposterous Pictures of Peculiar People who Prowl this Perplexing Planet. "Along with Famous Monsters of Filmland, Ed 'Big Daddy' Roth's Rat Fink, and a host of lesser atrocities, Wolverton's stint with Mad in the 1950s planted a cultural depth charge in a generation of impressionable preteens that started going off in the mid-1960s—one need only think of the signal outre graphic work of R. Crumb—and hasn't really subsided to this day," Harvey concludes. And here's a single scintillating sinister example.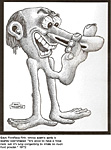 While this tome includes probably more of the classic Wolverton portraiture than any other book I know of, it also presents a revealing sample of his very early work, beginning in the 1920s and through the 1930s, including some gag cartoons and magazine illustration. His serious comic book work—notably Spacehawk—is only glimpsed, as are such outrageously pun-infested and alliteration littered frolics as Bing Bang Buster; but we have 22 days of a rare1930 serious sf comic strip, Ethan Downing, produced in the serial format of the day—illustrative pictures above narrative typeset—as well as some ballpoint pen inked roughs for Gunsnoot, the Martian Marshall, done for Bray by commission in July 1974 (just four years before Wolverton died; one year before he suffered a stroke) and, a genuine treasure, an 8-page Powerhouse Pepper strip in both pencil roughs and finished pages.
          Every piece of artwork is meticulously described and (wonder of wonders!) dated in the manner of exhibition catalogues. In addition to Harvey's insightful Introduction, we have prefatory essays by Bray and by Wolverton's son, Monte. And a few photographs of an antic Wolverton that Bray took during his visits with the cartoonist in the 1970s. Anyone who has the Wolverton Bible (reviewed in Opus 238) needs this volume (and vice versa): no understanding of Wolverton's genius for art is possible without both.
ONWARD, THE SPREADING PUNDITRY
The Thing of It Is ...
Newsweek did a cover story a week or so ago (March 29) on the "Scandal in Afghanistan ... How We've Wasted $6 Billion on a Corrupt and Abusive Police Force that May Cost Us the War." Scandalous indeed. But after detailing a shocking lack of accountability in tracking the expenditure of millions of U.S. taxpayers' money, the most revealing part of the article was contained in a paragraph not much remarked upon, a paragraph that discloses the gaping hole in American foreign policy. The Afghan police force is recruited from rural villages, and most of the recruits "have never been inside a classroom. Roughly 15 percent test positive for drugs, primarily hashish. Few know how to use a toothbrush or drive a car, and nearly 90 percent are illiterate." The training of the police cadets is conducted by DynaCorp, a defense contractor—and then comes the insightful paragraph:
          "DynaCorp opened a new police academy on the outskirts of Jalalabad, and within a few months the academy's drains backed up. Maintenance workers discovered that the septic tanks were full of smooth stones—a toilet-paper substitute used by many rural Afghans. DynaCorp had to bring in backhoes to repair the problem, and the company had to add two days of classes in basic hygiene."
          American cultural ignorance is stunning in its colossal arrogance. DynaCorp wants to teach rural Afghans "basic hygiene"? Seems to me that smooth stones represent personal hygiene at its most basic. Yet the writers of this paragraph with the inbred sense of American superiority assume that toilet paper is more basic than a smooth stone. But that overlooked arrogance, only a writer's gaffe perhaps, is but the tip of the iceberger. We remain, after 8 years patrolling Afghanistan, so ignorant of the native culture that we don't, evidently, think rural villagers need any training in the use of plumbing when they're moved into "modern" facililties.
          What are we thinking?
          Is it, then, so surprising that we are not winning the minds and hearts of the local population?
*****
Editoonist Rob Tornoe wrote: The George W. Bush years were good for more than just oilfield-services companies and waterboard manufacturers. They were also a boon for liberal political magazines, whose circulation soared on the wings of the Bush hatred that swept much of the country. The paid circulation (subscriptions plus newsstand sales) of The Nation nearly doubled from 2001 to 2005, that of Mother Jones rose by 37 percent, and that of Harper's by 7 percent.
To which one Internet wag added: Don't forget private military companies. Half of our presence in Afghanistan has been outsourced. War is a lot more tolerable both on the right and on the left if we pay someone else to do it for us.
*****
Here's one that slipped under the door, unnoticed, and yet will change the world in a generation or less. The 15-member Texas Board of Education voted 10-5 in mid-March to implant a "conservative stamp" on the way American history is taught in the state's schools. Henceforth, teachers will insist that the U.S. is an "exceptional nation" founded on explicitly Christian values with a "republican" (not democratic) system of government and a "free-enterprise system" (not capitalism, which was deemed pejorative). Moreover, students will be assured that the "separation of church and state" is not in the Constitution; it is, therefore, something of a nasty liberal invention. Thomas Jefferson's role in early American history will be downplayed because the ideologues on the Board don't like his attitude about separating religion from governance. Events of recent memory are also to be cast in terms supportive of right-wing conservative issues: Lyndon Johnson's Great Society initiatives had "unintended consequences," and the Reagan Revolution and the Moral Majority, the anti-feminist stance of Phyllis Schlafly, and the National Rifle Association will be championed. None of this is new. For years—since at least the 1970s—the Longhorn state has discarded textbooks that were seen as too liberal or anti-Christian. And the curriculum tones down global warming arguments and scoffs at gay-rights movements.
          This would be just so much right-wing nut folderol if it weren't for Texas' impact upon the way textbooks are written. Texas buys huge quantities of texbooks, and if textbook publishers want some of that money, they'll write textbooks to suit the Texas Board of Education criteria, and the same textbooks will be marketed (and purchased) all across the land to be studied and memorized by school children in every hamlet and village. This has been going on for decades, by the way: the moralistic worldview of conservative Texans have a disproportionate effect on the way Americans learn the country's history in schools all across the nation.
CIVILIZATION'S LAST OUTPOST
One of a kind beats everything. —Dennis Miller adv.
As you may have deduced from some of the foregoing, toilet paper was not always with us. But the need for cleaning off the bum after every shitty act has been with us since the dawn of time. The earliest and most common solution was to grab whatever was handy—leaves, hay, coconuts, shells, snow, moss, grass, corncobs, sheep's wool; then, later, thanks to the printing press, pages of newspapers, magazines, even books. Sears Roebuck catalogues were an early favorite in this country as the 19th century came to a close: everyone got one of these tomes in the mail, and, hanging on a hook in the backyard biffy, it was a supply of paper that lasted for months, a page at a time, until the next catalogue arrived.
          The U.S. has led the world in modernizing the catalogue approach. The Chinese had wiped with scraps of rice paper as early as the 6th century, but the Chinese influence in the West then was not widespread. But it wasn't until 1857 that a commercially viable option was concocted: a New York entrepreneur named Joseph Gayetty developed aloe-infused sheets of manila hemp dispensed from a Kleenex-like box. Still, no one ever mentioned "toilet paper." The New York Times first printed the words in 1888, but that was an act of journalistic daring. The Scott brothers, Clarence and E. Irvin, took the next step, producing toilet paper on a roll in 1890. Still, no one wanted to ask for the product by name (or function), so the spread of toilet paper into daily life was slow—until, finally, the advance of indoor toilets opened the flood gates, so to speak, for toilet paper. People needed something that could be flushed away without doing damage to the plumbing; corncobs and moss no longer did the trick. The Hoberg Paper Company completed the social revolution when it introduced a brand of tp called Charmin and advertised it with pictures of a beautiful woman, suggesting both softness and femininity and thereby avoiding any mention of the product's actual purpose. Suddenly, toilet paper was socially acceptable.
          Only one other advance was essential to the success of toilet paper. By 1935, Northern Tissue was able to tout "splinter-free" tp; until then, much toilet paper was uncomfortable to use because of a less-fine paper milling process.
          Consumer studies, incidentally, have identified three kinds of tp users: those who fold the paper to use it (43%), those who crumple (41%), and those who wrap it around their hands (a mere 6%); a final category, "other," makes us wonder. Around-the-handers use more paper than the other users; women, more than men (73% to 27%). That means women are cleaner. We've always suspected that.
          (All of these marvelous facts can be found in issues of the bi-monthly magazine Mental Floss, for July-August 2009 and November-December 2009.)
To find out about Harv's books, click here.