Opus 250 (Hallowe'en 2009). In the hopper this time, a long essay about serenity and sin in George Herriman's eternal Monument Valley plus Big Changes at The Comics Journal, another new cartoonist at the Chicago Tribune, Islamic Hoodlums still plotting to kill Danish cartoonists, The New Yorker's un-serious Cartoon Issue, and reviews of graphic novels Captain America: The Man with No Face and You Have Killed Me, plus Doug Marlette's classic In Your Face: A Cartoonist at Work. Here's what's here, in order, by department:
NOUS R US
Chicago Tribune expands cartoonist line-up
Comics Journal goes online all the time, in print semi-annually
Chicago Muslims caught in a plot to assassinate Danish cartoonist
Anniversaries and Birthdays: Annie, Asterix, Peanuts, Casper
New Yorker's Cartoon Issue still isn't serious
KRAZY THEME PARK
Herriman's Eternal Monument Valley Is Changing
EDITOONERY
Visual Metaphors and Imagery in Four Cartoons
NEWSPAPER COMICS PAGE VIGIL
Taboos Violated, Word Play Galore, Comics in Strips, Cameo Appearances, Using the Medium
Cornered
BOOK MARQUEE
Comic Book Classics to be Reprinted at Fantagraphics
Nancy, too
And Monte Schulz's novel
GRAPHIC NOVELS REVIEWED
Captain America: The Man with No Face
You Have Killed Me
COLLECTORS' CORNICHE
Doug Marlette's In Your Face: A Cartoonist at Work
Mister Ron's Basement
And our customary reminder: don't forget to activate the "Bathroom Button" by clicking on the "print friendly version" so you can print off a copy of just this installment for reading later, at your leisure while enthroned. Without further adieu, then, here we go—
*****
WE'RE ALL BROTHERS, AND WE'RE ONLY PASSIN' THROUGH
My Friend Shel Dorf, Founder of the San Diego Comic-Con, Died, Tuesday, November 3, at about 1:10 p.m., Pacific Time
I received the bad news just before sending this issue of R&R off to my webmaster. Shel deserves a thoughtful remembrance and appreciation, not something I'd rush through to make this posting. We'll have something more here in a day or so.
NOUS R US
All the News That Gives Us Fits
When we dithered, last time in Opus 249, about the advent of zombies and vampires in a couple comic strips earlier in October, we scarcely anticipated the deluge that engulfed the funnies page the week before Hallowe'en. Vampires showed up in Dana Summers' Bound and Gagged two days running, and zombies invaded Tim Rickard's Brewster Rocket for much of the week; they were looking, as always, for brains, so when Brewster courageously confronted them, they simply walked (shambled) past him. In The Flying McCoys, the brothers perpetrated a gag about a women driver who was rear-ended because she didn't see the driver behind her in her rear-view mirror—because he was a vampire. (We had to cogitate about that one a bit.) Zits celebrated "Zombie Week" by listing six reasons that zombies would make cool parents, and Jim Borgman's rendition of Jeremy's mother and father as decomposing parents was beautiful in their surpassing ugliness. In Dog Eat Doug, Brian Anderson perpetrated a joke about a vampire bat, and in Pearls Before Swine, Rat, disguised as the hookah-puffing caterpiller in Wonderland, ate all the strip's other cast members. A zombie joke, surely, the final punchline of which was when the Ratapiller eats Stephan Pastis on Saturday the 31st. Then on Sunday, November 1, the strip revealed that Pastis was actually vacationing in Hawaii all week, and Pearls was being drawn by Rat, who, having disposed of Pig, Zebra, Duck, Cat, and the Crocs—not to mention Pastis—is now, at the end of the Sunday release, planning to devour all of The Family Circus, one of Pastis' usual victims. Oh, the horror! Jim Davis also celebrated Hallowe'en Week: he took the entire week off by showing Garfield seated in an easy chair in exactly the same position, three panels every day for six days, watching a Dracula movie and making snarky remarks.
          The October Playboy, by the way, also joined in the ghoulish fun: the cover feature—"Vampire Love: Bloodlust! Why the Undead Are Hot Again"—was entitled "Love Bites" and depicted two barenekidwimmin nuzzling and licking each other hungrily. The popularity of the undead was thereby explained, in both pictures and the accompanying text, as a result of the link between bloodlust and passion, passion always being among the more popular of human endeavors. But that didn't not end Playboy's exploration of the phenomenon: "The World of Playboy" included the usual allotment of photographs of the magazine's editor, Hugh Hefner, the living dead on botox. Meanwhile, in Albany, New York, Max Brooks, self-proclaimed zombie expert, was quizzed by the Times-Union, which, among other questions, asked how he felt about movies that used zombies to provoke laughs or in which vampires tried not to act like vampires. Said Brooks: "I have nothing against zombie comedies. They help spread the word and keep the general morale high. As far as vampires go, well, we know vampires don't really exist, right?" His explanation for the emergence of the undead as "pretty hot properties in popular culture": "I think the American people are finally waking up."
THE FUTURE BRIGHTENS
The Chicago Tribune, having displayed a nearly hostile attitude towards cartoons for almost a decade, has apparently re-discovered their value: at the end of October, the paper, the largest in the midwest, signed up the last of the nation's active sports cartoonists to produce a weekly cartoon focused on the antics of the Windy City's numerous athletic franchises—the Cubs, Bulls, Bears, White Sox, and Blackhawks. The first of Drew Litton's cartoons, running under the heading The Main Event, appeared Saturday, October 31, in the Trib's retooled sports section, "Chicago Sports." Just a month or so ago, the Trib finally replaced its editorial cartoonist, Jeff MacNelly, who died in 2000, hiring Scott Stantis, long-time editoonist at the Birmingham News in Alabama (see Opus 247). Newspaper cartoonists are greatly encouraged by the Trib's actions: adding cartoons to its content during a time that newspapers generally seem threatened with extinction is seen as a potent endorsement of the ability of cartoons to attract and hold readers. It was a lesson the Trib had to re-learn. The paper had lately demonstrated a cynical indifference to comics with a policy audacious in its duplicity: when it dropped a comic strip from its line-up, the paper told readers who phoned to complain that they were merely "experimenting" and that the strip would soon return. That stilled the complaint. But the Trib never brought back the strip that it had dropped. Cynical, as I said. But by hiring Stantis and signing Litton to a weekly cartoon, the Trib seems to have reformed.
          Litton, who drew sports cartoons for the Rocky Mountain News in Denver for 25 years, has been freelancing his work since the Rocky died last February. He has maintained a website as a marketing tool, and last summer, he also sent e-mails and sample cartoons around the country to various sports editors, pitching the idea of a locally themed sports cartoon; the Trib expressed interest. Litton is delighted to land the gig: "Chicago's a rabid sports town," he told Rob Tornoe in an interview, "—with great teams with really good mascots. Mascots are very important to a sports cartoonist. Da Bears, Cubs, Bulls, Blackhawks. Those are like the greatest mascots of all time. Good manly type mascots." Litton's enthusiasm here may seem excessive, but he's a man who's found an oasis after a lifetime in the desert: in Denver, except for the Broncos, the teams he drew about offered no visualizable possibilities—Rockies, Rapids, Avalanche. Rocks, water, and snow. Banal.
          For at least as long as I've known Litton's work—since the mid-1990s, when I interviewed him—his cartoons have been different from the traditional sports cartoon, which, as established by the great Willard Mullin, boosted sports by spotlighting particular athletes:typically, Mullin declared his subject for the day with a large realistically rendered portrait of an athlete; and then he developed his story—an observation or comment on the athlete's most recent accomplishment—in a series of small figures (sometimes called "goomies"), often caricatures of the principal subject, in topical vignettes that surrounded the large picture. Sometimes the large drawing depicted generic athletes of a particular sport, and Mullin's commentary explored the state of that sport or some aspect of the news about it. Sometimes his cartoon took shape as a series of narrative pictures in comic strip form. A sports cartoon, Mullin once wrote, should "tell a story, get over a point, cover some news, or bring a laugh." On a good day, he said, he'd get all four in one cartoon. (For the Whole Story on
Mullin, see Harv's Hindsight for September 2004.) Litton broke clean away from this time-worn practice. He approached his sports cartoon as an editorial cartoonist approached his: in a single panel, Litton aimed to express an opinion about a recent event or achievement or a player. Litton ridiculed more often than he lauded his subjects. And he frequently ridiculed sports fans' obsessions. We've posted samples of his work nearby, including his first cartoon for the Tribune.
          Litton was immensely popular in Denver where football's Broncos and baseball's Rockies enthralled fans. "I really think local sports cartoons connect with readers in an amazing way," he said to Torne. "I've done cartoons in Denver that people will talk to me about years later. One as far back as 1984. I can't remember what I had for breakfast."
          Although his deal with the Trib is as a freelancer doing one cartoon a week under contract, Litton hopes the assignment will develop into a full-time job. "I'll be ready to do anything they want me to do," he said with a chuckle: "Like— would you like a bagel with your coffee?" He's been experimenting with animation for several years and would love to animate his cartoons for the Trib's website, where, for now, his static cartoon will be posted simultaneously with its publication in the print venue. Litton said he'll probably post it on his site the next day; drewlitton.com.
          Litton applaud's the Trib's hiring of Stantis: "I think hiring Scott Stantis was terrific and sends a message to other publishers that cartoonists sell papers. I'm hoping I can sell a few for them." In the meantime, he's "honored to be given a chance to appear in one of the nation's greatest newspapers. I still can't believe it," he concluded: "Please—I beg you, do not wake me up."
*****
The Denver Post, the surviving paper in Litton's hometown, may also testify to the power of comics. When the Rocky expired, the Post took over all of the defunct paper's comic strips—and ran full-page ads to alert Rocky readers to the migration. Six months later, in the first circulation report since the death of the Rocky, the Post has reported that it has retained 86% of the Rocky's readers. Publisher Dean Singleton said last winter at the Rocky's wake that he hoped the Post could hold on to 80% of its former rival's readers. What role three pages of comic strips played in this impressive achievement is, naturally, open to debate. But it makes me wonder what effect the circulation report will have on the results of a comics readership survey the Post conducted in August but hasn't, yet, announced the outcome of.
SEA-CHANGE AT FANTAGRAPHICS
The Comics Journal is changing. Again. It is always changing. It has never stood still for more than a year or so. Every change over the years aimed at meeting new circumstances in the evolving comics market place. A couple years ago, the magazine abandoned saddle-stitch binding in favor of a square-back spine and reduced its trim size to 6x9 inches—book-size—and, as we mentioned here soon thereafter, it put the magazine's name and issue contents on a 3x4-inch sticker on the cover; the sticker could be peeled off, and you might then think you were holding a paperback book in your hands instead of a square-spine magazine. The object, probably, was to make The Comics Journal viable in bookstore settings: on the shelf, if you peeled off the sticker, it would look pretty much like a paperback book, not a magazine.
          And now the Journal is taking yet another step in the same direction. As soon as issue No. 300 is out (not long now), the "magazine" will shift to semi-annual publication in print while simultaneously ramping up the TCJ.com website. The print version of the Journal will be variable in design, its shape and format changing to fit its content, which will continue to be interviews, essays, and "objets d'art" (vintage comics and cartoons), but the writing will be longer and meatier and aimed at archival permanence. Like a book, in other words. The digital Journal, on the other hand, will take advantage of the Web's immediacy: online, the magazine will change daily, constantly up-dating itself with breaking news coverage, new and established bloggers, plus interviews, columns, and criticism in text and videos, slide shows, audio files, and galleries of original-art.
          When they told me and other regular contributors a few weeks ago of the impending change, I remarked that I thought it ironic in a mildly amusing way that a magazine that has established itself with criticism and commentary on a print medium, comic books, is now investing heavily in a non-print edition on the Web. Okay, everyone's doing it. But that doesn't make the maneuver any the less ironic. Ironic but, probably, ultimately, canny. And successful: I've been around the Journal through almost all of its changes over the years, and most of them, it seems to me, have worked to the magazine's advantage. In any case, it's been challenging and deeply gratifying to work for a periodical that has never been content to sit back on its laurels.
          Tom Spurgeon, one-time Journal managing editor and now proprietor of ComicsReporter.com, talked about the change with Gary Groth, Fantagraphics co-publisher and longtime Comics Journal editor. Groth told him that the move has been underway for a relatively short time, beginning about three months ago. Later, talking to Kiel Phegley at comicbookresources.com, Groth clarified, saying "there was nothing hurried about our deliberations," adding: "I had been thinking about how to refine the magazine before then, and we'd often have impromptu conversations in the office about this same question."
          "If things go according to their plans," Spurgeon reported, "the revamped website should launch in late November. Groth says this will not have an effect on the magazine's current news blog Journalista! or its infamous message board: "Dirk [Deppey] will continue the fine Journalista! tradition, and the message board will, alas, remain much the same," Groth said. Both financial and editorial concerns motivated the change, he explained: "It was always a strain to assemble eight commercially viable issues that were also aesthetically pleasing—balancing that fine line—every year. I feel much more comfortable concentrating our resources on fewer print editions each year and spending some of those resources on our web presence. It's no secret that newspapers and magazines are suffering because so much of what they've traditionally done can be done on the Web, faster and cheaper. We decided therefore to redesign the editorial and physical format of the magazine to take advantage of what print's best at—upscale production values, longer prose, more permanent content—and bring the Journal's mandate for criticism and commentary to the Web with a vengeance."
          To Phegley, Groth added: "Reducing the frequency allows us the latitude to focus on quality over quantity, which is what I'd prefer to do. I'm looking forward to putting together each issue as a unified whole, or at least a sum of parts that come together in a pleasing way, and customizing the size, format, and package to accommodate the specific editorial focus of each individual issue." The future print Journal will continue to showcase vintage comics art in color, as has been its practice since converting to square-spine format. And Groth suggested they may also publish original comics if they can figure a way to do it without duplicating the function of Mome, Fantagraphics' anthology book of comics.
          About the digital Journal, Groth said: "I see this is an opportunity to create a true web version of The Comics Journal, to in effect combine the virtues of both the Web and print as I understand them, which is to say, a single 'place' where readers can come and expect a consistently intelligent, idiosyncratic, combative, and occasionally clashing conversation about comics and cartooning. Over the past few years I've noticed smarter critical commentary on the Net, but it's scattered all over the place, buried in the usual mountain of frivolous, tepid, dimwitted, unreadable fanboy drivel. There's no single website you can visit and anticipate a range of interesting sensibilities on an equal footing, so one of my goals is to distill the best criticism and journalism we can into a single site."
          The previous format revision, the square-back paperback "book" look, was mildly successful in widening the Journal's reach, Groth told Phegley, and hence, was partly responsible for the current evolution: "With No. 288's format change (almost two years ago), we have been distributed to bookstores, and this added a thousand or so copies to our readership"; and for a magazine with a circulation of 3,000-4,000, that's a considerable increase. But Groth also saw "some slippage in the comics market at the same time, and I would've had to have been blind not to notice the overall trend in declining newspaper and magazine circulation throughout the country."
          The webbed Journal will be much more of a multi-media enterprise said assistant editor Kristy Valenti, who mentioned the magazine's "rich audio library"—all those taped interviews with scores of comics makers. And Groth, speaking to Phegley, added (perhaps tongue-in-cheek): "You'll probably be hearing my voice more than you'll want to with the debut of Gary's Happy Hour. For one thing, I plan on posting a fifteen-minute audio chat with Gahan Wilson every other week."
          How the two incarnations will interact, if they do, lurks in the undiscovered future, Groth told Spurgeon. "I haven't the slightest idea at this point. I suspect that little of the material on the website will be reprinted in the print edition; rather, I'm anticipating that short pieces that appeared on the website may be expanded for the print edition—or the reverse, an excerpt of something we plan for the print edition may be previewed on the website. But there's going to be a learning curve while we figure out the different editorial requirements for both the website and the print edition. My main goal is to maintain the editorial impetus of the magazine on the website, making it an intelligent and sometimes provocative source criticism and commentary." And, yes, he added: Ken Smith will be blogging.
          Summarizing for Phegley, Groth said: "If we can assemble the magazine at a more leisurely pace—rather than the breakneck pace that we've worked at for 33 years (that's the royal we; i.e., mostly me and a succession of poor, burnt-out editors)—we'll put out a better magazine. I hesitate to call it a magazine, too: it'll be distributed to the book trade by W.W. Norton and will retail for a minimum of $20." It'll be a book.
          And Fantagraphics, the Journal's publishing entity, isn't sitting still any more than the magazine is. It has just announced a string of new book projects; see Book Marquee down the scroll.
*****
ISLAMIC HOODLUMS PLAN TO ASSASSINATE DANES. Just when you thought it might be safe to visit Denmark again, FBI agents broke up a plot to kill Danish cartoonists. Or to blow up the Scandinavian neighborhood. Or, perhaps, both. The Chicago Sun-Times reported that FBI agents arrested two Chicago men: David Headley and his friend, Tahawwur Hussain Rana, who shared an extreme hatred for the cartoons that depicted the prophet Muhammed. Headley went to Denmark in 2008 to reconnoiter possible targets, including the offices of the newspaper that published the Danish Dozen that inflamed the Muslim world in 2006, the cultural editor who had commissioned the twelve cartoons, and one of the cartoonists. Headley allegedly told agents he was trained by a terrorist organization called Lashkar-e-Taiba, according to his criminal complaint. Authorities say Headley reported to Ilyas Kashmiri, the operational chief of what the FBI describes as a Pakistani-based terrorist organization with links to al-Qaida, according to the complaint. Headley was headed to Pakistan to report to Kashmiri when the FBI foiled his plans, according to charges. Rana, a native of Pakistan and a Canadian citizen, who arranged Headley's flight, was charged with providing material support to a foreign terrorism conspiracy.
          When told of an earlier plot to kill him, Kurt Westergaard, 78, the targeted cartoonist, said: "I am an old man so I am not so afraid anymore. I feel confident and safe in my private life. I'm angry because I have to live with threats, just because I have done my job. PET [Danish police intelligence] has advised me to keep a low profile and don't give statements. I will follow that, but I'm allowed to say that I'm angry."
          Westergaard had little to say about the current scheme, reported Jan Olsen at the Associated Press (google.com). He has said it took him 45 minutes to make the drawing, a picture of Muhammad wearing a bomb in his turban, considered by many Muslims to be the most offensive of the 12 cartoons. He has rejected calls to apologize to Muslims, saying that poking fun at religious symbols is protected by freedom of speech in Denmark. The drawing was meant to illustrate that Muslim extremists draw "spiritual ammunition from Islam," but not to criticize the religion as a whole, he said in February 2008 just after Danish police uncovered the other alleged plot to kill him.
          "I realize that when issues of religion are involved, emotions run high, and all religions have their symbols, which possess great importance," Westergaard said at the time. "But when you live in a secularized society, it's clear that religion can't demand some sort of special status. ... I have a problem with the fact that we have people from another culture who don't accept that we use religious elements in a drawing."
          The worldwide cartoon uproar forced Westergaard underground, living under the protection of PET. "For my wife and I, it's like a kind of dark depression has descended on us," he said. PET moved the couple from place to place—both within Denmark and abroad. Westergaard said the couple brought along cherished items—"mugs, vases, pictures" — to simulate a sense of home. Meanwhile, police continued to empty the trash, collect the mail and turn lights on and off in Westergaard's original home, to give the impression he was still living there.
          Westergaard reacted to the Chicagoans' alleged murder plot with characteristic understatement, saying he was "maybe surprised—and a little shocked—to find that a situation like this could arise so suddenly."
          Asked if he regretted drawing the cartoon, Westergaard gave an unequivocal answer: "No, I don't. I mean, the friction between these two cultures (Muslim and Western) is always there. What will happen in the long run is that our culture—the materialistic, superior culture—will of course win out, and we will have, I think, a modified version of Islam that fits in with our secular society."
          The cartoon crisis polarized a discussion about the integration of Muslim immigrants in Denmark, Olsen reported. Many Danish Muslims said the cartoons were part of a pattern of degrading comments about Islam by nationalist politicians and in some media. Westergaard's supporters have commended him for defending the freedom of speech. "What I like about him is that he stands firm about his drawing," said Helle Merete Brix, chief editor of a magazine published by Denmark's Free Press Society. "He is a product of the European way of poking fun of authorities, whether they are religious or political." But Mohammad Rafiq, a Danish writer of Pakistani origin, called Westergaard "naive" and said he and the other cartoonists had failed to understand what the Prophet Muhammad means to Muslims. "Denmark has failed to build a bridge between the cultures," he said.
*****
Most of the news reports about the Danish Dozen and the ensuing helter-skelter explain the Islamic ire by saying that images of the Prophet (all prophets, actually, including, for Muslims, Abraham and Jesus) are forbidden in Islam because they might foster idolatry. The implication is that Islam has therefore forever proscribed such visual representations. Not so. In the November 4 issue of The New Republic, Oleg Grabar, a professor emeritus at Harvard and the author of Masterpieces of Islamic Art: The Decorated Page, takes considerable pains to demonstrate that throughout the history of the religion, "pictures of the Prophet Muhammad have been produced, and are still produced, by Muslim artists for Muslim patrons." And many pictures of Muhammad have been made by non-Muslim artists. "There can be no doubt," Grabar finishes, "that, especially from the thirteenth century onward, the Muslim world accepted the existence of representations of the Prophet." So to explain the furor over the Danish Dozen by invoking a supposed doctrinal prohibition is disingenuous. Or, more likely, ignorant.
          Muslim outrage over the Danish cartoons is probably caused by their being cartoons, not by their being images of Muhammad. To represent the Prophet as a cartoon character is clearly perceived as an insult. Cartoons are commonly understood as devices of ridicule; to cartoon Muhammad then is to ridicule him. And that's what probably upset Muslims, those whose distress over the imagery was genuine rather than, as in the case of the Islamic Hoodlums, trumped up for the purpose of justifying riots in the streets, murder, arson, and wholesale looting.
          Garbar wrote his New Republic article in reaction to Yale University Press's decision not to publish any of the Danish Dozen in a scholarly book about them entitled The Cartoons That Shook the World by Jytte Klausen. (We covered the incident in Opus 247.) The Press explained its decision by referring to the 2006 cartoon-sparked conflagration worldwide, saying it didn't want the publication of the book to cause any more bloodshed and destruction. Grabar writes: "Yale's decision is certainly a denial of free speech, though of course the argument can be made that a possible danger to people may compel restrictions in the expression of opinions and of facts. I am not persuaded by this argument about this book. And the deletion of the images is also—a far more important criticism in this instance—a gratuitous betrayal of scholarship since many other books (including at least four published by Yale, two of them by me) do show images of the Prophet." My emphasis.
          Yale didn't want to print the pictures for a very simple reason: the university poobahs were afraid. In this, they join the editors of most American news media—to our everlasting shame.
****
The Boondocks creator Aaron McGruder, well out of public view lo these many months since abandoning his comic strip for animation, and Oscar-nominated actor Don Cheadle are teaming up for a comedy series for NBC, according to Variety. Both will serve as executive producers, and McGruder will write the script. The sitcom involves mismatched brothers who reunite to open a private security company. ... In Japan, a manga book that describes both Hitler's autobiography and his infamous Nazi manifesto Mein Kampf in the unlikely form of easy-to-read comic pictures and captions has become a best-seller reports Danielle Demetriou at telegraph.co.uk. "The book, which forms part of a series on world classics turned into manga, covers a range of aspects of Hitler's life, from his childhood to the formation of his political party. Its success in Japan has reportedly ignited a debate in Germany about whether the ban on Mein Kampf imposed since 1945 should be overturned." The publisher's current series also includes a popular manga version of Karl Marx's seminal anti-capitalist tome Das Kapital.
          Amid all the excitement of the Town Hall Tumult in August you may have failed to notice that Jeremy Duncan, the ostensible star of Zits, a comic strip written by Jerry Scott and given visual life by Jim Borgman, turned 16 on August 14. "After freezing Jeremy at 15 for over a decade, it just felt like time to cut the kid a break and move on to a different set of challenges and frustrations," Borgman told Michael Cavna of ComicRiffs. The most visible evidence of Jeremy's maturation is that he'll get a driver's license."I think it's going to give us new writing opportunities," Scott told Cavna. "We felt [ age 15] was the maximum frustration age. You think you can run the world and you can't even drive a car. ... There will be more strips that don't involve [Jeremy's] parents ... we're going to get inside his head a little more."
*****
Stephen King, among the most adapted novelists to film, is also becoming one of the most adapted writers to comic books, reported Vaneta Rogers at newsarama.com. "He has always loved comics, so I think he's really open-minded about his novels becoming comic books, and that's why you see him being so enthusiastic about it," said Robin Furth, King's collaborator on his recent comics adaptations. "Some of the first things he wrote as a kid were comics. And it's comparable to making a film out of a book. It reaches a whole new audience. It takes a story and puts it into a new medium." ... Furth, who was King's research assistant from 2000 to 2004, is also working with King on a series of monthly comics at Marvel based in the world of his Dark Tower novels. Marvel is also currently adapting King's The Stand to comics. ... Says Furth: "When we first started, we were all coming up with character sketches and talking about how things will move forward. They've gone over, really carefully, how all the characters will be depicted. And they're really good at looking over all the scripts, which is amazing when you think about how busy they both are," she said. "There's such a change when you move from a novel to a graphic novel. You have to translate the action into really visual sequences. And it means condensing the stories into scripts for each issue. But they've been involved from the very beginning."
          For Furth, the experience of condensing King's novels and working with an artist to interpret the writer's vision has taught her a lot about writing and about the way King structures his work. "I've learned so much," she said. "You have to work so hard condensing and condensing. It makes you really think about the story and what the key elements are. At this point, I go with my instincts. What is it that really grabs me about a section? When I close my eyes, what do I see? And I'll write up scene by scene and panel by panel."
          Michael Doran at newsarama asked King what were his favorite comics as a kid, and King replied: "Oh, come on—everything! But my favorite, by a country mile, was Plastic Man and his pal Woozy Winks. I dug Plas's dark glasses!"
*****
Internationally renowned writer Salman Rushdie is another comics fan. He had what ICv2 calls "a graphic novel moment in his appearance on CBS's 'Late Late Show with Craig Ferguson' recently. When Ferguson asked him if he'd ever thought about writing a book "with just pictures and stuff," Rushdie said: "Yeah, and actually I got asked recently if I'd like to write a graphic novel. I was kind of keen on it. When I was a kid I was a real comic book nut. I could tell you a lot about superheroes." ICv2 continued: "Rushdie then launched into a discussion of Aquaman and segued into Kryptonite, muffing the difference between Green and Red Kryptonite after bragging that he knew what they were. But he circled back to the graphic novel concept and wrapped up with, 'So I'm quite attracted to the idea of a graphic novel. I might have a go.'" ICv2 thinks the episode was probably planned if not outright rehearsed: "It seems unlikely that the question from Ferguson came out of the blue; most topics on a late night show are pre-determined. So it seems more likely that Rushdie is creating a little pre-awareness for an upcoming project. His writing has included science fiction and magical elements, a natural background for writing comics."
*****
After B.C. cartoonist Johnny Hart died a couple years ago, the strip didn't wander much into the spiritual arenas that Hart often visited. But the Hart family has produced a new book, I Did It His Way, that collects some of Hart's best-known religious cartoons, tries to explain one of his most controversial, and pays tribute to the cartoonist. "The book," writes Lindsay Perna at Religion News Service, "is packed with Christian crosses, theological debates and Hart's unique wit. 'He wanted people to know that God had a sense of humor,' said his daughter, Perri Hart, who produced the book with her father's widow, Bobby. 'He really always felt that this was what he was called to do,' she said."
          Elsewhere, in Binghamton, New York, B.C. is coming off the page and onto pavement. In early October, the first three-dimensional dinosaur in the image of one of Hart's creations was unveiled. More are on the way. In the manner of the fiberglass statues of cows and elephants and donkeys that wander the streets of Chicago and Washington, D.C., the Hart monsters will be painted by local artists in their own style. The Hart family helped develop the project. Said Mason Mastrioanni, Hart's grandson who now draws the strip: "It's fortunate that our area is known for something so unique and hopefully this will be a fun project because it's unique and it's cartoon characters whereas some of the other towns [have] more realistic looking sculpture. I look forward to seeing what the artists do with it."
*****
EXPLOITING THE MEN OF STEAL. Last summer, while we were looking the other way, Warner Bros. and DC Comics won a favorable ruling in the suit filed by the heirs of Superman co-creator Jerome Siegel. While an earlier case determined that the Siegel heirs held some rights to the character, a U.S. District Court in July "found that the license fees the studio paid to corporate sibling DC Comics didn't represent 'sweetheart' deals as they weren't below fair market value. That means the heirs will be able seek profits only from DC Comics—which earned $13.6 million from Warner Bros. for the 2006 release of 'Superman Returns'—rather than from Warner Bros. as well," reported Dave McNary at Variety. The same judge set a December 1 trial date "for determining the allocation of profits to the heirs, who won a ruling last year that awarded them half the copyright for the Superman material." Attorney Marc Toberoff, a copyright specialist who represents heirs Joanne Siegel and Laura Siegel Larson, asserted in a written statement that the Siegel heirs and the heirs of co-creator Joe Shuster will own the entire Superman copyright in 2013. Said he: "This trial was only an interim step in the multifaceted accounting case which remains, in that it only concerned the secondary issue of whether DC Comics, or DC Comics and Warner Bros., would have to account to the Siegels," he said. "To put this in further perspective, the entire accounting action pales in comparison to the fact that in 2013, the Siegels, along with the estate of Joe Shuster, will own the entire original copyright to Superman, and neither DC Comics nor Warner Bros. will be able to exploit any new Superman works without a license from the Siegels and Shusters." He added: "The Court pointedly ruled that if Warner Bros. does not start production on another Superman film by 2011, the Siegels will be able to sue to recover their damages. The Siegels look forward to the remainder of the case, which will determine how much defendants owe them for their exploitations of Superman."
ANNIVERSARIES AND BIRTHDAYS GALORE
Another thing that happened last August that slipped under the door unnoted here because we were fuming about something else—the comic strip Little Orphan Annie, which now goes by the name Annie, celebrated its 85th birthday on Wednesday, August 5. We'll light candles now. On the 5th, though, writer Jay Maeder and artist Ted Slampyak broke into their normal, globe-trotting storyline to produce a single-panel strip showing the title character walking down the street, with her ubiquitous dog, Sandy, trotting alongside. "Please permit us to interrupt our story for an anniversary observance," reads the accompanying text. "Annie's strip is 85 years old today." And Annie and Sandy are depicted exactly the way they appeared when Sandy joined the famed orphan January 5, 1925, as you can plainly see in the panels from that period that we've assembled in this vicinity.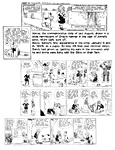 Editor & Publisher continued its article (in italics): Original creator Harold Gray intended to call his character Little Orphan Otto but switched the character's gender at the suggestion of syndicate head, the New York Daily News's Joseph Patterson. The rags-to-riches story of the little girl who was adopted by the rich Oliver Warbucks resonated with Depression America, and the strip spawned two feature films and a national radio show, sponsored by Ovaltine, which was itself immortalized in the 1983 film, "A Christmas Story." Gray continued to draw the strip until his death in 1968, after which the strip declined in popularity, eventually going into reruns in 1974. But the character Annie returned to the limelight after the 1977 premiere of the Broadway musical "Annie," which ran for close to six years, and spawned another feature film. The strip, subsequently renamed Annie, was revived in 1979 by cartoonist Leonard Starr, who drew it until his death in 2000. Since then, artists Andrew Pepoy, Alan Kupperberg, and Slampyak have teamed up with Maeder to produce the comic, which currently runs in only about 50 daily newspapers, nationwide.
          You can pursue this subject and the Whole Sordid History of the abused and oft-abandoned red-haired orphan in a book of mine, The Art of the Funnies, about which there is more here
*****
The 50th anniversary of the small but cunning warrior Asterix and his pudgy stonemason pal Obelix is being celebrated with a new book, The Birthday of Asterix and Obelix, the 34th in a series, time.com says, that was initially "created as a way to keep American comic strips from taking over France." (Not a bad idea, now that it has surfaced again. How else could France be taken over but by comics?) The new book celebrates the golden jubilee with 56 pages of unpublished drawings by the characters' co-creator, comic artist Albert Uderzo, who said: "It's a little different from the classic albums," adding, "they're short stories, in which all the characters refer to the anniversary." The new book, said the Barcelona Reporter, contains many of the friends that Asterix has accumulated over fifty years because everyone is invited to the big party that the villagers have prepared. "The artist recalled the birth of these adventures, when on October 29, 1959, these Gauls appeared in the first issue of the weekly magazine Pilote, a magazine that aimed to address the invasion of U.S. comics." Asterix the Gaul came out in book form in 1961, bearing the name of Uderzo and his co-creator, Rene Goscinny, and since then millions of readers have benefitted from the 32 books that followed, plus eight animated films.
          Meanwhile, anticipating Peanuts' 60th Anniversary in 2010, the Peanuts Foundry is banging out the launch event of the festivities, the first-ever Peanuts 60th Anniversary Photo Look-A-Like Contest (www.peanutsphotocontest.com), which will benefit Boys & Girls Clubs of America (www.bgca.org). Reuters reports that Peanuts fans of all ages were invited to submit photos of themselves or their children looking like one of these Peanuts characters: Charlie Brown, Snoopy, Lucy, Linus, Sally, Schroeder, Franklin, Peppermint Patty, Marcie or Pigpen, or one of Snoopy`s classic alter-egos, Joe Cool or the World War I Flying Ace. Submissions were accepted through November 3. Results TBA.
          Another anniversary is that of Casper the Friendly Ghost, who turned 60 this year. Dark Horse Comics has reprinted Casper's first comic in a hardcover that drops next month reports Rene A. Guzman at the San Antonio Express-News. "Casper is a true entertainment franchise," says Nicole Blake, senior vice president of marketing and consumer products at Classic Media, which owns and manages the rights to the character. "Decade after decade, Casper is reinvented and reimagined successfully. I would almost say he's one of the original multimedia stars." Classic Media notes Casper has sold more than100 million comic books since his 1949 publishing debut, not to mention starring in hundreds of cartoons as well as a 1995 Steven Spielberg-produced film. The character was originally the basis for a 1939 children's book by writer Seymour Reit and illustrator Joe Oriolo. The book didn't happen, but a 1945 Paramount cartoon aptly called "The Friendly Ghost" did. But the juvenile phantom had no name. Then in 1949, St. John Publishing brought out the comic book entitled Casper the Friendly Ghost, No. 1, and Casper was christened and soon rose to cartoon prominence in the fifties with a series of theatrical animated shorts.
*****
VOLUNTEERISM EXPLAINED. The recent week of comic strips about volunteerism that I mentioned last time was, as I should have guessed, instigated by the National Cartoonists Society (NCS). Luann's Greg Evans was involved and wrote to thank everyone who participated, passing along the heartfelt thanks of Bill Hoogterp (a volunteerism honcho, I guess), who coordinated the effort and, afterwards, said: "Please, please, please pass on our tremendous thanks to the members of NCS. We have gotten so much positive response! Millions of people are talking about volunteering. NCS did the impossible, you made volunteering more cool! People are calling and signing up to make a difference at countless local agencies. All because of you guys. The world is a little better place today because the world's greatest cartoonists gave of their talent and touched people in a way that only you can. And your gags were great! Just heard from J.J. Abrams also, who sends his regards and thanks as well!"
          Then Evans appended a bizarre footnote: "I'd just like to add something here. I want to apologize to any of you who got the kind of irate email I got last week. It never occurred to me that this effort would be viewed with a political skew and that it would be perceived as 'kowtowing to Big Government.' I just thought we were doing a good thing, not being 'commies.' So sorry."
          Is there to be no end to the bellyaching being performed from sea to shining sea by the Gripy Old Pachyderm and its many malcontented minions? What next?
****
NEXT: Cartoonists' good deeds are not confined to the funnies page. Recently, Stars & Stripes reported, some of America's best-known cartoonists took off on a USO tour of bases in Germany and the Middle East. According to a USO press release, the group included Jeff Bacon (Broadside and Greenside), editoonist Chip Bok (Ohio's Akron Beacon Journal), Bruce Higdon (Army Times, Army Magazine, Soldiers Magazine), Jeff Keane (The Family Circus), Rick Kirkman (Baby Blues), Stephan Pastis (Pearls Before Swine), Mike Peters (Mother Goose and Grimm), editoonist Michael Ramirez (Investors Business Daily), caricaturist Tom Richmond (Mad), and Garry Trudeau (Doonesbury). The tour evokes a National Cartoonists Society tradition that dates to World War II before the Society even existed; in fact, it was formed by cartoonists who, while performing before soldiers convalescing in military hospitals, discovered they enjoyed each other's company and decided to prolong the camaraderie by establishing a club. "I'm so proud of our men and women in uniform," said Keane, NCS President. "They, much like my dad who served in the Army back in the mid-1940s, have worked so hard and sacrificed so much. I am honored to be part of this USO tour and I can't thank our troops enough."
          Several of the cartoonists with blogs—Richmond and Pastis in particular—reported their adventures during the tour. Because of security concerns (remember: rampaging Islamic hoodlums have an unsatiated appetite for killing cartoonists), the bloggers can't say where they are. But they can say what they're doing. Pastis, for instance, wrote: "Spent all day lying in the sun at the edge of the Persian Gulf. Was going to solve all of the Middle East's problems, but decided to get a tan instead. Tomorrow I go to a new country. I'd like to name it, but I'm not allowed to identify it until I get back home. I'm like James Bond, but without the nice car. Or fancy clothes. Or hot women. Instead, I'm with a bunch of pudgy, middle-age cartoonists." What a joker that Pastis.
          For the Whole Story of how the cartooner club came into being, visit Harv's Hindsight and look for "Rube Goldberg and the NCS."
*****
NEW YORKER STILL ISN'T FUNNY OR SERIOUS ENOUGH. Linda Holmes at NPR is as puzzled by inexplicable New Yorker cartoons as anyone, and she lately noticed that the magazine has posted on its website a feature "that's either refreshingly self-deprecating or completely passive-aggressive, and I can't figure out which." If you go to "I Don't Get It," you'll see five of the magazine's cartoons that readers have claimed they can't understand; and each is accompanied by multiple-choice "explanations." You can choose the one that tickles your funnybone. Said Holmes: "I find myself conflicted. Part of me wants to applaud them for embracing the fact that many people find the cartoons inscrutable, but part of me feels like they're making fun of me. I can't tell if they are helpfully trying to hold my hand as I cross the street of highbrow humor or satirizing the idea of rubes like me requiring hand-holding. Am I the butt of the joke, or are we in it together, just trying to figure out what makes one-panel humor work in this crazy world?"
          Contrary to the impression conveyed by Holmes' discovery, the website "test" is not a stand-alone venture: it reprises the content of this year's Cartoon Issue of the magazine, just out. And the same multiple-choice game ran in last year's Cartoon Issue. The New Yorker's annual cartoon admiration rite continues to be a mixed blessing. On the one hand, it is the only hoopla about magazine cartooning in the land of the turtle, and because it hoorahs cartooning, we tend to applaud it, overlooking, on the other hand, its conspicuous shortcomings as a "cartoon issue." In a magazine that champions cartooning and prides itself on both its cartoon and prose content, you'd think the Cartoon Issue would do more for cartooning than simply print a dozen uninterrupted pages of cartoons more than it usually publishes. You'd think, in short, that the Cartoon Issue should perpetuate the practice that it initiated in 1997 when it carried articles about cartoonists and cartooning as well as more cartoons that usual. But, no—that hasn't happened. Ever again. The inaugural Cartoon Issue was the best and, subsequently, the only issue that treated its subject in both prose and picture. And it's happened again this year: there's an 18-page section of "The Funnies" that offers 6 pages of the usual baffling New Yorker cartoons followed by an equally baffling 4-page comic strip by wallpaper cartoonist Chris Ware, whose tiny tiny pictures of doll-like figurines are not only a strain on the eyes but a pain in the ass and an insult to the medium. Ware also drew this issue's cover, entitled "Unmasked," and his comic strip, with the same title, would seem to be some sort of explication of the cover image but isn't. Not much. It is instead another of his depressing revelations of the human condition among those not well adapted to it. His cover, though, contemplated as a stand-alone objet d'art, is a beaut. Roz Chast again claims two pages with some mug shots of ugly people, another two pages are devoted to a cut-and-paste cartoon game, and on the final two pages, cartoonist Zachary Kanin presents a tedious comic strip about vampires, thereby consecrating the latest pop culture fad. Then there's the "test" Holmes is so perplexed by. And that's it. No articles about cartoonists at all. None. You'd think they could drum up something about the most visible cartooning phenomenon of recent years, graphic novels; but no, nothing. And adding insult to injury, each of the two-page spreads of the 6-page "The Funnies" section prints one cartoon across the gutter so the picture is spoiled by having a paper canyon through its middle.
          You might be persuaded from the content that The New Yorker is trying its best to ignore the cartoons it's pretending to glorify. And I suspect that's exactly the case. The first Cartoon Issue was dated December 15, as if it were conceived as a Christmas present for readers. In subsequent years, the Cartoon Issue has retreated, slowly, away from late December into late November. And last year and this, the Cartoon Issue bears an early November date (November 2 this year). This is an insidious ploy: by moving the Cartoon Issue back in the calendar a little each year, you eventually can claim that last year's Cartoon Issue is actually this year's and thereby avoid publishing one of the things altogether. That's how the magazine will eventually escape for at least one year doing a duty that it has evidently found odious. It is to weep.
*****
The next issue of McSweeney's Quarterly, No. 33, due out momentarily, is "an attempt to demonstrate all the great things print journalism can (still) do, with as much first-rate writing and reportage and design (and posters and games and on-location Antarctic travelogues) as we can get in there," saith the press release. No. 33 will be a "one-time-only, Sunday-edition sized newspaper—the San Francisco Panorama—and it'll have the news of the day, plus sixteen pages of comics from the likes of Chris Ware and Dan Clowes and Art Spiegelman and many others besides. But, apparently, no editorial cartoons. At least none the publisher feels like mentioning at this date. For subscription information (i.e., purchase instruction), consult store.mcsweeney.net. This is the third attempt that I'm aware of to rejuvenate the Sunday funnies by publishing an exemplary model. DC Comics did it with its short-lived Wednesday Comics; and then in Minnesota a couple months ago a consortium of enthusiasts published Big Funny, a coffee-table size paper of original comics that pays heed to the glory days of newspaper comics. Someday, one of these things might catch on if we're not careful.
Fascinating Footnit. Much of the news retailed in the foregoing segment is culled from articles eventually indexed at rpi.edu/~bulloj/comxbib.html, the Comics Research Bibliography, maintained by Michael Rhode and John Bullough, which covers comic books, comic strips, animation, caricature, cartoons, bandes dessinees and related topics. It also provides links to numerous other sites that delve deeply into cartooning topics. Three other sites laden with cartooning news and lore are Mark Evanier's povonline.com, Alan Gardner's DailyCartoonist.com, and Tom Spurgeon's comicsreporter.com. And then there's Mike Rhode's ComicsDC blog, comicsdc.blogspot.com and Michael Cavna at voices.washingtonpost.com./comic-riffs . For delving into the history of our beloved medium, you can't go wrong by visiting Allan Holtz's strippersguide.blogspot.com, where Allan regularly posts rare findings from his forays into the vast reaches of newspaper microfilm files hither and yon.
CLIPS & QUIPS
          "News is something somebody doesn't want printed; all else is advertising." —William Randolph Hearst
          "Autumn is a second spring when every leaf's a flower." —Albert Camus
          "Misery no longer loves company. Nowadays, it insists on it."—Russell Baker
KRAZY THEME PARK
George Herriman is not likely to turn over in his grave. But if he could, given the provocation, he probably would. The parched and sublime precincts of his beloved Monument Valley with its picturesque pinnacles and towering cathedrals of raw red rock have been invaded by a $14 million 95-room ultra modern hotel. Monument Valley is a landscape like no other, a hauntingly desolate desert the pervading flatness of which is punctuated by giant outcroppings of red sandstone carved by wind and rain into silent hulks and spires, other worldly sentinels on a lunar plain, stranded there in the middle of nowhere for eons until John Ford discovered the Valley in 1938 and turned it into an iconic setting for movies like "Stagecoach" and "She Wore a Yellow Ribbon" thereby giving the airy mythology of the Old West a locale habitation and a name.
          Others had been there before Ford. The Navajos lived on these arid sands for centuries, quietly herding sheep and weaving rugs from the wool. In the late 19th century, the Wetherill brothers established a trading post in the coal-mining town of Kayenta, about 30 miles south of the Valley, and in about 1923, Harry Goulding and his wife Mike (Louise) bought 640 acres of desert for $230, intending to ranch and trade with the Navajos. Later, hearing that a Hollywood director was scouting locations for a Western motion picture starring John Wayne, the Gouldings drove to Los Angeles and convinced Ford that Monument Valley would be the ideal backdrop his movie. Ford's movies showcased the stunning vistas of the Valley and attracted attention, and before long, some tourists were brave enough to trek across the desert's rocky roads to see the sandstone splendors in person. Tourism became more lucrative than ranching, and in the 1940s, the Gouldings responded by building a 8-room motel, just a few miles outside the Valley along U.S. highway 163. Later, they expanded it to 80 rooms, plus a restaurant, campground, grocery store, gas station and a number of private homes.
          In 1958, Monument Valley was designated a Navajo Tribal Park, formalizing its 30,000 acres within the reservation of the Navajo Nation in northern Arizona and southern Utah and assuring its continued existence as a scenic wonder rather than an amusement park, which is doubtless what it would have become. (And may yet.) I drove through the Valley for the third time almost forty years ago, taking my new wife on her first foray through the baked and nearly barren Southwest. The gravel road from Gouldings to the Valley's visitor center shot through the desert straight as a spear, but it was a bone-rattling washboard all the way and shook the car violently at any speed over about 15 mph, so we drove slowly. The visitor center, a humble adobe building perched on a bluff overlooking the Valley, wasn't very extensive, but we learned there that if we wanted to photograph any of the Navajos who sit along the road selling jewelry and rugs, we should offer to pay them for the impertinence. Seemed sensible to me. One of the natives, Frank Jackson, age 70 last summer, has made a living posing for tourists for 40 years: astride his horse and wearing a blazing red pearl-buttoned Western shirt and turquoise jewelry, he provides local color for vanloads of camera-pointing tourists. Foolishly perhaps, I thought that making photographers' models of the Navajos was insulting and so I took no pictures of them, paid no pittance for the privilege.
          The road through the Valley is dirt, not gravel—or, rather, sand, red sand, parallel tire tracks more than a road. Virtually a one-way beaten path, it begins down a steep incline behind the visitor center and then winds among the yucca, juniper and sage, passing by drifts of sand and lofty redstone obelisks and the other towering rocky sculptural monuments for seventeen miles in a circular route, returning, eventually, to the visitor center on the bluff. No sound shatters the desert hush; an ageless lucid stillness fosters a spiritual sense of appreciation and, even, awe.
          I've been to Monument Valley three times; Herriman, many more. When he first went there, we don't know, but it may have been at the instigation of fellow cartoonist Jimmy Swinnerton. Like Herriman, Swinnerton was a Hearst cartoonist; like Herriman, he was treasured by William R. Hearst. "Swin" started cartooning for Hearst's San Francisco Examiner in 1892 and followed Hearst to the New York Morning Journal in 1899. Like most newspaper cartooners of the age, he produced a daily assortment of comic strips and cartoon panels, among them, starting in 1904, a strip about a little kid named Jimmy who couldn't do anything right, a failing he unfailingly revealed anytime he was sent out of the house on an errand.
          In 1906, Swin was diagnosed with tuberculosis; Hearst, anxious to save one of his star cartoonists, sent Swinnerton to Colton, California, a haven for tb sufferers, in the hope that Swin would recover in the dry climate. And he did: in one of the profession's legendary performances, Swin lived another 68 years, most of them in the dehydrated stretches of Southern California and Arizona, making only occasional business trips to San Francisco and New York. In the course of his recuperation, Swinnerton took up painting and traveled around the Southwest capturing its majestic panoramas on canvass. He lived for a time in the Grandview Hotel, then a Hearst property on the rim of the Grand Canyon, and from there, he made numerous sketching trips, camping out wherever in the deserts he foraged for a view. He met John Wetherill and went into Monument Valley with him. Swin often organized painting safaris into Arizona for his cartooning and painting friends. On one such, in August 1922, George Herriman and Rudolph Dirks were in the party. They followed a route familiar to Swinnerton: first to Flagstaff, then to Kayenta and Monument Valley.
          But Dirks and Herriman had been to Monument Valley long before that 1922 summer. In his book about Herriman and Krazy Kat, cartoonist Patrick McDonnell speculates that Herriman may have been prompted to visit the Valley by a 1913 article Theodore Roosevelt had written about his trip there. But McDonnell found reference to Coconino County in Herriman's strip as early as 1911, when Krazy Kat was still in its formative first years. (The Kat appeared as part of The Family Upstairs in 1910, getting stand-alone status in 1913.) But the first appearance in the strip of a recognizable butte from Monument Valley was on a weekend page in the fall of 1916, the first year of Krazy Kat "Sunday" strips. (Krazy Kat in Sunday format was initially dated for Saturday publication, and the strip wasn't published in color until June 1, 1935.) On September 17, 1916, we see in the distance of the opening panel the "Enchanted Mesa where Joe Stork lives," as rocky a rampart as any in the Navajos' enchanted Valley.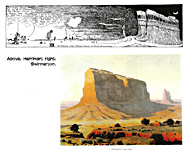 With the looming evidence of the Enchanted Mesa before us, it's clear that Herriman had, by the summer of 1916, been to Monument Valley.
          The landscape that served as background for Krazy's antics had always been whimsical. Much of the time, it was barren, a flat horizon line with, occasionally, a single tree, sprouting in solitary splendor like a giant asparagus or a celery stalk crowned with just a sprig of foliage. But the Enchanted Mesa introduced a new element of background hilarity. The horizon was still distant, and flat, but it was now subjected to regular eruptions of buttes and mesas and other soaring rock piles imported directly from Monument Valley.
          Herriman and his wife and daughters went to Monument Valley every summer for at least twenty years. They stayed with the Wetherills at "the ranch of serenity" in Kayenta, and Betty Zane Rodgers, the Wetherills' adopted daughter, remembered their visits for McDonnell: "His stay was to escape from his routine in the city, and he visited, relaxed, and did a little work when he felt like it. ... He rarely talked of his work. ... George was concerned about the Navajo people and listened while my mother, Mama Lu, talked of the Navajo. He often went to the ceremonials with my folks." Mike Goulding also remembered Herriman's visits: "We met George Herriman in Kayenta. He always stayed with Mr. John [Wetherill] and was very interested in the Navajo people and wanted them to know some of the things we did out in the world, so he sent in the first movies they had ever seen. Once a week at the old sanitarium we could all gather and see Tom Mix or some kind of movie. Great fun—the Navajos always laughed at the sad scenes!"
          Images of Navajo culture appear in Krazy Kat as often as the taciturn sandstone pinnacles. Said McDonnell: "He made use of their designs and motifs, which may appear on a piece of pottery, as elaborations on the border of a strip, as the ornamental trim on a house, as the decorations on the mesas and the foliage of the trees, and also as the overall design of a Sunday page." But it was the ephemeral topography that imparted to Krazy's world its distinctive aura.
          Some have called Krazy's world surrealistic; the poet e.e. cummings said it was "a strictly irrational landscape"; Italian author Umberto Eco spoke of its "improbable lunar landscape." But they are wrong: Krazy lives in Monument Valley. Herriman imported into the strip fairly accurate representations of the rocky outcroppings of the Navajos' fabled Valley. In the strip, the landscape changes behind Krazy from panel to panel, imparting to the proceedings a dream-like ambiance. The changes—and the dreamscape—are Monument Valley, as McDonnell observes: "The perpetual metamorphosis of Herriman's settings can, in part, be attributed to the changing light playing over the huge rock formations. These 'sculptures,' though unchanged for millennia, appear to alter in color and shape with each blink of the eye as they pick up every gradation of the rays of the sun, passing across the heavens from dawn to dusk."
          Krazy doesn't seem to notice the changes taking place behind his back. He behaves as if it's normal. But the landscape, his world, is as quirky as Krazy: it is as much a part of him as he is of it. Together, they are one—one vision of life. The topography of Monument Valley as depicted in the strip emphasizes the universality of Krazy Kat's vision: we see in it our common bond, the community of a baffled humankind, united in the oddities of custom and language as perplexing as the ever altering landscape where we wait for and rejoice in any sign of love. In this setting, even a thrown brick will do to justify our faith in each other.
          When Herriman visited the Valley, he didn't make paintings of the enchanted mesas before him, McDonnell says; he just looked. And I think I know what he saw. He saw in the stark and burnished red sandstone monuments on their unrelievedly flat plain a mystery, a majesty and a miracle, what John Muir often saw in vistas before him: "The grand show is eternal. It is always sunrise somewhere ... Eternal sunrise, eternal sunset, eternal dawn and gloaming, on sea and continents and islands, each in its turn, as the round earth rolls. ... Presently you lose consciousness of your own separate existence; you blend with the landscape, and become part and parcel of nature. ... Here you may learn that the miracle occurs for everybody doing anything worth doing, seeing anything worth seeing. One day is as a thousand years, a thousand years as one day, and while yet in the flesh, you enjoy immortality."
          Herriman was somewhat less metaphysical, writing: "That's the country I love and that's the way I see it. I can't understand why no other artists ever use it. ... I don't think Krazy's readers care anything about that part of the strip. But it's very important to me and I like it nearly as well as the characters themselves."
          It seems to me that a person must be alone in nature in order to feel a sense of oneness with all life and eternity, in order to lose consciousness of your own separate existence and blend with the landscape. The new hotel in the Valley threatens the otherwise pervading sense of solitude. The hotel, while not an eyesore by any means—it was designed to meld with the natural geology—is an intruder and a harbinger of future change. Goulding's Lodge was sold last summer, the new owner planning convention facilities, a spa and an upgrade to four-star accommodations. And work was underway to build a new visitor center with an interpretive adjunct and a museum honoring World War II Navajo code talkers—scheduled to open this fall, in October 2009.
          The new hotel, named, with unintended ominousness, The View, infringes upon the essential solitary serenity of the Valley's desert mythos. Is it possible to blend with the landscape while viewing it through a ceiling-to-floor glass window from an air-conditioned room? You are an observer in that ritual, not a part of the thing observed.
          Linda Jackson Rodriquez, one of the 70 or so Navajos who live within the Valley's boundaries, passes the hotel frequently but has never set foot inside it. "A lot of people come here for the spirituality and tranquility of the place," she says. "Not because it's another Sedona."
          But another Sedona, a New Age-y resort town north of Phoenix, is exactly what seems, now, inevitable. I'm sure Herriman won't turn over in his grave. He probably would if he could, but he can't. In accordance with his wishes, when he died in 1944, he was cremated and his ashes scattered over the sands of Monument Valley.
*****
Now here are some of Swinnerton's paintings of Monument Valley and a couple of Herriman's renditions in Krazy Kat.
RAGGED AND FUNNY
          Writing about those who want to keep the church and state separate by prohibiting displays in the public square of religious symbols, the Denver Post's Mike Littwin said: "I think the argument may well be correct, but that's not the same as being right."
          Said Lucy after jerking the football away from Charlie Brown again on October 4: "I figured you knew that I knew you knew I knew that you knew I knew you knew so I had to jerk it away."
          "The genius of Twitter is that it manages to be even stupider than tv. Twitter has become a playground for imbeciles, skeevy marketers, D-list celebrity half-wits and pathetic attention seekers. No wonder we can't get enough."—Daniel Lyons, Newsweek columnist
EDITOONERY
Afflicting the Comfortable and Comforting the Afflicted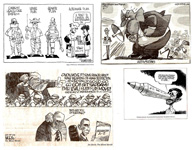 Here are some editoons chronicling the latest of the always surreal adventures in the nation's capital where too many politicians gather and, by talking only to the news media, remain hopelessly out-of-touch with the average American, who, nonetheless, persists in voting for these loons. I'll go around the clock, starting with Pat Bagley's gaseous display at one o'clock. I usually look for visual metaphors in political cartoons: metaphorical imagery, I believe, lingers in our banal brainpans longer than witty wisecracks, the infectious images insidiously influencing the way we think forevermore. Bagley's here is one of the most insidious. The image suggests on the one hand that the Gaseous Old Pachyderm is opposing O'Bama health care reform with sheer decibels alone, and the image, like the Republican Party, offers nothing but sound and fury as an alternative to the Democrats' plans. The GOP outshouts the Obama supporters; it doesn't out-think them. On the other hand—or, rather, at the other end of the image—we have what appears to be a continuous flatulence, another kind of uproar, which, we see, citizens find overwhelming in force or fragrance. It's all noise at both ends, and strench at one. Bagley has used this image before in ridiculing political blow-hards, and indecorous as it is, it seems to me powerfully effective name-calling.
          Below that, Nate Beeler gives us an image of Iran's Mahmoud Ahmadinejad that perfectly conveys the cartoonist's assessment of the Iranian president's characterization of his nation's nuclear program as wholly peaceful, intended to supply energy for the country not explosions for the rest of us. Pinocchio's tell-tale nose grows when he lies, and in this case, the lie reveals the truth in more ways than one. The size of the nose tells us Ahmadinejad is lying; the missile image tells us what he's lying about. (Ahmadinejad's most signficant accomplishment, it seems to me, is having taught us all how to pronounce his name.)
          Jim Morin's cartoon I at first thought was a fairly routine not particularly telling use of the resources of editoonery. But on closer examination, it seems to hit harder than I thought at first. Looking for a visual metaphor (like those above) is a good way, I submit, to begin evaluating the effectiveness of an editorial cartoon, but that kind of examination doesn't go far enough. The only obvious visual metaphor in Morin's cartoon is the Giddy Old Pachyderm, standing for the Republican Party. But in the rest of the cartoon, imagery functions almost as powerfully as metaphors do. The cartoon dramatizes a routine criticism of Republicans by Democrats: for instance, in lambasting Democrats for increasing the national debt with successive waves of stimulus bills, Republicans seem conveniently to forget that their war in Iraq used up the Clinton-generated surplus in the Treasury and then piled up billions in debt. So who are the more spendthrifty, Democrats or Republicans? (The answer is: politicians generally, without regard to party affiliation.) Morin takes a similar tack. His cartoon presents a playlet in two acts: Act One shows a non-dithering approach to Iraq; Act Two, the dithering approach to Afghanistan. The image of Act One dramatizes the near panic that inspired the invasion of Iraq—the continual chorus of exhortation, the military marching to its chanting cadence. Action, excitement. But we know the consequences of all that—the quagmire of Iraq. In contrast, Act Two is an uncluttered, placid panel with the Grumpy Old Pachyderm complaining about Obama's inaction. The contrast of Act One and Act Two creates a memorable comment on Darth Cheney's urging O'Bama to act—"now," the Old Elephant strenuously implies, "immediately." Don't think about it: follow our example: do as we did—summon military might and march off to war, unthinking, uncritical. Morin's cartoon, while not supplying a single metaphor of ridicule (as does Bagley's), still exploits the medium's resources to create memorable imagery that enacts the now-customary criticism of Republicans for being so myopic about their own sins, which they now routinely accuse the Democrats of committing too (without admitting their own kindred culpability).
          Finally, at the upper left, we have Signe Wilkinson. She doesn't supply a single, metaphorical image either, but the succession of her images—as we read from left to right—pile up as an indictment of the government's ludicrous bumbling in caring for its citizens' health. In a single cartoon with its poster-like imagery, she successfully ridicules the health care predicament while also advocating her preference, which, with the other three pictures as preamble, seems imminently better. Other countries have made national health care with a single-payer work, why can't we? (We can, of course—and have, with the Veterans Administration. And we have universal health care, too, in Medicare.)
T-SHIRT QUOTES
          I'm not procrastinating until tomorrow.
          What I really need are minions.
          Mathematicians just want their piece of the Pi.
          The decline of western civilization leaves me strangely unmoved.
          Patience is a virtue but flipping someone off feels better.
          Looking for love (but will settle for green jelly beans).
          I'm not aging: I'm fermenting.
          When is greed going to be good again?
          I'm not bossy: you just can't take direction.
NEWSPAPER COMICS PAGE VIGIL
The Bump and Grind of Daily Stripping
Once again, numbers in red show the way: we'll discuss these visual aids in numerical order, identifying each exhibit by number as we go. (And to facilitate following the discussion in the minute detail we usually muster, you might want to print out each of these five exhibits to have them readily at hand.)
          1) Here we have another in our continuing exhibition of comic strips that venture into historically taboo territory for a laugh. In Sally Forth, the characters are talking about their sex life, verboten until quite recently. And in The Elderberries, Corey Pandolph alludes to Hedy Lamarr's anatomy: the General's impersonation of the movie actress once denominated "the most beautiful woman in the world" involves stuffing grapefruits down his shirt front to imitate Hedy's physique. (It was her face that could have launched a thousand ships and toppled the topless towers of Ilium—her visage was surpassingly beautiful; her figure was merely average, but we should permit the General his delusion.) Female anatomy is again the subject in Tony Cochran's Agnes. The guy in Hilary Price's Rhymes with Orange may be holding a light sabre, but it looks like a deflating phallus to me. (But then, I have just that sort of mind, don't I?) I'm not sure about Mike Peters' Grimm. It reminds me a little of an old saying, which, alas, I can't recite exactly, but which suggests that among sled dogs, only the lead dog doesn't have his nose up someone's ass. The rest of us ....
          2) Word play is the topic in these strips—word play or verbal wit. Sometimes even unusual commonsense passes for brilliant repartee. Tom Batiuk often plays with malapropisms in Crankshaft, whose title character frequently misspeaks in that mode. Here, however, Batiuk has given that verbal gyration another spin. Brian Crane also fools around with words a lot in his strip, and in the second of our Pickles examples, he tiptoes up to the forbidden—and then kicks it in the rear. In Dilbert, Scott Adams reeks with uncommonsense insight into the predicament of the human (sic) sapien. Nicely done.
          3) Here we have mostly comic strips making allusions to comic strips, sometimes to themselves as comic strips. That such maneuvers are amusing is testimony to the pervasive presence of comic strips in our society: they are so ubiquitous—and readers are so aware of them, individually and collectively—that they can rely upon references to themselves for jokes. Regrettably in Bound & Gagged, Dana Summers plays to the widely held misconception that comics are for kids; too bad. Fortunately, in Sherman's Lagoon Jim Toomey correctly sees comic strips as vehicles for personal expression, and in Zippy Bill Griffith re-instates comics as Works of Art. In Pearls, Stephan Pastis persists in going further than most of his colleagues in kidnaping other cartoonists' characters for jokes in his strip. The single panel cartoons on this page do not refer to comics in the manner of the strips; they're here as examples of verbal dexterity in the mode of our previous exhibit. The blending of word and picture in these is not particularly inventive: mostly, the pictures identify the speakers, a mundane function. The gags here are twisted, and that's what I like about them. "This is gobbledygook. I asked for mumbo-jumbo"—I love it. More about this panel cartoon and its creator down the scroll towards the bottom of the screen.
          4) On this page, we continue our expose of cartoonists who rely on other cartoonists' characters for comedy. Patrick McDonnell rarely commits this maneuver in Mutts; and here, he does with his usual whimsical wit. Brian Crane doesn't make cameo appearances a regular practice in Pickles either, which makes the sudden appearance of Blondie and Mark Trail all the more comedic. It begins to look as if Pastis has infected the entire profession.
          5) Here, our subject is the nature of the medium and how cartoonists occasionally exploit aspects of it to hilarious effect. And how some cartoonists abuse the practice. Kevin Fagan, for example, has adopted in Drabble a visual shortcut lately resorted to frequently by Scott Adams in Dilbert: he draws a talking building, a windowed square block being easier to draw than another of his characters that all look alike except for their hair. In the good old days when comic strip line-ups included realistically illustrated storytelling adventure strips, we became accustomed to seeing opening panels depicting landscapes or buildings: the practice enabled the cartoonist to establish the locale of the ensuing panels. Leonard Starr often introduced a daily On Stage with a picture of the apartment building where Mary Perkins lived, speech balloons wafting out of the building's windows. But Starr's renderings of buildings were considerably more complicated ("realistic") than Fagan's or Adams' renderings. These guys are just short-cutting in a shamefully obvious way. And so is Jim Davis in our example culled from Garfield: three identical pictures. Oddly, each of these is probably drawn, painstakingly brushed into being—not photocopied. But they look photocopied, and that suggests Davis (or, rather, members of his staff) have taken the afternoon off to go golfing. In Wiley Miller's Non Sequitur and in Corey Pandolph's The Elderberries immediately below it, the cartoonists have exploited the nature of the medium to enhance the jokes. Wiley self-censors his joke in a humorous way by arranging for a speech balloon to partially obscure the obscenity that one of the characters has seemingly uttered; we laugh at both the joke and the ingenuity of Wiley's cover-up. Pandolph deploys the capacity of a comic strip to withhold visual information: he prevents us from seeing where Dusty Winters is until the last panel, and the revelation constitutes the day's joke. In F-Minus, Tony Carrillo uses an optical illusion, something only a visual artform can do, to set up his gag: only after careful inspection, however, do we realize that the picture on the back door of the truck has caused the driver behind the truck to crash into it, thinking he was following the highway. Carrillo's next venture, immediately below, is another instance of making his readers pause, examine, and think: pigeons poop on statues, so, naturally, a pigeon restroom would have statues in it for the convenience of the birds. Finally, Dan Piraro in Bizarro takes the nutty notion of playing an "air guitar" (or other instrument) to its logical and visually hilarious conclusion. Words and pictures blend for the laugh: neither words nor the picture make any comedic sense alone without the other. Oh—incidentally, the Drabble strips took place during the "volunteerism week" I mentioned earlier: the character, Ralph or Norm or Whoever (they all look alike, as I said), volunteered to help out at the hospital and wound up trapped in elevator with a birth crisis—a very funny departure from the usual routine in which sheer stupidity is the grist for the giggles.
          Now, about Cornered, that panel cartoon with the lumpy overweight blobs posing as people, one of which preferred mumbo-jumbo to gobbledygook. Its creator, Mike Baldwin, is another of the Canadians who have invaded our funnies pages; he lives, at present, in Ontario with his wife and two cats. He's 55 years old and Cornered has been syndicated by Universal Press since the fall of 1997, but the panel actually debuted the year before—on April Fool's day, Baldwin is fond of pointing out. Baldwin has apparently drawn all his life, but he's a slow learner: his first job, at the age of 16, was in a meat-packing plant near Toronto and it took him four hours to realize that this job was not for him. Later, after graduating from high school, he began a commercial art career, working in the display department of Sears. But he moonlighted at the Burlington Gazette with a weekly panel cartoon called Peepal. Then he did another one called Aunt Alas for a while, finally graduating to do the paper's editorial cartoon. He left Sears to become the advertising designer at the nearby Hamilton Spectator, where he launched another panel cartoon, Pokus. In 1986, he deserted advertising and joined the newly launched Burlington Spectator as art director and the entire art department; he also did a weekly cartoon for the paper's editorial page. In 1991, he left the Burlington Spectator and returned to the Hamilton Spectator, again in the art department as art director. Then came his "big break": "We were doing a major redesign in the summer of 1995," Baldwin recalled at his website; "I suggest a 'small daily smile' cartoon that would run on the corner of the front page by the weather icons and briefs. The editor, Rob Austin, said, 'Come up with something that makes me laugh out loud and works in a one column format—in color—and I'll consider it." Baldwin came up with Cornered.
          The rationale behind the comedy is desperately human. "We all do funny or odd things when cornered," Baldwin explained. People who are "cornered" have been "forced into an awkward, embarrassing, or inescapable position." They're not sure what to do or how to react. "So we fake it to make it," said Baldwin, "—and the results can be quite hilarious. Eventually," he continued, "all the excuses, rationalizations, crazy attempts to control or defend lead you here: cornered, with no way out, you just gotta laugh."
          That may have described the cartoon in its earliest manifestations, but now, I'd say Cornered has left its conceptual rationale far behind. Now, it's just a very funny cartoon populated by talking lumps. Here are a few.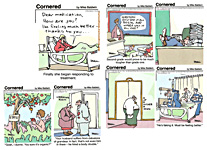 A year and a few months after Cornered debuted in the Hamilton Spectator (on April 1, 1996, as I said), Universal Press picked it up—in the fall of 1997. Cornered was one of the first—if not the first—cartoon to be colored by its creator rather than some third-party syndicate factotum. Baldwin also supposedly animates Cornered twice a week for visitors to his website (cornered.co.nr), but I couldn't find the animation department. Bad eyesight maybe.
CIVILIZATION'S LAST OUTPOST
One of a kind beats everything. —Dennis Miller adv.
About the White House/Fox News feud, Jim Geraghty in NationalReviewOnline wrote in alarm: What does it say about the state of the press in this country theat there is only one news organization the president considers hostile?
          According to the Wall Street Journal, more than 31 million bags checked by airlines last year—or roughly 1.4 percent of all luggage—did not arrive at destinations at the same time as the passengers. About 1.8 million bags were lost altogether.
          Parade magazine recently completed a poll about American spirituality: "69% of Americans believe in God, 77% believe it's a parent's responsibility to give children a religious upbringing. But even though 45% of respondents called themselves religious, 50% said they rarely or never attend worship services." What—50% of the 45% or 50% of the whole? Maybe this'll clarify: 30% said they attend religious services once or more in a given week, "but academic researchers who actually count the number of participants believe that only up to one-half of those who claim to be in their houses of worship are actually there." And: "Although 45% of respondents considered themselves religious, 70% of them said they participate in organized religion sporadically or not at all. That means one-third of the people who identified themselves as religious were only minimally connected to traditional worship."
          Shahrukh Khan was detained at Newark Liberty International Airport and questioned for two hours before he was permitted to go on to Chicago. Transportation Security Administration officials may not have realized that Khan is "the Brad Pitt of India." He was in the U.S. to promote his new film, "My Name is Khan," which is about racial profiling of Muslims in the U.S. since 9/11.
BOOK MARQUEE
Previews and Proclamations of Coming Attractions
Fantagraphics Books announced that it has struck a deal with comics historian and editor Greg Sadowski to produce seven new collections of classic comic book material. The books, which will be released "one per season" (which probably means three times per year, as in "book" seasons), will kick off with Four Color Fear: Forgotten Horror Comics of the 1950s, which will be produced in collaboration with EC comics historian John Benson (Squa Tront) to be released in June 2010. This 304-page collection concentrates on the non-EC horror oeuvre, including the work of Jack Cole, Steve Ditko, George Evans, Frank Frazetta, Alex Toth, Al Williamson, Basil Wolverton, Wally Wood, L.B. Cole, Matt Fox, and more, in products from publishers such as Ajax-Farrell, Atlas, Charlton, Fawcett, Quality, Standard, and others. The other 2010 release will be Setting the Standard: Alex Toth at Standard Comics 1952-54, which is planned for fall. (Coming out about the same time as the new semi-annual Comics Journal.) Four of the remaining titles, publication dates as yet in limbo, are: The Road to Plastic Man: The Golden Age Comics of Jack Cole 1937-41; Away from Home: EC Artists at Other Companies; Creeping Death from Neptune: Basil Wolverton's Sci-Fi, and Horror Comics 1938-55; The Comic Book Frankenstein: The Monster According to Dick Briefer.
          Sadowski, a former staff editor and designer for Fantagraphics Books (he did my Caniff biography), is currently freelancing from his home on San Juan Island in Seattle's Puget Sound. In addition to purely editorial work, he wrote the landmark biography of B. Krigstein, only one of the two volumes published so far. He most recent work for Fantagraphics is Superman: The First Wave of Comic Book Heroes 1936-1941, which we reviewed here in Opus 244. This new series is in effect a continuation of Supermen. His rationale for the new titles: "I try to provide a service to the reader who has neither the time, inclination, nor bank account to purchase and sift through hundreds of golden age comic books to glean off that precious 10%—the most distinctive and worthwhile examples from a particular genre."
          He also offered acute explanation for his selection of a couple of the subjects:
"It's hard to overstate the influence of Alex Toth on the art of comic books. Toth was from that first generation who grew up reading comic books, and he came to the medium armed with enough discipline, talent, and sheer love and respect for the medium to create a technique free of condescension, artifice, or shortcuts. His work at Standard first established him as the 'comic book artist's artist.' Learning his craft at Eastern and DC, Alex Toth arrived at Standard Comics in late 1951 with a fully formed, graphically impeccable technique perfectly suited to the comic book medium – honest, uncompromising, and free of condescension and artifice. The book includes a biographical sketch and an essay on Toth's approach to comic book storytelling, based heavily on his interviews and written correspondence."
          About Plastic Man's creator, Sadowski said: "From his earliest days in comics, Jack Cole was one intense artist / writer. It just took him a few years to fully incorporate humor into his work, so this book tracks his artistic evolution leading up to Plastic Man. Jack Cole's irreverent yet artistically first-rate approach to comic book art was a refreshing departure for a young industry that tended to take itself a bit too seriously. His work influenced many of his contemporaries, most notably Will Eisner, whose Spirit gradually assumed Cole's intoxicating mixture of fun and high drama. The book begins with early big foot work for Centaur's Funny Pages, then gives way to raucous adventure and crime stories before honing in on the nefarious Claw, the boy inventor Dickie Dean, and proto-superheroes the Comet, Daredevil, and Silver Streak."
          And there'll be more to come.
          Nancy, f'instance.
          Fantagraphics, already awash in classic comic strip reprints—The Complete Peanuts, Popeye, Krazy & Ignatz, a upgraded re-issue of Prince Valiant, plus Captain Easy, Dennis the Menace, Zippy the Pinhead and others— has acquired the rights from United Media to publish Ernie Bushmiller's Nancy, beginning in Spring 2010. The publisher's press release says Fantagraphics "has contracted to publish the first 24 years of Nancy dailies, beginning in 1938 (when Nancy took over the strip from its former star, Fritzi Ritz) through 1961."
          "I was a late Nancy convert," admited Fantagraphics co-publisher Kim Thompson, who will be editing the series. "It wasn't until Denis Kitchen published his Nancy collections in 1989 and 1990, after people like Bill Griffith and Scott McCloud had been touting it for years, that I finally 'got' it. It's one of the all-time greats— way ahead of its time in its own goofy way. Ever since then it's been at the back of my mind to do a more extensive reprinting, and our ongoing successes with classic reprint series these past five years told me the time is now ripe."
          Each Nancy volume will print four years of the dailies in 8" x 8" flexibound format, retailing for $29.99. Cartoonist Daniel Clowes (Ghost World) will provide the introduction to the first volume, which is actually the "second" volume chronologically, printing the years 1942-45. Said Thompson, "While we have access to great, nearly complete runs for most of the 1940s dailies, it looks like it will be far more trouble to collect the 1938 and 1939 material. So we'll be putting out a call to Nancy fans, both over the internet and in the first book itself, until we eventually secure the missing strips to double back and release the best possible 1938-1941 volume."
          "If the demand is there," co-publisher Gary Groth noted, "we will of course want to continue into the 1960s and beyond, if for no other reason than to run all those great 'hippie' Nancy episodes. But we'll cross that bridge in 2016 when we finish publishing the books we've contracted for."
          The character of Nancy, a precocious eight-year-old girl who looks like a fireplug, first appeared in the strip Fritzi Ritz. Larry Whittington began Fritzi Ritz in 1922, but when Bushmiller took it over three years later, he made it his own. And in 1933, Bushmiller introduced Fritzi's niece, Nancy, and the brillo-haired brat soon dominated the strip, which was retitled Nancy in 1938. At its peak in the 1970s, Nancy ran in more than 880 newspapers. Information regarding collections of Nancy Sunday strips will be announced at a later date.
          In Spring 2010, Fantagraphics will also publish an revised and expanded book edition of cartoonists Mark Newgarden and Paul Karasik's seminal 1988 essay, How to Read Nancy. In addition to explicating the brilliance of Bushmiller's cartooning, it also has become a landmark educational essay about visual storytelling: "To say that Nancy is a simple gag strip about a simple-minded snot-nosed kid is to miss the point completely. Nancy only appears to be simple at a casual glance. Like architect Mies Van Der Rohe, the simplicity is a carefully designed function of a complex amalgam of formal rules laid out by the designer. To look at Bushmiller as an architect is entirely appropriate, for Nancy is, in a sense, a blue print for a comic strip. Walls, floors, rocks, trees, ice-cream cones, motion lines, midgets and principals are carefully positioned with no need for further embellishment." And they all appear in the strip for a single purpose: to tell the joke. Perfect cartooning.
          But Fantagraphics is not confining itself to the visual-verbal medium. Arriving in bookstores in October is the first volume of a trilogy of novels by Monte Schulz, whose father worked for Peanuts. Entitled This Side of Jordan, it begins to chronicle a family's saga in the year leading up to the crash of the stock market and the Great Depression. "Struggling with the expectations of adulthood and his own fears of a relapse of his consumption, Alvin Pendergast catches a ride with a worldly stranger named Chester. The pair is soon joined by an unlikely third companion, a dwarf who calls himself Rascal, and they begin a crime wave across the Midwest."
          Interviewed by Michael Lorah at newsarama, Schulz was asked about the influence of his father's life and comics on his novel. "Well, I was inspired, I guess, by his career," Schulz said. "Dad exposed me to books and movies, comics ... I was thinking about this the other day; I think he pushed me into books and away from his work. One, of course, I can't draw. Two, he actually felt that book writing was a higher art form than cartooning, and he thought that he couldn't really do that. And he thought that maybe I could. My style of writing, sort of lyrical, comes from books he wanted me to read: Truman Capote, Thomas Wolfe and John Steinbeck. He had me read passages from books, which I thought was interesting. He wouldn't recommend an entire book; he'd just tell me to read a particular passage from a book, like the tortoise crossing the road in The Grapes of Wrath. Also, incidentally, I never have writer's block, and that's because of him. He told me once, 'Only amateurs have writer's block,' and in thirty years of writing I've never been blocked." (Would it be snide to observe that he hasn't published much either?)
          Sharp-eyed readers and Peanuts fans, said Lorah, can watch for a few inside references, including an appearance by Linus's teacher Miss Othmar, and characters modeled on Charles Schulz's dog that "eats tacks and nails" and cousin (the character Frenchy). Lorah continues: "Alvin Pendergast is a surprisingly passive narrator. Dissatisfied by his life on the farm and worried about relapsing with tuberculosis, he flees with Chester, but he seems to question the wisdom of that decision early on. Unfortunately, Alvin lacks the ambition and intelligence to do anything about his circumstances, which in some ways parallels the many people of any generation who are listless and unsure about the direction of their lives."
          About that, Schulz said: "First of all, I gave him tuberculosis after the first draft of the book. He doesn't really do anything, and I needed to explain his apathy toward things or his inability to do things. So I gave him a disease, and I had to give him a disease that wasn't going to kill him right away, was somewhat unusual, and was of the period. Rather than give him cancer or leukemia or something like that, I gave him tuberculosis, which was actually a larger killer than cancer was at the time. Tuberculosis wouldn't debilitate him physically from doing things."
          This Side of Jordan is Schulz's second novel: in 1991, his first, Down By The River, was published to no particular acclaim that I can remember. Now, after fifteen years of research, writing and re-writing, the second, or the first of three, appears. No acclaim yet here either.
LONG FORM PAGINATED CARTOON STRIPS
Called Graphic Novels for the Sake of Status
Libraries, I find, are now stocking graphic novels as if they were regular books. Librarians are doubtless grateful for the form because they think it induces young people to read, something librarians often think no one else does. As for me, I'm particularly grateful for the induction of the graphic novel to Dewey Decimals: it means I no longer must buy every graphic novel in order to review them all. (Even though I decided about three years ago that I can no longer do what I initially set out to do here—namely, to review everything in comics as it came out; there's simply too much. Too much of a good thing.)
          I checked out Captain America: The Man with No Face by Ed Brubaker, penciled by Luke Ross and inked by Fabio Laguna, Rick Magyar, Mark Pennington, Butch Guise and drawn from pencils through inks by Steve Epting and Butch Guice in various of the initial serial publication as comic books—and colored, impressively, by Frank D'Armata. A cover blurb from Laurel Maury at NPR proclaims this book "far edgier than almost anything you'll see in literature right now." Maybe the "literature" on her nightstand, but in superhero comics, we've been facing the end of the world repeatedly for decades, and this book just does another turn in the same old dance. Captain America, played here by James "Bucky" Barnes whenever he's not canoodling with the Black Widow (who goes by two first names here, Natalia and Natasha—or is one a diminutive for the other?), finds out that the remains of the first Human Torch have been stolen in order that a fiendish Oriental scientist (I know: it's supposed to be "Asian," but we're still operating under the fictional device of fiends always being Oriental) can use them to infect the world with the current version of the bubonic plague or some other debilitation affliction. Bucky stops him, naturally, and saves the world. Then he takes what remains of the Torch and has it interred in the Arlington National Graveyard as a way of memorializing what the Torch did for Liberty and the American Way during WWII, when Bucky was sidekicking with Cap America, the first one.
          This tale is complicated with several side issues and a lot of needless flashing back and forth in time. Bucky finds out about the disappearance of the Human Torch's, er, ashes (how else would the Torch end up?) when attempting to foil the theft as it is transpiring under the direction of Batroc; they fight for several pages. When Bucky finally figures out where the Torch's body is being transformed into a virus, he enlists the Submariner to help him. The Black Widow comes along. If Brubaker hadn't wanted to rope in as many superheroes as he could, he could well have written this tale without either Batroc or Submariner: the latter is just another pair of fists in the Good Fight, and Batroc disappears after a fight with Bucky. During that fight the "man with no face" (MWNF) shows up. We never see his face, and we don't know much about him except that (a) he has no face and (b) he was possibly created by but certainly hung out with the Oriental fiend. Thus, the presence in this country of the MWNF suggests to Bucky that the Oriental fiend (whose name is Chin) is somehow behind the heist of the Torch's mortal left-overs. Right. So that's when Bucky goes to the Mysterious Orient to find Chin and rescue the dead guy.
          The distracting flashbacks, sprinkled through the first half or so of the book, inform us that Bucky knows Chin and, in fact, once saved his life, and then, on a subsequent encounter when Bucky was the Winter Soldier, spared his life when he might have killed him. You'd think, then, that the book's ultimate event, the confrontation between Bucky and Chin, would embody a certain moral dilemma: if you saved the guy's life twice, wouldn't you think about whether you should now take it? Brubaker, however, never mentions the perplexity of such moral ambiguity. But he gives to the Submariner the task of breaking Chin's neck. By then, the MWNF has been killed; and we never know, really, why this whole story carries his name. Apart from being a formidable foe in a fist fight, what's his function?
          By not bringing up any ethical considerations, Brubaker effectively destroys the function of the numerous flashbacks that infect the book. They make the story more complex than it otherwise would be and, hence, add to the reading pleasure one may experience. But that experience is simply turning pages from one bunch of beautifully rendered panels to others. It's a story without much plot: first this happens, then this, then this, then this—without much explanation for why some of it happens. "Why" is normally answered by plot. The only big "Why" here is why Chin wants to destroy humanity. A bigger "Why" is why introduce all the previous encounters Bucky has with Chin if not to make something of them? "Something" in this case could constitute an interesting moral quandry. But Brubaker is apparently having none of that.
          In visual terms, the storytelling—panel composition, breakdowns for pacing and dramatic impact—is entirely adequate. But the pictures throughout are simply beautiful. D'Armata did a superb job. But impressive pictures cannot rescue the tale from being merely an action-packed melodrama. Too bad.
          One more annoyance: much of the story is told through captions that are narrated by Bucky or Natasha, and Bucky's narrative, often reflective, drones on even through sequences of intense physical action. Here he is, getting booted in the face by Batroc, but murmuring on to himself about what he's doing, how to defeat Batroc, and the meaning of it all. Too much.
          In short (yea, I shoulda done the short thing rather than rattle on like this), the book is an engaging, fun read for lovers of action movies. But where it could have risen somewhat about its genre, it doesn't. And that's a disappointment. Sample page in a minute.
*****
Another book I checked out of the library is You Have Killed Me (196 6x9-inch b/w pages in hardcover; OniPress, $19.95) by Jamie S. Rich with pictures by Joelle Jones. In this tale, a private detective named Tony Mercer undertakes to find Jennie's missing sister, Julie, who Mercer once dated when they were in high school. Julie turned up missing shortly after entering a windowless bathroom in the hotel room she and Jennie were sharing. It's one of those locked room mysteries, but it is never solved. We never find out how Jennie got out of the locked room that Julie and her assistants had to break down in order to enter. We do find out, however, that Jennie killed her sister, so we might assume that the "locked room" is a red herring concocted by the murderess to mask her deed: she "says" she had to break in, but Mercer never verifies this assertion.
          This might be counted as a signal flaw in the tale if Rich was regaling us with a simple mystery, but he isn't. Instead, he's producing an imitation Raymond Chandler story. The detective is sent on numerous errands, and, like the Continental Op, he picks up scraps of information as he goes, and he's menaced along the way by some the ungodly, so there's enough threat of violence to keep us in suspense and engaged. Mostly, we become acquainted with a thoroughly unsavory a-moral society, a Chandleresque milieu. And since acquainting us with this lot of failed humanity is the chief purpose of the story, we must conclude that Rich succeeds.
          Jones makes nicely crisp drawings with an appealing bold line coupled to fine-line trimmings and accented with solid blacks and gray tones. Some of her pictures are minor stylistic victories, but over-all, her angular geometric manner slips into a certain awkwardness occasionally. In pursuit of the mannered style, her command of anatomical proportion sometimes falters. Modeling with chunks of solid black works sometimes, but sometimes the results are dubious: some pictures look like experiments that didn't quite turn out. And she sometimes paces the visuals to no purpose: it takes a silent page for a new dealer to take over the blackjack table where Mercer is gambling, but the event itself doesn't need all that drama. And the prologue, with a wounded Mercer comforting an injured cat in the alley, is never firmly connected to the ensuing narrative. He mutters, "You have killed me," but he's never dead, and if he still carries a torch for the murdered Julie, it's not all that obvious. Still, the pages are mostly attractive, the rendering usually adequate, and the story itself Chandleresque enough to keep you engaged.
          Here is a sample of Jones' effort and another from the Brubaker Captain America epic.
COLLECTORS' CORNICHE
Welcome to our sentimental section where I muse and marvel about antique volumes on the shelf and rare finds in old bookstores and the like. Nothing major. Skip over this if you're busy.
          If you want to know what it's like to be an editorial cartoonist, read In Your Face: A Cartoonist at Work by the late Doug Marlette (212 8x10-inch pages; Houghton Mifflin, 1991; paperback, $12.95). And that's pretty high praise, gang—for any book. In fact, this may be the second-best book ever about being a professional cartoonist. (I'd put Mort Walker's Backstage at the Strips first.) A lot of Marlette is between these covers—a generous selection of his editorial cartoons from his first tour at the Charlotte Observer to his second stop at the Atlanta Constitution to his sojourn at New York Newsday before absconding to the Tulsa World, a tantalizing sample of his comic strip Kudzu, a short autobiographical section, and numerous topical essays laden with anecdotal insights. He takes us through an average day (mornings at the Newsday office doing his editorial cartoon, afternoons at home doing his comic strip), including a blow-by-blow description of how he developed his editoon for that day. He discusses the editorial cartoonist's freedom (or lack thereof) to express himself, generally championing his editors who have usually backed him in the face of publisher's opposition and reader criticism. (And as a liberal cartoonist in North Carolina, Marlette could ruffle conservative feathers down to the bone—and often did.) But he didn't always win the battle for his personal freedom of the press, and he prints several of the cartoons his editors wouldn't publish for one reason or another.
          The book is loaded with reprints of his cartoons (among them, his teary-eyed American bald eagle produced in 45 minutes after hearing of the Challenger disaster, a section of cartoons "without words," another of cartoons that survive their topicality to become perennial favorites on the lecture circuit) and Kudzu strips as well as numerous autobiographical sketches and drawings made expressly to decorate these pages. (Just the sort of thing you always hope you'll find in a book about a cartoonist—his own pictures of himself.)
          Of the topical essays, the one entitled "The Cult of the Refrigerator and the Bathroom Blues" is a gem: the highest compliment a cartoonist can be paid, Marlette asserts, is to have his work stuck on refrigerator doors in the homes of his readers. But he's not quite so confident of an accolade when a reader tells him she keeps his book of cartoons in the bathroom by the toilet. "To cartoonists, the toilet just isn't the same as the refrigerator, which is a standing ovation," he muses. "The bathroom is more complicated—more like a sitting ovation."
          In a more anecdotal but no less amusing vein, he discusses such perfect subjects for caricature and other forms of ridicule as Jesse Helms (whose first year in the U.S. Senate coincided with Marlette's first year on the Observer) and Richard Nixon and Ronald Reagan and New York's Mayor Ed Koch. And he sheds a good deal of light on the nature of the creative process in a section discussing how he gets ideas.
          Marlette has a finely honed sense of the dilemma most editorial cartoonists face—that of getting printed despite some sort of disapproval by editors. And he is wonderfully articulate in defining the problem. An editorial cartoon, he says, "is a frontal assault, a slam dunk, a cluster bomb." On the other hand, journalism, the host vehicle's supposed forte, aims for "fairness, objectivity, factuality; cartoons use unfairness, subjectivity, and the distortion of facts to get at truths that are greater than the sum of the facts." As nicely put as it ever has been. A reporter's job, he goes on, "is to layout the events and the facts." The editorial cartoonist—"by hitting one note, one angle on a subject"—highlights and focuses, thereby "helping to set an agenda for public debate."
          Marlette also discusses the gestation of Kudzu, but this portion of the book is comparatively weak. He doesn't talk much about the generation of ideas for his strip. And while he acknowledges that the two kinds of cartooning he's engaged in are very different, he doesn't much elaborate. He says merely that a strip gives him more "time" to develop an idea, and that timing is integral to the form (and is not in a single-panel cartoon). But he gives us little insight into the most fundamental difference: a comic strip is about characters whose personalities the cartoonist must invent and develop; the political cartoonist is handed his characters—public figures—who already have well-defined personalities.
          Because Marlette belongs to that tiny fraternity of editorial cartoonists who also do syndicated comic strips and because he is adept at writing about his craft, his failure to delve deeply into the nature of the comic strip cartoonist's creative enterprise is disappointing. But the excellence of the rest of the book more than redeems it. This is a valuable (and thoroughly enjoyable) contribution to our knowledge and understanding of the art of cartooning.
*****
Here's an unabashed press release from my friend Ron Evry:  
In less than a month, Woodbridge, Virginia podcaster Ron Evry will be presenting his 1500th episode of his story-telling podcast, "Mister Ron's Basement" (http://www.facebook.com/l/de55a;misterron/libsyn.com). No other podcast on iTunes has even come close to that number. So what is "Mister Ron's Basement"? Essentially, Evry began to explore the medium of podcasting back in March of 2005 as an experiment, to see how it worked. Not knowing what to record, he settled on the idea of reading old, humorous stories from the Public Domain, which were royalty-free. The first story he picked was Canadian humorist Stephen Leacock's 1916 tale, "An Irreducible Detective" (some Canadians claim that Mark Twain was the U.S.'s version of Leacock).
          The show began quite literally in Evry's basement, where he would dig out whatever old stories he had laying around. Then he got quite carried away, and began to heavily research pre-1923 American humor, and found a rich heritage of writers who were once household names, but were now mostly forgotten. There was such a wealth of funny material at hand, that Evry began to produce his podcast daily. What began as an experiment became a mission of sorts — to repopularize the writers who built the traditions of American humor that are still with us. Of course, he often read stories by authors who are still well known such as Mark Twain, O Henry, Bret Harte, Ambrose Bierce, and others, but mostly, he peeled back the covers and discovered hilarious writers such as Max Adeler, Fanny Fern, Bill Nye ("the 19th Century Guy"), George Ade, M. Quad, and Stanley Huntley, among many others.
          Some writers were flash-in-the-pans who were popular for a short while, then faded from view, such as James M. Bailey ("The Danbury Newsman") who burnt out after a decade of being one of the most popular humorists in the country, or others whose career lasted decades. M. Quad (real name: Charles Bertrand Lewis ["M-Quad" is a typographer's measure—RCH]) wrote a popular weekly syndicated humor column from around 1870 until his death in 1924. Fanny Fern drew herself from the depths of poverty to become the highest paid columnist in America during the 1850s until her death in 1872. Stanley Huntley's most famous creation, the Spoopendykes, were the predecessor of battling couples like the Kramdens, the Bunkers, the Flintstones, and the Simpsons, and Mrs. Spoopendyke was a direct progenitor of Gracie Allen's wacky character. Huntley (who was also famous for a daring interview with Sitting Bull while the chief was the most hunted man in the world) had a short career as a humorist, dying young. George W. Peck turned a career as a stand-up comic lecturer, humorist (he created "Peck's Bad Boy"), and newspaper editor into a successful career as a politician, becoming a two-term governor of Wisconsin. Any resemblance to other comedians who reached high political office these days is purely coincidental. The list of 19th and early 20th century comic writers is apparently unending. On this basis, the Mister Ron Show has never really run out of material.
          For a while, the Basement was pulling in 10 to 20 thousand listers a day, but after switching to a new server this past August, the numbers have dropped precipitously. It seems that a good portion of those listeners came from China, where something like 150 million people are learning to speak English, and they are not getting the Episodes from the new server. Still, the show remains popular with a hard core group of listeners, and many people pick and choose from the catalog of back episodes (http://www.facebook.com/l/de55a;ronevry.com/Mister_Rons_Full_Catalog.html) as much or even more than those who grab the latest one. In the month of October, the most popular Episode has been Leacock's 1910 tale, "My Financial Career" (episode #7, recorded back in 2005), probably spurred on the this past months awarding of the annual Stephen Leacock Medal of Humor. Mister Ron's reading of "The Legend of Sleepy Hollow" always picks up listeners around Halloween every year as well. In any event, to celebrate reaching this milestone episode, Mister Ron is giving away a 1906 edition of Ellis Parker Butler's "Pigs is Pigs." To enter just send him an email to revry@panix.com naming your favorite episode. Also around that time, Evry plans to launch a "Mister Ron's Basement" iPhone App, featuring all the episodes, and many special features.
          RCH: In our next Opus from the Rancid Raves Intergalactic Wurlitzer, we'll mention Ellis Parker Butler's Pigs Is Pigs, which was illustrated expertly by famed Will Crawford; more about him, too.
ONWARD, THE SPREADING PUNDITRY
The Thing of It Is ...
When large numbers of the Republican faction of the body politic declared that their children needed to be protected from hearing the nation's president speak to them, the GOP took itself out of contention as a serious political party: the Grand Old Pachyderm is now a national joke.
          "Opponents have unleashed a torrent of hyperbolic claims and heated invective" against Prez O'Bama's health care plan, wrote Nancy J. Altman in the Los Angeles Times, but 74 years ago "nearly identical denunciations were used in an attempt to kill" Social Security. Then as now, opponents claimed that the undertaking would bankrupt future generations. They warned that Social Security would "destroy" private pensions and unfairly compete with insurance companies. Where are they today? Drawing Social Security, no doubt.
ODDS & ADDENDA
This one came drifting in through the digital ether: Outside England's Bristol Zoo there is a parking lot for 150 cars and 8 buses. For 25 years, its parking fees were managed by a very pleasant attendant. The fees were £1 for cars ($1.40), £5 for busses (about $7). Then, one day, after 25 solid years of never missing a day of work, the guy just didn't show up; so the Zoo Management called the City Council and asked it to send them another parking agent. The Council did some research and replied that the parking lot was the Zoo's own responsibility. The Zoo advised the Council that the attendant was a City employee. The City Council responded that the lot attendant had never been on the City payroll. Meanwhile, sitting in his villa somewhere on the coast of Spain (or some such scenario), is a man who'd apparently had a ticket machine installed completely on his own; and then had simply begun to show up every day, commencing to collect and keep the parking fees, estimated at about $560 per day -- for 25 years. Assuming 7 days a week, this amounts to just over $7 million dollars! And no one even knows his name!
*****
Yes, you've been boo'd. Hoppy Hallowe'en.
To find out about Harv's books, click here.