Opus 249 (October 25, 2009). Out of the ol' rabbit hat this time, we pull a little scandal and a little news. Suddenly, just after marrying Veronica, Archie, we hear, will be marrying Betty, too. Then we take a look at the first cartoon cover on Playboy and learn why it is that Spider-Man must be single. We also delve deeply into the current obsession with zombies and vampires (in comics as well as on screens both large and small), celebrate JumpStart's 20th and Hispanic Heritage Month and review Toon Treasury of Classic Children's Comics and 1,000 Comic Books You Must Read. Here's what's here, in order by department:
NOUS R US
Chimp cartoon casualty at the NY Post
Disney comics aimed at young readers
Pooh case settled
Spider-Man Gets Sexy
Archie next to marry Betty
Playboy's first cartoon cover
EDITOONERY
Monthly editoon mag subscription information
Obama's Nobel in cartoons
NEWSPAPER COMICS PAGE VIGIL
JumpStart's 20th
Plus zombies and vampires
Hispanic Heritage Month
BOOK MARQUEE: Geary's Trotsky, Watterson's Calvin and Hobbes
BOOK REVIEWS
Toon Treasury of Classic Children's Comics
1,000 Comic Books You Must Read
And our customary reminder: don't forget to activate the "Bathroom Button" by clicking on the "print friendly version" so you can print off a copy of just this installment for reading later, at your leisure while enthroned. Without further adieu, then, here we go—
*****
CORRECTION. I managed another Drastic Fubar ("fouled up beyond all recognition") in Opus 244 last summer. While discussing Dick Locher's statue of Dick Tracy (still on track for Naperville, Illinois; see Nous R Us), I said a statue of Joe Palooka was in Wilkes-Barre, Pennsylvania, home town to Ham Fisher, Palooka's creator. Ooops: not so. The statue, Fenwick Anderson writes, "was originally in Bedford, Indiana, before being moved to nearby Oolitic. I know because I visited it at both locations. Wilkes-Barre once named a hill in Joe's honor but it never had the statue." A Rancid Raves apologia to Fisher, Palooka, Anderson, Wilkes-Barre, and Oolitic.
******
By the way, but not at all incidentally, the Federal Trade Commission has recently ruled that if a blogger is being paid to promote a product, the blogger must disclose this fact. The payment need not be merely cash: the payola can, presumably, include free trips to exotic locales, extensive wardrobes, visits by escort service personnel—or, for people like me who review books, a free copy of the book to be reviewed—known in the trade as a "review copy." Many of the books I review hereabouts I purchase out of my own barely-earned lucre, but I frequently review books by various of my publishers (and I usually indicate that relationship). Moreover, while no publisher is gifting me with a new muscle car or a year's supply of my favorite adult beverage—or outright money—many of the books I review have been sent to me as review copies, without charge. Payola, no doubt. In the spirit of the FTC ruling and in the interest of purity and simplicity, henceforth you should assume that all books I review are sent to me gratis, as review copies. Finally, for the sake of a permanent record: my publishers are Fantagraphics, the University Press of Mississippi, Frey Art Museum and the University of Washington Press, and, sometimes, the Ohio State University's Cartoon Research Library and Museum. There. Having confessed my taint, I am hereafter as pure as the FTC needs me to be. (By the way again, shouldn't that be the Federal Communications Commission, FCC? I must've read it wrong somewhere.)
NOUS R US
All the News That Gives Us Fits
Editoonist Sean Delonas is still working at Rupert Murdoch's New York Post, but Sandra Guzman, an associate editor who protested Delonas' controversial chimpanzee cartoon last spring, was fired at the end of September, and many on the Post staff, according to the HuffingtonPost, believe she was terminated because she openly criticized the paper for publishing the cartoon. Officially, the Post said only that "Sandra is no longer with the Post because the monthly in-paper insert, Tempo, of which she was the editor, has been discontinued." The HuffintonPost went on: "Guzman was the most high-profile Post employee to publicly speak out against the cartoon that compared the author of the stimulus bill (whom nearly everyone associated with President Obama) with a rabid primate. 'I neither commissioned or approved it,' Guzman wrote to a list of journalist colleagues shortly thereafter. 'I saw it in the paper yesterday with the rest of the world. And, I have raised my objections to management.'"
          Ever since then, some Post employees believe, Guzman has been on the management's short list of people who aren't essential to the well-being of the newspaper. "They've been looking for any excuse to get rid of her," one employee told the HP on the understandable condition that he/she not be named.
          Ironically, Guzman's firing exacerbates the dilemma the Post was forced to confront in the firestorm of protest from African American organizations that, in the wake of Delonas' stumbling cartoon message, accused the Post of a lack of diversity in its staffing: until she was fired, Guzman was the only woman of color on the paper's executive staff. The HP quotes another "longtime Post employee" (again, anonymously) who said there has been only one African-American editor at the paper in the last decade. "The hiring practices are really bad and have been for most of the time I've been here," said the employee. "Since I've been here there have been as many black editors as there have been black presidents of the United States."
          The irony of Guzman's firing is heightened because it comes "shortly after Murdoch is said to have held a meeting of leaders from a variety of ethnic communities to discuss ways to make his various companies—including the Post—more diverse. Guzman did not return a request for comment."
****
BOOM! Studios, Icv.2 reported on October 5, is in the midst of launching its four monthly Disney Standards comics: Mickey Mouse and Friends, Walt Disney Comics & Stories, Donald Duck and Friends, and Uncle Scrooge. The duck comics by Carl Barks have long been sought by "the duck man's" most passionate fans, which number in the millions. But flying in the face of custom—always dangerous in comics fandom— BOOM! is targeting an elementary school audience, evenly divided between boys and girls. Icv.2 quotes Boom CEO Ross Richie, who says the package was designed to be more kid-friendly. "We think that the material will be more accessible to a younger-skewing audience. We have a mass market newsstand deal with Kable, who distributes Archie to the mass market. If you look at the price points of things like Sonic the Hedgehog and the Archie stuff, we're priced in their category. I think it's every publisher's heartfelt desire to publish a comic book that maybe is somebody's first comic and I definitely think that's our focus with these characters, that a kid will see a comic with Mickey Mouse or Donald Duck and get excited about it and buy it."
          A noble notion. And someone should be trying to nurture young readers, indoctrinating them into the joys of funnybook reading. But BOOM! is also inaugurating a multiple-cover strategy that seems counter-intuitive on kids' comics. Richie argues that it's not about creating a collectible: it's about increasing the odds of a book's having a cover that appeals to a particular customer. "We're not expecting kids to buy both covers," he said. "When you put two covers out there, you're giving a consumer a choice. You might not hit them with the cover A design, but with the cover B design you might hit something they love. It gives us an opportunity to appeal to different kinds of tastes."
          I dunno: looks like a double-barreled dodge to me: collectors, whatever Richie says, will go for more than one cover. The stories are being published in story arcs that will allow compilation into trade paperbacks of 112 to 150 pages, in a 6x9-inch format, the same format BOOM! is using for its Pixar collections. BOOM! also plans high-end hardcover collections of classic material. Sounds like collector-targeting maneuvers to me. And that's no sin.
****
Early in October, Berkeley Breathed's first Bloom County collection from IDW Publications hit the book stores. Several major newspapers are running their interviews with the acerbic cartoonist, and the DailyCartoonist rounded up a few of the bon mots.
          From the L.A. Times, regarding what it was like to be cartooning in the 1980s, Breathed intoned: "Not to sound like someone swinging their cane, but in the 1980s there weren't a thousand other voices screaming to be heard at the same time," Breathed said of the decade when Bloom County was featured in more than 1,200 newspapers and he won the Pulitzer Prize for editorial cartooning. "There was a quiet in the room that made being a commentator very exciting. There was no Web, there was barely any cable tv. If you were looking for humorous topical commentary, you would go to the Johnny Carson monologue, 'Saturday Night Live' and Doonesbury. That was it. After you have the silence of that room, you get really weary with the screaming it takes today. There's also this bitterness in the public square now that is difficult to avoid. I never did an angry strip, but in recent years I saw that sneaking in." And that, as he's said before, is why he quit Opus a year ago.
          From USA Today on his strips' impact: "An understandable but unfair question for any writer. If you say yes, you're an arrogant d—-head. If you say no, you're a clueless dolt. Interestingly, if you ignore the question entirely, you're seen as both, my specialty. I can tell you this: there was a woman in 1989 that was committed by her family to an Ohio mental health facility largely because she thought she was pregnant by Bill the Cat. If this is what you meant, I'm happy to say, yes, I recognize Bloom County's influence, but I'll stop short of embracing it, as I do a porcupine."
          It's nice to have Breathed around, still: he pontificates quotable comment like almost no other miscreant among us.
*****
Tom Spurgeon at ComicsReporter.com announced that "George Tuska, a comic book artist who was one of the few of his peers to have measurable success in both the initial 1930s-1940s flood of comic book production and during their revival as more of a specialty publishing form in the 1950s, 1960s and 1970s, passed away near the stroke of midnight between October 15 and October 16." He was 93. Tuska's clean and muscular rendering of Iron Man was one of the things that drew me back into comics in the early 1970s. For more detail about his life and career, consult Spurgeon's blog; I can't do better here.
          From Scoop at Diamond: Gemstone Publishing is pleased to announce that in honor of its 40th anniversary, the 2010 edition of The Overstreet Comic Book Price Guide will be released on Wednesday, July 21, 2010 in comic shops across North America and at Comic-Con International: San Diego. Said Robert M. Overstreet, the book's founding editor: "When I first started the Guide, I could have never imagined that we'd still be talking about it forty years later. While the market has changed and become much more sophisticated in the past four decades, comic books still have an amazing appeal to the kid inside all of us. It's still something we can really stop and enjoy."
*****
More Excitement at Disney. The 18-year legal squabble over Winnie the Pooh is, at last—apparently—over. A Los Angeles judge struck down a claim against Disney lodged by the family of Stephen Slesinger, a comic book packager who bought the copyright to Pooh in 1930 from the bear's British creator, A.A. Milne. After Slesinger's death in 1953, his widow licensed the rights to Disney in return for regular royalties—but the family sued in 1991, claiming to have been short-changed by Disney. Subsequently, Slesinger was found guilty of misconduct in hiring a private detective to paw through Disney dustbins, looking for incriminating documents.
          In the final outcome, the judge ruled that "Stephen Slesinger Inc transferred all of its rights in the Pooh works to Disney, and may not now claim infringement of any retained rights." Disney pronounced itself "pleased" at this verdict, after which, it gets confusing to an ordinary non-litigating observer like me.
          Slesinger's daughter, Patricia Slesinger, told the Los Angeles Times: "Judge Florence Cooper provided a potential and an elegant middle-ground solution that will allow us to go forward with our business relationship—hopefully without more litigation." Sounds to me as if matters will be going on as before with Slesinger getting some sort of royalties from Disney's use of Pooh.
          The settlement comes amid preparations for the publication of the first authorised sequel to Milne's books in 80 years. The new work, Return to Hundred Acre Wood by David Benedictus, reached bookshops in early October. Even more confusing: reports on Benedictus' work allude to the Pooh rights reverting to the Milne heirs (leaving Disney where?) and to Benedictus having submitted a few Pooh stories to the Milne heirs for approval. "They liked my first story," he recalled for the London Daily Mail, and they asked for more. My guess is that Disney owns rights to Pooh only in the U.S. or only in animation, not in books and the like. But then, I'm not a lawyer.

*****
Posy Simmonds' exquisite graphic novel, Tamara Drewe, is slated to be transformed into a motion picture by Stephen Frears. ... The current issue of Krause's venerable Comics Buyer's Guide, No. 1660 (December), is the thinnest I remember seeing: just 90 pages and saddle-stitched, not square bound. ... More CBG Adventures: I went to Krause Publications' website to buy one of its books, Gary Lovisi's Dames, Dolls & Delinquents, a "collector's guide to [the sexy cover art of] pulp fiction paperbacks," and when I typed in the title of the book, the mechanism responded by saying my search terminology had turned up too many items so I should refine my search. When I typed in just "Dames, Dolls," the machinery was able to find the book. But using the actual book title couldn't produce the book. Another recent title from Krause is Tony Isabella's 1,000 Comic Books You Must Read; reviewed in Book Reviews below.
          Shepard Fairey has admitted that the image of Obama in his famed "Hope" poster was lifted, more-or-less intact, from an Associated Press photograph not, as he later claimed when confronted by an AP-launched law suit, adapted from a photo of O'Bama seated next to actor George Clooney. If the latter were the case, then it could be argued, as Fairey's lawyers maintained, that the "fair use" clause of the copyright law permitted Fairey's re-deployment of the image. But Fairey lied to his lawyers, and they're now withdrawing from the case as a result. Said Fairey, quoted in the AP story: the "Hope" poster was "a piece of grass-roots activism done exactly the same way as my other posters." So he copied all the other images too? The practice might be tolerated in the realm of street art where Fairey usually resides, but when he plunged into the mainstream with a poster making big bucks for him, he crossed the line from carefree unfettered street artist to national entrepreneur, encumbered by exactly the sorts of rules and conventions that street artists traditionally reject and, in effect, fight against.
*****
SPIDER-MAN GETS SEXY. Marvel's ed-in-chief Joe Quesada, writing in his "Cup O'Joe" online column August 14 (called "Cup O'Q&A" on Fridays), repeated that there are "three genies" he wanted to put back into the bottle: 1) cut down the number of mutants so that they became special again; 2) make the Marvel Universe as unpredictable a place as it was in the early 1960s; 3) bring Peter Parker back to single status. By his reckoning, all three have been accomplished—"and it only took me close to ten years," he finished with what we must suppose is a snorting laugh. I know now why Peter Parker (aka Spider-Man) must be single—and so do you if you've seen Amazing Spider-Man Nos. 605 and 606.
| | |
| --- | --- |
| | |
A married man couldn't have a roll in the hay with the sumptuous Black Cat, which consummation devoutly to be wished occurs in No. 606—the issue that opens on a post-coital bedroom scene with Peter in bed with the still-slumbering Cat, saying to himself: "I am not known for brilliant decision-making, especially not in the spur of the moment with a hundred and ten pounds of ready, willing and able lying on top of me that knows exactly how to whisper in my ear and breathe on my neck in just the right way ..." If Peter were still married to Mary Jane, he couldn't—not on the cultural battlefield of present-day America—be canoodling with another woman. But now, thanks to having awakened from the dream of his marriage, Peter can indulge himself. And he does.
          So do writer Joe Kelly and penciller Mike McKone, ably inked by Andy Lanning—not to mention Scott Campbell on the covers—producing, ensemble, a couple issues steamy with scenes of overheated sexual innuendo. Says Cat when she first re-encounters Spidey, "Are you starting at my chest?" One could scarcely avoid her chest, being, as it is, on generous display in that costume with a neckline plunging profoundly. And later she says to Spidey: "If you weren't so good in the sack, you'd be completely useless." Or, even later, promoting a continuing affair: "Here we are with a miraculous second chance to have a little fun if we just let go enough not to screw it up—just be who we are. Two consenting superheroes with a little history of having a little fun one night at a time...." Fun, fun, fun—copulation as recreation. Her intentions even interfere with her crime-busting: in the midst of an altercation with some bad guys, we see her kissing Spidey and saying: "Damn it. I hate fighting when I'm frisky." Frisky? How about in heat? Not with Mary Jane around.
****
The Great Recession is taking a toll on some comic book retail shops, not enough to be a pandemic perhaps, but enough to shut down Brainstorm Movies, Comics and Gaming in Chicago's Wicker Park. Hunter Clauss at the chicago.decider.com quotes store co-owner Robert Kimmons, who blames "a combination of declining sales, rising comic book prices, and greater competition from Internet video-rental websites as catalysts to the store's closing."
          Incidently, some months ago, I made a few lurid remarks about the generally shabby unkempt appearances of the usual comic book store, and Mike Rhode objected —rightly—saying he'd been in many comic book stores that were managed to evade the stereotype. And so have I, now, having lately visited the new Mile High Comics establishment in northwest Denver, one of two Mile High shops. I haven't been to the other one, but the one on north Washington is the building Mile High moved into when its previous place flooded a year or so ago. And the new place is a model of modern retail store interior decor—glass-topped display counters, low-level racks for boxes of comics, clean carpet on the floor—just like Tiffany's. Great place to visit and browse.
*****
ANOTHER WRINKLE IN RIVERDALE. Archie Andrews' matrimonial adventure, a patently obvious publicity stunt from the get-go, has developed some much less obvious aspects than the initial blasts of publicity had us expecting. Archie proposes to Veronica in No. 600 of his title and marries her in No. 601, and the series has four more issues to run. What's next? Plenty, as it turns out.
          The storytelling, except for the visual staging by Stan Goldberg, is vacuous enough, but writer Michael Uslan's plot is commendably ingenious. Two issues of jejune comedy careening headlong, page after unrelenting page, was more than I can usually stomach, but Uslan managed a couple of turns that kept me from throwing up. In No. 600, when Archie proposes to Veronica, he does so in the jewelry store where he buys their engagement ring—and just as he falls to his knee in the time-honored pose to pop the question, Betty is strolling by with Jughead, and she witnesses the proposal and Veronica's jubilant acceptance. Sob.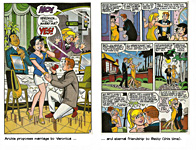 The next issue opens on the wedding day with Archie, Jug, Reggie, Moose and the rest of the groom's gang donning tuxedos, and when Archie complains about his collar being too stiff, Reggie blurts out what seems a lame joke but is the issue's best albeit entirely subversive gag: "From now on, we're gonna call you 'Starchie,'" he says, invoking the name of Mad's Archie parody and, thereby, alluding to the infamous humorlessness of Archie Comics, which eventually succeeded in enjoining Harvey Kurtzman and Will Elder from ever again publishing the most exasperating of their Archie spoofs, the Goodman Beaver story that was actually ribbing Hugh Hefner and Playboy, not Archie. In it, the "Archie" character was an unalloyed pill-popping dope-smoking hedonist—a circumstance casting so many aspersions on the Archie iconography that John Goldwater, the company's last patriarch, couldn't take it and resorted to the courts to stifle such malfeasance in all our futures forevermore. I'm surprised Uslan managed to sneak that joke through so straitlaced and rigid an editorial review, but he did, and I was delighted to encounter it. (The Comics Journal, daringly enough, reprinted the verboten story in No. 262.)
          Then there's a memorable sequence in which Archie and Betty swear to be friends for life, staged like a proposal. I was chagrined to see one of my favorite toasts deployed at the wedding feast ("May you live as long as you want and never want as long as you live"—immortalized, now, as comic book dialogue in an Archie comic, sob), and I was somewhat disappointed to see Hiram Lodge, Veronica's wealthy father, immediately hire Archie and put him to work in some high-caliber office job, but what else would Hiram Lodge do? I wasn't expecting Veronica to be expecting so soon—a year transpires in No. 601, and she's pregnant by the end of the book. In No. 602, she'll doubtless look like she's pregnant, smashing another of the Archie wholesomeness shibboleths. (Sex is never a subject for comedy or, even, consideration in the perpetually adolescent purity of Archie's Riverdale where the propagation of the species is achieved, presumably, by budding.) I was disappointed, too, in Goldberg's visuals. He's deft at Dan DeCarlo's house style and practiced at it enough that some pictures seem nicely loose and lively, but over-all, the rendering seems rushed: he falters at anatomy sometimes, and the faces of the characters are frequently lopsided—just the sort of dashed-off pencil glitch that his inker, Bob Smith, ought to have fixed. These flaws, however, are minor in the otherwise masterful staging of the action.
          At the first run-through, Uslan's story seemed a little glib: dripping with vapid dialogue regularly laced with cliche wit and tedious topical allusion, it portrayed a relentlessly cheerful teenage world in which no one ever has problems with acne or hormones—satisfying for die-hard Archie fans, no doubt, but still, much too facile, it seemed to me. Despite its occasional subtleties, it seemed a little too predictable: like a dance contest in which all the dancers perform their steps accurately and in perfect tune with the music. Annoying but tolerable in a wholly undistinguished way. Even more irritating—what can conceivably happen next? Marriage, childbirth—what can possibly happen after that? How will Uslan use up the remaining issues of the series?
          And then, poised on the cusp of the third issue in the six-issue arc, the Archie promotional machine clanks back to life and drops the next shoe. Suddenly, a new horizon stretches out before us.
          Uslan's initial storytelling gimmick, it develops, is not just a cute trick but the pivot upon which the entire series turns. In the first issue, Archie walks into his future by taking a stroll down Memory Lane after graduating from high school. On a whim, then, he decides to change direction and walk up Memory Lane. If down takes one into the past, up must take one into the future, and, sure enough, by the next page, Archie has graduated from college, and the sequence that leads to his proposal to Veronica commences. While sauntering up Memory Lane, Archie came upon a Yellow Wood and therein, Memory Lane splits into two roads, and Archie takes the one on the left, saying he'll take the other one another time. In one of the next issues of the series (No. 602 or 603, I'd guess), Archie goes up Memory Lane again into the Yellow Wood and takes the other road—that is, "the road not taken" before. And this time, Rick Schindler tells us at msnbc.msn.com, he marries Betty.
          Schindler explains: "Anyone who paid attention in Ms. Grundy's English class will recognize the 'Yellow Wood' as an allusion to Robert Frost's much-loved poem 'The Road Not Taken,' which begins: 'Two roads diverged in a yellow wood. ...' But the idea of following a single character in different directions also owes a lot to movies such as 'Peggy Sue Got Married,' 'Sliding Doors' and Woody Allen's 'Melinda and Melinda'"
          If the marriage to Veronica takes 3 issues, marital bliss with Betty must, in fairness, take the other three issues in the arc. And how will it end? Must Archie divorce them both? Or only one? Which one? Or will Uslan's tale end with Archie in exactly the same dilemma that he's been in for over 60 years? We'll find out, of course—and probably before the last issue in the series, No. 605. Before then, the Archie publicity department will gear up again to deliver its final jolt.
          So far, the stunt has been stunningly successful. "It was a pop-culture shock wave," Schindler reports. "The news [last May that Archie would marry Veronica, not Betty] made headlines and tv news reports, and reaction was swift and vocal. Complaints poured into ArchieComics.com. A Dallas comic-book shop owner sold his rare Archie Comics No. 1 in protest. And a poll over whether Archie had made the right choice brought more than 15,000 votes flooding into community news site Newsvine— with more than eight in 10 agreeing that he needed to get his red head examined."
          "This was one of the biggest events we ever had here at Archie," said editor-in-chief Victor Gorelick, who joined the company as a teenager 50 years ago, starting as an assistant in the art department. "We got letters from parents, from grandparents, people who hadn't bought an issue in 20 years. It was nice to find out how much Archie is loved."
          But when Uslan first brought him the idea for this "dream sequence," Gorelick wasn't immediately taken with it. "At first I thought it was a little loony," he told Schindler. "But the more I thought about it, the better I liked it. And it worked out better than I expected, that's for sure."
          It was Uslan who decided that the first path Archie would choose would be the one leading down the aisle with Veronica. "He very correctly identified that Archie marrying Veronica would be the lightning rod," explained Archie publisher Jon Goldwater. "People said, 'Is he doing it for the money? Is he doing it because he loves her?'"
          "But," wrote Schindler, "Archie Comics is profoundly protective of its namesake character's uniquely wholesome niche in Americana; bringing him to a literal crossroads was not a decision they took lightly. 'We weigh everything we do here with intensity,' Goldwater said. 'Every coloration, every word balloon is scrutinized and goes through 10 different layers. We even talked to people outside the box, which we normally don't do. Truthfully, I was awake at night, as was everybody here. I knew there was going to be a reaction, but it was so much bigger than we could have anticipated,' Goldwater went on. 'We were shocked—but in a very positive way.'"
          Wasn't there backlash from readers who felt the Veronica proposal was a cheat? "You always get the people who say, 'You've pulled a fast one,'" Goldwater acknowledged to Schindler. "But mostly people are delighted. People were grabbed by this. Sales and numbers have been fantastic."
          Not everyone agrees. At ComicsExaminer.com, Brian Steinberg, writing before the Betty strand was unveiled, called the nuptials of Archie and Veronia a "big mistake." The reason: Archie Comics have stayed the same through the history of the books—"Archie and his pals live out their days playing pranks on Ms. Grundy, going out on stress-free, sex-free dates and slurping malts at Pop's Chok'lit Shoppe. No matter how complicated the real world gets, Archie stays simple." But change, Archie's marriage, will ruin the line: "The reason so many parents send their kids to Archie books is because they know what they get—funny tales about teens and their crazy mishaps. No sex. No drugs. Just innocent hijinks and kooky pranks. Marriage means having to get a job and worry about money—not a fun thing for a guy who can barely figure out where his allowance is coming from." Moreover, the marriage itself is doomed: "Veronica and Archie are ill-suited for each other: Ronnie is wealthy; Archie is probably two steps away from residing in a home for the mentally challenged (who else stays in high school for decades and hangs out with some dude whose main joys in life are eating hamburgers and wearing some weird hat?). ... Really," Steinberg goes on, "who wants to get married to Veronica? She was Paris Hilton before Paris Hilton ever learned how to sneak into bars and cadge free Long Island iced teas off guys ten years older than her. Betty, meanwhile, is a down-home girl who can take care of herself as well as the hapless Riverdale redhead."
          Steinberg will be relieved, no doubt, that Archie eventually chooses Betty. Too. With the probable result that comics' eternal triangle will prevail and endure, unchanged. If so, that may be the only thing about Archie Comics that's unchanged. Schindler continued (in italics):
          Archie's journey down the road not taken may be the first step toward a higher profile for his venerable publisher—which, unlike Manhattan-based comics behemoths Marvel and DC Comics, is based in the more rustic Westchester County village of Mamaroneck. The company recently signed with Hollywood's high-powered Creative Artists Agency with an eye toward expanding Archie's franchise into television and movies.
          "It's sort of like a fresh beginning," Goldwater enthused. "Sixty-eight-plus years and now I feel like we're at year one again. We're taking Archie into places he's never been before, but," he added, "always maintaining the integrity of the character."
          And what about the age-old question: Betty or Veronica? Gorelick is unequivocal: "If I had to live with someone for the rest of my life, it would be Betty." But like his redheaded hero, the publisher of Archie Comics wants to have it both ways. "Some days I'm a Betty man, some days I'm a Veronica man," Goldwater said. "It depends on my vibe."

*****
AND THE OTHER PLAYBOY, THE OLD ONE? Every writer dreams of having an impact upon the culture around him, so I must confess to an insidious sense of gratification brought on by the realization that my ranting recently about the declining number of cartoons in Playboy has had an impact: to make up for the neglect of the last several issues, the new management has put a cartoon character on the cover of the November issue. A first. Drawn by Julius Preite, Marge Simpson, the matriarch of the first family of Springfield, is on display—seated on a bunny-headed chair that coyly nearly obscures the fact that she's sitting there unencumbered by any raiment whatsoever except the ever-present blue hair arising from her scalp in a cascading pile. (The pose and cover composition echo the October 1971 cover on which an African American pin-up sat on the same chair, her Afro hair-do being the most conspicuous of her attributes.) And Marge is inside the magazine, too, "gracing" (as they say there) the gatefold spread, encumbered by the usual Playmate bio and mock interview. Although the advance publicity about the November issue said the gatefold wouldn't "bare all"—the nudity, the magazine said, was only "implied"—not much of Marge is left to the imagination: she's wearing a see-through nightie, and we can tell that she has nipples.
          The attendant publicity failed to mention that the Marge cover is but one of two November covers: the other one, depicting lingerie model Alina Puscau in her underwear, is on the magazines sent to Playboy subscribers (which account for about 40 percent of the magazine's circulation); Marge appears on the newsstand edition, seductively tagged "Collector's Edition" in the expectation that it will be purchased by swarms of new, young, heavy-breathing readers.
The Marge stunt is "obviously somewhat tongue-in-cheek," said Playboy Enterprises' new CEO, Scott Flanders, interviewed by Sandra Guy at the Chicago Sun-Times. "It had never been done, and we thought it would be kind of hip, cool and unusual," he continued, adding that the whole idea of the cartoon-covered issue is to attract readers in their 20s to a magazine whose average reader is now about 35 years old.
          It's this kind of so-called reasoning that sends shivers up my erstwhile spine. Flanders, who ran a newspaper chain until taking over for the retiring Christie Hefner last June, thinks Marge Simpson will pull in younger readers. What? On what planet is he living? He thinks young male Americans will line up faster to buy a magazine with a cartoon character on the cover than a magazine with a scantily clad woman on the cover? Where did this guy grow up? Red-blooded hormone-infected young American males always opt for barenekidwimmin. Always. And Marge's blue hair doesn't help: blue hair is the badge of the elderly femme. I don't care how many nipples she displays: Marge is an old woman, a pin-up for senior citizens. Or, we must allow, cartoon fans.
          In Colorado Springs, an enterprising reporter for the Gazette bought a plastic-wrapped copy of the Marge-covered issue and asked several men on the street what they thought. "Most said they weren't Playboy readers but were happy to give it a look for the sake of journalism," explained reporter Andrea Brown. Said a Fort Carson soldier: "She's pretty hot for a cartoon. She's got a nice cartoon body." But that's not, really, enough: a 29-year-old landscaper put it succinctly: "It sure ain't sexy because she ain't real," said Kyle Bernard.
          Not to worry, though: the magazine's interior has two gatefolds, the center one devoted to a heavy-breasted 22-year-old college student named Kelley. And later on in the issue, Alina Puscau, entirely naked this time, entertains us by fondling a nude plastic mannikin of herself. I suspect a great deal of metaphorical significance could be rung on this tableau, but I won't be the one to do it. (Admirable restraint, don't you think?)
          It's abundantly clear that the hiring of Flanders is an act of desperation at Playboy Enterprises. After three months on the job, Flanders has decided that the company's financial future lies not in its flagship magazine but in the Playboy brand itself (the rabbit) and in night clubs (the bunnies). Only one of the fleet of Playboy clubs is still operating—the one at the Palms Casino Resort in Las Vegas. Flanders plans to open a new club in Mexico within months, followed next year by another in Miami and, in 2011, another in Macau (the latter, already on Christie Hefner's agenda before she left). Other than that, he says, "Exploiting our brand will increasingly become our core business." For too long, he goes on (quoted by Greg Burns at the Chicago Tribune), Playboy has treated licensing as a nice-to-have ancillary business. The Sun-Times reported that Playboy plans to license its brand with French fragrance firm Coty for a line of men's fragrances. Other areas into which expansion would continue include lingerie, jewelry, clothing, and bed-and-bath products.
          At present, according to Burns, "Playboy has no plans to shut the magazine but has hinted at drastic cuts in frequency, circulation and pages. Playboy tv has room ro grow, Flanders said, and the company's subscription websites have held their own against piracy and competition from free sites."
          Cutting pages from the magazine is a practice already in progress. The November issue has 132 pages, less than October's 140 but not as low as last spring, during which several issues barely reached 120 pages. In its heyday, 1960s through 1980s, Playboy typically ran to more than 200 pages, and the December and January issues were even larger: the December 1967 issue had 320 pages; in 1972, the December issue clocked in at 346 pages. In the 1990s, the page count slowly dropped, but still, at 180 pages, typically, it was a fat magazine.
          Of greater concern hereabouts is the effect of the declining page count on the number of cartoons in each issue, Playboy being one of the last two redoubts of magazine cartooning in the country. (The New Yorker is the other.) Naturally, the fewer pages, the fewer cartoons. The aforementioned December 1967 issue published 21 full-page full-color cartoons (including two "pin-up" cartoons, one by Vargas and the other by Don Lewis) and 35 small b/w cartoons at the back of the book. But the number of cartoons is less significant in our minds than the ratio of cartoons to page-count. For full-pagers in the December 1967 issue, the ratio is one cartoon for every 15 pages: every 15 pages, the reader sees a full-page color cartoon. For smaller cartoons, the ratio is 1/9. And the issue concluded with the additional four pages of an Annie Fanny comic strip. In July 1969's 222-page issue, full-page cartoons numbered 18 (a ratio of 1/12); smaller cartoons, 42 (including a 3-page spread of John Dempsey cartoons, 10 of them), a ratio of 1/5. A reader would encounter a cartoon once every five pages!
          Through the 1970s, judging from a sampling I performed just now, the full-pager ratio was in the 1/20 range; smaller cartoons, 1/10-15. The ratio was pretty good even in the still-formative year of 1958: in September's 88-page issue, 1/18 for full-pagers, 1/7 for smaller cartoons; in December's 104-page issue, 1/20 for full pagers, ditto for smaller cartoons. In recent years, however, the ratio has been increasing—that is, the reader encounters a cartoon less frequently while paging through each issue. Last spring when I first began tracking this phenomenon, the ratio for full-pagers began to climb into the mid-twenties, even thirties (1/24, 1/32); smaller cartoons likewise. While the ratio of cartoons to pages is slightly better in November's issue (1 full-page cartoon every 26 pages as opposed to October's 1/35 ; 1/16 vs. 1/17 for small cartoons), the cartoon content has been steadily dropping for months, totals hovering in the mid-teens where once they soared into the twenties and beyond. Playboy has scarcely abandoned cartoons as a featured aspect of its content; but the emphasis is shifting.
          Incidently, the November issue features "a tribute" to "our angel," Farrah Fawcett. Looking at several pages of Farrah nude, nipples flashing (she famously resisted appearing naked), I can't help but think the "tribute" is one last cynical attempt to exploit the pin-up fame of the woman. It was her face, after all, that was so stunningly distinctive, not her body.
          But before we abandon Marge to her fate, here's a new book, arriving just in time to commemorate the 20th anniversary of Matt Groening's creation: The Simpsons: An Uncensored, Unauthorized History is John Ortved's round-up of witnesses, each telling their tales about how Groening and his crew created one of the most successful tv shows in the history of the medium. Reviewing it in Entertainment Weekly, Ken Tucker applauds this "gloriously windy oral history crammed with behind-the-scenes squabbles and power grabs" while also warning the reader against accepting too readily some of the negative stuff, "particularly when sources assert that Groening is little more than an affable frontman for the show." Says Tucker about the victims of such back-stabbing: "These guys aren't there to defend themselves [Groening and some other key players didn't testify]. ... In most cases though, Ortved amasses quotes from many sources to establish such points so the negative stuff doesn't seem gratuitous."
          Finally, thumbing through old issues of Playboy and counting the cartoons for foregoing extravagant report a few paragraphs ago, I was struck by how regularly Gahan Wilson's work showed up. And now a lot of it will show up all at once: Gahan Wilson: 50 Years of Playboy Cartoons is due out in December, just in time to make your Christmas Wish list.
Fascinating Footnit. Much of the news retailed in the foregoing segment is culled from articles eventually indexed at rpi.edu/~bulloj/comxbib.html, the Comics Research Bibliography, maintained by Michael Rhode and John Bullough, which covers comic books, comic strips, animation, caricature, cartoons, bandes dessinees and related topics. It also provides links to numerous other sites that delve deeply into cartooning topics. Three other sites laden with cartooning news and lore are Mark Evanier's povonline.com, Alan Gardner's DailyCartoonist.com, and Tom Spurgeon's comicsreporter.com. And then there's Mike Rhode's ComicsDC blog, comicsdc.blogspot.com and Michael Cavna at voices.washingtonpost.com./comic-riffs . For delving into the history of our beloved medium, you can't go wrong by visiting Allan Holtz's strippersguide.blogspot.com, where Allan regularly posts rare findings from his forays into the vast reaches of newspaper microfilm files hither and yon.
PITHY PRONOUNCEMENTS
          "Never let the search for the perfect get in the way of the perfectly good."—John Elson, a Time writer/editor, speaking of his craft performed always under the pressure of a looming deadline; he also once said the process of editing is the opposite of the American jurisprudence system in that every writer was guilty until proved innocent. "Then he would take the story from you, guilty until proved innocent," concluded Jim Kelly, Time's managing editor 2001-2006, on the occasion of writing Elson's obit in the magazine.
          "Hooray for the last grand adventure! I wish I had won, but it was worthwhile anyway. You know that. I have no faith we'll meet anywhere again, but I wish we might." —Amelia Earhart in a letter to her father, written in the event of her death on some future exploit in the air.
          Old Persian proverb: "Anywhere you go, the sky is the same color."
EDITOONERY
Afflicting the Comfortable and Comforting the Afflicted
This month, one of David Fitzsimmons' cartoons, the same Fitzsimmons cartoon, was on the cover of two of the three monthly editoon mags, Humor Times and Funny Times; in full color both times. Not unprecedented, but unusual. Notable. And earlier in the month, an even more unusual event: Glenn McCoy, a rank conservative, got two cartoons in the same issue of The Week magazine, which, although aiming at bipartisan coverage of the news, nonetheless seems to me to tilt slightly liberal (probably because I usually agree with the magazine). The Week is perhaps the best and nearly the last of the weekly newsmagazines, Time being the only other survivor, Newsweek and U.S. News and World Report having defected to other forms and other media. The Week is the better of the two survivors, though, for two reasons: first, it carries at least one page and sometimes two of editorial cartoons culled from the nation's newspapers that week; second, its cover is an editorial cartoon—a full-color painting that caricatures the week's most newsworthy personages, performing some absurd but metaphorically significant act.
          But, to return to the two monthly editoon magazines that started me off, this is the time of the year when you should begin thinking of anyule gift-giving, and if you have friends (or enemies) interested in politics and political commentary, you should consider making a present of a subscription to one or more of the nation's trio. Being a glutton for cartoon abuse, I subscribe to all three, of course. Here's the subscription information for all three, beginning with the best and going on from there (but they're all superb, each in its own way):
          The Santa Cruz Comic News, monthly, about 40 pages, all b/w except cover, which carries a second color. Almost all editorial cartoons except for about 6 pages of text material (includiing A Diary of a Planet on ecological concerns and News of the Weird); if you're an editorial cartoon junkie, this is your fix: $29/year, 12 issues; send to P.O. Box 8543, Santa Cruz, CA 95061; or online at thecomicnews.com, where a subscription button appears at the top of the first page.
          Humor Times, monthly, about 24 pages, all b/w except cover. Mostly editorial cartoons with a few columnists (Will Durst, Argus Hamilton, Jim Hightower, Faux News, and Weird News): $17.95/year, 12 issues; send to P.O. Box 162429, Sacramento, CA 95816. Yes, you can subscribe via the Web at humortimes.com, but it'll take you ten minutes of careful reading to find the subscription blank (hint: scroll to the bottom immediately and click on "subscriptions"); sample issues are available without charge.
          Funny Times, monthly, about 24 pages, all b/w except cover. Not so many editorial cartoons; mostly gag cartoons and humor columns (the likes of Garrison Keillor, Bruce Cameron, Dave Barry, Lenore Skenazy, The Borowitz Report, Curmudgeon, Planet Proctor; This Modern World, Ted Rall, Troubletown, The City, etc.): $25/year, 12 issues; send to P.O. Box 18530, Department 2ECJ, Cleveland Heights, OH 44118. Website: funnytimes.com; here, the word Subscribe appears immediately at the upper left.
*****
Barack O'bama's winning of the Nobel Peace Prize caused only a small blip on the editoonery screen. Not surprisingly, Pat Bagley and many other cartooners saw immediately what most of the rest of us saw: Obama got the prize for not being George W. ("Warlord") Bush. And that is what most annoyed the Righteous Wing of the Grand Old Pachyderm: Obama getting the Nobel Prize insulted their religion in which GeeDubya and Darth Cheney are the principal gods.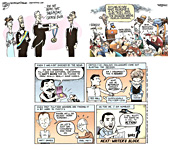 On the editorial cartoonist e-list, someone observed right away that Obama got the Peace Prize in the morning and that afternoon sat down with military advisers to decide how to wage war in Afghanistan. He also authorized bombing the moon. This kind of seeming hypocrisy made Jerry Holbert's cartoon (among others similarly disposed) emphasize irony rather than hope. Matt Bors went even further askew: he turned the incident on its head, applying the apparent criteria of the Nobel Committee to the awarding of the Pulitzer for editorial cartooning. Jonathan Chait at the New Republic offered the best all-around noninflamatory explanation for the apparently erratic Norwegians (and if you give the "g" a hard pronunciation, you can establish a sense of proportion): "The Nobel Peace Prize, of course, represents the gold standard of all awards. ("I'd kill for a Nobel Peace Prize," as Steven Wright once put it.) Yet it's widely understood that the committee frequently chooses recipients in order to encourage or empower them rather than to reward actual achievement. This year, the committee decided to give it to Obama because, well, he seems like such a nice young man. The choice, judged on meritocratic terms, is completely silly, but no less so than the shock and ourtrage it produced [chiefly among Republicans]. What do people expect? It's not like they gave the award to Hitler." Although, judging from the fulmination on the Right, you'd think that was exactly what happened. Obama, thankfully, treated the honor respectfully while at the same time acknowledging its dubious appropriateness in his specific case.
 Looking back over the last couple weeks of political strife, stum and dang, I wishObama had refrained from letting loose the dogs of war on Fox News—for exactly the reason that Mike Keefe cites in the nearby cartoon (which is accompanied by the Fitzsimmons effort that appeared, as noted, on the covers of two monthly editoon newspapers).
****
And here for good measure are a couple of "non-partisan" web-sites (so they say) for political information (note: none of the major or cable networks qualify to be included): http://www.politifact.com/truth-o-meter/
and http://www.factcheck.org/

Mots & Quotes
Denver Post columnist Ed Quillen, asked if he planned to read Sarah Palin's book, Going Rogue: An American Life: "No. If she's truthful about life in a small town in the backwaters of America, I don't need to read it because I already know all about such a life. [Ed lives in just such a town in Colorado.] If she's not truthful, why waste my time reading it?"
          Ted Rall on Afghanistan: "When you can't tell whether you're winning or losing, you're losing."
          "The problem with people with no vices is that generally they're going to have some pretty annoying virtues."—Elizabeth Taylor in a new biography, How To Be a Movie Star by William J. Mann.
NEWSPAPER COMICS PAGE VIGIL
The Bump and Grind of Daily Stripping
We'll do this by the numbers again: I've put a Red Number on each of our visual aids, and we'll go through them in the usual order, beginning with the first page—1), all Sherman's Lagoon. (For convenience in following this erudite discourse, you might want to print out each of these aids to have them handy, under your eye, as we pontificate.) Once again, cartooner Jim Toomey has sent his shark protagonist into the wilds of the human (sic) sapiens, and Sherman and his li'l buddy Ernest get themselves magically converted to people for the expedition, a camping trip to Yellowstone Park. As erstwhile fish, Sherman and Ernest in a human environment could function like visitors from another planet to whom all human preoccupations and social conventions seem absurd and therefore eminently fit for satire. But Toomey doesn't go very far down that route. The Kahuna's keeping current on the Jonas Brothers via Twitter is as much a jab at dieties in general as it is a tweak on our obsession with trivial technology: both, in Toomey's treatment, are seen as equally childish. Even in the strip's normal habitat, Toomey generates a good percentage of gags that depend upon the characters' being fish—Sherman's voracious appetite is a frequent subject—and on the camping trip, at least half the jokes turn on these "humans" still being fish, appearances to the contrary notwithstanding. In this single week's worth of strips, Toomey runs a gamut of the kinds of topics we find these days in comic strips: he manages to tred on traditionally taboo turf with the fart joke at the top of the page and follows that with a pop culture gag, then two "we're still fish" jokes (one, another bathroom joke) and a "we're cartoon characters" joke (I'm glad to know Yogi Bear is still a denizen of Yellowstone, or is it Jellystone?), finishing with what could have been a bit of political satire about recent legislation legalizing firearms in national parks. But it is impossible to tell here whether or not Toomey is opposed to guns in parks: whatever satirical attack he might have had in mind he completely disarms with a silly punchline that shows only that the former fish don't understand their new, temporary, environment. Good fun, no question; but none of this lives up to the satirical promise inherent in the situation of aliens visiting our world.
          2) Yogi Bear was working pretty steadily the week he showed up in Sherman's Lagoon: a couple days before, he appeared in Mike Peters' Mother Goose and Grim, where guns in the parks were the target of a couple satirical pokes, both more successful as satire than anything Toomey did. I dunno who the guy is in the last panel of the Blondie strip—is that Robert Goulet? If so, Dean Young, who selects the gags for the strip, is several decades behind the times in holding up a model of male pulchritude. Who among us is likely to remember Robert Goulet? (He died in 2007.) Well, I do, of course—and probably most newspaper readers, all old coots like me, do too. Still, George Clooney would have been more apt in this gag. John Marshall continues to impress me with the amount of detail he draws in every strip. The opening panel in this one is crammed with visual details for the setting, and in the next strip, three characters are rendered at full height for all three panels of the strip. Marshall could have eased his drawing burden with a close-up or two, but instead, he continued in the custom of the strip—characters almost always drawn at full length. He makes an exception in the Goulet panel so that the picture of Goulet will be large enough to recognize. And he does the same occasionally elsewhere; but mostly, he draws people at their fullest dimension. In Baby Blues, I've always thought the father's nose was too too big. How can he kiss his wife, I wondered. And here, Rick Kirkman shows us how it might be done. It's not a visual slight-of-hand exactly; more like a slight-of-nose. The pictured action is clearly impossible with that nose, but Kirkman manages to convince us that it could take place as he renders it. The joke in Peanuts is simply too good, masterful Charles Schulz. It conveys Sally's personality with enviable precision, and the setup is perfect: it makes us puzzle over what's going through her mind just long enough that when she tells us, we can make all the leaps in logic that we must make to get the joke. Without the three-panel pause, would we grasp as quickly all the threads that come together for a laugh? The last panel could stand as a single panel gag cartoon; it would still be funny, but the long pause as Sally ponders the situation is what gives the joke its great impact.
          3) Here, we begin with two strips in which verbal gyrations make the comedy. And the words ascend to pure profundity: commonsensical utterances but with just enough twist to skew the unusual perspective, thereby revealing, suddenly, what habit and routine have prevented us from seeing. I clipped Rob Harrell's Adam because of the coffee cup in the last panel. You can tell when cartoonists love to draw: it's when they put in such seemingly negligible visual details as the steam gently wafting up from the cup. And in the last two strips on this page, Tom Batiuk continues to baffle me: who are all these people in his two strips (both appearing on the same day, incidentally)? Are we supposed to know who they are? Or are they simply random people, extras recruited for the day's shoot? I'm not even certain what the connection is between the two panels of Funky Winkerbean.
          4) In the first Beetle Bailey strip, Mort Walker gives us a gag possible only in a comic strip; and in the second, he makes one of his rare comments on our contemporary military predilection. Brian Crane often commits agile word play in Pickles, and these two releases are exquisite treats of that order. And in Rudy Park at the bottom of the page, Darrin Bell (his real name) and Theron Heir (not his real name) take up the burning issue of the day—the inexplicable popularity of vampires. The discussion here of the mysterious attraction vampires hold for "chicks" is prolonged the next day when Rudy, eager, as always, to attract chicks, asks a chick why chicks dig vampires. And she says: "They're forbidden. Immortal. They have unimaginable strength. They visit at night, bringing wisdom and sensuality. And if they don't take out the trash or mow the lawn, you can burn them to death with sunlight." A day or so later, vampires are again the subject when the fat old lady Sadie Cohen attacks popular culture's "glorifying" of vampires: "Have we forgotten that these creatures kill, feed off human flesh, and, most of all, belittle the aging process? I can get livid even about things that don't actually exist," she finishes, but Rudy has the last word: "Your anger is immortal," he says.
          The old bat has wandered off the ranch a little: vampires don't feed off human flesh—it's zombies that do that. But the point of this diatribe, to which I am slowly wending, is to ponder the apparently sudden appeal in our society of vampires and zombies. Perhaps the subject is not entirely gratuitous in Rudy Park: after all, Uncle Mort has returned from the dead, so maybe we should have expected more than occasional references to the living dead. Still, this episode was an unusual instance of such a ghoulish subject invading the funnies (except, as we'll see shortly, in that comical strip about a vampire, Scary Gary). The funnies are clearly the last hold-out in popular media. Woody Harrelson's horror-comedy "Zombieland" topped the weekend's box office take October 2-4 with an estimated $25 million, proving, if it needed further proof, that we're a nation fixated on flesh eaters and blood suckers. Novelist Stephenie Meyer's Twilight series has sold 42 million copies since 2005 and the film version has grossed more than $382 million since its release a year ago. Then we have the HBO tv series, "True Blood," a big hit on cable-tv (the second most-watched series ever, behind "The Sopranos") with DVD sales leading the pack last summer. And more people, according to Brian Truitt at USA Weekend, "watched the debut episode of CW's 'The Vampire Diaries' than any premiere in the network's history." And the racks of funnybooks are festooned with the undead. So it's a comfort to know that zombies have now landed on the funnies pages of the nation's newspapers, initiating the medium into the fang-menacing fold.
          Our fascination with zombies and vampires is scarcely a modern phenomenon. According to The Week magazine, "legends of ghoulish, blood-sucking vampires who can turn themselves into bats have been around for more than 2,000 years." The oral tradition wasn't recorded and published until the early 1700s, but soon thereafter, by 1734, the word vampire, "which derives from an Old Slavic term related to the verb to fly," had entered the language. Vampires were usually depicted as bloated, smelly monsters until they assumed iconic cultural status with the publication in 1819 of John William Polidori's short story, "The Vampyre," in which Lord Ruthven (inspired by one of Dr. Polidori's patients, Lord Byron) stalked his prey as "a sleek, aristocratic gentleman who moved in society's rarefied circles and had a mysterious magnetism, especially over women." Then in 1847, James Malcolm Rymer, a Scot, "added to the vampire lore with this pulp novel Varney the Vampire, [starring] a corpse-like protagonist with fangs, superhuman strength, and powers of hypnosis."
          With the subsequent publication in 1897 of Abraham "Bram" Stoker's Dracula, the modern vampire was born. An Irish civil servant and theater manager, Stoker supposedly glutted himself on dressed crab at dinner one night in 1890 and had a nightmare in which Count Dracula appeared to him. It then took him seven years to invest the vampire legend with the motifs that endured: "Using Transylvania, Romania, as his launching point, Stoker posited that vampires emerge only at night and sleep by day in consecrated earth; they are terrified of garlic and holy objects such as crucifixes. Dracula—whose name derives from 'dracul,' the Romanian word for 'devil' or 'dragon'—has no reflection in a mirror, but he can transform himself into a bat and a wolf."
          The appeal of vampires has deep roots in the human psyche—the succubus, the "devouring woman" notion of Freud, not to mention the blood-sucking bites being potent metaphors for kissing and sexual relations. "And with their dark, anti-social skulking, vampires are the ultimate outcasts—a role that adolescents, in particular, identify with." Truitt quotes sociologist Karen Sternheimer, who says about vampires and today's youth that "the danger vs. the draw of that so-called 'forbidden love' really resonates with a lot of young women." Morever, The Week continues, readers naturally love "the idea of beings who are always at peak condition." The vampire is the ultimate seducer, "bringing death and promising immortality" and embodying "social ambivalence about sex and death. The tagline for the 1987 teen-vampire movie 'The Lost Boys' says it all 'Sleep all day. Party all night. Never grow old. Never die. It's fun to be a vampire.'" But it's the modern vampire's struggle over his identity that gives him his special appeal: the vampire's moral ambiguity gives the concept a cultural cache "that werewolves and mummies simply can't match."
          Not to be outflanked by the zeitgeist of the moment, Bram Stoker's great-grandnephew, Dacre Stoker, has teamed with a writer, Ian Holt, to produce a sequel to the original macabre classic. Entitled Dracula the Undead, the book also brings back the original author: Bram Stoker is a character in the narrative, in which, among other things, Dracula explains that "evil is not just black-and-white," Dacre told Kate Ward at Entertainment Weekly. "There are shades of good and bad. We gave him this softness, but also this ability to tell his side of the story." The authors also infested their tome with lots of sex, impossible to mention in the Victorian Age original. Said Dacre: "Mentioning a man putting his lips onto a neck and slowly inserting the teeth—that was about as graphic as you could get [back then]. We felt if we didn't make it juicy, people would go, 'Oh, this is boring.'" So it's juicy.
          Zombies are something else again. Appearing in folklore and popular culture typically as reanimated corpses or a mindless humanoids, zombies apparently originated in the voodoo rituals of the Afro-Caribbean. Popularized by George A. Romero's 1968 movie "Night of the Living Dead," zombies typically exhibit signs of physical decomposition—rotting flesh, discolored eyes, open wounds, limbs dropping off as they move with a slow, shambling gait to prey upon humans, hungering for their flesh and/or raw brains. How this appeals to the human psyche I don't know. Perhaps it has to do with the notion of our world destroying itself, a nightmare set loose by the advent of nuclear weaponry. Zombies are often associated with the idea of an impending apocalypse, the collapse of civilization being brought on by a vast plague of the undead. Or maybe not. My favorite take on zombie lore comes from Michael Dean at The Comics Journal, who discovered self-satire in a Marvel title in April 2008 (No. 289):
          "The bleak joke of Marvel Zombies is that it is a perfect allegory for Marvel's aging superhero universe: Marvel's core of unkillable characters/properties can neither expire nor radically change—they can only endlessly recycle and cannibalize characters and situations that have succeeded in the past. The company has never been able to grow very far from the population of concepts that launched the line in the 1960s. ... Writers and artists have little incentive to create new characters at Marvel, since all such characters will be owned by the company. The world of Marvel Zombies represents the extreme of that logic. Not a creature crawls upon the Earth that is not a corporate-owned Marvel superhero. And just as the comics-shop Direct Market has derived diminishing returns from the aging, condensing superhero-fan demographic on which it feeds, the Marvel zombies find they have eaten their way to a dead end."
          But that, of course, doesn't explain the phenomenon we're encountering in popular culture at large. Maybe there is no explanation. Not one worth conjuring about right now anyhow. Maybe it's all just preparation for more apocalyptic exuberance on Hallowe'en. Maybe the influx of zombies simply heralds the emergence of Hallowe'en, already the most popular "holiday," as a year-round celebration. Dunno. With zombies, almost anything is possible. But I must say, I like the visualization of a zombie in Scary Gary at the top of our next exhibit—and that rendition is the whole reason for my having clipped this strip.
| | |
| --- | --- |
| | |
          5) Mark Buford's visual mannerisms in his Scary Gary continue to disrupt my appreciation of the strip. Gary, as we see here, is rendered with a stylistic flourish that appears in no other character in the strip: Gary's head, shaped somewhat like a Christmas tree ornament, is the only head drawn in this way. Why? In Doonesbury, D.B. phones Sid, the Hollywood agent, to express his disapproval of Tinseltown's seeming support of Roman Polanski, now under arrest in Switzerland for having sex with a thirteen-year-old girl 30 years ago. We don't often see Garry Trudeau taking a shot so untempered by humor. I tend to agree that Polanski's supporters are not entirely stable mentally, but in the back of my head hovers a distant disclaimer from Polanksi to the effect that he didn't realize the girl was so young. And if she was a prodigy of an aspiring actress or model, as was apparently the case, she could have led him on during the photo shoot that they were then engaged in. A thirteen-year-old seductress? Well, yes. Think back to your own teen years, kimo sabe. In the next strip down the page, Rudy Park, we see Uncle Mort in action, revealing in his usual spectacular way just why he had to come back from the dead: with his habitual bullhorn, he simply adds too much to the strip. Finally, in the two Zippy strips at the bottom of the page, we have Bill Griffith once again tempting fate by talking about God on the funnies page. These two strips are part of a week-long series that surely must've provoked shock and ire on a grand scale among a certain constituency. As for me, I think Griffith's use of clip-art for the "dentist" (i.e., God) is inspired both visually and conceptually.
          6) Friday, October 2, marked the 20th anniversary of JumpStart, Robb Armstrong's lively strip about a close-knit African American family, and Armstrong celebrated the occasion in the strip the following week, as we see here, with an anniversary extravaganza of another sort.
          Armstrong has had good luck listening to the women in his life. He and his brother and his mother were abandoned by his father soon after he was born, but his mother, a seamstress, insisted that he develop his talent, paying for private art classes and getting him into a prestigious private school. She died during his freshman year at Syracuse University, but her friends kept young Armstrong at his studies when, angry and grieving, he threatened to drop out. Still angry, he drew a comic strip for the campus paper about a grouchy character named Hector. And he met Sherry West, a chemistry major. "I was saved from a hollow existence by a wonderful woman," he said; they married in 1986 and had a daughter and then a son.
          After college, Armstrong became art director of an ad agency and submitted Hector for syndication; when that didn't sell, he tried a strip about a policeman called Cherry Top. After receiving a string of rejection slips, Armstrong put the strip aside—until his wife urged him to show it to his friend Mark Cohen, and Cohen, a passionate comics fan and agent for cartoonists' selling their originals, took the strip to United Media. An editor there saw promise in the strip but felt Armstrong would do better if he wrote more out of his own experience.
          So he did, creating JumpStart (which began October 2, 1989), a strip about Joe Cobb, a policeman, and his wife Marcy, a nurse, and their daughter Sunny. At first, they spoke street slang, but when Armstrong realized he was perpetuating stereotypes, he stopped. "I don't talk like that," he said. He realized that "the closer the strip is to your own life, the easier it is to write." Now, he says, the strip "flies in the face of racial stereotypes. Joe and Marcy are just normal, everyday people, committed to doing the jobs they are paid to do." And his fan mail tells him his readers identify with the Cobbs. "I'm thrilled when people say that," he said, "because I'm drawing about my life—about a Black couple because I'm Black. It's wonderful to know that people respond to these characters." JumpStart runs in about 400 newspapers.
          In the strip, the anniversary celebrated is the 20th of the opening of the hospital where Marcy works. "Words cannot express my gratitude for JumpStart," Armstrong, 47, told Editor & Publisher. "I would call it a dream come true, but I never dreamed of this phenomenon, never imagined this kind of longevity."
          In addition to his cartooning, E&P noted, Armstrong works as a motivational speaker, especially for children in crisis. He speaks regularly to groups such as Congress' Government Outreach, and has also given speeches to such institutions as the Library of Congress, the Smithsonian Institute and the University of Pennsylvania. Armstrong has a long history of community service, as well, having been recognized by the Governor of Pennsylvania, the U.S. Senate, the House of Representatives, the Department of Justice and Nestle's "Men of Courage" program. Armstrong recently moved from his native Philadelphia to Los Angeles so that he could focus on additional creative pursuits, including painting. He credits his daughter Tess and son Rex with being the biggest inspirations for his comic strip's characters and stories.
          And that brings us to Baldo, Hispanic Heritage Month and Yenny. Explanation below.
*****
October is Hispanic Heritage Month, which prompted us to notice Ask A Mexican, a syndicated question-and-answer column by Gustavo Arellano, who started a recent posting with this question from a reader: In Garfield strips that appeared earlier this year, Garfield is wearing a sombrero and taking siestas. While cute and all, isn't that the sort of thing that we have been striving to stop? What was Jim Davis thinking? Maybe he needs a refresher course in not making pendejadas. [Signed, Odio Odie]
          To which Arellano reposited: Garfield is still around? Haven't editors finally exiled it to the viejitos comic-strip page alongside Gasoline Alley and Mary Worth? Or is it stuck among ghoulish strips that'll never die like Peanuts and The Family Circus? I hadn't read Garfield in years until your prompt, and I gotta admit: I laughed at the sombrero. Cheap, unfulfilling laughs like only the fat cat can provide, but risas. Garfield puts salsa on the sombrero's brim? Jajaja! Garfield gives a mouse a sombrero because he makes cheese quesadillas? Hee-hee! And Garfield, if I remember correctly, does nothing but eat and sleep, so to accuse him of taking siestas for anti-Mexican purposes no es bueno. Us Mexicans need to make peace with the sombrero, need to realize that, outside the cornette associated with the Daughters of Charity and the Green Bay Packer cheesehead, it's the funniest hat around, and that its use by gabachos doesn't always signify Mexican-bashing (combine it with a mustache, and you have a diferente story...). Eternal vigilance is the price of a conscious Mexican in this country, Odie Hater, but don't make Davis out to be another Joe Wilson. Oh, and a final piece of advice? For your comic-strip needs, the Mexican recommends to his gentle readers La Cucaracha and 9 Chickweed Lane.
          RCH: I don't think Brooke McEldowney did anything especially hispanic for October, so the notice Arellano gives Chickweed Lane is pure appreciation for the art form and the expert way McEldowney wields it. And I agree, wholeheartedly as all of you who've been paying attention here, lo these many years, know full well. But I digress; back to Hispanic Heritage Month, forthwith:
*****
More Hispanic Hertiage Month. In Baldo, writer Hector Cantu and artist Carlos Castellanos celebrated the October occasion by letting other Hispanic cartoonists use Baldo's space to showcase their creations. Starting with the Sunday strip for September 27, four "guest artists" rotated through the Baldo panels. First, according to the Baldo Website, was David "Lebo" LeBatard. Say Cantu and Castellanos: "We met David a few years back at a media seminar in Miami. We've admired his awesome art and it seemed like a natural fit for this. Our second guest was L.A.-based cartoonist Carlos Saldana, creator of the lovable little character named Burrito, who stars in his own comic books. Third up was Anthony Oropeza and Lorenzo Lizano, who are responsible for Amigoman: The Latin Avenger. David Alvarez pitched in for the fourth Sunday strip. David, of course, is responsible for the va-va-voom character known as Yenny, who you might have seen on GoComics.com."
          The eponymous Yenny, in case you missed her (how could you?), is a voluptuous Latina who wanders through her strip in very short cutoffs and a skimpy top. All the rampant curves might raise the heat in the room except for Yenny's one physical flaw: at the end of her long luxurious legs that go on forever, she has huge feet. Gigantic. So, naturally, in order to avoid the censorious, Alvarez depicts his heroine at full length as often as possible so the big feet can work their magic in undermining the character's otherwise overwhelming sex appeal.
          The Baldo team didn't tie the hands of their guests. "We essentially just turned them loose, and that was a little scary at first. You never know what talented, creative people are going to turn in! We just reminded them that this is a family strip, and that we wanted either one or all Baldo characters in there. The choice was theirs. Of course they're all pros, so they all did a remarkable job. LeBatard's art is beautiful and really captured a the Baldo spirit. Saldana used his Burrito character for a great take on Spanglish, and Oropeza and Lizano gave us a dramatic meeting between Amigoman and Baldo. Of course Alvarez graced Baldo with his beautiful Yenny. Wow! We know readers will enjoy these artists and hopefully learn a little more about them and their work."
          Here are the guest shots, not necessarily in order of publication. (And I must apologize for something not at all my fault: LeBatard's Baldo, a highly decorative turn, is spoiled by a tear in Baldo's head, a tear inflicted somehow in the delivery to my front stoop of the Sunday funnies that week. Sorry.)
So avidly did Cantu and Castellanos appreciate Yenny's appearance on Sunday, October 18, that they prevailed upon Alvarez to bring his leggy lady back all the next week, as we see on our previous exhibit, during which time, Yenny enthralls Baldo's father by accusing him of being cute.
          As for Lalo Alcaraz's La Cucaracha strip—so enthusiastically endorsed by our Ask a Mexican advocate, Lalo didn't do much for Hispanic Heritage Month. He called it Latino Heritage Month and only spent a few days celebrating it in a somewhat backhanded manner, taking shots at how the news media acknowledged the occasion with shallow manipulation of the language—changing a reference to Hitler, for instance, to Franco. Yes, as Lalo intended—an inexplicably ambiguous kowtow, establishing ignorance rather than respect.
          Finally, what was it with the week of October 19? Volunteerism Week? I must've missed the memo, but several strips—Blondie, Drabble, Rip Haywire, Mutts, even Garfield—roundly urged us all to volunteer in the spirit of our Prez's admonition. Here are some, starting with a memorable Frazz:
CIVILIZATION'S LAST OUTPOST
One of a kind beats everything. —Dennis Miller adv.
A Marist College poll released October 7 claimed that 47 percent of Americans found "whatever," the slacker term of supreme indifference, to be "most annoying in conversation," handily beating the runner-up, "you know," by 22 points. "It is what it is" came in at 11 percent; "anyway" at 7. The Poughkeepsie, NY college surveyed 938 U.S. adults by phone on August 3-6, saith the Associated Press. ... For the second time during her tour in Malaysia, Beyonce Knowles has been forced to postpone her show because of criticism from Islamic conservatives who object to her suggestive choreography and skimpy attire on stage. No shit. Who woulda thought Muslims would object to a woman flaunting her three-quarters naked assets in public?
          From The Week (October 2), small comfort: "Researchers interviewed 1,000 Czech women about their ability to achieve a vaginal (as opposed to a clitoral) orgasm, and one-third said their odds of success increased when a longer-than-average penis was involved. Still, two-thirds said penis size didn't matter." Some female sexuality advocates were upset because "the focus on penis size promotes ignorance about the clitoris: to achieve the full pleasure of orgasm, the nerve endings of the clitoris must be stimulated," said one, adding: "I think these pollsters have clitoral envy." Most women, she went on, "do not have orgasms during intercourse, regardless of penis size." So there.
          The coming (pardon the expression) thing: electronic books account for a mere 2 percent of the $35 billion-a-year book market, but sales are steadily ramping up. Another article in the same issue of The Week quotes Jeff Bezos, CEO of Amazon, makers of Kindle, the pocket-size e-book reader, who claims that when Amazon customers have a choice between digital and physical versions of a title, they opt for the digital 35 percent of the time. But what most of them don't understand is that they don't own these books: they're merely "renting" Amazon e-books, and Amazon claims the right to delete electronically books from customer's Kindles whenever it sees fit—as it did last summer with an electronic version of George Orwell's 1984 when it was discovered that the publisher of the ethereal tome didn't own the copyright.
          The combined campuses of the University of Illinois enroll 70,000 students, attended by 24,000 faculty. Anyone see anything seriously askew in this? That's a ratio of 3:1, or 3 students for every faculty member. Pretty good, eh? When's the last time you saw a class of college students consisting of just three students? Right. Never. In fact, in colleges, the class of 200-300 students in an auditorium listening to a single prof (or, more likely, a teaching assistant)lecture is more the norm. So what do all these other "faculty" do? The usual answer is that they are engaged in "research." Easy answer. Probably true, too. But someone someday should take a long look at just what kind of "research" is being undertaken, and how much time a prof spends "researching" as opposed to "teaching" in a classroom. "Education" is this country's biggest industry; it is also probably the country's biggest boondoggle.
BOOK MARQUEE
Previews of Coming Attractions Plus Short Reviews
Hill and Wang has published the latest Rick Geary tome, Trotsky: A Graphic Biography (108 5.5x8-inch pages, b/w; hardback, $16.95). Until I read this book, all I knew about Leon Trotsky, a cohort of Lenin and Stalin in fomenting the Russian Revolution, was that Stalin grew to distrust him to such an extent that he had him hunted down at a Mexican hideaway where he was then assassinated by an agent who hit him in the head with an ice axe. Herein, however, I found out a whole lot more, mostly in the vein that Trotsky was at least as important to the success of the Revolution as Lenin and Stalin. As usual, carefully researched and meticulously illustrated in Geary's distinctively fustian style, deploying an engaging storytelling quirk that depicts the characters frozen in furtive poses as if they were fugitives from some mysterious but vengeful power. A treat, as always.
          Nevin Martell's book, Looking for Calvin and Hobbes: The Unconventional Story of Bill Watterson and His Revolutionary Comic Strip, is in the bookstores. Said Martell: "I can't tell you how excited I am to hold the finished hardback edition in my hands after working on it for what felt like eons. And now the real work begins, or so my publishers tell me. I hope to meet some of you on my upcoming book tour and I appreciate the support you've all given me thus far. It wasn't always an easy trip, but it was always rewarding." ... Sesame Street: A Celebration—40 Years of Life on the Street is also out, 300 pages of "behind-the-scenes photos and interviews," saith Entertainment Weekly.


BOOK REVIEWS
Critiques & Crotchets
In the aptly named Toon Treasury of Classic Children's Comics (352 9x11-inch pages, color; Abrams Comicarts, $40), cartooner/editor Art Spiegelman and his New Yorker art director wife Francoise Mouly have unearthed a veritable trove of excellence—good drawings, nicely turned tales—culled from the comic books of the 1940s and 1950s that appealed unabashedly to the youngest readers. First among the valuables is the method of reproduction: these are not Theakstonized pages, whereupon the color has been chemically bleached out, the linework painstakingly (but sometimes clumsily) retouched and then the pictures colored again but garishly. No, these pages have been shot directly from the pages of the original comic books, scanned to remove such blemishes as bleed-throughs but retaining the sometimes off-register colors, then printed on off-white paper, the subtle shade of which evokes the original newsprint venue of the comics, those funnybooks of yore. But the subdued surface glitter of this hoard is but the gloss on the lode: inside, an embarras de richesses awaits.
          Over two dozen cartoonists are represented in more than 60 stories, mostly multiple-paged but a few one-pagers. Some cartoonists appear more than once: the venerable John Stanley shows up six times, only four of which are Little Lulu tales; antic Sheldon Mayer is also here a half-dozen times, predictably with Sugar and Spike most often, but Scribbly and J. Rufus Lion are also represented; and the whimsical Walt Kelly is on hand with a Pogo story and a couple fairy tales (and fragments from his nursery story career are liberally used as decoration on the cover and end papers). The other most-frequently appearing cartoonists are Carl Barks with a couple duck tales, Jim Davis with Fox and Crow, Dan Noonan from Animal Comics, and Andre LeBlanc with Intellectual Amos. Given the predilections of the editors (who once produced the avant garde comic book, Raw), it's no surprise to see Harvey Kurtzman with three pages of Hey Look!, Jules Feiffer (Clifford), Jack Cole (Burp the Twerp), Basil Wolverton (Powerhouse Pepper), and George Carlson (the Pie-face Prince of Old Pretzleburg) herein. But some among the names have seldom been mentioned in comics circles—Milt Stein, f'instance, who did Supermouse (I've always wondered who did this character), and Dave Berg, Don Arr (Don R. Christensen), Tom McNamara, and Frank Thomas.
          Some veritable geniuses of the form I would have expected to be on this roster are not: Jack Bradbury, for example, with Superkatt, and Chad Grothkopf, whose quirky style gave life to Hoppy the Marvel Bunny and a host of Fawcett's funny animals, and Walter Kerr on Raggedy Ann and Andy. Maybe next time. And a next time there is almost certain to be: Spiegelman and Mouly have already produced nearly a dozen comic books for young readers under the Toon Books imprint (see TOON-Books.com); a second bonanza of children's classics is surely in the offing.
          The book is lovingly designed, the text pieces decorated with spot illustrations excerpted from the comic books and a few photographs. The comic book pages have been slightly blown-up from the size of their initial publication—perhaps to create uniformity in size; but the enlargement does not noticeably distort the drawings. Apart from the pure pleasure afforded a reader by the selection in this cache, the scholar in us all is delighted to see that the stories are carefully sourced and dated and that short biographies of all the cartoonists are given at the end of the tome. In an introductory essay (entitled, with Spiegelian irony, "Out of the Trash and into a Treasury"), Spiegelman and Mouly supply a short history of the medium and then try to explain the criteria by which they selected the content.
          They set out to find stories that could be enjoyed by "kids of all ages" but soon realized that "there is no such thing as a 'kid of all ages,'" so they settled on finding stories that can "be read to very young children, then savored independently by kids mastering the secrets of reading—and then revisited often by them as they make the long march to adulthood." They hope the pieces they select will "stand the test of time" and reward re-reading. "As editors," they say, "we ultimately leaned toward the traditional vision of childhood as a time of prelapsarian innocence and curiosity," realizing at the same time that, "as evidenced in so many of our selected stories, adults can act very childishly, kids can be remarkably clear-eyed, and the battle between the rational and irrational is more like a dance." (I plunged into lenthy quotation here chiefly to be able to include that last delicious simile. Ah, Art—you're a master of using the lingo to make an insightful point.)
          I'm not sure all of their selections actually meet the basic criteria. Carlson's Pie-face Prince, for instance, with its manic layout and punning captions is more of an adult delection than a children's fantasy. (As a kid, I always passed over Carlson's stories in Jingle Jangle Comics: I simply couldn't understand the nuances with which they are filled to overflowing.) Sugar and Spike stories are more likely to be appreciated by an adult reader—ditto Mayer's Scribbly and Wolverton's Powerhouse Pepper. But in both these last two instances, the editors have selected somewhat a-typical efforts: Scribbly is not quite as frenetic as he usually is, and Powerhouse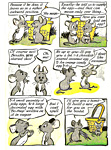 Pepper's utterances are less alarmingly alliterative than usual. But these are silly quibbles, the babblings of an earnest critic seeking to absolve himself of the charge of outright fawning endorsement by seeming to be, er, critical. The book is an unmitigated delight, a fantastic tour of yesteryear's comics, and a resource belonging on every scholar's shelves. And here, to illustrate the first of these three points, is a page from Walt Kelly's "Hickory and Dickery," a tale of two well-meaning mice who undertake to help the overworked Easter Bunny, realizing too late that they cannot lay the eggs essential to the Easter Bunny's task.
*****
If you've ever wondered what Tony Isabella does when not writing his monthly review column for the next issue of the Comics Buyer's Guide (CBG), you can stop: he was probably doing the research for the latest book from CBG's publisher, Krause Publications—namely 1,000 Comic Books You Must Read (272 8x11-inch pages, color; $29.99)—in which the dauntless Isabella describes in a couple sentences the content of each of a thousand comic books (some of which, due to his insatiable appetite for comics, are whole anthology titles full of stories, not just single-story issues). An extraordinary undertaking. And it turns into a four-color celebration with the picturing of each book's cover; a research resource, with the writers and artists and publication date listed below the pictured cover. Here are a few of Isabella's annotations, chosen almost at random:
          Classic Comics No. 1: "Russian-born publisher Albert L. Kanter used the comic book to bring great literature to young readers. His long-running series, best known as Classics Illustrated, began with an adaptation of The Three Musketeers [October 1941]. Nearly 170 issues would follow."
          Joker Comics No. 1: "Publisher Martin Goodman's first all-humor comic book featured Stuporman, one of the first superhero parodies, and the debut of Powerhouse Pepper, a dim-witted, good-hearted boxer who possessed super-strength. Pepper's slapstick adventures appeared in several other Goodman titles as well."
          Gleason's Daredevil Comics No. 13: "Daredevil gets four kid sidekicks, as he battles the Wizard and German-American Cult. The Little Wise Guys—initially Meatball, Peewee, Scarecrow and Jock—would become more popular than Daredevil and, by 1951, push him out of his own book."
          Military Comics No. 4: "Black Tigress, the Gestapo's most dangerous spy, falls hard for Blackhawk. She is the first in a long line of lethal lovelies on both sides of the war whose attraction to the team's rugged leader inspires, redeems, and sometimes dooms them." Here Isabella seems to have cut loose of his moorings: there's nothing on the cover shown above this annotation to indicate the enemy within is the Black Tigress; instead, we suppose the interior Blackhawk tale takes place in the deserts of Africa, the villains being Arab Nazis. But the issue is clearly No. 4, so did Tony forget which comic book he was annotating? Or not?
          This sort of anomaly occurs rarely, I'd say (without having read the whole book, mind you); mostly, Isabella's notes are accurate, and the book's function as history is preserved. The content is divided by decade, beginning with the invention of Superman in 1938 (4 pages); after that come the seven decadence chapters in an orderly chronological procession that Isabella interrupts a third of the way through to proclaim Fantastic Four Annual No. 1 "the greatest comic book of all time."
          In a postscript, CBG editors Brent Frankenhoff and Maggie Thompson suggest that Isabella's book "is designed to set you on your own quest" to acquire copies of the scarce funnybooks listed, all 1,000 of them. And to this end, they list online sources that you can pursue. But I don't think when Isabella was assembling the data for this tome that he was thinking he was producing a collector's guide. He was merely celebrating a passion for comics. Bird watchers keep lifetime lists of the birds they've spotted in the wild, and Isabella's book is his lifetime list of comics he spotted in the wild and then read. For Tony, assembling the book must've been a nostalgic as well as a research project. And it is for me, too. I recognize a surprising number of the covers in the "Fighting Forties" and "Fearful Fifties" chapters; but by the "Swinging Sixties," I had drifted off into a nautical interlude far from four-color fantasy and so see nothing that looks familiar. Then with the commencement of the "Surprising Seventies," I once again come upon an occasional cover I recognize (and probably have in the Book Grotto below the World Headquarters of the Rancid Raves Intergalactic Wurlitzer). I don't think very many of this book's purchasers will use it as a guide to enhance their comic book collections; I think most of them—most of us—will thumb the pages and read Tony's annotations as an act of fond remembrance. For that, the book is worth the price and more.
READ & RELISH
"The past is what happened; history is what we decide to remember. We mine the past for the myths to buttress our present."—Gerard DeGroot, Washington Post Writers Group, elaborating on Friedrich Nietzsche's description of history: "I have done that," claims memory; "I cannot have done that," pride retorts.
          "All my life, one looming calamity after another has appeared on the human horizon—and then never bothered to move in for the kill. If it wasn't nuclear war (to be followed by nuclear winter), then it was overpopulation, or famine, or global cooling, or exposure to chemicals (leading to infertility!), or pandemic AIDS scything through us like the Black Death, or international terrorism, or the clash of civilizations, or predatory capitalism imploding from its own greed, or, of course, global warming. And I'm just hitting the high spots." —Vincent Carroll, Denver Post columnist
ONWARD, THE SPREADING PUNDITRY
The Thing of It Is ...
When Richard Nixon was Prez, he introduced in 1971 a plan to reform health care that he called "a sweeping new program." Its main features, as the editors of the AARP Bulletin noted in the October issue, are virtually the same as those of the O'Bama plan. Ted Kennedy led the opposition, calling Nixon's plan "a partnership between the administration and insurance companies." Later, Kennedy came to see the Nixon plan as a missed opportunity: "We should have jumped on that," he said, quoted earlier this year in the Boston Globe. Here's hoping we don't miss another opportunity.
          Homosexuals in the armed forces will undermine morale and reduce unit effectiveness on the battlefield saith the critics of gay equality. Odd, then, to realize that in ancient Sparta, famed for its warrior culture, love between its soldiers was encouraged as a way of creating stronger bonds between the men who filled its army's ranks.
From the Washington Post, which published the story under the headline: "Best Come-back Line Ever":
Police arrested Patrick Lawrence, 22-year-old white male, in a pumpkin patch, at 11:38 p.m. on Friday night. On Monday, at the Gwinnett County (GA) courthouse, Lawrence was charged with lewd and lascivious behavior, public indecency, and public intoxication.
          The suspect explained that he was passing a pumpkin patch on his way home from a heavy drinking session when he decided to stop. "You know how a pumpkin is soft and squishy inside, and there was no one around for miles. Or at least I thought there wasn't anyone around," he stated in a telephone interview. Lawrence went on to say that he pulled over to the side of the road, picked out a pumpkin that he felt was appropriate to his purpose, cut a hole in it, and proceeded to satisfy his alleged need..
          "Guess I was really into it, you know?" he commented with evident embarrassment. In the process of doing the deed, Lawrence failed to notice an approaching police car and was unaware of his audience until Officer Brenda Taylor approached him.
          "It was an unusual situation, that's for sure," said Officer Taylor. "I walked up to Lawrence and he's just banging away at this pumpkin."
          Officer Taylor went on to describe what happened when she approached Lawrence. "I said, 'Excuse me, sir, but do you realize that you're having sex with a pumpkin?' He froze and was clearly very surprised that I was there, and then he looked me straight in the face and said, "A pumpkin? Shit. Is it midnight already?'"
To find out about Harv's books, click here.