Opus 246 (August 4, 2009): The lately concluded San Diego Comic-Con gets a big hunk of headlines this time, but we also examine the state of American journalism by using Walter Cronkite, Sonia Sotomayor, and the front porch arrest of Henry Louis Gates, Jr. as object lessons. (If journalism is in trouble, then newspapers are in trouble, and that means the fate of the newspaper comic strip hangs in the balance, alas.) And we trumpet the forthcoming publication of a genuinely authoritative reference work on the newspaper comic strip in the U.S. (Allan Holtz's) and note the arrival of comic strip reprints in the 12th Complete Peanuts and volumes of On Stage and Juliet Jones, and we review graphic novels No Pasaran, Streets of Glory, Skitzy, and Therefore Repent! and report the insightful comments of an exiled Iranian editoonist about the protests in Tehran and look at some newspaper funnies. Here's what's here, by department, in order:
NOUS R US: meeting the economic crisis, zombies galore, Superman house dedicated, sports cartoonist Litton contemplates new online swamp strip, summing up the San Diego Comic-Con
New Adventures of Stan Lee
EDITOONERY: exiled Iranian cartoonist comments on the riots
THE FROTH ESTATE: Walker Cronkite, Sonia Sotomayor
RANCID RAVES GALLERY: pictures worth noting
NEWSPAPER COMICS PAGE VIGIL: Crankshaft ages, conjugal-like antics in Doonesbury and Luann, Pastis pranks
BOOK MARQUEE: new reference on comic strips coming, Complete Peanuts, Vol. 12, more campaign editoons, On Stage and Juliet Jones reprints
GRAFICITY: No Pasaran, gory Streets of Glory, pantomime in Skitzy, Therefore Repent!
More Wit and Wisdom from Abe Martin
ONWARD, THE SPREADING PUNDITRY: Harvard professor and Cambridge cop meet on the porch and then on the patio in the Rose Garden
And our customary reminder: don't forget to activate the "Bathroom Button" by clicking on the "print friendly version" so you can print off a copy of just this installment for reading later, at your leisure while enthroned. Without further adieu, then, here we go—

NOUS R US
All the News That Gives Us Fits
The author of Looking for Calvin and Hobbes: The Unconventional Story of Bill Watterson and His Revolutionary Comic Strip, due in bookstores in October, is offering a sample chapter, without charge, saith Editor & Publisher; to get yours, according to the DailyCartoonist, just write lookingforcalvinandhobbes@gmail.com. ... The New York Times Graphic Novel Best Seller List can be found at artsbeat.blogs.nytimes.com/2009/07/17/graphic-books-best-seller-list-July-11/?scp=2&sq=gustines&st=cse Updated weekly, I believe. ... Hoping to restore the Sunday funnies to its former glory in the days of yore, a clutch of Minnesota based comic groups—the International Cartoonist Conspiracy, Big Time Attic, and Altered Esthetics gallery—have collaborated to produce an oversized 48-page newspaper comics section called Big Funny. The inaugural publication, saith E&P, features artwork by over 40 artists including Kirk Anderson. For a full list of participating artists, visit the website cartoonistconspiracy.com/bigfunny
The art of Basil Wolverton, called "the van Gogh of gross-out" by New York Times' Holland Cotter (who is smitten, no doubt, by the iconic Lena the Hyena, Wolverton's entry in Al Capp's contest for portraits of a colossally ugly woman in Li'l Abner), is on display through August 14 at the Barbara Gladstone Gallery in New York's Chelsea district. ... Stephanie Piro, one of the half-dozen women cartoonists who produce, in round robin rotation, the chauvinistically named comic strip Six Chix, posted at thesixchix.com blog sample sketches and finished art for some of her single-panel gag cartoons. Most are simply verbal gags, the pictures serving to identify the speakers, but in one, the joke is in the pictures, too, in a seamless blend with the words. ... At MakeBeliefsComix.com, according to AARP's monthly newspaper, you can write and illustrate your own comic strips and send them by e-mail to your fans. Conjured up in 2006 by Bill Zimmerman after he retired, the website, available in seven languages, has earned accolades from Google's Literacy Project, UNESCO, and the International Reading Association as "one of the most innovative for making reading and writing fun." Dunno if Zimmerman is/was a cartoonist or not, but his heart's in the right place—and so's his head, if we are to judge from all those accolade-conferring entities.
*****
Economic Crises. Reacting to the dismal financial plight among newspapers, King Features has launched a bargain-sized version of its weekly package. Starting in August, King Features Weekly Service Lite offers 10 pages, including 3 pages of comics and editorial cartoons, for $10 but only to newspapers that publish no more than once a week, reports E&P. The regular Weekly Service (available to daily newspapers) sends out 40 pages for $17.50/week (up from $16/week) and claims over 1,000 weekly subscribers. ... Creators Syndicate, headquartered in Los Angeles since it started in 1987, is getting out of town because the city reneged on its 1994 tax classification for the company, raising the rate retroactively to 2004 and, incredibly, adding interest and penalty charges. Saying the city is operating "like a banana republic," Creators President Rick Newcombe, writing in the Wall Street Journal on July 10, suspects "many companies like ours already have quietly left town in the face of the city's taxes and regulations," which "would help explain the erosion of jobs in Los Angeles" as the city "teeters on the brink of bankruptcy."
In another attempt to cope with the on-going economic crisis in newspapering, Ruben Bolling is auctioning off a product placement in a future installment of his altie strip, Tom the Dancing Bug, according to E&P. In an open letter to "Advertisers, Marketers and Promoters of All Types," Bolling wrote: "Imagine your product featured in an authentic 'alternative' comic strip that is read by the most desirable demographics: educated young professionals; sophisticated internet users; upwardly mobile newspaper readers; and discerning australopithecine enthusiasts. Your product will be featured not in an ad, to which [the above demographic groups] are notoriously resistant, but within the artistic framework of the comic strip itself!" All bids must be submitted by e-mail to tomdbug@gmail.com. Proceeds will be donated to the Committee to Protect Journalists (which sounds suspiciously like a self-help operation—no, no, no: I'm kidding). In Mother Goose and Grimm for July 31, Mike Peters partook of the same inspiration: Grimm suggests that they can help newspapers make money again by using product placement in the strip. "Will it work?" he's asked. "Depends," Grimm says, holding up a package of the adult diaper product. Nicely devised.
*****
Publishers Weekly's Calvin Reid couldn't help himself: he injected a mild note of wonderment into his report about the impending arrival of a new graphic novel: "It had to happen," he said, continuing: "Following the success of Quirk Book's best-selling transformation of Jane Austen's classic novel Pride and Prejudice into, well, a zombie novel, Del Rey Books announced plans to turn the result, Seth Grahame-Smith's Pride and Prejudice and Zombies, into a graphic novel" to be published in 2010. Zombies and vampires festoon the newsstands—and now, the bookstalls. Mr. Darcy, Vampyre, Amanda Gange's sequel to Pride and Prejudice in which Elizabeth Bennett's beau/husband reveals his true nature (vampirism is the reason he's so moody), arrives in early August. Then, still plowing up Jane Austen's ground, comes Sense and Sensibility and Sea Monsters in which, quoth Carol Memmott in USA Today, Austen's Colonel Brandon has tentacles growing out of his chin. Coming in December, a pair of Austen enhancements: Darcy's Hunger: A Vampire Retelling of Jane Austen's Price and Prejudice by Regina Jeffers and Jane Bites Back by Michael Thomas Ford. And Grange is working on a Pride and Prejudice prequel about Darcy the vampire. Next, I suppose, the graphic novel versions of them all. It is inevitable: writers and publishers are desperate to find things to write about that won't make some cluster of concerned humanity angry enough to protest and rush, frothing at the mouth, to the barricades with picket signs. The undead, presumably, can't protest. And vampires? Well, they're always out for blood anyhow. But why pick on proper little Jane Austen? She's probably throwing up in her reticule.
No one except the politicians involved failed to note the irony in the cancellation in mid-July of the scheduled speaking engagement of Close to Home's John McPherson. He was to talk at the Bureau of Public Debt about relieving stress in the workplace, but, saith E&P, Senator Byron Dorgan (D-ND) intervened, shooting it down and calling the project a waste of money: "Of all the agencies, the Bureau of Public Debt should know that there is very little that is funny about today's economic conditions ... I understand the need for motivation in the workplace, but I think we have a greater motivation to save the taxpayers some money." In a rare moment of bipartisan agreement, a spokesman for South Carolina Republican Senator Jim DeMint called the idea "ridiculous." Cartoonist McPherson was amused: "It's kind of funny if you think about it, except for the part about me being out the fee. I may need to make my incredibly humorous presentation to myself in order to relieve my newfound stress."
Craig Yoe's books will, henceforth, be issued under a new imprint from IDW, starting this fall with The Art of Ditko, a large format book, and The Complete Milt Gross Life Story and Comic Books. A press release from IDW says the Ditko book "features little-seen stories and original artwork and an introduction by Stan Lee. Milt Gross sports a fold-Introduction by Mad magazine's Al Jaffee and scarce ephemera and comics." Said Yoe of the future for Yoe Books: "I'm looking forward to spitting on my hands, pulling on my briefs, and tag-teaming with IDW. Together, we're going to wrestle some great books to the ground. With my good looks and IDW's beefy muscle, we make a winning team." I'm looking forward to this smack-down too.
Maintaining, the comic strip about the life of a biracial teenager, ended its daily run August 1, creator Nate Creekmore told E&P. Said he: "Unfortunately, Maintaining was never much of a financial success and recent market conditions have only exacerbated the situation. Universal Press Syndicate has chosen to opt out of its contract with my strip and I've decided to discontinue the production of the strip in order to concentrate on other projects." Beginning May 7, 2007, Maintaining focused on the "peculiarities and absurdities" in the daily life of Marcus, whose father is black and mother is white. "Marcus and his best friend Anton maneuver through high school and the world with Marcus as the temperamental, inquisitive explorer and Anton as the slightly cynical, level-headed balance," according to Creekmore's official site, Creekification.com. "In the two years the Times Union has run Maintaining, some readers have called jokes poking fun at stereotypes reverse racism," wrote Tracy Ormsbee on the Comics Blog. "Others praised the strip for being 'brave' and 'right on.'" While with Universal Press, Maintaining ran in less than 20 newspapers—and had peaked at about 40, according to UPS' John Glynn, VP/rights and acquisitions.
*****
Anniversaries. When 2010 dawns, Hallmark and the House of Peanuts will hook up for a year-long celebration, offering a host of exclusive 60th anniversary products, according to a sourceless clipping sent in by R&R operative Ed Black. The theme of the festivities, "Peanuts Then & Now," will highlight the evolution in the appearance of the characters over the decades—from the early Snoopy with smaller snout and bigger ears, say, and the initial Linus with bushy bangs and a bulging forehead. Another of the partners in this marketing conspiracy is CVS, which gets started early, this fall, as the exclusive retail outlet through the holiday season; then in January, Hallmark will give front-of-store placement to plush, giftware, keepsakes, ornaments and other Peanuts products (Peanuts is promulgated by more than 150 licensees). ... Todd Clark's Lola comic strip was ten years old in April, reported E&P, with the "tell-it-like-it-is, suffer-no-fools grandmother" as razor-tongued as ever. The decade just flew by, said Clark.
SpongeBob SquarePants , the animated so-square-he's-cool fry cook, celebrated his 10th anniversary with 50 hours of weekend programming, starting Friday, July 17. Conjured up by Stephen Hillenburg in 1996 after his "Rocco's Modern Life" was cancelled, "SpongeBob" debuted on Nickelodeon May 1, 1999 but the official premiere was July 17. "It's a show about a sponge," said an incredulous Hillenburg to USA Today's Gary Strauss, "—I thought we'd get one season." It's been the top-ranking kids show since 2002 and appears in 170 overseas markets. "We were just trying to make something we'd want to watch and laugh at," said Hillenburg. Tom Kenny, who voices the character, agrees. (He told reporter Jayme Deerwester that he bases SpongeBob's rubbery high-pitched vocalizing "on an angry dwarf. For the trademark laugh, he hits his throat while saying 'ah.'") Nickelodeon prexy Cyma Zarghami, who was among the network's execs who screened the 1999 pilot, knew "it was special. It broke the creative mold." Zarghami predicts another ten good years for the porous protagonist, which is fine with Kenny: "I couldn't dream up a gig this fun," he said. "I feel like I've won the lottery."
*****
Lost and Found. George Booth, lately missing in the weekly line-up of cartoonists in The New Yorker, is back: the last two issues have each contained one of his cartoons, populated, as ever, by one of his inimitably cranky little old ladies, a brow-beaten husband, and a flock of irritable-looking canines. ... Moon Walker, Michael Jackson's 1988 memoir, was edited by Jacqueline Kennedy Onanssis, who became a book editor at Viking and then Doubleday after the 1975 death of her second husband. ... Incidentally, Jackson began in late June looking to assemble a children's choir for his Big 50 show. London's Daily Mail, quoted in The Week for June 26, reported that Jackson wanted children between the ages of 5 and 13, composed of "exactly equal" numbers of black, white, Asian, and mixed-race children, each of whom must know sign language. A source close to the casting agents said they thought the task "a logistical nightmare" and "a near impossibility."
*****
In the Emmy competition, producers of prime-time animated shows must choose whether to enter their shows in the Outstanding Comedy Series category or the Outstanding Animated Program category. Peter Griffn chose the former, and his "Family Guy" earned a nomination in that category, something unheard of, Entertainment Weekly reported, since 1961 when "The Flintstones" did it. "The Simpsons," meanwhile, is trying for its 11th win in the animated grouping, having failed to win anything in the live-action category after entering twice early on, seasons four and five.
In Cleveland's Glenville, a ribbon-cutting ceremony was held July 11 at 10622 Kimberly Avenue to dedicate the house as a shrine to Superman: the character's co-creator Jerry Siegel was living here when, one hot night in the summer of 1933 or 1934 (I say 1933), he re-imagined the villain of his January 1933 short story, "The Reign of the Superman," as a hero. Siegel's widow, Joanne, who, as a teenager, had modeled for Joe Shuster's visualization of Lois Lane, was on hand to give a short talk. The house was dilapidated to the point of near collapse when novelist Brad Meltzer saw the place a few years ago while researching his 2008 novel The Book of Lies. The place has been much rehabilitated since, thanks to Meltzer, who helped the city's Siegel and Shuster Society stage an auction of original art to raise money to fix the falling down parts of the building. Members of the Siegel and Shuster families flew in from all over the country for the occasion. A plaque explaining the significance of the site is affixed to a brand new burnished steel fence in front of the house; on another part of the fence is a shield emblazoned with the familiar "S" from Superman's chest. The building a couple blocks away in which Shuster lived when he envisioned his friend's concept is no longer extant, but another fence there bears another plaque of explanation. According to the Cleveland Plain Dealer's Michael San Giacomo, whose columns had sparked the formation of the Siegel and Shuster Society to save the Siegel home, several hundred fans, many of whom were attending the weekend's Screaming Tiki Cleveland Supercon, stood in the street in front of the Kimberly house during a brief but torrential rain storm to witness the historic event.
Anime, Japan's distinctively styled animated cartoons, are "in crisis" in Japan, reports Jonathan Gadir at radioaustralianews.net.au. The culprit, apparently, is the usual one—the Internet. Anime is popular worldwide, but many addicts get their fixes by downloading from the Web for which anime creators in Japan receive no monetary recompense.
At pwbeat.publishsersweeklycom, Heidi MacDonald reports that Eleanor Frazetta, business and life partner of her husband, the famed fantasy artist Frank, died July 17 after a year battling cancer. Writes MacDonald: "Eleanor Kelly was born in Massachusetts and moved to New York where she married Frank in November, 1956. She acted as his business partner as well as his lifelong companion. Known for her feisty personality as well as her intuitive business acumen, she was instrumental in successfully establishing record prices for Frank's work throughout her life."
****
The Sportin' Life. E&P reports that longtime Rocky Mountain News cartoonist Drew Litton, one of the last two sports cartoonists still published, announced in early July that he is considering debuting a Web comic that would combine "the Man from U.N.C.L.E. with the Big Easy meets Lethal Weapon." When the News died in February, Litton closed the door on a 26-year career with the paper and then started his own Web site, drewlitton.com, as well as a freelance business, Littoonz Studios. His sports cartoons are still in syndication with United Media. About his latest plan, Litton wrote in the INDenver Times website on July 3: "There is a whole new model for doing a comic strip outside of print media these days, one that I find very exciting and a bit freeing. Cartoonists who are syndicated are often kept on very tight leashes by editors and publishers who get a bit paranoid when they get a single phone call about something that has upset a reader. ... On the internet there are no such restrictions. The problem is monetizing the strip."
His new project, tentatively entitled S.W.A.M.P. Squad, will be set in the Louisiana bayou, he said, "since I love the setting and the landscape." The chief characters are an alligator named Grubbs and an armadillo named Hicks. Preliminary sketches can be found at Litton's website: look for CreatorsIncubator and scroll down to July 5. And if you scroll around the blog, you can find Litton quoting from a new book, Ignore Everybody: And 39 Other Keys to Creativity, by cartoonist Hugh MacLeod, who writes: "Everyone is given a box of crayons in kindergarten. Then when you hit puberty, they take the crayons away and replace them with dry, uninspiring books on algebra, history, etc. Being suddenly hit years later with the creative bug is just a wee voice telling you, 'I'd like my crayons back please.'" To which Litton adds: "I remember early on in my career as a staff artist at the El Paso Times, my cousin dropped by so we could head out to the movies after work. I was just cleaning up my drawing board, picking up scraps of paper and paste and scissors and cartoons, and he just stood there, shaking his head. 'Kindergarten,' he said, '—you never left kindergarten.' He was right, and I want you to know I'm quite proud of that fact!"

SAN DIEGO COMIC-CON NO LONGER ABOUT COMICS
And What Else Is New?
Comics, historically viewed as the unwanted bastard child of the visual and verbal arts, have achieved a startling respectability as the "graphic novel" gained shelf space in the nation's chain bookstores, but in San Diego at the Comic-Con International, July 23-26, the bastard is barely acknowledged amid the annual riot of other detritus of popular culture—movies, toys, video games, tv shows, movie stars, action figures, fans in outlandish costumes, and, yes, movies. USA Today wrapped up its week-long coverage of the geek fest extravaganza with its July 27 issue, introducing the story as follows: "Comic-Con 2009 drew 125,000 fans, who traveled many miles and waited in line for hours just for glimpses of favorite stars and sneak peeks at movies, tv series and, of course, comics." Of course "comics." But that sentence is the only one in a page-and-a-half of coverage that mentions comics. The only appearance I saw of any comic book-related information was a blurb promoting the Superman serial running in DC's Wednesday Comics, a weekly publication of 15 "newspaper-sized comic strips." At usatoday.com, each week's new Superman installment is featured (written by John Arcudi; drawn by Lee Bermejo with painterly colors by Barbara Ciardo). The fourth of 12 episodes was up the week of August 2; the entire run will not be completed until the end of September (and "back views" are available if you want to catch up).
USA Today's wrap-up on the Con, like all the other stories the preceding week, focused on movie stars and movies and tv shows: the first page of the paper featured a photograph of Scarlett Johansson. Denzel Washington, who showed up to promote his new movie "The Book of Eli," was reportedly amazed at what he encountered: "People are actually having fun," he exclaimed. "They're not critics. They're here because they want to like what we do." He wanted to join the throng: "I really want to get on the floor and see what the fuss is about," he said. "Maybe I can borrow a Star Wars mask and look around." Johnny Depp, quoted earlier in the week, had expressed the same desire to don a disguise so he could wander undetected (and therefore unfettered by admirers) among the multitudes in order to enjoy what they were enjoying.
Entertainment Weekly did no better in its August 7 issue: 3 pages of photos of movie stars. No mention of comic books. Or graphic novels. Or cartoonists. Or, even, comic book publishers, including Marvel, which is also in the movie business.
Sandy Eggo is now seen by Hollywood moguls as The Place to premiere snips and clips of forthcoming movies: an enthusiastic reception by the fans at Comic-Con translates later into a box office triumph. It did with the first Iron Man movie; and so this year, the makers of the sequel were on hand showing footage to another enthusiastic audience. Said director Jon Favreau: "This is the most important time for me, more important than the premiere, the screenings. This is when we show them the gist of the movie, what we've got. If we don't get them now, I'm not sure how you get them back." "Twilight" was the big event this year, but television, reported ICv2, was also a massive presence this year with HBO's "True Blood," NBC's "Heroes," and ABC 's "Lost" and Fox's "24." (Jack Bauer lives and even seems happy in next year's installment.)
Gina McIntyre at the Los Angeles Times asked Tim Burton, one of the original fanboys, what his Comic-Con experience was like so far, and Burton said: "I haven't been here in many years. I came here as a student in the '70s and haven't been back since. It's quite amazing how big it's gotten. It's shocking really. It's such a positive energy, there's a lot of passionate people, so it's a bit daunting to show something but that's why you make movies. That's what's great about the environment here. People are very passionate about the environment here and that's again why you make movies so it's exciting to be around that energy. I love seeing people dressed up. It's surreal and amazing and beautiful. I just remember last time I was there, it was some booths and stuff, but now—it's incredible."
The overwelming presence of the motion picture in its various manifestations is not entirely foreign to the Comic-Con: at the first one, forty years ago, movies as well as comics and sf were on the playbill. And in 1976, George Lucas arranged for a slide showing of parts of his work in progress, a little celluloid space opera called "Star Wars." "Star Wars" persists as a viable part of the Con: every year features a "Star Wars Day." And this year, USA Today reported, Star Wars fans are found in two opposing camps: in one are those who see the first three films as the only "authentic" Star Wars canon; on the other side, are younger fans who find the first trilogy "quaint but corny."
Even if comics take much much less display space these days in the cavernous halls of the Con, publishers and producers of the four-color print fantasies often hold off making major announcements until the Con gives them a suitably massive platform. Dark Horse, for example, announced that it has acquired the rights to produce new comic book series using classic Gold Key characters, including Doctor Solar, Magnus Robot Fighter, Mighty Samson, and Turok, Son of Stone. Jim Shooter, who revived Turok, Magnus, and Solar for his Valiant Comics universe in the 1990s, will be plotting and overseeing all four of the new titles. Dark Horse also announced its plan to reprint Archie Comics flagship title Archie in chronological order in a series of Archie Archive hardcover editions. Dark Horse's Director of Public Relations Jeremy Atkins told ICv2 that "there will probably be some overlap" between Dark Horse's Archie Archives and IDW's planned "Best Of" collections of vintage Archie comics, but the Dark Horse omnibus anthology will be the definitive edition of the series, geared toward the collector audience. IDW will also be publishing collections of the Archie newspaper comic strip.
Newspaper comics were also present at the Con, albeit in tiny niches rather than monstrous floor displays. Editor & Publisher reported that the National Cartoonists Society again had a booth, and Universal Uclick's GoComics brought several cartoonists to hold forth in its booth: Pulitzer Prize-winning editorial cartoonist Pat Oliphant, Richard Thompson, creator of Cul de Sac, Ruben Bolling, creator of Tom the Dancing Bug, and FoxTrot's creator Bill Amend (which may account for his plugging the Con in his Sunday-only strip the week before the Con commenced (July 19). Greg Evans also mentioned the Comic-Con in Luann on July 27. The featured product at the GoComics booth was Stan Lee's latest creation: a digital comic backed by Disney called Time Jumper, it consists of serialized five-minute episodes with built-in cliffhangers that will be released every two weeks through December. "Once it's premiered on cell phones and the Internet, it could go anywhere," Lee told Jay A. Fernandez at Hollywood Reporter, adding: "It could become a TV series; it could become a movie. We want to start this one slowly and build up the fan following and get the excitement and the mystery behind it and have people talking about it." Disney's initial order is for 10 episodes, with "a viral marketing campaign" to promote the project.
Abrams with its newly launched Abrams ComicArts imprint was present again this year, testifying to its continuing support of the growth of the comic arts medium (an attitude almost certainly fostered by the publisher's success with Brian Walker's two-volume illustrated history of comic strips, The Comics Since 1945 and ...Before 1945, now available as a single tome, The Comics: The Complete Collection, through Borders).
At popwatch.ew.com, actor Seth Green captures some of the giddy atmosphere of the Comic-Con with a list of "Things people say to me at Comic-Con": Walking the show floor for 14 years, I've heard it all (he began). Here's a sampling: Hey, are you Seth Green? How tall are you? Can you leave my outgoing voice message? Say something like Chris from Family Guy. Can you sign my boobs? Can you call my girlfriend? Can you sign my girlfriend's boobs? Can I do voices for Robot Chicken? When is Austin Powers 4 coming out? I loved Airborne! You're taller than I expected! Why are you wearing a Spider-Man costume? Can I have your phone number, move in with you, eat your food, and wear your clothes? You were great as Bud Bundy. I came from Antarctica just to meet you. Will you sign my hairy nipple? Where do you get the toys for Robot Chicken? Will you buy mine? Were you in a Carls Jr. commercial? I went to summer camp with you in 1981. Don't you remember me? Can I follow you around and get into all the VIP parties with you? Who wrote your Star Wars Emperor sketch? Seth. Seth. Seth. Seth. Seth. Seth. Seth. Seth. Seth. Seth. Seth. Hi. I loved you in Scream.
The Comic-Con is forty years old this year, and publicity called this Con the 40th, but it's actually the 41st: in the year of its conception, 1970, two comic-cons were staged, one early in the year to generate funds for a larger debut in the summer. Ken Krueger, who was then a comic book store operator, chaired the first Comic-Con and was among several of the Con's early operatives to attend this year as special guests. Shel Dorf, founder of the Comic-Con, wasn't there, though: Dorf has been hospitalized for the past 14 or more months; bedridden, he sleeps a lot due to his medications and receives dialysis regularly. (He's in Room 315, Sharp Memorial Hospital, 7901 Frost Street, San Diego, CA 92123. Don't phone: he has a tube down his throat so he can't talk, and his hearing is pretty bad.)
The Con restricted registrations to 125,000 again this year for the third or fourth time, leading to the annual speculation that the Comic-Con might move to larger facilities in Los Angeles or Las Vegas. "We can't accommodate the people we need to," Comic-Con marketing director David Glanzer complained in Variety, the entertainment industry's journal: "(This year) we had a wait list of exhibitors in excess of 300. We sold out before the doors even opened." Said Variety's Gregory Ellwood: "As the event has exploded in popularity over the past decade, organizers have found it increasingly hard to ignore the logistical limitations presented by wrangling more than 125,000 attendees into the San Diego Convention Center, where the show is booked through 2012. From fire-code violations to body-odor issues, overcrowding is the complaint on everybody's lips." My guess is that the Con won't move any time soon: it's run by amateurs who've grown professional in only one venue with only one event, and venue and event and experience are bound together. The Con's organizers aren't likely to venture into the unknown—Los Angeles or Las Vegas—where they can no longer rely upon a sizeable attendance from San Diego citizenry.
Comic Riffs' Michael Cavna attended the Con, and in his report, he ponders what he calls "the Big Question": Has the Comic-Con, hitting middle age, gotten just too damned big? The answer, Cavna finds, is not readily ascertainable, and he reports an incident that offers insight: Two dudes are leaning against a wall, Jay and Silent Bob style, and one says: "This thing sure has gotten big. Too big." And the other dude says with awe: "Yeah, but doesn't it look cool?" Two dudes, continues Cavna, two simple quotes—uttered with the pithyness of word balloons—and they've just said it all.
No doubt. I've had a kindred experience. On the first couple days of the Con, I'm beatific with enjoyment: I hope it will go on forever. By Sunday, I'm overwhelmed and exhausted and hope it ends soon. And in a similar fashion, this report, originating in the post-Con ether of the Rancid Raves Intergalactic Wurlitzer, has, indubitably, become too long, without being at all long enough to capture anything approaching the essence of the experience.
*****
From DailyCartoonist.com, a list of a few websites with Sandy Eggo coverage: editoonist Rob Rogers at the Pittsburgh Post-Gazette, community.post-gazette.com/blogs/robrogers; Heidi MacDonald for Publishers Weekly, pwbeat.publishersweekly.com; Michael Cavna at voices.washingtonpost.com./comic-riffs; and Tom Spurgeon at comicsreporter.com
*****
The Amazing Adventures of Stan Lee (continued). Interviewed by Michael Nelson at UGO Games blog, Stan Lee declined to reveal the nature of his cameo in "Iron Man 2," but said "it is comparable to what I did in 'Iron Man' where I was mistaken for Hugh Heffner." Then, asked who would win in a fight between Superman and the Hulk, Lee, after ascertaining that he would be the hypothetical author, laughed: "The Hulk! Why are you not surprised?" But he'd give Superman a chance, he added: "Superman can pick up a locomotive according to some things I've seen. He can do really anything the Hulk can do. But if I was writing the story, I'd probably give the Hulk chunk of kryptonite." Nelson said: "Well, he is green, so maybe he could coat himself in kryptonite?" Said Lee: "Yeah, that could be good, that could be good. You're obviously a comic book writer." He laughed again.
The DailyCartoonist reports that Universal Uclick and Lee have partnered to debut his Stripperella in a direct-to-iPhone release. The mobile comic book, written by Lee with art by Anthony Winn, is about Exotica Jones, a motorcycle-riding exotic dancer who fights crime as Stripperella, a costumed (barely, I suppose) heroine. A press release continues: "Some people think Stripperella is merely a far-out fantasy featuring a torrid, whistle-bait pin-up," said Lee. "But thoughtful readers look beneath Stripperella's frivolous facade and recognize a scholarly, psychological analysis of today's complex male/female relationships with cogent commentary within the sophisticated subtext. Congratulations to Universal Uclick and POW! for Stripperella, the perfect cerebral companion for the thinking man." Universal Uclick President and Editor Lee Salem joined in the hype, raving on: "Stripperella is an eye-catching super heroine, and comic fans will appreciate that Stan Lee, master comics craftsman that he is, has injected this series with a madcap spirit that makes it a thoroughly entertaining read. This mature-audiences series—available exclusively in the App Store—is uncommonly, unabashedly, undeniably fun. It's exactly the kind of all-out entertainment fans have come to expect from the most well-known innovator in comics."The sultry (mature audience) app is now available in the iTunes App Store.
At 86, Lee exults in his continuing career, telling Jay A. Fernandez at Hollywood Reporter that he has no intention of retiring: "People usually retire because they can finally stop working and they'll have the time to do what they really want to do, but I'm doing what I want to do! If anybody forced me to spend a day on the golf course, I'd feel I was being tortured!" And so he plunges on, creating superheroes left and right wherever someone has dropped a hat. I haven't seen all these creations, but those that I have seen belong pretty much in the 1960s, which is where Lee co-created the characters for which he is lauded. Could be the fabled Stan Lee, the man who has become a brand, is stuck in the past. Still, Stripperella, in concept at least, is late 20th century, and Lee's description of her is self-deprecatingly satirical, more in the mode of yesteryear but, like almost all self-mockery, still funny.
Fascinating Footnit. Much of the news retailed in the foregoing segment is culled from articles eventually indexed at rpi.edu/~bulloj/comxbib.html, the Comics Research Bibliography, maintained by Michael Rhode and John Bullough, which covers comic books, comic strips, animation, caricature, cartoons, bandes dessinees and related topics. It also provides links to numerous other sites that delve deeply into cartooning topics. Three other sites laden with cartooning news and lore are Mark Evanier's povonline.com, Alan Gardner's DailyCartoonist.com, and Tom Spurgeon's comicsreporter.com. And then there's Mike Rhode's ComicsDC blog, comicsdc.blogspot.com and Michael Cavna at voices.washingtonpost.com./comic-riffs . For delving into the history of our beloved medium, you can't go wrong by visiting Allan Holtz's strippersguide.blogspot.com, where Allan regularly posts rare findings from his forays into the vast reaches of newspaper microfilm files hither and yon.

EDITOONERY
Afflicting the Comfortable and Comforting the Afflicted
As the turbulence in his native land continues unabated as of July 13, Iranian cartoonist-in-exile Nik Kowsar has called the present unrest "the uprising of the middle class." Talking with Michael Cavna at the Washington Post's Comic Riffs blog, Kowsar said: "The silent majority hates [Iranian President Mahmoud] Ahmadinejad. Former supporters weren't supporting him. The Guard and the council and the interior ministry didn't let the silent majority in on what was going on ... It's not important who votes—it's important who counts the votes." Kowsar stays in touch with friends in Iran through two Facebook pages, one with 500 friends; the other, 1,500. "When I post a cartoon," he told Cavna, "tens of thousands get it. My cartoons are spread throughout the world. ... Now people in Tehran hold up their hands and show bypassers my cartoons. I've seen a lot of people do that. That's very touching to me." In a recent cartoon, he depicted Iran President Mahmoud Ahmadinejad wearing a mask like a thief, saying: "Trust me! We counted the votes 20 days before the election!"
Once a geology student, Kowsar started doing editorial cartoons in 1993. He decided to become a cartoonist while still a student, working on student newspapers. "I felt there was a need in Iran to publish with a clear voice through the simplest cartoons that would connect with the masses," he said. "There is a tradition in Iran of philosophic cartoons—too many symbols that might take minutes and minutes to decode and understand. I thought: Here could be a way to translate the style of American editorial cartoons—the style, the rhetoric—into Persian to show politics through humor. When I saw the effect my cartoons had on people and how much mail I got, I thought I was on the right path. ... My highly circulated work was well-received by the public, especially in Tehran. They were attacking my cartoons on national tv. I could see the effect of my cartoons."
He was convinced of his popularity when his first book collection of cartoons was published in 2000 and sold 5,000 copies in each of five printings. Editorial cartoonists enjoyed a certain freedom in Iran as long as they didn't satirize clerics and the military and judges, but Kowsar sometimes did and got himself into trouble. Once he depicted Iran President Mahmoud Ahmadinejad dancing the tango with Venezuela's Hugo Chavez. Such cartoons provoked the authorities. In February 2000, Kowsar was arrested and imprisoned for six days. "I had drawn a cartoon with a crocodile [strangling a cartoonist with its tail] that referred to a powerful ayatollah," he said to Cavna. "Clergy students and ayatollahs asked for my death ... They started with one cartoon but [suddenly] here were 168 cartoons. They [accused me and imprisoned me] for attacking Islam and defaming prophets."
During the International Cartoonists Rights Network dinner at the editorial cartoonists convention in 2007, I sat next to Kowsar. (We took photos of each other mugging at his behest; you can see mine of him at Opus 208. In the same clutch of photos is one of South Africa's Zapiro, who won the Courage Award that year; and you can find an array of his cartoons about Nelson Mandela at mg.co.za/article/2009-07-16-zapiro-on-mandela .) Kowsar, to abandon digression, has an antic, playful sense of humor, almost whimsical; it showed in his initial response to Cavna's question about why he took the risk of cartooning in Iran: "First of all," Kowsar said (grinning no doubt), "as a cartoonist you must be nuts to work in Iran. I think I was. ... But," he continued in a more serious vein, "I could see that domestic [-focus] cartoons have an effect on people who are actually sympathetic with the cartoonist. You see cartoons under glass on their desks or framed and in dorms."
"Kowsar left Iran in 2003," Cavna writes, "after receiving a death threat. He settled in Toronto with his family. He currently draws cartoons for Rooz, an online news site that publishes five days a week. His work has appeared in The New York Times as well as the Washington Post, the Globe and Mail of Toronto, and The Guardian in Britain." And he has received the Courage Award from the ICRN. You can find all of his engaging and insightful interview with Cavna at voices.washingtonpost.com/comic-riffs/2009/07/the_interview_exiled_ironian-c.html
Kowsar is in a better position to know what's going on in Iran than I am, and as recently as July 31, even American newspapers report continued clashes between security forces and "thousands of demonstrators" in Tehran, the police firing tear gas and attacking protesters with batons. But the demonstrators fought back, Thomas Erdbrink tells us at the Washington Post: "In one case, three members of the much-feared voluntary militia known as the Basij were beaten with their own batons after a group of opposition activists pulled them off their motorcycles near a park. The motorcylces were then set on fire."
Otherwise, cartooning goes on in Iran. According to presstv.ir, Iranian cartoonist Mohammad-Ali Khalaji has won the first award of the 26th edition of Brazil's International Humor Exhibition of Piaui. Khalaji was also a winner at the First International China Olympic Cartoon Competition and the Fontanarrosa section of the 12th Buenos Aires International Salon Diogenes Taborda (ISDT) Visual Arts Festival. Must be something funny happening somewhere in Iran.

READ AND RELISH
This is from an article in the St. Petersburg Times which posed the question: How Would You Fix the Economy?" One wag, addressing President Obama, proposed the following:
Instead of giving billions of dollars to companies that will squander the money on lavish parties and unearned bonuses, use the following, which you can call the Patriotic Retirement Plan. There are about 40 million people over 50 in the work force. Pay each of them $1 million in severance for early retirement with the following stipulations: 1) They must retire. Forty million job openings—unemployment fixed. 2) They must buy a new American car. Forty million cars ordered—auto industry fixed. 3) They must either buy a house or pay off their mortgage—housing crisis fixed. Can't get any easier than this. If more money is needed, then have all membrs of Congress and their constituents pay their taxes.
RCH: Works for me.

THE FROTH ESTATE
The Alleged News Institution
Walter Cronkite became the most trusted man in America through the simple albeit now quaint journalistic practice of sticking to the facts in reporting the day's news instead of infesting them with political opinion or moral pronouncement. His newscasts were grounded so solely in fact that obituaries after his death on July 17 made much of the only two instances of Cronkite's showing emotion or expressing opinion in over twenty years at CBS: his choking up momentarily at having to announce the death of John F. Kennedy and his voicing opposition to the Vietnam War. The lesson of Cronkite's professional life is simple and clear: you earn the trust of the public by trying to report the news as objectively as possible. Without bias. Without political agenda. Without shouting or sneering.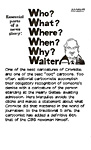 Many commentators remarked that Cronkite's death marked the end of an era in tv news. But that era ended soon after Cronkite retired in 1981: the beginning of the end was marked by the emergence of cable tv news, which demanded an inexhaustible content to broadcast all day long, seven days a week. That opened the door to mindless time-fillers like Bill O'Reilly and Glenn Beck and Sean Hannity, not to mention Lou Dobbs—none of whom stick to the facts in "reporting" the news. In the context of these times, it is not too surprising to learn that when Time magazine conducted a poll to find out who was now America's "most trusted newscaster," Jon Stewart, a comedian who mocks the news, came out on top with 44% of the vote. NBC's Brian Williams was next with 29%, then ABC's Charles Gibson (19%) and, finally, Katie Couric (7%). In reporting this seeming triumph of the adolescent, Chicago's Redeye noted that Stewart, for all his mugging and quipping, has out-performed so-called journalists several times: on CNN"s opinion-laden shouting match, "Crossfire," he blasted "Crossfire" for "hurting America"; he castigated CNBC's financial reporter, Jim Cramer, for cheerleading the financial world to collapse; and in his election year feature, "Indecision 2008," he cut through politicians' spins to reveal emperors without a garment to their names. No wonder, then, that Stewart is now the "most trusted newscaster in America."
In his retirement years, Cronkite revealed his political leanings: he was a liberal. But "liberal" to Cronkite meant something more than the way he may have voted: "I define liberal as a person who is not doctrinaire," he said in an exchange on "Larry King Live." "That is a dictionary definition of 'liberal,'" he went on. "That's opposed to 'liberal' as part of the political spectrum ... [A liberal is] open to change, constantly, not committed to any particular creed or doctrine, or whatnot, and in that respect, I think that news people should be liberal." I agree with that and think of myself as a liberal as a result. I'm also a conservative: I want to save, to conserve, the defining traditions of America—free speech, freedom of the press, freedom of religion, and the like—personal, individual freedom.
*****
On July 21, editorial cartoonist J.D. Crowe posted the following on his blog: Walter Cronkite. Born November 4, 1916, died July 17, 2009. Has there ever been a more trusted, iconic newsman than Uncle Walter? We forget he got his start as a print journalist. When he ventured into tv news, it was like the space program—a new frontier. Cronkite became America's newsman. His voice was the calm in many storms. As newspapers undergo a re-invention process, we print media pushers can look to Cronkite's example for the courage to forge ahead into new territory, embracing new media technology and making it our own. Here's the story of my one personal encounter with Walter Cronkite:
Dallas, Texas, summer of 1984. The Republican National Convention. I had just been handed a promotion at the Fort Worth Star-Telegram. At 25, I was among the youngest full-time editorial cartoonists in the country. I was given press credentials and sent next door ( about 40 miles) to Dallas to cover the convention. Giddy with excitement about the opportunity to play "real journalist," I wandered wide-eyed around the convention center in search of newsy things to draw. That's when I saw the icon. Walter Cronkite, probably about 77 at the time [more like 68—RCH], was walking through the crowd of delegates towards me, about 20 feet away, and then veered left into the men's room. Seizing the moment, I followed, sketchbook in hand.
Amazingly, Walter and I had the entire washroom to ourselves. He ambled up to the line of about a dozen urinals, choosing a lovely middle trough. I held back for a minute, then took my place at the vacancy next to Uncle Walter. And waited. For my stream, yes, but also for inspiration. A snappy ice breaker.
Men aren't chatty in the toilet, and we generally pick our destinations as far away from each other as possible. Unless we are in the throes of a primal beer-fueled sporting event buzz, in which case urinating in the sink with a stranger is often acceptable, we prefer to do our business within a large blanket of impenetrable personal space, looking straight ahead. I was in severe violation of this man code with Mr. Cronkite.
Eventually my water broke, and leaking away in the silence was also my confidence for initiating sparkling conversation. But yet I stood there, long after my deed was done, waiting for Godot and for Mr. Cronkite to complete his assignment.
Never happened. The crafty veteran was playing hard to get. He hung in there at that urinal like it was his life force. Meanwhile, in movements resembling a lava lamp, I drifted to the wash basin and slowly began washing my hands. I think the water was even moving in slow motion. Looked like an action scene from the "Six Million Dollar Man."
Finally, painfully, I walked out of that room a defeated young dork.
No sketch, no witty quip to brag about. No money shot. And as far as I know, Walter Cronkite stayed at that urinal the rest of the convention.
That's my sad, lame claim-to-fame story about Walter Cronkite.
*****
Cronkite's well-known voice is now forever silent. He had recorded a voiced introduction to Katie Couric's "Evening News." No longer. That recording has been retired.
*****
SOTOMAYOR ON THE GRILL. Our brilliant leaders in the U.S. Senate spent a couple weeks grilling Sonia Sotomayor, concentrating mostly on a criminally-inclined utterance she once committed about wise Latinas. And our ever-vigilant news media echoed this preoccupation without hesitation. In their myopia, our leaders and reporters revealed just how shallow was their research into Sotomayor's thinking—or how illiterate these worthies are. If they'd actually read the speech in which she so grievously sinned, they'd learn that Sotomayor was actually recommending that judges attempt to overcome their experiences—and their origins and upbringings—whenever they might influence a decision. You can find the text of her speech at nytimes.com; here, I'll try to capture the gist of it as it applies to the "wise Latina" statement.
The speech was the Judge Mario G. Olmos Memorial Lecture at the University of California, Berkeley School of Law, delivered in 2001 under a symposium's general heading "Raising the Bar: Latino and Latina Presence in the Judiciary and the Struggle for Representation." Given the audience and the occasion, we may safely assume that one of Sotomayor's purposes was to inspire women and Latino listeners to believe that their life experiences would enrich the legal system. Sotomayor begins by noting that when she finished law school in 1979, "there were no women judges on the Supreme Court or on the highest court" of her home state, New York. "Today," she went on, "women sit on the highest courts of almost all the states." That's progress, she observes. But people of color are still not much represented. "We have a long way to go," she said.
She devotes most of the remainder of her remarks to speculation about "what it will mean to have more women and more people of color on the bench." She acknowledges the obvious: no judge can escape his or her life experiences. But she says, "judges must transcend their personal sympathies and prejudices and aspire to achieve a greater degree of fairness and integrity based on the reason of law." She's not sure that goal is possible—or, even, desirable: "I wonder whether by ignoring our differences as women or men of color we do a disservice both to the law and society. ... I accept that our experiences as women and people of color affect our decisions." But "the aspiration to impartiality" remains: it is, however, an aspiration, perhaps not always, maybe not ever, achievable.
At this point, she quotes Sandra Day O'Conner, who reportedly said that a wise old man and a wise old woman would reach the same conclusion in deciding cases. O'Conner's purpose in making the remark was to assert that women were the intellectual equals of men. Sotomayor disagrees: first, because there is no universal definition of "wise." "Second, I would hope that a wise Latina woman with the richness of her experiences would more often than not reach a better conclusion than a white male who hasn't lived that life." By deploying O'Conner's word, "wise," Sotomayor is gently needling the High Court's first woman justice. But she is also returning to her own earlier statement about how one's life experiences are inescapable even when sitting on the bench: they will be there, influencing decisions. And they probably ought to be. But the core aspiration remains.
"I simply do not know exactly what [my different life experiences] will make in my judging, but I accept there will be some based on my gender and my Latina heritage." But, she goes on, "I am reminded each day that I render decisions that affect people concretely and that I owe them constant and complete vigilance in checking my assumptions, presumptions and perspectives and ensuring that to the extent that my limited abilities and capabilities permit me, that I re-evaluate them and change as circumstances and cases before me require. I can and do aspire to be greater than the sum total of my experiences, but I accept my limitations. I willingly accept that we who judge must not deny the differences resulting from experience and heritage but attempt, as the Supreme Court suggests, continuously to judge when those opinions, sympathies and prejudices are appropriate" or inappropriate.
In short, Sotomayor acknowledges the obvious: we cannot escape who we are, the results of our upbringing and our experiences. And in the judicial system, such ingredients are not inherently bad. But they should be acknowledged in order to come as close as humanly possible to the impartial objectivity that judges must aspire to.
I doubt that anyone with any common sense could quarrel with those sentiments—if only our so-called news media had made them more widely known. Alas, even so, most Republican senators on the grilling committee are not possessed of common sense: they are in the thrall, rather, of a desperate desire to appeal to enough of their constituencies to be re-elected next time. Instead of exercising common sense, they quake in fear. They govern by slogans and catch phrases—"activist judge," "socialized medicine" (and what do we have now with Medicare?), "dangerous deficit spending," (and who created that deficit?)—not by reason or common sense.
Only South Carolina's Lindsey Graham seems pragmatic as well as common-sensical. He voted to approve Sotomayor's nomination, to send it on to the entire Senate for a vote. He allowed that Sotomayor is "definitely more liberal" than any Supreme Court nominee a Republican president might choose. But she's "one of the most qualified" of candidates. What's more, he continued, the Republican candidate for President lost his bid for the White House. Said Graham: "I do believe that elections have consequences, and it's not like we hid from the American people during the campaign [last fall] that the Supreme Court nomination was at stake. The American people spoke." And their choice must now be permitted his choice on the assumption that the majority of those who voted would agree with him.

Quotes & Mots
"Listen, if Barack Obama had been born in Kenya, don't you think Madonna would have adopted him by now?"—Jimmy Kimmel
"If work was a good thing, the rich would have it all and not let you do it."—Elmore Leonard
"There is only one success—to be ale to spend your life in your own way." —Christopher Morely
"Individuality is freedom lived."—John Dos Passos
"He doesn't give friendship easily or need it. He packs a tight suitcase." —Ed McMahon on Johnny Carson

RANCID RAVES GALLERY
Pictures Without Too Many Words
| | |
| --- | --- |
| | |
We launch, herewith, a new R&R department. Here we'll post from time to time pictures that have amused or instructed us without the aid, much, of words. Just pictures that cry out to be remarked upon, gratefully applauded or mercilessly lambasted. The Rancid Raves Gallery will consist almost entirely of pictures with only the briefest occasional amplifying comment. Or, sometimes—as this time—somewhat more verbiage than less. Take, f'instance, our first entry this time: at the top, Steve Brodner's outstandingly rude pictorial exposition of the medical profession's traditional position in the everlasting debate on a national health care plan—too wonderful to pass by without looking again; at the bottom, an editoon by the Boston Globe's Dan Wasserman, this one needing a little amplification. The New York Times Company, which owns the Globe—both financially exhausted newspapers—announced a plan to reduce expenses by cutting salaries 23%. Wasserman's response we see here, a cartoon from which 23 % has been cut, simultaneously cutting—and providing—its punchline. Interviewed at Michael Cavna's ComicRiffs blog, the editoonist said: "I don't like to do a lot of self-referential stuff, but when you do it, you might as well do it all out. When you're staring at 23% pay cut, that's a pretty big chunk of anything, especially if it's your livelihood. I thought: 'How do I represent this?'" Wasserman's solution is vividly telling. And the cartoon was "a big hit around the city," he told Cavna. "I got a lot of feedback from people all over the country, especially from people at newspapers affiliated with these struggles. It's rewarding when you produce something that resonates with people in a tough spot, people in our own profession."
Our next exemplar requires a little less explication. I saw the article about "The Ugly Truth" and Katherine Heigl's little black dress in Entertainment Weekly, and it struck me that the face on the cartoonish woman modeling Heigl's dress looked remarkably like Heigl, more portrait than caricature but a pretty good likeness in a place you don't expect to find likenesses. The George Herriman cartoon from a 1903 issue of the old Life humor magazine was drawn well before Herriman met that kooky kat named Krazy; I've included it here because it shows that Herriman, an African American, participated fully in the cartooning custom of the day in drawing cruel liver-lipped stereotypes to represent blacks. The Pizza Hat (not Hut) is my own invention by which I expect to convince the pizza moguls to re-name their ubiquitous shops to suit the appearance of the roof as emblematically represented in the logo.
At the bottom, a strip that belongs more in our next department than in this one, but I came across this B.C. July 21 release after I'd already assembled the illos for this edition's Newspaper Comics Page Vigil, so I tacked in on here. John Hart Studios issued an apology for what it agreed was an "offensive" joke in the strip. Intended to ridicule the "Dick and Jane" primary readers of yore, a recurring target of spoofing in the strip, this time, the Hart gang upset animal care folks, who felt the gag promoted animal abuse. Far-fetched maybe, but in these days of dog fight revelations, I'm not so sure. The strip was promptly pulled from the B.C. website, the Studio saying, "We do not condone the mistreatment of animals in any way and we're sorry that readers found the strip offensive."

NEWSPAPER COMICS PAGE VIGIL
The Bump and Grind of Daily Stripping
Tom Batuik, who's been juggling time in his strip Funky Winkerbean, jumped his Crankshaft comic strip several years into the future for a week last month, to a time when the central character of the strip—grumpy oldster Ed Crankshaft—is reduced to a vegetable-like state wherein he is wheeled out to watch a ballgame. Panels depicting Old Ed are alternated with panels showing him as a kid then as a young man, always a fan of the game. Some speculated that the week-long series might have been a tribute to Batiuk's father, who passed away recently.
The week July 20 began in Garry Trudeau's Doonesbury by picturing Toggle, the aphasia-afflicted Iraq vet, in bed with Alex, clearly a post-coital situation, but it caused no ripples of outrage of the sort that greeted a similar scene in 1976 when Rick Redfern and Joanie Caucus spent the night together. Reportedly 30 papers dropped the strip then. Oddly, in Greg Evans' Luann, a similar event may have occurred the very same week—but off-camera. Brad and Toni went for a walk in the park and Toni confessed her love for nerdy Brad (a big moment for all of us nerds). We saw them kissing as they lay on the grass; then when they return to Brad's abode, as we see in the strip at the top of our first visual aid, TJ, Brad's outspoken roommate, observes grass stains on their backs. Once upon a time, back in the days when nights were filled with revelry and life was but a song, "grass stains" on the back of a person's clothing hinted at lawn lounging a little more vigorous than kissing. And Evans is old enough to know.
| | |
| --- | --- |
| | |
The rest of the strips on this page all sidle up to the subject of flatulence or some other alimentary activity, subjects verboten until recently.
At the top of the next page, Luann approaches another subject that was once taboo, allusion to another character's skin color—here, done with the kind of comedic class we've come to expect with Evans. On the rest of the page, no taboos are broken: these strips are here because of the verbal gyrations they perform, doubling back on themselves for the sake of a laugh. In the Frazz strip at the bottom, it would appear that Jef Mallett is needling his colleague Stephan Pastis, who makes a too frequent practice of including other comic strip characters or their cartoonists in his strip, Pearls Before Swine. At a recent mock fulmination at his blog, stephanpastis.wordpress.com, Pastis expresses outrage and threatens to sue the Keane family for using the names of his characters, Pig and Rat, in a derisive manner in Family Circus lately. And while he's thinking about how futile such a suit would be (and as a trained lawyer, he would know), Pastis posts 22 Pearls strips that use and mock Family Circus characters. Hilarious. But this month's trophy for the most cameo appearances by characters from other strips goes to Dan Thompson, who, as we see on our next page, includes six, one for every day, in a week's worth of Rip Haywire: the eponymous Blondie, Janis from Jimmy Johnson's Arlo and Janis (a too much neglected minor masterpiece), Pearl from Brian Crane's Pickles, and most of the adolescents from Jim Borgman/Jerry Scott's Zits.
No single theme unifies the topics of our next raft of examples. At the top of the page, Trudeau takes a deserved swipe at newspapers for persistently reducing the size of comic strips. When Trudeau returned from his 18-month sabbatical in the 1980s, he stipulated that newspapers that bought Doonesbury had to publish it at a specified minimum size. That dictum has, alas, gone by the wayside over the years; Trudeau told me once that he no longer sends out the "pica police" to check sizes. I like Mike Peters caricature of Donald Trump in Mother Goose and Grimm. The Object Lessons on the rest of this page and all of the next are sterling instances of single-panel cartoonery that make you think. The gag isn't immediately apparent. Or else the joke is triumphantly silly. Or, in the case of David Sipress's offering (top left, last page), a witticism of axiomatic potency. I love this kind of cartoon comedy.
It's the kind of humor that I think The New Yorker's cartoon editor, Bob Mankoff, described as "uniquely Jewish" during an interview at momentmag.com. "When you look at Jewish humor," he said, "for the most part, the jokes are layered—they build up and eventually show some sort of logical inconsistency, either in the world or ourselves. In the broader culture a majority of jokes have an aggressive component, a scatological component or a sexual component, but Jewish jokes work through understanding our shared vulnerabilities as fallible human beings. It's based on a mindset that looks at things from many different angles. ... The habits of mind acquired by studying the Talmud—discussing things seriously and quickly switching perspective—are applied to other subjects. A lot of Jewish humor deals with identity," he continued. "Jews developed an insider/outsider sensibility in the countries that they came from. If you were Polish, you were Polish-Jewish, or if you were Russian, you were both Russian and Jewish. ... Here's an example of a joke that deals with Jewish identity: A Jewish man goes to a rabbi and asks the rabbi, 'Rabbi, what should I do? I raised my boy to be a good Jewish boy and he became a Christian. What should I do?' The rabbi says, 'Funny you should ask. I'm a rabbi and I too raised my boy Jewish. My son went to yeshiva and he went and became a Christian.' The man asks the rabbi, 'What did you do?' 'I asked God,' said the rabbi. 'What did He say?' 'God said, "Funny you should ask ..."


CIVILIZATION'S LAST OUTPOST
One of a kind beats everything. —Dennis Miller adv.
I was watching CNN on Wednesday morning, July 22, as Secretary of State Hillary Rodham Clinton delivered a few choice mots about North Korea. Behind her on the screen was a logo that identified Phuket, Tailand as the place she was speaking from. Natives of the place doubtless call it "foo-kette," but it sure looked like "fuck it" to me. ... Child rights activists are outraged by a ritual in India in which babies are dropped from the roof of a mosque, their fall of maybe 50 feet ending in a bedsheet spread below like a trampoline by their parents and other believers in the ritual, which is supposed to ensure good health and prosperity for their families. If it isn't one thing, it's another. ... In Colorado, reported John Ingold of the Denver Post, social conservatives and transgender rights activists faced off about a proposed state rule that would offer legal protection to transgender persons to use the public restrooms for the gender they identify with. The rule is one of several implementing legislation adopted last year that extends nondiscrimination protections for sexual orientation to places of public accommodation like hotels and restaurants. Focus on the Family enthusiasts are worried that the rule would provide a legal loophole that sexual predators could exploit to gain access to women's restrooms. I think they're a little overwrought: seems to me that a sexual predator who wants to prowl women's restrooms for prey wouldn't be waiting around for a equal rights protection before pouncing.

BOOK MARQUEE
Previews and Proclamations of Coming Attractions
The Big News is that it's finally going to happen: we'll at last get a comprehensive, thoroughly researched reference tome on the comic strip in America. My friend and fellow comics chronicler, Allan Holtz, highly regarded among fans and historians of the medium for his well-researched and wittily written articles on comic strip history that appear in magazines and books—and at his Stripper's Guide website—has announced that his Guide to U.S. Newspaper Comic Strips and Cartoon Panels, twenty years in the making, will soon be published by University of Michigan Press. In a news release, Holtz explains: "The book is a compendium of the vital statistics about comic strip and panel series that have appeared in American newspapers. It contains information on over 7,000 unique series from 1894 to present. For each feature the title and running dates are listed, along with dates for each artist, writer and syndicate involved. Alternate titles, format and frequency are detailed, along with a list of reprint books." I've seen sample pages of the book, and it more than lives up to Holtz's description.
Unlike previous reference works on the subject, Holtz's Guide takes care not to disseminate any of the "vast amount of misinformation that has been published about newspaper strip history." Holtz studiously did not include any feature that he hasn't seen himself. "One of the reasons I started working on this book many years ago was that I got frustrated with those [other often erroneous] references," he said. "There were so many mistakes in them. It seemed like every time I looked something up there was no agreement between sources, and many times my own collection, small as it was at the time, would prove the information wrong or incomplete. The worst was when they'd write about some feature and then I'd find out that no such feature had ever actually run in newspapers."
Holtz set out to correct the errors and produce a reliable reference, to which end he spent twenty years poring over newspapers on microfilm in addition to assembling a massive personal collection of newspaper comic strips. But he calls the Guide a community effort: "I'd like to make it clear that this work is not the product of one guy. I could never have done it alone. Not only have I built my work on pioneering researchers of the past, I've been lucky to discover a community of dedicated and knowledgeable comic strip fans who selflessly gave time and effort to tracking down information on my behalf." One of those helpful minions could have been me, which would pollute my opinion about this impending colossus, but Allan never asked me for help: he had other, probably better informed, assistance.
The book includes not only mainstream features, but also local features and the products of the ethnic press. Allan writes about newspaper comics in Hogan's Alley magazine, the NBM "Forever Nuts" series of classic strip reprint books, and his blog, Stripper's Guide strippersguide.blogspot.com. Publication date and price for the Guide have not yet been established. The book is expected to be approximately 800 pages, and images of many of the features will be included on CDs or DVDs sleeved with the book. The title, in which it was long assumed Holtz's well-known "Stripper's Guide" moniker would be embedded, has tentatively been neutered in deference to the sensitivities of library and school buyers for whom "stripper" carries other connotations.
*****
The latest in The Complete Peanuts compilation from Fantagraphics is out (340 6.5x8-inch landscape pages; hardcover, $28.99), the 12th in the series, covering 1973 and 1974 strips, dailies and Sundays, all in black-and-white, in strict chronological order. This volume includes the famous sequence, June 11 - July 5, 1973, which begins when Charlie Brown wakes up one morning and sees, instead of the sun, a giant baseball. On an ensuing night, he sees a giant baseball in place of the moon. Then a scoop of ice cream in a cone has baseball lacing on it; ditto Charlie Brown's head. In desperation at this last inexplicable manifestation, he puts a sack over his head, and because summer camp begins that week, he wears the sack to camp, where he is known to other kids as "Mr. Sack." The episode is resolved when Charlie Brown no longer sees a baseball in place of the sun. What he does see will astonish and vastly you.
*****
An outfit called "The Cartoonist Group," essentially a website featuring the work of numerous editorial cartoonists, has published through Lulu.com The Cartoonist Group Inks Campaign '08 (192 8.5x8.5-inch pages, b/w; paperback, $16.95), another compilation of cartoon commentary on the late Presidential Election. This one offers samples from 16 tooners, including 8 Pulitzer winners and others not often seen on the national horizon (Lisa Benson, for instance, and Matt Wuerker and John Deering), as well as two strip cartoonists (Darrin Bell of Candorville and Berkeley Breathed of Opus). In addition to Benson, the other two nationally distributed women editoonists, Signe Wilkinson and, before she abandoned print cartooning for animation, Ann Telnaes, are represented. The cartoons are good, generally unflinching and gratifyingly caustic—funny but obviously not done solely for laughs. Most of the cartoonists are fundamentally liberal, except Lisa Benson (who is more than capable of holding her own on her own), reflecting the profile of the profession itself; but none of the cartoons seem to display herein favoritism to one side or the other: both presidential candidates, in other words, provided ample material for lambasting, McCain, perhaps, by reason of his slide into the trough of political mud-slinging and his outlandish choice of running mate, more than Obama. The book concludes with an index that gives the publication date of each cartoon, a refinement not seen in other, earlier publications of Campaign '08 cartoons.
*****
Classic Comics Press has just brought out the sixth volume in its series reprinting all of Leonard Starr's Mary Perkins On Stage, March 10, 1963 - October 11, 1964 (264 8.5x11-inch landscape-bound pages, b/w dailies and Sundays; paperback, $24.95) and the second volume in Stan Drake's Heart of Juliet Jones series, August 15, 1955 - November 30, 1957 (248 8.5x11-inch landscape-bound pages, daily only, b/w; paperback, $24.95). These two strips are half of the entire roster of comic strips superbly drawn in the realistic illustrative manner (the other two, Harold Foster's Prince Valiant and all of Alex Raymond's four strips, Flash Gordon, Jungle Jim, Secret Agent X-9, and Rip Kirby), and the reproduction in both these volumes is exquisite: fineline feathering is not matted, blotched or lost altogether, solid blacks are solid, gray tones (in Juliet Jones) and other stylistic variations (ditto) are all here, better displayed than in any of the newprint incarnations of yore. Starr is easier to capture in this regard than Drake, who deploys numerous variations in linear treatment. In his introduction to On Stage, cartoonist Batton Lash spends a suitable amount of time praising and analyzing Starr's artwork; cartoonist Howard Chaykin in his introduction to Juliet Jones stresses mostly the high quality of the stories as classy soap opera.
Clips & Quips
"The ordinary is the proper domain of the artist. The extraordinary can be safely left to journalists."—James Joyce
"If someone tells you he is going to make 'a realistic decision,' you immediately understand that he has resolved to do something bad."—Mary Mcarthy
"When a politician decides to make a living of politics, that's the day he becomes corrupt."—Jerry Springer

GRAFICITY
The third and last volume of Vittorio Giardino's No Pasaran! has been released by NBM (72 9x12-inch pages, color; paperback, $14.95) after a long hiatus since Vol. 2. Giardino helpfully provides a text summary of the events of the two preceding books as introduction. The story follows Max Friedman who goes to Spain during the infamous "Spanish Civil War" to try to find his friend Guido Treves, who has unaccountably disappeared. Max and Guido are on the side of the Republicans (ostensibly "democratic") in the conflict, opposed to Franco's Nationalists (fascist). The war is often termed a rehearsal for World War II: France, Germany, Italy and Communist Russia participated in various ways, sending money, arms, even soldiers, and new weapons and accompanying tactics were tried out—including aerial bombardment of the civilian populations of cities, most famously immortalized in Picasso's agonizingly tortured painting of the bombing of Guernica. While the clash of military forces is confined to the battlefield, the opposing parties infiltrate the civilian population, and the war spills over into streets and alleys. As Max tries to find his vanished friend, he is followed and sometimes assaulted by operatives on both sides of the struggle, although loyalties are vague, so confused is the conflict. Both sides suspect his motives, and Guido's role remains somewhat mysterious: he is a soldier in the Republican cause, but is he also a spy? And Max—what is his role? The narrative is riddled with ambiguities and unanswered questions and sinister operatives, but Max persists. In the end, he learns that Guido is dead. Kirkus Reviews observes that Giardino had "clearly read his Orwell, Dos Passos, and Koestler," and throughout his story lurks the vague menace of an environment fraught with unreliable "friends" and unpredictable "enemies," plots and counter-plots, successful and failed schemes. At one point, Max enlists the help of an attractive young women journalist, Claire Blon, who seems to fall in love with Max, but he declines to consummate the affair, saying he is "not alone." She interprets that to mean Max is married; but Max is thinking of his daughter, whose recital as a ballerina he hopes to be able to attend in Geneva. When he slips into the back of the recital hall and she notices him, the book enjoys its only undiluted happy moment.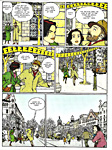 Giardino's drawings are masterful: simple linework, a bold line not much embellished with feathering or modulation, clearly delineates his story, and every character is portrayed at every appearance in a thoroughly recognizable way. Giardino paces events expertly, deploying silent sequences when appropriate and shifting his camera around for visual variety during talky episodes. In these books, we are in the hands of a skillful storyteller who is in complete command of every nuance of his medium.
*****
Alas, we cannot say the same for Mike Wolfer who visualizes Garth Ennis' gory story in Streets of Glory (150 8x10-inch pages, color; Avatar paperback, $19.99). The protagonist of this Western is a relentlessly violent gunslinger named Joseph R. Dunn, who, since the Civil War, has earned his living as a bounty hunter. Ennis' tale shows that Dunn has outlived his time, but he serves one more purpose before he wanders off to die. The opening sequence in the book introduces us to Dunn and his brand of violence as well as Wolfer's penchant for depicting in oozing, gushing grisly detail the blowing up of faces and disemboweling of bodies in a gun fight that rescues from the assault of a band of baddies young Peter Lorrimer, who has just come West to join his brother Frank, who has just been blown up by gun blasts from the baddies. Dunn takes young Peter under his wing for the journey to the little town of Gladback, where Peter goes to work in a saloon and Dunn re-acquaints himself with the woman he loved once many years ago and hopes, perhaps, to reunite with. That doesn't work out. But in the other narrative strand, Dunn successfully kills an Apache renegade whose appetite for vile manslaughter is probably unequaled in comics. Red Crow's entry into the story is heralded by the arrival in Gladback of his latest victim, a farmer who has been brutally mutilated to inaugurate his certain death. Red Crow has emasculated the man, stuffing the farmer's genitals into the man's mouth and sewing his mouth shut and then cutting off the man's fingers so he can't claw the stitches out. Wolfer depicts this unfortunate specimen in a full-page, copiously detailed portrait.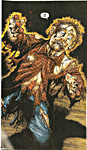 Later, before Dunn does him in, Red Crow scalps one of his pursuers by cutting off the top of the man's skull; the man miraculously survives, the top of his head —i.e., his brain open to the weather—somewhat covered by a thin sheath of skin. Although Wolfer is an unsurpassed expert at drawing the most revolting of bloody pictures of splattering gore, his skill at the ordinary obligations of a graphic storyteller is markedly less. He draws eyes too small for the faces they occupy, mouths ditto, and the noses of his principals look different in profile from their appearance in three-quarters view. Dunn's nose is sometimes hawkish; sometimes not. His beloved's nose is sometimes sharply pointed; sometimes somewhat rounded. And Wolfer's feathering usually distorts rather than clarifying the image.
*****
Drawn and Quarterly reprints a 1955 tale in pantomime by Don Freeman: Skitzy (100 7x9-inch pages, b/w; hardcover, $19.95) in which Floyd W. Skitzafroid is unhappy and keeps his wife awake nights by tossing and turning in bed. By day, however, he is either (1) painting in his studio in Greenwich Village or, simultaneously, (2) in an office uptown, where he works as an accountant. Freeman gives us a visual hint early on about the schizophrenia of his protagonist— both on the cover and early in the narrative, where he shows him splitting in half on the subway as he commutes to work.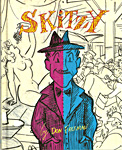 One half goes to his studio; the other, to the office. Employing a model named Susette, the artist produces a painting of a nude woman eating a cluster of grapes entitled "Grapes Susette" that he sells for $100, which he spends buying a necklace for his wife. She, in turn, presents him with a painting—"Grapes Susette," that she bought for $800! Seething at the economic injustice of it all, Floyd tosses and turns all night again—until he has the idea of opening his own gallery to sell his paintings, thereby uniting both the artistic and commercial aspects of his personality. This cautionary tale, drawn in a slap-dash, breezy manner, unfolds one "panel" (or picture) to a page, telling the story in an economical way possible only in the cartooning medium, which permits "splitting" the character's personality in both visual and narrative terms, thereby depicting different activities as if they were taking place at the same time. Freeman, who died in 1978, produced Skitzy while otherwise creating children's books, publishing the book himself; today, as D&Q demonstrates, he would have found a publisher. And now, he has. A short biography completes the volume.
*****
Jim Monroe's graphic novel, drawn by Salgood Sam (which may be Maxim Douglas backwards) takes its title, Therefore Repent!, from Revelations 2:16: "Therefore Repent! If you do not, I will come to you soon and fight against them with the sword of my mouth"—an utterance as ambiguous in meaning as the book and therefore appropriate. In this tale, a man dressed as a mummy and his girlfriend, who wears a bird's head from the shoulders up, have a dog that suddenly starts talking. They are among the survivors—those "left behind" to employ the parlance—after the Rapture (the "Big Snatch") has taken into Heaven all worthy souls, leaving us sinners behind. Not much seems to happen in the book except that the relationship between Mummy and Raven (to use their proper names) is momentarily threatened but endures. Otherwise, to quote from the book's back cover blurbs, Monroe and Sam use their time to acquaint us with what life is like after the Rapture, answering the question: "What if the Religious Right is actually right? ... For the immoral majority," the back cover continues, "life goes on pretty much as usual, except that after the Rapture, magic works—for those willing to risk demonic mutations. And an angelic army appears to have been deployed to mop up the sinners." Life may go on pretty much as usual but various vital services and supplies are no longer readily available—electricity, for example, may be scarce; ditto milk—and living conditions are therefore reduced to ghetto squalor worldwide.
Sam's art is deft—inked drawings with pencil shading for gray tones that impart a gloomy overcast to every page—but at the size it appears (on 160 6x9-inch pages, b/w; IDW paperback, $14.99), some detail is reduced too small for visual clarity.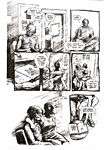 Monroe's story, through which numerous unnamed characters wander without anything to do, doesn't help: the purposeful vaguery, while ramping up the overall mysteriousness, leaves us pretty much in doubt about who these people are and why they are in the book at all. Compounding the confusion is the resident magic, cropping up here and there, again without apparent significance, deploying symbols the meaning of which, in my lifelong naivety, I've never grasped. Raven's headpiece eventually supplants her actual head, which must "mean" something, but I'm not sure what. And Monroe has taken the tradition of sexlessness among angels in Heaven to one of its logical conclusion: without two sexes, all sexual activity is bisexual. Or is it homosexual? All the survivors on Earth seem to be waiting, idling their days away hoping for a second chance at eternity, but Monroe doesn't seem hopeful about it. The book scoffs at the Rapture and those who believe in it. At the end of the narrative, during what may be an astral dialogue between Mummy and Raven, we learn that all those who were "Raptured up" are dead: all along, they foolishly thought there'd be oxygen in Heaven.
At his website, nomediakings.org/BE.htm, Monroe explains that Therefore Repent! has no particular relation to the Left Behind series of novels, which he hasn't read, but from what he understands, they are "sincere bible fan-fiction, careful not to violate the canon." Monroe's book, on the other hand, is "closer to Bible slashfic, what with the bisexual angels and nipple-clamp-enhanced demonic communion. I like to think I'm re-imagining the Bible franchise, like Frank Miller did for Batman." Nicely conceptualized. I went to the site prompted by a note on the last page in the book, urging me to go there to find a "bonus prequel." I thought if I knew more about Mummy and Raven, it would clarify some of the inexplicability of the graphic novel. But the links don't work. For Mummy and Raven's origin, I suppose I must consult Monroe's prose novel, An Opening Act of Unspeakable Evil, about five bucks from AbeBooks through AddAll.com. I'm a sucker for this kind of thing: I ordered the book. Without segue, you should visit Monroe's site, which brims with tantalizing squibs about his sundry activities. He says you can download the first portion of Therefore Repent! free, but I didn't attempt it. I have an extra copy of the whole book, which you can obtain for a mere $7 including p&h; just scroll down to the end and send me an e-mail so I can tell you what to do next.

ABE MARTIN SEZ:
I implied, haphazardly, back in Opus 162 that we'd see more of Indiana's Brown County rustic philosopher Abe Martin in future, and then I neglected the heck out of that implication. Let me try to make amends herewith by quoting from a collection entitled Short Furrows; following samples of Abe's wit and wisdom are pictures of creatpr Kin Hubbard's epigrammatic ruritarian rendered in the cartoonist's homespun turn-of-the-century (1899-1900) style. And if you want to know about Hubbard and Abe, re-visit Op. 162. Otherwise, here we go:
Nobuddy ever listened t' reason on an empty stomach.
It pays t' be honest, but it don't pay enough t' suit some fellers.
Ther hain't nothin' as annoyin' t' sensible folks as continuous applause.
Most anybuddy'll take an umbreller 'cause they've had two er three stolen 'emselves.
It hain't been so long since a feller used t' say, 'Why, I'd no more think o' doin' that than I'd think o' flyin'.
Nobuddy has a worse time at a party than th' feller with a pop'lar wife.
Some fellers hain't ashamed t' go into a saloon, but they hate t' come out.;
Between th' feller that's waitin' fer somethin' t' turn up an' th' feller that's lookin' fer somethin' that jist suits him there's gittin' t' be too many innocent bystanders in this country.
Th' hardest thing a woman does is mail a package at merchandise rates without hidin' a letter in it.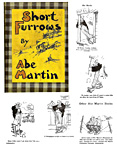 ONWARD, THE SPREADING PUNDITRY
The Thing of It Is ...
(Feetnit First: The following essay, everything between here and the Further Footnit, was written before Colin Powell appeared in "Larry King Live" on Tuesday, July 28,
saying that Gates should have just sucked it up:
"You don't argue with a police officer.")
Turns out that Barack O'Bama, who may not have been in possession of all the facts at the time of his pronouncement about the July 16 arrest of his friend, Harvard professor Henry Louis "Skip" Gates, Jr., was more right than wrong when he said the Cambridge police behaved "stupidly." But Gates is not blameless either. I have a passing personal acquaintance with Gates: once, 10-15 years ago, we stood together on the deck outside Drunken Jack's, a waterfront restaurant in South Carolina's Murrells Inlet (probably not far from Mickey Spillane's hideout), where we discussed how much popcorn we should toss down into the water below to feed the fish. Because of this passing acquaintance, I've followed Gates' career with more than casual interest, and I've tried to read some of his books (they bristle with heady multi-syllable verbiage and other intellectual complexities, including long sentences that suspend their predication almost indefinitely). I admire Skip, and I rejoice in his various successes. But he wasn't without blame in this now notorious racial incident.
Here, pieced together from several reports—including that of USA Today and a columnist for the DailyBeast named, simply, Toure, who did the best early summary I saw of the event—is what seems to have happened. Gates, an African American and a distinguished and much honored scholar of African American literature and studies, was returning from a trip to China where he is shooting a new PBS documentary, and when he tried to enter his house in an upscale Cambridge neighborhood, he encountered a door that was stuck, so he and his driver had to force the door open. According to early reports on the matter, a neighbor, witnessing two black men with backpacks attacking the door of the house, phoned the police to report what she thought was a break-in in progress. Initially upon learning this, I wondered about the perceptions of the neighbor: all this transpired around noon—in broad daylight, in other words—so if the woman was all that attentive to the affairs of her neighbors, why didn't she recognize Gates? Is it because she is white and to her all black men look alike—like criminals, mugging citizens on the streets and/or breaking into their houses?
I should have known better: cable news tv and their baying print brethren, eager to have a sensation for the day, rushed the story into the airways and onto newsprint, but in the rush, they got the initiating incident wrong. Later, a recording of the 911 phone call was made public, and it revealed that the tipster did not say the men were black. In fact, she referred to them as "two gentlemen" without alluding to race. The officer at the other end of the line, however, asked if the two were white, black or what, and she said she thought they might be Hispanic. Oddly, she herself was "olive-skinned," of Portuguese descent. And she isn't actually a neighbor: she is a fundraiser for Harvard Magazine and works near Gates' home. So much for the value and accuracy of instant reactions, mine included. In any case, the episode did not begin as an instance of racism despite all the news media could do to turn it into one.
Police sergeant James Crowley, who is white—tall, clean-cut, reserved in demeanor, painfully proper and overwhelmingly courteous as most good cops are these days—was dispatched to investigate the incident, and by the time he arrived, Gates was inside his house. Crowley presumably knocked on the door, and Gates answered. Here's what Crowley saw: a short (5-foot-7) 150-pound 58-year-old light-colored African American in a polo shirt who walked with a cane and a pronounced limp (accounting for the jocular nickname his friends bestowed upon him in his youth, "Skip"). Not a particularly threatening personage. Not in broad daylight. Crowley, acting in accordance with approved police procedures, asked Gates to step outside because he was investigating a possible burglary. (If a cop in those circumstances were to enter the premises, he might be ambushed by the burglar's accomplices.) Gates declined.
At this point, Gates made his mistake: with the arrogance that comes with eminence, he became belligerent. Initially, in the heat of the moment, he refused to show Crowley any identification. Doubtless he, like most African Americans, had experienced—or at the very least had heard about—the typical crime for which African American drivers are frequently stopped: "driving while black." Certainly Gates knows that racial profiling accounts for much of the interaction between black Americans and the police, who are notorious for accosting blacks whose only crime is being in a white neighborhood where they don't live. Even in the "progressive" enclave of Cambridge. According to USA Today, the NAACP said "there have been several instances on Harvard University's campus in which black students and professors have been stopped or questioned by police unfairly." Perhaps Gates had resolved that if that ever happened to him, he wasn't going to "go quietly." Whatever the reason, he wasn't quiet. Maybe his patience was thinner than usual because he was worn out from the plane ride from the other side of the world. Whatever the cause, he accused Crowley of being racist, of "investigating" him simply because he was black—ironically, it can be argued, committing racial profiling in reverse by assuming that a cop, because he is white, is racial profiling him because he is black. Later, Gates said he was "astonished that this was happening" to him: at the pinnacle of his profession, respected and honored, he was being treated like a common criminal.
David Harris, a law professor at the University of Pittsburgh and author of Profiles in Injustice: Why Racial Profiling Cannot Work, called the incident "a universal part of black American experience ... Nothing protects you from it. You can achieve the American dream in every facet of your life and it can still happen to you." It happened to Gates.
According to his report filed after the incident, Crowley said Gates soon provided him with a Harvard University identification card, which led the cop to believe that Gates was in his own home and not a burglar. At about this moment in the encounter, the irate Gates asked Crowley for his name and badge number. But Crowley, instead of complying, turned to leave, and Gates followed him out onto the porch of his house, still berating the policeman for being racist and saying the cop had no idea who he was "messing with" and that Crowley had not heard the last of it. It was at this point that Crowley made his mistake: out of frustration at having his authority flouted, he escalated the emotional content of the encounter by warning Gates, telling him that he was "becoming disorderly."
Provoked, Gates continued his diatribe, whereupon Crowley, who by this time had been joined by several other policemen, all responding to the telephoned tip about a possible break-in, told Gates he was under arrest for "disorderly conduct and loud and tumultuous behavior" and another officer slapped handcuffs on the short, fuming professor. Crowley, who for five years taught a class at the local police academy about racial profiling and how to avoid it, presumably knew better. Presumably he knew that when police accost black "suspects," sometimes the "suspect" gets angry. (Sometimes they don't: as Obama said in his book, The Audacity of Hope, African Americans know "the bitter swill of swallowed-back anger.") Presumably, Crowley's professional training had warned him that responding in kind only makes matters worse. If he didn't know that, he should have. And because he is presumably an expert in the issues surrounding racial profiling, Crowley is more to blame than Gates for the unhappy outcome that ensued. Gates is merely a citizen, behaving in the way an innocent person might be expected to behave. Crowley is the trained professional. And this time, the trained professional didn't act upon his training. Instead, he behaved, as Obama said, "stupidly." He acted in a way almost diametrically opposed to his training.
Another instance of racism in America? Of course. If Gates had been white, the cop would probably have behaved differently, and if Gates hadn't been a highly educated black man, he might not have had the chutzpah to lash out angrily at a white cop questioning him, jumping too quickly to the conclusion that the cop was racial profiling.
Said Gates in an interview with the Washington Post several days later: "There are one million black men in jail in this country, and last Thursday I was one of them." He was in the tank for four hours before being released. "This is outrageous," Gates continued. "This is how poor black men across the country are treated every day in the criminal justice system. It's one thing to write about it [as Gates has done]; but altogether another to experience it."
The charges against Gates were soon dropped. With the "audacity of hops," the Prez invited both parties to the White House to have a beer and bury their hatchets in a bag of pretzels. Gates said he doesn't drink beer, but he'd come anyhow. But he also vowed to pursue the issue of racial profiling: "I want to do what I can so that every police officer will think twice before engaging in this kind of behavior."
Good luck. USA Today's editorial on the matter wasn't hopeful: "No doubt, race relations in America have come a long way in recent years. An African American has made it to the White House. But if an accomplished black professor at Harvard can still be mistaken for a burglar by a neighbor on his own street and arrested standing hear his own front door, it suggests the nation still has a ways to go." As I said, being black wasn't an ingredient in the "neighbor's" decision to report a possible break-in—and no one can tell by looking at someone whether that person is a Harvard professor—but the rest of the scenario shows we "still have a ways to go."
Further Footnit: Turns out the Professor does drink an occasional beer: his preference, Red Stripe (wouldn't you know? —a lager from Jamaica). Obama prefers Bud Light (which, as one wag observed, isn't beer: it's swill), and Crowley, Blue Moon (a product of the Coors brewery, which recommends drinking it with a slice of orange, to which the wag posited: "Unless you're fighting scurvy, citrus should not be in a beer"). This much anticipated and endlessly commented upon by pundits of every stripe Event took place Thursday evening, July 30, with Gates, Crowley, Obama and Joe Biden (the latter, both in shirt sleeves; the other two in formal business attire, coats and ties, evidence that they had not fully grasped the Joe Sixpack informality implied by an invitation to knock back a couple of beers with the Prez) seated around a table on the patio of the Rose Garden at the White House. Everyone made nice. Biden reportedly ate all the pretzels. Crowley and Gates had bumped into each other earlier in the day while touring the White House with their families. Gates said he'd rescued the moment from a paralyzing embarrassment by stepping up to Crowley and extending his hand, saying, "It's a pleasure to meet you." They finished the tour together, cordiality prevailing. After their "beer summit," Obama pronounced himself pleased, saying, "I've always believed that what brings us together is stronger than what pulls us apart." Crowley and Gates still disagree on what transpired that Thursday on Gates' porch, but they have agreed to meet for lunch in the future and discuss the issues of racial profiling. In a press conference after their meeting, Crowley on camera proved himself an adept public official, answering every question but diplomatically steering clear of potentially inflammatory topics: he was everything you hope for in a cop—clean-shaven, hair closely cropped, handsome, standing tall, a Marine in bearing, radiating military courtesy in demeanor. It's nearly impossible to believe that such a man could lose his cool long enough to handcuff a short old black man—which suggests just how tumultuous Gates must've been. Gates held no formal press conference, but got off the most quotable comment: he observed that he and Crowley "hit it off" from the start, adding: "When he's not arresting you, Sgt. Crowley is a really likeable guy." At the beer stube, Gates made a last-minute switch from Red Stripe to Sam Adams Light, in deference, we suppose, to Massachusetts sensibilities.
Post Script: Reporting on the beer fest, Ben Feller of the Associated Press noted the political cost to Obama of his "stupid" comment on the porch confrontation: "The two-week episode has stolen attention from his agenda and has drawn negative public reviews on how he handled the matter." And who was it, pray tell, who "stole" the attention from Obama's agenda by focusing for two weeks on the episode? Our ever vigilante news media, that's who: newshounds and gas bags chose to lavish hours of cable tv time on the alleged "issue," inspiring lapdog newspapers to do the same or be left behind in the perpetual race for readers/viewers. The issue exists, but I'm not sure that the kind of stampede mentality that governed coverage of this instance of it did us much good as a nation trying to resolve its racist attitudes. If Obama's premature comment ratcheted up the excitement of the moment, as he acknowledged, the news media aided and abetted the ratcheting at every opportunity, and created most of the opportunities. Scarcely an example of responsible journalism. While the news media devoted hours to this relatively trivial (because so typical) matter, protestors in Iran were getting their heads bashed without much notice, and the complexities of the health care legislation went wholly unexamined and unexplained. The fate of nations was ignored in order to dwell voraciously on a comparatively minor matter.
Pest Script: Alas, it's not going away. The fate of nations can blunder on, unreported, but the Gates-Crowley affair must, perforce—like Michael Jackson—go on forever. Perhaps this is the national conversation on race that Attorney General Eric Holder wants us to have; if so, I hope we eventually get it out of the venue of political pundits. Reports about Gates and Crowley continue to seep into the news cycle. The latest manifestation: Gates sent flowers and a note to the woman who called 911, a "gesture of gratitude," the woman's lawyer called it. Pundits continue to go forth, each obeying the irresistible impulse to say something on this "current event." (Me included, I blush to admit.) Ed Quillen, a retired newspaperman who does a weekly column at the Denver Post, opined that Gates made the biggest mistake: "No matter what color you are, it is not wise to mouth off to cops. They are intensively trained to 'control the situation.' Anything that threatens their control, including your attitude inside your home, is deemed a threat." But "controlling the situation" also implies recognizing whether a "situation" needing control actually exists. In my view, Crowley could have adequately controlled this situation by leaving the premises. And CNN's news maven Wolf Blitzer quizzed Bill Maher for almost 30 minutes on "The Situation Room" Saturday, August 1, extracting the comedian's political wisdom on such matters as Obama's "stupidly" remark and whether Gates or Crowley was the greater sinner. Maher opted for Crowley because the cop apparently arrested Gates because the little old man was "threatening." C'mon, said Maher, Gates was going to attack the neighborhood with his cane? "By 'threatening,' of course," he went on, "Crowley meant Gates was an educated black man." Maher was also asked to explain or defend his comment the previous evening on his HBO show that America was a "stupid country." Maher said he didn't have enough time to list the evidence that would prove him right. So it's come to this: in America, we consult Bill Maher and Jon Steward, two comedians, for political guidance.
We also learned before the week was out learn that Michael Jackson's physician, to whom the Princeling of Pop paid $150,000 a month for his services, was seriously in debt ($780,000) when he took the job—the kind of financial predicament that might prompt him to be eager to reciprocate with drug prescriptions he would otherwise be hesitant to concoct. But we still don't know much about the intricacies of the health care bill that, finally, emerged from committee in the House. It's too complicated to explain, of course. And it's easier, from a journalist's perspective, to report on the "horse race"—whether the legislation will finally pass or not—than to examine the horse flesh itself. Responsible journalism? Not in these parts.
*****
The Denver Post's David Harsanyi quoted sf writer Damon Knight, who "once claimed that the popularity of conspiracy theories could be explained by our 'desire to believe that there is some group of folks [somewhere] who know what they're doing.'"
To find out about Harv's books, click here.