Opus 237 (January 30, 2009). We critique Frank Miller's "The Spirit" somewhat extensively, pausing at intervals to compare it to Will Eisner's Spirit and to the current incarnation being perpetrated by Sergio Aragones and Mark Evanier, with able assists from a raft of artists, and we review six first issue comic books. Our "Newspaper Comics Page Vigil" returns with revealing inside information about Dennis the Menace and 9 Chickweed Lane, and we continue taking the pulse of the U.S. newspaper industry. We overhear Hugh Hefner talking about his teenage cartooning career and how it led, inexorably, to founding a magazine with barenekidwimmin in it, and we say goodbye to John Updike, who talks about his cartooning career, and George W. ("Whopper") Bush, plus our usual summary news in comics and cartooning. Here's what's here, by department, in order:
NOUS R US: Watchmen movie on track again, Gaimen wins Newbery, Tintin filmming begins, Obama in funnybooks, S. Clay Wilson still recovering, Popeye 80, Aaron McGruder making outrageous remarks again, the uncertain state of the comic book biz, Diamond hikes threshhold, more newspapers drop comics pages
EDITOONERY: caricaturing Obama, and what editoonists will miss about GeeDubya
FROTH ESTATE: more newspapers in financial trouble
FUNNYBOOK FAN FARE: reviews of Spider-Man Noir, X-Men Noir, The Greatest American Hero, Mister X, Jungle Girl: Season 2, Sir Apropos of Nothing
FRANK MILLER'S SPIRIT: critiqued and compared to Eisner's and Evanier/Aragones'
Also reviewed: Dark Knight and Iron Man
NEWSPAPER COMICS PAGE VIGIL: Black kid in Dennis the Menace, 9 Chickweed Lane misses deadline and goes into (sob) reruns with a unique letter from McEldowney
ONLY PASSIN' THROUGH: John Updike and Claude Moliterni die
BACK AT THE RAUNCH: Playboy's getting smaller, Hef talks about his cartooning career, Adam Hughes gets a barenekidwoman in the magazine
ONWARD, THE SPREADING PUNDITRY: Goodbye and good riddance to GeeDubya from four editoonists and moi
And our customary reminder: don't forget to activate the "Bathroom Button" by clicking on the "print friendly version" so you can print off a copy of just this installment for reading later, at your leisure while enthroned. Without further adieu, then, here we go—
NOUS R US
All the News That Gives Us Fits
Warner Bros. and Fox have kissed and made up, say Michael Fleming and Dave McNary at variety.com. The two studios have settled their battle over "Watchmen," leaving WB some "face-saving points" but giving Fox the equivalent of "a movie star's gross participation." And WB gets to open the movie on March 6 as planned, without Fox's logo will not be on the screen. ... Those two strange names that showed up in the space between the panels in Dick Tracy last month? Rubin and Whigham? They disappeared after January 3's release. Were they just subbing for Dick Locher for a week or so? Or what? ... Neil Gaiman, erstwhile comic book scribe cum novelist, best known in this vicinity for his Sandman comic book series, won the Newbery Medal for his young adult volume, The Graveyard Book, which, patterned after Kipling's Jungle Book, is an illustrated collection of stories about a boy growing up in a graveyard and raised by supernatural creatures. ... Hollywood trades, we learn from various online sources, are reporting that Steven Spielberg has begun principal photography on the Tintin movie, "The Adventures of Tintin: The Secret of the Unicorn." According to report, Jamie Bell (Billy Elliot) is starring as the intrepid, globe-trotting reporter with the funny quiff hairdo, and Andy Serkis will play Captain Haddocks, while Simon Pegg and Nick Frost will portray the hapless detectives Thompson and Thomson. And some new characters have been added to the Herge canon: an American Interpol agent, and those staples of newspaper movies, a rival reporter and a bellowing editor. ... Mike Luckovich made it into The New Yorker again with a half-page cartoon: it showed a mildly disgruntled GeeDubya leaving the capital under a huge poster of Martin Luther King, Jr. bearing the headline: "Free at last, free at last." I'm not sure what to make of it. GeeDubya looks somewhat peeved, as I said, but why? Because he's leaving? Because he's now free? Because his suitcase is too heavy?
OBAMAMANIA
In a special issue of Amazing Spider-Man, No. 583, the webslinger attends the recent inauguration ceremonies in Washington and sees two limousines crash into each other, and two Obamas come out of the wreckage. One, obviously, is the fake and probably up to no good. To determine which is which, Spider-Man introduces a basketball, which the real Obama can handle better than the fake. Spider-Man is thanked with a fist-bump from the new Prez.
This special issue sold out before comic book stores got them on the shelves, said Kate Springer at kpth.com/Global. Marvel has ordered up repeated reprintings and is now up to the fifth. On the Internet, first printings are going for Big Bucks. Its Obamamania in comics induced, at least partially, by President Obama's reported affection for the wall-crawler. If he still has time to read comic books after saving the known world, Obama will find himself in several titles: as Newsarama has reported, he's slated to make an appearance in Youngblood No. 8; a reprinting of IDW Publishing's biographical Presidential Material: Barack Obama, due in stores on February 4th; and the fourth printing of Erik Larsen's Savage Dragon No. 137, due on February 25. He was also on the cover of Mad magazine (soon to be a quarterly rather than a monthly—more bad joss). And he bears a remarkable resemblance to a certain United States President who's currently appearing (and is the target of a super-human assassination attempt) in Marvel's Thunderbolts.
Does all this presidential presence in the four-color universe mean that comic books lean left? Writing at the Christian Science Monitor's "Chapter and Verse" blog, Marjorie Kehe wonders whether comic books have slipped into partisan politics. Presidents have appeared in comics before but usually as "shadowy figures," tucked away in the distant corners of a story—not in the forefront exchanging fist-bumps with some guy in colorful spandex. Marvel Comics editor-in-chief Joe Quesada insists that he and his artists and writers "do our best to be completely
non-partisan and treat presidents with respect." Maybe these days, but in late 2001, a Marvel storyline portrayed GeeDubya as "a slobbering belching incoherent drunk, gleefully itching to launch nuclear missiles." In the same issue of The Punisher, the merciless title character makesa threat on Bush's life—and this, only weeks after September 11th. Then again, at his blog on American Prospect, Adam Serwer cites another storyline lately in which Obama appears to side with the Green Goblin, "Spider-Man's greatest foe." Concludes Serwer: "While the politics of comic books are often interesting, they're also often very incoherent, and hard to interpret as nakedly partisan."
Something called the Reliable Source tells us that caricatures of the Obamas have been added to the wall mural of comic characters and political notables at the Palm restaurant in downtown Washington—next to the one of George WMD Bush, who never actually dined there, the first president in the restaurant's 37 years who did not. The Washington Palm is a part of a chain of Palms that began with a speakeasy in New York. Located just around the corner from King Features offices, the Palm became a hangout for thirsty King cartoonists, and other tooners, like moths to a flame, soon joined in the conviviality. After a few drinks, goes the legend, some cartoonists felt moved to endorse the place by anointing its walls with pictures of their characters. The original Palm doesn't have many caricatures of political personages: that comedy is reserved for the Washington branch. There are other Palms in Dallas, Los Angeles, and San Diego—to name those I've been able to visit.
FOLLOWING UP
S. Clay Wilson, creator of the Checkered Demon and assorted sordid bikers, who suffered head injuries when he fell down drunk a few weeks ago, is doing better after his fall several weeks ago. Steve Duin at the Oregonian reports that Wilson spent two-and-a-half weeks in the ICU at San Francisco General and is now in a rehab facility. He's regained most of his verbal skills, according to his longtime partner and friend, Lorraine Chamberlain, but is still struggling with short-term memory and tricks of the imagination. "He can be a little delusional," Chamberlain said. "This morning, he thought the feds were interviewing him when it was just a doctor. If he has an intense dream, he wakes up and that's his delusion. He can't grasp the difference between reality and his dream life, which has always been really vivid." He still has depth-perception issues, but he is drawing like crazy. "He's done a lot of color work," said Chamberlain, an artist in her own right. "A whole passel of hillbillies. He's working on a pirate right now. His artwork is fabulous, and that's under such bizarre circumstances. I'm hoping that later down the road, someone will hold an art auction as another benefit." Chamberlain isn't convinced that Wilson understands that his drinking days are over: "He's frustrated right now. He just wants to go home and watch a movie in bed and draw in his studio. He wants to get on the subway and go down to the library. He wants to go to a bar. And the first time he did would be horrible."
In recent years, Wilson only drank two or three times a month, Chamberlain said, but "one drink quickly turned into a million. He wouldn't know when to stop. He never did in the first place. And he can't have any drinks. The doctors have said that if he ever drinks again, because he had that massive brain hemorrhage, it would be like pouring acid on a wound. I tell him now, 'There is no beer in your future. It's all in your past. It's someone else's turn to drink. You've had your turn.'" Chamberlain is trying to find another transitional unit in which Wilson can get additional therapy before coming home, sometime in early spring. Doctors are cautious: "They hate to make predictions," Chamberlain said. "It's not like he was easy to live with in the first place. He's real stubborn. He can be willful and disobedient. I don't want to take on the role of Nurse Rachet—although the costume might be nice."
I've seen Wilson in the flesh only twice. Once was at the Chicago ComiCon years ago when it still met at the Ramada Inn on a backroad near the airport. Artists Alley that year was overflowing, so a bunch of us were consigned to a subterranean room below the hotel lobby, far away from any discernible traffic pattern. Wilson was there, and I sat between Harvey Pekar and Grass Green. Numerous of the other occupants had history in underground comix, so the joke was that this branch of Artists Alley, down in the hotel basement, was the "underground Artists Alley." Wilson set up just inside the entrance, and I was at the far end, so we had no occasion to exchange thoughts or erasers or any of that. Most of the crowd stopped at Wilson's spot, creating a bottle-neck for getting into or out of the room. Their conversation, from my distant observation point, seemed both loud and animated. Wilson laughed a lot. I remember the last day, late Sunday afternoon as we were all packing up to leave. In order that we'd all have a place to post our wares, the Con management had provided a giant (well, human-sized) cardboard backdrop behind the tables. As everyone else was stowing away their gear, Wilson, who'd either sold everything or had already packed up, was drawing on the cardboard. A tall, dark-haired and goatee'd personage with his sport shirt open and not tucked in, his back was toward the room and he seemed wholly engrossed in creating what would be the collector's item of the Con. Dunno, though, what happened to it.
The other time I saw him in the flesh was at the Sandy Eggo Con a few years ago. He was making a presentation in one of the meeting rooms—the occasion was the publication of a collection of his drawings, The Art of S. Clay Wilson. He wore a broad-brimmed straw hat and dark glasses and his goatee was now snow white. He made a dignified but noticeable appearance; he could have been Hunter Thompson, dressed to the tens. Or eights. He spent the hour answering questions, each of which sent him off on a ramble through his past or on a tirade about some grievance, personal or societal. Memorable.
Friends and fans of Wilson staged two benefits to help raise money for the cartoonist's medical expenses. Donations to that effort continue to pour into their postal address (P.O. Box 14854, San Francisco, CA 94114).


*****
I forgot to mention last time, when observing that Popeye is now in the public domain in England, that the squinty-eyed sailor celebrated his 80th birthday on January 17, 1929, the date that Castor Oyl, the pint-sized protagonist in E.C. Segar's strip Thimble Theatre, hired Popeye to take him to Dice Island, an offshore gambling hell. Various aspects and implications of Popeye's origins are commemorated in Harv's Hindsight for March 2004, here. Since Popeye's debut, according to O'Ryan Johnson at the Boston Herald, the spinach-swilling roustabout has spawned 234 theatrical short films, starting with those produced in 1933 by the Fleischer Brothers. It was probably the Fleischer cartoons that made Popeye famous: judging from Bill Blackbeard's experience—he had a hard time finding newspapers that ran the first years of the strip—Segar's comic strip wasn't going gangbusters until the Fleischer films made him popular. Until then, spinach never made an appearance in the comic strip. Later, there were more than 500 television episodes, many of which have been dubbed in French, Italian, Japanese and dozens of other languages. In Italy, he's called "Baraccio di Ferro"—arms of steel. A celebration is planned for later this year in Chester, Ill, Segar's home town, where a statue of Popeye stands in the park, gazing down on the Mississippi River and longing, we assume, for saltier horizons.
Kate Culin at PW Comics Week says that Graphix, the Scholastic division that does comics and graphic novels for children, has released the ninth and final color volume of Jeff
Smith's phenomenal epic fantasy adventure series Bone. But this last volume, Crown of Horns, is not likely to be the last Bone we'll have to pick from Graphix: "The publisher will re-release Rose, a prequel about Grandma, a prominent character in the series, in the same color format as the earlier volumes. Smith is also interested in re-publishing Campfire Tales, which includes stories not in the regular series."
E&P reports that Michael Cavna at Comic Riffs, his blog at Washingtonpost.com, wonders about"legacy" comics—those that are no longer done by their original creators, in most cases because said creators are deceased. Do such strips deserve to live on? "The living cartoonist's lament is a common refrain. And the choir of complaint naturally tends to come from living-and-breathing cartoonists who have more than a little stake in whether 'corpse comics' themselves ever die (there's only so much space on the tightly packed ice floe)," Cavna writes. "It's a double-sided debate, if not a double-edged problem," Cavna points out. "Such strips as Blondie and Dennis the Menace are still carried by thousands of newspapers, in theory continuing to bring millions of readers to the ink-and-newsprint paper. But are these strips creatively lively enough that they foster new, younger audiences? (In particular, Dennis often is cited as a 'gateway comic' that is accessible to younger kids.)" The site has launched its Official "Zombie Comics" Chart, which registers what Cavna considers "the creative lifeblood of various 'corpse comics' in the Post for a particular week." I looked for this gem at the site and couldn't find it; nothing new in that—I often can't find certain things even with both hands. But maybe it's still a-borning. 'Toon in later.
"Waltz with Bashir" is called an "animated documentary" about the 1982 blood-letting in Lebanon when Israel invaded, the assassination of the Christian Phalangist President Bashir Gemayel, and the subsequent massacres of Palestinians in the Sabra and Shatila refugee camps. The film is up for an Oscar as best foreign language film; oddly, it was entered into the competition by Israel. I haven't seen it, and may not. The animation, judging from only a couple pictures reproduced with a review in the Denver Post, runs a gamut of techniques, some of which, like those being used in tv commercials lately, are all color and no line, obviously "doctored" versions of film of real people. The reviewer, Lisa Kennedy, was moved by what she saw, but I wonder about the genre here. "Animated documentary." Animation is always, one way or another, a hand-wrought version of a reality, and as such, it can re-shape that reality to suit the "animator's" vision. A documentary, on the other hand, takes its place in the pantheon of film making as reportage, filming actual happenings, usually as they happen. This is the stark truth of reality; animation is the re-making of reality. Offhand—again, without having seen the product—it seems to me the terms are mutually exclusive. Or else the documentary part will be subsumed by the animated part. I realize that even raw "documentary" is subject to the film maker's interpretive manipulation of what he has filmed. But still, it's not all fiction, not all hand-made. Take a look, though, and tell me what you think.
*****
Back with the Boonies. Cartoonist Aaron McGruder, who in bygone times entertained us multitudes with outrageous utterances in his comic strip, The Boondocks, is back in the outrageous utterance game, from which he has been regrettably absent since abandoning his bully pulpit, the daily comic strip, in favor of an animated version that doesn't have the strategic advantage of providing a platform upon which McGruder can leap at a moment's notice and be heard a few days hence. Nowadays, it takes weeks—even months—for one of McGruder's pronouncements to reach an audience (and even then, the audience is likely to be much smaller than of yore—just the tv viewers who stay up late enough to view Cartoon Network's late-night Swim features).
The outrageous utterance: McGruder, who gave a talk to about 700 listeners at Earlham College on Martin Luther King Jr. Day, reportedly, according to Editor & Publisher, said that Barack Obama is not black because he is not a descendant of a slave. "The person who is one of us in the White House is Michelle Obama and her momma," McGruder is supposed to have said. Well, yes. Sort of.
McGruder's remark was reported by the Richmond Palladium-Item, and in the incendiary aftermath, the cartoonist claimed he was badly misquoted. Or at the very least, that his intentions were thoroughly misrepresented. In a statement subsequently issued to the so-called news media, McGruder said he was commenting on the "endless stream of Black pundits on TV pontificating about the significance of President Obama's election—many of them making reference to the 3/5th's clause in the Constitution regarding slaves. The point I was making," McGruder continued, "is that this is not an accurate comparison."
In a letter to E&P, McGruder elaborated: "Barack is the son of an immigrant, not the descendant of slaves. It's like comparing a half-Japanese man to the oppressed Chinese who built the American railroads. Yes, they are both Asian, but it is not an honest or accurate comparison. We all [African Americans] share the common experiences of being Black in America today—we do not all share a common history. A history that in part makes us who we are—and in some cases (as with the psychological damage that still lingers from slavery) holds us back. These are not, I believe, insignificant distinctions."
McGruder's statement was sent off to various blogs, including Michael Cavna's ComicRiffs. Referring to his Question & Answer presentation at Earlham, McGruder told Cavna: "It was a simple conversation about the differences between race, ethnicity, nationality, and trying to draw distinctions that most of the media and public seemed to be casually ignoring— that somehow became me calling someone who is obviously black not black—and there's very little I can do about it." He continued: "Sadly, it no longer matters how carefully you choose your words: [you're quoted as having said] what the dumbest person in the audience said you said. I've certainly had my share of criticism for the 'legit' media," he went on, "in fact, I largely stopped doing press because I hate being misquoted or misinterpreted by journalists. But this new kind of 'gutter news' from websites ... [is] going to make it extremely difficult to engage in any sort of intelligent discourse. The only way to avoid this kind of thing would literally be to stop talking," the cartoonist finished, "—something I may have to consider." And then, in what Cavna calls "an insult-to-injury kicker," McGruder noted that the Palladium-Item article says he was clad in a "Boondocks" shirt. Said McGruder: "I wasn't even wearing a 'Boondocks' T-shirt."
THE CONTINUING CATASTROPHE
While the rest of the business world reels its way into a recession, business at comic book stores may be doing just fine—revenues down just a trifle but nothing catastrophic—or not, depending upon who you read. Writing in the Comics Buyer's Guide for March (No. 1651), Denver retailer Chuck Rozanski of Mile High Comics fame says "our sales dropped a gut-wrenching 30% during the second half of October 2008." But this "sudden sales decline only affected our online sales," he goes on. "Our retail stores continued to show strong sales increases during October and November." One of the reasons for this supposed success is that Rozanski cut prices, "going to far as to sell some comics on the website for only 38 cents each." So is his business over-all good or bad? Doesn't say. At the Los Angeles Times, Tiffany Hsu reported on January 26, 2009 that "comic book sales were down for most of 2008, even at behemoth publisher Marvel Entertainment. And many small comic stores are closing. ... Even after a year stuffed with blockbuster films based on comic books, growth in all sectors is stalling. There are no statistics available for comic books sold to customers, but the number sold to merchants is dropping." In reaction, some smaller publishers are cutting back on the number of titles they produce and laying off staff. Hsu quotes Jonah Weiland, executive producer of the website Comic Book Resources: "I wouldn't say comics are recession-proof [because they're an escapist entertainment, which usually fares better in bad economic times], but everyone is preparing for a slump." So is business over-all good or bad out there on the left coast? Doesn't say, exactly. It depends on who you consult.
As recently as the end of December in Opus 235, I quoted a mid-December report from ICv2 that was quite sanguine about the state of the comics biz. Yes, a little slow-down, but not much. Mostly, everything's just fine, thank you. Well, maybe; maybe not. The pulse of a nation's economy beats fast or slow depending to a large extent on how buyers and sellers in the stock and other marketplaces view the future of their investments. If they feel good about the future, the pulse quickens and everyone's financial circumstance is cheery; if they feel bad, ,nobody gets to go to the bank much and the economy tanks. Some economists are therefore reluctant to sound too many death knells because such pronouncements have a way of becoming self-fulfilling prophecies. Understandably, then, ICv2, a comics news and information website which has been operated since 2001 by Milton Griepp, once CEO of Capital City Distribution, is likely to put the best face on events transpiring on all sides around it. I don't think, therefore, that I impugn Griepp's integrity at all when I say that he, deriving a livelihood from the comics industry, doesn't want to say something dire that will precipitate a decline in that industry's fortunes.
But there's no denying that the present economic calamity, as insidious as an incoming tide, is beginning to lick at the fiscal foundation of the comic book biz, witness Diamond's latest announcement. Diamond, the giant distribution arm of the industry, experienced last year a slight diminution of sales, and to guard against any further erosion of its bottom line, it has begun to tighten its financial belt, which is certain to impact publishers—particularly small publishers. With the publication in late February of No. 246, the March issue, of Diamond's monthly catalog, Previews, new rules will go into effect, resulting, probably, in a thinner issue of the catalog because fewer titles are likely to be offered. That's because Diamond is raising what it calls its "Purchase Order Benchmark" from $1,500 to $2,500. Almost at once when this announcement was made, hand-wringing broke out on all sides and numerous concerned parties began bemoaning the collapse of the small publisher and, thereby, the entire comic book edifice as we've come to know and love it. Or so it would seem.
On about January 21, Matt Brady at newsarama.com, having heard this scuttlebutt, asked Bill Schanes, Diamond's vice president of purchasing, what it all means, and Schanes spun the following tangled web of jargon and juice: "In 2008 and prior, purchase order benchmark at Diamond cost – so our cost of goods – has been at a guideline of $1,500 of our cost. We're raising that to $2,500 at our cost. So when someone brings a new product to us, we look at previous sales on that same series, or with a like artist, or on a like product, and evaluate if we think the new product will hit that benchmark. If we think we can, then we'll list them. If we think it will be less than that benchmark, then we'll have a conversation with the publisher about what they're going to do to help sell the product – get a sales and marketing/promotional campaign together or other means to help drive consumer interest to the retailers."
Brady, who is, if nothing else, a persistent reporter, wasn't content with Schanes' happy talk: "To be fully clear," he probed, "when you say at 'our cost,' that's—."
"What Diamond pays the vendor," Schanes clarified, meaning by "vendor" to denominate, I gather, the "publisher." Schanes went on: "We take a book that we buy at 60% off – $6,200 at retail equals roughly $2,500 of Diamond's cost of goods."
Said Brady: "So any product needs to see retail sales of $6,200 across all the accounts serviced by Diamond in order to be listed?"
Right, said Schanes.
Translated into Ordinary Speak, what it all means, it seems to me—although I confess to being only a typist, not a math whiz—is that any $3 comic book that Diamond agrees to distribute must, in the judgement of the Diamond prognosticators, promise sales of at least 2,060 copies; let's say 2,000 to simplify the calculation. Diamond pays the publisher about $1.20 each for the comic books then sells them to retailers who sell them at the $3 cover price. If sales hit Diamond's benchmark, the net revenue, after Diamond has recouped its initial $2,500 investment, is $3,500, which is divvied up between the retailer and Diamond. Diamond doubtless gets the bigger share, which it needs to cover its costs (warehousing, shipping, staff salaries and benefits, etc.).
And why has Diamond raised its benchmark? Said Schanes: "I think, as everyone is aware of, the economy across the whole world – and the United States not being immune to that – has been pretty tough through 2008, and there don't appear to be any immediate signs going in to 2009 that things are going to change that much. Diamond's sales were down last year – within a realm of acceptability, but they were down, and we're looking at decreases in 2009. So we're looking at ways that we can reduce costs on our side on the lowest selling, least profitable lines, and we felt this was a reasonable approach to reduce some costs and still provide a very high level of service to the vast majority of our clients and our retailers."
The immediate effect on the comic book industry is likely to be that many small publishers, most of which come into the marketplace to launch a single new title, will be shut out. Unless they have nationally known writer-artist teams with a clamoring fan base, Diamond will not risk buying their books to distribute them. Schanes estimates that less than 1% of Diamond's business involves small publishers of the sort that will be left high and dry by this maneuver. And he deftly turned aside Brady's accusation that Diamond is now effectively closed to new products from new, smaller publishers.
Said Schanes: "Of course not – it has never meant that. But we're also looking for things that sell – so are retailers, and so it everybody else. So if we see a new comic cross our door that looks promising, with a good concept or a good creative team, we're going to give it a try. But when we have a brand new creator or a brand new talent team, that's a judgment call. Hopefully we make the right call based on our years of experience here, but we may occasionally miss one. There are times that some creators have called me and said that they think we missed a good one, and sometimes we agree, and sometimes we don't. But that's a healthy dialogue, and we're very open-minded with that. ... We've always taken a position that there is free access to the marketplace, and we want to help the small guys get bigger and we've helped grow many small guys to medium guys and medium guys to bigger and are thrilled when that happens, but it's not an imminent right to be in the catalog. Not everybody can be on the grocery store shelves with their products. The grocery store has to make some tough choices based on what it thinks the consumer base will want."
Shockingly hard-nosed though this may seem, it's nothing new. Diamond's new draconian benchmark does not signal the end of the world as we know it; in fact, it is but the current manifestation of a status quo that has always been solidly quo. The comic book business has been this way for years—from the very beginning. All along the line, from publisher to distributor to retail store operator, someone is making a decision about whether to bring a particular comic book title into the marketplace. Or not. Since Diamond has effectively cornered the market on the distribution part of the enterprise, it is a defacto publisher: if it doesn't accept a title for distribution, the publisher of record will probably not publish the book. Most publishers in this category—those who are introducing new titles on a shoestring—probably don't go to press with a book unless they've been accepted for distribution by Diamond: they submit a mock-up of the proposed title and, perhaps, a marketing plan, and Diamond decides. If it declines the title, the publisher doubtless scraps plans for publishing it. Still, what it means—what it's always meant (although with the emergence of Diamond at the top of the distributor heap, its "publishing" function is brought into sharp and stark focus)—is that the creator of a new comic book has more hurdles to leap over on the way to the marketplace than he or she had probably imagined when first drawing that charming new superhero in a gaily colored gym suit. If our theoretical creative genius can't convince a string of people that his/her new comic book will sell 2,000 or more copies at $3 each, that shiny new character and his entourage will never see the light of day.
*****
THE NIGHTMARE GALLOPS ON APACE. We fear a trend may be setting in: Editor & Publisher reported January 16 that the Atlanta Journal-Constitution dropped 11 of its comic strip line-up, reducing the roster from 36 strips to 25. As we've speculated here recently, dropping syndicated comic strips is another way financially strapped newspapers can save money, several thousand a year in fees if they drop the most popular strips. But why drop the most popular of your features? The axed strips at AJ-C are Cathy, Daddy's Home, Dog Eat Doug, Hagar the Horrible, Ink Pen, Jump Start, The Lockhorns, Mark Trail, Mary Worth, On a Claire Day and Rose Is Rose.
The Houston Chronicle announced in November that although they are printing all of their comics in color, they are dropping a full page of comics. The dropped comics will still be carried on their online offerings. Alan Gardner at the DailyCartoonist explains: "Why is the paper doing this? It's a cost-cutting measure. The Chronicle has run more comics than other newspapers for years, but syndication fees and increases in the cost of newsprint make these changes necessary. The decision was made only after other serious cost-cutting measures were implemented at the paper." The strips that were dropped: Arctic Circle, Buckles, Cathy, Cleats, Crock, Dennis the Menace, Diesel Sweeties, Dinette Set, Drabble, Gasoline Alley, Heathcliff, Judge Parker, Lockhorns, Marmaduke, Mary Worth, Mr Boffo, My Cage, Real Life Adventures, Rubes, Shoe, Spot the Frog, Sylvia and Wizard of Id.
And in early January, the New York Daily News reportedly dropped a quarter of its comics line-up, effectively five strips, saith Tom Spurgeon, quoted by Gardner: Cathy, Agnes, Peanuts Classics, Pooch Café, and Girls and Sports. One we missed: last summer, the Baltimore Sun dropped a full page of strips, reported by Gardner.
On the other hand, Gardner says, the Florida Times-Union, which had previously announced that it would drop eight comic strips, has changed its mind: "They now say that they will not be making any cuts in their daily selections. The Sunday comic page will lose four: Prince Valiant, Watch Your Head, Cathy and Brevity. Their comic poll netted more than 7,700 votes on 16 different strips." Strips polling at the top, with more than 5,000 votes, are: Hi and Lois, 6,166; Beetle Bailey, 6,068; Lockhorns, 5,128; Hagar the Horrible, 5,104.
Comic strips may be dropping by the wayside in newspapers' effort to balance their bottom lines, but in the face of this gathering disaster, Mr. Mum is coming back to visit us. Online, though, not in newsprint. Caymanmama.com reports that the 1960s pantomime panel cartoon, The Strange Adventures of Mr. Mum, is available on the Web by subscription. And you can also purchase any number of "Mumorabilia." Sign up at visit http://www.mrmum.com/
*****
Givin' It the New Riverside High Try. Archie Comics seems, now, committed to doing at least some of its titles from time-to-time in the manga-like manner the company persists in calling its "New Look." Norm Breyfogle, who's drawn the roll call of comic book icons from Superman to Batman to Spider-Man to Captain America, has taken up with another icon, Archie. But not the old Bob Montana Dan DeCarlo Archie: Breyfogle will work in the "New Look" style that Archie Comics, eager to climb onto the popular manga wagon, has lately adopted. Archie doesn't say it's chasing after anyone's band wagon, though: it gives its salivating after sales a different spin. The idea behind the "New Look," explained Daniel Best at his ohdannyboy.blogspot.com last month, is to produce "stories that are more realistic than the traditional Archie comic book; hence artists are encouraged to draw in a more non-traditional style than would generally appear in the standard Archie books." Best interviewed Breyfogle just as he had finished penciling and inking the first issue of a four-issue mini-series that begins in Archie Double Digest No. 200.
"My style is pretty naturalistic and adapts well to many genres," said Breyfogle, "and since this is Archie's New Look, I'm free to use my own style, rather than aping the traditional Archie drawing style. At first I considered doing a cross between my typical style and the traditional Archie style, but I realized early that there was no need for that, and if this is meant to be a new look, why not go all the way?
"As far as preparation goes," Norm continued, "I did pencil sketches of all of the main characters first, and gathered a bunch of reference in the form of teen magazines and whatnot. I drew two different versions of Archie, one with the cross-hatching on his hair and one without, and let my editor Mike Pellerito decide to go without the cross-hatching. I've always known that drawing pretty women and children/teens is the hardest thing for a comics artist to master, but
I sometimes forget. This job has reminded me of that fact. I remember how, as an amateur artist writing and drawing my own stories, I would always kind of rush through the talking heads parts, impatiently wanting to get to the action scenes. I could draw muscles/anatomy better than anything else first, for the same reason. I guess my ability to really enjoy drawing Archie is an indication of my professionalism, in that I enjoy drawing everything now."
So what character was the most challenging to draw? "Jughead was the most fun and the easiest one for me to draw," said Breyfogle. "The girls are the toughest. By the way, my answer to the age-old question? Betty."
Fascinating Footnit. Much of the news retailed in the foregoing segment is culled from articles eventually indexed at rpi.edu/~bulloj/comxbib.html, the Comics Research Bibliography, maintained by Michael Rhode and John Bullough, which covers comic books, comic strips, animation, caricature, cartoons, bandes dessinees and related topics. It also provides links to numerous other sites that delve deeply into cartooning topics. Three other sites laden with cartooning news and lore are Mark Evanier's povonline.com, Alan Gardner's DailyCartoonist.com, and Tom Spurgeon's comicsreporter.com. And then there's Mike Rhode's ComicsDC blog, comicsdc.blogspot.com For delving into the history of our beloved medium, you can't go wrong by visiting Allan Holtz's strippersguide.blogspot.com, where Allan regularly posts rare findings from his forays into the vast reaches of newspaper microfilm files hither and yon.
QUIPS & QUOTES
What can a bird do that a man cannot do? Whistle through his pecker.—Anon
"Insane people are always sure that they are fine. It is only the sane people who are willing to admit that they are crazy."—Nora Ephron
"Bureaucracy, the rule of no one, has become the modern despotism."—Mary McCarthy
"Consultants are people who borrow your watch and tell you what time it is—and then walk off with the watch." —Robert Townsend
Why does "therapist," if you look at it too fast, look like "the rapist"? —RCH
The safeguard against the garrulousness of old age is loss of hearing: if I can't hear myself speaking all those words of wisdom, why bother speaking at all?—RCH
EDITOONERY
Afflicting the Comfortable and Comforting the Afflicted
Editorial cartoonists are still struggling with Barak O'Bama, how to make caricatures that look somewhat like him. Here's Jeff Stahler's lament on the subject.

Okay, it's a cartoon character that we will eventually recognize as standing in for Obama. Soon, whatever glyph an editoonist has deployed for our Prez will establish a "character" for Obama in the cartoonist's cartoons, and Obama will live on as "the character" not as himself caricatured. Daryl Cagle, writing at his blog, elaborated recently on this phenomenon:
How to Draw the Departing President Bush. Political cartoonists are not much different from comic strip cartoonists; both draw an ongoing daily soap opera featuring a regular cast of characters. While comic strip cartoonists invent their own characters, the political cartoonist's characters are given to him by events in the world. For the past eight years, political cartoonists have been drawing little daily sagas starring the same main character, President Bush. Most people won't miss Bush as a president, but we should all miss him as a great cartoon character.
Around the world, cartoonists almost always draw President Bush as a cowboy. Outside America, a Texas cowboy is seen as uneducated, ill mannered, a "trigger-happy marshal" or outlaw who is prone to violence. Cowboy depictions of the president by worldwide cartoonists are meant to be insults, but Americans see cowboys differently. In the USA, cowboys are noble, independent souls, living a romantic lifestyle by taming the wilderness and taking matters into their own hands whenever they see a wrong that needs to be righted. We are a nation of wanna-be cowboys.
The image of President Bush evolved with each cartoonist's personal perspective. Back in 2000, Bush started out as most political cartoon characters start out, as a caricature of a real person, meant to be as recognizable as a photograph. The cartoonists soon stopped looking at photographs and started doing drawings of drawings, then drawings of drawings of drawings, so that the George W. Bush drawings morphed into strangely deformed characters that looked nothing like the real man, but are instantly recognizable because we've come to know the drawings as a symbol of the man. It is surprising that each cartoonist's drawings of the president look entirely different, but each is easily recognizable as representing the same character. For most cartoonists, the president's ears have grown huge—a strange phenomenon since the president doesn't have unusually large ears, and isn't well known for listening. Some cartoonists have seen President Bush shrink in height; a combination of these has the president sometimes looking like a little bunny rabbit.
Barack Obama's cartoon ears have also begun to grow in cartoons, for no good reason— maybe big ears are the cartoon presidential curse of the new millennium. The president who shrank most in cartoons was Jimmy Carter. At the end of Carter's term he was a Munchkin, standing below knee height on almost every cartoonist's drawing table. President Bush shrank for only the more liberal cartoonists early on, but is short for all of us at the end of his term. President Reagan grew taller during his cartoon term in office. President Clinton grew fatter, even as he lost weight in real life. Bill Clinton's personality was fat, and the cartoonists drew the personality rather than the man. President Clinton is now skinny, but he will always be fat in cartoons.
Another cartoon characteristic that has grown from years of drawing President Bush are his eyes, two little dots, close together, topped by raised, quizzical eyebrows. The close, dotted eyes are an interesting universal phenomenon, shared by almost every cartoonist, that doesn't relate to the president's actual features. Over time, most cartoonists will draw a character with eyes that grow larger, but President Bush's eyes shrink, while his ears grow. There may be a political message in that, but I can't figure it out.
I once played "Political Cartoonist Name That Tune." The game went like this:
"I can draw President Bush in SIX LINES."
"Well, I can draw President Bush in FOUR LINES!"
"I can draw President Bush in THREE LINES!"
"OK. Draw that President!"
…and I did, two little dots topped by a raised, quizzical eyebrow line. It looked just like him. Now I need to learn how to draw Obama with three lines; it may take me eight years to do it.
Cagle is a political cartoonist and blogger for MSNBC.com; he is a past president of the National Cartoonists Society and his cartoons are syndicated to more than 850 newspapers, although not all of them publish the cartoons he sends them through his syndicate. Cagle runs a cartoon website at cagle.msnbc.com, which he claims is the world's most popular cartoon website. Probably he's right. You can see Cagle's cartoons and columns at blog.cagle.com/daryl.
*****
MORE DIRE
Dump an elephant in Antarctica and it will either adapt or die. That's the situation editorial cartoonists are in. It's a damn cold situation, but we can adapt and survive.—Stacy Curtis, Editorial Cartoonist (freelancing)
When, early in January, the Los Angeles Daily News let its editorial cartoonist Patrick O'Conner go after eight-and-a-half years on staff, Alan Gardner at DailyCartoonist asked the vagrant 'tooner whether he had been given any advance notice that his job was approaching termination. O'Conner said: "Last year the Daily News fired 22 people from the newsroom, including one of my best friends and its Institutional Memory, letters editor Mike Tetreault. Since then, it seems the layoffs have come every month like clockwork. At the same time the company jacked up its health insurance premium to $2,000. Last week I received an email saying the company will not be matching its employees 401k accounts for all of 2009. A lot people found other jobs and jumped ship. Working at the Daily News has been like living with an incompetent, terminally ill relative. I think all of this, coupled with massive layoffs at every other news organization and a constant parade of unemployed editorial cartoonists, would constitute 'advance notice.'"
O'Conner then went on, adding: "When I was sixteen years old I emailed Wiley Miller telling him I wanted to be an editorial cartoonist and asked for his advice. [Wiley is one of the few cartoonists who have moved back and forth from editorial cartooning to strip cartooning, and then back and forth again. He knows whereof he speaks.] He replied with a simple answer: 'Editorial cartooning is dead.' This early warning, along with many others (Chip Bok: 'Don't get into this for the money.'), would not dissuade me from my passion for the craft of editorial cartooning. All I wanted was to be was a staff political cartoonist and soon enough I was hired at the Daily News and was drawing five cartoons a week. Later, I ran into Wiley at a convention
and told him what he had said to me 10 years earlier. 'Editorial cartooning is still dead,' he replied. After all I have witnessed in the last year or so, inside this profession and outside of it, I'm finally ready to admit Wiley was right."
Wiley, responding in Gardner's comments section, added this: "There are two reasons I give such a blunt answer to aspiring cartoonists. 1) I don't want to lie to them and gloss over the reality of the job market in cartooning. Knowledge is power and I want young cartoonists to be as well armed as possible to help them find their way into the profession. 2) To see if they have what it takes to pursue this profession. Clearly, Patrick passed that test. If the bug for the profession wasn't really in him, he wouldn't have tried. Instead, he pursued it even harder. Well done, Patrick. That drive will work well in your pursuit elsewhere.
"I get no solace in being 'right' about this. In fact, I hate it. I just have to be honest about it when asked for advice, as I don't want to see talent being wasted or headed down a dead end path. Editorial cartooning, as we have known it, has been dead for some time now, and is just now becoming more apparent to the those who have been in denial about it. That does not mean the end of political satire, however. There are other outlets, just not the more direct form of employment in print we have been accustomed to. Hopefully something new will evolve that will replace the staff job, where cartoonists can make a living again. Reality is harsh, and only becomes worse when it's not faced. The best way to deal with harsh realities is to confront it objectively then look for alternatives. It's not a black-or-white issue, there's a whole lot of gray area that can be exploited. You just have to have your eyes wide open and be creative in your thinking. Just remember, there are ALWAYS alternatives. Good luck to you, Patrick, as well as everyone else hoping to make a living in the profession."


*****
Editorial cartoonist Steve Greenberg, who was laid off at the Ventura County Star two months ago, reports that his cartoons are back in Ventura County—in the alternative-weekly VCReporter. Writes Steve: "They jumped at the chance to 'grab' me away from the competing daily after I'd approached them merely looking for a place to sell freelance illustrations. More than that, they gave me a cover story as part of the introduction: a three-page piece about myself and the field of editorial cartooning, with a cover drawn, of course, by me. Starting with the current issue, I'll be alternating between drawing local and national cartoons for them. I asked them to change their original proposal and make me their cartoonist every week (rather than the every-other-week schedule they'd said was all they can afford), with the two local cartoons a month they'd asked for and the others being the national ones I wanted, and they agreed. You can check it out online at vcreporter.com/cms/index/
"A factor I hadn't mentioned before with the Star is that one of the editors took offense at a gallows-humor sign I put up at my desk the day after I got word of my layoff (a construction sign parody, 'DEAD MEN working') and angrily gave me a Brian Duffy-like escort out of the building, taking my ID badge and telling me to report to HR for an unknown fate. I had to beg the top editor to come back for my remaining 13 days (mostly so I could grab all my cartoons and artwork files and all my email and contacts I'd be needing) and end my career with dignity, which he graciously granted, explaining that other editor had overreacted. But it still left me with a bad taste for continuing to give them cartoons. Also, I didn't want them to cut me and still have the local cartoons as before; I wanted them to know there was 'collateral damage' from eliminating my staff artist position." And now, Steve, they know: they'll see your work every week in a competing paper.

*****
What Will You Miss About Bush? Michael Cavna, who describes himself as a "recovering cartoonist"at his Washington Post blog, ComicRiffs, asked several top editorial cartoonists this question the week before GeeDubya would be leaving office—adding, immediately, that he wanted them to respond not as a U.S. resident or as a voter but "strictly as a cartoonist." Here are some of the answers:
Matt Wuerker (at Politico.com): I'm going to miss having a president like Bush who writes all his own political cartoons.
Ruben Bolling (Tom the Dancing Bug): Even as a cartoonist, I'll miss absolutely nothing about Bush. After you've mocked his bad policies, you can mock his sticking with bad policies despite bad results, and then you can mock the enormity of the bad results, and finally you can mock your own inability to keep up the mockery despite the consistently enormous bad results. But
then you've got seven more years of his administration, and it can get repetitive.
Ann Telnaes (cartoonistgroup.com and WashingtonPost.com): His Vice President.
Matt Davies (The Journal News, NY): ... with President Bush one could always count on a reliably healthy trickle of mind-bogglingly outrageous and cartoon-worthy behaviors: The a la carte approach to the U.S. Constitution, ideological distortions passed off as sensible policy, the dismissal of science in favor of religio-political theory, environmentally destructive directives with deliberately cynical and misleading titles, wars of our choosing, tax cuts for only very, very, very rich people who gave money to the GOP, blatant politicization of horrific national tragedies, Gitmo, the careful loosening of financial regulatory standards, the attempt to dismantle our social safety net, the propensity to link pretty much everything in the pre-existing neo-con playbook to "the war on terror," the childish need to label those with alternate points of view as unpatriotic, the swaggering certainty of having God "on his side," and a total disregard for the 51percent who didn't vote for him in the 2000 election. Oh, and I'll miss his boyish smirk. I will forever be grateful to the man, as, to be fair, I owe my Pulitzer to all of the above.
Signe Wilkinson (Philadelphia Daily News): Is he still president?



THE FROTH ESTATE
The Alleged News Institution
On January 16, as expected, the Minneapolis Star-Tribune filed for bankruptcy reorganization; the paper was once the largest owned by the McClatchy Company until it was bought by a private equity group, Avista Capital Partners, in 2007. McClatchy took a loss: it purchased the paper for $1.2 billion in 1998; ACP acquired it for a pittance, merely $530 million. Other paper proprietors in bankruptcy or close to it include the Tribune Company in Chicago (owners of the Chicago Tribune, Los Angeles Times, and Baltimore Sun, among others) and the New York Times. The NY Times has just reached an agreement with a Mexican billionaire, Carlos Slim Helu, for a loan that may bail out the financially distressed journalist icon. Major papers up for sale include the Rocky Mountain News in Denver, the Seattle Post-Intelligencer, and, most recently, the Tucson Citizen, a Gannett paper. In Detroit, the Detroit Free Press and the Detroit News, bound in a joint operating agreement, have discontinued home delivery except for Thursday, Friday and Sunday. And the Christian Science Monitor, once a national print newspaper, is now "published" only online. And the weekly newsmagazine U.S. News and World Report has gone monthly with its print version, where it concentrates on "news you can use"; real news is retailed online. Since 1990, 47 daily newspapers have been shuttered—including such historic names as the Arkansas Gazette, Evening Sun in Baltimore, Houston Post, Kansas City Times, Pittsburgh Press, Richmond News Leader, San Antonio Light, and San Diego Tribune. And six more papers have disappeared into merged identities with one-time rivals—in Milwaukee, for instance, the Sentinel and the Journal are now the Journal Sentinel.
Apparently, the Village Voice in the guise of Village Voice Media, which owns the largest group of weekly newspapers in the country, is feeling the fiscal pinch. I read it in Derf's blog, derfcity.com: VVM's corporate response to dwindling ad revenues and other sources of income is to "suspend" all cartoons across the chain. No more cartoons in VVM weeklies. News Media Group, owner of the Denver Post and about 50 other newspapers, took a slightly different approach: to cut costs, it is requiring all 3,300 employees who work at the company's California papers to take one week of unpaid leave this quarter. Gannett did something similar.
As daily print journalism seems to be going up in flames all around us, a brand new rescue plan is beginning to edge into visibility. This past week, I've seen two articles discussing the possibility of setting up newspapers as endowed entities. They'd still sell advertising and make money, whenever possible, but they'd be underwritten, so to speak, by vast endowments—like colleges and universities—which would provide financial support during hard times. Huge problems would have to be overcome, but at least someone's talking. Meanwhile, I keep running across scraps of information that make me wonder how seriously I should take all this. David Swensen and Michael Schmidt, writing from an undisclosed location in New Haven—probably in a deserted hallway on the Yale campus–write this: "America's pre-eminent papers exemplify the distress. Average profit margins [my emphasis] at the Washington Post over the past five years have been about 25% less than what they had been in the previous 15 years. At the New York Times, the decline was more than 50%." If, as I believe to be the case, the average newspaper in this country could count on a profit of 15-20%, then a 25% decline in the profit margin means that the profit at the Washington Post slipped to 12-15% ; at the New York Times, they're only making 10% profit. Can that be right? Is all the hullabaloo about bankrupt newspapers based upon a declining profit margin—from 20% to 15%? When the rest of the business community is normally satisfied with a 5-10% profit margin? Are newspapers losing money—in the sense that their expenses are more than their income—or is this merely Wall Street making waves in another corner of the economy. Are we being taken for a ride here, aristotle? Or what?
If your sense of humor runs to mordant, you can amuse yourself and keep up-to-date on such matters at newspaperdeathwatch.com ; I recommend it.
*****
But the news ain't all bad: as restaurants all around the country—around the world—anticipated dismal fourth quarter earnings, McDonald's posted a profit beyond the estimates of hapless Wall Street. Said Lauren Shepherd at the Associated Press: "McDonald's fared well in the quarter due largely to its low prices and the reach of its ubiquitous Golden Arches." McDonald's has also managed to "reduce operating costs and expenses despite higher beef, cheese, and other ingredient costs" while, at the same time, improving the quality of its food.
VERBAL HIJINKS: ANOTHER YEAR-END GAME
The American Dialect Society has for some years devoted a session at its annual year-end convention to balloting on a question of monumental triviality. They "elect" a "word of the year," that word or phrase, not necessarily new, that became prominent during the preceding twelve months. Although mostly a frivolous exercise, the Word of the Year can be a useful gauge of the national temperament or preoccupation. The Word of the Year for 2008 is "bailout."
The minions at Oxford American Dictionary got into the act this year: their Word of the Year is "hypermiling." This one seems to me a trifle exotic: I doubt many people use it in everyday conversation. Coined in 2004, "hypermiling" refers to practices you may adopt in order to increase the gas mileage of your automobile—by, say, keeping the tires properly inflated to maximize mileage, removing the roof rack to reduce drag, and so forth. At the other dictionary, Merriam-Webster, they agreed with the ADS and chose "bailout."
At its website, americandialect.org, the ADS has cobbled up a number of other words that were candidates: lipstick on a pig, change, game-changer, and "shovel-read," which is used to describe infrastructure projects that can be started quickly when funds become available." Some of the words are grouped under distinguishing headings—Most Useful, Most Creative, Most Outraged, Most Euphemistic. Among the most creative is "recombobulation area," that place in Michell International Airport where passengers that have just passed through security can get their clothes and belongings back in order. Then there's "rofflenui," a blended New Zealand English-Maori word that means "rolling on the floor laughing a lot." None of these showed up in either Oxford or Merriam-Webster competitions.
Elsewhere, entering the lists as amateurs, were the editors at the Denver Post who put forward candidates for oblivion: hope, change, red meat, stimulus, and all government czars. At the Associated Press, they got tired of maverick, from Wall Street to Main Street, game-changing, carbon footprint, and green, agreeing with Lake Superior State University's annual tallying of Words to Be Banished from the Queen's English for Misuse, Overuse, and General Uselessness. Just thought you'd like to know.
FUNNYBOOK FAN FARE
Four-color Frolics
An admirable first issue must, above all else, contain such matter as will compel a reader to buy the second issue. At the same time, while provoking curiosity through mysteriousness, a good first issue must avoid being too mysterious or cryptic. And, thirdly, it should introduce the title's principals, preferably in a way that makes us care about them. Fourth, a first issue should include a complete "episode"—that is, something should happen, a crisis of some kind, which is resolved by the end of the issue, without, at the same time, detracting from the cliffhanger aspect of the effort that will compel us to buy the next issue.
In a new series of presumably short-run titles, Marvel is evoking the dimly lighted world of film noir, that indefinable so-called "genre" of black-and-white crime movies in which hardboiled private eyes and smoky-eyed femmes fatales performed a world-weary danse macabre of moral ambiguity—films like "The Maltese Falcon" and "Double Indemnity." Of the two comic book titles I've dipped into, Spider-Man Noir seems more successful than X-Men Noir, chiefly because we meet the protagonist, Peter Parker, and his Socialist aunt, May Parker (rousing the rabble through street-corner oratory), and a compassionate newspaper photographer, Ben Urich of J. Jonah Jameson's Daily Bugle; in X-Men Noir it's hard to say who, exactly, we're meeting except for newspaper reporter Tom Halloway and Professor Charles Xavier, who's in prison because he allegedly trained adolescents to be criminals—i.e., the X-Men. And neither of these personages is particularly likeable; why would we buy the next issue to learn more about people we don't like?
Despite the familiar names and configurations in Spider-Man Noir, this Peter Parker is not the same fellow who will crop up in the early 1960s as "our" Peter Parker; ditto his Aunt May and Ben Urich and, even, J. Jonah Jameson, who, in this noirish incarnation, turns up dead at his desk in the book's opening sequence. The setting of the story by David Hine and Fabrice Sapolsky is the Depression 1930s, not the cinematic milieu of the film noir, the forties, but the effort in both titles is to create a new universe for the Marvel characters in which people with familiar names grapple with good and evil and a world where neither is easily ascertained. In the central episode of Spider-Man Noir, Urich takes young Parker under his wing to teach him newspaper photography. We also meet the Goblin and his gang of hoodlums, who have killed Peter's Uncle Ben, and Urich's girlfriend, Felicia Hardy, who runs a speakeasy. And in a flash forward, we get to see the noirish Spider-Man, who wears goggles and an aviator's helmet instead of a mask and a leather overcoat instead of a blue-and-red websuit—the costume, we assume, that Peter will don to avenge his uncle's death, but, as we learn on the last cliffhanging page, he'll have to get through the cannibal Vulture to do it.
It's all deftly illuminated by Carmine Di Giandomenico, who draws with clearline definition and colors in sepia. His nicely detailed (but not overwhelmingly so) pictures supply background for convincing settings, visual variety in camera distance and angle, and carefully composed panels for narrative emphasis; he also skillfully evokes snow falling in the city. Watching him is a treat.
Fred van Lente's tale in X-Men Noir is much more complicated and therefore not as clearly set forth. It is also much too verbal: long speeches go on for pages, while nothing much else happens. While there is a completed episode, Halloway's visit with Xavier in prison, Dennis Calero renders the story with a photographic realism that creates a deeply shadowed noir milieu in which the facial details of his characters are so obscured that we can't easily tell one from another, a visual tic that adds to the confusion inherent in Van Lente's treatment. Calero's pictures are artistic triumphs at evoking a noir ambiance, but as visual narrative they obliterate rather than reveal; this technique works in film because motion helps clarify, but in a static medium, this kind of visual doesn't work as well. Calero's obscurities and Van Lente's vagaries combine to leave us guessing rather than anticipating, not a successful beginning. But the popularity of the characters will doubtless carry the title, the initial problem of which is to discover the murderer of Jean Gray, whose remains decorate the opening pages.
The Greatest American Hero, another first issue, is a reincarnation in four-color pulp of the defunct tv show about a sometimes inept superhero, and the comic book's writers—William Katt, Christopher Folino, Derek McCaw, and Sean O'Reilly, so numerous that the producer, Catastrophic Comics and Arcana Studios, must have assumed they were doing tv again—have assumed that the fans of that show are still as avid as ever and are also buying comic books, including this one, for which, the writers have persuaded themselves, the fans have been impatiently waiting all these years. As a result, the writers obviously feel no particular need to tell us what's going on, or, even, who some of their characters are: the writers know we'll know, bringing to the comic book all our fond and enduringly lucid memories of the tv show. This obscurity is compounded by the penchant these days of comic book writers to plunge us into the middle of some on-going event without preamble or explanation of any sort. The dramatic technique of in medias res, deployed to good effect in movies, is, in the static medium, more annoying than an itch that can't be scratched: instead of creating suspense, its ostensible purpose, it frustrates by fostering our complete ignorance of whatever is transpiring on the page before us. In the funnybook at hand, we never quite find out who the t-shirted bad guys are who apparently kill the motocyclist in the opening sequence. We meet an FBI smart ass named Bill and another character, who may be a school teacher (accompanied by his class of students on a field trip?) named Ralph Hinkley, who, by the end of the book, has inherited a magic superpowered suit from "John," the deceased motorcyclist, who appears to Bill and Ralph as some sort of holograph. That completes the central episode of the first issue. It's a marginal first outing, but its effectiveness is hampered by Clint Hilinski's prissy artwork. His delicate fineline renderings are simply too fussily wrought: the little bitty lines do not clearly delineate such essential narrative details as the features of his character's faces, so we can't tell one from the other except by the color of their hair or shirts. We don't meet "the great American hero" in these pages: the cliffhanger is that we might meet him in the next issue, wearing that magic suit.
In Mister X's inaugural issue, written and drawn by Dean Motter, we don't encounter the title character until the last page, a neat if cliched cliffhanger.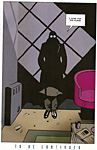 The preceding pages are spent introducing us to the various personages, political and administrative, who run Radiant City, a metropolis that has acquired a nasty personality from its architecture: having succumbed to a psychic pestilence, a "subconscious" dementia, the city is now bent on wrecking itself. To save the city, its bureaucracy proposes to destroy parts of it in the expectation that the population will then get better. As visual drama, however, the book falls short: none of the ills afflicting the populace are depicted, and the pictures themselves, stunning in their stark bold-outlined simplicity, are motionless in this stylized rigidity: movement never surfaces to disturb the cleanly rendered atmosphere that gives the book its distinctive visual character, a character without any action whatsoever except that committed by a shiny, glistening robot which we occasionally see destroying buildings.
The names of the cast are amusing: Roark is the city planner and Ian Rand is the mayor, names that evoke Ayn Rand (Ian Rand) and her philosophical novels, The Fountainhead, about an architect, and Atlas Shrugged, which together suggest where Motter derived his "sick city" metaphor and also implies the outcome to which his narrative is wending. But the lady newspaper reporter, Rosetta Stone, is of another time and place. Perhaps this comic book, like the rosetta stone, will serve as a decoder, in this case, telling us, like Ayn Rand, what ails our society and how, then, to cure it.
The first issue of Jungle Girl: Season 2 gives us a nearly naked jungle girl on the cover, drawn by the incomparable limner of feminine wiles, Frank Cho, who repeats this cover performance in subsequent issues, posing his statuesque star a little differently every time. The publisher, Dynamite Entertainment, clearly knows how to sell comic books from a newsstand. Those who think Cho's talents are confined exclusively to rendering toothsome wimmin might be persuaded by this book that he can tell a story, too. Cho plotted this tale, which then Doug Murray scripted and Adriano Batista drew. The plot is not complicated but it is engaging: Jana, clad only in her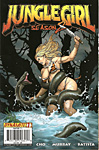 skimpy tiger-skin bikini, leads her jungle cohorts and a friendly interloper across a valley inhabited by fierce giant snakes and saber-toothed tigers, which she must fight bare-handed.Judging from the page layouts and the pacing, I suspect that Cho provided Batista with thumbnail layouts just as he suppled Murray with a plot: the plot, after all, is nothing without the dramatic visual presentation of the action. Batista does a passable job of drawing nearly naked jungle girls in the Cho manner, which, together with the bloody animal-vanquishing action, is as close to Cho as we're going to get in this series. Frank loves feminine embonpoint and giant beasties, and that's what we get here.
Peter David's new comic, Sir Apropos of Nothing, must have been inspired solely by its title, but however inspired, the first issue is a satisfying one. "Nothing" is all Sir Apropos has achieved in his life: "'Nothing,'" he tells us, "is my birthright. And 'nothing' was the perpetual price, it seemed, for my continued survival ... I look like nothing. Apropos of nothing, crippled son of a tavern whore, quick of wit, faint of heart, lame of leg, erstwhile knight, occasional conqueror, destroyer of cities—and perpetually unable to hold onto anything I got my hands on, be it women, titles or riches." The book reels with passages like this: it's a writer's book, and David is an artful chooser of colorful and often poetic lingo, which he supplies as a sort of musical drone to accompany Robin Riggs' pictures. In the first part of the book, the drone is what the story is: the pictures show Sir Apropos wandering across a desert, scarcely visuals of high interest. But when he encounters and defeats three thieves in the middle of the barren wastes, the issue's completed episode, Riggs' pictures take on the narrative burden. His rendering manner is in the Hal Foster/Prince Valiant tradition, albeit a little stiffer, but effective once it gets going. Meanwhile, David's prosody has persuaded us that Sir Apropos is a likeable enough bloke, one we're willing to follow as his adventures unfold. Our hero is not wandering the desert to no purpose: he's got a map that he thinks will lead him to treasure. But he is preceded on his quest by the mysterious "man in black," who, David writes—mocking Stephen King's Gunslinger—"fled across the desert ... Was he running toward something? Or away from something? Whichever it was, I thought it none of my business." At the end, however, we see the Man in Black again: as he watches a boulder let loose by Sir Apropos destroy the Dark Tower in the distance, he says, simply: "Shit." I wish I knew more about King's Gunslinger because then I'd be able to appreciate David's needling of him, perhaps the core of his "apropos of nothing" inspiration.
FRANK MILLER'S SPIRIT
Dropping the Other Shoe
As I was saying last time: one of the fun things to do while watching Frank Miller's "The Spirit" is to pick out the silent homages made to other comic book creators—Jerry Iger, Will Eisner's one-time partner in one of the two earliest comic art shops, shows up as a street name; Jules Feiffer, who devoted some of the best years of his youth to assisting Eisner, gets his name on a warehouse; Steve Ditko, who has had nothing to do with Eisner or the Spirit, is emblazoned on the side of a truck. A shady character named Donenfeld reminds us of Harry Donenfeld, the would-be gangster porn publisher who wound up owning DC Comics and Superman; and another character is called "old man Kurtzman," recalling Mad's founder, Harvey Kurtzman. The other fun thing to do while watching Frank Miller's "The Spirit" is to pick out evidences of Will Eisner's Spirit, a much more difficult sport.
Miller's so-called story pits the Spirit, played with reasonable effectiveness by relative newcomer Gabriel Macht, against his arch enemy, the Octopus, played by Samuel L. Jackson with, as Owen Gleiberman at Entertainment Weekly puts it, "a cackle that is never quite dangerous." The Octopus, who doesn't actually appear in the Eisner ouevre (only his gloved hands show whenever he barges into a Spirit story), wants to acquire an antique vase that holds the blood of Hercules, which, if the Octopus ingests, will make him immortal. He is accompanied by an assistant played by Scarlett Johansson, who takes the part of a sycophantic female with a typical Eisner name, Silken Floss, and he is opposed by Eisner's stalwart femme fatale, Sand Saref, impersonated by Eva Mendes, who wants the vase herself. The movie is filmed in black, mostly—like the earlier "Sin City" cinematic version of Miller's inky comic book epics—with occasional startling splashes of color, the Spirit's necktie, for instance, is screaming red.
Frank Miller's "The Spirit" ranked 9th in box office receipts for the weekend it opened, December 26-28, with $6,510,000; first-place "Marley and Me" clocked six times the take at $37,000,000. In its second week of release, Miller's movie ranked 13th in EW's top twenty box office winners, a respectable showing, you'd think, but Frank Miller's "The Spirit" did not fare well with the nation's nattering nabob movie mavens. In the EW Critical Mass listing, it rated Ds and Cs, averaging to a C-minus.
EW's Gleiberman began glowingly enough: "The city is an inky maze of tenements and skyscrapers and back alleys, and the dialogue is so hard-boiled you could just about break your tooth on it [a turn of phrase that is so delicious I had to include it here—RCH] ... The hero [is] the dame-slapping tough guy of a thousand film noirs and film-noir knockoffs ... But if, like me, you stand outside the circle of comic-book obsessives, 'The Spirit' comes off as just another ludicrously knowing and mannered noir pastiche, full of burnt-end romance and 'style,' but robotic at its core. ... Miller stages it all with sleek angularity, but it's the film's cliches that seem to have lived forever."
Carina Chocano in a "special" to the Washington Post writes: "'The Spirit,' which Miller wrote and directed, doesn't just play like a cheap 'Batman' knockoff: it plays like a cheap 'Batman' knockoff that knows it's a cheap 'Batman' knockoff and wants to be sure everybody knows it knows. ... A goofy parody of hard-boiled detective fiction, larded with indigestible globs of expository voice-overs and clunky catch phrases, the movie pre-emptively mocks itself at every turn, as if trying to beat the rest of us to the punch. ... The characters spend so much time explaining things [that] it leaves hardly any time to show them. At times, the movie resembles an incredibly expensive puppet show. The intention is clear, but the result is dreadful. Good comic books suggest action through abstraction, but 'The Spirit' plays like an overproduced diorama. Watching it is like watching three dimensions trying to pass themselves off as two."
At the New York Times, A.O. Scott says: "'The Spirit' marks Miller's first solo effort as a director, and his bold visual style is not well served by his clumsiness as a cinematic storyteller. The movie seems to be trying to combine a knowing, winking sense of pop-culture history with an embrace of the more soulful aspects of that history, but the result is a talky, pretentious stew of film noir poses and crime-fighter cliches."
Peter Harlaub at the San Francisco Chronicle lobbies us to "give Miller some credit: he didn't make the worst movie of all time. But that's about the best thing that can be said for 'The Spirit.'"
At Variety, Justin Chang weighed in: "If this summer's 'The Dark Knight' raised the bar for seriousness, ambition and dramatic realism in the comicbook-based superhero genre [I'm not sure it did; see my "review" below—RCH], 'The Spirit' reps its antithesis: relentlessly cartoonish and campy, it's a work of pure digital artifice, feverishly committed to its own beautiful, hollow universe to the exclusion of any real narrative interest or engagement with its characters. ... There's no denying the fastidiousness and occasional virtuosity of the over-all design or the lustrous texture of the widescreen images. But all this incessant monochrome has its perils, too: when a man falls to the ground, his body covered with white bloodstains, it's unclear whether he's been felled by bullets or by incontinent birds." Sorry: I had to include that criticism for the sake of its sheer comedic inventiveness.
A few critics had good things to say about the movie, but they are almost all writers who were delivering "special reports" to a publication, "special" indicating the non-staff status of the writer, who, we may uncharitably suppose, is anxious to please in order to garner additional column inches at some future time and believes that favoring a movie is the way to gain this objective. Chocano at the Washington Post is the exception to this sweeping generalization, but Jason Heck in his Special to the Kansas City Star is probably typical: "[Miller's] feature debut doesn't prove such a cinematic watershed, but the style dazzles, evoking everything wonderful and terrible from film noir and combining it with a likable hero and wonderfully pulpy premise. ... 'The Spirit' is terrific entertainment. It's better and a more complete film than [Miller's previous efforts,] 'Sin City' or '300.' Having a comic book genius create a comic book movie is a very, very good idea."
Another "specialist," Web Behrens at the Chicago Tribune, also gushes: "Produced and directed by guys who grew up with a deep appreciation for Eisner, the film remains largely faithful to the quirky, well, spirit of the 60-plus-year-old creation."
But Richard Corliss at Time gets back on the animus track, calling Miller's movie "a calamitous botch ... Miller lacks the simple competence to make the movie move. ... It's hard to tell," Corliss goes on, "whether the movie is the result of some brazen anti-audience maneuver or the director's lack of competence. Either way, this is a desecration of a comic-book monument. Eisner's Spirit was wonderful, but Miller's Spirit is weak. The Citizen Kane of comics has become the Ishtar of movies." But Eisner's Spirit is scarcely Orson Welles' Citizen Kane, and Corliss finally reveals his own shortcoming as a critic of this movie when he says: "Miller has misread the original, turning dark drama into strained comedy"—indicating that he, Corliss, has not read Eisner. Later on, Corliss calls Eisner's Spirit an "essentially serious, driven hero [who Miller has turned into] a deadpan doofus as if he hoped to recapture the farcical brio of the sixties Batman tv show."
Actually, deadpan doofus is a pretty accurate generalization about Eisner's Spirit. Although the character posed as a serious crime-fighter, he was forever meandering into embarrassing situations with the opposing gender, and his reactions to such events were usually depicted in Eisner's best cartoony manner. The comedy in Eisner's often bigfoot pictures is usually masked in shrouds of solid black shadowing, but when the Spirit is surprised, his eyes bug out in the best animated cartoon style, and his physical actions are frequently exaggerated, not realistically depicted. The simple truth is that Eisner drew funny. He was serious about telling stories that, in his estimation, had literary merit, but his model was O. Henry, not Edgar Allen Poe, and the quirks that so frequently ended his tales were essentially humorous, deeply ironic usually but amusing, just as O. Henry's were. And when Eisner wasn't doing O. Henry, he was doing goofy shtick about a silly sinister villain with a pet vulture or an alien visitor from outer space. Not much "dark drama" here.
In fact, Miller is not so far off as most of the movie's critics seem to think. Playing the henchmen of the Octopus, Louis Lombardi shows up as twins and triplets, a succession of look-alike characters (who show up whenever the Octopus kills off their predecessors serially) named Ethos, Logos, Pathos, Mangos, Bozos, Bulbos, Heuvos, Rancheros and Matzos, maybe even Tweedledum and Tweedledee, Miller's obvious inspiration for this low budget flummery. It made my stomach contract in what may have been a slight gag reflex when I first saw this contrivance on the screen, but this is one of those times Miller gets Eisner right. Eisner wasn't above such flimflam himself: he resorted to sight gags often, sometimes expending several panels of his severely limited allotment to tell a joke visually, forcing him, later in the story, to cram too much story into too few panels. But he loved the comedy.
In the same vein is what A.O. Scott calls the movie's only genuinely funny business, resulting "when Eva Mendes's Sand Saref sits on a copy machine and presses the button. She produces thereby what may be the only true-to-life image in the movie as well as the most interesting." Later, when various minions go about seeking Sand Saref, the only image they have to show to those who might know her whereabouts is the copy of Mendes' admirable voluptuous derriere, looking north from the south (that is to say, up from below). Cute, and a bit more than Eisner, who was producing The Spirit for family newspapers, might have attempted. But the humor he would appreciate..
With DC's Spirit Archives at hand, we can dip into Eisner's Spirit at intervals to see just how the master performed his magic. In the pre-World War II years—I'm looking at the second half of 1941—The Spirit was a more-or-less routine cops and robbers adventure story except for spasms of comic relief with the Spirit's comical sidekick, the young Black kid cab driver named Ebony White. But once Eisner began to examine every once in a while the life and aspiration of some nebbish neighborhood no-goodnik, by which device the cartoonist sought a human interest element that would eventually give his stories a measure of literary stature, his treatment verged more and more into humor. His tales were not quite O. Henry, but they were close. In the early years, too, Eisner drew more realistically, more like Lou Fine, one of his art shop staff, and less bigfoot cartoony. But this Spirit is not, probably, the one most of us remember: we remember the post-war Spirit.
After Eisner got out of the army at the end of the war, his graphic style is much more confident, his line juicier and bolder. His sense of composition is surer: his figures seem not just to occupy the panels but to fill them, and Eisner had learned how to control our focus with deft positioning of his characters and dramatic lighting. The post-war art is more heavily laden with deep dark shadows than the pre-war material, but the stories themselves have become more and more humorous, deploying sight gags and exaggeration in both facial expression and movement. Women figured pivotally in many of the Spirit's adventures in these years (I'm looking at 1946 and 1949): the stories became romantic comedies with a little mystery icing for the cake. Eisner's comedic touch was revealed more in the pictures than in the words, but the Spirit was sometimes quite a smart-mouth.
In short, it seems that Miller knows his source pretty well as Kyle Baker demonstrates at his website, thebakeranimationcartoons.blogspot.com: Baker rants on in mock outrage at the "disrespect" shown Eisner's iconic creation by Miller's movie, mustering panels from Eisner's Spirit pages, that, in ironic contrast, prove that Miller was walking carefully in the master's footprints all the way—sexist, racist, overwritten, and, yes, humorous more often than not. Alas, despite the persistence, Eisner's Spirit is missing in Miller's movie.
Central City, the locale for Eisner's Spirit stories, is not much in evidence. Not much urban grit at all. The green screen technique—by which actors are filmed in front of a green background and then, afterwards, suitable backgrounds are added—has, in this instance, left out too much background detail. Outdoor sequences seem barren, clouded by swirling fog, a remnant of Miller's Sin City; and indoor scenes take place in front of minimal props on tiny stages—cramped, sterile and claustrophobic. Miller's direction includes several ingenious maneuvers, but it still all looks pretty low-budget and scraped together. As I said, Macht turns in an acceptable performance as the Spirit, but given Eisner's penchant for bigfoot, Jim Carey would have been a better choice for the lead: not the manic Jim Carey, but the more subdued Jim Carey albeit with rubbery face intact and present. Jackson's performance has been called over-the-top, but Eisner often did something similar with his villains. But the blood of Hercules? Eisner wouldn't touch that one. It's out of Conan the Barbarian, scarcely Eisner's forte or Miller's. Finally, there's the Spirit's mask. It's black, for one thing; it should be blue. And the eye-holes are too large. Eisner always drew the Spirit's mask as if it were painted on. No eyeholes. And they could have done the same thing here. That they didn't reveals a lamentable lack of understanding about what and who the Spirit really is.
A more serious desecration occurs during an extended fight scene wherein the Spirit is punctured with a sword, its blade plunged into the back and through, protruding out of his chest. He removes the sword in an instant, wincing a little, and seems wholly recovered. Eisner often subjected his Spirit to serious beatings, but he was never invulnerable or impervious to the damage. But that's the trait Miller has endowed his Spirit with, borrowing, we suspect, the X-man Wolverine's miraculous healing factor and doing serious violence to the Eisner concept. Mendes does an acceptable Eisner siren (what's so hard about that?— all you need is sex appeal and slink, with which Mendes is fully endowed). But the other actresses, except for Sarah Paulson as Ellen Dolan, don't do as well. Paulson as Ellen, however, is perfect, the only such casting in the movie. Dan Lauria with a full head of hair playing the bald police commissioner Eustace P. Dolan is a mistake. Lauria is cast almost against type; Eisner's choice in illuminating the city's police commissioner was right out of Hollywood's central casting.
The bigger problem with the movie is not that Miller ignored Eisner's Spirit. He didn't. Mostly, the movie echoes typical Eisner's shtick over the years. The problem is that Miller put all of Eisner's shtick into a single story. When Eisner was being fanciful—evoking, say, a fairy tale or insinuating an alien character from outer space—he didn't mix these ingredients into an otherwise wholly serious tale. He kept his more serious stories serious, endowing them with mean streets and gritty gutters and dripping storm drains. When he updated Hansel and Gretel, he did it without mean streets. Miller, attempting no doubt to evoke all of Eisner in a single endeavor, erred in putting it all into a single story. He would have done better had he told two stories in the movie, one grim and gritty; the other, light-hearted and whimsical. Die-hard Eisner fans would have recognized them both, and newcomers wouldn't be confused, as they surely were at the sight of a disembodied finger, the only living remains of an exterminated Tweedledum/dee, worming its way across the table in front of a delighted Octopus.
The biggest problem with the movie, however, is that Eisner's Spirit cannot be successfully translated into a motion picture. Eisner's Spirit was created for and lived vividly in a static medium, one in which an occasional bigfoot cartoony drawing would not jar loose the viewer's sensibilities. The most successful of the current crop of comic book superhero movies have been those that re-create the heroes instead of seeking to imitate perfectly the four-color pulp original. Robert Downey Jr.'s wry Iron Man is not quite the Marvel comic book hero; he's something new in which only faint echoes of the original survive. Christian Bale's brooding Batman and the punctilious Bruce Wayne are not the comic book's Batman and Bruce Wayne. And Heath Ledger's raving muling Joker is nothing quite like anything Bob Kane or his successors produced.
Miller did somewhat the same in creating his Spirit. His Spirit is not Eisner's. His Spirit is something different that Eisner fans don't recognize. Quite. And that's because the things that made the Spirit Eisneresque were comic book things—panel composition, narrative breakdown (pacing), visual jokes, shadows that didn't so much obscure a figure as they etched it into being, momentary exaggerations in faces and movements. Eisner's creation was a masterpiece of the comic book—i.e., cartooning—arts. And those arts do not, really, translate well into another visual mode, the motion picture. Eisner's Spirit was a creature of his medium: he was created by it. And outside of it, Eisner's storytelling gimmicks do not work in quite the same, comfortable way.
Mark Evanier and Sergio Aragones do a better job of evoking Eisner's Spirit with theirs in the current run of DC's title, Will Eisner's The Spirit. When I first started reading the adventures of the Evanier-Aragones Spirit in the wake of Darwyn Cooke's, I was disappointed: it seemed a little too comedic. But now, having gone back and read a few of Eisner's stories, I think the Evanier-Aragones version is pretty close. They're doing screwball romantic comedy, the stuff of Eisner's last years on the feature, and they're doing it well. There aren't quite as many sight gags, fewer panels devoted to outright visual joking, and the tales they tell consume many more pages than Eisner ever had at his disposal—which makes me appreciate how the limitation served to sharpen the cartoonist's approach and execution. The artists—Paul Smith, Aluir Amancio, Terry Austin, Walden Wong, Jason Armstrong, and Paul Rivoche—do a passable job. They haven't given us quite the grit of Eisner's Central City and the inks of Austin and Amancio are not quite juicy enough. Smith gives the Spirit a little too much jawbone, but his inks have the liquid look of Eisner. The best of the lot is Rivoche, who gets the shadows and the physiognomies right. But this ensemble is working in Eisner's medium, and in that medium—also, profoundly, the Spirit's medium—they can't go as far wrong as Miller could in another medium.
*****
More Movies. Having committed movie-going for "The Spirit," I prolonged the experiment, screening "The Dark Knight"—this one, in my home theater. Christopher Nolan's Batmovies may, as Justin Chang says, "raise the bar for seriousness, ambition and dramatic realism in the comicbook-based superhero genre," but all that arises in this movie is a pretentious extravaganza, much of which takes place in the dead of night and is therefore obscure visually and hence often nearly incomprehensible. Nolan's movie, not surprisingly, partakes of a burgeoning trend in movie-making to produce movies that are mostly eyeball enterprises—all visual impression and no coherent story. You may believe that the story makes sense, but that's because you have been persuaded by the trick: the trick is to overwhelm you with dazzling visuals so you are swept along, like a cork in a cascade, so thrilled by the movement and excitement that you overlook the absence of cohesive plotting. The plot of "The Dark Knight" is nearly impossible to keep straight, chiefly because the Joker keeps insinuating his insane schemes into what might otherwise have been something fairly straight-forward. Heath Ledger was superb, but he overpowered the movie. The rest of the cast—except for Michael Caine with his bemusedly smirking Alfred the butler and Nathan Gamble who managed to convince us of what a struggle James Gordon had suffering angst and guilt while trying to be a law enforcement officer rather than simply an actor in a movie—all were mere props to Ledger's Joker. Christian Bale gave us a wooden Bruce Wayne/Batman who, without any redeeming personality, was little more than a clotheshorse for the Batsuit. And Maggie Gyllenhaal as Rachel Dawes was too old for Bruce Wayne; she was hard and impersonal and too obviously out for the biggest engagement ring she could snare. If Rachel ever had any genuine feeling for Wayne, Gyllenhaal didn't convince me of it. Ditto Wayne for her. Gyllenhaal never warmed up. Her character seemed cold, calculating, and a little bored by the whole proceedings. When she died, not a tear was shed anywhere near where I was sitting. The penultimate scene in which Two-face threatens the lives of Gordon's wife and son dragged on so long as to become tedious rather than menacing.
But the movie-makers' biggest mistake was to try to laminate onto the outlaw crusades of Batman some sort of philosophical import, to justify the violent acts of a vigilante. Clearly, someone at Warner Bros was leery of making a movie that champions taking the law into one's own hands without legal support, so the writers cobbled up a justification that was so cunningly ambiguous and layered in meaning that it destroyed meaning. "We don't have the hero we want; we have the hero we need." Or was it the other way around? "We don't have the hero we need; we have the hero we have." Nuts. Wholly unnecessary. America's mythology, the Western, has long championed and we have long accepted the lone ranger, acting outside the law to bring law and order to communities infected with criminal chaos. Our horseback hero ambles into town all by himself, sees criminality all around him, and, without ever consulting the town sheriff, rights wrongs up and down the landscape and then rides off into the sunset. He may not be the hero we'd like him to be, but he's what we bought into for generations: the writing Nolans, Christopher and Jonathan, needn't have bothered their little heads about Batman's penchant for acting on his own. They also tried to justify the Joker by setting up a ludicrous equation: evil exists in order to guarantee good. The Joker won't kill Batman, he says, because he needs his opposite in order to survive; therefore, ipso facto, the Batman needs the Joker, good needs evil in order to survive. What? A puzzle wrapped in an enigma, maybe?—or just verbal posturing, kimo sabe, nothing more.
To understand just how much of a failure "The Dark Knight" is, consider the other blockbuster of last summer, Jon Favreau's "Iron Man" with Robert Downey Jr. in the title role, which I also screened in my home theater the same weekend as I tried to absorb—by watching it twice—twice!—Nolan's tedious Batman. "Iron Man" is what a superhero action flick should be. In the first place, you can see most of the action because much of it took place in daylight. But more important, it was a superhero story like superhero stories are supposed to be: it was fun. Adventure, action, excitement. And wit. It didn't take itself too seriously, and Downey was the perfect spokesman for the ambiance: he breathed life and intelligence and sardonic humor into the character of Tony Stark/Iron Man. Jeff Bridges was perfectly sinister, and Gwyneth Paltrow incarnated a dear, sweet loyal young thing who matched Downey's deadpan wit with toothsome self-deprecating quips of her own. This movie left me with a grin, not a grimace, savoring its pure pleasure not pondering a tiresome metaphysical puzzle.
CIVILIZATION'S LAST OUTPOST
One of a kind beats everything. —Dennis Miller adv.
The Process of Degrading
Writing in to Ask Amy, the advice column syndicated by Tribune Media Services, "Confused in Connecticut" ponders a classic: why do we say men who patronize strip clubs are objectifying and disrespecting women when the "entertainers" at these clubs do what they do willingly? To which "Amy" responds: "I would ask these men to simply consider how engaging in this practice [going to strip clubs] makes their partners [wives, I assume—RCH] feel. The fact that some women choose to participate in this degrading process doesn't make it right." Some of the men's wives might think their husbands' attendance at strip clubs indicates a healthy interest in the opposite sex, an interest they enjoy, but that's endlessly arguable and it's not what got my wattles in an uproar. The notion that stripping is a "degrading processs" is what caught my eye and raised its brow. I wonder if "Amy" would think that the girl pictured in the accompanying article is participating in a "degrading process."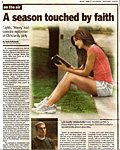 The article, not all of which appears here (it's the picture, not the prose that intrigued me), is about how religion fares in tv shows about Christmas, and the young woman in the picture, an actress in "Friday Night Lights," is a character whose "born-again Christianity plays a key role in the show's storyline." I suppose having photogenic legs is not blasphemous and that born-again Christians can be attractive representatives of their gender, but isn't this actress participating in a "degrading process" by deploying her gams so obviously to attract attention? And isn't the attention she attracts of the same order of things sexual that strippers depend upon for their livelihoods? And what about the notorious "bikini girl"?—the "American Idol" candidate who recently auditioned wearing a scanty two-piece "swim suit" that had nothing to do with the song she sang, and she got voted in, as much because of her exposed epidermis as for her singing, which was, the judges admitted, merely passable. Was she participating in a "degrading process"? Or, to take another example from the pages of the daily paper, this Macy's advertisement.

The largest type in the ad makes a not-so-veiled reference to disrobing—"75% Off" and "30% Off"—and the model in the top picture looks as if she's in the early stages of stripping while the model at the bottom has already stripped; coupled to the headlines, these pictures surely allude to the process "Amy" finds "degrading." And then we have all those photos of Barack O'Bama dancing with his wife, the two of them smiling lovingly into each other's eyes, which newspapers and magazines offer as visible evidence that the new First Couple are in love, but don't the pictures partake of a "Peeping Tom" syndrome, prying into the private feelings of the persons depicted—exactly the sort of voyeuristic adventure men indulge themselves in when attending strip clubs? Does that mean the Obamas, by dancing in public—by being obviously in love—are participating in a "degrading process"? Or does the dignity of the office of President somehow make it right?
*****
Tampa, site of the looming Super Bowl XLIII (43), is the world's capital of bawdy with at least, by one count, 43 strip clubs in the metropolitan area, one for each year of the famed sporting event. Reports the Associated Press's Mitch Stacy: "And the week of Super Bowl is to Tampa's naughty nightlife what Black Friday is to America's shopping malls. ... The laddie mag Maxim put Tampa at the top of its Top Ten list of the best U.S. party cities a couple years ago, based mostly on the two score and more night spots where naked or nearly naked women cavort." Club owners are looking forward to Super Revenue, as much as four times what they made the last time the Big Bowl came to town in 2001. One stripper, who has worked other Super Bowls, expects to make as much as $2,000 a day this year. (Strippers are considered independent contractors: they pay a fee to the house and keep all the rest.) To handle the expected throngs, one club has put up a tent in its parking lot for additional entertainment space. It's all good clean fun, though: after the last Super Bowl in town, the city passed an ordinance against lap dancing. Oh, sure.
NEWSPAPER COMICS PAGE VIGIL
The Bump and Grind of Daily Stripping
Back in the late 1960s, Hank Ketcham made his ill-fated bid for racial diversity in his famed Dennis the Menace. As he tells it in his autobiography, The Merchant of Dennis the Menace: "I was determined to join the parade led by Dr. Martin Luther King, Jr. by introducing a black playmate to the Mitchell neighborhood. I named him Jackson and designed him in the tradition of Little Black Sambo with huge lips, big white eyes, and just a suggestion of an Afro hairstyle. He was cute as a button, and in addition to being a marvelous graphic, he would reflect the refreshing, naive honesty of preschool children as yet unexposed to prejudice and rancor. It was a splendid opportunity to inject some humor into the extremely tense political climate. I urged my writers to give this priority and rolled up my sleeves with enthusiastic anticipation."
Ketcham should have known better, I suppose, although how he might have achieved this sort of omniscience, I dunno: in those bygone days, we were, all of us white folks, a little naive about the extent of the racist-inflicted wounds borne by the African American population. But Little Black Sambo? Doubtless Ketcham had his eye on the cuteness of the "graphic" and on the ameliorating impact of gentle preschooler humor on social issues, and because his heart was pure, he failed to see how else Jackson might perceived.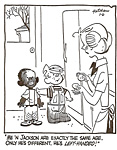 The little black kid showed up in the cartoon one day, and the trouble started at once. "The rumble started in Detroit," Ketcham writes, "then moved south to St. Louis where rocks and bottles were thrown through the windows of the Post-Dispatch." Delivery boys were being threatened and editors hassled. "I was shocked, then frustrated, then mad as hell," Ketcham said—after all, he'd thought he was joining Martin Luther King's parade, not making fun of its marchers. He wrote to his client papers. "I made a point not to apologize but to express my utter dismay at the absurd reaction to my innocent cartoon and my amazement at the number of 'art directors' out there. Any regular Dennis-watcher would surely know that I am never vindictive or show any intent to malign or denigrate. But I guess those violent protestants were not avid followers of newspaper comics. And they weren't complaining about the joke: it was my depiction of Dennis's new pal that got their tails in a knot. I gave them a miniature Steppin Fetchit when they wanted a half-pint Harry Belafonte. It seems that Sammy Davis Jr. was the only one who could safely poke fun at minorities. To this day, Jackson remains in the ink bottle. A pity."
Given this history, I was surprised when reading the Dennis the Menace release for September 22, 2008: here was Dennis playing with a little kid who has short, curly hair, who looked, it seemed to me, African American. It was the hair: the little guy wasn't given any skin tones. So I asked Marcus Hamilton, who draws the daily Dennis, if they were trying to get a black kid into the neighborhood again. Not quite. Here's what Marcus wrote back:
"Ironically, that daily panel has quite a backstory. Our local Carolina Voices, a group of volunteer singers from the area, perform each year in the original 'Singing Christmas Tree.' Other cities have adopted the idea, but I believe it originated here back in the early 1950s. Anyhow, our son-in-law is in the group and when he heard that they were having a fundraiser last year, he came up with the idea to auction off the opportunity to have a member of the highest bidder's family appear in one of the daily Dennis panels. The little fellow in the September 22 panel is the grandson of the high bidder. ... This was a one-time venture that Mrs. Ketcham approved. You probably know that occasionally Hank would include friends and associates in his daily cartoon over the years. In fact, the October 11 cartoon made reference to a longtime friend of Mrs. And Mrs. Ketcham, Jim McGillen, who produces a writer's forum in Carmel. Mrs. Ketcham had requested the mention as a way to show appreciation for his efforts in the community. ... In answer to your question: anytime that Dennis is in a classroom or a group situation, I try to include a balance of ethnicity. No particular character has evolved out of this, but who knows?"

He then attached a mock-up of the framed display that was given during one of the "Singing Christmas Tree" rehearsals to the grandmother of the little kid: it shows the rough for the cartoon, the final product, and a photograph of little Shawn. Here it is.No cute "graphic" this time, just a good portrait.
****
CHICKWEED LANE SOME MORE.
What's going on in Brooke McEldowney's ground-breaking precedent-shattering strip? At our last report, Edda and Amos, childhood sweethearts, had at last consummated their love in the usual way—although not usual for a comic strip in a family newspaper. Nothing explicit, mind you— but the circumstances don't leave us in any doubt. This signal event in their young lives took place during a musical competition in Brussels where Amos on his cello would be accompanied by Edda on piano. Unfortunately—but delightfully so and unbeknownst to the most involved parties—the two young lovers were videotaped during their "most intimate moment" by people drifting by their twelfth floor window in a hot-air balloon. The film was then broadcast all over the world in the Belgium version of funniest home videos. Subsequently, when Edda and Amos performed in the competition, they were extravagantly applauded by the audience, all of whom recognized them as the lovers in the video: everyone loves young lovers. And Amos won the competition. Then, almost at once, the jury reneged and withdrew the award, explaining that "because you and your pianist were captured on camera and broadcast worldwide in flagrante delicto, an allegation of unfair bias has been directed at the jury." They were permitted, however, a "do-over" against their chief rival—this time, behind a screen so none of the jury could see who was playing. And Amos won again. This took place just before Christmas. And there was more to come. Alas, McEldowney missed his deadline for the January 5-10 strips, and, overwhelmed with remorse, he posted the following missive on his officialpibgorn.livejournal.com website:
I SMITE MY FOREHEAD
Important Chickweed Bulletin
Next week, January 5th through 10th, 9 Chickweed Lane will appear for those six days in reruns. On January 12th, the present story will resume. First I must apologize to all of you who come to 9 Chickweed Lane every day. Second, I must explain: I was a half hour late in getting my week's worth of Chickweed completed, and, by so doing, transgressed the sanctity of the deadline. Wheedling and pleas were useless. The syndicate people were intransigent, and imposed reruns, mumbling something, in passing, about God, mercy and my soul. This devastated me, because the story of the competition in Brussels is not over. I did not intend a pause. However, I found myself laboring over some little nuances that might help convey the romance and suspense of the story, and the deadline overtook me, baying and snapping. This is where you must understand something about syndicate people: they look upon cartoonists who violate the deadline the way state troopers regard a motorist who has been changing into a wedding tux while steering the car with his knees (not that I would personally have experience with such a thing). They— the troopers and the syndicate people— are implacable, narrow-eyed, unsmiling. You cannot beg. You cannot bribe. You cannot charm. And, when all is said and done, you cannot snivel, at least excessively, when it is all your own fault. And that brings me to the third point: I must apologize again, and ask your indulgence. The cartoon was finished a half hour after the deadline rumbled past; and it has been sitting in the can, ready to be seen ever since. It will return to comics.com on the 12th. Meanwhile, Amos and Edda are not done yet. Consider next week but a hiccup (not one of Amos's, unfortunately, or it would be remedied so much more agreeably)."
McEldowney's distress may seem a bit extreme—until you consider where the "rerun" strips landed in the continuity. Saturday's strip concluded with the audience showering Amos and Edda with flowers and other congratulatory missives. Monday, then, they would be declared winners for the second time. But instead, Monday began a rerun segment that effectively undermined the emotional current that McEldowney had created. Okay: the Sunday strip, which is not at all part of the continuity, does the same. But in the cartoonist's mind, Saturday flows into Monday, the same unfolding story. In any event, McEldowney's communique must be unique in the annals of comic strip cartooning. And now you have a copy for your file of a genuine unvarnished historical event. (In case you aren't up-to-date on Amos' hiccups: it was to cure his hiccups that Edda took him to her bed. It worked.)
RAGGED AND FUNNY
Once again, I'm told, the Washington Post brought the pre-Christmas season to a close with its yearly neologism contest in which readers are asked to supply alternative meanings for common words. Here are some of the winners: Coffee (n.), the person ;upon whom one coughs. Lymph (v.), to walk with a lisp. Flatulence (n.), emergency vehicle that picks you up after you are run over by a steamroller. Balderdash (n.), a rapidly receding hairline. Testicle (n.), a humorous question on an exam. Frisbeetarianism (n.)—back by popular demand—the belief that, when you die, your soul flies up onto the roof and gets tuck there. There are more. For another day, another time.
WE'RE ALL BROTHERS, AND WE'RE ONLY PASSIN' THROUGH
Sometimes happy, sometimes blue,But I'm so glad I ran into you---We're all brothers, and we're only passin' through.
John Updike, 1932-2009
John Updike, writer of novels, short stories, poems, criticisms and all manner of essays and articles, died on January 27 of lung cancer. He was the author of over 50 books and winner, twice, of the Pulitzer Prize. Most of the obituaries failed to notice that he was also, for a time in his youth, a cartoonist. Naturally, we do not want to overlook this facet of his brilliance. He was not a terribly good cartoonist, having abandoned it before perfecting his technique, but he understood cartooning, and he wrote about it with great insight and tender feeling. Here, culled from various places, is some of what he said, including an explanation of why he gave it up, a confession that, were I as adroit with words as he, might describe my own trek away from the drawingboard. Here's Updike: From More Matter: "I can't remember the moment when I fell in love with cartoons, I was so young. I still have a Donald Duck book ... and remember a smaller, cardboard-covered book based on the animated cartoon 'The Three Little Pigs.' It was the intense stylization of those images, with their finely brushed outlines and their rounded and buttony furniture and their faces so curiously amalgamated of human and animal elements that drew me in, into a world where I, child though I was, loomed as a king, and where my parents and other grownups were strangers." From the first "cartoon issue" of The New Yorker, December 15, 1997: "I loved cartoons—almost any cartoon that met a modest standard of professional crispness—and studied them as if my salvation lay somewhere in their particularities of shading and penmanship. V.T. Hamlin, for instance, who drew the syndicated strip Alley Oop, had a deliberate, gridlike style of cross-hatching that, mixed with the peculiar inverted proportions of his caveman's legs and arms, signaled a special solidity in the progress of his dinosaur-studded panels. ... Fontaine Fox of Toonerville Folks and Percy Crosby of Skippy, on the other hand, worked with a certain inky looseness, a touch of impatience in their confident pen lines. This inky ease attained opulence in Al Capp's Li'l Abner, the lines of which experienced a voluptuous thickening when limning the curves of Daisy Mae or Moonbeam McSwine. ... And of course I copied [all such comic characters], copied onto paper and onto slick white cardboard, trying to master each quirk of these miniature universes. Li'l Abner's hair was always seen with the parting toward the viewer and Mickey Mouse's circular ears were never seen on edge [from the side], and Downwind [Jaxon] in Zack Mosley's Smilin' Jack was always shown with face averted, and Smokey Stover, in Bill Holman's 'Krazy Kat'-ish slapstick, kept saying 'Foo' apropos of nothing and drove vehicles that were endlessly shedding their nuts and bolts. ..." From the Introduction to The Art of Mickey Mouse: "[Mickey's] ears are two black circles, no matter the angle at which he holds his head. Three-dimensional images of Mickey Mouse—toy dolls, or the papier-mache heads the grotesque Disneyland Mickeys wear—make us uneasy, since the ears inevitably exist edgewise as well as frontally. These ears properly belong not to three-dimensional space but to an ideal realm of notation, of symbolization, of cartoon resilience and indestructibility. In drawings, where Mickey is in profile, one ear is at the back of his head like a spherical ponytail, or like a secondary bubble in a computer-generated Mandelbrot set. We accept it, as we accept Li'l Abner's hair always being parted on the side facing the viewer." On caricaturist David Levine from the Introduction to Pens and Needles, a 1969 collection of literary caricatures: "Levine ... flung himself in a fury of crosshatching upon his subject. His style looked past Beerbohm to the three-dimensional grotesques of Daumier and Tenniel. No weary puck or complacent bulge of physiognomy could slip through the supple net of his penstrokes. ..." Back to The New Yorker: "All this had to be studied, imitated, absorbed. The studying occurred mostly on the floor, my head lifted up on my elbows but not very high. When I drew, too, my nose had to be close to the paper, though I was not generally nearsighted. But the entering in required close examination, as though I were physically worming my way into those panels, those lines fat and slender, those energetic zigzags, those shading dots I learned to call Benday. A craft lore existed, of pen nibs, fine brushes, blue pencils, art-gum erasers, whiteout and Higgins India ink (which came in broad-bottomed bottles that nevertheless could be knocked over, as several indelible stains on my family's carpets testified). ... "I drew not for the sake of drawing but to get into metal—to have the work of my hand be turned into zinc cuts and by this means printed. The first cuts made from a drawing of mine—a Christmas card, perhaps, portraying the family dog, or a caricature done for the class-play program—were to me potent objects, a purchase on power. ... A cartoonist partook of this process at the tentative, scratchy, inky outset, and then was swept up and glorified by a massive, ponderous miracle of reproduction. To get a toehold in this metal world—that was my ambition, the height of my hope." Updike went to Harvard, where he was ultimately published in that institution's famed campus humor magazine: "Early in my freshman year, I carried a batch of my cartoons down to the Lampoon building, there where Mt. Auburn Street meets Bow at an acute angle, an ornate little brick flatiron fronted by a tower with a sort of cartoon face and, on its hat of roof tiles, a much stolen copper ibis. In due course, some of my drawings were printed in the magazine, and I was accepted. ... Though Harvard did little to attract cartoonists, in fact there were four on the Lampoon in 1950—Fred Gwynne, Lew Gifford, Doug Bunce, and Charlie Robinson—who seemed to me much my betters in skill and sophistication. ...I tried to measure up to their examples and cartooned abundantly for the Lampoon—over half the art work in some issues was mine.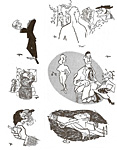 "I see myself at my desk in my narrow room ... I am 'inking in'—tracing the lightly pencilled lines, trying to imbue them with a graceful freedom while searching out, in this final limning, the contour being described. The nervous glee of drawing is such that I sometimes laugh aloud, alone. I would get so excited by the process, so eager to admire the result, that I frequently smeared the still wet lines with my hand. This would put me in mind of a tip I had read of in my highschool days: a successful cartoonist advised apsirants to the art, 'If you're not sure the ink is dry, rub your sleeve over it.' It had taken some days before I realized that this was a joke, meant ironically. ... All around me, my fellow students are silent, sleeping or communing with the printed page; only I, in this vicinity, am carving a little window into a universe that, an hour ago, had not been there at all. "But the budding cartoonist in me, exposed to what I felt were superior talents, suffered a blight; my light verse and supposedly humorous prose felt more viable. By graduation, I had pretty well given up on becoming a cartoonist. It took too many ideas, and one walked in too many footsteps. Writing seemed, in my innocence of it, a relatively untrafficked terrain. "I dislike drawing now, since it makes me face the fact that I draw no better, indeed rather worse, than I did when I was twenty one. Drawing is sacred to me, and I don't like to see it inferiorly done. A drawing can feel perfect, in a way that prose never does, and a poem rarely. Language is intrinsically approximate, since words mean different things to different people, and there is no material retaining ground for the imagery that words conjure in one brain or another. When I drew, the line was exactly as I made it, just so, down to the tremor of excitement my hand may have communicated to the pen; and thus it was reproduced. Up to the midpoint of my writing career ... I sometimes tried to bring this visual absoluteness, this two-dimensional quiddity, onto a page of print with some pictorial device. But the attempt was futile, and a disfigurement, really. Only the letters themselves, originally drawn with sticks and styluses and pens, and then cast into metal fonts, whose forms are now reproduced by electronic processes, legitimately touch the printed page with cartoon magic." For more of Updike's insights during criticism of the visual arts, see his Just Looking: Essays on Art. Hearing of Updike's death, Patti Thorn at the Rocky Mountain News recalled an unnamed writer who had imagined a future for books in which they'd disappeared, the written word to be found only on the Web. "With no market for physical books, authors would make their living through public appearances," Thorn writes. Updike, imagining this future, was, Thorn says, terrified of it. She heard him talk about it at BookExpo America, an annual tradeshow. Said he: "Has the electronic revolution pushed us so far down the path of celebrities ... that an author's signed works serve primarily as his or her ticket to the lecture platform?" In his choice of words and their arrangement, Updike was, as usual, elegant and telling. And that is how we'll remember him, an unfinished cartoonist who mastered words rather than pictures.*****From Tom Spurgeon: "Claude Moliterni, a massively prolific writer, editor and critic who was one of the founders of the Angouleme Festival and a key player in the 20th Century's re-consideration of comics as a vital cultural and artistic force through his writing and exhibitionorganizing, died on January 20 from a heart attack. He was 76 years old." For more on the legendary Moliterni, visit Tom's ComicsReporter.com.
BACK AT THE RAUNCH
Playboy Joins the Laddie Mags
With its current issue (for February), Playboy completes the revamp of its format, rendering the famed science fiction periodical undistinguishable from its laddie mag rivals—except, notably, for the naked women with staples in their tummies. The opening section of the magazine, "Playboy After Hours," has assumed the jam layout of squib-and-pic that presents a hodge-podge of information in verbal and visual shreds and patches, willy nilly, clumping items by shape and size rather than theme or subject (not unlike the pin-up sections of the magazine), but the last straw was heaped on the camel this month: the first pages, which have for generations been an open airy display of the issue's contents and short bios of contributors, now follow the prevailing men's mag method of piling everything into two or three columns, solid with type and image. And the "Playboy Forum" has been moved to the back of the book. In sum, alas, the last holdout has let loose its grip: now the days of my gawking youth are forever lost, nevermore retrievable, even by this magazine, the most vicarious of means. Oh—science fiction? A hoary joke: Playboy's departments on computers and hi fi record and disk players comprise the scientific part of the magazine; the rest, chiefly the centerfold, is fiction. This issue reflects Hugh Hefner's empire's declining fortunes: it's smaller than most, only 122 pages, of which only 6 are devoted to full-page color cartoons. In the back pages, 7 more cartoons and a couple half-page strips (Meaty Myths and Dirty Duck) complete the tally for this issue. These numbers echo exactly the 2008 pattern. In this issue, there's one big cartoon for every 20 pages, which is about the ratio that has always prevailed; it's the number of pages that's dropping. In the 1990s, the number ranged from 180 to 240; these days, 120-150. Accounting for the shrinkage, perhaps: the Playboy empire lost $5.2 million in the third quarter last year; $3.1 million in the first quarter of the year. The other reason for acknowledging this issue of Hef's mag is its full-page, full-color barenekidwoman painting by comic book artist Adam Hughes. Hughes has made a career out of drawing funnybook covers featuring toothsome femmes, but they're mostly wearing what passes for clothing in the superheroine wardrobe department. The Playboy appearance is the only Hughes nude I know of that has escaped his privately printed souvenir booklets into mainstream pages. And most of those are sketches, not fully finished paintings in loving color. In our never-ending quest to provide you with all the news and views you need to operate successfully in a bi-sexual world, we reproduce Hughes' naked lady here; now you won't need to buy Playboy this month.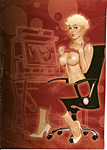 The Hughes painting illustrates an article entitled "Peep Culture" that seems to be about the increasingly wide use of the Internet as a keyhole for peeping into the private lives of people who willingly put pictures of themselves on the Web for exactly this purpose.*****On January 6, Geoff Boucher at the Los Angeles Times did a piece on Playboy's Hugh Hefner that confirms what we know about the publisher's early ambition to be a cartoonist and adds to the lore that we laid on you as recently as Opus 234. Here's Boucher's piece, verbatim (almost: I've spliced in a comment or two of my own, always in italics), pilfered from latimesblogs.latimes.com:
HUGH HEFNER'S SECRET IDENTITY AS A COMIC BOOK ARTIST
I love being a journalist for the Los Angeles Times because of the unexpected places the job takes you. I've been in the cockpit of soaring Soviet fighter plane, interviewed murderers in prison yards, visited movie sets in four countries and crossed more red carpets than I can remember. A few weeks ago, I found myself standing in another spot I never expected to visit: Hugh Hefner's bedroom. I was interviewing the publishing mogul for a Calendar cover story this past Sunday and, after the chat, he invited me upstairs to check out the Hollywood-related memorabilia in his room, like a vintage Buck Rogers ray-gun toy in an elaborate frame, two busts of Boris Karloff and a portrait of Marilyn Monroe, the symbol of doomed Hollywood beauty. (Random aside: I was surprised how cluttered his bedroom was; there were stacks of DVDs and scripts and other paperwork, and I'm told he eats many of his meals there in his upstairs sanctum.) Hefner is most famous for his magazine, his mansion, his pipe and his sex life, but I learned in talking to him that as a youngster he aspired to be a cartoonist. He also said that, in a sense, Playboy began as a comic book that he drew for his school chums back in Chicago. "I was most interested in writing and cartooning," he told me as we sat in his downstairs library near a bare-breasted statue of Barbi Benton. "I wrote short stories and lots of mysteries and horror stories and did comic books in grade school and high school. I actually started a comic-book autobiography in high school called `School Daze,' about the adventures of my friends and myself. I then began adding clippings and photographs too. It eventually became like a scrapbook. I went directly out of high school into the Army; it was during World War II, and I continued that." That scrapbook mentality—collecting cartoons, photographs and lifestyle items in one spot—was an essential concept for Hefner's future career. He just added lots of glossy pictures of buxom women in the nude." The comic book was a way of creating your own world and being center stage. And only years later did I realize that when I started the magazine, and the way I used the magazine in my life, it had a direct parallel to what I did in high school. The comic book became the scrapbook that I have continued then throughout my life and now has over 2,000 volumes." I asked him what illustrators he admired the most. (Boucher means "cartoonists," as we can tell from what follows.) "Milton Caniff first and foremost. I actually got Caniff for Playboy. During World War II, Caniff did a comic strip called Male Call with a very sexy lady named Miss Lace; it was in Stars & Stripes and Yank, and it was for the service guys. I knew that some of them had been rejected for being too sexy. So when I started Playboy in summer of 1953, I wrote to Caniff and asked if I could reprint some of the strips, and I asked whether he would supply me with the ones that had been censored and not printed. Those appear in the second issue of Playboy. So my idol, for no particular reason, said yes to a kid that had this impossible dream and was puttering together the first issue of Playboy with literally just $8,000 and no hope." I mentioned to Hefner that if he had started a magazine called "Yank," it would have caused a stir, and he leaned back and laughed. "Yes, yes—it would have been misunderstood!" My main impression of this cultural icon? I marveled at the fact that someone who has been so famous and so rich for so long could be as polite, earnest and engaged as Hefner. Here are the opening paragraphs of that Sunday article: "You've caught me with my pants on," Hugh Hefner said with a sad smirk (deploying what is undoubtedly the oldest joke at the Mansion). There are days (or entire decades) when Hefner greets the midday sun in silk pajamas and a robe, but on this particular December afternoon, well, the Playboy just wasn't in the mood. Hefner had arrived back at his 29-room Holmby Hills mansion after attending the funeral of Bettie Page, the pin-up queen, and he was still wearing his mourner's jacket as he sat and slowly sipped from a bottle of Diet Pepsi in the hush of a downstairs library. Hefner considered Page a friend and fellow pioneer of sorts on the old frontier of American sex culture. Now, like so many others in Hefner's long journey, she is gone. "We knew it was coming, and there comes a point in the illness ..." His voice trailed off and then, adjusting his gold bunny cuff links, he smiled. "We're not really talking about Bettie Page here today." No, but the legacy of desire— as well as the desire for legacy— are core concerns for Hefner these days. He has arguably never been more famous, but the glossy centerfold citadel of his empire, Playboy magazine, has struggled, and Hefner, 82, seems most at ease talking about the past and his consuming passion—no, not that one. According to Hef, Hollywood was actually his first true obsession. "Everything I learned about love, I learned from the movies," Hefner said. "The reality is because I was not shown affection, I escaped into an alternate universe, and it came right out of the movies. Love for me is defined almost exclusively in terms of romantic love as defined by the films of my childhood." There's a strong chance that Hefner finally will see a version of himself as a child up on the screen; a long-elusive biographical film is ramping up and, according to Hefner, production could be underway in the next few months. Brian Grazer is the producer, Robert Downey Jr. is keenly interested in the starring role and Brett Ratner has been lined up to direct. Hefner, a devotee of Billy Wilder and Preston Sturges, seemed uncertain about the "Rush Hour" auteur."It's going to be a very curious change of pace for him ... but I believe in Brian," Hefner said. "The one thing I would want the film to be is something other than a light comedy, to have something to say and express something about the change in social sexual values. You know, Brian made a comment that I was the only man who had made love to over a thousand women and they all still liked him. And I do take some pride, in fact, that I remain friends with the majority of former wives and girlfriends. I am a romantic."
ONWARD, THE SPREADING PUNDITRY
The Thing of It Is ...
In the wake of the infamous shoe-throwing incident in Iraq, the Homeland Security Department has announced that no one will be permitted to wear shoes henceforth. Confiscation of footwear began on the Jersey shores and will proceed, ever alert, westward until California is, at last, reached and un-shoed. Muntadhar al-Zeidi, the Iraqi journalist who flung his footwear at George WMD Bush, has become something of a folk hero in his native land. He's in jail for assaulting a foreign leader, but his guards gave him a birthday party when he turned 30, and thousands, according to Kim Gamel at the AP, have demonstrated for his release and hailed his gesture. "For him, it does not matter how long he will be imprisoned," said his brother, "because the important thing is that he restored the honor of the Iraqi people." *****We're finally done with the frat boy cheerleader who dotes on fart jokes. But George W. ("Whopper") Bush couldn't leave office without committing one or two more of the verbal gaffes we have grown to love and denigrate. "You may not agree with some tough decisions I have made," he postulated. "But I hope you can agree that I was willing to make tough decisions." As Darth Cheney would say—So? GeeDubya's command of his native tongue's syntax is evidently contagious. His press secretary, the toothsome blonde Dana Perino, is among those infected. Salon.com, reporting on her final briefing before reporters at the White House, noted that she returned again to the subject of the purported liberal bias of the media, saying: "Here's the thing. I don't think I would always be asked about my feelings about liberal bias in the media if there wasn't any liberal bias in the media. If it was a moot question, then we wouldn't always have the discussion." To which washingtonmonthly.com's Steve Benen reposited: "I don't think Perino would always be asked about Dick Cheney's breathtaking dishonesty if there wasn't any breathtaking dishonesty. I don't think Perino would always be asked about Bush's failures in Iraq, the economy, and the response to Hurrican Katrina if there weren't any Bush failures on Iraq, the economy, and the response to Hurricane Katrina." Sometimes, however, Perino has demonstrated a brilliance of wild abandon, as in her explanation of the "Mission Accomplished" mistake. Said she: "President Bush is well aware that the banner should have been much more specific and said, 'Mission Accomplished for These Sailors Who Are on This Ship on Their Mission.'" Oh—that's what he meant. These are the people who ran the country for eight years, tovarich. In his last press conference, George W. ("Warlord") Bush astonished the world, as is his wont, with yet another revelation: alternately scoffing and sneering at the oft-proclaimed "burden of the office" of the presidency, he said he doesn't think it's all that burdensome. Not too heavy for him, no sir. He pooh-poohed those who bemoaned the "burden of the office," saying they were simply oozing self-pity. "Pathetic, isn't it?" he said. Well, of course GeeDubya wouldn't find the office too burdensome: he spent most of his time out of it—at the Crawford ranch cutting brush or biking or in the White House gym, working out. Nothing burdensome about that. But why, except for his legendary tone-deafness and all-around cluelessness, would he want to draw attention to how lightly he bore his load? Why not? This is the same Leader of the Free World who, at the conclusion of the G-8 summit last summer wherein green house gases were a topic of discussion, bid farewell to the other heads of state with the words: "Good-bye from the world's greatest polluter." He'd presumably run out of good fart jokes. We elected this guy. Twice!! The pundits everywhere are lining up to assess the Bush League years. I particularly enjoyed the summing up at the Economist, where presumably the British perspective lent the objectivity of detachment to the remarks. Frank Bruni, who covered GeeDubya's election campaign in 2000, is quoted: "The Bush I knew was part scamp and part bumbler, a timeless fraternity boy and heedless cutup, a weekday gym rat and weekend napster."Another journalist, Ron Suskind, argues that Bush created a "faith-based presidency" in which decisions, precisely because they were based on faith, could not be revised subsequently. The Bush presidency is notable for three characteristics: partisanship, politicization, and incompetence. "Relentless partisanship led to the politicization of almost everything," including the tendency of the administration to sweep into its offices political loyalists whose other distinguishing trait was incompetence. "His lacklustre Attorney General, Alberto Gonzales, who was forced to resign in disgrace, was only the most visible of an army of over-promoted, ideologically vetted homunculi." Even George F. Will, a sensible if conservative commentator, found aspects of the Bush League's occupancy of the executive branch of government "obdurate, arrogant and frivolous." I am reminded of a notorious Doonsebury strip during the Nixon Watergate scandal in which one of the characters (Mark, if I recall) pronounces Nixon's Attorney General, John Mitchell, the leader of the break-in caper, "guilty, guilty, guilty." For the Bush League, the pronouncement should be: "failed, failed, failed." Among the inky-fingered fraternity, editorial cartoons recording the end of the GeeDubya years frequently depicted their unrepentant perpetrator, clueless as always, leaving the White House behind him a mound of rubble, its fragments and shards labeled with the catastrophes of his tenure there—Iraq, Katrina, wiretapping citizens, torture, and so on. David Horsey at the Seattle Post-Intelligencer did the granddaddy of all of this brand with a cartoon that I suspect ran as nearly a full-page, and in color, in one of the paper's weekend sections, which Horsey often decorated with expansive drawings. Stuart Carlson deviated from the norm slightly, showing Darth Cheney on the toilet finding a new kind of toilet paper, and Clay Bennett also resorted to a commode to express his feelings about the departing thieves and incompetents. John Cole, however, turned his attention to the way the news media might react without GeeDubya to lead them on fool's errands into the mesquite of rural Texas.
| | |
| --- | --- |
| | |
And in his final day in office, Darth Cheney did not disappoint: he emerged from his undisclosed location to attend the Inauguration in Dr. Strangelove's wheelchair, reminding us all of his ominous influence over the past eight years. In Australia, someone was selling t-shirts emblazoned: 1-20-09 Bush's Last Day! Celebrate the End of an Era Error. (In case the strike-out doesn't show here, "Era" was crossed out and "Error" insinuated into the legend.) Garrison Keillor wrote about the Inauguration: "The great moment came later as the mob flowed slowly across the grounds. I heard loud cheers behind me, and there on the giant screen was the Former Occupant and Mrs. Bush, saying goodbye to the Obamas in the parking lot behind the Capitol, the Marine helicopter behind them. The crowd stopped and stared, a little stunned at the reality of it. They saw it on a screen in front of the Capitol and it was actually happening on the other side. The Bushes went up the stairs, turned, waved and disappeared into the cabin, and people started to cheer in earnest. When the blades started turning, the cheering got louder, and when the chopper lifted up above the Capitol and we saw it in the sky heading for the airport, a million jubilant people waved and hollered for all they were worth. It was the most genuine, spontaneous, universal moment of the day. It was like watching the ice go out on the river." And Kathleen Parker, not usually on the side of the angels, contemplated Obama's swearing in in front of multitudes and chipped in with this: "...awesome. That most-annoying hipster term for anything remotely acceptable is suddenly useful for its intended purpose. For awe is the truest word to describe what transpired and what was inspired. ... It is awe for what is, in fact, not change, but the natural, if difficult, progression of an ideal that is true and good and transcendent through time. Barack Obama's presidency isn't a change from but a continuation of the American experiment toward its hoped-for destination. Obama hinted at this in his speech by invoking Americana values ... he reminded us that change is not a single event on Election Day, but an evolutionary process. The change we've been waiting for? No, the goal we were always aiming for."
Waldo Wilco and out.
To find out about Harv's books, click here.