Opus 234 (December 9, 2008). The tempest over the rumored demise of Dick Tracy has been resolved: neither Tracy nor cartoonist Dick Locher are retiring. Apart from the usual round-up of comics-related news, we applaud the masterful storytelling in 9 Chickweed Lane and begin a seasonal review of books your spouse might want to buy you for Christmas (more titles next time, too). The two longest segments below are about the state of cartooning in Playboy and Hugh Hefner's wicked wicked ways plus a long review of one half of the Best Buy of the season, Brian Walker's Comics: The Complete Collection, which binds his two watershed histories of the medium together in a single impressive tome at a stunningly low price. Here's what's here, in order by department:
NOUS R US
Up-Dating: Dick Tracy Lives & Keith Knight Explains
New Nous
Warren Beatty Sues the Trib over Dick Tracy Rights, Steve Kelley Sues Former Employer, Bruce Wayne Gives Up the Cape, Beyonce Wants to be Wonder Woman, Pat Oliphant Distressed That He Likes Obama, S. Clay Wilson Is Better, Stan Lee Gets NEH Award and His Soapbox Columns Are Collected, King Features Launches a Digital Platform for Comics
FUNNYBOOK FAN FARE: Two More Presidential Candidate Comic Books
GASOLINE ALLEY'S NINETIETH: Scancarelli's Anniversary Strip
LOVE AND SEX IN THE FUNNIES: Superb Episode in 9 Chickweed Lane
EDITOONERY
Three More Casualties
XMAS LIST: REVIEWS OF BOOKS FOR A MERRY YULE — PART ONE
Ask Your Spouse to Buy Your One of Each of These: Fringe, A Cartoon History of the George Dubya Bush Years; Little Nemo in Slumberland: Many More Splendid Sundays; Rick Geary's Latest, the Lindbergh Child; Jaro Fabry: The Art of Fashion, Style and Hollywood in the 1930s and 1940s; Artzybasheff's As I See It; Comics Studies Reader; David Levine's American Presidents; Brian Walker's Comics: the Complete Collection (Best Buy of the Season)
GRAFICITY: Graphic Novel Reviewed
Exit Wounds
TRIBUTE OR TRIBULATION?
The New Yorker's Lame Annual Cartoon Issue
Fewer Cartoons in Playboy
Hugh Hefner's Wicked Ways in the New Biography
Bunny Tells Tales, One of Hef's Girlfriends Goes Public
Playmate Scandal of Another Age
The Gibson Girl Takes Her Clothes Off
THE REAR VIEW SHOWS THEY'RE CLOSER THAN THEY SEEM
A Long Souvenir Review of The Comics Since 1945, Half of The Comics: The Complete Collection
And our customary reminder: don't forget to activate the "Bathroom Button" by clicking on the "print friendly version" so you can print off a copy of just this installment for reading later, at your leisure while enthroned. Without further adieu, then, here we go—
NOUS R US
All the News That Gives Us Fits
Dropping the Other Remaining Shoe Department. Tracy lives!! Dick Locher phoned to tell me that he's not retiring at the end of the year; neither is Dick Tracy. So much for that rumor. ...
About what I said about Spot the Frog last time: CORRECTION. MarkHeath's drawing style is actually quite appealing. Except for Spot. It was the way he drew Spot that turned me off. Those eyeballs—one large and one small and never the twain did deviate. Always, one huge eyeball rolling around on the top of Spot's face. A little variation in the treatment of the eyeballs would have pacified me. And if you want to know how I think a frog's eyeballs should be rendered, here's an example, who's watching me at work.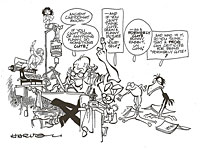 *****
CONTINUING IN THE DROPPED SHOE DEPARTMENT. At his Website, kchronicles.com, Keith Knight, an African American cartooner highly regarded in these parts, issued the following "official statement" about his use of the N-word in a recent K Chronicles cartoon featuring a canvasser asking potential voters how they'd vote in the Presidential Election (for the cartoon, see our last posting, Opus 233):
To Whom it May Concern: First off, it's nice to know people are still reading the paper. In all seriousness, the strip is based on some true incidents that happened to canvassers in some battleground states. (See http://www.fivethirtyeight.com/2008/10/on-road-western-pennsylvania.html) Is it offensive? Yes. Is it sad? Sure. But that's the reality of the United States and this very unique election.
We have the first African-American candidate for president who could actually win. And folks of all colors are coming face-to-face with bias and race issues they didn't know about, have ignored or pretended didn't exist. Neighbors, co-workers, and family members are learning a little more about the society we live in. The comic is pointing out one aspect of it. Straight-up racists are prepared to pull the lever for a black man. While some folks out there, who never thought they were prejudiced, aren't going to vote for him because of his skin color.
Should we ignore stuff like this? I don't think so.
Should it be in a comic strip? Yes!!
Comic strips aren't always "ha-ha" funny. They can be peculiar or strange or dark or embarrassing. Some of the most effective cartooning addresses serious issues. I suppose there are still a lot of folks who think comics should all be like Garfield.
I think it's good that people are discussing the strip, whether it be negative or positive. It shows that they care and are willing to confront issues that are often swept under the rug.
This election is the most significant event to happen concerning race in this country since the civil rights movement. It has shown us what makes this country great, and what we still need to work on. I like to think my work shines a light on both the negative and the positive.
To which Keef adds this post-script:
And, Out of All the Feedback I've Read about the Strip, This Person Got What I Was Trying to Convey: "For better or worse, it's a word with a lot of power. There are those who attempt to strip it of its power by using it casually or artistically. Here I think the power of the word is harnessed to make a thoughtful and worthwhile point about the way people are voting in this election. I have encountered people who I would consider racist who are voting for Obama in a strangely promising and simultaneously troubling phenomenon."


NEW NOUS
Dick Tracy is alive in the courts as well as (for now) on the funnies page. Actor Warren Beatty has sued a unit of the Tribune Company, which owns the comic strip detective, to prevent the Tribune from taking back the tv and movie rights to the character. Beatty starred as Tracy in the 1990 movie that earned more than $160 million, and he says he's now at work on a tv Dick Tracy special. According to the agreement he secured in 1985, he retains the rights to the character for "a certain period of time" after which the tv and movie rights revert to the Tribune. The Tribune maintains that it gave Beatty a "period of time," two years, on November 17, 2006; Beatty says he started work on the tv special November 8, 2008, within the specified framework. But the Tribune says it has the right to terminate Beatty's rights. We don't know, yet, what's left.
And New Orleans' Time-Picayune editorial cartoonist Steve Kelley is also bringing suit—against his former employer, the San Diego Union-Tribune, which, his brief alleges, has coerced his successor editoonist, Steve Breen, into abandoning a plan to collaborate with Kelley on a comic strip to be called Dustin. According to the voiceofsandiego.org, Universal Press Syndicate agreed in 2006 to a development contract that might lead to syndication, but when Breen withdrew, the deal fell through. Breen already does a syndicated comic strip, Grand Avenue, in addition to his editorial cartoons (for which he won a Pulitzer in 1998). Kelley, who also works as a stand-up comic, has had a somewhat acrimonious relationship with the Union-Tribune: he was sacked by the paper in 2001 when his editors mistakenly thought he'd "sneaked" into print a cartoon that had not been approved. (Details in Opus 62.)
Will success kill Batman? "Just as 'The Dark Knight' closes in on $1 billion worldwide gross, DC Comics is ready to have Bruce Wayne 'die'—or at least give up the cape—in his monthly comic," observed David Colton at USA Today. In the current issue of the comic book, Batman No. 681, Bruce Wayne (aka Batman) learns something from his past that discombobulates him enough that he decides a "new Batman" must be found, and he reportedly doffs the cape in a dramatic gesture smacking of finality. British novelist and one-time funnybook scribe Neil Gaiman has returned to comics for Nos. 686 and 687 of the title for a "tribute" to the character that inspired his love for comics. Tentatively entitled "Whatever Happened to the Caped Crusader," the story, Gaiman said, "is my last Batman story. And in some ways, it could be seen as every last Batman story," he added, cryptically. "There are infinite Batmans," he went on. "It has been really hard on [artist] Andy [Kubert] because I keep asking him to draw in so many different styles." Is the Bruce Wayne Batman gone forever? Said Gaiman: "No franchise ever closes down for good."
Meanwhile, Beyonce Knowles has revealed at nzherald.co.nz that she aspires to be the first black star to play Wonder Woman. The singer has met with representatives of DC and Warner Bros. "I want to do that type of movie and what would be better than Wonder Woman? It would be great. And it would be a very bold choice. A black Wonder Woman would be a powerful thing. It's time for that, right? I love Wonder Woman and it'd be a dream come true to be that character."
Famed editorial cartoonist Pat Oliphant is facing a problem, said Matt Schofield at the Kansas City Star: "What to do about a president he actually likes?" Liking such presidents as Richard Nixon and George W. ("Warlord") Bush "is not a problem he's had much experience with," Schofield continued. Said the Australian-born Oliphant: "I came here in 1964, in the midst of the Johnson - (Barry) Goldwater mess that was defining the world," he said, in a gentle Australian lilt that has faded over 44 years in the U.S., where he is now a citizen. "I thought at the time I liked Johnson. It's not a problem I've had since. Until now." Now, he, like all political cartooners, is expected to make fun of Barack Obama. But Oliphant likes Obama. "Cartoonists need villains," he said. "The Bush years were better than the Nixon years, professionally." Professionally, Oliphant went on, he is mourning John McCain's loss: "I suffered a grievous injury, losing Sarah Palin so soon." But he realizes his Obama dilemma won't last forever. "With every politician, there's a honeymoon period. I just have to wait for that to end. It always ends." Until then? asked Schofield. "Well, thank God for those big ears."
*****
S. Clay Wilson, the happily notorious underground cartoonist, famed for the Checkered Demon and some of the most unappetizing scarred, bandaged and tattooed female characters in comix, was moved out of intensive care Thursday afternoon, November 20. Wilson, 67, was in the hospital for two-and-a-half weeks after sustaining severe injuries on November 1, "injuries most likely incurred while falling and striking his head as he walked home drunk from a friend's apartment," said Steve Duin at the Oregonian. Lorraine Chamberlain, the cartoonist's long-time partner, said Wilson was slowly regaining his ability to communicate with the help of a speech therapist. But, she said, he is still suffering from aphasia, an increased difficulty of summoning the right words. "The part of the brain that was injured," she said, "makes him weigh a question so long that you don't think he's going to answer it at all." The irony, she added, is not lost on anyone who knows Wilson: "He is the most talkative person in the world, a real motormouth. We're so used to not being able to get a word in edgewise."
She hopes to get him home sometime before Christmas. Writes Duin: "She added, however, that Wilson was plainly discouraged when she showed him the picture of an ivory pool cue on which the cartoonist was inscribing a comic strip in scrimshaw before his injury. (The Checkered Demon pool cue is being assembled by Bob Danielson of Richland, Wash.) 'He looked at the ceiling and was frowning,'Chamberlain said. 'When I asked if he was upset, he said, Kind of. I said, 'You'll be drawing again soon. Don't worry about that. I've called people and asked them that when they come to visit him, don't bring show-and-tell in there. Don't show him his own work right now. He knows he's a cartoonist. He's just worried he can't do it any
more.'"
*****
Editor & Publisher kept track, for a while, of the comic strips that newspapers have been putting in their Sunday funnies to replace the defunct Opus. The best seller seems to be Pearls Before Swine. Others include Get Fuzzy, Prickly City, Arlo and Janis, Rose is Rose, The Knight Life, Argyle Sweater, Speed Bump, Daddy's Home, Bizarro, The Brilliant Mind of Edison Lee, Mutts, Mother Goose & Grimm, and Mallard Fillmore.


THE FURTHER ADVENTURES OF STAN LEE
From Roxanne Roberts and Amy Argetsinger at the Washington Post comes this: Stan Lee peering into the darkened windows of a closed Radio Shack downtown Sunday morning. The legendary comic book magnate (shades, trench coat) was apparently looking for a cellphone charger when he was recognized on the street by a 6-year-old fan, Maxwell McMillan. Lee spent several minutes talking to the lad about Hulk, Iron Man and Spider-Man and graciously agreed to pose for a photo. "Little man," he said, "you will appreciate this picture when you are grown, and I am long gone." He was in town to receive the National Medal of Arts at the White House the next day, Monday, November 17.
"I wonder what took so long," quipped Lee, 85, in an interview Sunday with Joel Garreau of the Washington Post. "Say 'He said it with a laugh' or I'll shoot you," Lee added. With a laugh. "I feel very honored, very surprised," Lee continued. "When I first got the phone call, I thought it was a gag. I'd heard of it but didn't know much about it. I'd heard of the NEH (National Endowment for the Humanities, which sponsors the award). But it was just a name."
The award to artists and arts patrons is billed as the highest bestowed by the U.S. government, Garreau noted.
Among the other recipients were film actress Olivia De Havilland; jazz pianist Hank Jones; Jesús Moroles, a sculptor known for his monumental works in granite; and brothers Robert B. and Richard M. Sherman, songwriters long associated with Disney films, who created "It's a Small World (After All)."
Coming on the heels of this distinction for Lee is the publication of Stan's Soapbox, a collection of the columns he wedged into the interiors of Marvel Comics, 1967-1980—"a sort of blog in those days before the Interwebs," said Chris Landers at Baltimore's citypaper.com. "He wrote about what was happening inside Marvel Headquarters, which was a space station inhabited by costumed inter-dimensional super-beings known as the 'Marvel Bullpen.' ... Some of it's pretty inside baseball at this remove, but Lee managed to slip in a real life lesson every once in a while that related current events to the more extraordinary heroics in the rest of the book. As he put it (in March 1970): 'It seems to me that a story without a message, however subliminal, is like a man without a soul.' He wrote about the evils of intolerance and racism and it came off like friendly advice, not a lecture." The compilation came out November 18 from Hero Initiative, Landers went on, "a nonprofit that helps comic creators from the Golden and Silver Ages of comics who aren't as famous as Lee with some basic necessities such as rent and healthcare as they enter their own golden and silver ages. The book collects all 'Stan's Soapbox' columns, and adds a timeline of what was going on in the non-Marvel universe, and remembrances from some of comicdom's big names."
*****
King Features Syndicate unveiled its latest scheme to weld comics to newspapers irretrievably: a digital platform that newspapers can embed in their websites, Comics Kingdom will eventually display at least 60 strips next to local and national advertising. The newspapers will make the local ad sales; King, the national. T.R. "Rocky" Shepard, King's President, said Comics Kingdom can break even in about a year by splitting the ad revenue with its newspaper partners—after which, I assume King will divvy up the take even further by distributing it among the cartoonists whose strips are in Comics Kingdom, although the story in USA Today by David Lieberman said nothing about that. Lieberman did note, however, that newspapers that have tested the new feature say they experience increased traffic. "It's becoming the second-highest feature within our entertainment section, even beyond stories," says Shane Peterson of the Milwaukee Journal Sentinel's Web unit. "It's definitely something that people are interested in."
Fascinating Footnit. Much of the news retailed in the foregoing segment is culled from articles eventually indexed at rpi.edu/~bulloj/comxbib.html, the Comics Research Bibliography, maintained by Michael Rhode and John Bullough, which covers comic books, comic strips, animation, caricature, cartoons, bandes dessinees and related topics. It also provides links to numerous other sites that delve deeply into cartooning topics. Three other sites laden with cartooning news and lore are Mark Evanier's povonline.com, Alan Gardner's DailyCartoonist.com, and Tom Spurgeon's comicsreporter.com. And then there's Mike Rhode's ComicsDC blog, comicsdc.blogspot.com For delving into the history of our beloved medium, you can't go wrong by visiting Allan Holtz's strippersguide.blogspot.com, where Allan regularly posts rare findings from his forays into the vast reaches of newspaper microfilm files hither and yon.
ONWARD, THE SPREADING PUNDITRY
The Thing of It Is ...
While I have made only two mistakes in my life (Ooops—wait: I was wrong about the second one), I am still, even in my dotage withal, continually amazed at how little I understand our so-called government. All this time, since elementary school, I've thought the U.S. Prez was the chief executive officer, that he didn't make law; he only executes the laws made by Congress. Well, not so. The prohibition against using federal money to fund stem-cell research, for example, was simply a "rule" set by the President: it was not a law enacted by Congress. Presidential fiat, establishing rules, is an executive branch prerogative, apparently, and exists independent of legislative action. Similarly, GeeDubya has converted a few thousand political appointees in the federal bureaucracy to civil servants, thereby making it much more difficult to fire them (i.e., to purge the bureaucracy of neo-con crazies and religious fanatics who have been busily re-interpreting rules and regulations in favor of big biz and other crony interests for 8 years and now, as civil servants forever, threaten to carry on indefinitely). Several others of the gas-bag class have shrieked in alarm at this saddle Obama will have to bear; but I say, whatever is created by presidential fiat can be un-done by presidential fiat. Obama needs merely to issue a fiat of his own, to this effect: Any civil servant who arrived at that status by presidential proclamation without taking the civil service exam, is hereby defrocked, and supervisors are directed to give all of them the exam to determine the level of their qualification for future assignment; those who don't take the test are dismissed forthwith.
Fiats work wonders on both sides of the street.
And, it seems to me, the same maneuver can be executed on the thousands of federal rules and regulations that have been re-written—or, to use their expression, "re-interpreted"—in the last few weeks and earlier to ease regulations on business and industry without regard to, say, the impact on environment. In a maneuver typical of the Bush League, the language of a law is re-interpreted, often rendering the law wholly ineffective. In a stunning example, Bushies are "clarifying" the environmental regulation that prohibits coal companies from polluting rivers by dumping into valley streams the rubble they create in blowing up the tops of mountains to expose veins of coal to mine. To clarify the meaning of "Don't Do That," the new interpretation permits coal mines to dump their waste into the streams so long as they try to minimize the damage "to the extent possible." And we all remember that the "Clean Air" act actually tolerates precisely the reverse. In these last months of its regime, the Bush League is, according to the Washington Post, "working to enact an array of federal regulations, many of which would weaken rules aimed at protecting consumers and the environment, before GeeDubya leaves office in January."
Annoying and tedious as such "midnight regulations" (as they are dubbed) may be, the Bush League propensity for re-interpretation approached criminality last March in making a policy change that revised the definition of "combat-related disability." Perhaps the change came about with the best of intentions: the deputy undersecretary of the Department of Defense told the Los Angeles Times that the purpose of the change was to protect the "special distinction" (more benefits) that accrues to those injured on the battlefield. The perhaps unintended consequence of the change, however, deprived many injured vets, who were injured by, say, roadside bombs, of some benefits. This, too, can be changed, we suppose, by presidential fiat.
*****
Now that Ted Stevens has lost his bid to return, a convicted felon, to the U.S. Senate, Sarah Palin, the Pentacostal moose-dressing governor of Alaska, won't be able to resign as governor after appointing herself to take Stevens' place when the Senate unseats him upon his return. Instead, Palin is spending her time sifting through hundreds of invitations to speak all across the land. She is being touted as the likely Republican for President in 2012. Polls of the GOP faithful show her leading the pack as a viable candidate (without naming any others). If she does indeed, become the candidate, the Grand Old Pachyderm will have signed its death warrant, and John McCain, the eternal maverick, will finally have his revenge upon the party he so loves to hate. Palin's appeal to the party's alleged "base" is to a narrow slice of fanatic crusaders. Palin's "brand is culture war," said Peter Beinart in the Washington Post: she preaches the us-against-them mentality of the Republican base, not the kind of message that wins you a national majority. A national political party needs the broadest possible appeal, not the most excited. Added Beinart: In 2012, Palin's tribalism will be an even tougher sell to a nation that's turned its back on the rancor and nastiness of the Clinton and Bush years (paraphrased in The Week, November 14). In the doomed hope that this may be the last time I'm compelled to mention Sarah and her quest for communication in the randomly clumped syntax she continually spouts, I'm posting near here Garry Trudeau's Doonesbury for November 29.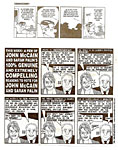 This release is a startling departure from the strip's usual rhetoric: typically for years, when one of Trudeau's characters watches tv, he or she does so without displaying any emotion. The absence of emotion suggests that we have become so inured to the outrages being televised that we no longer react to them. Here, though, Palin's tangled mind and speech are too much for BD. The insult to his intelligence (and ours) is more than he (and we) can tolerate even with the typical burned-out sensibility of a modern American citizen. He is overwhelmed. And his numbed senses are awakened at last, and he, and we, see Palin for what she is. Trudeau, incidentally, has Palin-speak nailed. Perfect. Better, by far, than Tom Tomorrow whose noble attempt in This Modern World at the bottom of our visual aid, while recognizable as a stab at mimickery, falls very short in comparison.
*****
The Depression. When the stock market crashed in late 1929 ushering in a financial crisis, President Herbert Hoover reportedly called the catastrophe a "depression" in order to avoid using the term that had been applied throughout history to similar circumstances—"panic." By calling the panic a depression he hoped to avoid a panic. We are now calling our financial crisis a "recession" in order to avoid creating a panic by calling it what it is, a "depression."
*****
From Garrison Keillor: "Next time you fly to Heathrow just outside London and hand your passport to the man with the badge, he's going to see 'United States of America' and look up and grin. Even if you worship in the church of Fox, everyone you meet overseas is going to ask you about Obama, and you may as well say you voted for him because, my friends, he is your line of credit over there."
FUNNYBOOK FAN FARE
Coming out in a timely fashion from Antarctic Press just after the Election are two more comic book biographies of the candidates, Obama: The Comic Book and McCain: The Comic Book. Even-handed titling. Both in black-and-white. But neither of these productions is successful as a comic book. The pages don't look like comic book pages: the usual tiers and grids have been forsaken in favor of pages that look somewhat like posters. Appearance isn't everything, but the pictures herein have little or no narrative function: they are merely illustrations on pages of boxed hand-lettered (like comic book lettering) text. Nothing on most of the pages suggests sequence of action, the chief attribute of a comic strip in booklet form. And Chris Allen's attempts at rendering his characters are overwrought: copying, probably, from photographs, he tries with tiny fragmentary lines and a little shadowing to reproduce the images, but without much success. If it weren't for the gray tones on Obama, you wouldn't know from one picture to the other who Allen was depicting; McCain, who Allen must draw as a young man and as a much older one, is a complete misfire. The books are an interesting phenomenon in these graphic novel days, but not satisfying reads.
MOTS & QUOTES
"Life doesn't imitate art; it imitates bad television." —Woody Allen
"Maybe all one can do is hope to end up with the right regrets." —Arthur Miller, a playwright who married Marilyn Monroe. For a while.
"You can always count on the U.S. to do the right thing—once it has exhausted the alternatives." —Winston Churchill
"Good advice is something a man gives when he is too old to set a bad example." —Francois de La Rochefoucauld
HAPPY NINETIETH
Here's Jim Scancarelli's November 23 Sunday strip celebrating the 90th anniversary of his Gasoline Alley.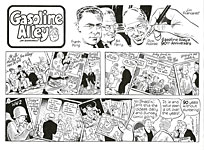 The actual birthday is November 24, and on that day, Scancarelli offered, again—for readers whose papers get only the dailies—just the opening panel with his portraits of creator Frank King and the two men who succeeded him and preceded Scancarelli, Bill Perry and Dick Moores. But you know all about them if you've read our most recent posting to Harv's Hindsight, which rehearses the history of the strip and its stewards. Scancarelli has steered down the Alley more in the tracks of King than of Moores', whom Jim assisted for seven years until Moores died in 1986. In these days of lifeless lines (from the likes of Scott Adams, Cathy Guisewite, and Stephan Pastis not to mention such newcomers as Chip Dunham in Overboard, Tony Carrillo in F Minus and Alex Hallatt in Arctic Circle, to name distressingly too many), it's a treat to feast on Scancarelli's lively brush work. And you'll notice, from the evidence at hand, which is fairly typical, that he doesn't skimp on drawing pictures: he fills every panel, and he draws more than talking heads. Four of the Alley's brethren helped celebrate on the 24th: Blondie, Snuffy Smith, Dennis the Menace, and that other Alley, Oop.
LOVE, SEX AND THE HIGHER SENSIBILITIES IN THE FUNNIES
When it comes to telling the story of young romance with all its groping, yearning, heavy-breathing frustrated satisfactions, no one has done better—more sensitively, more authentically, more humorously—than Brooke McEldowney in his strip 9 Chickweed Lane. And no one has been more daring in letting sex play a role in a comic strip akin to the role it plays in life.
The strip concerned itself at first with the interaction among three generations of women in the same family—mother, daughter and grandmother. A year or so ago, the daughter, Edda, moved to New York to join a ballet company. When she couldn't find an apartment, she moved in, temporarily she thought, with her muscular male dancing partner, a hunk named Seth. A daring enough maneuver on its face but made even more so as we learn that Seth is gay.
Then Edda's highschool chum Amos comes to the city to play cello in an orchestra, and he and Edda strike up a relationship that is Young Romance with a capital R. As soon as they discover that their friendship is more than friendly, McEldowney depicts them necking hot and heavy on the couch for an entire, steamy week. At the critical moment, Amos proves gallant enough to evade the ultimate embrace of passion, postponing to another day the mutual abandonment of their virginities, but doing so with gentle humor and compassion as McEldowney invokes the character's trait as a caring if often blundering nerd.
Shortly thereafter, establishing his cred as a dauntless storyteller, McEldowney arranged a romance between a nun and a priest. Both eventually left their orders and they got married. No one—not even Trudeau—has pulled off anything quite as astonishingly risky. All done with great sensitivity for his characters and for his readers' sensibilities.
McEldowney displayed the same surpassing skill in October and November, when Edda and Amos succumb to the inevitable. McEldowney handles this delicate matter with great humanity and comedic agility. He's an authentic storytelling master in the medium. No one can surpass him; Trudeau has, on various matters, equaled McEldowney in skill, subtlety and flair, but no one has surpassed him.
The visual device by which McEldowney depicts the deflowering of Edda and Amos is sheer genius—entwining hands. Breath-taking.
But not without comedy.
The Edda-Amos encounter came about because Amos had the hiccoughs, and Edda knew an ancient cure—kissing, apparently, which then escalated to entwining hands.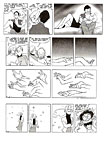 McEldowney had been building to this conclusion for a month, during which Amos develops hiccoughs whenever thinking about a cello competition he's entered in. Just one of the narrative strands in McEldowney's carefully knit-together tapestry. Beautiful. Genius, genius. Yet Chickweed Lane is in fewer than, oh, 70 papers. The rest of America doesn't know what it's missing.
When I asked McEldowney about this episode, he e-mailed back: "I'd been thinking about this sequence for a long time, mainly because the characters were edging that way all on their own. A lot of reader commentary has erupted over it, in particular warring camps representing love and romance vs. morality (with a smattering of concern over cartoon characters as role models). Me? I just think it is fiction, two characters, and a story. Getting away with it has been the tricky part. Not a word was ventured by my syndicate, United Feature, much to their credit—and it must have caused them moments of concern. The thing is, the story is not over yet. I'm still tiptoeing along the tight rope."
CIVILIZATION'S LAST OUTPOST
One of a kind beats everything. —Dennis Miller adv.
The local tabloid, the Rocky Mountain News, noted some of the Obama family's favorite things, including Superman and Conan the Barbarian comic books. ... From Dark Horse, you can obtain the Spirit Movie Statue, depicting Will Eisner's iconic character as Frank Miller sees him in the movie—all in black, not blue, and wearing sneakers. Sneakers? Just $199.99, a mere penny less than two hundred bucks. ... Also from the horse of the same shade, a Bettie Page heat-sensitive mug ($14.99, just a penny less than fifteen bucks) depicting the beloved Bettie wearing a leopard-skin halter that disappears when a hot beverage is poured into the cup. "Oh, Nellie," as they say there on the horse. ... At Archie Comics, they are persisting in desecrating the history of their characters by inflicting upon them that "new look," a manga-inspired "realism" first seen in "Bad Boy Trouble" a couple years ago. Regrettable.
In September 2005, the Queen Elizabeth 2, the now-legendary QE2, became the longest serving ship in Canard Line's history: 38 years at sea. After three more years besting its own record, the QE2 sailed from England on November 11 to anchor at Dubai, where it will become a floating hotel. ... Napoleon's defeat at Waterloo has sometimes been attributed to his having hemorrhoids, which made sitting on a horse so uncomfortable that he refrained, and without the intimate perspective that being on the battlefield usually gave him, he lost the battle and his empire. ... According to David Harsanyi at the Denver Post, we spend more on beauty products ($8 billion a year), lottery tickets ($45 billion), and pornography ($4 billion or so) than the mere $1.5 billion raised by presidential candidates in the recent disturbance.
EDITOONERY
More Affliction
The Kansas City Star announced early in November that it was laying off 50 of its staff, including their editorial cartoonist of 27 years, Lee Judge. His last day was November 21. ... Scott Bateman's daily one-minute animated editoon at Salon.com has been eliminated "due to drastic freelance budget cuts." ... And Steve Greenberg lost his job at the Ventura County Star in California on November 30. Ironically, Greenberg felt particularly secure at the paper: doing editorial cartoons only part-time, his full-time position was as the paper's one-man art department. Greenberg says this is the last straw, the end of a 30-year career on newspaper staffs. For the last dozen years, he's been jumping from paper to paper as each in succession eliminated editorial cartoonist positions. He plans, however, to continue syndicating his cartoons through Cagle Cartoons.
The Ventura County Star is owned by E.W. Scripps, which is in the midst of eliminating 400 positions chain-wide. Editor & Publisher reported that syndication and licensing was a bright spot in Scripps third-quarter earnings report: while the newly spun-off company reported a $16.8 million loss on the quarter, the syndication segment increased both revenue and profits—up to $22.2 million from $21.2 million in the year-ago quarter. Scripps held cash expenses essentially flat year over year, pushing the segment profit to $1.5 million from $1.3 million. In other words, despite the loss, Scripps is scarcely hurting for profit margin—but still fires such superfluities as staff editorial cartoonists. Scripps' United Media unit syndicates comic strips including Peanuts, Dilbert, and Pearls Before Swine.
Then came this astonishing news, unearthed by editoonist Jimmy Margulies in the dusty archives of a defunct New York newspaper: New York (November 12)—Harper's Weekly has eliminated the position of Thomas Nast, famed editorial cartoonist, noted for his pursuit of Boss Tweed and Tammany Hall as well as the creation of the Democratic donkey, Republican elephant, Uncle Sam and Santa Claus. Harper's executives cited a declining economic outlook in the decision. Nast will pen his final cartoon by month's end. Nast had recently turned down a generous financial offer from Boss Tweed to stop drawing "them damned pictures." Since Harper's management's decision to terminate Nast achieved this same result, they announced their intention to seek the financial offer themselves. Harper's pointed to this move as both a smart strategy to bolster its own profitability, as well as a model for the entire print media industry to follow. (A spoof, of course; but it underscores the short-sightedness of newspaper management in dispensing with the services of editorial cartoonists.)


MOTS & QUOTES
"Matrimony is not a word; it's a sentence." —Eddie Cantor
"Anybody who is popular is bound to be disliked." —Yogi Berra
"The great thing about getting older is that you don't lose all the other ages you've been." —Madeleine L'Engle
"Peace on earth would mean the end of civilization as we know it." —Joseph Heller
XMAS LIST: BOOKS FOR A MERRY YULE :: PART ONE
Here Are Some I Thought Highly Enough Of To Put in My Library
(Even, Sometimes, Without Having Actually Read Them All the Way Through. Yet.)
A Primer on How Cartoons Can Be Deployed. If, on the eve of the dissolution of the Bush League, you want to spend the holidays screaming with acrid albeit hysterical laughter at what they've done to us all and how they did it, this is the book for you: Fringe, A Cartoon History of the George Dubya Bush Years (196 8x11-inch pages, some b/w but mostly lavish color; paperback, $43.99 at Amazon) by Elena Steier is a zestful roiling stew, a delightfully vicious hodge-podge, of all kinds of cartooning, all aimed at revealing just how dysfunctional the depraved administration of George W. ("Whopper") Bush has been. Political cartoonist Steier, who claims to be a conservative, is understandably outraged at neocon policies that "have caused untold damage to the American people and economy over the last eight years," and she musters a war chest of sharp-pointed weapons to her satirical cause: with comic strip parodies, panel cartoons, fake posters, ersatz comic book covers, and just funny pictures she skewers tax cuts, war mongering, idiot journalists, bigger government, wire-tapping, Enron, the righteous religious Right, the politics of the "Just Us" Department of Alberto Gonzales, torturing helpless prisoners, contracting out military and security functions to private mult-national corporations (who make millions while ordinary U.S. foot soldiers draw a comparative pittance in pay), Katrina and the outright failure of government—to name a few of the fiascos that have been elevated to full-scale disasters by Bush League incompetence. Steier unveils the venality at their core.
Venality or simple idiocy. "Bush was never the conservative I hoped he might be," Steier writes, "—instead, he represented a fringe group with an unclear agenda." Fringe the book collects 8 years of her political cartoons. "They cannot be more timely," she says, "given the current economic crisis. No matter what readers' political affiliations may be, I hope they'll find the cartoons thought-provoking and hilarious."
All of that, I say. Steier is just about the sharpest tack in the pack: her insights into political shenanigans are uncannily accurate. She acutely sees that the creation of the Department of Homeland Security effectively renames the United States "The Homeland"; her cartoon asserts that the renaming is a tactic aimed at "fooling the enemy." If terrorists can no longer find the "United States" on the map, how will they be able to attack us? But there's more to it than that, she says: "Championed by Joe Lieberman, the Department of Homeland Security came into existence as yet another path for companies to find their way to the government dole." I've always found the term "homeland" vaguely disquieting: it smacks of another time and another place, the "fatherland" of fascist Germany.
Says Steier in the introduction to one of the chapters in the book: "Sadly, it wasn't just the names of things that we were changing to suit our desires, but apparently national intelligence as well. It took Joe Wilson and a letter to the New York Times after the invasion of Iraq to set out that scenario for the American people. This was followed up by the outing of his wife as a CIA agent by members of the administration in cahoots with the media. If you think my cartoons are wild, just wrap your mind about that series of events. Administration guys trying to protect their fantasies, decided a good way to combat reality is to put the covert services at risk. On the one hand, that's treason; on the other, these guys are most probably innocent by way of insanity; and on the third hand—wow, I just said 'on the third hand'..." In another chapter, she sees Guantanamo and Abu Ghraib in their true light: "To commemorate our country's newfound belief in legalized torture, I began drawing members of the Bush administration in sado-masochistic gear." In that sentence by itself, we have a healthy inkling of the bent of Steier's so-called mind. And a brilliantly creative bent it is.
With the 2006 off-year elections, Steier produced a series of what she calls "kids comic strips," inspired, in a manner of speaking, by the movie "the King of Scotland." Steier notes that the movie's protagonist, Nicholas Garrigan, "gets a little spooked by his patron, ruthless Ugandan dictator Idi Amin. Amin asks what's the matter, and Garrigan replies: 'You're so like a child. That's what makes you so frightening.' That's my take on the Bush Administration," Steier continues. "Like children, this bunch was so free of rules and oversight that the thought of actually doing what's best for the country never occurred to them. After Katrina, however, the adults came out, which is why the 2006 elections were so disastrous for the Republicans." Steier's kid strips feature the usual gang of idiots—GeeDubya, Rummy, Uncle Dick, and "Condilucy," all vaguely resembling the Peanuts cast.
This is a book you must see: it is a hilariously exhaustive demonstration of the variety of ways cartoons can be sledgehammers to knock some common sense into our typically laxidasical and otherwise inert brains.
Steier began her freelancing career for the West Hartford News then went into weekly syndication with DBR Media. At present, she is a "full-time freelancer," doing illustration. Her political cartoons, which she does mostly for her own amusement, are visible exclusively at the website for the Association of American Editorial Cartoonists (AAEC; editorialcartoonists.com).
*****
More Golden Age of Sunday Funnies. Once again for the first time, Peter Maresca transports us back one hundred years to a time when the Sunday funnies were glorious in both dimension and coloration. With the second volume of his celebrated revival of Winsor McCay's famed creation, Little Nemo in Slumberland: Many More Splendid Sundays (128 giant 16x21-inch pages, all color; sturdy, handsome hardcover, Sunday Press Books, $125), Maresca gives us two complete adventures from the strip's first run, 1905-1911, plus selected pages from both the subsequent Nemo incarnations, 1911-1914's In the Land of Wonderful Dreams and 1924-1927's return to Slumberland—115 Nemo strips in all. The extravagant dimensions of this volume and all the other Sunday Press Books are actually ordinary: this was the size the Sunday comics assumed at their first publication—a size generous enough that, lying as of yore on our stomachs on the livingroom floor to read them, we are drawn into the comics four-color universe, just as we were as children. This is how the Sunday funnies are supposed to be, how they were originally conceived and produced.
When Peter first showed me sample pages from his first Nemo collection—not yet a book, just a gleam in his eye—I was aghast. How could anyone reasonably contemplate a publishing project so ambitious? How could he imagine that he'd even break even on such a stupendous enterprise? Peter imagined, and he achieved his dream. The first Nemo book sold out, and Maresca went back to the press for more. Since then, he's published other Sunday comics at their original sizes—Sundays with Walt and Skeezix, a collection of Frank King's highly imaginative Gasoline Alley pages from the 1930s, and Little Sammy Sneeze, another McCay festival, and he's at work on The Upside-Down World of Gustave Verbeek from 1903-1913, all described and offered at SundayPressBooks.com. All the Sunday pages in these books have been lovingly restored digitally, bringing them back as they first appeared—on slightly yellowed paper, not jazzed up by recoloring in gaudy, screaming colors as so many reprint projects are.
Maresca is a generous publisher: every book comes with toothsome "extras." Opening the shipping container is much like emptying your stocking on Christmas morning. The second Nemo is accompanied by a reproduction of a 1909 flipbook (some assembly required) displaying the antics of Gertie the dinosaur, McCay's animation masterwork; this version of the flipbook, originally distributed in 1930. And the volume itself prints other bonus material: a reproduction of the original artwork, partially colored as a guide to engravers, for the June 15, 1913 strip (which is also present in its initial published form); the "lost page" of Wonderful Dreams, the strip's last appearance in this incarnation, not July 26, 1914 as generally supposed, but August 23, 1914, which "poetically ends with the destruction of Slumberland Palace" immediately after Dr. Pill gets dubbed as a Grand Duke—"Duke instead of Doc," as the Princess says; plus essays by Jeffrey Stanton, Ron Goulart, Brian Walker, and your friendly neighborhood Rant & Raver. Also present (at a small, sample size) are a couple pages by McCay's son, Robert, who sought to revive the strip in the 1930s as a science fiction "dream"; and again in the 1940s, this time simply formatting his father's work. As a contributor to the feast, I have an extra copy of the book, which I hereby offer as a special Christmas price of $65, including postage. First-come, first-served; write using the e-mail link at the end of the scroll.
*****
Geary Again and Again. I can't believe that Rick Geary has run through all of the heinous murders committed in the 19th Century, but maybe he has. The latest title in his lovingly gruesome Treasury of Victorian Murder series from NBM is not Victorian at all but 20th Century, The Lindbergh Child (80 6x9-inch pages, b/w in hardcover; $15.95), about the March 1932 kidnaping of the first-born of Charles Lindbergh and his wife Anne (nee Morrow), Charles Jr., age 20 months, who died during the abduction. As usual, Geary has researched his subject thoroughly, and the book reflects his meticulousness: it comes with maps and diagrams as well as the whole sordid chronology of how someone stole the Lindbergh baby and, having discarded the dead baby in the woods, demanded ransom of the celebrated pioneer aviator. The book concludes with the trial and execution of Bruno Hauptmann, who maintained his innocence even as the switch was thrown sending a lethal charge of electricity through his body on April 3, 1936. Geary includes both incriminating and exculpatory facts uncovered during the two-year investigation. I know the story of the "crime of the century," as the Lindbergh kidnaping was called for years thereafter, but I wasn't aware of the kinds of evidence, its intricate detail, mustered against Hauptmann; Geary has carefully assembled it all here.
Reading one of Geary's books is always a delight. He methodically researches and then displays the facts of whatever crime he is exploring, deploying a hypnotic drawing style that has both charm and menace. His clearly wrought and elegantly simple drawings he embellishes with fustian textures: tiny nicks at the linear edges of faces and figures impart the aura of tintype antiquity as they model forms, giving them weight and roundness; "colors" and other visual distinctions are indicated by painstakingly drawn horizontal or vertical lines, imparting to the passing scenes a grimly gray patina. As he introduces the characters, he supplies a mug shot of each, and they stare out at us, appearing sullen and a little resentful at the invasion of their privacy, often glancing furtively to one side as if looking over their shoulders for the pursuing authorities.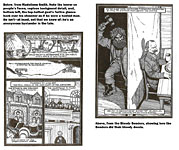 Geary's terse narrative captions parade the facts before us without much adjectival augmentation: the tale is told in a steady colorless verbal drone, without speech balloons (they would impart personality and, perhaps, humanity, to the soulless actors in Geary's grim pageants). The pictures sometimes illustrate the narrative, sometimes merely accompany the verbiage in tandem. But the visuals usually also add a dimension of horror to the proceedings by the very restraint Geary displays in picturing the events: no matter how tragic the incidents, the actors seem strangely unaffected, emphasizing the heartlessness that their actions themselves betoken. After the body of the Lindbergh child is discovered, it is examined, and Geary announces the results in a caption: "The autopsy concludes that the boy met his death by a fracture of the skull caused by external violence." The accompanying picture is of an infant skeleton, and an off-screen and therefore disembodied hand uses a pointer to indicate a cluster of fractures in the skull. All very detached and clinical. His characters are seldom depicted in motion: they seem almost always caught, frozen, in a moment, afraid to move, perhaps, as if detected in the midst of some criminal enterprise.
The same techniques lend the aura of authenticity and brooding horror to all of Geary's murder mysteries. The Saga of the Bloody Benders, published last year, contributes to the matching set of the Treasury of Victorian Murders. In this volume, Geary takes us out West to the bleak Kansas prairie, where the Bender family, appearing from nowhere, establishes a roadside inn where they dispatch unwary travelers, smashing in their heads as they dine and then robbing them and disposing of the bodies by discarding them, sometimes, rarely, burying them. The Benders disappear before they can be apprehended, but the grisly nature of their enterprise Geary fully and explicitly documents in word and picture. In The Case of Madeleine Smith (2006), Geary goes to Glasgow in Scotland to relate the story of an ill-fated romance between a woman of higher social status than her lover, whom, it is supposed, she rids herself of by poisoning. The case against her is "not proven" in the language of the Scottish court, and she evades punishment, going to London, where she marries again; and when her husband leaves her and two children after 28 years, she goes to America and marries a second time, outliving her husband.
Geary's other books in the series are Jack the Ripper, The Borden Tragedy, The Fatal Bullet, The Mystery of Mary Rogers, The Beast of Chicago, The Murder of Abraham Lincoln—all hardcover in matching format, all offered still at the publisher's website, nbmpublishing.com, including the long out-of-print and now re-issued initial volume in 9x12-inch size, A Treasury of Victorian Murder. All of these I've reviewed here when they were first published; scan the Archives.
*****
Forgotten Master. Jaro Fabry is not a name that leaps readily to mind as one of America's most fashionable cartoonists. Probably it's a name that doesn't trip lightly off the tongue, either: at first glance, it might be unpronounceable. But it isn't, of course. It is, however, almost unknown; ditto its owner, Jaroslav Fabry, who, foreign-sounding name (Czech) to the contrary notwithstanding, was born in 1912 in the Bronx. Daniel Herman, whose publishing house, Hermes, has just brought out Jaro Fabry: The Art of Fashion, Style, and Hollywood in the 1930s and 1940s (112 8.5x11-inch pages, b/w and color; $29.99), and Alex Chun, who wrote the introduction to the volume, are convinced that Fabry was The Illustrator of his time and milieu—namely, the nightclub era of the decade just freed from the dry dominance of Prohibition. And so he assuredly was. But when they also claim that he set fashion and "chronicled the great stars of Hollywood," I'm not so sure. With only the evidence of this volume to testify, I don't see enough fashion illustration or Hollywood stars to justify the claim. But that's a quibble that's wholly unimportant. Fabry took Peter Arno's bold line and streamlined it into stark geometric simplicity, creating striking portraits of nightlife among the society's young things and their escorts (none of whom were aging roues as in Arno), and this book provides an ample sampling of Fabry's work—in cartoons and magazine cover illustration, chiefly, but also in advertising.
The book's contents are apparently gleaned entirely from the collection of Mitch Itkowitz, who clipped cartoons, magazine covers, and advertisements and also accumulated original art by Fabry. The eccentricity of the archive is revealed on the pages of the book: some of the magazine cartoons for which Itkowitz possesses the original art are missing captions; ditto even some of those clipped so hastily, I'd guess, from magazines that their captions were left behind. Probably for the same reason, most of the artwork is undated even though, at some point, whoever clipped the magazines would have known the year of publication. But this is another unimportant quibble.
The important thing is that someone, at last, has had the perspicacity to reveal Fabry and the "Fabry Girl" to us. The suave and handsome Fabry reportedly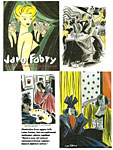 lived the nightlife he depicted, but he died too young, at 40, perhaps, as Chun tells us, from malaria, which he contracted during his service in World War II, picking it up, presumably, from some transient soldier since Fabry did his duty without, apparently, ever going overseas to malaria-infested jungles or tropical islands. At least we have this handsome volume, a too brief but at least convincing testament to "his strong composition, bold confident line and striking use of color," Chun concludes. And in all of that, I concur.
*****
"Let's sing hosannas to men this day for theirs is the triumph of wit!"—Boris Artzybasheff
Artzybasheff is a famous name for two reasons that I can think of off-hand: first, because it looks unpronounceable until you try it (Artsy-bash-eff); second, because the proprietor of the name, who was doubtless Boris to his family and friends, drew more than 200 covers for Time magazine between 1941 and 1965. But I remember Artzbasheff for his fiendish anthropomorphic pictures of machinery, in which, say, a hydraulic press would acquire muscular arms and a determined look on its face. What I hadn't realized until I pawed this 2008 reprint of his 1954 tome, As I See It (100 8x10.5-inch pages, b/w and 2 in color, hardcover; Titan Books, $19.95), is that Artzbasheff is also a fiendishly vivid interpreter of the extremes in human psychology and emotion. And his ingenuity extends beyond machinery and humanity to linear flamboyance: on the endpapers of this volume, he draws, with a single line, the history of warfare.
| | |
| --- | --- |
| | |
Born in the Russian Ukrain in 1899, Artzybasheff left the country for New York at the age of 20, after the Revolution during which he reportedly served in the White Army. He established himself as a book illustrator before getting to Time's covers, and he wrote as well as illustrated several books in addition to the one at hand. His prose veers off into literary pretension, but it's nonetheless fun to read. Here's a scrap from the pages of As I See It: "In my youth, I had an art teacher, a rather elderly man, and he often told his students that the snow was much harder to paint than the female nude, and therefore more educational. But we preferred the female form; we could learn much from it, too, and, as it was warmer, it meant more in the Northern clime than snow. However, as I grow older and wiser, I began to see merit in what the old man said, and I am determined (after I get past my blue period) to take to painting snow, apples and red barns. Later, when my eyes become dim with age, and I shall not be able to see the world around me, I can paint non-objective abstractions and abstract non-objections." Delightful.
*****
Comics Studies Some More. Jeet Heer and Kent Worcester have, once again, performed admirably in producing another compendious survey of comics scholarship. Their earlier effort in this vein, Arguing the Comics (see Opus 220 for review), scanned the historical landscape for essays about comics written by various literary critics and the like; their current production, A Comics Studies Reader (396 6x9-inch pages, some illos in b/w; paperback, $25; unjacketed cloth, $55)—also from one of my publishers, the University Press of Mississippi, which has achieved foremost status as a publisher of comics scholarship—compiles 28 essays by contemporary scholars and critics (including moi) culled from the books in which they were originally published. Some are excerpts from larger works (Peter Coogan's, for instance, from his book, Superhero: The Secret Origin of a Genre; and Charles Hatfield's, from his Alternative Comics: An Emerging Literature); some reprint pieces from collections of essays (like my "How Comics Came to Be," which appeared first in The Language of Comics), and some are magazine or journal articles. The result is a sort of panorama of current serious thinking about the art of cartooning in all its forms—gag cartoons, editorial cartoons, comic strips, comic books, manga, and graphic novels, with an emphasis upon the last three genres.
The wading gets fairly deep sometimes. In "The Construction of Space in Comics," Pascal LeFevre writes: "This chapter seeks to give a concise theoretical overview of the various types of 'space' a reader encounters in a comic: diegetic space (the fictive space in which the characters live and act) versus extradiegetic space, visualized versus non-visualized space, etc." The "etc" is about the only fragment of these thoughts I can grasp immediately without resorting to a dictionary. My spellchecker doesn't even recognize "diegetic, and neither does the American Heritage Dictionary on my desk. But many of the writers resort to ordinary argot. Coogan, for instance, minces no multisyllabic lexicon when he tells us, straight out, that "the difference between Superman and earlier figures such as the Shadow or Doc Savage lies in the element of identity central to the superhero, the costume."
I don't mean by scoffing to discount the value of any of these essays: a vocabulary of many syllables is important, perhaps even vital, at certain levels of abstract thinking and writing, and those awash in verbiage are often worth deciphering. I look forward to reading Hatfield's "An Art of Tensions" when I take up the question of how comics are read differently from how novels in straight prose are read. I'll eventually have to de-code sentences like this: "Generic conventions—nods to film noir, for instance—are repeatedly invoked but without a linear rationale; motific repetition suggests at best a vague connection between otherwise disjunct panels." Hatfield is one of the most facile of academic writers: his essays, and his book, are packed with convolutions such as this example—rich in heavy-lifting terminology, but sharpened, nonetheless, to the point he wants to make. He rewards careful reading, but I don't know that I have enough years left to sift through it all. You might have time, though, and if you do, you'll come away with much more in your head than you went in. I'm also looking forward to reading Bart Beaty's "Autobiography as Authenticity," Coogan's essay on Superheroes, and Roger Sabin's "Ally Sloper: The First Comics Superstar" (mainly because I've thought precisely that for some years now, and I want to see if Sabin agrees with me and what his evidence and argument are).
*****
American Presidents is more than its title promises. A compilation of caricatures of presidents by David Levine (128 87x10-inch pages, b/w in paperback; Fantagraphics, $19.99), it includes, also, various of the more notorious cronies of U.S. chief executive from Teddy Roosevelt to Barack Obama: "Congaleeza" Rice, Karl "Turd Blossom" Rove, and Ari Fleisher from the Bush League, for example, and Paula Jones and Monica Lewinsky and Ken Starr (remember these scalawags?), and the Watergate gang (John Ehrlichman, John Dean and H.R. Haldeman), the Kennedys, Dean Acheson, and on and on. Also failed presidential candidates—like Ralph Nader, Al Gore, Patrick Buchanan, Michael Dukakis, and others. Plus a few from ancient American history: George Washington, Thomas Jefferson, the Adamses, U.S. Grant and others of the vintage sort. The book's treat, apart from seeing some of your favorite political hoodlums with big heads and little bodies, is in the acid insights supplied by the accouterments Levine gives the caricatures. Eleanor Roosevelt is here—as a swan, if you catch the drift (away from ugly duckling); and Nancy Reagan as a nutcracker; George H.W. Bush appears wearing Wimpy's clothes (the costume is that of Popeye's mooching hanger-on but it's the name not the behavior that Levine is evoking here); Pat Robertson is posed as a gun-fighter from the Old West but with crosses in the holsters, not pistols; and Ross Perot is Mickey Mouse (sometimes Levine's visual gloss is subtle: here, it's the three-fingered gloves more than the saucer-like ears that promulgate the cartoonist's opinion).
Other of the book's delights are found in Levine's occasional comments. Below a caricature of Vietnam-era General William Westmoreland, who's head is atop an ostrich's long neck, Levine writes: "Under Westmoreland's leadership, with his very public rosy assessments of the war, as Neil Sheehan wrote, the United States 'won every battle until it lost the war.'" His caricature of Jimmy Carter looks more like Mad's Alfred E. Newman than Carter—Levine's intention here went slightly askew—but underneath the picture, Levine is more acute: "I saw this idea on The Nation's cover," he writes. "By whom? To coin a phrase on Capital Hill, I don't remember. But I don't think this went far enough. [Carter] was better than Nixon. His mother had a more radical point of view, but he was a businessman who sold peanuts. And then there was his brother. It took on aspects of Gilbert and Sullivan. Carter play-acted, carrying empty bags off a plane. I wasn't surprised by the Camp David Accords, but I didn't believe it either. It was bubblegum, not glue. But he got further than anyone else in the Middle East."
Bill Moyers abetted by his PBS program's senior writer Michael Winship supplies a highly appreciative introduction. "Forty plus years of these drawings are a vivid sketchbook of American history, drawn by a man who does not suffer fools gladly. As you flip through these pages, you're reminded over and over of events large and small and men and women of great or fleeting fame. ... Certainly many of his subjects must have shuddered at the incisive satire—and accuracy—inflicted by his heat-seeking wit and sardonic imagination. ... But remember this, too, about a man who could be so merciless and devastating in his portrayal of our poo-bahs: a great intelligence guided his hand, and also a great heart. Even as he held their flaws and foibles high on the skewer, he never seems driven by malevolence. 'I love my species,' he once said. And why not? He could not have had better material."
The book concludes on a sad note, Levine's caricature of Obama. Here, the caricaturist's deteriorating eyesight is revealed in a shaky pencil line that fails to find a likeness of his subject. On the facing page, however, is a John McCain portrait done much earlier. With caustic wit, Levine has captured the Maverick in rendering McCain's feet: one is an elephant foot, the other a donkey's hoof. This is a book you shouldn't be without.
*****
Best Buy: Get Yours While They Last. Sensing that the history of newspaper comic strips since World War II had, by the end of the 20th century, been severely short-changed, Brian Walker researched and wrote Comics Since 1945 (336 9x12-inch pages, in black-and-white and color; hardcover, $49.95), a book so well-received that its publisher, Abrams, prevailed upon Walker to re-visit that portion of the history of comic strips that others had covered in previous books but not as well, not as thoroughly, not as fact-packed, not as profusely illustrated. And so Walker researched and wrote Comics Before 1945 (336 9x12-inch pages, b/w and color; hardcover, $50), a suitable companion for its predecessor.
These twin tomes are the best histories of the medium around; I reviewed them separately when they first appeared in 2002 and 2004 in Nos. 253 and 274 of the Comics Journal. But the reason they are now, in 2008, on a Christmas shopping list is that Abrams has re-issued both books as a single volume, priced, affordably, at a startling $19.99—available only at Borders stores, though. Nowhere else. Not even at the Borders website. All of the content of each book is here, every detail (a few of which—very few, scarcely worth mentioning—the inadvertently erroneous ones, have been corrected; others, updated). The combined volume bulks not much larger than either of the first two: just shows what using slightly lighter weight paper will do. Comics: The Complete Collection is not only one of the best books on its subject ever, but this year, it's the Best Buy of 2008. By way of acquainting you with the contents of each of the two volumes that make up the Complete Collection, I'm reprinting my Journal reviews this time and next; the review of Comics Since 1945 appears at the end of this scroll.
PART TWO of our Anyule Shopping List, next time, in a week or so.
GRAFICITY
One of Those Graphic Novels You've Been Hearing About
Rutu Modan loves to draw. Nothing else adequately explains the pages in Exit Wounds (172 6x9-inch pages, full color; Drawn & Quarterly, $19.95) devoted to wordless pictures. The book is not a pantomime enterprise, but Modan knows when to let pictures carry the narrative load, when to use silence to convey mood and to flesh out the personalities of her characters. Her story, set in Tel Aviv in 2002, focuses on a young man, a cab driver named Koby Franco, whose dispatcher sends him one day to pick up a fare who turns out to be a soldier in the Israeli army, a woman Koby's age, named Numi. Numi tells Koby that his father from whom he has been estranged for two years may have been killed in a recent suicide bombing in Hadera. But she's not quite sure. The rest of the tale is a mystery: we follow Koby and Numi as they try to find out whether his father is dead or not. They track down and interview survivors, following every clue, some of which are frail scraps indeed. And they learn about each other as they unravel the mystery. Koby learns, to his immense surprise, that the plain-looking Numi is his father's lover; he also falls in love with her and she, we suppose, with him. But theirs is not a smoothly running romance: Numi is sensitive about her plain appearance, and Koby is still tied in emotional knots about his father, whom he hates, and about Numi's being his father's mistress.
Modan is a methodical, nearly plodding, storyteller, and her storytelling is matched by detailed and meticulously rendered visualizations in the so-called "clear-line" manner made acceptable by Herge. The lines in the clear-line style are what I believe Scott McCloud calls "dead lines": they are all of uniform thickness (or thinness), and their lack of variation makes them lifeless. But the carefully observed details of ordinary living that she includes in every picture redeems Modan's visual mannerism, imparting all the life there is to her tale. Koby yawns as Numi tells him his father may be dead. As they sit on a park bench, Numi trying to convince him of his father's possible death, a black dog, possibly a labrador, wanders by, his leash trailing on the ground behind him. Where is his owner? Why is he loose while still wearing a leash? Koby and Numi ignore the animal. The dog and leash have nothing to do with the story: he's there as part of the setting, the locale. A stray background detail momentarily occupying a piece of the foreground.
Modan's story is full of such engaging but nonessential asides. Koby goes home and phones his sister, Orly, to tell her about their father's possible death. Modan's layouts for the conversation divide the page: Orly on the phone is depicted in the left-hand panel on every tier; in the right-hand panels, we see Koby on the phone. The layout might be a wholly conventional way of showing a telephone conversation, but such is Modan's passion for visual detail, that the right-hand panels also depict Koby's aunt and uncle as she prepares and serves their meal, soup, and he complains about it. Atmospherics, nonessential background noise perhaps. But this maneuver reveals the personalities of Koby's relatives, trapped in the mundane routines of their life together. Later in the story, Koby and Numi visit a lunchroom because they've heard that the woman behind the counter may know something about the suicide bombing. As they question her, we see an annoying guy in the background, complaining about the service. When Koby and Numi leave the diner, the annoying guy leaves at the same time. He has overheard their conversation with the lunchroom lady and tells them they should talk to the cleaning lady, who may know something about the bombing. Suddenly, in this sequence, a background detail, seemingly extraneous, becomes a link in the chain Koby and Numi are putting together.
However much Modan relies upon pictures to tell her story, we are scarcely prepared for the ending, which is all picture. It may or may not impart meaning to the tale, but it is dramatic enough and unexpected enough to have great impact: if it doesn't explain the novel's title, nothing else does. No, I can't tell you what it is: that'd ruin the story for you. Suffice to say, the mystery is expertly evolved and pursued and will keep you turning pages even if the blooming romance seems doomed.
TRIBUTE OR TRIBULATION?
The New Yorker's annual "Cartoon Issue," dated November 3, sidled into view the other day—no fanfare, no fuss, nothing, even, on the cover to proclaim the focus, almost as if it was ashamed of itself. And well it might be: apart from a 18-page section of cartoons, this issue is no different from any of the other 50-some issues during the last year. If you're going to have a cartoon issue and you're famously a publisher of distinguished prose as well as allegedly hilarious pictures, wouldn't you have an article or two about cartooning in the "Cartoon Issue"? The inaugural "Cartoon Issue" eleven years ago included three articles about cartooning, earning my noisy applause and whetting my appetite for future "Cartooning Issue" issues. But that, alas, was the last we saw of any similarly extensive prose treatment of the subject in the "Cartooning Issue." By the turn of the century—just four "Cartoon Issues" later—the editors were celebrating cartooning with articles about comedians. Humor is the cartoonist's stock in his trade, no question; but cartoonists are not comedians, whatever the editors of The New Yorker may believe.
It's "nice"—as my boss used to say, softly, drawling it out a bit, thereby freighting the word with meaning and genuine import—nice that the nation's foremost venue for single-panel cartoons acknowledges the importance of the medium by commemorating it with an issue entitled "Cartoon Issue," and I don't mean to denigrate the gesture. But, as I say, if the gesture is to be more than a mere curtsey of recognition, the magazine must do what it does in its other special issues: it must devote a few pages to an article or two concentrating on the artform or on one of its pace-setting practitioners. The only text about cartooning in this year's "Cartoon Issue" is in four paragraph-long reviews of books that are either graphic novels or reflections on cartooning: Posy Simmonds' Tamara Drewe, Guy Delisle's Burma Chronicles, Joe Brainard's The Nancy Book, and Bat-Manga! edited by Chip Kidd, Geoff Spear and Saul Ferris, translated from the Japanese. Pretty feeble.
I might feel better about this sort of benign albeit catastrophic neglect if they'd published several years ago my piece on Wally Wallgren, the World War I soldier cartoonist who drew for the Stars and Stripes and then disappeared forever after the hostilities ceased despite his long association with Harold Ross, who edited the Stars and Stripes and then went on, after the War, to found The New Yorker. But Ross didn't take Wally with him. A Wally cartoon never appeared in Ross's sophisticated new magazine. Why did Wally go AWOL? Why have we never heard any more about him? He was the Bill Mauldin of WWI: Mauldin went on to fame and fortune, but Wally, who was as revered during his war as Mauldin was during his, dropped from sight altogether. Hogan's Alley published the article; and I'll re-cycle it here eventually in Harv's Hindsight. I wrote it originally thinking it would be perfect for The New Yorker's "Cartoon Issue"; they, however, indulging their superior wisdom, thought otherwise, and so I've been dumping on the "Cartoon Issue" ever since for not publishing any articles of a decent length about cartooning or cartoonists. (How's that for transparency?)
Apart from sheer pique, my unhappiness results from being deprived of the pleasure that I found in the inaugural "Cartoon Issue" reading articles by John Updike about his early life as a cartoonist at the Harvard Lampoon, Roger Angell about the New Yorker cartoonists he met growing up in his father and mother's household (they were both editors at the magazine), and Adam Gonick's ingenious examination of Thomas Nast's creation of two roly-poly American icons, Boss Tweed and Santa Claus, at the opposite ends of the niceness spectrum.
Not that the magazine doesn't deserve my benign albeit catastrophic contempt. It does. The 18-page cartoon centerpiece, while sometimes amusing, is often lame. The section includes several notable features in addition to the 16 New Yorker style cartoons that consume the first 6 pages. Steve Brodner demonstrates that his elastic caricatural manner can transform famous political personages into any number of household appliances or aspects of the urban landscape: McCain as a fireplug, Obama as a parking meter; McCain as a rottweiler, Obama as a greyhound. And in yet another bow to the prevailing winds in the bloviating final days of this Elongated Election Season, Mike Luckovich, editoonist at the Atlanta Journal-Constitution, got two pages to illustrate "What I'll Miss about George W."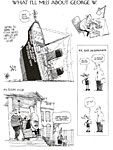 "It was fun doing The New Yorker thing," Luckovich said when I asked him about it. "They contacted me and asked if I wanted to do something election-related." And so he did. Another pinnacle in a career that looks like a mountain range. Luckovich has occupied the "Perspectives" page of Newsweek magazine with such regularity that his colleagues in the inky-fingered fraternity suspect he's paying the magazine for the exposure. First Newsweek, now The New Yorker. Are there any heights left to scale? Mike has already won the Pultizer twice and the Reuben as cartoonist of the year from the National Cartoonists Society, the latter in the same year, 2006, as he received his second Pulitzer. The Election, by the way, doubtless accounts for this year's "Cartoon Issue" being a couple weeks earlier than in previous years: they doubtless wanted to get in a few more political digs before the polls closed on the 4th.
Bruce McCall produced a diagram showing the Inside of the Political Machine, not very hilarious though. And we have two pages of cartoons that were so "subtle" ("vague") that readers complained they couldn't understand the jokes. In this incarnation of these duds, the editors try to explain the comedy, giving us a multiple-choice list of possibilities for each one. Again, not very hilarious. And then we get four pages—four!—of the Crumb Family Comic Strip, this time drawn not only by Robert's artistically challenged wife, Aline, but by his similarly afflicted daughter Sophie. Well, no: Sophie can draw; she's just not very hilarious. Instead, she's goth to the point of nausea. Aline, on the other hand, can't draw worth a firehouse dog, but she's developed a cartoon persona that is sometimes amusing in a tiresome repetitive-caricature-of-self-adsorption sort of way. The subject of this abuse-of-space: the Crumb family reunion in Minnesota, celebrating the 130th anniversary of the Crumb family farm. Gripping. Aline draws Aline, Sophie draws Sophie, and Robert draws himself and all the rest of the strip. This is genuinely awful stuff. David Levine is right: The New Yorker has let down the barrier of quality. (See the Levine tribute in Opus 233.) Let it down and then trampled all over it with dirty boots on. You'd think the Crumbs were the Nast family of American cartooning. Not likely.
*****
Speaking of Let-downs and Burgeoning Disappointments: Besides The New Yorker, magazine cartoonists have only one other self-respecting outlet for their work. Playboy. Although founded and sustained by a would-be cartoonist, Hugh Hefner, who levitated the artistry of gag cartooning to new full-color heights, Playboy has lately seemed deficient in the single-panel cartoon arena. Quantity, I mean, not quality. I've had the impression over the last year or so that Playboy is publishing fewer cartoons. So, dedicated investigative typist that I am, I did a haphazard survey to see if actual numbers would support my suspicion. I counted the cartoons in a random issue each from 1996, 1997, 1998, and 1999. Randomly selected, remember. Then I counted cartoons in several of this year's issues. The average number of full-page cartoons in the 1990s issues was 8.5; in 2008, the average number of cartoons per issue was 6.02. A clear drop in quantity. The smaller cartoons also suffered a loss. The average in the 1990s issues was 10.5; in 2008, just 7. But the latter loss is compensated for by a slight increase in the number of comic strips: in addition to the standbys Dirty Duck by Bobby London and Meaty Myths, by Schwin, the magazine started running an elegantly stylized full-page strip by Juan Alvarez and Jorge G. Despite this addition, however, the number of other-than-full-page cartoons has dropped. Over the same period, the number of photos of barenekkidwimmin has not diminished, as nearly as I can tell without doing a careful, lingering, page-by-page, analysis. And who has time for that?
Distressing as it is to contemplate the dire portent of my survey, the drop in number of cartoons may be a factor in another evident erosion. The total number of pages in each 2008 issue of the magazine is fewer than in the 1990s. These days, the total hovers around 150; a decade ago, it soared into the upper reaches, varying from 180 to 240 per issue. In the 1990s, that meant one full-page cartoon for every 23-26 pages; in 2008, it's about the same (except for November, when the ratio was 1:38). The current issue, December 2008, is back up to 180 pages, but the number of full-page cartoons, just 6, is smack on the 2008 average in spite of the greater number of pages; ditto the small cartoons with just 7 (not counting a two-page spread reprinting some "classic Christmas cartoons").
The declining number of pages per issue accompanied by a concomitant decrease in the number of gag cartoons is not, as loyalists may be tempted to suppose, an indication of a slighting of the medium due to the passing of Michelle Urry, Playboy's life-long cartoon editor, a couple years ago. It is, instead, but one manifestation of a general decline in the fortunes of the magazine in the Internet Age, when pictures of naked ladies abound on the Web, often accessible for much less than the cost of a single issue of Playboy. The ups and downs of Playboy's fiscal fortunes are one of the subjects in Steven Watts' new biography of the founder, Mr. Playboy, with its pretentious subtitle, Hugh Hefner and the American Dream. A more accurate subtitle would be The Sex Life of Hugh Hefner, the other of the book's chief subjects. Pursuing his subtitle rather than mine, Watts decides that Hefner's magazine has played a key role in four cultural developments in the last half-century: the sexual revolution, the growth of consumerism, the feminist crusade, and the emergence of self-fulfillment as a dominant personal goal. "More than any other single figure in [the last decades of the twentieth century, Hefner] has symbolized the combination of sexual liberation, material affluence, and personal self-fulfillment that characterizes the modern American dream." Here is a conclusion that Hef can be proud of: his is not a simple skin magazine but a cultural force, "the cutting edge of the mainstream."
Watt had unfettered access to Hefner's archives, and Mr. Playboy has the most extensive personal archive on the planet, including hundreds of scrapbooks that Hef has compulsively maintained all his life, pasting into them every photograph and news clipping and tatter of his life. Among the valuables in the vault, Hefner's highschool comic strip autobiography that documents his transformation from skinny dork to Hep Hef. Access like this, Watts realizes, has its perils. Interviewed in the November issue of Playboy, Watt described the two chief pitfalls: "First, you can become so friendly with your subject that you lose your objectivity. Second, your subject has definite, strongly felt views on his life, and it becomes difficult to sort out what you agree with and what strikes you as self-serving." And we may wonder if Watt has succumbed to both temptations when he adds that Hefner will be remembered in American history "as a catalyst for two enormous trends that reshaped postwar America: the revolution in sexual values and the emergence of consumer abundance as an ideal. He helped define the modern pursuit of happiness." Well, maybe.
Watt regales us with stories about Hef's succession of "steady girlfriends" over the years, but he does not stint in tracing the various evolutions Playboy has gone through in its continuous effort to stay contemporary, and he reports on the several scandals that enveloped Hef and his magazine from time to time, all of which have been detailed before in at least two previous unauthorized biographies. After every such detour, Watt returns to his main subject, Hef's sex life (albeit not in any sort of explicit anatomical or gymnastic detail). Playboy is emblematic of its publisher's sex life—or vice versa. Hef is the sex object his magazine most assiduously promotes. It is a "lifestyle magazine" whose publisher's own life sets the sybaritic style. Hefner is almost a textbook case of arrested development: he's "the Peter Pan of porn," committed to non-commitment in relationships with women, he is forever the adolescent male, yearning for new sexual conquests. Particularly since moving to the Playboy Mansion in Los Angeles in the mid-1970s, Hefner's life has become wholly hermetic, a cloistered lifestyle of playthings, games and girls. "Hefworld."
Watt explains that Mr. Playboy's life is reduced to a weekly calendar with a specified activity for every day, an agenda so rigidly maintained that it is more rut than routine. Group sex with a bevy of in-house "girlfriends" is a regular feature of every week as is "movie night" and "manly night," which Hef spends only with a selected coterie of men friends, but we can't tell from Watt's book when Hef works. Or if he does. For that insight as well as considerably more explicit detail about actual sex, we are indebted to Izabella St. James, a "good Catholic girl," she says, with a sexy pout, bottle blonde hair, generous endowments, and a law degree from Pepperdine University. She spent 2 ½ years recently as one of Hef's live-in girlfriends and then wrote about it in Bunny Tales: Behind Closed Doors at the Playboy Mansion (published in 2006 and 2008 by Running Press Books). Girls join Hef's "party posse," St. James tells us, for a variety of reasons—to have a good time and meet famous personages, to enjoy the luxuries of a glamorous work-free lifestyle, to become acquainted with the world's most famous hedonist, to satisfy curiosity about Mr. Playboy and his Mansion, and/or, in many cases, to have their faces or chests adjusted by plastic surgery, paid for by Hef, who aspires to be surrounded by perfections not approximations. With the same objective, he had wattles at his neck and wrinkles at his eyes removed. The girls each get a weekly $1,000 allowance in return for which they are obliged to spend two evenings with Hefner and attend some of the Mansion's lavish parties. Life at the Mansion is divided into two neat categories, and nothing ever blurs the distinction: Hefner's office is on the second floor, and he works there every day; evenings and weekends, he plays.
Two evenings a week, usually Wednesdays and Fridays, Hef takes his girls out for dinner and club-hopping. Once they all pile into the limousine, Hefner hands out Quaaludes to whichever of the girls want them—"but he always breaks them in half so that the girls don't get too rowdy," St. James explained. "Hef confessed to me once that they used to call quaaludes 'leg-openers' because they made girls feel horny. That explains a lot," she concludes. The group usually has dinner and then goes to a few clubs, all recorded by a Playboy staff photographer who tags along on these jaunts. Often, Hef being the conspicuous stud celebrity that he is, they pick up a "new girl" along the way. They all get a little (sometimes a lot) tipsy and climb back into the limo shortly after midnight, just after Hef takes his Viagra, timing the ingestion so that he'll be ready to "perform" when they get back to the Mansion. When they arrive, they all convene in Hef's bedroom for the rest of the night, about which, St. James teases, "you probably want details, don't you?" And she provides them.
Hefner stretches out on his giant bed, naked on his back, and one of the girls—at the time, it was his lead girlfriend, Holly, and probably still is—pleasures him orally to get him erect. Then the first girl climbs atop the publisher for a minute or so, then the next, then the next. Sometimes as many as four or five. "Finally, when it was confirmed that on one else wanted to 'go,' it would be Holly's turn to assume the position. However, by that time, Hef was already limp, and Holly would have to orally excite him and get him going again." After they'd finished, came the "grand finale," St. James said: "Hef masturbated while looking at porn ... I never saw him come while having sex with anyone; he always masturbated."
St. James says she and the other girls often wondered why Hefner did it at all. Indeed, diddling for a minute apiece a succession of voluptuous women seems nearly pointless, particularly when Mr. Playboy gets his rocks off with solo sex. Actual copulation with a woman is "brief and uneventful," St. James said, "—almost as if he is doing it for show and for his ego. It is all an illusion; an illusion that he is still a swinger, a man with many women in his bed, a crazy orgiastic experience. It is just not so in reality," she concludes. None of the things a woman values in a sexual partner—how he moves his body, the amount of time he devotes to pleasing his partner, "his touch, his intensity, and his patience"—are present in Hef's couplings. "It seemed to me he just laid there like a dead fish. ... He was not a good lover. No passion, no physical abilities ... [and] he had a hard time getting hard. When he did, it didn't last long. Many poor girls had to revive his extinguished flame as it died in the middle of their time with him."
When St. James first had sex with Mr. Playboy, she was "ready," she said—"drunk, horny, and curious." But she seldom had sex with him thereafter. "In two years of living at the Mansion, I shared less than fifteen intimate minutes with Hef," she says."The problem with the relationship was that there was no intimacy. ... no time alone with Hef; therefore nothing felt personal. And the sex, more than anything, was impersonal. The few times it did occur, it was in front of an audience and it was brief, no longer than a minute." Hef never visited St. James or any of the other girlfriends in their rooms to spend time one-on-one. "Because of that lack of intimacy, we didn't feel like real girlfriends," she writes. "Hef doesn't want a real relationship. The girlfriends are there to feed other people's fantasies. Hef is giving people what they want and expect from him. I think his happiness is not derived from the relationships, but from the attention and publicity the relationships bring him." In pursuit of this August objective, Hef has, by his own reckoning, screwed well over a thousand women. (Hefner, being something of an old-fashioned romantic, might say "made love to" rather than "screwed"; but I think the more impersonal term, "screwed," is more suited to the activity he engages in.)
Hef's so-called sex life is merely part of the Mr. Playboy Legend: it is impersonal except insofar as it is wholly self-gratifying. His magazine determines his sex life just as it absorbs most of the hours of every day. But for a man to whom his life is his magazine, we see in Watt's Mr. Playboy very little of the publisher's day-to-day engagement with the publication after he shaped it during its first formative years. Watt concentrates on the business aspects of the burgeoning Playboy empire, its eventual dissolution, the scandals, and the heroic efforts Hef and his editors made to sustain the magazine's circulation by tailoring its content to the ever-shifting sexual mores of the times. And in the recitation of the names and reigns of Hef's steady girlfriends—of whom Barbi Benton is doubtless the most memorable—we have ample indication of Mr. Playboy enacting the magazine's "vision of the whole man reduced to his private parts," as Benjamin DeMott so memorably put it.
In an interview with the son of his arch-rival, Penthouse publisher Bob Guccione, published in Gear magazine (September-October 1998), Hefner said: "There was a time, when I was a schoolkid, in which I quite literally reinvented myself and began being the person, not that my parents had created, but that I wanted to be. That was the beginning of a lifelong journey that created the persona that I could identify with and that worked for me, and that I could be proud of. ... The persona is what I wanted to become but beyond anything I ever imagined when it occurred. It evolved and was indeed a very conscious thing. ... I go out into the club scene, and it's very nice to still be a babe magnet in your 70s. I mean, I get more attention today than at any other time in my life." Still a babe magnet. Wow.
Watt bought the persona and even notes that Hef performed this personal transformation at least three times in his life, beginning with Hefner's highschool opus, the autobiographical comic book in which he called himself "Goo Heffer," saying of his alter ego that he was "a Sinatra-type guy." Tellingly, Hefner knew exactly what he was doing: "In the comic book, you create a world in which the hero of the story is you ... and you are the center of that little world that you created." Oddly, even after citing this cartoonist mentality as a touchstone of his subject's personality, Watt doesn't return to the idea; nor does he give it particular emphasis when he mentions it.
We witness Hef's personality transformations but not the work-a-day Hefner. We catch a glimpse of that Hef in an advertisement in the current issue of Playboy. The ad, for Jameson Irish Whiskey, presents a brief interview with Amanda Warren, who works at the Mansion as the West Coast Editorial Coordindator for Cartoons. She describes how it is to work for a man who comes to work at noon in his pajamas: "Your day is kind of dictated by what type of pajamas he is wearing. If Hef's wearing black silk pajamas, he is ready to work. All is well. Sometimes he'll come down in his blue flannel pajamas and you'll know it's not going to be a good day. If he has an interview or a meeting with a lawyer or something, he'll throw on his red or purple smoking jacket over the black silks. That's typically his uniform. ... Legend has it that he started wearing pajamas during the early days of the magazine when his secretary arrived one morning and he was still working away in his pajamas from the night before. But if you ask Hef, he will simply tell you that he wears them because he finds them to be more comfortable."
Brief though this glimpse of Hef's working day is, it's more than we find it Watt. An even more remarkable omission—and the reason for this long apostrophe to Mr. Playboy and all he stands for when not limp—are the cartoonists and their cartoons. Cartooning was Hefner's first love. As Warren observes, "Hef has always drawn cartoons himself. ... It was a love of his, and in the first few issues [of Playboy] he drew his own cartoons." Not exactly: as a purely historical matter based upon the testimony of editorial cartoonist Jim Ivey, Hefner published several of his cartoons in only one of the early issues. But Hef occupies a notable niche in the history of the artform, and Watt nearly ignores that. The Playboy cartoonists he mentions include Jules Feiffer, Gahan Wilson, Erik Sokol, John Dempsey, Gardner Rea and Al Stine, the latter, scarcely one of Playboy's most notable although he lurked in the magazine's pages for a long time. Most of these worthies are named in a single paragraph of roll call, and none of them are mentioned again. Judging from the book's index, Benjamin Franklin shows up more frequently than most cartoonists—four times in the book's pages. Shel Silverstein is mentioned seven times in the book, but while he is identified as a cartoonist, his role in the book is as one of Hef's "manly" bunch, not as an innovative and contributing cartoonist. Michelle Urry, Hef's life-long cartoon editor, gets similarly off-hand treatment: she's mentioned just once but not as cartoon editor, only as a friend of the ill-fated Bobbi Arnstein, Hef's assistant, who, accused of smuggling drugs and harassed by authorities, killed herself. Watt mentions Harvey Kurtzman as he glides by Little Annie Fanny but fails to mention the short-lived Kurtzman-edited humor magazine Trump that Playboy published for two issues. Jack Cole, the most influential cartoonist in determining the visual style of the magazine's cartoons, is simply mentioned, his influence never noted. And Eldon Dedini, another whose painted cartoons set the pace, evades Watt altogether. It's as if cartoons were never part of Playboy's history as a manifestation of its publisher's psyche.
Editorial cartoons about Jimmy Carter's gaffe, confessing during a Playboy Interview that he lusted after many women in his heart, get more attention from Watt than any cartoons by Playboy's regular stable of cartoonists. Ditto Garry Trudeau's Doonesbury when it ridiculed the likely changes in Mansion lifestyle ushered in by Hef's brief marriage to the magnificent Kimberly Conrad, she of the glacial platinum hair and ice-blue eyes. One consequence of Watt's cavalier treatment of the cartooning content of the magazine is that he misses an opportunity to examine another aspect of the mind of Mr. Playboy at work. Hefner's ability as a shrewd editor of cartoons is well-known among cartoonists, and most of them readily admit that Hef's critiques improve their cartoons. A few examples of this editorial acumen would have revealed another facet of Hefner as publisher of one of the most spectacularly successful magazines in American history. (The other is Reader's Digest.)
Watt mentions Hefner's undergraduate stint as managing editor of Shaft, the campus humor magazine at the University of Illinois, but our Hindsight piece on Hefner as Playboy's First Cartoonist treats this episode in his life more thoroughly. Hefner's passion for cartooning resulted in his magazine's revitalizing the medium, but Watt doesn't mention this aspect of Hefner's impact on twentieth century America. And in overlooking it, he neglects an opportunity to buttress his own argument about the overwrought notions about sex and erotic imagery that characterized the disputation between Playboy and the women's movement.
Watt examines "power of sexual imagery" in Playboy: "For Hefner, erotic representations of the female body pointed the way to human freedom and happiness, while for feminists, they inscribed a kind of slavery for women. Both sides exaggerated. While sex is a vital part of human life, it is far from being the most important. In trying to make it so, along with the visual images that arouse it, both disputants distorted real life. Their extreme positions—Hefner defining unfettered sex as the road to nirvana with Playboy photos as signposts, many early feminists denouncing the sex act as inherently exploitive and female nudes as posters of oppression—granted undue power to a single aspect of human endeavor. Both overlook the likelihood that erotic imagery, while evocative or scandalous, pleasurable or annoying, is often relatively inconsequential." Right. Playboy's cartoons invariably present sex as a pleasurable, even joyful, aspect of life, eagerly engaged in by women as randy as men. But the cartoons do not so much emphasize the importance of sex among life's pleasures as they laugh at our seemingly overriding preoccupation with it. In effect, the cartoons footnote the evocative photographs by saying sex is not the most important part of life: sex, like laughter, is vitalizing but not the raison d'etre of life.
Playboy's cartoon content supports Watt's thesis about the relative unimportance of sex in life, but the cartoons also undermine his criticism of the magazine: by publishing cartoons that laugh at our preoccupation with sex, Playboy says, as does Watt, that sex "is far from being the most important" part of life. That's the rhetoric inherent in the cartoons, real but rhetorical nonetheless. Hefner, strangely, doesn't seem to have got the joke: he seems instead to have been seduced by the magazine's own devices of seduction. And he apparently doesn't realize, as his reality tv show, "Girls Next Door," so readily reveals, that he has become, in effect, the joke.
Hef wanders in and out of the shallow, party-loving lives of his harem, at every appearance, the caricature of an aging roue, not a babe magnet but a paternal presence, cracking faded witticisms about sex and female body parts.
Even if the magazine's cartoons might bolster Watt's argument about the comparatively unimportance of sex, omitting consideration of them in a biography of the magazine's publisher is a signal failing: it blots out a significant aspect of Hefner's life. Watt fails as egregiously here as The New Yorker does in failing to attend with prose to the importance its Cartoon Issue's pictures accord to the medium. But Watt has another agenda: his is not so much to record the life of Playboy's publisher as it is to ride his hobby horse to the finish line, to make a convincing case for the magazine's significance as emblematic of "the American Dream." I can't say the same for the editors of The New Yorker: I don't know what they intend by their annual Cartoon Issue.
FOOTNIT: Ever since the Beckett-Bushmiller hoax to which I became an unwitting dogsbody, I've been leery of things that seem too good to be true. Like St. James' book. So I googled her (you should pardon the expression) and her book and wound up at the HollywoodInterrupted.com website, which told me, among other things, that a writer named Mark Ebner is "the only legitimate investigative journalist" working in the entertainment industry these days. It seems St. James contacted Ebner in early 2005 to co-author her tell-all tome, and together they produced a 40-page proposal. But their plan was pre-empted by another somewhat seamier tell-all tale by Jennifer Saginor, the daughter of Hefner's "live-in de factor pimp, the notorious, gun-toting, drug-addict Mark 'Doctor Feel-Good" Saginor, M.D.," said Ebner. "Jennifer's memoir of debauchery at the manse was published ... with scant attention. Hefner used his media might to quash" the various scandalous claims made by Saginor and to sabotage her "scheduled interviews with Larry King and Anderson Cooper." But St. James, Ebner learned, did better. "About six months ago (December 2005), St. James surprised me with the news that she had been writing the book by herself on a tiny advance from her publisher, and wanted me to help edit her manuscript." Ebner's fee proved too steep for St. James, and he didn't hear from her again. But, assuming websites don't lie (Big Whoop) and that Ebner really is the world's foremost investigative reporter in the so-called entertainment biz, Izabella St. James is real.
One review I chanced on slathered her book with a single-minded criticism, saying St. James was obviously out for the money she could make from her experience and seemed grossly ungrateful about her Mansion experience, complaining about everything and expressing no appreciation for anything. Maybe. My impression, however, is that she didn't complain all that much, not enough to justify the criticism. The book's weakness is mostly that St. James too often excludes herself from the behaviors she attributes to the other girlfriends: she doesn't screw Hef as often, isn't drunk as much, doesn't take drugs, and only after much reflection, went for plastic surgery on an unspecified part of her body. According to her, her pristine status in the party posse was due to her superior intellectual achievement as a law school graduate—which is how Hef invariably introduced her, preening in his ability as a babe magnet to attract someone with certifiable brains. But these flaws in her testimony do not necessarily invalidate her descriptions of daily life among the girlfriends (to which most of the book is devoted) or her account of action in the Hef's big bed where nights were filled with revelry and life was but a song. Never intending to spend the rest of her life in the Mansion, she left, she says, because of the cat-fighting among the girlfriends. It became all too spiteful.
Ebner, incidentally, says that Hefner "recently came out of his long-avowed 'art and erotica' closet as a full-on pornographer" when Playboy Enterprises acquired, in July 2006, Club Jenna Inc., a multi-media adult entertainment business founded by adult entertainment star Jenna Jameson. By substituting for the euphemism "adult entertainment" the more accurate term "pornography," Ebner's accusation assumes accuracy. Christie Hefner, Hef's daughter and Playboy's CEO, is quoted at ChicagoBusiness.com, saying: "This acquisition will allow us to diversify our content offerings in the domestic tv business, while, on the online side, also expanding their existing properties through our network of sites." Right.
The December issue of the magazine, by the way, includes a six-page "tease," depicting an assortment of barenekkidwimmin from which, we are informed, the 55th Anniversary Playmate will be selected for the January issue's annual advertisement "celebrating women—beautiful women, intelligent women, feisty and fascinating women." The language confirms some of what Watt says about the evolution of the magazine from "romantic paternalism" that denounced the "womanization" of the American male to familial overtones, touting women as marriage partners albeit erotic ones. "Every photo has been a dream come true," the frothing copy reads. A photo is a dream come true? Maybe. But is a photo real? Or just another manifestation of an adolescent dream?
PLAYMATE SCANDAL OF ANOTHER ERA
In the early years of the 20th century, Charles Dana Gibson drew admirably statuesque women, who were, in the fashion of the day, completely clothed—swathed we might say— from toe to clavicle. Hair piled luxuriously atop their shapely heads, "the Gibson Girl" set the standard for feminine beauty. Gibson scandalized his admirers when he illustrated "The Common Law," a story written by a friend, Robert W. Chambers, and serialized in Cosmopolitan magazine from November 1910 to February 1911. In the story, a refined artist's model consents to pose in the nude. It was "the sex-thriller of that day," according to Bennard B. Perlman in The Golden Age of American Illustration: F.R. Gruger and His Circle: "There was consequently much criticism aimed at the creator of the Gibson Girl for allowing his famed female to be cast in such a role, [but] Gibson never depicted her undressed. In fact, in all of the huge volume of Gibson's work, the only nude to be found is in the rendition of a distant statue in a European public park."
THE REAR VIEW SHOWS THEY'RE CLOSER THAN THEY SEEM
A Review of Comics Since 1945 by Brian Walker
From The Comics Journal, No. 253
"History" is very quickly linked, in common parlance, to an adjective, "ancient," so it is with surprise and delight that we take up Brian Walker's recent venture for Abrams, The Comics Since 1945 (336 9x12-inch pages in hardback, $49.95). At last, a tome that treats just the last fifty years instead of pawing through the preceding centuries, beginning with Egyptian tomb paintings and the Bayeaux Tapestry. Thankfully, Walker spends absolutely no time defining "comics" because, by 1945, everyone knew what one was. In those days, "comics" meant "comic strips," and that's Walker's subject.
We've had plenty of comics histories in recent years, more per year than in the preceding half-century. The milestones that dot the nearly prehistoric pathway with more-or-less comprehensive treatments begin with art critic/historian Thomas Craven's Cartoon Cavalcade (1943), which includes gag cartoons and comic strips in equal helpings. Next was Coulton Waugh's epochal The Comics (1947), to which Walker is doubtless paying homage with his book's title, then Stephen Becker's Comic Art in America (1959), and, finally, Jerry Robinson's The Comics: An Illustrated History of Comic Strip Art (1974).
Most recently, we have the lavish and encyclopedic two-volume, slip-cased Comic Strip Century (1995) assembled by Bill Blackbeard and Dale Crain for Kitchen Sink Press and Ron Goulart's excellent but too often overlooked The Funnies: 100 Years of American Comic Strips (also 1995). The first is long on pictures and short on text; the second, exactly the reverse. Together, a monumental reference work. But while the titles embraced the last half century, the contents were skewed towards the first, more formative, fifty years. Walker's book adjusts the imbalance.
In between Becker and Robinson we had a freshet of volumes from Europe, where cartooning had been, for years, more highly regarded than in this country: The Penguin Book of Comics by George Perry and Alan Aldridge (1967 revised in 1971), A History of the Comic Strip by Pierre Couperie and Maurice Horn (1968), and Comics: Anatomy of a Mass Medium by Reinhold Reitberger and Wolfgang Fuchs (1971), all of which surveyed European as well as American comics and expanded, and thereby diluted, coverage of the medium by surveying comic books as well as strips. Ambitious projects all, but they were, every one of them, flawed by shoddy reproduction of the artwork used to complement the text.
The quality of reproduction in Comics, Comix & Graphic Novels (1996) is at the opposite end of the scale altogether, but the nearly anonymous author concentrates on comic books to the virtual exclusion of comic strips. (Phaidon, the publisher, managed to leave the author's name off the title page and, indeed, out of the book entirely; if you lose the dust jacket, your only clue as to the book's authorship is Roger Sabin's name on the spine.)
My own attempt at a book on the subject sought to bring comic strips and comic books together under the same microscope but wound up being published as two books, The Art of the Funnies (1994) and The Art of the Comic Book (1996), but even if you read them in that sequence in order to arrive at an understanding of the aesthetic as well as historical relationship between strips and books, the emphasis, like that in Blackbeard/Crain and Goulart, falls in the first half of the 20th century.
While none of this reading list neglects the fifty years since World War II, Walker's is the first book to concentrate on the period and thereby illuminate it somewhat more fully than the rest of ours.
The next distinction of Walker's book, apart from its exclusive focus on the comic strip medium, is hinted at in the name of the publisher. Abrams publishes books with an emphasis on the visual arts, and the quality of the reproduction in this one is, like that in the rest of its catalogue, superb. Sunday strips appear always in full color, and adjacent to a title's dailies, not in a separate color signature of the book (a signal instance of Abrams quality). Moreover, many of the pictures herein are reproduced from original art, not tearsheets or syndicate proofs.
As a founder and one-time director of the International Museum of Cartoon Art, Walker is strategically positioned to obtain original art: what he could not borrow from the IMCA archives (now housed at the Cartoon Research Library at Ohio State University after a fruitless search for a home in New York City), he knew, from over sixty other curatorial adventures, who to call to get it.
You may wonder, as I did, what aesthetic end can be served by devoting such painstaking care and attention to quality reproduction of comic strips of the visual persuasion of Cathybert, my portmanteau sarcasm coined to characterize the artistic attainments that seems to have prevailed for most of the last fifty years on the funnies pages of the nation's newspapers.
And that brings us to the first lesson of this course in the history of the medium. The plain fact is that the poverty of the artistry in such strips as Cathy and Drabble and Dilbert is so spectacular that it overshadows all else, including a lot of entirely respectable graphic achievement.
The chronological organization of Walker's book reminds us that in the decade that saw the debuts of Cathy and Drabble and Momma and Crock, we also had the realistically bravura performances of Al Williamson on Secret Agent Corrigan and Gil Kane on the stunningly conceived two-decker strip, Star Hawks. And Spider-Man reached the newspaper audience—and still does—with a daily demonstration that even postage stamp panels can depict full-figure action convincingly.
Even gag strips displayed in great profusion an array of textural treatments that visually enriched the funnies: Jeff MacNelly in Shoe, Russell Myers in the idiosyncratic landscapes of Broomhilda, Dik Browne in Hagar the Horrible, and Jerry Dumas in Sam and Silo.
In the same decade, Leonard Starr revamped Little Orphan Annie, and Dick Moores took over Gasoline Alley, and both these venerable titles were re-invigorated in both storyline and artwork. And Lynn Johnston introduced For Better or For Worse, rendered in cartoony detail so lovingly that she routinely deploys four panels and sometimes five to tell her story.
Not a Cathybert among them.
The fifty years of newspaper strips that we sometimes disparage for artistic inferiority include such stylistic triumphs as Berry's World, King Aroo, Quincy, Conchy, Rick O'Shay, Calvin and Hobbes, Zits, Over the Hedge, The Norm, Rose Is Rose, Herb and Jamaal, and Tiger. Others, while not symphonies of style, are nonetheless drawn with more than ordinary competence—Curtis, Ernie/The Piranha Club, The Grizzwells, One Big Happy, Zippy, and Jump Start. To name a few.
Still, turning pages of Walker's "Post-war Years" chapter (1945-50), we must admit that the funnies pages in those years were graced with more graphic pyrotechnics than any recent decade. As the 1940s came to a close, we had Steve Canyon, Pogo, Rip Kirby and Buz Sawyer as newcomers, and, as veteran hold-overs, Li'l Abner, Little Orphan Annie, Barnaby, Nancy, Bringing Up Father, Barney Google and Snuffy Smith, Dick Tracy, Burne Hogarth's Tarzan, Prince Valiant, Abbie an' Slatts, Mary Worth, and Brenda Starr. To name a few.
And Blondie. The perennial favorite, the all-time circulation champion, Chic Young's Blondie was being published in nearly 1,200 newspapers at a time, 1948, when a strip in 300 newspapers was considered a run-away block-buster success. Blondie has reigned as one of the top ten almost from its start 1930. Even today, it sits near the top of the heap.
And although Walker, and all of us, acknowledge the supremacy of the gag strip over the storytelling strip in today's funnies, the half-century that saw the slow disappearance of the continuity strip in both its adventure and soap-opera manifestations also saw the launch of such stellar performances as the afore-mentioned Steve Canyon and Rip Kirby, and Big Ben Bolt, On Stage, The Heart of Juliet Jones, Rip Kirby, Cisco Kid, Casey Ruggles, Twin Earths, Apartment 3-G, and Ben Casey.
Only a few in this category remain with us at the end of the century, admittedly; but the last fifty years were scarcely devoid of accomplishment in the realm of realistic rendering.
Walker does not shrink from recognizing the advent of primitive drawing styles on the comics page, but he displays the diplomatic instincts of Solomon in approaching the delicate subject of cartoonist Cathy Guisewite's dubious but trend-setting skill in Cathy, which, Walker says, "inspired a wave of contemporary features that derived their humor from autobiographical experience and were rendered with minimal graphic flair."
With the judiciously extravagant "flair," he elevates "minimal" to something transcending "crudely clumsy."
A cartoonist friend of mine, Tommy Thompson, dips his toe into the same hot water with a similarly delectable euphemistic phrasing: in discussing a cartoonist with no discernible drawing skill, Tommy says, "he kept his artistic ability in check."
Guisewite is herself among the first to admit, usually with a wry aside, the shortcomings of her artistic abilities, but the strip thrives on its appeal to women with a dead-on portrayal of the modern working single woman's dilemmas in career and life, a dramatic instance of the truth of at least half of the old cartooning adage that good writing can save bad drawing but good drawing won't save bad writing.
Garry Trudeau, on the other hand, has actual drawing ability even though he's been ardently pilloried for a conspicuous lack of it. He even participates in the disparagement by habitually referring to himself as the one who "made the comics safe for bad drawing." But in recent years he has undertaken to shrug off the accolade.
If I'm remembering aright, Trudeau majored in graphic design at Yale; he has a master's in art from that institution. As a tactical matter, however, he adopted the loose and sketchy manner of Jules Feiffer when producing Bull Tales, his campus newspaper comic strip that evolved, when picked up by Universal Press syndicate in 1970, into Doonesbury. Although Feiffer had been syndicated since 1959, his feature was weekly and therefore not high on the average newspaper reader's horizon. Doonesbury, then, was the most noticeable newspaper presence of the deliberately lackadaisical tics of the Feiffer technique. And compared to most of the rest of the comics page, Doonesbury seemed markedly crude in appearance. It was, however, an affectation.
Walker takes some pains to rescue Trudeau's reputation as an artist, reviewing the slanders of the early 1990s when Entertainment Weekly and the Wall Street Journal both ran stories about the cartoonist that effectively asserted that Trudeau's inker, Don Carlton, was actually drawing the strip. Both publications subsequently admitted that they had no factual basis for their assertions and had grossly misrepresented the actual relationship between Trudeau and Carlton.
On his website, Trudeau once said it was ironic (and he was being satirical) that "after years of being blamed for the artwork in Doonesbury," he suddenly found himself "unable to get credit for it." Since Carlton has been Trudeau's assistant since 1971, it would seem fair if not logical that Carlton be censured for the bad art if he's applauded for the good art. The unhappy result of the episode was that Trudeau could not give Carlton credit for his "enormous contribution" to the success of Doonesbury without seeming to give credence to the Entertainment Weekly/WSJ stories.
During the unprecedented twenty-month sabbatical Trudeau took, abandoning his strip and the space it occupied in 723 newspapers from January 1983 until September 1984, the cartoonist, says Walker, "made a conscious decision to overhaul the look of the strip." And when Doonesbury returned from its long hiatus, it had a much different appearance: the linework was no longer as sketchy and loose as it had been, and over the next few months, the panel compositions began to vary, and silhouettes and gray-tone shading appeared in profusion.
The change, Trudeau once explained, came about because he was bored: "The earlier style was more distinctive, but not much fun to execute."
Walker praises the strip for being "one of the most graphically adventurous strips on the comics pages," an assessment with which I agree, and publishes samples from both pre- and post-sabbatical periods, the latter more than adequate to support his praise. Walker also prints one of Trudeau's tightly pencilled strips, demonstrating, for once and all, that Trudeau draws his strip in every sense except applying ink to the lines.
As a matter of routine, Trudeau faxes his pencils to Carlton. For years, he used to throw his pencil sketches away afterwards—as a sort of gesture of victory over another deadline. He was persuaded to stop destroying this evidence of his bonafides, however, and now some of them are framed and on display at the Beinecke Library at Yale.
The Comics is organized chronologically by decade. Each decadent chapter begins with an over-view essay that summarizes the social and political mood of the time and reviews the chief developments in comics generally but with an emphasis on the innovations of that decade. For the rest of the chapter, Walker produces representative samples for many of the strips introduced in the ten-year period, pausing to devote several pages each to the major works.
In the 1950s, for instance, the pace-setters were Mort Walker's Beetle Bailey (September 3, 1950), Charles Schulz's Peanuts (October 2, 1950), and Hank Ketcham's Dennis the Menace (March 12, 1951); each of these features is allotted 5-8 pages, including an introductory page of text about the cartoonist and his creation.
Some cartoonists and their strips are granted 2-4 pages each, but much of the sampling in each ten-year slice is done with a single representative for each title. (And some don't appear at all—Jimmy Johnson's Arlo and Janis, for instance, and Bill Holbrook's Safe Havens, Jan Eliot's Stone Soup, Lou Fine's Peter Scratch, and Steve Bentley's Herb and Jamaal. But the book is not an encyclopedia: it's a history, and history books are seldom all-inclusive.)
By listing the strips that get 5-8-page treatments, we can construct a capsule history of the last fifty years, brushing by its high points.
The trio of innovators in the 1950s were all magazine gag cartoonists until they sold the strips for which they subsequently achieved fame and, in Schulz's case, undreamed of wealth. And both Beetle Bailey and Peanuts were more simply rendered than most newspaper strips of the day. Trudeau may have secured a beachhead for bad art, as he says, but Schulz and Walker blazed a trail for simplicity that Johnny Hart and Mell Lazarus and others were quick to follow.
Schulz once acknowledged his influence in this regard, admitting in the next breath that he wasn't so sure it was a good thing. Simplicity became minimalist, and the less artwork there was in a comic strip, the less justification there was for printing the strip at a visible size. A vicious cycle was thereby set in motion: the simpler the art, the smaller the strips were printed; the smaller the strips were printed, the simpler the art became in order to preserve some semblance of readability. And on and on.
Meanwhile, newspaper editors, being verbal creatures with little native aptitude for art appreciation, couldn't tell the difference between minimalist and preschool scribble and consequently accepted many strips rendered in the latter manner rather than in the former.
Moreover, the success, by the end of the decade, of the three bellwether strips of the 1950s gave great impetus to a trend already emerging, a tendency in newspapers to favor gag-a-day strips over continuity, or storytelling, strips.
"Editors became increasingly convinced," Walker notes, "that newspaper readers no longer had the patience to follow plotlines that took weeks to develop [in the storytelling strips] when they could watch a complete episode on television in thirty minutes to an hour."
But editors did not notice, apparently, the corollary: by logical extension of their argument, a tv watcher could get more laughs during a half-hour sitcom than on the comics page in the newspaper, or that it was much easier to get the news of the day by watching a thirty-minute network news program than by wrestling with unwieldy sheets of newsprint.
Neither of these arguments makes any more actual sense than the notion that people are in such hurry to get to the end of a story that they won't read a serialized adventure, but newspaper editors, always bitter about the space they had to devote to non-news intruders like the comics, let their emotions overwhelm their common sense. Even when the astounding popularity of tv's "Dallas" in the 1980s re-affirmed the appeal of the serialized story, newspaper editors persisted in their delusion. And still do to this day.
The big successes of the 1960s, according to Walker's page allotment, were Feiffer's Sick, Sick, Sick cartoon from the Village Voice, newly syndicated and retitled, simply, Feiffer; Bil Keene's Family Circus, and Hart's B.C. Keene was in the traditional mainstream of American comedy, but Feiffer and Hart were much more sophisticated in their approach to humor, depending upon a well-informed reader to understand the punchlines.
In the 1970s, the political and social satire akin to Feiffer's found regular expression in Doonesbury. And while Jim Davis' Garfield and Dik Browne's Hagar maintained the even keel of traditional comedy, Guisewite's Cathy reinforced niche marketing and Johnston's For Better or For Worse extended Schulz's penchant for exploring real human feelings into episodes of real life, albeit treated with gentle good humor.
Berk Breathed's Bloom County continued the Feiffer-Trudeau tendency into the 1980s. But the other two dominant strips of the decade, Gary Larson's The Far Side and Bill Watterson's Calvin and Hobbes, were unique and virtually unprecedented. Larson made the world safe for the weird and inexplicable as a font of laughter; and Watterson gave the child in all of us the ability to express himself with all the cunning of the adult.
Oddly (although perhaps not, considering the feature), The Far Side, despite its status, is represented by a single daily panel. The FarWorks cabal, owner of the feature, has a policy, it seems, that prohibits use of any of the cartoons in trade publications. Only by heroic persistence was Walker able, finally, to secure permission to print this lonely token.
The nearly phenomenal success of the Watterson and Larson features should have ended niche marketing. Watterson and Larson proved, beyond question, that inspiration is superior to cold calculation when it comes to creating wildly successful comics. No amount of conniving to concoct a comic strip to fit a preconceived niche could have produced a hyperactive boy and his stuffed tiger, a strip, if ever there was one, without a niche. And what is the demographic for The Far Side? Is there anyone prescient enough to have predicted that success?
Still, aiming for a niche makes better sense that spraying the landscape, I suppose. And syndicates, being marketing enterprises not creative ones, will persist in following the well-worn rut of their custom.
In the 1990s, only Scott Adams' Dilbert (launched in 1989 but re-born by e-mail correspondence in 1993) was honed to a socially-significant cutting edge. Patrick McDonnell's Mutts revels in whimsy and gentle humor. Jerry Scott scored twice, writing both Baby Blues (drawn by Rick Kirkman) and Zits (drawn by Jim Borgman), family comedy in both.
Looking at the nation's newspaper comics sections today we come to the paradoxical conclusion that they are more realistic today than they were fifty years ago. While the realism of yore—illustrative artwork and adventure stories—is in short supply, the human condition is being treated much more realistically these days than in the 1940s and 1950s. The emphasis in such strips as For Better or For Worse, Jump Start, Stone Soup, Arlo and Janis, and Curtis is on real life and real feelings as a basis for gentle humor, a venue once almost exclusively the province of Gasoline Alley (and still being ingeniously tuned up by the current mechanic in the Alley, Jim Scancarelli).
And all-out satire isn't as blatant as the public outcry about Aaron McGruder's The Boondocks would suggest. Despite the caustic cast to Dilbert's comedic thrust, the satire is scarcely as pointed as it is in Doonesbury or The Boondocks or, even, Bruce Tinsley's Mallard Fillmore. That sort of commentary is still in the minority in the funnies.
The most popular strips—the ones with the widest circulation—are generally those that reflect mainstream American values rather than those that question those values or attack them. As a rule, newspaper comics have always succeeded to the extent that they follow trends and adhere to the existing beliefs of their readers instead of leading the charge into new attitudes or criticizing the things those readers hold dear. The comics are reflective not revolutionary.
We should not be surprised, then, to discover that the most popular strips are rather conventional in their points of view and comedic postures. For the record, as of the June 17, 2002, issue of Editor & Publisher, 18 comic strips have a circulation of 1,000 or more newspapers and are, therefore, the most popular. The latest to reach this mystic goal was Zits. Here's the list, starting with the current champion:
Garfield, 2,600 newspapers subscribe; Peanuts, 2,400; For Better or For Worse, 2,000-plus; Dilbert, 2,000-plus; Blondie by Dean Young and Denis Lebrun, 2,000-plus; Hagar the Horrible by Chris Browne, nearly 1,900; Beetle Bailey, 1,800-plus; The Family Circus by Bil and Jeff Keane, 1,500-plus; Cathy, 1,500; Doonesbury, 1,500; B.C., 1,300-plus; The Wizard of Id by Johnny Hart and Brant Parker, 1,300-plus; Frank & Ernest by Bob Thaves, 1,300; The Born Loser by Chip Sansom, 1,300; Dennis the Menace by Marcus Hamilton and Ron Ferdinand, 1,000-plus; Foxtrot by Bill Amend, 1,000-plus; Hi & Lois by Greg Walker, Brian Walker, and Chance Browne, 1,000-plus; Zits, 1,000-plus.
Keep in mind when contemplating this roster that the numbers are sales figures not, exactly, circulation figures. The NEA-distributed strips, for instance, are often purchased by client newspapers as part of the whole "NEA package": newspapers have the option of buying a huge selection of NEA features, columns and puzzles as well as comic strips, and in some instances, it makes better financial sense for a paper to buy the whole enchilada than to pick and choose certain features.
But these package purchasers are not obliged to actually publish everything in the package. So some of those who buy the package may not, in practice, publish Frank & Ernest or The Born Loser. Hence, the figures for these NEA strips represent sales not publication.
In fact, all syndicate numbers reflect sales—"buys" not individual papers publishing the strips. It's an accounting thing. I hesitate to bring this up in the wake of the fiscal finagling at Enron and WorldCom (and I don't mean in the slightest to imply any chicanery taking place in syndicate corridors at all—heaven forfend), but the accountants' methods, while perfectly understandable, create an unfortunate impression, and we may as well invoke the Enron debacle so that we can promptly disavow anything like it before any suspicions take root. Quite simply, sales figures have the perhaps inadvertent effect of seeming to inflate circulation figures. That's because most of us don't know that these figures are sales figures not circulation figures.
Comic strips typically are sold as daily strips and/or as Sunday strips. You can buy either one or both. A newspaper that buys both the daily and the Sunday versions of a strip is counted as two "buys." So if, for instance, Blondie runs seven days a week in all the newspapers that buy it, the 2,000-plus number above is actually twice the number of actual newspapers publishing the strip. So to speak.
Most newspapers buying strips buy both the Sunday and the dailies, but some do not. Some buy only the Sunday; others, only the daily version. So simply cutting the syndicate-supplied numbers in half doesn't yield an entirely accurate circulation number. But it's probably closer to the actual number of papers in which a strip appears than the number cited by the syndicate accountants, who, as I said, are recording numbers of sales.
When we consider that there are less than about 1,400 daily English-language newspapers in the country, it would seem that strips claiming circulations of more than 1,400 are inflating their figures. But, as I hope now to have demonstrated, that's not true: a strip with a circulation of 2,600, as Garfield claims, might be in 1,300 of the 1,400 papers—Sunday and daily. More likely, though, some of the strip's circulation is overseas. Most syndicated American comic strips have some client papers in other countries.
Whether Peanuts appears in 2,400 newspapers or 1,200 or some number in between, it appears in a lot of papers. Ditto the rest of this role call. Regardless of the quibbles over accounting methods, these are the top circulation comic strips. As of the June 17 issue of E&P, that is.
My hometown paper publishes 33 comic strips (counting Sunday awnless), including 17 of the 18 best-sellers. And I suspect my hometown paper isn't unusual: most papers doubtless publish most of the most popular strips. That's how these 18 features get circulation numbers ranging from 1,000 to 2,600 in a country with only about 1,400 newspapers.
(They actually get those numbers because feature editors talk to each other about their comic strips, and when a new strip emerges somewhat from the pack, registering more than the usual amount of applause from readers in several client papers, the other feature editors are quick to jump on the bandwagon, hoping not to miss "the next Calvin and Hobbes.")
What this means is that the funnies pages of the nation's newspapers look pretty much alike from city to city. But that's been going on for decades.
Walker reports on a "unscientific and highly opinionated" poll of a dozen syndicate editors and salespersons taken in 1962 by William Steven, editor of the Houston Chronicle.
"The twelve strips the voters regarded as 'essential' to any comics page were (in alphabetical order): Beetle Bailey, Blondie, Dennis the Menace, Dick Tracy, Family Circus, Grin & Bear It, Li'l Abner, Mary Worth, Peanuts, Pogo, Rex Morgan, and Steve Canyon."
That was 40 years ago. Almost half of this roster, five, are still popular enough with readers to be top sellers. Of the remaining seven, two no longer exist (Steve Canyon and Pogo).
And what this means is that not only do the comics sections look pretty much alike from city to city, they look an awful lot today like they did forty years ago.
According to some reports, syndicates get 2,000 (maybe as many as 5,000) submissions a year from cartoonists seeking national distribution. Only about 12-18 new strips are launched every year. And only a few of those will survive more than a year or so. It is a highly competitive field and an extraordinarily stable one.
As I said, we are wont, those of us who ponder such matters, to believe that the funnies are more overtly satirical these days than they have been. Maybe, maybe not.
As a glance at today's top circulation roster shows, with the single exception of Doonesbury, the top strips are fairly mild-mannered. All humor ridicules something or someone, so gag-a-day strips like these are scarcely "harmless"; satire is taking place. But it's not as pointed politically as Trudeau's. Or, the current champion of out-spiciness, The Boondocks.
In fact, as Walker's "Post-war Years" chapter shows, there was at least as much sharp social and political satire going on then as there is now: in Li'l Abner, Al Camp was assaulting the establishment with hammer and tongs and Shoos galore; Walt Kelly was poised to begin the most accomplished allegorical satire ever seen in the funnies with Pogo; and Harold Gray continued to boost a conservative point-of-view in Little Orphan Annie.
In short, when we consider only the top-circulation strips, the comics seem to have undergone very little fundamental change in the last fifty years. Domestic comedy still ranks high; American values are still more-or-less sacred in most strips. Even such minority-focus strips as Ray Billingsley's Curtis, Steve Bentley's Herb and Jamaal, and Rob Armstrong's Jump Start extol family values and personal loyalty instead of railing against racial injustice.
But storytelling strips have all but disappeared; ditto adventure strips and realistic rendering. And even if The Boondocks isn't likely to appear in the 1,000-paper club soon, Doonesbury is there, and it's clear from the presence of both (not to mention Wiley Miller's sometimes controversial Sunday Non Sequitur or Bill Griffith's Zippy or Greg Evans' Luann or Tom Batiuk's Crankshaft and Funky Winkerbean) that the American newspaper reader has grown more tolerant of expressions of strong opinion and authentic experience on the funnies page, once unabashedly a never-never land of deliberately inoffensive jokes and fantasies.
And more strips are about women's concerns and are drawn by women; ditto strips about racial minorities drawn by members of the race depicted.
Other changes over the fifty years are perhaps less noticeable. The humor is generally more sophisticated, assuming a better-educated reader. For proof, try imagining Dilbert in a newspaper of the 1940s. Or even the 1950s.
And the comic strip form itself is often exploited in ways that produce that installment's laugh. In Zits, for example, when Jeremy's mother takes a crowbar to her son's head and he accuses her of prying into his life; or in Rose Is Rose when Rose, feeling a little less conventional than usual, assumes the form of Vicki the curly-maned Biker Gal (with a rose tattoo on her thigh), or, in a protective mood hovering over Pasquale, looks like a mother bear. Or in The Norm, which Michael Jantze treats as a comic strip diary, permitting his protagonist to address the reader directly in an opening panel, then exemplify or illustrate (or contradict) the expressed view in the rest of that day's panels in which the action unfolds in a conventional narrative manner.
As a historical review, The Comics is an exceptional work. Walker's introductory essays are thickets of fact. An active member of a strip production team (both Hi and Lois and Beetle Bailey) and as the son of one of the medium's most prolific practitioners (Mort Walker has brought into being at least nine different syndicated comic strips, three of which are still in circulation, two of them in the top 18 list above), Walker is steeped in the lore and business of the comics, and his text, alone among histories of the medium, provides much insight into the whys and wherefores of syndicated cartooning.
As the number of cities with more than one daily newspaper dwindled, for instance, "syndicate salesmen had less leverage" to pressure editors into buying new strips. In Detroit today, features editors of the Detroit News and the Detroit Free Press have about 15 minutes to make up their minds about buying: that's how long it takes a syndicate salesman to walk from the office of one paper the three blocks to the office of the other. But there are fewer and fewer cities like Detroit.
Walker's opening chapter, which recounts the origins of the comics and their blossoming into national distribution, deftly, and succinctly, pinpoints a flurry of the key facts:
"European artists pioneered the use of caricature, speech balloons, and sequential panels before graphic satire became popular in the colonies. It is in America, however, that the Sunday funnies were born. ... All of the elements that gave birth to this new art form—the mechanization of printing and distribution, the concentration of population in urban centers, the acceptance of new forms of graphic expression—had been gaining momentum for decades. ... The birth of the comics was the direct result of three major developments in American newspaper publishing: Sunday editions, color printing, and national syndication."
The Yellow Kid's role in all this, Walker says, was to demonstrate the commercial viability of the comics. The comics could sell newspapers just as well as, and perhaps better than, screaming headlines about the news sensations of the day. The comics were always there, every day; but the news wasn't sensational every day.
Walker only rarely slips, and when he does, it is never on any hugely significant fact. Discussing comics during World War II, he mentions several comic characters who enlisted in the armed forces but overlooks one of the first, Joe Palooka, who joined in the fall of 1940, perhaps before Snuffy Smith did (November 13). Palooka went in as a humble private even though he was the heavy-weight boxing champion of the world at the time. His example was much appreciated by President Franklin Roosevelt, and Palooka's creator, Ham Fisher, was, all at once, the friend of Presidents.
Strangely, Joe Palooka, for a number of years in the 1930s and 1940s consistently in the top ten most popular strips, has slipped off the table in most histories of the medium. Walker prints a sample from the 1940s, mentions the strip's popularity, reports on the feud between Fisher and Camp, and records the suicide of its creator.
Inevitably, I wish he'd given more attention to some things that he glides quickly by. I say "inevitably" because it is the duty of every comics historian to bicker with the others and to criticize their feeble attempts at every opportunity. This sense of obligation arises, in most instances, from professional jealousy or pique. I am eager to do my duty, but I'm neither jealous nor piqued about Walker's book. Brian and I are actually friends, and we have shared resources, shipping off to each other whatever fugitive magazine articles we chance upon about the early days of comics.
My dominant emotion about The Comics is pleasure at the insight and over-view it so attractively supplies. I also feel respect and admiration for the extent and accuracy of Walker's work, so amply demonstrated in the range and depth of coverage on display.
I still have a quibble or two to let fly, though. I don't think he gives sufficient consideration to the role of the Vietnam War in hastening the demise of such strips as Terry and the Pirates and Steve Canyon although he quite correctly says that strips like Dan Flagg (which debuted in 1963) and Tales of the Green Berets (1965) probably failed because the Vietnam War turned people off of military-themed strips.
But every student of the history of the medium has his or her preferences, and in this case, my preferences scarcely fault Walker's scholarship. He leaves out or skimps coverage of some strips I wish he'd given us samples of. He mentions Dan Spiegel's Hopalong Cassidy but gives us no pictures of this last exemplar of Craftint virtuosity. And the single example of On the Fastrack is hardly enough to display Bill Holbrook's consistently inventive way of employing the visual nature of his medium to produce metaphorical meaning and comedy.
More serious, however, is the uneven citation of start dates for strips. While the year is routinely given, the month and day are often not. Sometimes the complete date is given in a chapter's introductory essay; sometimes in a caption under the sample strip later on in the chapter; usually, only the year is cited.
While this is not a monumental oversight and probably doesn't matter much in most instances, there are doubtless isolated cases where the launch date of one strip might be crucial because it influences the creation of another strip that might have started later in the same year. Beetle Bailey probably had no effect on the conception of Peanuts, but Beetle started a month before Peanuts did.
In 1934, Barney Google went up into the hill country and met Snuffy Smith, thereby launching Billy DeBeck's strip on a course completely different from the race-track escapades that had distinguished the strip through the 1920s. The hillbillies resuscitate the strip, which was then beginning to lose subscribers. Al Camp's Li'l Abner started the same year. The source of Camp's inspiration has been obscured almost from the start by Camp's penchant for embroidering his personal history for the sake of a punchline. Did he see a hillbilly vaudeville act or was he remembering a trip he'd taken into the hill country as a hitch-hiking teenager? Or was he aping DeBeck's success?
Once we've assigned a month and day to the inaugural appearances of Abner and Snuffy, that last question can be shunted aside. Abner appeared on August 13; Snuffy, three months later on November 17. So Camp couldn't have been imitating DeBeck.
We might be tempted to suppose, then, that DeBeck was inspired by Li'l Abner, but we know that his researches into the lingo of the mountain folk had begun long before Camp's strip started. Fred Lasswell, who became DeBeck's assistant in the spring of 1934, said that one of his first jobs was making lists of hill country argot culled from the words and phrases DeBeck had underlined in books about the region.
Minuscule matters, to be sure. The consuming preoccupation of dusty-shouldered scholars in their dotage, who spend their declining years in library stacks and attics. But upon such tiny trivia sometimes doth major trivia depend.
Perhaps the most significant contribution to comics scholarship Walker makes is buried in the back pages of the volume. Here he has diligently recorded, chapter by chapter, the books and the articles in newspapers and magazines that supplied the information he packs so tightly into the concise prose of his introductory essays for each decade. The convenience of having such a trove of resources at one's fingertips is inestimable. And the very quantity of this material testifies to Walker's commendable dedication in pursuing his subject.
For all the considerable virtues of Walker's fact-jammed text, the book is an illustrated history, and much of the value of the work lies in the representative nature of the pictures. Much of the pleasure, to me at least, is in Walker's selection. In many cases, he has picked specimens that touch upon key moments in the life of a given strip, moments like:
—the October 27, 1952 Bringing Up Father strip in which McManus's long-time assistant Zeke Zekely appears, reminding us that he should have inherited the strip when McManus died two years later;
—the first three On Stage strips (February 11-13, 1957) in which Mary Perkins arrives, wide-eyed and hopeful, in New York—and a sumptuous Sunday strip, too;
—the last Rip Kirby (September 29, 1956) by Alex Raymond, who died in an auto accident, and a Kirby strip in which Raymond drew himself (January 9, 1947), plus strips from the first story done by Raymond's replacement, John Prentice;
—a Sunday Li'l Abner (October 20, 1968) in which Charles Schulz is lampooned as the creator of a little kid strip called Peewee;
—a special drawing George McManus did to celebrate V-E (Victory in Europe) Day in 1945;
—Snuffy Smith's return from his service in the army (October 28, 1945);
—Walt Kelly's full-color painting of Pogo characters for the cover of Newsweek in 1955 and a promotional strip done for the Minneapolis Tribune in 1969;
—a Sunday Captain Easy by Leslie Turner in which the cartoonist appears, agonizing to get an idea;
—the hilarious introduction of the African-American Lt. Flapp in Beetle Bailey (October 5, 1970) and Sarge's dream of himself as Li'l Orphan Orvie (October 23, 1966);
—one of the two times Charlie Brown's baseball team won a game (April 9, 1973);
—a whole page of Ted Shearer's daily Quincy strips;
—the death of the family dog Farley in For Better or For Worse (April 11-21, 1995);
—Zonker's verdict ("Guilty, guilty, guilty, guilty") on John Mitchell's role in Watergate (May 29, 1973) and three Doonesbury dailies in which the camera zooms in on Joanie Caucus and Rick Redfern in bed together (November 11-13, 1976) and the last Sunday strip before Trudeau went on sabbatical (January 2, 1983);
—Trudeau's appearance in Bloom County (August 17, 1983);
—Dagwood's day off, a special Sunday commemorating the strip's 50th anniversary (September 7, 1980);
—the notorious Sunday Outland (1993) in which the male characters, looking down the front of their jockey shorts, contemplate "the very thing that brings meaning to their meaningless lives";
—the Rose Is Rose daily (August 9, 1991) in which Pasquale first speaks ordinary English instead of incomprehensible baby talk;
—selections from the autobiographical sequence in Zippy (December 30, 1991-February 8, 1992);
—the last John Darling strip (August 3, 1990) in which the title character is shot and killed just as the strip itself is killed;
—the daily in which Dilbert's bent tie is explained (August 7, 1991);
—the Pickles Sunday in which the characters discover they're in a comic strip—that very day's release, in fact (1991);
—to name a few of many savory samples in this delicious tome.
History, I reflected as I browsed through Walker's magnificent tome, is worth perusing. Like those great and gloriously illustrated adventure strips of the 1930s, for instance, which we'll recall next time when I reprint the review I perpetrated on The Comics Before 1945.
To find out about Harv's books, click here.