<![endif]>
OPUS 227 (July 31, 2008). We take a long expedition this time into the jungles of Satire—how it works and how it sometimes doesn't work, misfiring and shooting itself in the foot. While The New Yorker's recent Obama cover is the obvious victim lately, we also review Bob Levin's recent biography of a particularly outrageous satirist, Hustler's Dwaine "Chester the Molester" Tinsley, which, unlikely as it may be, is somehow related to the tribulations of Barry Blitt at The New Yorker and a jailed Dutch cartoonist. We also rehearse the history of the founding of the San Diego Comic-Con, celebrate Pickles 500th and 501st, rejoice at the demise of Diesel Sweeties, and marvel at the endless fakery going on in Get Your War On. And we admit to being hoaxed last time on the Bushmiller-Beckett correspondence. Sigh. Here's what's here, in order, by department:
NOUS R US
Eight comic books with more than 500 issues, DC finishes Spirit, comic book biographies of Obama and McCain due in October, Diesel Sweeties dies in print, superheroes at the movies, two more editoonists less, Wertham's papers off-limits, Blondie repeats

PICKLES HITS 500 AND THEN 501

HAVE COMICS ARRIVED?
A short history of the San Diego Con's founding

PASSIN' THROUGH
Creig Flessel, 1912-2008

The Froth Estate: News Magazines Give Up News

Editoonery: Two Novel Cartoons

COMICS PAGE WATCH
Candorville, Flying McCoys, Blondie, Beetle Bailey, Funky Winkerbean, Opus, Lio, Peanuts, Dilbert, Get Fuzzy, Pajama Diaries, Pearls before Swine

FAKE COMIC STRIP GOES INTO FAKE ANIMATION
Get Your War On

Dutch Cartoonist Jailed for Indecent Cartoons

AMERICAN CARTOONIST JAILED FOR INDECENT CARTOONS
A Review of Bob Levin's Most Outrageous: The Trials and Tresspasses of Dwaine Tinsley and Chester the Molester

THE QUESTION OF SATIRE
The New Yorker's Obama Cover
Tasteless Cartoons

HOAXED
The Fabled Bushmiller-Beckett Correspondence

And our customary reminder: don't forget to activate the "Bathroom Button" by clicking on the "print friendly version" so you can print off a copy of just this lengthy installment for reading later, at your leisure while enthroned. Without further adieu—
NOUS R US
All the News That Gives Us Fits
The granddaddy of all the mutant funnybooks, Uncanny X-Men, reached its
500th issue as of July 23, according to Andrew A. Smith (aka "Captain Comics"). "By my count," Smith continues, "there only eight current titles of the hundreds being published that have passed that milestone." And they are: Action Comics, Amazing Spider-Man, Archie, Batman, Detective Comics, Fantastic Four, Superman, and Walt Disney's Comics and Stories. To celebrate the X-occasion, Marvel is moving the team to San Francisco and giving writer Ed Brubaker a partner, Matt Fraction. Smith wanted to know why they're moving to the City by the Bay. "Is it because of strong associations with the gay subculture, to emphasize the X-Men's status as a persecuted minority?" Not exactly, Fraction said: "It's not just gay subculture. ... The Bay Area is where the underground goes overt. And it's a city known worldwide for its tolerance, acceptance and celebration of the unique and rare." Brubaker chimed in: "Yeah, it all came out of one of the early meetings—I just said 'Why don't they live in San Francisco?' If I were I a mutant, that's where I'd be. Somewhere you can walk down the street with your wings out and no one will give you a second look. It just seemed to fit."
The DC Comics archival project reprinting all 12 years of Will Eisner's iconic Spirit weekly comic strip concludes with the 24th volume and the strip for October 5, 1952. Although I've faulted many of DC's archival volumes for garish color restoration, the Spirit reprints avoided the desecration by using cream-colored paper, which reduced the glare of the color, preserving the visual aura of the comics' initial appearance on off-white newsprint. The project took eight years, and Editor & Publisher hints that a 25th volume is forthcoming, reprinting the daily Spirit strip, and even a 26th volume, featuring Eisner's post-1952 work with the masked detective. Volume 24 includes the eight 1952 "Outer Space Spirit" installments drawn by Wally Wood in his inimitable manner, Eisner's last-ditch attempt to keep the Spirit going. But Wood had trouble meeting deadlines for both Eisner and EC Comics, where he was just beginning, and Eisner, deeply engaged in devising comics for instructional and related purposes, hadn't the energy or inclination to keep the feature alive—particularly since the circulation of the Spirit Sunday supplement was falling off: it wasn't bringing in enough revenue to be worth continuing.
Marvel has produced a tribute to Steve Gerber's iconoclastic creation in Howard the Duck Omnibus, which purports to reprint all of the Fated Fowl's comic book and other appearances; the whole story of Howard is rehearsed in Harv's Hindsight. ... IDW Publishing will release 28-page comic book biographies of Barack Obama and John McCain on October 8, but the comic books can be pre-ordered, E&P notes, and they can also be purchased for downloading by mobile phone users via GoComics.com. ... Rich Stevens' Diesel Sweeties, a comic strip that looks as if it has been drawn by a computer in the primitive throes of digital development when pixel lines still looked like raisins on a string, ceases its print version in newspapers on August 10, reports Alan Gardner at dailycartoonist.com. Stevens was working himself to death by producing both a newspaper and a web version of the strip. "When the workload started making me sicker and fatter," he said, "it was pretty much a no-brainer which job had to go." If Diesel Sweeties had caught on in newspapers and become an overnight success like, say, Calvin and Hobbes or Zits, Stevens might have made the contrary decision. I must admit that I'm glad the artistic fashion statement represented by Diesel Sweeties didn't catch on: it threatened to turn the art of delineation into a species of needlepoint and, in the process, reduce me to tears accompanied by torrents of vituperative contumely. Sorry, but I really didn't like the execrable appearance of this effort. You can tell, right? ... In another ending reported by Gardner, Tribune Media Services has shut down its Comicspage.com operation; the homepage now directs visitors to find their favorite comic strips over at Universal Press Syndicate's GoComics.com (where, to spill the whole bowl of beans, you can also sometimes find fragments of Rancid Raves, posing as a blog). ... And in yet another ending, Gardner notes that "Danish prosecutors have dropped charges against one of the Muslim men who were arrested for plotting the assassination of cartoonist Kurt Westergaard," one of the perpetrators of the notorious Danish Dozen.

*****
At the movie theaters, "The Dark Knight" blew "Iron Man" out of the water, out of the skies, and off the planet, bringing in a reported $155 million on the first weekend, another $75 or so the next weekend, $230 million total. The Golden Avenger, erstwhile champion grosser for 2008, scored only about $100 million its first week and totaled only $177.8 after two weeks. The stunning success of the Bat-movie may be due to a morbid desire among movie-goers to see Heath Ledger's over-the-top final performance as the certifiably sick Joker. Meanwhile, at MovieMaker Magazine, Lauren Barbato cobbled up a list of ten of the best, "most popular and/or ground-breaking graphic novel movie adaptations"; in chronological order: "Superman: The Movie" (1978), the first of the modern special-effects enhanced superhero flicks; "Batman" (1989), with Michael Keaton as the Cowled Crusader and a memorable Jack Nicholson playing the Joker and stealing the slow; "X-Men" (2000), whose mutant abilities "made for great special effects possibilities on screen"; "Spider-Man" & "Spider-Man II" (2002 & 2004), setting a "new superhero standard with energetic, big-screen renderings of Peter Parker (Tobey Maguire) in web-slinging flight; "American Splendor" (2003), creatively knit together fiction and reality to illuminate the daily life of everyman Harvey Pekar, the comic book series author, a disgruntled file clerk played by the seemingly down-and-out Paul Giamatti; "Hellboy" (2004), the unlikely story of a demon who, raised by humans, decides to take their part against the forces of the supernatural that menace from every side in Mike Mignola's comic book original; "V for Vendetta" (2005), a political satire, suspense thriller and love story, adapted from Alan Moore's graphic novel of the same name; "Sin City" (2005), Frank Miller's grim black-and-white graphic novel series brought to the big screen with the visuals nearly intact (blazing the way for Miller to do something similar, we all suppose, when he finishes the screen version of Will Eisner's Spirit for release next winter); "Persepolis" (2007), the animated adaptation of the graphic novel, created by the latter's author, chain-smoking, black eyeliner-wearing Marjane Satrapi; and "Iron Man" (2008), which seemed to prove, thanks to Robert Downey Jr.'s performance, that superhero movies can be successful works of cinematic art.
At the San Diego Comic-Con last month, Zack Snyder presented a sneak preview of his long-awaited film version of Alan Moore's Watchmen, the only graphic novel to receive the prestigious Hugo Award. Snyder is resolved to reproduce Moore's work as exactly as the film medium permits, and in devising the trailer he screened in San Diego, he was determined to show pictures, he told Larry Carroll at MTV, in order to end the debate about how close to the graphic novel the movie will be. "I wanted to show pictures right now so people can go, 'Wow, I recognize that frame.'" Carroll observed that "the centerpiece of the trailer seems to be Doctor Manhattan's transformation," and Snyder agreed: "Doctor Manhattan is an interesting person to hang the movie on in a lot of ways, because he's the conscience of the movie. His perspective on humanity and mankind is a lot of the conscience of the movie, for me anyway, and how he relates to the other characters is really important. He's also spectacular in his creation, so it seemed fun."
The Con also saw the introduction of "DC Universe Online," an online videogame that lets players invent superheroes that could face off against Superman or Batman. According to Agence France-Presse at newsinfo.inquirer.net, "Players will be able to play as any DC super characters or design a supernaturally powerful character of their own. They will then get to pursue paths of good or evil" just like in the funnybooks.

*****
Dwaine Powell, the veteran editoonist we mentioned last time whose paper told him on the eve of his departure for the annual convention of the Association of American Editorial Cartoonists (AAEC) that his full-time job was being reduced to something akin to freelance status, has resigned rather than accept the new role, reports the intrepid comicsreporter.com. Powell has been with the paper, the Raleigh News & Observer, for 33 years. Another long-time staffer, Don Wright who editoons for the Palm Beach Post in Florida, has also been ushered out the door: he accepted a buyout, Tom Spurgeon said. Wright, it seemed to me, filled a role on the paper somewhat larger than editorial cartoonist. Several years ago, I interviewed him in his office at the paper. It was evening, and most of the staff had gone for the day. While we were talking, a youth from the pressroom knocked on the door. Some minor crisis about what to put in the paper where, as I recall—a layout question that should be guided by news sense, not a printer's convenience—and he asked Wright about it because the cartoonist was the only editorial staffer around. Wright answered his question, the kid went back to the presses, and the paper came out on schedule. And this is the kind of staff member the paper has decided it no longer needs—the reliable, experienced knowledgeable sort. Tells us a great deal about the state of journalism in Palm Beach, Florida. Wright, as you can doubtless tell, is nobody's fool: he's 74, I understand, and since the first buyout offers extended are usually the most generous, he probably came out on top in the deal.
At his website, Michael Barrier reports that Fredric Wertham's papers, archived in the Library of Congress's Manuscript Division, are not available for perusal by researchers. Barrier jumped through all the requisite hoops to get access to the trove, but his request was, ultimately, denied by the executor of the Wertham estate. When he asked why, since his credentials seemed to be in order, he received this reply from Leonard C. Bruno of the Library's staff: "For quite some time now, the Wertham executor has consistently rejected any and all requests for access. These are rejected outright, with no explanation, and apparently without consideration of the requestor's intent, affiliation, explanation, supplication, or anything else. Even requests that have been limited or targeted to only certain containers, rather than for total access, have failed. Unfortunately, you have joined a growing group of scholars unable to gain access." About which, Barrier remarked: "Very odd—but, as Bruno added, the executor's arbitrary sway will soon end: the Wertham papers will come open May 20, 2010. At which point, I'm sure, a lot of irritated researchers will join me in trying to figure out just what it was that the executor was trying to hide."
At his ComicsCurmudgeon.com, John Fruhlinger reported, according to E&P, that a recent Blondie strip was nearly identical to a 1952 Blondie. The case, E&P speculated, may "make readers wonder how often long-running 'legacy' comics repeat themselves." Today's Blondie is drawn by John Marshall and written (or coordinated) by Dean Young, the son of the strip's creator, Chic Young, who was, in 1952, still producing the strip with the aid of Jim Raymond, who was drawing it. In each of the episodes 56 years apart, Mr. Dithers, Dagwood's irritable boss, is depicted "barging into the Bumstead house and bathroom to see if the bathing Dagwood is home. In the last panel, a towel-clad Dagwood is pictured hanging out of the window to avoid his boss."
Iowa's State Historical Museum in Des Moines has mounted an exhibit of the comic strip Alley Oop to mark the 75th anniversary of the caveman comic, which was created in 1933 by V.T. Hamlin, of Perry, Iowa. The strip, E&P tells us, is now handled by Jack Bender, a former Iowan, and his wife, Carole. ... The 9th Japan Expo Awards in Paris, France last month expected over 100,000 to attend, but only 80,000 showed up, the same as last year's number. ... In India, P.J. George lists in The Hindu "the essential graphic novels" should you really want to grasp the concept: Maus: A Survivor's Tale by Art Spiegelman, Blankets by Craig Thompson, The Boulevard of Broken Dreams by Kim Deitch, Batman: The Dark Night Returns by Frank Miller, Watchmen by Alan Moore and 300 by Miller.

Fascinating Footnit. Much of the news retailed in the foregoing segment is culled from articles eventually indexed at http://www.rpi.edu/~bulloj/comxbib.html, the Comics Research Bibliography, maintained by Michael Rhode and John Bullough, which covers comic books, comic strips, animation, caricature, cartoons, bandes dessinees and related topics. It also provides links to numerous other sites that delve deeply into cartooning topics. Three other sites laden with cartooning news and lore are Mark Evanier's www.povonline.com, Alan Gardner's www.DailyCartoonist.com, and Tom Spurgeon's www.comicsreporter.com. And then there's Mike Rhode's ComicsDC blog, http://www.comicsdc.blogspot.com For delving into the history of our beloved medium, you can't go wrong by visiting Allan Holtz's http://www.strippersguide.blogspot.com, where Allan regularly posts rare findings from his forays into the vast reaches of newspaper microfilm files hither and yon.
FIVE HUNDRED PICKLES AND COUNTING
Brian Crane's comic strip, Pickles, reached the round-number landmark of 500 client newspapers on July 10 and then added another paper so quickly that his syndicate, Washington Post Writer's Group, couldn't get the press release out fast enough to celebrate the milestone in pristine double-zero glory. The strip revolves around Earl and Opal Pickles, who have been married for over 50 years and are sharing their golden years with their 30-something daughter Sylvia, her husband Dan (who seldom, lately, shows up), and their grandson Nelson. The household is enlivened from time to time by a typically dense dog named Roscoe and a cynical cat, Muffin. The press release reports that Crane was pleased, and a little surprised, by the news. "I honestly never thought Pickles would be in this many papers," Crane said. "I try not to think about it, really, or I'm sure I would probably get stage fright. In my mind this comic strip is just something I do every day in the privacy of my home to amuse myself, and then I mysteriously get paid for it."
Pickles' growth has been steady for most of its 18 years, according to WPWG, but its subscriber list has spiked recently, perhaps coincident with the increased attention Crane has given the last few years to Earl, who has grown more quirky with age, and Opal, whose patience enables her to endure. Maybe it's really time for another strip about the golden years. Or maybe newspaper editors, for some inexplicable reason, are finally capable of recognizing good comic strip humor and purely competent art.
"One cartoonist e-mailed me with news of a recent Pickles win and called Brian's strip the 'Godzilla' of the comics pages," said Amy Lago, comics editor for WPWG, who added that 500 clients for a Writers Group strip is "more like 800 in 'promotion-speak." WPWG Editorial Director Alan Shearer explained, "We've always been honest with our numbers, because, well, we work at a newspaper. Five-hundred [and one] is the real number of daily and Sunday clients. And it's quite an achievement for one of the most gifted humorists in our business." In contrast, most other feature syndicates report "sales" not subscribing newspapers, and since comic strips are sold separately as daily features or Sunday features, a paper that subscribes to both dailies and the Sunday is counted as two "sales." Thus, a comic strip reporting a circulation of 1,000 might appear daily in 600 papers and Sunday in 400 of the same papers.
Soon after Pickles' debut in 1990, Crane "retired" as an art director for an advertising agency in Reno, Nevada, to devote his full attention to his strip. In 1995 and 2001, Pickles was nominated for best comic strip of the year by the National Cartoonists Society, winning in 2001. Crane was also nominated for the coveted Cartoonist of the Year Reuben Award in 2006.
Crane was born in Twin Falls, Idaho, but grew up in the San Francisco Bay area. He graduated with a degree in art from Brigham Young University in 1973. He lives near Reno with his wife, Diana. He's the proud father of seven and grandfather of seven.
HAVE COMICS ARRIVED?
An Apostrophe to the San Diego Comic-Con
For the second week running, the cover of Entertainment Weekly was devoted to comic book superheroes: on July 25, the impending (March 6, 2009) movie of Alan Moore's Watchmen, and on August 1, the Batman movie. Status-starved funnybook fanboys may regard this as the apogee of their aspirations, a sure sign that comic books have "arrived" and now occupy a significant place in American popular culture. We need no longer hide our comics behind newspapers or physics workbooks whilst furtively reading them on the subway going to work or in the study hall while avoiding work. It's been a long wait, but it's been worth it.
Sorry, but none of that is an accurate interpretation of what being on the cover of EW means. In the first place, it's the movies that are on the cover, not the comic books. The articles within scarcely mention the four-color pamphlets that inspired the annual explosion of summer blockbusters featuring one or more of the longjohn legions. Comic books, in other words, are still down there at the bottom of the cultural slag heap. In the second place, it's money that's being celebrated on the covers. Nothing in a capitalist state achieves any sort of status without first being proven as capable of generating vast sums of money for those invested in the artifact. Years ago, before most of us were born, I opined hereabouts that once comics migrated to movies and started pulling down big bucks, the humble albeit despised print medium would finally rise in cultural regard as an art form, becoming the equivalent of poetry and painting in oil. I was partly right: the money is there, guaranteeing that comics superheroes are getting serious notice by moguls everywhere, but the humble medium is still, as I said, humble. Maybe next year.
The July 25 issue of EW, while depicting Moore's Watchmen—the pupil-less Doctor Manhattan looming large and blue behind the Comedian, Rorschach, Nite Owl, Silk Spectre, and Ozymandias—is also flagged "Comic-Con Special," and inside, following the preview of the "Watchmen" flick, a 7-page article glimpses the movies that were to be debuted or previewed at the Con over the July 24-27 weekend. If that's not "arrival" for the Comic-Con, I dunno what is. Well, yes, I do: real, authentic "arrival" in the cultural swim of the nation would entail more than a mere timeline diagram of the history of the Comic-Con.
The timeline occurs on page 27, or, rather, on half of page 27. It is accompanied by a short 300-word story that notes that in 1970, the Con's first year, the infant gala reportedly drew but 300 comic book fans to an old downtown San Diego hotel, which was creaking into oblivion by then. Now the Con is held at the city's gigantic Convention Center on the waterfront, and last year, officials say it was attended by 125,000 persons. I was there last year for two days, signing copies of my Caniff biography, but I didn't have time to do a count. The timeline also observes that movies were in the mix at the Con almost from the beginning: in 1976, "attendees were shown slides from a movie called 'Star Wars' a year before the film's release." (Astonished, EW repeats in disbelief, "Slides!")
In fact, movies were integral to the Con experience before that: Shel Dorf, who had helped launch comic conventions in his home town, Detroit, in 1965 (building upon the previous year's effort by one Robert Brosch) with the first "Detroit Triple Fan Fair" for comics, fantasy, and movies, transported the notion to San Diego when he moved out there late in the decade to join his parents, who had retired there. In the 1965 "Triple Fan Fair" program booklet, Shel appears as Chairman, saying, in a Statement of Principles, that "by establishing this convention, we hope to bring together people" with an interest in preserving rare material and to foster "the appreciation of Comic Strips, Films, and Fantasy Literature as genuine Art Forms." Furthermore, "we hope to draw a close bond between the creative artist and his audience." Here's a caricature of Shel (perhaps even a self-caricature in the manner of one of his heroes, Chester Gould) and a copy of the promotional poster Shel produced in silk-screen.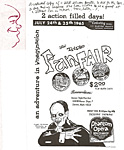 (Brosch has since escaped notice into anonymous oblivion: I phoned him once to find out more about that first comic-con in 1964, but as soon as he heard what I wanted to talk about, he hung up on me. Comic-con founders often suffer from a yawning lack of appropriate recognition in their later years. The event Brosch concocted was held in April 1964; that summer, a New Yorker named Bernie Bubnis held another convention for comics fans and, incidentally, coined the term "comicon." I don't know anything about what he's done since either; another casualty of anonymity for comic-con founders, I suppose.)
Although this year's Comic-Con is sometimes billed as the 39th, it is actually the 40th. The first Comic-Con was a one-day affair held March 21, 1970 to test the waters and generate a little capital for the subsequent three-day affair, held that summer, August 1-3, and usually counted as the "first." For the first Cons, Shel rounded up an impressive list of special guests (Jack Kirby, who attended every Con until he died in 1994, sf maven Forrest J. Ackerman, Mike Royer, and sf authors Ray Bradbury and A.E. Van Vogt.) The initial venture capital was supplied by Richard Alf, who, still a teenager, was one of the first mail-order back-issue dealers. And a raft of savvy "in fandom, conventions, publishing, and retail sales" was provided by Ken Krueger, who had attended the "very first 'scientifiction' convention in 1939, officially making him a member of the elite-if-obscure group known as 'First Fandom.'"
I'm quoting here cartoonist Scott Shaw, who was among the group of teenagers who had assembled under Dorf's wing to put on the first Con and who rehearsed the birth pangs of the Con in the inaugural issue of his Cartoonist-at-Large in July 2005 under the heading "The 'Secret Origin' of San Diego's Comic-Con." Shaw and some of his sf fan friends had trekked north in 1968 to attend the World Science Fiction Convention held in Berkeley. Bitten by the con-bug, they soon "fell in" with Krueger, who was running a "flyblown bookstore" at Ocean Beach (perhaps named, inexplicably, Andy's News), where they all met to talk about science fiction and comics. Unbeknownst to Shaw, around the corner, figuratively speaking, was Shel Dorf, a 35-year-old commercial artist and life-long comics collector who was meeting with his own group of comics fans (about which, more in a trice).
Shaw was working at a B. Dalton bookstore, where one day he encountered a customer who was looking for a series of Prince Valiant reprints "thinly disguised as children's books." This was Bob Sourke, who, when he learned of Shaw's cartooning bent, invited him to a get-together of comics fans he knew. And this group was the one clustering around Shel.
"In 1969, Shel arranged trips for many of us to visit Jack Kirby and his wife Roz at their home in Thousand Oaks, California," Shaw wrote, and out of the Kirby-fan fellowship emerged "an amalgamated social blob that was San Diego's core of funnybook fandom," which, by the fall of 1969, was planning the first one-day con for the following March. They met at the U.S. Grant Hotel, not "the snazziest of venues," Shaw confessed, but the only hotel in town "willing to risk hosting an event that would garner such low bar-attendance" because the attendees were mostly teenagers. (And most of them were male, Shaw says: ""Other than young Jackie Estrada, now co-publisher [with her husband Batton Lash] of Exhibit A Press and administrator of the prestigious Eisner Awards, the only females attending the 300-attendee event were fans' mothers.") Krueger and Dorf signed the hotel contract—"the rest of [the sponsors] were under age," Shaw explained.
In 1971, the Comic-Con felt healthy enough to move to a more respectable locale, the San Diego campus of the University of California at La Jolla, August 6-8. The next year, August 18-20, another move—this time, to El Cortez Hotel, on a hilltop over looking downtown San Diego. In 1973, the Con added a day, meeting August 16-19 in the Sheraton Inn on Harbor Island, where attendance passed 1,000 for the first time. According to a post-con report, most of the attendees, 30%, came from San Diego with an additional 15% from the surrounding county, but almost 10% came from out-of-state. The Con generated a $200 profit, half of which was donated to the Academy of Comic Book Arts. Subsequent Cons returned to El Cortez (where, Shaw observed, "the swimming pool was clouded with fan-dispensed shark repellant"), branching out into the downtown Community Concourse for the exhibit. By the 1990s, the affair had grown to such an extent that only San Diego's monster Convention Center could hold it.
The 1973 Comic-Con program booklet reviews the Con's history and names many of those responsible for the success of the previous events. Shel is listed as "founder and coordinator"; others whose names appear repeatedly are Krueger, Shaw, William Lund, Richard Butner, Bill Schanes, and Mike Towry. And Barry Alfonso, whose ad about buying comics in a local circular in the fall of 1969 had attracted the attention of San Diego's newest comics fan, the recently arrived Shel Dorf, who contacted Alfonso, who introduced Shel to Richard Alf. The three started a club, the San Diego Society for Creative Fantasy, which was the "group," all teenagers except Dorf, that Shaw's group of fellow teenagers soon amalgamated with and began planning the first Comic-Con, which, by the way, was officially entitled the San Diego Golden State Comic-Con. Tom French eventually joined the regulars to coordinate the "dealer's room," which, before too many years, had expanded into a full-blown "exhibition" that demanded floorplans and administration to keep track of space assigned and fees paid. The Con was run entirely by unpaid volunteers for years, but as it grew, the demand for a somewhat more committed staff grew, and by the late 1980s, Fae Desmond was employed full-time as the Con's first salaried manager. Other paid staffers soon accumulated.
None of this—and no names—are mentioned in the EW "history" of the Comic-Con.
I met Shel in 1982. We were both attending Milton Caniff's 75th birthday party in Columbus, Ohio, at Ohio State University. Soon thereafter, we worked together on a comic strip we hoped to get syndicated: it was Shel's brain child, and he called it Lines; he wrote it, and I drew it. Before we got started, though, Shel thought we should discuss the terms of our partnership, and he wanted Caniff as referee. At the time, Shel had been Caniff's lettering man on Steve Canyon for several years. He arranged a conference call for the three of us. One of Shel's questions was about divvying up the plunder, if any. I said, "Fifty-fifty—that way we'll both think we got the short end of the stick." Caniff laughed his approval. The strip didn't sell, so the question was moot.
A question about which there is no moot, however, is: Who is most responsible for the existence of the San Diego Comic-Con? Shel would be the first to say that creating and nurturing the Con wasn't a one-man enterprise: it took work by many people, of whom Shel was only one. But we can arrive at the truest answer to the question by asking it another way: Would the San Diego Comic–Con have come into being without Shel? The answer, I believe, is, No. He brought the idea of a comic convention with him from Detroit, where he'd been instrumental in staging the nation's first in Motor City. In San Diego, he found a cadre of interested youths who were willing to do the work, and Shel was happy to delegate. But year after year, he was the sparkplug, stimulating interest in the Con among fans and professionals alike, keeping the flame alive, until today—an delirious annual conflagration at the water's edge.
One of Shel's earliest cohorts, Mike Towry, who was publicity chairman for the first Cons while 15 and 16 years old, wrote Shel in 2002: "It is impressive what the Con has evolved into, but it has only had the chance to do so because it was founded upon your true love of comics, their creators, and their fans, and because you generously shepherded it through its critical early years at material disadvantage to yourself." Towry goes on to report that his oldest son was a volunteer at the Con that year.
Shel officially "retired" as "founder and coordinator" of the Con in 1984, by which time attendance at the Con had reached 4,000. He has many pleasant memories of his years with the Con and all that the association engendered. As Laura Embry wrote in a 2006 article in the San Diego Union Tribune: "The convention helped him get more work as an artist and a writer and enhanced his reputation as a historian of comics. When Warren Beatty turned Dick Tracy into a movie in 1990, Dorf was a consultant." And if there was a strip that captivated Shel more than Caniff's Terry and Steve Canyon, it was Gould's Dick Tracy. "Dorf can remember as a kid waiting on his front porch for the carrier to bring the day's paper so he could learn what had happened to the square-jawed detective. He loved the stories, and he loved the artwork."
One of Shel's memories he shared with me, a 1975 letter from Superman's co-creator, Joe Shuster, who wrote Shel from his home in Forest Hills, Long Island, to express his gratitude at receiving, the previous summer, the Inkpot Award, the Con's distinguished achievement trophy. Wrote Shuster: "It is great to know that, after all these years, I am still remembered—and that the original Superman art, the drawings that I created, still hold fond memories for all the faithful fans. I know that Jerry Siegel [who also got an Inkpot that summer] feels the same. ... Shel, I believe you are doing a great service to all the comic book artists and writers by granting them full recognition for their labor, talent, and creative work. Due to your devotion and diligent efforts, I am certain that future generations will have a much greater appreciation of the work done by the pioneers of the comic book world—and that the artists and writers who have contributed so much to this field will now receive full credit for their accomplishments."
I'm not sure that Shel has received full credit for his accomplishment as "founder and coordinator" of the nation's largest comic convention. Entertainment Weekly doesn't even know who Shel Dorf is. But we all do, and we're grateful. As Milton would say, Big Thanks, Shel.

*****
But the size and success of the Comic-Con doesn't mean comics have arrived either, any more than the superhero covers of EW prove that comics are now widely appreciated as an art form. The success of the Con is a tribute to movies money. As EW's cryptic history of the event notes: "In the last decade, Comic-Con has exploded into the most important pop culture event on Hollywood's calendar—a frenzied marketing free-for-all where, each July, major studios and networks flaunt their coolest new projects, trying to woo an audience of 125,000 sci-fi, fantasy, and horror fans." As Shel said, "Hollywood has kind of hijacked the Con." And comics fans are not what Hollywood is after. The number of comic book booths in the mammoth Convention Center's exhibit halls is further testimony to the subversion of the Comic-Con to the power of celluloid and money in a capitalist society. Mostly, the booths display video games and motion picture tie-ins and toys derived from the lot. Comics are a small delegation; and old comics, the tattered and yellowed survivors of the Golden Age, are in even smaller supply.
The guest list for the dozen years or so has included very few comic strip cartooners. In Shel's regime, they were there in considerable numbers, their presence conjured up by Shel's insistent letters. These days, comic book artists and tv and movie stars far outnumber the strippers. A few years ago, the National Cartoonists Society began taking a display booth in the exhibit hall, and NCS members, predominantly comic strip 'tooners, appeared at a panel presentation together, discussing their craft. This year for the first time in a decade or more several newspaper cartoonists were among the Con's guests: The Knight Life's Keith Knight, Family Tree's Signe Wilkinson, Mother Goose and Grimm's Mike Peters, who also does editorial cartoons for the Dayton Daily News, and fellow editoonist, San Diego Union Tribune's Steve Breen, who does a comic strip called Grand Avenue. Midway through the Con, a panel discussion on political cartooning featured Wilkinson (who does editorial cartoons for the Philadelphia Daily News), Peters, Breen, and 2008 Pulitzer Prize winner Michael Ramirez (Investor's Business Daily), Bill Schorr (United Feature), and "Mr. Fish" (LA Weekly/Village Voice) was moderated by Daryl Cagle, the cartoonist who also runs the Cagle.msnbc.com cartoon site and the Cagle Cartoons syndicate.
MOTS & QUOTES FROM GEORGE CARLIN
Bipartisan usually means that a larger-than-usual deception is being carried out.
Once you leave the womb, conservatives don't care about you until you reach military age.
The owners of this country know the truth: it's called the American Dream because you have to be asleep to believe it.
Ever wonder about people who spend $2 apiece on those little bottles of Evian water? Try spelling Evian backward.
Environmentalists changed the world "jungle" to "rainforest" because no one would give them money to save a jungle.
In this era of "maxi," mega" and "meta," you know what we don't have anymore? "Super-duper." I miss that.
Just when I discovered the meaning of life, they changed it.
As you swim the river of life, do the breast stroke. It helps to clear the turds from your path.
By and large, language is a tool for concealing the truth.
Think of how stupid the average person is, and realize half of them are stupider than that.
Elsewhere (from John Nichols in the pages of The Nation): Countering GeeDubya's claim that his "war on terror" was a battle for freedom, Carlin asked: "Well, if crime fighters fight crime and fire fighters fight fire, what do freedom fighters fight?" ... But Carlin's usual targets were the religious, governmental and economic elites. "The real owners are the big wealthy business interests that control things and make all the important decisions," Carlin once said. "Forget the politicians; they're an irrelevancy. The politicians are put there to give you the idea that you have freedom of choice. You don't. You have no choice. You have owners. They own you. They own everything. They own all the important land. They own and control the corporations. They've long since bought and paid for the Senate, the Congress, the statehouses, the city halls. They've got the judges in their back pockets. And they own all the big media companies, so that they control just about all of the news and information you hear. They've got you by the balls. They spend billions of dollars every year lobbying—lobbying to get what they want. Well, we know what they want: they want more for themselves and less for everybody else." The pundits say there is no audience for the old-school populism of a William Jennings Bryan or even a Franklin Roosevelt. Carlin proved them wrong, preaching American radicalism with punchlines every night before crowds that cheered (and laughed) as he struck mighty blows against the empire.
PASSIN' THROUGH
Creig Flessel, 1912-2008
Creig Flessel, a prolific illustrator active as a cartoonist and cover artist at the birth of the American comic book, died July 17, five days after suffering a stroke. He was 96 and lived in Mill Valley, California. Flessel was the most accomplished artist working in comics in the medium's infancy. Many of the earliest comic book illustrators were has-beens on their way down or wannabes not quite good enough for prime time, but Flessel, at the age of 22, was producing flawless illustrations for Street & Smith's pulp fiction, and at 23, he was doing stories and covers for Major Malcolm Wheeler-Nicholson's new line of comic books, destined, eventually, to be DC Comics. Here's the obit by Gary Klien at the Marin Independent Journal in California:
Flessel lived at The Redwoods, a retirement community, where he moved in 2000 from his native Long Island, N.Y. Last fall, at a ceremony in Mill Valley, Flessel was honored with the Sparky Award, named for the late Peanuts creator Charles "Sparky" Schulz, who lived in Santa Rosa. The award, inaugurated in 1998, is given to accomplished cartoonists in the western United States, and its recipients have included Gary Larson of The Far Side, Will Eisner of The Spirit, Gus Arriola of Gordo, and Sergio Aragones of Mad magazine. "Old cartoonists never die, they just go to California and receive the Sparky Award," Flessel joked at the ceremony. Flessel's work has appeared in classic comic books from the 1930s and beyond; old advertisements for companies such as Royal Crown Cola and Post Raisin Bran; magazines as diverse as Boy's Life and Playboy; and the David Crane comic strip. His work has also been exhibited at the Cartoon Art Museum in San Francisco. Even in retirement, he contributed artwork to the monthly newsletter at The Redwoods.
A longer and more insightful appreciation appears at Tom Spurgeon's comicsreporter.com.

THE FROTH ESTATE
The Alleged News Institution
The last hold-outs in the so-called news media have given up the struggle. The three major weekly newsmagazines, Time, Newsweek, and U.S. News and World Report, have at last joined the rest of their journalistical brethren as entertainers rather than informers. Nothing sudden about it: the transformation has been going on for years—with successive revampings of page design and refocusing of emphasis and the like. The last of the innovations before the wholesale conversion to divertissement can still be seen in the opening pages of each magazine which are devoted to short paragraph-long "articles," amusing newsy squibs and bits accompanied by photos and drawings, all premised on the conviction that American readers, trained by commercials on tv, have the attention span of May flies and can't be bothered to read anything more lengthy than a page. The laddie magazines are all built on this principle, and the newsmags, seeing the proliferation of the lads on the newsstands, decided, apparently, to go after the same readership by developing a "department" of shreds and patches. The maneuver, I confess, makes for interesting reading, fast and funny. (Despite my pose as an above-it-all Olympian observer of the American scene, I'm no better—and, I hope, no worse—than the rest of us: I, too, look for entertainment amid the news.) But the newsmags seem to have overlooked the basic ingredient of the laddie mags—skimpily clad wimmin of the embonpoint sort on the cover and in various full-page displays within. That's next, I suppose, but until that Rubicon is crossed, the newsmags have decided to make themselves into more diverting enterprises with cover stories that pose as "news" under the subheading of "history."
The idea is that "history" informs the news of the day, expands upon it, puts it in context, and so forth. Newsmagazines have always done cover stories on trends and fads in our heppy heppy land, but now they're delving into unabashed history and, even, literature. U.S. News led the way in this endeavor: its covers over the last years have increasingly brought our attention to some aspect of our history. This year's Fourth of July issue (dated July 7-14 but on the stands several days earlier) featured "The American Revolution: Myths and Realities," with a cover picture of George Washington. Fascinating stuff but "news"? Newsweek was the last to tumble: it's "Summer Double Issue" dated July 7-14 proclaimed itself "The (Mostly) Big Thoughts Edition" with a cover portrait of Lincoln and Darwin. The cover story of Time's July 14 issue is about Mark Twain. All mightily engaging stuff, as I said, but not the news of yesteryear. We apparently no longer want to know the facts of the day's events; we want, instead, to be entertained with short forays into history. Let the revels begin.
And while the festivities transpire, news expires. Mainstream news media have apparently sidelined stories that might, in another era of concerned journalism, have rated frontpage headlines, banners in screaming red ink. Reporters in the trenches are still at work, but what they report is often overlooked or ignored. Sharon Theimer at the Associated Press, for instance, reported lately that "U.S. exports to Iran—including brassieres, bull semen, cosmetics, and possibly even weapons—grew more than tenfold during President Bush's years in office even as he accused Iran of nuclear ambitions and helping terrorists. ... U.S. trade in a range of goods survives on-again, off-again sanctions originally imposed nearly three decades ago. ... Sanctions are intended in part to frustrate Iran's efforts to build its military, but the U.S. government's own figures show at least $148,000 worth of unspecified weapons and other military gear were exported from the U.S. to Iran during Bush's time in office, [including] $106,635 in military rifles and $8,760 in rifle parts and accessories shipped in 2004."
And while the political reporting on every hand keeps harping on John McCain's citing "the surg" as a sign of the success of George W. ("Warlord") Bush's policy in Iraq—with McCain's accompanying ridicule of Barack Obama's refusal to recognize the success of "the surg"—no one is reporting that the reason violence has subsided lately in northern Iraq has very little to do with military might and everything to do with the Almighty U.S. Dollar. The insurgents in Iraq's Anbar province have stopped disturbing the peace in order to continue to collect the salaries the U.S. is paying them to stop shooting at us. As I mentioned earlier, the diabolical success of the GeeDubya Scheme is going unreported: first destroy the country's economy in order to make its citizens dependent upon the invader's largess, and then put all the natives on the payroll.

Footnit: A week or so after I wrote the first two paragraphs above, Brian Kelly, editor of U.S. News, announced that the magazine is planning to convert to an every-other-week publication schedule by 2009, claiming this will permit more in-depth analysis, the justification he offers in contemplating the cut-back in reporting straight news. "We stopped chewing over last week's events years ago," he says, deploying the disparaging verb of mastication as a way of consigning to inferiority the news of daily events, "—in order to give you more timely perspective and analysis," he concludes, invoking a clutch of status words that purport to give important cultural standing to the magazine's new scheme, which is, really, not a journalist's plan at all but an entrepreneurial effort in the last ditch category to rescue the 75-year-old magazine from oblivion and death brought on by the Internet and apathy among the rising generation of citizens who don't read, or buy, weekly newsmagazines or daily newspapers because they don't think "news" helps them through their daily round of amusements and preoccupations. They should adopt Henry David Thoreau as a patron saint: asked once why he didn't read any daily newspaper, the sage of Walden responded with insightful pith: "I read one once and am acquainted with the principle."
U.S. News will presumably continue its web presence, where its audience is "now more than 5 million people a month," Kelly drones on. To abandon sarcasm for the nonce, Kelly and his magazine are attempting an end run around the Internet. They are forced to accept the hard fact that 24/7 cable tv news and the Internet can cover the news of the day with second-by-second up-dates as necessary much better than a weekly magazine can. They expect their website to continue to do the same, but they're reluctant to abandon print, which they see not only as "a refuge from the din of the Web and cable tv" but as a way of engaging people in the events of their lives in ways "uniquely valuable." And I hope they're right.
EDITOONERY
Afflicting the Comfortable and Comforting the Afflicted
An old one and a new one. Mike Keefe at the Denver Post has established an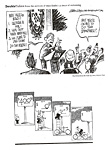 enviable custom: he digs into his archives for old cartoons that are still pertinent and uses them instead of drawing a fresh cartoon. Here's one he did before GeeDubya invaded Iraq—in the fall of 2002 when George W. ("Whopper") Bush was still just talking about invading Saddam's fiefdom. Even Keefe, a mere cartooner, could see that little planning was being done for what would come after the shooting. The new cartoon is Robert Ariail's, a particularly inventive visualization of the gasoline price crisis and what to do about it.

T-SHIRT INSCRIPTIONS
Constipated people don't give a crap.
I'd agree with you, but then we'd both be wrong.
I wonder if illiterate people get the full effect of alphabet soup?
I know right from wrong—wrong is the fun one!
If it weren't for the gutter, my mind would be homeless.
You look like I need another drink.
Impotence—nature's way of saying no hard feelings.
I'm trying to see things from your point of view but I can't stick my head that far up my ass.
I have a perfect body: it's your vision that's shot.
Where's the Rapture when you need it?
At this rate, I have enough saved to retire for a year and a half.
Tell me your sob story: I need a good laugh.
Honest is the best policy, but insanity is a better defense.
With enough practice, living in a moral vacuum feels petty darn good.
It's all geek to me.
Sign on fencepost: No trespassing—violators will be shot. Survivors will be shot again.
COMICS PAGE WATCH
The Bump and Grind of Daily Stripping
In Borgman/Scott's Zits, Jeremy has a new girlfriend, who, with round head and large eyes, looks somewhat like a fugitive from manga or the retro style of rendering. ... And in Candorville, Darrin Bell's take on Jesse Jackson's green-eyed assault on Obama is exactly right: an anonymous character with a sack over his head (to preserve his anonymity) talks about the misfortunes of his "friend," saying: "My friend's leadership has made him the most important black man in America for over 30 years, and now some punk-@%$ kid with big floppity ears comes from nowhere and steals my—I mean, his—thunder." He gives his name as Smessie Smackson, as if we didn't know. Bell also did a four-day sequence in which George Carlin shows up in Lemont's dreams, concluding with the strip at the top of the heap near here.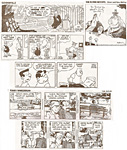 ... And Glenn and Gary McCoy, The Flying McCoys, finally ask the question that has been hovering in the backs of our minds, now, for several years. What the heck was so all-fired sexy about Queen Victoria anyhow? Surely not her underwear? ... Once again, the punchline in Blondie has Dagwood staring out at us. The gag seems obvious, comparing wild punk hair styles with Dagwood's, but it nonetheless comes as a surprise because we're so used to Dagwood's akimbo cowlicks that we don't think of them as odd. Or, even, fashionable. ... In Mort Walker's Beetle Bailey, another of those gags possible only in comic strips: Sarge's hat has, presumably, been hovering over his head for all of five minutes. ... Poignant moments in Tom Batiuk's Funky Winkerbean are made possible by the nature of the comic strip medium. Lisa, ten years after her death, is still high in Les's consciousness, high enough to materialize beside him on a bench in the park. And Batiuk gets a nice gag out of it, too, on the second day.
Berk Breathed's Opus for July 6 didn't make it into its syndicate's flagship newspaper: the Washington Post opted for a substitute, we learn at dailycartoonist.com, because, according to columnist Gene Weingarten, "the editors felt it might be insensitive to certain readers."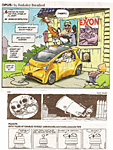 So the question arises: which of those being mooned were, in the minds of Post editors, most likely to be offended? Exxon oil executives or Darth Cheney or some Arab oil sheik?... And Mark Tatulli poses a kindred pertinent question in his Lio a week or so prior to Opus' indiscretion: how offensive is it to readers when they are the ones being mooned? ... At the bottom of the page, Snoopy with his nose going flaccid. Sorry: couldn't resist making that innocent sight gag into an indecorous joke about sexual apparatus.
The next week in Opus, the hesitant penguin is awakened in the middle of the night by a corpulent CEO, who is there, in Opus' bedroom, apparently to be "disciplined" by a scantily clad bimbo who enters the room with a star-spangled paddle in her grip, and the CEO starts undressing. I guess the Washington Post published this one: only fat CEOs or bimbos in their scanties would be offended. ... In Scott Adams' Dilbert, Dogbert the Time Management Expert spouts this gem: "Never put time into an activity that has no potential benefit," he says, then, looking at the pyramid-haired woman next to him, he continues: "For example, why bother putting on makeup if you're going to wear that hideous outfit? That's like knitting a sweater for a dead squirrel." Love the simile. ... In Darby Conley's Get Fuzzy, Bucky the cranky cat is "monkey-proofing" the apartment by hanging a bucket of syrup over the door. Rob calls it a booby trap, but Bucky corrects him, saying: "It's really more directed at the head area," thereby turning an otherwise innocent slang word into a less innocent one. ... In Terri Libenson's Pajama Diaries, husband Rob has a vasectomy, just one more instance of Libenson's continuing forthright foray into marital sex. ... And Stephen Pastis on Sunday, July 27, arranges an entire sequence of exposition in Pearls before Swine in order to reach this terminating speech by Pig, who has just interviewed Mr. Crumb: "Mr. Crumb's conundrum of the humdrum of being mum and eating plums like a numb bum from some slum or drum and strum or hum with rum if dumb." Rat, after this disaster, tells S. Pastis: "You're a nausea-inducing embarrassment." But Pastis, nonplused, says merely: "Sick Tum? Come, have some gum." Ouch.
Fake Comic Strip Progresses to Fake Animation and Hence to Fake Life
Another Triumph of Artistic Mediocrity
Get Your War On (GYWO), the popularity of which is a stunning manifestation of the collapse of artistic integrity in favor of sheer smart aleckry (the most trusted coin of the realm these days), will soon be animated at 23/6.com, "a leading comedic news site" according to a press release from Soft Skulls Media (which is as good a name for this kind of media as I could imagine). Emerging in the wake of 9/11, GYWO is an unabashed impersonation of a comic strip: it is manufactured by David Rees, who pastes 1980s-style clip art into a succession of panels and then gives the depicted persons things to say. This comic strip imposter "became a minor phenomenon" because of the comedic disparity between the pictures and the words. The clip art depicts as blandly as possible (because clip art, to be useful at all, must be universally

applicable and therefore wholly inoffensive and nondescript) an assortment of cookie-cutout white-collar workers who discuss current events with unexpectedly blistering sarcasm and a surprisingly foul-mouthed vocabulary. Most of the specimens I've seen are funny with caustic satirical commentary.
Rees, who must take the blame for this perversion of the art form, said: "When 23/6 approached me about animating GYWO, I was skeptical they could do justice to my brilliance. However, they assured me I wasn't actually that brilliant. Ever since that revelation, I've enjoyed breathing life into my beloved clip-art characters. The [proposed] animations will be like Hobbes' conception of life in the state of nature: 'nasty, brutish and short.'"
Brian Spinks, director of video content for 23/6, thinks the website has achieved a "real coup" in securing Rees' cooperation. "His sensibility is a perfect fit for us," Spinks said, committing unwitting self-satire, "combining informed outrage with a true sense of the absurd. And we'll be turning these videos around quickly, so they'll have the immediacy of a daily editorial cartoon but with the rich media experience people are used to on tv and online."
I'm not sure how rich an experience the animated GYWO will induce. If the animation is to be faithful to the original, it will doubtless consist entirely of the sort of movement that is achieved by moving a camera back and forth from close-up to mid-range and back, focused all the time on the same static image, exactly what "happens" in the example we've posted here—a fairly typical instance. But, no. The animation for 23/6 will be something more enlivened than mere changing camera distance: it will have "the distinctive look of the work of Flat Black Film's Bob Sabiston, who brought rotoscoping to the Richard Linklater film, 'Waking Life.' "Sabiston's software lets animators trace over live-action footage easily and quickly to create comics that are amazingly life-like." Rotoscoping is notorious among genuine animators for the stilted motion it produces: rotoscoped movement seems to take place in a dream. Or a nightmare. Or while waist-deep in a pond of thick mud. So, it would seem that the "animated" GYWO will begin by filming real people, then reducing their authentic live-action motion to awkward wooden movement by tracing, or imitating, that movement with hand-rendered lines.
Let me see if I've got this right. A ringer of a comic strip the pictorial element of which is made up of cut-outs of the most innocuous and undistinguished drawings available without cost will be given stilted movement by faking the animation with a rotoscope thereby producing images that are, despite a herky-jerky motion, "amazingly life-like" but not, actually, of living people at all. A perfect crescendo of clip-art artistry—veritable soap-opera symbolism, fake to fake to fake.
But Rees sounds like an okay guy. I like his sense of humor even if I detest and disparage the method he has chosen to display it. And his satirical sensibility apparently springs from genuine human empathy: the sale of two volumes reprinting GYWO has raised almost $100,000 for land mine removal in western Afghanistan. Nothing fake about that.

CIVILIZATION'S LAST OUTPOST
One of a kind beats everything. —Dennis Miller adv.
Much as I've enjoyed Tony Snow in his role as Presidential Press Secretary—and admirable as he proved in extremis and, judging from what others who knew him well have said, in the everyday conduct of his life—I'm not sure he rated the state funeral that a Presidential eulogy created. Although he had been a working journalist at various times, Snow was known chiefly as a conservative commentator, not as a journalist in the same sense as Tim Russert or, say, Walter Cronkit. And as Press Secretary, the role in which he truly shined—after the wholly repressed Scott McCellan, Snow was purely irrepressible as a pushback jousting target, great entertainment—he was a shill for George W. ("Whopper") Bush and Darth Cheney, a mouthpiece: his job was to lie to the press and make them like it. And he did that very well. He did it with good humor and enviable panache. When he died, Fox News went apoplectic. Hours of eulogy and remembrance—for a mouthpiece!!! If Russert hadn't gotten so much weepy press two weeks before, would the conservative delegation have felt right about lauding Tony Snow so much? Nice guy, no question, but a state funeral? What is left for the right wing to do when Rush Limbaugh shakes free of this mortal coil?
DUTCH CARTOONIST JAILED FOR INDECENT CARTOONS
One morning last May, the Amsterdam constabulary showed up at the door of the apartment of a "skinny cartoonist with a rude sense of humor," arrested him, and took him off to spend that night in jail. The cartoonist's crime was that he was suspected of sketching offensive drawings of Muslims and other minorities and posting them on his website, gregoriusnekschot.nl/blog (his only venue: newspapers and magazines shun his work as too extreme; and the website may not be fully functional these days, as the cartoonist awaits his legal fate). Actually, the cartoonist, whose nom de plume is Gregorius Nekschot (Dutch for "shot in the neck"), did draw cartoons that might be deemed offensive by various personages, and he takes considerable pride in his work: "Harmless humor does not exist," he says, "—I like strong stuff." What was at issue was not whether he drew such drawings but whether they were, as alleged by an Internet monitoring group, illegal under a Dutch law that forbids discrimination on the basis of race, religion or sexual orientation. The law was enacted, I gather, in the wake of Muslim outrage over the Danish Dozen, twelve cartoons published in the fall of 2005 by a Danish newspaper, one of whose editors, Flemming Rose, initiated their publication in order to test the limits, or extent, of freedom of expression in an emerging European climate of religious intimidation by Islamic extremists who protest, sometimes violently, any criticism of their religion. In Holland, a polemical filmmaker named Theo van Gogh was murdered in November 2004 because he made an anti-Islamic film. Elsewhere in Europe, a stage production and a museum exhibit have been cancelled for fear of inciting the radical elements of growing Muslim populations. In Denmark, the government has been protecting the Danish cartoonists whose caricatures of Muhammad brought destruction and death to the streets of Mideastern cities in the winter of 2006. In Holland, however, the government has apparently reacted to the intimidation by attempting to rein in cartoonists and other creative people. "Denmark protects its cartoonists; we arrest them," said Geert Wilders, a populist member of the Dutch Parliament famous for denouncing the Quran as an Islamic version of Hitler's Mein Kampf and, more recently, for releasing on the Internet a film, "Fitna," which continues his blasphemous crusade against Islam.
Under suspicion since 2005, Nekschot, "a fan of ribald gags" that often feature the Quran, crucifixion, sexual organs and goats, may have been arrested in May as part of a government effort to soothe Muslims angry about Wilders' film. The authorities, however, claim it simply took them three years to figure out the cartoonist's true identity and whereabouts. Nekschot was released the next day and has yet to be charged; his arrest, authorities now admit, was probably a "mistake." It was certainly a political and public relations gaffe of certifiable magnitude, arousing public indignation throughout the country, which "sees itself as a bastion of tolerance." And then, adding decibels to the furor, the Justice Minister, when grilled about the Nekschot case, inadvertently revealed the existence of "a previously secret bureaucratic body, called the Interdepartmental Working Group on Cartoons," which, officials hastened to explain, had been established after the Danish Dozen crisis of 2006 to "alert Dutch officials to any risks the Netherlands might face" but had no official censoring duties. Maybe not, but it looks strangely like the thin edge of the censor's wedge to me.
The menace of the Nekschot case is reported in detail in the Wall Street Journal in a July 12 posting, "Why Islam Is Unfunny fo a Cartoonist," by Andrew Higgins, who writes: "How to handle Muslim sensitivities is one of Europe's most prickly issues. Islam is Europe's fastest-growing religion, with immigrants from Muslim lands often rejecting a drift toward secularism in what used to be known as Christendom. ... The contrasting Danish and Dutch responses 'show that there is a serious struggle of ideas going on for the future of Europe,' says Flemming Rose. ... At stake, he says, is whether democracy protects the right to offend or embraces religious taboos so that 'citizens have a right not to be offended.'" Everything in the foregoing report is taken from Higgins', occasionally verbatim.
AMERICAN CARTOONIST JAILED FOR INDECENT CARTOONS
Beverly Dwaine Tinsley's training for a career in cartooning was scarcely auspicious. Born in Richmond, Virginia, to a couple of trailer-trash alcoholics on December 31, 1945, he was three months old when he lost his father: the paterfamilias deserted his family after catching the materfamilias in bed with another man. She subsequently opened a beauty parlor and spent her evenings picking up stray men in bars, taking her children, Dwaine and Donnie, two years Dwaine's senior, along because she didn't know what else to do with them. She married another alcoholic when Dwaine (he hated the name Beverly) was nine. He spent much of his youth in the care of his maternal grandparents, where he and his brother were dumped for long stretches when his mother felt her amusements were too much interfered with by the presence of her offspring. He was arrested often as a juvenile and spent time in several reform schools. He dropped out of high school at seventeen and, with a friend, moved to Washington, D.C., where, during a couple of homeless years, he supported himself and a drug habit "with odd jobs, petty thefts, housebreaking, and being paid by men to allow them to orally copulate him." He was arrested in November 1965, and the following March, he was convicted of burglary and sentenced to six years in the Maryland state penitentiary. He got out in less than four. During his incarceration, he survived 15 months in solitary, read extensively, earned his GED, took a college course in sociology by mail, and decided to become a cartoonist, a career he avidly pursued upon release from prison.
He'd doodled most of his life and later recognized that drawing had given him a way to cope with the miseries of his daily existence. Dwaine knew nothing about how to freelance cartoons to magazines, but editors instructed him in the prescribed method: submit rough drawings on 8.5x11-inch sheets and include a stamped, self-addressed return envelope. Working a succession of menial jobs, he survived a long apprenticeship without selling anything, but by 1974, his cartoons were appearing in such magazines as Adam, Chic, Penthouse, Playboy, and San Francisco Ball. By then, he had married, on June 20, 1969, a Richmond secretary named Charlotte Lambert, and they'd produced a daughter, Veronica, who was born in October the next year.
Late in 1974, Tinsley sold his first cartoon to Larry Flynt's nefarious skin magazine, Hustler, which, at the time, had been publishing for only two years out of Columbus, Ohio. Flynt liked Tinsley's work so much that he was signed on as a "contract" cartoonist: he agreed to give the magazine "first look" at any of his male-interest (sex and alcohol) oriented cartoons, and Hustler, in turn, guaranteed him two full-page color cartoons in every issue, at $350 each. He could still submit to other magazines, except Hustler's rivals, any cartoons Hustler rejected as well as cartoons on subjects Hustler wasn't interested in. About 18 months later, Tinsley drove to Columbus from his new domicile in Los Angeles, sleeping in his car en route, to apply for a job. Flynt, impressed by Tinsley's foolhardy aspiration, hired him as cartoon editor. Tinsley accepted the job and got married again. He'd divorced Charlotte in February 1974, having taken up with Debbie Melhew, a pretty-faced blonde weighing over 250 pounds, before they both moved to Los Angeles, "the center of the adult world." Tinsley hired his new wife as his assistant and commenced a career that would be as notable as his training had been ignominious.
In the February 1976 issue of Hustler, Tinsley introduced the world to Chester the Molester, "a leering, overweight, blond fellow, dressed in saddle shoes and herringbone slacks, who carried a baseball bat and craved prepubescent girls." For his debut, Chester had a hand puppet on his pecker and was inviting a young girl to "give widdle Rodney a kiss-kiss."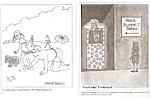 Thirteen years later, Tinsley, still Hustler's cartoon editor and now the magazine's most notorious cartoonist, renowned for the unrelenting assaults his cartoons committed on decent sensibilities, was arrested for sexually violating his teenage daughter for the previous five years, beginning, Veronica said, when she was about fourteen.
The story of the subsequent trial is the chief focus of Bob Levin's latest book, Most Outrageous: The Trials and Trespasses of Dwaine Tinsley and Chester the Molester (216 6x9-inch pages, with photos and some Chester cartoons, b/w; Fantagraphics paperback, $19.99), which also rehearses Tinsley's biography (from which I derived all the details just recited) and supplies a short history of Flynt and his magazine. In early January 1990, a jury of his so-called peers found Tinsley guilty of five of the sixteen counts brought against him, ignoring substantial inconsistencies and contradictory allegations in Veronica's version of the events of her life with her father. ("Veronica" is not her real name, Levin tells us early in the book; he has changed the names and biographical backgrounds of most of Veronica's relatives so long as the alterations "do not impact upon the events of the story.") Tinsley, who insisted that he was innocent, was sentenced to six years in prison, beginning in June 1990. But Tinsley appealed, and his lawyer, Vanessa Place, supplied by a non-profit organization that represented indigents, convinced the judges that Tinsley's trial had perpetrated a serious injustice. Tinsely's conviction was reversed in February 1992, and, a couple weeks later, he was released.
Tinsley returned to work as a contract cartoonist for Hustler, and in late 1993, after he discovered Debbie was involved with another man, he found Ellen Morgan, with whom he was soon living. He married her in October 1995, one hour after his divorce from Debbie was pronounced final. In February 1996, Flynt asked him to resume his editorship at Hustler, and life, for the next four years, was good—even though Hustler was no longer quite as outspoken and provocative as it had once been. Then in May 2000, at the age of 55, Tinsley died of cardiac arrest suffered while lifting weights.
That's the story Levin tells. But that's not the book he wrote. The book he wrote is much more than Tinsley's story. It is, first, an indictment of American sexual mores fostered by cultural counter-revolutionaries in the wake of the Reagan regime. The prosecution had introduced as evidence against Tinsley 3,200 cartoons from Hustler, the implication being that a man who would draw or, as editor, accept such cartoons for publication was so perverse that incest would be, for him, a "natural" extension of his perversion. Levin interviewed three of the jurors, one of whom, the minute Levin told him what he was writing about, said: "Chester the Molester." Tinsley's occupation didn't affect the jurors' feelings about him, but the pictures he drew did. If he could draw cartoons about a child molester, "it would not have been difficult on his part to go the next step"—which, in those morally purified right-wing times meant only one thing, apparently: the next step from drawing Chester the Molester was to molest your own daughter. Obviously, Tinsley's guilt was guilt by association, one of the oldest and most fallacious of logical aberrations. The society that tolerates this kind of thinking in its halls of justice is a fallen society, badly in need of reformation.
The case against Tinsley is an intellectually repulsive demonstration of America's prudish attitudes about sex, our national hysteria about protecting "innocent children" from anything even vaguely sexual, and our everlasting shame about our own morbid obsessions with sexuality in all its manifestations. As Levin points out, once in the grip of these delusional preoccupations, we are incapable of seeing the rabid inconsistency inherent in believing that Tinsley's work could not be divorced from his character and behavior but that the work of Stephen King, Alfred Hitchcock, William Faulkner or Valdimir Nabokov [cf. Lolita] can be and usually is.
Levin's book is also a thoughtful consideration of the legal processes involved in Tinsley's case, courtroom procedures, briefs, etc., as well as a careful condemnation of the societal weaknesses revealed in Tinsley's fate. A workman's comp lawyer when not pondering the various deviant behaviors of outlaw cartoonists (Levin's first book was The Pirates and the Mouse: Disney's War against the Counterculture, about Dan O'Neill and his fight to preserve parody), Levin writes in the lucid manner of a good attorney, presenting the facts. He also, like the conscientious barrister we assume he is, discloses his biases early in the book: Levin clearly hopes that Tinsley will prove to be innocent of the charges against him.
"I had hoped to reach a definitive conclusion about Dwaine's guilt or innocence," he writes fairly early on. "To be honest, I hoped to decide he had not molested Veronica. But with each step or two I took in that direction, something goosed me in the opposite" probably, he says, because of his training in the legal profession and his experience in the judicial system. "The mainspring of this system is the requirement that the advocates in these disputes take opposite positions ... and fight for them with full force and conviction—and then, theoretically, with their next client, be able to take and fight for the reverse. Long participation in such a system can make one less inclined to think of facts and conclusions as entities sturdy and unshakable as Gibraltar but as more molten and fluid. ... As a senior partner in a prestigious San Francisco firm told me when I was starting out, 'When you hear someone talk about "truth," you can be sure he is not an attorney.' (This is not a state of mind totally confined to lawyers. To quote Wright Morris, the National Book Award-winning novelist: 'Whenever you rely on human memory, you are writing fiction.')"
When, after reading the book, I wrote Levin to tell him how much I enjoyed it and, with him, hoped for Tinsley's innocence, Levin wrote back: "I have suggested to some friends that after they finish the book, we convene as a dozen of us and deliberate. I think it is fair to say that if one can't make up one's mind, there is reasonable doubt, so Tinsley would be 'not guilty,' if not necessarily 'innocent.' As criminal defense attorneys like to say, when asked how they can defend the guilty, 'Guilt is a legal concept, not a moral one. And no one is "guilty" until a jury says he is.'"
Therefore, in the book, Levin is unable to pronounce Tinsley "innocent" of the crimes his daughter accused him of. And "Veronica" is wholly unrepentant: Levin visited her and found her adamant that her father had abused her, happy when he died. The reversal of the decision that had sent the cartoonist to jail was based upon the legalities of what constitutes a fair trial, not Tinsley's guilt or innocence.
When Vanessa Place visited the courthouse and viewed the boxes of Hustler magazines that had been introduced as evidence against Tinsley, she realized that it was highly unlikely that a juror "who had seen them could view their creator with the presumption of innocence [that] a fair trial required." And the appellate court agreed, saying: "The prosecution's position seemed to be that anyone depraved enough to have created these cartoons would be depraved enough to sexually debase his daughter. But it was basic law that evidence of a person's character could not be used to infer his likelihood to commit a crime." The jury at his trial had found him guilty of only a few of the charges brought against him: in effect, they believed Veronica about three incidents but didn't believe her on nine others. One of the jurors Levin interviewed explained this outrage to logic by saying that the jury, initially unable to agree on a verdict, finally achieved a unanimous opinion when it decided to compromise, to convict him of a few of the charges. In the opinion of the appellate court, "The inescapable conclusion was that the cartoons had so outraged the jurors that they had decided he had to be guilty of something. 'It is reasonable to conclude,' the court said, 'that the cartoon evidence tipped the scales of justice against appellant. ... It is not reasonably probable that the same verdicts would have resulted had the repugnant cartoons not been admitted.'"
But the reason I bought and read Levin's book is not because it offers a course in judicial proprieties or because it provides an object lesson of the criminality inherent in the sexual hang-ups of bluenosed American morality. Or because it rehearses the biography of an infamous cartoonist with a few insights into the so-called mental life of his publisher. Levin is a resourceful and tireless researcher and his muster of the facts is impressive. Any of these reasons are perfectly sound motives for reading the book, but my reason is that the book is written by Bob Levin. As in his other two Fantagraphics titles, The Pirates and the Mouse and the later Outlaws, Rebels, Freethinkers and Pirates, this book is, again, Levin on the loose—his narrative mannerisms, his prose style, his meanderings en route to a point. Reading a Levin book is another writer's guilty pleasure.
Reading a Levin book is something akin to having a conversation with the author. As Tom Spurgeon observed during an interview with Levin at comicsreporter.com (April 27), one of the characters in a Levin book is Bob Levin. Another is his wife Adele, who often furnishes a telling insight into her husband's ponderings. It is she who may have explained the choice of the name "Veronica." Levin let Tinsley's daughter choose her pseudonym, and when she did, he speculated, for a moment, about "that whole Archie Andrews/Riverdale scene. Cool, I thought. Irony. Then Adele reminded me 'Veronica' was also the title of a song by Elvis Costello that begins: 'Is it all in that pretty little head of yours? / What goes on in that place in the dark?' Sometimes," Levin ends his book at exactly this point, "the world is too weird," a conclusion he deserves to reach, having undertaken the Tinsley project because he had no idea what to do next to indulge his penchant for writing about "off-beat" cartoonists—which, to-date at the time, included "a schizophrenic and an alcoholic and a speed freak and a suicide and a misanthrope and one fellow whose career off-tracked when he became a woman."
Levin described his writing process to Spurgeon: "I write obsessively, sentence-by-sentence, word-by-word. ... Since I like writing more than researching—and then revising more than first drafts—I start writing as soon as I can. Then—thank God for word processors—I layer stuff in as I collect it. As the book makes clear, I couldn't've ended the book as I did without my final interview [with "Veronica"], and it caused me to go back and tweak some of what had gone before."
Although he says he doesn't like researching, he did plenty of it, including microfilm of Ventura County and Los Angeles newspapers' coverage of the case. "One thing I didn't look at was actual issues of Hustler. LFP [Larry Flynt Publications] ignored my request to see its archives. I couldn't find a library that stocked them, and they were too expensive to buy on-line. [A telling circumstance, surely.—RCH] Anyway, I take an idiosyncratic, sort-of 'ain't'-randomness-grand' view of research, and I thought, 'This'll be cool. Let's see if I can write this without reading one Hustler and if anyone'll catch me.'" Levin did read collections of Hustler cartoons, but in deliberately avoiding the magazine itself, he displays exactly the sort of playfulness that often infects his work, sprinkling fanciful turns of phrase throughout.
Spurgeon quotes one of his favorites—something being "welcome as a pack of syphilitic mandrills at the White House Easter Egg Roll." One of mine is the phrase "fertile crevice" in Levin's discussion of what constitutes admissible evidence about a person's character: "It is within this fertile crevice between relevancy and prejudice that the question of character evidence thrives." Sometimes it's not a phrase but an idea, turned this way and, finally, that. In discussing the panting 1960s, for instance—the period that failed to deliver on any of its promises except sex (as Levin says)—he notes that "the permissive wave had swept away resistance to premarital boffing and monogamic insistency" and "enriched our language with 'glory holes' and 'golden showers' and 'fist-fucking' (brachioproctic eroticism), the first new act of sexual gratification in eons" (my italics). And then there's this magnificent flight:
"Dwaine had nurtured his wounds and resentments like a lioness her cubs. Each rat cartoon (maybe), each shit cartoon (maybe), each crab-infested vagina and fetid douche, each degenerate Falwell and demented Reagan, each big-cocked black and big-nosed Jew, each severed limb and ravaged fetus (maybe, maybe, maybe, maybe) was a blow against his round-heeled mother (the TRAMP!!), his drain-the-dregs father (the LUSH!!!), the regimented, narrow minded, madras-wrapped high school squares, the bloody-fisted, no-necked, cracker prison guard cretins, who had ganged up on him, shunted him, shamed him, clubbed him in their combined totality into that solitary hole of hell, from which he had emerged like some vengeful horror comic creature of the fens, dripping, not gore or rotted flesh, but ink and Wite-Out, reconceived and reconstituted by unknown gods of unknown motives for unprecedented assaults, pursued with pride and courage, determined to provide a meaning to his life beyond that mirrored in his childhood's latrine. He was saying, in effect, that there is value in the most foul and repugnant, as there is value in me."
But the kicker is in the footnote: "The author apologizes for the verbal liberties of the preceding few paragraphs, but he was reading Absalom, Absalom! at the time of their composition; and Faulkner has that effect on impressionable imaginations."
Levin is forever in the footnotes: it is there, at the bottom of the page, that we find his mind unwinding and unraveling, speculating and postulating, inviting us in to witness furtive asides and errant apostrophes, perhaps to gain a glimmer of some other manifestation that the narrative rattling along above has called to mind, his mind—and, invariably among such bottom feeders as us, ours. The pleasure in reading Levin is not by any means limited to the footnotes: they merely smear icing all over the cake, making the treat a licky-finger delight. In the text above the footnotes, we might find a short dissertation on the history of societies' prohibition against incest, into which Levin laces his own sometimes sarcastic interpretation: "For the anti-porn crusader Andrea Dworkin, incest was how girls were acculturated to their future role in society."
For Tinsley, Levin argues, Chester the Molester was "a ludicrous sexual outlaw" in pursuit of "anything with an orifice." Chester was a parody of sexuality, and in that, both Tinsley and Levin find the redeeming utility of the cartoons. "There is humor in these cartoons," Levin writes, "—and it is humor with a social value. Dwaine would defend Chester on the grounds that he focused attention on a major societal problem or that he satirized the consequences of uncontrolled sexual desires, but I believe the value of these cartoons is both deeper and more subtle." The humor in Tinsley's cartoons incited outrage, thereby fulfilling "one of the nobler—and more courageous—functions of art," namely, to probe societies for tender points. "If it causes discomfort, those areas may benefit from open airings. What are you hiding, the artist asks. Why are you hiding it? Would you care to discuss it?" Then the insinuating lawyerly footnote: "The argument against this position is that certain expressions are so repugnant to a society's core beliefs, values, customs, and traditions that they cannot be permitted lest they destroy all that binds that society together. The counter-argument to this position is that its implementation did not work out so well for Nazi Germany and Soviet Russia."
Levin brings in Tony Hendra, author of a book examining post-WWII "black or sick humor," Going Too Far, which seems to maintain that "the purpose of satiric art is the challenging of social norms." Then Levin quotes Tinsley: "As a cartoonist, I'm going to make you laugh or make you mad or make you think. ... Hustler cartoons allow people to laugh at the taboo, the sacred and the controversial. ... Most people laugh at our cartoons, feel guilty about laughing, and end up thinking about it for years—that's impact!"
Later, Levin quotes Place, saying her analysis "may be the first—and most astute—criticism of Dwaine's work ever written: 'Appellant skewers sacred cows. He attacks what he sees as hypocritical social mores, religious pretense, racial sensitivities, and sexual peccadilloes. He chronicles the ludicrous machinations in which man will engage to satisfy his sexual desires, and the breadth of those desires. More fundamentally, [he] rips the cloak of civility from private habits and practices, confronting man with the absurd humiliation of his most primitive functions, and mocks that humiliation, exposing as false the pride that causes us to blanch. [His] drawings celebrate the disgusting and embrace the repugnant, reveling in the uncomfortable fact that man is, after all, only human.'"
Tinsley, Levin, and Place are right: all three interpretations are doubtless accurate—at least in retrospect. My guess, however, is that Chester evolved in a somewhat different, albeit related, way. Before Chester arrived, Tinsley was already doing cartoons that assaulted the hypocrisies of his society, hypocrisies that Tinsley's life had amply illustrated, at least as far as he himself was concerned. But I think Chester was born in the steamy hothouse of the Hustler headquarters. Once there, surrounded by the extreme gaucheries of Flynt's editorial attitudes, Tinsley was, I believe, tempted to out-gross everything else in the magazine, photos of bimbos in gynecological throes, their hands at their crotches, spreading their labia, as well as other pictures, cartoons with less instructional purpose but nonetheless fairly disgusting if not also depraved. (Unlike Levin, I studied a few issues of Hustler back in my misspent youth when I was freelancing cartoons to magazines. Girlie magazines bought my wares more readily than "general interest" magazines, so I soon specialized and examined the market I seemed destined to frequent. I never sold to Hustler, but I did to the magazine's more decorous sister publication, the short-lived Chic.) Chester, waving his pecker like a banner, was result. What could be grosser?
And Tinsley realized, too, that the noisome tastelessness of his Chester cartoons blended with the over-all crude ribaldry of the rest of the cartoons as well as with the generally scabrous tenor of the surrounding photos and the minimal albeit often vulgar text of the occasional articles. It's as if he was saying: Okay, you want to display vulvas? —lemme show you something really vulgar, something so colossally indecent, so majestically offensive, that it transcends any question of taste and civilized sensibility. Almost at once, being a cartoonist for whom hypocrisy was comedic opportunity, Tinsley could see that the brutish assault of his Chester cartoons also satirized a national sexual ethic of such massive repression as to constitute a deranged obsession. Such satire, he learned, is so combustible that it is as dangerous to its perpetrator as it is menacing for its target. Satire, it seems, is an unwieldy weapon, a sword that cuts two ways, its essential irony opening itself to interpretations so exactly contradictory as to be self-destructive. And that brings us to—

THE QUESTION OF SATIRE
The brouhaha began almost before the July 21 issue of The New Yorker had safely escaped the printing press the week before the cover date. Explosion. Outrage and ire on every hand. When asked about the provocation of his drawing on the cover, cartoonist Barry Blitt sputtered: "Outcry? The magazine just came out ten minutes ago, at least give me a few days to decide whether to regret it or not." The picture Blitt had drawn depicted the post-election victorious Obamas, Barack and his wife Michelle, doing what a Fox News commentator termed a "terrorist fist bump" in the Oval Office, Barack in Muslim attire and an afro-topped Michelle in camouflage fatigues and combat boots with an AK-47 strapped on her back. In the fireplace, an American flag is merrily going up in flames while, in a portrait over the mantlepiece, Osama Bin Laden smiles.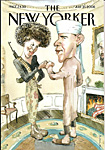 This effort is satirically entitled "The Politics of Fear," but the title, as usual with The New Yorker, appears at the bottom of the contents page inside the magazine, not on the cover, where the image is expected to stand alone, making a statement solely in visual terms. The statement, unhappily, enraged many who witnessed it.
Chief among those were Obama supporters, leading off with Obama campaign spokesman Bill Burton, who said: "The New Yorker may think, as one of their staff explained to us, that their cover is a satirical lampoon of the caricature Senator Obama's right-wing critics have tried to create, but most readers will see it as tasteless and offensive. And we agree." So did the John McCain campaign in the person of its spokesman, Tucker Bonds, who also called the cover "tasteless and offensive."
On the Web and on cable-tv, continued the Associated Press report, the chattering classes were in full froth. The left-leaning HuffingtonPost fumed: "Anyone who's tried to paint Obama as a Muslim, anyone who's tried to portray Michelle as angry or a secret revolutionary out to get Whitey, anyone who has questioned their patriotism—well, here's your image."
"It's the mass media at its worst," said Darrell West, an elections and public opinion expert at the Brookings Institute, quoted in USAToday on Tuesday, July 15, the second day of the conflagration. "It perpetuates false information, and it's highly inflammatory. It gives credibility to what's been circulating for months, and that's what makes it dangerous." The image seemed to confirm various falsehoods circulating among the populace. According to a recent Newsweek poll, reported USAToday's Jill Lawrence, "26% of Americans believe Obama was raised a Muslim, 39% said he attended an Islamic school, and 12% said he was sworn in to the Senate on a Quran. None of that is true." But many of the unwashed persist in believing it, and for them, Blitt's cover was gospel, revealed Truth, not satire.
The AP story quoted from a statement issued by the magazine on Monday, saying the cover "combines a number of fantastical images about the Obamas and shows them for the obvious distortions they are. The burning flag, the nationalist-radical and Islamic outfits, the fist-bump, the portrait on the wall? All of them echo one attack or another. Satire is part of what we do, and it is meant to bring things out into the open, to hold up a mirror to prejudice, the hateful, and the absurd. And that's the spirit of this cover." I'm not so sure. I don't know how the depictions are revealed, simply by being there, as distortions. They are that, of course, but nothing in the drawing itself portends that interpretation. And that, as many observers noted, is the problem.
An editoonist, joining in the fray on the AAEC-List (Association of American Editorial Cartoonists) argued that the cover was stupid because it was poorly drawn. "Doesn't look like satire—looks like a proclamation. The message is a good one, the problem is Americans just don't understand satire anymore (or else they just don't condone it), and unless it's crystal clear that it's a joke, then they just take the image as gospel." Others on the List applauded this verdict, saying the magazine was simply inept at political satire.
A Pultizer winning political cartooner, Nick Anderson, past president of AAEC who cartoons for the Houston Chronicle, told Alexander Burns at Politico: "As a piece of satire, it utterly fails. It offered no context, other than the 'The New Yorker' title above it. It merely portrayed a haphazard menagerie of the paranoid myths and stereotypes about the Obamas that are being circulated on the Internet, without knocking them down. That's pretty weak satire." He added that it would have been more effective if it had included the title, "The Politics of Fear," on the cover. That, however, is not The New Yorker style, which aims for subtlety, the extreme sort that can be mined by sneaking the title onto an interior page, practically out of sight.
"Satire doesn't run with subtitles," explained David Remnick, the magazine's editor. "A satirical cartoon would not be any good if it came with a set of instructions." Admirable phrasing, but most cartoons, even in The New Yorker, come with captions or some verbal accouterment: that's what makes them cartoons.
The cover cartoon would have been stronger, Anderson said, "had they shown an enemy of Obama painting the picture, or imagining it in their head." Maybe it would have helped if both he and his wife were shown wearing flag lapel pins.
Trey Ellis at HuffintonPost sought a remedy in more context for Blitt's jab. "I consider myself a satirist," Ellis said, "and I get the intended joke, but dressing up perhaps the next president of the United States as the new millennium equivalent of Adolf Hitler is just gross and dumb. Imagine instead almost the same cover but in the corner some right-wing icon like Limbaugh, Cheney or O'Reilly, via some thought bubbles, imagining the Obamas like that. At least then the offensive absurdity of the point of view would be inescapable and we would all be allowed to laugh at it. Or better yet, picture a middle-aged married couple watching the Obamas on tv and the husband imagining them as the terrorists so depicted, while the wife seeing them as the reincarnation of JFK and Jackie O. That would, I think, nicely illustrate the point of the cover, the extreme visions many in this nation have around the probable future first couple. Anything would have been better than what they did."
Also at HuffingtonPost, Rachel Sklar said the image "combines every smeary right-wing stereotype imaginable." The New Yorker, she goes on, may think it's "satirizing the use of scare tactics and misinformation to derail Obama's campaign," but, "What's that they say about repeating a rumor?" Just as appearances become reality by persistence, rumor becomes fact by repetition. Sklar e-mailed Blitt for a response to those who feel that his work was offensive, and to explain his own personal feelings about the Obamas. Said Blitt: "I think the idea that the Obamas are branded as unpatriotic [let alone as terrorists] in certain sectors is preposterous. It seemed to me that depicting the concept would show it as the fear-mongering ridiculousness that it is." Sklar managed to snag what she called an "exclusive interview" with Remnick, which she began by asking why he ran the cartoon.
The New Yorker Explains
"Obviously I wouldn't have run a cover just to get attention," Remnick said, "I ran the cover because I thought it had something to say. What I think it does is hold up a mirror to the prejudice and dark imaginings about Barack Obama's—both Obamas' —past, and their politics. I can't speak for anyone else's interpretations, all I can say is that it combines a number of images that have been propagated, not by everyone on the right but by some, about Obama's supposed 'lack of patriotism' or his being 'soft on terrorism' or the idiotic notion that somehow Michelle Obama is the second coming of the Weathermen or most violent Black Panthers, that somehow all this is going to come to the Oval Office. The idea that we would publish a cover saying these things literally, I think, is just not in the vocabulary of what we do and who we are... We've run many many satirical political covers. Ask the Bush administration how many.
"It always occurs to you that things will be misinterpreted or taken out of context," he continued, "—that's not unusual. But I think that's the case of all political satire, whether it's Art Spiegelman or Thomas Nast or Herb Block or Jon Stewart. I bet there are people who watch Stephen Colbert and think he's a conservative commentator, or maybe they did at first. ... A lot of people when they first saw Colbert said, 'What is this?' What he was doing was turning things on [their] head.
"About five weeks ago," Remnick went on, "we were about two hours from running a cover of Obama in a Brooklyn Dodger's uniform, sliding into home. And his number was 42. And anyone with even a little bit of knowledge of baseball history knows this is Jackie Robinson. So this was kind of a turn on Obama being the Jackie Robinson of American politics—in a way—and no doubt people on the Obama campaign would not have found it offensive—they would have immediately understood what we were trying to say, that Obama had jumped an enormous historical barrier. The only reason I yanked it was because it turned out someone had already done this, used this image on some political baseball cards. So I unfortunately held back that really good image. That was saying a particular thing at a particular time. This is saying a particular thing at a particular time, when these imaginings and dark fantasies and misconceptions about Obama exist. And we're putting it all together in one image and holding a mirror up to it and showing it for it for the absurdity that it is."
Obama supporters and liberals aren't the only people expressing unhappiness with Blitt's cover. Some conservatives, Lawrence reports, "said the cover annoyed them because they were its real targets. 'The cartoon is intended to make fun of conservatives as ignorant racists, and essentially marginalize as moronic any criticism of Obama,' said Philip Klein at The American Spectator.
The problem, said Elaine Miller, a student of gender and race in political cartoons, is that "once you launch a work of art, it belongs to the reader. The artist's intent is very interesting, but the reader owns the interpretation."
Interpretations
The interpretations were many and, as the saying goes, varied. Untallied numbers of ordinary citizens were angry, many saying they couldn't believe The New Yorker would "go there." But not everyone who ranted about the cover was sympathetic to the liberal point-of-view. At Politico.com, one correspondent said, "Is he Muslim? Barack Obama has refused to answer questions about his conversion from Islam. What is he hiding?" Another one wrote: "No one was offended by the cartoon until Obama was offended"—but Obama never said he was offended. In fact, when first asked for a response to it, he hadn't seen the cover and when he heard a description of it, he "shrugged incredulously" according to Politico's Mike Allen, and said, "I have no response to that." Still, the notion that the Obama campaign officials and the candidate are one and the same prompted another letter writer to say: "Obama's reaction makes me suspicious. Had he laughed it off, no problem; but his reaction makes me feel like he is trying to cover up something ... that he really is what the picture portrays. Scary!"
Even scarier was this epistle: "Obama is technically Arab-American and not Afro-American since the official minority definition says a person must be 12% black to be Afro-American. Obama is only 6% African-Black. Through his dad, he is 44% African-Arab, so that makes Obama Arab-American. Since he is Arab-American, that makes the cover appropriate. Since the Obamas are also linked to the Weathermen leader, that makes the garb on Michelle Obama totally appropriate. The fact that Hamas openly endorses Obama tells us everything we need to know. Obama quite frankly scares me, and in the early days, I admired him, but as the truth about Obama surfaced, I switched to Hillary. And since she is now not running, I will pick the best of the two left running, which is McCain. At these important times, Obama would be a mistake. He's a great orator and speaker, but that is about it for his skill level—simply not enough experience to take the office of the President of the United States in these troubled times."
All of which seems to validate the Obama campaign's fears about how people might interpret the drawing. And before we plunge ahead, let me pause a moment to adjust our sights by the light of facts rather than the notions let loose by some of the foregoing. First, Obama never was Muslim so he couldn't convert. Second, the former Weatherman who lives in the same Chicago neighborhood as the Obamas is not a leader of the group. In fact, he's a college professor who's written a book denouncing the Weathermen and the violence they represented. As for the Hamas endorsement, yes, that occurred, after a fashion. Ahmed Yousef, chief political advisor to the Prime Minister of Hamas, said: "We like Mr. Obama and we hope he will win the election." During the same interview that produced the "endorsement," Yousef was asked what he thought of Obama's condemnation of Jimmy Carter's visit with Hamas, but he didn't seem troubled by it, according to the online report I consulted. In any case, you be able to tell a lot about someone by the friends he keeps, but you can't tell much by the unsolicited endorsements he gets.
Another letter-writer at Politico produced this monument to logic: "It is astonishing how few Obama supporters have the sophistication to understand the level of satire in this cartoon. It just goes to show that they are overwhelmed with their leader, and he is overwhelmed with himself. Neither Obama nor his supporters have the ability to think critically. Again, Obama, the rookie, lacks what it takes in sophistication, intelligence, and wisdom to successfully perform the duties expected of a President of the United States of America. As such, the people find him unelectable. How unfortunate that Obama and his supporters were taken by a cartoon! Satire adding to satire adding to satire."
This correspondent is presumably a registered voter. Fear for the fate of the Republic yet?
Comic book artist Paul Pope, recording his reaction at Tom Spurgeon's comicsreporter.com, saw Blitt's cover as a "parody of the right-wing view of Obama as the conservative's Worst Nightmare, a hodgepodge of every leftist-radical Islamist cliche orbiting the heads of the conservatives." But he wasn't sure everyone would get it. Some, he speculated, might see the cover image as somehow reflecting "a right-ward shift of editorial policy" in the magazine.
But not everyone thought the cover was all that awful. John McQuaid at HuffingtonPost on the day after the story broke, thought there was "an absurd decorousness in the denunciations" of The New Yorker for displaying "poor taste" in the context of a political campaign. Said he: "Magazines and other journalistic enterprises would be crazy to buy into the notion that the arbitrary etiquette of American campaigns (which encourages candidates to lie baldly, and surrogates to spin and smarm and swift-boat, while prohibiting frank talk to a host of issues from race to religion to terror itself) should govern their decisions. Underneath that are liberals' more practical fears about the cover's impact on Obama's campaign. This line of thinking goes: Obama is so new and different, his image so unformed in the public mind, and U.S. opinion still so anxious on the matter of terrorism, with Democrats perceived as weak—that the Obama campaign, and we as a nation, just can't handle images like this, because they might be interpreted the wrong way. ... When liberals start policing the 'poor taste' of cartoons so that some people don't get the 'wrong idea,'" McQuaid concludes, "it only reinforces the notion that all the fear-mongering was effective, and perhaps right—and also shows how weak and tenuous Democrats fear their position on terrorism remains."
Noting that political cartoons have always ridiculed politicians and others among the powerful and famous, an editorial in the Chicago Tribune said there was "an inspired twist to this latest cartoon contretemps. The New Yorker cartoon isn't satirizing Obama. It's taking aim at people who are frightened by Obama, those who are willing to believe even the most outlandish Internet-fueled rumors about the candidate. The New Yorker's having wicked fun with the absurd notion that America is one election away from installing a Muslim quisling as the leader of the free world, along with his terrorist wannabe wife. This Baracknophobia (thanks to humorist Jon Stewart of "The Daily Show") is so preposterous, so ludicrous, so demonstrably untrue that it makes perfect fodder for a cartoon, and more. For those coming of political age with the influence of the Internet, here's one thought that the cartoon inspires: Saying something on tv—or blogging it—is not the same thing as proving it. It doesn't take much for scurrilous rumors about a candidate to get started. And with the Internet they can be halfway around the world before the truth gets its boots on, to paraphrase a proverb. One way to fight back is with the truth, which the Obama campaign is doing at its anti-smear Web site, fightthesmears.com. Another way is with a ferocious parody, like The New Yorker's. Remember, political humor is always going to offend somebody."
Tim Rutten at the Los Angeles Times thought the cover was "smart political satire." Said he: "Anyone with an ounce of wit and a passing acquaintance with what's been going on during this presidential campaign will recognize Blitt's illustration as a compendium of the various false and defamatory allegations about the Obamas that have been spread across the Internet." Rutten may have too much faith in the general population's powers of discernment, but he might be right when he worries about "our division into blinkered red and blue camps [having] drained humor's salutary bite from our politics. Or perhaps it's that Blitt and Remnick are up against another, more subtle problem. The New Yorker is one of the last great American publications in which the long tradition of politically and socially conscious cartooning persists with any vigor. One U.S. newspaper after another has used cost-cutting as an excuse to drop its political cartoonists. Nowadays, few newspapers even bother to run political cartoons on a regular basis. As a result, when it comes to political comment and satire, we're becoming a nation of visual illiterates. Moreover," Rutten concludes, "for all their practiced outrage, neither political camp really objects to this sort of controversy. Every news cycle dominated by what are essentially ephemera—like The New Yorker cover—is another 24 hours in which Obama and McCain have been spared questions about real issues. Insults are so much easier to deal with than issues."
Issues like whether unfettered business interests ought to be free to wreck the economy in pursuit of profit or should be subject to some governmental regulation to rein in rampant greed; or if we can restore the Constitutional system of checks and balances in order to prevent future Presidents from assuming dictatorial powers; or how we can ameliorate the energy crisis somewhat by introducing and enforcing a 55 mph speed limit nationwide and demanding that auto manufacturers produce cars that get more miles from a tank of gas; or how we can remove monied interests from controlling elections and government. All important issues, I ween, but all requiring greater political courage than I can see on the horizon. Instead of focusing on such matters as these, the so-called news media persists in blathering on, endlessly (or, at least, for several "news cycles"), about trivia. Rutten notes that according to the Pew Research Center's Project for Excellence in Journalism, "nearly a quarter (23%) of all the print and broadcast coverage devoted to the presidential campaign during a particular seven-day period went to just two stories— Jesse Jackson's sotto voce affront to Obama (13%) and McCain economic advisor Phil Gramm's insensitive remark about the recession being all in people's heads (10%)." Rutten concludes, glumly: "Maybe we're not so much a humorless or overly sensitive people as we are a trivial one."
Cartoonists Weigh In
Cartoonists weren't any more unified in their opinions about Blitt's cartoon than any other group of commentators. Art Spiegelman, whose 1993 New Yorker cover showing a Hassidic Jewish man and a black woman kissing incited hysterical ire, said the Obama cover isn't "anything other than a necessary inoculation and vaccination against what has been traveling below the surface and needs to be stared at right before the eye." He thought Blitt's picture might destroy the stereotypes it was ostensibly attacking. "It seems to me," he said, "that showing the fevered image directly will be a possible way of looking at and dissipating that image. I think, as a result, it's a fairly brave thing to do." Brave, maybe; foolhardy, more like.
Stephen Hess, co-author of Drawn and Quartered: The History of American Political Cartoons, sees flaws in the cover cartoon, but he thinks it accomplished its goal by being controversial. It is "absolutely" offensive, he said, but "that's what makes it a good cartoon. If it makes people argue and think about something, in our society, that's good. It does what a cartoon should do."
David Horsey at the Seattle Post-Intelligencer and a two-time Pulitzer winner, did a cartoon in reaction to the furor over the Blitt cover.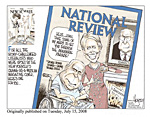 He imagined what sort of cover the conservative National Review might publish that would do for McCain what the liberal-leaning New Yorker did for Obama. By echoing Blitt's Obama tableau with a similar depiction of McCain's alleged flaws as a potential President, Horsey intended to reveal that the Obamas portrait was just as false. The satire turned on the expectation that McCain supporters would be just as offended by Horsey's cartoon as Obama's supporters were by Blitt's—and for kindred reasons. The only difficulty is that Horsey's McCain cartoon deals in actual issues with the McCains "while the terrorist Michelle and Barrack joke attempted by Blitt was dealing with wild and baseless lies," observed fellow editoonist Matt Wuerker.
Yes, I know, responded Horsey. "There really is no perfect analogy between the wild things being said about the Obamas and the stuff being thrown at the McCains. I realized that before I even drew my cartoon. Still, I thought it would be an interesting exercise to attempt something close to it and see how people reacted. Well, the reaction has been pretty big. My cartoon ended up on ABC and Fox and various web sites, including the HuffingtonPost. Traffic to my site spiked way above anything else in my newspaper for the day. None of this tells me anything about the worth of the cartoon, only that, if I want to become a web site click whore, all I have to do is latch onto some controversy and push it along with my own wild image. The clicks will follow."
Wuerker, in the same spirit of jovial jousting, replied: "I've authored my share of bad analogies. I didn't mean to come off as above it all or as the analogy police. I was just trying to make a point about how upside down all this stuff is getting. I mean, we started out with an image that was supposed to be an absurdist spoof of the misconstruction of caricatures of Obama (misinterpreted by most) that have now spawned misconstructions of the caricature of McCain that cleverly allude (in twisted ways) to the first misunderstood attempt at satire. Which all reminds me of my favorite saying: today if you're not confused, you're just not thinking clearly."
Vanity Fair, in what it described as "a selfless act of solidarity" with their friendly rival "downstairs here at the Conde Nast building," produced a McCain cover mock-up along the same lines as Horsey's, but their artist, Tim Bower, imitated Blitt's style with precision; visit vanityfair.com for July 22 and look for "Politics and Power: Vanity Fair Covers The New Yorker." And at the political cartoon site, cagle.msnbc.com, Daryl Cagle has assembled a flotilla of cartoons under the heading "New Yorker Obama Cover."
At his blog, Horsey discussed some actual issues that reactions to The New Yorker cover seemed to jostle into visibility: "Barack Obama was on Larry King's CNN show telling what he thought about the satirical New Yorker cover cartoon that pictured him as an Osama-loving Muslim in the White House: 'Well, I know it was The New Yorker's attempt at satire. I don't think they were entirely successful with it. But you know what, it's a cartoon, Larry, and that's why we've got the First Amendment. And I think the American people are probably spending a little more time worrying about what's happening with the banking system and the housing market, and what's happening in Iraq and Afghanistan, than a cartoon. So I haven't spent a lot of time thinking about it.' Obama was his usual calm and rational self and even went out on a limb to suggest that being called a Muslim in America should not be considered pejorative: 'You know, there are wonderful Muslim Americans all across the country who are doing wonderful things. And for this to be used as sort of an insult or to raise suspicions about me I think is unfortunate. And it's not what America is all about.' Of course, the jingoistic people who are fearful of all Muslims and spread paranoid fables about Obama are exactly the folks The New Yorker cartoon meant to satirize. Obama thinks the joke not only failed, but made life a little tougher for him. Nevertheless, the cartoon brought the issue to the fore and got the candidate time on CNN to reiterate that he is a Christian, that he was not raised in a Muslim home and that he pledges allegiance to the Stars and Stripes. In the end, the artist may have achieved his goal: Put the slanders of Obama squarely in front of Americans and let them be discussed in the open, not in the dark corners of cyberspace."
A day earlier, Horsey had blogged on another aspect of the subject under the heading: "Can Barack Obama Take A Joke?" Here's what he said:
"My biggest complaint is not that The New Yorker went too far with the cover cartoon of Barack Obama as a Muslim, but that the people running presidential campaigns have no sense of humor. Admittedly, I have a rather skewed view of the world after devoting most of my life to insulting the sensibilities of half my readers day in and day out, but I had no problem understanding that the now-notorious cartoon was a dig at all the right wing nutballs and conspiracy cranks who have been spreading slander about Obama through the gutters of the blogosphere. ... I got the joke and recognized the intended target. I don't think the drawing was racist, I don't think it was too subtle, and I don't think it will influence anyone to vote against Obama who wasn't already voting against him anyway. Obviously, not everyone agrees with me, including plenty of people I like and admire—such as my sweet wife and several of my cartoonist colleagues. Maybe I've pushed the edge too many times myself to appreciate their sincere negative response to the cartoon. And maybe I've enjoyed the controversy a little too much, having joined the fray by drawing a cartoon that imagined similar treatment being given to John McCain by the conservative National Review.
"At least part of my motivation for partaking in this mud wrestling match," Horsey continued, "is that I didn't really believe either the Obama campaign or the McCain campaign when they issued statements calling The New Yorker cover 'tasteless and offensive.' That's boilerplate—the same kind of fake outrage that all the candidates have been displaying during this election year. It seems as if the Obama campaign and Hillary Clinton's campaign spent the whole winter and spring seizing on mildly rude comments from people in the other camp, feigning outrage and demanding apologies and firings. Part of this is because the media has pounced on every tiny gaffe and turned each one into a 24-hour news story. Everybody's been appalled about something and no one has had the good sense to say, 'lighten up.' You can see the effect with John McCain. Here's a guy who still has the attitude of the wild-living, cocky fighter pilot he used to be. That is actually the most appealing thing about him. It is why the press has always liked him and why rides on the Straight Talk Express were the hot ticket on the campaign trail. McCain has a hard time answering a question without first making a sarcastic or funny remark. But, now, he's censoring himself, biting his tongue and getting as solemn and cautious as his opponent.
"And how about that opponent? Does Barack ever tell a joke? He may be the second coming of JFK, but he sure lacks the Kennedy wit. If I had been him, I would have grabbed the opportunity afforded by The New Yorker cover and I would have said, 'Yeah, that's a great cartoon. It shows just how ridiculous all these rumors are. The fact is, when I get into the White House, I'll have a portrait of Abraham Lincoln above the mantle and the only thing I'll be burning in the fireplace will be transcripts of Rush Limbaugh's radio programs.' Couldn't somebody on the Obama campaign figure this out? Any sissy can complain about being picked on. A leader can take a joke—and turn it to his advantage."
All of which, I heartily agree with. Ditto what Wuerker wrote: "You'd think everyone would get the joke, but this attempt at arch ironic humor by the uber satirists at The New Yorker appears to have gone astray. Instead of causing knowing snickers and guffaws, the lampoon seems to have misfired, and angered many on all sides. The Obama campaign condemned it. ... Even the McCain campaign called the cartoon 'tasteless and offensive.' Are the campaigns betraying a lack of good humor about all this? In the cultural context of 'Lil' Bush'and the nightly hammering politicos take on tv programs like 'The Daily Show' and 'The Colbert Report,' is there a double standard here about how much fun the satirists can have with Obama? Is the Obama campaign too thin-skinned? Barry Blitt, the cartoonist who created the image, was sure it was unmistakable satire. ... Monday, the magazine issued a statement and said the cover 'combines a number of fantastical images about the Obamas and shows them for the obvious distortions they are.'"
Wuerker continued: "Ted Rall, president elect of the AAEC thinks the Obama camp is handling the joke in the wrong way; 'The Obama campaign—just coming off another Sister Souljah-ing, this time of comedian Bernie Mac—is rapidly surpassing the Taliban as icons of humorlessness. The intent behind Blitt's cartoon seems unmistakable, but even if some twits don't get the (months old) joke, the last thing the butt of said joke should do is come out against it.'
"Ann Telnaes, a pulitzer prize winning cartoonist now doing animations for WashingtonPost.com agrees and alludes to some other misunderstood satire involving Danish cartoons: 'There will always be someone offended somewhere. People should save their outrage for what will happen afterwards; the inevitable calls for reining in so-called offensive cartoons.'
"Does this cartoon episode reveal a brittle aspect of the Obama campaign? The comedy kitchen out here in media land gets pretty hot. Is it possible that it's too hot for Obama and he can't take a joke? Or maybe this is an example of a badly failed attempt at humor that not just misses the funny bone but inadvertently feeds malicious rumors. Nick Anderson thinks so: 'As a piece of satire, it utterly fails. Satire should be controversial because of the point it's making, not due to misinterpretation. All satire is subject to some misinterpretation, but this particular piece is open to far too much.'
"One of history's most famous satirical pieces, 'A Modest Proposal' by Jonathan Swift, was so over the top in it's suggestion that the children of the poor in Ireland be eaten by the rich that an educated reader understood it as poignant satire. I think The New Yorker cover falls far short of its stated goal. The artist and The New Yorker editor have claimed that it is so over the top that it is clearly absurd. But it's not sufficiently over the top. It is merely depicting what the whisper campaigns have been suggesting. If they wanted to depict it as patently absurd, I think they failed. That failure can have unintended consequences. In the light of the malicious 'he's a secret Muslim' smear that continues to circulate (a recent Newsweek poll showed that 26% of Americans believe Obama was raised as a Muslim), the Obama campaign may be justified in it's aggressive pushback. The conservative website WorldNetDaily ran an internet poll on The New Yorker cover asking people's reaction to the cartoon. The most common response (60%) agreed with the statement; 'The image isn't too far from the dangerous truth about the Obama family.' The next largest response agreed with: 'Funny, because there's some truth in it.' In the era of Internet misinformation, irony has become a minefield. One misstep and things can really blow up.
"With a good number of voters getting most of their news from Comedy Central's 'Daily Show,' perhaps the new media landscape has become so confusing that the difference between fact and satire is badly blurred in the public mind. A perfectly good joke can get muddled and misconstrued. An attempt at satire can end up smelling more of Swiftboats than of Jonathan Swift, even when offered up by the likes of the comic geniuses at The New Yorker."
Jonathan Swift's famed satire is more than usually a propos here: unlike the Bliss cover, Swift's satire benefitted from having a visible title that warned of the satire to follow: "A Modest Proposal: For Preventing the Children of Poor People in Ireland from Being a Burden to Their Parents or Country and for Making Them Beneficial to the Publick." Under that heading, when Swift suggested that the impoverished Irish could alleviate their poverty by selling their children (always numerous in a poor community) to be eaten by the wealthy, he could be misunderstood but he'd reduced the possibility somewhat. And by the time we get to this gem—"A young healthy child well nursed, is, at a year old, a most delicious nourishing and wholesome food, whether stewed, roasted, baked or boiled, and I make no doubt that it will equally serve in a fricassee or a ragout"—the raw absurdity of his proposition reveals the satire. Swift, an Irishman, was scarcely promoting Irish babies as gourmet dishes: he was attacking the indifference of wealthy British landlords who owned much of Ireland. In Swift's view, their indifference to their fellow beings in Ireland was so colossal that they could be imagined as dining on Irish infants. Figuratively speaking, that's precisely what they were doing, living high on the rent they collected while the renters starved to death.
At comicsreporter.com on July 15, Tom Spurgeon thought Blitt's intent is perfectly clear: "The general satirical point being made seems to me pretty clear unless you have an agenda or are too stupid to breathe or are willing to be stupid as far as politics go or are mad at the cartoon and want to see it in a certain light or are just really sensitive or fake-sensitive on these issues. Besides, no artist should have to take into account other people's stupidity or agendas when making whatever point they wish to make."
In a unusual spasm of egalitarian sentiment, New Yorker editor Remnick agreed. At npr.org (and on the air), he said: "The kind of e-mail I get is telling me, 'I get it. But I don't think so-and-so is going to get it, I don't think so-and-so in West Virginia or out there in the Middle West.' That, to me, is a false argument. If you can get it, why can't other people get it? I don't think that this notion that only Upper West Side Manhattan elitists get satire is the case at all."
Roger Simon at Politico.com is also against what he calls "the Idiot's Veto." On July 16, he explored the notion that "sophisticated readers of The New Yorker will understand that the cover is satire," but many others "will take the cover seriously and believe that the Obamas revere Osama bin Laden, hate the American flag, carry assault rifles and are dangerous Islamic radicals. And, the argument goes, The New Yorker should not have run the cover for that reason. But this is what is called the Idiot's Veto: if a single person might not get a joke, then you should not tell the joke. All humor (and everything else) should be reduced to the lowest common denominator just to make sure nobody misunderstands anything. This," he continues, "would remove a lot of the humor from life. Shows like 'The Daily Show with Jon Stewart' and 'The Colbert Report,' both of which are almost pure satire [that is, satire by means of untrammeled irony], would have to go off the air. And the late-night comics would have to shut up. And many writers would have to stop writing. All in order to have an idiot-proof society. Even if this were possible," Simon concludes, "would it be worth it?"
Remnick, quoted in the New York Times in a July 15 article asking why Obama isn't the butt of jokes with late-night comedians, sees the Blitt cover as being well in the same spirit as Stephen Colbert's highly ironic comedy: by exaggerating, he mocks something, thereby showing its absurdity. "That's what satire is all about," said Remnick. Quoted at npr.org, Remnick believes that perhaps the chief reason the cover has incited so much controversy is that so many voters are dissatisfied with this country's political course and have invested much of their hope in Obama.
The late-night stand-ups, by the way, all agree that Obama has escaped being the butt of their jokes because their audiences seem to be favorably disposed towards Obama and therefore not likely to laugh at him. Moreover, nothing Obama has done yet has defined him in comedy terms—nothing that would inspire jokes "like Bill Clinton's womanizing, GeeDuby's goofy bumbling, or Al Gore's robotic persona," reported the Times' Bill Carter. "The thing is, he's not buffooonish in any way," said Mike Barry, who's been writing jokes about Presidents for late-night comedians since the days of LBJ, most recently for David Letterman. And then there's the issue of race: no comedian will risk making a joke about Obama's race for fear of being seen as racist. Black comedians have no difficulty telling jokes about Obama's race, but most of the major network late-night comedy is engineered by white comics for white audiences. Bill Maher's turf, HBO, gives him a little more license in this regard. "There's been a question about whether Obama's black enough," Maher said. "I have this joke. What does he have to do? Dunk? He bowled a 37. To me, that's black enough."
It may not be safe, however, to think that the American populace can perfectly grasp satire. It may have been H.L. Mencken who claimed it was impossible to overestimate the ignorance of the common man, but regardless of the source of the remark, even Spurgeon seems to agree. "While it's shameful to think this election may feel the impact of people out there thinking Senator Obama is a secret Muslim, or masking their distaste for the candidate through something like a summary judgment as to his supposedly arrogant demeanor, it was also incredibly stupid that the 2004 Democrat primaries turned on one guy screaming funny at the end of a rousing campaign speech."
For this reason, editorial cartoonists learned long ago that unless they are very careful, their cartoons will be misinterpreted to mean exactly the opposite of the cartoonist's intention. Nick Anderson argues that cartoonists have a responsibility not just to be provocative but to be clear. "There is a constant and natural tension in the creation of satire," he told Burns at Politico. "The delicate art of satire is suffocated by heavy-handed elucidation. But if the satirist fails to make the point clearly enough, the whole enterprise backfires in unintended misinterpretation." Exactly the case with Blitt's cover.
The Heavy Thinkers Cogitate
"Of course it's satire," said Robert Koehler at HuffingtonPost on July 24, "—as editor David Remnick has been forced to explain a few times since the issue whacked America in the face. I also saw the problem with it. Satire normally creates acute discomfort for those it is targeting, but this cover managed to wound only those who had already been wounded." Calling the cover "reckless satire," Koehler goes on to quote Lee Siegel's July 20 article in the New York Times to prove that the cover "isn't actually satire at all: 'In satire,' Siegel wrote, 'absurdity achieves its rationality through moral perspective—or it remains simply incoherent or malign absurdity.' The moral perspective of The New Yorker cover," Koehler continues, "was revealed in its assigned title, 'The Politics of Fear,' but the title was buried at the bottom of the table of contents on page 2—fiendishly understated, you might say. 'An analogous instance,' Koehler continues quoting Siegel, 'would have been a cartoon without commentary appearing in a liberal Northern newspaper in the 1920s ... that showed a black man raping a white woman while eating a watermelon. The effect of accurately reproducing such a ridiculous image that dwelled unridiculously in the minds of some people would have been merely to broaden its vicious reach. The adherents of that image would have gone unsatirized and untouched.' For further examples of this kind of non-satire," Koehler says, "download the preserved covers of Der Sturmer, Julius Streicher's 1920s-era Nazi propaganda rag, and imagine a New Yorker cover of, for example, a worm in a sliced-open apple with the face of a stereotypical (hook-nosed) Jewish male, and the caption, 'When something is rotten, the Jew is the cause.' Revealing, two pages later, that the title of the drawing is 'The Politics of Hate' would not, I dare say, reverse such a cover's psychological impact."
Siegel, whose most recent book is Against the Machine: Being Human in the Age of the Electronic Mob, begins his diatribe against the Blitt cover by saying, "Let's talk about the bloody crossroads where satire goes searching for its target." After noting that many people doubt whether the cover is satirical at all, Siegel agrees: "For satire has always taken as its target conventions, sentiments and injustices that are universally recognizable and complacently accepted, and not at all hidden phenomena that have to be roughly revealed. The reporter is the one who exposes social rottenness operating in secret. The satirist deposes it once it has become a visible and established part of life. ... If you accept this definition of satire, then the reason The New Yorker's cover seems to have fallen short is precisely that it brought out into open, respectable space an idea of the Obamas that is still, happily, considered contemptible. The portrait of them as secret Muslims, in cahoots with terrorists and harboring virulent anti-American sentiments, exists for the most part either on the lunatic fringe or in what some might call the lunatic establishment: radically partisan entities like Fox News. If, on the other hand, this newspaper began politely referring to Senator Obama's radical Islamic sympathies, then a full-blown exaggeration of that insinuation into ridiculous satire would be just what the doctor ordered."
Siegel continues: "In satire, absurdity is the only rationality. Overstatement is truth. Contrary to what some critics have said, The New Yorker cartoon did not lack for ridiculousness. The idea of Michelle Obama with an AK-47 slung over her shoulder is ridiculous. An Obama-inhabited Oval Office with a portrait of bin Laden hanging over an American flag burning in the fireplace is patently absurd. The problem is that the cartoon accurately portrays a ridiculous real-life caricature that exists as literal fact in the minds of some people, and it portrays it in terms that are absolutely true to that caricature. An analogous instance would have been a cartoon without commentary appearing in a liberal Northern newspaper in the 1920s [and he describes the watermelon-eating rapist cartoon, which, if published like Blitt's, would have had the effect of broadening the notion's "vicious reach," leaving its believers "unsatirized and untouched].
"In satire," Siegel proceeds, "absurdity achieves its rationality through moral perspective—or it remains simply incoherent or malign absurdity. The New Yorker represented the right-wing caricature of the Obamas while making the fatal error of not also caricaturing the right wing. It is as though Daumier had drawn figures besotted by stupidity and disfigured by genetic deficiencies—what might have been a corrupt 19th-century politician's image of his victims—rather than the corrupt politicians themselves, whom he of course portrayed as swollen to ridiculous physical proportions by mendacity and greed. But if that very same New Yorker cover had been drawn in a balloon over the head of a deranged citizen—or a ruthless political operative—it would have appeared as plausible only in the mind of that person. The image would have come across as absurd and unjust—a version of reality exaggerated to the point of madness." In other words, as satire.
Siegel concludes: "By presenting a mad or contemptible partisan sentiment as a mainstream one, by accurately reproducing it and by neglecting to position the target of a slur— the Obamas—in relation to the producers of the slur, The New Yorker seems to have unwittingly reiterated the misconception it meant to lampoon. No wonder so much political humor nowadays contents itself with the smug deriding of the worst aspects of the 'other side.' At a time when it is almost impossible to attach a universal meaning to anything, the crossroads linking satire to its target can be very hard to find."
An Illuminating Object Lesson
Cartoonist Ruben Bolling, who produced in April an installment of his Tom the Dancing Bug along the same satirical lines as The New Yorker cover, sympathizes with Blitt and Remnick.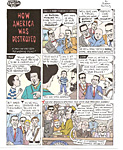 (The strip is perhaps more clearly displayed at http://gocomics.typepad.com/tomthedancingbugblog/2008/07/the-new-yorkers.html, where you can also find the entirety of Bolling's discussion, although I quote virtually all of it herewith.) "The question," Bolling begins, "is: what is the satirical intent?
Is it that Obama is a crazy leftist who has Muslim leanings, so wouldn't it be 'funny' if he ended up a terrorist President? Or is it that people believe Obama is a crazy leftist who has Muslim leanings, so isn't it 'funny' to mock their misplaced apprehensions by showing how absurd their fears are? Because my comic is obviously longer and the premise is more developed, I could make it clear (or relatively clear) that I'm mocking people's misplaced fears about Obama, not Obama himself. My comic shows explanations for Obama's nature and behavior that are clearly ridiculous, making fun of the paranoid, delusional explanations that are actually floating around out there: Barack Hussein Obama is clearly not a 'typical' American name that would be perfect for a Muslim Manchurian Candidate. The people supporting him are clearly not [very well] disguised at young white idealists. But it's actually less clear what the satirical intent of The New Yorker cartoon is. It just shows an America-hating, terrorist President Obama. Of course, I'm certain Blitt intended to make fun of people's paranoid perceptions of Obama, not how leftist/radical/Muslim Obama is. But that's because I've seen his cartoons before, and because I know what could or couldn't be the stance of The New Yorker. But if this same cartoon were created by Sean Delonas and published by The New York Post, I'd think it was satirizing Obama himself, and that's a very different (opposite) point: it would be tasteless and offensive."
Bolling concludes: "A cartoon shouldn't rely on the context of its creator and publisher in order to successfully make its point. Some more indicators should have been utilized in the cartoon in order to make the target of its satire clearer. I was able to do that in my comic because I had eight panels and many, many words. (And there are those who would argue that I'm not someone who should be arguing that comics should have more words. ...)"
In a succession of panels, Bolling has provided his strip with a moral perspective (in Siegel's term) by creating an obvious context, not leaving it off-camera for the viewer to imagine as Blitt did, and then by exaggeration, Bolling reveals the absurdity of the proposition he is attacking. Thus, the Truth of his cartoon lies in its overstatement. But satire is not always easy to discern amid the bells and whistles of its customary accompaniments.
Definitions
Satire, in common parlance, means "ridicule of human vice or folly." More precisely, as the American Heritage Dictionary has it, satire is "a literary work in which irony, derision, or wit in any form is used to expose folly or wickedness." The methods by which satire achieves its objective, according to C. Hugh Holman's Handbook to Literature, include irony, burlesque, parody, sarcasm, invective, and innuendo. Of these, irony and sarcasm are the most difficult to deploy without risking misunderstanding. Sarcasm is "a form of irony, Holman says, "in which, under the guise of praise, a caustic and bitter expression of strong and personal disapproval is given." In his book The Humor of Humor, Evan Esar says sarcasm is "a verbal sneer compounded of ridicule and contempt." Sarcasm is often used to deflate the pretensions of bores, Esar goes on, giving, as an example, the case of a husband who was attempting to impress his neighbors with his knowledge of income tax and related problems in high finance. After listening patiently for some time, his wife said: "I think it's wonderful, John, how a man who earns so little money as you do should know so much about it." Compared to irony, sarcasm is easy to detect because it is much more heavy-handed.
Holman says "irony is likely to be confused with sarcasm but it differs in that it is usually lighter, less harsh." The difficulty in recognizing irony resides in the device's fundamental deceptive mechanism: "verbal irony is a figure of speech," Holman explains, "in which the actual intent is expressed in words that carry the opposite meaning." Says Esar: "The most frequent form of irony is the expression by which a person says the opposite of what he means, and the listener or reader believes the opposite of what is said." In a perfect transaction, Esar goes on, irony "generally occurs when he who reads black thinks white and he who writes black means white." In its simplest form, irony is present in the nicknames we give childhood friends—"the slow boy is Speedy, and the fat boy is Skinny."
Blitt's New Yorker cover is ironic satire. To apprehend and appreciate ironic satire, we must realize what is not overtly expressed. Most readers of The New Yorker know that the stories circulating about the Obamas are wildly false, so for them, the irony at the heart of Blitt's picture makes it satirical. But for many others, not the sophisticated readers of the magazine but more like the letter-writers at Politico whom I quoted earlier, the cover by depicting those rumors reinforces them and gives them authenticity. Or, at least that's what the Obama campaign thought—hence their alarm. And their alarm is not entirely misbegotten. As Jonathan Alter at Newsweek.com observes, "negative images burn their way into the consciousness of voters in ways that cannot be erased by facts." The cartoon image of the Obamas in the White House may have intended to target "dopey Internet rumor mongering," but it is just as likely to perpetuate the fictions it is meant to jeer out of existence. Hence, the problem, the question, in satire: how, in an ironic form of presentation, to make the opposite, but true, unexpressed and invisible Truth of the cartoon understood. No easy assignment.
Experienced political cartoonists have usually been singed enough by the incendiary rage of misapprehending readers that they are aware of the dangerous duplicity in satire that is ironically expressed. And a good editor can help: a good editor can explain to the editoonist how one of his cartoons can be misinterpreted. Blitt, who doesn't produce work on a daily basis, may not be as aware of the pitfalls of irony as the average editorial cartoonist. And Blitt is more illustrator than cartoonist; some of his other New Yorker covers can be seen at http://www.newyorker.com/online/covers/slideshow_blittcovers, where a slide show is in progress. (Some of the cover comedy is fairly uncomplicated, even ordinary; one or two, however, seem nearly as obscure in their meaning as the Obama effort.) Finally, Remnick, aiming for the bemused detachment of The New Yorker's traditional sophistication, may assume a complementary blase worldly wisdom in his magazine's readers instead of imagining a bumptious capacity for misapprehension as a newspaper editor does in his readers—all of us, the general hoi-polloi not to mention political campaign operatives, crouched at the ready in their bunkers of instant response and refutation.
A modicum of irony infects Tinsley's Chester the Molester cartoons, too, although the series belongs most obviously in the burlesque category of satire that achieves its objective by exaggerating to the point of absurdity. Blitt's Obama cover also dips into burlesque: Blitt has taken a proposition inherent in the false rumors about the Obamas as far as it can be taken in order to demonstrate how absurd it is, but the essential irony inherent in satire has subverted his agenda. As we ponder how the best laid plans oft go awry in an ironic universe, we may wonder about the target of Chester's alleged satire. Given the motive that I think preceded Tinsley's satiric intention—namely, to out-gross Hustler's content and thereby to provoke an uproarious gawfaw at the sheer crudeness of the cartoons—it's likely that, in the narrowest sense, the perhaps unintended target of the satire is the sort of person who buys Hustler and drools over its gynecological photography; in the broader sense, as I've already said, the target is doubtless an entire nation obsessed with sex.
Before we leave the subject of gross-out satire, here's a batch of tasteless cartoons that came floating my way over the Internet, arriving just in time to serve as the final exam. What are the satiric targets of these?
HOAXED
That's what happens when a noun turns into verb and bites you on the ass. And I'm chagrined to report that's exactly what happened to yrs trly, that dear sweet boy we all know and love. It all began with my quoting last time in Opus 226 Ernie Bushmiller's letter to existentialist Samuel Beckett, who, it was alleged, wanted to write gags for Nancy. Then Dave Astor at Editor & Publisher picked up the story and mentioned it in his online Syndicate World. Then came Tom Spurgeon at comicsreporter.com with this, his suspicions about the authenticity of the Bushmiller-Beckett business, quickly confirmed by Others In The Know:
"This sounds too good to be true, but Editor & Publisher has a short piece up on RC Harvey's unearthing a period of correspondence between Samuel Beckett and Ernie Bushmiller. 11:49 ET: James Sturm just wrote in to agree with me and suggests it may have something to do with a Bob Sikoryak fictional piece built along those lines. Anyone out there know more? NOON ET: Ben Towle writes: 'This supposed correspondence between Beckett and Bushmiller— if it's from an article supposedly written by A.S. Hamrah and published in Hermenaut magazine no. 15 [it is—RCH] —has been floating around for years, and was, I believe, concocted by Paul Karasik. It was ages ago, but I seem to remember meeting him maybe at SPX and his admitting to having written it (I'm not 100 percent on this, as this would have occurred at the bar post-show, after many drinks, and many years ago). It's a pretty hilarious piece of writing, and done so well that it could easily be mistaken for legitimate... but I'm pretty stunned that RC Harvey and/or Editor and Publisher have taken it as legitimate, particularly since the illustrations are clearly credited to R. Sikoryak.' 12:07 ET: Dan Nadel confirms. 12:34 ET: Both Bob and Paul just wrote in to clear up that A.S. Hamrah wrote the story, not Paul."
There it is. I've been well and thoroughly snookered by Scott Hamrah, who I'd never heard of until I chanced upon his phoney article. I'd apologize to Dave Astor if I'd deliberately attempted to mislead him; but I didn't. I was merely an innocent bystander until I was hit by the passing buffalo. At first, as I contemplated confessing my culpa in this adventure, I thought a hoax might be a form of satirical irony, and this embarrassing episode would thus graduate to serve as a suitable (if ironic—and therefore all the more a propos) capstone to the preceding edifice exploring Satire and Its Pitfalls. But, no, a hoax has no such redeeming social value. To quote from William Walsh's 1892 Handy-book of Literary Curiosities: "A hoax may be defined as a successful effort to deceive without any motive but fun." And why am I quoting from such an antique tome as Walsh's? Because I went burrowing into it, hoping to find that somehow, back in the dawn of time, a hoax started out being related to irony. Irony, after all, is a mask of the actual target of the satirist's crusade, so it involves a species of deception and, I thought, might be akin to a hoax. No such luck. The word probably originated, Walsh speculates, as a corruption of hocus-pocus, "which in its turn is a corruption from the hoc est corpus of the Mass." A hoax is a deliberate deception, no more, no less—outright fraud but with a prankster's motive not a thief's.
Cringing in shame, I asked myself how I could have known—how I could have detected the deception and avoided falling into Hamrah's sly trap. Thinking I had missed some obvious clue to a shenanigan in progress—something I should have recognized at the time I first read Hamrah's article— I looked up all the key elements on the Internet—the name of the journal, the article's author. And I found them. Judging from what I found, they are both genuine, authentic entities. Nothing about either, even had I researched them before, tipped me off to a fraud lurking in the shadows. I looked up R. Sikoryak, who is credited with providing the Nancy strip illustrations for Hamrah's article. No help. While I learned that Sikoryak is expert at mimicking the drawing styles of various cartoonists and artists, that fact alone would not have clued me to the deception being perpetrated: I would have supposed (and did, in fact) that Sikoryak had produced the Nancy strips at the behest of Hamrah (which was, I suppose, exactly the case) to illustrate what the Bushmiller-Beckett correspondence in the absence of any actual Bushmiller art. Hamrah's article was published in 1999, and the letters were written, supposedly, in the early 1950s; by the time of Hamrah's publication, then, I could easily suppose (as I did) that none of the pertinent Bushmiller art remained, or was readily available, so Hamrah understandably asked a respected stylistic mimic to make up for the deficiency. That, at least, is what I thought. I don't see how Sikoryak's name alone would have tipped me off, as Ben Towle seems to think it should have. Even if I'd known at the time that he was a well-known for aping artistic styles, my reasoning, just outlined, would have explained his presence in Hamrah's article. The presence of a stylistic mimic does not, in and of itself, mean a larger fraud is being committed.
I have a nodding acquaintance with Beckett's work (a somewhat more intimate knowledge of his famous play, "Waiting for Godot"), but if Hamrah included any clues in his article that it was a hoax, I didn't then (and don't now) know enough to detect them. And what, after all, would have persuaded me that I should check every "fact" in the piece to determine whether or not it was genuine? I don't approach every obscure journal article as if it is potentially a hoax; why would I have done so with this one? Only if my suspicions were sufficiently aroused by the article's being, as Spurgeon says, "too good to be true." But I'm just a humble typist: I haven't Tom's perspicacity.
Instead, given the peculiarities of Bushmiller's approach to humor in his comic strip and Beckett's in "Godot," I thought the article's truth was so good it must be accurate and authentic. If the piece itself includes any clues, any hints that it was all an absurd put-on, I missed them. When dealing with the creator of Nancy and the author of "Waiting for Godot," what, exactly, is "absurd"? How does one tell absurdities from existential profundities? One can't, Eastern Establishment smartypants fingerpointers to the contrary notwithstanding. And therefore one can't discern the fraud—particularly in this hoax, which is so well done, the impersonations and imitations so exact, so perfectly executed, so exquisitely wrought.
Nope: I couldn't have known. The only way to know that a good hoax is a hoax is to know that it's a hoax. If it's a good hoax, someone has to tell you: "This is a hoax"—preferably the perpetrator, the only unimpeachable authority on the subject. That's how Sturm, Towle, and Karasik know. They're all part of a milieu in which such information happily eddies back and forth, whetting the appetites of the participants. Alas, I'm not in that club. Nor am I a member of the Bushmiller Society. (Or maybe I am, now, but it's hard to say, "considering," as Paul Karasik wrote to me, "the secrecy of that austere 'group.'") I thought about asking Denis Kitchen, the BS's "Jimmy Olsen," about the Hamrah piece before posting my take on it; but I didn't. Wouldn't have helped though: Kitchen tells me he learned about the Bushmiller-Beckett hoax the same way I did, after the fact. No matter. If a hoax deceives without any motive except to have fun, then for the equation to be complete, someone must be deceived. Since I don't like to ruin anyone's fun, I stepped right up. I'm not particularly happy about it, but I am vastly amused by it. And that's enough. I have no choice but to grin and bear it. I was snookered, pure and simple. (Well, maybe not so pure.) On the other hand, I could claim that the hoax was so well done, the impersonations and imitations so exact, so perfectly executed, so exquisitely wrought, that no one could avoid being sucked in, thereby absolving myself of any culpa and avoiding all this self-flagellation.
ONWARD, THE SPREADING PUNDITRY
The Great Ebb and Flow of Things
In his farewell to world leaders attending the G8 summit, George W. ("Wunderkind") Bush, the GeeDubya of Lout, bid them all "Goodbye from the world's biggest polluter," and punched the air and grinned. That's our glorious leader, kimo sabe. What can you expect from a guy for whom fart jokes represent the epitome of uproarious humor?
Meanwhile, at the Milford Daily News on July 22, "GHS" produced an editorial that enthused about the Blitt New Yorker cover, saying: "It is reassuring to find that the grand old American tradition of editorial cartooning, though much debilitated, is not totally moribund." GHS pooh-poohed the idea that the cartoon would do any damage to Obama's hopes: "Anyone who took the cartoons seriously has problems well beyond anything The New Yorker should worry about." Then the editorial concluded: "After the Obama campaign first denounced the cover as 'tasteless and offensive,' the candidate decided the better course was to brush it off, saying only that it was unfortunate that the cover insulted Muslim Americans to raise suspicions about himself. And there the matter rested until it turned out that the Obama campaign had denied a seat on the candidate's trip to Iraq to New Yorker correspondent Ryan Lizza. It may have been vindictive reprisal or it might have been, as Obama's staff insisted, a lack of space. But you can see how people might get the wrong impression." Hard to say. But Ryan Lizza had written a long (and largely affirmative) report about Obama's political apprenticeship in Chicago that had been published in the very issue of the magazine that had Blitt's drawing on the cover. Lizza concludes that Obama, far from being "some sort of anti-establishment revolutionary," is actually a canny politician whose career "at every stage has been marked by an eagerness to accommodate himself to existing institutions rather than tear them down or replace them." That doesn't seem terrible to me. I don't want another President who is willing to tear down American institutions. One for the last eight years has been quite enough, thank you. But did the Obama campaign really deny a seat on the airplane to Lizza? It sounds too true to be good. But the Milford Daily News—I never heard of that. It may be a hoax, or the mysteriously unexplained "GHS" may be a wicked satirist.
To find out about Harv's books, click here.