Opus 219 (March 23, 2008). Major coverage this time of a new biography, Jackie Ormes: The First African American Woman Cartoonist, Paul Conrad's Autobiography, finales for Darwyn Cooke's Spirit and Y: The Last Man (what does it mean anyhow?), Reuben Nominees, Pulitzer Predictions, and Brad Gets a Date with Toni, plus Earl Oliver Hurst, Aaron McGruder Does It Again, Charles Schulz's desire about using his characters in editorial cartoons, Trudeau prognosticates the next U.S. Prez, more Islamic Hooliganism, and our usual Comic Strip Watch, insights into the medium and its steadily evaporating taboos. And more, much more. Here's what's here, in order, by department:
Drastic Fubars and Their Corrections
NOUS R US
Some of the topics covered in our news roundup this time include: premiere issue of Stay 'Tooned, Jerry Robinson's new revised comics history book, Jim Salicrup and the Todd McFarlane Spider-Man, Aaron McGruder's latest assault on civilized sensibilities, the Dick Tracy statue, Charles Schulz and political cartoons with Peanuts characters in them, Reuben nominees, cartooning in Baghdad, Red Morgan's latest crusade, Homies, Trudeau's prediction, and Islamic Hooliganism again
There Is Nothing Like a Dane
Poem
Picking Up the Pieces
Bad Cartoonist Some More
FUNNYBOOK FAN FARE
Reviews of Gamekeeper, X-Force, Xxxombies, Kyle Baker's Special Forces and The Bakers, Warren Ellis' Fell (No. 9), Marvel's Moby Dick
ENDINGS AND BEGINNINGS
Darwyn Cooke's Spirit
Y: The Last Man
EDITOONERY
Pulitzer Prize Winners Predicted
Caricatures of Presidential Candidates
Interview with Chuck Asay
Tom Toles Artistic Ability Revealed
BOOK MARQUEE
Paul Conrad's Autobiography (a review with profuse illustrations)
Lori Lovecraft
Cubes and Punishment (Dilbert book)
The Art of Earl Oliver Hurst
Biography of Maurice Noble
COMIC STRIP WATCH
Risque and Untoward Strips
Good Use of Visuals
Jesus in Dilbert
Brad Gets a Date with Toni At Last
JACKIE ORMES
A Biography of the First African American Woman Cartoonist
Dave Stevens, 1955-2008
And our customary reminder: don't forget to activate the "Bathroom Button" by clicking on the "print friendly version" so you can print off a copy of just this lengthy installment for reading later, at your leisure while enthroned. Without further adieu, let us correct false impressions left strew about last time—
DRASTIC FUBARS AND THEIR CORRECTIONS
Last time in Opus 218, I speculated that the accent displayed by Flo in Wiley's Non Sequitur was a deep-fried Southern accent. Well, I know better, but the damage was done. And when PeteMos saw it at GoComics.com, he wrote: "I believe the character has a gently-boiled New England accent ... but I'm just guessing. Might be a broasted mid-Atlantic." Right. My apologies to the accent gods everywhere.
NOUS R US
All the News That Gives Us Fits
Bucking an industry trend, the Corpus Christi Caller-Times just added 11 comic strips to its line-up, requiring the expansion of its daily comics section from two pages to three. The paper's Vice President/Editor Libby Averyt is quoted in Editor & Publisher online: "Comics have long been a favorite part of the newspaper from many readers, and we want to respond to even more people by offering more strips." What a concept. ... One of DC Comics' latest graphic novels under the Vertigo imprint for mature readers is Incognegro, which, Gavin Ford tells us at star-gazette.com, takes a serious look at racial injustice in the American South in the 1930s when a person could be lynched because of the color of his/her skin. Dubbed a "crime/noir thriller," it follows the adventures of Zane Pinchback, a mixed-race newspaper reporter who is sent to Mississippi to investigate the arrest of his brother, who has been charged with the murder of a white woman. Written by Mat Johnson, a mixed-race college professor, and drawn by Warren Pleece. ... E&P lately listed comic strip characters who have died, "permanently or temporarily," in the last year: Lisa Moore in Funky Winkerbean, Mort Park in Rudy Park, and Asok, who expired briefly in Dilbert, only to be reincarnated by an act of will. Among the more celebrated demises in comics were the death of Mary Gold in The Gumps in 1929 and the death of Raven Sherman in Terry and the Pirates in the fall of 1941. But you'd know that if you'd read my book about Milton Caniff, which you can find out more about by going here. ... Papyless, an online book store in Japan, is selling digital versions of the work of Osamu Tezuka, including his famed "Astro Boy" and "Black Jack," reports George Gene Gustines in the New York Times. "The online stories at papy.co.jp/ become available March 18, costing about $1 to read a volume over two days." ... Michael Chabon has a philosophical whimsical piece in The New Yorker for March 10; entitled "Secret Skin," it's ostensibly about superhero costumes, the hopelessness of realism, and "a fundamental truth: like the being who wears it, the superhero costume is, by definition, an impossible object. It cannot exist." ... Entertainment Weekly for March 7 perpetrates a generous plug for Mark Evanier's new book, the long-awaited Jack Kirby tome, Kirby: King of Comics (Abrams, $40), publishing two colorful Kirby covers and a paragraph that concludes: "This book's king is heroic, tragic, and visionary." And my copy just arrived today. But I mistakenly, in the heat of an acquisitory frenzy, ordered another one via Amazon, so when it arrives, you can buy it from me for a pittance. ... Speaking of EW, in a recent issue, I ran across far too many Parkers: Mary-Louise Parker, Sara Jessica Parker, and Parker Posey. What's goin' on here?
It's out: the first issue of Stay 'Tooned, John Read's new quarterly magazine for cartoonists and fans and students of cartooning that he has concocted in fond remembrance of Cartoonist PROfiles, the pioneering journal produced by Jud Hurd for over 30 years.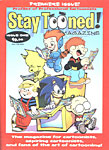 The contents include interviews with Greg Cravens (The Buckets), Marcus Hamilton (the daily Dennis the Menace), political cartoonist Steve Kelley, Norm Feuti (Retail), Steven Butler (Betty and Veronica's new look), John Rose (Snuffy Smith), editorial cartoonist Marshall Ramsey, John Deaton (freelancer), Rob Corley (animator), political cartoonist Scott Stantis (also Prickly City comic strip), with an assortment of columns and articles by Mad's Tom Richmond, Daryl Cagle, and, even, me. In short, a wealth, a trove, celebrating cartoonery and the arts thereof. The magazine is an attractive, highly professional production, page layouts designed to integrate into columns of typography the riot of illustrative material that invariably accompanies any publication about comics. You can subscribe via www.staytoonedmagazine.com or by sending the requisite $40 for four issues to Gorilla Graphics, 10029 Hwy 51, Suite F-2 PMB 60, Madison, MS 39110.
Aaron McGruder is still heaving brickbats at the enemies of Black America, in this case, Black Entertainment Television, BET, long one of McGruder's pet bete noirs (you should pardon the expression). And the current U.S. tv outlet for the animated incarnation of his notorious comic strip, The Boondocks, just yanked two half-hours of the show. Cartoon Network officials aren't saying why these episodes got the hook, but the supposition is that it's because they "savaged another cable network, BET," according to Canadian Press' Bill Brioux at thestar.com. In the first of the two shows, "BET CEO Debra Lee is depicted as Debra Lee-vil, a Dr. Evil clone who kills underlings and rants about creating a network 'that would accomplish what hundreds of years of slavery, Jim Crow and malt liquor couldn't—the destruction of black people.' ... McGruder pushes parody to the limits in a relentless attack that continues in the next episode, where Uncle Ruckus, a self-hating black man, gets his own offensive BET reality show." Sounds like pretty effective satire to me, even if the target may not be entirely deserving of the attention. (McGruder would say that's highly debatable: in his view, BET has systematically demeaned African Americans.) The two shows will be aired in Canada on March 16 and 23 on Teletoon's adult-themed Detour programming block.
Evan Mecham, former governor of Arizona who was impeached and removed from office in April 1988 after less than two years, died of Alzheimer's disease at the end of February. Mecham made enemies on all sides immediately upon assuming the governor's chair, appointing kindred spirits to government jobs and rescinding the Martin Luther King Day holiday. Among his foes in print was the Arizona Republic's editoonist, Steve Benson, at the time a fellow Mormon, "whose gibes so angered Mecham and his supporters that some local Mormons sought the intervention of Benson's grandfather, then the president of the Church of Jesus Christ of Latter-day Saints," wrote Pat Flannery in the Arizona Republic (quoted February 22 at usatoday.com). "The cartoonist eventually left the church, lin part over differences he'd had with it over Mecham's coverage."
Jerry Robinson, president and founder of CartoonArts International/New York Times Syndicate, past president of both NCS and AAEC (the editorial cartooners' club), winner of the NCS Lifetime Achievement Award, onetime assistant to Batman's Bob Kane and creator of the Joker, and author of The Comics: An Illustrated History of Comic Strip Art, one of the more definitive of the medium's histories, is up-dating the book for re-issue sometime this year. Robinson also recently curated an exhibition featuring more than 60 cartoons by 45 award-winning cartoonists from 30 countries, entitled "Sketching Human Rights," which was on display at UN Headquarters from December 10, 2007 to mid-January 2008. Said Robinson in a news release about the exhibit: "The cartoons dramatize the cruelty of human rights violations and the sorrow of the victims. Many cartoonists themselves have been victims; others had to overcome poverty, famine, and prejudice. Their struggles have deepened the poignancy of their art."
When Jim Salicrup was an editor at Marvel, one of the books he edited was renegade Todd McFarlane's Spider-Man, which was invented chiefly to keep McFarlane from leaving the company, Salicrup tells Joseph Szadkowski at the Washington Times. Said Salicrup: "I wanted to try anything I could to keep him. So why not create another Spider-Man book for Todd, present it in six-issue stories and be able to repackage them into trade paperbacks, a new concept that was just starting to take off." McFarlane eventually left Marvel anyhow, joining some other outlaw comic book cartooners to create Image Comics. Salicrup left, too. He'd arrived at Marvel when he was 15 years old. "Some of the folks worried about hiring me because they thought I was entering a field that was truly doomed. They had no idea comic book stores would come along" and save the business, Salicrup said. Salicrup went to Topps Comics briefly, worked for Stan Lee Media, and then joined NBM as editor-in-chief of Papercutz, a graphic novel imprint aimed at the tween market, which has so far produced a line of Hardy Boys and Nancy Drew novels and recently introduced Tales from the Crypt, a nostalgic whack at bringing back the fabled EC title. Salicrup says he didn't write or draw much at Marvel because he felt he wasn't "worthy to hold a pen" in the company of such stellar figures as Jack Kirby and John Buscema. Instead, he became an editor. "It was a perfect fit for me," he said, "—a dream position as a comics fan," which is how Salicrup still describes himself. As an editor, he said, he's in a great position to talk to the writers and artists he admires as a fan. I know whereof he speaks: writing biographies of Milton Caniff and Gus Arriola gave me similar access to the gods of my youth. And dotage.
"It was like losing a member of the family," cartoonist Stan Lynde said, describing his feelings after a 1990 fire in his home in Billings, Montana, destroyed virtually everything he owned, including all the original art for his comic strip Rick O'Shay, which he produced from 1958 until 1977, and the subsequent Latigo (1979-83), a more realistically rendered Western adventure strip. Lynde made the remark in an interview with Joe Menden of the Helena Independent on the occasion of the opening of an exhibit of some of his strips in the Montana state capitol building. The material displayed is not, I'm guessing, original art but photostats. Since retiring from Latigo, Lynde has turned novelist, producing, so far, five, which have been published by Cottonwood Publishing, a company he started with his wife Lynda. All the novels are Westerns. "It's not that much of a change," Lynde said about novel writing. "It's still telling stories. I don't have to draw my descriptions anymore; I just write them." You can find them, and reprint volumes of Lynde's strips, at oldmontana.com.
Jeff Kersten, a officer of the Chester Gould/Dick Tracy Museum in Woodstock, Illinois, tells me, in answer to my question, that the proposed statue of Dick Tracy is on hold until funds can be raised to start the project. Of the estimated $250,000 needed, $130,000 must be committed in order to get started. Dick Locher, the current custodian of the comic strip who designed the statue, has completed the wax model. The "virtual Museum" website, which will take the place of the Woodstock operation, scheduled to close in June, "will be much more comprehensive than the physical Museum was," Kersten said, "and will provide an unlimited data archive that will preserve Gould's legacy and Dick Tracy for generations. So much material related to Gould has never been made public and now is the time that we change that by 'warehousing' all of Gould's archives on a 'member's only' section of the site."
Wallace and Gromit creator Aardman picked up four awards at the British Animation Awards March 13, reports Leigh Holmwood at guardian.co.uk—two for the children's series "Shaun the Sheep," plus the craft award for "The Pearce Sisters," and the new media, best commissioned animation for "The Peculiar Adventures of Hector." ... The buzz at the movie industry's annual ShoWest convention in Las Vegas the week of March 10 was all about 3-D movies, both live-action and animated, said Gregg Kilday at reuters.com. DreamWorks Animation CEO Jeffrey Katzenberg has been girdling the globe to convince theater owners to convert to digital 3-D—and to do it fast, presumably in time to show DreamWorks' "Monsters vs. Aliens," due out in 2009, with Stephen Colbert voicing the character. At present, though, Disney's "Hannah Montana and Miley Cyrus: Best of Both Worlds Concert" is apparently the "holy grail of 3-D," Kilday said. ... And english.rti.org.tw reports that a Taiwanese-produced 3-D animation 12-minute short film about ancient art treasures won the grand prize at Tokyo Anime Awards recently. ... Greg Berlanti, executive producer of tv's "Brothers and Sisters," "Dirty Sexy Money," and "Eli Stone," and co-writer and director of the a-borning Green Lantern movie, is an admitted comic book geek, who is quoted by Janice Rhoshalle Littlejohn of the Associated Press, saying: "I came to Hollywood to do movies," inspired by Steven Spielberg, Barry Levinson and Ron Howard. "They were storytellers in a way that I like to try to do with tv, which is really smart, emotional stories that are hopefully still heartfelt and funny. I'd like to try and do that for film." For "Green Lantern," we assume.
Here's a thought from Rancid Raves foreign correspondent* Jim Ivey: Christian fundamentalists will have a ball with the new Muslim comic book entitled 99, to wit: 9+9 = 18, as in 666 = 18. Mystical, right? Rite. ... *Ivey, formerly an editorial cartoonist at various venues from California to Washington, D.C. to Florida and the founder of the fabled but now defunct OrlandoCon, lives in Florida, where the sunshine is constant but votes don't count—hence, a foreign country. ... Responding to our grievance last time about editoonists (and others of the inky fingered fraternity) who use Peanuts characters without the courtesy of a footnit to creator Charles Schulz, "Thanks to—," Ivey sent the following item, originally published in his cARToon No. 4. Some years before, Schulz had asked political cartoonists not to use Peanuts characters in their cartoons, but the practice persisted. Ivey asked Schulz how he felt about it, and he replied: "I am always flattered when a political cartoonist makes use of some of the Peanuts characters to put over a certain point because he obviously feels that these characters are so well known that the reader will immediately be able to identify them. I began to become a little upset, however, when some of the cartoonists used the characters to promote political and foreign policy views which were directly opposed to my own. It is not pleasant to see one's own creations working against oneself. The cartoons concerning the moon landing were all quite delightful, and I have no objection to Charlie Brown being used as an editorial subject to open the baseball season, but it is the other kind that bother me. One more problem is the one of proper copyright protection. United Feature Syndicate and myself are not at all anxious for these characters to become part of the public domain." Alas, too late: they're there, deeply embedded in popular culture.
Nominees for the Reuben this year—the heavy metal trophy that accompanies the National Cartoonists Society's designation of "cartoonist of the year"—are syndicated cartoonists Dave Coverly (Speed Bump) and Dan Piraro (Bizarro), both off-beat panel cartoons, and Al Jaffee, who, born in 1921, is the oldest of the trio; he is mostly associated these days with Mad magazine, for which,since 1964, he's done the Mad Fold-in every issue except only three or so, but before Mad, Jaffee did humorous comic book characters (Inferior Man, Ziggy Pig and Silly Seal, Squat Car Squad, not to mention Patsy Walker and Super Rabbit) and a syndicated feature called Tall Tales, a vertical pantomime cartoon (1958-65). Ron Goulart in his Encyclopedia of American Comics quotes Jaffe's response to a question asked by one of his NCS colleagues who wanted to know Jaffee's goal in life: "To become a vital force reshaping the social intellectual, and political destiny of mankind with a view toward bringing peace, prosperity, and a higher degree of understanding between people regardless of race, color, or creed throughout the world and elsewhere." It was probably an election year when he said that.
| | |
| --- | --- |
| | |
Jaffee's Tall Tales is being reprinted with an introduction by Stephen Colbert; due out soon.
Cartooning in Baghdad is no joke: "Anyone who believes that the pen is mightier than the sword doesn't live in Iraq," writes Stephen Farrell at the New York Times Baghdad Bureau. Cartoonist Qassem H.J. insists that his name be abbreviated on his published work in order to "avoid retribution from men more accustomed to expressing themselves with guns than with strongly worded letters to the editor." Once a painter of Oriental landscapes, H.J. stumbled into cartooning soon after the 2003 U.S. invasion of his country, acting on a friend's dare to get something published in a newspaper. His editors at Azzaman newspaper demand that he focus less on "heavy politics" and more on the daily problems faced by readers—lines at gas stations, lack of salaries, cooking gas shortages. "His own favorites include distinctive—but generic—gunmen, and many that feature blast walls. One of the most memorable depicts an Iraqi Romeo serenading Juliet halfway up one of the ugly 18-foot concrete monsters that are now everywhere in Baghdad." H.J. risks a lot for a little: he earns only $4-12 a cartoon. His source for ideas is the street, he told Farrell: "It's not like we are free, able to walk up the Champs-Elysees, but I listen to people on the minibus, I record things at checkpoints. This is where I get my ideas. We have death before our eyes every day." In such an environment, H.J.'s mordant sense of humor thrives. "There are many ways to die," he said, "but only one death," voicing a stoic fatalism. "The important thing is that you achieve something before you die. My art is the art of black humor, but I have to have humor to grab all this darkness around me and change it into a smile. If I take darkness and turn it into more darkness, I will have achieved nothing."
In Russia, Protestant church leaders are demanding that the adult-oriented cartoon tv network "2x2" lose its broadcast license, according to RIA Novosti. The channel is fostering immorality, vice, and sexual sin with such animated series as Japan's "Battle Vixens," which "promotes violence and contains elements of child pornography." "Beavis and Butthead" creates a culture of moral imbecility among Russian teenagers, say the Protestants; "Angry Kid" advocates violence and vulgarity, and the U.S. "South Park" contains "hidden propaganda of homosexuality and pedophilia as norms of sexual life." Six years ago, a Russian citizen initiated a trial over "The Simpsons," alleging that the show "promoted drugs, violence, and homosexuality." The trial lasted three years after which the plaintiff lost.
Rex Morgan, M.D., is once again tackling a medical issue of current concern. Starting March 17, the continuity explores Community-Associated Methicillin-resistant Staphylococcus Aureus (CA-MRSA), the virulent bacterial infection that has recently collected headlines in some news outlets and in various medical journals, identifying it as a serious public health concern. Woody Wilson, who writes the strip for Graham Nolan to draw, said MRSA was for decades a drug-resistant bacteria that was acquired in a hospital or medical setting, where it developed a resistance to anti-microbial drugs and eventually spread into the community. CA-MRSA is potentially life-threatening, said Wilson, and that's why "we decided to do a story on it to try to educate our readers on what it is and how to prevent it." The sequence begins with the death of a teenaged boy and the infection of two others, provoking Morgan to race to control community hysteria and to locate the source of the CA-MRSA before someone else dies. "We might be a comic strip," Wilson said, "but we reach a lot of people with useful information. We've done stories on dozens of health issues over the years and try out best to both educate and entertain our readers. I know there will be readers out there who will wash their hands a little more frequently after following our story—and that's a good thing."
David Gonzales, who quit his job illustrating for the U.S. Postal Service ten years ago to create Homies, inch tall plastic figurines representing characters in the barrio, has concocted 250 individual characters, which have sold more than 120 million world-wide at about 50 cents each. Gonzales came up with Homies in the late 1970s while putting himself through college by drawing comic strips for Low Rider magazine. Homies have lately been criticized for glorifying gangs and exploiting ethnic stereotypes, writes Felisa Cardona at the Denver Post. But Gonzales resists suggestions that he invent doctor characters and lawyers and engineers, seeing himself in the tradition of one of his influences, Norman Rockwell. "What I am drawing is what he drew," Gonzales said, "—America's heartland," adding: "If you go to any city, there is no city without gang members or kids at risk. Not everybody is a lawyer or a doctor. How much credibility are you going to have with the kids?" He just wanted to draw people like those he grew up with in the Bay Area city of Richmond, California. Said he: "It's not a glorification of a negative thing. It is a hard-core look at urban life. There are characters who look like gang members, but also some who look like police. It's a real barrio community." He reminded Cardona that among his Homies are Soljaboy, who wears camouflage and sits holding a rifle, developed to represent soldiers who are doing what they think is right for their country. "At the same time," Gonzales said, "I have Hopalong, a guy on crutches who lost his leg in Iraq. It shows the reality of war."
*****
Interviewed March 15 by David Larsen at the New Zealand Listener, Garry Trudeau predicted that Barack Obama will collect the Democrat's nomination for President and subsequently win the Election. "Go to any of his events," Trudeau said, "—it'll take your breath away. His crowds are better than U2's. Even conservative commentators are under his spell, which has never happened before in my lifetime." If Trudeau's prediction comes pass, President Obama will then become a character in Doonesbury like his seven immediate predecessors in the White House. None of them actually appeared in the strip: each was represented by a symbolic icon. Bill Clinton was impersonated by a waffle, suggesting his tendency to talk about issues from every possible perspective. George W. ("Warlord") Bush appears as an asterisk under a dented Roman legionnaire's helmet. Trudeau hasn't formulated a symbol for Obama yet. "Creating a serviceable icon is hard because you're stuck with it," he explained, "and picking one for Obama [this early] might get me too vested. It's also possible that the icon thing has run its course, and that I'll just return to voices emanating from the White House," a frequent device through all the previous administrations.
Trudeau's portrayal of GeeDubya, Larsen says, deploying admirable journalistic objectivity, is as "a lethal moron, a blissfully inarticulate posturing idiot surrounded by yes-men." Trudeau's disgust with George W. ("Whopper") Bush is well known, but he doesn't underestimate his former Yale classmate: "I don't think anyone has ever underestimated Bush's ability to get his way, and that unquestionably takes some sort of social intelligence. What is unforgivable in a President is wilful, prideful ignorance, and I have made that and its corollary—a contempt for expertise—the central focus of my critique. True, I have availed myself of the easy stuff—the Bushisms and his banal, intentionally dumbed-down communication style—but that's just another way of saying the man is fundamentally not up to the job."
The Bush presidency, Trudeau said, "is the worst possible thing that could happen to America, and the world, and the best possible thing that could happen to me. Don't think I don't feel queasy about that."
The Iraq so-called "war" has been a feature in the strip since BD was called to duty there, eventually losing his leg (and his perennial helmet headgear). Iraqis have also occasionally been characters, but Trudeau has not been kind to them. "He acknowledges that restricting himself to commenting on the venal corruption of the Iraqi military has left him open to accusations of bias," Larsen writes. Trudeau admits that he's vulnerable to the charge. "It's an old conundrum," he says, "—every time I start focusing on one thing, it means I'm not writing about something else." But, he adds, "Remember that fairness is not in the satirist's vocabulary. Once I start worrying about balance, I become Time magazine."
While many of Doonesbury's storylines spring from Trudeau's imagination, for some, particularly those about Iraq lately, the cartoonist has done extensive legwork. He regularly visits Walter Reed Medical Center to talk with soldiers recovering from wounds like BD's. And for a recent storyline involving the evacuation by air of another wounded soldier, Toggle, Trudeau's research was even more extensive. "I flew to Germany," he told Larsen, "and observed a C-17 full of wounded soldiers arrive at Ramstein Air Base and then went back to Andrews Air Force Base to be briefed on the transition of critical-care patients from the aircraft to Walter Reed hospital. I also consulted traumatic-brain-injury experts. This is not typical," he admitted, "—I don't have the time or energy to research every storyline with that care. I'm always writing at the point of a sword, so much of what I do is necessarily intuitive."
*****
ISLAMIC HOOLIGANS SOME MORE
In Jalalabad, Afghanistan, on Sunday, March 9, thousands of students marched in the streets, shouting "Death to enemies of Islam" in protest against the Danes' reprinting last month of the Muhammad "cartoon" depicting the Prophet in his turban shaped and fused like a bomb. According to Voice of America News, the same mob also shouted disapproval of a Dutch film, which may, or may not, be forthcoming. In western Afghanistan's Herat, thousands demonstrated on Saturday against the same affronts to Islam. In Holland, the anti-Islamic film is poised for screening, perhaps on television, or, more likely, given the violence now predictably associated with such ventures, on the Internet. The film has been made, it is reported, and its maker, Geert Wilders, a somewhat incendiary member of Dutch parliament, is rumored to be shown in the film desecrating the Koran, which he calls the Islamic Mein Kampf, invoking unhappy memories, no doubt, of Adolf Hitler's autobiographical screed, written in the 1920s while Hitler was in prison. Wilders may be a provocateur, said The Economist (February 9), but he is firmly aligned with the Dutch passion for freedom of speech, which makes him a champion to many of his countrymen. "As important as Mr. Wilders's political talent is the absence of powerful countervailing voices speaking up for inclusiveness, pluralism and a more respectful public debate." Wilders has reason to be afraid. The Netherlands, you'll remember, was the scene four years ago of the brutal murder of another filmmaker, Theo van Gogh, who was killed by a Dutch radical Muslim for expressing his views of Islam in his film, "Submission," which was shown on Dutch tv.
The 85-year-old Danish cartoonist, Kurt Westergaard, who drew the turbombed Muhammad, urges Wilders to air his film, telling Nanda Troost of Volkskrant: "After the nazis, fascists and communists, there is a new totalitarian force threatening Europe—of course, not Muslims as a group, but a number of extremists." Westergaard continues to receive death threats from radical Muslims, and he and his equally aged wife will soon be moving to their sixth safe house. Another of the Danish Dozen, cartoonist Erik Abild Soerensen, has died at the age of 89. He had worked for Jyllands-Posten, the paper that initiated the Muhammad cartoon project, for 47 years, beginning in 1938. He, too, had been offered protection from ravening Islamists but declined, saying at the time: "I have passed the age of 85, I am sick and I have just lost my wife. Can it get worse? I don't think so."
Meanwhile, in Kabul, where more Afghan street mobs marched and chanted and burned flags, in a quiet park away from the tumult, protesters took a different approach, following the example of Muhammad Sediq Afghan, a professor at the Kabul-based World Philosophical Mathematics Research Center, who sat himself down in a small tent and started a hunger strike. As of March 10, the day after the frenzy of rampaging in the streets, Afghan had gone for a week without food, reported Anand Gopal at the Christian Science Monitor. Said the peace-mongering Afghan: "I will continue to fast until the authors [the Danish cartoonists and the Dutch filmmaker] apologize. Others are burning flags and rioting. We don't like that; we want to do things peacefully," he added, alluding, no doubt, to the reputed peacefulness of traditional Islam. He has been joined by over 60 others, who agree that violence is not the way to solve the issue.
In England, the House of Lords made an astonishing discovery. Kim Murphy at the Los Angeles Times reported that last year's jailing of the British school teacher in Sudan for the crime of blasphemy—letting her students name a teddy bear Muhammad—prompted someone in Britain to remember that England also had a law making blasphemy a crime. Just like the Sudanese. Wrote Murphy: "Thus began a period of collective soul-searching on free speech and secularism, traditional values and the church that anoints Britain's queen. It culminated Wednesday, March 5, in a 148-87 vote in the House of Lords to abolish the laws on blasphemy." Despite this outcome, there was "substantial [those 87 votes] doubt about the wisdom of abandoning what for many is a symbol of the increasingly multicultural nation's reliance on Christian values as a foundation for law and society." Murphy quotes a Conservative Party member of the House: "The essential question is: should we abolish Christian beliefs and replace them with secular beliefs? As long as there has been a country called England, it has been a Christian country, publicly acknowledging the one true God." Well, okay: I guess all those druids hung around before the place was "called England." In any event, the process of secularizing the country's laws has begun, and so far, England has not sunk ignominiously into the sea.
Fascinating Footnit. Much of the news retailed in this segment is culled from articles eventually indexed at http://www.rpi.edu/~bulloj/comxbib.html, the Comics Research Bibliography, maintained by Michael Rhode and John Bullough, which covers comic books, comic strips, animation, caricature, cartoons, bandes dessinees and related topics. It also provides links to numerous other sites that delve deeply into cartooning topics. Three other sites laden with cartooning news and lore are Mark Evanier's www.povonline.com, Alan Gardner's www.DailyCartoonist.com, and Tom Spurgeon's www.comicsreporter.com. And then there's Mike Rhode's ComicsDC blog, http://www.comicsdc.blogspot.com For delving into the history of our beloved medium, you can't go wrong by visiting Allan Holtz's http://www.strippersguide.blogspot.com, where Allan regularly posts rare findings from his forays into the vast reaches of newspaper microfilm files hither and yon.
THERE IS NOTHING LIKE A DANE
I stumbled onto the follow doggerel last month, new lyrics for a song in the musical "South Pacific," posted by Roger K. Miller at graustark.blogspot.com. Seemed amusing at the time, Wednesday, February 27, so I peeled if off, and here it is, with its preamble from Morley Safer.
Over the past thirty years, in survey after survey, this nation of five and a half million people [Denmark], the land that produced Hans Christian Andersen, the people who consume herring by the ton, consistently beat the rest of the world in the happiness stakes. It's hard to figure: the weather is only so-so, they are heavy drinkers and smokers, their neighbors, the Norwegians, are richer, and their other neighbors, the Swedes, are healthier.—Morley Safer, 60 Minutes.
Down in Deutschland they got beer,
Up in Norway they got wealth,
There in Sweden they got Bergman(n)s
And considerably more health,
The Austrians got mountains
And bright frosty window-panes.
What ain't they got?
They ain't got Danes!
In Denmark they are happy,
Just as happy as can be,
They got health care, also day care,
They care more than you and me
About their fellow citizens,
And that's how you can tell
What is a Dane?
Happier than hell!
They have nothing socially to apologize for,
All needs they fund with taxes they don't agonize o'er. . .

There is nothing like a Dane,
Nothing in the world,
Not in Poland or in Spain
That is anything like a Dane!
They feel cheerful, they feel fine,
They feel useful and don't brood,
They feel every kind of feeling
But the feeling they've been screwed.
They feel part of a society
Such as others wish they had.
What don't they feel?
They don't feel bad!
Lots of things in life are alike, but of course, man,

There is no other people on earth that is anything whatsoever
In any way, shape or form like this Norseman.
There is nothing like a Dane,
Nothing in the world,
Not in England or in Spain
That is anything like a Dane!
Nothing else is quite so sane,
Nothing in the world,
As the conscientious brain
In the cranium of the Dane!
There is absolutely nothing like the strain of the Dane.

They'll concede their welfare state
Sometimes drops a stitch or two,
But it never drops a person
Can your nation say that too?
Chasing the almighty krone
To the Dane's a life misspent.
They're thankful for
Being content!
There is nothing, it is plain,
That is anything like the Dane!

There are no Swiss like the Dane,
They lack the bliss of the Dane,
There are no Greeks like the Dane,
Relative geeks to the Dane,
No lifestyle like the Dane's,
As worthwhile as the Dane's.
There ain't a people on earth that can't cheer up
If they'd but drink from the same gladsome cup
As the wholly jolly, unmelancholy Danes!
PICKING UP THE PIECES
To clarify just a scoonch, when we blurted out a bonus bulletin a couple weeks ago about U.S. News and World Reports' story on political cartooning, we said Dan Gilgoff's article contained "a few over-simplifications and erroneous cause-and-effect relationships. The most egregious: Clifford Berryman did not invent the teddy bear." That assertion, upon re-reading, is somewhat ambiguous. Gilgoff's error was to announce that Berryman did invent the teddy bear. Which Berryman didn't.
Our second bonus advised tuning in to www.badcartoonist.com, where an anonymous editoonist was lambasting his brethren unmercifully. He/she posted a few days' worth of scathing commentary, but he/she has committed nothing similar since March 8. As I said in the bulletin, some of his/her criticism is nasty, even mean-spirited, but as a no-holds-barred critique, it's unprecedented and often on the mark, as many of the inky-fingered fraternity admitted in comments following an interview with the Anonymous One at www.dailycartoonist.com. Other less temperate commentators can scarcely contain their rage at the "cowardice" of a critic who declines to disclose his/her identity as he/she goes about, as one wag put it, "farting in our collective bathtub." The culprit was accused of petty jealousy as well as cowardice: the Bad Cartoonist often goes beyond ridiculing the work under his/her microscope, laying into individual cartoonists in personal terms. Paul Conrad, he alleges, is "a prick." Wiley Miller said: "When you get stinging criticism from an anonymous source, no matter how valid the criticism might be, it loses a great deal of validity because you don't know the source." Maybe, although I think if the criticism is valid, it's valid, regardless of the source. Ted Rall said he was "generally opposed to anonymity online ... but, hey—it's the ideas that count here, and so far, he's saying things that desperately need saying." Brian Fairrington speculated that the Anonymous One retained his anonymity because if his identity were known, "it would open this individual up to a brutal round of criticism about his own work and therefore invalidate everything that he has stated about the work of others." Nick Anderson took off in another direction, consulting the ethics guidelines of the Society of Professional Journalists, where he found this: "Be Accountable. Journalists are accountable to their readers, listeners, viewers and each other." And—the advisory that journalists should "abide by the same high standards to which they hold others." An anonymous reporter or critic is evading accountability, and that, perhaps, is what makes several of us vaguely queasy about the Bad Cartoonist.
Regardless of who the critic is or whether he/she is accurately describing the chinks in the profession's armor, his/her discussions are instructive as insights into the workings of the editorial cartoonist's so-called mind. Don't miss it.
FUNNYBOOK FAN FARE
Four-color Frolics
I was smitten, recently, by how badly comic books were printed in those Good Old Days we hear so much about. Last month when we posted in Harv's Hindsight pages from the 1970s issues of Steve Gerber's Howard the Duck, I was, as I say, struck—dumfounded, actually—by how terribly those books were printed. You can see what I mean by leaping over here. After witnessing that travesty, you can readily appreciate how absolutely brilliantly the reproduction of comic book art is being achieved these days. Most of the progress has been accomplished with the substitution of slick paper for the porous newsprint of yore. Now the printer's ink sits on the surface where it belongs instead of seeping into the paper and spreading in smears around the page. In those dear dead days of yesteryear, no comic book publisher would even think of producing a book with painted pictures inside. Newsprint would simply soak up the paint, resulting in one multi-colored blotch all over the page. Today, however, we find painterly artistry almost everywhere we look. Covers, particularly, are often superlative works of illustration, once the sole province of short stories published in such general interest magazines as Saturday Evening Post and Collier's and as paperback book covers. And inside today's comics, we have a great array of artistic styles on display, all superbly realized. Take, for example, the first issue of Gamekeeper from Virgin Comics.
Created and scripted by Andy Diggle and drawn, painted, by Mukesh Singh, this inaugural issue is typical of so much comic book storytelling these days. Told in a cinematic fashion without narrative captions, deploying, instead, only the speeches of characters and their actions with a little first-person narrative ladled in, we are deliberately kept mostly in the dark about what is transpiring until we get pretty far into the tale. This one begins with a man, armed with a rifle, watching a deer drinking in a stream as a blood-red dawn breaks over purple mountains majesty in the distance. He murmurs things about the deer and the dawn and the mountains. But the deer is frightened away by the sounds of a teenage boy wandering through the forest in the early morning. The boy begs the man with the rifle to let him stay on the property, which, he has heard, habitually offers shelter to homeless youths like him. The man agrees, introducing himself as the gamekeeper of the estate. And then the scene shifts to the mansion on the property where we meet the lord of the manner, Jonah Morgan (whose name, however, doesn't surface until pages later—as does the boy's name, Darren), and his wife, Amanda. The gamekeeper, Brock, brings Darren to meet Morgan, and Morgan agrees to let the kid live on the estate and work for his keep. Bad decision. The kid, it turns out, is working for a renegade band of no-gooders who invade the estate. He sets fire to the barn while the rest of the bad guys attack Morgan at the house. One of the baddies throttles Darren without provocation, and another kills Morgan after the latter opens his safe. Papers within are the objective, though, not money. Meanwhile, Brock the gamekeeper stalks the band of baddies in the woods, silently killing them off, one by one, like Rambo. We don't know why the band of bad guys have invaded the estate and killed its owner, whose wife, for the nonce, has disappeared into—safety? And our perplexity is compounded by Singh's beautiful pictures, which, while atmospheric as all get out, are much too dark to enlighten us right away about what is going on.
Most of the action takes place at night or in other badly lighted venues, and this inherently dim situation is made even more obscure by the quirk of computerized coloring. As Jay Lynch once muttered to me, computer colors are lit from behind—a circumstance the significance of which evaded me until quite recently. Lit from behind, the colors appear, on the screen, brighter, lighter, than they will be when printed on paper. No one seems to notice that the printed pictures appear as through a glass darkly, or, if they see the problem, they're not aware of its cause. Or maybe they don't think it's a problem that in a visual medium the visuals are so dark that they obscure rather than reveal what is transpiring. So we have a book about characters whose motives and backgrounds are not clear encountering inexplicable events related to us by visuals we can only dimly see. It might make for a good motion picture, but I'm not convinced that this is the way a comic book should take shape. But it isn't a comic book: it's serial fiction, a multi-part story, not a single "book," and its makers therefore have the whole concept of their tale before them as they dish it up, one course at a time, bit by bit, dribbling it out over many issues. It will doubtless take several more issues for us to realize from the story what Diggle reveals in an interview quoted at the back of the book:
"The main character is Brock, the gamekeeper, who's something of an unknown quantity to begin with. We deliberately don't reveal too much about him or what makes him tick—all that's apparent at first is that he's not exactly what you'd call a 'people person.' He's much more at home in the wild, more in tune with nature than other human beings. The story begins when Brock takes in a young runaway he's caught trespassing on the estate where he works, which is owned by Jonah Morgan, a rich, old Scottish academic who shares a dark secret with Brock. [We don't know that they share a secret, let alone a past—not from reading the first issue. And none of the rest of what Diggle says here is apparent in the first issue either.—RCH.] They were both damaged by something that happened in the past, and have been unable to move on ever since. Then, out of a clear blue sky, their dark past comes calling again. As the action begins to escalate in the present, we flash back to the past to fill out Brock's back-story and learn what brought him here in the first place. It's brutal, bloody stuff."
All this helps clear up some of our bafflement, but, as I say, almost none of it is revealed in the story itself as it opens in this first issue. If we were sitting in a movie theater watching all this as it unfolds on the big screen in front of us, we'd learn soon enough what we need to know. But in serial fiction, with chapters issued only every few weeks, we need to know more early on in order to want to find out what happens next. Comic books have vastly improved in the last twenty years by reason of the cinematic devices their writers and artists have employed. We no longer get stretches of the story in which verbose captions tell us what the pictures are showing us. At this other extremity, however—with some information being deliberately withheld while the rest is served up cryptically in the speeches of characters who already know what we don't know—it seems to me that the creators of comic books haven't quite mastered their medium. Not yet.
The creative team for this book, by the way, comes from all over: the concept is Guy Ritchie's, and he's a citizen of the United Kingdom, probably living in Britain; the editorial staff is in New York, and the artist is in India. "That's the upside of technology," Ritchie says in an interview. Four or five years ago, he goes on, their dispersal may have been an issue, "but I don't think it really means much any more. This is 'the new world.'"
Marvel's X-Force, "Angels and Demons" No. 1 is another painted comic book, and its visuals, like so many of this ilk, are much too dark for the narrative clarity a story demands. Beautifully done by Clayton Crain; but not clear enough for storytelling. I haven't followed the X-men for several decades, so most of this book is a mystery to me. Wolverine and Cyclops spend several pages talking about a new assignment that will require Wolverine to re-assemble the X-Force, some of whose original members are now dead; they won't be available, presumably. Wolverine objects to some of what Cyclops proposes, and the two drop names all over the landscape—Proudstar, Warpath, Jimmy, Laura, Stryker, Rahne Sinclair, Nimrod, Bastion, among them. As far as I'm concerned, the writers, Craig Kyle and Christ Yost, could just as well have fobbed off any haphazard collection of nouns masquerading as names—Console, Whirlygig, Box Elder, Screw-loose, Philpot, Horsesense, Loincloth, Uplift, Burgeon Son, Telephone Pole, Lighthouse. None of these make any more, or less, sense than those flung at us here. Unless you're a regular reader of X-ploits, none of the names invoked here mean anything to you. Inducing this level of bewilderment in a reader can't be good for the life of the medium: if storytellers don't make their serial fiction accessible to new readers, there will be no new readers, and the medium will slowly die off, following other dodos into extinction. Elements of a plot slowly take shape, though: the X-men, forever outcasts, are threatened again by the Purifiers, a renegade religious cult which seeks to exterminate the mutants (read "racial minority," "adolescents," "Jews," "Muslims," or any other downtrodden group which "mutant," in the imaginations of members of downtrodden groups—and which of us is not among them?—can represent). Led by Risman. Or maybe Stryker. By the end of the book, Rahne has been taken captive by Risman, who vows to kill her unless Wolverine and his cohorts (Laura? Jimmy Proudstar?) "stand down." Upon the horns of that dilemma, we will dangle until the next issue in this 6-issue series. It's shaping up as a typical Marvel performance with beefy guys in tights and buxom wimmin likewise, all spouting purple bombast: "But Nimrod is not just a messenger from the future. He is a warrior designed solely to slay demons—to slay mutants. He, above all others, can turn the tide against the mutant threat ... he did it in his time, he can do it in ours."
This issue concludes with a two-page "portfolio review" in anticipation of a new gang of mutants, Young X-men, whose number includes Greymalkin, Rockslide, Ink, Wolfcub, Blindfold and Dust (see what I mean about the names of these creatures?), who are "alone and directionless in the wake of Messiah CompleX." Say what? Sorry. I won't be back.
After all this, Crawl Space: Xxxombies No. 1 (of 4) from Image is a roaring relief. It is drawn, for one thing—lines on paper, expertly slapped on with great verve and variation by Kieron Dwyer, and then colored by Lee Loughridge, who stays assiduously within the lines. And the story, by Dwyer and Rick Remender and Tony Moore, is a hoot, no grandiose posturing bombast here. It begins aboard an airplane with the complaint of one of the passengers, who says the man next to her, leaning his head on her shoulder, is dead. And so he is. And by the time the plane crashes into the Hollywood sign over Los Angeles, he's infected the rest of the planeload, all of whom are now, yes—zombies. They spread out at once all over the city, dropping parts of their anatomy as they decay and assaulting the innocent citizenry in order to eat their brains. Meanwhile, we meet the production crew and actors on a porno movie set, including a wannabe porn star named Jenny, whose father, a tough trucker, is on the way to rescue her. He encounters one of the zombies, whose head explodes into loose brains and bone when the father punches him out. All of these zombies have the disconcerting proclivity of disintegrating whenever they're touched. One of them, mounted by one of the female porn stars, loses his sexual part as she lunges over him: "What the fuck," she exclaims, "—it just broke off." The enraged zombie thereupon bites one of the better endowed actors, who punches him out, causing his head to disintegrate, and the actor and his cohorts, believing that they've killed the guy, not knowing he's one of the walking dead, decide to take the body away and dump it somewhere. En route, they're attacked by a marauding band of zombies and ... The concept for this book was born, we are assured by Remender, as he and Moore were joking about the idea of zombies and porn stars in the same story. (The triple-X in Xxxombies is the triple-X for porn, kimo sabe.) "We started rolling around some ideas about how to make something like that work and within ten minutes we'd fallen in love with it." Easy to understand. He continues: "In love or not, it still seemed too ridiculous to actually produce until ... Kieron pointed out that we'd all been talking about doing an end-all zombie tale together for years—to do it exactly how we think it should be done before walking away from the genre for good. Fast, fun and truly horrifying." And hysterically risible.
In Kyle Baker's Special Forces No. 1, which appeared last fall, we have somewhat the same splashy visual treatment that we found in Xxxombies except that Baker's manner is even more exuberantly slapdash and therefore even more fun to watch. The narrator, called Felony, is a young woman warrior heavy with chesticles who has been recruited for action in Iraq by Sergeant Ramirez, a veteran of the Iraqi conflict, who, desperate to avoid a second tour of duty there, has met his recruiting quota by signing up a clutch of misfits, ignoring prison records, medical records, and psych examinations. The result yields Felony, a juvenile delinquent, and Zone, a possibly autistic youth. By the end of the first issue, they've all been blown to bits in front of us, body parts dropping or flying off in all directions, except Felony and Zone. Zone, it develops, is the perfect soldier: he is oblivious of danger, seemingly indestructible, and charges ahead into a machine gun nest of Iraqi insurgents, apparently unable to grasp the fact that those bullets flying all around him and sometimes hitting him are intended to disable and kill. We are persuaded by a couple of newspaper articles reproduced at the end of the book that Baker based this series upon an actual case of an autistic teenager being drummed into the corps by recruiters anxious to meet their quotas. Baker has turned this sad and incriminating factoid into a rollicking tale, laden with bitter satiric implications and riotously illustrated.
| | |
| --- | --- |
| | |
Interviewed last August by Ari Messer at the San Francisco Bay Guardian, Baker talked about his war comic: "Everything about this war is incompetent," he began, and therefore comic. "I'm a huge fan of war comedies—Dr. Strangelove, Catch-22 —the contrast between the awfulness and the comedy." Messer finds less comedy than irony in Special Forces. He sees it as "a tale in which the people dying for society are those who are either too violent or not violent enough to fit in." He finished by emphasizing the irony in the situation: "Politics aside, they're fighting because the rest of us aren't, and they're fighting in the name of something that has rejected them." Baker talked about his career in comics, beginning as an intern at Marvel, where a standing rule was: Remember that your audience can't read.
The other Baker opus under the Rancid Raves lancet this time is The Bakers: Babies and Kittens (96 6x9-inch pages in color; Image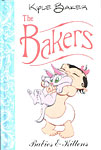 hardback, $18.99), a graphic novel or graphic short story in which Baker's lively penlined figures, caricatures of himself and his wife and children, cavort across backgrounds evoking cell art for animation, the same sort of performance he conducted with his Plastic Man series, but the penline here is somewhat more muscular and sometimes weighted with brush strokes. The story is about how the Baker family acquired a cat—or, rather, two cats ("They're sisters: I couldn't break up sisters!")—in order to combat a mouse that was otherwise running loose in the house. Baker's kids are cute beyond description; likewise, the cats. And the mouse, who, ultimately, escapes. The comedic action is decidedly of the animated cartoon kind, lots of running, falling, waving arms hysterically and extreme movement. We have, in effect, an animated cartoon in static form, just a little more advanced than a storyboard. Delightful.
Warren Ellis' Fell, about a disgraced detective, Richard Fell, re-assigned to the toughest part of town, Snowtown, is now up to No. 9, still priced at $1.99 in Ellis' economic defiance of the fiscal standards of the comic book industry. Still painted by Ben Templesmith, who lays watery colors between fragile, wispy lines, the book this time points a satiric barb at two targets. Fell, his superior tells him, is getting into trouble—not because he fires his weapon too often or because he beats people up too much (both of which, Fell's boss allows, are required to maintain peace in Snowtown) but because he's falling behind in his paperwork, which, the satire suggests, is the real business of police work, not fighting crime. Fell goes out to solve a hostage situation that isn't a hostage situation. A young man, Steven, is reported to be holding an elderly couple hostage in their apartment, but when Fell finally gains entry, he sees that the old man and his wife are dead. He learns, too, that Steven is their son, recently back from Afghanistan. Steven explains that he sent money home for his parents' medicines, but they couldn't get the Snowtown hospital to act and so died. Fell throws sheets over the bodies, and he and Steven carry them to the hospital and plunk them down on the director's desk. Fell then leaves the room with Steven and the director in it, and he and the receptionist hear noises from within. Thumpings and breaking furniture sounds. And screams. Another skillful performance by Ellis, who, in my experience, almost never disappoints.
*****
Marvel, which, for several eons now, has not dared venture beyond the city limits of the superhero universe—as DC has, producing books about subjects other than the longjohn legions—has lately taken up, as its sole departure from the tried and true of spandex fisticuffs, literary works to convert them into graphic novels, producing them first in serial monthly chapters. Moby Dick is one such endeavor, adapted by Roy Thomas, who has made a career out of adapting prose narratives to picture narratives, and illustrated by Pascal Alixe on pencils and Victor Olazaba on inks. Of all the novels available for adaptation, Moby Dick seems to me the least likely of success: Herman Melville's massive pile of prose depends, much as Shakespeare's plays do, upon the accumulating effect of verbal excess, and converting that kind of rhetoric to the verbal-visual blend of comics will, inevitably, destroy the fundamental, that is, verbal, character of the original work. Sure enough: the fundamental character is herewith destroyed. But not entirely, not altogether. Thomas, whose early success derived from his adapting Robert E. Howard's Conan stories to comics, does much the same kind of work here: he writes narrative captions that carry most of the story, the pictures frequently doing no more than illustrating the prose. In some instances, this practice results in what I've termed a "verbal-visual double-exposure": the prose is telling us what the pictures are depicting, so one of the two is redundant. But here, as in Conan, Thomas' choice of words is more vital to the tale than mere prose description or narration.
Here the words have a sea-faring tang of their own and lend an ambiance to the tale that reminds us of Melville. The pictures, however adequate to their task, can scarcely evoke the feeling of Melville's prose, but Thomas' captions can, even when they sometimes seem superfluous, telling us what we're looking at. Moreover, encountering captions that narrate provides a refreshing change from the present comic book storytelling trend of leaving all the narration to cryptic speeches in balloons coupled to dimly perceptible pictures. I'm not keen on Olazaba's often blotchy use of solid blacks, which do not so much model form as blemish it, but apart from that idiosyncracy, which may be Alixe's not Olazaba's, the pictures are adequate even if sometimes excessively noodled with tiny shaping lines. This issue takes us from Ishmael's arrival in Bedford and his subsequent befriending of the harpooner from the South Seas, the extensively tattooed Queequeg, through the sea-going sermon at the Whaleman's Chapel to the introduction, finally, of the fearsome Captain Ahab with his leg made of whale bone.
At the end of this issue we find a "Glossary of Moby-Dick," which gives the meaning of various nautical or vintage expressions—such as "avast, a command to stop or cease"; or "lay, a way of figuring wages based on a percentage of the profits at the end of a whaling voyage." I suspect, however, that Thomas has let his earlier occupation as a school teacher run away with his storytelling sensibility when he explains that "lithe" means "limber, flexible" and that "pious" has to do with "having or showing a dutiful spirit of reverence for God or an earnest wish to fulfill religious obligations." Those of us who read less than others may need the instruction. But "aft," Roy, does not mean "at, close to"; as any sailor can tell you, "aft" refers to the back of the boat or to something behind the rest. Probably, now that I think about it, Thomas didn't assemble this glossary: it looks to be the work of a younger and therefore less literary type than Thomas. "Crockery" is "tableware." Really? Are there people who buy comic books who don't know that? Amazing.
ENDINGS AND BEGINNINGS
Darwyn Cooke's run on Will Eisner's The Spirit, which ended just a month or two ago after merely twelve issues, was regrettably short but remarkably impressive. Cooke's one-man act as both writer and illustrator no one would be eager to follow, but Mike Ploog has been persuaded to try the drawing part, and his performance, envisioning stories by Sergio Aragones and Mark Evanier, is, in its own distinctive way, every bit as exhilarating as Cooke's. Cooke told stories in ways that remind me of Eisner, but Ploog draws like Eisner. Not that Cooke is at any substantial disadvantage, visually: with his crisp rendering style, Cooke burnished Eisner's creation with a contemporary touch: his Spirit is stunningly attractive, its deeply shadowed bold lines evoking the Master without imitating his manner. But in his storytelling, Cooke unveils a notable homage to Eisner.
Cooke brought to life again many from Eisner's repertory company: in No. 2, the gold-digging femme fatale P'Gell comes back; Silk Satin returns as a glib but very able CIA agent (who doesn't want to be seen as just "an affirmative action blouse"—nice phrase, Cooke); and the funereal Carrion with his inter-species inamorata, the buzzard Julia, comes back for a grotesque comic turn. Like Eisner, Cooke varied his stories by imposing upon them different moods: some were antic comedy, others gruesome (the bloody torture scene in No. 5 with the brute Cossack), and the thread looping through Cooke's entire run, the tale of Elvarro Mortez, is out-and-out horror of the zombie inclination. We meet Mortez in No. 3, where he takes an unwanted bath in the same paralyzing potion as neophyte crime-fighter Denny Colt, but while Colt was interred in a crypt from which, after the effects of the chemical wear off, he emerges as the Spirit, Mortez is buried in a coffin, trapped underground. Eventually, he's rescued by his doting mother, but not before decay has set in. Blaming Colt/Spirit for his festering fate, he adopts the name "El Morte" and vows to take revenge upon the Spirit by destroying Central City, but before that, he decides to make room for his reign of crime by killing off all the rival criminal element, gang by gang, and it's these killings that initially engage the police, Commissioner Dolan and the Spirit.
While enlisting some of Eisner's cast, Cooke laminates them all with a modern patina. Ebony White, no longer a cruelly stereotypical bulgy-eyed mush-mouf African American kid, is now a smart teenager. And the over-arching threat, in which Mortez was but a minor player at first, is international terrorism. The Spirit uses a cell phone, and illegal immigration plays a role in one of the stories. So do the news media, which Cooke satirizes in a merciless lampoon of cable tv news in No. 10, deploying caricatures of the pundit paparazzi Rush Limbaugh, Bill O'Reilly (who specializes in "an in-depth look at everything that pisses me off—and remember, if I don't like it, neither should you"), fat Rosie O'Donnell, a skinny Ann Coulter (who tries, in vain, to seduce the Spirit—"If I took my clothes off," he says, walking out the door, "you'd be able to see my crawling skin"; no surprise—with a voluptuous Ellen Dolan in the wings, who would leap on Coulter's bones?), Stephen Colbert, Cooper Anderson, and others. "If it can't pull ratings, it isn't news," the Rush-bo doppleganger intones, fatuously embodying the journalistic ethic of today's news media. (And here I thought I was the only one who sees through the phoney facade of the crusading Froth Estate these days.) Silk Satin narrates in No. 5, a nice Eisneresque touch, shifting the point-of-view to give us another interpretation of the Spirit, who she sarcastically calls "Gainsborough" in reference to the painter's celebrated portrait of "Blue Boy." Occasionally, Cooke makes too much of the Spirit's blue suit: in the comics of the forties, blue was a conventional way of representing the conservative colors of male fashion—blue, dark green, brown, all solid colors. In that context, the Spirit's blue suit was wholly unremarkable.
Cooke goes Eisner's famed splash page opener one better with a double-truck, two facing pages, some of which out-do Eisner; some of which are merely large but still impressive. He deploys a narrative device that, through repeated use, threatens to become a tic: beginning a story in media res, he must then retreat into a flashback to get into the story. But Cooke's action sequences are deft and sure: he switches camera angles and distance from panel to panel, from close-ups to register emotional reactions to long shots to clarify where his characters are in the melee. And he lets his pictures carry their share of the narrative, sometimes silently, without captions or dialogue, creating thereby evocative dramatic sequences. Dave Stewart's colors are in delicate concert with Cooke's spare style: Stewart models with flat planes, hard-edged rather than feathered. And J. Bone's inks are, we must assume, precisely what Cooke wants: when Bone told Cooke he could no longer ink the books, Cooke announced his retirement from the series.
Cooke's last issue, No. 12, knits up some loose ends left over from the Eisner era. Sand Saref, the first woman Denny Colt ever loved, shows up, and the two achieve something Eisner could never have depicted as overtly: they consummate their life-long love-hate relationship, concentrating on the love-making part. Cooke inks his own pencils in the flashback sequences that show Sand and Denny as children, then as teenagers. Here, the drawing is more Eisneresque than usual—using Eisner's latter-day vignette page layouts and trap-shadow shading—but the technique doesn't jar in the context of the rest of the issue's Bone inks.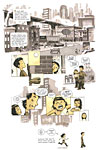 This issue also shows us, for the first time in the Spirit canon, the Octopus, an underworld crime lord that drifted in and out of Eisner's opus, but Eisner never showed his face, just his hands, gloved in purple. Cooke relents, though: his Octopus's visage, the Spirit discovers is a "fake face." Only the Spirit emerges from their underwater fight, but the Spirit has the last word, too, saying, cryptically, "He's gone—for now." The final Cooke-Bone picture, the last in the issue, depicts the Spirit walking through a dismal urban locale, appropriately drenched in a steady soaking rain, so typical of Eisner's mood-setting that Harvey Kurtzman called such downpours "Eisnershpritz."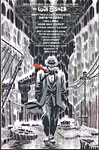 Sand departs the hotel room of their assignation before the Spirit awakens, leaving him to ponder a bittersweet truth and a frustrating dilemma: "You can't go back," he muses, "but how do you go forward?"
We go forward, after a single issue interval, with Ploog, who picks up the picture-making in No. 14. No. 13, like No. 7, is a break in the series. No. 7 offered three short tales, each written and illustrated by a different person: Chris Sprouse and Karl Story do a good-looking Spirit for Walter Simonson's story, but their style is a bit too tight; doing Jimmy Palmiotti's story, Jordi Bernet is more in Eisner's looser manner; Kyle Baker, writing and drawing, is good but off-key, his slap-dash Special Forces manner yielding pictures a trifle obscure albeit in the right mood. In No. 13, Eduardo Risso applies to Glen David Gold's Spirit tale his shadowy page layouts, and Ty Templeton draws the next story by Dennis O'Neil, but both he and Risso work with a tightly rendered line that's a little at odds with Eisner's Spirit. Phil Hester and Ande Parks do a little better in the last effort, Gail Simone's unique story, told with symbols in speech balloons instead of words; Hester and Parks enhance the effect with a stylish tour de force, etching figures with bold lines, deeply shadowed.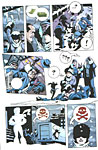 In No. 15, we have Ploog, doing Aragones and Evanier. Ploog ran into the Eisner illustrative manner in P*S Magazine, the military how-to periodical Eisner produced for over twenty years after leaving the service himself. At the time of his Eisner encounter, Ploog, an erstwhile movie cowboy extra and maybe stuntman, was in the Marines, drawing for Leatherneck magazine. "I copied P*S Magazine a lot," Ploog told Michael Dean, who interviewed him for The Comics Journal (No. 274), "because it was very popular in the military, and that is what people wanted to see. So I copied it an awful lot. It seemed like every time I had a drawing assignment, I could always pick up something out of P*S Magazine." Several years later, Ploog found himself working for Eisner, who was his silent partner in producing P*S Magazine! Ploog got the job, presumably, because he drew a lot like Eisner—bold brush line, trap-shadow blacks,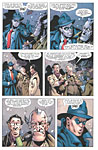 exaggeration of physical action and, in comedic moments, in the faces of characters. The tale in No. 15 is humorous rather than life-threatening, so we get a lot of what Ploog is particularly good at—comedic exaggeration. But Ploog goes too far, I think, in portraying the Spirit and Dolan and Ellen, characters we know: Dolan's face is too lean, and the Spirit looks like Michael Keaton. Here they are, with a couple exquisite Cooke-Bone covers.More Ploog to come; let's see how he progresses. The cover for No. 15 (in December's Previews) looks perfect. Incidentally, the last Spirit story drawn by Will Eisner is, apparently, the one in Dark Horse's The Escapist, No. 6 (April 2005), written by Michael Chabon.
The Last The Last Man
With a giant-sized 60th issue, the five-year run of Brian Vaughan's Y: The Last Man ended, not with a bang but with a whimper. Set sixty years in the future, this issue shows us Yorick Brown, the supposed "last man," in his mid-eighties and confined to life in a straight jacket in a solitary room in the Palais de L'Elysee in Paris. A clone of his, the seventeenth we are led to believe, visits him, and, after a short conversation, Yorick stands up and leaves by way of a third story window. The clone, asked if Yorick jumped, says: "No," and we turn the page for the rest—"he escaped." Then we have two silent pages of scenes around Paris in which we see only women, no men. Finally, we turn to the last page, and there, floating in the middle of a light blue sky, is York's straight jacket, open and flapping. Cute. And with that, Vaughan leaves us as baffled as we were fifty-nine issues ago. Or does he? "Escaped" is of a different order of things than "jumping," and what we see is, indeed, a different order of things, with women the dominant sex.
While deliberately puzzling, the last pages are also somehow satisfying. Vaughan's conundrum of an ending is, after all, in the same order of things as the tale's beginning. But did he cheat us? Did he simply produce a device that kept us turning pages with no other purpose in mind. At the beginning, you'll remember, Yorick discovers that he and his pet monkey Ampersand are the only male survivors of a mysterious "plague" that has killed every male mammal on earth except them. Yorick's girlfriend Beth is in Australia, and he sets out with Ampersand to find her. He then has more than 50 issues of adventures, encountering all sorts of rampant females, one of whom, a black woman named only "355," is some sort of secret agent and accompanies him on much of his journey, protecting him from the ravages of the female of the species. In No. 58, Yorick realizes that he's more in love with her, "Three-fifty" as he calls her, than he is with Beth, with whom, notwithstanding, he's fathered a child, a daughter. Just as Three-fifty and Yorick are confessing their love for each other, a sniper plants a bullet in Three-fifty's forehead, and she slumps to the floor at Yorick's feet, dead. In No. 59, Yorick has a chance to kill Three-fifty's killer but foregoes the opportunity, thumping her on the head with a gun butt instead and leaving her crumpled on the ground at the feet of her armed band of women vigilantes. Then comes No. 60, with the consequences I've already outlined.
What does it all mean? Does it have to mean anything? Well, no, but any deliberate narrative such as this has a meaning, whether the narrator intends one or not. And one way to get at the meaning is to consider the events of the narrative, particularly the conclusion, in terms of cause-and-effect: if This is the effect, What is the cause? And what does the author's belief in the relationship between his cause and his effect tell us about how he views the world through which he has had his characters cavort? Did Yorick "die" when he "jumped" out of that third story window? Or did he "escape"? And if so, how? And what does that tell us about what Vaughan believes about the human condition?
What keeps us turning the pages in this series (which I'll now term "the book") is our desire to know several things. First, how did Yorick and Ampersand escape the deadly plague? What explains that? Next, in no particular order, we want to know what will happen to them—and to the human species itself. Will they survive? Will their survival ensure the survival of the species? What about other species of mammal? And, incidentally, we want to know how Yorick will fare with all these women around him: will he be faithful to his true love, Beth? In pursuit of answers to these questions, we keep on reading. Almost none of the questions are answered until the very end—and not all of them even then—but we've been amply diverted with Yorick's adventures along the way, adventures that, in most instances, revolve around the animosity between the sexes, or, at least, of the female gender for the male, as represented in this fable by the lonely Yorick. In No. 60, we learn that the female remnants of the human species have learned to clone males, and, while it's not entirely clear, we suspect that the continuation of the species is being achieved solely by cloning—although sex may, eventually, re-emerge as the mechanism for propagation. The species, in other words, will, apparently, survive.
We get two or perhaps three explanations for the plague, but Vaughan won't say which is correct, because he insists the book isn't about that. The story, he said in nymag.com, was always "an unconventional romance between a boy and his protector. It was always about the last boy on earth becoming the last man, and the women who made that possible. ... Yorick's always been the damsel in distress." The last "boy" becoming the last "man." A "boy," presumably, needs protection; a "man" does not. So the death of Three-fifty means Yorick has graduated from boyhood to manhood: his protector is gone, so he must no longer need her, and if he no longer needs protection, he must no longer be a boy. He is, perforce, a man, the last man. As a man, he foregoes the chance to revenge himself on Three-fifty's killer. Is that a sign of manhood? Forbearance? In No. 60, Vaughan takes another shot at it. In one of several flashback sequences, Yorick says he wants to write a historical novel, using an ancient Welsh custom as its basis. "Apparently," he explains, "wedding parties would chop down trees and start fires and come up with all sorts of crazy obstacles to stop the groom from getting to his bride on the big day. It was supposed to prove a man's worth, I guess." To which, his auditor, his sister Hero, says: "You still think that's what it was all about, huh?" "How do you mean?" says Yorick. But before Hero can answer, they are interrupted. We never know what she means. But what does Vaughan mean?
Manhood means, at least, independence. Freedom from the need for protection. In the last analysis, however, I think that for Vaughan "manhood" isn't the issue. "Freedom" is. And so Yorick doesn't die, didn't jump: he escapes. He escapes the whole pointless debate about the relative supremacy of one sex over the other. He leaves, the straight jacket of the argument dangling in mid-air behind him.
But why, then, are we baffled by this conclusion? Because it is not a proper conclusion: it doesn't address or resolve the aspects of the tale that have driven us to keep reading it. The author may think his story is about the ultimate futility of engaging in such trivial matters as the "battle of the sexes." That's what he seems to be saying, and if he doesn't know, who does? Well, authors very often can't see their forests because they're busy pruning the individual trees. The book may be about Yorick's losing his immaturity—and, at the very last, gaining a sort of divine objectivity by "escaping," ignoring forevermore, the adolescent argument about gender superiorities—but the emotional flywheel of the story, the thing that drives us to read it, issue after issue, is our desire to know how Yorick escaped death by the plague and how he and the rest of the remaining human species will survive. We also come to realize that Three-fifty means more to Yorick than he thinks she does, and we want to hang around until he achieves this wisdom, too. He does, at last, which addresses that question, and then she's killed, which resolves Vaughan's story for him.
Cloning gives us the answer to the question about survival of the species, but I'm not sure we ever learn how Yorick escaped at the beginning. I confess that I haven't read all 60 issues: I dipped in and out over the last five years because I could scarcely afford to buy every issue while attempting to keep up on other funnybooks, new titles coming out willy nilly on every hand. So I may have missed something. But even if I did—even if Vaughan explained somewhere along the way how Yorick escaped death from the initial onslaught of the plague—the last issue of the book, the parts involving Yorick in a straight jacket and jumping or escaping, doesn't address our central concern. Because Vaughan's theme, the maturing of the "last man," is so deeply submerged an undercurrent, we're hardly aware of it, so his resolution of this aspect of the story is, for us, distinctly off-topic. Vaughan's response would be: it doesn't matter. It doesn't matter because the book is about something else. But it does matter because our feelings are engaged. It's as if Vaughan's ending addresses the intellectual content of the story; our emotional involvement, however, is not addressed, and so we are baffled by the ending.
But the trip to the ending has been engaging, and we kept on turning the pages. Vaughan didn't cheat us with his ending: he just missed hitting it with something we could immediately recognize as a reflection our chief concerns, relieving our anxieties about his characters and how they got that way. He pruned a couple trees handsomely, but he left a lot of undergrowth tangling up the forest.
By the way, who's that dead guy in the cockpit of the airplane Yorick stumbles across in one of the last issue's "flashbacks" (or flash-sidways, it's hard to tell)? Or is he simply one of the millions of male corpses that the female population just hasn't scooped up yet and buried? And what is Three-fifty's actual name, the one she whispers to Yorick just before getting shot in the forehead? None of these questions foster an impossible frustration. But dangling there, they indicate that Vaughan wasn't as attentive to his story as he might have been.
Vaughan gives Pia Guerra great and deserved credit as a "graphic actor" whose skill at visualizing the book's characters, their emotions, and the events as they transpire is unquestionably of a superior sort. Her silent sequences supply much of the series' great dramatic impact. But her characters usually seem stiff, and Jose Marzan Jr.'s inks only enhance the wooden appearance. His line has little life in it, its variation is so slight. Adding to the generally sterile ambiance is the background rendering, most of which seems to have been done with a ruler and a pen.
However undeviating Marzan's line in depicting people, he always starts with Guerra's figures, as lifeless as tombstone statues. The difficulty, I assume, is that Guerra is aiming for absolute realism in portraying people and their actions. Alas, static pictures of people in motion, no matter how strenuously they may be moving, are, if realistic, wooden. When real people run, even full out, they don't bend over double; they're still erect. To convey the feeling of all-out running, an artist must move away from straight realism and exaggerate slightly. To get to vibrant reality, it is necessary to render feeling not just photographic reality, and the feeling of running full speed can be conveyed only through slight exaggeration of the physical act. Walt Disney knew this, to invoke a conspicuous example, and that's why he resisted rotoscoping his animated features: tracing from individual frames of a motion picture of a real person or animal in action does not produce an adequate impression of the energetic nature of the motion. Disney arranged for his animators to take classes in life drawing, both of people and animals, directing them to observe and then, when the action was complete, to sketch their recollections of it and that produced an impression of the body in motion. The motions were necessarily exaggerated because that's how an observer remembers them. But Guerra deliberately avoided such interpretative drawing: "The fight scenes can't be over the top," she told Zack Smith at forum.newsarama.com, "the 'acting' of the characters can't be too big." That was her aim, and in achieving it, she sacrificed the sort of liveliness that infects recollected actions.
Once when I was interviewing Milton Caniff for the biography and we were talking about his drawing assistant Richard Rockwell, Caniff noted that he sometimes re-worked Rockwell's drawings of people in motion to "goose it a little," to exaggerate—raising the knee on a picture of a character running, for instance, or bending the figure forward more than would be natural in real life. Guerra has yet to learn this secret, but she will: she's clearly a dedicated artist with a good storytelling instinct, and if she follows her inclinations, she'll get there.
Even now, before she develops that instinct a little more, the story she and Vaughan have told is a remarkable achievement in deploying the medium to tell a serious, engaging story that appeals to adult readers and in so doing, achieves a distinct advance in the narrative and literary merits of which the lowly funnybook is, thanks to Guerra and Vaughan, more capable now than before.
Footnit: Incidentally, the Y chromosome, which, for some several light years now, has been determining the male sex of human (sic) sapiens, might be on its way out if we are to believe the March-April issue of Mental Floss, which reports on Bryan Sykes' book, Adam's Curse: A Future Without Men. In it, Sykes argues that the Y chromosome is decaying at an alarming rate. It once had 1,000-1,400 protein-making genes but now has only about 27, a sign that its usefulness is evaporating. Moreover, Sykes observes that since 1940, sperm counts have been dropping worldwide, and only sperm carry the Y chromosome. At the present rates of deterioration, we might run out of genes in the Y chromosome in about 10 million years. But not to worry: that's about 40 times longer than humans have existed, and who knows what can be evolved in that stretch of time? Besides, the Y chromosome didn't come into existence until about 300 million years ago, so humankind has been able to survive without it. And men may not be essential for the survival of the species anyhow. "Some species of plants, insects and lizards use a process called parthenogenesis, in which an unfertilized egg develops into a full-grown being; there's no sperm involved. In the mid-1990s, scientists reported that a young British boy had developed in a similar way. Most of his bodily cells were normal, carrying both an X and a Y chromosome; yet, his blood cells carried only Xs, developing solely from his mother's egg." Should the Y chromosome fade away, Vaughan's book will seem quaint indeed.
FURTHER ADO

"It is easier to obtain forgiveness than to get permission." —Who?
"Never attribute to malice what can be explained by incompetence."—Another Who
"I can't believe in a god who doesn't know how to dance." —Nietzsche
CIVILIZATION'S LAST OUTPOST
One of a kind beats everything. —Dennis Miller adv.
William F. Buckley, Dead at 82.
I heard an interview on NPR the day he died in which the person interviewed (whose name, alas, I missed), who knew Buckley well, said Buckley never talked politics off-camera. He talked about all the other things that interested him— harpsichord music, literature, his dog, golf, sailing, skiing, etc.---but not politics. He talked politics, he said, only when they paid him to. Murray Kempton, whose political leanings were somewhat in the opposite direction, was a friend of Buckley's and said, according to this interviewee, that Buckley had a genius for friendship. He was, Kempton said, great fun to be with. Sounds about right.
Buckley was famous—notorious—for his vocabulary, "sparkling with phrases from distant eras," wrote Douglas Martin in The New York Times obit, "and described in newspaper and magazine profiles as sesquipedalian (characterized by the use of long words), [which] became the stuff of legend. Less kind commentators preferred the adjective pleonastic (using more words than necessary. And, inescapably, there was that aurora of pure mischief. In 1985, David Remnick [now editor of The New Yorker], writing in the Washington Post, said: 'He has the eyes of a child who has just displayed a horrid use for the microwave oven and the family cat.'"
Collectors' Corniche
Welcome to our sentimental section where I muse and marvel about antique volumes on the shelf and rare finds in old bookstores and the like. Nothing major. Skip over this if you're busy.
My all-time favorite movies: The Lavender Hill Mob, Bonnie and Clyde, Cool Hand Luke, Left-handed Gun, Rear Window, North by Northwest, Quiet Man, Butch Cassidy and the Sundance Kid, Red River, The Sundowners, Breakfast at Tiffany's, and Going My Way. An even dozen.
By the way, last time I included in this department a selection of Zim drawings that illustrated a book of humorous essays by Bill Nye. At the time of writing my description, I'd momentarily lost the book itself so I couldn't give you the name and other bibliographic information vital to collectors who might want to acquire the same volume. I uncovered the book during a recent tidying up of my study. Although missing the back cover, it appears to be a paperback, but I subsequently have seen the very same book between hardcovers: Nye and Riley's Wit and Humor, Poems and Yarns, published I 1896 by F. Tennyson Neely. (Riley, you surely know, is James Whitcomb Riley.)
EDITOONERY
Afflicting the Comfortable and Comforting the Afflicted
The Scripps Howard Foundation gave its annual editorial cartooning award to Steve Kelley, who cartoons for the Times-Picayune in New Orleans. The award comes with $10,000 and a trophy. Runners up were Mike Lester of the Rome (Ga.) News-Tribune and Michael Ramirez of Investor's Business Daily; earlier, Ramirez also won the Fischetti editorial cartooning prize. Speaking (some more) of prize winners, here's a sample of the $10,000 Herblock Award winning w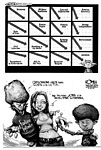 ork of John Sherffius, who editoons for the Boulder Daily Camera—a breathtakingly vivid deployment of images involving charts that graph trends, all pointing to the cause, lately, of the downward trends. Sherffius, who left the St. Louis Post-Dispatch in 2003 because he had different opinions about the role of the political cartoonist than the paper's management, scrapped the cross-hatching technique that once dominated in his cartoons in favor of the subtler tonal values that can be achieved by computer, noted Dave Astor at Editor & Publisher. About the Herblock Award, Sherffius said: "I'm honored and thrilled. Any time you're associated with someone like Herblock, it's a great thing."With the Sherffius cartoon, I've posted one by Paul Combs, the first I've seen using manga-inspired visual mannerisms.
This season's crop of Presidential aspirants includes at least two that are not easy to caricature, Hillary Clinton and John McCain. Freelancer Ann Telnaes has the best Hillary, I think; but Henry Payne at the Detroit News is also very good, and he captures McCain deftly, too, as does Mike Lester, whose Barack Obama, while highly comical, gets the ears right but misses on the mouth, the lips of which are much thinner than Lester's caricature suggests.
| | |
| --- | --- |
| | |
Staff editoonist Gordon Campbell joined the ranks of the unemployed on March 6. "It was not unexpected," he wrote, "but it was nonetheless painful" to be "divorced" by his paper after "sixteen years of ink-stained bliss" at the Inland Valley Daily Bulletin. "The contraction in the newspaper biz sucks," he continued. "I just wish there was an economically viable alternative industry to hop over to. I've already gotten some meager hints at some freelance opportunities, but, frankly, it isn't what I'm good at, this selling one's self a piece at a time. Right now, I'm gonna go get a drink." As my compeer Larry Calloway was wont to say, several eons ago when we were both young and in secure possession of most of the knowledge then available in the universe: "Take another drink and walk a little slower: life is not sweet, but it's nourishing." Or maybe it was Dunston Barswig who said that. After all this time, dunno.
Conservative Chuck Asay, 65-year-old editoonist recently retired by management at the Colorado Springs Gazette, still does the three or four cartoons a week that his syndicate needs for national distribution. Charles Brubaker talked with Asay at bakertoons.blogspot.com, learning, among other things, that the cartoonist was born in Alamosa, Colorado, and grew up on a farm near there. Here are a few excerpts from that interview: "I grew up reading the papers and comic sections. Al Capp made a big impression on me in the early years, and I was a real fan (as is every editorial cartoonist I know) of Mad Magazine. Pat Oliphant was the cartoonist for the Denver Post when I was in college. I showed him some of my cartoons. He said I should use a brush, and he handed me one of his. From that point on, I've used brush and ink to do my cartoons." Most of Asay's cartoons are multiple-panel affairs, indistinguishable in form from the daily comic strip. "I have gone to the many-paneled format because it is easier for me to convey my ideas about the issues," Asay said. "I like to teach people about the issues as well as inflict my opinions on them. I like to take people from things they may know and bring them to new ideas that I believe they should know. [Multiple-panel cartoons] allow me to get deeper into the issues."
Wandering off into a slightly different arena, Asay said he gets a lot of mail about his cartoons on the Mess-o'-petomia: "Many folks don't understand how I, as a follower of Christ, can support the war in Iraq or criticize Muslim extremists." But he does both anyhow, in the name of Jesus no doubt. Whatever happened to that turn-the-other-cheek stuff? I don't mind an inherently hypocritical social order like ours so much as the kind of blatant hypocrisy that results by flaunting a religious conviction that's at odds with one's behavior. Don't flaunt.
Tom Toles, whose editoons at the Washington Post are among the nation's most hard-nosed, can draw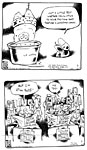 much better than his typically lumpish renderings testify to, as we can see here, comparing his usual (at the top) with the exception (at the bottom).You can see Toles at work by visiting the website whose URL is hidden away in this aggregation: Tom Toles in timelapsephotography from sketch to finished drawing in "Timelapse: From Sketch to Cartoon."
Pulitzer Prognostication
Joe Strupp of Editor & Publisher has predicted that Mike Thompson, John Sherffius, and Ann Telnaes will be finalists this year. Here are his arguments:
Mike Thompson of the Detroit Free Press and Copley News Service was a finalist the past two years. As E&P recently noted in a print story, he began doing breaking-news animations in 2007, and the Pulitzer pickers have lately, starting last year with Walt Handelsman, shown that web animation makes a difference. John Sherffius of the Boulder (Col.) Daily Camera, who won the $10,000 Herblock Prize last week, is one of the most visually striking cartoonists out there and often conveys his points in memorably symbolic ways without using too many words. Ann Telnaes of Cartoonists & Writers Syndicate, who won a Pulitzer in 2001, has one of the most interesting drawing styles of any cartoonist. She is also doing web animation.
Last year, Strupp guessed Mike Thompson, Mike Luckovich, Nick Anderson, Matt Davies and Garry Trudeau. Walt Handelsman won without, apparently, any help from Strupp, but his portfolio included lots of animated cartoons, which, as it developed, was probably decisive in his win. A recent animation by Handelsman is a hilarious send-up of Hillary Clinton's famous tv ad about who all of us might prefer answering the Red Phone at the White House at 3 o'clock in the morning. In the cartoon, a terrorist phones the White House but can't get through because of the baffling cycles of voice mail instructions. The satire, we note, is not so much about the early morning crisis and who might be best equipped to meet it as it is about the frustration of making phone calls these days. To witness this extravaganza in action, visit newsday.com and look for Handelsman's cartoon. (I started at his weblog.)
Onward, the Spreading Punditry
The Great Ebb and Flow of Things
We are now well within the Silly Season, that period that befalls our happy Republic every four years when people with large eccentric egos run for President of the U.S. The silliness erupts regularly, nearly hour-by-hour, changing too rapidly for me to comment on any of it here, where we appear, at best, only every other week. Or so. Rather than issue some proclamation that will be out-dated before the ether evaporates in digital heaven, I'm going to refrain from commenting on the passing political scene for the duration. Unless, of course, something really egregious descends upon us. And what would that be? I suppose it would have to be something on the order of Hillary Clinton being caught with a male prostitute or running a dog fight ring. Or maybe not even then.
But before the latest opportunity to commit silliness slips over the horizon, let me say this about whether or not Barack Obama would be where he is today if he weren't black. Or whether Hillary would be where she is today if she weren't married to a former U.S. President. Or whether John McCain would be where he is today if he weren't a war hero by reason of his having lived through Vietnamese torture for five years.
BOOK MARQUEE
Painfully Short Glimpses of Books I Have But Haven't Actually Read Yet
That, the subtitle that appears just above this verbiage, is supposed to be what's happening here in this department. But, as everyone on my block will readily acknowledge, I am forever, without doubt or quisling, losing my head while those about me retain command of theirs, keeping them well screwed on, as my mother used to say, so they won't fall off and go rolling down the stairs into the livingroom where she was entertaining her bridge club. It was ever thus. For instance, when I inaugurated this department a couple years ago, what I had in mind was to indulge a category of book review that would permit me to breeze airily through a handful of reviews, ripping them off, one after the other, in record time, thereby disposing of whole shelves of books that have been hanging around here in my study awaiting a "review" for much too long. "Reviews" not "critiques." I distinguished a "review" from a "critique" by saying that "reviewing" is what I do much as one might pick up a book in a bookshop and look at it. I have the book in my hand, as you would if you were picking it up in a bookshop—so what's the most obvious thing I see about the book? What do I see that you, because you're not in this bookshop with me, can't see? The purpose of a "review," then, is to provide a cursory but keen on-the-spot insight into a book you might pick up while wandering through a bookshop, a book that you might buy after glancing through it.
Take Paul Conrad's 2006 "autobiography," for example—a square book (192 9x9-inch pages, b/w; paperback, $25) with a dusty blue cover, Conrad's self-caricatured profile on the left, beaming across at the title, reversed in block-letter white, I, Con: The Autobiography of Paul Conrad, Editorial Cartoonist. Clever title. Conrad's friends call him "Con," hence, "I, Con," which, with the egotistical twitch that all autobiographies indulge, becomes "Icon," a running glimpse of Conrad's opinion of himself. I pick it up and start thumbing the pages and see that the "autobiography" is mostly pictures, Conrad's cartoons, usually two to a page, accompanied by short squibs of text that prove, upon inspection, not to be so much about the cartoon as about the political or social situation that inspired the cartoon. Autobiographical prose in any substantial quantity seems confined to the early portion of the book, the first 70 pages, say, but even at that, pictures dominate, photographs as well as cartoons. I pause on a page with a photo of Conrad looking like an Army engineer, which, it turns out, he was during World War II but not on this page.
On this page, he's an eighteen-year-old freshly graduated former highschool student working a construction job, helping to build the Alcan Highway by driving a truck. Next to Conrad's photo is the word that caught my eye: whorehouse. For recreation, it appears, young Conrad played pool in a dive across the street from a whorehouse in Valdez, but he also wanted to play piano and the only piano in town was in that whorehouse. So Conrad traipses across the street and introduces himself to Red, who, when he tells her he's looking for a piano to play, invites him in, and he sits down and starts to play. "Oh, God," Conrad says, "—she was just thrilled. So when one of these clowns would go up the stairs with one of the floozies, I'd just drop what I was playing and do 'A pretty girl is like a melody.' As soon as the door slammed, I'd be back to whatever I was playing. I was eighteen years old, but I never went upstairs. Never did. Oh, I wouldn't have touched those women with a ten-foot pole! I mean it. It didn't happen. Whenever the Columbia or another vessel would come into port, there'd be a party. Red would tell me, she'd say: 'Come over with your brother, get my piano and take it into this large tent.' Then she'd take the red light off and put a white light on. Then she'd charge a dollar more."
Conrad's brother is his twin, James. Or half of a twin, I'm not sure how to put that even though I'm the father of twins. (Does the plural of twin—twins—indicate more than two people? What a bafflement.) Being the father of twins, or twin (that scarcely sounds right), doesn't solve the problem any more than Fowler's The King's English does, or his Modern English Usage for that matter. Conrad, as I said, is a twin, or half a twin, and when his brother Jim dies, Conrad writes: "Jim died in 2006. Unless you are a twin, you can never understand how I felt when he passed." Next to those sentences is a reproduction of a newspaper clipping headlined "How to Tell Conrad Twins Apart." They were identical, except that Jim had a gold front tooth, but the writer of the article dithers on for half of it before he divulges this telling scrap of information.
All of which, tantalizing tidbits of knowledge though they may be, and, indeed, are, takes me pretty far afield from the announced purpose of this department, which is to briefly introduce you to a new book. I could have fulfilled that purpose if I'd stopped just before getting to the whorehouse. But I didn't. And then I started reading the book—and finished; it takes about two hours. Mostly pictures, as I said. But we also find, buried in the prose, Conrad's assertion that Herblock had the greatest influence on him. That's surprising. Conrad grew up in Iowa where the famed J. N. "Ding" Darling was still slinging ink at the Des Moines Register, so you'd think Ding would be a greater influence on Conrad than the distant Herblock.
In Conrad's Introduction, we find out that the title was suggested by a friend of Conrad's son, who helped select the cartoons for the tome. I suspect that "icon" does not signal egotism: instead, it shouts a kind of delight. In another Conrad collection, Paul Conrad: Drawing the Line (1999), the late fellow editooner Doug Marlette writes about the time he and some other cartoonists were dinner guests at Conrad's: "As we stared at Conrad's Pulitzer Prizes [three] on the wall and the Time magazine covers he had drawn, our host returned with our beverages, interrupting our oohs and aahs with his booming circus-ringmaster voice: 'Yeah,' he said, agreeing with our assessment, 'Isn't that great?' No false modesty. No 'Aw, shucks.' Simple, uninhibited delight in what he had wrought. I remember telling a colleague afterwards, 'That is the key to Conrad's genius, and that is the key to greatness—authentic, unapologetic delight in oneself and one's art.' Conrad was showing us the secret of Picasso and Matisse, of Rilke and Joyce, of Dickens and Twain, the secret of every great artist—to be filled with awe and delight and wonder at the thoughts and images that flow from the darkest recesses and deepest cellars of your own soul."
My own acquaintance with Conrad, brief though it has been, confirms Marlette's judgement. Conrad delights in his work—and he is thoroughly unabashed about it, and about what makes good editorial cartooning. A couple pages after Marlette's remarks, Conrad lays in, denigrating the "illustrative" character of some political cartooning: "Illustrating in an editorial cartoon means to me that the person really doesn't know, doesn't have the background to say what he is saying. He or she only illustrates but doesn't take a position ... doesn't say, 'This is a crock,' or 'This is right on.' You have to take a position. That's what the whole thing is about," he exclaimed. Then he continued: "There was a six-paneled cartoon in the Los Angeles Times recently. I have no idea what it was about, but I did start counting the words. There were 235. Can you imagine that? I mean, why doesn't the man get into editorial writing? The thing was only 14 words shorter than Lincoln's Gettysburg Address. And I know what Lincoln was talking about!"
The text in Conrad's "autobiography" was probably not "written" by Conrad: it reads like the transcription of an audio tape. "I guess there are what some other people might call 'insights' in here," Conrad says. "I call 'em facts. I'm all about facts and I'm all about taking a stand once you know the facts. That's what I've been doing for the last fifty-plus years." Returning to civilian life after serving in the Pacific during WWII, Conrad and his twin brother enrolled in Iowa University on the G.I. Bill, and while matriculating, Conrad drew editorial cartoons for the campus paper. He sent samples to Palmer Hoyt at the Denver Post, and when he graduated from college, he went to work at the Post in 1950. He married another staffer, Kay King, that same year, and they subsequently had four children. After 1950, the chronology ceases. We never find out why Conrad left the Post in 1964 for the Los Angeles Times—and that would be fascinating to know, I think.
Elsewhere, in 1985's Drawn and Quartered collection, Conrad talks about the freedom he has at the Times, but, from what I've heard about Palmer Hoyt at the Post, Conrad probably had plenty of freedom there. Maybe he thought the Los Angeles Times was just a bigger or more prestigious paper, both true. At the end of this volume, Conrad is interviewed by Richard C. Bergholz, who asks the cartoonist how he felt about being moved off the Times editorial page to the Op-Ed page, to which newspapers traditionally consign divergent views. Conrad said: "Everybody here denies that I was intentionally moved because of any particular cartoon or cartoons. I still think I was. I don't go to editorial conferences, but I am concerned about what positions the newspaper takes on issues. I think the move to Op-Ed was the best thing that ever happened because now there's none of this nonsense about who speaks for the Times. And with the space created on the editorial page, we're getting more and better letters to the editor that we can publish. I think that's to everyone's advantage."
Instead of continuing the story of his life after 1950, Conrad starts a series of chapters, each titled according to the passion it depicts in cartoons: democrat, historian, ethicist, idealist, catholic, optimist. He's passionate about freedom of the press and speech, and although a good Catholic, he supports a woman's right to have an abortion. He'd been anti-abortion until one day, driving his car and listening to the radio, he heard Justice William Brennan, a Catholic, talking about a woman having the right to control her body, not the government. "He changed my views about abortion," Conrad says, "—in an instant. I really couldn't believe it because his arguments were so clear: 'I represent the Constitution, not the Catholic Church.' ... That changed me." As a Catholic, Conrad is against abortion, he says—personally, so to speak, but not as a matter of the law of the land. "Roe vs. Wade has to stay." Without it, "women don't have a prayer. I think it's up to the woman herself. ... A woman's right to choose is more important than my own feelings about abortion."
Conrad also tells about being sued by Bill Mauldin because he used facsimiles of Willie and Joe in a cartoon. "Other cartoonists eventually talked him out of it," Conrad says. "Willie and Joe had become public domain."
Most of the cartoons in the book are from the last 10-20 years; almost none from his earliest years on the Denver Post. Here are a few from 1950-54, including samples of the spot illustrations he did for the paper's letter column and a couple gag cartoons that also sometimes dressed up the editorial page. Evidently, Hoyt thought a staff cartoonist with only a single editorial cartoon to do every day didn't have enough to keep him sufficiently busy.
In the latter part of his career, Conrad often abandoned the editorial cartoonist's usual weapon, caricature, in favor of depicting some inanimate object and giving it symbolic value. Sometimes I think he goes a bit overboard in this pursuit—he seems to do it more and more as his ability to caricature deteriorated over the years—but his cartoons have the uncompromising force of a sledgehammer, as does Conrad's prose narrative. In neither does he pull any punches. His straight talk, in words and in pictures, is well-represented in this volume. To a few taken from that book for this gallery, I've added a selection from other Conrad tomes, aiming at displaying this latter-day tendency to deploy symbols rather than caricatures to make his points. Missing from all the Conrad books, though, is what I think may have been one of his earliest symbolic efforts—the head, in profile, of an African who is screaming, the outline of the picture evoking the map of Africa. Among the accompanying cartoons, I've made a stab myself in the direction of showing how he did it.
Another cartoon missing in all the published collections is one he did during the hostage crisis in Iran. He depicted the famed Iwo Jima Marines raising their usual American flag, but planting its staff in the rectum of a sprawling Ayatollah Khomeini. As soon as this gem was put into Conrad's syndicate's distribution system, it was withdrawn. Or so the story goes. (I may be misremembering: without the physical evidence in hand, I could be mistakenly assigning this cartoon to Conrad; maybe it was somebody else. But if it was, it still could have been Conrad.)
I should have stopped, as I said, at the whorehouse. Then I'd have a "review" or admirable succinctitude, the ostensible object of the exercise here.
*****
As an example of pulsating brevity, here's the second collection of Mike Vosburg's comics about a B-movie actress who can't seem to get a respectable movie role because she's always distracted by either (a) a rampaging vampire that only she, armed with the irresistible Necronomicon, a book of magical spells, can vanquish or (b) a man both handsome and deserving. In Lori Lovecraft: My Black Pages (160 6.5x10-inch pages, b/w; paperback, $14.95), Vosburg gets the usual superb help on the stories (five of them, from five previously published issues of the comic book) from writer Pete Ventrella, but he needs no help in drawing his dreamboat heroine, whose long legs decorate nearly every page that she's not decorating with a fiercely memorable decolletage, attired, usually, in bustier or some other brand of underwear. Vosburg, as you can see from the pages appended here, draws in the Grand Manner of Leonard Starr and Stan Drake and Alex Raymond and those other too few famed masters of linear loveliness.
Voz's drawings are so exquisite and Lori so nice to look at that it makes me weep and hug myself. For joy.
There. That was more like it. And here's another.
Cubes and Punishment (244 8.5x11-inch pages, occasional color; paperback, $16.95) probably needs no more description than to say it is a Dilbert Book by Scott Adams, the 30th Dilbert compilation to be painfully exact. If Voz's drawings make me weep in ecstasy, Adams' make me scream in agony. But he continues day after day to crank out a comic strip that unfailingly provokes a laugh by pointing out just how venal and obtuse managers in corporate entities are and how venal and self-aggrandizing their employees are. Here's the pointy-haired boss announcing to his staff: "I declare next Friday to be Hawaiian Shirt Day." To which Wally says: "Hey, you're disguising punishments as perks." The boss leaves the meeting and confides in Dogbert, the HR Director: "They're on to us." And Dogbert says: "Did you try the fake smile?"
For elegant line in its sinuous purity, we can do no better than recommend The Art of Earl Oliver Hurst (96 8.5x11-inch pages, in color; hardback, $24.95) from Graphic Collectibles Press, which says, on the dust jacket flap, that "not much is known about the life of this artist." True, but you can see how economically he draws impossibly pretty girls with single sweeps of a bold line by visiting www.americanartarchives.com/hurst.htm, where an entirely too cryptic biographical paragraph tells us that this "premier pretty girl cartoonist" (1895-1958) began at the Cleveland Plain Dealer, "doing comics, political cartoons, even fashion," then decided to try for illustration assignments, starved for a while, then began "following in the footsteps of Petty and Vargas"—except that Hurst's girls were much more modestly attired and they graced the covers of general interest magazines like Collier's, American Weekly, Home Magazine, and so on. He also illustrated short stories in these magazines, and it is when I have fled from modern life to spend a comforting afternoon browsing through the pages of these antiques that I ran into Hurst for the first time. And I've never regretted it since. Neither will you.
| | |
| --- | --- |
| | |
The foregoing is admirably concise, but I can't resist adding a little of what more I discovered about Hurst. Miffed that the editors and compilers Mitch Itkowitz and Brandi Budziak knew so little about Hurst, I plunged southward into the Book Grotto beneath the Intergalactic Headquarters of Rancid Raves and found a dusty 1946 tome by Ernest Watson called Forty Illustrators and How They Work, wherein Hurst is described as a Will Rogers of visuals, able to see "humor in ordinary events." Undoubtedly true. In Hurst the illustrator we find much of Hurst the cartoonist. Hurst's work is essentially linear, like the cartoonist's. His colors are very nearly flat, modeling achieved with broad strokes and no feathering. The life of the drawing is in the line. "Line is the dominant element in his work, a factor which might not be at once obvious to one who is first struck by his effective massing of vivacious color. Examine any of his illustrations critically, and you will realize that while his color is essential to effective dramatization of the idea, it is really supplementary to a remarkably expressive line. ... See how it fluctuates, now full and lush as it accents some dominant action, now delicate as it defines a subtle bit of expression; but always sensitive, directed by complete knowledge and technical mastery. You will never find a deliberately drawn line in a Hurst illustration: only a swift moving bush will produce that sense of aliveness which is the essential characteristic of his work." Typically, Hurst began by producing a flurry of rapidly executed sketches: "He fills sheet after sheet of tracing paper with vigorous pencil drawings. The first, torn from the pad, falls to the floor; another soon follows. After an hour or two the studio becomes littered with these experiments—all in line—to express the idea he is trying to put over. Not until his conception matures does Hurst take up his brush and begin his final drawing on heavy watercolor paper. The painting of the final picture doesn't take long."
Like a cartoonist, Hurst usually worked from a mental image of what he wants; he seldom used a model. He deployed a camera sometimes to "make a study of a certain part of an action," Hurst wrote. "I say 'part of an action' because there are certain degrees of an action which if portrayed as the camera gets it (factually) do not convey the impression of action that the mind registers. I think the simplest example of this is that of a horse taking a hurdle. There is a split second when the four feet come together and if stopped at that point [as in a photograph], the action would give the impression of the animal balancing himself on all fours on the hurdle. The action that registers itself [in one's mind] as a horse taking a hurdle is that long arc of motion with front and rear legs fully extended." That's what Hurst would draw. Said he: "And so it becomes a matter of recording impressions."
The period of Hurst's life that he spent "starving," according to Itkowitz and Budziak, was enlivened occasionally by Hurst's sense of humor. One Thanksgiving, for instance, he told his wife to prepare turkey dressing even though there was no turkey in the larder. He would take care of supplying the turkey, he assured his wife. And he did. He built one of craft paper and set it on the bed of turkey dressing. He persuaded his wife to replenish her meager wardrobe by dyeing each of her two summer frocks a different color every two weeks. Once he pried the clock from the dashboard of his car and hocked it to buy gasoline for another week's errand-running. All that came to an end, however, when he did a job for Chester Siebold, art director of General Electric Company, who persuaded Hurst of the advisability of making several drawings for a given assignment, presenting a client with the best of them to choose from. Hurst said he was stunned when he realized the wisdom of Siebold's advice: looking over five drawings he'd done for the same job, he saw that the first one, the one he would formerly have delivered to the client, was "truly a fumbling performance compared with the subsequent drawings." At that moment, Hurst's working manner was established.
Much too long a disquisition for Book Marquee. But, alas, I can't help it: I'm perpetually intrigued by sheds and patches of information I discover about cartoonists and cartooning, and reporting such matters invariably leads me far from the compact commentary I aspire to. But I haven't abandoned all hope.
*****
A new book from the University Press of Mississippi, one of my publishers, Stepping Into the Picture: Cartoon Designer Maurice Noble by Robert J. McKinnon (200 5.5x8.5-inch pages in paperback; $20, $50 in hardback) examines the life and work of the man who gave a distinctive new look to Chuck Jones' animated cartoons at Warner Brothers. Noble (1911-2001) began his career in animation at Disney, where, according to him, he invented the celebrated "pencil check" stage in the production of animated films: the penciled drawings are filmed to detect any flaws so they can be fixed before being inked, after which correction would be expensive. McKinnon relied on extensive interviews with Noble and is careful to note whenever Noble's self-proclaimed accomplishments are not documented by any other source, but for Noble's chief contribution to the art of animation, the stylized backgrounds in Jones' films, beginning, most famously, with the Bugs Bunny epic, "What's Opera, Doc?", no additional documentation is needed: the evidence is up on the screen.
About his innovative style, Noble said: "Animation is really a flat, stylized medium. ... So I started to design the backgrounds to harmonize with the animation—in other words, I designed flat patterns for animated characters to work on." He eschewed the modeled appearance achieved by air-brushing background art. "I found that as I gradually went to flat patterns, it made the pictures more exciting." Writes McKinnon: "He believed animation's charm lies in its stylization or 'cartooning' quality, its tongue-in-cheek exaggeration, its satire. So it was his goal to take the inherent satire of the action and have it carry over to the backgrounds. Thus, the shape of a chair or a tree would become, in a sense, a 'cartoon chair' or a 'cartoon tree.'" Although all such visual accouterments had to be functional—as chairs and trees—each such visual concept "had to have the feeling that it was a satire of the real thing." Sometimes more than satire, apparently. Relating his creation of the Grecian Temple on the hill in "What's Opera, Doc?" Noble explains: "I shouldn't say this, but that big hill with the staircase is really a breast form, suggesting something voluptuous, as Bugs, in drag, 'seduces' Elmer. For the boudoir [in which Bugs seductively reclines], I chose pink, black, and white, the colors of lace or a woman's lingerie."
While Noble's ground-breaking achievements took place when he worked with Jones (who admired him extravagantly), Noble also worked with Dr. Seuss and Frank Capra, both of whom he met while in a training film unit during World War II. According to Noble, eventually he was virtually in charge of Disney's production, coordinating all aspects of animation from the background perspective, but, conspicuously, he doesn't claim to have been the person responsible for adopting the muted color pallette for the studio's first full-length feature, "Snow White and the Seven Dwarfs," so we can probably believe him about his other accomplishments. McKinnon relates several humorous anecdotes Noble regaled him with, and the book includes a modest albeit instructive allotment of illustrations.
Nope: still longer than I'd like, but I'd hate to overlook Noble's decoding of the "big hill" in "What's Opera, Doc?" This next one is, alas, more critique than review because it goes beyond describing the contents to analyze Sorel's cartooning method. But it's almost short enough.
COMIC STRIP WATCH
In Lynn Johnston's For Better or For Worse one of those loose ends she wants to gather up has reached the tying-the-knot stage: Anthony has proposed to Elizabeth. ... And in Darrin Bell's Candorville, Clyde, the neighborhood wannabe thug, stumbles into an assignment as a Super Delegate to the Democrats' convention. Clyde says he is taking his job seriously: "No matter who voters choose, I have to over-ride they ign'ant behinds an' pick whoever promise to make me ambassador to Hawaii—it's a solemn duty." "What country is this?" screams Lemont. The strip was dropped by the Washington Post (Bell's syndicate's flagship paper) the week before because of a sequence in which Lemont is discussing with a Secret Service agent why security checks are not performed on everyone attending a Barack Obama rally. No one at the Post explained why, according to Editor & Publisher, but my guess is that, with typical journalistic acumen, management there must've believed that publishing news about lax security at Obama rallies would tempt fate. ... In Garry Trudeau's Doonesbury, Skid, the ex-biker con man who's courting Doonesbury's mother in order to get her money, finds out her son controls her assets, so Zeke counsels him to switch to blackmail. "I don't do blackmail, man," Skid says, "—too much talkin.'" ... Wisdom in two panels: "There comes a time in a woman's life when she realizes she's not getting any hotter," says one of Hilary Price's nameless non-recurring characters in Rhymes with Orange. "Some see their future as a gradual decline in hotness," she continues, "but the smart ones regard each day as their apex of hotness as there's nowhere to go but down."
In Jef Mallett's usually thought provoking Frazz, one of the school kids has discovered that teachers get paid. "Money?" he rants, "—but we do all the work!" he continues, drawing attention to the obvious inequity of the situation. Mrs. Olsen explains: "You're lucky to live in a country where you get an education." But the kid is not placated: "That sounds suspiciously like what the cafeteria lady said about the carrots." Mrs. Olsen: "Well, deal with it." Kid: "That's exactly what she said about the lima beans." The next day, he's raving to Frazz, saying: "Unbelievable! Mrs. Olsen gives us work to do. We put in the labor. She gets the paycheck. She gets the big desk and the soft chair. She gets to yell at us. She gets the respect." He pauses. "Okay—maybe not that last one so much." To which Frazz says: "I told you this was to prepare you for a job at a corporation." Nicely done.
*****
Things Tooners Should Be Getting In Trouble For But Apparently Aren't Department.
Not that I think they should be getting into trouble, but, given the temper of our times, I'm surprised they haven't been flooded by letters from irate readers, each of whom, in his own special way, is protecting the Republic from every threat of moral decay, the tell-tale signs of which can be seen in swear words, bathroom slang, blasphemy in all its (often not obvious) forms, sexual innuendo, or ridicule of torture. In Matt Janz's Single and Looking, always angry Madame Red gets into a gender-discrimination confrontation with her editor, "Androgynous Ralph," who observes: "Is this a power struggle, Madame Red—because I get the higher non-female salary?" Red, as usual, rages back: "You dot your i's with little hearts, I pee in the shower—who's the chick here?"
In Dilbert, it's likely that Scott Adams will incur displeasure among the religiously fundamental by introducing a new character named Jesus, which, Adams is careful to say, is "pronounced hay-soos." Bald Wally confronts the new guy: "With a name like Jesus, I can't promise I won't mock you." Sounds disrespectful to me. But the new guy strikes back: "Baldness, be gone!" he says. Presto, Wally has a full head of bushy hair. And that's not all: "I'm not lazy," he says in astonishment, "and I can see!" More disrespect. The new guy gets the last line, looking at the coffee cup Wally is holding: "Don't spill your wine." The fundamental truth of transubstantiation is thus held up as a subject for laughter. God, surely, will punish Adams. Wait: he already has.
Footnit: I wrote the foregoing on March 13; two days later, Editor & Publisher's online service covered the story I knew was coming: "Dilbert Strips Featuring a Character Named Jesus Cause Stir." Adams confessed that in his "typically careless way," he hadn't realized when he drew the strips a few months ago that "they would be running around Easter time. Oops." His e-mail, he reported, was "about evenly divided between people who are deeply offended and people who think it was my best work yet. My favorite rhetorical question," he continued, "which I received an alarming number of times, was: 'Why don't you mock Muhammad next? Huh? Why not?' Well, aside from the blindingly obvious reason that I prefer life over death, I didn't realize I was making fun of Christianity this week." Among the missives Adams posted was a letter from a pastor, to which the cartoonist replied: "Thank you for taking time out from feeding the poor to complain about comic strips. I know Jesus would have played it the same way."
Other outrages lately include those depicted on the accompanying visual aid, wherein we see sexual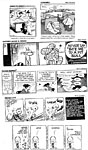 innuendo with Dennis' mother and father in bed together in Marcus Hamilton's Dennis the Menace, and if we laugh at Mike Baldwin's one panel Cornered, we'll be making fun of the homeless or soccer.In Mike Peters' Mother Goose and Grimm, we are forced to wonder, perhaps for the first time, what "bite me" actually refers to. It can't be decent if pit bulls do it. In Pajama Diaries, Terri Libenson is talking about fucking again. And in Scott Stantis' Prickly City, it would appear that his conservative mouthpiece, little Carmen, has experienced a conversion on the issue of whether waterboarding is torture or not.
*****
Things I Wish I'd Thought Up Department. In Stantis' Prickly City, Winslow says: "Some days, you carpe the diem, and others, the diem carpes you." To which thoughtful Carmen says: "Why do all of your philosophies smell like wet dogma?" ... And here's perspicacious Agnes in Tony Cochran's strip of that name, who has a new crusade—to make people aware of the obvious. She approaches a blonde, offering "one of my informative brochures—it is my goal to make all people aware of the obvious," she explains. The blonde says: "People are already aware of the obvious." Agnes: "I wasn't aware of that." Blonde: "Obviously." ... In Baldwin's Cornered again, one of his mountainous men is buying a rifle from another mountainous man in a gun shop, saying: "It's not for hunting. I just want to be able to protect my family from deer attacks."
Verbal hijinks aside, comic strips are still an essentially visual medium, as we can see in the strips reproduced in this vicinity.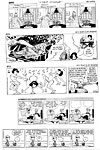 The pristine interior Bill Griffith gives Zippy to look at undeniably evokes thoughts of other strips in which domesticity vies with scandal for readership. Jim Borgman is undoubtedly having a generous allotment of fun drawing Jeremy at the piano in Zits, and in the next strip, the third picture of Jeremy's mother achieves a hilarity that every cartoonist worthy of the name must have harbored a hope for doing at one time or another; Borgman and his cohort, writer Jerry Scott, have done it. Blondie must have a new writer these days: the gags have begun to teeter into the ambiance of the latter decades of the 20th century instead of staying stuck in the 1940s. Paul Pumpian, my spies tell me, is no longer contributing material, and Dean Young said a year or so ago that he wants his daughter more involved in the strip's production. While she may be the new writer, it strikes me as more likely that she's merely the shop steward who has hired a new writer. Whatever the case, here's a gag that Tom Inge calls "meta-" because it refers to the medium itself. And without the picture of dejection that Charlie Brown becomes in Peanuts, we'd have no joke, a virtual definition of the cartooning art.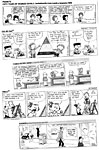 Similarly, in Peanuts on this page, the joke has poignance as well as punch, thanks, chiefly, to the picture Charles Schulz has drawn of Linus in the last panel. Richard Thompson's humor often derives from some diagrammatic aspect of his drawing, as it does here in his happily fey Cul de Sac. In Pearls Before Swine, Stephan Pastis deploys the timing aspect of the medium as well as its pictorial capability. Timing is, again, the essential comedic mechanism in Jef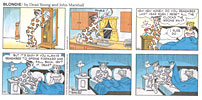 Mallett's Frazz, but in Blondie—a first, b'gorra. Has there ever been a daily Blondie that's a strip-wide picture, in effect, a single panel cartoon? Somewhere, surely, the earth is trembling. And whilst we're all a-quiver, here's a Sunday Blondie in which, as is now customary, Blondie's nightie is slipping off her shoulder. Sexy lady but no one with an anti-sex agenda seems to notice. Thank goodness.
Still extolling the visual nature of the medium, here's Wiley's Non Sequitur in which a pollster interviews Joe Pyle on various political matters: the risibility resides in the responses the pollster is recording, which, thanks to the peculiar visual capacity of comic strips, can appear simultaneously with the respondent's answers.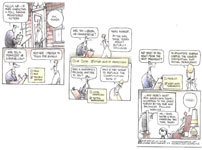 And here's a spectacular demonstration of how a comic strip's visual potential can be exploited to attract attention: the joke in this Frazz is not advanced or achieved by reason of Mallett's sensational variation on the usual layout grid, but the eye of the reader is undoubtedly arrested by the imagery.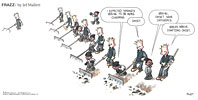 Elsewhere, in Greg Evans' Luann, another earth-shaking event. Luann's nerdy older brother, Brad, has been trying to work up the nerve to ask the beauteous Toni, a fellow firefighter, to accompany him to the Firefighters' Ball, and just when it seems he's worked up the courage, he overhears his captain talking on the phone, saying he intends to invite Toni to the dance. Then comes this week.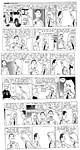 The "GS" badge is, actually, a Girl Scout badge, as Toni observes; but Brad's roommate gave it to him to wear, convincing Brad that girls like Toni are impressed by medals that pronounce their wearers heroes. I'm in awe of Evans' unflagging ingenuity in constructing roadblocks on the highway to romance for Brad and then surmounting them with an enviable combination of care and comedy. I also think Toni is a stunning example of how even a simple rendering style can convey the hotness of a really hot babe.
Evans has other talents. His watercolor paintings are exquisite, for one thing, but I tripped over evidence of yet another talent. He's a one-man band of a theatrical power-house. In the North County Times, Pam Kragen reviews "Luann: Scenes in a Teen's Life," a musical that ran through March 16 at Palomar College. Says Kragen: "This isn't the first cartoon strip to be turned into a musical. 'Annie' and 'You're a Good Man, Charlie Brown' both vaulted from the comics pages into Broadway history. But this is probably the first cartoon-based musical with a book, score and lyrics all written by the cartoonist himself." The production consists of a string of vignettes rehearsing events that readers of Luann will be familiar with. "Geared for teens and family audiences," Kragen writes, "the musical's message is light and positive, with songs celebrating family, friendship and self-acceptance." Boasting 18 songs, the show features very little dialogue between numbers; it plays "more like a revue than a story," Kragen continues, "but the show is upbeat and energetic."
Finally, there's this. Someone at http://garfieldminusgarfield.tumblr.com has transformed Jim Davis' strip about a fat cat and his nebbish owner Jon Arbuckle (originally, a cartoonist) into a continuing comedy of existential angst—a comic strip "about schizophrenia, bipolar disorder, and the empty desperation of modern life"—by simply surgically removing the cat from all the pictures. "Let's laugh and learn with Jon Arbuckle," the unnamed author of this hilarious desecration writes, "on a journey deep into the tortured mind of an isolated young everyman as he fights a losing battle against loneliness and methamphetamine addiction in a quiet American suburb." Here are a few examples.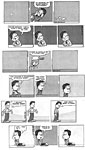 JACKIE ORMES: OUT OF THE SHADOWS AT LAST
The new biography Jackie Ormes: The First African American Woman Cartoonist (264 8.5x11-inch pages, some in color; U. of Mich. Press, $35) by Nancy Goldstein, who thought she'd write a book about dolls but got distracted, is out, not quite in time for Black History Month, but almost. Ormes (1911-1985), whose maiden name was Zelda Mavin Jackson, was dubbed "Jackie" early in life, an invocation of her last name by relatives of the stepfather she acquired when her mother married again following the death, in an auto accident, of her biological father, William Winfield Jackson. And when in 1931 Jackie married Earl Clark Ormes, a man seven years her senior, the neophyte cartoonist's re-christening was complete. When Earl died 45 years later, they were still married, but by then, Jackie had worked in weekly African American newspapers, starting at the Pittsburgh Courier and then at the Chicago Defender, as a reporter and writer and had also produced a string of cartoon features: a weekly comic strip in daily format, Torchy Brown in "Dixie to Harlem," May 1, 1937 - April 30, 1938; Candy, a panel cartoon about a wise-cracking housemaid, March 24 -July 21, 1945; another panel cartoon, her longest running, Patty-Jo and Ginger, September 1, 1945 - September 22, 1956; and, concurrently, a Sunday comic strip in color, Torchy Brown in Heartbeats, August 19, 1950 - September 18, 1954, often accompanied by Torchy's Togs, in which Torchy appeared as a paper-doll with an impressive wardrobe clustered around her, demurely attired in her undies or a swimsuit—she was, in short, a pin-up, bearing a remarkable resemblance to her diminutive creator. None of Ormes' cartoon oeuvre was syndicated nationally in the usual sense, but the Courier had fourteen regional editions, so Torchy and Patty-Jo were known far beyond Pittsburgh's city limits. Most black newspapers of the time were vehicles of social uplift, dedicated to championing black citizens' causes and advocating their interests, and Ormes' cartooning was devoted to the same project.
The biography, to which Goldstein was prompted by her interest in dolls, becoming diverted when she learned that the first "Negro" doll, Ormes' Patty-Jo, was based upon the cartoon character, is the shortest part of the book—about 90 pages of text, plus a 23-page chapter about Jackie's doll-making career. Most of the remainder of the volume reprints healthy samples of Ormes' panel cartoons and strips, many not seen since their initial publication in black newspapers—enough of each that, for the first time, we have a good idea of just how, for instance, Torchy Brown's 1950s incarnation was different than her initial appearance in the 1930s: the latter was a humorous continuity about a small-town girl venturing into the big city; the former, a serious adventure strip, in which Torchy is menaced more than once by would-be rapists. Unhappily, the reproduction of Ormes' work is sometimes problematic: Goldstein had to use microfilm for the Dixie strips, Candy, and many of the Patty-Jo panels, but she also found 25 Patt-Jo originals and included those. Heartbeats, reproduced from tearsheets, is all in color, 19 pages of it, the longest stretch I've ever seen of the strip for which Jackie Ormes is most remembered. But it was in Patty-Jo and Ginger that the cartoonist often took a stand on many of the controversial political and cultural issues of the day, speaking openly and critically about racism, the arms build-up, and current foreign policy and in favor of voter awareness and feminist concerns—"stuff hardly seen in the mainstream newspapers," Goldstein notes, "all done by a black woman." Although Jackie was fair-skinned enough to pass for white, she was much too dedicated to African American causes to abandon her birthright.
The section reprinting Patty-Jo and Ginger is the longest in the book, 44 pages with two cartoons to a page, each extensively annotated by Goldstein, who explains the social context of the comedy. Having never beheld this feature before, I was intrigued by its unusual rhetoric. Patty-Jo, a girl of about 8 or 9, gets all the lines, often speaking out against racism or some other societal hang-up, while her older sister, Ginger, a statuesque beauty, never talks at all: she is just there, standing or posturing in ways that display her admirable figure or her high fashion frocks. Ginger, in other words, is a pin-up, Ormes' canny come-on that seduced readers, female (for the fashions) as well as male (for the sex appeal), so Patty-Jo could lay short socially conscious sermons on them. So successful was Jackie at this maneuver and so outspoken on liberal issues such as racial equity and the folly of American foreign policy both in the cartoon and in activist organizations that she was investigated by Edgar Hoover's FBI, and Goldstein presents the evidence: one of the appendices of the book consists of excerpts from Ormes' FBI file, including paraphrases of Jackie's testimony when questioned about her involvement with so-called Communist front groups: "Ormes pointed out that being a member of a minority group and a liberal she could clearly see where she might be misled by the programs of front groups without necessarily seeing the underlying objectives of such organizations." She also said she thought the Communist movement was somewhat innocuous, "constituting no apparent threat to the continued existence of this country's form of Government."
Although Jackie Ormes worked in daily journalism, she was a member of the elite black social set in Chicago for most of her adult life. Her childhood was spent in Monongahela, Pennsylvania, and she lived and worked for seven years in Pittsburgh, but she moved to the Windy City in 1938, when the "Chicago Renaissance" in black culture was surfacing in the wake of the dissipating "Harlem Renaissance" in New York. Bronzeville, South Side Chicago, reportedly was "the largest Negro city in the world" after Harlem. Jackie's husband had started in banking in Pittsburgh, but the Depression elbowed him out of that occupation, and in Chicago, he became manager of the DuSable Hotel, known for its black celebrity clientele. After ten years there, he took a similar position at the Sutherland Hotel, one of the classiest in the area, where all the visiting black dignitaries bunked when in town. In Pittsburgh, Jackie numbered Lena Horne and Billy Eckstine among her friends; in Chicago, possibly Duke Ellington and Count Basie. Her feisty demeanor and professional success in almost every endeavor masked a tragedy Jackie suffered early in life when her only child, a daughter named Jacqueline, died in 1936. Goldstein writes: "Treatments for childhood cancers were not advanced in the 1930s, and at the age of three-and-a-half, Jacqueline died while cradled in her mother's arms. According to her sister Delores, Jackie was determined not to bear more children or to go through heartache like that again. She was always to keep her sorrow to herself, never speaking about Jacqueline, except once to tell Delores, 'I will never lose my empty arms.'"
Despite its seeming brevity, this book is excellent, a revealing and thoroughly documented glimpse into African American life of the times, the racist mores of the era, and the professional and personal life of a little-known but oft-celebrated figure in the history of American cartooning. Goldstein is scholarly without being pedantic, performing extensive research into the existing record of Ormes' oeuvre and interviewing the cartoonist's surviving relatives, who, upon learning of Goldstein's interest, shared family stories, newspaper clippings, and photographs. Get this one and keep it. Here are samples of the book's visual content.
PASSIN' THROUGH
We're All Brothers, and We're Only Passin' Through
Dave Stevens
1955-2008
From the Los Angeles Times, by Valerie J. Nelson, verbatim:
Dave Stevens, an artist best known for creating The Rocketeer comic book, which reflected a fascination with Bettie Page that brought the 1950s pin-up queen renewed attention, has died. He was 52. Stevens, whose home was in North Hollywood, died Monday, March 10, at Emanuel Medical Center in Turlock, Calif., from complications related to treatment for leukemia, said his friend and fellow artist William Stout. In 1981, Stevens was working as a commercial illustrator when a friend asked him to contribute a story to a comic book. His "throwaway idea," as he called it, was a succinct ode to 1930s-style, pulp-fiction adventures and movie serials. The comic book— in which a stunt pilot battles evil after finding a rocket-powered backpack— became a cult success. A decade later it was made into the live-action Disney movie "The Rocketeer" with Billy Campbell as the title character.
In trying to explain the comic's popularity, author Harlan Ellison wrote in the introduction to the 1985 graphic novel The Rocketeer: The comics "are hip-deep in the right kind of nostalgia ... adventure and affection, melded in just the right way. ... Disney was attracted to the story because it had "a clear heroic structure ... an innocent guy stumbles on something and ends up saving the world ... and it was a world we hadn't seen before," David Hoberman, then president of Touchstone and Walt Disney Pictures, told The Times in 1991.
The Art Deco look that defined "The Rocketeer" had preoccupied Stevens since childhood. He grew up saving photos of old planes, trains and buildings— streamlined designs that were "so much more charming than the world I found around me," he told the Seattle Post-Intelligencer in 1991. Stevens served as a producer on the film, giving input on architectural details. He also designed the helmet that the Rocketeer wears in the movie. Writing in The Times in 2003, Geoff Boucher called The Rocketeer comic "sexy, irreverent and snappy" and said the movie "had an Indiana Jones-like bonhomie." The comic's square-jawed hero, Cliff Secord, bore more than a passing resemblance to the soft-spoken Stevens.
The female love interest, a lingerie model, was drawn as a tribute to pin-up Page. "Bettie was a look, a standard of beauty that I spotted as an adolescent," Stevens told the Post-Intelligencer. The attention the retired Page received because of the comic book helped revive interest in her. Stevens paid Page to use her likeness and helped her get paid by publishers who used her image, friends said. Artist and subject became friends, which led Stevens to marvel: "After years of fantasizing about this woman, I'm now driving her to cash her Social Security checks." Stevens' brief marriage to B-movie queen Brinke Stevens in the early 1980s ended in divorce.
Mark Evanier, a comic book and television writer, observed that Stevens "was a student of great glamour illustrators from the past, a brilliant artist and a meticulous craftsman" with perfectionist tendencies. "For the several years he did The Rocketeer, it was enormously popular, but it only came out every time Halley's Comet passed," Evanier joked of the serial's eight installments. "He was so fierce about doing it properly."
Born July 29, 1955, in Lynwood, Stevens was the son of a "frustrated cartoonist" father who taught him to draw, he told The Times in 1991. From early childhood, he was a fan of movie serials and vintage aircraft. After graduating from high school in Portland, Ore., he attended San Diego City College for two years. In 1975, he was hired to help Russ Manning draw his Tarzan newspaper comic strip. Within two years, Stevens was a freelance illustrator, creating concepts to advertise such movies as "Superman II" and "Melvin and Howard," the 1991 Times story said. He also helped draw the storyboards for the 1981 film "Raiders of the Lost Ark" and Michael Jackson's "Thriller" video in 1983.
After "The Rocketeer," Page remained central to Stevens' art, and he continued to draw and sell classic glamour-style prints of the model and other women. He was inspired by 1930s pin-ups commonly referred to as "cheesecake," said Stout. "His pin-ups weren't salacious. They had a charm and innocence, humor and mischievousness," Stout said. "Whatever he did, he did it with sort of a wink."
Stevens is survived by his mother, Carolyn; and a sister, Jennie.
To find out about Harv's books, click here.