Opus 216 (Christmas 2007). Our anyule greeting this year is a relic of another time, which seems, nonetheless, still a propos. Even more so, and regrettably. In preparing to move the Intergalactic Headquarters of the Rancid Raves Wurlitzer last summer, I unearthed a box that had somehow become lost in the corner of a closet over three decades ago and never unpacked. In it, I discovered remnants of my Lost Youth, including copies of a monthly magazine, the Fighting Cock, named for the mascot of the USS Saratoga—a ship since decommissioned and, I assume, sunk at its moorings (this is the first time since the Revolution that the U.S. Navy hasn't floated a ship named Saratoga)—to which I was attached during that brief period between wars in the early 1960s. I drew cartoons and a comic strip for the magazine, and for the Christmas issue in 1962, I produced a three-color cover depicting an ingenious sailor who has tattooed his seasonal greeting on his ample belly, expecting to get mailed home with all the other Christmas cards. It's a sentiment that I'm sure might infect this generation of sailors and soldiers, stationed in the Persian Gulf or in Iraq or Afghanistan.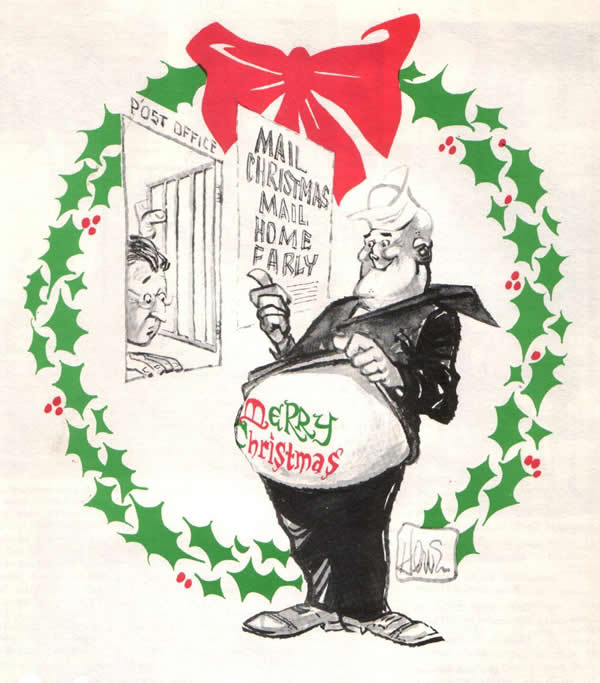 Our bag of gifts for you at this time of year includes an assortment of 'tooner Christmas cards from yesteryear, taken from the December issue of Slice of Wry, the newsletter of the Southern California Cartoonists Society, ably edited by Terry Van Kirk, who assembled these specimens from who knows where.
Beyond that, our chief focus this time is on a Round-up of the Events of the Cartooning Year—best books, best strips, best comics, etc. The usual array of year-end topics, but this conglomeration includes reviews of some books I haven't even read yet, a feat of criticism nearly overwhelming in its audacity. But we are nothing here if not audacious. The sensation of this Opus is ex-Mormon editooner Steve Benson's outing of Mitt Romney's fraudulent claim to political independence. We also include an entirely superfluous essay on the pagan and Christian origins of Hallowe'en and Christmas, say a fond appreciative farewell to Al Scaduto, and offer one more excerpt from Meanwhile, my biography of Milton Caniff (to which I've shamelessly appended a review of the book by Allan Holtz and several samplings of other reviews of the book, all, naturally, stupendously enthusiastic). Here's what's here, in order, by department:
<![if !supportEmptyParas]> <![endif]>
<![if !supportEmptyParas]> <![endif]>
<![if !supportEmptyParas]> <![endif]>
Corrections and Up-Dates
NOUS R US
Watterson Documentary?
Another Post-9/11 Graphic Novel by Jacobson and Colon
Marjane Satrapi Doesn't Like "Graphic Novel"
Disney Religion
Dagwood Shoppes Lets HQ Staffers Go
Spider-Man's Appeal
Wonder Woman's Feminism?
<![if !supportEmptyParas]> <![endif]>
THE TRUTH ABOUT ROMNEY'S MORMONISM
From Ex-Mormon Editoonist Steve Benson
<![if !supportEmptyParas]> <![endif]>
Sundblom Was Santa Claus
<![if !supportEmptyParas]> <![endif]>
HALLOWE'EN AND YULETIDE
An Essay on Origins both Pagan and Christian
<![if !supportEmptyParas]> <![endif]>
ROUNDING UP 2007
Best Books of the Year
Reprint Landmarks
Comic News Events of the Year
Best and Worst Comic Strips
The Worst Thing
Best Comic Books
Anniversaries
Deaths
<![if !supportEmptyParas]> <![endif]>
PEEVES & PERSIFLAGE
Colorado Shooting and the Gun Lobby
<![if !supportEmptyParas]> <![endif]>
Mallard Filmore and Hillary Clinton
<![if !supportEmptyParas]> <![endif]>
AL SCADUTO: Saying Farewell
<![if !supportEmptyParas]> <![endif]>
FUNNYBOOK FAN FARE
Fear Agent, Killing Girl, Blackgass
Warren Ellis Speaks
<![if !supportEmptyParas]> <![endif]>
DEPARTMENT OF SHAMELESS PROMOTION
Exerpt from Meanwhile—A Biography of Milton Caniff
Review of Meanwhile by Allan Holtz
The "Best" of the Other Reviews of Meanwhile
<![if !supportEmptyParas]> <![endif]>
<![if !supportEmptyParas]> <![endif]>
And our customary reminder: don't forget to activate the "Bathroom Button" by clicking on the "print friendly version" so you can print off a copy of just this lengthy installment for reading later, at your leisure while enthroned. Without further adieu—
<![if !supportEmptyParas]> <![endif]>
<![if !supportEmptyParas]> <![endif]>
<![if !supportEmptyParas]> <![endif]>
CORRECTIONS AND UP-DATES
Right Up C'here, In Front Where You Can't Miss It
Sorry, my mistake—Newsday is not, as I averred last time, without a full-time staff editoonist. Walt Handelsman, who won the Pulitzer last year, is on staff there, all the time.
And "the Girl of Qatif" who was sentenced by a Saudi Arabian court to prison and 200 lashes after being gang raped was pardoned last week by King Abdullah. Her offense, you'll recall from Opus 215, was being in a car with a man she was not related to when seven men attacked and raped them both. Her sentence shocked many in the West, including George WMD Bush, who said if the same thing happened to one of his daughters, he would be "angry at those who committed the crime. And I'd be angry at a state that didn't support the victim." Such strong criticism coming from Saudi Arabia's strongest ally may have induced the Saudi monarch to (as he put it) "alleviate the suffering of his citizens" even though, in this case, he was, he said, convinced that the initial verdict was fair.
<![if !supportEmptyParas]> <![endif]>
<![if !supportEmptyParas]> <![endif]>
<![if !supportEmptyParas]> <![endif]>
NOUS R US
All the News That Gives Us Fits
Caricatures and animation can help catch criminals, according to a study by Charlie Frowd reported at gadgetell.com by Colbert Low. Recognition rates improve among eye witnesses to crimes when they see the accused miscreant's facial features exaggerated in caricature. ... On the criminal side, at Rikers Island prison in New York, inmates who are enrolled in art classes were recently assigned to design a comic book, said Carrie Melago at the New York Daily News. One prisoner came up with Hood Surfer, "a teen from Brooklyn who gets hit in the head by a meteor, causing his skateboard to float." Sound a little familiar? According to his creator, Darius Welch, an 18-year-old facing burglary and grand larceny charges, the Hood Surfer "decided to start saving the 'hood.'" ... A film about Bill Watterson, the reclusive creator of Calvin and Hobbes, may be in the offing. Guest blogger Charles Brubaker said at DailyCartoonist.com that cartoonist Keith Knight of The K Chronicles has been interviewed for a Watterson documentary. I doubt that Watterson himself will show up for it. ... The original art for a 1955 Peanuts strip depicting Charlie Brown and other baseball players in the rain went for $113,525 at an auction held by the Heritage Auction Galleries of Dallas, saith Editor & Publisher, adding that DailyCartoonist blogger Alan Gardner attributed the high price partly to the controversial biography of Charles Schulz by David Michaelis. ... Sid Jacobson and Ernie Colon will be back in August 2008 with a sequel to their 9/11 Report graphic novel. In the new 160 6x9-inch page book, entitled After 9/11: America's War on Terrorism (2001 - ), they intend to portray "what we knew and when, and how we ended up where we are—how America's War on Terror unfolded and unraveled." My guess is that this book will do much better than the last.
Back at the Beloit Daily News, which suspended Wiley Miller's Non Sequitur because a chicken in a KKK hood seemed, to some, racist, editor William R. Barth announced on December 18 that the paper's readers had spoken: Non Sequitur would return to the funnies page. "The Daily News garnered a bit of national publicity over the chicken affair," Barth said in announcing the verdict, "—though not necessarily the kind we'd want. There's a big difference, of course, between suspending a feature and canceling it. Non Sequitur, like other features that run in the newspaper, is there by invitation. That invitation can be withdrawn at any time, for any reason," he finished, menacingly. "That's not censorship. That's business." Barth also complained, good naturedly, about cartoonists "sticking together." He cited the online and syndicated strip The New Adventures of Queen Victoria, which consists of a static succession of photos of ol' Vicky puffing speech balloons of wisdom. (You can see it at GoComics.com.) In this case, on December 15, three weeks after the Daily News suspended Non Sequitur, we see her apparently picketing the Beloit Daily News, saying: "Don't you see? By killing a cartoon because it was against the KKK, you put your paper in the position of supporting the KKK!" A voice from inside the newspaper office says: "That logic escapes me." To which Vicky retorts: "As does all logic. Good day, sir."
Marjane Satrapi, who was approached by Hollywood to turn her graphic novel, Persepolis, into a film almost as soon as the book came out, didn't, at first, want to make a film. "I thought it was the worst idea," she told Jamin Brophy-Warren at the Wall Street Journal. "But they give you enough money and you can have a studio—you have to be crazy to say no." The animated feature was hand-drawn in France rather than being computer-animated in Asia because Satrapi isn't computer literate. "I don't know how to write email," she said. But she was the co-director of the film, and so it had to be hand-drawn so that she would understand what was going on: "If you don't understand it, you can't make changes," she explained. She doesn't like the term "graphic novel," by the way. "It's a word that publishers created for the bourgeois to read comics without feeling bad. Comics is just a way of narrating. It's just a media type. Chris Ware doesn't like it either: he says it sounds like Lady Chatterley's Lover."
A religious studies professor at Memorial University of Newfoundland will be teaching the Disney religion in a course called "Religion and Disney: Not Just Another Mickey Mouse Course" (RELS 3812), a title nearly provocative enough to induce me to enroll long-distance. Professor Jennifer Porter believes, quite sensibly, that "belief systems" are implicit in all Walt Disney's films. That's scarcely a novel notion: any film by any filmmaker, any work of art by any artist, embodies the maker's beliefs. In Disney's case, however, the beliefs doubtless reflect Disney's upbringing in a conservative Christian home. Said Porter: "There's a faith component embedded in them all. ... [But] Disney movies seem to deliberately avoid direct religious references and favor supernatural intervention rather than divine intervention. We'll study what went into his decision to avoid religious references, to make religion generic, to have his characters sing songs instead of offer prayers at crucial moments." Disguising religion is an honored Hollywood tradition: how else do you market movies to the largest number of viewers?—a number likely to include the full range of American religious convictions.
The main attraction at Dagwood Sandwich Shoppes is a 1 ½ -pound, double-decker, 24-ingredient behemoth called "The Dagwood," priced at $8.90. The plan for the restaurant chain, launched in May 2006, was similarly ambitious, reports Richard Mullins at the Tampa Tribune. Dean Young, manager of his father's legacy, the comic strip Blondie, and restaurant executive Lamar Berry planned to sell about 100 marketing territories in the U.S. for $200,000-300,000 each. Those who bought them would, in turn, sell franchises at $220,000 apiece. The company's website lists 20 locations, including 13 built and operating and the remainder under development. But apparently the plan is not unfolding rapidly or remuneratively enough to support the corporate headquarters, which has laid off most of its staff. Presumably, the headquarters operation was mostly selling territories and franchises, for which it once employed "probably fewer than 100 people" but now gets by with only four. The Sandwich Shoppes are still open and building Dagwoods, and the company has no immediate plans to do anything otherwise with them.
On January 9, The Amazing Spider-Man will begin shipping three times a month for the new story arc, "Brand New Day," with editor Steve Wacker holding the reins. In a Marvel Comics news release, Ben Morse asked Wacker why Spider-Man "continues to endure as such a popular character." Said Wacker: "It all boils down to Peter Parker. He's as approachable and as likable a charger as you can find in literature. There are Peter Parkers in everything we read and watch [today], so it's probably easy to forget how novel a character he was when Steve Ditko and Stan Lee create him." Everywhere thereafter, heroes with problems popped up. "I think there's a certain amount of 'watching a car wreck' for a lot of readers," Wacker continued, "where we can't wait to see what goes wrong for Pete. I also think readers all have that same feeling that if we had these powers, we could find a way to use them effectively to make a better life for ourselves. Peter Parker on the other hand sees them as a curse and can't seem to stop letting his secret life screw up his private one." In the new story arc, Wacker said, "we're going to take some time to really explore and expand the supporting cast in a way that I don't think has been done for a long time."
Grady Hendrix in the New York Sun notes that Wonder Woman's creator, William Marston, "never intended Wonder Woman to be a feminist." A psychologist who lived with his wife and lover in a cozy menage a trois—"both women served as inspiration for Wonder Woman"— Marston "felt that women were more honest and unfailing than men, and he championed their ascent in society." He also wrote stories in which bondage was a theme. Wonder Woman's newest writer, a former hairdresser named Gail Simone, says she has no agenda for her stories. "I just want to give the reader as good a story as I can write," she said. In the first Simone story, Wonder Woman suddenly realizes that the gorilla [sic] gang she's fighting is not evil—just misguided. "She lets them move into her apartment but only after their leader kneels and kisses her lasso." Thus, Hendrix concludes, "while the new Wonder Woman series portrays its heroine as strong and compassionate, it also carries a whiff of slightly sexualized dominance." In other words, Wonder Woman is, again, "just the way her creator wanted her." I think, though, that Hendrix means "guerilla" not "gorilla."
The building that was built in Boca Raton, Florida, to house the International Museum of Cartoon Art has been standing empty since Mort Walker moved the IMCA out several years ago, but next fall, an upscale, rodizio-style steakhouse, ZED451, will open on the ground floor of the two-story building, reports Alexandra Clough at the Palm Beach Post. Another part of the building will be occupied by a bookstore. The building is being renovated and transformed into a multi-use complex. A cultural-arts center will move into the second floor, and another restaurant will fill out the rest of the ground floor.
<![if !supportEmptyParas]> <![endif]>
<![if !supportEmptyParas]> <![endif]>
<![if !supportEmptyParas]> <![endif]>
ROMNEY, MORMONISM, AND THE TRUTH ACCORDING TO
CARTOONIST STEVE BENSON, EX-MORMON
By Dave Astor
Published in Editor & Publisher online: December 18, 2007; 3:50 pm
<![if !supportEmptyParas]> <![endif]>
Steve Benson, editorial cartoonist for the Arizona Republic and a grandson of Ezra Taft Benson, once Mormon church president, left the church in 1993, the same year he won the Pulitzer. One of the reasons he left the church, he told Dave Astor at Editor & Publisher, was because he was disgusted by Mormon officials trying to fool church members and the general public into believing that his 94-year-old grandfather was still capable of leading the church. "He was not mentally or physically in a place where he could make any meaningful decisions," Benson said. "I know it because I saw his condition with my own eyes." Possessed of an acerbic and inventive wit, Benson, for as long as I've known him, has never been bashful about expressing his opinions—a valuable occupational hazard for political cartoonists. He has been critical of George W. ("Warlord") Bush, and he opposes the war in Iraq. After Romney's press conference on religion and politics in America, Astor contacted Benson to get his take on Romney's presentation. Benson was not impressed. In fact, it would be fair to say he was aghast. He refers to his former religion as a "cult," and he is highly critical of Romney's attempt to convince Americans that his being a Mormon would not affect his behavior in the Oval Office. Here's Astor's article, verbatim and entire except for the portions I've already quoted in the foregoing.
<![if !supportEmptyParas]> <![endif]>
<![if !supportEmptyParas]> <![endif]>
As an ex-Mormon, Arizona Republic editorial cartoonist Steve Benson has strong opinions about current Mormon Mitt Romney. He said the Republican candidate's recent speech on religion should not be trusted by media people and other Americans. In his talk, Romney said "I believe in my Mormon faith" while also noting that the church's "teachings" would not influence his decisions if elected president.
"Yeah, right," responded Benson, adding that "Romney also believes in misrepresenting what his Mormon Church actually espouses."
Benson told E&P that, in his view, a Mormon believer is required by church doctrine (as dictated by the church's "living prophet") to "obey God's commands" over anything else. He said "Romney, like all 'temple Mormons,' made his secret vows using Masonic-derived handshakes, passwords, and symbolic death oaths that he promised in the temple never to reveal to the outside world"—and that Romney also secretly vowed to devote his "time, talents" and more "to the building of the Mormon religion on earth."
So, said Benson, the only way Romney could be truly independent of the church as U.S. president would be to disavow Mormon doctrine. "He hasn't done that," said the Creators Syndicate-distributed cartoonist.
"When Mitt says he belongs to a church that doesn't tell him what to do, that's false; it's a 24/7, do-what-you're-told-to-do church," asserted Benson.
Benson said journalists have basically given Romney a free pass on the "fundamental contradiction" between being an observant Mormon and a U.S. president. "Most journalists don't know about actual Mormon teachings and practices," noted the cartoonist, adding that they instead see the religion as perhaps "strange" but "rather benign."
Romney "needs to face an informed member of the media with 'cojones' who has a working and perhaps personal experience with Mormonism," said Benson. "It would be harder for Romney to do his well-practiced duck and dodge."
Benson himself drew a post-Romney speech cartoon that pictured John F. Kennedy saying "Ask not what your country can do for you..." followed by Romney saying "...do whatever it takes for me to win Iowa." (Many people believe Romney gave what he hoped would be a JFK-like speech on religion because he was losing support in Iowa.) But Benson said he hasn't heavily focused on Romney's Mormonism in other cartoons. "Religious issues are very touchy," he said. "I do what I can, but I pick my battles."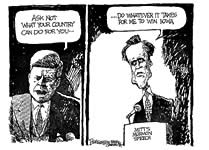 Another reason Benson distrusts the words in Romney's speech is because the candidate has changed his public positions on issues such as abortion and gay rights to woo conservative GOP voters in states like Iowa rather than the more liberal voters he once courted to become governor of Massachusetts. "He flips and flops like Jesus is coming tomorrow," said the cartoonist. "It's like Romney is reading from the Mormon Church playbook."
Benson explained his last comment by noting that the Mormon Church has also "publicly flipped 180 degrees when it feels it's necessary for its image, for its financial solvency, and for political expediency." He mentioned, by way of example, that black Mormons weren't allowed into the priesthood until 1978. And while polygamy has been publicly disavowed by the Mormon Church, Benson said "the church still holds that it will be practiced as a matter of eternal doctrine in heaven. The church also currently performs polygamist marriage 'sealings' in its temples around the world."
Benson predicted that Romney will not win the Republican presidential nomination. If Romney is nominated, added the cartoonist, he will not defeat his Democratic opponent.
Voters, said Benson, "are not ready for someone in the Oval Office who has committed to absolute obedience to a religion they feel is extremely odd and not in the American mainstream. I trust the rational U.S. electorate, not the weird Mormon God."
<![if !supportEmptyParas]> <![endif]>
<![if !supportEmptyParas]> <![endif]>
Immediately upon publication of the preceding article, Benson began to receive responses, by the bushel. Astor talked to him again about the reactions and on December 20, wrote the following report for E&P Online (here, verbatim):
<![if !supportEmptyParas]> <![endif]>
When editorial cartoonist Steve Benson criticized Mormon Mitt Romney in an E&P story earlier this week, reaction was fast and furious. Many blog posters backed Benson, but many others blasted the grandson of former Mormon Church President Ezra Taft Benson. For instance, they asked why the Arizona Republic/Creators Syndicate cartoonist didn't also criticize Mormon politicians such as Democrat Harry Reid, and they said Benson's 1993 switch from Mormonism to ex-Mormonism made him as much of a "flip-flopper" as he accused Republican presidential candidate Romney of being.
E&P called Benson again today to get his response.
Benson—who contended in the earlier story that a devout, "temple-endowed" Mormon U.S. president can't be truly independent of the Mormon Church—said he didn't criticize Reid because the Senate Majority Leader "is not making an issue of his Mormon devotion. He's not standing up in a carefully orchestrated stage play and explaining his religion to the American people. Romney's speech was a tactical move to woo fundamentalist Christians in the hotly contested Iowa political caucus. He invited this scrutiny. And, unlike Romney, Reid's not running for the most powerful position in the free world."
The cartoonist continued: "Besides, it doesn't seem that Harry Reid's religion is as strong an operating force in his life or decisions as it is for Romney." Benson added with a laugh: "How could it be, given the conservative politics of most Mormons. Hell, Reid's a Democrat!"
Responding to the flip-flop charge, Benson said he left Mormonism because church leaders were misrepresenting his aged grandfather's health and because of the "sexist, racist, and homophobic" aspects he saw in the religion. But Romney, said the 1993 Pulitzer Prize winner, has jettisoned liberal positions out of "political expediency" as the former Massachusetts governor tries to convince conservative GOP voters to make him their presidential candidate.
"I'm not running for political office," said Benson. "I left Mormonism with no pretense of remaining devout— and I didn't do the Romney act of staying in while changing my spots faster than a leopard on steroids."
When asked his reaction to the negative e-mails he has received and the critical blog posts that have been written since the E&P story, Benson said he isn't surprised that Mormons are very defensive about his comments.
"One of my Mormon critics called me a 'turncoat,'" Benson e-mailed after today's phone interview. "So I asked him to be a good Christian, do what Jesus would do and give me his own coat. Haven't see the coat yet. Anyway, like the old saying goes, 'hit pigeons flutter.'"
But the cartoonist feels no one has disproved anything he said about Romney or the nature of Mormonism's secret temple oaths and rituals. "The proof is in the pudding," Benson said in the e-mail. "The trouble is, the Mormon Church doesn't want anyone to go poking around in its pudding."
The previous E&P article— which can be seen here—links to the many negative and positive blog comments made about Benson and Mormonism. It can be found at:
http://www.editorandpublisher.com/eandp/news/article_display.jsp?vnu_content_id=1003686826
<![if !supportEmptyParas]> <![endif]>
<![if !supportEmptyParas]> <![endif]>
Fascinating Footnote. Much of the news retailed in this segment is culled from articles eventually indexed at http://www.rpi.edu/~bulloj/comxbib.html, the Comics Research Bibliography, maintained by Michael Rhode and John Bullough, which covers comic books, comic strips, animation, caricature, cartoons, bandes dessinees and related topics. It also provides links to numerous other sites that delve deeply into cartooning topics. Three other sites laden with cartooning news and lore are Mark Evanier's www.povonline.com, Alan Gardner's www.DailyCartoonist.com, and Tom Spurgeon's www.comicsreporter.com. And then there's Mike Rhode's ComicsDC blog, http://www.comicsdc.blogspot.com For delving into the history of our beloved medium, you can't go wrong by visiting Allan Holtz's http://www.strippersguide.blogspot.com, where Allan regularly posts rare findings from his forays into the vast reaches of newspaper microfilm files hither and yon.
<![if !supportEmptyParas]> <![endif]>
<![if !supportEmptyParas]> <![endif]>
<![if !supportEmptyParas]> <![endif]>
Xmas Factoids
In 2006, a British Reader's Digest survey found that the "top white lie parents tell their children" is about the existence of Santa Claus, reported Mike Pearson at the Rocky Mountain News, "—followed by the Tooth Fairy, the assertion that carrots give you good night vision and that picking your nose causes your head to cave in and your nose to fall off."
The Amalgamated Order of Real Bearded Santas has more than 1,000 members.
Haddon H. Sundblom unwittingly did more to make the Santa Claus icon than he did to sell Coca Cola in the winter, and he did plenty for Coke: winter is not an auspicious season for marketing cool drinks, but Sundblom's apple-cheeked Santa, sipping a Coke as he filled stockings from the late 1930s to the mid-1950s, convinced people that the soft drink was a year-around beverage. According to James B. Twitchell in his Twenty Ads That Shook the World, Sundblom's first model was a salesman friend, Lou Prentis of Muskegon, Michigan, but after Prentis died, "Sundblom went to the mirror and painted himself. Haddon was a big man and a big drinker. Mrs. Claus was based on Mrs. Sundblom."
Famous People Born on Christmas Day:
Sir Isaac Newton (1642), Humphrey Bogart (1899), Alice Cooper (1945).
Famous People Who Died on Christmas Day:
W.C. Fields (1946), Charlie Chaplin (1977), Dean Martin (1995), James Brown (2006).
<![if !supportEmptyParas]> <![endif]>
<![if !supportEmptyParas]> <![endif]>
<![if !supportEmptyParas]>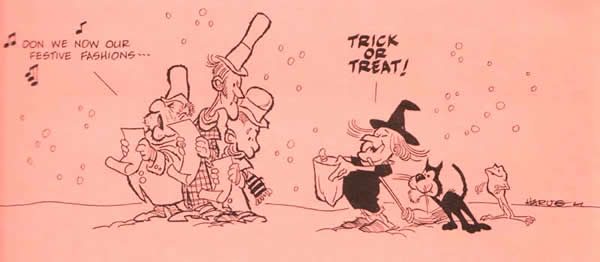 <![endif]>
.
HALLOWE'EN AND YULETIDE
An Essay for the Occasion
Nothing terrifies the Righteous quite as much as a secular holiday. Hallowe'en is suddenly vulnerable. It was, until recently, the sixth most profitable American holiday—after, in order, Christmas, Mother's Day, Valentine's Day, Easter, and Father's Day. Lately, I suspect, judging from the amount of black and orange detritus on display in stores as early as Labor Day, Hallowe'en has moved up on the list and may be second to Christmas. And nothing proclaims secularity quite as persuasively as a bloated but satisfied profit motive. But Hallowe'en terrifies the Righteous for another reason: all those witches and goblins and ghosties roaming the neighborhood give the holiday a Satanic nimbus. Letters protesting the worship of the Devil poured into the local public prints this fall. They all objected to giving countenance to this hell spawn festival that might also be of pagan origins. I had to smile: Hallowe'en is no more a pagan holiday than Christmas.
The clue to its origins is in the name, a contracted form of "hallow even," the eve (or evening, the day before) of All Hallows' Day, now known as All Saints' Day, a Christian feast. Until 835 C.E., when Pope Gregory IV moved All Saints' Day from May 13 to November 1, Hallowe'en was, indeed, a pagan festival, celebrating the end of the harvest season in Ireland and elsewhere. Moreover, the ancient Gaels got extra mileage out of the event by believing that on October 31, as Wikipedia puts it, "the boundaries between the worlds of the living and the dead overlapped, and the deceased would come back to life" and wander around, infesting the neighborhood with their hideous apparitions. Later, during the Roman occupation of the Celtic country, various Latinate traditions were incorporated into the festivities, among them, Feralia, a day in late October that celebrated Pomona, the goddess of fruit, whose symbol was the apple (from whence, we suppose, the present pastime of bobbing for apples came). A venerable vegetable is also associated with Hallowe'en—the humble pumpkin. In Ireland, where the practice of carving a vegetable originated, the carving was performed on a turnip because, apparently, they had no pumpkins. In the U.S., pumpkins were more readily available and were larger and easier to carve. The carved pumpkin with its facial features illuminated from within where a brain should be is often called a jack-o'-lantern after the Irish legendary character, Stingy Jack, "a greedy, gambling, hard-drinking old farmer who tricked the devil into climbing a tree and trapped him by carving a cross on the trunk of the tree; in revenge, the devil cursed Jack, dooming him to forever wander the earth at night." The Hallowe'en cover of The New Yorker reminds us that we have our own Stingy Jack in Darth Cheney, who is parsimonious with news about government operations, sneaking around to launch nefarious plots in secret and tricking his countrymen up a tree, where we remain to this day, helpless and nearly impoverished by Jack's machinations.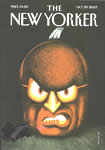 Gregory's choice of the date to move All Saints' Day to is consistent with a common early Christian practice of spreading its beliefs by superimposing on a pagan festival a Christian holiday, thereby overlaying an ungodly event with a new religious observance. This maneuver slipped the new religion in on the devotees of the previous one that already had a religious significance for the native population, so it was a simple matter to convince them to incorporate other nuances of theology into their rituals. And since the local populace could continue to celebrate its traditional pagan rites albeit under a different name, they were easily "converted" to the new religion.
State religions had followed this strategy for centuries. When the nomadic Greeks, who worshiped a male god, Zeus, swept down the Greek peninsula and conquered a succession of agricultural communities that revered goddesses, usually an Earth Mother who guaranteed the fertility of the land, the invading Greeks invariably arranged for Zeus to wed the goddess. The marriage assured the Greeks that the conquered tribe would be obedient to their new masters just as the wife was always obedient to her husband. As a simple historical matter, the Greeks' repeated deployment of this tactic resulted in Zeus having several wives or mistresses, all preserved in the mythology of the culture.
It is doubtful, however, that the lamination of All Saints Day onto the pagan All Hallows Day was another manifestation of the ancient Greek practice. We're told there seems to be no actual evidence that Gregory chose November 1 for this reason. But there is ample evidence that late December was chosen as the time of Jesus' birth for precisely the Greek reason—to entice pagan Romans to convert to Christianity without losing their winter festival, Saturnalia, which, like similar events in other pagan cultures, celebrated the winter solstice. In pre-Christian Britain, the winter solstice festival was called "geol," from which the present "yule" is derived. The New Testament doesn't give us a date for the birth of Christ, so early Christians made one up. It's not known, however, when or why December 25 was chosen. The most important gods in the Mideastern pagan religions of Ishtar and Mithra were born on December 25, so maybe that date was elected to make it easier for adherents of these religions to convert to Christianity. But December 25 was not popularized as the date of Jesus' birth until 221 C.E.; according to Wikipedia, that's when Sextus Julius Africanus wrote about it in his Chronographiai, a reference book for Christians.
In any event, it's clear from the histories of Hallowe'en and Christmas that both have their origins in pagan customs. So if we are to eschew Hallowe'en for its paganism, we must, perforce, abandon celebration of Christmas for the same reason. And there would be nothing new in that.
Celebration of Christ's birthday was not, at first, encouraged. "In 245 C.E., the theologian Origen denounced the idea of celebrating Jesus' birthday 'as if he were a king pharaoh.'" In the Middle Ages, Epiphany was the event celebrated—the "showing forth" of the Christ child to the visiting magi, which, by tradition, took place on the Twelfth Day after Christmas, January 6 (hence, the storied twelve days of Christmas). But Christmas Day gradually superceded Epiphany as a public festival, and by the High Middle Ages, caroling—originally dancing as well as singing—was popular. The custom, which probably continued the "unruly traditions" of Saturnalia and Yule, was occasionally condemned as lewd, and "misrule"—drunkenness, promiscuity, gambling—was an important aspect of the festivities. After the English Civil War, Puritan rulers banned Christmas celebrations in 1647, and they were outlawed here in Boston for 22 years, until 1681. Christmas festivities fell out of favor in the U.S. after the American Revolution because they were considered an English tradition. By the 1820s, "British writers began to worry that Christmas was dying out" and made efforts to revive the holiday. Charles Dickens' 1843 book, A Christmas Carol, "played a major role in reinventing Christmas as a holiday emphasizing family, goodwill, and compassion over communal celebration and hedonistic excess." In the U.S., stories by Washington Irving in the 1820s and Clement Clarke Moore's 1822 poem A Visit from St. Nicholas performed the same service. So successful were these efforts that it is today difficult to imagine a time when Christmas was not a family festival with plentiful food and song and gifts galore.
Once gift-giving hitched the celebration of Christmas to the capitalistic motive, the holiday was well on its way in this country to being a thoroughly secular occasion, represented not by the Nativity so much as by Moore's jolly old elf with a white beard. The secularization achieved its apogee in recent times with efforts by various Concerned Citizens to guarantee the First Amendment's separation of church and state by prohibiting the use of public funds for mounting Christmas displays that involved mangers and sheep and figurines of infants in swaddling cloths. Last year in the Great Northwest (Seattle? Portland?), a Concerned Citizen even got a Christmas tree removed from a public place on the grounds that evergreens are somehow Christian and would therefore offend non-Christian citizens who happened upon the display. With that, the probity of Political Correctness reached the pinnacles of absurdity. By government proclamation in 1870, Christmas was declared a federal holiday, like the Fourth of July and Veterans' Day. Because religion is officially excluded from government by the Constitution (which, as we all know now, thanks to Mitt Romney, prohibits any religious test as a prerequisite for public office), declaring Christmas a federal holiday ipso facto makes it a secular occasion, not a religious one. "Federal" is, by Constitutional definition, not "religious." It would be impossible, then, for a municipally funded Nativity scene in the town square to be seen as a religious symbol. It is, rather, a secular symbol of the folkways of the society. This convoluted twist of logic escapes the notice of many citizens, however, who persist in quarreling about Christmas displays violating the principle of the separation of church and state—despite the issue having been settled in court several times. In 1984 and twice in 1999, courts decided that "the establishment of Christmas Day as a legal public holiday does not violate the Establishment Clause because it has a valid secular purpose"—namely, I suppose, to sell as many consumer goods as possible, thereby stimulating an always flagging economy. The U.S. Supreme Court upheld the latter decision on December 19, 2000.
The dual nature of Christmas as both secular and sacred inspired such public spirited personages as Bill O'Reilly to protest loudly and often in recent years against the secularization of the occasion, seeing in secularization the vulgarization and co-option of a sacred observance by purely commercial interests and calling for a return to "the true meaning of Christmas." Putting Christ back into Christmas was Reilly's poignant cry as he tried to rally a campaign to put religion back into the public square along with Nativity scenes, sheep, and swaddling cloth. I confess that certain of the P.C. usages that have cropped up lately—Holiday Tree instead of Christmas Tree, Season's Greetings instead of Merry Christmas—are a little cloying in their unctuous propriety. One year I did a Christmas card (that is, a Holiday Greeting Card) depicting carolers, and I was about to caption it "God Rest Ye Merrie Gentlemen," invoking the old carol, when I realized that "gentlemen" would offend feminists. Similarly "God" would offend atheists. Removing the offending words, I was left with "Rest Ye Merrie," which doesn't, now that I think about it, have much connection to Christmas. I guess that was the point of the exercise. But I'm not an O'Reilly fan, and I don't want to put Christ back in Christmas: I want to just leave it in there and not disturb it. We are not a Christian society or a Judeo-Christian society so much as we are both—and all. Pluralistic. So we ought to tolerate those who wish their non-Christian friends "Merry Christmas" just as we tolerate Jewish friends wishing us "Happy Chanukah" and rabble-rousing friends proclaiming "a Festivus for the rest of us" during this "winterval." So Merry Christmas to all of you pagans from all of us pagans— and to all a good and silent night.
<![if !supportEmptyParas]> <![endif]>
<![if !supportEmptyParas]> <![endif]>
<![if !supportEmptyParas]> <![endif]>
A Few Yaps from Yip
Yip Harburg was the great American lyricist who wrote "Somewhere, Over the Rainbow,l" "Brother, Can You Spare a Dime?", "April in Paris," "It's Only a Paper Moon," and Finian's Rainbow. He also wrote his share of verse, much of it, perhaps all of it, collected in the aptly entitled Rhymes for the Irreverent. Here are a couple:
<![if !supportEmptyParas]> <![endif]>
Before And After
I cannot for the life of me
Recall at all, at all
The life I led
Before I tread
This small terrestrial ball.
<![if !supportEmptyParas]> <![endif]>
Why then should I ponder
On the mystery of my kind?
Why bother with my great beyond
Without my great behind?
<![if !supportEmptyParas]> <![endif]>
<![if !supportEmptyParas]> <![endif]>
The Welfare (Island) State
Our affluent society
Provides the poor with piety,
And also a variety
Of homes for many brave ...
The Hospital, the Prison
The Cathedral and the Grave.
<![if !supportEmptyParas]> <![endif]>
<![if !supportEmptyParas]> <![endif]>
Red, White and Blue Cross
you're paid to stop a bullet,
It's a soldier's job, they say.
And so you stop the bullet,
And then they stop your pay.
<![if !supportEmptyParas]> <![endif]>
<![if !supportEmptyParas]> <![endif]>
<![if !supportEmptyParas]> <![endif]>
<![if !supportEmptyParas]> <![endif]>
ROUNDING UP THE YEAR 2007
Once again this year, being of weak will and enfeebled faculties after weeks of resisting the blandishments of Holiday Sales in nearby shopping malls, we surrender again to that temptation that insinuates itself into every periodical at this season: yes, we'll look back on the last twelve-month to see what is worth remembering.
In the late forties and early fifties, the final leafing of the golden autumn of comic books before the chill of the Code winter, the newsstands overflowed with scores of new comics every week. No one could have read them all. And nowhere could we find graphic novels, cartoonist biographies, critical histories or scholarly dissertations. Just comic books, too many to read regularly. By the time I returned to the four-color fold in the early 1970s, the gold had faded, and the quantity was greatly diminished. For a few years, it was possible to read virtually every comic book regularly published. That changed. And now, we're in another golden age, and once again, we are afforded an impossible plentitude. Comic books—the paginated cartoon strip pamphlets—alone are too many to read regularly. And to that impossibility, we can add cartoonist biographies, reprints of classic strips, graphic novels, manga, histories both chronological and critical. Altogether, 500-600 separate titles every month. A wonderful heaping up. But the best of the year? Who is equipped with time enough to read it all and determine which are the best? Herewith, then, not "the best of the year" but "the best of those I saw this year." And in the benevolent spirit of holiday abandon, I deliberately refrain from defining "best."
<![if !supportEmptyParas]> <![endif]>
<![if !supportEmptyParas]> <![endif]>
BEST BOOKS OF THE YEAR
Meanwhile: A Biography of Milton Caniff, Creator of Terry and the Pirates and Steve Canyon, by me. If I don't think it's one of the best of this year or any other, why did I do it?
Alexander Raymond by Tom Roberts; I'm not sure it's out yet, but, having seen color proofs of its sumptuous pages, it'll be one of the best, however that's defined.
Abandon the Old in Tokyo by Yoshihiro Tatsumi
Brian Fairrington and Daryl Cagle's Best Political Cartoons of the Year, 2008 Edition. Out just a couple weeks ago.
Cartoon America: Comic Art in the Library of Congress, edited and with intro by Harry Katz, formerly the graphic arts curator in LOC's Prints and Photographs Division; a wealth of often rare examples of the cartoonists arts.
Killed Cartoons: Casualties from the War on Free Expression, collected and annotated by David Wallis. As the Islamic Hooligans gain control of Western Civilization, we need to be reminded of what we're losing.
And a couple graphic novels. I haven't read that many this year, but two seemed notable: The Professor's Daughter by Joann Sfar and drawn by Emanuel Guibert; perfectly charming; and Cancer Vixen by Marisa Acocella Marchetto about the horrors of her encounter with breast cancer, a cartooning tour de force and a powerful subject to boot.
Marchetto has just joined MyBreastCancerNetwork.com "as an expert," saith sev.prnewswire.com. She'll produce a weekly cartoon blog that chronicles her life as a breast cancer survivor and activist. With typical iconoclastic verve, the fashionista cartoonist says of this new enterprise: "I'm going to blast a bright light on the dark details of this dreaded disease as I continue kicking cancer's bony ass in killer five-inch heels. We are not victims, we are Vixens. I can't wait to meet and connect with all you Vixens out there."
<![if !supportEmptyParas]> <![endif]>
<![if !supportEmptyParas]> <![endif]>
REPRINT LANDMARKS
David Kunzle's two Topffer tomes: Father of the Comic Strip: Rudolphe Topffer, and Rudolphe Topffer: The Complete Comic Strips; both from University Press of Mississippi
Pete Maresca's monumental Sundays with Walt & Skeenix and his Sammy Sneeze; both reviewed last time, Opus 215.
Ulrich Merkl's Dream of the Rarebit Fiend (complete); another of those giant life-size tomes.
IDW's Complete Dick Tracy series
Jeff Smith's Bone, in color—from Scholastic
More of J.R. Williams' "Bull of the Woods," a subtitle of Williams' long-running Out Our Way, in handy paperback from Lee Hardware. (Well, look it up on the Web.)
Shel Silvestein Around the World, obviously intended to make me green with envy. Again.
Fantagraphics' stunning The Kat Who Walked in Beauty, reprinting the "panoramic" daily strips of 1920, a variety of George Herriman's cartoon artistry almost overlooked in the usual fever to extol the wonders of his full-page weekend extravaganzas. But these vintage Kat dailies are just as impressive, perhaps even more so because Herriman had to work with a much narrower focus.
<![if !supportEmptyParas]> <![endif]>
<![if !supportEmptyParas]> <![endif]>
Promising Books That I Haven't Read Yet
Chester Gould: A Daughter's Biography of the Creator of Dick Tracy by Jean Gould O'Connell (125 7x10-inch pages, hardback; $45 from www.mcfarlandpub.com ; or 800-253-2187). The author was about four years old when her father's classic gumshoe strip was launched in the fall of 1931, so her personal on-site recollections do not include much in detail about the earliest years of the strip, but she's mined the family archives for illustrative materials for her father's ten previous years in Chicago during which he submitted 60 comic strip ideas to the Chicago Tribune-New York Daily News' honcho, Joseph Patterson, all rejected; the book includes examples of 8 of the 60. Even if she can't testify out of on-the-spot experience about much that happened before, say, 1937, when she'd have been about ten, O'Connell, an only child, was curious about her father's work and obviously talked to him a good deal about it. She regales us with numerous anecdotes that were clearly told to her by her father—like the story of how Smith Davis, an agent for newspaper publishers, tried to get Gould to leave the Tribune-News Syndicate for Marshall Field's embryonic enterprise, the Chicago Sun, to which he had just seduced Milton Caniff in 1944. Field, through Davis, offered Gould the same guarantee he'd given Caniff: $100,000 a year. Gould's answer: "I'm not going to leave the Tribune. ... You give Mr. Field a big thank you, and tell him I'm working for the outfit that gave me the only break I've ever had in my life, and a million dollars wouldn't get me away."
Stop Forgetting to Remember (208 6x9-inch pages, often in two colors; hardback, $19.95), an "autobiography" of a fictional cartooner, Walter Kurtz, by Peter Kuper, 48, who is actually telling his own life story, or, at least, significant pieces of it. "I moved my point-of-view over just a bit in part because most autobiographies diverge from truth all the time, and I was interested in it as A Story rather just My Story," he told Gilbert A. Bouchard at the Edmonton Journal. "This shift also allows me to keep this project focused." Continued Bouchard: "The use of an alter-ego allowed him to work different kinds of comic-art writing into the book—travel stories, journalism, fantasy, dreams and a wicked parody of Richie Rich (a comic Kuper worked on in the early 1980s) that slams GeeDubya and his administration—while still keeping a fairly linear story readers can easily follow." I like the Dedication, which begins: "Dedicated to the girls who let me get past first base and to my wife, who got me home."
The System of Comics by Thierry Groensteen, a comics scholar born in Brussels, Belgium. This volume (198 6x9-inch pages, hardback; $40), from the University Press of Mississippi (one of my publishers), is the first English translation of the original 1999 work and fairly bristles with learned argot. Chapter titles alone are daunting albeit provocative: The Spatio-Topical System; Restrained Arthrology: The Sequence; and General Arthrology: The Network. "Arthrology" is, I gather, "the linear semantic relations that govern the breakdown." It is taken, Groensteen tells us, from the Greek arthron, "articulation." By arthrological gyrations, the cartoonist determines the spatio-topia of his creation—that is, the distribution of spaces and the occupation of places. Early in his argument, Groensteen writes: "The precedence [that Groensteen accords] to the order of spatial and topological relations goes against most widespread opinion, which holds that, in comics, spatial organization will be totally pledged to the narrative strategies, and commanded by them. The story will create or dictate, relative to its development, the number, the dimension, and the disposition of panels. I believe on the contrary that, from the instant that an author begins the comics story that he undertakes, he thinks of this story, and his work still to be born, within a given mental form with which he must negotiate."
This is ponderous going, I ween, and may take us nowhere that we haven't been before, Groensteen's contention to the contrary notwithstanding. Groensteen is audacious enough to believe he is flying in the face of received opinion (or conventional wisdom) about how comics are made. But, judging—admittedly prematurely—from the evidence of the quoted sentence, I disagree. Groensteen seems to be saying that a cartoonist begins with a preconceived notion of the form his story will take—that is, I assume, a "form" of images in panels sequenced for narrative clarity. Can't quarrel with that. But having decided to tell a story through the medium of comics, the "author" then must do precisely what Groensteen seems to say he isn't going to do—that is, adopt "narrative strategies" that will determine the spatial and topological (amount of space and placement within it of images, I suppose) relations within the form he has decided to exploit. How else, after all, could a cartoonist tell a story? Probably Groensteen will tell us as the tome reveals its secrets, but I'm already disposed to thinking that the whole enterprise will turn out to be an exercise in draping high-fallutin' lingo around the ordinary, traditional and wholly commonsensical operations of the cartoonist: once committed to comics as a narrative form, the cartoonist breaks his tale into units of imagery, panels, and fills the panels with pictures and speech balloons in an order that will clearly advance his story by providing the essential information, manipulating, throughout, the size of the images and the frequency of panels in order to sustain suspense and enhance the drama of the incidents in the story. Or, as Groensteen puts it, the cartoonist's "system constitutes an organic totality that associates a complex combination of elements, parameters, and multiple procedures." I thought that's what I just said, only somewhat less obscurely; but what do I know? Still, the headings under which Groensteen will do all this are sometimes delicious—"The Pregnancy of the Panel," for instance.
The Supernatural Law Companion: A Readers Guide to Wolff & Byrd, Counselors of the Macabre, Their Practice, Clientele, and Private Lives, by Jackie Estrada and Batton Lash. At last—a "way in" to one of the medium's most tantalizing and deftly executed comic book series, featuring a team of lawyers, Wolff and Byrd, who represent supernatural beings—zombies, werewolves, etc. Lash, the cartooner whose creation Wolf & Byrd: Counselors of the Mcabre is, provides the Introduction, tracing the history of his brain-child from its 1979 birth as a comic strip in The Brooklyn Paper, a free weekly that was distributed in the immediate neighborhood of courthouses and law offices in downtown Brooklyn, through its 1983 reincarnation in The National Law Journal, where it lasted for fourteen years, overlapping the eventual emergence in 1992 of the spook-bedeviled law firm in comic book form, soon after Lash married Estrada. The bulk of the volume is devoted to issue-by-issue synopses of the stories in the comic books, with "annotations" by page number that explain the often (now) obscure references with which Lash imbues his tales. The book concludes with a list of characters and a gallery of pictures showing how the appearances of Wolff and Byrd have evolved over the years (almost thirty!). And Lash reminds us of his first promotion, which includes the brilliant tagline: "Beware of the Creatures of the Night: They Have Lawyers!" Just $10 for 90 6x9-inch pages, black-and-white; www.exhibitapress.com
<![if !supportEmptyParas]> <![endif]>
<![if !supportEmptyParas]> <![endif]>
BOOKS I WANT TO REVIEW BUT HAVEN'T YET
Arguing the Comics, embodying a brilliantly conceived notion by Jeet Heer and Kent Worchester, who collect here over two dozen fugitive and hard-to-find essays about comics written by otherwise sane and dignified literary critics or popular culture mavens.
Crockett Johnson's newly discovered Magic Beach in m/s; I've read it and it promises to shed light on some of the Barnaby ethos, but I need time to work it out and combine it with a massive appreciation of the said Barnaby.
A flotilla of books by some of the legendary limners of the curvaceous gender—Bill Wenzel, Dan DeCarlo, Bill Ward, Jack Cole—all from Fantagraphics; none published this year, as I recall, but still, all deserving a long and lingering look.
<![if !supportEmptyParas]> <![endif]>
<![if !supportEmptyParas]> <![endif]>
COMICS NEWS EVENTS OF THE YEAR
Schulz and Peanuts, the biography by David Michaelis, is securing its hold on bestseller lists by advertising the Schulz family's disapproval of parts of it. Schulz's story is a fascinating one, and Michaelis tells as much of it as he can well, often lyrically. But while we come to realize that Schulz the man was a chronic melancholic, we never meet the cartoonist, and that's too bad in a biography of the man who defined himself by saying he was a cartoonist. My full review will appear in The Comics Journal sometime in February in a special "roundtable discussion" of Michaelis' book.
Lynn Johnston's For Better or For Worse continues as a hybrid, some new, some reruns.
FoxTrot ends daily releases; only Sunday from now own; and Bill Amend gets the Reuben at the annual convention of the National Cartoonists Society in May.
<![if !supportEmptyParas]> <![endif]>
Jim Toomey's fishy friends in Sherman's Lagoon take on human form and walk on land for a week or so.
"Masters of American Comics" exhibit travels around the country and stirs up the jawboning classes, who wonder why there are no women masters (or mistresses) and where Walt Kelly ranks.
<![if !supportEmptyParas]> <![endif]>
In January, Cartoon Network's "Aqua Teen Hunger Force" mounts a promotional stunt in Boston that so incites the security minions that streets are closed and traffic diverted, creating confusion and turmoil in the city—and raucous hilarity elsewhere.
Death comes to the funnies again: in Rudy Park, Uncle Mort expires on Jan 12; in Funky Winkerbean, Lisa Moore dies of cancer, October 4; and in Dilbert, Asok the Indian genius died December 7. But he subsequently came back as his own clone.
<![if !supportEmptyParas]> <![endif]>
John Marshall is at last permitted to sign as the artist on Blondie, Jan 7
Film version of Frank Miller's "300" hit theaters in February
<![if !supportEmptyParas]> <![endif]>
Lost Girls by Alan Moore and Mellinda Gebbie, the year's most inflammatory publishing "event."
American Born Chinese by Gene Yang, got almost as much publicity as Lost Girls because it was the "first graphic novel" to be nominated for National Book Award; it didn't win but garnered the NCS best comic book award instead. ("Comic book"? No, it's a graphic novel.)
<![if !supportEmptyParas]> <![endif]>
Pulitzer goes to Walt Handelsman at Newsday; half his portfolio of 20 submissions included animated editoons; first time Pulitzer has recognized animation.
<![if !supportEmptyParas]> <![endif]>
International Comic-Con San Diego caps attendance, setting maximum number for each day's attendance
Death of Captain America and, symbolically, of the American values of privacy and personal liberty
<![if !supportEmptyParas]> <![endif]>
Fantagraphics and Harlan Ellison settle, removing a threat to the economic viability of FBI
<![if !supportEmptyParas]> <![endif]>
Manga declines in sales in Japan!!
Comic books make it to mobile phones
Reincarnation of Cartoonist PROfiles on the dock: Stay 'Tooned!, edited by John Read, out early in 2008 (and I have a column therein, culled from these very pixels).
Two releases of Berk Breathed's Opus dropped because they made references to Islamic matters
<![if !supportEmptyParas]> <![endif]>
<![if !supportEmptyParas]> <![endif]>
THE WORST AND THE BEST COMIC STRIPS
Worst new comic strip of the year, Diesel Sweeties, by Richard Stevens
Best Comic Strip of the Year, Brooke McEldowney's 9 Chickweed Lane. Still.
<![if !supportEmptyParas]> <![endif]>
My favorite R&R posting: "The Unforgettable Jane" in Op. 202
<![if !supportEmptyParas]> <![endif]>
ANNUAL FRAUD
The New Yorker's "cartoon issue," which, while running more cartoons than usual, is otherwise almost devoid of extolling text, by which neglect an excellent opportunity to champion the medium is forfeit. Alas.
<![if !supportEmptyParas]> <![endif]>
<![if !supportEmptyParas]> <![endif]>
<![if !supportEmptyParas]> <![endif]>
THE WORST THING OF THE YEAR
Of all the things that happened during 2007, I liked least the make-over of Betty and Veronica in Nos. 151-54 of Betty and Veronica's Digest. Ick. The gang at Archie supposed this treatment would bring in rafts of manga fans. Dunno if it did. But if it did, get ready for a massive re-design of Bob Montana's characters, whose appearance was perfected by Dan DeCarlo. (And if you don't know who Dan DeCarlo was, you can find out more with at least two Fantagraphics books, aforementioned.)
<![if !supportEmptyParas]> <![endif]>
<![if !supportEmptyParas]> <![endif]>
BEST COMIC BOOKS
Army@Love by Rick Veitch
Darwyn Cooke's monthly Spirit books from DC
Casanova by Matt Fraction with art by Gabriel Ba and Fabio Moon
Welcome to Tranquility by Gail Simone with Neil Googe's art
<![if !supportEmptyParas]> <![endif]>
<![if !supportEmptyParas]> <![endif]>
ANNIVERSARIES
Centennials for Mutt and Jeff, Milton Caniff's birth, ditto Herge's.
<![if !supportEmptyParas]> <![endif]>
Andre Fanquin's exquisite Gaston Lagaffe is 50; and so is the Association of American Editorial Cartoonists and Dr. Seuss's Cat in the Hat
<![if !supportEmptyParas]> <![endif]>
Creators Syndicate is 20
Wiley Miller's Non Sequitur, 15 as of February 16
Comic Press News was 16 in April
Stan Sakai's Usagi Yojimbo reached No. 100 at Dark Horse
<![if !supportEmptyParas]> <![endif]>
<![if !supportEmptyParas]> <![endif]>
PASSIN' THROUGH
Sometimes Happy, Sometimes Blue, But We'll Remember You
Those Who Left Us in the Last Twelve Months Or So
Since We Last Ran Up This Sad Tally
<![if !supportEmptyParas]> <![endif]>
Jerry Bails, creator of fandom
Paul Rigby, Australian editooner
Dave Cochran
Chris Glenn of CBS radio news, friend of my youth
Joe Barbera
Marty Nodell, creator of Green Lantern
Jack Burnley, creator of Starman
Joe Edwards, co-inventor of Archie
Iwao Takamoto, creator of Scooby-Doo
Jay Kennedy, editor in chief at King Features
<![if !supportEmptyParas]> <![endif]>
Marshall Rogers
Johnny Hart, creator of B.C. and The Wizard of Id
Brant Parker, who drew The Wizard of Id
Doug Marlette, editoonist and stripper with Kudzu
Roger Armstrong
Buck Brown of Playboy's libidinous Granny fame
Howie Schneider (Eek and Meek, Sunshine Club, Circus of P.J. Bimbo)
J.B. Handelsman, New Yorker 'toonist
Silas H. Rhodes, founder of the Legendary School of Visual Arts
David Hilberman, co-creator of UPA studio
Shirley Slesinger Lasswell, widow of Fred (Snuffy Smith) Lasswell, last seen suing Disney for her share of their Pooh proceeds
<![if !supportEmptyParas]> <![endif]>
Phil Frank of San Francisco
Richard Goldwater at Archie Comics
James Kemsley, the Aussie who did Ginger Meggs
Bob Bindig
<![if !supportEmptyParas]> <![endif]>
Paul Norris, creator of Aquaman and longtime steward of Brick Bradford
Al Scaduto (see below)
<![if !supportEmptyParas]> <![endif]>
<![if !supportEmptyParas]> <![endif]>
*****
<![if !supportEmptyParas]> <![endif]>
<![if !supportEmptyParas]> <![endif]>
PEEVES & PERSIFLAGE
Cal Thomas is on the cusp of wetting his pants with excitement over the recent shooting in a megachurch in Colorado Springs just south of Denver. A crazed 24-year-old man named Matthew Murray, brooding over how much the world owed him and how little he was collecting in wealth or fame or friendships despite his having solicited at local church institutions, spent a year arming himself with an assortment of handguns and assault rifles and focusing his a vengeful discontent on "Christians," who, he said on the Internet, "are to blame for most of the problems in the world,"and then on Sunday, December 9, he loaded up his arsenal and stormed into a church-sponsored youth mission, shot and killed a couple people, then drove to the sponsoring church, parked in the church parking lot as the congregation was leaving the morning service, and shot and killed some more people, two teenage girls and their father; he survived, they didn't. Then Murray entered the social hall of the church. There, he was confronted by a former police woman, Jeanne Assam, who was serving as a security guard in the church. She
drew her handgun and shot him. She didn't kill him, but her shots halted his progress, and he thereupon turned one of his handguns on himself and committed suicide.
Several curiosities attend this event. First, Assam was licensed to carry a concealed weapon and was a trained law enforcement officer, and she was "on duty" at the church, doing what she'd volunteered to do—provide security and protect the population. Second, Murray obtained all of his arsenal legally, over a year's time, complying with all gun laws, none of which disqualified him from owning weapons. Third, apparently a lot of churches now engage security guards to protect their parishioners attending religious or recreational activities on the premises. Fourth, Assam conducted herself in every way "by the book"—identifying herself to Murray as a security guard and demanding that he put down his weapons, and, when he continued shooting, she stood in the hallway, oblivious to the danger, and fired at him. Fifth, Assam is a very photogenic woman with long layered blonde hair, which, together with her thoroughly professional demeanor and courage under fire, makes her an ideal front-page totem for gun ownership. (Here she is, being thanked by a grateful parishioner.)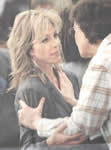 Sixth, interviewed afterwards, Assam said she prayed as she confronted Murray, her faith giving her the fortitude to face him as he was firing at her. "God was with me," she said. Sixth, if she hadn't stopped Murray, he would most certainly have proceeded down the hallway to an assembly area where he would have found scores of other targets, helpless before his onslaught.
For Cal Thomas, the incident validated the gun lobby's contention that the right to bear arms is the best insurance against lawless violence. "I've been waiting for years for this to happen," he crowed. "The unarmed (disarmed?) are easy targets for crazed gunmen armed with grievances, weapons and ammunition. Now someone has shot back, probably saving many lives. All the gun-control laws that have been passed and are still being contemplated could not have had the affect of one armed, trained and law-abiding citizen on the scene. ... The point is that gun laws will not deter criminals with evil intent and police can't be everywhere they're needed. But killers can be stopped by law-abiding citizens with guns."
Despite my profound aversion to guns as toys or armament, it's hard to argue with Thomas' conclusion. Here, the gun laws didn't stop Murray from arming himself to excess. Time and again recently, we've seen well-designed gun-control laws rendered ineffective simply because those charged with enforcing them overlooked something. With our human propensity for error, no network of laws is likely to be leak-proof—particularly in a society as solicitous of privacy and individual freedoms as ours. I'd feel a lot better if we weren't such a gun-totin' bunch in this country. But we are. And as a result, I doubt that any truly effective gun-control legislation can ever be enacted. Whether such laws should be on the books or not is beside the point. The point, I suppose, is that we are a society that has in its churches armed security guards who believe God stands by their sides as they gun down rampaging intruders. That's what we're living with.
Pat Bagley's cartoon on the Colorado shooting has layers of meaning: he manages to depict the unyielding dedication of the gun lobby, giving it a frenzied religious tinge that echoes the motives of deranged Murray.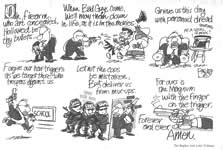 Pithy Pronouncements

Time flies like the wind; fruit flies like bananas. —Gus Arriola

Give me levity or give me death. —A Nony Mous

The income tax has made liars out of more Americans than golf.—Will Rogers

The sport of skiing consists of wearing $3,000-worth of clothes and equipment and driving 200 miles in the snow in order to stand around at a bar and get drunk. —P.J. O'Rourke

<![if !supportEmptyParas]> <![endif]>

<![if !supportEmptyParas]> <![endif]>

<![if !supportEmptyParas]> <![endif]>

Mallard Is an Example of How Women in Politics Are Treated

From Daily Record, www.kvnews.com; December 14, 2007

To the Editor:

Directly after watching Bill Moyers' Journal on PBS Friday night, I picked up the Daily Record and turned to the editorial page, and, though I seldom do so, read the political cartoon, Mallard Fillmore, which once again attacked Hillary Clinton. The irony did not escape me.

Bill Moyers' guest had been Kathleen Hall Jamieson, who spoke on misogyny on the Internet in particular, and sexist vilification of female political candidates in the mainstream media in general.

Jamieson suggests that there is a deep fear in America about women holding power; that the assumption is that any woman in power will by necessity emasculate men. Jamieson goes on to say that Americans have a long history of sexist attacks on women in power, frequently using religion to reinforce patriarchal ideas.

On the Internet, portraying Ms. Clinton with graphic sexual images and vulgar, gross, profanity reduces her to a sexual stereotype, increasing the likelihood that people won't vote for her based on what she can offer the country as a candidate, but rather on perceptions of her as a female who somehow doesn't exemplify the feminine ideal.

By portraying Clinton as having no qualifications beyond being married to a former president, Mallard Fillmore planted the idea that she has value only in the traditional role of wife, disregarding any other career qualifications she possesses.

Treating a viable political candidate with nastiness and disdain because of sex, race, or religious belief is not only injurious to women, but also harmful to the humanity in all of us. Americans must move past their fear and distrust of powerful women and find a candidate to support, rather than denouncing one because of a campaign of hate and raw sexual violence.

Anna C. Powell

<![if !supportEmptyParas]> <![endif]>

<![if !supportEmptyParas]> <![endif]>

BADINAGE AND BAGATELLES

At comicbloc.com, Eric Moreno interviewed Greg Rucka, asking him, among other things, if he remembered the first time he realized there was a craft going on in the stories. Rucka said: "Daredevil: Born Again. I remember going, 'Holy shit! This is actually being written.' And, 'Holy Shit! Look at this art! I've never seen anything like it!' And, 'Holy Shit! Look at the way the point of view shifts. They're using different first-person narration!' I went nuts. I blame Frank Miller, as most of us do."

class=Section2>

John Romita, Jr., asked in 2001 by Henrik Andreasen if his father influenced him, responded (as quoted in Sequential Tart last month): "He affected me in my way of life because he is my father, and that has translated into my art and storytelling, but the art is different because we are different people. Growing up, his artistic influences were mostly cinematic because he is big on films, and we would talk about the same movie over and over." Andreasen then observed that JRJR is "obviously influenced by Kirby," noting that JRJR made use of "Kirby's 'dynamic blockiness'" in his run on Thor. Said Romita: "I find the assessment to be true. Kirby's influence is, among other things, due to his work on his character Thor, and when I began to do Thor myself, my influence by Jack Kirby became more apparent because of his influence on me when I was younger. Just like John Buscema has influenced me—and, of course, my father, as I mentioned before. One of the more important things my father taught me was how to weight the illustrations—when to hold back, and when to use a lot of power."

Art and Life and Tragedy. Holding up a mirror to reality in New Orleans' Lower Ninth Ward one day in December, actors from New York stood among the weeds in a blasted block of destroyed houses and dead trees and presented Samuel Beckett's bleak 1949 play, "Waiting for Godot." Godot, you'll remember, never showed up.

<![if !supportEmptyParas]> <![endif]>

<![if !supportEmptyParas]> <![endif]>

WE'RE ALL BROTHERS, AND WE'RE ONLY PASSIN' THROUGH

Sometimes happy, sometimes blue,

But I'm so glad I ran into you---

We're all brothers, and we're only passin' through.

Old Folk Ballad Lustily Sung By Walt Conley in His Trademark Husky Rasp of a Voice at the Last Resort in Denver, Lo These Many Years Ago

<![if !supportEmptyParas]> <![endif]>

<![if !supportEmptyParas]> <![endif]>

<![if !supportEmptyParas]> <![endif]>

Al Scaduto, 1928-2007

Al Scaduto, who cartoonist Mike Lynch called "the last of the great bigfoot cartoonists," died December 7, Pearl Harbor Day; he was 79. Scaduto's professional biography is remarkably short: he spent his entire career doing the syndicated panel cartoon feature, They'll Do It Every Time, but in perpetuating this happy relic from another age, Scaduto performed a minor miracle: visually, he gave it a modern up-to-date patina while preserving its vintage aura.

Scaduto was born July 12, 1928, in the Bronx, New York. He attended the School of Industrial Arts, now called the School of Art and Design. SIA was founded, Scaduto liked to report, by four young art teachers in 1936 who built desks from old orange crates and plywood. At SIA, Scaduto met a trio of other students, all destined for cartooning—Sy Barry, Joe Giella, and Emilio Squeglio. Scaduto also attended classes at the Art Students League, and he sold his first cartoons while still in high school at SIA. Needing money to attend his senior prom, he worked up two pages of comics and sold them to King Features for its Popeye comic book. When he graduated in 1946, he knocked again at the door of the syndicate. "I thought I would give it a shot," he told Dirk Perrefort at the Connecticut Post last winter, "and they gave me a job as an office boy. I did that for about eight months before they made me a corrections artist." Two years later, he was working on They'll Do It Every Time ("TDIET,"as it's often abbreviated).

TDIET takes a humorous look at human hypocrisy, ironically dramatizing the inconsistencies and quirky twists of fate that plague us all. Its purpose, said Martin Sheridan in his Comics and Their Creators, is to "deflate the ego of chiselers, pests, fakers, office loafers and bombastic bosses. The human failings depicted strike a responsive chord because the incidents are true to life, sugar-coated with humor to bring a good-natured laugh at the expense of a familiar figure in home, office or country club." In his Comic Art in America, Stephen Becker elaborated: "Behind every assertion of the human ego, there lurks a blatant hypocrisy. Behind every accident of bad timing, there lurks a malignant fate."

Essentially a panel cartoon, TDIET often takes two panels to make its point. Here's J.P. Honcho, for instance, berating his secretary Lula for being a few minutes late to work: "Nine o'clock means nine o'clock! I don't care if your bus broke down—no alibis, y'hear?!" But in the next panel, ol' J.P. is dictating a letter to the self-same Lula, making up excuses for being weeks late with a shipment: "Dear Sirs—uh, er—due to conditions beyond our control—floods, strikes, blizzards—y'know, Lula—stall 'em for a month or so—yas, yas. ..." Over Lula's head hovers a silent scream, labeled "The urge to ship him to the moon posthaste."

In another recent TDIET, wife Annoya urges husband Arfo on to shovel the walks in the dead of winter: "You can do it! It'll only take you two hours or so. The exercise will do you good!" But when, come summer, Arfo picks up his bag of clubs to go golfing, Annoya sings another song: "Golf? No, no—lugging that heavy golf bag can't be good for you. You've got to take it easy, y'hear?" To which Arfo responds with a thought balloon, invoking a comment that frequently accompanies such reverses: "It's enough to make a grown man cry, but good."

The feature was invented on February 5, 1929 by sports cartoonist Jimmy Hatlo at the old Call-Bulletin in San Francisco. Legend has it that Hatlo conjured up the first one to take the place of a syndicated cartoon that got lost in the mail, failing to arrive by press time. It stimulated enough response from readers that Hatlo repeated it occasionally, then regularly—prompted, usually, by readers who submitted examples of life's little hypocrisies from their own experience. In 1936, King Features picked it up for national distribution, beginning May 4, and "They'll do it every time" was soon a catch phrase nationwide. Readers who sent in ideas that Hatlo used he acknowledged "with thanx and a tip of the Hatlo hat," giving their name and home town with a drawing of a tiny comic character tipping his fedora in a credit box at the bottom corner of the feature.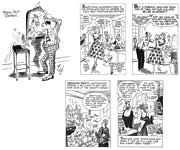 By the mid-1940s, Hatlo had acquired an assistant and stopped working full-time on the feature. In 1948, the assistant, Bob Dunn, needed help and turned to Scaduto. By then, one of the characters in the panel had developed into her own Sunday strip, Little Iodine, which debuted July 4, 1943. She was the mischievous pre-teen daughter of another continuing character in the panel, Henry Tremblechin, who was forever bullied by a blustering bombastic boss named J.P. Bigdome. The names are perfect for the personalities: Tremblechin, the intimidated employee; Bigdome, the towering employer (who was originally named Old Man Grudgeon); Iodine, the lovely little girl with a bratty sting. Hatlo and Dunn loved Dickensian names for characters—Lushwell, the party boy; I. Uriah Phootkiss, the unctuous underling; Octave Teargass, a songwriter—not to mention a picturesque parade that included Twerpington, Wartley, Squatwell, Culvert, Droolberry, Belfry, and my favorite for a fashionable young woman, Aspidestra.
Scaduto drew the Little Iodine strip and her comic book, when it came along in 1950 (first issue, cover-dated March; last issue, April 1962). According to Mark Evanier, Dunn did the writing and Scaduto did most of the drawing; by the time Hatlo died in 1963, his presence had long ago ceased being felt. Hy Eisman joined the production crew about this time, concentrating on Little Iodine until it ceased in 1986. (Eisman currently does two other vintage strips, The Katzenjammer Kids and Popeye.) Dunn died in 1989, and Scaduto took over the entire production of TDIET, writing as well as drawing it. The feature was named Best Newspaper Panel by the National Cartoonists Society in 1979 and 1992.
To Scaduto, TDIET was "not a joke strip but a satire on human behavior. It's the things that bug us in life. The object of the strip is for people to read it and say, 'Hey, that happened to me or someone I know.' I think that's why it's been so successful."
Because many of the situations in TDIET were inspired by reader suggestions, the temptation is to think that the feature was written by the volunteers. But few of those ideas are comic without the fine-tuning touch of the cartoonist. Scaduto streamlined the verbiage, added a comedic verbal twist here and there, and laminated it into a joke with pictures that turned frustration into hilarity. In the first example posted here, volunteer Y. Parker may have supplied the notion that people who place fussy orders for fancy frills with their food in restaurants then spoil the concoction with condiments, but Scaduto's prose added a layer of sarcasm, and the frenzied action and assorted audience in the setting of the second panel transformed mere sarcasm into satiric comedy.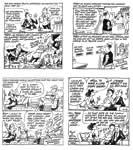 One of Scaduto's contributors, Peggy Wright, a woman in her 80s who sent several ideas to the cartoonist over the years, said: "He's very clever about taking what you said and turning it into something funny." She once sent him an idea about a woman who leaves the grocery store and can't find her car in the parking lot because she's forgotten that she recently purchased a new one. A funny notion, yes; but how would you turn that into a cartoon? Scaduto knew how.
Scaduto's love of Dickensian names equaled that of his predecessors'—Judlow Lockjaw, Bula Patoot, Anson Pantz, Ragweed and his wife Nubbia, Drusella and Dragbutt, Bunson, Leadbutt, Naggia, and Wombo, and my favorite recurring name, Lugnut. But his singular achievement as a cartoonist was to modernize the Hatlo-Dunn visual style without destroying its essence. He did this chiefly by eliminating the "hay" that modeled forms in the vintage drawings, but he retained some linear shading for the sake of textural variety, preserving thereby the pictorial "feel" of the feature. He also replaced the Hatlo-Dunn button nose on male characters with a bulbous Parker House roll; and on female characters, in place of their pointy nose, Scaduto drew tiny pert turnips. These larger facial features made the drawings funny even though they were much smaller than the earlier TDIET artwork, and the humorous pictures gave the feature a prevailing vivacity. Instead of being an antique, Scaduto's TDIET was as modern as the news and fads of the day. In the gallery of examples in this vicinity, the two cartoons on the top are Hatlo's; those across the bottom are Scaduto's—for the sake of comparison.
Emilio Squeglio, who had worked on Fawcett's Captain Marvel comic book after graduating from the School of Industrial Art, called Scaduto "the cartoonists' cartoonist." Said he: "Al is a rare breed because he's original and honest in his craft. He's far above the level of an average cartoonist who draws amusing pictures with funny little characters. He has the ability to transform a story into a picture and make it amusing. He does that better than anybody."
"Even as a child," Scaduto said, "I always wanted to be a cartoonist. My parents were very supportive. My father would always carry a cartoon I drew in his wallet so he could show his friends. He said I had a real talent, and I should pursue it. He was my greatest fan." (Scaduto also once quipped that his father told him he'd starve when he took the job at King Features.)
I met Scaduto at an NCS Reubens Weekend in San Francisco several years ago. As soon as I read his name tag, I pounced to tell him how much I enjoyed his drawing. Then I noticed the name tag on the man standing next to him, Sy Barry, who, by then, had retired from The Phantom, which he had dignified with his artwork for years. So I told him how much I enjoyed his drawing, too—even though his was much different than Scaduto's. To cover my confusion, I said they'd both done the impossible, but a different impossible: Scaduto had made a vintage cartoon look contemporary, and Barry, one of Scaduto's SIA classmates, had rendered a costumed hero so realistically that he was believable.
Scaduto was a regular at meetings of the Berndt Toast Gang, the Long Island chapter of the NCS (named after Walter Berndt, creator of the comic strip Smitty), and with very little cajoling, he could be persuaded to stand up and sing a few stanzas of his favorite opera in a fine tenor. Mike Lynch, chair of the chapter for five years, recalled at his site, mickelynchcartoon. blogspot.com, that Scaduto's other shtick at the meetings was to stand up at the dinner table and announce that he has brought a guest. "This happens every time," Lynch wrote, "and every time, he introduces the fellow sitting at the same table—'Jumpin' Joe Giella [another classmate from the School of Industrial Art]. Then Al tells a disparaging joke at Joe's expense. This is all forgivable since we all love Joe and the joke is an old joke." It was a tradition that was a running gag. "On those rare occasions when Al can't make it, we all worry that there will be no one to introduce Joe."
Scaduto was predictable in one other way, Lynch reported. "When asked if he might be able to do something for you, Al would invariably respond: 'Shoes—whadya think? Otherwise?'"
In addition to TDIET, Scaduto illustrated children's books, advertisements and magazine articles and designed greeting cards, toys, games and packaging. But in whatever he did, he was always a cartoonist.
"What I like most about being a cartoonist," Scaduto said, "is starting with a fresh piece of paper and ending up with an idea. You're the writer, the actor and the director. I never thought about retiring. I enjoy what I do."
And he did it right up to the end.
<![if !supportEmptyParas]> <![endif]>
<![if !supportEmptyParas]> <![endif]>
<![if !supportEmptyParas]> <![endif]>
QUIPS & CLIPS
The three stages of a man's life: 1) He believes in Santa Claus. 2) He doesn't believe in Santa Claus. 3) He is Santa Clause. —Anonymous
A cynic is just a man who found out when he was about ten that there wasn't any Santa Claus, and he's still upset.—James Gould Cozzens
Santa Claus has the right idea: visit people once a year.—Victor Borge
Santa is very jolly because he knows where all the bad girls live.—Dennis Miller
<![if !supportEmptyParas]> <![endif]>
<![if !supportEmptyParas]> <![endif]>
<![if !supportEmptyParas]> <![endif]>
FUNNYBOOK FAN FARE
Catching Up with Old Number Ones
I missed Rick Remender's Fear Agent when it started, picking up No. 1 of a 4-issue story arc, which was 12th in a series. So it scarcely qualifies as a Number One, even when this issue first came out last spring. The protagonist is Heathrow Huston, alien exterminator, and this issue flashes back to the time that he loses his crusty old father and his son to monster alien invaders. Stunning art by Tony Moore, inked by the meticulous Andre Parks, and the storytelling—pacing, camera angles and the like—trumpets their expertise. They also rely on pictures to tell the tale. What else could we expect in a story about the seemingly last days of an exploding Earth?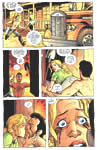 Killing Girl No. 1, a more recent manifestation (August 2007), is another impressive demonstration of Frank Espinosa's unique illustrative technique, first seen bursting forth in great energetic splashes in Rocketo. I don't know how he does it. Does he lay down the swashes of color first and then add delineating lines—sparingly, only where absolutely necessary for clarity—and black shadows? Or vice versa. No matter how he does it, he must retain the visual imagery in his head, whole, as he splashes the page with just the essentials of the images, often only the barest hints.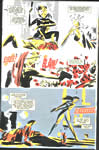 In this story by Glen Bruknswick, the heroine, Sara, is a whore doubling as a hit woman, a female assassin. All of a sudden in the midst of the disintegrating imagery that Espinosa deploys to depict high action, one of her targets calls her by name. Turns out he's engaged to her sister, who believes that Sara was kidnaped when they were children. But Sara stops cold, pistol poised, when she hears him say her name. "What? What did you just call me?" Another highlight of the book is the ad at the end for an issue of Witchblade. Rendered in a manga manner, the picture shows a heroine doing what so many of their skimpy upper raiments are designed to do since Michael Turner introduced the armored bra device: she's clutching her breast, squeezing it. Comics are amazing, aren't they?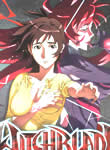 Warren Ellis Department. Blackgass2 No. 1 offers yet another example of how skillfully and horrifyingly Warren Ellis launches a tale. We're at sea with a woman and a dead body in a boat; in the wild water, she sees creatures—people?—and when the boat is wrecked, they come aboard and devour the dead guy. She flees into the night and takes up with a one-time security guard, who must shoot his partner in the face because his partner is infected by the zombie hoard. If you're bitten, black gas oozes out as saliva, and you turn into one of "them." Throughout, on every page, Max Fiumara draws bodies blowing apart and copiously splattering. Ellis is lucky in getting exceedingly skilled artists to illustrate his stories, but they're his choices: he told Bart Croonenborghs at brokenfrontier.com that Avatar "just sends me out samples and I choose what I like. None of these guys even speak English," he concluded.
Asked if he felt his Avatar books were overly violent in the usual Avatar mode, Ellis said the question wasn't "valid": "I do violent stuff everywhere like I did on Hellblazer for Vertigo. ... I just did an issue of Thunderbolts [speaking in August 2007] where a guy gets his arm bitten off. I did issues for the Authority where Jack Hawksmoor punches someone in the face and you can see their entire jaw detached and his teeth jump out." His Black Summer series delves into political themes and motives, but for Ellis, such things are not so much political as they are provocative story springboards: "It's just a set of political questions," he said, "I'm not interested in giving answers. The book just poses questions and people should make an answer in their own way." Black Summer, in which a superhero assassinates the U.S. president, is seemingly a superhero book, which Ellis isn't usually interested in: "It's not a genre I'm particularly fond of. But it's interesting to me to find ways to write superhero stories that I actually want to read. ... Black Summer contains within it just one of the last questions to be asked of the genre, which is: Where do you draw the line in pursuit of justice?" Ellis said he'd been "trying for six months to come up with this because of a bet [Avatar's editor-in-chief/publisher] William Christensen" made with Ellis. "I've never been a high concept writer," Ellis continued, "—I can't yank those one-line concepts out of my ass the way Alan Moore can. It drives me fucking insane. [Brits say "fucking" a lot; it's a dialect thing.] I just stopped calling the guy because he always goes 'I got this idea, Warren,' and it's brilliant and it's one sentence, and I spend the next thirty minutes going 'FUCK!'" [See what I mean?]
<![if !supportEmptyParas]> <![endif]>
<![if !supportEmptyParas]> <![endif]>
<![if !supportEmptyParas]> <![endif]>
DEPARTMENT OF SHAMELESS PROMOTION
We've located This Department at the very end of our Christmas package to permit you to skip the whole thing if Shameless Promotion nauseates you. On the other hand, there are some purely fascinating scraps of writing herein, to wit:
<![if !supportEmptyParas]> <![endif]>
Excerpt about the birth of Terry and the Pirates from my Caniff biography
<![if !supportEmptyParas]> <![endif]>
Extensive review of the Caniff tome by Allan Holtz, who reveals what he sees as the flaws in the book as well as its virtues (the latter outnumbering the former by quite a lot, otherwise why would I include the whole thing here?).
<![if !supportEmptyParas]> <![endif]>
Favorable cullings from other reviews here and there
<![if !supportEmptyParas]> <![endif]>
Concluding with our Usual Plea to Buy the Book Here. You can find it cheaper elsewhere (on Amazon, f'instance, where used copies are now appearing), but only through Rancid Raves can you obtain a copy signed and inscribed by the author.
<![if !supportEmptyParas]> <![endif]>
<![if !supportEmptyParas]> <![endif]>
The Birth of Terry
CELEBRATING THE END OF THE ANNIVERSARY YEAR WITH
ANOTHER EXCERPT FROM MEANWHILE: A BIOGRAPHY OF MILTON CANIFF
<![if !supportEmptyParas]> <![endif]>
The year we're just winding up, 2007, is fraught with anniversaries. Sgt. Pepper's Lonely Hearts Club Band began to play just 40 years ago "today," and that was the year of the fabled "Summer of Love" in San Francisco. Charles Lindbergh flew solo across the Atlantic 80 years ago, and 50 years ago, Jack Kerouac's rambling novel, On the Road, came out. Kerouac typed the book on 12-foot-long strips of paper, which he then taped together to make a continuous scroll. After three weeks of continuous typing, he had 120 feet of typescript, which, with subsequent revisions, was published by Viking Press.
Kerouac's method seemed so absolutely logical, so linearly wedded to its purpose, that I adopted it for producing term papers during my so-called college career: using rolls of teletype paper, I typed quotations from source books until I turned out 12 feet of scroll, then pulled it out of the typewriter, cut the scroll up into individual quoted passages, pasted them together in some sort of narrative sequence, and re-typed it all with connecting prose between quotations. A 12-foot scroll usually yielded a 15-page paper, just the prescribed length.
That summer in 1957, a piano-player friend of mine named Lee Underwood devoured Kerouac's book at a single sitting, reading all night long, and the next day, he packed a suitcase and hit the road. We never saw him again.
I recently attended a lecture by John Leland, who talked about his book, Why Kerouac Matters: The Lessons of On the Road (They're Not What You Think). Although all of us might think On the Road is about the reckless freedom of being footloose and irresponsible in the world, Leland contends that deep down, Kerouac's book expresses the author's longing for a stable, middle-class life with wife, family, and picket-fenced house in the suburbs. That might be true, but it doesn't explain the essential romantic hypnotic appeal of the book. In short, it doesn't explain why Lee Underwood did what he did.
Academic criticism can steer us off the track with its profundity. Another professorial speaker at the same event opined that since On the Road was the second draft, a refinement, of Kerouac's scroll—which, itself, had been anticipated by yet another earlier narrative about life on the road—all of Kerouac's ouevre can be considered a single work, a gigantic "On the Road." Well, sure. Works of literature tend to reflect the authors' personalities, so each work can be viewed as a further extension and elaboration of everything the author has written before. And if we accept this as a commonplace of criticism, then all of Shakespeare can be considered an elaboration of, say, "Love's Labor Lost." If all of Kerouac is On the Road, then all of Shakespeare is "The Comedy of Errors."
But I divaricate. Back to cartooning.
One hundred years ago this year, two of the world's most celebrated cartoonists were born: Georges Remi in Etterbeek, a suburb of Brussels, and Milton Caniff in Hillsboro, Ohio. Although both became famous world-wide, Caniff's cartooning career was outdoubtedly the more strenuous. Beginning in 1933, he produced a comic strip every weekday for over 55 years, a feat that stood without equal for a generation after Caniff's death in 1988. Remi, on the other hand, confected a pen-name by reversing his initials and pronouncing them aloud, Herge, and produced just 23 book-length stories about a pie-faced young reporter, who was too resourceful to be entirely realistic but was engaging regardless.
To commemorate Caniff's birth, Lucy S. Caswell, curator of the Cartoon Research Library, which had been founded at the Ohio State University when Caniff deposited his papers there, prompted me to revise and reduce my massive biography of Caniff so that it could be published this year, and by underwriting some of the cost of production, she convinced Gary Groth at Fantagraphics to publish the consequences of my abbreviation. The result, a 950-page tome, came out in July, just in time to debut at Comic Con International at San Diego.
By way of concluding the year with an anniversarial festivity, we herewith begin another excerpt from that tome, Meanwhile: A Biography of Milton Caniff, taking up the narrative in the fall of 1934 when Caniff was at the Associated Press, producing Dickie Dare, a daily strip about a kid who, when the strip commenced in July 1933, dreamt himself into adventures with the heroes of his favorite books—Robin Hood, Captain Kidd, Robinson Crusoe.
The dream formula wore thin pretty fast because readers knew how the stories ended, so in the spring of 1934, Caniff gave up on dreams and introduced a real-life two-fisted journalist, Dynamite Dan Flynn, who, with Dickie's parents' permission, took the boy on a trip around the world. They never finished the trip: five months into it, Caniff got a phone call from Mollie Slott, a factotum at the Chicago Tribune-New York Daily News Syndicate who worked directly with Captain Joseph Patterson, publisher of the Daily News and head of the syndicate. She asked him if he'd come over to the Daily News building to talk about doing a comic strip.
Herewith, the exerpt:
When Caniff put down the phone that day in early October, he knew he was on the verge of something big. Mollie Slott sat at the right hand of one of the gods of newspaper cartooning. What kind of strip could she—or Patterson himself—have in mind? No matter: whatever it was, it would fall under the nurturing eye of Captain Patterson, who knew more about making comic strips successful than anyone. Whatever Caniff did for the News was likely to give him a larger audience than he had with the AP and Dickie Dare. A strip for the Daily News would also be syndicated to the Chicago Tribune, thereby appearing in two of the nation's largest papers. And the Tribune-News Syndicate was a gateway to many more.
It didn't take Caniff long to get to Mollie Slott's office in the News building on 42nd Street just two-and-a-half blocks away from his apartment/studio in Tudor City. To his surprise, he didn't spend much time in her office. She took him immediately in to see Patterson. And there was The Presence himself: in an office rather plainly furnished, the Captain sat behind an enormous uncluttered desk. At one end, a huge wastebasket ostentatiously reached to the lip of the polished desk top—as if designed to permit Patterson the imperial gesture of sweeping papers that offered bad ideas out of his sight with a wave of his hand. Motioning Caniff to a chair, Patterson scarcely looked his royal role. He stood tall and straight as a ramrod, but he was in his shirtsleeves, collar and tie undone at the throat, and he seemed, over-all, a little rumpled. Patterson was formal but cordial, and Caniff was encouraged. Astonishingly, there were no preliminaries: Patterson began as if it were already settled that Caniff would do a new strip.
"Here's the idea," Patterson said in his incongruously high-pitched voice. "I want an adventure strip—young boy's adventure—but with universal appeal—the kid hero for young readers but plenty of pretty girls, too—for the kids' fathers."
Heinie Rieker's dictum at the Columbus Dispatch blinked on in Milton's mind—"always show a little skin above the stockings as a bonus." Patterson piped on, barking out specifications in his customary clipped locutions:
"For women readers—give the kid a side-kick—an older guy—rugged, handsome—he's the muscle—he can handle the rough stuff."
Had Milton been less intent on absorbing what the publisher was saying, Patterson's synopsis might have rung a bell. As it was, Caniff told me, he thought only that Patterson was making good sense. Later he recognized that in its basic elements, the Captain's description fit Dickie Dare precisely—except for the pretty girls.
"You know," Patterson was saying, shifting around in his chair as he warmed to his subject, "you can't have a kid busting the bad guys on the nose—all the time. It might work once—once in awhile. Remember Jim Hawkins? Treasure Island? He never does anything violent—except when he's trapped—that time at the top of the mast—and one of Long John Silver's men comes up after him with a knife in his teeth. The kid's got a gun—the pirate doesn't think he'll use it. But he does. It's the only time Jim Hawkins ever took violent action. Great for suspense that one time—nobody could know for sure he'd do it—but for strong arm stuff on a regular basis, you need an older guy. Put lots of action in the strip—let him handle most of it.
"He can romance the girls, too—put in some sex appeal—but don't let the guy get married. No adventures happen to a guy at the fireside—pipe and slippers and all that. Ever read Wuthering Heights? No? Well, you might look into it. But keep the heart throbs in the daily strips—do the Sunday color page for the kids."
"Yes, sir," Caniff said, conversationally. But Captain Patterson wasn't making conversation: he was issuing orders.
Patterson leaned back in his chair, arms raised, hands clasped behind his head, one foot propped on an opened desk drawer. "As for setting—put the action in China," he went on. "Adventure can still happen out there—you can get away with anything—any plot—any shenanigans—no one knows what's there—pirates—off the China coast there are plenty of pirates. There's a book you should read— Vampires of the China Coast —it'll give you the idea."
"Yes, sir," Caniff said again.
Patterson straightened up and leaned forward with his arms on the desk. "I'm looking for real excitement in this strip," he said. "Lots of blood and thunder—keep the readers in suspense—but give 'em a laugh, too. Action and humor—that'll do it. I want the continuity to run straight through—seven days a week—dailies and Sundays telling the same story. I want your strip to fill a hole in the Sunday edition—right away—so start with the Sunday pages. They're due ten weeks before publication—dailies are due about four weeks ahead—but we can push them into print faster if we need to—Sunday color takes longer. Your dailies will probably be published before the Sundays—you might have to run separate storylines for awhile—but I'd like them to converge as soon as possible. Can you show me something by next Thursday?"
"Thursday? Yes, sir," said Caniff.
Patterson stood up, signaling the end of the interview. Caniff bowed his way out.
Thursday. Today was Friday. Caniff had his work cut out for him. He knew he could do the strip, but he knew next to nothing about China. He hot-footed the four-and-a-half blocks across town to the New York Public Library on Fifth Avenue and checked out the books Patterson had mentioned—and everything else about China he could quickly think of. Pearl Buck's The Good Earth, a couple by Somerset Maugham, another by Noel Coward, and a few others.
In Wuthering Heights, Caniff found fully developed the theme of passionate but unconsummated and thwarted love. Patterson was right: this was the perfect way to deal with a footloose romantic lead who was to encounter an endless parade of toothsome ladies, becoming involved with each of them but entangled by none. And the frustration in an unrealized love affair would grip readers. Good stuff, Milton reflected—sad, tender, complex, suspenseful. Caniff always credited Patterson with introducing him to this potent plotting stratagem. Certainly the Bronte book crystalized the notion for him, but he had already embraced this theme with Dan Flynn and Kim Sheridan in Dickie Dare. In books by people who had traveled the Orient, Caniff found authentic speech patterns, atmosphere and Far Eastern lore. In Vampires of the China Coast, he found a lurid vision of piracy on the China Sea and the germ of a unique inspiration.
Vampires takes the form of a novel, but the publisher's disclaimer says it is based in fact: "The terrific episodes of this narrative actually, and recently, happened in China where the author lives. The characters, only, are fictitious. ... But their piratical exploits along the shipping routes from Shanghai and Hongkong—as told in this story—are often spoken of in the China seaports of today." The author, identified only as Bok, is as obscure as his book; alone, the publisher's testimony asserts the book's authenticity. That and a handful of photographs in the book that depict a condemned pirate, the summary execution of a pirate by revolver, the deck and bridge of a looted and burned ship, and before-and-after pictures of a pirate who suffered ling chee (Death by a Thousand Cuts).
Set in the late twenties, shortly after Chiang Kai-shek assumed leadership of Sun Yat-sen's visionary Kuomintang Party and launched the Nationalist Rebellion, the tale traces the career of a young woman called Moon Shadow (whose name is Tsin Gum, "A Thousand Pieces of Gold"), who falls in love with a fellow Communist revolutionary named Chan. Chan joins a band of pirates and soon becomes their leader. After he dies in a raid, Moon Shadow assumes leadership of the pirates, and they build a stronghold on a deserted island from which they attack foreign shipping. Taking advantage of a local superstition about vampires inhabiting their island, the pirates don skull masks, bat wings, and flowing cloaks whenever they sally forth. Bok offers a species of Robin Hood ethic as moral justification for these escapades: the pirates prey almost exclusively upon the "foreign dogs" and the corrupt elements of the government and the military. But this excuse seems pretty frail in the closing chapters of the book, which dwell with gruesome, repugnant detail on the tortures inflicted on hapless captives and hostages for ransom. Despite its thematic weakness, the book supplies a trove of information about Chinese tradition as well as vivid insight into the lives and practices of Chinese coastal pirates—much of which (less the more grisly parts) Caniff could use as grist for his new mill.
Caniff worked days and nights. The coffee pot was always on, the ashtrays filled with stubbed out cigarettes, and the air in the studio was blue with stale smoke. Reference materials—picture books and magazines—littered the floor and every horizontal surface within easy reach of his drawing board. He catnapped whenever he could no longer keep his eyes open, and days blurred into nights and then into days again, but the regimen was no major departure from his usual practice on more than one occasion. And Milton was invigorated by the new kind of pressure—to create a strip Patterson would like and on a subject he was almost wholly ignorant of and to do it in less than a week.
Researching the new strip was of the utmost importance, and Caniff still kept up with Dickie Dare and The Gay Thirties, a daily panel cartoon he was doing for the AP: he couldn't risk his AP job until he was sure Patterson would take the new strip. He hadn't time for the kind of exhaustive study he would later put into the strip, but developing the lead characters was relatively easy. Since Patterson had all but specified another version of Dickie Dare, Caniff simply made a few cosmetic changes in his heroes. The new young protagonist was Dickie with blond hair; his guardian, Dan Flynn with dark hair. Naming the duo, Caniff extended the parallels, giving the youngster the same kind of alliterative name, faintly reminiscent of the nursery—Tommy Tucker. Tommy's protector bore another Irish monicker, Pat Ryan. Physically, Ryan was patterned after movie actor Fred McMurray, whose mannerisms in his role in "The Blue Ridge Mountains of Virginia" felt right to Caniff for an adventurer. To hint at a source of income for his hero, Caniff again repeated himself: Ryan would be a vagabond author, a freelance writer like Dan Flynn, free to move around at will. And Tommy would tag along for the fun of it—just like Dickie was doing with Flynn.
Neither of his principals was a major departure from what Caniff had been doing, but for the villain in their first adventure, he surpassed anything he (or anyone else up to then) had done. He created a character who, upon repeated appearances in the strip, would become one of the most famous femme fatales in modern literature. But when Caniff began plotting and drawing the first Sunday page, the moment of her creation was still in the future—just a page away.
As he penciled and inked the first pages of his new strip, Milton's imagination was working, giving his characters personalities and histories, spinning out their fates. Before his mind's eye, these phantoms of his invention postured and paraded, they took boat trips up obscure Chinese rivers, they explored ancient temples and picturesque gardens fallen into ruin, they lounged on verandas at the clubs of colonial outposts, they fought pitched battles in hand-to-hand combat with bandits and pirates. In his mind's ear, he heard them speak—delivering speeches both long and short, exchanging idle banter during moments of repose, trumpeting calls to arms in the heat of a fight. This nearly involuntary idling of the creative engine enabled the cartoonist to flesh out his characters mentally while at the same time absorbing their personalities—both operations essential to the storyteller's art. As his people assumed physical dimensions in black and white on the drawing paper before him, their personalities became equally palpable in his mind. He constructed pasts for them—and futures. Tommy, Caniff mused, would slowly grow up and eventually take Ryan's place as the strip's strong-arm lead. Ryan might finally get married, but in the meantime, he would run a gamut of beauteous damsels—falling hopelessly in love with one, who would prove unattainable. She'd move in and out of his life, and every time she showed up, those frustrated passions would flame up. Heathcliff and Catherine all over again.
At the beginning, though, on the drawing board in front of Caniff, Ryan is still a romantically unencumbered adventurer, a freelance writer, and he and his young charge take passage on a tramp steamer plying the China coast so that Ryan can collect "local color" for a story. The steamer is attacked by pirates, and although the two resist capture, they are finally overpowered. As they stand helpless, the pirate chief appears.
"So! It is the Amelican gentleman who resists so brashly," says the svelte Oriental beauty, clad in kimono and with a holstered pistol for jewelry. "I am not su'plised."
"Luvva Pete!" Tommy exclaims. "We're captured by a woman!"
Pat's heard of her—"the most notorious woman pirate in China," he says.
The Dragon Lady made her first appearance in the last panel of the second Sunday page, published on December 16, 1934. Her creation, Caniff told me, seemed to him entirely fortuitous. "It was really as accidental as—there was going to be a bad guy coming over the side of the boat, and I thought, why not a woman?"
Recalling the moment of conception in a magazine article he wrote three years after the fact, Caniff explained at greater length: "One thing we hadn't talked about in the editorial conference was villains. Heroism cannot thrive without rascality. Slinky, oily Malayans and sundry other Eastern types had been standard for years. Why not twist it a bit and make the Number One menace a woman? One who combines all the best features of past mustache twirlers with the lure of a handsome wench. There was a woman pirate along the China coast at one time, so it wasn't beyond reality. She's fabulously wealthy. Lai Choi San means 'Mountain of Wealth.' That's too much for readers to remember. Call her that once to establish the atmosphere, but the Occidentals have nicknamed her The Dragon Lady."
Interestingly, Lai Choi San's celebrated nom de guerre is introduced very informally, with none of the dramatic fan-fare we might expect for so apt an appellation for an Oriental villainess. On the Sunday page for January 6, 1935, Pat refers to her as "the dragon lady" in much the same way as he might say "the pirate lady"—or, in a subsequent reference, "Homicide Hattie." Despite this off-handedness, the Dragon Lady's crew members are calling her "the Dragon Lady" immediately after Pat mentions the name. But he's the first to use it—and so casually as to suggest that Caniff hadn't invented her Occidental nick-name until he penned the strip's dialogue and realized at once its potent appropriateness.
The pirate queen's Chinese name, on the other hand, may have been supplied by Patterson, directly or indirectly. On July 27, 1931, the Chicago Tribune had published a book review by Edith Weigle, who reports on Aleko E. Lilius' I Sailed with Chinese Pirates. In that book, Weigle says, is a "famous women pirate" named Lai Choi San, "her name means 'Mountains of Wealth.'" Patterson could have clipped the article and filed it and let Caniff borrow the file while he was inventing the strip. Or maybe he simply suggested the name to the young cartoonist as being suitable for a woman pirate. Or Caniff, rummaging the New York Public Library for books on the Orient on that memorable weekend, could have turned up Lilius' book. Caniff, when I asked him about it, had the impression that he'd found the name in Bok's book, so perhaps the last of the alternatives is what happened. If Caniff found the name in Lilius' book, he could also have found the book in the Library without Patterson's help. The clue—Patterson's nudge in the direction of coastal pirates by means of Bok's novel—would have steered Caniff onto similar titles. Logical. And it explains why Caniff had no memory of Patterson's suggesting the name. Moreover, it explains why he does remember reading the name in a book—not Bok's but Lilius'. Whatever the case, despite Caniff's recollections, it's clear that the idea of a woman pirate came from Patterson, if not directly at least through the recommendation of Bok's book—and, perhaps, Lilius' as well.
The Dragon Lady was hardly Bok's Moon Shadow. Not even on her maiden voyage—and certainly not as she eventually matured under Caniff's guidance. Moon Shadow, as portrayed by Bok, was a bungled character. Ostensibly a doctrinaire Communist, she drops the party line without a shrug once Chan puts his arms around her. As long as Chan is alive, she functions as a thoroughly traditional female stereotype from romantic fiction: she melts into his embraces, murmurs endearments to the "Lord of her Life," and quivers with foolish feminine fears every time he leaves on a raid. Bok tells us that she became the pirate chief "owing to her clear, calm way of surmounting difficulties" and, of course, because she is the widow of their leader. But what we see, mostly, is a somewhat fluttery Victorian female. Moon Shadow is scarcely the Dragon Lady, but she was a woman pirate along the China coast, and that resonated with Caniff. Bok had left his pirate queen's leadership qualities entirely to his reader's imagination; Caniff imagined those qualities and gave them memorable form in creating his most celebrated and enduring character.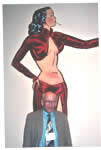 Caniff said the Dragon Lady was modeled after Joan Crawford: "I saw her in a movie in which she played some sort of siren. She had her hair parted in the middle and wore a high-collared cape." The Dragon Lady had these accouterments, but physically, she looks more like Hedy Lamar. By the fourth Sunday page, she has lost her phony Chinese accent, and by then, Tommy and Pat are her prisoners, and she, like almost every other female who will come into the strip, exhibits an immediate romantic interest in Ryan. It is one of the strip's persistent cliches that Pat is irresistible to women. However sexist, this useful plot device is scarcely as far-fetched as its simplicity suggests. Ryan is ruggedly handsome, and he also proves to be intelligent, charming, witty, and gallant—not to mention courageous and resourceful. To all of these attributes clings the mystery of a man who has knocked around the world a bit. And he is single. To most women—and certainly to those adventurous enough to be in the Orient—Ryan stands as a clear and present challenge of the most time-honored sort. If, as Jane Austen once wrote, "it is a truth universally acknowledged that a single man in possession of a good fortune must be in want of a wife," then Pat Ryan, without a fortune but determinedly single, is a ringing call to arms (so to speak).
How Pat reacted to amorous assaults during his "pre-strip life" we must perforce imagine: he meets his Catherine fairly soon in Caniff's saga, and that changes his behavior. Judging from his conduct throughout the strip's run, we can suppose that Pat was able to turn a luke-warm cheek to most spontaneous feminine advances. Not that he would have ignored the women who threw themselves at him: his was doubtless the thoroughly good humored dalliance of the all-around sportsman and gentleman rover. Such love affairs, we suppose, were virtually one-sided until an heiress named Normandie Drake comes along and captures the Irishman's heart. With the advent of Miss Drake, Caniff rang in a clear echo of the Wuthering Heights theme. Pat's coolness with other women is ever after explained by his having lost his heart elsewhere.
But Normandie Drake is still far in the future that fall in 1934 when Caniff arranged the first encounter between his footloose hero and the Dragon Lady. Once Ryan is aboard her junk, she invites him to her cabin, where she awaits in her slinkiest gown, reclining on a couch, cigarette glowing at the end of a long holder.
"Come here, handsome one," she purrs, sounding more and more like the latter-day Dragon Lady. And then: "Why are you so cool to me? I've been told I am not without charm! But you ignore me."
This scene offers the first clear signal that Caniff's new strip would be markedly different from Dickie Dare. Dickie was obviously a strip for the youngsters—and the young at heart. With his new enterprise, Caniff aimed straight for adult readers with mature motifs underlying even his most extravagant adventure stories.
Here endeth the excerpt.
Patterson, as we all know, bought the strip based upon what he saw in the Sunday samples Caniff showed him on that storied Thursday in October 1934. But the Captain didn't like the name "Tommy Tucker," so he asked Caniff to come up with a list of other possibilities. And when the young cartoonist gave him a list a few days later, Patterson circled "Terry" and added "and the Pirates." A classic was born.
There's more to the story of the Dragon Lady's birth than is recounted here, and you'll find it in the book. Contrary to popular opinion, we don't give away everything in this corner.
Caniff's conversation with Patterson as reported above is, like all such conversations in this book, manufactured, but it conforms to the facts of the occasion—as recalled by Caniff in interviews with me and as reported in various published accounts of the meeting.
When Caniff read this section of the book, he told me, "You have Patterson down just right." Not surprising: when Caniff recalled the meeting for me, he imitated Patterson's manner of speaking.
<![if !supportEmptyParas]> <![endif]>
<![if !supportEmptyParas]> <![endif]>
<![if !supportEmptyParas]> <![endif]>
Now, here's Allan Holtz, who runs his own website, http://www.strippersguide.blogspot.com, where he regularly posts rare findings from his forays into the vast reaches of newspaper microfilm files hither and yon.
<![if !supportEmptyParas]> <![endif]>
<![if !supportEmptyParas]> <![endif]>
MEANWHILE ... A BIOGRAPHY OF MILTON CANIFF
Review by Allan Holtz, Stripper's Guide
As cartoonist biographies go I daresay that there has never been, and will likely never be, another of the length and depth of R.C. Harvey's Meanwhile. Coming in just shy of a four digit page count it could scarcely be otherwise. Even more so when you consider that the impressive heft of the tome is not substantially padded with photos and art. To be sure the book is indeed well illustrated, but only with visual aids directly related to the narrative— there are no long reprints of Caniff's strips here or lengthy portfolios of miscellaneous art.
It is the nature of any successful cartoonist that they spend the bulk of their life hunched over a drawing board, endlessly skritch-skratching away. This is not the sort of lifestyle that would seem to lend itself to a lengthy biography. When we consider that there are plenty of well-rounded biographies of political figures, film stars, activists, people whose lives are filled day by day with the fodder of the biographer, that manage to tell their stories in a shorter page count, we have to wonder just what in the world Harvey is on about in a page count that rivals the King James Bible.
I for one certainly approached the book with trepidation. I've been a fan of Harvey's work for years, but my enjoyment of his work is tempered with the caveat that he is on occasion guilty of going over the top. When he goes into critical analysis mode he is always perceptive and thoughtful, but he can also beat a horse within an inch of its life. I was concerned that here Harvey would be shooting the works, analyzing Terry, Steve and their creator ad nauseam.
That fear, I'm happy to say, was completely groundless. Despite the enormous page count this book is, wonder of wonders, a tightly written narrative. In the tradition of classic biography, what critical analysis there is is grounded in the opinions that Caniff himself discussed with Harvey and others in interviews. Given that Harvey says the book in its original form was some 700 pages longer (!) than the final revision, I'm guessing that any extended author's analysis fell victim to the editor's red pen. If so, the book is better for it.
So what exactly does lurk between the distantly separated covers of this volume? Well, Harvey was lucky enough to be tapped by Caniff himself as his official biographer in the early 80s. This afforded the author with ample opportunity to question his subject at great length. While Caniff was, as Harvey relates, not a particularly forthcoming interview subject, by dint of persistence the author eventually ended up with a treasure trove of Caniffiana. The book is, as we might expect given the size, an impressively complete chronicle of Caniff's life and the times in which he lived. However, completeness doesn't necessarily translate to interest-sustaining or entertaining, and that's where Harvey's book truly amazes. I've read plenty of long form biographies where it got to the point that I was rooting for the subject to kick the bucket to cut the narrative short. That's not the case here. While I couldn't say that every single page is riveting, edge-of-the-seat reading, Harvey does an expert job of keeping the reader involved and interested all the way through. Any reader who is at least moderately interested in comic strips, even those not particularly fans of Caniff, will undoubtedly find the book fascinating.
Speaking of being a fan of Caniff, I should admit that I am not numbered in that legion. Of course I recognize Caniff's importance in the history of comic strips and the artistry of the two strips for which he is most famous. However, I think Caniff's writing is far too precious, heavily laden with hokey slang and tortured vernacular that I find grating and distracting. His subject matter, primarily military adventure, is just not my cup of tea. His cartooning, after a relatively short but glorious period in the early 40s when he was first influenced by Sickles' innovation of chiaroscuro comic strip illustration, later takes things too far for my taste, turning the strip into a series of ink-blots (not entirely Caniff's fault, of course— the comic strip was shrinking more rapidly than he could adjust his art style to suit, finally ending up so small that no one, not even Caniff, could possibly do a realistically rendered adventure strip).
The point is that you don't need to be a Caniff fanatic to thoroughly enjoy the book. I recommend it not only to the ardent Terry or Canyon fan, but anyone with more than a passing interest in the art and business of the comic strip in America. Caniff's story is, after all, the history of the adventure comic strip in particular, and the newspaper comic strip in general. Harvey does a superb job of weaving all the various aspects of the story of American comic strips into the narrative. We see Caniff marketing his comic strips (and find out just how tireless a promoter he was), we see him coping with the miniaturization of his daily and Sunday spaces, we gain a deep understanding of the relationship between the creator and syndicate. We learn one cartoonist's reaction to the unforgiving daily deadline pressure, and how assistants and ghosts can become indispensable in the process of producing a strip that doesn't have the luxury of relying on simplistic art and daily gags. We learn the intricacies of producing an integrated daily and Sunday storyline, a balancing act that is one of greatest tests of skill that any writer could ever face. We see one cartoonist's bold reaction to the demonization of his art form when accused of being, bizarrely, a cause of juvenile delinquency. We see how a cartoonist deals with the use, and misuse, of his creations in other media like movies and television.
I have only a few minor criticisms of the book, most worth mentioning if only so that this review doesn't seem utterly slavish in its support. First, the book is divided into just nine epic length chapters. It would have been more reader-friendly had it been broken up into more manageable chunks that could be read at one sitting. And although there are illustrations throughout the book, usually well-placed to coincide with the related narrative, each chapter ends with a gallery of additional illustrations. These sections would have been better broken up and dispersed throughout the text, if only to relieve the long stretches of type-dense pages.
The narrative flow drags a bit for a hundred pages or so near the end of the book. By this time Caniff was constantly being lured away from his drawing board by an endless procession of accolades and honors from every organization under the sun. Harvey unwisely devotes a considerable amount of space to the details. This section, while it does have occasional interesting points, could have been shortened. If the purpose was to show that Caniff was revered by his peers and his fans, well, that wasn't much of a secret anyway.
Finally I have to question Harvey's use of invented conversations. In the first half of the book the author occasionally uses a device where he stages a conversation, usually set in Caniff's favorite watering-hole, in which we eavesdrop on a group of cartoonists shooting the bull. Harvey uses the device to impart some information in a presumably more entertaining method than dry prose. The device falls flat, though, because the conversations are stilted and too obviously staged for our benefit. And although Harvey makes no secret that the conversations are his own inventions, in a scrupulously researched work otherwise factual throughout I found these passages somehow discomforting from the standpoint of journalistic ethics. Call me a stick in the mud.
These are all picayune little quibbles, though. Harvey's work is, quite simply, a masterpiece of biography. He has set the platinum standard by which all future cartoonist biographies will be judged. Most, likely all, will be found wanting in comparison. It is one thing to produce a thick book, and not necessarily a good thing at that. It is an entirely different thing that Harvey has achieved here. He has produced a work of lasting merit, eminently readable, brimming with meticulous research, a work that must be atop the required reading list of every cartooning fan and cartoonist.
<![if !supportEmptyParas]> <![endif]>
****
<![if !supportEmptyParas]> <![endif]>
<![if !supportEmptyParas]> <![endif]>
From Dennis Drabelle the Washington Post:
The Fantagraphics folks have interlarded this strapping biography with generous reproductions from both of Caniff's brainchildren, and Harvey, who knew and interviewed the cartoonist before his death in 1988, writes with gusto.
<![if !supportEmptyParas]> <![endif]>
From Ken Tucker at EW.com:
By simply dipping in and out of this beautifully designed, obsessively researched book, I know it's going to be a constant pleasure throughout the rest of the summer. ... Veteran comics historian Harvey manages to make the behind-the-scenes stuff (the book doubles as a history of newspaper syndication practices, for instance) as exciting as Terry fending off the advances of the pin-uppable Dragon Lady.
<![if !supportEmptyParas]> <![endif]>
From Chris Mautner at Patriot-News and panelsand pixels.blogspot.com:
If Harvey is a bit too inclusive in chronicling Caniff's life, he does a superb job of explaining why he's important. He goes to great lengths, drawing out examples, providing background and detailing individual strips to show how and why Caniff dominated the comic strip world during the middle of the 20th century. ... reading Terry today, despite its dated references and cultural attitudes, it's hard not to be awed by Caniff's abilities as a storyteller and artist. He was that good.
<![if !supportEmptyParas]> <![endif]>
From Peter Sanderson at PW Comics Week:
As demonstrated in his past books and articles, one of Harvey's great strengths is his skill at analyzing comics storytelling. In Meanwhile, Harvey insightfully explains what made Caniff's work, as both writer and artist, so revolutionary. ... Caniff brought a multidimensional approach to characterization that was brand new to American comic strips, and Harvey is especially good at exploring the psyches of Caniff's femme fatales, like the Dragon Lady. Harvey superbly analyzes the initial week of Steve Canyon strips, illuminating Caniff's master of building suspense. ...
<![if !supportEmptyParas]> <![endif]>
From Mark Evanier at newsfromme.com:
Is it too long? Maybe the title is but the book sure isn't. Caniff's incredible career demanded that kind of detail, and I found myself wishing Harvey had written more, not less, about some aspects of the man's life. Of particular interest is how Bob nails down the life of a working strip artist—the relentless schedule, the dealings with editors and syndicates, etc. ... The portrait of the gentleman himself—as smart and determined as any of his heroes—is fascinating and, from what I can tell, quite accurate.
<![if !supportEmptyParas]> <![endif]>
From Eddie Campbell at eddiecampbell.blospot.com:
It's one of those classic, grand biographies that give us the subject from cradle to grave, complete. I have vicariously lived Caniff's 81 years condensed into a short span of time, in this case a couple of weeks, starting on my flight back from San Diego where I picked it up. I had waited too long for this book not to start it right away. ... And finishing it yesterday morning, in tears inevitably, I had to write off the rest of the day and go and have lunchtime beers with those pals of mine, none of whom have read a single page of the cartoonist I often cite as the single most important influence on my career.
From Amazon's Customer Reviews, M. Kreffel:
Very few books fulfill the promise of their covers; Meanwhile does just that, and more. ... Harvey has done the magical—fleshing out the biography of an icon of the golden era of comic strips and not simply chronicling Caniff's life but also taking us behind the scenes and into Milt's mind. It's all here: how Milt worked, what inspired him, the real people who were the models for his characters, the real world of syndicated comic strips. Folks, this is as close to the excitement of time travel as you'll ever get. ... the book contains treasure. ...
<![if !supportEmptyParas]> <![endif]>
... The Comics Maven:
I have to admit that after it arrived, I was a little intimidated by it. It is, after all, a massive door stopper of a book, and I left it sitting on my desk for a week before I finally cracked it open and began reading it in earnest. Despite its considerable length, the pages flew by and I was soon at the end with a distinct feeling of disappointment at the prospect that it was over.
<![if !supportEmptyParas]> <![endif]>
... Mark (James Axler) Ellis:
R.C. Harvey, one of the most well-respected authorities on the history of the newspaper comic strip, has written the definitive, even monumental, study of Milton Caniff and his work. ... Meanwhile is a great book. It's one of the few that I have read in the last few years that I have referred back to within days of finishing it.
<![if !supportEmptyParas]> <![endif]>
RCH, his head several hat sizes larger than when he started pulling out only the most extravagant sentences from this assortment of reviews, has only this to add: Boy, is my hat size larger.
<![if !supportEmptyParas]> <![endif]>
And this: You've dawdled too long. It's now too late for your spouse to order it for you for Christmas, but not too late for you to get one for yourself using the money your mother-in-law put in your stocking. For more about the book (as if you need any more, ooffta) and access to an order form, click here.
To find out about Harv's books, click here.