Opus 212 ( October 6, 2007 ). Most of our emphasis this time goes to our venting disgust at the forced resignation of an English teacher whose crime was recommending Daniel Clowes' Eightball No. 22 to a 13-year-old female student, and we applaud the only professional job of reporting on the incident, by quoting the entire article. And there's an excerpt from Meanwhile: A Biography of Milton Caniff in which we are witnesses to "the best times" Caniff had in New York . Here's what's here, by department:
NOUS R US
Cast of Frank Miller's Spirit Grows Apace
Schulz on PBS
The Appeal of Satrapi's Persepolis
More Edgy Comedy in a Strip
Teacher Recommends Eightball No. 22 and Is Forced To Resign
The Whole Story in an Exemplary Piece of Reportage
BOOK MARQUEE
Mutt & Jeff
The Cat in the Hat
Bill Mauldin
Superman
FUNNBOOK FAN FARE
Jeff Smith's Captain Marvel
Black Diamond
Black Summer
Crecy , Ellis's Graphic Novel
THE BEST TIMES
An Excerpt from MEANWHILE: A Biography of Milton Caniff
And our customary reminder: don't forget to activate the "Bathroom Button" by clicking on the "print friendly version" so you can print off a copy of just this lengthy installment for reading later, at your leisure while enthroned. Without further adieu—
Correction (or Adjustment) for Opus 211: I couldn't find Khalil Bendib's new book of political cartoons, Mission Accomplished: Wicked Cartoons by America's Most Wanted Political Cartoonist, at a site cited in E&P some weeks ago: Olive Branch Press is a Website for those seeking religious or humanitarian inspiration of a saccharin self-righteous sort I usually eschew. Bendib's book would be thoroughly out-of-place there. It's published, instead, by Interlink Books and can be found at that 'Net destination for $17.95 or a little less, depending.
NOUS R US
All the News That Gives Us Fits
Actress Sarah Paulson has joined the cast of Frank Miller's "The Spirit" to play the part of Ellen Dolan, the Spirit's love life. Ellen's father, the gruff but lovable police commissioner Dolan (who Will Eisner, the character's creator, came, in later years, to resemble), will be played by Dan Lauria. Femme fatales in the film will be enacted by Eva Mendes and Scarlett Johansson; young Denny Colt, who eventually becomes the Spirit, will be played by Johnny Simmons. ... PBS' American Masters program for October 29 will be about Charles Schulz and will include interviews with such luminaries as Jules Feiffer, Lynn Johnston, and Schulz's biographer, David Michaelis, who served as consultant on the documentary according to Editor & Publisher. ... At the Levine Museum of the New South in Charlotte, NC, original comic strip art from Bob Lubbers' Long Sam, Snuffy Smith by Fred Lasswell, Pogo by Walt Kelly, and Kudzu by Doug Marlette and others offers an opportunity to contemplate the South's image in popular comics. Entitled "Comic Stripped: A Revealing Look at Southern Stereotypes in Cartoons," the exhibit opened in September and will run until April. ... Marjane Satrapi's Persepolis graphic novel, now available in 20 languages (none of which are Persian, the traditional tongue of Satrapi's native land), probably achieved its worldwide fame because "the political climate was ripe for the views of an Iranian woman who descried the veil as a repressive device of Islamic fundamentalism" writes Sarah Weigum in The Tyee, reporting on an interview with Manuela Costantino, a veiled guest professor at UBC, who suspects that the book's success may be explained in part by a simplistic reading of it that fits too easily with prevalent Western attitudes towards Islam. In other words, Satrapi's books confirm existing prejudices in the West. The first Persepolis , maybe; but not the second—nor her subsequent forays into graphic novelty, which present Muslim women as essentially subversive. ... Illinois Attorney General Lisa Madigan is expecting her second child and will probably take six weeks' maternity leave, but after that, she'll be back to work. She's lucky in her spouse though, New Yorker cartoonist Pat Byrnes. "Pat's flexible hours and home office allow him to be significantly involved in caring for our children as I continue fulfilling my duties as attorney general," said Madigan. ... On September 24, Alley Oop began a two-month sequence that returns the time-traveling cave man to Oklahoma in 1907, the year the territory became a state. Drawn by Jack Bender and written by his wife Carole, who live in Tulsa these days, the strip will feature Alley meeting Will Rogers, another Oklahoman. ...
Cover art for comic books is, generally speaking, stunning. Funnybook covers these days display some of the best illustration and cover design in modern America . The posturing of the figures and "narrative content" are often grotesque, but the art itself is superb. But you can no longer tell a book by its cover: the interior art is usually by a different artist whose skill, while light years ahead of the fodder of the forties, is not quite up to the brilliance of the cover artist. ... The Week magazine for September 21 reports that in the wake of the spate of toy recalls, Walt Disney Co. will institute its own testing system to guarantee the quality and safety of products using its characters. ... The Chicago Tribune and perhaps a few other newspapers pulled Darby Conley's Get Fuzzy for September 14 because the strip's punchline was "a vague testicular injury joke," explained the Trib's Public Editor, Timothy J. McNulty. In the strips for the week, Bucky the Irritable Cat has been lurking in his master's domicile with a clutch of "goons," body-guard cats and would-be bouncers, mouthing menacing mutterings. His master, Rob, weary of the game, is looking in the cabinet for cereal and says: "Bucky, I just want my nut crunch." To which Bucky sneers: "The goons will be happy to provide that." Said the Trib's features editor, Geoff Brown: "Some people claim it's censorship, but I call it editing. We don't allow our own reporters to write vulgarities, double-entendres, or untruths, even in jest." The next day in Get Fuzzy, a "presumably black rapper star character" uses the word "cracker" about a presumably white character. That's a racist term, but it apparently didn't rise to the offense level of a balls joke. "So where's the consistency?" asked McNulty. Well, Brown just missed that one. Oopsie. Fact is, there is no consistency in the realm of personal opinion coupled to ordinary, everyday human frailty.
MORE HEADLINES FOR GRAPHIC NOVELS
At Guilford High School somewhere in God-fearing Connecticut, a 29-year-old English teacher named Nate Fisher was placed on "administrative leave" and then resigned because he assigned as make-up summer reading to a 13-year-old female student Daniel Clowes' Eightball No. 22, which, it is alleged by Robert C. Pollack at the Shore Line Times, contained "sexually explicit topics including masturbation and rape." The girl's parents, who have requested and received anonymity because they don't like getting irate phone calls from Fisher's supporters, who are numerous and intelligent (judging from their comments quoted below), have slathered the incident with nasty innuendo. Fisher didn't assign Clowes' book to any other student, they say, and after their daughter read it, he met with her "alone" and asked her how she "felt" about the book. Said the girl's mother: "That made me worry what else would happen if she met with him alone again." The hysterical parents, not content with slandering the teacher (a former journalist in his second year teaching) and getting him to resign, want him to be subjected to more punitive action: they want him fired—which is a little like insisting that a convicted murderer be shot after he is hanged because simply being dead is not punishment enough.
Fisher's behavior may seem sinister with sexual overtones to the girl's parents, but he is actually behaving as almost all teachers of English do in high schools and colleges. Teachers frequently choose outside readings that they assign only to one student: that is the purpose of outside reading assignments—to tailor the reading to the interest of a particular student instead of expecting that student to like what everyone else in the class likes. Meeting "alone" with the student is also common practice: why would Fisher meet with other students who, presumably, had not read Eightball No. 22? Finally, asking a student how he or she "felt" about a book just read is another commonplace among English teachers. Most adolescent students are intimidated by questions that ask them what they "think" about a book they've just read: they're not ready to admit that they can think, and, besides, thinking is for nerds not regular fellas. So a teacher asks how a kid "feels" about a book as a ploy, a way of getting the kid to talk about what he or she has just read. In sum, there was absolutely nothing unusual or untoward in Fisher's conduct. In fact, he may well be a model, an exemplar, of English teaching techniques. He resigned, I suspect, because the Superintendent of Schools, Thomas Forcella, was so alarmed by the complaint of a single set of parents—just one mother and father!—that he suspended the teacher, initiated an "investigation," and then covered his elected butt by issuing a statement that the book was "extremely inappropriate and showed very poor judgement: it contained partial nudity and had sexual content." With support like that, Fisher could easily envision bullets being pumped into his dead body. Why would he want to hang around and work in that environment?
The sensation-mongering coverage given the episode by the ever-vigilant news media didn't help much. It wasn't until several days after Fisher resigned that Christopher Arnott at the admirable New Haven Advocate explained that the "various sex acts and murder" to be found in Eightball No. 22 "were not, in fact, depicted, just talked about." Clowes' graphic novel, in other words, is not as graphic as the earlier reportage implied by flinging around such terms as "sex acts" and "masturbation" and "rape." Arnott's reporting is so careful and thorough that I'm running the entire piece (just below) in order to shed some much-needed light on the incident as well as to show how responsible—that is, professional—journalism should cover such a story. But before we get to that, it's probably worth noting that the publicity given Eightball No. 22 by the so-called news reports will have at least three consequences, one of them wholly unintended: first, it will give encouragement to other hysterical parents and to Concerned Citizens Everywhere to meddle in matters they do not understand; second, it will tarnish the graphic novel as a literary medium by implying that all such "adult" comic books are about deviant sex and violence; and third, it will stimulate sales of Eightball No. 22 and subsequent issues of the title, and all such grown-up comic books—at least temporarily, until the buyers discover that the news coverage of this unfortunate affair is more titillating than the books being described. Now, here's Arnott, whole:
BEHIND THE EIGHT BALL
Are Dan Clowes' Graphic Novels "Borderline Pornography?"
Apparently in Guilford They Are.
By Christopher Arnott
New Haven Advocate, September 27, 2007
http://www.newhavenadvocate.com/article.cfm?aid=3262
When the New Haven Register revealed on its front page Sept. 17 that a Guilford English teacher had been placed on administrative leave for giving an "inappropriate" comic book to a student as a make-up summer reading assignment, there were some speech balloons and captions missing.
The paper didn't run the names of the student or her irate parents—who'd requested anonymity because of alleged harassment from students who liked the teacher—and didn't name the publication that caused the outrage. Comics enthusiasts and scholars braced themselves. Would the offending book be Frank Miller's Sin City? Cherry Pop-Tart? Some sexist R. Crumb scribble?
Comics enthusiasts were stunned when, in Wednesday's paper, the Reg revealed that the book the student's outraged father deemed "borderline pornography" was Dan Clowes' Eightball No. 22. Clowes is among the most acclaimed writer/artists working in the field. Eightball No. 22, first published in 2002 and later reprinted as the hardcover book Ice Haven, is part of a huge body of work that has included the graphic novels Ghost World (made into a popular movie), David Boring and the David Lynchian A Velvet Glove Cast in Iron. Clowes' newest graphic novel, Mr. Wonderful, is currently being serialized by that well-known porn rag The New York Times Magazine. Clowes has been awarded every conceivable industry honor: Eightball No. 22 alone won prestigious Eisner Awards for Best Single Issue, Best Writer/Artist, Harvey Awards for Best Single Issue and Best Writer/Artist, and the Ignatz Award for Outstanding Comic.
It's not that Clowes' work doesn't deal with adult themes. One of his preferred narrative devices is to use innocent comic styles of bygone eras to depict unsettled, isolated, ultra-realistic modern characters. In 29 interlocking vignettes, using a variety of different drawing and writing styles critics have deemed "Altmanesque," Eightball No 22 tells tales of abduction, desperate young love, primitive carnal and violent instincts, depression, loneliness, paranoia and unlikely career goals. The jam-packed 40-page story ends somewhat hopefully, but documents numerous harrowing life journeys.
Register reporter Rachael Scarborough King shorthanded Clowes' complexities by reporting that the comic "includes references to rape, various sex acts and murder, as well as images of a naked woman, and a peeping tom watching a woman in the shower." Shocking stuff—though the sex and bloodshed aren't in fact depicted, just talked about, and the nudity is part of a poignant and decidedly non-titillating scene in which a sensitive young woman is afraid her lover will leave her because of an unsightly birthmark. In any case, graphic acts of sex, murder and voyeurism can be found in countless classic works of literature, by such acclaimed writers as Charles Bukowski, Truman Capote, Allen Ginsberg, Ayn Rand, Leo Tolstoy, Gore Vidal, Nick Hornby, Theodore Dreiser, Sam Shepard, Alice Walker, Cormac McCarthy, Jack Kerouac, D.H. Lawrence, John Cheever, Thomas Hardy and Sylvia Plath.
All those writers, as it happens, appear on the official list of 2007 Summer Reading suggestions presented to students by the Guilford High School English department. So do disgraced sex-and-drugs-addled memoirist Augustyn Burroughs and bestselling erotic mystery novelist Janet Evanovich, most of whose books have a hot sex scene within the first few pages. It's an enlightened, engrossing, wide-ranging list that might actually attract more young people to read.
Eightball's themes fit snugly with those of most of these unassailably worthwhile writers. Daniel Clowes' main offense, it's suspected, is that while his work has received more accolades than virtually any other writer on the Guilford High reading list, he works in the disparaged form of comic books and graphic novels, a literary genre that's been trying to convince non-partakers that it's "not just for kids" for at least a half century.
That cause wasn't helped by the New Haven Register's Sept. 21 "Soundoff" readers poll question, "Are comic book novels too graphic for children?" Some readers responded with such uninformed comments as "Guilford schools and comic books—it figures," and "Absolutely, period. It is frightening that this event could occur in our educational system." Meanwhile, Guilford's Superintendent of Schools, Thomas Forcella, sent a notice to Guilford High School parents noting that "it is important for parents to know that the material in question rose to a level of unacceptability that is far beyond that of materials normally questioned in educational circles."
Really? Tell that to the School Library Journal, which reviewed Clowes' story (in its hardbound Ice Haven format) and declared it suitable for grades 10 and up. (The "victim" at Guilford High was a ninth grader, but that rating's still a far cry from "borderline pornography" that is "far beyond" acceptability for academic use.)
Reached by phone on Monday, Forcella restated his belief that Eightball No. 22 was "inappropriate" for 13-year-olds. He mentioned Clowes' "offhandedness" in dealing with such topics as rape, and gave Truman Capote as an example of a writer who "in his novels, presents materials in a responsible manner." Forcella noted that while teachers are allowed to bring in materials that are not on the official curriculum, they usually follow a peer-review process where a colleague agrees that the material is suitable. That process was apparently not followed in this case. Forcella forsees no changes to the existing summer reading suggestions, and chuckled when asked if Eightball No. 22 was likely to appear on it anytime soon.
Clowes has not yet commented on the incident. Eric Reynolds, publicity director and special projects editor for Fantagraphics, Clowes' longtime publisher, writes in an email that "I am highly disturbed that someone lost his job over this particular comic, especially in light of some of the more incendiary rhetoric being thrown around in regard to it, notably the 'borderline pornography' quote. 'Pornography' as a term has no particular legal significance and is to some degree in the eye of the beholder, but the notion that there is anything pornographic about Eightball No. 22 is fairly absurd. The more legally relevant term is of course 'obscene,' and there is no doubt that Eightball No. 22 is not obscene by any legal definition of the word. This is a work of literary satire. It doesn't depict any sexual conduct and its literary and artistic merit has been articulated by many more reputable critics than myself, in magazines and newspapers across the country. I'd like to believe this is one giant misunderstanding," Reynolds concludes, "that could be resolved without ruining the career and/or reputation of anyone involved."
Too late. After being placed on administrative leave, the beleaguered teacher resigned. It's a fascinating commentary on American culture that might inspire a great work of fiction: An adult who generously exposes a young student to new cultures and concepts is caught up in a massive misunderstanding and finds his job jeopardized when angry parents get involved.
Oh yeah, that story's already been done—in the film version of Dan Clowes' graphic novel Ghost World. You should check it out. Just not at Guilford High School.
carnott@newhavenadvocate.com
RCH: Like I said before—the terrorists are winning.
Fascinating Footnote. Much of the news retailed in this segment is culled from articles eventually indexed at http://www.rpi.edu/~bulloj/comxbib.html, the Comics Research Bibliography, maintained by Michael Rhode and John Bullough, which covers comic books, comic strips, animation, caricature, cartoons, bandes dessinees and related topics. It also provides links to numerous other sites that delve deeply into cartooning topics. Three other sites laden with cartooning news and lore are Mark Evanier's www.povonline.com, Alan Gardner's www.DailyCartoonist.com, and Tom Spurgeon's www.comicsreporter.com. And then there's Mike Rhode's ComicsDC blog, http://www.comicsdc.blogspot.com
CIVILIZATION'S LAST OUTPOST
One of a kind beats everything. —Dennis Miller adv.
We're fast approaching another 50th anniversary. Or maybe 70th. It was on Thanksgiving Day in 1937 that Walter "Fred" Morrison first sailed into the sky a popcorn-can lid and marveled at the way the missile slid through the air. It was like skipping a flat stone across a placid surface of the lake. Only better: you didn't need the lake. When the popcorn-can lid got too beat-up to fly, Morrison graduated to a cake pan. Or maybe it was a pie tin. And when a beach bum offered Morrison two-bits for the pie tin, Morrison saw immediately the commercial value of his flying disc and started manufacturing a plastic version, which was called a Whirlo-Way for awhile, then a Pluto Platter. In fateful 1957, Morrison sold his Pluto Platter rights to Wham-O, a toy manufacturer, who re-named it "Frisbee," surrendering to popular argot: college kids in the area had nicknamed the Platter after tossable pie tins they obtained from the Frisbie Pie Co. of Connecticut, according to Lisa Ryckman of the Rocky Mountain News, who relied in part on an Associated Press story and on Phil Kennedy, co-author of Flat Flip Flies Straight: True Origins of the Frisbee. Just up the road from me in Boulder, Colorado, is the headquarters of the Ultimate Players Association, "the governing body for Ultimate Frisbee," which "marries soccer's pace with football's aerial acumen." In "the spirit of the game," players "acknowledge their own fouls and settle disputes without referees," a practice that many players consider more important than winning. "Steady Ed" Headrick, who invented disc golf and is considered by many to be the father of the modern Frisbee, asserts "that the flight of the Frisbee gives it a spirit that could never be duplicated by a mere ball." Said another player: "When a ball dreams, it dreams it's a Frisbee." Devotees are so imbued with the spirit of the game that they could be called "Frisbyterians," said Headrick. "When we die," he continued, "we don't go to purgatory: we just land up on the roof and lie there."
Verbatim from the September 24 Rocky Mountain News: "The NFL sent a memo to all 32 teams last week informing them that home teams are not allowed to tell their cheerleaders to warm up, stretch or do anything else that could be considered distracting in front of the visiting team's bench."
BOOK MARQUEE
Still another anniversary looms: it was one hundred years ago come November 15 that a sports cartoonist at the San Francisco Chronicle had successfully convinced his editor to run his cartoon, a sequential series of panels, across the top of the page in a "strip" instead of clustering the panels in a box. Harry Conway Fisher, known to his compatriots as "Bud," also convinced his editor to continue, every day, to publish a fresh installment reporting the gambling fortunes of the race-track tout who had debuted on that fateful November day, Augustus Mutt, who gave his name to the feature, A. Mutt. We'll be celebrating the centennial of this pioneer of the medium in November with a long history of the strip's origins and subsequent popularity and, after three-quarters of a century, its unheralded demise. Until we get to that, you can whet your appetite by getting your own copy of the first of NBM's new reprint series, Forever Nuts, which will concentrate on "very early, very goofy strips—classics with amazingly off-the-wall, crazy comedy that remains fresh to this day." The inaugural volume is devoted to The Early Years of Mutt & Jeff (192 7x11-inch pages in black and white, jacketed hardcover bound on the short side; $24.95), edited by Jeffrey Lindenblatt, who also edits a long-running magazine of classic reprints, The Missing Years. Lindenblatt has selected strips from the period 1909-1913, by which time Fisher had achieved his antic apogee and had not yet surrendered artistic control of the strip to a succession of ghosts. Among the historic contents, several of the two-decker strips Fisher produced: in those years before syndication had dictated the size of strips, a cartoonist could vary length and width somewhat, and Fisher took advantage of situation. (In my files—temporarily bundled in anonymous boxes—I have an example of a two-page Mutt & Jeff: the strip is continued from one page of the newspaper to the facing page, the last panel of the first page's strip carrying a notation, "continued over there" with an arrow pointing to the right.) The book is a treat and a suitably manic exemplar of the "classic screwball strip" genre. Allan Holtz, whose website strippersguide.com delves regularly into the archane of the medium's history, supplies an introduction to both the strip and the irrepressible Fisher. Holtz unaccountably leaves out the debut date of the strip and momentarily believed, until I reminded him, that the notorious courtroom melodrama that consumed the strip in the early months of 1908 was Mutt's divorce case (it wasn't), but Holtz's essay is otherwise a lively recounting of the birth of a strip that many historians regard as the first successful daily comic strip and of the legal battles by which Fisher secured his rights to his creation. Holtz's essay carries several rare illustrations—Fisher's first signed cartoon in the Chronicle for January 7, 1906, an example of Clare Briggs' A. Piker Clerk, a strip that may have inspired Fisher's creation; the A. Mutt strip to which Fisher surreptitiously added his own copyright notice, thereby establishing his ownership; and the March 27, 1908 strip in which Jeff first appears. (The caption here is wrong, however: it claims this is the first reprinting of this classic moment, overlooking my use of the strip in a book of mine, The Art of the Funnies, about which you can learn more by clicking here.)
While marking anniversaries—it's the 50th anniversary of The Cat in the Hat and of How the Grinch Stole Christmas! And if you don't remember that Theodore Geisel, aka Dr. Seuss, honed his fey storytelling skills as a cartoonist, Checker publishing is here to jog your memory with at least two volumes of Theodore Seuss Geisel: The Early Works, which collect his otherwise fugitive cartoons and antic vignettes from various magazines of the late 1920s and 1930s. The Cat began as a challenge: in the spring of 1955, William Spaulding, director of Houghton Mifflin's education division, proposed that Geisel write and illustrate a book for six- and seven-year-olds using a vocabulary of only 225 words. A lively Dr. Seuss book for schools would, Spaulding hoped, arrest an alarming trend of growing illiteracy among children, a trend heralded by Rudolf Flesch in his sensational 1955 tome, Why Johnny Can't Read. Geisel rose to the bait, first engineering an arrangement with his publisher, Random House, that permitted him to write a book for a rival: Random House would have the rights to the trade edition of the book, and Houghton Mifflin would sell the school edition. But when Geisel tackled the word list, he was immediately frustrated. "There are no adjectives!" he yelled at his wife. "I read the list forty times," he said, "and got more and more discouraged. It was like trying to make a strudel without any strudels. I was desperate, so I decided to read it once more. The first two words that rhymed would be the title of my book, and I'd go from there. I found 'cat' and then I found 'hat.' That's genius, you see!" The book, its vocabulary slightly expanded to 236 words, appeared with not much fuss in the spring of 1957. But critics loved it. Clifton Fadiman called it "probably the most influential first-grade reader since McGuffey." John Hersey said it was a "harum-scarum masterpiece ... a gift to the art of reading." The trade edition flew off the shelves in bookstores, quickly outstripping sales of the school edition. Cat "escalated into a sensation," wrote Judith and Neil Morgan in their biography Dr. Seuss and Mr. Geisel; "spurred by playground word-of-mouth, children nagged their parents to buy it. ... Within three years, Cat sold nearly a million copies at $1.95 each, with editions in French, Chinese, Swedish and Braille." (How translators dealt with the vocabulary limit and Seuss's antic sense of poetry is a question too daunting for me.) After four years, it had sold two million copies. In an anniversary-hailing volume, The Annotated Cat: Under the Hats of Seuss and His Cats, Philip Nel, examining Geisel's notebooks and sketches, looks over Geisel's shoulder as the book is being written, examining Dr. Seuss's poetry word-by-word, rhyme-by-rhyme. Elsewhere, the Morgans note that Geisel "had mastered in print the cinematic knack of accelerating words as the plot quickened." Hersey was right: Cat was—is—a masterpiece. In the fall of 1957, Grinch appeared and "was acclaimed from the start. ... Two decades after his first children's book was published, Dr. Seuss suddenly became a top-tier celebrity." Geisel, though, was still a cartoonist: in a note accompanying the Grinch material he sent to his publisher, he wrote: "I'm sorta happy about the drawings."
Fantagraphics Books is poised to bring out the first of several volumes printing the "best of Bill Mauldin" from 1940 to 1991, when he stopped drawing because he dropped a jeep motor on his drawing hand. (He tinkered with old cars as a hobby.) The wartime work which made him famous, the celebrated "Willie and Joe" cartoons featuring two battle-weary dogfaces, will be first—in "a deluxe, beautifully designed two-volume slipcased edition of over 600 pages" edited by Todd DePastino, a Pittsburgh history teacher, whose biography of Mauldin is forthcoming from W.W. Norton in early 2008—Bill Mauldin: A Life Up Front. DePastino will supply an introduction plus running commentary providing context for the cartoons. My appreciation of Mauldin ran in Harv's Hindsight in February 2003; you can find it here. (And for those of you addicted to print, I have a somewhat more lavishly illustrated version in monograph for $5, including p&h; write me at the Email link below.)
DC Comics has been bringing out in an affordable paperback format the earliest Superman stories by Jerry Siegel as drawn by Joe Shuster (192 6.5x10-inch pages in color; $14.99). Vol. 1 includes the Superman tales from his debut in Action Comics No. 1 through No. 13, plus the material from Superman No. 1 that was not merely reprinting Action Nos. 1-4, with covers from the original books, all illustrated by different artists and all depicting adventurers other than Superman until No. 7. It took until then for the management to realize what newsstand sales revealed—that it was Superman who was selling the title, not other action heroes. Nos. 8 and 9 repeated the usual formula—depicting an action scene with a nameless hero—but with No. 10, Superman was back on the cover, and he would remain there, the magazine's foremost shill, in name if not, usually, in picture, for the rest of Action's run. The stories are reprinted in chronological order, with issues of Superman interleaved with Action tales. Vol. 2 takes the chronology through January 1940 with Superman No. 3 and Action No. 20. The art is all reconstructed by Rick Keene and Pure Imagination, deploying the "Theakstonizing" process that bleaches out the color from old comic book pages, leaving the black linework to be retouched by hand after which the artwork is re-colored. This process often results in fine lines being lost—either because of clumsy re-touching or, more often, because the black lines in the original printed color pages are not clearly reproduced to begin with, leaving the re-toucher with the impossible task of turning a sow's ear into a silk purse. Shuster's art, revealed here in quantity to be more competent than the usual snippets indicate, is not complex enough to be much short-changed by Theakstonizing, so the result is fairly pleasing visually and worth studying as examples of early comic book storytelling—particularly pages by the duo whose creation virtually spawned the medium. The stories show Siegel and Shuster to have mastered pacing in the verbal-visual medium, but they seldom deviate from a rigid six- or eight-panel grid—and when they do, the larger panel doesn't seem to serve any dramatic purpose—and virtually all of the action is depicted from the same angle, varying only distance from mid-range to distant enough to show a full figure. Too often, although not always, Siegel's captions tell us what Shuster's pictures are showing us, producing a superfluous verbal-visual double exposure. But the series, The Superman Chronicles, constitutes an invaluable historical document, a visual record of the medium as it emerges.
About the same time as I acquired the first two volumes of this Superman project, I also picked up Valkyrie, a 2004 Verotik reprint (ISBN 1-885730-22-5) of the notorious Airboy adventures with a femme fatale whose perpetually plunging neckline invokes Milton Caniff's Dragon Lady on every page. The art of Fred Kida, whose deft aping of the Caniff manner would, later, yield an assignment assisting Caniff on Steve Canyon for at least one story, inspires a toothsome cover painting by Joe Chiodo. But I mention this volume here because it reproduces the pages of the original Golden Age comic book photographically rather than by reconstructing the art with Theakstonizing. The result, while in this instance has darkened the colors a trifle too much, is a much better representation of the comic book art of yore than the reconstructive process is capable of. Theakstonizing was the best the industry could manage 30 years ago when the appetite for reprinted Golden Age comics was first whetted, but since then, technology has advanced enough that we can have much better, clearer and more accurate, reproduction by computer scans than by the labor-intensive reconstruction process first perfected by Greg Theakston. DC Comics, alas, has locked itself into Theakstonizing: all its archival tomes employ it, and rather destroy uniformity by abandoning the process in favor of something more accurate and less expensive, DC plunges witlessly ahead. Too bad. Only in DC's Spirit archives is the artwork pristine, and that's because Will Eisner saved his original art (or photostats thereof) and these books are therefore printed from non-reconstructed drawings. Moreover, the paper stock is off-white, which reduces the garish glare that freshly applied color produces when published on stark white.
CIVILIZATION'S LAST OUTPOST: PART TOO
One of a kind beats everything. —Dennis Miller adv.
If you missed Garrison Keillor's take on the foiled bomb plot in Britain a month or so ago, here's a fragment. Keillor begins by noting that the bombers were all "trained medical pesonnel" and then goes on: "The fiasco in London is bound to bring new directives from the Department of Homeland Security forbidding doctors and nurses from operating motor vehicles. It only makes sense. Where there is smoke, there is fire. The war on terror must be pursued wherever it leads and right now it points towards people with stethoscopes. It is the DHS that requires us to remove our shoes at the airport and put our toothpaste in a little plastic bag, all in homage to previous unsuccessful terrorists, and so a new rule from Secretary Shirtsoff seems inevitable. What evil lurks in the hearts of men, the secretary knows. Doctors have been shown to constitute a security threat: therefore, they must not be allowed to drive cars of have backpacks or briefcases, which can conceal bombs. They should carry their possessions in clear plastic bags and they should go barefoot at all times. When it comes to security, there can be no shortcuts, no half measures.
"Perhaps these rules should apply only to medical personnel from the Middle East, or to all swarthy doctors, or those who have fez marks on their foreheads, or who set off the fig detector, but that would require a lot of on-site decisions by motor vehicle bureaus and security personnel—a blanket rule is easier to enforce. All docs take walks. After all, the TSA folks at the airport don't let you squeeze out a little Ipana on your finger and prove that it's only toothpaste and not nitroglycerine—there just isn't time for that monkey business. And so, starting September 1st, everybody—no exceptions—in the health-services field will be banned from driving anything with an ignition system. Thank you for your cooperation. ... Also you must register the purchase of nails with your local law enforcement agency. ... If medical people are deprived of the right to drive, how will they get to the hospital late at night in an emergency? The DHS will employ and train a new corps of drivers to transport medical personnel and to watch them for furtive behavior such as whispering or making odd hand gestures. ..." And on and on, into the night.
FUNNYBOOK FAN FARE
Like many of Jeff Smith's Bone fans, I was delighted when I heard he would take on the formidable Fawcett Captain Marvel. No one has yet resurrected C.C. Beck's classic tongue-in-cheek concoction, a super-powered being whose adventures reveal that neither he nor his creators take themselves too seriously. The most promising opening gambit is Smith's drawing style, which deploys a graceful line that does most of the work of modeling form and suggesting volume: while scarcely mimicking Beck's mannerisms, Smith's style is simple enough to suggest the original. By the time the fourth issue in the mini-series Shazam! The Monster Society of Evil ended, I was mildly disappointed in Smith's treatment. But only mildly. And his skill as a graphic storyteller made up for any shortcomings I felt in the tale.
His Billy Batson seems a little young—maybe 8 or 9 years old?—to do what the original Billy, a teenager, did. The original Billy was a professional radio newscaster. Smith's Billy, who we meet as a homeless orphan, winds up working in radio by the end of the series, but even after witnessing his various exploits, I still think he's a little too immature. Ditto his sister, Mary, who shows up in No. 2: she's almost infantile. Smith's tale, based upon the legendary battle between Captain Marvel and a sinister worm named Mr. Mind, which, in the original, lasted from February 1943 until May 1945 for 26 consecutive issues of Captain Marvel Adventures, bears almost no resemblance to its inspiration, testifying to Smith's considerable inventive prowess. In the original Beck series, we don't find out that Mr. Mind is a worm until quite late, and the revelation, postponed for so long, comes as a shock; in Smith's version, Mr. Mind arrives without much excitement, and he seems, at his first appearance, to be a genuine monster rather than a worm. Billy is astonished at the discovery though, so perhaps I should have been, too. Smith gives Captain Marvel's traditional nemesis, the fiendish scientist Thaddeus Bodog Sivana, a role in the plot as Mr. Mind's partner in the world-domination scheme. This Sivana is also the U.S. Attorney General, which permits Smith to take one or two jabs at the Bush League's security fetish. The storyline wobbles a bit as Smith introduces another traditional Captain Marvel character, a talking tiger named Talky Tawny, who, in this version, occasionally takes the guise of an elderly homeless personage, a friend of young Billy's, whose name, of course, is Talky. So which manifestation is the "real" Talky Tawny? The tiger or the old guy? The tiger says he's an ifrit, which he describes as "a wandering spirit that changes from human to animal"; the Britannica Online says ifrits are found in Islamic mythology, "a class of infernal jinn (spirits below the level of angels and devils) noted for their strength and cunning." Smith's inspiration for the species, though, may owe more to computer gaming than Islamic myth. His Talky, despite his dual incarnation, reminds me more of Walt Kelly's Tamanany than Beck's Talky, whose charm lay largely in his wearing human attire and wandering around on his hind legs, being puzzled by the world into which he'd been thrust. Smith's Talky, when not the old guy, is always feline in appearance and manner.
Smith takes up various of the eternal puzzles of the Fawcett Marvel Universe. What, exactly, is the relationship between Billy and Captain Marvel? Cap shows up when Billy says "Shazam," the adult figure replacing the juvenile when lightning strikes and thunder rumbles. Where does Billy go? Beck and company never answered the question, leaving it and numerous other elements of their science fantasy to hover forever over the tales. Smith says Billy is the "host" for Captain Marvel, who is the personification of a "protector guardian." And apparently Billy, as host, is inside Captain Marvel—and he can't breathe freely in there, so Cap must let him out occasionally. In the first issue of the series, before this explanation is offered, the two characters appear together, as separate beings—something Beck's bunch never did. In addition to the ifrit business, Smith creates other accouterments we've not heard of before. The Shazam Paradox, for instance, a circumstance that makes using magic in a magical locale extremely risky—perhaps fatal. So Cap can't say his magic word while inside a magical robot that Mr. Mind and Sivana have conjured up to destroy mankind.
At the end of the tale, Billy is, in effect, rescued by a cockroach whose life he once spared and who then leads the rest of the insect population of the world, Mr. Mind's ostensible allies, on a revolt against the worm, effectively undermining his scheme. The moral import of this may well be "Don't kill bugs." Although I can't be sure. While I'm a little disappointed in the story—the giant robots seem organic blobs rather than mechanized critters, for instance, not a satisfying visual—Smith's storytelling skill is, as always, impressive and yields more pleasure than we usually expect in comic books. His pictures reveal just how keen an observer of visual phenonema Smith is. The action of a cat's tail is always perfectly evoked in his renderings of Talky Tawny. And when, at the end, the entire roach population of the world collapses in two great squirming heaps, Smith's pictures are as close to animated action as anyone can achieve in a static medium.
Throughout, Smith's command of his medium is masterful. He manipulates focus with page layout and narrative breakdown as well as simple panel composition. He is expert at pacing for mood, and he can let his characters talk for pages, his pictures giving vitality to an otherwise tedious sequence. I don't think Beck would like the way Smith draws Captain Marvel—every muscle depicted in flayed anatomical detail in the customary mode of figure-drawing for superheroics—but Beck might well appreciate Smith's sense of humor. When Mary Batson first shows up, she meets Captain Marvel who then transforms himself into his "host," Billy, who introduces himself as her brother. She wants him to assume his Captain Marvel guise again so he can take her flying. Billy declines her request, saying, "I'm not a ride." Delicious. And when Mary first exercises her powers, she says, "I feel grrrreat!" But Talky, witnessing this display, is not impressed by her imitation of another famous tiger. "Very funny," Talky growls, almost disapproving. Moments like these make the entire enterprise a joy to engage with.
Larry Young's new title, Black Diamond, offers a tantalizing concept: the Black Diamond is a coast-to-coast superhighway with a railroad down the middle, built 150 feet above the country's surface. The construction attracts misfits and outlaws, who live in shanties along the edge of the highway, as well as speeding vehicles that occasionally fall off the road onto innocent citizens going about their business below. The plot requires Dr. Don McLaughlin, a dentist, to go from San Francisco to Baltimore, fast, so he takes the highway, where he will encounter numerous untoward events and unsavory people. "Street legal," we are told, "doesn't mean anything any more" up there. At the other end of the road in distress is his wife, Kate, who happens to be the daughter of the engineer who designed the Black Diamond. Young's verbal description of the concept in The Black Diamond: On Ramp is much better than the first issues of the series, which employ the usual cinematic mannerisms—terse and cryptic dialogue, no descriptive or expository captions, good for dramatic effect and better than the comics of yesteryear but not when coupled to imprecise illustration like the pictures by Young's choice of artist. Jon Proctor is impressive at drawing cars and other equipage, but at people, he's not quite so expert. His style, no doubt stunning in advertising circles, is not suited to comics storytelling. In comics, it's not just about drawing pictures: it's about storytelling with pictures, and brilliant technique or startling style doesn't necessarily tell a story. To tell a story, an illustrator mut adopt a manner that permits him to render his actors recognizable whenever they appear. Proctor doesn't do that with the style he's deploying here.
Warren Ellis Department: Yes, we may as well inaugurate an Entire Department for Ellis: he is prolific and his stories almost always embrace some marvelous new device or notion so he attracts my attention more often than most. So here we go again: Avatar, which published the first issue of Ellis' absorbing new title, Black Summer, did not take the trouble to re-cast Ellis' British accent into American argot with the glaring result that British grammar endures: subjects that are names of groups like "army," take plural verbs (as if "army" meant "they"). Luckily, Ellis's story is, as usual, gripping enough that we scarcely notice such breaches of grammatical decorum. In this title, a team with enhanced powers seems to be going insane, one by one, and the first of the new nuts, John Horus, has just killed the President. The one-time honcho of the team, Frank Blacksmith—who, like the X-Men's Xavier, may be the inventor of the enhancements—has apparently been killing off all his "children" before anyone else goes bonkers (I'm not sure of much of this, as you might tell, but it's a whopping good story anyhow) and comes to finish off Tom Noir, one of the bunch who somehow lost a leg and is living in a seedy hovel of a room and going slowly to pot. Tom foils his assassin with one of Ellis's stunningly inventive maneuvers (you'll have to see it to believe it) and then summons the other team members, wherever they may be at present, but only Zoe, a woman with strange eyes, shows up. Tom seemingly wants to alert the rest of the gang before Frank can do them all in. Juan Jose Ryp's artwork is in that school of illustration that renders every tiny detail with the same obsessive passion for accuracy, so Tom's messed-up apartment seems so crawling with disease and pestilence that you itch with discomfort at the imagined contamination you suffer by being on the premises. But when Zoe tells Tom on the last page that everyone in the team is insane and the last panel goes black, I decided I'd have to get No. 2 to find out more.
In his graphic novel Crecy, Ellis revisits the famed encounter between the English and the French at Crecy in 1346, a battle that established the military value of the British long bow and, with that, the dominance of the English for some decades to come. The battlefield superiority of the long bow also changed warfare forever, Ellis tells us. After Crecy, mounted knights in armor, erstwhile the triumphant weapon of war, were no longer a lethal power: arrows launched from long bows killed them all before they could reach their opponents with sword and lance. Ellis employs the classic Harvey Kurtzman storytelling mannerism in EC's Frontline Combat and Two-fisted Tales: the entire story is narrated to us by one of the combatants, a long bowman. Raulo Caceres' artwork, like that of Ryp, is a little too meticulously detailed for my taste—the scenes of battles are fully populated and every soldier is rendered exactly in every minutiae, so much so that there is no visual emphasis in any panel, and we therefore must search, painstakingly, for the significant element that the narrator is telling us about—but Caceres, like Ryp, is a skilled draftsman and his storytelling is effective even if not particularly dramatic.
PITHY PRONOUNCEMENTS
A duck's quack doesn't echo, and no one knows why.
It is physically impossible for pigs to look up into the sky.
A pregnant goldfish is called a twit.
Horses can't vomit.
Butterflies taste with their feet.
On average, 100 people choke to death on ball point pens every year.
No word in the English language rhymes with month.
A crocodile cannot stick its tongue out.
Americans on average eat 18 acres of pizza every day.
Collectors' Corniche
Welcome to our sentimental section where I muse and marvel about antique volumes on the shelf and rare finds in old bookstores and the like. Nothing major. Skip over this if you're busy.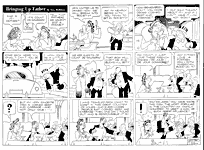 This time, half a two-page spread clipped from the March 8, 1948 issue of Time (the magazine's 25th anniversary issue, by the way). The other half, all text, touts the "influence" of "the only national comic weekly," Puck, the Sunday funnies section of Hearst newspapers. And this installment of Bringing Up Father has clearly be devised expressly to underscore the "influence" that an advertiser would exert if he placed an ad in Puck: Jiggs' preference for corned beef and cabbage has become known throughout an entire nation, perhaps the whole planet, thanks to the omnipresence of Puck.. Note, incidentally, that in nearly every panel Jiggs makes a remark that has punchline comedy, making the strip a feast of hilarities.
THE BEST TIMES: STUDIO LIFE WITH SICKLES
An Excerpt from Meanwhile: A Biography of Milton Caniff
Milton Caniff had known Noel "Bud" Sickles since their days moonlighting at Columbus, Ohio, newspapers when in college at the Ohio State University. Sickles came to New York about a year after Caniff did, and before long, they started sharing a studio, which they continued to do while Sickles drew Scorchy Smith for the Associated Press, developing the distinctive chiaroscuro technique that inspired Caniff's way of drawing Terry and the Pirates for the Tribune-News Syndicate. They moved their studio several times; when Caniff got the contract to do Terry, they moved into an office suite in the New York Daily News building on 42nd Street. But the next fall, as we see in the following excerpt, they moved back to Tudor City.
At the end of September 1935, Caniff and Sickles moved their studio again—back to Woodstock Tower in Tudor City. Neither was willing to endure another chilly winter in the News building: unheated at night, the place was scarcely congenial to their working habits.
Compared to the cubbyhole accommodations they'd had in the News building, Apartment 2008 was palatial. A large studio corner apartment, it was a single long room, with a kitchen built into the wall at one end next to a small bathroom. To make full use of the murphy bed that folded out of the wall near the kitchen, Sickles left his apartment in the Tudor Hotel and moved in. The breakfast bar at the kitchen end of the room they kept well-stocked for other purposes, and they set up their studio at the opposite end, next to the windows facing east. "We didn't have any trouble with the sun coming in," Caniff said. "We didn't start that early in the morning." They divided the working area from the rest of the room by putting up a wall of filing cabinets and bookcases, jammed with reference materials.
"The files didn't take up much room in those days," Caniff remembered. "Sickles used to cut pictures out of newspapers and magazines, and he'd cut them up as small as he could to take a minimum of space in the files. Sometimes he'd cut so small he'd cut the caption off, and he wouldn't know what the hell he was looking at later."
The studio end of the apartment was part livingroom, part workroom. Against one wall, a couch, coffeetable and easy chairs gave the place a domestic touch. Visitors could lounge here while the cartoonists worked. Next to the bookcase wall was a large table that they used for cutting drawing paper and doing paste-ups when strips had to be surgically modified. There was also an easel for oil-painting: in the early days, Milton painted a little for amusement and recreation, often using his wife Bunny as a model. The cartoonists' drawing boards and taborets sat near the windows, once again right-harder facing left-harder. A radio stood next to Sickles' board; a telephone, next to Caniff's.
"We had only one phone," Caniff explained, "but it was enough. Sickles wasn't trying to build a feature like I was, and he didn't have the business on the phone that I had."
The third drawing board next to the far wall was for their letterer, Frank Engli, although he still did most of his work at home, bringing in sets of strips once a week. The drawing boards and lamps were quickly hung with streamers of the artists' memoranda, and dozens of pictures clung to the walls—some by Caniff, some by Sickles, some by other artist friends. The collection grew as the months went by.
It was a functional and convivial setup. Facing each other across their drawing boards, the cartoonists often talked as they worked, discussing the news and gossip of the day. But sometimes they worked in silence. "There were stretches—particularly at night—when we didn't say a word," Caniff said. "We'd lived together so long, we were so close, you didn't have to say anything."
Their day began somewhere between eleven o'clock in the morning and two o'clock in the afternoon. Caniff kept more regular hours: Sickles, still a bachelor, was frequently out doing the town in the evenings. The Caniffs spent their share of nights on the town, too—at the theater or attending parties. Most mornings, Caniff would show up at the studio about eleven o'clock. He had a quick breakfast of cold cereal or a sandwich lunch at the kitchen bar at which he was joined by Sickles if the latter awakened, and then he sat down at the drawing board. They worked through the afternoon until about five o'clock, when Bunny came up for the cocktail hour. Sometimes she made lunch or dinner in the little kitchen; sometimes, they all went out to eat, usually at the Palm restaurant and bar, three blocks away up Second Avenue. After eating, the cartoonists went back to the studio and worked into the night.
Bunny spent her evenings there as she had before, chatting with Milton and Bud as they worked, and they listened to their favorite radio shows together—Bob Hope and Jack Benny and dozens of other comedic refugees from the defunct vaudeville stages, who had found their way into broadcasting studios in the early thirties and from there into millions of American homes by the middle of the decade: Franny Brice, Eddie Cantor and the Mad Russian, George Burns and Gracie Allen, Goodman Ace and his wife Jane, Fred Allen and his wife Portland Hoffa.
As Caniff's fan mail began to grow, Bunny turned secretary for a few hours every day, typing letters and filing correspondence. She also clipped potentially useful photographs and filed them for reference. She usually went home before the evening's work was done, particularly on those evenings just before a deadline when the night's work stretched into the early morning. After such all-righters, Caniff and Sickles went for a bleary-eyed breakfast at the corner café, then wound their separate ways home to bed.
Bunny was not the studio's only nighttime interloper. It became a social center for the cartoonists' friends. George Tucker came by once or twice a week. Doing drama reviews for the Associated Press, Tucker had a night-owl beat. He lived in Rutherford, New Jersey, and hated the long trip home after making the rounds of New York's theatrical night spots. "He'd come in and pour himself a drink and sit down on the sofa and tell us what was going on in the world of the beautiful people," Caniff said. "Then after Bunny went home, he'd curl up on the sofa and go to sleep. It was a long sofa, and we had pillows and blankets for visitors."
James Reston showed up every once in a while, too. He was now doing a Broadway news column for the AP and had the same evening routine as Tucker. Other Columbus friends made irregular stops—Bruce Alexander and Paul Ackerman and Frank Fenton, who had worked on the radio station owned by the Dispatch. Sometimes other Tribune-News cartoonists ventured to the studio. Zack Mosley or Walter Berndt would drop in at the end of their day in the News building, where they worked regularly in the same bullpen—an office set up with a half-dozen drawing boards for News cartoonists to make last-minute corrections to the strips they brought in weekly. Gus Edson, who had inherited The Gumps after Sidney Smith's death, was a habitue of the studio and often joined Milton, Bud and Bunny for dinner.
Caniff told me that the late nights in the studio with Bud and Bunny and a visitor or two were among the best times he had in New York. They'd talk and tell stories and laugh into the small hours, long after the apartment lights had winked out one by one in the neighboring Tudor City buildings. From their twentieth floor perch, they could see the East River, a black ribbon laying between Manhattan and Queens, its inky sheen occasionally reflecting the tiny lights of tugboats pulling barges through the darkness. Bathed in the light and laughter of the studio, the little band cozied up to their drinks and the good natured banter.
"We all enjoyed those night sessions," Caniff said. "The visitors had a few drinks. Bud and I had to work, so we just listened. I was always able to sit back in the corner and work and talk and listen. We didn't treat them as visitors. They got up and mixed their own drinks and so on. Everybody participated in the conversations: you put in your two cents' worth. We had spirited times there. Great sessions, great conversations."
Frequent and enjoyable though these nighttime visitations were, they were scarcely a daily occurrence. Caniff was able to stick to a production schedule that he'd adopted very early on. Deadlines demanded punctuality, and punctuality required a routine targeted to an immutable delivery date. He soon developed a weekly regimen from which he rarely strayed.
On Mondays, he wrote the dialogue for the strips that were due in four weeks. In a general way, he knew how much of his storyline he expected to cover in the coming week, and he began by transforming the mental outline into specific speeches, lettered in pencil onto the strips. Like Sickles and most cartoonists, he composed both dialogue and pictures as he wrote; unlike Sickles or any other cartoonist, he lettered speech balloons with his right hand, then shifted the pencil to his left to roughly, faintly, sketch the figures under the balloons. When he finished, he put these strips aside: Engli would pick them up the next day to ink the lettering and speech balloons, dropping off the strips Caniff had written the week before.
Tuesdays and Wednesdays, Caniff devoted to drawing the Sunday page. Taking up the page Engli had lettered in ink, Caniff penciled his characters in each panel, converting the ghostly stick figures he'd done the week before into more detailed, albeit still comparatively sketchy, renderings. The paper was three-ply Strathmore with a toothy kid finish, and he used a pencil with rather hard lead (2H or 3H); a soft-lead pencil was more fun to draw with, but mistakes were harder to erase cleanly. He worked over the entire page, roving back and forth from panel to panel, refining details or fleshing out shapes. Some pictures became nearly indecipherable scribbles, a maze of overlapping lines among which only Caniff's eye could discern the single, most appropriate line—the line he would later ink.
He concentrated on the figures, indicating backgrounds with a few lines to establish the relative size of the figures; he'd come back and detail the backgrounds. Then, taking up a pen with a Gillott Crowquill 659 point, he inked the drawings of each figure. Outlining heads, arms, and bodies, he often bore down on the pen, spreading its point to make a line as broad as a brush stroke. With this kind of treatment, pen points wore out at the rate of a dozen a week. For smaller details—facial features, fingers, rifles or revolvers—he touched the paper lightly, letting the pen point make lines as fine as filigree.
He worked backwards: to prevent smudging still-wet ink by dragging his hand over it as he went to the next panel, the left-hander started inking at the right-hand side of the page and worked to the left. If he made a mistake or saw something that needed to be modified, he made a check-mark with ink in the margin near the error. He'd return to this panel later, scrape off the offending blemish with a pen-knife, and make the necessary correction.
After inking the figures with a pen, Caniff tackled the backgrounds with a pencil. Here the going was slower: as he drew, he checked pictorial references for accuracy, frequently getting up from the drawing board to browse through file folders organized by the objects depicted—Boats (Sampans, Junks), Ships (Battle, Passenger, Freight), Railroads (Engines, Freight Cars, Passenger Cars), and so on. The backgrounds penciled, he picked up a No. 3 Winsor Newton brush and began "painting" his pictures. This was the time-saving step: with the brush, he would plunge much of the background into shadow, eliminating tedious pen-work. Locating the principal light sources in each panel, he cast shadows realistically. He worked from the background to the figures in the foreground, stroking in shadows on the "dark sides" and as wrinkles in clothing. As he worked, he juggled two considerations: he balanced what had to be black because that was its natural "color" against what should be black to heighten contrast with white areas. At the same time, he was careful not to blacken a figure in places that adjoined shadows in the background: black against black would diminish the clarity of the composition.
While he gave the Sunday installment the same chiaroscuro treatment as the dailies, Caniff "colored" the page mentally as he drew, imagining complementary blocks of color in panels with no backgrounds and—sometimes, for effect—nearly monochromatic hues for successive panels. Although he started working from right to left, as the drawings emerged in stark black against white, he moved around the page, returning to panels that he'd already brushed, adding more shadows for over-all balance or greater contrast. Then he took up the pen again and put in background details that stood "in the light" or were too fragile for brushwork. As the page neared completion, his hand—now with a pen, now with a brush—hovered over the entire surface, dropping down to add a detail here, to flick in a shadow there. At last, surveying the completely inked page, Caniff was content. The next day, it would be sent out to a nearby photoengraving shop for photostating. Later in the week, he would paint the photostat with watercolors to provide a color guide for the engravers.
Thursday through Sunday, Caniff concentrated on the daily strips. He followed the same procedure: he penciled in the figures first on all six strips, then inked them; then penciled backgrounds and inked them. Then it was Monday again and time to write the next week's strips for Engli to letter. Monday through Sunday. It was a week without weekends, a routine that went on for over half a century.
Despite the lockstep routine, there was flexibility in Caniff's calendar. He allowed four days a week for completing the six dailies, but three days were often enough. The spare fourth day, then, gave Milton and Bunny two free nights a week for a social life. And they regularly went to dinner with friends, attended and gave parties, watched movies, and saw plays. If they went out more frequently, Milton paid for these pleasant truancies by working longer hours on one or two nights to get a few strips ahead. Or to catch up.
The unrelenting routine might have given the days a leaden monotony except for the work itself. The work was endless in its variety: every story to be written and drawn was different; every picture, a challenge to make visually interesting as well as graphically narrative. But the chains were undeniably there, fettering Caniff to drawing board and clock. Evening visitors were all the more welcome: their presence briefly commuted his sentence, transforming his cell into a salon where amiability for a while drowned out the ticks of the clock. Even then, Caniff did not abandon his drawing board.
When visitors were present, Caniff inked. Inking the drawings already penciled required less concentration. Most artistic decisions had been made in the penciling stage. Visitors were discouraged from dropping in on Mondays: that was when "the dirty part"—the hard work, writing—was done, and it couldn't be done in the midst of a soiree. Penciling and researching the drawings also demanded more attention than inking, and Milton preferred to do that when only he and Bud or Bunny were present.
As Terry grew in popularity through the fall and winter of 1935-36, the demands on Caniff increased. Every day the mail brought requests for drawings, questions, and proposals for projects that had significant promotional value. During the day, the phone distracted the cartoonist. He learned to draw while cradling the phone at his ear. He shoved the production work on the strip into the evenings and nights, and then into nights and the wee hours, when the phone fell silent and the postman didn't ring even once.
By the fall of 1935, answering fan mail took up a chunk of each week. And Caniff answered every letter. Every answer reached a reader; and that reader would talk about the letter and the strip. The letters came from kids, housewives, men, women, young and old. They came from would-be cartoonists, who sent drawings and asked for advice. They came looking for work as assistants or letterers. They came offering praise or criticism. They came asking for information about China. They came requesting autographs or the original artwork for specific strips or drawings of one or more of the Terry characters. "Send a drawing of all the characters in Terry, please," said one.
To satisfy each request for a drawing, Caniff at first made an individual sketch. When the growing quantity of requests made that impossible, Caniff resorted to mass-production. He drew several pictures of Terry characters in various poses and had them printed on quality paper. Some of these drawings, he colored by hand. This ploy satisfied fans who sent short notes merely to ask for a drawing, but some readers, Caniff felt, deserved something more. For those, he still drew individual drawings. But even that was not entirely satisfactory. Eventually, he arranged for his original art, which the Tribune-News, like all syndicates at the time, routinely discarded after making engravings, to be returned to him so he could send the strips to special fans.
Caniff also did promotional drawings for client newspapers' community projects. For a long time, he did drawings for every such request from the editors of papers that subscribed to Terry. He often drew a picture that was more elaborate than necessary, and he suggested ways of capitalizing further on his contribution. He sent along clippings from other papers that had made particularly telling use of his drawing, multiplying its impact with sidebar stories. And he sent biographical material that could be quoted from in support of the project.
"I always had a wary eye out for the main chance," Caniff told me, "and hoped it didn't seem too self-serving. Mostly charity things. Can't remember ever having to force something like that. Always grabbed it whenever I had a chance to do something that would make a noise around town or around the country."
Caniff continued this practice for years. As the strip became more widely circulated, requests for drawings exceeded his capacity to do. Then he had to be more selective. "You learn to pick your spots," he said. "You pick something that will be shown around a lot, something that will be talked about."
Caniff didn't pick every spot solely for promotional impact. Many projects gained his contribution through his sincere sympathy for the cause. During World War II, for instance, to supply special drawings for units of the armed forces, Caniff employed an assistant to help finish drawings of insignia and Terry characters that would decorate enlisted men's clubs and hospitals.
Caniff's extra-curricular enterprises soon generated enough work that he hired an office assistant. The idea was actually planted in his head by a neatly typed letter he'd received from a young man in New Jersey.
Alfred Andriola had been born in Greenwich Village but grew up in Rutherford, drawing and writing for school publications and planning on a writer's career. After graduation from high school in 1929, he entered the journalism school at Columbia University but had to quit because he developed ulcers. He began toying with the idea of combining storytelling with drawing, and he studied the newly emerging adventure comic strips. He watched Terry and the Pirates develop and grow, becoming more realistic and exotic. In November 1935, he wrote Caniff a fan letter, sending along a sample drawing and announcing his intention of becoming a strip cartoonist. Did Caniff need an assistant by any chance?
Andriola's letter arrived on one of those days when Caniff was ruefully contemplating the hours he'd have to spend answering his mail. For every letter of reply, he scrawled an answer by hand, which Bunny later typed. He didn't need an assistant so much as a secretary, someone who could take shorthand and type. Although there wasn't enough work for a full-time assistant, he could occasionally use someone with enough artistic ability to perform small tasks, correcting lettering in dialogue or captions, ruling panel borders, erasing pencil lines, and the like. He consulted Sickles and then wrote Andriola and asked him to come in.
"I told him I liked his drawings," Caniff explained. "But we pointed out that the job we had in mind had nothing whatever to do with drawing the strips. We needed a secretary. I asked him if he could take shorthand. And he said, Oh, yes, I took it in high school. So we hired him and split his salary. He was great. He could do anything."
They added a desk to the cluttered studio, and Andriola began coming in two or three times a week. Before long, he was working every day. Although his bosses worked afternoons and nights, Andriola worked days only. Each day began with a little ordinary housekeeping. "I would come in each morning and plow through the eclectic furniture, the trio of drawing boards, the desk, the the mail, the work in progress, the stacks of references, the books, newspapers and magazines, the coffee cups, the remnants of midnight snacks, and Bud's discarded drawings strewn on the floor and in the wastebasket," Andriola reported.
He had to work quietly to avoid disturbing the still slumbering Sickles. Late in the morning, Sickles would roll, groaning, out from under the tangle of bedclothes in the bedroom section of the studio and shuffle to the breakfast bar, often joining Caniff who had just arrived.
"For awhile, Al tried to reform us," Caniff remembered, chuckling. "Tried to get us to change our lousy habits. But it didn't work. And he was too smart not to just drop it when he saw he wasn't getting anywhere. So he gave up his missionary job."
For a detailed description of Meanwhile: A Biography of Milton Caniff, the Happy Harv's magnum opus, click here.
To find out about Harv's books, click here.