Opus 209 (August 7, 2007). Our normal evolution at this time of year is to regale you with a report on the menace of the San Diego Comic-Con. But not this year. I was there, true enough (albeit for only two days), flogging the Caniff biography to a fare-thee-well. But as you read this, I'm in transit between Illinois and Colorado, my computer dismembered in the back seat of the car, a trek that commenced as soon as I got back from the Coast. I'm required to keep both hands on the steering wheel at all times, so I'm unable to type anything about Sandy Eggo. Maybe later, much later. Instead, this time, we tell the truth about Tony the Tiger, review Tatsumi's latest graphic novel (or, to be technically correct, graphic short stories), announce the imminent arrival of a glorious book on Alex Raymond, and more. Without further adieu, here's what's here in order by Department:
NOUS R US
Satrapi's Film Nixed in Bangkok
MoCCA's Big Success
Funky Winkerbean Character Doomed
Cartoon Gets Humor Mag Banned in Spain
True History of Tony the Tiger
We're All Brothers
Obits of David Hilberman, Founder of UPA
& Shirley Slesinger Lasswell
BOOK MARQUEE
A Glorious Book About Alex Raymond A-borning
R&R GALLERY
Pictorial Featuring a Few Stray Cartoonish Scraps
GRAPHIC NOVEL REVIEW
Tatsumi's Second Tome
And our customary reminder: don't forget to activate the "Bathroom Button" by clicking on the "print friendly version" so you can print off a copy of just this lengthy installment for reading later, at your leisure while enthroned. Without further adieu—
NOUS R US
All the News That Gives Us Fits
Marjane Satrapi, a cartoonist of modest attainments, gained fame more through the audacity of her first graphic novel, Persepolis, than through her skill as a visualizing artist. The book, you'll recall (how could you not?), shows us Satrapi as a little girl, growing up in the early repressive days of the Islamic Revolution in Iran. The book's sudden success, based upon its antagonism towards the mullah regime in Iran, inspired Satrapi to produce a sequel in which she traces her life as a displaced teenager. It, too, was a big success. And Satrapi produced two more graphic novels, riding the crest of her Persepolis books. And then she graduated into animated film, becoming, forthwith, the director of "Persepolis" the movie. The animated "Persepolis" will doubtless bring Satrapi even more fame. It is, apparently, just as incendiary as the books upon which it is based. It was entered into the Bangkok International Film Festival (July 19-29) but was ultimately rejected by the festival organizers because, as the Iran Farabi Foundation put it, the film "presented an unrealistic face of the achievements and results of the glorious Islamic Revolution in some of its parts." The film first incited the government-affiliated Foundation's ire when it was screened at the Cannes Film Festival in France earlier in the spring. "Iran's rulers are criticized in 'Persepolis' but so are Western democracies for backing the Shah [who was overthrown in the Islamic Revolution] and supplying his government with weapons," saith Reuters. Chattan Kunjara na Ayudhya, director of the Bangkok festival, was "invited" to the Iranian embassy to discuss the matter, he said, "and we both came to mutual agreement that it would be beneficial to both countries if the film was not shown. It was a good film, but there are other considerations," he finished.
We may marvel and shake our heads bemusedly at the folly of letting government agencies dictate aesthetic decisions, but we aren't far from a similar circumstance in our own fair land. The Bush League last year bypassed the customary Congressional approval mechanism to make Erik Keroack Deputy Assistant Secretary for Population Affairs, the official in charge of the national family planning program. A harmless enough action, you might think, but Keroack was then serving as medical director for A Woman's Concern, a crisis pregnancy organization with a policy that states: "Birth control ... is demeaning to women, degrading of human sexuality, and averse to human health and happiness." The organization's mission is to encourage "abortion vulnerable" pregnant women to make a different choice "to reflect the love of Christ." Keroack is also on the advisory board for the Abstinence Clearinghouse. At an abstinence leadership conference, he wrote in a PowerPoint slide that "PRE-MARITAL SEX is really MODERN GERM WARFARE." At another, he defended abstinence by claiming that sex causes people to go through oxytocin withdrawal, which, in turn, prevents people from bonding in relationships. That talk was entitled, with unintended irony, "If I Only Had a Brain." And this is the guy who's in charge of our country's family planning program?
And that's not all. On May 9, I'm told (by another in the dissident ranks), GeeDubya signed into law a directive, the National Security and Homeland Security Presidential Directive (NSPD-51), that grants him almost complete dictatorial powers in the case of a national emergency—such emergency to be determined and declared by the President himself, another one of those circular self-serving circumstances by which The Decider grants himself supreme power "in time of war," the war in question—the one on terror—being described, by GeeDubya the Decider, as, for all practical purposes, endless, which effectively makes George WMD Bush Dictator for Life. His new directive supersedes the National Emergency Act, which gives Congress the power to "modify, rescind or render dormant" such emergency declarations if Congress determines that the President acted inappropriately. George W. ("Warlord") Bush has simply set aside that law, invalidated it, because it interferes with his need for absolute power.
GeeDubya's popularity has plummeted, reaching sub-30 levels, which reinforces the view lately espoused by political comedian Will Durst that he will "go down in history as the worst President EVER, and that includes William Henry Harrison, the guy who gave a three-hour inaugural speech in the rain [without a hat], caught pneumonia and served 30 days prone in a sick bed until becoming the first President to die in office." But GeeDubya's achievements in office are insidious and widespread and will easily survive the plunge in his popularity polling results. Judging from the Keroack appointment and countless other "under the radar" appointments, I feel confident in asserting that the contagion that George W. ("Whopper") Bush's initial popularity fostered has permitted and enabled his self-righteous morally-based governmental philosophy to penetrate into every nook and cranny of the federal bureaucracy by dispatching thereto of bevies of like-minded souls. It will taken a generation of diligent digging by officials of a more pragmatic persuasion to pry these sanctimonious scoundrels out of office. In the meantime, the Bush League's heaven-sent missionaries will be adhering to the otherwise disenfranchise policies of GeeDubya and his cronies in religious righteousness in their enforcement of federal programs for years and years yet to come before they are all discovered and defrocked.
Ooops—sorry: got carried away there. Back on this planet, we learn, from Douglas Wolk at publishersweekly.com, that this year's Comic Art Festival in New York, June 23-24, was bigger than ever. Sponsored by the Museum of Comic and Cartoon Art (MoCCA), the Festival strained its meeting venue, the Puck Building in downtown Manhattan. The exhibit was so enthusiastically subscribed that it overflowed its usual ground-floor habitat, spreading into the building's upper floor rooms and forcing the programming to move inconveniently to the Museum's offices a few blocks away. But there is little question that MoCCA's Festival is up-and-coming—and may have already arrived. Its usual audience is "more of a fine art crowd than most other conventions," Wolk said—those who collect limited-edition prints and mini-comics as objets d'art; but it is attracting more and more attendees from beyond the indie-interested bunch. Many of the exhibitors, publishers and cartoonists alike, have a foot in both camps, mainstream as well as independent. Wizard magazine, the breathlessly fan-boy periodical of the industry, had a booth this year, and Houghton Mifflin was previewing its two fall releases, an English-language edition of Frederik Peeter's romance-and-HIV memoir, Blue Pills, and this year's Best American Comics anthology, edited by Chris Ware. It'd be a shame if the Festival has to move out of the historic Puck Building, one of the last monuments to American cartoon art, named, as it is, for one of the nineteenth century humor magazines that nurtured the art form into life and gave it longevity. But success will brook no obstacle; a move to another venue is surely not too far in the future. This year's Art Festival Award went to Alison Bechdel, by the way—a virtual exemplar of indie-gone-mainstream, from an obscure alternate weekly newspaper strip, Dykes to Watch Out For, to a best-selling graphic novel, Fun Home. Well done, all around.
Kudzu, Doug Marlette's daily syndicated comic strip, will cease this month, reported Editor & Publisher. The last daily release is for August 4; the last Sunday, August 26. Sunday strips are typically produced 4-5 weeks earlier than the dailies, which are usually delivered to a syndicate 4 weeks before publication date. ... Bill Hinds produces several comic strips, and in one of them, Cleats, about juvenile sports and their coaches, one of the characters, Edith, went to summer camp on July 23, reported E&P; there, she met the title character from Hinds' Tank McNamara, which he co-authors with Jeff Millar, and Buzz from Buzz Beamer, a feature Hinds creates for Sports Illustrated for Kids magazine.
In the Wall Street Journal for July 18, newspaper revenues from advertising sales were down almost 5% compared to last year. "Since the beginning of this year," reported Emily Steel, "the rate of decline in advertising revenue has accelerated." Classified advertising has lost to the Web, and the abysmal real estate market chipped away at another traditional source of advertising dollars. The dismal industry outlook has colored discussions both in the Murdoch offer to buy the Wall Street Journal and in the Tribune (Chicago) Company's effort to get out of the stock market by going private; the Tribune intends to buy back its stock, backed by real estate mogul Sam Zell. ... Keno Don Rosa, once in charge of the Information Center at the revered Rocket's Blast ComiCollector and then the master mind and hand reviving the Barks ducks, has one of the world's best comic book collections, and he's selling it off. Well, parts of it: 400 CGC-certified comics, the cream of the DC Comics titles during the 1970s and 1980s. "There are still hundreds of Don Rosa books waiting to be graded at CGC," said Matt Nelson, owner of comicpedigrees.com, where you can see a list and scans of all the titles so far unleashed into the auction maw. ... Duncan Hewitt at Newsweek International tells us that China's leaders once feared animation as a corrupt foreign influence but now see it as their country's next export industry.
FUNKY WINKERBEAN CHARACTER TO DIE
Associated Press: July 20, 2007
Despite e-mails from readers asking him to save her, Funky Winkerbean creator Tom Batiuk says the comic strip character Lisa Moore will succumb to breast cancer. Batiuk, 60, himself a cancer survivor, said the miracle some readers are hoping for won't happen.
I honestly don't think readers know what they want, he said. They think they know what they want. But what they really want is for me to give them a surprise every now and then.
The King Features strip, which is published in about 400 newspapers, will chronicle Lisa's experience through October. It is written and drawn by Batiuk in his workshop above his home's garage in the Cleveland suburb of Medina.
Funky Winkerbean started in 1972 and at first focused on gags about teenagers at the imaginary Westview High School. Over the years, Batiuk has used it to explore sensitive topics such as dyslexia and teen suicide. Lisa was first introduced in the early 1980s as a high school student who became pregnant without being married. The strip has chronicled her often determined and whimsical approach to life's challenges. She was first diagnosed with breast cancer in 1999 and underwent a mastectomy and chemotherapy. The story line resulted in a book, Lisa's Story. Batiuk returned to the story line in April 2006 after he had undergone successful treatment for prostate cancer three years earlier. He said it gave him new insight into the disease. He said he knew what was going through Lisa's mind, because all those dark thoughts crossed his. Last year, Batiuk completed the Lisa saga now running in the papers. He has moved on to a different story arc, one that shows what happens to the Funky Winkerbean characters a decade after Lisa's death. He laughed at what he knows is coming in the lives of his characters.
I have a real leg up on people, because I know how cool the work is going to be and how much fun it is to see these characters as parents, he said. I'm having a ball with it.
First, though, Lisa must die, leaving behind her husband, Les, and a daughter.
To me, there is a miracle in Lisa's story, Batiuk said. It's not that much of a downer. It's a hopeful story, because it shows how a loving couple treats each other under all circumstances."
On the Net: http://www.funkywinkerbean.com/
SPAIN: GRAPHIC CARTOON CAUSES ROYAL FLUSH
By Victoria Burnett: New York Times, July 21, 2007, with additional information culled from the London Times, Associated Press, and news.yahoo.com
A senior Spanish judge has ordered the police to confiscate copies of a satirical magazine, El Jueves, which hit the newsstands on July 18 with a cover cartoon that depicts Crown Prince Felipe having sex with his wife, Princess Letizia, a former tv news anchor. Judge Juan del Olmo wrote in a court order that the cartoon may have broken laws protecting the royal family and the dignity of the crown. El Jueves director Albert Monteys Homer called the order a direct attack on freedom of expression. The ruling "shows that we still lack political maturity," said Julio Rey, a cartoonist for El Mundo newspaper. "It's terribly important for the system to be able to laugh at itself," he added.
The cartoon mocked a measure instituted by Prime Minister Jose Luis Rodriguez Zapatero to boost Spain's birth rate by offering $3,450 to families for each new child born or adopted. In the cartoon, Prince Felipe is depicted having sex with his wife and gleefully exclaiming: Do you realize if you get pregnant, this will be the closest to real work I've ever done?
Judge del Olmo also required publishers of El Jueves to give him the name of the cartoonist, saying the work might amount to libel against the monarchy. Libeling the crown could carry a two-year prison sentence, a National Court spokeswoman said. The cartoonist, who goes by the name Guillermo, expressed his amazement at the episode: "They're going to take the printing plates? Why those haven't existed for years" he said, before joking: "The best thing would be for them to cut off my right hand."
The editor of El Jueves, Alberto Monteys, said he was surprised by the decision and joked that readers would win the race against the police and buy a copy before they are removed from newsstands. If the goal of this move was for people not to see the cartoon, what will happen now is that it will appear in all television stations and newspapers, he said.
Spanish law calls for a prison sentence of up to two years as well as fines for those found guilty of slandering or defaming the king or his descendants, although penalties are very rarely applied. The Spanish public reveres its royal family, and publications generally steer clear of its private affairs. According to the London Times, many people believe that Spain's three-decade taboo against criticizing the royal family is on the point of collapse with a huge public appetite for gossip being met increasingly by Internet sites that are harder to control. Media censorship is rare in Spain, though it was often used during the 1939-75 dictatorship of General Francisco Franco. The last publication to be censored was another satirical magazine, El Cocodrilo, in February 1986 for another reference deemed disrespectful to the head of state. During its 30 years of publication, El Jueves has often been critical of Spain's monarchy, and has been asked by the royal household to reflect on its contents, the newspaper El Pais reported on its Web site. This ruling was the third time the magazine, which does not hide its republican sympathies, was censored by the judiciary, the newspaper El Mundo said on its Web site. Elsewhere on the Web, those enterprising souls who managed to obtain copies of the magazine before it disappeared from the newsstands were offering it in auction where copies of it went for up to $138 apiece.
Fascinating Footnote. Much of the news retailed in this segment is culled from articles eventually indexed at http://www.rpi.edu/~bulloj/comxbib.html, the Comics Research Bibliography, maintained by Michael Rhode and John Bullough, which covers comic books, comic strips, animation, caricature, cartoons, bandes dessinees and related topics. It also provides links to numerous other sites that delve deeply into cartooning topics. Three other sites laden with cartooning news and lore are Mark Evanier's www.povonline.com, Alan Gardner's www.DailyCartoonist.com, and Tom Spurgeon's www.comicsreporter.com. And then there's Mike Rhode's ComicsDC blog, http://www.comicsdc.blogspot.com
A FEW WORDS OF WISDOM FROM WILL ROGERS
Don't squat with your spurs on.
If you get to thinkin' you're a person of some influence, try orderin' somebody else's dog around.
After eating an entire bull, a mountain lion felt so good he started roaring. He kept it up until a hunter came along and shot him. Moral: When you're full of bull, keep your mouth shut.
Never kick a cow chip on a hot day.
Never miss a good chance to shut up.
TONY REDUX
Tony the Tiger, the Kellogg mascot for Sugar Flakes, turned 50 in 2003, and in Opus 117, June 15, I made mention of this anniversary, saying, also, that Tony had been created by Jack Tolzien, now 86, who was then disputing claims by others to the distinction. Last fall, Tolzien, browsing the 'Net like any good octogenarian, came across my paragraph and thanked me for the support. "Unfortunately," he wrote, "I made a more profitable job change as soon as Tony took off. This opened the door for the guys who took over my work after I left Burnett to get more credit than they deserved. I made them look good by giving them something to work with. Sad, but Burnett hardly knows I exist even though I did the grind there for seven years (1946-1953)." Then he sent me a copy of the cartoon he sent to Burnett when he learned that people there had never heard of him.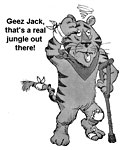 We subsequently exchanged a billet doux or two, discovering a mutual admiration for the cartooning of a now-obscure 'tooner named Roy Nelson, who, Tolzien said, was one of his mentors. We both own a copy of a little book of Nelson caricatures called So Red the Nose, Or Breath in the Afternoon: Cocktail Recipes by 30 Leading Authorities. Then Tolzien, prompted by Your Rancid Raves Reporter, told the story of how Tony the Tiger came about; this is it:
Jack Tolzien's Story
I worked for Leo Burnett Adv., Chicago, as an art director during 1946-1953. As an art director I was assigned in 1950 to work on the newly acquired Kellogg account. In 1952, a new product named Sugar Frosted Flakes was to be introduced. My job was to create an image or creative direction for this new product. Because of the sugar-coating this said to me that it had to be a kid's cereal. I checked out the cereal shelves in our local grocery to see what I need to do to make the new Kellogg product stand out against the competition.
I had such a steady flow of work with the mix of other Kellogg products, I found I could do my best creative thinking on that daily train ride to work. I lived in a Chicago suburb. After a number of weeks of scribbling, finally an idea started to jell. I wanted something that could stand the test of time. Kids like animals, and I saw nothing to compete with this on the shelves. A tiger would be colorful, especially if I put a big red bandana on him to humanize him. Tony would be the perfect name, and it was only natural that he would be saying "They're GR-R-REAT" He was to be a friendly tiger, no teeth showing, and the art done in a postery style. I showed these rough ideas to my creative supervisor, Jack Baxter. He gave me an okay to go ahead. I designed a package, an introductory ad, and an introductory trade piece. These were then presented to the agency's creative review board. They approved. This creative concept was then presented to the client. They liked it and wanted us to go ahead as fast as possible. The time frame was tight because this was going on around the first of December, and Kellogg wanted to introduce the product in a test market in Miami right after the first of the year.
I had to get out art for the package first. Flats had to be printed to start packaging for that Miami test market distribution. My first choice to do the Tony art was Alice and Martin Provenson. I liked the work I saw of theirs in the Golden Books. To save time because of my work load, I asked a Chicago art rep named Jack Kapes to get in touch with the Provensons ASAP to start the work. He even flew out East to get them started, but they could not do the work in the time allowed because of other work they had lined up. So we used a Chicago artist, Phoebe Moore, to do the first Tony. She did a perfect job, so we were off and running.
The test market introduction went well, so Kellogg decided to do a national product roll-out in the fall after Labor Day. The Miami introductory ad was designed for 4-color newspaper. After some creative afterthoughts, I was asked to add Tony Jr. to the package design. An introductory ad in October 1953 ran in Life. I want to mention that at this time, there was no money budgeted for tv.
Reading what history I see about Tony credits, I see the Provensons are mentioned, and also the guy that did the voice-over later on when tv money was budgeted. But nothing was said about Jack Tolzien who created Tony. This voice-over guy even claimed he came up with Tony saying "They're G-R-REAT" C'mon—Tony was saying that in print ads before any tv production was done. Without my idea, there would be none of this. I left Burnett in October 1953 to go with another agency. Others that took over my work have claimed they created Tony. I made their jobs easier by giving them a good creative concept to work with.
Doing my early thinking about using animals I also had "Katy the Kangaroo" wearing a floppy straw hat with a flower in it. See these rough sketches.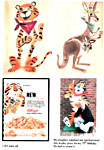 There is a copy of the intro ad for Life. I read that other animals were explored but Tony, Katy and Newt the Gnu were the only ones I showed to the creative review board at Burnett. They wisely wanted to concentrate on just Tony.
This is long and detailed, and I hope you will see I know what I'm talking about—and thank you for giving me the credit I deserve. Burnett hardly knows I exist, nor do they like to give out credit. Tony the Tiger is one of the top advertising icons in this country. Creating him is a proud personal achievement for me. Both Kellogg and Burnett gained much from my creativity. It's been a financial and business bonanza for both of them. All I want is recognition, based on truth. Thanks for listening.
RCH again: Thanks for telling the story, Jack. And now we all know.
WE'RE ALL BROTHERS, AND WE'RE ONLY PASSIN' THROUGH
Sometimes happy, sometimes blue,
But I'm so glad I ran into you---
We're all brothers, and we're only passin' through.
Old Folk Ballad Lustily Sung By Walt Conley in His Trademark Husky Rasp of a Voice at the Last Resort in Denver, Lo These Many Years Ago
DAVID HILBERMAN, DEAD AT 95
Co-creator of UPA Studio & Leader of Disney Strike
By Charles Solomon, Special to the Los Angeles Times: July 21, 2007
David Hilberman, whose union activities at Walt Disney Studios and brief membership in the Communist Party led to his blacklisting and shadowed a long career that included founding the innovative United Productions of America studio, has died. Hilberman, 95, died of natural causes July 5 at Stanford University Medical Center, according to his family.
David Hilberman was inadvertently, almost accidentally, a pivotal figure in animation history, said industry historian John Canemaker. Because of his politics in organizing the Disney strike and his artistic vision in co-founding UPA, he became a major factor in changing forever how the Hollywood cartoon was made and what it looked like.
A native of Cleveland, Hilberman came to Los Angeles to work at Disney in July 1936 as one of 40 young artists who had been recruited in a national talent search. Within 18 months, he advanced from trainee to layout artist. He worked on numerous animated shorts, including Farmyard Symphony (1938) and Ugly Duckling (1939), as well as the features Snow White and the Seven Dwarfs (1937) and Bambi (1942).
Hilberman said he had no complaints about Disney until the 1940s, when the studio was dealing with rising production costs and the wartime loss of the European market that had provided nearly 45% of its income. He became one of the leaders of the union movement, which climaxed in the bitterly fought animators' strike of 1941.
After the strike, Hilberman joined with fellow ex-Disney artists Zachary Schwartz and Stephen Bosustow to found Industrial Film and Poster Service, a small studio that produced films, film strips and graphic materials for defense contractors and the Army and Navy. The fledgling studio received its first big break in 1944, when the United Auto Workers commissioned Hell-Bent for Election, an animated cartoon short supporting President Roosevelt's campaign for a fourth term. In late 1945, the rapidly expanding studio was reorganized as United Productions of America, UPA.
Bill Melendez, the Emmy-winning director of the animated Peanuts television specials, worked with Hilberman at United Productions. He recalled in a 1986 interview, Dave was a stolid bear of a guy. He was like a bricklayer, and that was the way he operated the studio: He build it solid, and every film he did was solidly made. Dave was a great filmmaker and a great teacher — so calm. We were all young and kind of scatterbrained and didn't know what to do: Dave was always oil on troubled waters. I can still hear him, 'Let's think about it, let's discuss it: This is what it is, this is what it isn't.'
Hilberman sold his share in United Productions to Bosustow shortly after the reorganization because he had been invited to the Soviet Union to help establish animation studios there. Those plans ended with the postwar political changes in the Soviet Union, however, so Hilberman instead moved to New York and partnered with Schwartz and William Pomerance to form Tempo Productions, which quickly became one of the top commercial studios in the country.
In 1947, film producer Walt Disney testified before the House Un-American Activities Committee about the 1941 strike, which he believed was communist-led. Disney said one artist was the real brains of this, and I believe he is a communist. His name is David Hilberman¼. I looked into his record and I found that, No. 1, he has no religion and, No. 2, that he had spent considerable time at the Moscow Art Theatre studying art direction, or something.
Disney's testimony and a comment by gossip columnist Walter Winchell that Hilberman was a communist forced the closure of Tempo Productions. Although Hilberman had spent six months working at the Leningrad State People's Theater and attending the Leningrad Academy of Fine Art in 1932, he frequently denied ever having been a communist.
But in 1979 he told Canemaker, Up to the war, for about three years, I was a communist. Once the war came along, everybody plunged into the war effort, everybody's on the same side¼. The strike itself was not communist-led. I was floored when some obviously communist-inspired material was put up on the bulletin board.
After leaving Tempo, Hilberman did freelance work in England, France and the United States. He earned a master's degree in theater arts at UCLA in 1965, and taught film at San Francisco State from 1967 to 1973.
SHIRLEY SLESINGER LASSWELL DIES
Expander of Pooh's Empire; Wife of Snuffy Smith Creator
By Dennis S. Hevesi, New York Times, July 21, 2007
Shirley Slesinger Lasswell, who inherited the licensing rights to Winnie the Pooh, Eeyore the donkey and Tigger the tiger, too, then expanded the market for a panoply of children's products based on these and other fun-loving denizens of A. A. Milne's Hundred Acre Wood, died Thursday, July 19. She was 84.
The cause was respiratory failure, said her daughter, Pati Slesinger. Although she lived in Tampa, Florida. Mrs. Slesinger Lasswell died at her daughter's house, in Beverly Hills, Calif.
A singer and dancer, Shirley Basso was performing on the road in California in 1947 when she met Stephen Slesinger, a literary agent and the merchandiser of fictional characters like Tarzan and Red Ryder. They married a year later. In 1930, Mr. Slesinger had paid $1,000 for the licensing rights to the characters in Milne's books and poems revolving around the roly-poly teddy bear, sometimes simply called Pooh. Adapting E. H. Shepard's famed sketches of the Milne characters, Mr. Slesinger developed and marketed Pooh products until he died in 1953. It was then that his wife took over the business and began to expand it.
She had artists revamp the old drawings to simplify the lines, Pati Slesinger said. Then she pounded the pavement and peddled her ideas in all the wholesale districts of New York: the toy district, clothing manufacturers, the gift and specialty makers.
The product line grew to include, among many other items, children's clothing, jewelry, wall hangings, coloring books, storytelling records, cutout books and, of course, stuffed animals. To promote the products, Mrs. Slesinger Lasswell (whose second marriage was to the cartoonist Fred Lasswell, best known for his work on the comic strip Snuffy Smith) persuaded upscale stores like Bergdorf Goodman, Saks Fifth Avenue and Nieman Marcus to allow her to set up Pooh Corners in their stores, where children's tea parties and book readings could be held.
In 1961, Mrs. Slesinger Lasswell signed over the commercial and television licensing rights to the Walt Disney Company in exchange for continuing royalty payments. The deal would lead to a long-running legal battle [which is, in most respects, still being waged].
Shirley Ann Basso was born in Detroit on May 27, 1923, one of two daughters of Michael and Clara Leasia Basso. Her father, a jewelry importer, died when she was 5. Her mother worked at a local post office during the Depression but managed to save enough to pay for singing and dancing lessons for her daughters. Mrs. Slesinger Lasswell's sister, Patricia, died in 2001, the same year as Mr. Lasswell.
In the 1980s, while traveling, Mrs. Slesinger Lasswell began noticing Pooh products in stores—including T-shirts, toothbrushes and videos—that she said were not included in her royalties from Disney. By the 1990s, according to the Los Angeles Times, Disney was earning more than $1 billion a year from its Pooh products and commercial placements. In a lawsuit filed in 1991, Mrs. Slesinger Lasswell and her daughter claimed that they were owed hundreds of millions of dollars. The complicated case remains unresolved.
For many years, Pati Slesinger said, the license plate on her mother's car read, Pooh.
THE FROTH ESTATE
The Alleged News Institution
According to the last report I saw before posting this—which, in The Week of July 13, isn't so very recent, admittedly—Rupert Murdoch and the Dow Jones board had agreed on the structure of an oversight committee that would be responsible for protecting the "editorial independence" of The Wall Street Journal so that Murdoch could not do to it what he usually does to a newspaper he buys—corrupt its journalistic ethics in order to subvert the publication to one of his nefarious purposes. The agreement calls for the committee to be made up of people with no ties to either Murdoch's company or to Dow Jones. The Bancroft family, which holds a controlling interest in the Dow Jones, still has to approve the deal, but all the signs are that they will. Once he owns the historic paper, Murdoch will demonstrate how he can get around the oversight committee.
Meanwhile, from E&P: in the July 22 New York Times Magazine, Matt Groening, creator of Fox TV's "The Simpsons," says he doesn't like the idea of his boss buying the Wall Street Journal. Groening admits that he gets along well with Rupert Murdoch, owner of Fox TV, but "I think he owns enough."
READ & RELISH
"I've got two goats on my place in Mississippi. There ain't no fence big enough or strong enough to hold them. People are at least as smart as goats, maybe not as agile."—Trent Lott, explaining that it will take more than a fence along the border to deal with the immigration problem
"Every Memorial Day I think about what these men did and what we owe them. They didn't go through hell for a political system that functions on bribery, or for off-shore tax havens that pass the cost of national defense from the conglomerates that profit from war to the ordinary people whose children fight it, or for an economic system that treats working men snd women as disposable cogs to be tossed aside at a predator's whim, or for an America where the 'strong do what they can, and the weak suffer what they must.' Yes, our soldiers fought and sacrificed for freedom; but as wiser men than I have said through the ages, when liberty is separated from justice, neither liberty nor justice is safe, and those who sacrificed for both are mocked. —Bill Moyers on "Bill Moyers Journal," May 25, 2007
Book Marquee
RAYMOND AND ROBERTS
For as long as I've known him—at least ten years, maybe fifteen or more—Tom Roberts has been working on a book about Alex Raymond. Tom is a perfectionist as well as an illustrator—lately, he's been making illustrations for Moonstone's Doc Savage: the Lost Radio Scripts of Lester Dent as well as doing some of the covers for his own line of pulp story reprints, Black Dog Books, available through Amazon's BookSurge imprint—and he wants the Raymond book to look perfect. Or, if not perfect, at least it should look the way Tom wants it to look, exactly. He shopped the book around to various publishers, but, for one reason or another, none of them would serve his purpose. Mostly, they wanted to tell him how to do the book; and Tom already knew how to do the book, and it wasn't quite the way the publishers wanted him to do it. With Adventure House, however, he finally came upon a publisher willing to let him design the book his way. And so he has. Tom set the type and laid out the pages; he'd already written the book and, over the years, refined his selection of illustrations. And the publisher contributed color on nearly every page. I've seen color proof pages, and the final product is going to be gorgeous, just the sort of setting Alex Raymond deserves.
The final result, Tom's perfect book about Raymond, will be out late this fall, probably in November—just in time for Christmas, if you're thinking of something you can recommend to your spouse as a gift for yourself. In 12x9-inch format, the volume provides an ample showcase for Raymond art, and Tom has found troves of rare and sometimes never-before-published pictures. Here's the cover, for instance.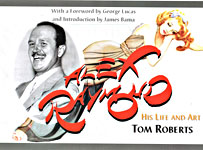 Some who've seen this design have wondered why Tom didn't use a picture of Flash Gordon, undoubtedly Raymond's most celebrated creation. One reason, Tom told me, is that he was looking for a horizontal orientation, and most of the best Flash pictures are vertical. Besides, Flash has been on view in many venues over the decades, and Tom wanted something fresh. So he settled on the pin-up you see here. It is one of two or three Raymond produced for Esquire when the magazine was looking for a replacement for George Petty; two of Raymond's offerings were published, but not this one. It has never been published in color before. And Tom had access to the original art. A fresh, rare image taken from original art—just the thing for the cover of a coffee-table tome about one of America's premiere artists. And the art inside is just as stunning, and often, as rare. You'll find several Flash Gordon color guides, for example—silver prints hand-colored by Raymond. And photographs of the friends of Raymond's who served as physical models for Rip Kirby and his valet, Desmond. All painstakingly arrayed to suit Tom's passion for perfection. Tom showed me a photograph of Raymond and his wife Helen, looking at the original of a Secret Agent X-9 strip. "I knew when the photograph was taken, generally," Tom said, "but I couldn't find the actual strip in any of the reprints or materials I had." The photograph doesn't reproduce the art on the strip very clearly, but it's clear enough to recognize solid black shapes and their sequence. Tom couldn't find the corresponding strip in any Secret Agent X-9 published run. Was it every published? Was this strip a rare, unpublished Secret Agent X-9? Tom puzzled over the mystery for months. Then he had a thought: maybe the photograph had been flopped when it was printed. He flopped it back, and then, almost immediately, he found the corresponding Secret Agent X-9 strip in the published run of the feature. Mystery solved; perfectionist satisfied.
For the biographical text, Tom interviewed members of the Raymond family and surviving friends and assistants. The result, which we'll look at in more detail here the closer we get to its publication date, is the only complete biography of the famed cartoonist. Not only does Tom cover Raymond's early career assisting on Tim Tyler's Luck and Blondie as well as his own oeuvre, Flash, Jungle Jim, Secret Agent X-9, and Rip Kirby, but he examines Raymond's lesser known achievements as a documentarian in the Marines during World War II and as an illustrator of fiction and advertising in the 1930s and 1940s. And as a devotee of the feminine form. As a kid, Raymond drew pictures of pretty girls; his earliest published drawing, at the age of twelve, was of a beautiful woman. And the book contains a never-before-published series of photographs of Raymond drawing from a nude model. Like most cartoonists, Raymond, as a routine matter, drew from images in his head; most of the photographs we see of him drawing from a model are staged for publicity purposes. But occasionally, to keep his mental images real, he hired a model and drew from the model. This series represents one of those times. Tom's perfect book brims with such rarities as these; don't miss it if you can.
RANCID RAVES GALLERY
Shreds and Patches from Better Bygone Days
By way of preparing the way for the forthcoming Hindsight piece on John Held, Jr., here are a couple works by Held's chief rival in the retrospective competition for Definer of the Jazz Age—Russell Patterson. These two pages are from the old humor magazine Life in 1933 when the periodical was on its last legs. And if the legs Patterson presents herewith are any indication, the last legs were undoubtedly the best. By this time, Life was monthly. The first page is from an August issue; the second, from October.
Then from Circulation, the legendary in-house (syndicate) magazine produced by King Features in those dear dead days, are page-size illustrations in which: Jimmy Swinnerton portrays himself as a cowboy (in order to provide a target for all those Indians he used to draw for a woman's magazine and for Little Jimmy and various of his other creations); Billy DeBeck's Barney Google cavorts; Cliff Sterrett arranges for his Polly to put on a fashion show through the ages and then offers examples of some decidedly different "comic art"; and, finally, a color cartoon by Michael Berry, which shows us what he was particularly good at, but since it appeared in Collier's magazine, it probably disqualified him for Playboy, which Hugh Hefner hoped to stock with cartoonists more-or-less exclusive to his magazine.
Onward, the Spreading Punditry
The Great Ebb and Flo of Things
The more we learn about the machinations of Our Government, the more we wonder about how a democracy works. Here are some relevant paragraphs from a recent (last winter) column by John Hightower (an admittedly unreliable truth-seeker-and-spreader of the raving liberal ilk—my kind of people, that is).
Aon Corporation is a Chicago [Illinois] -based global conglomerate that counts Sterling Life Insurance Company among its subsidiaries. Last year, Aon lobbyists had written a little amendment that would have made a big change in the Medicare insurance program—a change that (surprise) would have given an advantage to Aon over other insurers. [But Congress didn't go along with the scheme. At first.] Indeed, when the House-Senate conference committee hammered out the final version of their Medicare bill [to reconcile the House and Senate versions of the bill], Aon's change was specifically rejected. Yet, when the voluminous bill was passed into law, four sentences that neither the House nor Senate negotiators had approved miraculously appeared down in the dense text. They were the exact four sentences that Aon wanted, bending the Medicare law in its favor.
From whence cometh this legislative miracle? From that old corporate favor-doer, Denny Hastert, [Congressman from Illinois and also, not at all incidentally,] then the GOP speaker of the House. After the House-Senate negotiators had rejected the amendment—and just hours before the bill was voted on by the full House—Hastert appointed himself a majority of one and had the rules committee surreptitiously tuck Aon's special-interest provision into the bill. Denny, ever the legislative prankster, did not bother to mention his banana-republic coup to the conference committee negotiators so they ended up voting unwittingly for a bill that contained the very giveaway they thought they had stopped. ... Will it surprise you to learn that Aon has been a loyal campaign donor to Hastert and the GOP?
RCH again: As you can see, Our Government is no longer for the people, by the people, and of the people. The people—unless they happen to be lobbyists, corporate interests, or Congressmen—have little to say about the machinations of Our Government. And as far as Congress is concerned, as I've said before, it appears to exist solely as a place for various elected personages to meet to decide how to divvy up the spoils—namely, the tax revenue to which we all contribute—by legislating into being one pork barrel project after another, each aimed at making things better for some business interest back in their home district. The decision-making is mostly about trading votes: you vote for my pork, and I'll vote for yours. Public weal be damned.
Footnit: Revisiting the Seat of Government to Make a Good Story Better. Last time I recounted my attempt after the AAEC convention in Washington to enter the U.S. Capitol building to view the Rotunda and the Hall of Statues, only to be rebuffed by a dutiful security guard who, on the look-out for Islamic hostiles, said the only way I could get into the place was as a member of a tour group. That's it, then, I thought to myself: citizens can no longer just walk in whenever they want and see "their"government at work. So it's effectively no longer "our" government, the government of the people, by the people, and for the people. It belongs to someone else, and it works unobserved. In secret. The terrorists have won. And since they've won, the War on Terrorism is over, and we can bring the troops home.
When I told this story last time, I forgot to add that last sentence. I hadn't thought of it yet. But now I have, and so I do.
A LITTLE DIALOGUE IS A DANGEROUS THING
Back in the Golden Age of television, "Hollywood Squares," a game show with panelists who were usually comedians, created hilarious havoc from time to time, asking questions that the panelists could resist answering. Here are a few:
Q. Do female frogs croak? A. If you hold their little heads under water long enough.—Paul Lynde
Q. Which of your five sense tends to diminish as you get older? A. My sense of decency.—Charley Weaver
Q. In bowling, what's a perfect score? A. Ralph, the pin boy.—Rose Marie
Q. It is considered in bad taste to discuss two subjects at nudist camps. One is politics; what is the other? A. Tape measures. —Paul Lynde
Q. According to Ann Landers, what are two things you should never do in bed? A. Point and laugh.—Paul Lynde
GRAPHIC NOVEL REVIEW
Tatsumi's Second Book
If you are as weary as I am of Japanese comics featuring saucer-eyed, pointy-chinned young girls in short skirts flashing their underpants, you'll welcome, as the cleansing gust of a spring breeze, the latest collection of short stories by Yoshihiro Tatsumi, Abandon the Old in Toyko (202 8x6-inch pages in black-and-white; Drawn & Quarterly hardcover, $19.95), the second of a proposed 3-volume series edited by graphic novelist Adrian Tomine. Tatsumi, Tomine reminds us in a concluding exchange of questions and answers with the Japanese master, is the coiner of the term gekiga, literally "dramatic pictures," that he used to describe a variety of manga that aimed at an adult readership. As a youth who drew comics in high school, Tatsumi admired the work of the "father" of Japanese comics, Osamu Tezuka, whom he met and sought critiques from.
"Tezuka was very much a mentor to me," Tatsumi told Irma Nunez of Japan Times in September 2006. Seeing Tezuka's work was "formative," Tatsumi said: it demonstrated the narrative power of the comic book format. But when he contemplated making his own comics, beginning in the late 1960s, Tatsumi didn't want to create works like Tezuka's. "He was making comics for children," Tatsumi said. "My colleagues and I were interested in writing comics from our own perspective. We wanted to write comic books for adults in which we could express things more graphically. I incorporated a lot more violence. Part of that was influenced by the newspaper stories I would read. I would have an emotional reaction of some kind and want to express that in my comics. What I aimed to do was increase the age of the readership of comics. It wasn't that I was trying to create anything literary, but I did want to create an older audience."
It was a matter of necessity, Tatsumi explained: "There was an incommensurable difference between what I wanted to express and what you could express in children's comics."
The Abandon collection, like its predecessor The Push Man and Other Stories (Opus 191), is a vivid example of Tatsumi's success. Children can scarcely be imagined finding entertainment in these bleak vignettes of everyday life among ordinary people living in teeming cities and experiencing, as a consequence of the crowded urban milieu, a spiritual isolation that dehumanizes and destroys. But adult readers doubtless find a searing kind of truth about the nature of the human condition. These tales, as Nunez put it, "turn on images of human degradation, quiet despair and outrageous violence carefully arranged to cinematic—even symphonic—effect. The underlying beat is that of escapist fantasy pounding its head against hard reality. This seems quintessential of Tatsumi's brand of gekiga."
The first of the 8 stories in the book, "Occupied," may be an ironic metaphor for Tatsumi's professional evolution. The title refers to a lavatory in which the protagonist, an artist who draws books for children, spends much time, studying the pictures, obscene graffiti, on the walls. Outside the "occupied" restroom, he imagines, are crowds of people; inside, it is quiet. "I was comfortable there," he says. The graffiti change from day-to-day: "It was an endless cycle: the janitors clean the walls, and people kept scrawling new graffiti." When he loses his job, he finds a new vocation by contemplating the lavatory walls. He is offered a position doing manga for Rude magazine, an "adult" publication. Suddenly inspired, he dashes to the nearest restroom and begins drawing a nude woman on the wall, the only place he's seen "rude" drawings of the sort, presumably, he'll produce in his new line of endeavor. But he has neglected to lock the door of the lavatory, and a woman opens it and discovers him at work. She screams and calls him a pervert. He flees, but he leaves his drawing implement in the toilet. We may suppose that when Tatsumi first began making comics for adults in a culture in which comics were usually for children, he, like the protagonist of this story, was seen as perverted.
In the volume's title story, a young man lives with his aged invalid mother, a demanding nag. Taking care of her needs consumes every hour not spent at his job, driving a garbage truck. Like most of Tatsumi's stories, this one brims with silent images; wordless pages are filled with crowd scenes. Observing a wrecking ball razing an old building, the garbage truck driver realizes that modern life requires getting rid of anything old. In order to achieve a relationship with a new girlfriend, he decides to rid himself of the impediment to romance, his old invalid mother. He gets an apartment for her and moves her into it, carrying her all the way through crowded streets. But later, as he and his girlfriend board a highspeed commuter train, he suddenly regrets abandoning her and returns to her apartment, where he discovers that she has died. In the last scenes of the story, he is seen carrying her lifeless body through the streets, which, on this day, are filled with demonstrators, pedestrians who "are here today to take back the streets," to reclaim a more authentic life than modernity with its highspeed means of transportation permits. A banner across the street reads: "Pedestrian Paradise." In the midst of a happy throng, we see the young man walking with his dead mother on his back, an evocative image suffused with message.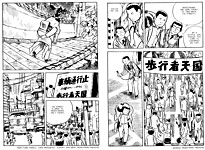 None of Tatsumi's stories are happy; they all end in frustration and disappointment, sometimes violently. In "The Washer," a window washer sees a couple copulating through the window he is washing. Later, we realize what he immediately recognizes—that the woman is his daughter. "Beloved Monkey" shows us a man whose sense of alienation is so profound that he is happy only with his pet monkey. He "frees" his pet by turning it loose in the zoo's monkey pen, and the monkeys therein gang up on his pet and kill it. Later, as the man crosses a street, he faces a mob of people coming toward him from the other side, and he thinks of his dead pet and screams.
| | |
| --- | --- |
| | |
"Unpaid" gives us a poignant portrait of an old man, once president of his company, who must endure daily humiliations as his company descends into bankruptcy. In a stunning metaphor, he has sex with a dog. In "The Hole," a man falls into a pit, where he is kept prisoner by an old woman who has been disfigured by cosmetic surgery undertaken to please a man. Another tale, "Forked Road," provides a metaphor for a reluctant sexual awakening with a commuter train track that offers the youthful protagonist a choice he doesn't want to make: adult sex is repugnant to him. In "Eels," a sewer worker marvels that eels can survive in the sewer. "No one tries to catch them," his co-worker observes, "—because they can relate to them. This ain't no place for eels. But still, they're tough enough to survive, and they keep looking for a cleaner place." When the young man's wife miscarries, she leaves him, calling him a loser; and he captures a couple eels and takes them home. He cooks one and eats it but doesn't like it. He takes the other one back to the sewer, where he releases it.
Moments of comedy are brief and fleeting, illuminating by contrast the prevailing personal tragedies of the tales. Tatsumi's protagonists seldom talk; but their silent suffering speaks volumes about the spiritual blight of urban life in the years after World War II. "Economic development was considered more important than the way people actually lived their lives," Tatsumi says in the book's afterword. "I wanted to depict this situation." Interviewed by Nunez, he said he identified with the workers in his stories. "What I'm expressing in these comics is basically what my emotions were at the time. To me, a comic artist is a laborer. There's no difference. Especially in Japan, a comic artist has to be physically very strong because he's on a tight publishing schedule and there are so many pages he must produce. It was quite normal for me to stay up three days straight to meet deadlines, so I completely identified with the laborer. And I think there's an equivalent emotion shared by laborers and cartoonists—that sudden burst of anger, that feeling of 'Things cannot go on like this' or 'If things go on like this, I'm going to explode'" Drawing comics is therefore cathartic, Tatsumi agreed. "In a way, in these comics, I am confessing something that I couldn't tell anyone else. But perhaps for readers, it may have been unbearable to have that thrust upon them."
Tatsumi's drawing style is integral to the dramatic impact of his storytelling. Rendered in a simple manner akin to Bill Watterson's technique—think of Calvin's parents, not Hobbes—Tatsumi's graphic economy renders his artwork unobtrusive, which has the effect of focusing our attention on the plot. But he reclaims the visual nature of his medium through extensive use of images that, silently, reinforce the meaning of the plots. Tatsumi's wordless panels advance the story, supplying narrative detail, and they underscore the theme with pictorial metaphors. With pictures carrying so much of the storytelling load, clarity is vital, and here again, simplicity serves Tatsumi's purpose: the uncomplicated drawings are easy to read and understand. On a few occasions, the simplicity of the art creates momentary confusion: many of the female characters, for instance, look alike except for hair styles, and when Tatsumi relies heavily on pictures, we sometimes don't know, right away, which characters we're watching. For the most part, however, his economy in both visual as well as verbal modes adds to the mood of the tale: the prevailing "silence" creates an aura of unspecific menace, and the characters in their isolation seem threatened.
Most of Tatsumi's protagonists look much alike: they have faces like the hubcaps of 1940s automobiles—round and without distinctive features. Said Tatsumi: "The character that looks identical throughout my work is, of course, different in each story, but he essentially represents my view. You could say I projected my anger about the discrimination and inequality rampant in our society through him." The typical protagonist, the cartoonist noted, is therefore not handsome. But he is persistent, re-appearing again and again through the Tatsumi oeuvre, as if searching, like the eels, for a better life.
<![if !supportEmptyParas]> <![endif]>
To find out about Harv's books, click here.