<![endif]> Opus 201 (February 14, 2007). It is perhaps one of those fraught-with-significance happenstances that on this Lovers' Day, we here at Rancid Raves concoct one of our most rambling installments, one that meanders through the aftermath of the Danish Dozen to the current enterprises of Stan Lee to Scott Adams' Essay on Torture, with stops along the wayward way to admire Jeff Smith's Shazam and Wiley Miller's perpetual experimentation, to assess the Dismal Plight of Editorial/Political Cartooners and to commit a Non-scathing Review of Both Best Edit/Politoon Books and to remember the Man who Co-created Archie. (No, not John Goldwater; he's the fraud.) Without further adieu, here's what's here, in order, by department:
<![if !supportEmptyParas]> <![endif]>
NOUS R US
Stan Sakai's Usagi Yojimbo hits No. 100 (and 160-some)
Boomer Humor Celebrated and Mort Sahl Overlooked
Comics Pages Diminished
Acquisitions Criteria Aired in Marshall, Missouri
Black History Month Dawns
North Korea, Animation Capital
Life in Denmark after the Danish Dozen
Trying the Danish Sympathizers in France
Bombs Away in Boston
The Simpsons Movie
Ghost Rider Verging on a Flop?
Flash and Wonder Woman Lose Directors
What Is "Animation" Anyhow?
Turkish Brouhaha
Bill Griffith in Levittown
McGruder Speaks
Morrie Turner Recovering
Awards and Nominations for Awards
Kubert's School Is Thirty Years Old This Year
James Sturm's Graduates Its First Class
Wonder Woman Worth Over $3,000
(Well, I said we rambled a lot this time........)
<![if !supportEmptyParas]> <![endif]>
A Word to the Wise
Cartoons, Lampoons, and Graffiti
<![if !supportEmptyParas]> <![endif]>
CATCHING UP TO STAN LEE
POW! Entertainment, Just Released "Mosaic," and Some Random Remembrances
<![if !supportEmptyParas]> <![endif]>
Why Do Men Have Nipples?
A Speculation about Gender and Such Like
BOOK MARQUEES
Blokhedz, Best American Comics, An Anthology of Graphic Fiction, Flight, and Shenzhen
<![if !supportEmptyParas]> <![endif]>
FUNNYBOOK FAN FARE
Jeff Smith's Shazam
Darwyn Cooke's Second (or Third) Spirit
Warren Ellis' New Universal
Kaare Andrews Spider-Man Reign
<![if !supportEmptyParas]> <![endif]>
INTO THAT GOODNIGHT
Joe Edwards, Iwao Takamoto, Anna Nicole Smith and—
Molly Ivins
<![if !supportEmptyParas]> <![endif]>
COMIC STRIP WATCH
Sherman's Lagoon
Opus
Mutts
and Four Strips I Enjoyed
<![if !supportEmptyParas]> <![endif]>
EDITOONERY
Ann Telnaes Back in Animation
Wiley Miller on the Rapidly Diminishing Ranks of Editoonists
And His Remedy
And Non Sequitur and Experimentation
The Best Editorial/Political Cartoons of the Year in Two Tomes
<![if !supportEmptyParas]> <![endif]>
LYNN JOHNSTON'S FBOFW HYBRID
Dilbert's Latest Compilation
<![if !supportEmptyParas]> <![endif]>
I'M TORTURED BY DOUBT
By Scott Adams
<![if !supportEmptyParas]> <![endif]>
<![if !supportEmptyParas]> <![endif]>
And our customary reminder: don't forget to activate the "Bathroom Button" by clicking on the "print friendly version" so you can print off a copy of just this lengthy installment for reading later, at your leisure while enthroned. Without further adieu—
<![if !supportEmptyParas]> <![endif]>
<![if !supportEmptyParas]> <![endif]>
NOUS R US
All the News That Gives Us Fits
This year's Free Comic Book Day is scheduled for May 5 ... The February issue of Playboy noted "the best of today's smart comics," naming Seven Soldiers of Victory, The Exterminators, Testament, The Other Side, and Scalped. ... Artists Alley, that neighborhood of the exhibit at a comics convention where cartooners sit and peddle their wares in person, has sold out at three cons: July's San Diego Comic-Con International, June's MoCCA Festival, and February's New York ComicCon. ... About 150 comic book stores around the country held midnight parties on February 6 to celebrate the release of Marvel's adaptation of Stephen King's Gunslinger Born No. 1, an "expansion" on King's best-selling fantasy series "The Dark Tower." ... In Brussels on February 28, according to Expatica News, everyone can park without charge; the city is celebrating 50 years since the creation of the cartoon character Guust Flater by Andre Franquin, a genius of line and antic energy in comic figures. ... Calvin Reid at PW Comics Week tells us that "a group of veteran comics editors and digital entrepreneurs are launching Comicmix.com, a new popular culture website devoted to news and opinion on the comics industry in addition to covering movies, tv, music and gaming. ... And at HumorousMaximus.com, vintage Steve Canyon comic strips are running to celebrate the 100th anniversary of creator Milton Caniff's birthday. The site features the work of many contemporary cartoonists, all more professional-looking than most website comics. Some of these have been syndicated in the past (Bob Zahn, for instance, and Harley Shwadron) and one, Mike Baldwin with his panel cartoon, Cornered, is now. ... From the Museum of Comic and Cartoon Art (MoCCA) in New York: MoCCA is launching a new ongoing exhibition series featuring comic and cartoon artists living in the city; it will opened on February 10 with comic book art by R. Kikuo Johnson, whose first graphic novel, Night Fisher, was listed as one of Time's top ten graphic novels of 2005, and Paolo Rivera, who is currently painting exclusively for Marvel Comics Mythos series. ... At the Grammy Awards on February 11, the Dixie Chicks won in every one of the five categories they were nominated in, collecting all the big awards—album of the year, song of the year, and record of the year, the last two for "Not Ready to Make Nice." Warms my heart.
In the Stan Sakai's Usagi Yojimbo No. 100 from Dark Horse, Sakai and his roving rabbit are subjected to an honorific "roast" during which a chorus of footnotes repeatedly assert that this issue is actually the 160th, the other sixty having been published by companies other than Dark Horse. "When I started with Usagi," Sakai said, "I was not thinking of it as a long-term project. I was just concerned with getting the next story finished before the deadline. I'm still working this way." Asked what was his proudest Usagi achievement, he said: "It has to be Usagi Yojimbo Book 12: Grasscutter. It won an Eisner Award (Will even wrote the Introduction), and it also won a Spanish Haxtur and an American Library Association Award. And it was used as a textbook in Japanese history classes at the University of Portland. I did a long of research for that, and it turned into a nifty little story." The roast, he said, was "my editor Diana Schutz's fault—er, brilliant idea. I was just going to make Usagi 100 another story, a continuation of the previous issue. She said we should do something a bit more than that. We've worked together for awhile, so she knows who my friends are in the industry, and she contacted a few of them to contribute pages for the roast. I don't think anybody she contacted turned her down. I'm very flattered for that." Alas, she didn't ask me, Stan, but I would have delighted to have had my rabbit show up at the roast.
In the February 19 issue of Newsweek, "boomer humor" is celebrated by David Noonan, who reviews the comedic stand-outs of the fifties and early sixties that shaped American humor for subsequent generations. He quite logically dubs Mad the greatest boomer humor touchstone: "It liberated a generation by ripping every institution, organization and idea that our parents, teachers, priests and rabbis held out to us as deserving of our respect and obedience. School, any and every form of government, the military, organized religion, life in suburbia, the rich, the middle class, the poor, all of it was fodder for satire and parody ... gloriously sophomoric at times, stunningly cynical at others...." The whole sordid story of the creation of Mad and of Harvey Kurtzman's key role therein is rehearsed in Hindsight in August 2002. Noonan names stand-up comics Richard Pryor and George Carlin "godfathers" of boomer humor but fails to mention Mort Sahl, who almost certainly inspired Carlin (at least) to give up the traditional stand-up formula with gags and bits in favor of commenting on the life and politics of the day. Sahl came on stage with a copy of the day's newspaper under his arm, and he'd open it up and construct the entire evening's comedy from the day's headlines.
The ranks are thinning. ComicsReporter.com notes that the New York Daily News cut back its comics section from four pages to three, dropping five strips from the previous roster of 31. The five, reports Editor & Publisher: Agnes, Cathy, Girls & Sports, Peanuts reruns, and Pooch Café. Saith E&P: "The New York City market is one of the worst in the country for comics. The New York Times runs no comics, and the New York Post only seven." The cavalier attitude at the Daily News is doubly distressing when we remember, here at Rancid Raves, that the paper's founder, Joseph Patterson, developed many celebrated comic strips as circulation-building devices—Dick Tracy, Little Orphan Annie, Moon Mullins, Winnie Winkle, The Gumps, Gasoline Alley, Terry and the Pirates, and Harold Teen, to name a few. His legacy is clearly evaporating.
In Marshall, Missouri, where the Public Library, reacting to parental complaints, recently withdrew from circulation two graphic novels (Craig Thompson's Blankets and Alison Bechdel's Fun Home) until a new acquisitions policy could be developed, the library board held a public reading on February 7 of the proposed new selection criteria. If the new formulation is adopted on March 14, future acquisitions must meet at least one of the following: constraints of budget; contemporary/social significance; critical acclaim; format and durability of material suitable for library use; local interest; patron requests; popular demand; reputation and significance of author, illustrator, editor, artist, performer, etc.; reputation/authority of author; scarcity of material on the subject and availability elsewhere; and/or timeliness and/or permanence or subject matter. Two citizens addressed the board. One, wearing a button saying "I Read Banned Books," had no objection to either of the two books or to the proposed selection criteria; the other, presumably representing the censoring element of the population, felt that both graphic novels met at least one of the new criteria. Saying that both books seem timely because of the current gay/lesbian movement, he allowed that "you would find these types of trash along I-70."
Black History Month is being commemorated at Geppi's Entertainment Museum in Baltimore with an exhibit entitled "Finally in Full Color" that displays African American characters and creators in comics and popular culture, assembled from the collection of William H. Foster III, whose book on the subject, Looking for a Face Like Mine, we reviewed here in Opus 181. The exhibit runs until March 10, saith Diamond's online magazine Scoop. From the same source, we learn that "when Richard Outcault's Pore Li'l Mose debuted in 1901, it was considered revolutionary and nearly 'sympathetic'" despite the racial stereotype depicting its eponymous protagonist. Li'l Mose was a diminutive black kid from rural environs who wanders into the big city where he is often victimized by his white chums; most of the time, he doesn't seem very bright, but he's at least a sympathetic character.
North Korea, noted for the electric hair-do of its pint-sized tyrant Kim Jong-Il, for exporting missiles to international outlaws, and, lately, for exploding an atomic bomb despite George W. ("Whimperer") Bush's fervent objections, is also very large in the international animation industry. Kim is a big-time movie buff, reports News.yahoo, and the country has for decades used cartoons to indoctrinate children with socialist ethics. Tom and Jerry cartoons are a prime-time hit in the communist state: "They see the U.S. in the headstrong cat and North Korea in the wise mouse," said Lee Kyo-Jung, an executive at the Korean Animation Producers' Association. The hub of the country's animation industry is SEK Studio, where, until computerized equipment replaced approximately 1,100 of their number, 1,600 animators worked. The state-run company engages in foreign trade and regularly deploys representatives overseas seeking contracts, with great success, bringing precious hard currency into the isolated country. SEK has been subcontracted by Disney for the "Lion King" and "Pocahontas" tv series made for European viewers. The North Korean animators have increasingly teamed up with their southern cohorts, the North providing the hand-power and the South providing equipment and financing, to produce such films as "Empress Chung," a $6.5 million feature that debuted simultaneously in Seoul and Pyongyang in August 2005.
From Animation Magazine's Ryan Ball: Hallmark, the Kansas City greeting card company, has signed an exclusive, long-term deal with the Cartoon Network to create greeting cards, party supplies and other "personal expression products" based on Cartoon Network properties. Hallmark is a class act. Some years ago, perhaps decades, I was in Kansas City doing a site inspection for a convention, and I took a detour into a shopping mall attached to the Hallmark-owned hotel across from the old Union Station near downtown Kansas City. Winding my way among the shops, I came upon a mini-museum about Hallmark. Admission was free, so I went in. After passing by glass cases displaying the original art for greeting cards by such notables as Winston Churchill, I continued by exhibits of gadgets that tied ribbons into bows and printers that embossed and other varieties of mechanical contrivances used to produce cards. There was also a documentary movie. Then at the end of the procession of exhibits, was a full-scale fully-outfitted card shop. Rack after rack of Hallmark cards. They had you where they wanted you: after witnessing all the displays, watching cards being made and printed and embossed and wrapped in ribbons—after all that, you were revved up and ready. Ready to buy a card. Lots of cards, one for each relative so you could send them with an inscription saying where you'd bought them. And then I noticed the signs. Conspicuously displayed in two or three places was a placard with elegant lettering that read: "The cards you see here are for display only. If you wish to purchase a Hallmark Card, visit your Hallmark Card Store." Classy. They had you where any entrepreneur wants you—primed and ready to buy. But they declined to take advantage of the state of mind that their exhibit induced. Class act, like I said.
A year after the infamous rioting about the Danish Dozen, the Koran, the holy scripture of Islam, has become the top selling book in Denmark according to IranMania.com. There are also reports by Reuters of Danish Muslims saying that the sad incident has resulted in improved dialogue with their fellow Danes. "We talk about problems between Muslims and Danes like we never did before," said Yildiz Akdogan, spokesman for the Democratic Muslims, a group formed by moderate Muslims in the aftermath of the cartoon crisis. "The debate is broader and more pluralistic," Akdogan said. "More people and different kinds of people are active and the level is more sober and nuanced." While the tension in Danish society is somewhat reduced, it is far from dissipated according to an article in U.S. News & World Report of January 8. "The cartoons highlighted an unhealed and potentially hazardous rift between the dominant Danes and the Muslim immigrants living in what are being called 'parallel societies.'" It is highly ironic that the disturbance should have originated in Denmark, historically a bastion of openness and tolerance: when the country was occupied during World War II by the Nazis, the Danes hid their Jewish countrymen at first and then spirited some 7,000 of them to safety in Sweden. But in the wake of the cartoon controversy, "the share of Danes who view Islam as incompatible with democracy has shot up. ... [Some] skeptics worry that Danish values are threatened by politicized Muslims who resist assimilation. ... [a circumstance that] reflects the broader tremors rattling western Europe where tangled issues of national identity, culture, religion, and security arising from Muslim immigration have bolted to the fore." Many Muslims in Denmark feel keenly that they are seen as outsiders, but in resisting assimilation, they perpetuate that status. "Danes counter that Muslims are being overly sensitive, playing up an image of victimhood." In Denmark, "secularism is celebrated, and religion is a strictly personal affair that should be kept out of the public eye as much as possible," a prospect frustrated by the visible manifestations of the Islamic faithful, mostly the wearing of the veil by women. "The government's culture minister has publicly commented on the inferior status of a 'medieval Muslim culture.'" And although moderate Muslims have spoken out against the extremists among them, the leader of the Democratic Muslims is so vilified that he needs 24-hour-a-day bodyguards. Nevertheless, he says, "we are Danes first and Muslims second." But the unemployment and discrimination lurk everywhere in Muslim neighborhoods, and some Danes say it is only a matter of time before the explosion.
Meanwhile, the issue is alive and smoldering in France, where, the Christian Science Monitor reports, two Muslim groups (one described by Pierre-Antonine Souchard of the Associated Press as "conservative" and the other as "fundamentalist") have brought suit against a satirical weekly, Charlie Hebdo, which, a year ago during the height of the rampaging, reprinted two of the Danish Dozen, giving that issue a cartoon cover depicting the Prophet covering his eyes over a caption that read: "Muhammad overwhelmed by extremists"; and a thought balloon hovered over the character, saying, "It is hard to be worshiped by idiots." The Muslim groups alleged that the cover broke a French law against causing injury by religious slander. If found guilty, the magazine and its editor face a possible 6-month prison sentence and a fine of up to $28,500 (AP). The French believe strongly in freedom of expression and in the separation of church and state, but a Catholic poll during the week of February 5 found that 79 percent of the population thought it "unacceptable to ridicule a religion publicly." In France, should laws ever conform to polls, Richard Dawkins' book The God Delusion, which subjects religion to intellectual ridicule, would be forbidden. A bunch of students visit in Paris from Toulouse said freedom of expression was an important right but it should not be pressed so far that it causes pain to others. Should this attitude ever be embodied in French law, a swarm of questions immediately forms: When does discomfort become pain? Who decides? Which others? Would such a law prevent members of an opposition party from criticizing the government? But there's hope, even in France. As reported by Souchard, the trial opened on Wednesday, February 7, and, astonishingly—gratifyingly—the prosecutor, whose role is to defend French law, argued in favor of the magazine, saying, "It is not faith in Islam that was stigmatized by these caricatures ... but terrorists who pretend to be acting in Islam's name or in the name of the Prophet." A verdict is expected March 15. (For an engaging discussion about political cartoons, lampoons, and graffiti, see "A Word to the Wise" below, imported direct from Jamaica.)
Boston, which should be the laughing stock of the nation, is perhaps more to be pitied than scoffed at. A number of blinking electronic devices were planted around the city in a "guerrilla marketing campaign" to promote the Cartoon Network's "Aqua Teen Hunger Force," a surreal series about a talking milkshake, a box of fries, and a meatball. In a guerrilla campaign, we are told by Michael Powell at the Washington Post, products are placed in unexpected places in the hope that people who see them will recognize the characters and "get" the gag. But in Boston on January 31, people who saw the blue-and-white blinking lights under bridges and overpasses thought they'd explode even though one of the light box characters was lifting his hand in a time-honored obscene gesture. Alarmed citizens phoned 911, and the city's anti-terrorism apparatus went into action, barricading thoroughfares until explosive experts could disarm the devices. A few hours later, the Cartoon Network phoned in to say the gadgets were harmless, but by then, the Forces for Good in Boston had expended effort valued at hundreds of thousands of dollars. Two of the perpetrators of the stunt were arrested, and some of the audio and audio-visual news media displayed disgust that the duo didn't appear at all chastened by their encounter with law and order. One jester, adorned in dreadlocks, insisted on discussing only men's hair fashions of the 1970s. Their jocular attitude could be explained by other facts in the case: nine other cities had been infected with the same electronic gizmos, and no citizen in any of them was apparently alarmed enough to call the authorities. Only in Beantown, apparently, do citizens get intimidated by unusual sights. And it was all for naught: the Cartoon Network failed to register any increase in viewership ratings after the caper. Meanwhile, Jim Samples, the head of the Cartoon Network, resigned, saying he regretted what had happened and hoped that by resigning he would demonstrate an appropriate remorse that would enable everyone "to put this chapter behind us." Okay. I'm willing to forgive and forget, but I'm betting the folks in Boston are still nervous. What scares some people about the incident is the Boston authorities' saying afterwards that they behaved exactly the way they should have and wouldn't do anything different next time.
Roy Schneider, who is a singer and songwriter as well as the cartoonist who produces the comic strip The Humble Stumble, has just released a new CD called "The Humble Sessions," in which the music is inspired by characters and situations in the strip. Said Schneider in a news release from his syndicate, United Media: "I've traditionally expressed my serious side through music, and the lighter side through comics. I always thought it would be fun to try and combine the two somehow but didn't have a clue or any real inspiration. I finally woke up one morning in August 2006 with the chorus to 'There Goes Mr. Humble' chiming through my head, grabbed my guitar, and started writing." The result, advises the news release, "is an eclectic blend of original folk, folk/rock, bluegrass, reggae, delta blues and other flavors, stitched together with humor." The CD can be ordered at www.cdbaby.com or www.thehumblestumble.com
In the Movies: In "Children of Men," Michael Caine plays a famous editorial cartoonist; the cartoons in various scenes were produced by Steve Bell, an award-winning political cartoonist for The Guardian. And in "Zodiac," Jake Gyllenhal (however it's spelled) plays a cartoonist working for the San Francisco Examiner. ... If we count the initial appearance in cartoon shorts on "The Tracey Ullman Show," Matt Groening's "The Simpsons" has been on tv for 20 years. And now they're about to get up on the big screen with "The Simpsons Movie," about which, Groening and company are reluctant to reveal much because they want it all to be a surprise for their fans. "I will say this," said Groening, "we have things in the movie that you can't do on tv. There may be some nudity. It may be people you want to see naked. It may be people you don't want to see naked. But you will see things that you've never seen before." The mind reels, as Glenn Whipp said in Whittier Daily News as he reported all this; more at http://whittierdailynews.com/entertainment/ci_5045751 ... It doesn't look good for Sony's "Ghost Rider" movie starring comic book fan Nicholas Cage playing his favorite Marvel character. The movie's release has been delayed for eight months, never a good sign; and now Sony, as reported by ICv2, has decided not to permit movie critics to screen the movie before it is released on Friday, February 16. Sony has invested $120 million in the production and has mounted an extensive promotional campaign, all to the good; but the ads have a campy cast to them and that, together with the embargo on pre-release screening, portends an impending disaster.
More in the Movies: Warner Bros. has recently divested itself of two creative personages who, until last week, were working on superhero movie projects. Screenwriter David Goyer's script for a Flash movie was rejected, leaving him "sad," he said, and probably puzzled: he'd worked on "Batman" and "Blade" and thought he would have it relatively easy after having succeeded with these two, reported contactmusic.com. Goyer and Warner Bros. evidently had irreconcilable visions for the movie: "I'm quite proud of the screenplay I turned in," Goyer said on his MySpace page. "I threw my heart into it, and I genuinely think it would've been the basis of a ground-breaking film. But as of now, the studio is heading off in a completely different direction." And Joss Whedon, who'd been brought in to work on the Wonder Woman flick on the basis of his success with "Buffy the Vampire Slayer," parted ways with Warner Bros. Pictures and Silver Pictures, the production company. According to Borys Kit and Tatiana Siegel at Hollywood Reporter, Whedon was initially "seen as someone who could crack the challenge of making a female superhero movie work, especially one that involved a magic lasso, bullet-deflecting bracelets, an invisible jet and a bathing suit-like costume." Guess not. "We just saw different movies," Whedon explained. "Non-sympatico. It happens all the time. I don't think any of us expected it to this time, but it did. Everybody knows how long I was taking, what a struggle that script was, and though I felt good about what I was coming up with, it was never gonna be a simple slam-dunk. I like to think it rolled around the rim a little bit, but others may have differing views." Meanwhile, Whedon will be taking over the writing of Runaways, a comic book from Marvel about super-powered teens, and he's working on "Goners," a thriller he's slated to direct for Universal Pictures.
Son of More in the Movies: Nominees for an Oscar in the Animated Feature Film category are "Cars," "Happy Feet," and "Monster House," all of which are testing the industry's tolerance for breaking into new modes of movie making. One of the 16 animated films eligible this year, "Arthur and the Invisibles," was dropped from consideration in early January because the animated portions of the live-action/animated production didn't amount to at least 75 percent of the running time, an eligibility requirement. But running time is not the only complication in the rapidly morphing world of animated filmmaking. Is a penguin whose motion is generated by computer imitating a human dancing an "animated" figure or not? Historically, said Charles Solomon recently, two factors have distinguished animation from live-action: first, "each frame of film was exposed individually rather than as part of a longer take"; and, second, "the illusion of movement was created rather than recorded." Motion capture technology, "which synced the live dancer and the penguin in 'Happy Feet'," and processed live action, which uses computer paint programs to alter live-action footage (seen mostly in tv commercials for Charles Schwab), both push the envelope of the customary definition. Should "Garfield: A Tail of Two Kitties" in which the computer-generated cat cavorts in an otherwise live-action world be considered an animated film? Do the robots in "Star Wars: Revenge of the Sith" qualify as animated characters? John Lasseter, Oscar-winning director of "Cars" and "Toy Story" films, argues that "some element of deliberate distortion" is the essence of animation. "In animation, you're creating a caricatured world. Although today's computer-animated films may be getting closer to reality, they're still caricatured." Animation critic and filmmaker John Canemaker, who says he's not that fond of "literalism in any form of animation," seems to lean away from the new technologies. "I think the interpretation of the artist is the important thing," he said, "and how the hand and mind are seen in the product." Disney, after a brief flirtation with rotoscoping, the 1930s equivalent of processed live action, abandoned the technique because characters animated by means of it lacked liveliness, and liveliness, he evidently believed, could be achieved in animation only through a species of exaggeration. Nick Park of Wallace and Gromit fame said: "I'm anti making things more realistic. Everything in me goes against it. If you aim for realism, and you don't quite achieve it, it can become very ugly. If you separate your work from reality, the artistry and stylization become the focus. For me, that's the joy of filmmaking. I don't want to create reality. I'm not interested in reality." Circumstances, however, seem to be bending in the opposite direction. None of this year's nominees for feature animated film were made in the traditional way, with a pencil on paper graduating gradually to celluloid. And Disney is poised to create a unit that will make films using motion capture technology, enlisting Robert Zemeckis, who directed "Forest Gump" and "Who Framed Roger Rabbit" as well as producing the afore-mentioned "Monster House." Later this year, Zemeckis and his partners Jack Rapke and Steve Starkey will release another motion-capture film, "Beowulf." And while we were chewing over all this, the Associated Press announced that "Cars" won for best animated feature film at the 34th annual Annie Awards, where achievements in animation are honored.
Son of the Son of More in the Movies: D. Scott Apel at reel.com limits his list of the ten American animated cartoons that "shook the world" to those available on DVD: Gertie the Dinosaur (Winsor McCay, 1914), Tantalizing Fly (Fleischer Studios, 1915; the first available title on DVD from the studio's famed "Out of the Inkwell" series), Steamboat Willie (Disney, 1928; Mickey Mouse and sound), Snow White and the Seven Dwarfs (Disney, 1937; first full-length animated feature), Wabbit Twouble (Warner Bros., 1941; the earliest Bugs Bunny available), Mouse Trouble (MGM, 1944; Tom and Jerry), What's Opera, Doc? (Warner Bros., 1957; Chuck Jones "demolished the boundaries between high culture and pop culture"), Luxo, Jr. (Pixar, 1986; the first computer-generated short), Toy Story (Pixar, 1995; first full-length fully computer-generated animated feature).
Turkish cartoonist Mehmet Arslan was presented with the Grand Prize in the 28th Yomiuri International Cartoon Contest in Otemachi, Tokyo. He received a medal and 2 million yen for his entry depicting chameleons changing color to match the U.S. flag, "satirizing the world under U.S. hegemony," according to the Daily Yomiuri. Prizewinners can be viewed at http://www.yomiuri.co.jp/daily Meanwhile, in San Francisco, USA, a Turkish reader took offense at Stephan Pastis' naming a llama in his Pearls before Swine "Ataturk," the name of the father of modern Turkey. Said the reader: "Why did Pastis, who was using only Pig, Zebra and Rat as his characters' names, suddenly decide to name his llama Ataturk" if it wasn't to "humiliate and anger Turkish people like me." Another reader was similarly baffled by the name: "I don't get it. Why is the llama called Ataturk? Is this supposed to be funny."
Bill Griffith's Zippy the Pinhead strips will be on display in an exhibit called "Living the American Dream: Levittown and the Suburban Boom," which celebrates the 60th anniversary of the Long Island post-World War II housing development, a little city of cookie-cutter homes mass-produced to provide WWII vets with cheap housing (as long as the residents were white). Griffith grew up in Levittown, E&P reports, and is distinctly not among its fans. When I interviewed him in 1992, he called it a "waste land," by which he meant a cultural desert. He remembered a nextdoor neighbor, "the only Beatnik in Levittown," who was "pretty much under constant suspicion by his neighbors because he had a goatee. This was in 1956 when anything that didn't conform to the norm as cause for suspicion of communism or something. His name was Ed Esmeller, a well-known science fiction illustrator" who signed his work "Emsh" and went on to become famous as an underground and experimental filmmaker.
From a session of Q&A on Scott Adams' Dilbert blog comes this, Adams' response when asked to describe an average day: "About four hours of cartooning. Two hours of blog stuff. Two hours of miscellaneous Dilbert stuff, including paperwork. Usually a workout or tennis. A few hours of family time. Eating at restaurants a few times a week, usually with friends. Travel to speaking about 20-plus times a year. The rest is ordinary stuff."
Without a daily pulpit from which to issue outrageous sermons, The Boondocks' Aaron McGruder is reduced to supervising the production of the strip's animated version and making appearances on stage in various venues to augment his income. At recent Pittsburgh gig, tickets went for $64, which included a "post-show reception." A few nights later, McGruder was at the University of the Pacific, where, as reported by Ian Hill of the Record, he answered questions from the audience. Among them was one about his use of the taboo N–word in the strip. "I don't look at the word as being toxic," he said. "I look at the white man in the 1800s as being toxic. The word is a distraction. The evil is in the behavior of men." Asked what drives him as a cartoonist, McGruder said: "Money. I would like to make as much money with as little exploitation as possible. There are some stories you can't tell unless you make a white person a whole lot of money. The more money you make in Hollywood, the less they bother you." McGruder mentioned during the evening that he is in the early stages of developing a Boondocks motion picture. The Boondocks started in 1997 in the University of Maryland's campus newspaper, but it didn't receive national attention until it appeared in the hip-hop magazine, The Source, which led to its syndication by Universal Press in 1999.
Morrie Turner, the first African-American creator of a nationally syndicated comic strip, Wee Pals, is recovering from a mild heart attack. He is still producing Wee Pals, which he launched 42 years ago, inspired by Charles Schulz's Peanuts. Turner, 83, told Dave Newhouse at the Oroville Mercury Register that when he was "around 60," he stopped thinking of himself as getting older. "I feel wonderful," he said, "except I can't walk all the time. Two hip surgeries. I'm about five feet from getting well," he continued. "There's no alarm. Not at all. It didn't even feel like a heart attack." He had a triple bypass ten years ago, but he's not worried. "I've gotten new medication," he said. "I'm not going to give you a different finish to the story." And he'll go right on doing Wee Pals. "I'm still trying to get it right," he said of his craft. "I'm just beginning to feel like, 'Oh, this is the way you do it.' I'm having too much fun." When Turner launched Wee Pals, most comic strip characters were lily white; he integrated the funnies pages. The message of the strip is constant—using children of various ethnicities to teach humanity how different races can co-exist peacefully. "It's rainbow power," Turner said. "People accept words from kids. It's their pure honesty. They won't accept [the same] words from adults." The strip, once syndicated to nearly 100 newspapers, is down to about 40, which Turner says is because there aren't as many newspapers today as previously. But that doesn't matter to Turner that much. "I'll always draw," he said. "People who retire take up art, don't they? As long as I can keep up, I can draw when I want to. I love what I do." Meanwhile, according to E&P, Heaven Sent Productions is seeking investors to complete a documentary about the Wee Pals creator, "Keeping the Faith with Morrie"; the film will include information about other cartoonists of color—The Boondocks' Aaron McGruder and Krazy Kat's George Herriman among them.
Awards and Nominees (from PW Comics Week): Gene Yang, whose graphic novel American Born Chinese was the first graphic novel nominated for a National Book Award in young adult literature, has received a Michael L. Printz Award for the book "for excellence in the young adult category," the first Printz to be awarded to a graphic novel. Alison Bechdel's Fun Home has been nominated for a National Book Critics Circle award, probably the first comics work to be so honored by NBCC. At GLAAD, the Gay and Lesbian Alliance Against Defamation, where creators in various media are recognized for work portraying gay, lesbian, bisexual and transgender individuals "in a fair and accurate light," several comics works have been nominated for the Outstanding Comic Book Award: DC's 52, American Virgin, Manhunter, and Y: the Last Man, all from DC Comics; and Fun Home. The American Library Association presented its Robert Sibert honor book award to writer Siena Cherson Siegel and her artist husband Mark Siegel for To Dance: A Ballerina's Graphic Novel. And here's the "glorious winner" of this year's Darwin Awards, that special recognition honoring "the least evolved among us": when his 38-caliber revolver failed to fire at his intended victim during a holdup in Long Beach, California, would-be robber James Elliot did something that can only inspire wonder: he peered down the barrel and tried the trigger again. This time, it worked.
Joe Kubert's School of Cartoon and Graphic Art in Dover, New Jersey is celebrating its 30th year, offering 3-year residential programs in cartoon graphics and in cinematic animation. Among its graduates: Steve Bissette, Amanda Conner, Karl Kesel, Adam and Andy Kubert, Tom Mandrake, Rick Veitch, and others too numerous to mention. ... In White River Junction, Vermont, James Sturm's Center for Cartoon Studies, which the founder describes as "a cartoonist's boot camp and a think tank for graphic novelists," will graduate its first class of 38 in May. Most of them are in their mid- to late-twenties and have college degrees from other institutions. The CCS course is two years long; tuition is $14,000 per year. Sturm's vision for the school began to take shape about four years ago when he moved with his family into this "tired industrial hamlet intent on repackaging itself as a 21st century arts haven," reports Elizabeth Mehren in the Los Angeles Times. Last year, the school moved into the defunct Colodny Surprise Department Store and started conducting classes. Co-founder Michelle Ollie estimated that the school contributed about a quarter million dollars to the White River Junction economy in its first year—students buying food and clothing at local stores and paying rent, and visitors staying at the local hotel. Over in New Jersey, Kubert, 80, isn't even remotely worried about competition: "If they are successful," he told Mehren, "that means there are enough people who are interested in this to feed the field." The more, the merrier.
E&P notes that Creators Syndicate, the first to grant ownership to its creators as a standard practice, is marking its 20th anniversary with a redesigned website. ... At http://www.fredericksfreisergallery.com, you can witness an exhibition of John Wesley's Bumstead paintings wherein the artist appropriates the classic Blondie characters to produce what the gallery's press release claims is "a remarkably prescient body of work whose subject is no less than the American psyche." You'll see Dagwood doing things you never thought he was capable of, "excruciatingly specific representations of the gulfs between feeling and comprehension—smart, funny, startling, irreverently empathetic and often heartbreaking, they are a welcome antidote to more laborious discourse." ... The original art for the cover of Wonder Woman No. 194 recently sold at auction for $3,051 after 17 bids. Drawn by Adams Hughes, noted for his rendering of splendiferous females, the Amazon Princess is shown wrestling with a lightning bolt, contorted by her strenuous effort into a position that displays her cleavage in the generous way that her abbreviated costume seems designed for.
<![if !supportEmptyParas]> <![endif]>
Fascinating Footnote. Much of the news retailed in this segment is culled from articles eventually indexed at http://www.rpi.edu/~bulloj/comxbib.html, the Comics Research Bibliography, maintained by Michael Rhode and John Bullough, which covers comic books, comic strips, animation, caricature, cartoons, bandes dessinees and related topics. It also provides links to numerous other sites that delve deeply into cartooning topics. Three other sites laden with cartooning news and lore are Mark Evanier's www.povonline.com, Alan Gardner's www.DailyCartoonist.com, and Tom Spurgeon's www.comicsreporter.com. And then there's Mike Rhode's ComicsDC blog, http://www.comicsdc.blogspot.com
<![if !supportEmptyParas]> <![endif]>
TICS & TROPES
"When shall we live if not now?—Seneca
"I tell you we are here on earth to fart around, and don't let anybody tell you different."—Kurt Vonnegut
"Common sense and a sense of humor are the same thing, moving at different speeds. A sense of humor is just common sense, dancing." —William James, whose novelist brother, James, was, as nearly as I remember, entirely humorless
<![if !supportEmptyParas]> <![endif]>
Things To Remember
In the September-October 2006 issue of The Cartoonist, the more-or-less official news organ of the National Cartoonists Society, editor Frank Pauer interviews Charles Barsotti, New Yorker cartoonist and numerous other things in the distant past—among them, administrator at a school for mentally challenged children, writer at Hallmark cards, magazine cartoonist, cartoon editor at The Saturday Evening Post, candidate for Congress—who once had a restaurant named after him and stamps reproduced (in England) from his cartoons. At one point, they talked about Barsotti's talent search at the Post: "I brought in George Booth," Barsotti said. "I think it was just a matter of time, but we got to him before The New Yorker did. He'd been looking at my stuff and thought that maybe I would understand what he was doing. He remembers stretching out four or five drawings on my board and later said, 'I never knew Charley was a religious man. But he looked at them and said, 'Jesus Christ!'"
<![if !supportEmptyParas]> <![endif]>
<![if !supportEmptyParas]> <![endif]>
A Word to the Wise
By Henley Morgan for the Jamaica Observer, February 8, 2007
An imbroglio has developed surrounding a cartoonist's portrayal of our prime minister in an unflattering light on the pages of a leading local daily newspaper. It was John Milton who said, "Where there is much need for learning there of necessity will be much arguing." The arguing over this matter needs to be taken beyond the superficialities of political point-scoring and personal sensibilities.
Since around the early 1840s, cartoons have been pictorial parodies utilizing caricature, satire and humor not only to communicate but to affect the emotional state of the readers. In the 20th century, newspapers and magazines popularized the use of cartoons for conveying political commentary and editorial opinion; for depicting human foibles and for social comedy. The creative and suggestive use of satire, usually directed at groups and societal idiosyncrasies, elevated the status of cartoons. A Pulitzer Prize was established in1922 and a Sigma Delta Chi Award in 1942 for editorial cartooning.
While the strength of the cartoonist is in artful depiction of topical issues, his cousin the lampoonist utilizes virulent satire in prose or verse for malicious and sometimes unjustified attack on an individual. The use of lampoons, it is believed, goes back to the 3rd century BC. While I am not aware of awards equaling those mentioned above going to lampoonists, the names of famous philosophers, scholars and playwrights like Aristophanes, Socrates and John Dryden are associated with the practice.
Then there are graffiti (plural for graffito). With a history going back to the time of the Roman Empire, these are casual writing, rude drawings and markings usually on the walls of buildings or other structures. Graffiti speak in raw tones (the language of the people)and are graphic in their description of customs, institutions and everyday life. The very reasons that make this widely used form of folk art appealing to some people are the same ones that make it repulsive to others. Particularly because of the accompanying defacement of property and overt vulgarity, graffiti are considered to have a high nuisance factor and so are detested in almost every culture.
Following in the best traditions of Jamaicans to be self-destructive, local cartoonists may have created a deadly concoction of all three— cartoon, lampoon and graffito. Some of what passes for editorial cartoons is too crude to be art, too explicit to be satire, too demonizing to be humorous, too fleeting to be historical, too trivial to be educational, too raw to be edifying and too personalized to be justified. [I particularly like the echo of Shavian rhythms here—"too explicit to be satire, too demonizing to be humorous," etc..—RCH]
For those who still don't get what the fuss is all about, let's try another angle. The difference between cartoons like the one that is now embroiled in controversy and cartoons appearing on the pages of, say, The Economist newspaper could be compared to the difference between the lyrics of good calypso music which despite heavy sexual overtones gets air play and the lyrics of much of today's reggae music which promote the killing of gays, denigrate women and idolize the gun, and so get relegated to obscene street bashments and seedy nightclubs. In a word, the difference is the vulgarity (profane indecency) of what is being depicted. Get it?
The vulgarity of depicting national leaders as whores, devils or crime figures must be evident to anyone of basic moral decency. But there is an even more profound reason why cartoonists inclined to push the envelope in the direction of vulgar political or social commentary should step back over the line.
Cartoons are a medium of communication and so must be assessed in the wider context. It is said that people retain 20 per cent of information when they hear or read it, 30 per cent when they see it and over 50 per cent when they not only hear or read it but when they also see it. To the extent that one frequently reads the newspaper, one is vulnerable to being brainwashed, indoctrinated or otherwise poisoned by a cartoonist who is consistent in depicting personalities, events, the country, religion or the culture in a stereotypical or excessively offensive manner. In this sense, the pen is indeed mightier than the sword and cartoons mightier than just the written word. With the level of influence comes heavy responsibility.
Publishers of newspapers and the consuming public, beware!
RCH again: Well, not quite "beware." At least, not among cartoonists, who, I suspect, will rejoice at the realization to which Morgan has helped us that ordinary mortals are more likely to retain what they encounter in a cartoon than whatever they encounter in any other mode of communication. Startling, eh?
<![if !supportEmptyParas]> <![endif]>
Major Trivia
The eyes of some birds weigh more than their brains. Which we might bear in mind when contemplating Anna Nicole Smith.
Sir Arthur Conan Doyle in addition to writing the Sherlock Holmes mysteries also invented the metal helmet and introduced cross-country skiing to Switzerland.
Saudi Arabia refused to carry the "Muppet Show" on tv because one of the performers was a pig. Not a real pig, of course, but, well, one's religious convictions can't be temporized.
"Mardi Gras" means Fat Tuesday.
Robert Todd Lincoln was around for three presidential assassinations—his father's, President Garfield's, and President McKinley's.
At the outbreak of World War I, the American Air Force consisted of only 50 men. And there was only one airplane.
<![if !supportEmptyParas]> <![endif]>
<![if !supportEmptyParas]> <![endif]>
CATCHING UP TO STAN LEE
Stan Lee admits that he doesn't read comic books these days. "That's not a slight or a dig," he explained to Kevin Smith during an interview on stage recently, "—I just don't have time to read comics anymore, really." At 85, he's simply too busy. In its December issue, Atlantic Monthly conjured up a list of the Most Influential Living Americans and put Stan Lee on it. He tied with Bill Cosby for the 26th "Most"; others on the list include Bill Gates in first place, Steve Jobs in fifth, Oprah Winfrey in tenth, and Walter Cronkite in sixteenth. Said Stan, his tongue where it usually is—in his cheek: "I don't know how I missed being in the first 25, but you can't win them all." He ranked higher than Henry Kissinger, Bill Clinton, Chuck Berry, Matha Steward, Clint Eastwood, Tiger Woods, and Hugh Hefner. Lee, who is still termed the Chairman Emeritus of Marvel Comics, founded POW! Entertainment a couple years ago as an outlet for his apparently boundless creative energy. "I'm sure you've already figured out what Pow stands for," he said to the Toronto Star's reporter, Raju Mudhar, "but if you haven't, it's 'purveyors of wonder'—now wasn't that obvious?" And, just as obvious he claimed, "We wouldn't purvey anything that wasn't at least wonderful."
In December 2005, in a move that is stunning in its inflationary self-importance—which, we remember fondly, was a Stan Lee speciality, usually, but not here, oozing with self-deprecating mockery—POW! announced that it had acquired "the exclusive rights and ownership in perpetuity to the name 'Stan Lee,' his likeness, brand and signature slogans 'Stan Lee Presents,' 'Excelsior,' and 'Stan's Soap Box.'" The company also "acquired" most of the intellectual property created by Lee since stepping down as Marvel's editor-in-chief and/or publisher. In a press release from Stock Information Systems, POW! President Gill Champion said, apparently with a straight face: "Although it is impossible to put a definitive number to the valuation of the 'Stan Lee' brand, we feel this truly is one of the most valuable assets an entertainment company could have in its portfolio," equating it with the rights to the name and marks of Walt Disney and Warner Bros. Continuing the charade, Stan Lee said: "Over the years, I fortunately managed to maintain the rights to my name and other signature slogans that I have developed. I am ever so pleased POW! Entertainment is both the custodian and manager of my current and future works." I suppose all this means that I can't use the name "Stan Lee" in print unless I have permission, but I'm not sure, and until legal action is brought against us here at the Intergalactic Rancid Raves Wurlitzer, I'm plunge ahead, ragged and funny.
In the aforementioned same press release, Arthur M. Lieberman, Esq. (when's the other most recent instance of a business mogul using the title "Esquire"?), POW!'s Chief of Business Affairs and Director of POW! Entertainment, who is described as "a seasoned entertainment attorney specializing in Intellectual Properties" with 35 years experience, said, among other fatuous utterances: "The granting of the rights to the Stan Lee brands to POW! Entertainment, in my opinion, gives the company an unprecedented foothold into the upper echelons of entertainment's elite as well as a firm advantage over competitors. Stan Lee created many of the most successful contemporary intellectual properties known throughout the world today." A person reading this tripe uncritically might well come to believe it; and maybe these guys have. The press release claims that POW! has "over 40 breakthrough 'Stan Lee Presents' projects currently in various stages of development," and the reporter professed being "awed" by the number of "new and upcoming motion picture productions" credited to Stan Lee as either writer or producer.
I visited the website where the Purveyors of Wonder were to be caught in the act of purveying and discovered that the only merchandise offered for sale in the POW! Store is a t-shirt emblazoned "Stan Lee Is My Superhero." The site also lists the names of nearly two dozen characters "in active development"; among them, El Lobo, Chameleon, Thunder Rider, Whirlwind, Doubleman, Nightbird, and Blaze. Thinking up the names seems to be the only "development" so far. Under "animated DVDs," we encounter other wiffs of hot air, such as, the Drifter, the Accuser, Widow Maker, Condor, Ringo, Alexa, and Mosaic. This last, it turns out, is the title of an actual product released on January 9, a direct-to-DVD animated cartoon about Maggie, a teen girl who wants to be an actress but, instead, gets chameleon-like powers and can also change her shape and then gets drawn into a conflict involving a secret, ancient civilization and a mentor named Mosaic. "The fun of these things is to try to do something that's a little different," Stan Lee said. "That's why I decided to make Maggie an actress. I haven't seen or read of a hero like that before."
Daniel Robert Epstein, interviewing Stan for SuicideGirls.com, noted that "Mosaic" is a fantasy through and through and that Lee always claimed he wasn't a fan of "pure" fantasy. So how come? Said Lee: "It depends on what you're talking about with 'pure fantasy.'If your story has nothing but fairytale qualities then I'm not interested in it. Fantasy has to be tempered with reality. For example, one of the famous fairytales is 'Jack and the Beanstalk.' The fantasy element is that he had magic beans and they grew a giant beanstalk that went up to the sky where a giant lived. That's fantasy. But it was coupled with reality. Jack was a poor kid who lived with his mother. They didn't have enough money and finally she told him to sell their cow. By making the characters realistic and empathetic, you can go into fantasy but if everything is fantastic, then it gets boring."
Todd Gilchrist, writing for dvd.ign.com, describes "Mosaic" as "an archetypal story born from the very fiber of comicdom's foundations. But," he goes on, "it's also the kind of tale that I would have appreciated much more fifteen years ago. All of which means that anyone steeped in and still invigorated by comic book convention may very well enjoy it, but at the age of 31, I can't say I did." The writing, credited to Lee and Scott Lobdell, deploys language Gilchrist finds "generally authentic to Maggie's age and degree of sophistication," but "it feels insincere—as if two older guys were trying to write for a teenager—but let you know they know they are writing for a teenager—producing an end result laden with more than a few verbal clunkers." Not that it's a bad thing. "Overall," Gilchrist says, "this isn't a bad start for a possible series; there's certainly something to be said for Lee's decision to create a strong female character, even if she does appear to be genetically engineered from the combined DNA of Scarlett Johansson and Angelina Jolie." Gilchrist finds "Mosaic" to be a "modest tale created to continue Lee's legacy as one of the premier comic book creators of all time and to sustain teenage boys who haven't yet yielded to adult cynicism." The DVD includes an interview with Lee, in which the octogenarian comic book contriver jokes about his own cameo role in the feature and describes the mounting of his first DVD creation and "then delves superficially into designing the character." According to Gilchrist, "Lee focuses largely on coming up with the ideas and offers the broad strokes of the partnerships between himself" and the others engaged in the feature's production. It sounds like the legendary "Marvel Method" all over again: Lee comes up with some vaguely connected ideas and then fobs them off to others to turn the random inspirations into actual characters and stories that make sense. No surprise there. Another Stan Lee notion that will be fleshed out by others is "Who Wants To Be a Superhero?" which has announced pending auditions for its second season.
At a screening of "Spider-Man 2" last November in Hollywood, Stan Lee appeared on stage for Q&A with Kevin Smith. As reported by Emmett Furey at comicbookresources.com, Lee revealed, among other things, that the famous phrase "With great power comes great responsibility" came about by happy accident. Said Lee: "I had written the story, and I always put the dialogue in after the drawings are done. So I wrote the final caption, and there was a little space left over, and it looked like it needed a few more words. [The now famous phrase] filled the space perfectly! I didn't realize it was gonna be like 'Friends, Romans, Countrymen' someday."
As he usually does these days, Lee gave credit to the artists with whom he worked to create Spider-Man, the Fantastic Four and others. "I like to say that I co-created these characters," he said. "The original idea was mine, I would write it down, I would give it to the artist, either Jack Kirby or Steve Ditko or John Romita or John Buscema or whoever it was, but they would add so much to it because I was never specific"—about such things as costumes, for example. And in the case of Spider-Man, Lee thinks the costume accounts for the character's "universal" popularity. "No matter who you are, it's easy to empathize with Spider-Man," he said, because his costume conceals his ethnicity entirely so "he could be you under that costume. Now, we didn't do that purposely, but it worked out that way, and I think it was very lucky that Steve did the costume the way he did, and I think it's one of the reasons that Spider-Man is so loved in every part of the world."
Lee admitted to one failing—a bad memory. And it accounts for all those alliterative names in the Marvel Universe. "It would be hard for you to believe this, because I seem so perfect," Lee began, with his usual cornball self-mocking aplomb, "but I have the worst memory in the world. So I finally figured out if I could give some character a name where the last name and the first name begin with the same letter—like Peter Parker, Bruce Banner, Matt Murdock—then if I could remember one name, it gave me a clue what the other one was: I knew it would begin with the same letter." Later, when Lee was extolling the stylistic achievement of Todd McFarlane in "bringing new interest" to Spider-Man, he couldn't remember McFarlane's first name and had to ask the audience. "See," he said, "—the problem with his name is both names don't begin with an M."
He remembered an incident illustrating the laughable extremes to which the Comics Code Authority went in cleaning up comic books. The Authority had been formed as a regulatory body in the 1950s by comic book publishers who hoped to prevent imminent government censorship by the novel maneuver of censoring themselves. "We weren't supposed to be overly sexy or overly violent," Lee explained. Comic book stories were submitted to pre-publication review in order to obtain a seal of approval on their covers. In a western Lee wrote, Kid Colt, a panel depicting the Kid firing a pistol was judged "too violent." When Lee asked for an explanation, he was told that the puff of smoke emitted from the gun was "too big." He returned the artwork with a smaller puff of smoke, and the page was approved.
Many of the early characters Lee concocted with his artist colleagues acquired their super powers as a result of "scientific" mishaps—usually some sort of radioactivity or cosmic radiation. With a background in science that was anything but extensive, Lee soon ran out of plausible mishaps. Not wanting to repeat himself, he explained, he decided to look to Mother Nature for inspiration. "We know there are mutants in nature," he said, so when he invented the X-Men, he just said they were mutants. "I didn't have to come up with rays or radioactive anything," Lee grinned.
And that brings us to the stumper for the day—
<![if !supportEmptyParas]> <![endif]>
<![if !supportEmptyParas]> <![endif]>
WHY DO MEN HAVE NIPPLES?
At least two books that are devoted to explaining obscure but pesky scientific and medical facts carry this question as a title. And it is surely a legitimate question. Since men haven't the biological ability to nurse their offspring, why do they have nipples? Here's the answer: "We are mammals and blessed with body hair, three middle ear bones, and the ability to nourish our young with milk that females produce in modified sweat glands called mammary glands. Although females have the mammary glands, we all start out in a similar way in the embryo. During development, the embryo follows a female template until about six weeks old, when the male sex chromosome kicks in for a male embryo. The embryo then begins to develop all of its male characteristics. [But] men are left with nipples and also with some breast tissue"—remnants of the earliest stages in their embryonic development. Men have been accepted in polite society without question or demurrer, despite this apparent anatomical anomaly that makes them all mutants. It seems to me that if we can accept this obvious fact about human biology—and it is obvious and we do, indeed, accept it, whole-heartedly, without the slightest wisp of hesitancy, as nearly as I can tell—then we ought to be able to accept homosexuality as another, even similar, biological fact, a remnant, no doubt, of the earliest stage in embryonic development. Many of the religiously self-righteous abhor homosexuality in all its manifestations, usually claiming that homosexuals are formed, created, by their environment. Something went "wrong" in their upbringing. In other words, homosexuality is not natural. It is therefore an aberrant behavior that an individual chooses to indulge. As a morally motivated society, we ought to try to "cure" homosexuals of their sinful ways. I disagree. If men can have nipples, they can also have different sexual orientation. So can women. And probably for some reason akin to the reason for men having nipples. Just as men's nipples are a dramatic demonstration of the errant ways of embryonic development, so are homosexuals. And if nipples are normal among men, so are homosexuals. We're all mutants of one kind or another. Thanks, Stan.
<![if !supportEmptyParas]> <![endif]>
<![if !supportEmptyParas]> <![endif]>
BOOK MARQUEES
In an effort to combine hip-hop with the visual storytelling of comics, Simon & Schuster's Pocket Books division will publish Blokhedz: Genesis, Vol. 1, a 128-page trade paperback collecting the original 2004 four-issue serial of the Blokhedz comic book, "a much praised urban supernatural adventure story produced by the twin African-American comics creators, Mark and Mike Davis." And this venture is just the beginning. Quoted by Calvin Reid in PW Comics Week, Pocket Books editor Ed Schlesinger said, "Pocket has more graphic novel projects in the pipeline."
In the nearly universal stampede to take advantage of the seemingly overnight public fascination with comics and the graphic novel, a couple or more publishers are cranking out "anthologies" of works that bundle together presumably representative pieces from a variety of sources, almost none created expressly for the titles at hand. For Houghton-Mifflin, for instance, Harvey Pekar has guest edited The Best American Comics, a $27 hardback collection that includes snippets and shorts from such comics luminaries as R. Crumb, Ben Katchor, Chris Ware, Kim Deitch, Alison Bechdel, Joe Sacco, Lynda Barry, Rich Geary, Tom Hart, and Justin Hall (a new guy). And Yale University Press captured Ivan Brunetti long enough for him to edit An Anthology of Graphic Fiction, Cartoons and True Stories, another big fat $28 tome, which includes work by Peter Bagge, Chester Brown, Charles Burns, Daniel Clowes, Jim Woodring, David Collier, Crumb again, Deitch (Gene as well as Kim) and Barry, Justin Green, Bill Griffith, Sam Henderson, and Katchor again, as well as such venerable cartoonists as George Herriman and Crockett Johnson and Art Spiegelman and Frank King, Otto Soglow, and Cliff Sterrett—to name a few of the more than sixty represented. This volume seems, on the whole, a much more carefully assembled compilation, and the works within are much more satisfying to the eye and mind than those in the Pekar assemblage, which, in contrast, includes several works that qualify as either "bad art" or "ugly art." Mind you, I haven't read any of the stories: I've just thumbed through both books, looking at the pictures. And the amateurishness in display in the Pekar book discourages me from delving further. It's a visual art, aristotle; and if the pictures don't seduce you sufficiently, you'll never read the tales to discover whether they send you or not. Seth's cover and dusk jacket work alone on the Brunetti volume made me sit up and turn more pages. Flight, which I think is a British comic, has been collected in three volumes by Bantam Books; the art is very good—composition, anatomy/draftsmanship, sense of design, line quality and color—all better than much of our domestic crop. And here's another charmingly rendered work, Shenzhen: A Travelogue from China by Guy Delisle. Simply drawn, it nonetheless displays a confidence in line and composition with some pleasing complexity achieved through textured pencil shading.
<![if !supportEmptyParas]> <![endif]>
<![if !supportEmptyParas]> <![endif]>
SON OF QUIPS & QUOTES
Some Unattributed Gems
The irony of life is that, by the time you're old enough to know your way around, you're not going anywhere.
I was always taught to respect my elders, but it keeps getting harder to find one.
Every morning is the dawn of a new error.
<![if !supportEmptyParas]> <![endif]>
FUNNYBOOK FAN FARE
We've been waiting for Jeff Smith's re-invention of Fawcett's Captain Marvel for a good long time, kimo sabe: when I first heard he was taking up the assignment, I thought the results would start appearing last July. Wrong again. (But it's only the second time I've ever been wrong, so take heart.) (Ooops—nope, sorry: I was mistaken about the first time.) Now at last, we have the first of Smith's 4-issue run on DC's Shazam! And it's a crowd pleaser. Smith's storytelling skills as writer and artist are as deft as ever. The story, here as in the inaugural series in 1940, begins with the orphan boy Billy Batson following a mysterious figure dressed in black into the subway where, in a deserted tunnel, the boy encounters the wizard Shazam, who grants him the power of the lightning bolt to transform himself into a muscular super-powered adult male, Captain Marvel. Billy's introduction to the old wizard is well managed, pacing silent panels to create suspense and, in Billy, a modicum of fear. The opening sequences include a number of instances of well-observed visual phenomena—the sparks that rise into the night from the burning trash in a barrel (which Smith deploys as a scene shifting contrivance; nicely done), hair that rises on the head when an opening door in the subway train changes the interior air pressure, the kind of effects that Smith has pulled off so effectively in his Bone books. Captain Marvel under the original management had a pronounced strain of humor running through the books, and most scenes in this incarnation are touched with humor, too—but it is comedy of the human sort at which Smith is so adept, not the self-mocking comedy that C.C. Beck and Otto Binder and the rest of the Fawcett minions perpetrated so successfully in the initial run of the books in the 1940s and 1950s before DC had sued Fawcett long enough to persuade the company to give up publishing comic books. (This sordid tale, including the history of Captain Marvel's invention, is rehearsed in Hindsight, here.) Good as Smith is—and he is very very good—he hasn't got the visage of Captain Marvel quite right, for my taste. But then, I think Beck's Marvel is a template worth repeating indefinitely, the Fred McMurray-inspired Captain. And Smith isn't comfortable depicting the turgid musculature of today's superheroes in tights; here, he'd do better if he followed Beck's lead and left out all the modeling linear strokes. Smith's Billy is much younger than the traditional character—I'd say about 8 or 10 instead of 15 or 16. It makes for a cuter character, and Smith is superb with such characters. Moreover, this Billy, due to his extreme youth, is more threatened by the violence around him than he would be if he were a teenager. In a striking departure from the Captain Marvel mythos, Smith has Billy and Captain Marvel appear together in the sequence where they fly through outer space to the Rock of Eternity and visit with old Shazam again. Traditionally, Billy was never present at the same time as the Big Red Cheese (as his arch foe, Doctor Sivana called him). The relationship between the characters has puzzled fans for years. When Billy yells "Shazam!" a bolt of lightning strikes (although what it strikes is never clear), Billy disappears immediately, and Captain Marvel stands in his place. So are there two beings? Or is Billy "transformed" into Captain Marvel? I've always thought the latter, and I've also believed that the transformation wasn't quite complete: the adult-seeming Captain had many adolescent personality quirks, it seems to me—shyness around good looking women, for instance—suggesting that he was the teenage Billy still, "grown up" physically a little too fast to achieve emotional maturity in the process. He was smarter than he was in his Billy guise but that was not because he was an adult; it was due, no doubt, to the magical abilities conferred upon him by the mythic characters whose names provided the initial letters that formed the word Shazam: Solomon for wisdom, Hercules for strength, Atlas for stamina, Zeus for power, Achilles for courage, and Mercury for speed. All Greeks except Solomon, who snuck in from the Old Testament. Other students of the genre believe, as does, apparently, Smith, that Billy and the Captain are two beings, noting that Billy often spoke of "calling on" rather than "changing into" Captain Marvel.
The adventure that Smith is retailing in this series is entitled "The Monster Society of Evil," which was the title of the longest continuing story in the four-color pulp of the forties. It ran in Captain Marvel Adventures from No. 22 in February 1943 to No. 44 in May 1945, 25 installments spanning as many months. The arch villain in the series was Mr. Mind, a disembodied voice of evil until the sixth chapter when it was revealed that the fiend was just a worm, but a very powerful worm, who continued for the next 19 installments to threaten the good Captain and the rest of the civilized world (a period, not at all coincidentally, congruent with much of World War II's raging in Europe and the Pacific). The entire serial, by the way, was reprinted in 1989 in one of the most heralded reprinting ventures of the day, a 3000-copy limited edition in a monster-sized (10x14 inches) slip-cased volume from American Nostalgia Library, an imprint (it sez here) of Hawk Books Limited, a British firm. The pages of vintage comic books were blown up to fit the giant size, one result being that the red dot pattern that creates flesh tone when printed over yellow was pronounced enough at this size to give the characters a vaguely measled look; but that didn't matter much because it was such a thrill to see this fabled tale unfold anew before us. In Smith's treatment, the Monster Society first manifests itself in the form of a pair of marauding crocodiles, who warn Captain Marvel about Mr. Mind. Whether Smith will reincarnate the worm is another question; the first pages of the first issue offer several close-ups of a cockroach. But that's not the mystery that we're left with at the end of this issue. On the last page, Captain Marvel contemplates huge footprints in the park—footprints left by a shoe with the same sole pattern as we can see on Billy's shoes.
Darwyn Cooke's third shot at Will Eisner's Spirit—his second time writing as well as drawing—is a worthy continuation of the originator's tradition of the seductive femme fatale with a heart of gold (maybe). The cover of the DC's second issue of The Spirit is an unabashed evocation of the Master: drenched in deep shadow, the notorious P'Gell flaunts her voluptuous self in a clinging gown while the Spirit, hands bound, dangles downside up from the ceiling like a side of beef in the meat locker. And inside, another homage to the Eisner treatment—a two-page spread with P'Gell lounging across both pages, eyes hooded, lips frozen in a slight smile of amusement at the haplessness of her male victims. Some of us, the more beady-eyed variety, have been waiting to see what Cooke would do with this vamp, and I'm not disappointed in the slightest. In the tale, called "The Maneater," P'Gell, as always, goes after the richest man she can find—with, as always, her usual brand of success. The Spirit would like to foil her scheme until he finds out something about her earliest husband, the fifth. (In the Eisner oeuvre, to the best of my recollection, she had only four; and that's all the Spirit remembers, too.) We, like the Spirit, learn from this fragment of her personal history why she is the way she is. But Cooke makes sure P'Gell does not retain our sympathy too long by arranging for her to make a fool of the Spirit on her way out. As in the two earlier Cooke outings, the fight sequences are nicely done, giving us quick glimpses of the violence as it proceeds—as if the lights were winking on and off. A thoroughly satisfying package from beginning to end, but the beginning—that sumptuous cover—is worth the price of admission by its own self.
The first two issues of New Universal have me in awe of Warren Ellis' imagination. Once again—as he has done repeatedly—he manufactures an inaugural issue by constructing an exquisitely tantalizing situation. In this case, he introduces a handful of probable protagonists and then gives us the White Event, an inexplicable galactic happening which profoundly alters the lives and abilities of certain of that fated handful. A cop about to die with a bullet in his skull is suddenly on his feet, endowed with a mysterious power that enables him to dispatch a mercy-killing male nurse who was about to do him in, and then he disappears into the night. And then we have that young man lying in a field who wakes up next to his girlfriend, fried to a crisp by the White Event. The same phenomenon imbued her surviving beau with the power to destroy those who oppose him with a gesture. The second issue begins with a brief plot summary in straight prose—a wondrous convention that every comic book writer should adopt—and then we meet Jennifer Swann at Project Spitfire, which, she learns, has been just been "upgraded from Dormancy to Urgently Active." The purpose of Project Spitfire is to destroy any super-powered humans that may emerge from time to time—humans like at least two of those we've been watching. In the third issue, the ex-cop continues to rampage through the night, killing a few random thugs that deserve it, and we go to an archeological dig that has just uncovered an amazingly advanced pre-historic city. Salvador Larroca does the visuals, airbrushing colors over linework that just hints at the depths he achieves with color. Like Ellis' other endeavors, this one will bear watching, and it will reward your attention.
Spider-Man Reign takes a leaf from Frank Miller's Dark Knight Returns and supposes that Peter Parker gave up the Spidey business years ago: when we meet him in these pages, he's an old gaffer. Ditto Jonah Jameson. And the city has fallen into the grip of an unscrupulous power-mad politician, Mayor Waters, who personifies the Reign and who now wants to install a short of electronic Webb around the city in order to protect the citizenry from marauding terrorists. But, wait—someone wants to prevent this undeniably beneficial development from taking place. So Waters does what any caring conscientious chief executive would do. "With super-terrorist organizations prepared to prevent the Webb from being launched," he says, "I am announcing a temporary suspension of the electoral process. After all," he continues with a benevolent smile, "your safety means more to me than outdated government tradition." If that sounds like something Karl Rove might have written for George W. ("Warlord") Bush to read to the nation on television, it's probably no accident. Jameson's crusading instincts are aroused, but he's no longer publisher of a newspaper and is therefore powerless. And Spider-Man—well, he buried his costume with Mary Jane when she died. Still, we get the idea that these two erstwhile antagonists will somehow hook up to save the day before the series reaches its conclusion in No. 4. The third issue is draped in a little too much episodic hallucination for my taste, but I have hopes still. Written and drawn by Kaare Andrews, these pages offer occasional bon mots worth savoring (a character falls from a great height and dies on the pavement, splattering blood—"a yolk-filled body broken on the floor"; and Andrews likes the phrase too, enough to use it twice) and several instances of stunning visual manipulation of the narrative for dramatic emphasis. In No. 2, for example, there are almost three whole pages in which the dominant activity is stark, shrieking white space; the first of these pages, coming right after an astonishing occurrence, carries only a single tiny word of disappointed frustration: "Crap." Andrews fiddles with the circumstances to produce some eerie echoes: Jameson rants that "when you give away personal responsibility, you give away personal power" and, earlier, Waters and his henchman exchange murmurs about "webs" and "spiders" and "flies." Waters keeps saying he wants to deliver us all from evil, an echo of another situation almost as familiar to us. Andrews' effort is shaping up as a ringing protest against the fascism of fear that drives us to give up liberties and rights in return for the promise of safety—or, at least, the illusion of safety. In other words, Andrews is not talking about Spider-Man in some future dystopia but about our own here and now. (But then, you knew that, eh?) And here's where we invoke Benjamin Franklin's worn but apt axiom: "They that can give up essential liberty to obtain a little temporary safety deserve neither liberty nor safety." I'm not sure the woman Peter Parker is seen with early on is Mary Jane alive or dead; there's a good deal of foggy mysteriousness over that, lots of overheated romantic sentiment. And who is that zombie Waters is keeping alive on a drip in the first issue? We'll see.
<![if !supportEmptyParas]> <![endif]>
<![if !supportEmptyParas]> <![endif]>
AND HERE'S THE IMMORTAL AND IMMUTABLE GEORGE CARLIN DESCRIBING THINGS HE HATES ABOUT EVERYONE:
When people say, "Oh, you just want to have your cake and eat it too." Damn right! What good is cake if you can't eat it?
People who ask, "Can I ask you a question?" Didn't really give me a choice there, did ya, sunshine?
When people say "life is short." What the hell?? Life is the longest damn thing anyone ever does!! What can you do that's longer?
<![if !supportEmptyParas]> <![endif]>
INTO THAT GOOD NIGHT
Joe Edwards died on February 8. He was 85 and he'd spent a 65-year career writing and drawing comic books, mostly for Archie Comics, which, when he started there, was called MLJ Comics. It was, in other words, before Archie— and Jughead, and Betty and Veronica. A press release from the publisher lists some of the characters Edwards is associated with—Squoimy the Woim, Cubby the Bear, Bumbie the Bee-tective, and, most of all, Li'l Jinx, "the mischievous little girl so named because, like Edwards' son, she was born on Hallowe'en." The release fails to mention, perhaps because no one there knows—or accepts—Edwards' claim to have helped Bob Montana in the creation of the company's flagship character. But here at Rancid Raves, ever alert, we do mention it—in Hindsight, here in our biography of one of the company's founders, John Goldwater, the "J" in MLJ.
Iwao Takamoto, the Japanese-American cartoonist who created the lovable mystery-solving but fearfully brave Great Dane, Scooby-Doo, for Hanna-Barbera, died January 8 of a heart attack; he was 81. During World War II, Takamoto and his family were sent to the Manzanar Internment Camp in California, where Takamoto, then about 16, learned sketching techniques from two internees who had been art directors at film studios. After the War, he went to Disney Studios, where he worked until 1961, when he moved to Hanna-Barbera, which had been founded only a few years before. And there, in about 1969, he applied his pencil to Scooby-Doo. "Without Takamoto," said Michael Mallory, author of Hanna-Barbera Cartoons, "it would have been a little Airedale, and the show would have lasted one season." The big dog's distinctive physiognomy, reported Susan Stewart at the New York Times, was Takamoto's contribution to the feature. She quotes Takamoto: "There was a lady that bred Great Danes" at H-B, and "she showed me some pictures and talked about the important points of a Great Dane—like a straight back, straight legs, small chin and such. I decided to go the opposite and give him a hump back, bowed legs, big chin and so on. Even his coloring is wrong." Takamoto was known in the profession as a fixer. "Iwao's hand wasn't always the first hand that touched a character," said Scott Awley, who worked with Takamoto in the 1990 incarnation of the Scooby-Doo toons, but his was almost always the last hand.
Anna Nicole Smith died on February 8 of mysterious causes. She was only 39, her age not her bust size, although you wouldn't know it from the fuss the tv so-called news media made at her passing. I'm sorry to see anyone go into that Good Night while youth is still so obviously, at 42 double-D, in bloom. And I'm sorrier yet to witness the adolescent panting about it on the tube. On an editoonist list serve I witness, cartoonists began, at the first announcement of Smith's demise, to conjure up the images their cartoons would employ to commemorate her passing. One suggested a picture of Smith's tombstone with two huge twin mounds of freshly turned earth arising, so to speak, from the burial plot. Meanwhile, that evening on Fox News, one of the anchors interviewed a man who had dated Smith. Actually dated her, up close to the soft and personal. And he reported on what it was like to kiss her. Imagine. He said it was like kissing Marilyn Monroe. Imagine. The mind boggles and the stomach turns.
More fuss was made on tv over Anna Nicole Smith's departure than Molly Ivins'. And that's probably appropriate. Smith was an image; Ivins was words. So Ivins was celebrated in the print media, which includes R&R; herewith—
<![if !supportEmptyParas]> <![endif]>
Molly Ivins, Dead at 69
Molly Ivins, who died of cancer at her home on January 31, was an exuberant Texan and political commentator, and I don't know which I'd put first. "I dearly love the state of Texas," she wrote, "but I consider that a harmless perversion on my part, and discuss it only with consenting adults." She was fun to read. About Ronald Reagan, she once wrote that he was so dumb he couldn't pour water out of a boot if the directions were written on the heel. That's about as perfect an example of her down-home wit and perspicacity as you're likely to find. She wrote with particular glee about the "sumbitches" of the Texas state legislature, or the "Lege" as she called it: "Whee—here we go, the Lege is back in session, and many a village is missing its idiot." She is reported to have had an earthy laugh and the husky, drawling voice of a barroom bawd. She worked for awhile in the 1970s at the New York Times, where her writing, she said, was often fueled by "truly impressive amounts of beer." According to the Times obit, she cut an unusual figure at the sedate Gray Lady's offices, "wearing blue jeans, going barefoot and bringing to work her dog, whose name was an expletive." She served as bureau chief at the paper's Rocky Mountain office but wrote her way out of the job in the early 1980s when she referred to a "community chicken-killing festival"in a small town as a "gang pluck." She went back to Texas and made herself at home. "If Texas were a sane place," she wrote, "it wouldn't be nearly as much fun."
She started crusading early: in Minneapolis where she went after getting a master's degree in journalism at Columbia in 1967, she was assigned to a beat that had her reporting, as she said, on "angry blacks, radical students, uppity women, and a motley assortment of other misfits and trouble-makers." And she was the champion trouble-maker. Her credo: "Raise more hell." Simple and impervious of misinterpretation. She loved a good joke and politics, which may have been, to her, indistinguishable: she called politics "the finest form of free entertainment ever invented." After a long experience under a GeeDubya regime in Texas, she knew she didn't like him much and wrote a book about his charmed life as a rich man's son and called it Shrub. Realizing that she hadn't quite completed the assassination, she wrote another one about his so-called presidency that she entitled Bushwhacked, which referred, you might know, to what happened to all of us under George WMD Bush. "These people are not only dishonest," she wrote, "—they're not even smart." She was a highly principled commentator: "I aim only at the powerful," she said; "when satire is aimed at the powerless, it is not only cruel, it's vulgar."
She was diagnosed with "a scorching case of [breast] cancer" in 1999, had a recurrence in 2003 and another last Thanksgiving. Her references to her battle with the disease were typical of her salty, feisty demeanor: "First they mutilate you; then they poison you; then they burn you. I have been on blind dates better than that." And: "I'm sorry to say cancer can kill you, but it doesn't make you a better person." In her last column (dated January 11), she launched what she called "an old-fashioned newspaper crusade," writing: "We are the people who run this country. We are the deciders. Every single day every single one of us needs to step outside and take some action to help stop this war. We need people in the streets banging pots and pans and demanding, 'Stop it now!'" Serious stuff, but in "banging pots and pans," Ivins indulged her penchant for joyful outrage. "Keep fighting for freedom and justice, beloveds," she counseled, "but don't forget to have fun doin' it. Lord, let your laughter ring forth. Be outrageous, ridicule the fraidy-cats, rejoice in all the oddities that freedom can produce. And when you get through kickin' ass and celebratin' the sheer joy of a good fight, be sure to tell those who come after how much fun it was."
Just before the election last November, she delivered the following judgement: "May I remind you what this election is about? Abu Ghraib, Guantanamo, unprecedented presidential powers, unmatched incompetence, unparalleled corruption, unwarranted eavesdropping, Katrina, Enron, Halliburton, global warming, Cheney's secret energy task force, record oil company profits, $3 gasoline, FEMA, the Supreme Court, Diebold, Florida in 2000, Ohio in 2004, Terri Schiavo, stem cell research, golden parachutes, shrunken pensions, unavailable and expensive health care, habeas corpus, no weapons of mass destruction, sacrificed soldiers and Iraqi civilians, wasted billions, Taliban resurgence, expiration of the assault weapons ban, North Korea, Iran, intelligent design, swift boat hit squads, and on and on."
The other thing Ivins might've mentioned is "rhetorical excess," my politese for "lying" in all the infinite variety of manifestations that the Bush League, under Karl Rove's sponsorship, perfected—the relentless spinning away from facts to create new false realities, the twisting of the ordinary and obvious meaning of words to make them mean something else that conformed to the ideology of the Halliburton House, the distortion of history to the same purpose, the re-writing of scientific reports because their conclusions didn't support policy—all such symptoms of government for political advantage rather than for the public weal, in fact, the wholesale neglect of the latter in favor of the former, the utter breakdown of the notion of public service in the Bush League Congress. That's what the election was about, and you'll notice that us voters decided we'd had enough of all that.
You'll also notice that Ivins doesn't mention by name the Iraq Invasion (the spin at the Halliburton House terms it the "Iraq War"). She mentions it a little later, calling it illegal and immoral, but my point here is that Ivins' list as it stands above is about as accurate an explanation of why the GOPachyderms lost the House and Senate as you're likely to find. The Donkeys that have taken their place and the ecstatic so-called news media reporting on their shenanigans for the last couple months seem to think that the citizens voted them into power because we were sick of the Iraq Fiasco. Well, we are. But that's not the whole reason the Bush League Rascals were turned out. They were turned out because —and here, you can insert all of the two preceding paragraphs. So for our elected representatives tucked into the Washington Beltway to spend any portion of the time we pay them for in debating the wisdom or lack thereof in George W. ("Warlord") Bush's surge against the insurgents is evidence that their recent experience at the ballot box has taught them nothing. The Iraq adventure failed. We don't want to waste any more treasure or blood on it. And don't waste any more time either—time that could be more prudently invested in addressing the problems in the previous paragraphs, the problems you Donkeys were elected to solve, the problems that you successfully ignored whilst shut out of the corridors of Congressional power. Debating the Bush War now is pointless. It should have been debated four years ago when it could have been stopped. Debating it now is political hogwash, posturing for the opinion polls. Leave the Bush War to GeeDubya: it's his mess to get out of, and as I indicated a few weeks ago, his plan, a model of cynicism impersonating strategy, is likely to work to get us out of there. Iraq will still be a mess, but it's apparent to any detached observer that there's nothing the U.S. can do to fix it. Admittedly, we made most of the mess through gross incompetence and neocon hubris; but we can't fix it now. We can, however, make it worse. So we should get out while the gettin' is as good as it's ever going to be. And that's exactly what George W. ("Whopper") Bush is fixin' to do. As Will Rogers is reported to have said: "If stupidity got us into this war, why can't it get us out?" (Thanques to David Sporrong's Moonbeam.) Let George do it. And while he's doing that, you scalawags in Congress should start fixing the broken parts of the American comity that Ivins has so helpfully alluded to.
ODDS & ADDENDA
"There are only two truly infinite things, the universe and stupidity. And I am unsure about the universe." —Albert Einstein
"One thing about baldness—it's neat."—Don Herold
"The way I see it, if you want the rainbow, you gotta put up with the rain." —Dolly Parton
"By the time you're eighty years old, you've learned everything. You only have to remember it." —George Burns
<![if !supportEmptyParas]> <![endif]>
<![if !supportEmptyParas]> <![endif]>
COMIC STRIP WATCH
They're at it again in Sherman's Lagoon: Jim Toomey's fishy friends have prevailed upon the Great Kahuna (who looks amazingly like one of those Easter Island heads) to pronounce them human, and he did so—Sherman and Ernest, at any rate. So for awhile, we don't know how long, Sherman's Lagoon will be populated by people, not fish. ... And here are four strips from the last few weeks that caught my fancy one way or another.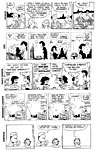 Pickles is an example of how to exploit the form of the medium: maintaining a close-up for the first three panels makes the surprise of the fourth, when the camera pulls back, possible; otherwise, no joke. Zits' notion of a "phone zone" tickled me: enter the phone, embrace the phone, be the phone. "Hospitalized gorgeous" as a less extravagant assessment of male pulchritude than "drop dead gorgeous" struck me as another of Rina Piccolo's inventive twists on a common phrase. And back in Sherman's Lagoon, "No, one of these things" is a perfect rejoinder from a creature who doesn't know what the heck he's talking about. Ditto Jon in Garfield. Nicely timed. No timing, no joke—another instance of how the form can be deployed for a laugh.
In Opus for February 11, Berke Breathed continues to indulge his fascination with words and what they mean with the following queries: Why do thaw and unthaw mean the same thing. If an African elephant comes to America, is he an African American elephant? If ti's tourist season, why can't we shoot them? If athletes get athlete's foot, do astronauts get mistletoe?
And on Monday, February 12, in Mutts, Patrick McDonnell quotes Samuel Butler: All animals except man know that the principal business of life is to enjoy it. (I write all these things in here so I'll be able to find them again someday when I want to remember them.)
<![if !supportEmptyParas]> <![endif]>
<![if !supportEmptyParas]> <![endif]>
EDITOONERY
Ann Telnaes has joined the ranks of editoonists who are animating their cartoons. For Telnaes, it is a return to her roots: she specialized in character animation while getting her BFA at the California Institute of the Arts and worked for several years as a designer for Disney, Warner Bros. and others. Her animation can be witnessed at www.anntelnaes.com. Telnaes is not attached to a newspaper but is syndicated by Cartoonists and Writers Syndicate/New York Times Syndicate, and her cartoons, which make dramatic use of color, are always posted at her website. Here's a recent effort, an anti-surge comment employing an image of the fitness-obsessed GeeDubya working out on his treadmill as he stands at the podium to announce his New Way Forward.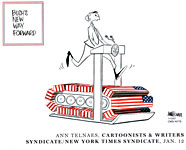 Editor & Publisher lists other political cartoonists who do animated political commentary at their newspaper websites: Nick Anderson (Houston Chronicle), Mike Thompson (Detroit Free Press), Walt Handelsman (Newsday/TMS), Matt Davies (The Journal News, White Plains, NY/TMS), and the Orange County Register team, Mike Shelton and Jocelyne Leger. Mark Fiore, once, briefly, at the San Jose Mercury News, self-syndicates his animations.
Stacy Curtis, who was dumped without warning by his paper as a cost-cutting maneuver last year, is now working as a children's book illustrator, and he has joined two other midwest cartooners in a group blog: "Three Men in a Tub" showcases Curtis' projects and those of his partners, Ted Dawson and Wes Hargis. ... According to E&P, Tom Tomorrow (aka Dan Perkins) has collected more than 2,050 signatures in an online petition drive to get his cartoon, This Modern World, back in the print edition of the Village Voice. ... Steve Greenberg, cartoonist for the Ventura County (Calif.) Star, has a one-man show scheduled for the A Shenere Velt Gallery in Los Angeles. As reported in E&P, the exhibit, entitled "Burning Bushes," features editorial cartoons about GeeDubya, Iraq, the environment, and Jewish themes and will run from February 25 to March 30.
EditorialCartoonists.com, the website of the Association of American Editorial Cartoonists, reports that another editorial cartoonist ran out of work at the end of January. Rick Cole, who was freelancing cartoons to the Trentonian in New Jersey's capital city, received an e-mail from his editor telling him that the paper had "a major issue with freelance expenses that we need to take care of." Not paying Cole the pittance he earned doing a cartoon twice a week will doubtless prevent the Trentonian from sinking into bankruptcy and save American journalism for posterity. Clearly on the endangered species list, editoonists are doing little to forestall their fate as full-time staffers at daily newspapers.
Wiley Miller, who did editorial cartoons before he syndicated his comic strip, Non Sequitur, dramatized the dilemma in his release for Sunday, February 4. In the strip, visible at http://www.gocomics.com/nonsequitur/, an assistant addresses a newspaper executive, saying: "There's a group of editorial cartoonists outside who are threatening to draw scathing cartoons in protest of the elimination of so many staff positions and to post them on the Internet to bring public pressure on you."
The executive replies: "Didn't they do that last year? What did they call it ... Big Stink Tuesday?"
"You mean Black Ink Monday?"
"Whatever. So how'd that work out for them?"
"Well ... there's even fewer of them now. I guess that's why they're still upset."
"I see ... But since a lot of those protesters have a staff position and are selling their work to me dirt cheap through syndication, what incentive is there for me to spend 500 times more in salary and benefits for the work of just one person?"
The assistant answers: "I'll go ask, sir." She subsequently reports back to say that the cartoonists "just mooned me, then ran off giggling to the nearest bar and started drawing on cocktail napkins."
To which the executive replies: "Well, let THAT be a lesson to me."
Black Ink Monday actually occurred in the fall of 2005, but that's beside the point. Miller's point is that editoonists who are syndicated are shooting themselves in both feet, if such a thing is possible: their cartoons are available to all newspapers for much less than the newspapers would have to pay a full-time staff editorial cartoonist, so what is the newspaper's incentive to retain the services of a staff editoonist? Merely to do local issue cartoons? Those are the ones that inflame readers and inspire onslaughts of phone calls, the thing most feared by newspaper editors. Newspaper editors are creatures of the written word; they are uncomfortable encountering verbal confrontations in an audio mode. They'd rather not have them. And they can avoid them by directing their staff editoonist to refrain from doing local issue cartoons. And then, having eliminated local issues as grist for the cartoonist's mill, there's no reason to retain the cartoonist for national issues because syndicated cartoonists deal with those matters at much less cost to the newspaper. Ipso facto, no need for a staff editorial cartoonist.
An obvious escape from this predicament would be for editoonists to forego syndication. If editorial cartoons aren't available through syndication, newspaper editors will have to retain staff editoonists if they want political cartoons to flag their editorial pages. Editors may not be all that keen to give space to the inky-fingered fraternity, but they can scarcely deny the effectiveness of editorial cartoons. As Paul Conrad said recently: "I have no idea what the readership is of written editorials, but it doesn't come anywhere close to the readership of editorial cartoons." And after nearly sixty years of skewering pomposity and foolishness (not to mention outright stupidity) in visual terms, Conrad should know which is the more effective—words or pictures. "Those damn pictures," as Boss Tweed is reported to have said when objecting to Nast's cartoons. But he didn't mention editorials; he didn't fear them. (Conrad, by the way, has a new book out—an autobiography, I, Con, which he claims he hasn't read. No, he isn't being simply perverse in that Conradian way we've all come to know and love: the book's text was "composed" from an interview Conrad gave for the purpose. One of the best interviews I've seen with Conrad was conducted recently by the cartoonist calling himself "Mr. Fish," aka Dwayne Booth, at the Los Angles Weekly, http://www.laweekly.com/art+books/books/the-fine-art-of-drawing-pricks/15511/ ; worth a nice, long lingering look.) At the Louisville Courier-Journal, editorial cartoons are evidently considered so vital that the paper, without a staff cartoonist since Nick Anderson left for Houston, is re-running cartoons by its retired 'toonist, the legendary Hugh Haynie, whenever they can find one of his that still seems relevant.
AAEC's president Rob Rogers, staff editoonist at the Pittsburgh Post-Gazette, was contacted by E&P's David Astor for comment on Miller's effusion, and he said: "I understand Wiley's point. But it isn't as simple as asking all editorial cartoonists to give up syndication. That's like saying a person doesn't really care about the environment until they give up their car. I am sure Wiley cares about the environment AND still drives a car. Our 'Black Ink Monday' protest was the equivalent of driving a hybrid car. It certainly wasn't going to solve the problem but it was a small way we could do our part for the cause. We don't have any collective bargaining power. There is no editorial cartoonists union. The AAEC is a professional organization that holds annual conventions to talk about the industry and, yes, to gather in bars to draw on napkins (that part he had right). ... Even if we asked everyone in our group to give up syndication, there would still be enough non-AAEC cartoonists out there to fill the editorial pages. The point of our protest was to emphasize the importance of having a local cartoonist covering local issues, something no syndicate can provide."
True. But it may also be something no newspaper editor really wants very much—inflammatory comment on local issues that provokes phone calls that consume his valuable time. Incidentally, the Post-Gazette, until recently, had two editorial cartoonists. The other one, Tim Menees, who concentrated almost entirely on local issues and wasn't syndicated (until, maybe, the last few years; but he'd been at the paper for 30 years), was fired in early February 2006.
While Miller's cartoon highlights the cause of the problem—editoonists who are syndicated sabotage the profession by making staff editoonists superfluous—he is not suggesting that everyone should withdraw from syndication. "That's utter nonsense," he said when I asked him about it, "and doesn't deal with reality. Syndication isn't going away and the problem isn't syndication, per se. It's cheap syndication of cartoonists who have a staff job that's the cause of the problem. What needs to happen is to remove the profitability of laying off a staff cartoonist and replacing their work with an abundance of cartoons for just a few bucks a week." Editors can buy packages of editorial cartoons for $15-25 a week and have a choice among several cartoonists every day. Miller suggests that if syndicate rates were increased, the editors' temptation to use syndicated work instead of hiring staff cartoonists would be lessened. "The rates need to increased dramatically," he said, "—more than 100%—to make it less of an option to replace a staff cartoonist." And if the rates were higher, making a living solely as a syndicated editoonist would be a viable possibility for cartoonists who wanted national circulation. Said Miller: "My belief is, if an editorial cartoonist wants his or her work to be in syndication, then they should go the route Pat Oliphant, Ann Telnaes and Ted Rall have done." None of these three cartoonists have a home paper; they hold no staff position. They are, in effect, freelancers who peddle their product entirely through syndication. But the income isn't much. If syndicate rates were higher, the lot of the syndicated freelancer would improve greatly. But this idea, too, threatens to undermine an institutional bulwark—job security, chiefly. Still, I don't expect Miller to give up on his crusade. He's accustomed to suiting his actions to his words, and if he were an editorial cartoonist, he might well give up being syndicated.
Like all of us, Miller is a principled person; unlike most of us, he has acted upon his principles several times to his apparent disadvantage. He had been doing editorial cartoons at the Santa Rosa Press Democrat since 1978, but when he sold a comic strip, Fenton, into syndication in 1982, he gave up doing editorial cartoons. Fenton folded after a few years, and Miller went back to editooning in 1986 at the San Francisco Examiner. But when he sold Non Sequitur into syndication in 1992, he again gave up his editorial cartooning gig. Several, not just a few, editorial cartoonists have expanded their vistas by simultaneously doing a syndicated daily comic strip. But not Miller. As a matter of principle, he wouldn't do both. "I've had a long-standing feeling about this," he told me when we talked soon after Non Sequitur started, "and I've taken a stance on it a long time ago that a full-time editorial cartoonist should not be doing a daily comic strip. The reasons are, first of all—both jobs are full-time jobs. When you try to do two full-time jobs in any profession, the quality of your work will go down in both areas; you cannot maintain it. Comic strips and editorial cartoons are two completely different trains of thought, two completely different kinds of approaches, two different deadlines. What usually suffers first is the editorial cartoon: because it's on a daily deadline, what usually happens is that the cartoonist will knock out the editorial cartoon as quickly as possible, get that out of the way, to get back to the comic strip, which is a more incessant thing—you've gotta do it every damn day; you've gotta keep working to keep it going."
Just as important, however, is the second reason Miller won't do both a strip and an editoon: doing both takes two niches in the profession, one of which some young cartoonist could occupy if the older cartoonist weren't occupying two places. "This is an extremely difficult profession to break into," Miller said, "—it's easier to become a pro ball player than to become a professional cartoonist. Just look at the numbers. There are about a hundred working editorial cartoonists, and right now [1992], there are 173 comic strips in production [a number that has changed only slightly since 1992; there are now about 200]. Out of a national population of 250 million [now 300 million]. That's rather tough odds. And if some of the 173 strips involve one guy doing two features [an editorial cartoon as well the strip], that makes it just that much more difficult for young talent to break in, to be given a break somewhere. We got our break, somehow. Make room for the new guys."
Miller's position on the matter has changed in recent years. "I'm not as strident as I was 15 or 20 years ago," he told me last week. "I was adamant years ago about editorial cartoonist doing a comic strip because that meant they were taking up two full-time slots, making it that much more difficult for young cartoonists to break in. But as the job market for editorial cartoonists worsened, I softened that stance. Given the situation today, I think editorial cartoonists need to have a back-up plan, another way to make a living at cartooning, and developing a comic strip is a way out. But once they create a comic strip and get it going for a year or two, I still think they need to decide one way or the other which way to go."
<![if !supportEmptyParas]> <![endif]>
<![if !supportEmptyParas]> <![endif]>
An Apostrophe to Non Sequiturs and Creative Experimentation
Non Sequitur is on the cusp of its 15th anniversary, and to celebrate the occasion, on its birthday, February 16, the first Non Sequitur strip will be reprinted—albeit in somewhat modified form because February 16 in 1992 was a Sunday. Miller named the strip Non Sequitur (in Latin, "it does not follow") because nothing "follows" in it. He follows no formula. Sometimes it's a single panel strip; sometimes, it's several panels. At first, there were no continuing characters. Over the years, though, Miller has introduced quite a few—the precocious little girl Danae, Kate, Obviousman, Pierre of the North, the denizens of a diner in Maine, and Homer, an angel sent back to earth to learn about life's paradoxes.
Danae's father is a hold-over from another strip Miller did briefly, starting in 1995. "I had an idea for a completely new approach to a comic strip that I just couldn't leave alone," Miller said, "—two cartoonists, working autonomously, and alternating every other day with their own cast of characters exploring today's issues from a male's and a female's point of view." To represent the female perspective, Miller enlisted Susan Dewar, who was, at the time, the editorial cartoonist at the Ottawa Sun, and they launched Us and Them, which, on alternating days, presented a male perspective on the passing scene and then the female perspective. Dewar's half of the strip focused on Janet George, a single mother who works at home as a tabloid newspaper columnist. She often listens to a radio talk show hosted by a thrice-divorced "introspective bundle of middle-age spread and insecurities" named Joe Pyle. Pyle turns out to be Danae's father, whom she is trying to get into a romantic entanglement with an attractive single woman in the neighborhood.
Yes, for a short while, Miller did two syndicated strips—well, one and a half, taking up more than one niche in the field. But he had strategic reasons. First, partnering with another cartoonist would reduce his workload: instead of doing 7 strips a week, he'd do 3 daily strips and a Sunday every other week. "I've been campaigning for many years to change the system of comics from daily releases to 3 days a week and 2 Sundays," Miller told me, "because we're still working at 1970 wages. Since there's no hope of that ever being increased, I think we should be
compensated with more time so we can work on other projects to make a living. The benefit to newspapers is that they could carry more comics and/or increase the size of the comics to deal with the shrinking space in newspapers today. It truly is a win-win scenario, but getting anyone to listen has been near impossible. So I wanted Us and Them to show newspaper editors that it could work, and it did."
Another likely benefit would be improved quality in the strips themselves. With twice the time to concoct their strips, cartoonists might do better work. "It would also stave off the burnout factor considerably," Miller said. "This kind of schedule would allow for cartoonists to have more of a life and be able to put more thought into their work." Miller also hoped that if Us and Them had been successful, it would suggest a viable outlet for editorial cartoonists in precarious job situations. Said he: "But if two or more of them got together to produce a comic strip in the way Sue Dewar and I did with Us and Them, that would be a workable alternative, maintaining employment or cushioning the fall when they suddenly have their staff job cut out of the newspaper budget. I have been quite surprised that no one has tried it since."
Miller hoped that the strip would surpass Non Sequitur in circulation, then he planned to quit Non Sequitur and continue in his half-niche with Us and Them, which, in his theory, would require only half the work he was expending on Non Sequitur. Alas, it was not to be. "Despite early success," he told me, "sales suddenly stopped. By the time I figured out what happened, I knew it was impossible for the strip to grow anymore." Miller bowed out, and fellow editoonist Milt Priggee joined Dewar for maybe a year, then the strip ended in about 1997.
Miller has always displayed an experimental turn of mind, and Non Sequitur is admirably suited as a laboratory for tinkering in. At the time the feature was launched, there was only one other strip-wide horizontal single panel cartoon—Bob Thaves' Frank and Ernest. Miller took the innovative notion a step further: suspecting that newspaper editors would appreciate flexibility in format in a comics feature, he realized he could re-format Non Sequitur as a traditional rectangular single panel gag cartoon. He saw that he could use the same artwork that he'd produced for the horizontal format, just cut and paste a little to tailor it for the other dimensions. So he did, and some newspapers started running the feature as a panel cartoon; some, still, as a "strip." (And when Danae or the Mainers are the focus and Non Sequitur assumes a multi-panel format, Miller divides the strip into four panels exactly in the middle, so the first two panels can be stacked on top of the last two, making a rectangle that fits a panel cartoon space.) The popularity of Miller's angelic Homer persuaded him to make the character the star of a Sunday-only strip. But cracking into that venue, Miller knew, would be difficult: editors like to run the Sunday versions of their daily strips in the Sunday funnies, so "it is virtually impossible to sell a Sunday-only comic" Miller said. But he invented a new way to present the strip, a way that would permit editors to add it without having to discard any of their regular line-up. If the strip were vertical rather than horizontal, it could be squeezed onto the page without sacrificing any other strip. He designed Homer as a vertical strip and discovered that "I had endless possibilities to play with because the art could be done in a far more dynamic way than what's afforded in the traditional horizontal format." After a couple years, he adopted the same format for Non Sequitur, and editors "readily accepted it." Meanwhile, Miller discontinued Homer due to low circulation but offered it as an online strip, available only to paying subscribers; alas, not enough subscribers signed up to justify his time and effort, and Homer fizzled out. (Later, Michael Jantze offered The Norm on the Web to paying subscribers and recruited enough to enable him to make a decent income by continuing the strip in the digital ether.)
As he tinkered with the Sunday format, Miller fretted about the artistic limitations imposed by the industry's standard palette of colors, a handful of primaries and no shading. Then in 1994, he broke free: he adapted the technology used for color photographs in newspapers to color his strip with nuanced hues and shades. Said he: "Process color allowed me to treat the cartoons as a piece of art, getting varying tones and texture in them that had never been achieved before." Miller virtually revolutionized the appearance of the Sunday comics: within a couple of years, his technique was the industry standard. Miller's color revolution is vividly exemplified in a reprint collection from Andrews McMeel (164 9x11-inch pages in paperback; $16.95), Non Sequitur's Sunday Color Treasury. In the book, Miller explains how his color experiment got started, remembering the key role played by the late Tim Rosenthal, the production manager at American Color in Buffalo, New York, where many of the nation's Sunday comics sections are printed for subsequent distribution to newspapers. Any change is likely to encounter resistance, Miller notes, but Rosenthal, "passionate about comics as an art form," overcame the resistance and brought the change into being. "A champion for the production of our work," Miller said, "Tim was by far the best friend the comic strip world ever had. Without him, there would be no need for this book displaying the breakthrough in color. Sadly," Miller continues, "we lost Tim to sclerocerma, a rheumatic and connective tissue disease, on October 15, 200." And he dedicates the book to Rosenthal and his family.
The book's sections feature the numerous characters and continuities Miller has introduced into the strip—Obviousman, for instance, and the first Homer series, and the Gravesytes, a homage to Charles Addams, and, my favorite, "Offshore Flo," Flo being the operator of the Offshore diner in Maine where a somewhat inebriated lobster fisherman named Captain Eddie hangs out and holds forth in picturesque New England accents about his mostly hallucinated adventures over and through the briny deep against fabulous finny foe. Not far from this verbiage are a few of these strips that show not only the subtle coloring but the visually dramatic variations possible in a vertically formatted strip.
Each section is introduced by Miller, who recalls what inspired him to produce the strips that follow. The book also includes his 9/11 tribute, about which he still receives appreciative letters.
Miller is scarcely through experimenting. "I love to experiment and break down barriers that hem in creativity," he says in a press release from his syndicate, Universal Press. "I like to take the risk—that, to me, is the essence of creativity, and this is supposed to be a creative endeavor." The concept of Non Sequitur was deliberate: "The whole point of how I developed it was to guard against the burnout that has ended other strips. I wanted to give my strip the broadest base possible so that I could strike out in any direction my creative juices wanted to go while still remaining relevant to the feature itself. And it worked! Taking departures from the usual fare, doing something completely unexpected, is like creating a whole new feature but on a limited basis. This keeps the creative juices flowing and prevents burnout."
Miller's latest departure from the well-trod path is a children's book, The Extraordinary Adventures of Ordinary Basil. It had its origins in Sunday episodes of Non Sequitur. "The story ended up running for several months and kept evolving," Miller said, "—taking me in directions I hadn't envisioned when I first set out to do it." The book is presently envisioned as the first in a series, but the second volume will be created as a book, not as a comic strip to be evolved into book form.
<![if !supportEmptyParas]> <![endif]>
<![if !supportEmptyParas]> <![endif]>
Where Are the Best Editorial/Political Cartoons of the Year?
Again this year, for the third year running, those of us who think of Congress and GeeDubya as the national joke, a sort of running (you should pardon the expression) gag (and thinking of them in any other guise will drive you to tears of sheer frustration after you get through throwing up), we're nearly whelmed by the appearance, within a couple months of each other, of two annual collections of editorial/political cartoons, each purporting to offer "the best" of the year's crop. Last year, I surrendered to the temptation to compare the two in a strenuous effort to determine which of the two actually presented "the best" of the year's work by the nation's political cartoonists. I surrender again this year, and this time, I pronounce neither of them as compilations of the year's "best." Each suffers from a serious shortcoming, but both have notable virtues, some lacking in the other.
The first of the two to appear in the bookstores is The Best Political Cartoons of the Year, 2007 Edition (282 8x10-inch pages; paperback, $16.99), edited by two cartoonists, Daryl Cagle and Brian Fairrington, a so-called "liberal" and a reputed "conservative." Despite the title, the book embraces no cartoons from 2007; just 2006 with a smidgeon from the very end of 2005. The other book suffers from the same unfortunate misrepresentation; we are counseled, however, to pay attention to the last word in each title, "edition," which signals that the volume in hand is the "20007 edition" not that it includes any cartoons from 2007. Cagle, lest we forget, operates a website that offers a daily diet of a vast number of editorial cartoons, http://cagle.msnb.com; and Cagle also runs a syndicate that markets some of those cartoons to newspapers and other periodicals worldwide. This year's Cagle collection, as in its two previous outings, is flawed because it is drawn entirely from the cartoons on the website. Cartoonists who haven't agreed to be represented on the site (or who aren't syndicated by Cagle, which is much the same thing) were not considered for this volume.
The other book is edited by Charles Brooks, a retired editoonist, who, thanks to a 38-year tenure at the Birmingham News, may be presumed by reason of demographic to be somewhat of the conservative persuasion. This tome, entitled Best Editorial Cartoons of the Year, 2007 Edition (208 9x11-inch pages; paperback, $14.95), is his 35th annual volume for Pelican Publishing in Gretna, Louisiana, and it, like its predecessors, is flawed by reason of its selection process. Brooks picks from only the cartoons submitted by the cartoonists themselves, who are invited to send in five of their best for his perusal. If a cartoonist doesn't send in anything, he's never represented. We can't tell, of course, by a cartoonist's absence from these pages whether he didn't submit anything or just wasn't selected, but certain cartoonists are conspicuous by their absence—Ted Rall, for instance, and six recent Pulitzer winners: Don Wright, Tony Auth, Ann Telnaes, Pat Oliphant, Tom Toles, and Signe Wilkinson. None of these are represented in Cagle's book either. Otherwise, Pulitzer representation is about equal in the books. Cagle's book includes the work of 9 Pulitzer-winners (Nick Anderson, Matt Davies, Steve Breen, Paul Conrad, Walt Handelsman, Mike Ramirez, Dave Horsey, Dick Locher, and Doug Marlette); Brook's book has cartoons by 10 Pulitzer-winners (Anderson, Breen, Conrad, Handelsmann and Ramirez again, plus Clay Bennett, Jim Borgman, Mike Luckovich, Mike Peters, and Joel Pett). Still, without the work of the 6 Pulitzer-winners missing from both compilations, how can either claim to include "the best" of the year? By my own highly subjective measure, the nation's top editorial cartoonists number 26. No, I'm not going to name them. Pulitzer-winners account for 18 of them, but 9 of them haven't won yet. Of the 26, 8 don't appear in either book; 5 are included in Cagle's book; 13 in Brooks' volume. Does that make the Brooks book better? Maybe; maybe not.
The caliber of the artwork in Cagle's book is superior to that in Brooks'; Brooks clearly includes the work of many polished performers (the Pulitzer-winners alone testify to that), but he also showcases many cartoonists whose best work is not very good draftsmanship, and their command of line is often feeble. Many of these cartoonists are, I suspect, not full-time editoonists: they are staff artists who occasionally produce editorial cartoons. They are designers rather than artists or illustrators. Or cartoonists. Lacking the experience at the craft, they produce cartoons that are weak as visual metaphors, the most dramatic mechanism of an editorial cartoon. The Brooks book, however, performs historical services that the Cagle tome does not. Brooks includes a sample from the year's Pulitzer-winner's portfolio and cartoons by the winners of five other annual political cartoon competitions. At the back of his book, Brooks lists all the Pulitzer winners since the first, Rollin Kirby in 1922.
If the chief weakness in Brooks' book is the quality of much of the work, Cagle's book can be faulted for highlighting trivial matters. He devotes 6-8 pages each to such momentous issues as Katie Couric's ascendency to the anchor throne at CBS, the Brokeback Mountain movie, Ann Coulter's rampant stupidity, Mel Gibson's anti-Semitic outburst, Barry Bonds' use of steroids, and the appointment of Tony Snow as White House press secretary (these cartoons play repeatedly upon the notion of a "snow job"). These matters attracted the public's attention for a few days so they are legitimate subjects for editoons, and the cartoonists, whose fondness for provoking laughter is a badge of their profession, indulged themselves and ridiculed their targets with cartoons that are essentially gag cartoons, telling jokes rather than prompting thought or discussion, the traditionally cited function of a political cartoon. (Not that Katie Couric's anchorage or Barry Bonds' steroids are deserving of much thought or discussion.) I don't mean to say that editorial cartoonists shouldn't go for laughter occasionally, just as a change of pace if for no other reason. But laughter is better in an editorial cartoon when it is weaponized and pointed at a significant issue worth laughing out of existence. Ann Coulter probably isn't one of those. Devoting so many pages to gag cartoons transforms this annual collection into a joke book, scarcely representative of "the best" that editoons can do. Cagle and Fairrington go too often for laughs. They print 39 cartoons about Mel Gibson's unfortunate run-in with the police and the Anti-Defamation League, and 42 cartoons are devoted to Darth Cheney's shooting his lawyer friend in the face. Sometimes this regrettable event is deployed to comment on other matters—the need for body armor in Iraq, civil liberties that the Bush League is attacking, and getting rid of critics and all lawyers. Only two of the Cheney cartoons dwell on serious questions raised by the incident: the Vice President's obvious desire to keep the whole thing secret—like most of his machinations in government—or to control the news media, another unfortunate tendency in this regime. Similarly, North Korea is personified in the hair-do of its tyrant, trivializing the threat that Kim Jong-Il represents. Plenty of cartoons in this volume offer effective imagery attacking human folly and political chicanery; in a collection this massive, it would be difficult to avoid some cartoons of this ilk. The flaw here is proportional: too many trivial matters and too much giggling, comparatively speaking. The death of Steve Irwin, the Australian crocodile hunter, gets 12 cartoons; torture at the Guantanamo prison gets not quite as many, just 11. Every cartoonist likes to draw crocodiles, which are funny enough in their appearance alone; there's nothing funny about a man stretched on the rack. In short, the volume suffers from its editors' natural inclination as cartoonists to tell jokes.
| | |
| --- | --- |
| | |
In the Brooks book, we find only 3 cartoons about Mel Gibson and just 2 on Cheney's marksmanship while hunting quail. For the most part, Brooks attends to serious public issues and gives the vicissitudes of our jejune preoccupation with popular culture only a passing glance, and sometimes not even that.
Cagle, through his blog in January, invited comparison to Brooks by sponsoring a "cartoon counting contest" in two parts. Regardless of who wins the contest, Cagle will win the comparison: his book is 80 pages longer than Brooks' and perforce includes more cartoons. At least 80 more, you'd say; actually, many more than that because most pages carry more than one cartoon. Many of the cartoons are reproduced at a minuscule dimension, sometimes as many as six to an 8x10-inch page, a postage-stamp insult in a visual medium. Brooks runs a few of his 9x11-inch pages with three cartoons on them, but most of his cartoons are half-pagers, a respectable showcase for cartoonists. Cagle's other "counting contest" has to do with the uproar over those 12 Danish cartoons last year. Cagle devotes a lot of space to this incident; Brooks, almost none. It gets two sentences in the introduction to the "Media" chapter and less than half-a-dozen cartoons. In contrast, the Cagle book begins with its Danish Dozen section—20 pages of exposition that print and explain the offending cartoons and discuss the issues involved (freedom of speech and the press), plus another 12 pages of cartoons commenting on the affair. In reprinting and explaining the Danish Dozen alone, the book achieves stature as a historical document and as exemplary journalism. Unhappily, the truncated history of the event offered here overlooks one of its most important aspects—namely, that the rampaging in the Arab street was not at all spontaneous but was deliberately orchestrated by radical Muslims. The cartoons were an excuse rather than a cause for the expression of Islam's displeasure at the cultural encroachments of the West. Nor is it mentioned that Islam generally does not forbid Muhammad's image; only some sects of it do.
Cagle writes a strangely paranoid essay to distinguish between "illustration," which is what he says the Danish cartoonists did, and "political cartooning," which he thinks is getting a bad rap for what the Danes did. Illustrators, he says, just draw pictures; political cartoonists draw pictures that express opinions. This is a distinction without a difference as far as Muslims are concerned: the illustrations, done in a cartooning mode, appear to be making fun of Islam and thereby don't show appropriate respect for the religion. And that's the problem that gave the extremists in the Islamic world the excuse to riot in the streets, burn buildings and flags, and trample people to death. Besides, some of the Danish cartoons clearly express opinion: depicting Muhammad's turban as a bomb with a smoking fuse embodies an opinion about Islam and terrorism. But Cagle has another axe to grind: "The Danish Muhammad cartoons are broadly—and wrongly—described as political cartoons," which, he continues, "is chilling to real political cartoonists, who are suddenly perceived as ticking time-bombs that can explode at any time." Cagle seeks here to exonerate "political cartoonists" from the bombardier rap because "editors, who were already uncomfortable reining in their unwieldy, bomb-throwing cartoonists, are now more timid than ever. Regrettably," he continues, "the Danish Muhammad illustrations [not cartoons] and the resulting world turmoil have done more to reshape the political cartoonists' profession than any other single event." I think Cagle is stretching a bit here; admittedly, as the operator of a syndicate distributing editoons, he may have insights that I lack, but in looking around at the editorial pages of the nation's papers, I see little evidence that there is any more timidity on display than usual. I doubt that the editoon profession has been reshaped by the Danish Dozen.
Cagle goes on to explain his attitude about drawing a cartoon with Muhammad in it—at issue, free speech and free press. He's not afraid to draw a cartoon with Muhammad in it: "I'll be offensive if I want to be, but I want my cartoons to effectively convey my opinion, and my opinion about the Danish Muhammad cartoons issue is that the violent response to the cartoons was wrong and was far out of proportion to the provocation. If I were to draw a cartoon depicting Muhammad now, the only message the cartoon would convey is, 'Hey, look at me—I can offend you, too.' That is not what I choose to say."
This brings us to an important distinction, and one I made myself, that a cartoon can, if the cartoonist isn't careful, undermine its own effectiveness. By way of elaborating on these matters, I've reviewed the Danish Dozen controversy and its implications for freedom of expression in a special summary article in our Hindsight department, over yonder. So I needn't say any more about it here. Except to note that Cagle claims his extensive treatment of the cartoon controversy demonstrates persuasively that his book publishes "stronger" cartoons than Brooks' book. Maybe; maybe not. Very few of the cartoons in Brooks' book are gag cartoons of the sort that riddle the pages of Cagle's book. Maybe a lot of them aren't so "strong" (and I'm not convinced that they aren't), but they're almost all serious treatment of the events of the year. These cartoons aren't going for laughs as much as those in Cagle.
| | |
| --- | --- |
| | |
For a good part of his book's 35-year run, Brooks has been the dartboard of outspoken editoonists who are miffed that he seems reluctant to pick hard-hitting cartoons, especially if they hit the sacred cows of the conservative persuasion. And for a long time, the criticism was justified: consulting the index of cartoonists at the back of the book, you could count the number of cartoons by each cartoonist and invariably the more conservative cartoonists were represented by 4 or 5 cartoons, the maximum possible under Brooks' selection system. But in recent years, as the Bush League has imploded in its own manifest incompetence and moral corruption, the presumed "conservative point of view" is slammed as enthusiastically in the Brooks volumes as it is anywhere, Cagle included. Cagle's co-editor guarantees that the conservative inclination will be represented in that volume, although not necessarily equally represented: Cagle publishes 31 of his own cartoons; only 9 of Farrington's. But the next highest number after Cagle is Mike Lester, who, while technically "independent," often veers off into conservative positions. Lester is on the roster of Cagle's syndicate, as are most of the cartoonists in the Cagle book who are represented by more than a half-dozen cartoons. It's not inherently a bad thing, but it is suspicious: we could easily assume that the book is an elaborate brochure advertising the Cagle syndicate and the Cagle website. And that is at least as true of the Cagle book as the accusation of conservative bias is of the Brooks' tome.
While neither of the books can be accurately described as the exclusive repository of the year's "best" editorial cartoons, both together come pretty close to representing the best that was produced in 2006. That means you have to buy them both if you want a real taste of the year's editoonery. (And that means I don't very much offend either publisher, a canny piece of critical maneuvering even if I do say so myself.) Almost none of the cartoons I offered in Opus 199 as a sampling of the best are included in either tome, by the way; and that probably means I don't know what I'm talking about. But that's never stopped me before. Besides, on such momentous issues as the sheerness of my perceptions, you are a better judge than I.
<![if !supportEmptyParas]> <![endif]>
<![if !supportEmptyParas]> <![endif]>
BETTER NEWS ABOUT FOR BETTER OR FOR WORSE
Now that it has developed that Lynn Johnston's For Better or For Worse will have a future after all, a few details about what that future will be have likewise surfaced. After September, members of the strip's protagonist Patterson family will no longer age, and the strip will become what Johnston calls a "hybrid"—some new material but mostly old. The narrative focus of the strip will be on Michael Patterson and his young family, which is now in just about the same situation as the first Patterson family—Elly and John and their young son Michael—was when the strip began. Much of the future run of the strip will be reprints of its early years, with Michael recalling his childhood as a framing device. Many readers will never have seen these strips because FBOFW wasn't running in every newspaper in the country for the first few years. So these recycled strips will be "fresh" to most FBOFW fans. Some of the new material will frame the flashback stories, but some of it will amplify or complete previous storylines according to Eric Harrison at the Houston Chronicle. "For instance," he said, "Johnston mentions a character, Deena, who was absent from the strip for a long time without explanation. In her head, Johnston knew why Deena disappeared, but she never got around to drawing it. Now she will."
Come September, Johnston will be the third notable syndicated cartoonist to "retire" within the previous twelve months. About Aaron McGruder, who went on sabbatical from The Boondocks last spring, complaining about the deadlines, and then never returned, and FoxTrot's Bill Amend who stopped doing the daily version of the strip in December because the constant struggle to keep up to his deadlines was wearing him out after not quite twenty years, Johnston exclaimed: "What wusses! I don't know whether it's my age or that I was raised on hard work," she added, saying her feeling was: "You've got a job—do it."
But she agrees that the task of producing a daily comic strip is daunting. Johnston has been doing it since 1979 without taking advantage of her syndicate's recent policy of granting cartoonists' sabbaticals, a practice Universal Press introduced with Doonesbury's Garry Trudeau in the mid-1980s. If Johnston wanted a two-week vacation, she worked twice her usual hours until she'd produced two extra weeks of material; then she could vacate for two weeks. But now, at age 60, she wants time to do things that she's been putting off all her life. "I want to travel and study and paint," she told Harrison, "and I want to spend some time with friends and family. We're starting to get to the stage when you go to funerals and that's where you reunite with friends, and I want to be able to spend time with friends while they're still alive." After 28 years doing the strip, she said, "I feel I've done the best I can do for as long as I can do it. It's time."
Another factor affecting her decision to cut back drastically on her work is that her hand shakes. She suffers from a neurological disorder, dystonia, which, although controlled somewhat by medication, makes a drawing future problematic. Her hand doesn't shake as badly as Charles Schulz's did the last decade or so that he did Peanuts. A long-time friend of Schulz, Johnston had occasionally watched him draw. "He had to hold his right hand with his left hand to keep it still," she said. Her hands don't shake badly enough to affect her drawing, she said, but she uses assistants to letter the strip and to ink the backgrounds. She draws everything in pencil and still inks the characters.
When Johnston started the strip in 1979, she had intended to do a gag-a-day; she didn't plan to tell stories. But whenever she'd write a joke, she told Harrison, "I just kept saying to myself, 'But what happened then?'" The question demanded an answer, and the answers always turned into stories. Between now and September, Johnston will continue to exercise her storytelling instinct—this time, to finish current storylines and provide an "ending" to wrap up the saga of the Pattersons.
Johnston's decision to continue FBOFW as a "hybrid" has drawn some criticism according to Editor & Publisher. ComicsReporter.com blooger Tom Spurgeon remarked that if the strip were to end this fall as originally expected, over 2,000 newspapers would have an open slot in their comics line-up, offering opportunities for dozens of new comic strips to try to win an audience. At DailyCartonist.com, blogger Alan Gardner felt much the same and posted comments from readers who agreed. "I love Lynn's work," wrote one, "but it's disheartening to aspiring pros to now hear that the market her departure would have opened is no longer a reality." Said another: "Why can't other cartoonists learn from FoxTrot?" an allusion to Amend's decision to discontinue the daily edition of his comic strip. A third objected to the hybrid FBOFW, saying it would be "like Lucille Ball's disastrous attempt to extend a brilliant career. Cartoonists are performers as well. And it's important to know when to get off the stage." On the other hand, wrote Spurgeon, "Johnston seems genuinely pleased by the [new] direction [she is contemplating], which is always nice, and you want to be supportive of that. ... The 28-year run of FBOFW pretty much justifies her doing any darn thing she wants."
<![if !supportEmptyParas]> <![endif]>
<![if !supportEmptyParas]> <![endif]>
A FEW MORE WORDS ABOUT DILBERT, THE EVERLASTING
Dilbert (how could anyone forget?) is a mouthless, knobby-headed engineer who works in a sterile cubicle in the office of a nameless corporation. Dilbert has frequent encounters with his fellow workers, all of whom are either overlooked geniuses or underperforming layabouts. Here's Dilbert and his pointy-haired boss, who is reviewing some project Dilbert has submitted for his approval. "What does MFU2 mean on your timeline?" asks the boss. Dilbert: "That's Management Foul-Up Number Two. It usually happens around the third week." Boss: "We don't anticipate any management mistakes." Dilbert: "That's MFU1." This revealing exchange happens in the latest compilation of Dilbert strips, Try Rebooting Yourself (128 8x9-inch b/w pages; paperback, $10.95), the 28th such collection, which opens, helpfully, to a page that lists all the preceding 27 titles. The book comes equipped with "Eight Fantastic Cubicle Stickers" designed to improve the environs of your cubicle, should you work in one, with colorful depictions of some of the Dilbert characters. The drawing skill on display in this volume is, alas, no more advanced than in the previous ones. But that is not unexpected. Scott Adams, the so-called cartoonist, majored in economics. "If you take enough classes in economics," he has said, "you'll become a cartoonist. Not immediately," he adds, "but eventually." Well, yes and no.
Eventually, Adams started playing a cartoonist in the funnies. Adams resorted to cartooning when he found that advancement in the monolithic phone company he worked for was not forthcoming fast enough. "The day you realize that your efforts and your rewards are not related," he explained, "it really frees up your schedule." With his increased free time, according to a report in dmnews.com by Mickey Alam Khan, Adams doodled sarcastic cartoons about management failures in the phone company office. Instead of firing him for gross disrespect, management just gave him the worst possible assignments, convinced that he would soon quit of his own volition. It worked, but not right away. "When you're a cartoonist," Adams said, "there's not such a thing as bad work because the more ridiculous the workday, the better my cartoons became." That's what he says. And apparently others, including United Media syndicate, agreed. Soon thereafter, the comic strip Dilbert was born.
None of the foregoing, except the MFU2 thing, is in the book at hand. In the book, we meet a character with a face like a cat who is introduced as "our new sourpuss." We also renew acquaintance with Dogbert, the evil human relations director, and Dilbert's co-workers, Wally, Tina, Asok, Carol, Bob the giant lizard, and Alice with the hair-do like a huge tent, who is sitting quietly in her cubicle one day when the pointy-haired boss shows up with a new employee at his elbow and says: "Alice, can you show the new guy how to do a project status report?" To which Alice responds by addressing the new guy: "He doesn't read them, so we all use a random phrase generator. I'll e-mail it to you," she says. The new guy is amazed: "You said that in front of him," he says, gesturing at the pointy-haired boss at his side. Alice explains: "He listens only when he's talking." Looking at Dilbert will, eventually, give you a headache it's so badly drawn; but the cynical insightful laughs it provokes will drive the headache away.
And before we leave, here's Adams with a headache of his own—
<![if !supportEmptyParas]> <![endif]>
<![if !supportEmptyParas]> <![endif]>
I'M TORTURED BY DOUBT
By Scott Adams, Creator of Dilbert; Washington Post, Sunday, January 7, 2007
Lately I've moved from "pretty certain" to "doubtful" about the effectiveness of torture. Today I'm addressing only whether torture sometimes works better than conventional interrogation. If torture doesn't work better than the alternatives, not ever, then you don't need to discuss morality or world opinion because torture doesn't even pass the first filter. I'm not saying that morality and world opinion aren't important— you just don't need to worry about them unless torture at least produces good results.
But in all the news about interrogation techniques at Guantanamo Bay, Cuba, and other U.S. prisons in the fight against terrorism, there has never been any offer of proof that torture is the way to go. Even the latest FBI report, released last week, just lists the extreme methods interrogators used on their subjects. It never says whether they produced anything.
I used to think that torture probably worked well, at least in selective cases, based on the fact that it is so often the method of choice. All of those law-enforcement professionals around the world couldn't be wrong, could they? Plus, I imagine that if someone attached electrodes to my scrotum, I'd be talking plenty compared with the "let's be friends" interrogation method. So torture certainly passes the sniff test.
Yet the media have trotted out expert after expert to say that regular non-torture interrogation is more effective than torture. I discounted those experts as selectively chosen by the liberal media. One thing that all the experts seemed to have in common was that none of them had actually used torture. So how would they know that torture didn't work as well as an alternative? But much time has passed since this debate began. You'd think that the proponents of torture would have produced one credible torturer to say, "Torture works great! I get all of my information in minutes and I'm home by 5 to help the kids with homework!"
Or perhaps the media could find one torture victim who would say, "I wasn't going to tell them anything until they started waterboarding me. Man, that stuff works!"
Now granted, it may be hard to find someone who will confess to being a torturer. And it may be even harder to find someone who was tortured and then is willing to endorse it. But it seems that with all the torturing going on, you could at least find a friend of a friend who
saw it work. Or the American government could find some CIA operative willing to be filmed in silhouette with his voice garbled saying that he has seen torture produce excellent results.
I first made this point recently on the Dilbert Blog. I heard from lots of folks who argued that torture is counterproductive because people will say anything to stop the pain. You end up wasting valuable time and resources chasing false leads. I'm told that there is lots of anecdotal evidence to support that view. Fair enough. But is that what always happens or just usually? I want some context. Other people argued that torture could be effective if a terrorist didn't know that you already had information to verify his claims. For example, suppose you know that terrorists hid three dirty bombs and you've already found two. And suppose the captured terrorist doesn't know that you've already found them. In that case you could keep torturing him until his list of three hiding places includes the two you already know about. Common sense tells you that would work. But I have to ask myself how often that sort of situation comes up. Does it happen all the time in one form or another, or has it never happened since 9/11? How does a citizen form an opinion on the effectiveness of torture without knowing that?
The other day I was watching Bill Maher on his HBO show, "Real Time." That's where I turn for useful political opinions. (I wish I were joking about that.) Maher made a point that put things into perspective for me. He noted that if the situation arose where torturing some terrorist would clearly save American lives, it's going to happen no matter what the law says. I think we all agree that it's possible to do too much torturing. But as Maher points out, it's impossible to have laws that prevent torture in the rare cases in which it may be the best solution. Human nature provides the safety valve. Laws or no laws, your grandmother would torture a terrorist if she knew it would save lives.
The burden is on torture's proponents to produce some evidence that torture makes sense as a policy. I don't rule out the possibility that it can be effective in some cases, but if it's being done in my name, I want some frigging evidence that it works. Then we can talk about morality.
RCH: I think Adams' argument is pretty persuasive. But then I would. I also think his argument is wholly unnecessary. Torturing other living creatures is an act of cruelty. No one would claim otherwise. And I don't think people should be deliberately cruel to one another. Not as a matter of policy. I might, as a grandfather, be persuaded to torture someone if I were persuaded (1) that someone else's life, particularly a lot of someone else's lives, were actually hanging in the balance and (2) that the person I'm beating up actually knew something that would save those lives. But I'd have to be persuaded that both conditions existed, without question. In the meantime, it makes me cringe—it nearly makes me vomit—to think that I'm a citizen of a country that officially condones torture as a government policy.
To find out about Harv's books, click here.