Opus 191:
<![endif]> <![endif]>
Opus 191 (September 12, 2006). Manga is our Big Feature this time, but not the manga you're thinking of. Not the tediously paced comics for teenage girls. No, instead, we start with a look at Yoshihiro Tatsumi's Push Man and Other Stories, a collection of gekiga, gritty, naturalistic stories. And then we go on to recite the history of the term manga by focusing on the life and "random sketches" of Japan's master print-maker, Hokusai. That's at the end of this installment. Between here and there, we have the usual round-up of news that gives us fits, plus reviews of a half-dozen new comic book titles, as follows (in order):
NOUS R US
Marvel's heroes get postage stamped
Animated comics for newspaper websites
Canadian newspaper deliberately makes room for new strips
"Where My Dogs At" draws fire
Dick Tracy news on the eve of its 75th anniversary
Bazooka loses suit
A.C.T.O.R. no more
Paul Norris, a short bio and his opinion about the present-day treatment of his Golden Age creation, Aquaman
Is hip-hop over?
NEVER-ENDING DANES
Testimony from a Canadian cartoonist about Iran's exhibition of bigotry
COMIC STRIP WATCH
Male stereotypes are dangerous
Get Your War On, a prose newspaper column in masquerade
BOOK MARQUEE
New Luckovich
More Nemo (and other classics) from Peter Maresca
FUNNYBOOK FAN FARE
Reviews of Superman Batman, Wonder Woman No. 2, JLA Classified No. 16, Loveless, Civil War, 52, and the Escapists
The Trials of Shazam, the latest revival of the Big Red Cheese
A LOOK BACK
—at an age when everyone drew pictures
GRAFIC NOVIL AND MANGA BY THE MASTER
Push Man and How Hokusai Invented Manga
And our usual reminder: don't forget to activate the "Bathroom Button" by clicking on the "print friendly version" so you can print off a copy of just this lengthy installment for reading later, at your leisure while enthroned. Without further adieu—
NOUS R US
Just the news that gives us fits.
Seething with envy, doubtless, Marvel has succeeded in getting its longjohn legions on postage stamps, just like its rival DC, only a year later. Marvel's stamps will be released in 2007, saith ICv2 News, "and the smart money is betting that the Postal Service will release them just in time for the San Diego Comic-Con." And if the Postal Service is present at the Con to sell sheets of the stamps, we suspect they'll bring more of them than this year's crew did: they ran out before the weekend was over. And they ran out of the superhero-stamp imprinted tote bags they were selling before noon on the first day. The Marvel line-up includes Spider-Man, Incredible Hulk, Captain America, Iron Man, Sub-Mariner, Silver Surfer, Spider-Woman, Elektra, and, representing the groups Fantastic Four and the X-Men, the Thing and Wolverine. Each character will be depicted twice, in an individual portrait and on a comic book cover, resulting in a sheet with 20 stamps. The San Antonio Express News Blog, Geek Speak, quotes USPS spokesman Mark Saunders who says the ten covers will be: Number Ones for Amazing Spider-Man, Incredible Hulk, Sub-Mariner, Silver Surfer, Iron Man, and X-Men (the 1963 issue with Wolverine on the cover), plus Fantastic Four No. 3, Captain America No. 100, Marvel Spotlight No. 32 (Spider-Woman), and Daredevil No. 176 (Elektra). This line-up, though, is still preliminary. Fans are wont to quibble with the character choices. Like many, I doubt that Elektra or the Sub-Mariner are in the same class as the rest; ditto the Silver Surfer. But the Sub-Mariner and the Silver Surfer are at least highly visible creations in the pantheon of Marvel's superheroes; Elektra isn't. Why is she there and Daredevil isn't? Okay: DD isn't female. I get it. Regardless of the choices, it'll be fun to see these images on postage stamps. Oh, the ICv2 article also let it slip that postal rates are likely to increase by the time the Marvel characters line up for a licking: the stamps, it says, are 42-centers. By the way, before we forget again, the official dedication of the DC stamp issue took place in New York at the Museum of Comic and Cartoon Art on July 27 at 10:30 a.m. A special one-day-only MoCCA pictorial cancellation was available; designed by John McCarthy, MoCCA's pr guy, it featured the usual MoCCA symbol plus a caped and flying figure speeding overhead. The ceremony was a big success. "We were pretty crowded," McCarthy told me. "I knew we had done a good job when I had to make room for a fourth camera crew."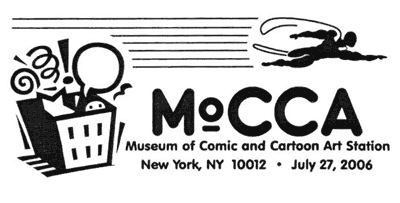 "Snakes on a Plane" didn't live up to the hopes of its producers, who, astonished at the buzz the film was generating even before its release, expected box office receipts to be much higher; according to ICv2 News, the movie dropped almost 60 percent in its second weekend of release. ... The Segway personal transporter, that revolutionary invention by Dean Kamen, son of Jack Kamen, once a stalwart in the EC Comics line, isn't living up to expectations either. Time remembers that Kamen had predicted "that cities would banish cars from their congested hearts" once people discovered the ease and convenience of the self-balancing, battery-powered two-wheeled scooter. But it hasn't happened. Yet. Kamen hasn't given up hope, though, and in August, he introduced the new and improved model, which he hopes will finally appeal to the mass market. ... Neatly Chiseled Features (NCF), the syndicate founded by cartooner Joe Martin, has started offering animated comics to newspapers for their websites. Editor & Publisher reports that Martin's "main reason" for forming his syndicate was to market animated comics, which, Marin contends, are a great way to attract more young readers to newspaper sites. He's thinking of a future of newspaper comics. Martin is the creator of Mr. Boffo, Willy 'n' Ethel, Cats with Hands, and On the Edge—all features that, I assume, can be obtained in animated versions now. NCF is also offering to animate other cartoonists' work. ... Also from E&P: the Witchita Eagle's recent readership survey found Brian Crane's Pickles comic strip at the top of the list; Lynn Johnston's perennial favorite, For Better or For Worse, came in second. Johnston plans to retire in 2007, but few would expect the strip to slip in popularity before then. Meanwhile, continuing to record earth-shattering developments, E&P saith the Gazette of Montreal dropped seven older comic strips to make space for newer ones. "New artists with fresh ideas and strong talent are trying to break into the business," the paper said in announcing the changes in its line-up, "and we want to make space for them." The dropped comics are Adam, Herman, Sally Forth and two more prominent stalwarts, Beetle Bailey and Garfield. Peanuts had already been cancelled in 2005; and The Boondocks hiatus left the seventh slot open. Into those slots, the paper inserted Between Friends, Dog Eat Doug, Lio, Non Sequitur, Pearls before Swine, Pooch Café, and Rhymes with Orange.
An MTV cartoon aroused the ire of viewers by depicting a Snoop Dogg-like personage strutting around, two bikini-clad black women in tow on leashes fastened to their dog collars. One of the women squats on all fours and scratches herself like a dog, and later in the episode (No. 4 of the series "Where My Dogs At?"), the Snoop character puts on a plastic glove and scoops up his enslaved ladies' defecation. The New York Post quotes Paul Porter, founder of a watchdog group, who said: "This only serves to reinforce negative images of women, conveying to kids on a Saturday afternoon that all women are bitches and ho's. In my ten years of monitoring children's programming, I've never seen anything this offensive." Alas, the episode's satire misfired: the scene was intended to ridicule an actual Snoop Dogg appearance where he was accompanied by two women wearing neck collars and chains. "The goal," said a spokesperson, "was to take aim at that incident for its insensitivity and outrageousness." The perpetual problem with parody is that if it looks too much like the thing being ridiculed, it will be guilty of the same offense; and yet good parody requires nearly exact mimicry. ... According to Michael Giltz in the New York Post, the July release "Ren & Stimpy: The Lost Episodes" puts the manic chihuahua and the dim-bulb cat through paces that are "ruder than ever." Bigger fart jokes, I suppose. ... Rancid Raves correspondent Bill Crouch conjured up this bit of trivia: Dick Locher, who produces Dick Tracy, turned 77 in June and is therefore older than Tracy's creator was when he retired from doing the strip; Chester Gould was only 75 when he put down his pen. ... And for Tracy fans, a DVD of the sixties animated tv series, "The Adventures of Dick Tracy," will be released on September 26 to mark the strip's 75th anniversary. Editor & Publisher adds that a limited edition Dick Tracy comic book will be included with the DVD.
"It is a tale of two companies, once friends and collaborators, now enemies and scorched-earth litigators—and of chewing gum," according to U.S. District Judge Charles S. Haight. He was issuing a ruling August 31 on a sticky case involving an Argentine company that persists in making its sweet-tasting Bazooka gum even though its relationship with The Topps Co. that made the brand famous has long since soured. The ruling described not just the decades-long history of the companies—family-owned friends that became corporate rivals—but also the millennia-old history of gum, stretching back to when the ancient Greeks chewed on a substance
made from the resin of the mastic tree. You can find Larry Neumeister's Associated Press story here: http://news.yahoo.com/s/ap/20060904/ap_on_bi_ge/bubble_gum_dispute And our history of Bazooka gum and Bazooka Joe, can be found at Opus 127 here.
ACTOR (A Commitment To Our Roots), the organization that claims to have helped countless numbers of down-on-their luck, struggling comics professionals, has announced a name change from ACTOR to The Hero Initiative. The change became effective on September 4th and the ACTOR Website now has a new address www.HeroInitiative.org. The organization's mission remains the same—helping comics creators of yesteryear in medical or financial need. The organization felt that a name change was necessary to get the general public have a clearer immediate impression of the organization's mission. "I think we did a very good job of establishing 'brand identity' for A.C.T.O.R. within the comic market," said the organization's president Jim Mclauchlin. "But as soon as we took the mission outside the village of comics, you'd see confusion in people's eyes. The 'Hero' concept is one that ties very, very closely to comics, and resonates well. It lets everyone know what we're about." I dunno about that: I suspect that the notion of a "hero initiative" wouldn't make much sense to anyone not already cut into the superhero concept. But "actor" probably suggests Hollywood more than funnybooks, so it's clearly a non-starter. This is all legit, I'm sure, but I was leery of this operation when it started. Apparently a stand-alone charity operation, with, admittedly, support from several publishers (among them thoroughly respectable operations like Dark Horse, Top Cow, and Wizard), it sounded, at first, a little suspicious. Because it operates as its own entity rather than as an arm of some other external outfit, I wondered who the watchdog was. With the Milt Gross Fund of the National Cartoonists Society, NCS is the watchdog—that and the IRS. But here, we have only A.C.T.O.R.'s honchos to depend upon for an up-and-up operation. And who are these folks? Well, turns out the folks are some pretty well-known personages: Joe Quesada, Michael Richardson, Dick Giordano, George Perez, John Romita Sr., and Roy Thomas, to start with—and that's not a complete list. So I reckon we're safe. I'd feel better, though, if that URL got me to the A.C.T.O.R. or Hero website instead of the site of a full-service construction company in Cleveland. Try actorcomicfund.org for the time being.
Paul Norris, the 91-year-old cartoonist who created Aquaman and then drew the comic strip Brick Bradford for over thirty years, 1952-1987, got his college degree from Dayton School of Art in Ohio, but he took journalism and art courses at Midland Lutheran College in Freemont, Nebraska, where a cousin was teaching. Last winter, the Freemont college mounted a collection of his drawings, "A Tribute to Paul Norris," and Norris attended the opening reception on February 10. Dane Stickney at the Omaha World-Herald interviewed the cartoonist, and we learn that Norris decided to become a cartoonist when he saw his first comic strip, which he thinks was Happy Hooligan. "I started drawing my own cartoons from the time I was able to hold a pen," Norris said. In 1941 when he was 26, he went to New York, looking for work. He went to DC Comics, and that resulted in the creation of Aquaman. Probably he was told what Marty Nodell was told when he went to DC looking for work about the same time: invent a costumed hero for us, and you can draw that. "I made a lot of sketches just from my head," Norris said. "I decided to color him green and orange, and the editors really liked that. He's worn green and orange almost the whole time he's been around, and I still get paid royalties for every time they use those colors with him." He drew the character for only a short time. About a year after Aquaman's debut, Norris was offered a contract to take over the comic strip Vic Jordan, and after he signed the contract, he discovered, having left the small print to his lawyer until then, that he was expected to work "exclusively" on Vic Jordan. So Aquaman lost his creator. Shortly after that, Norris was drafted and spent the next three years in the Army. When he returned to civilian life, he went to work in the bullpen at King Features, drawing Jungle Jim and Flash Gordon comic books. He graduated to the Jungle Jim Sunday strip in 1948, and then in four years later, he inherited Brick Bradford, which he continued until both he and the strip retired in 1987. Brick Bradford was his favorite. "I liked the science fiction," Norris said. "Brick could go back or forward in time. There were no limits with him. He could go back and fix historical events so they'd turn out the way they should have." Norris never imagined Aquaman would last as long as he has. "I love to see him showing up more and more these days," he said. But some of today's comic book writers "have made him a little too rough and violent for me."
"Hip-hop" as a cultural and artistic phenomenon embraces break dancing, dejaying (mixing recorded music), rapping ("emceeing"), and graffiti. The so-called hip-hop drawing style derives from the latter. It's sometimes called "urban style"; and "retro" bears a resemblance. Hip-hop as a whole, however, is more attitude than style. Graffiti, for example, is a sort of outlaw art, taking its definitive shape on the sides of subway cars, warehouses, and highway overpasses where expanses of space tempted aerosol-can wielding youths to express themselves as "a form of macho bluster," according to Ariella Budick in Newsday some weeks ago. She was reviewing an exhibit of graffiti at the Brooklyn Museum, which, she said, was "a requiem for a movement killed off by an excess of respect."
Fascinating Footnit. Much of the news retailed in this segment is culled from articles eventually indexed at http://www.rpi.edu/~bulloj/comxbib.html, the Comics Research Bibliography, maintained by Michael Rhode and John Bullough, which covers comic books, comic strips, animation, caricature, cartoons, bandes dessinees and related topics. It also provides links to numerous other sites that delve deeply into cartooning topics.
THE NEVER-ENDING DANES
U.N. Secretary General Kofi Annan didn't have much luck when he visited Iran a week or so ago. He didn't get Iran President Mahmoud Ahmadinejad to back off even a little from his insistence that Iran would continue enriching uranium. And when Annan heard about the anti-Holocaust cartoon exhibit, the Associated Press said he voiced disapproval: "We should avoid anything that incites hatred," he said. He didn't visit the exhibit, but his spokesman implied that Annan didn't need to see the cartoons: "From what he heard, he would find them pretty distasteful, as he did the Danish cartoons about the Prophet Muhammad, which he strongly condemned at the time." Last I heard, the exhibit is still open, the SecGen's disapproval notwithstanding.
The exhibit includes some cartoons submitted by Europeans and other Westerners. The only interview I've seen with one of these non-Muslim entrants was the one sprung on a Canadian in Quebec named Marc Pageau, conducted by Bryan Munn at www.Sequential.spiltink.org where they extol the news of Canadian comix and culture. Pageau entered the contest, he explained, because he viewed the Danish Dozen controversy last winter as historic, an unprecedented cartooning event, and he wanted to be part of it. Moreover, he relished the chance to test the validity of free speech tenets in the West.
"It gives me a chance to test for myself Freedom of Speech here, in Canada and in the United States," he said. "How will the knowledge of my participation be received by fellow cartoonists, journalists, average individuals and friends? It will be interesting to follow the reactions!"
He is not too concerned about the criticism he might get for participating in the satirical albeit bigoted Iranian contest. "Some will say I am stupid because Iran is the Number One Enemy of the United States! Come on! Since the beginning of the Iraq war, everybody is the enemy of the United States, even Canada! You don't believe me? Try a Google search with the word 'Canuckistan'! Even the Pretzels are the enemies of the U.S.A., for menacing the life of the President Bush years ago!"
Pageau finds the controversy over depicting Muhammad in cartoons more than a little ridiculous. Historic in the attention it gained for cartoons, but still ridiculous. "It's obvious that this is just another good example of mass manipulation," he said. "The Muslim fundamentalists have learned it very well from the U.S. administration. ... When I studied Fine Art at Laval University," he continued, "in art history, I learned that Islam doesn't permit [artists] to picture the human body, but nobody told me that it is completely forbidden to draw Muhammad the Prophet or Allah for everybody in the world, Muslim or not! What is that? I can realize a caricature of God, Jesus, Yahweh, Buddha, Ra, but not Allah or Muhammad? Drawing a cartoon criticizing Muhammad is attacking and insulting Islam? What about Jesus, my God—considered in the Quran for centuries as only a little prophet lost in the multitude of other prophets—isn't it insulting for all the Christians? And I bet easily that a lot of people in the world drew at home much more silly cartoons of Muhammad than before in history since last February's events! It is in the human nature to defy authority."
Except, apparently, in the United States. He went on: "I was very shocked when the Canadian and United-stater newspapers refused in block to reprint these very inoffensive cartoons. A great gain for the so-beloved Freedom of Speech of the western world, really! Welcome to the Mighty America, land of the Freedom of Expression! It seems that it is almost criminal these days in America to express publicly sincere opinions about the Forever War in the Middle-East. ... And they dare to call their country Land of Freedom of Speech!!! Please, let me laugh (out loud)!!!"
Is the Iranian contest anti-Semitic? Pageau scoffed at the idea: "That doesn't make sense for me! If I draw a cartoon mocking or criticizing the stupidity of the Foreign Policy of the United States, I am anti-American. If I draw a cartoon mocking or criticizing the stupidity of Foreign Policy of Israel, I am anti-Semitic. If I draw a cartoon mocking or criticizing the stupidity of the Islam, I am anti-Muslim. If I draw a cartoon mocking or criticizing the stupidity of the actual Government of Canada, I am anti-Canadian. If I draw a cartoon mocking or criticizing the stupidity of the actual Government of Quebec, I am anti-Quebec. And if I draw a cartoon that shows a dog, I am anti-animal. If I draw a cartoon that shows a stone, I am anti-mineral. If I draw a cartoon that shows a tree, I am anti-vegetable. Where would the anti-everything stop? Can I draw something without being insulting? If not, I believe that our beautiful Western Democracy is totally sick. If I am anti-something, then I am anti-stupidity!"
Pageau submitted four cartoons to the competition. He didn't describe any of them; maybe he wasn't asked to. But if you click on the link in our second paragraph, you can scroll around to find the Pageau Interview and one of his cartoons, a fairly outrageous example of racial stereotyping that, now that I've heard Pageau himself, I'm sure he enjoyed doing, hooting with perverse laughter the whole time as he defied the authorities of good taste and civic comity like a kid throwing rocks through the neighbor's window.
A society that doesn't allow religions to be mocked cannot be considered free. —A Nanny Moose
COMIC STRIP WATCH
Violence Is Not Funny
Apparently, a letter to the editor of the Washington Post, published September 2:
The Aug. 26 Hagar the Horrible comic strip showed the result of a couple "ironing out" their differences. The man's head was heavily bandaged; the "punch line" was that the wife hit him with her iron. If the situation had been reversed, with a man giving his wife a black eye, I'm sure you wouldn't have run it. Attention is only beginning to be paid to the physical and psychological harm to men and boys when men are routinely depicted as fools on television and in movies and when boys' academic performance and dropout rates are at a crisis level. Such stereotypes can no longer be played for laughs. —David S. Rose, Silver Spring
True, all true. No comic strip ever depicts the husband bashing the wife. Maggie got away with skimming crockery at Jiggs' head for at least forty years, and he could never raise a finger to her. (Well, maybe, unbeknownst to us, there was a finger that he raised, surreptitiously, when no one, including the redoubtable Maggie, was watching. You could hardly blame him for resorting to this antique gesture of defiance.) No one ever complained, that I know of, about Maggie's brutality. They surely would have had the situation been reversed. But today, we have David Rose to protest the battered husband syndrome. But he's wrong about one thing. I doubt that boys today suffer much psychological harm from the funnies: American youths no longer read newspapers, David, so the young male animal isn't likely to encounter any of these psyche-distorting images in Hagar.
Elsewhere: David Rees' Get Your War On is not much of a comic strip. It's illustrated with clip-art, and the pictures veer off in the direction of being the same poses over and over again. In a visual medium, such a performance very nearly disqualifies the effort. Rees completes the disqualification by choosing clip-art without regard for what's transpiring in the speech balloons. For him, visual-verbal blending isn't part of the game at all. Like too many of today's so-called comic strip cartoonists, Rees isn't; he's a writer who has wandered into an artform that is only half-write. In a more advanced civilization, he'd be writing witty paragraphs in a daily newspaper column, a genre that, sadly, expired a few decades ago. Here's one of his recent "columns" as it appeared in Rolling Stone, September 7: How come the terror plots that lead to the worst airport inconveniences are the fuckin' B-list, retarded terror plots that would never work? If I'm gonna have to surrender my shoes or my shampoo or whatever, at least let it be because people have actually been killed! Enough of this theoretical bubblegum-missile bullshit! I wish someone would try to blow up a plane using New Age music so I wouldn't have to sit and listen to that shit while people are boarding. Do you think we could pay a terrorist to try to kill infidels using some kind of "lack of legroom in coach" bomb? There. Funny, right? Witty, biting satire. But we don't need pictures to appreciate the jokes. So why does Rees get away with inflicting on us clip-art of two guys talking to each other on the telephone? Dull, lifeless visuals. Dull, dull, dull.
BOOK MARQUEE
Four More Wars! is the title of a new collection of cartoons by Mike Luckovich, editoonist for the Atlanta Journal-Constitution and winner last year of both the Pulitzer and the Reuben. Editor & Publisher notes that the 180-page paperback will also include humorous features by Luckovich, such as anecdotes about his encounters with Secretary of Defense Rumsfeld (something about a push-up contest) and President Bill Clinton (who Luckovich persuaded to draw a self-caricature).
In case you missed it, Peter Maresca's archival reprinting at its original publication size of Winsor McCay's Sunday masterpiece, Little Nemo in Slumberland, was a gigantic success: the initial printing of 5,000 sold out quickly, and Maresca went back for another 4,000. The success of this venture seems poised to bring about a whole new era in comics appreciation. First, Calvin Reid at PW Comics Week reports, Maresca is presently at work on a second Nemo volume, this one reprinting strips from 1910-1914, when McCay had left the New York Herald and was doing Nemo for the Hearst works, plus some pages from the 1924-26 revival. The book's format at 16x22-inch page size is the same as the first volume's, and the second will be offered with a slipcase for both books. Maresca, who is doing the high-res digital scans and corrections himself, as he did for the first volume, says the new book will be out next summer. And after that, Maresca expects to launch a monumental historical comics project—The Best American Newspaper Comics, another restoration enterprise that will feature full-size reproductions in full color of classic comic strips beginning with the 1895 Yellow Kid and including strips from the next six decades. It will run seven or eight volumes, all of the Nemo tome's size until the project reaches the 1930s, when newspaper page size began shrinking. Printing such volumes is a long process. "Each book is hand-bound because they're so big," Maresca said. And they will be expensive to own: the first Nemo book was priced at $120, and subsequent volumes of the series are not likely to cost less.
FUNNYBOOK FAN FARE
My stack of unread comic books must be nearly three feet tall. I vow, repeatedly, to do my duty and read them, but before I can get a grip on even a small corner of last week's pile, this week's books arrive, and I'm further behind than ever. But I managed to look into Superman Batman Nos. 21 and 25 this week and was impressed by the lavish color and the anatomy all over the place. Corded muscles abound, knotting and unraveling and knotting again. But not much else. The usual slugfest, but, even sadder, these events seem to transpire entirely in the void of outer space. Ed McGuinness, for all his drawing skill, supplies so little in the way of background that the story has no locale. In contrast, consider the Dodsons' (Terry and Rachel) Wonder Woman No. 2, in which we find lavish color, anatomy all over the place, a slugfest or so, and copiously detailed backgrounds. We know where all this takes place. Like McGuinness, the Dodsons are experts at figure drawing, but they're more than just figure artists: they're also comic book storytellers. The story finds Diana Prince in an identity crisis: she is charged to find the real Wonder Woman so three villains will retain their new benevolent natures. Giganta inspires the slugfest. Speaking of experts, I picked up a copy of JLA Classified No. 16 purely to look at the work of Jose Luis Garcia-Lopez again. I confess that I find something a little old timey about Garcia-Lopez's breakdowns and layouts: he pulls every composition trick in the deck, and the resulting ensemble evokes the time when comic book cartooners manipulated these aspects of their medium for dramatic effect and visual excitement. Now, all we seem to have in abundance is expert figure artists like McGuinness. Give me Garcia-Lopez every time. I'll keep his JLA title but not McGuinness' Superman Batman.
Loveless with No. 9 is finally resuming a storyline. I liked very much the atmospherics of a few of the done-in-one issues, but Brian Azzarello keeps insinuating some larger tale, lurking at the edges, waiting to be told. Maybe now we'll get to it. Azzarello's storytelling gimmick, though—his running at least three stories (or is it four or five?), in fragments, that seem to take place at three different times—is annoying in the extreme. And neither of the artists drawing this title, Marcelo Frusin or Danijel Zezelj, render the continuing characters recognizably from page to page (or era to era in the time shift). Zezelj's art is profoundly moody, capturing the eye and seducing the imagination. And it's also beautiful deployment of muted color and solid blacks. But his shadowy figures have no faces. Frusin is somewhat better in that regard, but too many of the continuing characters have beards and wear their hats so low that the upper portions of their faces are in shadow. And the monochromic coloring effects, subtle indicators—often too subtle—of the time frame, don't help at all. A character's blond hair appears gray or orange in different times. It often takes me a page or more to realize which of the characters is now on stage; and by the time I've figured that out, Azzarello has shifted the time frame again, and we're back in Civil War Kansas, riding with the guerrillas. Seth Cutter seems to be the central figure in this series, and his wife Ruth hovers around, too. Or is his wife Julia? And if so, who's Ruth? Something terrible happened when Seth went off to the war, and now he's come back to Blackwater and become sheriff and must contend with the local corrupt political boss. Is Seth looking for revenge? And why does he wander the town with his peter hanging out in No. 9? Or is that just a joke? Probably Azzarello intends his tale to accumulate, to amass narrative detail and connective tissue bit by bit, until, at last, the whole yarn will lie before us, a tangled yet decipherable skein. As we go along, we are expected to collect the bits and store them away, awaiting the revelation of their significances. He does somewhat the same thing in 100 Bullets, but in that series, there are fewer sidetrips, apostrophes to tangential issues, than in Loveless. Whatever he intends, we are left with little choice: if we want to find out what Seth Cutter means, we must trail along Azzarello's route, picking up pieces as we go.
And while we're on the subject of elliptical narrative technique, here's Civil War 1. I think that's the title, but Marvel's "Civil War" runs with so many titles and subtitles that it's difficult to sort them out. I bought Civil War 2 twice, the second time with Peter Parker on the cover, not realizing that the interior of these two books is exactly the same. Because cross-over series like this are so dazzlingly convoluted, the numbering and continuity so baffling, I refuse to participate: I won't get started buying a string of connected titles that threatens to be unending when the plots require not only endless purchases and numerical record-keeping but intimate knowledge of the past histories of the characters and their fraught relationships. While I have no intention, then, of following the bends and twists of the Civil War, I bought Civil War 1, as I say, just to see how it started. (And I picked up Civil War 2 because I wanted to see Peter Parker unmask himself in public—a historic moment that no one should miss. Apparently, no one did: my comic book shop ran out of this title almost at once and had to order more.) I was pleased to realize, when I reached the end of the first issue, that the proposition that launched the Civil War—the government's requirement that superheroes register, thereby revealing their secret identities—is not nakedly propounded and then flung out at the reading masses in the usual fashion of these four-color frolics. Instead, the treatment is elliptical, as I implied: we witness the incident that started the outcry for registration, but we learn of the "movement" for registering superheroes on "Larry King Live" when King's interviewee responds to a question that King presumably asked just before we tuned in. And gradually, as the pages turn, the complications pile up, eventually constituting a crisis. But the crisis isn't sprung on us, full blown, in the customary manner of comic book scripting. That is, in the way it was done in the old days. Nicely wrought, Mark Millar.
I also dipped in DC's 52 series, the title that is coming at us once a week for the next year. To properly appreciate it, you must, as with the Civil War across town, buy every issue and keep cross-referenced records. Which I'm not doing. But I bought Week Two and Week Eleven. The death of Ralph Dibny's wife last year I thought was a particularly egregious abuse of the medium, employing death merely to shock and to sell comic books, I thought. Maybe not. Maybe it was all part of a vast plan of which 52 and "One Year Later" (OYL) are a part. More likely not, but whatever the case, Dibny is clearly a part of the 52 tale. And in Week Two, we encounter the most provocative of the story's elements: Superman's chest-symbol, when upside down, represents, we learn, Resurrection, and Dibny sees it spray-painted on his wife's tombstone. H'mm. This could get interesting. As for Week Eleven, the much touted debut of Batwoman as a "lipstick lesbian" (she enjoys being feminine), it was both disappointing and intriguing. It was disappointing, no doubt, to the salivating sorts who want to "watch" lesbian love-making: Batwoman, Kate Kane, commits no lesbian act that I could detect. As for the intriguing part: Renee Montoya, the defrocked lesbian cop from Gotham Central, is in pursuit of Intergang accompanied by a supposed faceless fella named Charlie, and they fall into the clutches of Whisper d'Are and her henchman, Abbot, a sort of werewolfie, and Renee and Charlie are rescued by Batwoman, who Renee, once Kate Kane's lover, "recognizes" (we think). Well.
I'm not sure, after witnessing several attempts, that the Escapist comic book hero from Michael Chabon's novel can be turned into an actual comic book character, but Dark Horse is determined to try. The latest attempt is The Escapists, plural, which, I'm ashamed to admit, was so bland that it didn't inspire any sort of reaction at all in Rancid Raves critique department. Eduardo Barreto's 3-page "golden age" comic book excerpt, however, is nice. But Philip Bond's squat figures in the main story left me just staring blankly down at them. And Brian K. Vaughn's story, which concerns a obsessive comic book fan named Maxwell Roth and his fascination with the Escapist, seems a little jejune for Vaughn.
The Big Red Cheese Returns Again
The Trials of Shazam is another in DC's spasmodic attempts to revive and rejuvenate the Fawcett character who was so popular in the 1940s that his books outsold Superman titles. And this attempt, like all the others except the first, to which Captain Marvel's creator C.C. Beck contributed the art until, exasperated by puerile scripts, he threw up his hands and quit, seems doomed. Although this is another try at squeezing the character into today's mold, the relevant and personality fraught hero, writer Judd Winick and the DC minions have finally comprehended one aspect of Captain Marvel's mythos that has so persistently avoided corporate understanding heretofor. The magical aura of the Fawcett hero's adventures. Superman is science fiction, but Fawcett's Big Red Cheese was about magic. Many of the previous abortive attempts at reviving the character have failed because this essential fact has escaped notice. This time, they notice. Winick is making a serious try, here. "Captain Marvel has been treated like a lightweight for years," he told Matt Brady at Newsarama.com, "and I don't think the character deserves that. He needs his own place, where he rightfully should be in the DC Universe." Priding himself on doing fun dialogue, Winick intends the book to have "a lighter feel—but it will have some weight. The character deserves to be taken seriously. That doesn't mean it's a serious book; it means that I'm going to take the character and what he means seriously." For Winick, that means, apparently, something like Aaron Sorkin's "West Wing." "Sorkin wrote really funny dialogue," Winick said. "Dialogue can be humorous and light, but still have gravitas. That's what I'm talking about." Winick wants to avoid "silly" though. Fawcett's Captain Marvel was, he said over and over, "silly." And he doesn't want silly. "We're not going to have a tiger walking around in a suit," he said. "That's silly." But "that doesn't mean we're not going to have a tiger that is somewhat anthropomorphic and talks like a man."
To achieve the new title's magical nimbus, Winick reminds us that the Wizard Shazam is dead, leaving "a void" in the world of magic, "a break in the chain. Magic is all about power," Winick continues, "and the Wizard Shazam is the keeper of that power, and it had to go somewhere [when he perished], so it went to Captain Marvel. That magical energy is [now] flowing through him." Which is why, in the first issue, we see Captain Marvel with Shazam's long white hair at the end. This issue also includes a four-page interlude with Captain Marvel exchanging fast-paced Sorkin sentence fragments with Zatanna. It didn't seem all that funny, but Zatanna is a magician, so in Winick's perception of the series, she clearly belongs in the same book with the new wizard of magical power, Captain Marvel. Winick admits that the first issue isn't where he wants the title to be yet. He has a higher opinion of his second and third issues. But if the first issue is any indication, I think he's off on the wrong tack just as all his revivalist predecessors were.
Winick thinks Kyle Baker's revival of Jack Cole's Plastic Man was "brilliant" but "nobody bought it." Baker's Plastic Man was highly amusing, but it wasn't Cole's Plastic Man. It was Baker's. So it wasn't a revival at all. If Winick thinks he'll achieve his goal with Captain Marvel if he does what Baker did with Plastic Man, then we're not going to have any kind of a revival of the fantasy spirit that once animated the Fawcett character. Instead, we'll have another Superman but one that wears red tights.
There are two aspects to the problem in reviving Captain Marvel, or one with two branches. The Fawcett Captain Marvel was written for juvenile readers, readers who could identify with Billy Batson and were thrilled at the idea that saying a magic word could turn a kid into an all-powerful adult. Kids, we suppose, aspire to the same effortless mode of transition to adulthood. And power. The comic book readers Winick and DC aim for aren't kids, so that essential aspect of Captain Marvel's historic appeal won't work. Those of us who remember the Big Red Cheese with a fondness surpassing all actuality won't find him in Winick's new Wizard. The second aspect to the problem is the magic. Magic instead of science fiction. Winick has seized this interpretation with both hands and made it central to his concept. But he seems bent on making the magic serious: Captain Marvel as the new Wizard Shazam is laced with gravitas, world-saving gravitas. But in Fawcett, the magic was an aspect of the silliness. Just as Captain Marvel is created when hit by a magic bolt of lightning, so are the crimes he solves the crimes of magicians—evil scientist inventors whose inventions threaten civilization even though they are silly. Here's a mad man who invents a machine that makes history go backward, so all the inventions of the modern world disappear. The mad genius takes them all to a parallel but somewhat primitive world where he hopes to make millions by selling them to the local populace. Captain Marvel takes most of the story to figure this out, and then removes the threat to civilization by knocking the mad scientist on his keister. Many of the Fawcett stories are like that: Captain Marvel struggles for most of an adventure to figure out what's going on, and then restores civilization with a few well-placed punches. Lots of flying but not much pugilism. But that's beside the point. The point is that magic in the Fawcett oeuvre wasn't an occult machination: it was, rather, an aspect of fantasy. Superman is science fiction; Captain Marvel is magical fantasy. Winick has taken the magic seriously: he's explaining it as he would science fiction. And the fantasy is draining away.
The object in reviving the Fawcett character should be to recapture the feeling that was generated back then by magical fantasy. And if the adult readers DC is aiming for no longer pine for magical fantasy, what would inspire the same feeling? I'd opt for a super-powered character that gently, subtly lampoons super-powered characters. The stories would center on Captain Marvel's struggle to be a super-powered hero in a world in which science fiction seems, to Captain Marvel, to be magic. There'd be a satirical edge. I wonder how far that would take us to the spirit of the original. Farther, I ween, that burdening the Big Red Cheese with Shazam's role as the Big Wiz.
Howard Porter's art for The Trials of Shazam is impressive in its painterly approach. Even spectacular sometimes. But he hasn't the knack, yet, of getting the faces right. Captain Marvel looks different in nearly every picture. Alex Ross got that right: he uses real life models, whose faces, naturally, are the same from pose to pose. And Ross copies them. Porter isn't doing that: he's painting like a cartoonist, using the faces he sees in his head and, then, on the paper in front of him. He makes the faces as he paints them, and so each one is a little different. Spectacular art, but not as functional as it should be in a storytelling context.
THE THINGS PEOPLE SAY
From Entertainment Weekly, September 1: Bob Dylan says music hasn't sounded good for 20 years. "Granted," he concedes, "that's around about when, on doctor's advice, I stopped hearing it through my nose." I've never seen a photo of Dylan smiling. He always looks so ponderously serious, so significant. So pained. Why is that? With his funny hats and electric shirts, he gets to play dress-up all day long every day. You'd think he'd be happy about that. That and his uncommon luck in parlaying a grating nasal twang into a musical career.
HOW IT WAS ONCE: A SOFT-FOCUS LOOK BACK
I don't often do this—pad the proceedings with the wholesale appropriation of others' penmanship—but Michael Kimmelman's July piece in The New York Times is too delicate to suffer the dismemberment of excerpting and too good to pass by. So here 'tis, whole:
An Exhibition About Drawing Conjures a Time When Amateurs Roamed the Earth
By Michael Kimmelman
New York Times, July 19, 2006
"Playing the Piano for Pleasure" is a minor classic of self-help by Charles Cooke promoting musical amateurism, published in 1941 in the upbeat style of Dale Carnegie. It lays out a strict regime of practice and discipline, the musical equivalent to a better body in 30 days. "We will worm our way, expending considerable effort, into the small end of the cornucopia," he promises, "in order that we may later emerge, expending less effort and having the time of our life, out of the large end."
I was reminded of Cooke while visiting the Grolier Club, where a show called "Teaching America to Draw" provides a refresher course in pencil-pushing and other sorts of sketching as a collective pastime. It's about that golden era, from the time of the founding fathers nearly to Cooke's day, when educated Americans drew as a matter of course. Drawing was a civilized thing to do, like reading and writing. It was taught in elementary schools. It was democratic. It was a boon to happiness.
From 1820 to 1860, more than 145,000 drawing manuals circulated, now souvenirs of our bygone cultural aspirations. Not many of these manuals are still intact because they were so heavily used, worn down like church relics, which supplicants rubbed smooth from caressing.
We're addicted to convenience today. Cellphone cameras are handy, but they're also the equivalent of fast-food meals. Their ubiquity has multiplied our distance from drawing as a measure of self-worth and a practical tool. Before box cameras became universal a century or so ago, people drew for pleasure but also because it was the best way to preserve a cherished sight, a memory, just as people played an instrument or sang if they wanted to hear music at home because there were no record players or radios. Amateurism was a virtue, and the time and effort entailed in learning to draw, as with playing the piano, enhanced its desirability.
Drawing promoted meditation and stillness. "A sustained act of will is essential to drawing," Paul Valéry put it. "Nothing could be more opposed to reverie, since the requisite concentration must be continually diverting the natural course of physical movements, on its guard against any seductive curve asserting itself."
A century ago it was possible for a Philadelphia educator named J. Liberty Tadd to instruct young women to stand in pigsties to learn to draw animals directly from nature. There's an illustration in the show from Tadd's "New Methods of Education" of a girl in a long, improbably immaculate dress sketching pigs on a blackboard.
The exhibition is full of such exhortatory books, many of them discomfiting today because they presume a degree of skill among ordinary citizens—even children—that would now be regarded as noteworthy in the art world. There are exceptions, like a popular manual from the 1840's by Benjamin Coe, one of Frederic Church's teachers, who, to judge from his illustration of a maiden in a glen, needed a little brushing-up on perspective. On the other hand, there's J. T. Bowen's "United States Drawing Book," from 1839, with its moody view of a crumbling cathedral in a landscape, and P. Fishe Reed's "Little Corporal's Drawing Book," a progressive manual from 1869 with bird drawings that Audubon might have been proud to make, conjuring an America in which 10-year-olds are absorbed not by Game Boys and iPods but by the finer points of mastering realism. Clearly these manuals were aspirational no less than educational or recreational. It's hard to imagine that most American schoolchildren during the 1870's could duplicate the leaves and bugs and complicated curlicue patterns that Herman Krusi Jr. drew in his manuals for classroom instruction. But Americans wanted their children to: that's the point.
Something happened between then and now, and it wasn't just the invention of gadgets that eliminated the need to draw. There was also a philosophical change, away from drawing as a practical endeavor and toward art appreciation. From dexterity and discipline to feelings and self-esteem: the shift in values is implied by some of the later books in the show. Consciously or not, they parallel changes in modern art, which threw out the rule books of draftsmanship and proposed a new, free-thinking attitude.
As for expending effort to become skilled at drawing, the post-Cooke postwar generation introduced Paint by Numbers, and the situation has gone downhill from there.
"Drawing in America is as much a basic human activity today as it has always been, even if it is not perceived to be as necessary to economic and cultural progress," Albert A. Anderson Jr. writes in the slim pamphlet accompanying the show.
I don't think so. Drawing and doodling are not the same. With the arts, American adults have acquiesced to playing the passive role of receivers. In a new memoir, Let Me Finish, Roger Angell recalls trips to the Polo Grounds and Yankee Stadium in the 1930's with his father, who also liked to join pickup games when middle-age American men still did that. Today baseball is like the arts, with grown-ups mostly preferring not to break a sweat. "We know everything about the game now, thanks to instant replay and computerized stats, and what we seem to have concluded is that almost none of us are good enough to play it," Mr. Angell writes.
So it is with classical music, painting and drawing, professional renditions of which are now so widely available that most people probably can't or don't imagine there's any point in bothering to do these things themselves. Communities of amateurs still thrive, but they are self-selecting groups. A vast majority of society seems to presume that culture is something specialists produce.
Rembrandt Peale published one of the drawing manuals in the Grolier Club show. Besides being an artist, Peale became Pennsylvania's first high school art teacher in the 1830's, hired by Alexander Dallas Bache, a grandson of Benjamin Franklin. People, Franklin pointed out, can often "express ideas more clearly with a lead pencil or a bit of chalk" than with words. "Drawing is a kind of universal language, understood by all nations," he reminded Americans.
We have given it up, at a cost that, as Franklin might have put it, is beyond words. Mr. Angell goes on in his book to say that television and sports journalism have taught us all about the skills and salaries and private lives of professional ballplayers, on whom we now focus, instead of playing the game ourselves. As a consequence, he writes, "we don't like them as much as we once did, and we don't like ourselves much, either." You can draw the analogy.
Dunston Barswig's Favorite Quotations
"You are not drunk if you can lie on the floor without holding on." —Dean Martin
"You'\'re only young once, but you can stay immature indefinitely."—Ogden Nash
"You know you're getting old when you fall down and you wonder what else you can do while you're down there." —A Nony Muss
"Ever notice how 'Wot the hell' is always the right decision?"—Dunston Barswig
GRAFIC NOVIL AND MANGA BY THE MASTER
The graphic novel sections of our bookstores are awash in manga, the Japanese-style comics populated by large-eyed, pointy-chinned, pinch-faced adolescents, who all look so much alike that the men seem effeminate, rendered with a wispy line that emphasizes hair styles and lingerie, and paced not by incident but by instants so that every event, however mundane, takes pages to relate, making feelings more important to a story than actions. Perhaps because of the enhanced emotional engagement, manga seem to appeal more to women than to men in this country, where domestically produced comics traditionally have had almost no female readership. To take advantage of the feminine appeal, most manga now available here is shoujo manga, created expressly for teenage girls. Whatever the cause, the appeal of manga has translated into whopping numbers: last year, Americans and Canadians spent over $120 million on this literary form that is foreign to U.S. readers not only by reason of its origins but in its very mechanisms. It is a mistake, however, to think all Japanese comics are frilly-witted shoujo manga. They aren't. And here to prove the point is The Push Man and Other Stories by Yoshihiro Tatsumi (208 6x9-inch pages in hardcover; Drawn & Quarterly, $19.95).
Tatsumi's characters don't have particularly large eyes; the women are not costumed as school girls with skirts short enough to offer a sexually intoxicating glimpse of panties; his lines are bold, his renderings simple, stark in clarity and impact.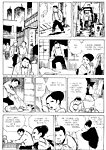 But Tatsumi is not producing manga: he is known in Japan as "the grandfather of alternative comics." In 1957, as editor Adrian Tomine tells us in his introduction, Tatsumi coined the term gekiga, "to differentiate the gritty, naturalistic style of cartooning he helped pioneer from that of the more commercial, youth-oriented manga." At 71, Tatsumi today runs a mail order bookstore for manga collectors; in 1969, when the stories in this collection were first published, he was publishing graphic novels for book lending shops in Japan.
The sixteen stories herein are short and focused with the high emotional clout of O. Henry's ironic plot twists, and Tatsumi's storytelling is much more direct and to the narrative point than most manga. He proceeds methodically, panel by panel, to present only the narrative details that are essential to the story and its ultimate impact. In every story, the protagonist is male, and nearly every one of them suffers in silence the ignominies inflicted upon him—faithless wives and lovers, sex without affection, meaninglessly routine employment, emotional isolation. In the first story, a factory worker is afflicted with an ambitious wife, who nags him to make more money so she can open her own business. Eager to please her, he shoves his hand into machinery, losing it in order to collect the insurance money, which she uses to establish her own club. She proves not very grateful for her husband's sacrifice, denies him her sexual favors, and threatens to leave him. He grabs her arm and thrusts her hand into a fish tank inhabited by piranha, which attack her hand. She escapes with her hand merely lacerated and leaves him; he kicks over the fish tank and goes out to find work where "disabled workers" are welcomed.
The title story is about a "push man," whose job is to shove people into the commuter trains, jamming them in, thereby increasing their capacity. By the end of the story, we see his work as a metaphor for sex. In "Test Tube," a young student makes extra money by donating to a sperm bank. When he loses his job, he attacks a young woman who has been impregnated with his sperm. In "The Pimp," the pimp is revealed as imprisoned, like the bird he keeps caged in his apartment. A sewer worker finds his girlfriend's just aborted fetus in the sewer. A transvestite seems more "alive" to his wife once he has found a second sexual relationship outside of marriage. In "Disinfection," a man whose job is to disinfect telephones tries to disinfect a prostitute. In "Telescope," a one-legged man watches through a telescope a couple making love, an old man and a young woman. The old man is impotent, but he achieves arousal once he knows he is being watched. The one-legged watcher, who is also impotent, is so frustrated by the old man's success that he kills himself.
Almost none of the male protagonists speak; almost all of them are betrayed by their spouses or friends, and several take revenge by murdering or maiming. Or they kill themselves. Tomine, who arranged for the publication of this volume, rejoices that the stories read "like the direct expression of a personality that is keenly observant, deeply self-critical, and constantly torn between sympathy and misanthropy." The device of the silent sufferer enhances the effects of the stories: since they don't speak, they don't communicate, and without communication— without connecting to anyone else—their isolation is complete, and therefore abject. Enduring the confined monotony of urban life in absolute psychic solitude, they either abide joylessly or strike out in frustration. Decidedly, not manga in either appearance or ambiance.
Push Man, published in September 2005, had sold 7,000 copies by December and went back to press for more. The online Comics Week of Publishers Weekly quoted Peggy Burns, D&Q publicity director: "I always said that Tatsumi's work was manga for the New Yorker set." D&Q is committed to publishing more Tatsumi, each subsequent volume representing a year of his oeuvre. A second collection, Abandon the Old in Tokyo, is out this month with stories from 1970. If the Push Man stories are dark, the Abandon tales go "much further in that direction," Tomine told PW. "Some go beyond 'gritty realism' and into the realm of gothic horror." At the same time, they are more comic. "There is a new level of humor on display, as well as a greater expression of human empathy. There are a couple stories that are extremely comedic and satirical—and several that will just break your heart." Some of this volume's stories feature a continuing character, a moon-faced young man who seems the prototypical loser. About him, Tatsumi says in a 2006 interview included in the book: "You could say I projected my anger about the discrimination and inequality rampant in our society through him." About the book itself, Austin Ramzy in Time Asia Magazine writes: "An example of early manga as nihilist social commentary, Abandon the Old in Tokyo is a revealing time capsule and a strangely moving portrait of survival in a land where everything is changing."
With its emphasis on ordinary people and everyday life, Tatsumi's stories are closer to the subjects of the original 19th century manga, which are not to be confused with 20th century manga, largely inspired by the post-World War II work of Osamu Tezuka. It was Tezuka who established the round-eyed style of cartoon characters in manga; with his Astro Boy and other such creations, he was imitating Betty Boop and Disney cartoon character designs, and his work was so popular that anyone who aspired to be a cartoonist aped its visual mannerisms. Tezuka's first work in 1947, the 200-page New Treasure Island, was an immense success. According to Frederik L. Schodt in his seminal Manga! Manga! The World of Japanese Comics, "No precise records exist, but sales of the comic are estimated at between 4000,000 and 8000,000, without benefit of publicity." Tezuka also inaugurated the pacing style in manga. In his autobiography, he writes about the "limiting" conventions of comic art in the late 1940s, all intended to be witnessed at a distance through the arch of a proscenium stage as an audience experiences a theatrical production. "This made it impossible to create dramatic or psychological effects," Tezuka said, "so I began to use cinematic techniques. ... I experimented with close-ups and different angles, and instead of using only one frame for an action scene or the climax (as was then customary), I made a point of depicting a movement or facial expression with many frames, even many pages." Tezuka's comics were therefore many pages long, and they explored human emotions at the prolonged intervals the pagination permitted. "I believed that comics were capable of more than just making people laugh," Tezuka said. "So in my themes, I incorporated tears, grief, anger, and hate, and I created stories where the ending was not always 'happy.'"
Cartooning in Japan has ancient roots, the first uncontested masterpiece created, Schodt says, at the beginning of the 12th century by "the now legendary Bishop Toba," who produced several scrolls depicting animals engaged in various, sometimes scatological, human endeavors, almost always humorously portrayed. Toba's work was imitated by others over the ensuing years but had only the limited circulation that handwrought pictures can achieve. When the woodblock printing process was sufficiently refined by the early 17th century, pictures both didactic and comical were produced in quantity and expanded the appeal of the medium. But the term manga didn't show up until the 19th century. It was coined in about 1814 by famed woodblock print artist Hokusai Katsushika (1760-1849), one of the "Five Great Names" in the art of his age, celebrated for, among other things, his masterful three-volume picture book, One Hundred Views of Fuji (1834-40)—"Fuji in a snowstorm," "Fuji from the sea," "Fuji through spider's web," "Fuji through a fisherman's net," etc.
In English, manga has been translated as "random sketches of life," "cartoons," "whimsical sketches," "drawing things as they come." Hokusai's Manga appeared in 15 volumes, issued periodically between 1814 and 1878, the last three published after the artist's death. In his Hokusai Sketchbooks: Selections from the Manga, novelist James A. Michener rehearses the legend about the origin of the manga. According to the preface in the first volume, Hokusai, on a trip to Nagoya, north of his home town of Edo (today's Tokyo), met with a number of his pupils and admirers, and in the course of a somewhat inebriated evening, he, and they, produced some 300 sketches of all kinds of subjects—Buddhas, scholars, fishermen, women, birds, beasts, grasses, houses, trees and so on, "the spirit of each captured fully by the brush." Said Michener: "From this first preface, some critics have got the idea that a group of jovial drunks dashed off more than three hundred fortuitous sketches in a few days. Certainly, the haphazard aspect of the Manga would support this view." Michener elaborates on the legend by supposing that after the "delightful brawl" of the soiree, Hokusai gathered up the sketches and re-drew them, assembling like subjects on the same page, then turned them over to a publisher. And when the book sold well, Hokusai produced more sketches in the same vein. This account, however, seems a little too casual an explanation for the nearly four thousand plates that make up the 15-volume series. More likely is the explanation offered 30 years after Michener by Richard Lane in his Hokusai: Life and Work.
By 1814, Hokusai was a commercial artist of considerable renown, having produced an impressive oeuvre of prints, picture volumes, posters, greeting cards, illustrated books, and paintings. In the feudal tradition of the day, artists began by apprenticing with a master, who taught them as they produced work under his supervision and over his signature. Hokusai had spent 17 years in the atelier, or workshop, of a woodblock carver and print maker named Shunsho, who specialized in picturing Kabuki actors as individuals rather than in their roles, the usual custom in the tradition of ukiyoe, "the floating world." Ukiyoe initially focused on the activities of men and women cavorting in the red-light district of Edo but eventually diversified to depict the ordinary pleasures and pastimes of the day and became part of the culture of the "Edo Period" (1603-1868, its end marked by the restoration of the Emperor). According to Schodt, ukiyoe "were lively, topical, cheap, entertaining, and playful. Masters of the genre regularly infused their works with humor, experimented with deformation of line, and dabbled in the fantastic, the macabre, and the erotic." For Hokusai, these were a prelude to manga.
In 1793, Shunsho died and the leadership of the studio fell to an artist younger than Hokusai. Two years later, Hokusai left the studio and struck out on his own, an extremely risky enterprise for the time when artists succeeded largely by trading on the reputation of the artist they apprenticed with, perpetuating in their work the style of the master. The speculation is that the installation of the new, younger, master created tensions and jealousies in the studio, and that when the new man criticized Hokusai's work in public, Hokusai left, escaping both the stress of the studio rivalry and the customary slavish atmosphere that was inhibiting his desire to expand his artistic repertoire. By all accounts, Hokusai was stubborn, proud, fiery individualistic and independent-minded—and somewhat conceited—as well as being extraordinarily talented. He had been accepted in the studio on the strength of his ability rather than family connections, of which, being of "unknown parentage," Hokusai had none. He was, in short, not the sort of personality to accept the primacy in the studio of younger less experienced artists.
Hokusai had earned a reputation while still, technically, an apprentice in the Shunsho studio, and within a short time after leaving it, he was attracting a following of younger artists. Although he never established a formal atelier, he loved to teach and had over 150 known pupils, whose signatures included, in the usual practice, overt reference to Hokusai. Says Lane: "The Hokusai School may well have been not only the largest in Japanese art history under a single master, but also unique in making wide use of the modern techniques of mass education: printed texts, after hours instruction, correspondence courses, advertising and self-publicity stunts." Among the latter, several incidents of monumental painting, one of which was performed before hundreds of people and took an entire afternoon. Dipping into numerous buckets of paint, Hokusai painted a portrait of the Zen Patriarch Daruma on a giant cloth measuring 240 square meters (800 feet). On another public occasion, in the spirit of a competition with another artist who had produced a formal design, Hokusai stepped up to a large expanse of paper and painted a decorative background of blue water. He then produced a rooster from a cage, quickly dabbled its feet with vermillion, and set the bird dashing across the paper, leaving red footprints, which provoked the artist's prompt christening of the piece, "Maple leaves on the Tatsuta River."
The first of the printed instructional texts that Hokusai produced was entitled Foolish Ono's Nonsense Picture-Dictionary (invoking the name of a famous ninth century statesman known for adroit word play). A set of two volumes, the 1810 Picture-Dictionary provided guidance in drawing specific subjects with both word and picture.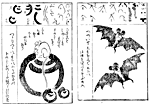 Two years later, he produced a similar text, Quick Guide to Drawing.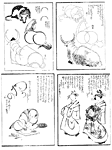 In 1814, the first of the Manga series appeared, but instead of the formal step-by-step instruction of the previous books, it offered page after page of sketches, each page depicting various views of the same subject—a fisherman, a woman bathing, wrestlers struggling together. But there was no particular order from page to page; the book was, as it was titled, "random sketches." It, like its predecessors, was clearly intended as an instructional text for Hokusai's pupils, many of whom seldom saw their master in person, and other would-be artists.
When American novelist Michener first saw Hokusai's Manga, he was utterly captivated. "The sketches in these books had a little for everyone," he wrote, "from rural scenes to everyday life in Japan, and throughout you could get a sense of comedy." It was a kind of storytelling achieved entirely by visuals distinguished by their design quality.
An charming glimpse of Hokusai as a man and as an artist can be found in Francois Place's ostensible children's book, The Old Man Mad about Drawing (110 6x9-inch pages in hardcover; $19.95), in which a young street seller named Tojiro becomes apprenticed to Hokusai, and we learn something of the artist's working methods and attitudes. His famous name, for instance, is not the name he was born with: during his working life, he changed his name (his signature) many times. "An artist like me changes names every time he starts a new period of his life or changes his way of painting and drawing," says the Old Man in Place's book. Hokusai employed about thirty names during his long artistic career, Lane tells us. Some of them appeared only briefly; six lasted long enough and were attached to art significant enough to be important. He didn't start using the name "Hokusai," which means "North Studio," until 1796, shortly after he left Shunsho's workshop at the age of 35. When Place's young street merchant meets him, he is signing himself "Gakyorojin Hokusai," which means, he explains, "Old Man Mad about Drawing." He had been signing some of his work "Man Mad about Drawing," but in his mid-forties, he added "old" to his signature. His alleged madness was an affectation, Lane says, although "he could be so single-minded as to seem mad in the eyes of more ordinary and temperate contemporaries, and a reputation for eccentricity certainly gave him an excuse to indulge in his inspirations without interruption or overt criticism." In his claim to be old while not yet fifty, Lane "senses not only a desire prematurely to present himself as an established 'grey eminence,' but also the beginning of a strong tendency to distance himself from the frenetic world of fashion and sophistication that was the milieu of the traditional ukiyoe artist."
Place's book is handsomely, ingeniously, illustrated: a score or more of Hokusai's paintings and prints, including several from the Manga, are reproduced, and Place illustrates the doings of his Old Man and Tojiro in the style of Hokusai's manga, a delightful tour de force.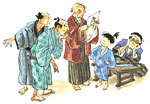 While the volume gives us an engaging portrait of an eccentric old artist, it glosses over the extent of his peculiarities. According to J.A. Hitchcock, reviewing Michener's book in the magazine Mangajin (June 1997), a notice over the artist's studio door warned: "It is no use bowing and scraping or bringing me bribes." Hokusai was so obsessed with drawing that his dwellings were notoriously unkempt, "and he didn't bathe very often or wear clean clothes." His work was immensely popular, but he lived like a pauper because his eldest son spent the father's money as fast as he could, forcing the old man to move frequently to hide from bill collectors and avoid paying the rent. By his own count, Hokusai lived in 93 different houses, "abandoning them," as Michener says, "when they became either too dirty to clean or too burdened with back rent. He once joked that it was cheaper to move than to clean up."
Place's story about how the famous manga came about fits nicely into Lane's version. Place says they were produced in response to a challenge from some other artists who criticized Hokusai for not teaching anyone how to draw. Says Place's Hokusai: "I took a great bundle of sheets of paper, ink, and a brush, and began to draw [by way of demonstration or instruction] everything that came to my mind, as quick as thought, without stopping. A mountain? Here it is. A bunch of beggars? Here they are. Acrobats, a cascade, a pine forest, three frogs, a woman combing her hair, an old man yawning. ... I drew all day long. Caught up in the game, my friends suggested things for me to draw. Later, a publisher friend wanted to reproduce these drawings in an album. The idea appealed to me, so I drew hundreds more, enough for several books. I called them manga, 'thought-up drawings' [done without a live model], and these collections became known as the Hokusai Manga."
With the Manga, "a debauch of sketches" one critic called it, Hokusai liberated himself. "Hokusai is incomparable," one commentator said. "While all his predecessors were more-or-less slaves to classical tradition and inherited rules, he alone emancipated his brush from all such fetters and drew according to the dictates of his heart." And ordinary citizens, in their turn, took the books to their hearts. Until the Manga, popular art extolled imaginary heroic actions like those of the theatrical world; Hokusai's books filled a void by focusing attention on everyday life. The books of Manga, Michener believes, were purchased mostly by the common people, not the intellectual or art elite. The Manga were a popular as well as a vital art experience. As they are today, albeit in a vastly different form.
Pondering the enduring popularity of Hokusai's Manga, Michener concludes that it is its "simple honesty, its peasant force, its lack of pretension that have kept it popular with artist and layman alike. ... In the perverse manner that oftentimes makes the village drunkard and not the vicar the most loved man in the countryside, just so does the Manga hold our affection." Michener quotes an art critic for the Japan Times: "the vivacity of this pageant recalls a related sense of human turmoil in the sketches and etchings of Hokusai's contemporary, Goya. But Hokusai is without the bitterness that choked the Spaniard. The Japanese comedie humaine has a strain of satire and ridicule, but no more than actually resides in the human species and is there for all to see who have the piercing vision of a Hokusai." In Lane's view: "The Master's work is so full of humanity as almost to obscure the true quality of his artistic talent. ... Commonplace humanity is the essential element of Hokusai's theme, but design is the keystone of his artistry."
In the seemingly endless invention of subjects and designs in the Manga, we can find intimations of the sensibility that produced the famed One Hundred Views of Fuji, about which we, as did J. Hillier, a British critic, must marvel "at the originality, the fecundity, the virtuosity, the revelation of immense vistas newly opened [that] can be achieved by ingenuity in choice of view point, inventive composition, [and] marriage of central theme with minor motives."
Hokusai was one of the most prolific of the world's artists. He produced something like 30,000 designs, about 170 print series and nearly 300 illustrated books and albums. His passion, his hunger for artistic expression and his dedication to excellence, are legend. Mad about drawing indeed. Place notes that on the last page of One Hundred Views of Fuji, the artist had recorded his progress as an artist: "At fifty, I had already drawn a great deal, but nothing that I did before my seventieth year was worth any great note. At seventy-three, I began to understand. ... At eighty-six, I will have made more and more progress, and at ninety I shall have penetrated even further into the essence of art. At a hundred ..." On his deathbed at the age of 89, Hokusai is said to have cried out: "If Heaven could only grant me ten more years! Only five more, and I would have become a real painter."
Heroic.
About Michener's Book of Hokusai's Manga
Michener's book has a piquant Carlylean history. Published in 1958, it was not the book Michener expected to produce. The one he intended to publish was lost at sea: Michener was taking it to its Japanese publisher when the airplane he was aboard with his completed manuscript crashed into the Pacific Ocean. "Fortunately," Michener writes, "all passengers and crew members were saved, but my manuscript and the make-up pages illustrating it were lost. But," he continues, "there could have been no finer therapy for me, in the days following the accident, than the reconstruction of this manuscript because it dealt with Hokusai, and if there is any artist in the world who has caught the exact emotions that possessed me when I looked out of the door of the ditched plane and saw the friends who had preceded me struggling in the ocean—if there is any artist who has depicted men and women tangled up in life—it is the man who drew the teeming, tangled pages for the Manga sketchbooks."
I encountered Michener's book of Hokusai's manga in the fall of 1959 during my first sojourn in New York, but I didn't know what it was. In those days, Brentano's had a bookstore on Fifth Avenue. So did another publisher, Scribner's, just across the street. (Brentano's is gone now, but Scribner's is still there with its wrought-iron balcony railing; it's now a beauty salon or something equally mundane.) I used to visit both establishments regularly. One day in Brentano's while browsing the tables of books in the mezzanine art books section, I came across The Hokusai Sketchbooks in its yellow dust jacket with the comical artist lettering the title.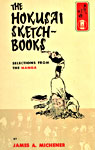 Knowing nothing, then, of Hokusai or of manga, I was intrigued simply by the drawing, and I picked up the book and opened it and was intrigued again and surprised enough to smile. The book's interior pages were, and are, like those of no other book I'd ever seen: every page was double-thick. The book's pages are printed on only one side of a sheet of paper, which was then folded in half at the center, printed side out; the sheets were then bound with the fold outermost, the "loose ends" gathered together with all other such folded sheets at the book's spine. The paper, while opaque enough to prevent images showing through, was so thin that the double-thickness of the pages did not make the outer edge of the book fatter than the spine side. This, I later learned, was exactly the way Hokusai's original Manga were published. I was so fascinated by the pictures inside and the usual pagination that I thumbed through the book again and again on subsequent visits to Brentano's on Fifth Avenue. I was tempted repeatedly to buy the book, but in those days, I was living hand-to-mouth in a garden (that means "basement") apartment on the upper West Side, trying, without much success, to sell gag cartoons on weekly visits to magazine offices at midtown. I couldn't afford to buy a book purely for the sake of its seductively antic drawings and inventive binding. So I left it there on the mezzanine of Brentano's on Fifth Avenue. And after three months, with Selective Service breathing down my neck, I left town. If I ever knew the name of Michener's book in those days, I can't say. I remembered its appearance, but not its title. So my surprise was complete when, my researches about Hokusai having provoked me to find Michener's book on the Web and order it, I opened the package upon its arrival and found inside the Brentano specimen exactly as I remembered it.
Metaphors be with you.
To find out about Harv's books, click here.