Opus 190:
<![endif]> <![endif]>
Opus 190 (August 30, 2006). Our featured stories this time include a lengthy review of a new book on famed illustrator-cartooner Russell Patterson, coupled to a biography and appreciation just posted to Harv's Hindsights, a discussion of sex and faith in America as prompted by the latest issues of American Virgin, and a short history of the Middle East with an emphasis on the hostilities between Jews and Arabs. Here's what's here, in order:
<![if !supportEmptyParas]> <![endif]>
NOUS R US
The real life origin of the Golden Age Green Lantern
9/11 Commission Report transformed into comic book format
Civil War delayed
Ralph Steadman's memoir about S. Hunter Thompson
Destinations for the traveling Peanuts exhibit
New Cracked without many comics
25 Most Controversial Movies of All Time
COMIC STRIP WATCH
A wildly hysterical letter protesting a Zits strip
BOOK MARQUEE
Russell Patterson
Alex Toth Doodle Book
Alex Toth Reader, Vol. 2
Buz Sawyer volume reprinting the first 14 months of the strip
Civilization's Last Outpost
Origin of "hot dog"
FUNNYBOOK FAN FARE
First issues of—
Casandra
Sidekick
Umbra
Jack of Fables
The Next
and reviews of—
American Virgin
Jonah Hex
Marvel Westerns are back
Bomb Queen
Ant
Danish Dozen Again
Anti-Semitic cartoons exhibited in Tehran and a short history of the Israeli-Arab animosity Hezbollah in Lebanon and the Bush League in New Orleans
And our usual reminder: when you get to the $ubscriber/Associate Section (perusal of which is restricted to paid subscribers, as if you can't tell for the initial cap in $ubscriber), don't forget to activate the "Bathroom Button" by clicking on the "print friendly version" so you can print off a copy of just this lengthy installment for reading later, at your leisure while enthroned. Without further adieu—
<![if !supportEmptyParas]> <![endif]>
NOUS R US
All the news that gives us fits.
Recently discovered original preliminary art for the Golden Age Green Lantern establishes, without doubt, Marty Nodell as the creator of the character and reveals the kind of tinkering with the concept subsequently done by Bill Finger, sometimes credited with a large share of the character's creation. As reported in the online Scoop, the artwork, a mostly inked single page—the first page in the origin story—was discovered at Nodell's home in West Palm Beach, Florida, by Nodell's son Spence, who was packing up his father's files for a move to Milwaukee. A widower, Nodell is in his eighties and has been ill recently, and it had been decided to move him to Milwaukee where Spence lives. Originally, as recorded on the six-panel page, the Green Lantern was named Willard Mason, a professor at Pueblo University, not Alan Scott, as he was christened in his first published appearance in All American Comics No. 16, July 1940. The preliminary version of GL's origin features a mysterious antique lamp made by an old Indian in Singapore; in the published version, the lamp was fashioned in China from a fallen meteor. "This shows that my dad was the sole creator of the Green Lantern," said Spence, adding that the differences between the preliminary art and the published story reveals the "significant contribution" made by Bill Finger, an often overlooked creator in the dawning years of the comic book. You can see the Nodell page at http://scoop.diamondgalleries.com/scoop_article.asp?ai=12899&si=121
Veteran comic book creators Sid Jacobson and Ernie Colon have produced what they refrain from calling a comic book version of the official 9/11 Commission Report. Entitled The 9/11 Report: A Graphic Adaptation, the book reduces the original text report of nearly 600 pages to a much more digestible 130 pages. Artist Colon tried to read the original report but gave up after 50 pages, he told Bob Minzesheimer at USA Today. "For a government report," he admitted, "it was well written, but it was still hard to follow—lots of Arabic names, and a lot of things going on at the same time in different places." When he heard about a possible tv adaptation, Colon started thinking about adapting it to comic book format, and he phoned Jacobson, a friend and colleague; the two worked on various Harvey titles together, notably Richie Rich, which Jacobson wrote and Colon drew. The result of their collaboration this time is what Jacobson calls "graphic journalism." Said he: "It's the story of an investigation, not a dramatization" of the horrific events of 9/11. The co-chairs of the Commission, while at first dubious about how their painstakingly assembled document would be treated in panels and speech balloons, eventually applauded the effort, writing a foreword for the book, praising the creators "for their close adherence to the findings, recommendations, spirit and tone of the original report." Ethan Heitner at TomPaine.com isn't quite so sure. He sees both good and bad in the adaptation. "The comic format uniquely allows the reader to follow the multiple events of 9/11 in parallel without confusion. That's pretty cool to see. But the dueling timelines, action-packed story of dastardly hijackers and heroic passengers only makes up the first 20 pages or so of the comic, the first chapter of the report." For the rest of it, the part dealing with the Commission's investigation and its findings, the captions drone on, pretty much telling us what the pictures are depicting, Heitner says. Still, he complains mostly about the attempts to enliven the proceedings with pictures or vignettes that are "quite frankly ludicrous depictions that can't help but color our perceptions of what's being described," which, he notes, gives the book an impact precisely the opposite of what the Commission intended when it "deliberately stripped out any adjectives to make sure it read as factually and unbiased as possible." But, he concludes, "I do kinda agree with the way Colon draws Dick Cheney in his single appearance—a snarling little man shying away from others. Anyways, the moral of the story? Nothing with a crying fireman on the cover can be good." On the plus side, an illustrated adaptation is sure to find more readers than the bureaucratic prose, and if you believe in an informed electorate, you can't knock this effort.
Frank Cho of Liberty Meadows fame and the designated artist on Brian Michael Bendis' new Avengers series next winter is auctioning off a page of original art featuring Spider-Woman to benefit the Harvey Awards, which, this year, will be held at the Baltimore Comic-Con, September 9-10. To bid on the artwork, visit cgi.ebay.com/ws/eBayISAPI.dll?ViewItem&item=160019313492 ... NBM is re-issuing Peter Kuper's The Jungle, the First/Classics Illustrated 1991 adaptation of Upton Sinclair's provocative 1906 novel about the unsanitary meat packing industry, just in time to celebrate the muckraking book's centennial. And later this year, the third volume of the complete comics adaptation of Proust's Remembrance of Things Past will appear. ... The Cartoon Network renewed "The Boondocks" for next year, but the new season won't begin as scheduled. The Network bumped up the contracted number of episodes from 15 to 25, and that seems to have caused a delay. Aaron McGruder, creator of the comic strip and its animated version, told Michael Giltz at the New York Post that it's likely to be March 2007 before the new material gets on the air. ... Robert K. Hoffman, founder of the National Lampoon magazine, died August 20 in Dallas. He was 59; the cause of death, leukemia. Although Hoffman's involvement with the magazine lasted only about a year, as managing editor he supervised several of the notorious early issues—the cover with Minnie Mouse as a stripper, the photo essay purporting to show that President Nixon, then in his first term, was actually dead, and the spoof advertisement for Volkswagen that depicted a floating Beetle (the car was renown for being virtually air-tight with its windows and doors closed), captioned: "If Ted Kennedy had been driving this car, he would be President today."
Issue Nos. 4 and 5 of Marvel's Civil War title will be delayed until September and November and will cause comic book shops to lose money. Joe Field of Flying Colors Comics in Concord, California, estimates the delay "will wind up costing my store sales in the five figures." Because the Civil War series is keyed into more than a dozen other Marvel titles, each linked to the over-all storyline, the release of the other Marvel books will also lag behind. The furor over the delay reveals, once again, the soft underbelly of the comic store industry, the financial vitality of which depends upon comic books arriving on their announced release dates. Simply put, dealers who order books pay for them in advance; and if the books don't show up on time, the dealers don't recoup their investment and haven't enough ready cash to order other books from other companies. A snowball effect soon develops: as their inventory diminishes, their income does, too. The difficulty at Marvel appears to be that the chief artist on the main series, Steve McNiven, isn't producing fast enough reported Chris Arrant at PW Comics Week online. That's complicated by other factors, such as writer Mark Millar's health, but since Marvel aims to compile the series in a trade paperback, the artist is an important factor in giving the compilation a consistent look. DC Comics is also involved in a long cross-over series, "52," with a new book to be released every week. So far, it's on time. And DC designed the series to be drawn by several artists, so one creator's delay may not upset the series schedule. Field, who applauds the Marvel series as a fast-selling title, thanks to great promotion from Marvel, also adds: "There's an old saying, 'Don't start vast projects with half-vast ideas.' I think the plan was solid, but Marvel's execution was lacking."
Marvel's deal with video game developer Bungie Studios has struck pay dirt with The Halo Graphic Novel, an anthology of stories based upon the game; it's the second best-selling graphic novel on the BookScan list. ... Also at Marvel, editor-in-chief Joe Quesada explained on newsrama.com that the company's erstwhile policy to publish solo series featuring gay or lesbian characters only in the MAX (adult) line is no longer operative. Quesada noted that the homosexual character Freedom Ring is the current star of the Marvel Team Up. Said Quesada: "Our responsibility is to entertain and to reflect the world around us as best we can while keeping in mind that our readers come in many shapes and sizes and beliefs. ... Diversity happens as a natural byproduct of our creative process and we have never done anything during my tenure to prevent or discourage that."
Ralph Steadman has written a memoir "as a form of therapy" after his long-time writing associate, Gonzo journalist S. Hunter Thompson, killed himself a year ago. Steadman told Martin Hodgson and Katy Guest at the London Independent: "When he died, it was as though a piece of shoreline and split off and fallen into the sea. I had to write myself out of the emptiness." The two met in 1970 at the Kentucky Derby while on assignment for Scanlan's magazine. "It was chalk and cheese," Steadman said: "we were so different, but I intrigued him because I did such vicious drawings." Their working relationship, "bonded over a mutual enthusiasm for alcohol," developed into friendship. According to Steadman, Thompson killed himself out of political despondency. Hodgson and Guest write: "Confined to a wheelchair by a spinal operation and hip replacement, Thompson had often spoken of suicide, but, Steadman reveals, what pushed him over the edge was the U.S. Presidential election in November 2004. A maverick who spent much of his life railing against the corruption of mainstream politics, Thompson had once run unsuccessfully for office as the leader of the Freak Party. But in the last months of his life he had thrown his support behind John Kerry's campaign. 'When George W. Bush got back in,' Steadman said, "I think that was the straw that broke the camel's back.'" Steadman's book, out this fall, is entitled The Joke Is Over.
A traveling exhibit of Charles M. Schulz's Peanuts strips and "images" begins September 5 in Shreveport, La., according to Editor & Publisher. Entitled "Snoopy as the World War I Flying Ace," the show will move in October to Great Bend, Kan.; then on to West Memphis, Ark., Bedford, Tex., Arlington Heights, Ill., Allen, Tex., Montezuma, Kan., College Park, Md., Texarkana, Tex., and Boulder, Colo. before ending on the USS Intrepid aircraft carrier in New York City, December 15, 2009 to April 30, 2010. ... Also from E&P: the 75th anniversary of Dick Tracy will be marked with an October 25 party at the Opera House in Woodstock, Ill., sponsored by the Chester Gould-Dick Tracy Museum. The Museum was founded in 1991; Gould lived near Woodstock for most of his working life. ... The first issue of the "new" Cracked is out. Calling itself "The Comedy Magazine," it is no longer a venue for cartoonists: the hilarities being committed within are achieved with photographs accompanied by irreverent juvenile captions and with short articles that are little more than lists of would-be witticisms. One such, headlined "Are You Naked?" treats nakedness as a mental disorder in which "having no pants" is the leading cause. It concludes: "Remember—nakedness doesn't have to come between you and the happiness you deserve. Life is an adventure, an exhilarating journey that usually has some kind of minimal dress code, and it's time to take that first step. No shirt, no shoes—no way!" Well, "ha." So there. A couple of page-long strips lurk within, but otherwise, Cracked is a different animal altogether from the magazine once graced with the drawings of John Severin and others of his distinguished ilk.
Editor & Publisher says the DVD of "Garfield: A Tail of Two Kitties" will be released October 10, soon enough after the theatrical release to suggest the latter was not a rousing success. The DVD includes "Drawing with Jim Davis" footage not seen in theaters. ... Also from E&P: Cartoonist Doug Marlette's second novel, Magic Time, hits bookstores September 19. It focuses on a newspaper columnist who returns home to Mississippi after suffering an emotional breakdown. Back home, he confronts a past that includes a Civil Rights-era murder of four activists, one of whom he was in love with. Marlette does political cartoons for the Tulsa (Oklahoma) World and the comic strip Kudzu; both are syndicated by Tribune Media Services. ... You may, if you wish, begin acquainting yourself with the history of comics in our northern neighborhood, Canada, by clicking http://archives.cbc.ca/IDD-1-68-2352/arts_entertainment/canadian_comics/
At the top of Entertainment Weekly's recent list of "The 25 Most Controversial Movies of All Time" is Mel Gibson's "The Passion of Christ" because of its seeming anti-Semitism. "A Clockwork Orange" is second for its alleged pornography and its incitation to violence among youthful street gangs. "Fahrenheit 9/11" is next because of its political bias against the Bush League; then, in order, "Deep Throat," for popularizing porn; "JFK," for lending nutso conspiracy theories "a certain patina of truth"; "The Last Temptation of Christ," for suggesting, albeit in a Satan-induced hallucination, that Jesus had sex with Mary Magdalene; and "The Birth of a Nation," for its depiction of African Americans as either childlike or sex fiends and for its treatment of the Ku Klux Klan as heroic saviors of civilization. Disney's "Aladdin" made the list at the very end: the American-Arab Anti-Discrimination Committee didn't like the song lyric describing Arabia as a land "where they cut off your ear if they don't like your face." Disney dubbed out the lyric in subsequent releases. That was in 1992.
<![if !supportEmptyParas]> <![endif]>
Fascinating Footnote. Much of the news retailed in this segment is culled from articles eventually indexed at http://www.rpi.edu/~bulloj/comxbib.html, the Comics Research Bibliography, maintained by Michael Rhode and John Bullough, which covers comic books, comic strips, animation, caricature, cartoons, bandes dessinees and related topics. It also provides links to numerous other sites that delve deeply into cartooning topics.
<![if !supportEmptyParas]> <![endif]>
SECOND THOUGHTS AND OTHER CASCADING FOOTWEAR
Remember, in Opus 189, that Non Sequitur strip that the International Herald Tribune didn't want to run? The IHT asked for and received a substitute strip but, according to Dave Astor at Editor & Publisher, someone in the production department goofed and used the original Ann Coulter defamation strip instead of the non-political substitute. And, as one editoonist wag commented, "the world as we know it did not come to an end."
When I mentioned AK Comics last time, my source got the dimensions of the books wrong: the first issues were shorter, not taller, than their homegrown American counterparts. With the second issues, however, that difference disappears. And if the pages go in reverse, as alleged in my source, they do so in Egypt, not here, where the pages run from front to back, just like any other comic book. As for the Arab readers contention that the heroes' costumes were "too tight," that, of course, is a euphemism for "too sexy." The costume of Jalila, for instance, does what all superheroine costumes do: it emphasizes her figure, mostly bosom and behind.
And I should have mentioned, when discussing Mickey Spillane's recent death, that he began his writing career in comics. But I suppose everyone knows that. Tony Spinelli at the Connecticut Post remembered and when Spillane's death was reported, Spinelli interviewed 87-year-old Joe Gill, who once shared an "office" with Spillane—a converted bakery, actually. Gill worked as a lifeguard with Spillane, and they both chased after pretty girls and wrote comic book stories. Spillane, hoping to expand his field of opportunity, taught a morning exercise class for women, Gill said—"he used to charge them a dollar a piece." Gill recalled the summer of 1941 when Spillane, hoping to make a quick buck, banged out his first mystery novel sitting at a typewriter across from Gill in their office. He called it I, the Jury. "I hold him, Mick—it'll never sell," Gill recalled with a laugh about how wrong he was. Spillane's books have sold more than 100 million copies, worldwide. "I will always remember his wit, his sense of humor," Gill said, thumbing a couple of Spillane comic books. Gill continued writing comic books for the rest of his life, becoming a mainstay at Charlton in the 1970s. Spillane went on to write more hard-boiled detective novels and, oddly, to become a devout Jehovah's Witness. After his conversion, he toned down the language of his characters, Gill said: "Instead of damn, they said darn." Gill pondered how the friend of his youth could juggle his religious convictions and his passion for the fair sex, particularly when he went to Hollywood to write for movies. "They plied him with starlets," Gill said. Gill joked about how since the 1940s he saved every comic book and magazine he ever wrote something in, but he kept them all in his basement. "They got damp," he said, "and one day my wife said, 'Throw that stuff out—it's moldy.'" And so he did. But he salvaged some of them, and he still keeps them around. His buddies down the hall, elder citizens like Gill, come around and read them, too.
<![if !supportEmptyParas]> <![endif]>
COMIC STRIP WATCH
This may be the strangest protest letter yet. Maybe not: it shares with many the revealing chink in the complainer's pose: defiant illogic. Here's the whole thing unedited, including the screaming headline and the Zits strip that inspired it.

OUTRAGED! NOT A FAN ANYMORE!
August 16, 2006 7:30 AM
I used to think Zits was clever and funny—one of the better panels in the deluge of mediocre, boring and unfunny panels that litter the comic's [sic] page. But this morning's panel of Zits has just put an end to my enjoyment and continued reading and purchasing of any material produced by Scott and Borgman. The character, Jeremy's, sicko comment: "My favorite cut is 'KITTEN IN THE WOODCHIPPER,'" makes me want to vomit. Is it really, "just a cartoon panel" and that I should just "get over it"? I think not. Hey, Scott and Borgman—why don't you just experiment with your fan base and have other "funny" stuff coming out of the character's mouths? How about allusions to child molestation, incest, Jews, Islamics, grannys? Imagine the extreme outrage if Jeremy had said, "My favorite cut is: JEWS IN THE WOODCHIPPER". Would it be "just a silly cartoon" then? What would some of your fans who were Jewish think about your real feelings? Some fans would think it was clever and funny (not me) wouldn't they? I think you'd lose a raft of other ones in the fray. Imagine the label of ANTI-SEMITISM hurled at you and your panel smeared and run off every newspaper in the country. So if the creators of Zits are labeled ANIMAL CRUELTY ADVOCATES, then they deserve that title just as much as if they had substituted some other controversial noun for "kitten." Suppose Jeremy's mother is portrayed in the future as a "mommy with a fetish for her son" trying to catch him disrobed—all of course, "done tastefully" with subtlety. HEE, HEE, HAW, HAW, SNIGGER, WINK, WINK. Not. So you see, it really isn't "just a cartoon," is it? Zits is appropriately named—a pus-filled, red, painful sore on the face of newspaper comic pages. It needs to be removed. The comments on this page will be circulated widely. Robin Bailey
RCH: Robin gets from animal abuse to anti-Semitism with a gravity-defying leap in logic. Yes, there is a connection embedded there, somewhere, but it's pretty vague and not helped at all by the hysteria of the complaint. Sigh.
<![if !supportEmptyParas]> <![endif]>
BOOK MARQUEE
Foremost among the delights to cross my desk this month is the Fantagraphics tome, Tophats and Flappers: The Art of Russell Patterson (184 giant 9x12-inch pages; hardcover, $19.95). One of the two cartoonists whose work defined the Roaring Twenties as they delineated it, Russell Patterson, like the other limner of the age, John Held Jr., drew with a fine line that he contrasted against huge blocks of solid black, brilliantly spotted throughout. His specialty was the curvaceous gender, which he rendered as glacial, svelte beauties: more manikin than embonpoint, they lacked sensual warmth, but Patterson's graceful line made them works of feminine art. Patterson deployed dramatically different patterns and textures—chunky blacks, crisp crinolines, flowing drapery, frilly explosions of lace-like framing fabrics, and rows of pleated folds. His work is purely stunning in black and white, and this book includes a generous sampling of his sumptuous watercolors, too—covers for Ballyhoo and College Humor and the old Life humor magazine. All these visual delights make me wish the book had been twice as long, encyclopedic enough to include more than a peek at his work in the thirties and forties, when he splashed brush strokes into his drawings. His women then were more zaftig, too: Patterson kept up with the changing fads in the female form and abandoned the 1920s flat-chested look for somewhat greater development, just as the American woman did as she moved into the 1930s. But the absence of that material herein inspires a hope that another Patterson volume may be forthcoming, one that includes samples from Patterson's fifties comic strip, Mamie. But you, as a dedicated $ubscriber/Associate of Rants & Raves, can see Mamie and other samples of Patterson's work, as well as a biography and appreciation of his art, by visiting Harv's Hindsights with a simple click here. For the moment, however, perhaps you can content yourself with a couple glimpses in this vicinity—a page from the book at hand and a couple 1950s cartoons that didn't see print until Dave Breger published them in his book about taboos in cartooning, But That's Unprintable (Bantam, 1955).
| | |
| --- | --- |
| | |
The Fantagraphics book's only flaw, and it is a minor matter, arises from the design decision of the art director, Jacob Covey, to blow up some of the artwork to fit a larger space than the drawing filled when initially published. Enlarging drawings photographically like this almost always degrades the quality of the art: lines get fatter and sometimes fuzzy, ragged-edged, particularly when the original publication of the art was on newsprint, a porous paper that invariably spreads inked lines slightly, giving them a raggedy edge. Most of the drawings in this book are, I suspect, taken from previous publication, and when that was on newsprint, the linework reveals a ragged edge whenever the drawing is blown up—the greater the enlargement, the more noticeable the raggedness. (In a few cases, I wonder if the raggedy line isn't a consequence of scanning the artwork rather than photographing it; the lines look pixilated.) This is a tiny quibble, I hasten to say, because only a few of the drawings herein are enlarged enough to make the fuzzy lines very visible, but in a few of those cases, the fat and fuzzy lines do severe damage to the elegance of Patterson's art. In one peculiar instance, the drawing disappears off the edge of a right-hand page to resume on the next page. Why, in a book of artwork, the designer decided to cut a picture in half in this particularly destructive way is beyond me.
In another case, a drawing is blown up enough to elbow the caption off the page, destroying the satire. A man of the theater as much as the drawing board, Patterson did a couple of drawings comparing the ways that different producers might stage a simple joke. In the joke, a black man is in a henhouse and, when discovered by the owner of the flock, he crouches among the birds and says, "Nobody here, boss, but us chickens." A feeble thing, but that passed for humor back in those somewhat more racist times. Patterson draws the cartoon, then shows how the Theatre Guild would stage the action—with a stage full of a chorus of costumed African Americans singing. Then Patterson shows how Flo Ziegfeld, renown for his chorus girl extravaganzas, would do it.
| | |
| --- | --- |
| | |
In the book, the caption, "As Flo Ziegfeld Would Do It," is missing, and, likewise, the joke—and the satire, comparing the emphasis on African Americans by the Theatre Guild to Ziegfeld's legendary emphasis on extravagantly undressed chorines. But these are, as I say, mere quibbles in the face of the many excellences of the book.
Among the latter is Armando Mendez's very satisfying introductory essay, "Nymph Errant: The Life and Legacy of Russell Patterson," amply illustrated with both drawings and photographs of the artist at various stages in his long career. Patterson began the work he is remembered for in about 1923-244, and he drew until the early 1960s when arthritis in both hands forced him to give up. Mendez makes the fascinating observation that a visual device of Patterson's may have christened the wild young women of the 1920s: when Patterson began making illustrations, "he introduced the raccoon coat and the floppy galoshes that gave flappers their name, styles he remembered as popular during his college days in Canada." This seems an original thought. The etymology of flapper is somewhat cloudy: although the word was applied in the late 19th century to a very young prostitute, by the 1920s, it had migrated to denominate merely flighty young girls lacking in decorum. That connection seems reasonable, but the origins of the word remain dim. Some say it started as a term for a young duck, as yet unable to fly, which therefore flapped around as it tried its wings. But how that gets transmuted to a young prostitute, I can't say. Floppy unfastened galoshes to flappers seems at least as logical.
Elsewhere, Mendez relates one of Patterson's favorite anecdotes (which I tell, too, in Harv's Hindsights) that suggests Walt Disney had been one of the students of Patterson's correspondence course in cartooning, which Patterson and his brother ran for a couple years beginning in about 1923. Mendez, momentarily flustered by a confusion of dates and the knowledge that Disney didn't do much drawing once his studio got going in California, doesn't think it likely that Disney ever took the course. But if Patterson launched the course in early 1923, Disney could have enrolled in it: he was still in Kansas City, operating a one-horse animation agency. He didn't leave for Hollywood until the summer of that year, so he could well have enrolled in Patterson's correspondence school, albeit perhaps for only one or two lessons. Mostly, however, Mendez is dead-on. He uncovers Patterson's Parisian influences, which I'd never come across before; and he quite acutely sees Patterson's kindred spirit in the musicals of 1925-1933, "the Great American Songbook" which "had the same sort of joie de vivre Patterson brought to his work—bright and witty surfaces, the optimism tinged by flattened notes of loss and memory, the joy and pain of being young and alive in an exciting city." Don't miss this one, the latest, and best, of the series Fantagraphics is producing on the great cartoonists of the feminine form, which, so far, includes Jack Cole, Bill Ward, Dan DeCarlo, Bill Wenzel, and Don Flowers, all cleverly mentioned in the inside of the dust jacket cloaking the Patterson book. Look for it. And them. I'll have more to say about them all later.
Oh—one more thing: I wish Mendez could tell me the whereabouts of a Patterson painting I chanced upon during one of my sojourns in New York City. I was walking downtown from the White Horse in the Village—meandering, really, just gawking at the flora and fauna along the lower West Side—when, prompted by a parched throat, I stopped in a restaurant for a liquid refreshment. In the entryway, I saw the painting—full color, oil I think—of the face of a beautiful woman, which, upon closer inspection, was an ingenious collage of tiny nudes that, in their contortions, formed the face of the woman. I didn't make note of the name of the place, and on subsequent visits to New York over the next 40 years, I never ran across it, or the painting, again. Where is it?
Before we depart from the venue of Fine Art, let me mention another book of another of cartooning's finest artists—namely, The Alex Toth Doodle Book (256 6x9-inch pages in paperback, b/w; $19.95), in which John Hitchcock has compiled 25 years of postcards and sketches from Alex Toth, a testament to their friendship and Toth's artistry. Hitchcock includes fragments from many of Toth's published works as well as numerous sketches that have never seen print before. But the real treat is the postcards, all lettered in Toth's distinctive manner. His handwriting is as much an artistic doodle as his sketches. And the postcards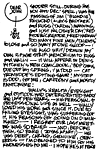 also provide a revealing gloss on Toth's career, insights into his thinking and his feelings. Here, for instance, on May 7, 1989, Toth writes about why so little of his work gets into print: "My woe is uncertainty! I am forever re-doing stories/art until I just give 'em up! Opportunities are there for me in the indie market—but I'm hampered to produce for it because of my constant self-analysis, doubt, etc.—so, year by year, I get less done! It is my own personal hell, ol' son! Hard for anyone to understand! But there it is—and I'm stuck with it! I can't find a way to unlock my mind from all these self-limiting hangups I've built up over just the past few years—damn it!" And here is reproduced his reverie on the passing of Wally Wood.
And, from Pure Imagination Publishing, The Alex Toth Reader, Vol. 2 (160 9x11-inch pages in paperback, b/w; $25), reproducing, in mostly quite satisfactory reconstructed art, Toth comic book stories from 1954 to 1961, including 3 from Crime and Punishment, a few Westerns, and some adventure tales from Dell's Four Color line. Toth had not, by this time, distilled his style to the minimalist elegance he later achieved, but you can see it sticking its head up from time-to-time, and Toth's staging and storytelling is, already, masterful.
Finally, from Rick Norwood's Manuscript Press (P.O. Box 336, Mountain Home, TN 37684), here's the first 14 months of Roy Crane's second masterpiece comic strip, Buz Sawyer: The War in the Pacific (192 8x10-inch pages in paperback, b/w; $25). Crane, as every schoolboy knows, had set the pace for adventure strips with his seminal Wash Tubbs. With the U.S. entry into World War II, Crane had eased the strip, in the person of Captain Easy, into the military. At the outbreak of hostilities, Easy was in the midst of one of his ongoing soldier of fortune escapades, which, very soon, developed attendant symptoms of the actual war going on nearby. Before long, Easy finds himself in army intelligence and, soon, formally in uniform. By the spring of 1943, the strip is unabashedly a military adventure with Easy on special assignment, first in the Far East, then in Europe. Just about then, Crane, like Milton Caniff, left his popular feature to create a new one, namely, Buz Sawyer, which debuted November 1 that year. Taking advantage of the opportunities for action and adventure afforded by the War, Crane put Buz in the U.S. Navy as a pilot, gave him a picturesque partner in Roscoe Sweeney, and continued telling stories in much the same lively vein as before. And in this volume, we have the first year of it.
Crane is celebrated for getting nearly photographic effects with his adroit use of Craftint Doubletone, a chemically treated drawing paper that can produce gray shades, light and dark. While the reproduction here is not perfect, it's pretty good—in fact, about as good as we're likely to get. Better reproduction of the diagonal and crosshatch lines of Doubletone would would require resorting to original art, methinks, and since the chemically-developed lines fade with age, even original art would fail to give us better pictures. Norwood is using newspaper clippings or, more likely, syndicate proofs, and the strips are printed large, only two to a page, so the tiny lines of the Doubletone don't mush up too much, and some of the effects are spectacular. All things considered, this is a wholly satisfying reprint.
Buz's adventures alternate between realistic sea and air battles that depict machinery in motion and aren't, therefore, very interesting visually, and episodes in which he finds himself alone among the Japanese enemy and, hence, forced into lively, human action. He and Sweeney are shot down in early 1944 and find themselves on a desert island (a patented Crane device) with Japanese soldiers and a toothsome damsel. Before the end of the volume, Buz is shot down a second time and falls into the clutches of a guerrilla leader named The Cobra, actually a beauteous femme fatale, who falls for Buz. In an oddly reciprocal turn of events, she is nearly a clone of Caniff's Dragon Lady. Crane was once Caniff's inspiration: aspects of Caniff's adventure strip were inspired by Crane's work—Pat Ryan and Terry are re-enactments of Dynamite Dan Flynn and Dickie Dare of Caniff's earlier strip, and Dan and Dickie have the same plot relationship as Captain Easy and Wash; and now, Caniff having achieved success and critical distinction with Terry, inspiration is on the other foot. Crane is clearly taking a page from his apprentice's fakebook. Later on, a Burma doppelganger shows up in Buz. Crane pursued his character's military career with the same passion for authenticity as Caniff had, and these tales reek of realism. Buz shoots and kills a Japanese soldier on camera; and later, we witness, on camera, the torture of a captive. But Crane's sense of humor is active, too. Buz is ribbed by his shipmates for always landing in the arms of a beautiful woman, and Sweeney is good for a laugh whenever he shows up. A second volume in the series is due soon.
Crane and Caniff's careers are linked in a remarkable way. Both left popular strips to create new, creator-owned strips. And neither of the second creations, Buz Sawyer and Steve Canyon, competent as they were—expert, polished performances—seem as inspired as their predecessors. Wash Tubbs (and Captain Easy) were products of a young creative intelligence, flush with the excitement of doing something new and different in an infant medium; ditto Terry and the Pirates. Crane and Caniff were doubtless caught up in the excitement of the novelty of what they were doing—and in the accumulating fame and fortune. One served to bank the creative fires of the other, and together, they sparked the creative juices of the cartoonists. Both Wash Tubbs and Terry were distinctive departures from everything that had gone before. Their creators must've felt the excitement of what they were doing, and their work showed it. Neither Buz Sawyer or Steve Canyon came about in that same intoxicating way, and both were, in consequence, lesser achievements. Expert, competent—polished achievements both; but not inspired.
Norwood has been running Buz Sawyer in his Comics Revue, a monthly comic strip reprint magazine. Currently, the strips are from the mid-1950s, after Buz gets married; he's one of the few adventuring heroes who is married for almost all of his career. The magazine also regularly publishes numerous other vintage strips: Russ Manning's Tarzan, Warren Tufts' Casey Ruggles (and sometimes Lance), Harold Gray's Little Orphan Annie (now in the late 1930s), Flash Gordon (1960s), Dick Moores' Gasoline Alley (late 1970s), Caniff's Steve Canyon (late 1960s), a couple pages of George Herriman's Krazy Kat dailies (early 1930s), The Phantom and V.T. Hamlin's Alley Oop (both, late 1930s, but Oop is not yet in the Time Machine period), Stan Lynde's Rick O'Shay (late 1960s), and the Comics Revue is the only place you can find Peter O'Donnell's Modesty Blaise (the present run rendered by Neville Colvin, but Romero's work is more often on display). Subscriptions are $45 for 12 issues; address above (or try www.io.com/~birwiidr or f.norwood@att.net
Fantagraphics Books, longtime publisher of Joe Sacco's graphic novels, has just released another of his books, But I Like It, a collection of his music-oriented comics from the late eighties and early nineties. "Many things interest me beyond conflict," said Sacco, whose speciality in recent years has been covering the unrest in Bosnia and the Middle East. "Music is one of the great things in life," he concludes.
<![if !supportEmptyParas]> <![endif]>
CIVILIZATION'S LAST OUTPOST
One of a kind beats everything. —Dennis Miller adv.
I think there was a long discursive thread in the ether a few years ago concerning the supposed origin of "hot dogs," the foodstuff. The great sports cartoonist TAD (Thomas Aloysis Dorgan) has been credited with its coinage. And it is said that hot dogs were first served or invented at the St. Louis World's Fair in 1904. But here, from a book entitled Zounds by Mark Dunn (with occasional illustrations by Sergio Aragones), is this, er, doggerel:
<![if !supportEmptyParas]> <![endif]>
"Echoes From the Lunch Wagon"
'Tis dogs' delight to bark and bite,
Thus does the adage run.
But I delight to bite the dog
When placed inside a bun.
<![if !supportEmptyParas]> <![endif]>
It was printed in the Yale Record of October 1895, "written in affectionate reference to the school's 'Kennel' Club—a lunch wagon that sold sausages that may or may not have included a bit of canine filler. The word 'hot' got added that same month, and so an American institution was born."
If true, and I have no reason to doubt the accuracy of this citation, the "hot dog" was born long before the St. Louis World's Fair—and long before TAD used the expression, too. He started cartooning in San Francisco probably about the mid-1890s, but he never went to Yale and probably never read much about it. Nor was he famous enough to spread abroad a linguistic invention like "hot dog" until sometime after he left the City by the Bay and went to work in New York. That was in 1904.
Elsewhere: we have long been a consumer civilization that proudly albeit inanely sports the logos of the products we buy on the clothing we wear. In the latest progression of this tendency—coupled to the growing popularity of tattooing—some enthusiasts have started getting the logos of their favorite products tattooed on their bodies. Polo shirt ponies, Chanel, Gucci, Windows, PlayStation. What next?
Time for August 28 reports that only 24 % of Americans polled could name two U.S. Supreme Court justices, but 77% could name two of the seven dwarfs in the 1937 Disney animated film, "Snow White."
<![if !supportEmptyParas]> <![endif]>
FUNNYBOOK FAN FARE
You'd think, what with all liquids and nail clippers being confiscated at airports worldwide, that we'd have enough to do, as a civilization, without producing more comic book titles. And yet, invention has never faltered. And it's a good thing, too: divertissements such as these keep us from being entirely overwhelmed with grief and horror at the inhumanities being perpetrated hither and yon—in Iraq, surely, but also in Lebanon recently and in Afghanistan and Darfur and a host of other African nations where human life seems to command little respect. Civilization, such as it is in these Unitey States, must go on, after all, and so we get a new television season every fall and, month after month, new comic book titles. And it's a good thing, as I said—for me in particular. The number of comic books being published every month astounds me: I can scarcely keep current on what's happening in these four-color fantasies. Used to be, in days of fond yore, that one could stay abreast of what was going on in most Marvel and DC titles. Then along came Dark Horse and Image and—well, a flock of other publishers, some of whom alight for only a few moments before flitting off into obscure yonders never to appear again. I gave up trying to keep up long ago. I buy a few titles regularly—100 Bullets, Loveless, American Virgin, Next Wave; and I sample a few others—Y: The Last Man, Savage Dragon, Fables, some Disney titles—dipping in and out of continuities. And I follow some mini-series, Joe Kubert's Sgt. Rock: The Prophecy, f'instance. Almost no superheroes though. Oh, Batman occasionally. Spider-Man. But mostly, it's all too much to keep up with. There are fanatics who do it—who keep track of every snarled thread of storyline in Marvel's Civil War and in DC's OYL and 52 and so on. I cannot. And so I resort to first issues. Not too many of those, but enough to foster my delusion that I'm somehow staying up-to-date.
Amid the constant deluge of dross, I find more than one glimmering gem. Casanova, for instance, by Matt Fraction and Gabriel Ba. Drawn in a manner that creates an idiosyncratic style out of Risso and Mignola but without the black solids of deep shadow, the book is crisply black and white with a single second color, a sort of mustard olive drab.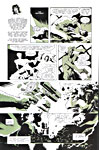 The title character, Casanova Quinn, is the scion of the director of the universe's security apparatus, but Cass chooses another life style—that of thief. And he also takes drugs. And he looks like Mick Jagger. That's appropriate: this book is a space rock adventure in which the beat is more significant than the melody, the flood of words more important than their individual meaning. Fraction explains in the first issue's back pages: he was inspired by Phil Spector's "wall of sound"—"layers, layers and layers and layers of music. A half-dozen guitars playing the same riff all at once, or ten different back-up singers jammed into a small room hollering to God while Phil caught it all and mixed it down to mono."
Fraction carried Spector with him as he wrote the book, a brief foray into the standard sixteen pages: "sixteen pages means none of that languid manga pacing—no seven pages of a sword coming out of a sheath—and no 'writing for the trade' stuff that's turned today's comics into watered down sketches. It meant little symphonies. What would a comic read like if you were going to produce it 'wall of sound' style, if you were going to try and translate one technique from one medium into another technique in another medium? I don't mean just overwriting, cramming every page and panel full of words—I want to write like a DJ and collage little bits of everything, repurposing it all to suit Casanova. Song lyrics turn into lines of dialogue, plot points. Shots from films translated into whole-page stanzas." And he mostly does what he says he wants to do.
The books come with handy plot summaries on the inside front covers so you never have to start cold (a device every comic book should embrace). And so by No. 2, we know that Cass's twin sister, a star agent of his father's E.M.P.I.R.E. (Extra-Military Police, Intelligence, Rescue, and Espionage), has died mysteriously and Cass has quarreled with his father at the funeral, after which he is abducted "into another timeline by Newman Xeno, his father's arch-rival and the ruler of W.A.S.T.E., an ambiguously-named Pynchon reference." The story, lurching from side to side as it ambles around, is awash in sf jargon that gleefully obliterates meaning while the mindless momentum of the plot rushes on, willy nilly. When he falls into the clutches of Xeno, Cass asks what W.A.S.T.E. stands for, prompting this effusion in captions: "The W.A.S.T.E. continuuminium! [sic] birthplace to warped perversions of science as conjured by Newman Xeno and his be-jumpsuited horde of techno-flunkies! Where W.A.S.T.E. rapes and debases Our Lady of Space-Time, turning her into but a painted harlot!" Xeno continues in the same vein: "Only I, Newman Xeno, possess the power untold within the legendary fakebook of the cosmos. Only I, and my kingdom of W.A.S.T.E., would dare violate the laws of man and physics to spite E.M.P.I.R.E.—." To which Cass says: "You talk like a comic book, man." "And I live like one," Xeno says.
Throughout, Fraction's personages know—or strenuously suspect—that they are characters in a comic book, which gives many of their utterances a satiric thrust. "What makes you think I'm here to kill you?" Cass asks Winston Heath, manufacturer of orgone. "Because," says Heath, "that's what happens in comics. Because that's what we do to our characters." Then they fight, both in the dangly nude, making explicit "the homoerotic cliches" of superhero comic books, Fraction tells us at the end of No. 2. While all this pseudo-meaning transpires in caption blocks and speech balloons, Ba's layer of pictures carries the plot forward in a manner nearly tangential but highly visible (as is the wont of pictures, after all). In the second issue, the plot thickens like pudding over a flame (without quite achieving meaning) as Cass discovers in his pocket "the mysterious Doohickey of Destiny," and we learn about orgone, "a kind of free-floating sex energy, a kind of life force." By now, it's pretty clear that Fraction is making this up as he goes along, steeping in a simmering stew of sf argot and operatic whimsey a barely discernible storyline, which he maintains solely to get to the next page where he can leaven in more linguistic flights. And when one character mistakes "Beatles" for "beetles," you know Fraction is completely at sea in a verbal universe: the pun is apparent only in print, but the conventional illusion in comics is that characters are talking aloud. The hyper-leap comes when another character says, "Say that again, say that a-fucking-gain," going the legendary publisher Joseph Pulitzer one better. (Pulitzer was a champion swearer, often injecting a curse into the middle of words, as, for example, his famous "inde-goddamn-pendent," a wondrously melodic infraction of decorum).
"It doesn't mean anything," Fraction writes, "—I was just grabbing a snippet of something out of the air as it floated by. This whole book is becoming that. Fusing all these little things together to see what the new shapes look like on the other side. The references don't lead to anywhere, the same way that using, like, a Lee 'Scratch' Perry sample in a beat doesn't mean anything other than—hey, cool sound." But you have to be there. A trip worth the trip. If this title is just a mini-series, I can't find a reference to how many issues may transpire. But this much is true: this is too good to last. So get your copies as they come out: you may never see the like again.
In somewhat the same antic spirit is Paul Jenkins' Sidekick, a hilarious slapstick send-up of the role of second banana in superheroic fictions. Here, we have Eddie Edison, pizza delivery boy by day, Superior Boy by night, sidekick to Mister Excellent. Mister Excellent is a muscular moron operating entirely on comic book superhero logic. Danger lurks everywhere in Mister's imagination. "I sense a maelstrom of violence about to strike," he murmurs on his rooftop perch overlooking the city's troubled streets. And when he springs into action, he invariably wreaks more damage through misconception and misapprehension than evils he corrects. Eddie then cleans up the mess Mister leaves. Oh, and Eddie is also regularly boffing Mister's wife, Beverly Boulevard. Eddie also gets cuffed around a good bit, usually by his girlfriend, Stormy, an extremely buxom stripper whose sexual proclivities embrace SM with enthusiasm, leaving poor Eddie a gasping remnant of his former self at every encounter. Eddie is paid a mere one hundred bucks a week, not enough, he tells Mister. And when he discovers that Mister is raking in millions on Superior Boy action figures, Eddie demands a percentage of the royalties. Mister would be happy to oblige, he says, "—of course, you'd have to register your I.D. with the tax office. Then there's social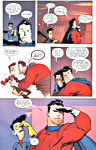 security and F.I.C.A. ..." "You know I can't do that," Eddie sulks; "every nut in the country would come knocking on my door while I was sleeping." Rather than risk another Civil War, he storms out and takes up moonlighting as a sidekick for three other superheroes, one of whom is female, and for her, Eddie goes in drag. Chris Moreno handles the visuals with panache: his fluid line, waxing thick and waning thin, reminds me of Ty Templeton, but the final results are Moreno's alone. Staging and pacing are achieved with aplomb and comedic emphasis. And when Beverly seduces Eddie in an elevator, we see only the floor indicator dial, but that's enough. This title will run to five issues, and you shouldn't miss a one.
Umbra, our third Image title this week, is CSI in Iceland. The writer, who goes by the name of Murphy, embarks on a 3-issue mini-series with a 40-page introductory chapter in which our heroine, Askja Thoraspottir (Icelandic, I assume), finds a neanderthal skeleton in a glacial cave, shot, inexplicably, by a modern Soviet-manufacture gun and wrapped in a modern blanket. Askja's boss is another female cop, and the two soon develop a lesbian relationship while skinny dipping. Mike Hawthorne's brisk black-and-white art is pure line without much feathering or modelling, and its languid angularity creates a sense of restraint throughout, as if everything were poised, arrested, intensely awaiting the disaster that's just around the corner. He spots solid blacks nicely without bathing everything in impenetrable shadow; the shadows he deploys serve to etch shapes with sharp-edged clarity. The story is expertly told, and the McGuffin, the mysterious corpse, is a tantalizing proposition waiting to be consummated in the next two issues.
In Jack of Fables No. 1, Bill Willingham and Matthew Sturges take Jack Horner from Willingham's Fables series and get the fabled giant-killer kidnapped and then forced to "retire." Tony Akins and his inker, Andrew Pepoy, handle the visuals with modestly inventive grace, turning in perfectly competent storytelling with an occasional flash of dramatic inspiration. And on the last page, we get Goldilocks naked on a bed. Who could ask for more?
In The Next No. 1, a teenager named Monikka Wong gets hit and killed by a passing school bus, and she is brought back to life by four personages who have entered this "reality cluster" through a rip in the continuum membrane—"actual damage to dimensional cohesion," one of them explains. "It's small now, but it'll spread. There will be concatenating disruptions, rippling outward, causing temporal displacement and eventually total membrane rupture." I can't believe Tad Williams is being entirely serious as he ladles gobbledegook like this into the tale, but it matters not: his lingo and the fantasy it embodies make this tale the highly amusing jaunt that it is. In fact, without this kind of confection, the story so far is fairly flat. Each of the four personages has given up a portion of his/her "life force" in order to give life back to Monikka, and now, says one, "we can't leave without killing you again. Which is inconvenient for everybody." As all of this is being discussed and explained, one of the quartet is "trying to see what kind of damage we did when our singularity harpoon disconnected." See what I mean? Singularity harpoon? This and leaks in the dimensional breach kept me slapping my thigh in high glee at Williams' inventive prowess. By issue's end, Superman has flown into view. Bent on fixing the temporal breach, he flies over California as the captions drone on: "Poor California. Eathquakes, wildfires, and now, the compete breakdown of the fabric of time and, just possibly, the end of Superman. At least, the Africanized killer bees never showed up. And aren't they glad." Drawn in clear-line by Dietrich Smith with inks in the art nouveau manner of Winsor McCay by Walden Wong, the book is a giddy read, the shenanigans multiplying as the four personages try out different appearances for their new reality-cluster—appearing first as animated versions of the American Presidents on Mount Rushmore (Washington, Jefferson, Lincoln and Teddy Roosevelt), then assuming more playful personality-shapes. Where this will go, only Williams knows (and maybe not even him). On the last page, we see another new character, namely John Henry Milligan, who is shown riding his cycle through the streets of Ipswich, England, on a spring evening in 1882.
Moving on, beyond first issues, in American Virgin, Nos. 4 and 5, we follow Adam Chamberlain, the charismatic Christian youth minister who advocates virginity until marriage, when he goes to Africa, where he seeks to avenge the murder of his fiancee, Cassie, whose body he has recovered, but whose head is missing. Since Adam intends to take Cassie's remains back to Florida for burial, he wants to find the missing part, which leads to the joke that opens No. 4 with questionable taste: "Sure, I get it," says his sister, who's accompanying him. "Like all guys, you're looking for a little head ..." Adam, grieving and frustrated, is emotionally distraught, his state signaled by his fervent swearing and border-line blasphemy. His virginity, much touted in the first issue of this series, is now the subject of bad jokes, and even Biblical references that refute the religious necessity of remaining "pure": First Corinthians, Chapter 7, Verse 25, for example, quite explicitly says, "Now, concerning virgins, I have no commandment of the Lord." And that, I have it on pretty good authority, is about all the Bible has to say about what the Lord had to say about virginity. Adam is also searching for the person who murdered Cassie, vowing to kill him, which prompts his sister when he accuses her of being vulgar to observe sarcastically that "driving halfway across the godforsaken desert to murder a guy is the Biblical definition of vulgar." Adam eventually recovers Cassie's head and, in No. 5, he returns to Florida, where, at the funeral, he breaks down altogether while delivering his eulogy and talks about his desire to have "Cassie's body all around me—my—my cock, you know?" Then, weeping copiously, he climbs up on the coffin and, imagining Cassie there underneath him, naked and urging him on, he ejaculates in front of the entire congregation. I don't know where Steven Seagle is going with this title, but so far, it's a provocative, fairly unflinching examination of faith and sex and whether the two can be reconciled without demeaning either.
Although one may be tempted to condemn the American Virgin as an attack on faith, Seagle scarcely intends that. Interviewed by Andrew Smith in the Comics Buyer's Guide No. 1622 (November 2006), Seagle maintains that faith is the central issue. "Faith is best measured by a person's ability to maintain it in crisis situations," he said. "That's what this book is about. Adam is in a major crisis with seemingly no end other than his own death. Will he be able to retain his faith in the face of that?" These ingredients make for "a good story," he said, admitting, however, that "it's tricky subject matter to pull off." DC Comics, the publisher, seems, so far, willing to go along with him. "From Day One," he said, "I told everyone at DC that I want the truth about the sexual content and the violence to be the focus, not the titillation factor. My esteemed editor Shelly Bond trusted that, and we're putting out a book that I think is its own kind of beast and goes pretty far, all things considered." The pervasive presence of the Christian Right in today's politics had nothing to do with Seagle's conception of the series. The conflicts he deals with have been around for a long time. "The only bandwagon I intentionally rode with American Virgin was people's desire to have sex and the related feelings of shame associated with some of those desires. The creepy political climate is just happy coincidence. We're definitely dealing with American norms about sex and morals in a world where these norms are not the norm," he continued. "I think we often forget in this country that there are other opinions and belief systems in the world, and they're not all the construction of diseased minds. I love that kind of conflict in characters: where people who are hell-bent that they're right run into someone just like them—but with a completely contrary idea of 'right.'"
A recent phenomenon on the Righteous Right, incidentally, has been the emergence of various websites promoting sex as a good thing, including some fairly smarmy justifications for somewhat adventurous sex. One such site, www.themarriagebed.com, established by the Reverends Paul and Lori Byerly, provides a list of "What's Okay, What's Not" for the Faithful. JoAnn Wypijewski in Mother Jones (July/August 2006) supplies a brief run-down of the things a married couple can do sexually without sinning: "They may enjoy oral and anal sex, toys and fantasies, 'mild pain' through spanking, biting (so long as nothing becomes a fetish or substitutes for intercourse) ... They may study the numerous guides to intimacy and multiple orgasms by the Byerlys and other Christian authors, explore exotic positions, talk dirty, use condoms and other forms of birth control. They may slather their skin with chocolate body butter and Happy Penis Massage Cream, restrain each other with silken bonds, use blindfolds and swings, vibrators and pierced-tongue stimulators, penis extenders and dildoes (though not those molded after real flesh). All this may be theirs if they are straight and married." Even masturbation is permitted: "You may glorify Him with your sexuality by pure masturbation"—which, for the sake of purity, "must be practiced for relief or biological clarity, not pleasure, and must be unaccompanied by lustful thoughts." Biological clarity?
In encouraging straight women's sexual vitality, the Byerlys "project a familiar duo, the Virgin and the Whore, the latter sanctified as Wife, skilled in the use of a vibrating Jelly Finger, and urged in an essay by the Reverend Paul titled 'How to Strip for Your Husband' to 'finish your performance by letting him watch you enjoy a self-induced orgasm. To drive him over the top, put a chair in front of him, sit down, put your feet on his knees, spread wide and masturbate. Bonus point for self-penetration." We may applaud such open-mindedness, particularly among the traditionally closed-minded, but "in aiming to banish fear and guilt among the faithful, [the Byerlys] merely displace those emotions," creating a new fear, the fear of being single. And so even as religion seems to take cognizance of human nature, it persists in comforting only the elect, the married, by damning all others.
When Bill Clinton signed the welfare reform act in 1996, Wypijewski notes, "a subsection narrowed the range of discussable sexual subjects in federally funded schools to the propositions that 'a mutually faithful monogamous relationship in the context of marriage is the expected standard of sexual activity,' that 'sexual activity outside the context of marriage is likely to have harmful psychological and physical side effects,' that the only thing students need know about condoms and birth control is their failure rate. ... Ten years and $1 billion later, this is the only national sex education policy in America." And research on its effectiveness is scant. Abstinence-only training has no discernible effect in postponing the age at which teenagers renounce their virginity. The "virginity pledge" advocated by Adam Chamberlain has been taken by 2.5 million teens, but apparently 88 percent have sex before marriage anyway: on average, they have it 18 months later than non-pledgers "but are more likely to have unprotected sex and less likely to seek treatment for sexually transmitted diseases. ... Compared with teenagers in almost every other developed country, American teens have more religion, more partners, shorter relationships, less contraceptive use, more infections, more abortions, more babies."
And the music favored by teenagers doesn't, apparently, help. The Week magazine for August 25 carries a report about a Rand Corporation study that shows teenagers "steeped in raunchy pop songs with explicit sexual lyrics lose their virginity earlier" than those who listened to less provocative music. Hip-hop and modern pop "portray boys as shallow and sexually insatiable and girls as willing sex objects. 'We think that really lowers kids' inhibitions, and makes them less thoughtful' about their sexual decisions." How Seagle's American Virgin will fit into this mosaic remains to be seen.
And, while we're considering the politics of sex, here's the lead paragraph, slightly edited, from a Slate.com article by Amanda Schaffer last May: "The upcoming National Sexually Transmitted Disease Prevention Conference, sponsored by the Centers for Disease Control and Prevention, among other groups, has just been given an unhealthy shot of ideology. The conference was supposed to include a symposium designed to explore how abstinence-only sex education may undermine other efforts to reduce STDs. The papers and panelists had gone through the customary vetting of peer review. But the symposium was abruptly retooled to include two proponents of abstinence programs—and to exclude a well-respected detractor. This is bad news, not only because abstinence-only work is scientifically unfounded but also because the switch represents a new level of government intrusion into the peer-review process of a major scientific meeting." One of the opponents of abstinence programs maintains that they are "medically unethical because they misrepresent and withhold basic health information." One of the proponents of abstinence is explicitly ideological, seeking "to serve the Lord through medical missions and the preaching of the Gospel in all the world." Another of the same ilk advocates an abstinence program "noteworthy for its negative messages about condoms and stereotypical statements about girls and boys," writes Schaffer. The last-minute changes in the symposium line-up were instigated by Representative Mark Souder, R-Ind., a long-time antagonist of comprehensive sexual education who "leaned on the CDC to add more 'balance' to the abstinence discussion," which could be achieved by adding proponent views and by removing one of the proposed (and approved) panelists, namely, the aforementioned detractor. In fact, CDC was told if that personage were not removed, the symposium would be cancelled. You can read the whole article at http://www.slate.com/toolbar.aspx?action=print&id=2141183 For my pupose here, what I've quoted is enough to demonstrate just how into-the-thick-of-it the Seagle's American Virgin is getting.
I picked up a copy of the revived Jonah Hex title, No. 9, mostly in a fit of nostalgia for the series and respect for writer Jimmy Palmiotti's work. Tony DeZuniga, who depicted Hex's adventures for much of the earlier run of the book, is back, and his cover for this issue is spectacular—all black-and-white except for the blood Hex is spattering.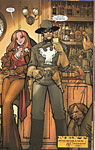 But I've never been fond of DeZuniga's work. Perhaps I was too taken with Jose Luis Garcia-Lopez's art in some of the issues preceding DeZuniga's arrival: DeZuniga's bristly style seemed, in comparison, sometimes awkward and often boney where it ought to have been fleshy. It had corners where it should have had rounds. I like what's on display here somewhat better, but the opening sequence, in which Hex must break an arrow in two in order to pull it out of his arm, is poorly executed. I know what he's doing, but DeZuniga isn't showing me what he's doing clearly enough: if I hadn't seen the same ploy used in some tv program years ago, I wouldn't be able to figure out what Hex is up to. The action in another sequence later on is also confusedly depicted. What is Hex doing with that sabre? Deflecting the bullets headed towards him? The storyline is also confused, due, in part, to shifting back and forth in time, a confusion in itself but here compounded by the introduction of some material that may be Hex's delusional recollection. The tale concludes with a jolting twist, dramatically satisfying but, upon examination, defying explanation.
Still out West, here's Marvel's Milestone of Two-Gun Kid, plus two other Western titles that, one way or another, revive titles from the publisher's vintage horse opera line. Only two of the seven stories in the Milestone book are Two-Gun Kid tales; three of the remaining stories feature the Rawhide Kid (before he was gay), and two stories are generic Westerns without continuing characters. You'd think in a commemorative edition like this that credits would be copious, but not here: nothing in the Table of Contents. You can find the names "Kirby" and "Ayers" writ small on the title pages of the Two-Gun Kid and the Rawhide Kid yarns, from which we can deduce that Jack Kirby penciled and Dick Ayers inked. The other two stories carry no identifying information. Both of the Kids' origins are related, and in the Two-Gun Kid's version, we find tell-tale signs of another time: he meets the town's school ma'arm, a sexist convention of the Western that would no longer be happily tolerated, and he calls her a "girl." The reason the Kid wears a mask is given meaningful context. The Kid, aka Matt Hawk, is taught to shoot by a famed old gunslinger whom he rescued when some rampscallions came into town to earn reputations by killing him. So when Hawk takes up guns for the cause of law and order, the old gunslinger warns him that "there'll always be some jasper who tries to gun yuh down to cash in on yore rep." So he suggests that Hawk wear a mask: "As far as anyone knows, you'll always be a harmless dude lawyer. But when yuh need those colts, son, yuh'll use 'em without anyone known' who yuh are." In another, newer, Western title, Western Legends, the Rawhide Kid origin is told again—and while the captions and speech balloons are exactly the same in the two stories, the Legends origin tale has been complete re-drawn (or vice versa). Fascinating to compare the two versions: the opening sequence is more dramatically staged in the Legends version by varying camera angles and distance; but the last half of the story is better told in the Milestone edition. Another of the Rawhide Kid tales from the Milestone edition is reprinted exactly in The Might Marvel Western featuring Kid Colt and the Arizona Girl, but this time, credits are given in type at the bottom of the opening splash page. Makes you wonder who's awake and who's asleep at the House of Ideas.
Finally, we have two of the most ludicrous (or "lewdicrous") titles yet. The first, The Bomb Queen from Image, stars a shapely lass with an overflowing bodice and a nicely rounded derriere. I like contemplating both as well as the next dirty old man, but this lady's costume is beyond belief. No costume for a superheroine is ever believable: who, in their right minds, would go into physical combat wearing such scanty attire, so skimpy that it affords no protection whatsoever. Modesty Blaise in extremis used to strip to go into battle in Peter O'Donnell's novels, but it was a ploy: she did it when she was confronted by a group of male opponents, and she would surprise them, coming suddenly, unannounced, upon them, in her naked magnificence, and the men, dumbfounded by this apparition of embonpoint, simply stared, motionless. That moment of their immobility gives Modesty enough time to attack them individually, rendering the group unconscious in a matter of minutes. Modesty called the maneuver "the Nailer," and the name was apt. But Our Bomb Queen isn't using her costume to "nail" anyone. It's just her costume. She wears what appears to be a spandex t-shirt,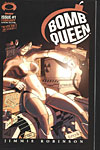 tight, with a high collar but a scooped out neckline that exposes an impressive cleavage. Her midriff is bare. And in fact, she's bare to the top of her leggings, which don't begin until the bare midriff has reached her pudenda.Underneath, she's wearing a thong, which, while it almost preserves her modesty in front, reveals all behind. And our artist, Jimmie Robinson, gives us plenty of tush-shots to take advantage of the situation. Now, really. No woman wears clothing like this unless she's intent on seducing whatever males wander within eyesight. We can excuse the similar bodice on Power Girl but only because her behind isn't bare: not all of her costume is designed to excite sexual interest. Oh, yes—the Bomb Queen has some sort of superpower, but I can't recall it. Confronted by that costume, who could?
The other equally laughable title is Ant, also from Image. Well, not equally laughable: more laughable, hysterically so, I'd say. Here there is no costume at all. What we have is an obvious female of the human species wearing red skin-tight sheath from the top of her head to the soles of her feet. It is so tight that it is virtually a second skin, colored red in the hopeless expectation that viewers will think it is a costume. It isn't. A female character with this bursting voluptuous figure—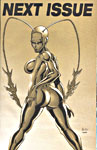 rounded everywhere, hip and thigh and buttock, and equipped with wondrously pendulous breasts that seem to swing freely in whatever direction the action takes their owner—a character of that dimension is purely naked if all she's wearing is the color red. And that's all this one is wearing, kimo sabe. You can tell she's naked because her nipples are clearly delineated. The title is a blatant appeal to adolescent male readership. Or voyeurship. Here she is, advertising No. 7 of the title; the same drawing appears on the cover of that issue, colored red.
<![if !supportEmptyParas]> <![endif]>
Quips & Crotchets
"The problem with beauty is that it's like being born rich and getting poorer." —John Collins
"Getting divorced just because you don't love a man is almost as silly as getting married just because you do." —Zsa Zsa Gabor
"Good judgment comes from experience, and experience—well, that comes from poor judgment." —A.A. Milne
<![if !supportEmptyParas]> <![endif]>
The Danish Dozen Again
An exhibition of cartoons mocking the Holocaust opened in Iran the week of August 14 at the Caricature House in Tehran. According to an Associated Press report, the show is a reflection of Iran's reaction to the Danish Dozen, those cartoons depicting the Prophet Muhammad that were published in Denmark last winter. Since Islam forbids images of the Prophet, Muslims everywhere were insulted, and their fury erupted in street demonstrations throughout the Middle East, where buildings were destroyed and people killed. Jyllands-Posten, the Danish newspaper that printed the cartoons, said it did so to press the issue of freedom of expression in Europe, where it has become increasingly problematic to say or print anything that might offend the Muslim population. In the Netherlands, a movie producer was murdered a year or so ago because he was making a movie critical of Islamic attitudes about women. The Danish cartoonists who drew the cartoons for Jyllands-Posten had to go into hiding when, following publication of their cartoons, Muslim leaders put a price on their heads, thereby demonstrating exactly the kind of intimidating intolerance that the cartoons were intended to reveal. And the anger still simmers in the Muslim world: the AP reported on August 18 that Egypt's top Islamic leader, Mohammed Sayed Tantawi, the grand sheik of Al-Azhar, believes the Jyllands-Posten editor should be jailed and his newspaper banned. Last February in Tehran, the newspaper Hamshahri launched a cartoon contest intended, the editors said, "to expose what some in the Middle East see as Western hypocrisy for invoking freedom of expression regarding the publication of cartoons that lampooned the Prophet while condemning President Mahmoud Ahmadinejad of Iran for questioning the Holocaust" (New York Times). Many Middle Eastern Muslims, it seems, believe that to Westerners the Holocaust is as sacred as Muhammad is in Islam. Masoud Shojai, director of the Caricature House, said a jury considered 1,200 entries that came from countries all around the world, including the U.S., Turkey, and Indonesia; they picked 204 for display in the exhibition.
Some of the cartoons were described by Michael Slackman in the New York Times: "... a drawing of a Jew with a very large nose, a nose so large it obscures his entire head. Across his chest is the word Holocaust. Another drawing shows a vampire wearing a big Star of David drinking the blood of Palestinians. A third shows Airel Sharon dressed in a Nazi uniform, emblazoned not with swastikas but with the Star of David." Many of the cartoons, in other words, are simply, unabashedly, anti-Semitic rather than Holocaust denying. Others, however, make the kind of political statement editorial cartoons usually make. "An Israeli soldier, holding a gasoline can that says 'Holocaust' on the side, pouring the fuel into a military tank. A razor blade in the ground, like the wall Israel is building along the West Bank, with the word Holocaust along the side. Two firefighters, each with a Star of David on his chest, using Palestinian blood to extinguish the word 'Holocaust,' which is ablaze." The exhibit will close September 13, and the cartoonist whose work is judged the best will receive $12,000.
About 50 people attended the opening on August 14, and attendance has not picked up since, Slackman said. "Over a three-day period, the gallery was virtually empty. A few visitors stopped by, mostly art students who said they had visited to examine artistic techniques." Slackman quotes Ali Eezadi, a 70-year-old retired industrial engineer: "Look, these cartoons are the reflections of U.S. and Israelis' deeds, so wouldn't it have been better if they were put on display in the U.S. or even in Israel? That would supply a rationale for [the exhibit]. But having this kind of exhibition in Iran does not draw much attention. I mean, these things are said, written and expressed in lots of ways," so many that it "makes people apathetic," he said.
The exhibit has probably attracted more attention in the West than in Iran and the Middle East. Understandably, the West is no more tolerant of having one of its sacred cows mocked than Islamic populations are of having its Prophet ridiculed. The difference, apparently, is that in the West, street demonstrations that result in death and destruction are not common; the protest is mostly verbal. Jewish groups, in particular, objected and warned that the exhibition implies a threat.
According to Julie Stahl at crosswalk.com, Efraim Zuroff, director of the Simon Wiesenthal Center in Jerusalem was not amused. "It would be too easy to dismiss this as a prank of Ahmadinejad, but the West would do well to take this seriously," he said, referring to Iran's President, who attracted considerable criticism in the West last year when he called the Holocaust a myth and advocated wiping Israel off the map of the Middle East. (It would be all right if Israel moved to Europe, he said later.) At the Holocaust memorial in Jerusalem, Avner Shalev, chair of the directorate, said that the exhibition in a country that has nuclear aspirations and whose president has made genocidal declarations against Israel should be a "flashing red light signaling danger" to the world's enlightened nations. "The alarming silence of the world indicates that the West has not yet understood that what is taking place is an attack on Western values and civilization," he said. "History has demonstrated that silence in the face of evil statements begets evil actions. Iran has said the cartoon exhibit is a 'test of Western tolerance.' The West must stand up and say clearly: 'This we will not tolerate.'"
Another member of the memorial board and a Holocaust survivor, Joseph Lapid, said: "The exhibit not only is horrific propaganda that supports Holocaust denial, it also paves the road to justifying genocide of the Jews in Israel." And Arieh O'Sullivan, spokesman for the Anti-Defamation League in Israel, said: "While the ADL is in favor of freedom of expression, it is not a license to foster hatred, and that's what these cartoons are doing"—which is almost exactly what some of the more moderate Muslim spokesmen said about the Danish Dozen. The Holocaust cartoons are "blatantly anti-Semitic," O'Sullivan said. "Saying that the show is a test of freedom of expression is a farce," he continued, again echoing Muslim sentiments about the Danish cartoons. "They are the number one violators when it comes to incitement against Jews," O'Sullivan finished. I don't think we can turn that around and make the Danes the number one violators in inciting hatred of Muslims, but the Iranian contest has undoubtedly made the point it intended to make—just as the Danish Dozen did. But there is a difference. I doubt that the Danes began their project with hatred for Muslims in their hearts, and I don't think we can say the same thing about the Iranians and Israelis.
The unpleasant fact is that the Middle East has been a hotbed of racial hatred for decades, perhaps centuries. Anti-Semitism has been particularly virulent among the Arab population since the establishment of the Jewish state of Israel in 1948, but Arabs (who, oddly, are also a Semitic people) have been wary of the Jews since at least the 1880s, when thousands of Jews began immigrating to Palestine to create a homeland where they would be free from persecution. (I realize that I've shifted from "Muslims" to "Arabs" as thought they were interchangeable, but the shift is all but immaterial for my argument: while not all Arabs are Muslims and most Muslims are not Arabs, the Muslim antipathy to Jews undoubtedly has its origins in the relationship that emerged between Arabs and Jews in the years that followed the first immigration into Palestine.) Arabs expressed opposition to the Jewish settlements almost immediately, fearing that the growing Jewish population would eventually result in displacing them from Palestine. The Jews, unhappily, were for the next several decades more concerned with currying international support for the establishing their own state in Palestine than they were about their relationship with the local Arab population. They virtually ignored the Arab protests. But during the British Mandate (roughly 1920 to 1948), the governing British listened sympathetically: with an eye on their Empire and its interests, the British had been allied with the Arabs of the Middle East during World War I and continued to cultivate that population. Various policies instituted during the Mandate years restricted the Jewish immigration and ownership of land while favoring the Arabs. Animosity festered on both the Jewish side and the Arab side, and the Jewish population in Palestine continued to grow.
In the wake of World War II and the revelation of the Holocaust's terrible toll, Jewish survivors flocked to Palestine, seeking a security they feared they could never find elsewhere. The British tried to keep them out, and Jewish underground militia in the country retaliated by attacking various British installations. The British, enraged by these actions, called the Jewish undergrounders terrorists. The underground groups had been formed over the years since the inauguration of the Mandate in order to protect the Jewish settlers from hostile Arabs, a protection the British weren't providing.
Some histories of the region claim that the first terrorist acts were committed by Arab groups that hoped to drive Jews from the country—or, at least, to discourage further immigration. But any history of this much abused region is suspect, liable to reflect one bias or the other. Regardless, by the end of World War II, both Arabs and Jews had formed militant armed groups that wreaked havoc on their foes in the fashion of terrorists—that is, by attacking militias and intimidating civilians. The British seemed unable to stem the rising tide of violence, and when the Jewish underground group the Irgun hanged two British officers in response to the British hanging of three Irgunists, the public back home in England was outraged and began agitating for the British to give up the Mandate and withdraw from the country, leaving the Jews and the Arabs to fight it out among themselves. (If this sounds eerily familiar, it should.)
The British went to the newly formed United Nations and asked for help. Whatever solution the UN proposed, however, it must, said the British, be agreeable to both Jews and Arabs. The UN solution arrived at in November 1947 was to partition Palestine, creating two states, one Jewish, the other Palestinian. The Jews were allotted about 60 percent of the land of Palestine, but more than half of that was the arid Negev Desert. The Jews accepted the solution; the Arabs did not. Neither did the British. Because both groups didn't agree to accept partition, the British, in effect, refused to implement the partition and announced that they would leave the country, terminating the Mandate, in May. As for the Arab's rejection of the partition plan, in their view, to accept the partition would be to validate their worst expectation—that the Jewish immigration displace the Arab population, driving them from lands they regarded as theirs, effectively denying them the right to self-determination (a value only recently proclaimed to the world by Woodrow Wilson) and to their own homeland. Arab militia immediately instigated riots against the Jews, and in Cairo, jurists of the Al-Ashar University called on the Muslim world to proclaim a jihad against the Jews. The Israelis counter-attacked on December 11, 1947, and by the end of the month had committed the first wanton act against civilians, exploding a bomb at the Damascus Gate in Jerusalem that killed 15 Arabs and wounded more than 50. A few days later, Irgunists rolled a barrel filled with scrap metal and explosives into a crowd at a bus stop, killing 17 Arabs and wounding another 50 or so. Naturally, the Arabs stuck back.
As hostilities escalated, the Jews found themselves struggling against two foes: the Arabs, eager to drive them out of the country, and the British, who, attempting to uphold the laws they'd instituted under the Mandate, refused to permit the Jews to form militias for defense or to obtain arms. At the same time, the British surrendered military bases and arms to Arab groups, perhaps hoping to persuade them, at last, to accept the partition. Not only did the British prevent the Jews from arming themselves, they systematically took away what arms they found in their possession. Early in February 1948, the British arrested four resisting members of the Haganah, the oldest Jewish underground group, and, astonishingly, turned them over to an Arab mob in Jerusalem, which shot one and castrated the others before hacking them to death. Thereafter, the Haganah refused to disarm itself. And so the stage was set for the 1948 war.
The British withdrew from Palestine on May 14, and Israel was, ipso facto—by reason of the UN partition—an independent state. The next day, the armies of the five adjacent nations—Egypt, Syria, Lebanon, Jordan, and Iraq—invaded Israel. At least, the Israelis no longer had to fight the British. That Israel, underequipped and, in terms of armed soldiers, outnumbered at first, survived at all is testament to their remarkable dedication and tenacity, not to mention ingenuity and skill. But the Israelis didn't just survive: they won. And as they have done several times since then, they earned American admiration with their military daring and success. But theirs is no more an unblemished record than ours in, say, Vietnam or Iraq. Or in Korea or in post-war Japan, where we were the occupying power. In the course of battles of the 1948 war, the Israeli forces, like the Arab forces, committed atrocities, killing civilians, women, children, and the elderly, often brutally, cruelly. The Arabs did the same whenever they had the chance. No one came out of this war with reputations unsullied. But they all came out hating their enemies.
The foregoing history lesson is undoubtedly flawed and incomplete: no history of that region can, any longer, be free of blame-seeking and finger-pointing and other varieties of bias. And it is difficult in this country to arrive at anything approaching an objective history of the Middle East. The U.S. is home to the largest Jewish population in the world, and the future of Israel is of great concern to American Jews. The so-called "Jewish lobby" is real but scarcely sinister, the diatribes of raving bigots to the contrary notwithstanding. Still, U.S. media coverage of the Middle East has almost always presented Israelis in a more favorable light than Arabs. In the August 28/September 4 issue of The Nation appears a letter signed by eighteen writers, including Noam Chomsky, Harold Pinter, Gore Vidal, and Toni Morrison. The letter draws attention to biased media coverage at the beginning of the current round of violence: "The latest chapter of the conflict between Israel and Palestine began when Israeli forces abducted two civilians, a doctor and his brother, from Gaza—an incident scarcely reported anywhere except in the Turkish press. The following day, the Palestinians took an Israeli soldier prisoner [which was widely reported in the Western press, as a seemingly an unprovoked action]—and proposed a negotiated exchange against prisoners taken by the Israelis—there are approximately 10,000 in Israeli jails. This 'kidnapping' was considered an outrage, whereas the illegal military occupation of the West Bank and the systematic appropriation of its natural resources—most particularly that of water—by the Israeli Defense (!) Forces is considered a regrettable but realistic fact of life, is typical of the double standards repeatedly employed by the West."
The American public as a whole is more disposed to accepting the Israeli version of the truth than the Arab version. The Judeo-Christian tradition unites us in this country, and so does our history: America was settled by various groups of persecuted people, and our national tradition is therefore predisposed to be sympathetic to any persecuted peoples. And the Jews, driven from Palestine by a succession of conquerors in successive centuries, have been, as a people, more persecuted than most. But the conduct of the Israeli forces during the 1948 war was no more blameless than the Arabs. And doubtless continues, on both sides.
I realize all this has very little to do with cartooning; I launched into this apostrophe to Middle Eastern hatreds largely because I was curious about its origins. And having done the research, I didn't want to leave it under-utilized. Call it a sin of conservation. One of the books I consulted included these remarks by Mark Twain, who visited Palestine in 1867 and described it as "a desolate country whose soil is rich enough, but is given over wholly to weeds. ... A desolation is here that not even imagination can grace with the pomp of life and action. ... There was hardly a tree or a shrub anywhere. Even the olive and the cactus, those fast friends of the worthless soil, had almost deserted the country."
The same book retailed this story about two denizens of the region. A scorpion came out of the desert to the bank of the Nile where he encountered a crocodile. "My dear chap," said the scropion, "could we form an alliance to get to the other side of the river?" The croc said: "Do you think I'm a fool? I would be at your complete mercy: you could sting me and kill me at any time during the crossing."
"Ahh," said the scorpion, "but I promise not to sting you because if I did and you died, as you would, I would drown."
The crocodile pondered and finally grasped the logic in what the insect said and let the scorpion onto its back and began swimming across the river. About halfway across, the scorpion became agitated and stung the crocodile.
"Now we'll both die," said the croc. "What possible explanation or logic is there for such an act as yours?
"There is none," said the scorpion, "—this is the Middle East."
That's from The Complete Idiot's Guide to the Middle East Conflict, one of my sources. The others: standard encyclopedias, a smattering of general histories, the current news reports, and Beyond Chutzpah: On the Misuse of Anti-Semitism and the Abuse of History by Norman G. Finkelstein, who also wrote The Holocaust Industry, both of which reach unfamiliar destinations in examining the history of the Middle East.
<![if !supportEmptyParas]> <![endif]>
Thank You, William Falk
Falk, the ed-in-chief of The Week magazine, wrote the following in the issue for April 7, and it seems, now, a good time to repeat it:
Nearly every religion on Earth claims sole ownership of the path to salvation. Simple logic would dictate that they can't all be right, and that a very large percentage of humanity holds beliefs that are flawed, if not wholly in error. But should you be allowed to say so—to question religious faiths that you deem delusional, or even dangerous? One camp of True Believers says hell, no. "Religious beliefs are sacred to people," says Scientology follower Isaac Hayes, "and at all times should be respected and honored." Assorted cynics and infidels dare to disagree. Among them are the European political cartoonists who mocked Islamic radicals, the caustic creators of "South Park," and columnist John Leo, who argues that religions must earn respect rather than demand it. ... It is not purely a rhetorical issue. As you may have noticed, a large percentage of the news each week arises from bitter—and often violent—differences of opinion about religious belief. Even in this country, many religious groups feel deeply aggrieved, and insist that they are being oppressed. (A group of evangelicals [recently] held a conference in Washington entitled "The War on Christians.") Much of the anguish created by religion, it seems to me, arises from a basic confusion. Some fervent folk think the right to practice their beliefs includes a right to demand that other people conform. Not so. In fact, the more a religion insists that it has a monopoly on truth—the more disdainful and intolerant its followers are of non-believers—the less respect it seems to get. Now why, I wonder, would that be?
<![if !supportEmptyParas]> <![endif]>
Under the Spreading Punditry
In his syndicated column on August 15, my favorite gadfly, Ted Rall, quoted the New York Times report on activities in Southern Lebanon just hours after the cease-fire halted the hostilities: "Hundreds of Hezbollah members spread over dozens of villages" and began cleaning up the battlefield debris and organizing and surveying the damage. "Men on bulldozers were busy cutting lanes through giant piles of rubble. Roads blocked with the remnants of buildings are now, just a day after a cease-fire began, fully passable." Rall continues: "Who cares if Hezbollah is a State Department designated terrorist organization? Unlike our worthless government, it gets things done!" Quoting Jed Horne in The New Republic, who called New Orleans "a disaster zone, an area five times the size of Manhattan," Rall observes, quite appropriately I think, that "the citizens of New Orleans desperately need Hezbollah's can-do terrorist spirit" to restore civilization to their city. "With terrorists like that, who needs FEMA?" Rall asks. It's a stunning comparison and wholly, tragically, apt: the Bush League's response to Katrina is a national disgrace. Congress as well as the White House has tragically failed conspicuously. If their colossal ineptitude at occupying Iraq can't convince us that we are being governed by incompetents, their miserable performance in New Orleans and along the Gulf Coast in the wake of Katrina surely must.
To find out about Harv's books, click here.