Opus 189 (August 15, 2006). Our hare-razing report on the San Diego Comic-Con is featured this time, with a passing footnote on the Wizard World Con in Chicago. We also drop the other shoe and tell you what really transpired at the Reuben presentation ceremony during the National Cartoonists Society's annual fandango in Chicago in May. Here's what's here, in order:
NOUS R US
National Cartoon Museum Gets Big Grant
Movie Box Office Race
Beavis and Butt-head
Kerouac's on the Road
Top 10 Graphic Novels
Mickey Spillane Dies
Political Clout of Cartoons Overseas
Kal's Show
50 Sidekicks (with a couple omissions)
Paid Product Placement in Funnybooks
Ted Rall's New Gig
Playboy in Indonesia
Bob Thaves Dies
How to Win the War on Terror
Re-visiting the Reuben
BOOK MARQUEE
EC Archives in Color
On Stage at Last
Coming Reprints from Andrew McMeel
COMIC STRIP WATCH
Scott Adams gets Hitched
Political Edginess Earns Notice
The Sandy Eggo Con
The Wizard Con
Bush the Joke
And our usual reminder: don't forget to activate the "Bathroom Button" by clicking on the "print friendly version" so you can print off a copy of just this lengthy installment for reading later, at your leisure while enthroned. Without further adieu—
<![if !supportEmptyParas]> <![endif]>
NOUS R US
All the news that gives us fits.
The National Cartoon Museum is gathering the monetary momentum it needs to open in the Empire State Building in New York City. The City's Department of Cultural Affairs and the City Council together have committed $1.8 million to the Museum's development. In announcing the grant, Commissioner Kate D. Levin of Cultural Affairs said: "Cartoon art is a multidimensional, evolving form of expression. It covers everything from the funnies to graphic novels to the inspiration behind popular television and movies. Mort Walker [Chairman and Founder of the Museum] has been a pioneer in institutionalizing this beloved art form. In bringing it to New York, he and his colleagues have an opportunity to create a wonderful new participant in New York's cultural community." This grant brings to $2.165 million the funds raised to open the Museum. Anyone wishing to donate to The Cause can send checks to The National Cartoon Museum, 350 Fifth Avenue, Suite 3304, New York, NY 10018-0069. Those who make a commitment of $1,000 or more annually in the Museum's first three years will be recognized as Friends of the Museum. For more information, contact Stephen Kiviat, the Museum's director, at 212/689-1093 or shk@cartoon.org.
No doubt the great mass of humanity has long been aware of the phenomenon that, only now, is edging into my consciousness—namely, the tendency in entertainment news coverage to treat movie openings as horse races with box office receipts determining who is winning. When "Superman Returns" opened the weekend before Tuesday's July 4th, it raked in $52.5 million, or $84.6 million since its opening on the previous Wednesday. This five-day weekend take was compared, unfavorably, to the four-day Memorial Day weekend opening of "X-Men: The Last Stand," which toted up $122.9 million. "Superman" was a disappointment: with a budget of more than $250 million, it is one of the most expensive movies ever, and it was expected to bring in between $55 and $80 million over its inaugural weekend. It didn't. Then along came "Pirates of the Caribbean: Dead Man's Chest," Johnny Depp's vehicle, which blew away most previous revenue records: in its first three days, it took in $132 million, shattering the previous record of $114.8 million held by 2002's "Spider-Man"; "Pirates" was also the first film to haul in $100 million in two days, pulling $55.5 million on Friday and setting a new single-day record by surpassing $50 million set by "Star Wars, Episode III: Revenge of the Sith" last year. "Pirates" led in box office receipts record for the next two weekends, and by its 16th day in release, it had earned $321.7 million, making it the fastest film in box-office history to pass the $300 million mark. "Sith" took 17 days last year. The summer's other block-buster releases faltered: "X-Men" hit $224.5 million in its fifth week; "Da Vinci Code," $205.6 in its sixth week. In this race, the 6th place standing of the modest "Over the Hedge" animated film with $144.7 million after 6 weeks is notable; Disney/Pixar's "Cars" ranked 5th , just ahead of "Hedge," in 2006's Top 20 chart in Entertainment Weekly. "Superman," meanwhile, has dropped off the chart altogether. Pondering all these numbers, I'm persuaded that the movie industry has supplanted baseball as the national game of statistics.
Jason Silverman at wired.com was disappointed with "Superman Returns." The movie pits the technocrat Lex Lurther against Supeman, "a faith-based guy," but does the movie "give us a juicy faith-versus-science battle?" Silverman asks. "No such luck," he answers. "Filled with big ideas that never quite gel and spiked with suggestive [Christ-like] imagery that ultimately feels meaningless, Bryan Singer's film floats from one gorgeous scene to another without quite connecting the emotional or narrative dots." Moreover, "Kate Bosworth's Lois is a fraction as scrappy, resourceful and quick-witted as Teri Hatcher's or Margot Kidder's"; and newcomer Brandon Routh as the Man of Steel, "despite his perfect superhero chin and cheekbones, wears so much make-up that he looks like the Man of Plastic." But Silverman gives the movie points for its flying scenes and its "strong sense of place." Most of the reviews of "Pirates" said Depp ran away with the movie, making entertainment out of otherwise nearly meaningless special effects spectacle. Then, along comes "My Super Ex-Girlfriend," an "oddly inspired" concept in which, as Robert Koehler said in Variety, "a female superhero is not only able to stop crime and save the planet but was also neurotic, possessive, and insanely jealous." This'll be Uma Thurman's movie, I'd guess, like "Pirates" is Depp's. We'll see. We may also see, eventually, an animated film from Warner Bros that brings the Justice League of America to the big screen.
MTV, which, for some, embodied mindless television programming as "Empty-Vee," turned twenty-five on August 1 and reminded us of that 1980s phenomenon, the animated champions of unutterably bad taste in all things, Beavis and Butt-head, who debuted on the new network on March 24, 1984. The pilot tape showed the two hopelessly callous adolescents playing baseball with a frog. Producer Toffler said he watched it 100 times. "You have a feeling in your bones that there's something different about it that's unique and it will either flop miserably or succeed brilliantly." Stupid, gross-out comedy, but we couldn't look away. Volume 3 of the 3-volume DVD set is out: 42 cartoons, including 24 that haven't been released on DVD before, "the uncut, original short 'Frog Baseball,' music videos and more" at www.beavisandbutt-head.mtv.com
I met Rick Parker, who drew the comic book version of Beavis and Butt-head, at a Chicago Comic Con in the 1980s, and we once sat gleefully together in Artists Alley. An outrageously satiric personality, Rick sold everything at hand to his famished fans, sketching Beavis and Butt-head to a fare-thee-well. Once he turned to me with a marker in his hand and said: "This marker is completely dry and worthless. Watch me sell it to someone." He wrote his name on the shaft of the marker with another marker and sold it for five bucks to the next person who came up to the table. Such is the fanaticism of Beavis and Butt-head devotees.
Jack Kerouac's beatnik bible, On the Road, will be published in its unedited original form at the end of next year, celebrating the 50th anniversary of the novel's initial publication. Kerouac typed the book on long sheets of tracing paper and taped them together to create a lengthy rolling scroll of text. The anniversary edition will apparently reproduce this text in paginated form, including passages that were removed by the publisher but still excluding paragraphs Kerouac had crossed out before sending the typescroll off to Viking in 1957. I mention this for purely sentimental reasons. I typed my term papers in college using the same technique. I inserted one end of a roll of teletype paper into my typewriter and copied quotations out of source books. When I had eight linear feet, I tore off the sheet, cut the quotations apart, arranged them in what appeared to be a logical order, and typed them all again on sheets of 8x11-inch paper, this time supplying connecting text to string the quotations together. This method invariably produced a 12-page term paper, precisely the length prescribed. Whether I picked this technique up from Kerouac or not, I can't remember. But I read the novel in the summer of 1958. A friend of mine at the time, a piano player named Lee Underwood, read the book at a single sitting, then packed a suitcase, and left town, hitch-hiking across country. I never saw him again.
Entertainment Weekly (July 14) cited sales at Los Angeles' Golden Apple comic book store to assemble a list of the top ten graphic novels, from 1 to 10: DMZ Vol. 1, Invincible Vol. 8, Hellboy Vol. 6, Power Girl, Fear Agent Vol. 1, Conan Vol. 3, Star Wars: Omnibus Vol. 1, Sin City Library Set 2, Stupid Comics Vol. 1, and She-Hulk Vol. 3. Well, maybe; maybe not. This list seems to be mostly reprint compilations of individual issues of one comic book series or another. None, in other words, written as "graphic novels," unified, single-issue narratives between one set of covers. Until we clear up this confusion about what constitutes a genuine graphic novel, we'll have to endure more such phoney tallies as this.
Mickey Spillane died on July 17 at his home at Murrells Inlet, South Carolina. Spillane's books about his hard-bitten private eye hero, Mike Hammer, were nearly required reading for my generation during adolescence: we learned a good deal about sexuality from his books. Later, I could see that his combination of brutal action and bosomy, leggy women united sex and violence in a pure Freudian dream. His books never won much praise from literary critics, but Max Allan Collins, author of Road to Perdition (among others), is right: "Spillane's the one who kicked down the sex and violence doors. He changed pop storytelling. You don't have Dirty Harry or James Bond without Mike Hammer." Spillane's place of residence, when I learned of it, fascinated me because of a coincidence: I used to go to Drunken Jack's, a restaurant on the water there, where the hush puppies were delicious and the view restful. Never saw Spillane there though.
Since the advent of the Danish Dozen, news outlets have paid a little more attention than before to cartoons. The New York Times, f'instance, reporting the change in Arab opinion from revulsion to over support for Hezbollah's incursion into Israel, cited, among other evidence, "a cartoon by Emad Hajjaj in Jordan labeled 'The New Middle East' [that] showed an Israeli tank sitting on a broken apartment house in the shape of the Arab world." ... The Anti-Defamation League recently issued a report entitled Flashpoint Lebanon: The Arab Media's War of Incitement, which goes to considerable length to show that Arab newspapers are publishing a spate of particularly nasty anti-Semitic cartoons, deploying the time-worn hook-nose caricatures and other tattered stereotypes, to "stir the pot of hatred of Israel and Jews in the Arab street." ... Major General Robert Scales (Ret.), writing about the proposed flag burning amendment in Time (July 3) urged Congress to "Forget flag burning: debating a ban during war is a waste of time and sends troops the wrong message." This is not the time for "such tertiary considerations," he said. Then he quoted his first sergeant in Vietnam, who had served in two wars. "He gave me a piece of advice then that Congressmen intent on changing the subject should heed: 'In combat, the main thing is to keep the main thing the main thing. Otherwise, you die.' The main thing today for Congress and the nation should be the war in Iraq. Soldiers are sworn to defend the right to free speech with their lives even if 'speech' is expressed in despicable ways. What they want in return is the assurance that our lawmakers will hold their interests dear. So the message from most of us soldiers is clear: debate a flag-burning amendment if you wish. But don't create the perception among our young men and women in combat that there are more important issues than their welfare at the moment."
At the Walters Art Museum in Baltimore, a retrospective exhibit of the editorial cartoons and other art works of Kevin Kallaugher ("Kal'), who took a buy-out last winter rather than to be shoved unceremoniously out the door of the Baltimore Sun, has attracted over 5,000 visitors since opening on June 18; it will close September 3. Kal's new book collection, Kal Draws Criticism, was published in conjunction with the exhibition and includes "my best cartoons," he says, from The Economist and the Sun, "including 16 pages in color." More at www.kaltoons.com. ... The animated Boondocks: The Complete First Season DVD ranked 7th on the VideoScan list of best-selling DVDs (by units) for the week of July 30. The only tv-related release that did better was Chappelle's Show: The Lost Episodes. Aaron McGruder's comic strip-based series was renewed last winter for a second season on the Cartoon Network even before all the inaugural season's shows had aired. ... Don Fraser, a former Peanuts licensee, and Derrick Bang,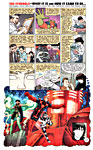 author of 50 Years of Happiness: A Tribute to Charles M. Schulz, a definitive summary of the strip's history, and Charles M. Schulz: Li'l Beginnings, are collecting material for a new Andrews McMeel tome of "heartwarming and uplifting" stories about how Schulz and his characters affected people; if you have such a tale, you can submit it at www.PeanutsStories.com. ... When Entertainment Weekly asked Neil Gaiman why he was reviving Marvel's Eternals, Gaiman, John Romita Jr., and Danny Miki produced a comic book page to explain.
Entertainment Weekly made up a list of the 50 "greatest sidekicks of all time" for its July 21 issue, and among them are a few fugitives from cartoon universes: after Number One, Ed McMahon, comes Robin at Number Two (although he's depicted by a movie actor, not a comic book character); at Twelve, we start getting animated second bananas with Shrek's Donkey, then Waylon Smithers from "The Simpsons" at Sixteen, Gromit at Twenty-One, Barney Rubble at Thirty-four, and Jimmy Olson at Forty-three. Funny: as a youth devouring funnybook fantasies in the late 1940s and early 1950s, I never thought Jimmy Olson was a very significant figure, certainly nothing approaching a sidekick. Two cartoon characters are mentioned among the "inanimate sidekicks": Harold's purple crayon and Calvin's stuffed tiger, Hobbes. But Dick Tracy's two-way wrist radio isn't mentioned. Don Quixote's Sancho Panza is slotted at No. 14, but the most famous sidekick of all, the Lone Ranger's Tonto, is overlooked entirely. If generational myopia doesn't triumph, ethnocentrism will.
The contagion spreads: comic books are doing paid product placement. DC's Rush City series was concocted as a showcase for the General Motors' Pontiac Solstice GXP, said Kortney Stringer of the Detroit Free Press. Marvel, on the other hand, didn't create a new series to make the new Dodge Caliber compact visible: pictures of the auto will simply be woven into various existing books by the end of the year. "In the past, Marvel has done paid placements for Nike, Schwinn and Sony, where their logos appeared in places such as T-shirts and billboards in comics"—wherever deemed appropriate by editors, said Dan Buckley, Marvel publisher. Dodge maintains such product placement in comics is "a no-brainer" because Marvel's circulation overlaps with the Caliber's target demographic, "a difficult audience to reach," said Mark Spencer, a Dodge spokesperson.
Speaking of resources, here's something called Provisions Library, which can be visited at the Provisions Library Blog. Once there, click on the Newsletter, and you'll find a list of such things as a history of racial and ethnic diversity in the history of comics, or graphic novels, or political cartoons. The Provisions Library was initiated in about 2001 by the Gaea Foundation (which is what, I dunno) "to find effective ways to nurture creative individuals engaged in radical social change." Could be anyone, I suppose. But I wound up wandering the racial and ethnic strand of comics history, interesting if sometimes telescoped enough to be slightly misleading. ... That controversial episode of "South Park" that was pulled from the broadcast schedule in March because it skewered Scientology and its most visible proponent, Tom Cruise, was rotated back into the broadcast schedule in July, reportedly airing on the 19th. Comedy Central rotates the 150 South Park episodes in and out of a broadcast schedule all year long; the episode in question had debuted some time ago and was due for rotation last winter, but because Comedy Central didn't want to offend Cruise (who might have declined to promote his third "Mission Impossible" movie in retaliation), the rotation was sidetracked. Now it's back. "If they hadn't put this episode back on the air," said Matt Stone, one of the show's co-creators, "we'd have had some serious issues, and we wouldn't be doing anything else with them."
Ted Rall, tooner gadfly, radio personality and syndicated columnist, has joined United Media to acquire and develop comic strips, cartoon panels and text columns for United's two syndicates, United Feature and Newspaper Enterprise Association. Said Rall: "I am looking forward to the opportunity to help newspapers connect with new readers and to bring the exciting work of America's best writers and cartoonists to a wider audience." Translated, that means he'll be scouring the alternative media landscape for the kind of talent that will attract young readers to newspapers. Rall seems perfectly poised for the assignment, having produced several books lately with NBM that survey alternate cartoonists. We suspect United's line-up will soon be a good deal more edgy than anything it's offered so far. Either that or we'll read that Rall has resigned because they aren't willing to take the kinds of chances that he will surely be lobbying them to take. Rall's cartoon and column will continue in syndication at Universal Press, a rival operation; but Rall sees no reason to discontinue a long and mutually satisfying association. As for edginess, in a recent column, Rall examined the U.S. military's ready resorting to aerial bombardment "in lieu of deploying infantry troops on the ground." Troops on the ground can better identify what to shoot at—thereby reducing the likelihood of collateral damage among the civilian population—but they expose themselves to risk. American, Israeli and other Western militaries prefer to minimize risk to their own troops and rely upon bombs to do the work, at the same time, perpetuating the fiction that they (a) have access to reliable intelligence and (b) use reliable intelligence to target their bombs and missiles with uncanny accuracy, thereby virtually eliminating civilian casualties. But "aerial projectiles consistently fail to deliver," Rall points out, citing examples of civilians killed by misguided missiles. Despite persistent spin to the contrary, pinpoint bombing isn't pinpoint accurate at all. But we continue to do it, Rall says, because "we value the lives of our troops a lot more than those of civilians in other countries. We're willing to slaughter them en masse in order to minimize casualties among our own." Probably true and certainly understandable; but we wish it were otherwise.
Playboy, as I mentioned here some while back, is publishing one of its overseas editions in Indonesia, the world's most populous Muslim country. The strict morality of Islam, one supposes, would doom Playboy's enterprise from the start, but with an indigenous editor, the magazine reached its third issue last month. In deference to local custom, the first issue included no photographs of barenekkidwimmin. No nudity at all. At least in photos; my source, The New York Times, said nothing about cartoons, though—a strange omission in a magazine renowned for its cartoons. In the first issue's main photograph, the traditional centerfold model appeared in a modest negligee. Lots of leg but no other epidermis to speak of. Ensuing issues have been no more daring. Goenawan Mohamad, the founder of an Indonesian newsweekly and a distinguished columnist, sniffed that the magazine was so tame that it would be absurd to ban it. Still, the editor, Erwin Arnada, was arrested, questioned, and charged with violating the indecency provisions of the criminal code. By unhappy coincidence, the magazine hit the newsstands while the government was debating an anti-pornography law. At the heart of the matter is the fear about the intrusion of Western culture with the permissiveness Muslims see everywhere in the West. Meanwhile, an Indonesian magazine, Red Light, continues to publish on crude newsprint, carrying advertisements for prostitutes and their phone numbers, photos of naked men and women, and sexually provocative headlines. All of which proves, if it needs proving, that hypocrisy is human and universal among the species; it is not, as I'd supposed all along, confined to the neoconservative wing of the Republican party or to just the elected members of our government.
Fascinating Footnote. Some of the news retailed in this segment is culled from articles eventually indexed at http://www.rpi.edu/~bulloj/comxbib.html, the Comics Research Bibliography, maintained by Michael Rhode and John Bullough, which covers comic books, comic strips, animation, caricature, cartoons, bandes dessinees and related topics. It also provides links to numerous other sites that delve deeply into cartooning topics.
<![if !supportEmptyParas]> <![endif]>
FRANK & ERNEST CREATOR BOB THAVES DIES AT 81
From United Media
Bob Thaves, creator of the single-panel comic strip Frank & Ernest, died August 1 in Torrance, California. He was 81. For more than three decades, since 1972, Frank & Ernest perpetrated a hilarious brand of off-the-wall humor, delighting millions of readers daily with twisted phrases and skewed outlook and wonderfully terrible puns. Distributed to more than 1,300 newspapers worldwide, the strip stars Frank and Ernest, playful punsters who appear in any role and at any moment in history that their joke that day demands. The constant element is the pair's "frank and earnest" iconoclastic attitude.
Thaves was a three-time winner of the National Cartoonists Society's Reuben Award for Best Syndicated Panel and was given the Free Press Association's Mencken Award for Best Cartoon. He was voted "Punster of the Year" by the International Save the Pun Foundation and just this year was recognized as a Champion of Creativity by the American Creativity Association. A true innovator, he invented his Frank & Ernest as the first comic panel presented in a strip format. It was the first to vary the roles of its characters and the first to use block lettering. It was also the first to use comic book-style digital coloring for the Sunday pages. Frank & Ernest was one of the first comic strips to have its own Web site, www.frankandernest.com, which has included several innovative components, including the first 3-D interactive comics based on a comic strip. Thaves, who held both bachelors and masters degrees in psychology from the University of Minnesota, began cartooning as a kid and never stopped. He created Frank & Ernest while working as a consultant in industrial psychology in California.
In announcing Thaves' death, Katie Thaves, the cartoonist's widow, and Sara, his daughter, as well as his son Tom took pains to acknowledge the contributions to the strip of Tom Peoples, NEA's editor "who was willing to take a chance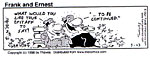 on a single panel strip when nobody else would because it had never been done before," gag writers, and Don Dougherty and Sam Hurt, "who provide key assistance with the artwork." Frank & Ernest will continue to be produced by Thaves' son, Tom, who has collaborated with his father on the strip since 1997.
<![if !supportEmptyParas]> <![endif]>
How to Win the War on Terror
It is now commonly agreed that the Bush League's foray into Iraq has been, from the very beginning, an unmitigated and unquestioned disaster, a triumph of arrogance and ignorance over common sense and common decency. From the very start, we displayed a criminal lack of knowledge about Arab culture. Had we any inkling of it, we would have recognized that Saddam's reputed store of weapons of mass destruction was but a macho pose of the sort nomadic cultures have fostered for centuries. Saddam achieved status among other Arab nations by standing up to the Great Satan in the West, the United States—by flaunting a military might that was almost entirely fictional.
We continued making the same mistakes of arrogance and ignorance almost as soon as we had boots on the ground in Iraq. In the July 31-August 6 issue of the Washington Post National Weekly Edition, Thomas E. Ricks examines further "the early missteps that left U.S. troops unprepared to fight the Iraqi insurgency." The biggest misstep of all, he says, is the failure to realize soon enough that we were fighting a guerrilla war. "Vietnam's lessons were ignored." Ricks unearths "one of the essential texts on counterinsurgency, Counterinsurgency Warfare: Theory and Practice, a 1964 volume written by David Galula, a lieutenant colonel in the French army who had witnessed guerrilla war on three continents. The book, Ricks says, was, until recently, virtually unknown in U.S. military circles, "which is one reason it is possible to open Galula's text almost at random and find principles of counterinsurgency that the American effort failed to heed." Among them, the American conviction that the Iraqi civilian population was a sort of "playing field on which a contest was played against the insurgents" when the opposite is more accurate: "the people are the prize. ... 'The population becomes the objective for the counterinsurgent as it was for his enemy.' From that observation flows an entirely different way of dealing with civilians in the midst of a guerrilla war. 'Since antagonizing the population will not help, it is imperative that hardships for it and rash actions on the part of the forces be kept to a minimum,' Galula wrote." Ricks refers to a course in military strategy taught at Fort Leavenworth's School of Advanced Military Studies which has determined that the U.S. experience in Iraq in 2003-2004 is remarkably similar to the French war in Algeria in the 1950s. "Both involved Western powers exercising sovereignty in Arab states, both powers were opposed by insurgencies contesting that sovereignty, and both wars were controversial back home. Most significant [is the fact that] both the French and U.S. militaries were woefully unprepared for the task at hand. Currently, the U.S. military does not have a viable counterinsurgency doctrine, understood by all soldiers, or taught at service schools." Galula's book, however, is at last a bestseller at the Leavenworth bookstore. Perhaps too late.
Meanwhile, in the current battle between Israel and Hezbollah, we are likely, in our perpetual arrogance, to overlook the most significant aspect of the encounter. At first, the so-called moderate Arab states in the neighborhood condemned Hezbollah for precipitating the crisis. Then, as the Hezbollah militia held out successfully against the military might of Israel, opinions changed. Within days, Hezbollah was being cheered in the Arab streets. In this development, we see the predicament of the region in stark outline. Hezbollah has not won anything on the battlefield: it has merely withstood, albeit momentarily, the onslaught of one of the world's most sophisticated military machines. Yet even in that momentary resistance, Arab countries find something to cheer about, a sort of illusion of victory. Only in a culture that suffers from a nearly paralyzing inferiority can such a trifling achievement be viewed as a triumph. The sense of national deprivation, the loss of cultural pride, that has festered in Arab nations since the collapse of the Muslim empire in about 1200-1400 is almost entirely responsible for the recruiting success of the 21st century terrorist movement. Deep down, the appeal is to a completely disenfranchised people, particularly the young and underemployed who have no hope. The terrorist movement holds out hope—the hope that the magnificence of the caliphate of storied yore can be restored by adhering strictly to the principles of the religion Muhammad founded. The chronic problems of this wartorn region will not be solved until the referees, the U.S. and European nations, find a way to revive Arab pride. Ultimately, it cannot be done by imposing, through military force, a so-called peace: it can be done only if the Arabs are the active agents. The culture will then take pride in its own achievement, and when Muslim pride is restored, the terrorists will find no more candidates for the ranks of its suicide bombers.
<![if !supportEmptyParas]> <![endif]>
CIVILIZATION'S LAST OUTPOST
One of a kind beats everything. —Dennis Miller adv.
Mitt Romney, the Republican governor of Massachusetts, quotes his wife when describing the gridlock in Congress: she likens the spectacle of Congressional action to "two guys in a canoe that is headed for the falls, and all they do is hit each other with their paddles."
<![if !supportEmptyParas]> <![endif]>
RE-VISITING THE REUBEN
My exhaustive (not to say tedious) report in Opus 185 on the Reuben Weekend of the National Cartoonists Society began, you'll recall immediately without further prompting, with this passage:
"Congratulations," I said to Mike Luckovich, shaking his hand warmly, "—on winning the Chester Gould Reuben."
"Oh, you heard?" he said. "Well, I'm not giving it back," he quipped with a grin.
I promised then to explain this cryptic exchange at a future time, and that time has now hove over the horizon. Another of your recollections of that epic Opus 185 may be that on Sunday, the day after the Reuben Banquet, I and a tiny (two-man) band of brethren made a 50-mile trek to Woodstock, Illinois, home of Chester Gould, creator of Dick Tracy, where we visited the Dick Tracy Museum as an act of homage to the 75th anniversary of the strip this year, an event also celebrated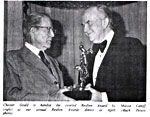 by NCS during its festivities. Gould, as I mentioned, was one of only eight cartooners to earn the NCS "cartoonist of the year" designation twice, garnering, each time, a comical heavy metal trophy that is named "Reuben" after its designer andone of the founders of the Society, Rube Goldberg.As we paid for our modest purchases at the Dick Tracy Museum, the custodian on the premises, perhaps its curator—perhaps the editor of its newsletter, Ed Beling—asked if we were attending the NCS convention in Chicago. When we confessed that we were, he remarked about what he called "the excitement" of the previous evening.
"Excitement?" I said.
"Yes," he continued. "Apparently they lost or misplaced the Reuben statuette, and since they had to have something to give the winner, they borrowed one of Gould's for the purpose."
"Oh?" I said. "How did that happen?"
"I don't know how the statuette turned up missing," he said, "but they knew that Gould had two of them, and his daughter was attending the convention—part of the 75th anniversary festivities—so they asked if they could borrow one of them for the presentation. Her son, Tracy O'Connell, made the trip up to Geneva, where she lives now, and brought one of them back to Chicago for the presentation ceremony." He chuckled. "Almost didn't get there. He stumbled getting out of the car and almost dropped the thing."
That's the tale I would've told had I not been prevailed upon by NCS president Rick Stromoski to hold my tongue until he had a chance to tell what "really happened" in the next issue of the NCS Cartoonist, which arrived a week or so ago and contained a full report on the Reuben Weekend. What "really happened," according to Stromoski, is that the manufacturer of the Reuben trophy and the plaques for each of the "division awards" had failed, apparently, to include the Reuben in the shipment with the other awards that it sent to Chicago. The company has been faithfully making the Reubens and the plaques for nearly 60 years, and this was the first time in memory that it had goofed so spectacularly. Another historic first for the Chicago convention. Alas, it happened on Stromoski's first Reuben Weekend as NCS president. Since one of the chief functions of the NCS president is to arrange this annual party, he was, understandably, anxious that it all go well. And then this happens. He didn't learn of the missing trophy until Saturday afternoon, just four hours before the banquet at which the Reuben would be presented. (Hereafter, we may suppose that the box of awards shipped from the manufacturer will be opened and the contents verified somewhat earlier in the weekend—for no other reason than to give the rescue squad a little longer to concoct a rescue maneuver.) Naturally, Stromoski was apprehensive about how news of this mishap would come out: as the responsible party in the NCS hierarchy, he knew he would be blamed—and rightly so, pro forma at least; he was, after all, in charge of the weekend's arrangements. But he was scarcely the culprit. No one, really, was: it was as much accident as oversight, and both were committed by the manufacturer, not Rick. When he learned that I knew about the missing Reuben, he asked me to forego the journalistic (not to say fiendish) pleasure of breaking the scandalous tale and let him do it in his own way. Which I did, more-or-less; and he did, too, regaling us with the horrendous facts in the May-June issue of the NCS newsletter.
"I had a nagging feeling that my first Reuben weekend as NCS president was going a little too smoothly," Stromoski wrote. And then shortly after 2 p.m. on Saturday, his "worst fear" was confirmed: no Reuben statuette. Past president Steve McGarry is apparently the resourceful factotum who conjured up the solution to the predicament, guessing that there had to be someone else's Reuben trophy somewhere within driving distance. And then they all thought of Jean O'Connell, Gould's daughter, who was at the convention to conduct a short remembrance of her father. When Stromoski described his dilemma to her, "she jumped at the chance" to supply one of her father's Reubens as a stand-in. She was, Stromoski said, "very excited that her dad could help the NCS one last time. I put her son Tracy and son-in-law Brett into a limousine for the two-hour round trip to Geneva. As they got ready to leave, Jean told her son, 'Make sure you get the shiny one.'" NCS changed the formula for the metal between Gould's first Reuben in 1959 and his second in 1977: the earlier substance tarnished pretty fast.
And now, I trust that my cryptic exchange with this year's Reuben winner is fully decoded. And that Stromoski emerged unscathed despite the yellow journalism that usually oozes from every pore of Rancid Raves.
Quips & Quotes
"I really don't think I need buns of steel. I'd be happy with buns of cinnamon." —Ellen DeGeneres
"The need of exercise is a modern superstition, invented by people who ate too much and had nothing to think about. Athletics don't make anybody either long-lived or useful." —George Santayana
"I am pushing sixty. That is enough exercise for me." —Mark Twain
"I've been on a constant diet for the last two decades. I've lost a total of 789 pounds. By all accounts, I should be hanging from a charm bracelet." —Erma Bombeck
"My doctor told me to stop having intimate dinners for four. Unless there are three other people." —Orson Welles
"Where do you go to get anorexia?" —Shelly Winters
"When I buy cookies, I eat just four and throw the rest away. But first I spray them with Raid so I won't dig them out of the garbage later. Be careful, though, because Raid really doesn't taste that bad." —Janette Barber
"Never eat more than you can lift." —Miss Piggy
"What Orson Welles was to movies, what Milton Caniff was to comic strips, that's what Will Eisner was to the comic book medium." —Michael Uslan
"All things pass away, but if you live your life well, everything is fun while it lasts." —from Roger Ebert's review of "A Prairie Home Companion," which the critic loved without stint or quibble.
BOOK MARQUEE
Herewith, a few notes in passing on notable projects either in hand or a-borning. Russ Cochran, who pioneered quality comic book reprinting with his stunning black-and-white "library" of EC Comics twenty years ago, is at it again: this time, with the EC Archives, in which he re-issues the EC Library but all in color—with new, definitely superior, color separations. And if you act before October 31, the first two volumes, 8x11-inch 212-page hardcovers, reprinting six issues each from Weird Science and Shock SuspenStories, are available at $30 each instead of the usual $49.95. For details, visit eccrypt.com or russcochrancomicart.com.
Just launched, a new reprint project with Leonard Starr's On Stage, that exquisitely illustrated absorbing story of Mary Perkins, a country girl who comes to New York to pursue a theatrical career. The first volume (162 8.5x11-inch pages, b/w in paperback, $19.95) starts at the beginning of the strip on February 10, 1957, when Mary arrives in the Big Apple, already, unbeknownst to her, the victim of a scam. By the end of this book, on January 11, 1958, Mary has escaped the scam and the attentions of a mad actor and has attracted the interest of several important persons who determine to advance her career. She's also met and fallen in love with the photographer, Pete Fletcher. I hadn't remembered that this happened this early. Happily for the sake of perpetrating suspense, the course of their true love is fated to be somewhat bumpy: this volume ends with them going off in separate ways in pursuit of their careers. Otherwise, the strip celebrates the hoary show biz myths of overnight stardom and celebrity, a fairy tale but told here with engaging inventiveness and beautiful pictures. Starr's detailed artwork is reproduced with exacting care (only a very few flubs, and those, not enough to undermine the over-all satisfaction of reading and viewing the volume). Volume Two is due in November. Both can be ordered at www.classiccomicspress.com or by sending your check for $19.95 plus p&h of $3.95 ($23.90 total) to Classic Comics Press, 55 West Chestnut Street, suite 2908, Chicago, IL 60610-7321.
Titles on the horizon from Andrews McMeel, the industry's premiere publisher of comic strip reprints: A Million Pieces of Close to Home (John McPherson's Close to Home), Let's Get Pickled (Brian Crane's Pickles), Bad Habits (Glen McCoy's The Duplex), Try Rebooting Yourself (28th Dilbert collection by Scott Adams), Bevity (a new single-panel strip by Guy Endore-Kaiser and Rodd Perry), Lions and Tigers and Crocs, Oh My (including a section of "banned" strips from the always scornful Stephan Pastis's Pearls Before Swine strip), Another Stereotype Bites the Dust (the second volume of Darrin Bell's Candorville), Are We Out of the Driveway Yet? (Jerry Scott and Jim Borgman's Zits). Also a-borning, this time from Harry N. Abrams, Cartoon America: Comic Art in the Library of Congress, a 324-page tome edited by curator and comics historian Harry Katz (which includes, I hasten to add, a few paragraphs from moi).
<![if !supportEmptyParas]> <![endif]>
COMIC STRIP WATCH
Bill Amend's FoxTrot joined the cross-over crowd the week of July 24. Jason, the strip's resident genius and aspiring cartoonist, notices that "another cartoonist is running re-runs while on vacation" and undertakes to supplant the re-runs with strips of his own devising that ape the originals. In this cross-over I find none of the scorn that often permeates those in Pearls before Swine. Jason's strips, it turns out, all make fun of his older sister, Paige, and the comedy of the whole series is therefore well within the mythos of Amend's universe: he is not, in other words, ridiculing the strips whose characters he has momentarily appropriated.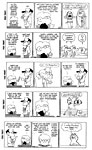 Elsewhere, Wiley Miller's Non Sequitur and Scott Adams' Dilbert acquire political tinges in a couple July releases.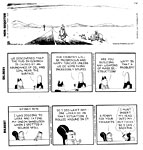 ... On July 22, Adams, 49, got married, to Shelly Miles, 37, aboard the Galaxy Commodore yacht in San Francisco Bay in a ceremony conducted by the ship's captain. The couple met at a spa in Pleasanton, Ireland, where Adams is co-owner of a restaurant. The cartoonist's imprint on the restaurant is, apparently, confined to the printed menu, which is encumbered with such quips as can be found accompanying the Dungeness crab cake: "You'd be crabby too if you were kep in a dungeness."
Traveling around the country last month, I sampled newspaper comic strip line-ups in various cities. The Los Angeles Times runs 26 strips and 10 panel cartoons for a total of 36. The San Diego Union-Tribune publishes 38 strips and 4 panels for a total of 42, yet its circulation area is less populous than the L.A. Times'; you'd think the Times would be running more strips, as would, seemingly, befit a paper with its large circulation. The San Jose Mercury News runs 28 strips and 3 panels; total, 31. The neighboring San Francisco Chronicle runs 20 strips plus 2 panels, totaling 22. The Dallas Morning News offers 35 strips and 7 panels, totalling 42, another satisfying line-up in both quantity and quality. The Dallas Morning News, by the way, like most daily newspapers, is seeking to "meet evolving reader and consumer needs," which, as with other newspapers, involves reducing staff: in this case, 85 newsroom jobs will be eliminated, the News offering severance packages to "those who may prefer another work environment" (an environment that, apparently, would include them). Most of the papers in my informal survey run For Better or For Worse, Peanuts, and Doonesbury; but the soap-opera stalwarts are, apparently, fading. Rex Morgan is in a couple of these papers; Judge Parker in a couple. No Mary Worth or Apartment 3-G.
The International Herald Tribune, the last vestige of two grand old names in American newspapering, now inhabiting Paris rather than any American city, declined to run Wiley Miller's Non Sequitur for Friday, August 11. The strip is part of a week-long sequence in which the precocious tot Danae finds herself in a parallel universe, one in which, as it develops, "everyone is granted one wish." Explaining all this to Danae is a look-alike little girl named Danae. On Thursday, August 10, the latter points to a man who "was a strict Constitution originalist on the Supreme Court and wished to have all the amendments removed." The man, we learn, is named Clarence and is owned by Antonin Scalia, who "made the same wish." Then on Friday, the two girls encounter a woman in a burqa, who, the Danae clone says, is Ann Coulter, who "wished to get rid of everything liberal in her life." At the International Herald Tribune, deputy features editor Judy Burtt explained the paper's dissatisfaction with the strip: "We felt it was obscure to many of our international readers as well as potentially offensive to some of them." Wiley, while noting that it's "the right—even the obligation—of every editor to run or censor anything" in their paper, observed: "Under the reasoning they've stated, every cartoon could be deemed inappropriate." Right: possible "obscurity" of a joke or its "potential" for offending pretty much captures the universe of comedy.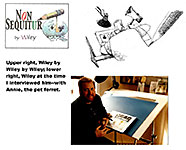 Meanwhile, at the Times in Shreveport, Louisiana, according to Editor & Publisher, when the paper announced that it was considering dropping Coulter's syndicated column, 500 e-mails deluged the paper, running 60% to 40% in favor of retaining the columnist. Said editorial page editor Craig Durrett: "At least one self-identified liberal thought we ought to keep her because she presents a vivid example of intolerance that the reader often found on the far right." Executive editor Alan English said Coulter's "shock-joking often falls below a level of taste for us. She's the Howard Stern of political commentary. Certainly both have made some useful political points occasionally, but then even a blind squirrel can find a nut sometimes. As we move forward," he added, "I anticipate we will grow tired of Coulter's rants and sometimes low-quality hyperbole that borders, again, on a strong sense of self-promotion and sandbox name-calling."
At the Daily Record, a reader wrote in to protest the July 19 Lio strip. This installment of the strip, a pantomime endeavor by Mark Tatulli (see Opus 186), shows the title character, a young boy, with his father in the pet store, happily purchasing a puppy, which, once the kid gets home, is gift-wrapped as a present for his gigantic pet snake. This gruesome gag (you should pardon the expression) the reader, Dorothy Hall, found horrifying. "Don't you realize how many young people read the comics? You are telling them it is okay to torture and destroy one of God's creatures. I know you will say that it is not pictured that the giant snake eats the puppy, but our young people have good brains and can figure it out." If they're all that smart, surely they know the strip is a joke, albeit one steeped in dark humor of the macabre sort that kids delight in.
Finally, celebrating weird coincidence, here are three strips, which, in my local newspaper, appear on the comics page just as they appear here, all telling jokes in which spraying water is the McGuffin.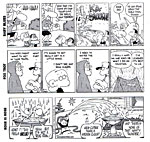 <![if !supportEmptyParas]> <![endif]>
The Wit and Wisdom of Madeleine Albright, Former U.S. Secretary of State
"I'm not a person who thinks the world would be entirely different if it was run by women. If you think that, you've forgotten what high school was like."
Albright, who confesses to being a prude ("and I've always been a prude"), disapproves of current feminine fashions that result in flashes of female flesh, like Jennifer Aniston's tummy, for instance. "If you dress like a sex object," saith Albright, "you'll be treated like one." Makes sense to me. But her most serious objection to such fashions stems from her belief that the people of other nations develop unfavorable views of the United States from the midriffs they see flaunted hither and yon.
<![if !supportEmptyParas]> <![endif]>
SAN DIEGO COMIC-CON INTERNATIONAL
The Mob Scene at the San Diego Revel for Comic Book Fans
The 37th annual San Diego Comic-Con International, the country's oldest orgy of comic book character culture, is more about lines than about comic books or movies or television or gaming or toys, dolls, and costumes. Lines drawn on paper, of course, but at the Con, the lines are also humanoid, and they fill the aisles. The visual and aural excitement of the Thursday-Sunday revel was almost enough to persuade you to overlook the perpetual line. Lines filled every square foot of floor space in the gigantic 460,000 square-foot Convention Center, a sprawling cavern 5-6 blocks long right on the waterfront. People lined up to get in: even if they'd preregistered, they had to line up to get their name badges. The lines began forming hours before the daily 10 a.m. opening; they stretched the length of the Center and around the corner and down the block. And they lasted all day long from before dawn until late in the afternoon, through some of the hottest days of the summer; temperatures on Saturday reached 99 degrees. I saw lines on the sidewalk outside at 3 o'clock in the afternoon—even 4 o'clock; patient people who, once they entered the edifice, wouldn't have but 2-3 hours left to view the spectacle before it closed at 7 p.m. Once inside the mammoth Center, lines persisted throughout. In the lobby of the Center, the U.S. Postal Service had a booth where it introduced the new stamps depicting DC Comics superheroes, and lines formed to buy them by the sheet.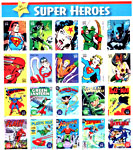 The teeming throng filled the aisles in the gargantuan exhibit hall, creating another line, an enormous unending procession along which you were forced to plod, neither faster nor slower than the moving mass, up or down row upon row of booths displaying comic books and toys and games and the entire panoply of the four-color fantasy world.
Security is tight. Cops and the red-shirted Elite security guards were posted every two or three feet. One of the tenets for crowd control personnel is, doubtless, don't permit the slightest deviation from prescribed behavior. When crossing a street, for instance, if you plan to turn left when you get to the destination end of the crosswalk, the temptation is to shortcut the last few feet—to turn from the crosswalk and cut diagonally across the remaining ten feet of street to the curb. Not at the Con. A cop is standing right there to prevent such criminal behavior: he will sternly tell you, "Stay in the crosswalk." No exceptions. And the Redshirts are equally diligent, often even when guarding an otherwise completely vacant corner. "Sir," one of them said to me when I went into such a corner where it was quiet enough to enable me to hear on my cellphone, "I'm going to have to ask you to leave this area." "But there's nothing here," I said. "It's a restricted area," he deadpanned. I left, naturally—valuing my knee caps.
Despite all the security, there were no metal detectors in evidence. And it would be a perfect venue for a suicide bomber to gain entrance: many of the costumes worn by fans would easily hide a belt of explosives. But I wasn't worried much. Terrorists don't understand comic books, probably. Besides, as it happened, I was too busy being annoyed by the badging ritual of the Con. Everyone was issued a name badge and a necklace to wear it on. Dutifully, everyone donned their necklaces. And immediately obliterated their identities: the name badges, dangling at the end of the necklaces, invariably flopped around, back to front, so no one could read the names. Pin-back name badges are no longer tolerated. The women have won: they long objected to pinning name badges on their clothing: the pins made holes, ruining blouses. So, timorous convention managers everywhere, anxious to please, threw out the pin-back badges and adopted badges with clips for fastening to necklaces. You could also clip the badge to your shirt collar, but most people use the necklaces, thereby eliminating the function of the name badge to identify its wearer.
Comic-Con International is, without quibble, the largest show of its kind in the nation. This year's attendance probably topped 100,000. Or maybe 120,000. In any event, higher than last year, which, depending upon who you consult, was either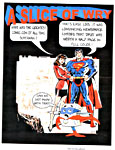 94,000 or 104,000, including volunteer workers and non-paying professionals. In Chicago, the Wizard World Con, which met in Rosemont Convention Center, August 4-6, usually claims an attendance of a little more than half of that; see the following report. New York is bursting on the horizon, though. We'll see. In the meantime, the Sandy Eggo Con reigns as the largest. But not the greatest. Not according to cartooner Sherm Goodrich, who made a counter-claim in the newsletter-magazine of the Southern California Cartoonists Society, posted herewith.
The Con has assumed stature over the years, particularly as it has become a Hollywood venue. The local newspaper, the Union-Tribune, covers the event much more avidly these days than of yore, giving it a page almost every day in the paper's tabloid entertainment and arts section. And Entertainment Weekly in its August 4 edition devoted the first two pages of its News+Notes section to the Con and the movies it debuted, beginning with this extravagance: "Inside an auditorium packed with journalists, an effortlessly fashionable Kirsten Dunst held court on the subject of 'Spider-Man 3.' Meanwhile, in the stifling, crowded hallway outside, a sweaty dude in full stormtrooper regalia awkwardly negotiated how to hold his Imperial helmet while diving into a plate of radioactively colored cheese nachos. That, friends, is San Diego's Comic-Con gathering in a nutshell."
Beyond the shell of the nut, inside the multi-acre exhibition hall, you are assaulted by a riot of color and sound. The crowd, plods numbly along, a murmuring mass of humanity, usually looking up or to one side, heedless of others in the pathway. Hanging from the rafters, huge posters promoted comic book titles and characters. Batman, Spider-Man, and Bugs Bunny were present as larger-than-life statues; ditto a Lego-built SpongeBob SquarePants, a Pikachu balloon, and a cartoonish Princes Leia sculpted retro style. Fans attended in the costumes of their favorite characters: Star Wars troopers and Star Trek Klingons are traditional favorites, but this year, pirate costumes abounded, with drag king Jack Sparrows lurking everywhere. And, oddly, as Tom Spurgeon observed at his excellent blog www.comicsreporter.com, "I didn't see a single Klingon." While Dark Horse, Image, Tokyopop, and DC had Brobdingnagian display islands in the show, the other largest exhibits were for Warner Bros, Mattel, Hasbro, Leggo, New Line Cinema, NintendoDS, Sideshow Collectibles, and the like. Marvel Comics was subsumed in the company's video game entity, Activision. In sheer cubic display space (square footage on the floor as well as vertical footage between floor and ceiling), games and movies and toys dominated the exhibition. Jeff McLaughlin, a cohort of mine and editor of a collection of essays to which I contributed, Comics as Philosophy, remarked that he saw many people taking photographs of character figurines, toys. "I thought that was odd," he said. Not really: the photos are a kind of shopping list, a record that enables one to remember which figurines are a-borning and waiting to be purchased.
When the San Diego Con was instigated by ex-Detroiter Shel Dorf, a commercial artist with a passion for cartooning and sf movies, it was mostly a weekend for comic book collectors, but when Hollywood began making movies of the adventures of the longjohn legions (first Superman, then Batman, and then the X-Men and Spider-Man), filmmakers and the stellar personalities of the silver screen began appearing amid the racks of four-color magazines. And not all the movies they're there to promote originate in comic books. The San Diego Con was one of the earliest venues George Lucas visited to prepare the way for the 1977 launch of the first Star Wars movie. And every subsequent installment of the epic has been previewed at Comic-Con.
"Comic-Con is an opportunity to be face-to-face with the fans, interact with them, and get them excited about what we're doing," according to Laura Abele, a vice president of marketing for New Line Cinema, which, this year, was in the massive exhibit hall with a 14-foot-high, walk-through rattlesnake spouting steam from its nostrils in order to promote the movie, "Snakes on a Plane." Entertainment Weekly's August 4 report on the movie again referred to the Con, quoting an overhead conversation about the forthcoming horror flick in support of the contention that the movie "with the year's best title has become an online obsession and a pop culture phenomenon without even opening. Is this the sssssshape of things to come?"
To get the fans excited, movie producers this year offered them glimpses of such celluloid shockers as "Crank," "Skinwalkers," "Saw It," and "Pan's Labyrinth." And the stars of the movies starred at panel presentations in a dozen meeting rooms over the hall: Samuel L. Jackson ("Star Wars" and "Snakes on Planes"), Hilary Swank (the supernatural thriller, "The Reaping"), Tobey Maguire ("Spider-Man"), and Nicolas Cage ("Ghost Rider")—a comics fan so passionate that he has a flaming skull, like the Ghost Rider's, tattooed on his shoulder; but he declined to show it off: "it's personal," he explained. Movie-makers of past and future glories were also in attendance: Robert Rodriguez ("Sin City" and "Grind House"), comic book creator Frank Miller ("Sin City" and the forthcoming sequel, plus "300," Miller's tale of Sparta's army), Sam Raimi (with a peek at next year's "Spider-Man 3" and cryptic promises of fourth, fifth and sixth installments), Bryan Singer ("Supeman Returns"), who announced that he fully intends to do another Superman flick for 2009.
Director Alfonso Cuaron ("Harry Potter and the Prisoner of Azkaban") was there promoting "Children of Men," a dystopian thriller set in 2027 England. It helps being a Mexican director working with English-speaking actors, he said. "People tend to do what they thought I said instead of what I said, and a lot of times it's better. Then, they think I'm a genius."
Kevin Smith, there to promote "Clerks III," got stuck in the traffic jam that snarls downtown streets during the Con; he "appeared" at his scheduled session via cellphone. The crowd was somewhat appeased when zaftig actress Rosario Dawson, co-star of "Clerks II," took the podium. She will appear in "Grind House" and reprise her role as Gail, the trigger-happy streetwalker, in "Sin City 2," the second Rodriguez adaption of Frank Miller's graphic novel series. A comics enthusiast herself, she's described by Smith as "a fangirl—the hottest geek on earth." She was introduced to comic books by her uncle, a comic book artist named Gus Vasquez. "I wasn't allowed to touch is comics," she said in Entertainment Weekly. "I'd read them sitting next to him and he would turn the pages for me. I was raised to think of comic books as sacred texts."And she's starring in her own comic book series, Occult Crimes Task-force (OCT), which she created with a writer friend. Described as "CSI meets Harry Potter," the series stars a woman who looks like Dawson and tracks down supernatural activity. And Marlan and Shawn Wayans were there to promote their new comic book, Super Bad James Dynomite, described as a combination "Shaft," "Dolomite" and "Superfly."
And for tv fans: Edward James Olmos ("Battlestar Galactica"), Jorge Garcia and Daniel Dae Kim ("Lost"), Rob Thomas (creator of "Veronica Mars"), Matt Dallas (heartthrob star of "Kyle XY," a show about a kid found naked in the forest who shows no emotion and has no memory or belly button—talk about mysterious sf), and Lou Ferrigno, at 54 still a body-builder's dream and a fan attraction even though it's been 24 years since he appeared in "The Incredible Hulk." Ferrigno, a Los Angeles Sheriff's Department reserve deputy, runs his own personal training business these days and has a recurring role in "The King of Queens." He still gets royalty checks for the old tv series, and he collects at conventions like this one: fans can photograph him without charge, but if they want to be in the picture with him, it costs $20; ditto if they want him to flex a muscle or a copy of his self-published book, My Incredible Life As the Hulk.
Sessions about tv programs bubbled with fascinating news bits. "Lost" fans learned that the late Libby and Ana Lucia will return in flashback; and the dog Vincent isn't going anywhere. Elsewhere, Kristen Bell revealed that the heroine of "Veronica Mars" will go undercover at a sorority house and that the series' third season will offer a somewhat simplified storyline. Last year was "a bit convoluted," she said, "—it was even hard for me to follow." The show's producers hope to land a cameo appearance from Patty Hearst. "We're debating whether she gets kidnapped," creator Rob Thomas told EW, which added: "He's totally serious." A special preview showing of "Heroes," the new NBC series about comicbook-like superheroes, attracted hundreds.
Marvel Comics legend Stan Lee was there to promote his SciFi channel reality show, "Who Wants to Be a Superhero?" which debuted during the Con. Now 84, Lee is so highly regarded among fans that he gets a standing ovation just by standing up. Wherever he walks, the crowds part like the Red Sea and applaud. "They mob me," he told EW. "I'm thinking next time, I'll wear a Spider-Man mask. People wear masks here, so nobody would know who the hell I am." Celebrating Lee's 65th year with the company, Marvel is publishing a series of comic books in which Lee meets the characters he created—Spider-Man, Dr. Strange, Silver Surfer. Each book will have two stores, one by Lee—humorous, Lee said, but without making fun of the characters. The first two, Stan Lee Meets Spider-Man and Stan Lee Meets Dr. Strange, will be out in September.
The Con officially celebrated several anniversaries: the 75th for movie monsters Dracula and Frankenstein and for the comic strip Dick Tracy (which occasioned the announcement that the strip will be reprinted from the beginning by IDW); 65th for Archie and Captain America; the 50th for the rubbery Gumby character and for the Flash and the dawn of the Silver Age; 40th for Star Trek and the Space Ghost, and 100 years of Conan tales from Robert E. Howard.
The Con is a favorite venue for proclamations. Marvel announced a second Avengers title to be produced by fan favorites—written by Brian Michael Bendis and drawn by Frank Cho—and next April's appearance of a long lost issue of The Fantastic Four, a tale that reconstructs the final issue drawn by Jack Kirby, No. 102. DC Comics plans an Absolute Wonder Woman series by Adam Hughes and a Zatanna/Black Canary hardcover graphic novel written by Paul Dini and drawn by Amanda Conner. Oni Press unveiled plans for a comic book based upon Tek Janson, the star of Stephen Colbert's "unpublished science fiction novel," Alpha Squad 7: Lady Nocturne, a work Colbert frequently mentions on "The Colbert Report," sometimes even reading from it.
Things you learn: actor Matt Salinger, who played the title role in 1991's "Captain America," dubbed the worst comic book movie of all time, is the son of the reclusive J. D. Salinger, author of The Catcher in the Rye. Richie Rich's dog's name is Dollar. Artist Jim Lee says Superman is the most difficult character to draw: "There aren't a lot of elements on his costume, so it's essentially a human form, which means you can't cheat. You can't hid the waist with a belt, or the face with a mask." Spider-Man, he says, is his least favorite subject: "It's harder to express emotions because he wears a [face-covering] mask." Digital comics are a looming presence for both the Web and cellphone. According to www.icv2.com, "More and more companies appear to be finding ways to generate revenue, however modest, from electronically transmitted comics. ... Over the long term, electronic delivery is going to become a bigger part of people's lives, and in general the ability to commercialize new methods of delivery is lagging ... and illegal scans of new comics are widely available."
Frank Miller has been picked to "adapt and direct" the Spirit movie from Odd Lot Entertainment and Batfilm Productions. Miller said he intends to be "extremely faithful to the heart and soul of the material, but it won't be nostalgic. It will be much scarier than people expect." Last year, Batfilm's Michael Uslan said the filmmakers were approaching Will Eisner's classic creation as if the Spirit were younger and just starting out. The action will be set in the present day, not the thirties or forties. As of a year ago, the producers hadn't decided what to do about Ebony White—whether to include the character or not, and if so, how. Nor have they decided which of the notorious Eisner femmes fatales will be featured. In fact, apparently no casting decisions have yet been made. Uslan said last year that "fifty years ago, James Garner would have been the one" to play the Spirit. Can't quarrel with that. And with that as a benchmark, the prospect seems shining.
One of the earliest panels on the Con's first day, Thursday, introduced the Cairo-based comic book publisher, AK Comics, which appeared for the first time at last year's Comic-Con. This year, the publisher heralded the recent launch of its titles in the U.S. The company's mission is to create comics that feature Arab culture in much the same way as Japanese manga feature Japanese culture. According to reporter Lee Atchison of the online Sequential Tart, AK Comics aims with global distribution to see their characters and stories perform the same diplomatic service for the Middle East. AK Comics presently publishes four superhero titles, two with male protagonists, two with female: in Zein, the title character is a pharoah born 16,000 years in the past; Aya follows the adventures of Rania Mokhtar, "a law student who fights crime with the help of an underground organization, The Umbrella; Jalia gives us a lady nuclear scientist with powers born of a terrorist attack on a research facility when she was young; and Rakan is about a second century nomadic warrior. The books are formatted in somewhat unfamiliar ways: pages are reversed, and their dimensions are taller than most other international comic books. The publisher emphasized during the presentation that while the characters are important, so too is the world in which they operate. Reported Atchison: "The culture is almost as important as the fact that they're superheroes." Reaction in the Middle East to the series taught the publisher that the characters must accurately reflect their culture. For instance, at first, readers thought the costumes of both male and female characters were too tight.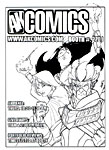 "AK Comics is taking in the feedback and realizing that to be true to their roots, their characters need to be toned down and pulled back—in other words, less Americanized." At present, 70% of the readership is young; targeting young readers, the publisher hopes to create a firm base for the medium as the young readers to "grow into comics," as Atchison put it. Distribution is mostly in Egypt with some peripheral overflow to Gulf countries. The books are published in several languages—English, Arabic, Greek, and, even, Chinese. But many of the creators write in English, and many of the artists are Brazilian. For more, visit the website: http://usa.akcomics.com.
I took time away from slogging the procession through the exhibition aisles to attend a few of the panel presentations upstairs. I witnessed the spotlight on Amanda Conner, who was joined on the platform by her writer/inker husband, Jimmy Palmiotti, who actually did most of the talking, with Conner supplying a sort of running commentary on whatever he said. Whenever possible, he said, he writes stories that only Conner can draw: that way, she gets more work. And so does he. Conner's playful sensibility as a penciller is what has most captivated me (that, and the charming way she renders the curvaceous gender). Her pictures inevitably betray an active sense of humor—in poses and in the facial expressions she gives her characters. She is one of the few artists who can draw a beautiful woman grimacing and lose nothing in either beauty or grimace. She talked a little about a character who had an owl in his or her residence. (I didn't hear which comic book this happened in; sorry.) As she drew the owl, she said, she began wondering about owl droppings. Surely, she thought, if you had an owl flitting around your rooms, there'd be droppings. So she drew some in. PowerGirl in the recent JSA Classified was the Pro "cleaned up," Conner said, referring to her work on the notorious (and hilarious) one-shot about a superpowered prostitute. And in No. 4 of the JSA series, PowerGirl returns to her apartment at the end of the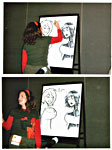 adventure and, coming in late at night, she mutters, "Man, I gotta get an extra set of keys." In the next panel, we see her discarding the doorknob; obviously, she'd forgotten her keys and had to break in to her own apartment. Conner-esque, I'd say. And when PowerGirl greets her pet cat, Conner puts the litter box in the foreground, and we see, yup, cat droppings. Conner concluded her Spotlight session by going to a giant sketchpad on an easel and making a drawing of PowerGirl in which her all-powerful chest is inspiring awe if not envy in an otherwise innocent bystander.
At another session, members of the National Cartoonists Society tried to give meaning to a question fraught with hazard: Producing a Daily Comic Strip—How Hard Can That Be? Brian Walker (Hi and Lois, Beetle Bailey), Jeff Keane (Family Circus), Andrew Feinstein (Girls and Sports, a new strip equally fraught with dangerous questions), Michael Jantze (The Norm), and Dan Piraro (Bizarro) danced around answers to the question, convincing us that it wasn't easy to do a daily comic strip but it wasn't like climbing Mount Everest either. How hard is it to come up with ideas? After listening to others say how difficult and sometimes mind-numbing the task is, Piraro took the mic and said: "I've been doing my cartoon for almost 20 years, and when I signed my first syndicate contract, I immediately came up with 25 years of gags; so I have 5 years to go before I have to worry." Discussing the ever-menacing question of censorship, Jantze put the issue of topical commentary succinctly: You can comment on unemployment but not on layoffs at GM.
Jantze was the only panelist not syndicated in daily newspapers: instead, as you may remember, he produces a daily strip for his paid subscribers on the Internet (www.thenorm.com), an enterprise that is still successfully proceeding. Because The Norm is tailored for a different sort of readership—dedicated fans rather than the general public—Jantze feels free to experiment with form and content. He intends to publish books of the strips, collecting a year's worth at a time, say, and so he has started envisioning each daily installment as one third of a three-tier page in a graphic novel. This maneuver gives layout and timing a precedence that they don't normally enjoy in the usual daily format, which aims, always, at a concluding punchline; juggling these concerns, Jantze said, keeps him interested in the project.
As a body, the cartoonists conveyed their sense of ever-urgent agony at producing seven hilarious ideas for each week's deadline, noting, as they passed over the perpetual predicament, that they couldn't get a vacation unless they produced, in advance of the vacation, enough strips to cover their time off. If they want a two-week vacation, they must get two weeks ahead of their usual output. Why, then, I wondered to myself, don't they produce eight hilarious ideas every week instead of just seven: after three-and-a-half months, I thought, they'd have worked "ahead" enough to get two weeks off. Maybe they do that and just aren't telling us.
I dropped in to see underground legend S. Clay Wilson do his Hunter Thompson imitation: wearing shades and a wide-brimmed straw hat, he waved his hands aloft in languid gesticulation as he regaled us with stories of his adventures tilting at authoritarian windmills and seducing biker babes, still, as ever, trying to shock us all with the outrageousness of his comedy.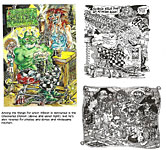 I had been invited, quite late in the season, to appear on the panel celebrating Dick Tracy's 75th anniversary. The chief attraction of the panel, however, was Max Allan Collins, who wrote the strip for fifteen years after Chester Gould retired in December 1977. I did a 10-minute introduction, tracing Gould's life story until he invented Tracy, and then I turned to Collins and said: "And how did you get involved with Dick Tracy, Max?" And Max talked quite contentedly for the next hour.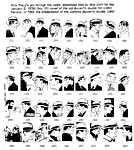 Collins had been a long-time fan of the strip and had visited Gould frequently over the years, but he wasn't picked as Gould's successor by Gould. His selection was a decision by the Tribune Syndicate, arrived at by another, much more circuitous route, too laboriously circuitous for recitation here. Collins corrected a couple of my speculations and added to the lore of the strip. Tracy, who Gould always said he'd created to give law enforcement an icon of "direct action, who could dish it out to the underworld exactly as they dished it out—only better," was based somewhat upon the legendary untouchable, Eliot Ness. When Collins learned this as he and Gould were talking once, he said, "Gee, Chet—don't you think that's an important thing that ought to be widely known?" Until now, this connection has only been speculated, notably by Jay Maeder in his Dick Tracy: The Official Biography. Now in possession of this squib of insight, we can see Ness in the earliest renditions of Tracy: the character as first envisioned has a much more rounded face, a pointy chin still but not nearly as cleaver-jawed as he would, eventually, become. Pat Patton, who had been Tracy's sidekick for years, was kicked upstairs to become Chief in 1948, and Tracy acquired a new second banana, Sam Catchem. Catchem, Collins said, was created in order to put a Jewish character in the strip. Maeder is a bit more explicit: "Gould's trusted agent and negotiator through the increasingly handsome series of contracts with both the syndicate and the licensee merchandisers had been one Al Loewenthal, who had a knobby nose and a face full of freckles [like Sam Catchem] and who was, in the late 1940s, nudging his client to incorporate 'a Jewish character' into the strip. As Dick Tracy now needed a partner anyway, Gould obliged the old friend who had made him rich, and the charcter Sam Catchem arrived as more-or-less the spitting image of Al Loewenthal. Sam's ostensible Jewishness was never formally explicated, but he did cry 'Oi yi!' a lot, and he was know to carry salami sandwiches in his coat pocket." Type-casting was fairly blatant in those days. Collins took the occasion of Tracy's 75th anniversary to announce that IDW will be bringing out the "complete Dick Tracy" in a format similar to Fantagraphics' Peanuts and Dennis the Menace compilations. Volume 1 will take the strip from its beginning in October 1931 through May 1933 and will include the five daily strips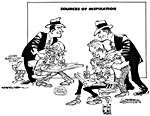 that Gould submitted to syndicate chief Joseph Patterson that sold him on the strip. Collins will supply introductions. The first volume will be out soon; ISBN 1-60010-036-8; 352 7x9-inch pages, horizontal, hardcover with dust jacket; $29.99. Meanwhile, here are my depictions of some of the other characters in the history of the strip: Dick Moores assisted Gould in the early years until he launched his own crime-fighting strip, Jim Hardy, a fairly obvious knock-off of Tracy; on the right, Dick Locher, the present creator of the strip, with Chet Gould looking over his shoulder—and Tracy over his, echoing the Moores-Hardy configuration.
At a session on web comics, the topic was "Finding Your Audience." Or, more to the point, attracting an audience. Web comics with an audience have a market for t-shirts and other accouterments based on the cartoon characters. Said Gabe of Penny Arcade: "We all wish we were part of the cool group. What happens with this community [of comics viewers] is when you see a comic, you can buy the t-shirt, and you feel like you're part of the group." PvP's Scott Kurtz said he doesn't worry much about losing readers. Some of his readers who say they're quitting because a particular strip offended them don't, actually, quit: they just continue to complain about whatever offends them: "I'll go to the folder and search for the name," Kurtz said, "and it'll be the same guy. He did not stop reading. The readers you offend aren't going to be the readers you lose. The readers you bore are the ones you'll lose."
The comics industry's Oscars, the Eisner Awards (named for the creator of the Spirit and the avid pioneer of the graphic novel), were presented during the weekend, and I was pleasantly surprised. Of the 27 awards (for the "best" of a host of enterprises—short story, single issue, writer, artist, artist/writer, a nearly endless list of bests) only 7 went to "superhero" projects. The rest went to a wide range of endeavors, covering a much broader spectrum of human experience in content and a greater variety in format than funnybook fans have, in previous decades, honored in this way. Kyle Baker's Nat Turner, a 4-issue limited series that hasn't yet published the third number, was nominated for Best Limited Series and for Best Reality-based Book, winning in the latter category, an astonishing feat considering that the other nominees included such completed projects as Marjane Satrapi's Embroideries, David B.'s Epileptic, and issues of Tom Beland's True Story, Swear to God. Baker also won for Best Writer/Artist in Humor (for his work on Plastic Man and his self-published The Bakers). Voters didn't gang up to pick only fan favorites either; in some years not too long ago, a half-dozen artists and writers reaped all the glory. This year, it was distributed among a much larger number. The Eisner's Hall of Fame ushered in four new members: Vaughn Bode, Ramona Fradon, Russ Manning, and Jim Steranko, leaving out in the cold still such luminaries of the medium as Matt Baker, Wayne Boring, Reed Crandall, Harold Gray, Graham Ingels, Robert Kanigher, Mort Meskin, Gilbert Shelton. And Alvin Schwartz and Harvey Kurtzman got the Finger this year (that's the Bill Finger Award for Excellence in Comic Book Writing, about which I'll never resist the temptation I've just succumbed to).
On Friday afternoon, the city's fire marshal, alarmed at the crowd in the building, persuaded Con officials to shut down online registration. On Saturday, in an attempt to relieve the pressure of the accumulating crowd, the Con opened its doors an hour early. By that afternoon, they decided the crowd in the building had piled so high that on-site registration was shut down. Unprecedented. Preregistrants were admitted, but on-site registrants didn't get in until someone left.
To minimize line-standing time, fans tried to get to the Convention Center early. Mike Chapman, a market researcher from Las Vegas, arrived by air at 2 a.m. and went straight to the Center, where he slept on the sidewalk until the doors opened 8 hours later. By then the line was all the way around the block. But Chapman was at the head of it.
And before abandoning the 2006 Sandy Eggo Con to history, here are a few photos of it.
<![if !supportEmptyParas]> <![endif]>
WIZARD WORLD IN CHICAGO
T-Shirt Nation
If San Diego Comic-Con International is about lines, Wizard World in Chicago a week ago, August 4-6, is about T-shirts. Mountains of them. Sheer cliffs of them. High-rise edifices of T's on hangers sprouting as the walls of booths and reaching up to the sky, or, realistically, to the ceiling of the Rosemont Convention Center where Chicago celebrated for about the 37th year
the comic book character culture that has sprung up around those little magazines that used to be "all in color for a dime" and are still, even today, all in color but now cost somewhat more than a dime. Here, as always in a comic con, we find comic books and related regalia, including games and video and toys—the latter are chiefly those sculpted figurines in the image of favorite comic book and tv characters, which, in any other setting, would be perceived as "dolls" but here, as in San Diego, are dubbed "action figures." After the gluttony fostered by Sandy Eggo's groaning board, the Wiz is like a backyard cookout. It is undeniably a much smaller, less ambitious event—except for Artists Alley, which seems larger here than in San Diego. The Rosemont Convention Center itself is smaller so there are fewer booths. Only a half-dozen or so multiple-booth islands cluster just inside the hall entrance—Marvel, DC, Graphitti, Mattel, Wizard, Top Cow, Funimation, Dark Horse, and, in a dominant 2-story structure, Spike-tv. Little Hollywood presence. The McFarlane island was conspicuous this year by its absen

ce; ditto, skimpily clad "models," who, in previous years, hawked their photographs and videotapes in Artists Alley. This year, "models" were banned. While San Diego includes a program of 14-17 sessions every hour, Chicago, in contrast, programs only 3-4 afternoon presentations, virtually no programming at all. And hardly any movie and tv stars. But the percentage of booths devoted to comic books, both contemporary and vintage, is higher in Chicago than out West. More by accident, no doubt, than by design, the Chicago Wiz is, in other words, more like the beloved comic-cons of yore than Sandy Eggo is. And there are virtually no lines at all.
The post-con reports at www.icv2.com compared the two cons and found the Wiz lacking in both substance and attendance, due, it was speculated, to its following the San Diego Con too closely, just nine days later—not to mention its convening on the same weekend as Otakon, the second largest anime show in the nation, and just the weekend before the country's largest game show, GenCon. The combination, it was supposed, depleted the Wiz in both numbers of exhibitors and attendees. "The anime and manga presence in Chicago was pretty light," saith one icv2 reporter; but, say I, it was never very much in the past. Even in San Diego, anime wasn't as evident as it has been in previous years. Ominously in Chicago, there were several vacant booths this year—no shows and last-minute cancellations; unprecedented in my experience (and I go to this event every year).
Some of the exhibitors had come to the Chicago move-in directly from the move-out at San Diego. "Road weary and cranky," they complained that attendance at the Wiz seemed "down" from last year, floor traffic and sales diminished. That, however, is doubtless more perception that reality. Speaking (as I do) as a former exhibition manager, I can say with perfect confidence that exhibitors always think the show they're in isn't as good as it was the last time. Exhibitors always complain about the lack of traffic. Exhibitors actually attend secret seminars to learn how to complain most effectively—and what to complain about. An exhibitor at one of my shows once complained about the "quality of the air" at her booth. But as soon as she said that, she realized how foolish it sounded and smiled engagingly. Many of the exhibitors in Chicago don't go to other shows, and for many of them, the Wiz was just fine. The icv2 reporter quoted the (unnamed) spokesman for "a major comic publisher" who said: "Attendance may have been down a little, but the fans that attend this show are true fans and are almost all interested in what we're offering." They are not, in other words, just "Seinfeld" or "Friends" votaries looking for a way to fill up a few hours on a summer weekend.
Most guesses, however, peg attendance this year as somewhat less than last year's. Still, the icv2 report concluded that, regardless of the final tally, Wizard World Chicago is the "pre-eminent midwest comic show ... [with] no competition that is close to overtaking it."
But there are criticisms. Icv2 published a post-con critique by John Stangeland of Atlas Comics in Norridge, Illinois (5 minutes from Wizard World); herewith Stangeland's recommendations for a revitalization of the show:
It's been increasingly clear over the last few years that Wizard World Chicago needs to move. Contrary to the misleading name, Wizard World is held nowhere near Chicago, and the desolate and backward suburb of Rosemont is in no position to attract guests and fans from around the country. It's a culture-free zone. As it is now, no one in their right mind who was confronted with a choice of destinations between Rosemont and San Diego would decide to come to the Midwest. San Diego has a wonderful mix of restaurants and watering holes within easy walking distance. It has a beautiful setting on the harbor, and access to most of the amenities of a fine city. The convention center is well managed, clean and modern. On the other hand, Wizard World is held in a glorified barn, and has no outside appeal aside from a few hotel bars and some cheap restaurants.
The City of Chicago, however, can be a deciding factor in who comes to the show. While WWChi may never compete with San Diego because of the proximity to LA and Hollywood, a move into McCormick Place or some other downtown venue would go a long way toward attracting a new audience beyond the comic book and wrestling crowd. The lakefront in Chicago is awesome, with the longest continuous inland beachfront in America. There is an unrivaled museum campus, one of the world's greatest repositories of visual arts, the Art Institute, the newly minted Millennium Park, world class restaurants, hotels, architecture and Grant Park all within easy access of excellent convention facilities. And if the show were pushed a bit later (or earlier) in the year, organizers might be able to convince Hollywood to take their publicity machine to the Midwest. I guarantee that the City of Chicago would help promote the show to its fullest extent.
Yes, the cost might be more, but it would be repaid with higher attendance, more prestigious guests, and the wealth of experience only available in a great city. Wizard World is stagnant and torpid. It's time for a major change.
RCH again: Well, I wouldn't go quite that far. True, the San Diego Convention Center is spectacular and sits next to a revitalized slum, now the fashionable Gaslamp District, chuck-full of nightclubs and restaurants (including San Diego's incarnation of the Palm, a one-time speakeasy in New York that became the Mermaid Tavern for cartoonists in the 1930s and 1940s with merry murals depicting popular syndicated characters); but McCormick Place, a sterile monster of a barren exhibition hall, is at some remove from the restaurants of downtown Chicago so it's scarcely the solution Strangeland seeks. Moreover, such a move would destroy a valued ambiance, the feeling of intimacy nurtured by the smaller gathering. My friend Barry Branvold of Barry's Collectors Corner in Grand Forks, North Dakota, responded to Strangeland's screed:
I drove to Chicago from North Dakota. In North Dakota we have barns and the Rosemont Convention Center in no way resembles one. As for moving downtown Chicago, the traffic in Chicago was horrendous and as we drove downtown one evening it gets worse. Having attended both conventions for the past 20 years, I think I can say, as a comic book dealer, that I don't want Chicago to become anything like the San Diego convention. San Diego has become a "Pop Culture" convention and comic dealers are quickly disappearing from that venue. The cost to set up and sell in San Diego has been going up so as to prevent all but the larger dealers to set up. Gone are the days for the small dealer to set up and sell his "Collection." This year's Wizard World had much more available for collectors to purchase than did San Diego. Motel rates in Rosemont were somewhat reasonable compared to San Diego. As for restaurants, we had no trouble finding places to eat in Rosemont and comic fans that I know, do not care about attending museums and parks during a comic convention. Wizard World isn't perfect, but moving it downtown Chicago is definitely not an answer.
RCH one more time: Probably the Wizard people will move the Chicago Con somewhere else as soon as they can find a suitable venue. They're about revenue, not nostalgia, and if they can't crank up shekels enough in Rosemont, they'll go downtown. But they'll lose the thing that, increasingly, makes the Chicago Con (as we who love it are wont to call it still) a unique adventure for comics lovers.
<![if !supportEmptyParas]> <![endif]>
George W. ("Warlord") Bush, Leader of the Free World
And the World's Biggest Joke
GeeDubya is undoubtedly the world's biggest joke, but it's getting more and more difficult to laugh. Iraq is deteriorating into civil war, the Taliban and the poppy industry are back in Afghanistan, and Israel and Hezbollah are busily destroying what little remains of civil stability in the Middle East. And George WMD Bush goes on a month's vacation.
Well, why not? He's been out to lunch for nearly six years.
Seriously, folks—to conjure up an adverb that doesn't describe the activities of the Bush League so much as it does the mess they've perpetrated—you'd think Karl Rove and the legions of spin doctors in the White House would think, this year—in the midst of a world crisis—of a better word to describe what GeeDubya does every August. He's vacationing? Of course, he's kept in touch with the crisis and other events while in Crawford—he hasn't exactly disappeared on a fishing trip—but "vacation"? How about "study session"? Surely, they can do better than "vacation."
Nah, why bother? It's not as if those who voted these jokers into office have the mental discernment to detect the incongruities. They never have before. So all we have is just another example of the tone deaf machinations of the Bush League—right up there with "death throes" for the insurgency.