Opus 179:
Opus 179 (February 27, 2006). The Danish Dozen were in the news almost every day for the last fortnight, until they were blown off the front pages by the wanton destruction of the revered Golden Dome in Iraq, which, in what we've come to recognize as the natural course of events in the Middle East, resulted in more riotous rampaging in the Arab streets. If you can't vote to get your opinions out there, how else do you manage it? We focus on the remnants of the catastrophe—namely, the issue of freedom of expression vs. "sensitivity" to religious feelings. Here's what's here, in order: NOUS R US —The Empire State Building venue of Mort Walker's National Cartoon Museum described, new creative boss at Pixar-Disney, current shows and books at the Cartoon Art Museum in San Francisco, Stan Lee's comments on the recent movies made of the superhero characters he helped to create, and the passing of Little Chief's creator, Brummett Echohawk, who we had just me, last time; CIVILIZATION'S LAST OUTPOST —Join Chip Beck, the self-proclaimed First Boomer, in commemorating Boomerdom; DANISH DOZEN —Will free expression be forfeit to religious and ethnic sensitivities? Denmark's Flemming Rose tells, in great detail, why he published the offending cartoons of Muhammad, and his motives are impugned as neocon-tainted while the motives of the news media are similarly questioned, after which, the reactions of several cartoonists and two outrageous cartoon contests are described; BOOK MARQUEE —The third collection of Sinfest is now out, better reproduction than the others, and some other invaluable tomes are noted; WINSOR McCAY REVISITED —The "revised and enlarged" new edition of John Canemaker's landmark book is assessed and plugged, ditto my own monograph on McCay and a fresh collection of McCay's cartooning labors other than Little Nemo is extolled with great enthusiasm; FUNNYBOOK FAN FARE —Testament is reviewed and the second issues of The Exterminators and Sable and Fortune are briefly commented on; COMIC STRIP WATCH —Raves about Graham Nolan's Phantom and Dan Heilman's Judge Parker, with a fond farewell to Harold LeDoux, who has been drawing the Judge since 1965 and is now on the cusp of retiring; TWOMORROWS TOMES —Reviews of several of the Modern Masters series, Jose Luis Garcia-Lopez, Bruce Timm, Kevin Nolan, George Perez, and Arthur Adams; winding up with a little recreational Bushwhacking and quail target practice. And don't forget to activate the "Bathroom Button" by clicking on the "print friendly version" so you can print off a copy of just this lengthy installment for reading later, at your leisure while enthroned. Without further adieu—
<![if !supportEmptyParas]> <![endif]>
NOUS R US
The International Museum of Cartoon Art, once lodged in a sumptuous tailor-made facility in Boca Raton near the Florida shore, has changed its name to the National Cartoon Museum to coincide with its having found a new digs—in the Empire State Building in mid-town Manhattan. Founded in 1974 by Beetle Bailey's Mort Walker, the Museum will re-open early in 2007. It will have three venues in New York's skyscraping icon—a street-level entrance with gift store and, on two upper floors, a two-story-high exhibition hall and an orientation center with various programmed activities—designed by Ralph Appelbaum, whose previous assignments have included the United States Holocaust Museum and the William J. Clinton Presidential Library. Exhibits and interpretive features of the Museum will include a Cartoon Timeline that traces the history of the medium, the William Randolph Hearst Cartoon Hall of Fame (offering samples of the work of the present 31 inductees), and a theater for film and video screenings. The Studio and Education Center of the Museum will serve as a virtual cartoonist's studio where visitors can observe the creation of a cartoon, step-by-step, and can even make their own. At the heart of the Museum's activities is its permanent collection of more than 200,000 works, most donated by their creators, which will rotate on display, some permanently (like the Hall of Fame), some periodically (a special show of comic book superheroes, for example). Said Director Stephen Kiviat: "Our aim is to bring scholarship to an entertaining artform and to communicate to a large and diverse audience the myriad ways in which cartoons have been a source of humor, social commentary, and creative expression around the world." This latest version of Walker's museum seems to me more likely to succeed than its previous three incarnations. First, the location in mid-town Manhattan in the already high-traffic vicinity of a major tourist attraction will surely bring more people into the Museum than any of its previous locales (in distant Connecticut and Florida) could hope for. Second, the street-level entrance and gift store will enhance the location with high visibility. Now, if that Studio and Education Center houses, on a more-or-less permanent basis, some actual working cartoonists, the new Museum will have all the ingredients I've been touting as essential for lasting viability.
Pixar's John Lasseter will be the chief creative officer of the animation operation of the merged Pixar and Disney operations. "Lasseter is probably the most respected single person in American animation," said Kevin Koch, president of Animation Guild Local 839, the Hollywood animators' union. ... Ann Coulter, the right-wing nut commentator who is rapidly turning herself into the only truly funny person on the Right, ended her most recent column, in which she hilariously insults Arabs by calling them "savages," with a declaration based upon "the lesson that violence works," saying, "I hereby announce to the world: I am offended by hotel windows that don't open, pilots chattering when passengers are trying to sleep, and Garfield cartoons," adding that "one minute after 'Garfield II' goes into pre-production, some heads are gonna roll." Nothing succeeds like dispassionate analytical reasoning, eh? That and permanent tax cuts for the rich. ... A man wearing a Spider-Man mask entered unobtrusively (how else would you dress to do this?) a comic book store in Culver City, California, took out a hammer, smashed a glass display case, and grabbed several of the rare comic books on display and fled on foot. Apparently he did not attempt to scale the wall of any of the surrounding buildings in order to make good his escape, but he nonetheless remains at large. ... Milton Griepp, CEO of ICv2, announced at the one-day graphic novel prelude to the New York ComiCon, February 25-26, that while retail sales of graphic novels have slowed somewhat compared to previous years, they're still growing—by 18% last year, to an estimated $245 million. ... And here's another installment of "that story" that used to make the rounds a decade or so ago, every time establishing, once again, the inherent value of comics by proclaiming their dollar worth: Marvel Comics No. 1 sold for $201,250; Captain America from 1941, for $96,686; Flash Comics No. 1, for $273,125. These figures are from a February 13 story in Daily News Business by Phyllis Furman, who doesn't say when these books sold for that money. But she says the Manhattan comic book store, Midtown Comics, reports its sales are up 10% over last year. ... Speaking of years, this year's Free Comic Book Day will be May 6, a Saturday as always; and that means this year, FCBD will be just after Cartoonists Day on May 5 and at the end of Cartoon Appreciation Week, May 1-7.
At the Cartoon Art Museum in San Francisco, an exhibit called "No Straight Lines: Queer Culture and the Comics" will open March 18 and run until June 25, featuring the work of 20 cartoonists, including Alison Bechdel's Dykes to Watch Out For strip and Paige Braddock's Jane's World strip/comic book, which can be seen on United Media's Comics.com. Another exhibit running simultaneously (that is, until April 20) is "Why Do They Hate us? Foreign Cartoonists View a Dominating Culture," in which more than 100 cartoons by 35 cartoonists from 25 countries provide a reality check on such American preoccupations as GeeDubya, American elections, the occupation of Iraq, Hurricane Katrina and Arnold Schwarzenegger. And in the same spirit of enlightening our self-absorption by subjecting it to an alien insight, "Israel: The Cartoonists' Diagonsis—A Viewpoint from Within" (which will close April 9) presents the views of 15 Israeli cartooners on contemporary issues in that troubled region, the first-time ever display of this work. And while we're pausing here at the Cartoon Art Museum, let me mention two sterling books it has published, both entitled Spark Generators, volumes 1 and 2. In these nifty books, cartoonists discuss, in cartooning forms, the people and events that have shaped their careers. Here we have, for example, Carol Lay toasting the fictional women in comics who inspired her. Lots more in this vein, and I fully intend to report on some of them in more detail, but until I get around to it, you can visit www.cartoonart.org where you can order Volume 1 and, probably, Volume 2, which they say will be out in 2003, and, in fact, it was. The books (112 6x10-inch pages in b&w paperback) appear to be $13.95 each and can be ordered by snail from the Cartoon Art Museum, 655 Mission Street, San Francisco, CA 94105.
Interviewed by Todd Gilchrist at dvd.ign.com, Stan Lee said he isn't at all miffed by filmmakers re-imagining the characters he created at Marvel with Jack Kirby and Steve Ditko. Said he: "I would hope they would revamp them. ... When you go to different forms of media, you have to adapt." About the various celluloid versions, Lee said: "I thought that 'Daredevil' was better than most people think it was. I thought it was pretty true to the spirit of the Daredevil comics, and I enjoyed that very much. ... I cannot tell you how much I loved Spider-Man. I thought the 'Fantastic Four' was a very enjoyable, good family movie; it had the spirit of the comic books down pat, and it was colorful and eye-filling and the characterization was filling, so I really liked 'Fantastic Four.' ... I loved the X-Men. I thought the X-Men were just wonderful. ... I enjoyed the Hulk ... what Ang Lee did to give it a comic book feeling. ..." He also loved the tv version of the Hulk with Lou Ferrigno and Bill Bixby, even though, as he said, "it was mostly the story of Bill Bixby, which made it a really serious psychological drama that only adults could enjoy—and the younger people loved to see it and were waiting and waiting for the Hulk to appear."
In Japan, the land of the rising manga, they're all of a sudden worried about the influence on the Young of anime featuring pornography for young girls, of which material there is, apparently, a plentitude. According to Akemi Nakamura of the Japan Times, the National Police Agency says the number of recognized sex crimes involving victims under 13 years old, mostly girls, is up from 1,298 in 1995 to 1,762 in 2004. Roughly 2,000 pornographic animated titles are distributed annually in Japan, and the so-called experts think this material contributes to the growing problem. A "concerned group" opines that juveniles who watch animated porn may develop distorted views about girls or women. May. May not. Sounds to me suspiciously like Wertham is being reborn in Japan.
And his shade hovers over this side of the Pacific, too, as ever. At a panel discussion on Friday, February 24, during the opening day of the New York ComiCon, librarians and publishers of manga struggled with the ever-present ogre of Sex in comics. The issue is adroitly dramatized by Kai-Ming Cha in her publishersweekly.com report, which begins: "It's a classic manga scenario—a cute girl and a bumbling guy. A gust of wind blows up her skirt revealing her underwear, and the guy gets a nosebleed." Panties are sexually exciting in manga, and, as Cha says, "Nosebleeds represent sexual overtones and they are common in manga." Probably "sexual overtones" is politeese for "ejaculation," but I'm just a typist here, pretending no expertise at all. "So what's a librarian to do about supplying books to teens and children?" Kai-Ming asks. Good question. Japanese attitudes about sex are considerably more forthright than American attitudes, and manga often fosters an awareness of sex that is not as openly acknowledged in American publications geared to the same juvenile age groups. And manga genre like yaoi (boys in love with boys) "can really produce problems for librarians," particularly "because manga is considered a category for teens rather than adults." According to many in the audience at this ComiCon session, there is growing resistance to manga not only from parents but from librarians. More clash of cultures, kimo sabe, and we may expect more of the same as globalization continues, unabated.
Fascinating Footnote. Much of the news retailed in this segment is culled from articles eventually indexed at http://www.rpi.edu/~bulloj/comxbib.html, the Comics Research Bibliography, maintained by Michael Rhode and John Bullough, which covers comic books, comic strips, animation, caricature, cartoons, bandes dessinees and related topics. It also provides links to numerous other sites that delve deeply into cartooning topics.
<![if !supportEmptyParas]> <![endif]>
NOTED PAWNEE ELDER DIES
Amazingly, we just celebrated Brummett Echohawk's comic strip, Little Chief, last time we met. And within a week, I received this communique, quoting from nativetimes.com on February 14:
Echohawk Was an Artist, Actor, Advocate for His People
By Sam Lewin
(Bartlesville, Ok)—A Pawnee elder that excelled in a diverse range of fields and professions has passed away. Brummett Echohawk died Feb. 13 of natural causes in a Bartlesville hospital. He was 83.
"He was an author, actor, painter, sketch artist and World War II veteran," Echohawk's nephew Steve Echohawk told the Native American Times.
During his long career Echohawk was spotlighted throughout the country. In 2001, the Frye Art Museum in Seattle featured a display called, "Little Chief: The Comic Art of Brummett Echohawk, a hilarious Native American comic strip that ran in Tulsa's Sunday World." Steve Echohawk said his uncle also drew for the Chicago Tribune and the Detroit Free Press.
Brummett Echohawk was Kit-Kahaki (warrior band) and attended the Chilocco Indian Boarding School in Chilocco, Oklahoma. He distinguished himself during World War II, winning a Bronze Star, three Purple Hearts and four Battle Stars. According to an online account of his bravery, Echohawk and "William Lasley, a Pottawatomie, led a successful charge at Anzio Beach to take the 'Factory' which insured that the allied toe-hold at Anzio Beach was secure. Lasley was killed in the first assault."
After the war, Echohawk set about creating paintings, emerging as a well-known artist with works displayed in galleries across the world. It's a legacy that likely will endure: the day after Echohawk's death, the e-Bay website listed some of his paintings available for sale.
Echohawk also dabbled in acting at a time when the American Indian presence in Hollywood was sorely lacking. Despite this, Echohawk was generous with other performers, once sending a letter to Hollywood producers commending Caucasian actor Jay Brands for "his authentic performance and his ability" to speak the Pawnee language on the 50s tv show "Yancy Derringer." Years later, author Yardena Rand wrote a book called Why We Love Westerns that featured an interview with Echohawk. Rand was trying to gauge Pawnee reaction to Kevin Costner's "Dances With Wolves." She wrote: "Brummett Echohawk, noted Pawnee actor, painter, writer, veteran, and historian of the Pawnee nation, expressed complete disgust with most Hollywood renditions of Indians. But he was pleased with what he felt was an accurate portrayal in 'Dances with Wolves.' He was glad Costner used 'real Indian people and there were no headbands in sight,' a practice started early on in the film industry to keep white actors' black wigs from flying off during chase scenes."
The article, which describes Echohawk as "the grandson of a Pawnee scout who served in Major Frank North's all Pawnee battalion in the1860s and a decorated veteran of World War II," also says Echohawk enjoyed Costner's film because it "made the point we were very powerful. You could hardly call this tribe a weak-kneed bunch."
Steve Echohawk described his uncle as "an excellent man. He was a friend to everyone and everyone knew him." He also said Brummett Echohawk was "very traditional. He was a very proud Pawnee."
You can reach Sam Lewin at sam@okit.com
<![if !supportEmptyParas]> <![endif]>
And Now, Michael Berry
I remarked, last time we met, at how difficult it was to find samples of Michael Berry's cartoons. At one time, they were nearly ubiquitous in ads in such magazines as Saturday Evening Post and Collier's. I looked some more and found a few reasonably stunning specimens. Here they are.
<![if !supportEmptyParas]> <![endif]>
CIVILIZATION'S LAST OUTPOST
One of a kind beats everything. —Dennis Miller adv.
Three years ago in Iraq, the Internet was virtually unknown. Today, there are 215,000 subscribers, plus thousands of Iraqis who frequent "Internet cafes" that have sprung up like desert blooms after a rain.
I keep seeing the expression "judgement call" being used hither and yon. Most recently, in connection with the Danish Dozen. Whether or not to publish the cartoons is, say some, a "judgement call." Well, no. Originally, "judgement call" referred to a decision made quickly, under the pressure of the moment to accomplish something one way or another. Like the decision a quarterback makes about whether to throw the ball or run it, depending upon how the offense gets arrayed before him. Similarly, the verdict of an umpire or referee is a "judgement call." Decisions about whether or not to publish the Danish Dozen are not "judgement calls"; they are not made on the spur of the moment's need for a decision. They are "deliberate" decisions, made after careful and often thorough consideration. Making such decisions requires judgement, which is what is implied by use of the expression "judgement call," but these are scarcely "judgement calls" in the usual meaning of the phrase.
Chip Beck, editoonist, one-time CIA operative, former Marine, and world traveler, claims he's the First Baby Boomer: he was scheduled to arrive on January 1, 1946, but was frustrated in this intention by his mother, who delivered him early, on November 23, 1945. He's been in and out of Iraq lately, drawing pictures and working with kids (if I recall aright). And now, he's up to another project for the Washington Post. Says he: If you're a baby boomer you're at least 42 years old this year, and we're seeking first-hand reports from inside this huge, extraordinarily self-aware demographic bubble. We're looking for life lessons, for things learned over a handful of decades. Extra points for detail, honesty and humor. We'll publish some reports in this space. Write no more than 200 words. Include your name, age, where you live and a phrase describing your submission. (This doesn't count against the word total.) Include a photo if you like; digital preferred. By e-mail: boom@washpost.com. Put "Boom Box" in the subject
line.
By the way, did anyone else observe, last year during the Super Bowl episode of Janet Jackson's exploding bodice, that we have finally, after centuries of doubt and bafflement, determined what it is that incites the sort of lust that topples civilizations? The female nipple of the human sapien. That's it. Nothing more. Or less. Just the female nipple. One glimpse of it, we are now assured, and men become so craven with desire that the inhibitions of ages fall away and rampant chaos reigns. I'm glad we found that out, aren't you?
One of the reasons for separation of church and state is that, historically, religions became intolerant and violent as soon as they were adopted by states. If we can keep them separate, we avoid the brutality with which history rings.
<![if !supportEmptyParas]> <![endif]>
Quips & Quotes
Stolen, this time, from Craig Yoe's new blog about comics and cartoons, Arflovers. Check it out: http://arflovers.com
"American women expect to find in their husbands a perfection that English women only hope to find in their butlers." —W. Somerset Maugham
"If love is the answer could you rephrase the question?" —Lily Tomlin
"A man in love is incomplete until he is married. Then he's finished." —Zsa Zsa Gabor
"Sexual intercourse is a grossly overrated pastime; the position is undignified, the pleasure momentary, and the consequences utterly damnable." —Lord Chesterfield
"I married beneath me. All women do."—Nancy Astor
"Men and women, women and men. It will never work." —Erica Jong
And then, from the back page column in Entertainment Weekly:
"What did the Zen master say to the hot dog vendor? 'Make me one with everything.'" —Stephen King
<![if !supportEmptyParas]> <![endif]>
THE RETURN OF THE DANISH DOZEN
The rioting has only just begun to abate as I write this. The death toll has been mounting for two weeks. Never before have cartoons been so much in the news, and yet so little in evidence. The riots about the cartoons have been elbowed off the front pages in news from the Middle East by even bloodier rioting in the wake of the bombing of the Golden Dome. In other Muslim countries, however, the cartoon riots continue. Ann Coulter explains all this death and disorder with her typical right-wing tunnel-vision aplomb: they're savages, she says. Yeh, but—but a few years ago, we were as hard pressed to explain the violence in Northern Ireland. Savagery isn't peculiar to the Middle East. One of the biggest causes of rioting in the Arab street is doubtless unemployment. If all these people had jobs, they'd probably not be rushing downtown to rampage through the streets at every provocation. They wouldn't have time: they'd be at work. And they don't have jobs because they've been consistently oppressed and exploited by autocratic regimes propped up by American foreign policy through the years.
In reprisal for the publication by a Danish newspaper of the so-called "blasphemous" caricatures of Muhammad (see Opus 178), Muslim countries are boycotting Danish goods. Everything from Havarti cheese to Lego toys has been pulled off the shelves, threatening trade ties between countries not to mention the Danish economy itself. And in Iran, where Danish pastries are beloved, the confection has been renamed: now called "Roses of the Prophet Muhammad," they can be purchased and enjoyed by Iranians with perfectly clear consciences. "This is a punishment for those who started misusing freedom of expression to insult the sanctities of Islam," said Ahmad Mahmoudi, a cake shop owner in Tehran.
Meanwhile, in this country, the news coverage of the riots has been amply augmented by opinion columns discussing the propriety of publishing, or not publishing, the cartoons. In only a couple major newspapers, however, has the discussion been accompanied by reprinting the offending cartoons themselves. The issue is not, as Nat Hentoff correctly says, a First Amendment issue: "The First Amendment becomes involved only when the government tries to prevent publication." That hasn't happened. Yet. Self-censorship is the issue. Or, rather, editorial timidity in the face of Muslim intimidation. Hentoff says the Organization of Islamic Conference (OIC) representing 57 Muslim states is the hand shaping events in the Arab street. We took a quick look at their December meeting in our report two weeks ago: this was the "turning point," we noted, at which deeply felt annoyance at the cartoons turned to outrage expressed by mobs. At this meeting, it was "resolved," in Hentoff's view, "to criminalize insults of Islam and its prophets." Their goal, he goes on, "is to inhibit criticism of Islamic jihadism by threats of violence." Said Hentoff: "If I were an editor of a newspaper, I would publish the cartoons—within the context of the entire story." Then he quotes Eric Fettman, on the editorial board of the New York Post: "Showing sudden sensitivity in the face of the murderous mobs ... is to effectively endorse violent intimidation of the press." To some extent, Hentoff concludes, "this has already begun."
Oddly, William J. Bennett agrees with Hentoff that the cartoons should be published. The news media have a duty to do so, he wrote in the Washington Post on February 23. "Over the past few weeks, the press has betrayed not only its duties but its responsibilities." The press, he continues, had no problem publishing stories that "challenged the administration and, in the view of some, compromised our war and peace efforts," pointing to the stories about Abu Ghraib, detention centers, and electronic surveillance. But the press isn't publishing the cartoons. "The mainstream U.S. media have covered this worldwide uprising ... and yet it has refused, with but a few exceptions, to show the cartoons that purportedly caused all the outrage." He concludes: "Radical Islamists have won a war of intimidation. They have cowed the major news media from showing these cartoons."
At Doonesbury.com where the management regularly conducts a "statistically meaningless weekly Straw Poll," 11,120 votes had been cast on the issue as of Friday, February 24. Those who cast ballots are asked their religion. Of the 151 Muslims responding (admittedly a very small sample), 43% oppose publication of the cartoons, 24% support it, and a surprising 32% feel the cartoons weren't strong enough. (The question producing the last response reads: "A death sentence for portraying Muhammad as violent? I don't think the toons were vicious enough. Put them on billboards, worldwide. And spam.") Of the 4,554 Christians responding, 41% oppose the publication, 40% support it, and 17% feel the cartoons weren't strong enough. There are also 6,415 other respondents, presumably including Jews, atheists, and others. The tally there is 34% opposing publication of the cartoons, 46% supporting them, and 18% feeling the cartoons weren't strong enough. Elsewhere, a Gallup Poll survey at mid-week reports that 61% of Americans think the Danish newspaper that published the cartoons acted irresponsibly; 29% think the reverse.
But before I rant on and quote a passel of cartooners who're lined up for the purpose, let me quote in their entirety three articles on the issue. The first, by the original offender, Flemming Rose of the Danish newspaper Jyllands-Posten, who instigated the publication of the cartoons, followed by John Sugg's divergent analysis of Rose's motives, and then Tim Rutten, who adds what seems to me a key consideration. Then I'll come barging back and quote some colleagues in the inky fingered fraternity.
<![if !supportEmptyParas]> <![endif]>
WHY I PUBLISHED THOSE CARTOONS
By Flemming Rose, the culture editor of Jyllands-Posten, in the Washington Post on Sunday, February 19, 2006:
Childish. Irresponsible. Hate speech. A provocation just for the sake of provocation. A PR stunt. Critics of 12 cartoons of the Prophet Muhammad I decided to publish in Jyllands-Posten have not minced their words. They say that freedom of expression does not imply an endorsement of insulting people's religious feelings, and besides, they add, the media censor themselves every day. So, please do not teach us a lesson about limitless freedom of speech.
I agree that the freedom to publish things doesn't mean you publish everything. Jyllands-Posten would not publish pornographic images or graphic details of dead bodies; swear words rarely make it into our pages. So we are not fundamentalists in our support for freedom of expression.
But the cartoon story is different.
Those examples have to do with exercising restraint because of ethical standards and taste; call it editing. By contrast, I commissioned the cartoons in response to several incidents of self-censorship in Europe caused by widening fears and feelings of intimidation in dealing with issues related to Islam. And I still believe that this is a topic that we Europeans must confront, challenging moderate Muslims to speak out. The idea wasn't to provoke gratuitously—and we certainly didn't intend to trigger violent demonstrations throughout the Muslim world. Our goal was simply to push back self-imposed limits on expression that seemed to be closing in tighter.
At the end of September, a Danish standup comedian said in an interview with Jyllands-Posten that he had no problem urinating on the Bible in front of a camera, but he dared not do the same thing with the Koran.
This was the culmination of a series of disturbing instances of self-censorship. Last September, a Danish children's writer had trouble finding an illustrator for a book about the life of Muhammad. Three people turned down the job for fear of consequences. The person who finally accepted insisted on anonymity, which in my book is a form of self-censorship. European translators of a critical book about Islam also did not want their names to appear on the book cover beside the name of the author, a Somalia-born Dutch politician who has herself been in hiding.
Around the same time, the Tate gallery in London withdrew an installation by the avant-garde artist John Latham depicting the Koran, Bible and Talmud torn to pieces. The museum explained that it did not want to stir things up after the London bombings. (A few months earlier, to avoid offending Muslims, a museum in Goteborg, Sweden, had removed a painting with a sexual motif and a quotation from the Koran.)
Finally, at the end of September, Danish Prime Minister Anders Fogh Rasmussen met with a group of imams, one of whom called on the prime minister to interfere with the press in order to get more positive coverage of Islam.
So, over two weeks we witnessed a half-dozen cases of self-censorship, pitting freedom of speech against the fear of confronting issues about Islam. This was a legitimate news story to cover, and Jyllands-Posten decided to do it by adopting the well-known journalistic principle: show, don't tell. I wrote to members of the association of Danish cartoonists asking them "to draw Muhammad as you see him." We certainly did not ask them to make fun of the Prophet. Twelve out of 25 active members responded.
We have a tradition of satire when dealing with the royal family and other public figures, and that was reflected in the cartoons. The cartoonists treated Islam the same way they treat Christianity, Buddhism, Hinduism and other religions. And by treating Muslims in Denmark as equals they made a point: we are integrating you into the Danish tradition of satire because you are part of our society, not strangers. The cartoons are including, rather than excluding, Muslims.
The cartoons do not in any way demonize or stereotype Muslims. In fact, they differ from one another both in the way they depict the prophet and in whom they target. One cartoon makes fun of Jyllands-Posten, portraying its cultural editors as a bunch of reactionary provocateurs. Another suggests that the children's writer who could not find an illustrator for his book went public just to get cheap publicity. A third puts the head of the anti-immigration Danish People's Party in a lineup, as if she is a suspected criminal.
One cartoon—depicting the Prophet with a bomb in his turban—has drawn the harshest criticism. Angry voices claim the cartoon is saying that the Prophet is a terrorist or that every Muslim is a terrorist. I read it differently: some individuals have taken the religion of Islam hostage by committing terrorist acts in the name of the prophet. They are the ones who have given the religion a bad name. The cartoon also plays into the fairy tale about Aladdin and the orange that fell into his turban and made his fortune. This suggests that the bomb comes from the outside world and is not an inherent characteristic of the Prophet.
On occasion, Jyllands-Posten has refused to print satirical cartoons of Jesus, but not because it applies a double standard. In fact, the same cartoonist who drew the image of Muhammed with a bomb in his turban drew a cartoon with Jesus on the cross having dollar notes in his eyes and another with the star of David attached to a bomb fuse. There were, however, no embassy burnings or death threats when we published those.
Has Jyllands-Posten insulted and disrespected Islam? It certainly didn't intend to. But what does respect mean? When I visit a mosque, I show my respect by taking off my shoes. I follow the customs, just as I do in a church, synagogue or other holy place. But if a believer demands that I, as a nonbeliever, observe his taboos in the public domain, he is not asking for my respect, but for my submission. And that is incompatible with a secular democracy.
This is exactly why Karl Popper, in his seminal work The Open Society and Its Enemies, insisted that one should not be tolerant with the intolerant. Nowhere do so many religions coexist peacefully as in a democracy where freedom of expression is a fundamental right. In Saudi Arabia, you can get arrested for wearing a cross or having a Bible in your suitcase, while Muslims in secular Denmark can have their own mosques, cemeteries, schools, tv and radio stations.
I acknowledge that some people have been offended by the publication of the cartoons, and Jyllands-Posten has apologized for that. But we cannot apologize for our right to publish material, even offensive material. You cannot edit a newspaper if you are paralyzed by worries about every possible insult.
I am offended by things in the paper every day: transcripts of speeches by Osama bin Laden, photos from Abu Ghraib, people insisting that Israel should be erased from the face of the Earth, people saying the Holocaust never happened. But that does not mean that I would refrain from printing them as long as they fell within the limits of the law and of the newspaper's ethical code. That other editors would make different choices is the essence of pluralism.
As a former correspondent in the Soviet Union, I am sensitive about calls for censorship on the grounds of insult. This is a popular trick of totalitarian movements: label any critique or call for debate as an insult and punish the offenders. That is what happened to human rights activists and writers such as Andrei Sakharov, Vladimir Bukovsky, Alexander Solzhenitsyn, Natan Sharansky, Boris Pasternak. The regime accused them of anti-Soviet propaganda, just as some Muslims are labeling 12 cartoons in a Danish newspaper anti-Islamic.
The lesson from the Cold War is: if you give in to totalitarian impulses once, new demands follow. The West prevailed in the Cold War because we stood by our fundamental values and did not appease totalitarian tyrants.
Since the Sept. 30 publication of the cartoons, we have had a constructive debate in Denmark and Europe about freedom of expression, freedom of religion and respect for immigrants and people's beliefs. Never before have so many Danish Muslims participated in a public dialogue—in town hall meetings, letters to editors, opinion columns and debates on radio and TV. We have had no anti-Muslim riots, no Muslims fleeing the country and no Muslims committing violence. The radical imams who misinformed their counterparts in the Middle East about the situation for Muslims in Denmark have been marginalized. They no longer speak for the Muslim community in Denmark because moderate Muslims have had the courage to speak out against them.
In January, Jyllands-Posten ran three full pages of interviews and photos of moderate Muslims saying no to being represented by the imams. They insist that their faith is compatible with a modern secular democracy. A network of moderate Muslims committed to the Constitution has been established, and the anti-immigration People's Party called on its members to differentiate between radical and moderate Muslims, i.e. between Muslims propagating sharia law and Muslims accepting the rule of secular law. The Muslim face of Denmark has changed, and it is becoming clear that this is not a debate between "them" and "us," but between those committed to democracy in Denmark and those who are not.
This is the sort of debate that Jyllands-Posten had hoped to generate when it chose to test the limits of self-censorship by calling on cartoonists to challenge a Muslim taboo. Did we achieve our purpose? Yes and no. Some of the spirited defenses of our freedom of expression have been inspiring. But tragic demonstrations throughout the Middle East and Asia were not what we anticipated, much less desired. Moreover, the newspaper has received 104 registered threats, 10 people have been arrested, cartoonists have been forced into hiding because of threats against their lives and Jyllands-Posten's headquarters have been evacuated several times due to bomb threats. This is hardly a climate for easing self-censorship.
Still, I think the cartoons now have a place in two separate narratives, one in Europe and one in the Middle East. In the words of the Somali-born Dutch politician Ayaan Hirsi Ali, the integration of Muslims into European societies has been sped up by 300 years due to the cartoons; perhaps we do not need to fight the battle for the Enlightenment all over again in Europe. The narrative in the Middle East is more complex, but that has very little to do with the cartoons.
<![if !supportEmptyParas]> <![endif]>
THE CARTOONS AND THE NEOCON DANIEL PIPES AND THE DANISH EDITOR
John Sugg, who is described as editor of Creative Loafing, wrote on February 14 at www.counterpunch.org that we "have been had by some of the most bigoted people in the world—and I'm not talking about Muslim fundamentalists." He continues:
The big news about blasphemy today is in the Muslim world. A Danish newspaper, Jyllands-Posten, in September published 12 cartoons mocking the prophet Muhammad. It took four months for that fuse to reach the powder keg of religious sensibilities—the flame was relentlessly pushed along by the right-wing, neo-conservative press until it exploded. The dumbed-down media depiction was free speech versus intolerant Muslim fanatics. That's not entirely wrong, just very incomplete. Ultimately, crowds erupted in protests in Muslim cities. The picture of the burning Danish consulate in Beirut is the icon of the day.
I have to admit a severe conflict of principles here. On the one hand, I want to shout: "I am Danish! Cartoons don't kill, bombs do!" I don't countenance any prior restraint on freedom of expression, and when I first read of the Muslim outrage over cartoons—such as one depicting Mohammed's turban as a bomb—I sighed a deep sigh of regret. There's no dialogue in burning embassies.
Should free speech have constraints? Official censorship is anathema to a free society. Self-censorship and spinning for a regime—a la Fox News—is just as corrosive. On the other hand, I think the media should be very judicious about gratuitous offense. I'm repulsed at such things as artist Andres Serrano's "Piss Christ." And, I feel no need to antagonize Muslims, Hindus, Wiccans or any other religious groups by intentionally creating an affront to their faith. I even have respect for the misbegotten gospel of the (un)Christian Coalition.
That the Muslim world reacted with violence to the cartoons is abhorrent. That Christians have done the same thing—lighting uptown centers and hilltops across Europe with flaming heretics and blasphemers—is just as abhorrent. Indeed, the theocratic movement in America, which would enshrine one narrow view of Christ's teachings as the law of the land, is simply a variation on the Muslim fundamentalists bellowing hatred at Scandinavian businesses and government offices.
There are other caveats that need to be stated: The Muslim world has been under assault from western Christian crusaders for a thousand years. We've colonized and despoiled their lands. Many in America regard their oil as rightfully ours—an underlying if not complete explanation for George Bush's war of conquest. We've carved up the Middle East, overthrown democracies (pre-Shah Iran, for example), and fostered despots to suit the West's imperial whims. And we wonder why THEY don't like us, and why THEY take insults from us so seriously.
So, let's look at the guy who started this whole cartoon escapade. He's Flemming Rose, the cultural editor of the Danish newspaper. In all of the Lexis-Nexis database of stories from the American media on the Mohammed cartoons, there is absolutely no mention of the fact that Rose is a close confederate of arch-Islamophobe Daniel Pipes. Indeed, there is almost no context at all about Rose's newspaper. Only a brief mention in the Washington Post gave a hint at a fact desperately needed to understand the situation. The Post described the affair as "a calculated insult … by a right-wing newspaper in a country where bigotry toward the minority Muslim population is a major, if frequently unacknowledged, problem."
How bad is Pipes? He wants the utter military obliteration of the Palestinians; indeed, from the Muslim world, his racism is about as blatant as that of the Holocaust denying Iranian President Mahmoud Ahmadinejad. Pipes' frequent outbursts of racism—designed to toss gasoline on the neo-cons' lust for a wholesale conflict of cultures—earned him a Bush nomination to the U.S. Institute of Peace, a congressionally funded think tank. Rose came to America to commune with Pipes in 2004, and it was after that meeting the cartoon gambit materialized.
It's also worth noting that Danish Prime Minister Anders Fogh Rasmussen wrapped himself in protestations about freedom of speech, and that's commendable. But he is one of Bush's few fans in Europe, steeped in the we-versus-them rhetoric, and having sent troops to the Iraqi Crusade.
Is Rose an equal opportunity offender? No way. As the British press reported last week, his newspaper refused in 2003 to run cartoons that ridiculed Jesus. And, of course, free expression in Europe is very relative. Many of the democracies have laws banning certain speech.
Rose gave a rather misanthropic rejoinder to AP when asked about whether he would have published the cartoons in light of the subsequent protests. Rose said: "I do not regret having commissioned those cartoons and I think asking me that question is like asking a rape victim if she regrets wearing a short skirt Friday night at the discotheque."
That, of course, makes the assumption that women are responsible for being raped. It's just as fallacious as assuming the Muslim world should passively accept an intentional provocation, one that gratuitously attacked one of the religion's strictest prohibitions.
Was the reaction overwrought? Absolutely. Was it predictable? Absolutely. Was it an intentional scheme to provoke Arab anger, and thereby engender Western disgust with the Muslim world? The involvement of Pipes and Rose argues that that is exactly what happened.
<![if !supportEmptyParas]> <![endif]>
RCH: Sugg might be right. Certainly, if he is, it would nourish my favorite biases against neocon absolutism. But it all looks a bit too much like "guilt by association": just because Rose is somehow, however tangentially, connected to Pipes, does that mean Rose does the neocon dance to Pipes' tune? Maybe. But if Rose's argument for publishing the cartoons seems sensible on its own, before knowing about his reputed connection to Pipes, then I assume it remains sensible even if Rose is a "known associate" of Pipes. Rose's reasons are either good or they aren't. And if they're good, then they're good whether they are fostered by Pipes or not. Or so it would seem.
And Sugg's reasoning is not without other incriminating flaws. In the closing paragraphs, he calls Rose's response to the AP reporter's question "a rather misanthropic rejoinder." It is no such thing. Rose makes a comparison between the alleged causes of rape and riot because the parallel is nearly exact, rhetorically speaking. He knows perfectly well that short skirts don't cause rape any more than his publication of the cartoons caused street rampages and death and destruction in the Muslim world. And that's precisely why he made the comparison—not, as Sugg suggests, because Rose believes that women are responsible for being raped. Rose knows what Sugg is mostly, for the sake of his argument, ignoring: that the riots in the streets of Islam are being engineered, as the New York Times editorialized on February 25, by "radical Islamists [who] are trying to harness [the understandable] indignation [of Muslims] to their political goals and their theocratic ends by fomenting hatred for the West and for moderate regimes in the Muslim world." The radical Islamist objective, a return to the Islam of Muhammad's day—pure Islam?—is possible only if societies turn their backs on the last 1,300 years of history. In common parlance, that means abandoning the presumed advances in science and thought and political theory achieved in the West, advances that radical Islamists view with alarm, convinced that they represent licentious, immoral behavior. Thus, to achieve a world in which morality once again reigns, it is essential to destroy the societies of the West and their corrupting influence. To destroy the influence of the West, it is first necessary to discredit its achievements, to transform admiration to hatred. The Danish cartoons, by seeming to suggest to the casual viewer that the West disdains Islam, became the ideal mechanism by which radical Islamists could muster opposition to the West.
The issue of freedom of speech and a responsible press still waves like a flag over the episode. I like to think Tim Rutten has the last word on that subject. On February 11, Rutten in his Los Angeles Times column "Regarding Media" revealed that his editor had nixed Rutten's idea that the paper publish the Danish Dozen. Rutten continues:
The New York Times, the Washington Post, Wall Street Journal and USA Today all have declined to run the cartoons because many Muslims find them offensive. The people who run Associated Press, NBC, CBS, CNN and National Public Radio's website agree. So far, the only U.S. news organizations to provide a look at what this homicidal fuss is about are the Philadelphia Inquirer, the Austin American-Statesman, the Fox cable network and ABC.
Among those who decline to show the caricatures, only one, the Boston Phoenix [an alternate newspaper], has been forthright enough to admit that its editors made the decision "out of fear of retaliation from the international brotherhood of radical and blood-thirsty Islamists who seek to impose their will on those who do not believe as they do. This is, frankly, our primary reason for not publishing any of the images in question. Simply stated, we are being terrorized, and as deeply as we believe in the principles of free speech and a free press, we could not in good conscience place the men and women who work at the Phoenix and its related companies in physical jeopardy."
There is something wonderfully clarifying about honesty.
Meanwhile, ironies that would be laughable were the situation not so dire have mounted by the day. For one thing, reporting in this paper, the New York Times and Wall Street Journal has made it clear that what's at work here is not the Muslim street's spontaneous revulsion against sacrilege but a calculated campaign of manipulation by European Islamists and self-interested Middle Eastern governments. If the images first published in Jyllands-Posten last September are so inherently offensive that they cannot be viewed in any context, why did Danish Muslims distribute them across an Islamic world that seldom looks at Copenhagen newspapers? As Bernard-Henri Levy wrote this week, we have here a case of "self-inflicted blasphemy."
Then there's the question of why there was no reaction whatsoever when Al Fagr, one of Egypt's largest newspapers, published these cartoons on its front page Oct. 17—that's right, four months ago—during Ramadan. Apparently its editor, Adel Hamouda, isn't as sensitive as his American colleagues.
Nothing, however, quite tops the absurdity of two pieces on the situation done this week by the New York Times and CNN. In the former instance, a thoughtful essay by the paper's art critic was illustrated with a 7-year-old reproduction of Chris Ofili's notorious painting of the Virgin Mary smeared with elephant dung. (Apparently, her fans aren't as touchy as Muhammad's.) Thursday, CNN broadcast a story on how common anti-Semitic caricatures are in the Arab press and illustrated it with—you guessed it—one virulently anti-Semitic cartoon after another. As the segment concluded, Wolf Blitzer looked into the camera and piously explained that while CNN had decided as a matter of policy not to broadcast any image of Muhammad, telling the story of anti-Semitism in the Arab press required showing those caricatures.
He didn't even blush.
If the Danish cartoons are, in fact, being withheld from most American newspaper readers and television viewers out of restraint born of a newfound respect for people's religious sensitivities, a great opportunity to prove the point is coming. A major American studio, Sony, shortly will release a film version of Dan Brown's best selling novel The Da Vinci Code. It's fair to say that you'd have to go back to the halcyon days of the Nativist publishing operations in the 19th century to find a popular book quite as blatantly and vulgarly anti-Catholic as this one.
Its plot is a vicious little stew of bad history, fanciful theology and various slanders directed at the Vatican and Opus Dei, an organization to which thousands of Catholic people around the world belong. In this vile fantasy, the Catholic hierarchy is corrupt and manipulative and Opus Dei is a violent, murderous cult. The late Pope John Paul II is accused of subverting the canonization process by pushing sainthood for Josemaría Escrivá, Opus' founder, as a payoff for the organization's purported "rescue" of the Vatican bank. The plot's principal villain is a masochistic albino Opus Dei "monk" for whom murder is just one of many sadistic crimes. (It probably won't do any good to point out that, while it's unclear whether Opus Dei has any albino members, there definitely are no monks.)
Now many Catholics, this one included, regard Opus Dei as a creepy outfit with an unwholesome affinity for authoritarianism gleaned from its formative years in Franco's Spain. But neither it nor its members are corrupt or murderous. It is a moral—though thankfully not legal—libel to suggest otherwise. Further, it is deeply offensive to allege—even fictionally—that the Roman Catholic Church would tolerate Opus, or any organization, if it were any of those things.
So how will the American news media respond to the release of this film?
Certainly, there should be reviews since this is a news event, though it would be a surprise if any of them had something substantive to say about these issues. But what about publishing feature stories, interviews or photographs? Isn't that offensive, since they promote the film? More to the point, should newspapers and television networks refuse to accept advertising for this film since plainly that would be promoting hate speech? Will our editors and executives declare their revulsion at the very thought of profiting from bigotry?
Naaaaww.
It won't happen for a simple reason that has nothing to do with the ideas being expressed or anybody's sensitivities, religious or otherwise. It won't happen because Pope Benedict XVI isn't about to issue a fatwa against director Ron Howard or star Tom Hanks. It won't happen because Cardinal Roger M. Mahony isn't going to lead an angry mob to burn Sony Studios, and none of the priests of the archdiocese is going to climb into the pulpit Sunday and call for the producer's beheading.
On the other hand, perhaps the events of the last two weeks have shocked our editors and news executives into a communal change of heart when it comes to sensitivities of all religious believers.
Right.
That will happen when pigs soar through the skies on the wings of angels, when the lion reclines with the lamb on high-thread-count Egyptian cotton sheets and no one bothers to beat the world's very last sword into a ploughshare because all the hungry have been fed.
Until that glorious day, those of us who inhabit this real world will continue to believe that the American news media's current exercise in mass self-censorship has nothing to do with either sensitivity or restraint and everything to do with timidity and expediency.
<![if !supportEmptyParas]> <![endif]>
Back Again at the Rancid Raves Intergalactic Wurlitzer: Here's what some notable cartoonists are saying:
Joe Sacco (interviewed by The Nation): My initial reaction was, "What a bunch of idiots those Danes were for printing those things." Did they not think that there was going to be some sort of backlash. Cartoons like that are simply meant as a provocation. ... In the end, yes, there is a principle about the freedom of expression that concerns me, but I'm always sorry to have to rush to the defense of idiots.
Art Spiegelman (also interviewed by The Nation): If there's a right to make cartoons, there has to be a right to insult, and if there's no right to make cartoons, well, I'm in big trouble. And I think American might be, too. ... This notion that the images can just be described leaves me firmly on the side of showing images. The banal quality of the cartoons that gave insult is hard to believe until they are seen. We live in a culture where images rule, and it's as big a divide as the secular/religious divide—the picture/word divide. ... Cartoons have a kind of acidic potency for clarifying a situation because they're reductive. It also seems to me that cartoons are defamatory by nature. ... If The Nation and the New York Times had simply said, "We're scared shitless," I could take that. I'm not only a cartoonist: I'm a physical coward.
Scott Stantis, editoonist at the Birmingham News, in support of the power of cartoon images: Editors might ask themselves: Do you think the streets of the Arab world would be ablaze if that Danish newspaper had run a series of editorials on the same subject as those cartoons?
Daryl Cagle (at his blog at CagleCartoons.com): Almost every newspaper in America has refused to reprint the cartoons, leaving readers to believe that if they saw the cartoons, they would be offended too. In fact, if American readers saw these dull, banal cartoons, we would say, "This? This is what makes them so angry? That's crazy!" ... American editors should rethink their decision not to reprint the original Danish cartoons.
Bob Englehart, Hartford Courant: Most all American papers declined to run the Danish cartoons, thus again proving that newspapers are becoming irrelevant to the news/information process. You, the curious informed public, need to have a computer and Internet service to learn what all the fuss is about.
Mike Lester, Rome News Tribune: I once drew a cartoon of Jesus turning regular into decaf and was deluged with mail from Christians requesting t-shirt reprints. It would appear that, even though the West has been watching "Skating with Celebrities" and smoking Sudafed, we've somehow developed a sense of irony leaving the Dark Aged Islamo-fascists still working on indoor plumbing and a sense of humor.
Ranier Hachfeld, Neues Deutschland, Germany: Editors are and were always timid, particularly in the U.S.A. Nothing will change in the behavior of editors. On the other hand, I hate the ridiculous self-pity of cartoonists which is shown in many cartoons about the so-called Muhammad cartoon controversy.
Monte Wolverton, syndicated editooner: The recent unrest will only reinforce that cautious mindset. But public discourse is not for the cautious, faint-hearted or easily offended.
Pat Bagley, Salt Lake Tribune: The episode has opened the door on why religion is somehow exempt from criticism. Wasn't that the whole point of the Enlightenment—that folks could speak back to religious authority? [Bagley, a Mormon, frequently speaks back in cartoons critical of church-espoused policies and politic issues.]
Vince O'Farrell, Illawarra Mercury, Australia: ... to deliberately antagonize the Muslim community especially in the context of broader world events was an irresponsible exercise in abuse of freedom of the press. The response from the rampaging fanatical zealots was just as stupid and pathetic.
Ali Dilem ("the beacon of free press" in Algeria, and, I assume, a Muslim): What I do not understand is the logic that leads some Muslims to try and make non-Muslims abide by the precepts of Islam; it's a bit silly. Today we start by forbidding them to draw things about Islam, and tomorrow, what? Will they forbid them to eat ham? To each his own religion, and things will be square.
About that "beacon of the free press" accolade: Ali Dilem has just been sentenced to a one-year prison sentence and 50,000 dinar ($550) fine for drawing a dozen cartoons of the Algerian president. His appeal was denied. He has 24 more cases of press offenses pending against him. The editors of Arab-language weeklies in Algiers were arrested earlier in February for reprinting the Danish cartoons. Both papers were suspended and the editors face prison sentences.
Newspaper editors are increasingly intimidated, it seems, abroad as well as in these parts. Emad Hajjaj, Jordanian editoonist, reported that he drew a cartoon urging all Muslims to be civilized in their protest and to stop looting and burning. "Unfortunately," he noted, "the two Arabic newspapers I work for refuse to publish it."
Brian Fairrington, a somewhat conservative and freelance editooner, reports that he was asked to produce a full color cartoon for the cover of New Republic magazine. They phoned on Monday and needed it by Wednesday. They had already formulated an idea: "they described it as the 'classic cartoon fight scene' showing a cloud with lots of fists, heads and feet coming out of it." Identifiable were the feet of a "blue collar looking westerner" and a Arab looking guy with a sword. Fairrington was given the go-ahead and worked all night to finish the drawing, e-mailing it to Boston that morning. At that point, the Associated Press Paris Bureau chief phoned Fairrington to ask if the cartoonist thought the Danish controversy would have any kind of "adverse effect on how editors would treat 'hotbed' cartoons." Just as Fairrington hung up the phone from that call, it rang again. "It was the New Republic," he said, "calling to tell me that the publisher had killed the cover because they felt it might generate a reaction."
Without question, it is regrettable that many Muslims find the cartoons blasphemous and believe publishing them betrays a Western insensitivity to Islam. But as Joshua Micah Marshall pointed out at his blog (quoted last time), "blasphemy" can scarcely have any meaning in a secular, pluralistic democracy. If the latter is to survive and thrive, "blasphemy" must, perforce, be less and less a matter of public concern and remain the province of private conscience. In the last analysis, there is much more at stake here than hurt feelings, however genuine they may be.
I think Hentoff and Bennett are right—they and all the cartoonists who side with them in favor of publishing the cartoons. Originally—back in the fall, right after the cartoons first appeared in the Danish newspaper—to publish them in this country would have been to sensationalize in the interest of selling newspapers with the latest scandal. But once the rioting became widespread, the cartoons became "news," and the news media had the same journalistic obligation to publish the ostensible cause of the events that they had in publishing the images of tortured and abused prisoners in Abu Ghraib. Yet they didn't. Most editors resort to describing some of the cartoons instead of publishing the cartoons themselves. That, they feel, is good enough. But, of course, it isn't. Words don't have the visceral power of images, and without seeing the images, we can scarcely comprehend the nature of the offense, the reason for all the outrage and bloodshed. The usual reason given for not publishing the cartoons is the wish of the editorial powers not to give offense. One must respect religious beliefs, and the belief of most Muslims is that to portray the Prophet Muhammad is to commit a sin, approaching idolatry. Religious sensibilities, then, would be offended by the pictures. In the phrase of the day, just because one has the right to publish doesn't mean one ought to publish. It's a question of taste, ultimately. And editors have been trained to deal with such matters. Their news judgement is guided by their taste in determining the content of their papers. But if it's a question of taste—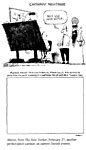 which, in the last analysis, is a question of offending or not offending—then which sensibilities are the next that we'll not want to offend? Which religion is the next to be protected by a desire not to offend? The Catholic Church in its desire to avoid publicity about the sex crimes of its priests? And after we've exempted all religions from coverage of any story that may offend, then what? Which interest group is next to be protected? Cigarette smokers? Right to Lifers? Choicers? This way, clearly, leads to a steady deterioration of an informed body politic.
But lest we depart this sad subject shrouded in somber sobriety, let us remember, in closing, that we're discussing cartoons and cartoonists, a more irreverent and perpetually jocular breed you can't imagine. When an Iranian newspaper announced it was holding a cartoon contest to pick the best anti-Semitic cartoon on the Holocaust, two Israelis decided to respond to hate with in the way cartoonists usually face crisis. With a laugh. Amitai Sandy, a 29-year-old Tel Aviv cartoonist, and his screenwriter friend Eyal Zusman, 30, launched an Israeli anti-Semitic cartoon contest for Jewish artists only. As of February 23, they have received 40 submissions. Sandy is no stranger to this sort of satiric gesture. Last November, he participated in an artist protest against the security barrier in Israel, producing a poster depicting a smiling Jewish-Arab couple with the slogan, "Yes, I f-ck Arabs." Sandy explained: "Whenever there was a left-wing demonstration in Israel, right-wingers would go by and shout, 'You f-ck Arabs,' so I thought: 'Why not turn this around and make it a point of pride?'"
Among the 40 submissions are four from Avi Katz, an illustrator for the bi-weekly Jerusalem Report and the creator of the comic strip, Virtuella. Said he: "I think it's funny. I think it's noble. I think it's the right answer to anti-Semitism."
All of the cartoons are drawn by Jews and some are clearly ironic. One shows Moses giving the Israelites the "secret Eleventh Commandment," which, he says, is: "Don't forget to control the media." But not everyone is keen on the project. The Anti-Defamation League of Bnai Brith is "not amused." An official in the American group's Jerusalem office said the contest was "in poor taste and exploitative." And elsewhere in the U.S., Deborah Lipstadt, the Holocaust Studies professor at Emory University who in April 2000 won a libel suit against revisionist historian David Irving, thought at first that the Israeli competition was a great ironic send-up of the Iranian contest. But she's changed her mind. Irony, it seems, can be easily misused and adapted by the objects of the ridicule. When Arab and Muslim news outlets announced their intention to run the anti-Semitic cartoons produced by Jews, Lipstadt urged the sponsors to cancel the contest. Sandy says he's not worried about his project being misused. "The hate-mongers don't need me to come up with cartoons. They have been doing it for hundreds of years."
An American artist, Tim Kreider, reports that he's entered both contests. With the same cartoon (visible at www.thepaincomics.com). I'll give him the last words:
My goal [Kreider writes] was to demonstrate to the Arab world that Freedom of Speech is not just a convenient pretext to bash Arabs. Nobody needs any pretext to insult Arabs. Shit, we hardly needed a pretext to bomb them. I wanted to show them that we are not fucking kidding—that Americans are ballsy and funny and free enough to laugh in the face of death. Also, of course, I wanted to meet the challenge of drawing a cartoon about the Holocaust without being anti-Semitic, one that would be shocking and outrageous without being offensive, and, most importantly, one that would be authentically hilarious. It was a trick to pull off, let me tell you. ...
The letter I sent to [the Iranian newspaper] to accompany the cartoon follows:
"Your Holocaust cartoon contest seems to reveal more about Arab bigotry than Western taboos. Why insult the Jews, instead of the Danes? Nothing's funny about the Danes? I have to tell you that you appear to be a little batty on the subject of the Jews. I hope you can see from my entry that I do not share or endorse the mean-spiritedness of your contest. Some of my closest friends are Jews. Their religious upbringing is a matter of as much interest to me as their hat sizes. Perhaps you cannot imagine how I can be so indifferent to people's ethnicity and faith, or understand how they could not be furious at me about this cartoon. But that's what it's like to be a Godless infidel in a pluralistic society. It's really rather nice. ...
"My intention in drawing this cartoon is to call your bluff—to prove that we in the West can take it as well as dish it out, as we say. We are not fucking kidding about Freedom of Speech. We believe that nothing is off-limits to question, opposition, or ridicule. No humorist who believes, as I do, that anything can be funny could regard a contest to draw a cartoon about the Holocaust as anything other than a high challenge. As an American cartoonist and heir to the greatest comedic tradition on Earth, I believe there is nothing so sacred that it cannot be further consecrated—nor anything so monstrous it cannot be redeemed—by laughter. Laughter is sanity; it is strength; it is fearlessness in the face of hatred and death. Laughter is how we get through this life without faith. It's the wine we make from rage. We Americans are braver and funnier and freer than you can begin to understand. I pity your humorlessness. We have a saying that I offer you not as a rebuke but as friendly advice: Lighten up." ...
I've also learned, to my dismay, that some Israeli cartoonist has responded to the Iranian contest by sponsoring his own contest for Jews to draw anti-Semitic cartoons. This genuinely worries me, because the Jews are nothing if not funny, and the subject on which they are funniest is themselves. If anybody can draw a funnier Holocaust cartoon than me, it'll be a Jew. They are serious competition. Although I am not Jewish I am also submitting my cartoon to them. My accompanying letter reads:
"I am an American cartoonist who drew this entry into the Iranian Holocaust cartoon contest. […] I was cheered when I heard about your competing contest, and I applaud your defiant good humor. In the same spirit, I would like to enter my cartoon in your contest as well. I hope my submitting it to multiple contests simultaneously will not disqualify it. I regret that the cartoon is not really anti-Semitic. I also regret not being Jewish, but this could not be helped. I am circumcised, and generally anxious and guilty, if those count as credentials. I hope you will consider my submission."
I do not actually believe [the Iranian newspaper sponsoring the contest] will run this cartoon, if for no other reason than because there are people fucking in it. If there were any justice in the world, which there isn't—and if there is it's definitely not in Iran—I would win this contest. Because the Arabs, for all of what I'm sure must be their many other virtues, do not have a reputation for hilariousness, and Americans, whatever their many, many other faults may be, are the funniest fucking people on Earth. Ideally I would get to attend an awards luncheon in Iran. Maybe a luncheon and beheading! I wonder whether they'd have lunch first or the beheading. I hear the prize money is to be given out in the form of gold coins, a unit of currency I have not used since Dungeons & Dragons. Perhaps I can spend it among pirates. If I win it I intend to either donate the money to the Holocaust museum or blow it all on beer. More likely the Jews will issue the Jewish equivalent of a fatwah, and by this time tomorrow the world will be clamoring for my head on a stick. Of course I have no doubt that this cartoon will b misconstrued as hateful by the humorless and simple-minded, but this is an occupational hazard I accept every week. The sensitivities of the humorless cannot be my concern. Most likely of all is that absolutely nothing will come of it like it always does. Whatever happens, I am currently feeling extremely good about getting into the thick of this absurd fray. It's like one of those scenes in a Western where everybody in the saloon is fighting and you joyfully throw yourself into the melee and smash a chair or a whiskey bottle over some guy's head. Yee-haw!
<![if !supportEmptyParas]> <![endif]>
Quips & Crotchets
Here, culled from a greeting card I bought but am keeping forever, are
Some Questions That Have Not Once Been Uttered:
Dave, the guys and I are gonna go paint pottery, wanna come?
Fresno anyone?
You think that "Hang in There" kitten poster is what saved his life?
Meet me for drinks at the toll booth plaza?
Why not mauve?
Could I get "Pipe fitters Local 107" stitched in a pillow please?
Dude, check out that elementary school cafeteria worker—has milk done that body good or what?
Me again. I don't know why such things strike me as vastly amusing. This all did once, but I'm not so sure anymore. What do you think?
<![if !supportEmptyParas]> <![endif]>
BOOK MARQUEE
Dance of the Gods is the third volume reprinting Tatsuya Ishida's webstrip, Sinfest—for my money, one of the two funniest and best drawn of today's comic strips, on the Web or anywhere; and in this volume, the reproduction is better than in the previous two, Ishida's telling fine filagree faithfully preserved to give contrasting accent to his undulating bold lines. Ishida's sense of humor is sacrilegious and hilarious, sexy and insightful, and the laughter his strip inspires is the silvery laughter of the heart. Ishida is a master, and if you've missed this enterprise online, you've missed the best of the decade; go to www.sinfest.com . Oh—the other of the two funniest and best drawn? Brooke McEldowney's 9 Chickweed Lane.
The Eye of Dart-an-Gor is the latest of ways to savor the well-behaved (good) feminine (girl) portraiture (art) of Alfonso Azpiri, whose Lorna slips in and out of her space suit as easily as she does the beds of her friends and enemies, an ample display of both embonpoint and lavish color and line. Krazy & Ignatz: 1935-1936 by George Herriman is the latest in Fantagraphics Books project reprinting this masterpiece, and with this volume, we get to the Sunday strips that were originally published in color, reproduced here that way, too. Herein, Bill Blackbeard finally gives up his misguided conviction that Herriman was Greek and endorses Jeet Heer's essay discussing the cartoonist's mulato roots, an essay that, regrettably, finds racial themes in a comic strip the prevailing theme of which was simply, majestically, the art of the comic strip.
New Yorker Book of Art Cartoons, like several other thematic compilations of the magazine's cartoons, is a persuasive argument for the surpassing artistry of cartooning's haiku form. Steinberg at the New Yorker is both a gallery of his work and a biography of one of the most inventive penmen of the last century.
In Alternative Comics: An Emerging Literature, Charles Hatfield argues for comics as literature, deploying a meaty academic prose so dense with meaning that it defies casual perusal even as it is bound to reward persistent study.
This month's Previews lists Will Eisner's John Law, due back in April with "Angels Ashes, Devils Dust," Gary Chaloner's 4-part story, 30 pages in each successive issue. The series stars the one-eyed detective Eisner invented in 1939 and revived a decade later, only to abandon him again, re-touching all the stories he'd done to change Law's eye patch into the Spirit's mask. Then Chaloner rejuvenated the character one more time in 2004 for an appearance in "Dead Man Walking," an engaging and atmospheric tale done while Eisner was still alive and published by IDW in December 2004, just before Eisner's death. This square-spined opus includes all three of Eisner's original late forties tales and a short history of the character. Chaloner's story and treatment evoke Eisner's mannerisms nicely without actually aping them. The tale, like many of Eisner's Spirit stories, is convoluted, panels jammed with narrative bits and visual special effects. All very noir, enhanced with gray tones and copious black shadows, strange Eisnerish angles and perspectives, and, in the spirit of Eisner's graphic novel treatments, vignettes alternate with panels throughout. The emphasis, as in a Spirit story, is on character rather than incident, but there's incident enough. More John Law transpires at regular intervals at www.ModernTales.com , and now, in the new series from IDW.
<![if !supportEmptyParas]> <![endif]>
WINSOR MCCAY AGAIN
If you don't have on your shelf John Canemaker's excellent biography of one of cartooning's authentic geniuses, Winsor McCay: His Life and Art, you now have a chance to remedy your dereliction in acquiring a copy when it first came out from Abbeville Press in 1987. Abrams published last year a "revised and expanded" edition to celebrate the 100th anniversary of the inaugural appearance of McCay's Little Nemo in Slumberland. It's a handsome 11x13-inch 270-page tome at $45, and I recommend it heartily if you don't have a copy of the earlier edition. If, however, you are tempted, as I was, to buy the Abrams edition in the belief that "revised and expanded" meant the book was substantially different from its predecessor, don't bother. The promotional information upon which I decided to buy Abrams trumpeted 40-some additional pages and newly discovered illustrations, implying that the new edition would have 40-odd pages of new illustrative material. It doesn't. The new edition is not so much "revised" as it is "re-designed," and most of the additional 40 pages are devoted to the designer's lavish use of white space. In the page layout's three-column grid, for instance, the third column is left mostly blank. This maneuver enhances the appearance of the page but does not add to the content of the book. As for the "expansion," the new illustrative material is not very extensive—a couple doodles, one or two color ads for Nemo merchandise, a faithful reproduction of an old and browning newspaper clipping, and a few cells and sketches for "Gertie on Tour," McCay's encore treatment of his seminal animated film about a dinosaur. The new book has Nemo images on the cover and illustrated end papers, which the first edition did not have. Beyond these modifications, the book is pretty much the same tome as it was in 1987. It is, as I said, a handsome object, and an invaluable reference as well as an enchanting read, but I don't need it. It doesn't have enough new material to replace my Abbeville volume, and I don't want two Canemakers. Since I prefer the earlier work, I'm offering here my copy of the new Abrams book, unread and merely thumbed-through for comparison purposes, at the drastically reduced price of $25, including p&h, to the first person who asks for it at RC.Harvey@SBCglobal.net . If you don't have Canemaker on your shelf, don't miss this once-in-a-lifetime opportunity to correct the deficiency.
Winsor McCay was the first original genius of the comic strip medium. Ditto the medium of animated cartoons. No question. He did things in both media that no one had done before. There is a fine irony in the towering stature of his genius. He had no equals; he therefore had no imitators. And no legacy. Much of what he achieved was simply lost: like a rocket exploding brilliantly in the midnight sky, his work illuminated the medium for a breathtaking instant and then faded into virtual oblivion as, one by one, the scintillating spangles of his achievements winked out, leaving his colleagues as much in the dark as before. He was so far ahead of his time that many of his innovations were beyond the abilities of his contemporaries: what he had discovered and demonstrated about the capacities of each medium had to be re-discovered decades later by the next generation of cartoonists.
But the irony in which McCay's achievement is cloaked is an enigma of another dimension. Not only was his grasp beyond the reach of most cartoonists of his day, but he himself was prevented the full exercise of his talent for much of his career. His genius was choked off at just the moment it peaked. For most of his life, he served a master other than his muse. The story of McCay's cartooning career is therefore a record of soaring artistic aspiration and accomplishment that plummets at last, inert, all animating inventiveness suspended in order to perform humdrum graphic chores of illustrating, albeit brilliantly, Arthur Brisbane's pedestrian editorials in the newspapers of William Randolph Hearst.
Canemaker's book will explain how this happened; so does my monograph, The Genius of Winsor McCay. In fact, my book addresses this mystery directly. Canemaker's book is much better illustrated, but mine is cheaper. How much cheaper? Just $7 plus p&h; find out more here.
And before we abandon McCay to the chilly embrace of history once again, here's another centennial celebration, Fantagraphics' Daydreams and Nightmares, a gigantic 175 10-14-inch page b&w tome in paperback (merely $24.95), that enriches our comprehension of his genius with specimens culled from every venue of cartooning to which he turned starting in 1898. Except Little Nemo. Here are cartoons salvaged from his early magazine work, samples of such series as Dream of the Rarebit Fiend, A Pilgrim's Progress, The Faithful Employee, Rabid Reveries, Little Sammy Sneeze, and numerous other untitled series, as well as lots of his staid editorial cartoons—all here in a sufficiency to remedy the lapse that comics scholarship has displayed by concentrating just on Little Nemo and one or two of McCay's other better known titles (the Rarebit Fiend, for instance). Bound of the short side, this volume presents all of this work in a dimension that makes appreciation possible. McCay's pictures are accompanied by introductory matter from Gary Groth and Richard Marschall and—wonderful!—essays by McCay himself on aspects of his art. Altogether, a suitably monumental compilation for the occasion and an indispensable book for your cartoon-appreciation library.
<![if !supportEmptyParas]> <![endif]>
FUNNYBOOK FAN FARE
Religion, which has always lurked in the backs of the minds of men—even in our so-called modern times—has elbowed its way to the front recently. Since 9/11, the rants of the Islamist hordes have astonished the West with their fervor, reminding us that for much of the world religion is a much more motivating force than it is hereabouts, where the Almighty Dollar is the reigning deity. And the death and destruction in the wake of the Danish Dozen merely dramatize, one more time, the passionate devotion that separates the Muslim world from the West. But even with the emergence of religion in our daily lives, so to speak, it's surprising to find comic books taking up aspects of the subject. Revelations, for example, a six-issue mini-series that we reviewed last time. And now, here's Testament by Douglas Rushkoff with Liam Sharp on pictures. In the first issue, Rushkoff sets up his parallel worlds: ancient Biblical times and the modern just-around-the-corner future. In both, a father faces the prospect of sacrificing his son. In the opening pages, Abraham takes his son Isaac up to the mountain. Then, as we turn the page, we're in a more contemporary setting, where a father, Alan, is about to sacrifice his son, Jake: in the future envisioned here, all young people are "tagged" with an embedded electronic chip that the government can use to find them and call them up in the event the military forces need an injection of manpower. Jake has friends who have dug the chips out of their arms, freeing themselves from the obligation for military service. But Jake seems about to go along with tagging—as if, his father says, he has a choice. Rushkoff then flashes back to his Biblical beginning when the voice of the Almighty tells Abraham not to lift his hand against his son. And in our times, Alan decides to do the same, and he tags the family's pet pig instead of Jake. Thus, Rushkoff assures us, the Bible lives: its plots have been recurring for centuries. "A comic," he writes on the editor's page, "is a camouflage allowing me to expose the essential mythic battle underlying Western Civilization, and sequential narrative is a perfect way to tell a story that takes place in multiple universes at the same time—including our own. It'll follow a band of cyber-alchemist revolutionaries, in a future just a day after tomorrow." Sharp's treatment of the story is good journeyman realistic illustration, laced, perhaps a little extravagantly, with hayey feathering and cross-hatching and fussy linear embellishments. But he also deploys a confident bold outline, rescuing the hay of his embroidery from visual confusion. Nothing spectacular here, but the art is more than adequate to the task.
The second issue of The Exterminators takes us another revolting step closer to the crisis that is slowly surfacing from under the rocks of urban life. Truly disgusting pictures. And in the second issue of Sable & Fortune, John Burns continues to display a painting virtuosity that pleases the eye even if it doesn't always define the image. Sable's face varies too much, for instance: is her upper lip prominent? Or is it her lower lip? The test in illustrating a story is not in drawing a beautiful woman but in drawing the same beautiful woman, time after time. Burns can do that; he's done it thousands of times in the famed strip, The Seekers, for example. But that was a linear accomplishment, and here, he's relying entirely on color and shape, a much trickier prospect. Nonetheless, his renderings are still spectacular—Sable's silver lame suit, for instance, is an achievement. And in this issue, there's a longer and more satisfyingly done action sequence.
<![if !supportEmptyParas]> <![endif]>
COMIC STRIP WATCH
I finally realized why it is that I'm not a particular fan of Sherman's Lagoon. It's the ultimate talking heads strip. Most of the characters are fish, and fish, anatomically speaking, are fairly limited. So there's nothing much to draw except heads. Talking. Visually, that's boring. I felt the same way about "Finding Nemo."
Our local paper publishes only the Sunday Phantom, and it appears in the chintzy two-tier abbreviation, so the initial allotment of meager space is even more meager. But on February 12, I had to shake my head in amazed appreciation of how much visual action the current artist, Graham Nolan, manages to cram in and pull off in those cramped panels. He's got the Ghost Who Walks in New York, trying to foil an assassin's attempt on Diana, the perennial Phantom wife, and the Man in Purple is shown vaulting a fence, running down a street, pulling his guns, and letting fly at the rooftop assailant. In only 8 panels. Great stuff. And Nolan can drawn anatomy and atmosphere, too. Nolan spent two years at the Kubert School and got so many job offers, he quit without graduating. He started with DC Comics in New Talent Showcase with a story called "The Fan"; it was, he told Joseph Szadkowski at the Washington Times, "about me at a comic book convention, meeting all of the rabid fans." He did Bane in the Batbooks and then in 2000, he got out of comic books "because they were cutting titles and [making] editorial changes." He continued: "I was also looking for something with less micromanagement, and I needed more freedom. So I tried to syndicate my Monster Island book and ended up with strips by accident. King Features had an opening on Rex Morgan, M.D. and asked me if I would do it. I told them I would really like to do the Phantom, but there was no opening. A month later, after taking the Rex Morgan job, I was called to take over the Sunday Phantom strip and have been doing both ever since." Why the Phantom fascination? "He was my mom's favorite and she was always very supportive of my career. He is also not dissimilar to Batman, kind of noirish with lots of shadows, and I have always been drawn to pulpy stuff." Nolan's Phantom has recently been compiled in Moonstone Books trade paperbacks, The Phantom: The Graham Nolan Sundays, Vols. 1 and 2; $16.95 each.
<![if !supportEmptyParas]> <![endif]>
LeDoux Is LeDone
The last remaining soap opera strips I call The Great Quartet because you almost always find them together. Mary Worth, Rex Morgan, Judge Parker, Apartment 3-G. If your newspaper runs one, chances are, it runs at least two of the others. It's as if there's some sort of unwritten fatwa about breaking up the set. Typically, they are all printed in a cluster on the funnies page, too. In moments of high delusionary fancy, I imagine Mary Worth leaning with her elbows on the border of her strip like Mrs. Goldberg at the window of her tenement, looking down at Rex Morgan to ask his advice about some imagined ailment. Or looking up to seek Judge Parker's legal counsel on the forthcoming divorce plans of an unfortunate couple whose marriage she had inadvertently arranged year ago. Mary Worth is the oldest of this bunch and is now being written and drawn by the fourth and fifth, respectively, of its writers and drawrers. The others are into the third of their scribes. Rex Morgan's present artist is the fourth; Apartment 3-G's, the third. But Judge Parker has been drawn for most of its 53-year run by only one artist, Harold LeDoux. When LeDoux took over the strip from its originating artist, Dan Heilman, after Heilman's death in July 1965, he perpetuated his mentor's drawing style for a while; and then, over the years, LeDoux's work became increasingly wooden. For the last ten years at least, it has been difficult to tell one of his female characters from the others so identically did LeDoux draw faces; ditto the male characters. But at first, his imitation of Heilman was stunningly accurate.
Heilman is one of my favorite realistic renderers. His line is so crisp it snaps. He laid in blacks with hard edges that defined shapes, and his anatomy is a supple shorthand. His treatment of hands, in particular, fascinated me. When, in November 1952, Heilman's Judge Parker debuted, written by its creator, psychiatrist Nick Dallas, who also wrote Rex Morgan, my jaw dropped: nothing on the page was as sharply drawn.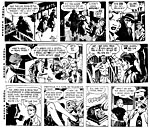 Heilman, who was then 28, had served four years in the Air Force during World War II and, upon discharge, attended the Chicago Academy of Fine Arts. He subsequently illustrated a few children's books and drew a couple comic strips—The American Adventure, a history strip, and John Sunday, an aviation strip for the Air Reserve. He delighted in Judge Parker because, he said, it enabled him to draw in both realistic and comedic styles, the latter applied exclusively to some of the most charming little kids in comics since Merrily Sandhurst (a Caniff invention). He met his future wife while both were enrolled in art school in Chicago, and she lettered and colored Judge Parker; Dolores ("Del") Heilman continued lettering the strip for several years after her husband's death.
LeDoux joined the enterprise before Judge Parker was a year old. Le Doux was 26 at the time. He'd been in the Merchant Marine just after WWII, and he'd attended Heilman's alma mater in Chicago. Born in Port Arthur, Texas, where his parents had moved from Acadia in Louisiana, Evangeline country, LeDoux imbibed of his parents' Cajun heritage, and when he went to New York to seek his cartooning fortune in 1951, he took with him a portfolio full of Antoine of the Bayou, a comic fragrant with "boudin" and "Pontchartrain" and other colorful but baffling idiosyncracies of that region, too quirky for syndicate tastes. LeDoux went to work for Steve Douglas, famed for editing Famous Funnies and other comic books of that ilk. Patching together newspaper strips for reprinting in paginated format and doing occasional illustration in the styles of other cartoonists eased LeDoux out of his "big foot" mode into the more realistic, or "little foot," techniques of the illustrative manner. Working for Douglas, LeDoux says he did the first adaptation of Jerry Lewis and Dean Martin to comic books. After a couple years of this, he was hired by Heilman to assist on Judge Parker. LeDoux had been recommended by Heilman's assistant on The American Adventure, a man who'd been a LeDoux classmate in Chicago but who was going on to other endeavors.
At first, LeDoux said, he did only backgrounds in the strip because everyone had decided, based upon his earlier work, that he couldn't "do realistic." Gradually, however, he did more and more, inking Heilman's pencils; Heilman inked the faces, but LeDoux did the rest. So when he first solo'd on the strip after Heilman died, LeDoux aped his predecessor almost perfectly. Slowly, he discarded Heilman's mannerisms in favor of his own.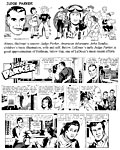 He said Heilman had a distinctive way of drawing hands and a stylized conception of anatomy that made it difficult to imitate. LeDoux preferred to be completely realistic, he told Jud Hurd in Cartoonist PROfiles (No. 2, Spring 1969). "He says if you tried to imitate Heilman's way of doing hands, you'd run into trouble," Hurd reported. But LeDoux did a pretty good job of it until he followed his own inclination. Alan Parker eventually retired from the bench and married one of the defendants who had appeared before him, surrendering the narrative to a young lawyer named Sam Driver. I haven't seen the good Judge in the strip for fifteen or twenty years, I think. A couple years ago, Sam Driver finally married rich Abbey Spencer. Since Dallas retired in 1990, the strip has been written by Woody Wilson, who also writes Rex Morgan. Wilson must've gotten chewed over by the wedding bug about then because just before Sam and Abbey got married, Dr. Morgan finally popped the question to his nurse, June Gale, who'd been quietly in love with her boss for 47 years, a model of dignified, detached and wholly unrequited passion.
Meanwhile, Sam and Abbey have taken in a young woman wanderer named Sophie, an artist who is about to go off to study art in Paris. That was LeDoux's idea. "She was all set to go away to art school," he told Mike Peters at the Dallas Morning News, "and I said to Woody, Why not have her go to Paris for art school?" LeDoux had an ulterior motive: "I would love to draw Paris for the strip," he said. He'd been there while in the Merchant Marines. But, as it turns out, LeDoux won't be drawing Paris: he'll be visiting the City of Lights instead. After 41 years soloing the art on the strip, LeDoux, 79, is laying down his pen.
Fitnut. Heilman's assistant on The American Adventure was Jerry Warshaw, who is presently, at the age of 79, the staff cartoonist of Evanston's Beacon, a periodical of the free tabloid persuasion that is distributed in Evanston, Illinois. I've known Jerry for a couple years, ever since the Chicago chapter of the National Cartoonists Society was formed. But I didn't know much of his history in cartooning. The other night, a tightly knit group of us had gathered for the purpose of jurying the comic strip division of the Reuben awards, Jerry among them, and we fell to talking, willy nilly, about assorted lore in the inky fingered fraternity. I mentioned LeDoux's retiring from Rex Morgan, and Jerry piped up and said he'd gone to art school with LeDoux, and then it came out that Jerry had been Heilman's assistant—the self-same bloke who recommended LeDoux to take his place. I'd just written the foregoing diatribe, so it was all fresh in my mind. Jerry said he and Heilman used to "study Caniff," assiduously. Herewith, another bit of lore finds its niche.
<![if !supportEmptyParas]> <![endif]>
<![if !supportEmptyParas]> <![endif]>
SOME TWOMORROWS TOMES
From one of DC's editors, Andrew Helfer: As I sat in my office one day, a man stepped into my doorway and stared at a point on the wall behind me and just above my head. Although I'd never met the man, I knew his distinctive face. It was Jean Gireaud, aka Moebius, and he was staring at the drawing of Wonder Woman by Jose Luis Garcia-Lopez. Without acknowledging me, he inched his way into my office and behind my desk until he was just in front of the drawing. He shifted his glasses down off his nose to get a better look at the drawing. After a moment, he turned to me.
"This Garcia-Lopez," he asked in a heavy French accent, "—he uses models, no?"
"No," I answered, smiling.
"Son of a bitch!" Moebius hissed.
He didn't need to say another word. I already knew it was the highest compliment one artist could pay to another.
RCH again: I'm quoting, above, verbatim, from Helfer's Introduction to Modern Masters: Jose Luis Garcia-Lopez (128 8x11-inch pages in b&w; paperback, $14.95) the fifth volume in the series from TwoMorrows. I first encountered Garcia-Lopez years ago with Atari Force comic books, and from that alone, I can attest to the accuracy of the back-cover blurb here: "Ask any comic book artist who the best draftsman in the business is, and you'll come up with one answer—Jose Luis Garcia-Lopez." The volumes of the Modern Masters series, all of identical dimension, consist mostly of interviews and art, just as they should. In the interviews, the subject's response to questions traces his life and career; the art illustrates the various episodes and achievements in that career. In almost every volume, a segment on "storytelling and the creative process" concludes the text portion. There is also a section in which the subject pays tribute to the other artists whose work influenced him, with a representative illustration for each. The illustrative material is all artwork; no photos, strangely—not even of the subject himself. The books could use a chronological listing of the subject's credits, but the artwork in the volumes I have is gorgeous enough that I didn't notice this missing reference element until long after I'd thumbed the book and then only when I started thinking about it. The artwork typically includes spot illos, sketches in pencil and in ink, page layouts in pencil, sample whole pages, unpublished character sketches and model sheets, and so on—in short, all the usual paraphernalia we associate with a working artist. There's also a color section of 20 or so pages. The other four artists in the series, so far, beginning with the first volume, are Alan Davis, George Perez, Bruce Timm, and Kevin Nowlan. A sixth volume on Arthur Adams just arrived; and the seventh, John Byrne, is a-borning. All can be found at www.twomorrows.com; prices vary somewhat from $12.95 to $19, depending upon your source and whether postage is included in the price or not (it is at the website). Eric Nolen-Weathington edits the series and did most of the interviews.
In the Garcia-Lopez volume, I learned that he was born in Spain but grew up in Argentina. He started drawing comics professionally at the frighteningly early age of 13, when his "studio" was a coffee bar like Starbucks, where he sat and drew all day for the price of a couple cups of coffee. Among the artists whose work he admired were the usual (Alex Raymond, Harold Foster, Milton Caniff) as well as Ross Andru, Stan Drake, Moebius, Jordi Bernet, Carlos De La Fuente and Kreigh Collins, neither of the latter illustrated, alas. Collins drew several Sunday adventure strips, each of which morphed out of its predecessor: Mitzi McCoy (beginning November 7, 1948) was set in modern times, and it became a chronicle of Mitzi's medieval Irish ancestor under the title Kevin the Bold (starting October 11, 1950), which, in turn, came back to modern times as Up Anchor! in October 1968, ending, finally, February 27, 1972. Collins had a unique style, realistic but lumpy in strange and wonderful ways—nothing at all like Garcia-Lopez's polished work. Garcia-Lopez moved to the U.S. at the end of 1974 when he was 26, already an experienced professional. Asked if he suffered any "culture shock" upon arriving in this country, he said he didn't: "Globalization is not a new thing; I was ready for New York." I was delighted to know that Garcia-Lopez loved doing Atari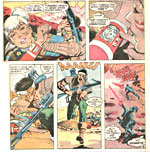 Force—"They had to take me off by force," he told Nolen-Weathington (which they did after the 12th issue of the 20-issue run). I was disappointed, though, to learn that his favorite characters were Morphea and Babe; mine were Blackjak and Dart. The wise-cracking relationship between these tw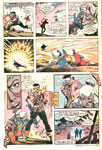 o, who obviously loved each other deeply, was one of the treats of the series, thanks to the estimable Gerry Conway.Among the penciled pictures herein iweet sisters the splash page from No. 3, which reveals that Garcia-Lopez imagined that Dart slept in the buff; one of his favorite inkers, Ricardo Villagren, "dressed her in the inking stage." Garcia-Lopez was also well-inked in the series by Bob Smith.
One of my fonder memories of the Chicago Comicon before it became the Wizard Wonder was the evening that the first of the new Batman animated series was previewed. The audience was, to a man—to a woman—blown away by the style of the art and the storytelling mannerisms. Seldom have I witnessed so universal a positive reaction. We were all swept up and away by it. So I was happy to find in the Bruce Timm volume, Timm tracing the evolution of the celebrated "Batman Animated Style." John Buscema was a "major, major influence" on his early work, Timm said, but by the late 1980s, Timm became interested in the art deco illustration style of the 1920s and 1930s, a style that grew out of art nouveau at the turn of the century: art deco's sleek, streamlined geometries represented a conscious effort to simplify the elaborately twining plant-like forms of the earlier style. Timm was also influenced—without realizing it, he said—by Harvey Kurtzman. And Dan DeCarlo was also incorporated into the new manner. Harley Quinn was a happy discovery—"lightning in a bottle," he said. But at first, he was afraid that her cute comedy would act to blunt the Joker's edginess. "We kept trying to make the Joker scary, and scary, and scary, and by having his wacky girlfriend there, it brings out his goofier side. I was really concerned about that, but we all loved the character, so Paul Dini kept sticking her in every Joker show." The Joker did lose a little of his edge, Timm thinks. But "eventually, Harley became such an integral part of our version of the characters we were able to pull off some really dark stories with her as well as some fun and light ones." DC "made a really smart choice in trying to adapt the animated style for the comics," Timm said. "I, in turn, was influenced a lot by what Ty Templeton and Rich Burchett and Mike Parobeck were doing in the comics." At first, he confessed, he was a little unnerved by other artists imitating his style because they did it "as good if not better" than he did. The art gallery in this volume includes numerous of Timm's toothsome heroines, proving that simplification is a lot sexier than complication.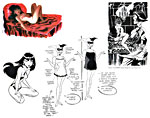 Kevin Nolan, in addition to working with the meticulous Alan Moore, inked Gil Kane's last penciled art for Superman: Blood of My Ancestors. "I had all 24 pages inked before I even knew how sick he was. The pages were coming in and then they just kind of stopped at one point." He was asked to continue the penciling but declined; eventually, after "maybe more than a year," they decided to get John Buscema to finish the book. "At first glance," Nolan said, "it seems like a bad idea because he draws nothing like Gil. But then if you look at this specific book, on the surface it's basically a Conan story." This volume in the series has a few photos of its subject, but they're all taken when he was about 12 or younger. The cover Action Comics Weekly No. 639 is reproduced, the only time I've seen the Phantom Lady so realistically proportioned albeit nearly naked. Nolan's working relationship with Moore intrigued me, so I was glad that the artist talked in considerable detail about it. Oddly, Nolan had just moved to a small farming town near Wichita when he got the script for Moore's "Jack B. Quick," and he was able to use the environs as locale. A page of Moore's script is reproduced herein, in all its exhaustive detail, and I was amazed to see in Nolan's rendering next to it that the artist had altered Moore's conception when visualizing it. Moore is detailed in his descriptions, Nolan says, but not "pushy" about it: if the artist thinks of a better way, he is invited to try it. But for the most part, Nolan said, he did it Moore's way: that's the only way the balloons work out. "Sometimes it was hard to work out the compositions, and I'd fudge a bit here and there. That's also the reason a lot of it is long shot after long shot after long shot because he's asking for a specific amount of [visual] information in every panel, and you can't just come in close on a character's face even though they're basically just standing there talking because the story's not written that way. You don't have that much freedom." Nolan also talked at some length about the Moore story, "Pet Theory," in which Jack expe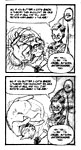 riments with conflicting notions: cats always land on their feet, and so does a slice of bread always land on the buttered side. So, in one of the most celebrated of episodes in comics, Jack butters the back of a cat in the conviction that it "shouldn't be able to land at all and will just rotate harmless in the air." And that is exactly what happens. Nolan shows us his first attempt at rendering that phenomenon as well as his final choice. "I was trying to draw him twisting more," and the picture shows the cat spinning with multiple legs and heads to convey the idea; but Nolan finally gave up on that and drew the cat in a somersaulting pose. "I don't know if you know this," Nolan said, "but cats are hard to draw."
The other books in the series offer similar insights and visual gems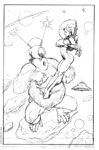 . Of particular interest to me, George Perez talks about his career on Teen Titans, my first awareness of his meticulous styling. And Arthur Adams discusses Monkeyman and O'Brien and Jonni Future, a character who, in costume, is almost embarrassingly embonpoint.This isn't her, but you get the idea. Surely.
With this series, TwoMorrows performs an invaluable service for the profession: quite apart from the pleasure that their insights afford to fans of the specific artists, these books make a beginning at forging a complete record of the creative histories of the medium's present-day practitioners, a record that is sadly blank about the years during which comic books were being shaped by the earliest artists and writers. TwoMorrows fills in a few of these vintage cracks in our knowledge with books on Wally Wood and Murphy Anderson (the latter, by yrs trly), but too many of those with personal experience of the period are gone. For those in the mid-term—Gene Colan, Dick Giordano, George Tuska, Kurt Schaffenberger—whose work shaped the Silver Age, TwoMorrows has another series, about which, I'll talk another time, after I've caught my breath a bit.
<![if !supportEmptyParas]> <![endif]>
UNDER THE SPREADING PUNDITRY
The danger of the "military industrial complex" that Dwight Eisenhower warned us about—and if he, the last of the five-star generals, didn't know, who would? —is that it requires a society that is constantly at war. The problem with that, as we are finding out in Iraq, is that you wear out armies that way. Soldiers get shot and die or get crippled and sent home because they are, from the point of view of a combat engineer, useless. So you always need more of them. The Bush League has come up with the perfect solution to this problem. You thought all along that the tax breaks they keep extending to the rich are intended to make the rich richer. Not at all. The point of the tax breaks for the rich is to make the poor poorer. Or, rather, to keep them poor. And then you arrange an economy that makes it more profitable for industries to send their labor-intensive work overseas, away from American workers so there are fewer and fewer job opportunities for poor people to find. Where, then, are these poor people going to find employment? How will they live? In this situation, military service is the perfect option: poor people can go into the military, learn a trade, make a living and a career, earn enough money to marry and have more children, all destined to enter the military in order to survive, and so on ad infinitum. It's a nearly perfect perpetual motion military-industrial machine. Keep the Army supplied with man power, and you fuel the military industrial complex; fueling the military industrial complex means more war, which makes the captains of industry rich. Give them all the tax breaks, and the poor remain so poor they keep enlisting in the military to survive. Perfect.
For most of the week before last, we were victimized by a nearly continuous flow of news about Dick Cheney's shoot-out at the Armstrong Ranch in Texas. We should be grateful: were it not for Cheney's dubious marksmanship, we would have had another unrelieved week of blather about Muslim riots and caricatures of Muhammad. We had plenty of the latter as it was, but at least it wasn't all about Islamist perceptions of the misbegotten West. The Cheney scandal—largely the invention of a testy press corps, seeking to make up for its dereliction in the past—is fascinating for the monstrous irony it manifests. Why does Cheney's accidental wounding of a fellow gun-toting hunter deserve more attention than his arranging, behind the scenes, for the deaths of over 2,000 American military and tens of thousands of Iraqis? If journalists had been at least as annoying and persistent in their pursuit of the truth during the run-up to the invasion of Iraq, we might have avoided altogether this agonizing quagmire. Alas, that sort of journalistic dedication is probably impossible for today's childishly fickle news media, which, despite pretensions to adulthood, persists with the attention span of dogsled canines in sticking their noses into only what is immediately in front of them. And why did the Bush League delay the announcement of the shooting for 18 hours? Simple: Cheney and his fellow shootists were staggering drunk at the time of the incident, having imbibed generously during a picnic lunch in the field, and after 18 hours, Cheney's system would have flushed all evidence of alcoholic content. If you believe that, you'll believe anything Cheney will tell you. Newsweek for February 27 does its cover story on the episode and includes a detailed diagram, showing how the accident purportedly happened. Seems sensible to me. Cheney apparently didn't actually see Harry Whittington: Cheney was so "focused on the quail"—in the grip of what hunters call "target fixation"—that he lost awareness of everything else in his surroundings. In his blog, Ted Rall said: "Quail hunters are supposed to wait until the birds take flight before firing their guns. Cheney's victim was about 30 yards away, indicating that Cheney shot straight across the ground"—before the quail were much airborne. And the diagram in Newsweek seems to bear out Rall's assertion. Incidentally, Rall reminds us that Cheney has a "history of public intoxication, having been twice convicted of DUI." Okay: that's a bit much, all piling on, seems like to me. All of Cheney's enemies, of which he has numerous, have been waiting for too long to let this one escape, however innocently accidental the incident may be. Too bad. Makes me weep, eh?
And here's a quote that recently has become quite infamous: "Now, by the way, any time you hear the United States government talking about wiretap, it requires—a wiretap requires a court order. Nothing has changed, by the way. When we're talking about chasing down terrorists, we're talking about getting a court order before we do so. It's important for our fellow citizens to understand, when you think Patriot Act, constitutional guarantees are in place when it
comes to doing what is necessary to do protect our homeland, because we value the Constitution." This gem was uttered, stumbled through, by George W. ("Wiretapper") Bush on April 20, 2004, at least sixteen months before it was disclosed that he had authorized warrant less electronic surveillance, beginning in late 2001 or early 2002, soon after 9/11. See? I told you he was a liar.
To find out about Harv's books, click here.