Opus 152: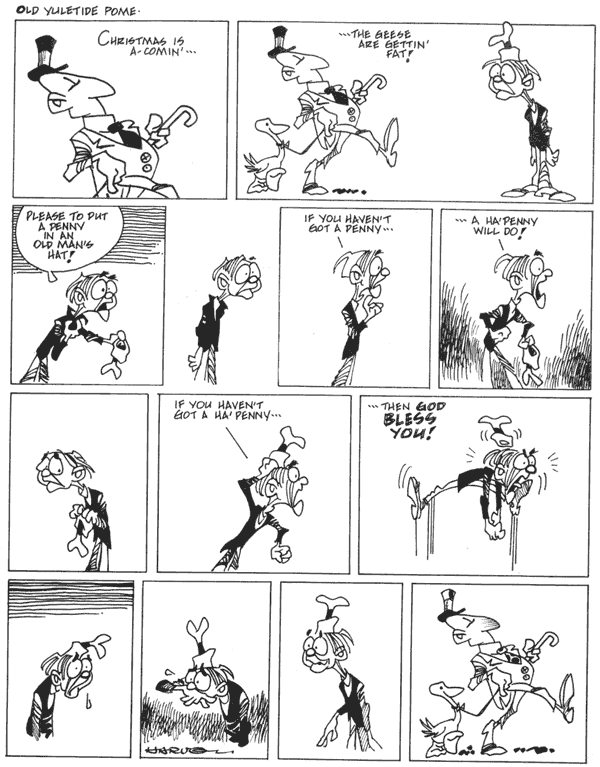 Opus 152 (December 21, 2004). A heaping holiday package this time, tovarich. Bringing up the rear is Part 3 of our review of comic strip reprint tomes from Andrews McMeel (Shoe, Doonesbury, the surprising Rugrats, Tom the Dancing Bug, In the Bleachers, and Ziggy), with an amply illustrated aside on the vintage Elmo, the first comic strip to be produced regularly by an editorial cartoonist while also editooning. In between here and there, a visit to Maitena's stunning Argentine strip, now collected and available in English as Women on the Edge 1 (and 2, with 3 en route), generously illustrated with samples of Maitena's brilliant blend of words and pictures, so artfully achieved that only samples of the same can describe it. We also take a shot at the Comics Buyer's Guide, extol the Last Kiss's latest enterprise, urge subscription to The Norm online, and ponder Chrismahanukwanzakah by way of celebrating the season. In our news section, we report the confiscation of a comic book at the border, uncover the reason for Tintin's perpetual youth, watch Stephan Pastis being made a fool of, advertise Cathy's wedding gift registry, discuss the flabbiness of the news media's devotion to its ostensible purpose, visit Prickly City (a conservative comic strip that doesn't yell), and present a spectacular example of Chance Browne's pencil artistry. And we do a little Bushwacking, too-wouldn't you know? It all begins forthwith. (And if you want to read it at your leisure, proceed to the "print friendly" button, our famed Bathroom Button, and print out just this installment for perusal later)-
NOUS R US 
The Katzenjammer Kids had an anniversary on December 12: it reached the ripe old age of 107, the oldest comic strip still in circulation. Created by Rudolph Dirks in 1897, the Sunday-only strip is continued today by Hy Eisman, who also produces the Sunday Popeye, another long-running strip that is celebrating its 75th year these days, most notably, last week on December 17 when Fox-tv aired the CGI animated cartoon in which the one-eyed sailor goes searching for his father, Poopdeck Pappy. ... Stan Lynde, creator of Rick O'Shay and, later, Latigo and the panel of homespun western humor, Grass Roots-not to mention five western novels-designed the uniform patch recently adopted by Montana's federal marshals; the patch depicts a lone rider setting out at dawn to hunt down the bad guys. ... Garry Trudeau, creator of Doonesbury, made the 90th slot on USAToday.com columnist Whitney Matheson's list of the top 100 pop culture figures of 2004. Matheson cited the episode in which B.D. lost his leg while fighting in Iraq: "The event was gripping enough to make the comic strip daily reading again." ... Marvel has entered into a partnership with Mforma, a giant mobile firm that plans to leverage its access to Marvel characters to develop an array of "commercial mobile content, including games, ringtones, wallpaper, screensavers, and mobile comic books." ... Meanwhile, 20th Century Fox has set Sheldon Turner ("The Amityville Horror" and "The Longest Yard") to write an action thriller based upon Magneto, the villain in the first two X-Men films. ... The Ghana Information Network of Knowledge Sharing (GINKS) launched an HIV/AIDS comic CDROM entitled "AIDS the Ultimate Killer," which tells a story of how the disease lives to kill and how no human being is safe; it also explains ways to avoid the disease. Laudable, but it makes you wonder how many people in Ghana have computers to play the CD on. ... A couple of cousins in Turtle Lake, ND, have produced a 196-page graphic novel version of one of the most famous explorations in the history of the U.S.; entitled Jefferson's Lewis & Clark Expedition: Heroes Unlimited, it was designed and written by Orville Evjen, assisted and edited by his cousin, Diane Evjen Schell, based upon journals but taking a few artistic liberties.
            In October, U.S. Customs seized copies of Top Shelf Productions' Stripburger Nos. 4-5 and 37, charging that the stories "Moj Stub" by Bojan Redzic and "Richie Bush" by Peter Kuper constituted "clearly piratical copies" of registered and recorded copyrights. "Moj Stub" ("My Pole") is an 8-page ecological parable in which some Peanuts characters appear briefly; "Richie Bush" is a 4-page parody of Richie Rich that also satirizes the Bush League by superimposing the personalities of the Cabinet on the comic book characters. The Comic Book Legal Defense Fund has retained counsel to challenge the seizure. Said Chris Staros, president of both CBLDF and Top Shelf: "The comics in question are clearly within the acceptable bounds of parody, and there is absolutely no likelihood that consumers would confuse these works with the subject that they are parodying." CBLDF Executive Director Charles Brownstein agrees, adding: "The charge that these are piratical copies of existing copyrights is not only wrong-headed but the seizure amounts to an unlawful prior restraint of protected speech."
            If you've ever wondered why Tintin, the perpetual boy journalist invented by Belgian cartoonist Herge, has never, in 23 published adventures since his inception in 1929, grown up, you are not alone. A light-hearted article in the holiday edition of the Canadian Medical Association Journal explains it all in reporting theoretical research by Antoine Cyr, age 6, his brother Louis-Olivier, age 7, and their father, Claude Cyr, an associate professor of pediatric medicine at the University of Sherbrooke's medical school. It seems that Tintin's perennially prepubescent appearance is due to growth-hormone deficiency and hypogonadotropic hypogonadism, conditions brought on by repeated blows to the head. In short, he suffers from hypopituitarism, in which puberty is forestalled because damage to the pituitary glad results in insufficient hormone production. In mustering the proof, Antoine and Louis-Olivier examined Tintin's adventures and counted the times that the boy reporter had lost consciousness-at least 50 times, 43 of which resulted from a blow to the head. At least, so Louis-Olivier reported: Antoine couldn't count above 10 at the time of the research. Between 1929 and 1973, the youth, reportedly 14 or 15 when he first appeared on the world stage, has been hit with a rake, a brick, a whisky bottle, an oar, a giant apple, a camel femur, a block of ice, and countless punches and clubs. He's been choked, thrown down stairs, tossed from a train, poisoned with chloroform, mauled b a lion, shot and hurled a great distance by an explosion, any of which calamities could have also caused neurological damage. Tintin not only failed to grow physically (he's still about the same height as a seven-year-old) but displays no evidence of libido. The boys had to sign off on the article their father wrote, and before they would sign, he had to explain the meaning of hypogonadism, panthypopituitarism, Spearman correlation, and libido. He dutifully ran through the definitions in order: no hair about the wee-wee because of missing hormone, a part of the brain that is not working, a test to see if two things are connected, and wanting to make love. After subsequent lengthy discussion about hair and wee-wees and the meaning of "making love," the boys approved the article. The CMAJ, by the way, has a tradition of diagnosing fictional characters with real medical conditions. And that reminds me of William Ober's book, Boswell's Clap; but I divaricate.
            Stephan Pastis, who has made himself an obnoxious character in his own strip Pearls before Swine, arrived, on Tuesday, December 14, in Mark Tatulli's strip, Heart of the City, as the new music teacher. I'm not sure all this inter-strip chumminess between cartooners is an advance in the art of comic strippery, but let's see just how obnoxious Tatullli will make him. ... After a long absence such as befits the senior partner in the strip's title, Steve Roper made a surprise return to the strip, and he's spent most of the month of December so far talking about his retirement plans with Mike Nomad; as I mentioned a couple weeks ago, they'll both be retired on December 29. ... In Darrin Bell's Candorville, the power went off in Lamont's apartment for several days, which Bell spent plunging the strip's panels into solid black, the only artwork being speech balloons and lettering; the next week in Rudy Park, which Bell also draws, the power went off, and Rudy and his friends in the cyber café were plunged into solid black, the only artwork being speech balloons, lettering, and eyeballs. That's two consecutive weeks' vacation for Bell.
            Politics Infest Strips. Not news, by any means, except at Get Fuzzy, whose creator, Darby Conley, once professed dislike for comic strips taking sides on political or social issues. On December 12, Rob Wilco, Bucky Katt's hapless owner, tells the feline, who is writing his autobiography, "Just because you keep saying something doesn't make it true." The ever irritable cat replies: "Yeah, but it makes stupid people think it's true, stupid," adding, after a moment, "By the way, Iraq caused 9/11. Pass it on."
            Mike Baldwin, who, since 1996, has been producing a panel cartoon called Cornered, says "no tree has to die in vain" for the first compilation of his cartoon, Cornered: Don't Try Anything. Collecting more than 300 of his cartoons and including a washingtonpost.com Q&A with Baldwin, the book is an eBook that is available "on demand." No copies will be printed (no trees killed) unless someone wants a copy. I hadn't seen Baldwin's work before visiting his syndicate's website, www.ucomics.com, expressly for that purpose. There, I found a drawing style that seems a drastically simplified version of George Litchy's famed loosely sketched manner in Grin and Bear It. But the humor is satisfyingly more bizarre. Here's Santa, applying for a business loan: "Well, yes, I give the toys away for free, but I make it up in volume." And my favorite of this crop: a man working at the complaint department with two mail baskets on his desk; one is labeled "Rage" and the other "Outrage."
            The current issue of The Comics Journal, No. 264, reprints 32 consecutive Little Joe comic strips, the Sunday-only creation of, it seems, Harold Gray, he of Little Orphan Annie fame. Initially written and drawn by Ed Leffingwell, a background assistant to Gray, the strip started October 1, 1933; when Ed died in 1936, his brother Carl ostensibly took over, but it was Gray, in all probability, who did the bulk of the art and story until Carl resumed the chores briefly before the strip expired about 1956/57. The reprints embrace the year 1938, by which time, the strip had assumed its bleak and brutal view of human nature as enacted, chiefly, by Utah, who at first managed the ranch Joe and his widowed mother lived on. Says Bill Blackbeard, introducing the reprint series in The Journal: "Yet in spite of this undisguised grimness and these routine homicides, there seems to have been no adverse awareness of the strip's blatant content [of casual killings and their rationales] by either the public or the media." The only other substantial "reprint" of Little Joe is achieved by Merlin Haas (103 E. 3rd Street, El Paso, IL 61738), who has reproduced 420 episodes from 1933 to 1941 on a CD. As it conveniently happens, I have several extra copies of The Journal, No. 264; normally priced at $9.95, I'm willing to let them go at $4 each, plus $2 p&h; just drop me a line via e-mail (scroll to the end of this) to ascertain that I still have 'em and to receive payment instructions and the like.
            Cathy Guisewite, creator of the perpetual Cathy, whose eponymous heroine has been obsessing about her forthcoming wedding (scheduled for February 5, 2005) for over ten months now, realizes that her altar-bound couple, like many somewhat "older" people verging toward nuptials, probably have everything they need in order to set up (or continue) housekeeping. So Guisewite has registered Cathy and Irving at http://www.thebigday.com/cathy where visitors can choose from a number of items destined to benefit a not-for-profit rescue organization for dogs and cats-such items as "Happily Ever After Flea and Tick Baths," "Here Comes the Dinner Bowl Meals," and "In Sickness and In Health Veterinary Checkups." At the end of the three-month campaign (December 1 - February 28), the money for the gifts will be presented to the Pet Orphans of Southern California. Guisewite, who volunteers (with her daughter) at Pet Orphans, got the ball rolling with a $1,000 donation. All those who donate will receive a Thank You from the happy couple, including an autographed copy of their wedding photo.
            We are often concerned about the absence of freedom of the press in other, allegedly more backward, countries. But the tendancy lurks here, too. In Colorado, the Denver Post has been barred from nearby Fort Carson because the newspaper published an article reporting that soldiers were unhappy about their health care. The Post's coverage was not, according to an Army spokesman, "fair and balanced," unwittingly invoking the phrase that marks the heartfelt bias of news coverage that supports conservative and right-wing political agendas. Also at Fort Carson, the hearing into allegations that three soldiers murdered an Iraqi general was closed to reporters. Meanwhile, in a community my Internet source didn't name, the Iredell County Board of Commissioners denounced a cartoon that appeared in the Statesville Record & Landmark on December 1, adopting a resolution that called on the paper "to refrain from the publication of any cartoon which would in any way detract from the respect, honor and reverence which our troops and their families deserve." And, of course, we all know that the Bush League never speaks to reporters unless it serves their most immediate purpose.
            But I don't mean to suggest that the so-called free press in this country is without fault. In fact, I agree with Wiley Miller who expressed his exasperation with U.S. news media in December 13's release of his strip, Non Sequitur. His Joe character is reading The Ukranian Times with a headline, "Election Fraud," and when asked why he's reading this particular paper, Joe says, "Oh, I'm just curious what an independent press questioning its government looks like." Then, asked why America doesn't have "one of those," Joe replies: "I think it has something to do with values." Miller is disturbed by what he sees as "the laziness" and gutlessness of "our entire 'news' media, both print and electronic." He would like to have seen the U.S. press "pursue the election results [here] and the many questions surrounding its legitimacy with the same fervor and interest they showed in the all-important story of steroid use by baseball players. But I guess that in itself shows what's really important to corporate wonks posing as editors today."
            If you're curious about conservative attitudes and can't get enough by reading Mallard Fillmore or the much less prickly Prickly City, check into www.rightoons.com, a website dubbed "Right Toons" (with a punning road-sign logo depicting a right turn arrow), where Colin Hayes publishes a satirical political strip called The Leftersons (clever name) plus editorial cartoons by Bob Lang and Paul Nowak, an outgrowth of the conviction that there aren't, apparently, enough conservative comic strips and political cartoonists. In an informal survey in 2002, Editor & Publisher found that syndicates claim 19 "liberal" political cartoonists among their combined rosters of syndicated editoonists while only 6 were "conservative." Recently on the e-mail list sponsored by the Association of American Editorial Cartoonists, participants listed by name 46 editorial cartoonists who were, by their own admission, "conservative." Not all of that number are full-time editoonists, though; my estimate is that only about 25 of them are. But if there are only about 90-100 full-time editoonists in the country, that means fully a quarter of them are of the conservative persuasion. The percentage, in other words, is about the same as E&P's informal survey.
            Prickly City was launched last summer on July 11 in about 40 papers, but it is scarcely in the same whining conservative league as Bruce Tinsley's duck strip about fowl play. Prickly's creator Scott Stantis, who is conservative in his day job as an editorial cartoonist at the Birmingham News, said at the time the strip debuted that its commentary would be "thoughtful conservatism," which means, he explained, "Smaller government, less taxes in your private and business life." But no soapbox. "This is very subversive in a lot of ways. It runs contrary to what the last decade of conservative commentary has been, which has been yelling. I want Prickly City to have political and social commentary that's conservative, but to also have characters who are embraceable and likeable. The comic is almost sweet. It's not Rush Limbaugh, it's not Bill O'Reilly, it's not Ann Coulter-though their kind of commentary has its place." So far, only two characters populate the Sonoran Desert where Prickly City is set: a conservative little girl named Carmen and a liberal coyote pup named Winslow, who, currently, is applying for Dan Rather's job at CBS and a Cabinet post. Confounding the ideological legions, Carmen is a conservative who is female and a person of color. "I've been asked if Carmen is black, Hispanic, or Native American," Stantis said. "My answer is 'yes.' She's all of those. By the time you and I retire, white people will not be the majority in this country. Carmen is the face of America." As for Winslow: "He's goofy and big-hearted, and he gloms on to any fad. In short, he's a liberal! Carmen is much more grounded. These two characters love each other. He's not the sharpest spike in the cactus, but she adores him. He's well-intentioned but dim-witted-in short, a Democrat. Carmen is very steady, very intelligent. She's very, very comfortable in her own skin. ... The last thing I want to be is preachy. If you want to be lazy, preaching's the easy way to go. Boondocks falls in that category. Nowadays, it's just a statement. It's no longer what I loved about Boondocks when I first saw it. I thought, 'My God, here's a strip I can't write.' This was an experience and a language I couldn't write. I thought it was one of the most compelling things I'd seen in my professional life. And [then Aaron McGruder] got lazy. Look at Garry Trudeau, who rarely if ever falls into that. I think he's really been energized by the war. His work wasn't up to his standards, and then-holy schmoly-fantastic stuff!"
            Incidentally, just to anticipate the coming windstorm, in The Boondocks during the week immediately ahead, McGruder takes on Santa, introduced on Saturday, December 18, as "a fat, old, self-hating Black man named Uncle Ruckus,l" who, spying the little girl's Afro, says, "Girl, your hair is nappier than a wolf's butt in a windstorm! I know somebody who's gettin' some relaxer in her stocking!" Several newspapers have already said they'll skip the current releases and re-run last year's.
            Every so often-oftener than we'd like to think about it-we encounter yet another news report detailing the pedagogical aspirations of a school teacher or school system that has adopted comic books as a sure-fire way of engaging "reluctant readers" in the academic enterprise. Here's another one about a pilot program in "some parts of Maryland." Kids invariably display great interest and enthusiasm for reading comics. But does that lead them to take up books full of words? Charles Hatfield, who teaches comics as literature at California State University at Northridge, doubts it, saying that reading comics requires different skills than reading plain text. Reading comics requires an associative ability to piece together fragmented narrative devices-pictures and words, the latter scattered among the distracting imagery of the pictures-but reading text requires, in contrast, a higher degree of concentration. A pleasant experience of reading comics may convince some people that they could find equally pleasant experiences in other kinds of books: in other words, comics perform a kind of sales pitch, but they don't foster the requisite skills. Still, I'm tempted, tongue firmly in one cheek, to claim success for such endeavors. If one of the educational objectives in teaching reading is to interest erstwhile non-reading youngsters in literature and then to make them life-time readers, then the evidence is that we've succeeded. In eve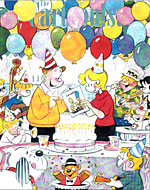 ry town and hamlet, we can find adult book stores-hence, life-time readers abound.
            And here is the cover illustration from the most recent issue of The Cartoonist, bi-monthly newsletter of the National Cartoonists Society: celebrating the 50th anniversary of Hi and Lois, a water-colored pencil drawing by Chance Browne, who pencils the strip. This specimen vividly shows how his pencil work looks before it is inked by Frank Johnson.
Under the Spreading Punditry
Social Security, the blather of the Bush League notwithstanding, doesn't need radical reformation. According to most experts who are not politicians, the Social Security funds are adequate until roughly 2040, and only a little tinkering (a fraction of a percentage point of adjustment here or there in either collection or disbursement) could get us well beyond the time that the Boomer Generation is supposed to overwhelm the system. Or, let's say, just remove the ceiling that establishes an upper limit on the amount of earnings per year that are taxed by Social Security. The Bush League wants to privatize the system, according to Paul Krugman in the New York Times, as a purely ideological matter. This impulse, he continues, is aided and abetted by financial corporations that would dearly love to have more money to invest and otherwise play with. I think it's the other way around, but the point is: the Social Security system is not in need of drastic overhaul. Krugman has also surveyed other countries that have privatized their social security systems to see how it's working. It isn't. Privatization, he says, "dissipates a large fraction of workers' contributions into management fees for investment companies" and leaves many retirees in poverty. Management fees can be reduced if the government does the investing; but if that's the plan, then we're being lied to when GeeDubya says we'll get to manage our own investments. In some countries where social security systems have been privatized, the costs have gone up: when the private investments don't pay off, the government must step in and fund the retirement of persons who would otherwise be plunged into dire poverty. Britain is on the brink of just such a predicament according to its Pensions Commission. The Bush League plan will yield the same catastrophe. Said Krugman: "The final plan will probably claim to save money in the future by reducing guaranteed Social Security benefits. [Notice that George W. ("Whopper") Bush always says current Social Security recipients and those on the verge of entering the system don't have to worry; by saying nothing about the rest of the working population, GeeDubya implies they have something to worry about-namely, a reduction in benefits.] These savings," Krugman continues, "will be an illusion: 20 years from now, an American version of Britain's commission will warn that big additional government spending is needed to avert a looming surge in poverty among retirees."
            The Los Angeles Times reports that the Army National Guard has fallen 30 percent short of its recruiting goal in recent months. ... Nearly 900 children in the U.S., over half of them under the age of ten, have lost a parent in Iraq. That number, according to Scripps, would fill 18 school buses. More than 40 soldiers died without ever seeing their newborn offspring.
            Politicians are expert at dodging the issue and diverting the argument. Discussing Rumsfeld's gaff and the failure of the Bush League to adequately armor soldiers sent to Iraq, one esteemed member of Congress, appearing on Capital Gang, deftly changed the subject: "Surely," he said (or words to this effect), "you aren't saying that President Bush and Donald Rumsfeld deliberately sent our troops over there so unprotected as to court death and disaster?" No, surely: none of us suggest that. But that changed the subject. Instead of focusing on the ineptitude of the Bush Leaguers as war planners, the topic was, suddenly, whether or not leading members of the administration were, in effect, war criminals. No, of course they aren't war criminals: they're simply inept and stubborn about it, but shifting the ground of the discussion took our attention off the real subject-the incompetence of the administration-and directed it to a phoney subject-the demonic culpability of the Bush Leaguers. And since no one believes the latter, the assault on the Bush League was skillfully shut down with everyone seemingly agreeing that, no, no one in the Bush League was culpable (even though the culpability being denied herewith was not the culpability they were initially being accused of).
            The recent Rumsfeld flap in the press over armoring the troops in Iraq offers another illustration of this diversionary tactic. When it was discovered that in constructing his provocative question Specialist Thomas Wilson was aided by an embedded reporter, Edward Lee Pitts, of the Chattanooga Times Free Press, it was clearly implied that this sort of journalistic sneakiness was but a political shenanigan designed to discredit Rumsfeld and the Bush League and was, therefore, an untruth. This monkeyshine suddenly was getting more ink in the press than Rumsfeld's undeniable incompetence. Fortunately, the cheers of the soldiers applauding Wilson's questions were loud and impossible to ignore: their cheers validated the legitimacy of the question, regardless of who might have helped Wilson frame it. Just to put it all in perspective, here's David Broder. He accuses Rumsfeld of "blowing off" Wilson's inquiry by saying, "You go to war with the army you have. They're not the army you might want or wish to have at a later time." But, says Broder, "the army we have is the one Rumsfeld designed, led by commanders he chose, an army much smaller than the force many of his generals had said was needed to secure control of a post-Saddam Iraq." Nuff said, seems to me.
Once a Month is Not Enough
Just as I predicted, the Comics Buyer's Guide has gone Hollywood. The first six issues, including the most recent, received in mid-December, all cover-featured movies. One is led to suppose that without movies based on comics, the magazine would have nothing to put on its covers. Meanwhile, the bulk of the interior, whatever isn't devoted to the cover feature, focuses relentlessly on the price of funnybooks. This may be the worst case of split personality yet in the publishing empire of comics fandom. Judging from the interior, the magazine is going unabashedly for the serious collector of comic books-the speculator, the guy who "invests" in comics. But the cover is designed to make the magazine attractive on the newsstand. Its overt appeal then is to "new" or as yet unformed comic book readers. And when these neophytes open the magazine and see that most of its big, fat interior is aimed at speculators, will their passing interest be confirmed? Disappointed? They spent six bucks (well, $5.99, but who thinks that unnamed penny is worth pocketing?) for a magazine they think is about movies and comic books, and they find, instead, that it's about greed and avarice. My guess is they'll not be back for a second issue. As for the speculator buyer, my guess is that the Krause people will soon discover, indeed are doubtless discovering with each passing issue, that the speculator/collector crowd is a good deal smaller than they'd supposed-too small, I'd say, to support a lavish monthly magazine like this. Too bad. As a weekly bulletin, CBG was widely welcomed across fandom. I doubt that it still is.
Last Kiss Sells Comics One Panel at a Time
John Lustig, who's a friend of ours, has been producing a two-panel comic strip at the Comics Buyer's Guide for several years now. Called Last Kiss, it employs artwork from vintage Charlton Comics, the rights for which Lustig acquired before launching the series. For the conventional and, even, hackneyed scenes of budding and/or frustrated romance depicted in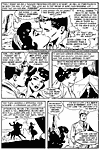 these antique panels, Lustig concocts new and hilarious dialogue. At CBG, the heart-throbbed characters betray an excessive involvement with comic books. Elsewhere, in the comic book Lustig is perpetrating upon an otherwise unsuspecting world, these cliche couples do other equally absurd and inappropriate things-like the woman who runs off into the desert to forget her past and finds a future with a gay man. And now, Lustig is venturing into a new arena of entrepreneurial endeavor. Here's his press release announcing this enterprise:
            By now, we all know the key to success. Graphic novels! Trade paperbacks! Thick collections of cool comics disguised as respectable books for the Barnes & Noble crowd! Right? So why is Last Kiss creator John Lustig doing the exact opposite?
            "Instead of selling my work in massive books, I'm marketing them one panel at a time," laughed Lustig.
            Lustig's "one panel at a time" sales come in the form of a colorful line of Last Kiss note cards and magnets. Featuring revised panels from Lustig's outrageous CBG comic strip and Last Kiss comic books, they began reaching stores late this summer.
            "We could have started out slow with a couple of dozen images," said Lustig. "But I've been test marketing the images for years-mostly selling them as hand-cut magnets at conventions, both to comic fans and the general public. And they've always done extremely well. People apparently like my sense of humor. So my wife and I decided to gamble and we jumped into mass production with a full line of 48 magnets and 48 note cards."
            Lustig has regional sales reps for the Pacific Northwest where he lives and is in the process of interviewing regional reps for other parts of the U.S. and Canada. Through his web site (www.LastKissComics.com), he's also selling directly to consumers, comic stories and retailers in other parts of the country.
            "Frankly, our primary focus is selling to book, gift and greeting card shops. It's a much bigger market than just the comics community," said Lustig. "However, I'm inordinately tickled by every sale we make to comic shops! I'm still a comics geek at heart! And I know the comics community far better than my reps. So my wife (Shelagh) and I are dealing directly with comics
retailers rather than have our reps do it. In the near future, we¹re going to put together boxed sets of the cards and possibly the magnets. At that point, we'll approach Diamond and others for
distribution."
            And what about a book collection? "My agents are talking to several mainstream publishers right now and things look very good," said Lustig. "Oddly enough, I think my note cards and magnets are helping sell the publishers on Last Kiss. The way I've developed the line is showing them that Last Kiss really does have mass appeal."
Footnote from the Happy Harv: In this age of rampant creators' rights, Lustig is more scrupulous about the artwork he's using than he needs to be. Legally, his purchase of the rights to the Charlton material gives him the right to use the artwork without paying anyone, but "on several occasions," Lustig says, "I've paid modest honorariums to creators-when I've made a substantial use of their work and I know how to reach them." He has made no payments, though, for the strips in CBG: "I'm just using a panel or two of art and trying to keep track of all these bits and pieces would be difficult. It would also be financially infeasible: CBG pays very little. (I'm not complaining so much as recognizing a fact.)" Sometimes, Lustig commissions new artwork for the comic book, and when he does, he pays the artists a fee. For the cards and magnets, on the other hand, he's again using only individual panels and no new artwork; what with the financial risk he's taking and the minuscule portions of art, he's not, with an exception or two, compensating the artists.
A Final Note from Nicole Jantze about the Norm.com
Michael Jantze's dutiful and devoted wife writes to tell us of the state of Norm's drive for a new lease on life online: ]
The final three weeks of my drive to raise money for The Norm.com are here. It's Holiday time and it's crunch time. Let me back up in case you haven't heard: Michael terminated his contract for The Norm with his syndicate in September. And because of all the email responses he received about The Norm, I decided to try to keep the strip alive by creating a direct conduit between you and Michael.
            My goal is 4,000 donations. We're not there yet, but we are more than half way there. Your donation may be the one that gets us to 4,000. 4,000 donations do add up to a lot of money, but we'll be running three businesses here: the comic strip, the Web site and The Norm store. Most of the money will go to pay for overhead costs so, no, this isn't a get-rich-by-drawing-comics plan.
            I'm not asking for your donation if The Norm isn't your favorite comic strip. This isn't a charity. Don't donate for any reason other than that you or a family member or friend LOVE Michael's work (great gift idea, hint, hint). What do you get if you join? A year-long membership to The Norm.com and new The Norm strips. Plus whatever else Michael is cooking up (yes, he's thinking about "beta-testing" another strip on the site) all for $25 a year. Of course, there's more benefits if you donate at a higher level.
            Go to http://www.thenorm.com/subscribe/ for more details. We accept payments through Amazon Honor System, PayPal payments as well as VISA, MasterCard and Amex through The Norm Store (a secure Yahoo! Store). Thanks for your time. Have a great holiday season and 2005. See you at The Norm.com! -Nicole Jantze
Yes, there's still time to sign up. Go there and do it.
Funnybook Fan Fare
Trigger No. 1 from Vertigo introduces us to a post-modern Orwellian world run by a giant corporation called Ethicorp, whose profit-motive and slogan, "We get the bad out,"qualifies it as a futuristic glimpse of the world the Bush League is building for us while we are distracted by the war in Iraq. We meet a would-be author named Carter, who writes stories about assassins called "triggers." In the world outside his stories, one of the triggers might be a female reporter named Stevens who works for a newspaper called Relative Truth. Carter is burned out in his marriage, and when he goes for a walk at , he witnesses, or thinks he does, an assassination. All of this is fairly scary stuff by writer Jason Hall, but the best part is the stunning artwork by John Wathiss -quirky, crisp and angular renditions, drenched in black. Wathiss's shadowing of facial features is seemingly different every time he does it-highlighting this cheekbone, that nostril, this jawline-but the personages are recognizable every time. His blunt chiseled lines he varies with softening grease-crayoned pebbleboard. Jeremy Cox's coloring serves to deepen the shadowy mechanistic atmosphere that permeates this book's pages even while shedding hard, artificial light. The unrelieved darkness eventually becomes a bit tedious, but it surely gives the tale a menace suitable to Hall's narrative.
Ahhhh, Maitena!
Every once in a while, something comes along that is so bright and shining that it lights up your life. In matters cartooning, I get lit up when I chance upon some new variation on the ways words and pictures can be deployed in tandem to achieve a comedy that transcends the words by themselves or pictures alone. And when that new blend of the verbal and the visual embodies a novel point of view or a fresh voice, the light vaults to incandescence, and I am warmed as well as illuminated. The first page I looked at in Maitena's Women on the Edge 1 brought on a moment like the Millennium Falcon's first leap into warp speed when the snap of light on the screen instantly catapulted sight into feeling. The book (80 6x9-inch pages in paperback; Riverhead Books, $12) reprints over 70 of the weekly comic strips by Maitena Burundarena, a forty-ish Argentinean woman, who, since 1993, has been articulating with wit and compassion the hopes and fears and frustrations of women throughout Latin America. "Women are not all the same, but the same things happen to us," says Maitena, who uses only her first name professionally. "I talk about solitude, separation, falling in love, anguish, failure, success, children-universal themes that everyone experiences." Although she speaks most directly to women,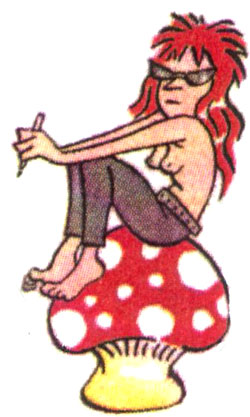 Larry Rohter at the New York Times allowed last winter as how "the popularity of her biting, satiric appraisal of the sexes and their relations increasingly cuts across gender lines as Latin American men, too, have begun to parse her comic strips for clues to the female psyche." Rohter quotes Quino, another Argentine cartoonist: "Spontaneous and direct, Maitena doesn't aspire to be a mirror reflecting reality; on the contrary, she grabs hold of reality, mirror and all, and throws it at our heads." Maitena's admirers, Rohter notes, "regard her as a cultural phenomenon that simply could not have existed fifteen years ago because she represents a "generational transition" that has occurred throughout the region since then. "Hers is a unique voice in Latin American society, looking at women's issues with a sense of humor, humanity and frankness, and touching on topics that are not usually talked about," said Mereles Gras, whose magazine publishes Maitena's work in Mexico and the U.S. But her mother, Gras goes on, would not enjoy Maitena's cartoons. "She appeals to a younger crowd, women under forty who identify with her and the way she breaks the mold."
            Maitena's work has a much more universal appeal than her Latin American success would suggest; the two book compilations so far published (Women on the Edge 2 being the second; a third is on the way) have sold over a million copies world-wide. Her drawings are simply but expertly rendered (no fumbling inadequacies at anatomy, for example) and delicately colored in pastels. Each page in the books prints one strip, typically 4 or 6 panels long, each panel a visual-verbal vignette that represents a different aspect of the topic announced in the heading for that strip. Under "Life Is Not Fair," for instance, the drawings depict a good wife, terrific mom, born homemaker, respected working professional in charge of her own life, who, in the last panel, assumes an anguished expression and asks: "So why do I have to have cellulite?" The pictorial progression, as in "Women Are So Beautiful ... ! which I've reprinted in this vicinity, is often ironic: here, the pictures offer ironic contrast to the individual panel captions, concluding with the resounding irony in the depiction of "being a woman is so easy."

Ironic contrast is at the heart of Maitena's method (as in "Four Good Reasons Never To Get Married"), but ruthless self-examination and brutal candor go hand-in-hand as the means that inform the method. The result is a zephyr of fresh comedic air blowing across the land. So deftly does Maitena exploit the resources of her medium that her cartoons defy such merely verbal description as this; to properly understand what she has done and is doing, we must resort to her cartoons themselves. Only they can adequately display her ingenious triumph in words and pictures.
            In both books, Maitena presents a comic strip autobiography. She was sixth among seven siblings, born in 1962 to a architect mother and an academic father (of the conservative persuasion). At 17, she rebelled against her upbringing by getting pregnant; a year later, she married and, a year after that, gave birth a second time. Explaining her decision to get married so young, Maitena says it was because her intended understood her jokes. "Unfortunately," she adds in a raspy voice, "that's the only thing about me that he understood." She continues: "At 19, I already had two wonderful kids, three lousy jobs, all sorts of problems-and gray hair!" The marriage lasted until she was 24. "I was too young for that much responsibility," she explains. "I decided my life lacked some sex, drugs, and rock'n'roll. ... I don't remember much about the next few years," she confesses, but they left her with an abiding affection for punk music and fashion. She indulges this affection to this day, styling her blond hair in punkish spikes. To earn a living during this limbo period, she took assignments wherever she could find them. She did cartoons for erotic magazines with titles like Sex Humor and illustrated children's books. "I lived in fear of delivering the wrong envelope," she says, illustrating the nightmare with a picture of editors peering at pictures of naked women and saying, "But this is not Columbus about to sail from Spain!" Doing the erotic cartoons was an apprenticeship for her present endeavors, Maitena says: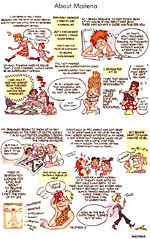 "I learned the freedom of daring, of being able to call up things from my own interior, and that gave me the background I needed so that when I began to recount things about women, I already knew how to be sincere." In 1993, a leading woman's magazine in Argentina commissioned her to do a weekly comic strip; five years later, she began a daily strip for La Nacion, the most conservative and traditional of Argentina's daily newspapers. The ensuing reprint books were all bestsellers, one series of which is entitled Altered Women. "To me," Maitena explains, "an altered woman is one who has all of these battlefields open at the same time. We've got work, men, maternity, our body, our friends, our mothers, a whole bunch of things-and that's what puts us in an altered state, in which we can go from euphoria to a depressed crying jag in fifteen minutes."
            Maitena's books and strips have recently attracted an international following (which is certain to include the U.S. now that the books are available here in English), but she is not eager to become the creative engine that aggressive pursuit of newly opening opportunities would entail. "They've offered me film scripts to write and animated films to draw, but I'm not going to change my life for that," she says. "Who says the better you're doing, the more you have to work?" Right: I said she was a fresh breeze blowing. She had her husband, Daniel Kon, formerly manager of Latin American rock groups, divide their time between Argentina and Uruguay, where they have a seaside cottage. "Relations [there]," says Maitena, "are based on one's personality and not on fame. There's a bit of fleeing from the world in living there," she admits, "but it's because we're found a life that appeals to us. It's a fishing village. I have my own garden. I can cook for myself. I make ceviche and sashimi. I walk on the beach for an hour every day and play with my daughter"-Antonia, who is four.
Current Crop of Comic Strip Reprints: Part 3 of 3
Another of the commemorative tomes before us is 27 Years of Jeff MacNelly's Shoe: World Ends at Ten, Details at Eleven (210 8.5x11-inch paperback pages, black-and-white with color Sundays; $16.95), edited by Chris Cassatt, MacNelly's long-time assistant on the strip, and Susie MacNelly, the creator's widow. Why a 27-year anniversary? Got me. But it's nice to have, whatever its motive. The editors have adopted the popular scrapbook approach in assembling and presenting the contents: in addition to short sequences from the stri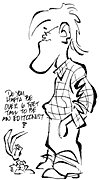 p, they've included photographs of the towering MacNelly (he was over six feet tall, not counting his hay-mow hairdo) and his children, assistants, friends, and so on. We also have the "very first known drawing of Shoe," which, alas, is undated (as are most, but not all, of the strips herein; it would be nice, for the sheer sake of history, if reprint books included the dates that all strips carry when they are first published-they are unobtrusive when the first appear and would be equally unobtrusive in reprint, and they'd be a boon to historians). There are photographs of the two Reuben trophies MacNelly collected-in consecutive years, 1978 and 1979, for political cartooning and for the strip, respectively; MacNelly's "first cartoon" (done with crayon at age four) and copies of notes from his teachers (not complimentary). You get from this scrapbook pretty much what you ought to get-the idea that MacNelly was a good-natured, extremely talented fellow who enjoyed life in terms of the people he encountered in it.
            MacNelly died of lymphoma in June 2000, a three-time winner of the Pulitzer, and his brethren in the editorial cartooning fraternity marked his passing with anecdotes that illuminated his personality rather than his professional achievement. Not that they didn't admire him professionally. At an editorial cartoonists convention years ago, MacNelly doodled on a napkin while a particularly boring speaker droned on; when the speaker finished, MacNelly got up to leave, and a horde of his colleagues rushed up to grab the napkin he'd left behind. MacNelly was thoroughly unpretentious, "happier," columnist Dave Barry said, "drinking a beer with his plumber than having dinner at the White House." Jim Morin of the Miami Herald wrote: "This man of such awesome talent never bragged, never surrounded himself with a circle of sycophants, never acted as if he were 'above' his audience or his fellow cartoonists." As an editorial cartoonist, MacNelly was generally seen as conservative, but he was more a spectator, more bemused by the passing show than outraged. He was a clear-eyed observer of the human condition-particularly the condition displayed by politicians. Some of us think of politicians as craven power brokers with self-interest as their chief motivation. But to MacNelly-judging from his cartoons-these political leaders are merely bigger buffoons than most of us and therefore a greater inspiration to laughter. His cartoons suggested that our proper response to these four-star bumblers should be the chastisement that laughter inflicts rather than the ouster than the ballot box can effect. After all, you can't defrock a naked emperor, and MacNelly showed them naked often enough to make us familiar with the anatomy of politics.
            But the comic strip was another story. MacNelly needed more to do: an editorial cartoon every day scarcely drained him of hilarious ideas that needed to be disseminated as widely as possible. A daily comic strip would give him a spotlight that he could shine on every human foible, not just the political horseplay. Besides, he'd always wanted to do a comic strip. Why couldn't he do a daily strip as well a daily editoon? "I was daring myself, really," he said. In the conception stages, the strip was about humans, but MacNelly found them "boring"; so he turned to animals, finally settling on birds. He liked the idea of doing goofy drawings of them flying around (and in the early years, they flew more than they have recently). "A bird smoking a cigar is an interesting sort of bird," he said. "You really want to listen to him. And it's zany on its face to have a bunch of birds walking around with clothes on." Moreover, birds, not being human, provided the perspective of an outsider on the human condition, a perspective MacNelly felt comfortable with. From Shoe's perch at the Treetop Tattler-Tribune (the newspaper he started a month or so after the strip's debut on September 12, 1977), MacNelly could ridicule human foolishness with complete abandon, and he did, steering into all those inlets of human endeavor that his editorial cartoon with its political emphasis had to ignore. For his cast, MacNelly mined his own life. The title character, P. Martin Shoemaker, or "Shoe," was Jim Shumaker, MacNelly's first editor, a legendary personage in North Carolina journalism. Shu edited the Chapel Hill Weekly, came to work in tennis shoes, and chewed his way through cigars all day long. The Perfesser's nephew, Skylar, was MacNelly at the age of twelve. Like Skylar, MacNelly was, by his own admission, "a terrible athlete. I couldn't do anything that a large person is supposed to be able to do." The Perfesser was not, at first, MacNelly in adulthood. But before long, MacNelly found himself turning into the Perfessor. "It's terrifying," the cartoonist said.
            The entire ensemble pecks its way through the book: Loon, the air mail expert; Roz at whose dingy diner the crew often collects; Madame Zuzu, the fortune teller; Senator Batson D. Belfry (wondrous name), Irving Seagull, Wiz the computer mechanic, even the Perfesser's aged DeSoto and, at the other extreme,  Muffy Hollandaise, a preppy girl summer intern (who, we learn in the section "Where Are They Now?" is running an escort service in Washington, D.C.)-and Bumpkins, the butler the Perfesser (Cosmo Fishhawk) inherited from an eccentric uncle. A fifteen-page section rehearses many of Skylar's experiences at summer camp, a popular annual event in Shoe wherein we all realize what Skylar never does: that his summer camp is a Marine Corps training redoubt with picturesque names like Parris Island and Cherry Point. Since MacNelly's death, the strip has been continued by Cassatt, who roughs out the panels, Gary Brookins, who reworks the roughs and inks the final versions, and Susie MacNelly, who passes final judgement on the gags supplied by Bill Linden and Doug Gamble. And there are enough pages of their work to demonstrate that Shoe is in good hands.
            Hysterical Feetnit: The book says the first Shoe was published on September 13, 1977, but everything else I've seen says September 12. And the 12th was a Monday in 1977's September, a better jumping off place than a Tuesday. I have no convenient way to reconcile these contradictory facts, so I'll just leave them with you. MacNelly, incidentally, is often credited as the first political cartoonist to simultaneously produce a syndicated daily comic strip. Not quite so. Tim Menees at the Pittsburgh Post-Gazette was the first of the present generation: he started a strip about a would-be writer and journalist, Wordsmith, in 1976. But Wordsmith didn't last long. In the previous generation of editoonists, we have Cecil Jensen at the Chicago Daily News: he launched one of my favorite strips on October 28, 1946- Elmo, whose eponymous protagonist was a sort of urban Li'l Abner except that Elmo was stupider than Abner. I admire this kind of stupidity in a comic character.  And Elmo made it all seem so easy, too-smiling his bland, ear-to-ear grin the whole time.  I loved it.
            Elmo spent most of his early career working in the office of a breakfast cereal manufacturer, Popnut Skrummies.  Elmo actually owned the company.  The previous owner, oppressed by the responsibilities of being a millionaire and owner, gave Elmo all his stock in the company.  So Elmo went to work there, but he was too stupid to know that the owner of the company should be giving the orders.  Instead, he took orders from the Commodore, an unscrupulous robber baron who was running the company at the time. The Commodore, seeking to get Elmo occupied with something to keep him out of his, the Commodore's, hair, hires a ecdyiast to work as Elmo's secretary.  This is Sultry.  And she is.  Among the many things Jensen could draw was attractive wimmin.
| | |
| --- | --- |
| | |
Elmo's girlfriend from back home, Emmaline, gets wind of all this and comes to the big city to keep an eye on things. About this time, a cute moppet named Little Debbie shows up and becomes the face on the cereal box, selling billions of bushels of Popnut Skrummies. You can't keep a good sales girl down. Before long, Elmo disappeared, and Little Debbie was the name of the strip; it continued that way until it ceased in 1961. Jensen's strip had a good long run, as you can see; but it never achieved the stellar status that MacNelly's Shoe did. MacNelly may not have been the first political cartoonist to produce a daily comic strip concurrently with his editoons, but his strip achieved a much larger circulation than any of its lesser known predecessors in the genre and has lasted longer.
            The latest collection of Garry Trudeau's Doonesbury, Talk to the Hand (152 9x10-inch paperback pages, French flaps; black-and-white with color Sundays; $16.95), begins approximately August/September 2003 and ends approximately August/September 2004. You'd think with a strip as closely attuned to current events as Doonesbury that the editors of the reprint volumes would take care to peg the comic strip happenings to the real events they satirize, or, at least, to provide some clue as to the initial publication dates. You'd think. This volume starts with the carnival California campaign of Arnold Schwarzenegger and ends with B.D. in rehab after he's lost a leg in Iraq. Between these two benchmarks fall Duke's looting of Iraq, Trudeau's offer of $10,000 to anyone who can prove that George W. ("aWol") Bush fulfilled his Guard duty in Alabama (no winners, remember?), the battlefield sequence during which B.D. lost his leg, the Sunday listing of all the names of U.S. military personnel killed in Iraq through April 23, 2004 (for update, visit www.lunaville.org), and White House discussions of Dick Cheney's colorful "fuck off" instruction to Senator Leahy on the Senate floor-to mention only those events that thrust Doonesbury into the news columns of the nation's press time after time all year. A full year of political waggery withal, and worth keeping Trudeau's record of it handy.
            "Rugrats," you may have heard, is the name of a popular Nickelodeon animated cartoon about toddlers that started in about 1991 and ran for 65 episodes. That was the plan. But the series proved so popular that production resumed in 1997, and a comic strip version was launched the next year, running for five years until 2003. I paid no attention whatsoever to this phenomenon, thinking that I was somehow beyond kiddie humor. But here I'm proven wrong with It's a Jungle Gym Out There: A Rugrats Collection (128 8.5x9-inch paperback pages, b/w; $10.95). Lee Nordling, who edited the strip all five years, credits almost two dozen creative personnel-writers, pencilers, inkers-who contributed to the enterprise over the years. Most strips carry at least three bylines, and maybe it was the factory-like creative process that turned me off without actually witnessing any of the product. My bad. The gimmick for the tv series was that the adventures therein were related more-or-less from a baby's point-of-view. Some of the strips here do the same. But many of the gags have a satirical edge that's entirely adult. Kids in swings observe that the sun was "over there this morning" and "now it's way over there. Same thing yesterday." In the last panel: "Wonder what'll happen tomorrie." On another occasion, the little girl Angelica wanders through a Sunday strip, witnessing all the male cast members in succession, burping, smearing food on themselves, drawing on the wall, and the like; after a contemplative panel, she says, "Sigh. I'll never find a husband."
            Tom the Dancing Bug is another comic strip endeavor that I don't reach much. Launched into the alternative journalistic environment in about 1990, Ruben Bolling self-syndicated the feature until 1997, when he signed with Universal Press Syndicate. Tom's forte is weighty irony, and while Bolling is deft at dissecting the foibles and hypocrisies of the times, I can take only so much of it at one sitting. But that, surely, is my shortcoming and not Bolling's. In Thrilling Tom the Dancing Bug Stories (224 8.5x11-inch paperback pages, b/w; $14.95), the cartoonist deploys all the genre in his arsenal-comic strips, editorial-type cartoons, parodies, superhero comic books, even diagrams-to flay his targets, the wayward fads and misguided causes that plague us all. Here's a page, for instance, that begins with the headline: Just As You're Morally Opposed to the Execution of Mentally Retarded Criminals, You're Also Morally Opposed to the Slaughter of Mentally Retarded Animals. That's Why You Only Eat SMART MEAT." Bolling's targets line up on both sides of the political spectrum, but I suspect his conservative victims are not much moved by his attentions: conservatives never understand irony.
            Steve Moore produces a panel cartoon for newspaper sports sections called In the Bleachers in which he looks at sports in much the same way that Gary Larson looked at life in general (insects and cows in particular). In a tidy size (5x5-inch paperback), 272 of Moore's manic gems about golf are available as Dibs on His Clubs ($9.95). As an indication of the content, the title is what one of three golfers says as he watches the fourth of their foursome being levitated into a flying saucer. A new collection of the greeting card favorite that became the perennial polyanna of the funnies, Ziggy, is out under the title Character Matters (128 8x8-inch paperback pages, b/w; $10.95).
Civilization's Last Outpost
The anyule incitement is upon us. In various hamlets from sea to shining sea, we are once again treated to the spectacle of Concerned Citizens bringing legal action against their civic authorities to eliminate all shreds of reference to the Christian holiday from public areas, citing the dubious ground that the State should do nothing in support of any religion. My guess is that if all such public displays concentrated on Santa Claus, evergreen trees, and endless strings of colorful lights, most such legal actions would have no legs to stand on, and we'd all get suitable public festivities. Then I suppose Christians would object to their religious event being subsumed under rank commercialism and pagan ritual. Syndicated columnist John Leo tackled this subject recently, and after ticking off a series of wonderfully narrow-minded instances of objections to the season, wound up in Florida, where, he says, "an elementary school concert included songs about Hanukkah and Kwanzaa but offered not a single note of Christmas music." To Leo, this suggested that the Forces of Evil (that is, what he calls "the anti-Christmas" movement) were picking on Christianity. Nope; sorry. Last I heard, neither Hanukkah nor Kwanzaa are, strictly speaking, religious events; Christmas, on the other hand, is.
            Elsewhere, in the same spirit, they've invented a new word for it. Frank Costanza introduced "a Festivus for the rest of us" in 1997 on "Seinfeld," but, not content with this, the ultimate secularization of the seasonal celebration, the more fervent among us have concocted a new portmanteau word that includes just about everything one might love about the holidays in a wish for a Happy Chrismahanukwanzakah. Meanwhile, at www.Chrismukkah.com, Ron Gompertz who is Jewish, and his wife Michelle, daughter of a Protestant minister, combine their holidays under Chrismukkah, "a sort of great umbrella name for describing the chaos and whimsy and excitement that goes on during the month of December." Chrismukkah began December 7, Pearl Harbor Day, and persists for an 18-day observance that coincides neatly with the most desperate weeks of the traditional Yuletide shopping season. Chrismahanukwanzakah fell on December 13, which, this year, came on a Monday. We like the idea of celebrating chaos and whimsy and excitement, and we admit that Happy Chrismahanukwanzakah has a nice rhythmic sound to it, but now we don't know whether to decorate the tree or to light nine candles or seven. Paralyzed with indecision, we'll probably just tip an eggnog or two. With egg on our face, then, we hope you'll continue as unabated as ever and enjoy in all directions as you do. That's what we intend to do here at R&R online.
To find out about Harv's books, click here.