Opus 144:
Opus 144 (August 31, 2004): At the end this time, our feature on the perils of being Ted Rall if you're a cartoonist commentator and don't like the Bush League (or of being in the Bush League when Ted Rall is taking aim), with an aside on the abuse of the Internet by pressure groups leveling scads of e-mails at the objects of their detestation. Between here and there, a correction about Ronin Ro's book on Jack Kirby, Tales to Astonish, and news about the forthcoming new Schulz book, Zippy on stage in San Francisco, the Festival of Cartoon Art, the Buffalo News replacement (at long last) of Tom Toles, a report on Wizard World and the graceful Terry and Rachel Dodson, a new collection of Lola, and the Christian invasion of Hollywood and the entertainment realms. Without further adieu, we begin forthwith with a-
CORRECTION. Recently, in Opus 142, I announced the arrival of a new tome, Tales to Astonish, which, I said, was another version of the creative relationship between Stan Lee and Jack Kirby. This one, by Ronin Ro (Boomsbury, 296 pp., $24.95), reportedly, I said (repeating what I'd read somewhere, as is often my wont), reduces Kirby's role while elevating that of Lee, "a marketing genius," the reviewer opined, "who overshadowed Kirby as his boss and most famous collaborator." Ro subsequently wrote me to correct this statement, saying that his purpose in the book was actually nearly the complete opposite of what the alleged reviewer reported. (And it's possible that I misconstrued the reviewer's remarks: they could very well apply to the popular opinion of Lee rather than the reviewer's or Ro's.) I've now browsed rather thoroughly through Ro's book and I must agree: his narrative deals extensively with the Kirby-Lee collaboration and gives Kirby the lion's share of credit for creating the Marvel Universe, focusing on his career more than on Lee's. By Ro's account, Kirby was almost routinely snubbed in the publicity surrounding the success of the Marvel revolution while Lee was championed. Lee, whom Ro interviewed for this book, regrets this circumstance but claims to have had little to do with it: he can't help, he says, how reporters write their stories about Marvel Comics. The story of the Marvel revolution is a fascinating one, and Ro's prose is lively reading. The book, however, lacks any trace of scholarly apparatus (footnotes, bibliography-any sort of systematic attribution of facts to Ro's sources). Ro lists the people he interviewed for the book and the books and magazine articles he consulted. But his text is laced with direct quotations from various people, and the sources for these quotations are nowhere given. We must assume they all come from his interviews although I recognize at least one of Lee's statements as having appeared elsewhere. Whatever his enthusiasm for this task, Ro is apparently not a student of the comics, a situation that forces him to rely upon the testimony of his witnesses, and either he or they are sometimes wrong. Billy Batson, who became Fawcett's Captain Marvel by shouting "Shazam," is not a crippled newsboy; that was Freddie Freeman, who became Captain Marvel, Jr. And Ro repeats the canard about Lee's having won a newspaper-sponsored writing contest three times running while a teenager (a claim that the Stan Lee biography by Tom Spurgeon and Jordan Raphael dispells). These two circumstances-the absence of systematic sourcing and the occasional outright error-may induce the reader to be wary of some of Ro's more revelatory statements. Still, everything I read seemed of-a-piece with the known history of the Marvel revolution and the personalities involved, and several statements attributed to Roy Thomas about Lee's role in inventing, say, the Fantastic Four dove-tail perfectly with statements in Spurgeon-Raphael. In the last analysis, most books about comics and their creators are, like Ro's, weak in documentation. Spurgeon-Raphael's book, while lacking footnotes, cites sources, chapter by chapter, listing interviews and books and magazines, albeit without citing page numbers in the latter; it has much more the aura of a book based upon facts rather than fictions. It's too bad Ro didn't do the same, although, as I say, most of what I read in his book jibes with everything I know about the people involved. Probably worth adding to your bookshelf; I'm getting one for mine.
NOUS R US
You read it here last time-the forthcoming reprint of Charles Schulz's single-panel newspaper gag cartoon about sports, It's Only a Game. And you read it here first. It was a scoop, kimo sabe: to the best of my knowledge, no other news medium had that story on the air then. And now that the book mock-up has been given final approval by Jean Schulz, it's on its way to the printer and, by November, your local comics shop. It's also offered in this month's Previews. The cartoon series, by the way, is not only a "long lost" specimen of Schulz's work: it's also the only syndicated material her produced with adults as the principal characters. For most Schulz fans, it'll be the first time they'll see how the celebrated cartoonist rendered grown-ups. It's Only a Game would seem to be a natural outgrowth of Schulz's abiding interest in sports-skating, hockey, baseball, football. Publisher Nate Gertler (About Comics) said of the cartoon: "Schulz focused mainly on participation sports and games, so there are strips about bowling, bridge, and fishing as well as the big team sports. In fact, it's rather amazing how broad a range of topics is covered. Over the course of 255 cartoons, the series covers everything from Monopoly to rodeo." After the initial weeks of the series, Schulz produced only rough pencil sketches for the cartoons, turning the remaining drawing chores over to Jim Sasseville, who carefully aped Schulz's style for the run of the feature, and Sasseville has provided Gertler with an assortment of special visuals, including roughs that were never used. Sasseville also supplies the book's running commentary. This'll be a treasure-240 5.5x6.5-inch black-and-white pages in paperback, $14.95.
            The Buffalo News, which lost its editorial cartoonist Tom Toles to the Washington Post two years ago, has finally hired a staff cartoonist. Since the paper dawdled so long, it was long suspected among editorial cartoonists that Toles wouldn't be replaced, that the paper would seize the opportunity to save the cost of salary and benefits. The paper's management did little to unhorse the rumor. But now it has. The new guy is Adam Zyglis, a genuine newcomer to the profession. Just 21 years old and a fresh (May) graduate from Canisius College with a major in computer science and a minor in math, Zyglis has been interning at the News for the past three months as an illustrator. His present assignment is to do three illustrations and two editorial cartoons a week, with the expectation that he'll gradually draw more cartoons and fewer illustrations over the next few years. The News obviously intends to bring him along slowly, perhaps because they want to foster in him a political attitude compatible with the newspaper's prevailing posture; otherwise, they might have hired a more experienced editooner who would have come to the paper with fully developed editorial attitudes. Nothing wrong with the paper's plan; in fact, it's admirable. Nothing makes for a cartoonist having a short career at a newspaper faster than political incompatibility; the News clearly wants to keep this guy on board. And it's encouraging that the paper values editorial cartooning enough to have its own staff 'toonist. Too bad, though, that veteran cartoonists out there are still looking for employment while the News launches a near-novice on a career that, for many of his brethren, is fading fast as newspapers across the country dismiss their staff cartoonists and resort to syndicated material. On the other hand, Zyglis is a fresh face and pen on editorial pages, and that would seem to signal that editorial cartoonists are not, really, an endangered species, the present dwindling roster notwithstanding. In drawing style, Zyglis is closer to David Horsey than to Jeff MacNelly, and he appears to be shading with a pencil in the manner made so stunningly effective by Steve Sack at the Minneapolis Star-Tribune. Samples at www.adamzyglis.com
            Wizard World, the current incarnation of the beloved old Chicago Comic-con of yesteryear, says it drew 54,500 attendees over its three-day show, August 13-15, in the Rosemont Convention Center. That's about half what the Sandy Eggo folks say attended their July 21-15 blow-out: their "unofficial" tally, reported by Time.comix Andrew Arnold, stands at 100,000, representing a 30% increase over last year's attendance. While the California extravaganza may be characterized as comic books overwhelmed by Hollywood ("an overpowering presence of the film industry" according to Michael Sangiacomo at The Cleveland Plain Dealer), the Chicago event may be said to be comic books invaded by toys and action figurines. Toys were also evident in abundance in San Diego, of course, but Hollywood wasn't anywhere obvious in the Windy City. As an convention for Golden Age comic book fans, the Chicago con has a higher percentage of comic book dealers, seems to me; but since the show is smaller than the San Diego pachyderm, the actual number of comic book dealers is probably about the same in each place (although the dealers are somewhat different from place to place). Wizard World is clearly the smaller of the two cons: it could fit into one of the eight halls at the San Diego Convention Center. But the Wizard folks give more space to practitioners: the Artists Alley in that toddlin' town is at least half-again as large as the San Diego equivalent. I had a table in Chicago but not in San Diego; I sold some books and monographs, but none of you with Charter Rabbit Fete cards showed up to claim a discount. Sigh.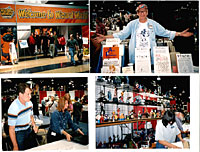 The photos show (left to right, top row then bottom) (1) the entrance to the exhibit hall, (2) your reporter at his table in Artists Alley, which was next to (3) Terry and Rachel Dodson, and (4) one of the many booths festooned with action figures. The Dodsons were busy: they had engagements at other locales in the hall, and whenever they showed up at their table next to mine, they were immediately surrounded by fans who kept them busy signing the whole time. And Terry did some drawing, too-nice pencils on big pieces of board. I watched him pencil one of his luscious babes then asked Rachel whether all his pencil work came to her for inking in a similarly complete state: were his pencils always this tight? Or were they sometimes loose? She mumbled that they were about the same as the one I was looking at, then Terry spoke up, saying that they've worked together so long he doesn't need to be as tight a penciller as he would be for some other inker. "We work only thirty feet apart," he said, "so if there's a question, the answer's not far." Seemed like nice, friendly folks to me.
            Yet another museum is mounting on an exhibit of the cartooning arts. Entitled "Snicker, Chuckle and CWAC!" the exhibit is organized by the Central Washington Associated Cartoonists and features, mostly, their work-Dan McConnell, John Barnes, Anthony V. Talbot, Les Garcia, Frank Gonzales, Erin Hudson, Dean Ball, Melissa Hudson, Susan Freiberg, and T Lewis (the only nationally syndicated cartoonist in the lot, Lewis draws Over the Hedge in a deft and delightful manner). Also on display will be original art by such 20th century masters as Walt Kelly (Pogo), Charles Addams (The New Yorker), Jeff MacNelly (editoonist and creator of the comic strip, Shoe), and two comic book creators, Arthur Adams and Al Milgrom (the team currently producing one of the X-Men titles for Marvel). The show will run through January 21, 2005, at the Wenatchee Valley Museum, 127 S. Mission in Wenatchee, Washington (east of the Cascade Mountains on the Columbia River).
            Garry Trudeau has signed Phoenix Pictures and Walden Media to write an original screenplay about a boy who becomes mayor of a small town. The story is loosely based up the experiences of two real-life teenage mayors of small towns; Trudeau is working with both of them in crafting his tale. ... Stephen Sommers and his "Van Helsing" producing partner Bob Ducsay have acquired the rights to Flash Gordon, the iconic 1934 space opera creation of Alex Raymond. And Flash is slated to be revived in the four-color print format, too, at Top Cow. ... Howard Stern is getting into cartoons, the animated variety, with a 13-episode series "Howard Stern: The High School Years" ordered by the male-oriented cable tv channel, Spike TV; the shock jock's parents, frequent call-in guests on his radio show, will be "major characters" in the cartoon series. ... Donald Duck, who celebrated his 70th birthday on June 9, recently achieved Tinseltown's grandest distinction-a star on the Hollywood Walk of Fame. His star, the 2,257th, is just outside El Capitan Theatre on Hollywood Boulevard. Mickey Mouse, Pluto, and Daisy Duck showed up for the ceremony on Monday, August 9.
            And in San Francisco at the Dark Room, a new community theater venue, "Zippy the Pinhead in Fun: The Concept" concluded a month-long run recently. The stage version, written by playwright Denzil Meyers (who took about 75 percent of the dialogue direct from Bill Griffith's comic strip), focused on the relationship between Griffith's alter ego in the strip, "Griffy," and the Pinhead. Playing against Zippy's worship of American consumerism is Griffy's intense dislike of it (despite his participation in it). Meyers interspersed through the material he imported from the strip enough connective tissue to create a narrative-but very carefully. "You can't out-Zippy Zippy," he said. "I was very conscious of having the staging and rhythm feel like [the] strip while still advancing a longer plot thread. It was a challenge since 70 minutes of non-sequitur wouldn't be very good theater, but too much sense wouldn't be true to the strip. If no one leaves the theater either angry or confused, we haven't done our job."
            At the Comic Book Legal Defense Fund, its founder, Denis Kitchen, retired in July, and Chris Staros, publisher of Top Shelf, was elected President. Staros has been on the Board of Directors for two years. Kitchen retired, he said, because comics are now facing different challenges than they had to face when he launched CBLDF: "I think it's fitting that the generation directly facing these challenges, led by Chris Staros, a publisher after my own heart, should be the ones standing up to them." He expects to continue to support the Fund "from the other side of the table," and he remains confident about the health and future of CBLDF.
            Every three years, the Cartoon Research Library at Ohio State University sponsors a Festival of Cartoon Art. During the two-day celebration, some of the nation's foremost cartoonists parade before the audience in a series of hour-long presentations. This is another of those "third years," and October 15-16 is the time. The theme, "Deletions, Omissions and Erasures," hovers around the censorship and controversy comics have seemed to provoke over the years, but particularly in recent times. This year's speaking roster includes: Nicole Hollander (Sylvia), Tom Batiuk (Funky Winkerbean and Crankshaft), Al Feldstein (Mad), Michelle Urry (cartoon editor at Playboy), Charles Brownstein (executive director, Comic Book Legal Defense Fund), Mike Ramirez (editorial cartoonist, Los Angeles Times), Cindy McCreery (author of Genius on the Edge: James Gillray), Jay Lynch (underground cartoonist, Bijou Funnies), Bob Levin (author of The Pirates and the Mouse: Disney's War against the Counterculture), Tom Tomorrow (This Modern World), Lalo Alcaraz (La Cucaracha and editoons), Ann Telnaes (editorial cartoonist and one of six women producing the strip, Six Chix, in rotation), Joel Pett (editoonist at the Lexington Herald Leader), and Art Spiegelman (Maus and, impending, In the Shadow of No Towers). A stellar line-up. For registration information (and participation is limited to the first 275 applicants), visit http://www.lib.ohio-state.edu/cgaweb
            Sadly, we report that George Breisacher died August 11 of a heart attack suffered at his home in Charlotte, North Carolina. His death was, as they say, "unexpected"-which usually means he was both too young and apparently too healthy to die. He was only 65 and a runner. He will be mourned by many and missed by many more. George was editor of the National Cartoonists Society newsletter for ten years (1987-97) and then twice president of the Society, bringing to that office his considerable knowledge of the workings of the group (acquired as newsletter editor) and a profound respect for NCS traditions, which he'd participated in since 1974. He had retired in 2001 from his position as illustrator/cartoonist at the Charlotte Observer, where he'd worked since 1973. He was what I'd call a "journeyman cartoonist"-he worked at whatever was needed. And he was good at it, an exemplar of the breed. According to a fellow Charlotte resident, Marcus Hamilton, who now draws the daily Dennis the Menace cartoon: "He could take any assignment that the Observer gave him, and he could adapt his style to whatever the assignment was." Here's what George said about himself in one of the editions of the NCS Album (a directory of the membership):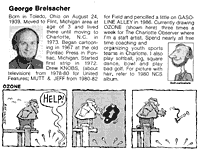 Typically, George left out more about himself than he put in. The strip he started in 1972 was called Boon Dock. Its eponymous protagonist was a large, mostly shapeless creature, as I recall; and it ran in only one paper for most of its life, but it was picked up, briefly, by the storied Menomonee Falls Guardian, a much-missed weekly newspaper of humor comic strips. At the time, George was working in the post office at Fenton, Michigan, near Flint; he met his wife, Jayne, at the local A&W Root Beer drive-in. Boon Dock ended in 1975, and George started another strip the next year. Called The First 200, it was a humorous but factual recitation of the history of Mecklenburg County, for which he researched diligently. Then came his first syndicated strip, Knobs, about a local tv station; it lasted about a year. In 1981, he took over producing the classic Mutt and Jeff strip created in 1907 by Bud Fisher (but operated by others for most of its run, the longest lasting proprietor being Al Smith, who ran it from 1932 to 1980); some of the time, George's pencils were inked by his friend Jim Scancarelli, who now does another classic, Gasoline Alley, becoming, thereby, the only cartoonist to work on two 75-year-old strips. Mutt and Jeff ended shortly after celebrating its 75th anniversary. And then George did Ozone three times a week for the Observer, as he says. In another edition of the NCS Album, George said that he "rose from total obscurity to relative obscurity in just 30 years of newspaper work." It was a characteristically sefl-effacing remark, but he was being truthful as well as jocular, both traits he was admired for. However, in "relative obscurity" as president of NCS he took care to preserve the best customs of the institution and inaugurated new policies to streamline the creakier mechanisms of the club. But he was still not a famous cartooner. I knew George and liked him and will miss his quiet authority in NCS. Just thought I'd mention it (even though you may never have heard of him).
Anniversaries. The Pink Panther turns 40 this year. The jaunty feline first appeared in the lengthy seven-and-a-half minute opening segment of the Blake Edwards movie of the same name, the result of a collaboration between Friz Freleng and David DePatie. Given the ensuing appearances of the cat in 172 7-minute animated shorts, it is surely pardonable if many movie-goers think that "Pink Panther" is the name of a character. And so it is: the animated panther is, now, the Pink Panther. But the animated cat was initially intended merely to enliven the opening credits of the movie, which is named for a fabulously valuable diamond with a rare pink amber at the center that looks like a leaping panther. ... Buster Brown shoes is 100 years old this year. Brown Shoes introduced a kids line of footwear at the St. Louis World's Fair, licensing the name of the comic strip character Richard Outcault had introduced in 1902. Over several generations' worth of publicity, an enduring slogan evolved: after a dog's bark, Buster says, "That's my dog Tige. He lives in a shoe. I'm Buster Brown. Look for me in there, too." It rings in my head still. Said Buster Brown Director Maureen McCann: "Since our beginning, Buster Brown has been about reaching kids through television shows, advertising, gifts-with-purchase, and live receptions. With this anniversary, we are returning to our roots, focusing the next 100 years on being a fun brand for kids. We want to give today'[s kids the same enjoyment that a boy named Buster Brown and his dog Tige gave their parents when they were children." To this purpose, doubtless, the company recently signed a licensing agreement with Disney to employ Mickey Mouse and Minnie and the whole gang, including such classic film stars as Bambi and the Lady and the Tramp, in new lines of shoes for kids that will launch into retail in the spring of 2005. "We are thrilled to be developing this alliance with Disney," said Wholesale President Gary Rich. "Disney's beloved characters add their own special magic to children's feet." The combination of the "number one global consumer products company" (Disney) with Brown Shoe's "strength," will, Rich says, add "new excitement to the children's footwear marketplace." That's what we all need: more excitement on our feet. Brown is a $1.8 billion footwear company, operating a 900-store Famous Footwear chain and nearly 400 Naturalizer stores in the U.S. and Canada. In addition to such brands as LifeStride, Connie and Buster Brown, the company has Barbie, Superman, Supergirl, Looney Tunes, and AstroBoy character footwear for children. More excitement than you can shake a shoe horn at.
Funnybook Fan Fare
Frank Cho's Liberty Meadows comic book from Image is on the cusp of the 37th issue, whereupon it will begin to print new material, having run through, in the previous 36 issues, the strips that first saw the light of day in newspaper syndication. (Most of them were reprints; some had been censored by the syndicate so their comic book appearance was their debut in print.) Before getting into the new stuff, Cho has apparently decided to make sure we all know who's who and what's what in the strip to-date, hence- Liberty Meadows Sourcebook. Cho prefaces its content with this: "I can't think of a comic book creator that hasn't looked at the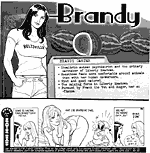 Handbook of the Marvel Universe and said, 'May, I'd love to do that!' Well, here it is for the Liberty Meadows masses. It's just like the Mighty Marvel books but cheaper, with fewer issues, 90% less stuff you don't really care about, and fewer parts written in smudged six-point sans-serif type." Here, to reveal some of those parts, are a page and a sample sample strip. Cho is putting the finishing touches on his Shanna book for Marvel: the book is rumored to have lost its X-rating, and so Cho is dutifully draping the erstwhile nekid bosom of his heroine prior to publication. That's the rumor anyhow. But if the accompanying Jen illo from the Sourcebook is any indication, we won't be much deprived in the Shanna volumes.
New Strips
Two new ones from King Features. In the first, Franklin Fibbs, we meet a world-class "embellisher" of fact, the Baron Munchausen of the comics, a teller of tall tales, some of which he stars in and some of which, for the sake of his own humanity, he is the butt of. Fibbs is a somewhat crusty storekeeper who sustains his life and that of his bemused wife, Paloma, by means of a general store somewhere in a desert in the Southwest where her Hispanic ancestry is wholly at home. While she occasionally questions the authenticity of her husband's accounts with an arched eyebrow, a neighbor kid, Josh, urges the prevaricateur on by simply indulging his own curiosity. The strip has one of those double-barreled authorships: written by Hollis Brown, who says Franklin Fibbs is "based on a boss I once had at a dance studio in North Hollywood [who spent] most of the day going on about his life and the glory days of old Hollywood," the strip is crisply and cleanly drawn with a fragile, scratchy line by Wes Hargis, who got into the business when the editor of a Tucson newspaper invited him to do editorial cartoons. "I'd love it if more editors took a chance like that with local talent," he said.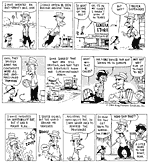 The other newcomer at King is the much more simply rendered Todd the Dinosaur, written by Patrick Roberts and drawn by Bob Condron. Todd, unlikely as it seems, is an actual seven-year-old, 12-foot-high 3-ton tyrannosaurus rex who has been adopted by a mid-level insurance executive with the highly amusing name Trent Footbridge. The other regular member of the cast is Susie, Trent's girlfriend, who has been dating Trent for three years and whose name isn't funny in the least. Todd is attending second grade in elementary school, where he is treated pretty much like any other seven-year-old except that he must sit in the back of the classroom because if he sat anywhere else, no other pupil could see the blackboard. Roberts worked as a tech writer for sixteen years before deciding his doodles of a dinosaur looked funny enough to be cartoons. The strip is a dream come true: "When I was a kid," Roberts said, "I may not have thought that I was destined to be a cartoonist, but I did think I was destined to grow up and be a dinosaur." Don't we all. Condron worked as a sports cartoonist for the Pittsburgh Post-Gazette and freelanced editoons and magazine cartoons; when not cartooning, he works full-time as a job coach for people with disabilities.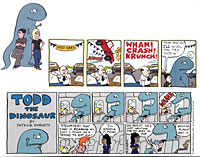 And from United Feature, here's Silo Roberts, a day-by-day chronicle of a multi-ethnic kid trying to find his place in a melting pot world. And if that's not enough demographic niche pandering, Silo is a middle child living in a single-parent household with his mother (a professional journalist), his older brother (an overweening jock who is more successful with the girls than Silo is), and his touch, animal-loving sister. The strip's creator is Rob Cabrera, a bilingual (English and Spanish) elementary school teacher in South Florida. Multi-ethnic himself, Cabrera says the idea for Silo came to him while he was in high school: "From the first doodle," he said, "I knew this kid had a story. And although he's loosely based on me, he's truly his own character. He's a lot braver than I was." In a country in which nearly seven million citizens classify themselves as belonging to more than one race, and more than 25% are non-white, Silo is a typical kid of the 21st century, according to the syndicate press release. Cabrera toured the country during his college days as a stand-up comedian but came to realize his brand of humor works best in a comic strip. When not trying out new routines on his students these days, he lives in an apartment-studio he calls "The Batcave."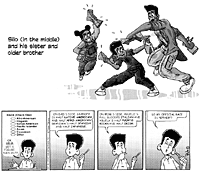 Finally, from Universal Press comes Mullets, a comic strip about "dumb and dumber." A "mullet," I discover, is a hair style-shoulder-length in the back, short in the front-that declares "business in the front, party in the back." The hairdo made famous by Mel Gibson in one of those "Lethal Weapon" movies maybe; or maybe it was one of the professional wrestlers. Sometimes, it's called "mudflap." The strip was launched last fall, late, so it is not, strictly speaking, a "new" strip. But it's newer than, say, Popeye. Mostly, Mullets is about two misbegotten young dolts, Kevin Mildew and his buddy and fellow ignoramus, Scab. They work in Kevin's father's hardware store, where they often encounter the parentus bossofus himself (a man who, we are told, is "haunted by the certain knowledge that all he has worked for so hard to build will one day be Kevin's") or Britney, "the goddess of Register Three and object of Scab's unrequited love." The dull duo are forever doing colossally hebetudinous things, as we can see from the accompanying sample.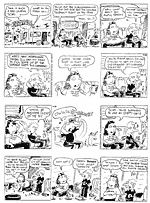 The authors of this neanderthal stupidity are living examples (they claim) of the adage that "you should write about what you know." You may, if you wish, take this assertion with a cliche-evading granule of sodium. Or not. Written by Steve McGarry, an ex-patriot Brit who now preys on the colonies with a weekly feature for children called Kid City (but who once produced a stiffly drawn comic strip in England called Badlands about the American West), Mullets is drawn with a spidery line by Rick Stromoski, who also produces Soup to Nutz, which features similarly desolate characters, all in the same family. Mullets characters are rendered in precisely the same manner, which, we must assume, is the prescribed way to depict morons-wall-eyed and fuzz-faced with a simian overbite. A host of minor characters already infest the strip, but none of them, with the possible exception of Britney, show any evidence of having a brain. There isn't, to my knowledge, any other strip quite like this (except, possibly Stromoski's Soup to Nutz), for which, I'm afraid, we must be eternally grateful. One is enough. Maybe even too much.
REPRINTS
Lola is back. An American Idle: A Lola Collection finds the laser-tongued, cigar-chomping, politically incorrect grannie back between two covers (128 8.5x11-inch back-and-white pages in paperback; Andrews McMeel, $10.95) after a first incarnation in newspapers in the strip written and drawn by both Steve Dickenson and Todd Clark: that's right, they both do both. Adopting a modified (but not too much) "Drabble style," Dickenson does the Sundays; Clark, the dailies. Lola lives with her son, who might be described as long-suffering but he goes with her on a walk through the woods anyhow. "Ahhh," he sighs, "the sights and sounds of nature ... What's your favorite part about nature, Mom-seeing it or hearing it?" Lola says, "Not stepping in it."
            Her contact with the outside world is limited to shopping, the bench in the park, and the occasional visitor on the front stoop. At the deli, the counterman, seeing Lola and several other people standing and waiting to be served, asks: "Okay-who's next?" When that produces only confusion, he amends: "How about this-who's been here the longest?" To which Lola has the only sensible reply: "On earth or in the deli?"
            On the bench in the park, Lola is often joined by another creaky member of her generation. The old man next to her one day remarks, "We're getting old, Lola ... I can remember when sex was safe and riding in airplanes was dangerous." This one furnishes a vivid demonstration of the importance of leaving publication data on the reprinted strips: it was produced before 9/11, specifically for release on June 15, 2000. The joke, after September 2001, wouldn't make sense.
            A man conducting a survey door-to-door asks Lola: "What's your take on gun control?" Lola says: "Not letting the perp see your trigger finger tremble." Watching a tv-evangelist program that asks, "Have you found God yet?" Lola reposits: "I didn't know she was missing." And I thought Lola was politically incorrect. Guess not.
Civilization's Last Outpost
According to the article in a recent issue of Time, Christians have discovered that movies make good "parables" for teaching Christian values, and clergy from sea to shining sea "have commandeered pulpits, publishing houses and especially websites to spread the gospel of cinevangelism," said Richard Corliss. Just as Hollywood has suddenly realized, in the wake of Mel Gibson's success with "The Passion of the Christ," that there's money in religion, so has the pastoral community recognized the potential of movies for influencing their flocks and would-be flocks. Peter Parker in "Spider-Man," for instance, "gives us all a chance to be heroic," according to one Baptist pastor; but instead of looking for radio-active spiders, we should realize that "it's God who changes us." Well, I dunno that the movie imparts that particular lesson. But preachers hope to reach young people via the silver screen. Until recently, the Puritanical streak in American morality saw movies as vaguely immoral. "Being Christian used to mean you didn't go to Hollywood movies," according to David Bruce, who operates the website www.hollywoodjesus.com ; "now it is seen as a missionary activity." More and more. According to another source, only one film in 1985 had "positive Christian content"; but in 2003, 69 fostered such sentiments. ... The demand for spiritual relief has apparently exceeded the Catholic church's ability to supply it in the U.S. A shortage of parish priests has resulted in the outsourcing of paid requests for special prayers for the dead, sick, and newborn. These prayers are now being prayed by priests in India. One diocese responded to 350 requests for special prayers and masses each month for a $5 fee each.
VITUPERATIVE CONTUMELY AND VITRIOLIC HYPERBOLE
Ted Rall is, by now, firmly established as the nation's favorite venomous cartoonist-commentator. The Wall Street Journal certifies him as "the most bitterly anti-American commentator in America." And The National Review, another model of decorum and restraint, says Rall is "a big fat zero, an ignorant, talentless hack with a flair for recycling leftist pieties into snarky cartoons that inspire breakfast-table chuckles among the leftist literati and the granola-munching types." With recommendations like these, Rall scarcely needs me to celebrate the appearance of his latest compendium from NBM, Generalissimo El Busho: Essays & Cartoons on the Bush Years (208 6x9-inch black-and-white pages in hardback, $19.95). But I can't think of a better way to herald the Dubya coronation in New York than to applaud the timely arrival of this volume.
            Generalissimo collects Rall's syndicated columns and cartoons from September 2000 to January 2004, a period that embraces the usurpation of the White House by the Bush League, the 9/11 tragedy, and the ensuing invasions of Afghanistan and Iraq-all of which earn Rall's heartfelt opprobrium in both prose and picture.
            In his Preface, Rall sets the mood. "My primary objections to a Dubya presidency concerned its dynastic pretensions-Adamses and Roosevelts aside, a nation with fewer than fifty presidents to its name ought to be able to find its leaders in new families each and every time-and the man's lack of intellectual qualifications. Simply put, Bush was too simple to be president."
            Explaining the origin of his Generalissimo image, Rall says he was struck by certain similarities between Dubya the unelected President and the Chilean dictator Augusto Pinochet, often photographed in extravagant military apparel. "Like Pinochet, Bush would assume all the trappings of high office-Air Force One, honor guards, the right to interrupt prime-time tv sit-coms-but they wouldn't change his essential inferiority and incompetence. Bush was the consummate bullshit artist. He'd bullshitted his way into Yale with a sub-par 1206 SAT, bullshitted his way into personal wealth by scamming taxpayers into financing a corrupt stadium deal, and bullshitted his way into the White House by wielding vague threats of violence while dodging questions about his past as a draft-dodging coke addict."
            Rall "vowed" never to "utter the phrase 'President George W. Bush,' but," he continued, "that wasn't enough. As a cartoonist, I needed to create a character that served to constantly remind readers that Bush was not only illegitimate but also a buffoon. I drew the empty-eyed, bat-eared Bush in General Pinochet's uniform, festooned with medals, a sash and a great big hat. Eureka! Generalissimo El Busho was born."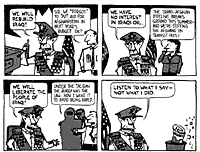 The cartoons, all rendered in Rall's memorable woodcut blockhead style, include his first post-9/11 effort (which defines us all as victims of the attack, connected by mere "worlds of separation" to those who died), the early emergence of Generalissimo El Busho as a banana Republican, and plans for the 2004 Presidential Election (in which Dubya phones his brother in Florida and says: "We cut combat pay for our troops from $225 to $150 a month, the family separation allowance dropped from $250 to $100, we cancelled our plan to pay families of war dead $12,000 instead of $6,000, and now we're keeping Reserve and National Guard soldiers, some of whom are losing jobs and spouses, an extra 6 months in Iraq." Jeb responds: "I see-okay, no problem: next time, I won't count the military ballots.").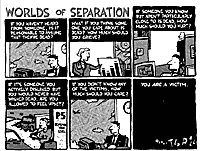 This collection does not include Rall's most incendiary cartoons from the past three years-those that seemed to attack the widows of 9/11, the New York fire-fighters, and slain NFL hero Pat Tillman whom Rall labeled an idiot for enlisting in a war Rall deems ill-advised if not outright illegal. Nor does the cartoon suggesting "Appropriate Punishments for Deposed Bushists" appear-the one in which, among other things, Rall had Condi Rice referring to herself as Dubya's "house nigga" before being sent to an inner-city racial re-education camp. Dubya's punishment is to be "tied to chair in house next door to target of precision bombing," Rush Limbaugh's is "private sessions with Private Lynndie England," and Cheney's is to be "forced to do what he told Democratic senators to do." But it was Rall's employment of the N-word that inspired fervent protest.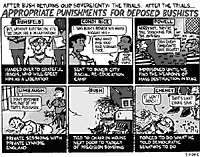 Rall's unconventional views and his usually outrageous way of expressing them often prompt the hosts of conservative tv talk shows to invite him to appear as a target-er, guest. After the Tillman cartoon, Rall agreed to be held up for ridicule on Fox's "O'Reilly Factor" and on "Hannity and Colmes" because, the cartoonist argued, it gave him a chance "to share progressive ideas with the American people." But he knew he wouldn't be given fair treatment.
            "A lot of people don't know that O'Reilly's show is taped a few hours earlier; any real zingers on the part of a liberal guest get edited out before airtime," Rall said on his website blog (http://www.tedrall.com ).
            When O'Reilly asked Rall to defend himself after the "Appropriate Punishments" cartoon, Rall imposed a couple conditions: "First," he told me, "I demanded the last word, a courtesy O'Reilly normally grants his guests but that he denied me when I had previously appeared. Second, I asked that he show the entire cartoon, not just the particularly inflammatory panel about Condi Rice. They refused." So Rall declined the invitation.
            Annoyance over Rall's cartoons has spawned a minor cottage industry: a Web-based conservative group has launched hundreds of protest letters by e-mail and fax at newspapers that publish Rall's cartoons, demanding that the papers stop printing Rall's work because it is "melodramatically ideological, simple-headed, snarling, and tasteless." Billing itself as "America's First and Foremost Online Conservative Community," the group sends letters every week to policy makers and publications.  Said Rall: "Stuff like this is the result of a point-and-click blogger subculture."  Since the advent of the Internet, which facilitates mass mailings, all publications have experienced similar avalanches of protestation. While journalistic instincts are ostensibly poised to resist such onslaughts, they have what CBS's Dan Rather called "an undertow," an insidious reluctance to face the music next time. Discussing the phenomenon at a pre-Democratic convention seminar at Harvard, Rather said: "We get paid to catch hell. But [the number of] those who are prepared to pay the price for that has gotten fewer. And those few who are willing to do it do it less often than they once did. ... [After awhile, in the grip of that undertow] somebody on your staff will say, 'You know what? We run this story and we're asking for trouble with a capital T. Why do it? Why not just pass on by?' That happens," Rather finished, "I'm sorry to report." Peter Jennings, who also attended the seminar, agreed, referring to a "wave of resentment," with conservative voices particularly, that "rushes at the advertiser, rushes at the corporate suites and gets under the news anchor's skin if not completely in the decision-making process to a greater degree than before." Tom Brokaw, another attendee, said, "These pressures have always been there. It's just now that there are all these tools that make them kind of a tsunami." PBS's Jim Lehrer chimed in, saying "People are really hating right now ... not a lot of open minds out there." But Priscilla Painton, executive editor of Time, said such organized campaigns can backfire: "There's so much of it, you become inured. You begin to ask yourself, 'Is this a genuine reaction or one that has been trumped up?'"
            The tsunami worked with MSNBC. The cable network dropped Rall's cartoon in the wake of objection to the Tillman cartoon. But no newspapers that were targeted by America's First and Foremost have surrendered.
            But Generalissimo doesn't include the cartoons I've been referring to because the book is about the Bush League, not these other matters. (And the "Appropriate Punishments" cartoon came too late to be included in the book.)
            Among the cartoons herein are the first ones in which Dubya is depicted in his generalissimo regalia, introducing his "cabinet that looks like America" (says Bush, "These be my dawgs") and explaining the "Logical Extemes" of his so-called thought-processes: "Cancelling a planned tax cut is the same as a tax increase," El Busho says, prompting a series of similarly gymnastic exegeses by others. "Not firing you is the same as doubling your salary," an employer explains. And when a guy says he's not going to ask a girl out because he no longer thinks she's cute, his friend says, "That's the same as divorcing her after she had your kids after a series of events that would have begun with the first date! You owe her alimony!" And, finally, a would-be murderer says to his victim: "I was going to kill you. Now I'm not. But I will kill you unless you agree that I just saved your life." Says the victim: "But I was planning to argue with your logic: now I won't. Doesn't that count? Wait-I just did."
            Not all of the reasoning in Rall's cartoons is as convoluted and difficult to follow as imitation Bush League reasoning. In another cartoon, we see El Busho and his generals contemplating a model of the Iraq battlefield and discussing the whereabouts of the weapons of mass destruction. "But you said-," El Busho begins. "Think, George," says one of the generals, "if Iraq really had nukes-" A thought completed by the other general, "-we wouldn't dare attack them."
            In another particularly bitter denunciation of Bush League policies, Rall shows an American soldier in Iraq trying to get his wounded buddy to a field hospital. "Hang on, man," the soldier says. "Don't worry-you're gonna make it." Then, once in the ambulance, "I'm losing him! Drive faster!" In the next panel, he says, "Never mind." It's too late: his buddy's dead. The last panel depicts El Busho reclining poolside at his Crawford Ranchero, reading the Halliburton Annual Report and talking into a cell phone: "More troops?!" he says, incredulously. "Nah-tell the ones we got to be more efficient!"
            And when Dubya explained that the increasing violence in Iraq shows we're winning the war because it reveals how desperate the insurgents have become, Rall produced "Generalissimo El Busho's Cutting Room Floor"-examples of similar logic that didn't make it into the public arena, all head shots of his repulsive El Busho caricature uttering this series of statements: "The more of our soldiers they kill in Iraq, the fewer will be left to kill. With luck, they'll use WMDs to kill our guys, then we'll have em! 25 million barrels a month ... 2 dead G.I.s a day ... not a bad ratio! Only the 'don't ask, don't tell' guys are getting offed-get my meaning? [El Busho winks.] It's Darwinism: Saddam's thinning the herd! The Iraqis will run out of ammo eventually. They're not really dead-I know where they are!" Then comes the final panel, headlined "Coming Soon: Good News on the Economy," in which El Busho proclaims that "the recession is getting desperate-that's why it took 3,000,000 jobs!" The ironic parallel is expertly extended.
            Although Rall's visual broadsides sometimes miss their targets because he crams too much into them (see Opus 138 on the Tillman cartoon), his prose commentary is less likely to be misinterpreted. I've been reading his columns for a couple years now, and they are models of reasoned argument. He sticks to the subject, marshals his evidence, and makes his point, concisely, convincingly. Or so it seems to me (but then, I share his antipathy for the Bush League, so my judgment is undoubtedly suspect).
            "Now it's official," he writes on April 15, 2003. "Most Americans are idiots. Decades of budget cuts in education are finally yielding results, a fact confirmed by CNN's poll of March 16 which showed that an astonishing 51 percent of the public believe that Iraqi President Saddam Hussein was responsible for the September 11, 2001 terrorist attacks."
            And, later in the same diatribe: "Like a befuddled chemistry lab student who works backwards from the answer in order to ensure the correct results, the Moron Majority have talked themselves into an excuse they can live with for a war they can't otherwise morally justify. Denial, after all, isn't just a river in Egypt." If you can't admire the simile, you must at least smile at the pun.
             Attacking the Bush League's penchant for secrecy in waging war (not to mention in managing foreign affairs and in developing energy policy), Rall recalls that when John F. Kennedy wanted to convince the American people of his claims about Soviet missiles in Cuba, "he went on television to show us surveillance photos." Dubya's war on terrorism, however, is another matter. "It may include dramatic strikes visible on tv and covert operations-secret even in success," smirks George W. ("War Lord") Bush.
            And he continues in the same vein: "It's important as this war progresses that the American people understand we made decisions based upon classified information, and we will not jeopardize the sources. We will not make the war more difficult to win by publicly disclosing classified information."
            To which Rall responds: "For a guy who hired goons to physically threaten Florida election officials, Bush is asking for an awful lot of trust in his one-man crusade against the Muslim world. Let's get this straight. We're supposed to believe this guy's account of 'classified' information-even while he tells us that, from now on, he'll be lying to us for our own good?"
            And more: "If ever there was a classic naked emperor moment, it was the morning after Bush's address to Congress [in the wake of 9/11]. A competently delivered committee-written hack job was breathlessly equated by projecting liberals and conservatives alike with the soaring oratorical highlights of FDR and Winston Churchill. Such is our craving for leadership that we're anointing a doltish daddy's boy who still refuses to come clean about his DWI record with the mandate of heaven."
            Rall has consistently urged truths upon us before the rest of the so-called news media would admit to them. In his report on his fall 2001 trip to Afghanistan as that country was being invaded, To Afghanistan and Back (NBM)-a book the August issue of School Library Journal lists among the top 25 graphic novels recommended for school collections -he detailed the oil-related reasons for the ouster of the Taliban. And within days of the toppling of the statue of Saddam in Baghdad, Rall was pointing out that what we saw on tv was not an outpouring of popular feeling but an artfully staged photo op, created entirely by U.S. military operatives. "It was," Rall writes, "a fitting end for a war waged under false pretexts by a fictional coalition led by an ersatz president."
            Both Rall observations about oil and artifice subsequently proved to be absolutely true, the protestations of partisan media to the contrary notwithstanding.
            This book is brimming with similar truths, closely observed and vividly related, and with political truths as well, vigorously argued. Just the sort of primer every voter needs as we approach Election Day. As for those who aren't planning to vote, perhaps this will persuade them of the surpassing imperative, this time, to throw the rascals out.
            Vote often.
To find out about Harv's books, click here.