Opus 142:
Opus 142 (July 20, 2004). We try to do justice to Prince Valiant's John Cullen Murphy in this outing, and we review the graphic novel Wild Bill Is Dead and a current crop of psychological comedy in funnybooks, Heroes Anonymous and Dr. Blink. Along the way from here to there, we round up some of the latest news-Lynn Johnston's retiring, Annie's getting a new artist, and Australian cartooners' celebrating 80 years as a club, etc.-and we applaud a couple of tooner romances and the seeming success of "Spider-Man 2" and Marvel's savior, Avi Arad. We also dawdle in the newspapering venue: the future of comic strips is clearly dependent to some extent upon the future of newspapers, but here we consider the present disgraceful performances being turned in by the news media (newspapers included but not exclusively), which would seem to threaten the continued well-being of newspapering as a form of journalism (if not of journalism itself). We also consider Dick Cheney's F-word and the persecution of Michael Moore. Starting immediately down the page:
NOUS R US
Lynn Johnston, who vowed seven years ago to go only ten more years on For Better or For Worse, still plans to stopper the ink bottle for good in 2007, after a run of about 28 years. Said she (answering questions from Daniel Finney of the St. Louis Post-Dispatch): "I hope to write a full story with an ending so that we know it's time to close and move on. I became good friends with Bill Watterson (of Calvin and Hobbes). When he retired, I wrote him, and he called me. He told me one of the reasons he quit is that it just wasn't in him to do it anymore. I don't want to get to that point. I don't want to fall flat so that people say, 'Oh, she should've quit years ago.'"
            Annie, the classic Chicago Tribune-New York Daily News comic strip about a self-reliant orphan girl and her arf-prone dog, is now being illustrated by Ted Slampyak, who replaced Alan Kupperberg on July 5. Slampyak also appears on the Web at www.JazzAgeComics.com, where he draws a subscription-only weekly adventure comic strip, Jazz Age, about an archaeologist and a private eye in 1920s Boston. A freelance illustrator, Slampyak began with Jazz Age Chronicles in 1989 and has also worked for Roadways Quantum Leap and Neil Gaiman's Mr. Hero. Writing his readers at his website about his new venture, Slampyak said: "It's a lot of work, putting a daily strip together. Six black-and-whites and a color Sunday strip take a lot of time, on top of Jazz Age and my freelance illustration work-the stuff that actually pays the bills. Plus, in addition to all that, I'm getting married at the end of this month! (My beloved fiancee, Jennifer, isn't always thrilled that I have to work such long hours sometimes, but she's very understanding, and happy for me. What a wonderful woman! I should marry her!) But it's a lot of fun, too. And today, July 5, I get to see my name in print. Well, not really. My local paper doesn't carry Annie. Nor, I'm betting, does yours. Most papers don't. Annie's only running in a handful of papers now because adventure strips supposedly aren't popular. People don't want them; they want gag-a-day strips. At least, that's the prevailing belief, and it has been for several decades. Sigh." He urges his faithful fans to bombard their local papers to install Annie. Or, he continued, "You can read Annie every day at www.comicspage.com. It seems I'm drawing two webcomics now!"
            Annie is scripted by veteran newspaperman and comics historian (Dick Tracy: The Official Biography) Jay Maeder, who assumed the job in June 2000 and added a major cast member-a freebooting aviatrix named Amelia Santiago, who replaced Daddy Warbucks as Annie's mentor. Maeder was joined by comic book artist Andrew Pepoy, who was delighted to be illustrating "an American icon." Pepoy designed Amelia and streamlined the appearance of the strip, abandoning some of the more elaborate treatments that had been employed by his predecessor, Leonard Starr, who had taken up the Annie saga following the demise of his masterful On Stage (with Mary Perkins), one of the last of the genuinely illustrative comic strips. But the circulation of Annie, still, as Slampyak notes, not very robust, couldn't pay much, and the sort of detailed treatment the assignment required took Pepoy away from more lucrative freelancing jobs. The hope was the strip would increase in circulation, and the pay for Maeder and Pepoy would increase accordingly. After a year, Pepoy couldn't afford to continue the work, and another comic book veteran, Kupperberg, took over, continuing in Pepoy's manner with great verve until a few weeks ago, a heroic run of about three years. Created by Harold Gray and inaugurated on August 5, 1924 as Little Orphan Annie, the strip is a monument on the American cultural landscape. In the 1930s, Gray's self-reliant waif seemed to stand alone on the comics page in philosophical opposition to the welfare state Franklin Roosevelt was building on all sides; through this accident of plotting and Gray's own passionate convictions, the strip became overtly conservative in cast, one of the earliest deviations from the rigid neutrality customarily manifest in syndicated comic strips, which remain fearful of offending readers of any political strip whatsoever-with the notable exceptions recently of such efforts as The Boondocks and Doonesbury and Mallard Fillmore. In LOA's heyday, the only other strips to assume a political posture were Li'l Abner and, later, Pogo.  But for the full panoply of comic strip history, you should consult a book of mine, The Art of the Funnies, which can be previewed by clicking here.
            Newspapers, already running profit margins of 20-25% (higher by twice than the profit margins of most businesses), apparently just can't rake in enough boodle. In the last year, according to Newsweek (July 19), several papers have reduced the size of their comics sections in order to save money on newsprint and subscription fees. Last January, the Philadelphia Inquirer, strapped for cash, even asked some syndicates to waive charges for a year; no syndicate agreed. Now the Knight-Ridder papers, 31 of them, are demanding a 20% reduction in fees or they'll cancel comics altogether, a loss of $100,000 annually for syndicates. The bitter irony in this cost-reduction bulldozing is that syndicate rates have barely risen during the past twenty years. So not only is syndicate feature revenue stagnant, but clients are seeking to pressure reductions? Greed, kimo sabe-the greed of managers to make reputations by making money for stockholders. Public service and journalism, the traditional motivations of newspaper crusades, are long gone, it seems.
            The Australian Cartoonists' Association (which knows where to deploy apostrophes) celebrated its 80th anniversary on July 17. The group was originally one of many clubs of artists that were formed well before the turn of the 19th century in Australia and in England and America. In Australia, one of the earliest, the Melbourne Prehistoric order of Cannibals, was founded as a sketch club, whose members collected periodically to practice drawing; it, as most of the other similar organizations, became a somewhat more formal fellowship over the years. The ACA was established in Sydney on July 17, 1924, as the Sydney Black and White Artists Club with Cecil Hartt as the first president. The advent of the Great Depression in 1930 sent the Club into recess-brought on, perhaps, by the suicide of its revered leader on May 21 of that year. So highly regarded and popular was Hartt that one of the obituaries reported that he was "not dead but just missing." In his history of the Club, Vane Lindesay records that of the legends about Hartt "the most persistent and well known concerns his Smith's Weekly art room colleagues, who, it is said, acquired a funeral urn which they insisted contained Cec Hartt's ashes, and which was placed on a special ledge in the art room. Whenever the artists retired to the nearby Assembly Hotel, they would ceremoniously 'take Cec for a grog.' The urn would be placed on the pub bar and each artist ordering a round of drinks would include one for Cec. Soon, a line of glasses would face th urn until it was Cec Hartt's turn to shout. Then each artist in turn would pick up a full glass and toast Cec. This tribute was, the legend has it, repeated day in, day out until one afternoon when, after returning from the pub, it was noticed that the urn had not be replaced on the shelf in the art room. Plainly Cec had been left down on the bar. The artists rushed back to the pub, but the ashes had gone and were never found again." The Club was revived on September 8, 1937, in the studio of one Arthur Horner, "which," Lindesay says, "was so small that the artists present were forced to crawl over each other to sketch the model hired for the night." The legendary Stan Cross (for whom the ACA's "best cartoonist" trophy is named), creator of The Potts, Australia's first (1919) and longest running comic strip (initially entitled You and Me), was elected president this time. Cross held the office until 1954, when he was succeeded by Jim Russell, who, as events unfurled, succeeded Cross on The Potts also. After awhile, the Club dropped "Sydney" from its name and substituted "Australia." And then in 2002, the Club changed its name to the Australian Cartoonists' Association and forged ahead, still (and forever) the oldest cartoonists' organization on the planet. (Lindesay's book is Drawing from Life, a history of the Australian Black and White Artists Club; 1994.) The current ACA president is James Kemsley, who, among other things, produces the country's second-oldest longest-running comic strip, Ginger Meggs, which began, under the name Us Fellers, in 1921 and is now, since the death of Russell and the demise of The Potts, the only longest-running comic strip down under-and elsewhere around the world in syndication.
            From Editor & Publisher comes the report that a new study by Mediamark Research reveals that for men and women, and young and old, "general news" is the most read aspect of the daily newspaper, followed, in order, by sports, editorial page, business/financial, classified, and then comics, with a 3-way tie next, food/cooking, movies, and tv. Gender and age determine the ranking of most of these categories: men turn to sports after the "general news"; women, to food/cooking. Younger readers (ages 18-34) displayed much less interest in all areas; the older the readers, the more they enjoyed comics, editorials, food, and tv listings (apparently in that order). This study, like most, is suspect: most newspaper readers, anxious to appear intelligent, are likely to say they read the news in the paper before anything else-particularly if glancing at the headlines on the front page qualifies as "reading the general news," which, I suppose, it does. I suspect that comics and tv listings actually rank higher in the average reader's priorities than such studies as these reveal. But my suspicious, as usual, are prompted by my biases. ... Dark Horse's Barney Google figurine (designed by Yoe Studio) arrived, and it's a beaut! It is, in fact, as close to perfect as it is possible to be, I wont, in translating a 2-dimensional character to a 3-dimensional figurine. The rosy nose is, perhaps, a trifle long, but-oh, those goo-goo-googly eyes! And the hands, akimbo arms, and striding posture-perfect DeBeck, if ever there wuz. ... A St. Louis jury decided on July 9 that Todd McFarlane had infringed on Tony Twist's publicity rights and ordered McFarlane Productions, Inc., to pay the former hockey player $15 million. McFarlane had christened a mob boss "Tony Twist" in a Spawn story. Twist brought suit and was awarded $24 million in a 2000 trial, the judge overruled that decision, and the Missouri Supreme Court ordered a new trial, the one just concluded presumably. The U.S. Supreme Court declined to hear the case, but McFarlane's attorneys vow to appeal the latest ruling, claiming First Amendment protection of free speech.
            And just to finish this segment with a couple heart-warmers: John Kovaleski drew himself proposing to his girlfriend Jocelyn Swigger in the July 6 release of his Bo Nanas comic strip, and then on the morning it was published, he woke her up, saying his syndicate had phoned, telling him there was a grammatical error in the strip. "I said I needed her to look at it," Kovaleski said, explaining that she often proofs strips for him. "I had her get online and open it up while I strategically knelt beside her." It took a few moments for her to realize there was no grammatical glitch in the strip, and when she realized the two characters depicted were cartoon versions of her and her cartooning beau, she put her head in her hands, then turned to Kovaleski, hugged him, and said, "Of course." According to the Editor & Publisher story, the couple spent the rest of the day at Coney Island in Brooklyn, where Swigger lives, and had their engagement picture taken in a photo booth. For a cartoon ending, perfect. Incidentally, this stunt has been pulled before: Mark O'Neill, who did the online strip Potluck Parish for comics.com, proposed to his girlfriend, Ann Parkhurst, in his strip a couple years ago. ... And then here's Hy Eisman, who produces the Sunday strips Popeye and The Katzenjammer Kids for King Features. On June 27, he and his paramour of nearly six years, Florenz Greenberg, were married in the backyard of their Glen Rock, New Jersey home; the groom is 77; the bride, 74. In the wedding party, said Jennifer Tung of the New York Times, were such cartoony notables as Frank Thorne (Red Sonja and Ghita) and Irwin Hasen (Dondi). Both groom and bride had been married before; both lost their spouse in 1997. Eisman was devastated and retreated into a shell. Prompted by his daughter, he joined a support group, and in the fall of 1998, he was encouraged to break out by striking up a conversation with a stranger in a public place. He chose the library and Ms. Greenberg. But the conversation didn't go far before Eisman faltered and excused himself, leaving Ms. Greenberg with his business card. Several weeks later, she found the card in her pocket and decided to check the King Features website, locating Eisman's biography. She phoned him later, they met over coffee, and when, on their second date, Eisman asked her what movie she'd like to see, she said "Antz." Said Eisman: "Bingo!" Cartoon-loving souls bonded, and three years later, Ms. Greenberg moved into Eisman's home. Three years after that, they set a date and sent out invitations-a folded comic strip with Popeye and Olive Oyl announcing the details. After the ceremony, Mrs. Eisman changed into red capri pants and a shirt with the words Love, Happiness, Beautiful and Positive scrawled on it, announcing, "This is the happiest day of my life." Another cartoonist friend, Kevin McVey, said: "He was the happiest guy in the world when he met her." Then, a propos of nothing, an afterthought: "They never eat spinach. Don't touch it."
Forthcoming. A couple new books on comics: Tales to Astonish, another version of the creative relationship between Stan Lee and Jack Kirby, by Ronin Ro (Boomsbury, 296 pp., $24.95), which, reportedly, reduces Kirby's role while elevating that of Lee, "a marketing genius," the reviewer said, "who overshadowed Kirby as his boss and most famous collaborator." And a compilation of essays about the comics called Give Our Regards to the Atomsmashers, edited by Sean Howe (Pantheon, 228 pp., $24.95), that reveals "a weirdly compelling, sweatsock-smelling world of boyish passion" according to reviewer Claire Dederer in Newsday, who finds that Archie comics are ignored because they are the comics most liked by girls. "The exclusion of Archie-the exclusion of girls from the tree fort-reflects the larger myopia of Atomsmashers. This is a group of writers who have become 13-year-old boys again. This is an anthology of obsessive, self-regarding, almost narcissistic ramblings. This is a collection marked by adolescent pedantry. And that's what makes it terrific. The best critical writing comes from the indulgence of one's obsessions. In asking them to write about comics, Howe has given these writers the key to the box of memory. They've responded with a kind of pimply enthusiasm, which they've had the good sense not to dress up in the adult clothes of cool. It's a pleasure, in the end, to be let into this boys' club." Well, gee; glad you're having a good time. Off-hand, I don't recognize the names of any of the writers she cites. That may mean that they do not, as a rule, write about comics (and in this book perform that function as an exercise in nostalgia rather than as formal criticism or serious appreciation); or it may mean I'm just no longer up on these things. Now that comics have come into their own as respectable (i.e., commercial and therefore available in grown-up bookstores) cultural artifacts, the roster of those fulminating about them under the guise of seriousness has grown by leaps and more leaps, finally exceeding my ability to keep up (that is, to stay aloft). ... Dark Horse is going to reprint all of Little Lulu in a series of 200-page paperbacks (6x9 inches; black-and-white, $9.95 each) with Volume One arriving in November. ... Birth of a Nation, the tongue-in-cheek satire of the American regime change effected in Florida in November-December 2000 by Aaron McGruder with Kyle Baker drawing, will premiere at the NBM booth in San Diego during the Comic-con International, July 21-25. ... All of the famed pioneer's epocal animation has gone digital in Winsor McCay: The Master Edition, a new DVD from Milestone. To all the surviving films, Milestone has added an 18-minute 1976 documentary called "Remembering Winsor McCay" that outlines the cartoonist's life and career through interviews with a man who drew many of the backgrounds in the animator's earliest works, plus audio commentary on the films by John Canemaker, a noted animation historian and biographer of McCay. Canemaker also contributed a number of photo stills from his personal files. ... In other corners, Pat Buchanan (which rhymes, conveniently, with "loose canon" in the Republican pantheon) is poised to become the next Michael Moore. His new book, due out just before the Republicans convene in New York at the end of August, is entitled Where the Right Went Wrong. The endlessly accurate New York Post quoted a publishing house insider as saying, "They could put Michael Moore on the jacket of this book, and people would believe he wrote it."
THE WEB AND THE WEEKEND
In a world of dizzyingly high finance and exotic power plays, the Hollywood headquarters of Marvel Studios looks more like a comic book store than a movie mogul's mahogany-desked inner sanctum. The tops of filing cabinets and bookcases and all flat surfaces are occupied by armies of plastic action figures, and they overflow into the nearby conference room, adorning more tabletops. The walls are plastered with posters depicting characters from the longjohn legions, and in one room, there's a Marvel arcade game. Behind the desk at the center of this web of spandex inspired product sits a man with a modest beard (or a few days' growth of whiskers, it may be difficult to tell which) and gray hair that strings down the back of his head. "With his Israeli accent and his sometimes profane, cut-to-the-chase bluntness, this man recalls the immigrant tycoons of early Hollywood-a self-made big shot who knows he's earned the keys to the kingdom," writes Robert Levine in the New York Times. "Sitting in his office, looking over outtakes to be included in 'The Punisher' DVD, juggling phone calls from studio executives and potential directors and offering notes on a script, he could pass for a more endearing Tony Soprano stuck with a desk job." Levine is describing Avi Arad, who he calls "the reigning king of the popcorn blockbuster," the man responsible for the stunning successes, lately, of movies based upon comic book superheroes.
            Arad's first seven movies for Marvel opened in first place at box offices. The brace of X-Men films together grossed a little more than $675 million internationally; the first Spidey flick took in $806.7 million over its run. "Spider-Man 2" raked in $40.5 million on its opening day, a Wednesday, June 30, a record for first-day receipts. And by the end of the ensuing weekend, it had racked up $180 million. Writing for Forbes online, Dan Ackman noted that "Spider-Man 2" made more than "The Matrix Reloaded," which opened at the same time a year ago, and more than the first Spidey movie did in its first six days. "But for the three-day, Friday-to-Sunday period," Ackman continued, "'2' earned $88.3 million, much less than '1,' which took in $114.8 million."
            The third annual Free Comic Book Day took place during the same weekend, but its success, marginal at best, scarcely compared to the movie's. Hitched, like its predecessors, to the opening of a superhero movie, FCBD-3 on July 3, a Saturday, didn't do as well as its sponsors may have expected, assuming that they anticipated the event to be building steadily, as it appeared to be doing its second year, last year. Perhaps the sponsors are too steeped in the comic book universes to realize that the Fourth of July weekend is the sort of family holiday that keeps people at home exploding things, not shopping in comic book stores. Moreover, the Sunday holiday spilled over into Monday for many, creating a three-day weekend, just the kind of opportunity that inspires folks to visit distant relatives far away from neighborhood comic shops. The sponsors would have been cannier to pick another movie debut-maybe that of the forthcoming "Catwoman"?-or to gamble that, after two successful years, FCBD has a pulling power of its own, quite distinct from that of the motion pictures, and pick an auspicious Saturday in May before kids and families take off for summer vacations.
            For all of the wizardry at movie house box offices, the credit is accruing to Arad, which means he's also getting kudos for rescuing the comic book company that was bankrupt in 1996, just eight years ago. It's the movie revenue of recent years that put Marvel "on top of the world," according to Colin Covert, writing in the Minneapolis Star Tribune, "-licensing its huge library of characters for blockbuster movies while arch rival DC Comics struggles to revive its faded Batman and Superman franchises." Covert says "it's hard to recall a time when there were no comic-book film adaptations on the horizon"-our first clue about just how myopic he is in looking at the history of our times. Before the first Superman movie in 1978, we'd gone a couple decades, at least, without a funnybook film. Our second clue about Covert's tenuous hold on history comes in the next breath, when he effectively credits Arad with creating the superhero movie. It was an "uphill battle to convince studio executives," Covert says Arad told him. "They thought comic books was basically two guys with tattoos buying it somewhere," Arad said. "They really didn't understand that these brands endured over decades, through bad economies, that there was something enduring there that people relate to." Arad is certainly entitled to the biggest share of the credit in this endeavor, but surely the way was partially paved for him by a cornball comic book scripter, Stan Lee, who spent twenty years or more knocking on doors in Tinseltown, playing John the Baptist to Arad's Savior.
            Arad's credentials as Marvel's Messiah are as strange and wonderful as the characters he now is shepherding onto the big screen. Hardly the typical Hollywood motion picture tycoon, Arad is apparently a lifelong Marvel zombie. Born in Israel, he grew up on Hebrew translations of the comics, and he still owns these now tattered remnants of his childhood and handles them, Levine says, "with the reverence usually accorded first editions of Hemingway." Pulitzer-winning novelist Michael Chabon, who is one of the writers of "Spider-Man 2," was astonished to discover, when he met Arad, that "the guy knows Spider-Man backward and forward-all the minor super-villains and their secret identities. I found myself totally able to talk to him on this ridiculous, wonderful level of 'Who's tougher, the Lizard or the Rhino?'" Arad served in the Israeli Army during the Six Day War of 1967 and then came to the U.S. to study industrial management at Hofstra University. "He took a part-time job at a plastics company," Levin writes, "where he worked an injection molding machine. That led him into toy design." Although he worked on the development team that invented air hockey in the 1970s, "when he realized that, as a mere employee, he wouldn't be sharing in the air hockey profits," he left that company and started his own toy design business. One of his clients was Toy Biz, and when Marvel acquired that company, Arad was hired to design action figures (many of which now festoon his office) and other merchandise and to produce animated programming like the "X-Men" and "Silver Surfer" shows on Fox Kids Network. Just as the "Batman" movie emerged as a box office bonanza for DC Comics, Marvel stalled in the midst of a struggle over control of the company between Ronald Perelman and Carl Icahn, its entry into the motion picture stakes delayed until the summer of 1998, when "Blade" was released. It was followed two years later by the first X-Men movie, which was a surprising success. It opened the floodgates, proving that "even comic book characters unknown to the general public could become the basis for blockbusters," Levine says. Movies about the Hulk and Daredevil and the Punisher were soon in the works, and on the horizon are flicks featuring Elektra, Man-Thing, Black Widow, the Fantastic Four, Sub-Mariner, Iron Man, Luke Cage, and Ghost Rider-not to mention another Blade and another Spider-Man. With a 4,700-character universe, the Marvel possibilities seem nearly endless. "With 'The Punisher,' we have revenge pictures," Arad says. "With 'Blade," we have vampires. With 'Man-Thing,' we have a monster story. 'X-Men' is superheroes." The full tide of human experience-endless, as I said.
            The trick in making superhero films, Arad believes, is to capture the internal conflicts that have kept the characters compelling through the years (an innovation, our reporters neglect to mention, not original with Arad but initiated, probably, by Jack Kirby and fostered by Stan Lee). And DC has picked up on the trick, too: tv's "Smallville" features Superman as an angst-ridden youth, and the next Batman movie will portray the Caped Crusader as a more tortured personality. "It will be Marvel-ized," smirked Arad. Not only does he encourage Marvel movie-makers to create real personalities for the characters, Arad also condones abandoning some of the unrealistic aspects of the comic books. In shaping Spider-Man for the motion picture, the character was empowered to shoot webbing from his wrists instead of from a mechanical device the youth invents in his bedroom. Said Arad: "We felt that if Peter Parker could mix this web fluid in his room, he'd be the owner of 3M. And in the comic book, he was broke-how stupid could he be?" When this factoid leaked out, the Internet blossomed in disparaging remarks. But most fans agreed the modification works in the film. So does Arad: "If I paid attention to the Internet," he said, "I'd have a short life. You're either a spider, not you're not." At the same time, he talks about comics as "literature," Levine says-"with the resonance of Greek myth."
            The box office success of "Spider-Man 2" is not an unalloyed victory, according to Forbes' Ackman, who points out that over the last decade, top-dollar movies have slowly lost their ability to hold an audience. They may have big money openings, but their earnings trail off in the subsequent weeks. In 1993, the top 50 movies earned 15% of their total revenues on their opening weekends; by 2003, the opening weekends were accounting for 26% of the total revenues for the top 50 flicks. "It's telling," Ackman goes on, "that the most popular (measured by ticket sales) movies of recent years didn't rely on big openings." "Titanic" earned less than 5% of its total on its opening weekend; "Jurassic Park," 13%; "Forrest Gump," less than 8%. But the industry has been gearing for big money openings. The number of movie theaters increased by over 50% in the 1990s, increasing dramatically the number of movie screens that studios could shove their highly touted products onto. The idea is to get the movie out there on as many screens as possible, earning as much money as it can, before bad word-of-mouth can catch up and sabotage the enterprise. The fact that "Spider-Man 2" is, by nearly all verdicts (including mine), a pretty good movie is actually immaterial. It's all about marketing technique-and money. And it was ever thus.
FOOTNIT. Daily Variety carried a story about plans already afoot to star Spider-Man in a musical stage production. After the success of "The Lion King," the rumor is not at all far-fetched. An early adventure into tights, 1966's "It's a Bird, It's a Plane, It's Superman," closed after fewer than 150 performances, but "Annie" went through 2,377 "Tomorrows." Then again, Broadway touts remind us that it's "common" for movie hits to be considered for musical productions; a year later, the idea is nowhere to be found. Joal Ryan with E! Online reports a likely problem: "Spider-Man presents a musical-theater challenge that neither Superman nor Annie faced: When fighting crime, he wears a red stocking over his head. His entire head. Including the mouth." They might get Lynda Barry as a consultant: she once demonstrated how to sing a song with her lips closed. It came out as a sort of inarticulate hum, but you could recognize the tune.
Some Dates to Circle on Your Calendar
July 21-25, Comic-Con International in Sandy Eggo
July 26-29, Democrat Convention in Boston
August 13-29, Summer Olympics in Greece
August 13-15, Wizard World Comic Convention in Chicago
August 30-Sep 2, Republican Convention in New York
            I'll be attending the Comic-Con in San Diego, Thursday through Sunday. I don't have a booth or a table, but I'll be signing at the TwoMorrows booth (my Murphy Anderson biography), Friday, 1-2 p.m. And I'll drop into the National Cartoonists Society's booth from time to time; the times will probably be posted.
            I'll also be at the Wizard Con-this time, in Artists Alley, Table 9071-A. Charter Rabiteers, you may recall, are entitled to a 10% discount off any of my books that I'm selling at such events. Hope to see you there. Or somewhere.
CIVILIZATION'S LAST OUTPOST
American journalism, the fabled Fourth Estate, is in tatters. Everywhere we look, sensation and error and partisan finger-pointing. The legendary New York Times recently examined itself and was found wanting: bad reporting and even worse editing probably brought on the invasion of Iraq, or, at least, aided and abetted the Bush League in its march to war. The New York Post, no less storied but for different reasons, recently started the day (Tuesday, it was, July 6) by announcing that John Kerry had picked Dick Gephardt as his president of vice. Wrong. By 9 a.m., everyone knew John Edwards was Kerry's choice, and the Post had egg all over its face, a journalistic gaffe nearly equal to the Chicago Tribune's famous "Dewey Beats Truman" with which that paper concluded the 1948 election (when, as some of us recall, Truman actually beat Dewey). Probably the Post was indulging in a little fatuous self-importance: it had been the first to rumor the death of Marlon Brando on Friday, July 2. After that dubious success, it was full inflated and doubtless felt equipped sufficiently to scoop its brethren once again. By measure of the old newsroom byword, "Get it first, but get it right; but get it first," the Post scored two out of three, which, in today's 24/7 news cycle, is a champion performance. Later, it was rumored that publisher mogul Rupert Murdoch had been the source of the Gephardt story, roundly denied, of course. The Post is establishing something of a record for erroneous reportage: last October, it published an editorial congratulating the Boston Red Sox for beating the NY Yankees in the American League Championship Series. So when the Gephardt story came along, the other tabloid in town, the raucous NY Daily News, couldn't resist twitting its rival, saying Post editor-in-chief Col Allan's "prodigious pratfalls and capacity for flouting journalistic conventions are wonders to behold," then bringing a case of champagne from Australia (from whence both Allan and Murdoch hail) to the beleaguered newspaper's office with a note congratulating the paper on its "exclusive." Meanwhile, at eBay, copies of the Post with the erroneous announcement are offered for sale-at last count, 1,800 of them, with passionate collectors bidding as much as $50 per copy. Hilarious, no doubt, but disastrous for journalism. The Post already rates low in credibility among its readers, and the contagion could spread. If it hasn't already.
            In the same vein, it has finally come out that the celebrated and widely televised toppling of the Saddam statue in central Baghdad's Firdos Square-symbolizing the fall of the dictator's regime itself-was staged by the U.S. military, acting on the orders of a canny marine colonel, who was enthusiastically supported by a fast-thinking army psychological operation (PYSOP) unit to make it look like a spontaneous Iraqi action. That confirms a much earlier report in some progressive outlets that the photographing of the action was engineered to make a tiny cluster of Iraqis seem a throbbing mob. According to the Los Angeles Times report, the statue was ultimately knocked over by a marine recovery vehicle pulling the statue with a chain, "but the effort appeared to be Iraqi-inspired because the PSYOP team had managed to pack the vehicle with cheering Iraqi children."
            The children in this country are a major preoccupation of the newspapering enterprise. The youth of America is not reading newspapers. Not subscribing either. Dire consequences loom. Newspapers everywhere are exploring ways to reach the young. In Boulder, Colorado, the local paper, the Boulder Camera, will launch August 20 a new free weekly version dubbed Dirt, aiming it at the legions of 18-24 year-olds in the college town. Said the publisher: "The young adult market tends to want a different type of newspaper and wants to get news in a different way than a traditional newspaper." Right. Dirt it is. That ought to attract those nasty-minded young whippersnappers.
            It apparently takes a while for news organizations to get it right. Greg Packer's 15 minutes of fame lasted 10 years, but it's about over. It seems Packer has become Everyman, the universal man-in-the-street. At dozens of events over the last decade, Packer has been repeatedly interviewed and quoted as a sort of representative citizen. He's been interviewed on CNN, MSNBC, and Fox; he's been quoted in the Wall Street Journal, New York Times, New York Post, Los Angeles Times, London Times, and scores of other newspapers and magazines. Reporters at such events as Reagan's funeral and Clinton book signings are always looking for a "man in the street" to interview: "What do you think about-?" they'll ask. And Packer always has an answer ready. He gets to these events early, identifies reporters, and then approaches them or beckons them over to him if he's standing in line. Employing this strategy, he's been quoted more than 100 times in various publications, including major media outlets. Last summer, the Associated Press circulated a directive telling its reporters to avoid Packer. But other journalists weren't so canny. Said Sheryl McCarthy, a Newsday columnist, "The fact that Greg Packer's quotes have turned up everywhere suggests that man-on-the-street interviews are worthless." Got that right. And now that the Packer saga has been published in Editor & Publisher, maybe others will get it right, too.
            Dick Cheney, the president of vice and vituperation, told Senator Patrick Leahy to "fuck off," or to "fuck yourself" (reports vary, as you can tell, wildly), and the news media were immediately confronted with a quandry. How do you quote Cheney? Only the Washington Post published the word itself. Most other newspapers used blanks ("Go ___ yourself") or dashes ("Go f- yourself") or, in Calgary, a Nixon-era tv euphemism ("Go bleep yourself"). The staid New York Times simply referred to "obscene phrase," leaving its readers woefully uninformed. But then it is the Times that coined the deathless motto, "All the News That Is Fit to Print," so they're entitled. In Newsweek, columnist Anna Quindlen speculated that Cheney's verbal assault served to establish his masculine credentials. "Slinging obscenities has always been the verbal equivalent of towel snapping; cursing the senator, who has harped on Cheney's connection to defense contractor Halliburton and its connection to lucrative contracts in Iraq, was the closest the vice president could come to throwing a punch. ... The vice president is not a cowboy-boots kind of character, and a public spat between two bald guys in glasses is more faculty lounge than O.K. Corral. It takes one of them unleashing the F-word to give a street spin to the hissy fit, to show that he won't take any you-know-what from the sphincters who make his life hell. (Thank God-finally a profanity I can used.) This is supposed to tell the world that he's a real man."
            Real men are hard to come by in the so-called news media. The Washington press corps has repeatedly demonstrated lap-dog tactics in covering the Bush League. (And the Bush League has repeatedly demonstrated how ready it is to deprive the less docile reporters of the access they need to survive.) Interviewed by Charlie Rose last week, Michael Moore said that one of the chief reasons for his making "Fahrenheit 9/11" is that the news media were not doing their job in informing the public. "They just laid down," he said. "We depend on news media to ask the hard questions and to demand answers." But they failed to question the many dubious assertions about Iraq that the Bush League was making in the run-up to the invasion. The news media should have been much more skeptical, he said. "Kids are dying in Iraq because the media didn't do its job. They've asked tougher questions of me over this little movie than they ever did of any member of the administration. If they'd been half as tough on them, we might not be in this war."
            Finally, an example of journalistic vigilance in this terror-laden time. The Wall Street Journal managed, with commendable diligence, to track down an obscure children's reader entitled The Pet Goat, thereby correcting an error fraught with danger for civilization as we know it: the name of the book was erroneously cited in Michael Moore's movie as My Pet Goat, the tome from which George W. ("Wimp") Bush continued to read while in the catatonic state induced by learning that terrorists had torpedoed the World Trade Center and the Pentagon with airliners that exploded on impact. Apparently the so-called book is actually a two-part story that is in a Reading Mastery series from SRA/McGraw-Hall. The series was developed in my home town, Champaign, Illinois, at the University of Illinois, and the purpose of the Pet Goat story is to illustrate that adding the vowel 'e' to the end of word changes the preceding vowel sound from short to long-thus, can becomes cane, man becomes mane. The passage Dubya was reading: "The goat did some things that made the girl's dad mad. The goat ate things. He ate cans and he ate canes. He at pans and he ate panes. He even ate capes and caps." The co-author of the series still lives hereabouts and reflected on the notoriety of the story: "Several of us spent our careers developing the series," said Elaine Bruner, erstwhile UI psychologist, but "there was little or no media attention to it before [its present fame]. ... So the newfound notoriety of The Pet Goat is kind of ironic." True. But it's nice to know-isn't it?-that thanks to the Wall Street Journal, the republic is once again safe from sea to shining sea.
Buckling the Last Swash
John Cullen Murphy, who died (July 2) just as we went to cyberpress last time, was about the last shining exemplar of the illustrative mode of doing newspaper comic strips that emerged and triumphed in the 1930s Sunday funnies with Hal Foster's Tarzan and Alex Raymond's Flash Gordon and Milton Caniff's Terry and the Pirates. Murphy entered the field just as the Golden Age of adventure strips was fading, and he thereby links us to that storied time. Ironically, he never wanted to be a comic strip artist. Discounting his youthful ambition to be a baseball player, Murphy aspired to be a sports cartoonist, but he was led astray by a chance encounter with a legendary illustrator.
            Born in New York May 3, 1919, Murphy grew up in Chicago but moved back east with his parents to New Rochelle when he was a teenager, and a neighbor, Norman Rockwell, saw young Murphy playing ball and asked him to pose for a magazine cover he did for the Saturday Evening Post (published September 22, 1934). Murphy was doing a lot of drawing at the time, and Rockwell encouraged him and was instrumental in securing a scholarship for him to the Phoenix Art Institute (now part of Pratt) where Murphy spent his mornings; in the afternoon, he went to the Art Students League. He studied under the celebrated George Bridgman and the fabulous Franklin Booth ("a wonderful man, a very kindly, elderly gentleman"), but Rockwell was also a tutor. Said Murphy, recalling those days: "I used to do illustrations-Rockwell would give me a story to do. He gave me a short story by Hemingway, and I had to do illustrations for it. I would bring in each stage-first, a rough sketch, then a composition sketch, a color sketch, and then the big finish. And at each stage I brought in to show him, he'd criticize it."
            Murphy sold his first illustration at the age of 17; it was a drawing of a boxer, and he did several more that were used to promote prize fights at Madison Square Garden. During World War II,  he went to Officer Candidate School and then served in infantry and anti-aircraft units in the Pacific, where he won a Bronz Star. He also did a lot of sketching and drew portraits, selling them to the Chicago Tribune. After the War, he resumed his pre-war career, doing illustrations for magazines. One attracted the attention of Elliot Caplin, Al Capp's brother, who was then writing the comic strip, Abbie an' Slats. Caplin contacted Murphy about collaborating on a story comic strip about a boxer. "After mulling it over," Murphy said, "I conceded that illustration was fazing out from what we had during the Golden Age, so I thought this would be a nice way to have some steady income." He did a couple weeks of sample strips, and Caplin took them to King Features, where William Randolph Hearst bought the feature, Big Ben Bolt. (It was the penultimate comic strip decision from Hearst; soon thereafter, he also decided to buy Mort Walker's Beetle Bailey, his last personal purchase in a long career of stellar picks.) And so, Murphy came full circle, back to boxing. The strip was launched February 20, 1950, with a Sunday installment beginning two years later, May 25, 1952.
            In 1968 with a brood of children, the eldest poised to enter college, Murphy looked around for ways to increase his income; he approached Hal Foster, who was then doing Prince Valiant, which he'd inaugurated February 13, 1937. "I thought he might be wanting help," Murphy told Jim Keefe in an online interview in 2000 (from which I've been copiously quoting). Foster didn't want help then, but "two years later, he called me up and asked me to come up and see him." Foster was hoping to retire from active production of his classic masterwork, and he was entertaining auditions from other artists. Wally Wood tried out, and so did Gray Morrow. Ditto Murphy, and Murphy got the nod. In an interview years later, Foster said the decisive factor was the way Murphy drew hands-Murphy could make them "talk," confirming, in effect, the facial expressions they accompanied.  Murphy's first Prince Valiant was No. 1760, published November 1, 1970. But Foster hadn't given up his brain child: he continued to write the strip and, for several years, supplied pencil roughs as guides to composition. Murphy continued drawing Big Ben Bolt for the first three or four of his Valiant years, but adventure strips were fading fast in those days, and Caplin was no longer writing the feature. "It was being written by a lot of different guys," Murphy told Foster biographer Brian Kane in the interview published in The Comics Journal (No. 253, June 2003), "so the stories weren't that good. I'd wanted to get black people into the strip because the heyday of Jewish and Irish prize fighters was past, but the executives wouldn't do it. They thought we'd lose more readers."
            Murphy finally left Bolt, and Foster, who would die in 1982 at the age of 89, gave up doing roughs for Prince Valiant and just wrote the scripts. He ceased that, too, two years before he died, and Murphy's signature appeared for the first time February 17, 1980. About that time, his son, Cullen Murphy, with a masters in medieval history from Amherst, began writing the strip. Now managing editor at Atlantic, Cullen said a couple years ago that "I've had one of the rare privileges a son can have these days, something that used to be common and now is nearly extinct-the chance to work with my dad on a great professional enterprise. ... Dad and I have been working together as artist and writer for more than a quarter of a century now, and not a day goes by when I don't think about his skill, his kindness, and his smarts."  Murphy's daughter, Meg, eventually joined the production team, doing the lettering and the coloring. Murphy had other assistants, too. Ben Oda lettered the strip until he died, after which Meg took over in 1988. And George Raymond, one of Alex's brothers, assisted Murphy on Bolt, and Frank Bolle did layouts for Prince Valiant since 1996.
            Murphy's treatment of Foster's Arthurian legend was, at first and for a long time, a nearly perfect evocation of Foster's style. Over the latter years, however, the visuals seemed to me to disintegrate slowly. The spectacular waxing and waning line of his Bolt years never surfaced-understandably, it was not remotely like Foster's line-but the continually flowing line in the graceful Foster manner eventually seemed to break into cryptic fragments, giving the pictures a sketchy appearance. So skilled was Murphy that this fault, if it is a fault, was scarcely noticed at first, and his compositions and command of anatomy and the like remained masterful, even if sketchier. And by the time the looser mannerisms took hold, Murphy's style was the style of Prince Valiant. Other visual changes were unavoidable: Val grew older, and while his hair didn't turn gray, Sir Gawain's did, and both these heroes surrendered the heavy duty action to younger knights, Val's sons usually. And the size allotted to the feature shrank drastically with disastrous effect on the feature. The visual grandeur that distinguished so many of Foster's pages seldom appeared in the last 15 or so years. Murphy's successor Gary Gianni is beginning to revive the Baroque ambiance of the strip, a development warming the hearts of loyal Val fans. But Murphy's achievement-his initial superb performance and the standard of excellence he sustained for years, even if not Foster-like, made him, as his long-time friend and admirer, cartoonist Jerry Dumas said, "a far, far better artist than 99 percent of the comics you see on the pages ... one of the finest artists who ever graced a newspaper's pages."
            When Kane interviewed Murphy in 2002, he noticed that Murphy had done almost as many Prince Valiant pages as the strip's creator had. Kane playfully asked Murphy if he'd thought he might try to break Foster's record. "I really hadn't thought about it," Murphy said. Kane persisted: "Let me put it this way. Once you have done as many pages as Hal did, would you do one more?" Said Murphy, "Sure-why not?" But he didn't quite. Murphy surrendered the drawing chores earlier this year: the first page by Gianni appeared March 21, 2004. It was No. 3501; Murphy had drawn 1739 pages, just 20 shy of Foster's achievement. (Three during Murphy's tenure, nos. 1765, 1767, and 1770, were not done by Murphy; perhaps, Murphy thought, Foster had done them. Kane thought maybe Tex Blaisdell had done them-"but we'll never know," he conceded.) During his stewardship of Val, Murphy won the National Cartoonists Society's Best Story Strip plaque a record six times-the first time, in 1971, for both Big Ben Bolt and Prince Valiant, another record. But Murphy remained an unassuming thoroughly professional illustrator all his life. Kane asked him if it had bothered him "that the general public didn't know you were drawing Prince Valiant for almost ten years." "Not really," Murphy said; "everyone knows I'm doing it." Other cartoonists, he meant-but even Prince Valiant fans. Murphy told Keefe that Foster hadn't been sure he wanted to let the strip continue after he retired. "He was going to have one big Armageddon where everyone would come in and get killed," Murphy said, "but he took pity on me and kept it going for my sake." Reflecting on his career-on Rockwell, Booth, Bridgman, and Foster-Murphy remarked to Keefe: "I was very fortunate in my mentors."
Funnybook Fan Fair
Among our friends the funnybooks are a couple titles that have lately started taking jovial jabs at superhero pysches, a welcome respite from the usual legends of longjohn legions in which the psychopathology of the spandex crowd is treated as a profoundly human tragedy rather than as an aberration. Heroes Anonymous, the extrusion of Bill Morrison and Scott M. Gimple from Bongo Comics, is up to No. 5 in its 6-issue mini-series, and Dr. Blink: Superhero Shrink, the invention of John Kovalic and Christopher Jones from Kovalic's Dork Storm Press, just debuted with No. 0, its "first" issue, with No. 1, its second, due in September. I've mentioned both titles here before, but it may be time, now, to distinguish one from the other. Heroes Anonymous is group therapy; Blink is psychoanalysis. In Heroes, "a group of Gothopolis' greatest (and lamest) superheroes gather on Wednesday nights for coffee, donuts, imported nougat and intensive group therapy. Led by The Blitz, a retired Wold War II-era superhero, they collectively defeat those they cannot best alone-namely, their inner demons!" In No. 1, f'instance, we meet Attaboy, a teenage sidekick to his foster father, Midnight, who discovers all his successes in school were achieved because his foster father bribed his teachers. Disillusioned, he drops out, but, through interaction with a girlfriend, he accepts his role in life and rejoins the costumed crusade against crime. In No. 2, we meet Butch, the Gay Avenger-"the happy harbinger of heroism, the cheerful champion, the smiling sentinel dispensing joyful justice" (as he puts it)-who, through no fault of his own, discovers that "gay" doesn't always, in every circumstance, mean "happy and carefree" as he supposes. Sometimes, it means "homosexual." He hears this from a beautiful girl with whom he falls in love at first sight only to learn that she's not only a rampant feminist but a lesbian. "Where did you grow up?" she asks in disbelief when he displays ignorance of the meaning of "gay": "On a turnip farm?" Butch did, in fact, grow up on a farm, home schooled by his mother, the grandson of the first Gay Avenger. The legitimate heir to the title, Butch's father, lost his leg (perhaps in collusion with a husker while helping Vietnam rice farmers or maybe because of an incident with grenades and cans of chipped beef-it's not clear which), so it's up to Butch to carry on the family tradition. His discovery, however, momentarily threatens the succession. At a crucial moment, he answers a cry of distress, and subsequently realizes he must continue as the Gay Avenger, regardless of the implications of the adjective. It's in this issue's epilogue that Morrison, in a rambling essay on the beauties of language, tells us that "underpants" is funnier than "underwear." Au contraire, mon cher: sometimes, but not always. "Underpants" is funnier when used about men's wear; but "underwear" is funnier when discussing women's garments. That's because "pants" is akin to "panties," which has sexual overtones and, hence, isn't funny; but "underwear" doesn't have sexual connotations, so it's funnier, perforce, when used in reference to women's wear. At least, among men listeners/readers.
            Issue No. 3 belongs to a superheroine (whose underwear is under wraps throughout), the Maiden, who must decide whether to marry her ordinary mortal boyfriend or throw herself into the clutches-er, arms-of another super-powered being. She chooses the former, but not before Gimple treats us to a few snatches of wonderfully maniac dialogue (a specialty of his throughout this title). The Maiden, who doesn't yet know her superpowers, will soon rescue a man who is poised to jump off a ledge high up on a building, and as she contemplates the would-be suicide, she hears the crowd around her exclaim things like: "Quick! We can pile vegetables to break his fall! I've got some kale!" And: "Oh, my god! It's my estranged friend Rudiger! Oh-wait. It's not." And: "Maybe he just lost a pigeon!" And: "That reminds me-the kids wanted mashed potatoes tonight!" Pile vegetables to break his fall? Wonderful. The fourth issue is a little more manic, featuring a movie star with a giant ego, Asher Hutchton, aka the Gadfly. Awash with Hollywood argot, the story concerns a romantic triangle in which Asher's girlfriend reveals that she's fallen in love with him but thinks he's the Saint, a rival superhero.
            No. 5 is a helluvan issue: it retails the life of Beelzebella, daughter of the devil. She pops into the group therapy session-bamf!-straight from the nether regions, complaining about the smell thereof. "I'll never get used to it," she says. "My hair reeks of brimstone. No wonder I have trouble getting dates." That's hard to believe: she has the figure of an houri and a costume that barely covers her epidermis. ("Barely covers"-is that an oxymoron?) She successfully fends of an amorous assault by G.O. Pete, the cowboy, saying she's "not that kind of girl." Pete, however, begs to differ, pointing to her skimpy raiment: "Not that kind of -? What are you talkin' about? Have you seen yourself? You're the poster girl for 'that kind of girl'! Everything about you screams 'She's gotta have it!'" By way of explaining herself, Beelzebella tells her life story, how her father came to Earth one day and fell in love with a stripper-turned-dominatrix who ran The House of Whacks ("S&M," "Humiliation, Discipline, Validated Parking"). They married and produced Beelzebella, the, er, Spawn of Satan. (Or should that be "Spawnette"?) But the Devil tired of married life and left for Hell, and the single mother dominatrix was forced to raise the child herself. Not well, alas. She doesn't discipline her daughter enough ("I can't do it," she sobs one time on the verge of spanking her child, "-I refuse to bring my work home with me!"), and Bella grows up "wild." She subsequently joins her father in hell where she attends demon school; there, suddenly enthusiastic about her education, she worked hard ("like a demon") but was advised to do better on cheating. Her father eventually returns her to Earth to "an executive position at one of my companies that specializes in relieving people of their souls-a Hollywood movie studio!" Then she hooks up with her mother, who, by this time, has become a Born Again Christian and-well, on and on. The script this time is by Morrison, but it's fairly typical of the series-a relentless procession of linguistic hilarities, satiric zingers, pop culture puns, and ironic double entendres not to be missed.
            The forthcoming (and final) issue, No. 6, will apparently be devoted to The Blitz, who, for the last several issues, has been behaving strangely. And then, sigh, this gem of a series will disappear over the horizon. (But perhaps not forever.)  Penciled by various artists working in a crisp angular but not altogether realistic style (somewhere between the "Batman animated style" and, say, the Savage Dragon), the drawings are deftly inked with a nicely flexing line by Andrew Pepoy most of the time (and in No. 3, he does the pencils, too). The last two issues are penciled by Adam Van Wyk, who does nice clean work with a dollop of sight gags, too. The series' most distinctive visual feature, however, is that it is printed in only two colors-black and a second color, which varies from issue to issue. The first issue was yellow; then blue, then purple, then green, and finally-naturally, given the subject in No. 5-red, as in "red hot," or, perhaps, "devlish." In sum, the series has been a delightful foray into genuinely funny nonsense fraught with enough satirical asides to qualify as socially useful as well as wonderfully entertaining.
            Taking its place, so to speak, is Kovalic's Dr. Blink. The initial issue (numbered, with the industry's captivating sense of the absurd, as usual, "0") repeats the inaugural story from No. 25 of Dork Tower. Drawn in a clear line manner by Jones, who expertly adapts the so-called "animated Batman style" to his needs, it introduces our hero. Blink is treating a superhero named Captain Omnipotent, who, like Superman, was sent to Earth while a baby by his parents because their planet was exploding. He was adopted and raised by a farm couple, and, as he matured, he found that, due to the slighter gravity on Earth, he could perform superhuman feats. And so he became Captain Omnipotent to battle Evil in all its manifestations. If his profile sounds familiar, it may be because you've been reading too much Krptonian literature. It's not clear why the good Captain has come to consult the shrink, but for the sheer sake of our comedy, it doesn't much matter. Blink says Captain Omnipotent is suffering from "severe abandonment anxiety and some self-esteem questions." His crusade against Evil is actually his effort to win approval to replace that which he never received as a child from his birth parents.
            "You're over-compensating as an adult-driven to heroism by a deep-seated search for affirmation," says Blink. "Your mighty deeds stem from your subconscious searching for the validation you could never receive from your birth planet" matched by "an inner struggle with the guilt of being the only survivor of a doomed race."
            Cured by this psychic revelation, Captain Omnipotent no longer feels compelled to do mighty deeds, and on the last page of the story, he strolls nonchalantly down the city street, ignoring crimes and dire plights of all sorts that are happening on every side. He will save no one no more. So much for how realism can affect superheroics.
            In the second short story, Blink is treating a superheroine who finishes every sentence he starts. After she leaves, Blink tells his secretary, "From now on, we're doubling our rates for telepaths." Then we have an origin story, followed by "Office Files" on such patients as Speed Freak ("the fastest man alive-in for marriage counseling, problem: he's too quick in bed"), Jimmy Hogan aka Wonder Boy ("embittered, middle-aged and washed up, this ex-childhood superhero sidekick stays in the public eye thanks mainly to First City's numerous tabloids and his recent appearance on the reality tv show, 'Get Me Out of Here-I Used To Be Somebody!"), the telepath Ms. Perception ("her mind is a terrible thing to waste"), and others, equally appalling in this amusingly satirical vein. More to come, starting with No. 1, as I said, in September. Future sessions with Dr. Blink will treat other spandex-clad minions, such as, no doubt, "the Remainders, not the earth's greatest super-team ... in fact, they've been ranked eighth on the list in a recent 'best of' poll"; and Nocturne, a masked vigilante by night and a millionaire playboy by day, a classic "multiple personality disorder." Kovalic has chosen to inspect the other side of the coin that Lee and Ditko glimpsed in Spider-Man, who learns, early on, that "with great power comes great responsibility." This is a moral vision, not a psychological one. Clearly, too much psychological realism in superhero comics seems destined to destroy the heroics in a chorus of raucous laughter. But we'll be the happy beneficiaries.
            Having toyed with psychology amongst the superfolk, let me remind you that we approached superheroes in a seriously psychological way here not long ago-in our Hindsight Department, where we recently posted a piece of literary criticism entitled "Superheroes on the Couch." This should not be confused with Danny Fingeroth's recent tome, Superman on the Couch. Fingeroth's opus is more in the character of literary criticism than psychological analysis. My foray into this subconscious jungle is also literary criticism, but it is actually laden with Freudian terms and structures, so it's closer to the psychologist's couch than Fingeroth's. His book is interesting; it's fun. It's enjoyable. But it doesn't delve as deeply into the uncharted abyss of the human mind as my essay does. For more in this melodramatic mode (in case you were too busy to loiter in Hindsights when we first posted the "Couch" piece), click here to be transported to Harv's Hindsights.
            Meanwhile, speaking of manic artwork, DC's 3-issue Harley and Ivy mini-series has now ended. Written by Paul Dini and drawn by Bruce Timm, the series reunites a brilliant creative team, but it's now becoming clearer just how difficult it is to produce stories that combine three elements essential to these characters: comedy, psychotic criminality, and moral justification. Dini manages this feat, but the machinery is beginning to clank audibly. Timm's antic artwork, though, elevates the tale above its mechanics and makes the books a joy to behold. His layouts are not as imaginative as Ty Templeton's inauguration of the "Batman animated style" in comic books, but his energetic action sequences and perky-breasted femmes more than compensate. The high art of rendering comedic cuties in comics departed this vale long ago when Owen Fitzgerald stopped doing Bob Hope comics. Bob Oksner continued the tradition heroically, but then, he, too, set his pen aside (at last report). So when Timm came along, it was, for many of us fond fellows, like coming upon a fountain gushing in the desert. Here, for your delection, a sample of the Timm oeuvre from outside the four-color confines of our favorite funnybooks.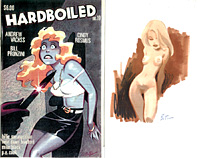 Lone from Dark Horse has reached the end of its six-issue series, and a satisfying run it was. The story, despite the infestation of zombies and aliens, is essentially an old-fashioned revenge-and-rid-the-range-of-rustlers Western romp. But Stuart Moore's script and Jerome Opena's art work in harmonious concert to tell the tale with such low-key restraint that it acquires the patina of a fresh fiction.
Graphic Novlz
The American Wild West, whether revisited in this hemisphere or viewed from abroad, is destined to be with us in song and story for generations. From Strip Art Features (www.safcomics.com) in far off Slovenia, here's Wild Bill Is Dead (54 9x12-inch pages in full color, $12.95), another tour de force from the Belgian great, Hermann Huppen, who signs only his first name, Hermann. The storied William Butler Hickok, however, makes no appearance in this tale, but he nonetheless shapes the action. At the center of which is the kid, Melvin, who is hanging out with his girlfriend near the mine his ne'er-do-well uncles are working not far from Deadwood, South Dakota, on August 2, 1876, the day Wild Bill is shot in the back of the head while playing cards with his back, uncharacteristically, to the entrance of Carl Mann's No. 10 Saloon. At just about that same historic moment, a quartet of thugs rides through the mining operation and shoots things up, killing Melvin's girlfriend and her family. Melvin runs to his uncles for help, but they're both passed out from excessive drink, so the youth heads for the nearest town, Deadwood. Because of the excitement there over Wild Bill's murder, Melvin can't interest the sheriff in his little massacre case. Despondent, Melvin goes back to the mining camp, gets drunk himself, and returns to Deadwood, where he passes out. When he comes to, he's in the hands Louise Woodruff and her gambling husband, Charlie. And that begins his saga of mistakes and misfortunes as he moves from one occupation to another, trying to survive and grow older in the West. When he finds out that Louise is a prostitute and her husband a bank robber, he leaves and takes up with a trapper, with whom he spends seven years, long enough to achieve manhood. He also works as a bartender and then finds out who the men were who murdered his young beloved, and he takes after them, bent upon revenge. The book opens upon this ill-fated group of no-goods standing around a wintery campsite just as a mysterious sharp-shooter (who turns out to be Melvin) opens fire on them, picking them off one at a time. But before we see Melvin finish the task, we slip into flashback, and the whole of Melvin's life story unravels before us. The end of the book brings us back to that beginning blood-spattered incident, and now we understand it better. A nicely circular piece of plotting, rich with colorful incident and flavored with the tang of the actual Old West.
            But it's Hermann's artwork that gives this volume its distinction-beautifully rendered landscapes and muddy frontier streets in front of rickety clapboard buildings, carefully wrought interiors of 19th century hotel rooms and saloons, all costumed and equipped in tellingly realistic detail. The pictures tell much of the story: verbiage is confined entirely to the speeches of the characters in the best cinematic manner, and there are long stretches during which the visuals carry the narrative forward, unassisted by speech or caption. The pictures create the ambiance, and they are also beautiful to look at. Hermann's passion for authenticity is matched by his skill with a pen and a watercolor brush and a moody palette. My only criticism is that his skies are too cloudy. That old song is right: the skies are not cloudy all day in the West. It might rain in the afternoon as the clouds gather after accumulating east across the mountain heights, but for most of the day, the vault above is a bright and breathtaking blue, and here, and only here, Hermann can be faulted. But it's a minor flaw amid many major facets, and it should not interfere with the enjoyment that his story otherwise affords with its sometimes bitter tale of lost love avenged at last. The gloomy skies in Hermann's portrait even add to the tale, their dishwater gray suffusing the events that transpire beneath them with a barren bleakness, an appropriate shroud for Melvin's life without his young paramour.
            Metaphors be with you.
To find out about Harv's books, click here.