Opus 140:
Opus 140 (June 21, 2004). Before we consider Ronald Reagan and the Affability of Evil, which takes most of this installment, we rehearse the astonishing adventures of another traveling corpse, one that spent 66 years being carted back and forth across the continent for the amusement of an otherwise idle citizenry. We also take a look at some of the editorial cartoons produced at Reagan's death before taking up the question of what national institutions or portions of the country's geography we should re-name in honor of the 40th President. My candidate is geographic-that flow of water that divides the country in two, just as Reagan did; hereafter, let us refer to it as the Mississippi Reagan. We conclude with a long review of Joe Kubert's graphic novel, Yossel, which, in turn, prompts us to remark upon some of the considerable contribution made to the creation of comics by Jewish cartoonists and writers. Between this preamble and the autopsy of Reagan, we review the new monthly Comics Buyer's Guide, extol Free Comic Book Day, report on the progress of the next Batmovie, and digest some news about Donald Duck, Popeye, and Tintin, the invasion of manga, and the outcome of Jimmy Johnson's poll to decide how Janis should wear her hair. Here we go-
A Big, Fat Once-a-Month
The new Comics Buyer's Guide is here-"the biggest monthly price guide in comics" it proclaimeth, and it is surely true that it is big and that it is mostly price guide. That's about what I thought it'd be. It has "Comics" on the cover larger than "Buyer's Guide," but even a cursory coursing of the content brings us up against page after page of tiny tiny type in orderly columns, lists of prices and so-called "values" of comic books. If you detect a somewhat disparaging quirk in my bent thus far it's because I'm primarily a reader of comics, not a speculator in them, and so the kind of horrifyingly punctilious approach to pricing and whatnot that this tome epitomizes is no use to me whatsoever and is more than a little off-putting. Apart from that, however, over-all, the maiden voyage of the CBG monthly magazine is an impressive achievement. One of the things I like most about it is that the layout design clearly distinguishes ads from editorial content, usually by confining ads to "ad pages" facing "editorial pages" instead of mixing the two up in the hope that the reader can't tell one from the other, can't tell, in other words, when he's being informed from when he's being gulled. This is a signal distinction, setting CBG apart from Wizard, for example-the magazine this production seems geared (you should pardon the expression) to replace-by demonstrating a consideration if not also a respect for readers. The usual columnists and content can be found throughout the mag's 242 pages (minus Rancid Raves, one of the print incarnations of this ethereal prose). There are slick paper sections with color and newsprint sections with black and gray. And for the most part, CBG designers have avoided the annoying pitfalls that have pocked the surfaces of so many comics publications-a tendency to subsume meaning under visuals, to sink communication with flashy graphics. Only once or twice herein do I see the most offensive of these misbegotten computer-generated tricks, screening a drawing so it runs as a gray shadow behind the type; that makes the type hard to read and the drawing impossible to appreciate. So why commit this desecration? At least here, the shadow art is sort of wallpapery, not actual line drawings. The artwork throughout is mostly treated with respect, even when reproduced small (an inevitable concession to the apportioning of content). And- thankfully!- we have no pages on which typeset text is reversed white out of solid black or screaming red, making reading a painful experience. So far, so good. Numerous short articles and most of the reviews are tucked into the page designs of the price guide sections, all very tidy. A helpful Table of Contents quickly organizes the massive volume into discrete sections-for comics news, reviews, events, and so forth. And there copious reviews of comics, manga, books, anime-175 reviews, to be exact. (The editors counted 'em; I didn't.) In short, there is so much here that no one could hope to wade attentively through it in an afternoon. But since the magazine is replacing four weekly issues, I suppose its producers expect us to take four afternoons at weekly intervals to digest this behemoth. So be it.
            As a monthly publication, CBG will not be able to give appropriate emphasis to as many developments as a weekly newspaper could. A weekly paper has four front pages every month; a monthly mag, only one. This month, the forthcoming "Spider-Man 2" flick gets cover treatment-plus a generous dozen or more pages inside (the slick, color, pages). Missing from the cover is any mention of the looming Free Comic Book Day, which will occur July 3, a couple days after the Spidey film opens. Under the old weekly format, my guess is that the week before Free Comic Book Day, CBG would have plastered it all over its cover. Now, in the monthly mode, FCBD gets a blast on the Table of Contents page, but the news about it gets relegated to pages 56-58, 'way inside, kimo sabe. Promotion of comic books, which is what FCBD is designed to do, is something CBG ought to be as devoted to as the retailers and publishers, yet here, in the industry's self-proclaimed bible, comic books take a back seat to movies in this crucial FCBD month. Admittedly, "Spider-Man 2" is a big deal, and it clearly has potential for affecting the comic book business, any comic book based motion picture does (although not necessarily, perforce, for the better). But what will CBG do next month when there's no movie to hype? (There will be a movie, though: "Catwoman" is to be released July 23, just after the next issue of CBG will hit your mailbox. And in August, there's "Alien vs. Predator." September, alas, is a dud of a movie month, it seems-judging from this helpful listing that comes on pages 32-33, well before the FCBD promo. But October will be flick rich: "Lady Death" and "Man-Thing." Eventually, however, there won't be a movie-a-month, and then, as I said, what will CBG tout?)
            But let there be no doubt: this first issue is a hugely successful achievement. Producing such an enterprise involves thousands of tiny decisions, some made well in advance, others made on the fly as the circumstances warranting them arise. And the result appears to do all of the things the publisher and editors wanted to do, and it does it very well-neatly, attractively. Impressively. But I'll miss the old weekly. I'll miss the succession of emphases that a weekly publication is better suited to furnish. I'll miss it's timeliness. And I'll probably miss a lot of actual "news" or "information" because the dimension of this monthly package is so daunting I can scarcely bring myself to sit down with it.
NOUS R US
At the Book Expo America, June 5-6, Andrews McMeel announced that it will publish the complete run of Calvin and Hobbes sometime in 2005-a 3-volume, slipcased extravaganza doubtless inspired by the success of the 2-volume, slipcased Complete Far Side, an 18-pound production that went to a second printing almost at once. ... Donald Duck, whose film debut was in "The Wise Little Hen" released June 9, 1934, is seventy; accounts marking this anniversary divulged that his middle name is Fountleroy, a fact revealed in a World War II cartoon extolling the draft (Donald, like everyone else, had to fill out a form and give his full name). ... Popeye's 75th anniversary is being celebrated all year long with distinctive events marking most months: in May and June, for instance, Weight Watchers International circulated recipes for spinach to over a million members worldwide; in July, Popeye-themed race cars will run at Daytona. At the end of the year, a new Popeye film with CGI animation will be released-"Popeye's Voyage: The Quest for Pappy," written by Paul Reiser ("Mad about You") with Kathy Bates voicing the Sea Hag.
            In recognition of Tintin's 75th year, the twenty-fourth and last of the Tintin books has just been released in England: an unusual but fitting last appearance, the book publishes a "draft" of a tale entitled "Tintin and Alph Art," that creator Herge (George Remi) was working on at the time of his death in 1983. Extracting a meaningful narrative from Herge's notes and preliminary drawings, the book offers insight into the cartoonist's creative processes, printing annotations as well as sketches. The tale isn't complete: Herge left Tintin apparently doomed to die in a deluge of liquid polyester. Tintin's life has been one such life-threatening moment after another, but this time, Herge offers no hint as to how the intrepid boy reporter might escape. Maybe Herge intended to end his creation's life as his own was drawing to a close.
            The Association of American Editorial Cartoonists has published, through the auspices of John Kovalic's Dork Storm Press, a collection of rapier-witted political and social insights by 150 of AAEC's members, each allotted a page for a brief biographical note and sample cartoons. Entitled Attack of the Political Cartoonists: Insights and Assaults from Today's Editorial Cartoonists, the volume hits the bookstores July 4

, by way of giving the Election Year an appropriately askance launch. Edited with a sure hand by J.P. Trostle (Durham Herald-Sun) with a Foreword by Senator Russ Fiengold and an Introduction by Lucy Caswell, curator of the Cartoon Research Library at Ohio State University, the compilation runs to 160 pages, costs but $15.99, and is available at Borders, Barnes & Noble, and Waldenbooks bookstores, plus Amazon.com. Yes, I'm in it, but I don't get any money from sales or any other source connected with it.
            Manga, the Japanese comic book genre, is the fastest growing segment of the publishing industry in the U.S. according to Milton Griepp, president of ICv2, a pop culture publisher. In its native land, manga accounts for roughly a third of all print publications. In the U.S., English translations are appearing in all the bookstore chains, usually filling tier upon tier of the shelves. One manga publisher, Viz, releases about 200 titles a year; two of its titles recently broke into USA Today's "Top 150" list of adult trade books. TokyoPop, the U.S. manga leader, publishes 35-40 titles month. All publishers of manga in English are being aided and abetted by an Internet phenomena called "scanlation," a portmanteau word that fuses "scan" and "translation." In the hacker realm, determined manga fans translate the Japanese books into English, then release them into a worldwide chat network from whence they are downloaded in droves. Thievery of this sort infested the music business and soon became the target of legal action, but scanlation is viewed by some U.S. manga publishers as a blessing. Scanlators play a role in identifying new titles that are in demand. Said Steve Kleckner of TokyoPop: "If you get 2,000 fans [through the 'Net] saying they want a book you've never heard of, well, you gotta go out and get it. If the music industry had used downloading and file sharing properly, it would have increased their business, not eaten into it." In Japan, different manga are produced for specific target audiences, and the practice has begun to yield tantalizing results here. One of the audiences is teenage girls, for whom "shojo" ("girls' comics") are created. Translating them into English and marketing them in this country, manga publishers have experienced a dramatic gender shift in their customer base, a remarkable development in an American industry that has been traditionally oriented to adolescent males.  "Last year," said Kleckner, "55 percent of our consumers were female." He plans to publish 500 new volumes in 2004, almost doubling last year's catalog, and 60 percent of its intended readers will be female. Just on the horizon, "manhua"-Chinese comic books, a rich lode not yet being much explored. But a newly formed company, Comics-One, is busily obtaining publication rights.
            Cracked, the Mad knock-off whose demise was widely reported in 2001 (including here), isn't dead after all (I corrected that impression somewhat later in this very department). In fact, it's lively enough to move around: it's leaving its Florida haunts (where it was owned by the most laughable "news"-paper in the universe, Weekly World News, which pictures the Loch Ness monster on its front page periodically) for Rockford, Illinois, where its new owner, Dick Kulpa and his Mega Media Corp, are headquartered. The most recent other excitement in Rockford was whether or not the city fathers and their state representatives could get legislation passed for the state to grant another riverboat gambling license, this one for their city. Kulpa, once an alderman in the city, vows to revive Cracked and thereby to make Rockford the comic book capital of the world. And he'll probably find the Loch Ness monster, too.
            In the comic strip Garfield, Jim Davis, the fat cat's creator, says, "I only get 25 words or less every day. What happens when 'Garfield' gets 85 minutes [in the movie]-it's another way to entertain and, therefore, another challenge." Judging from the critical pans the movie earned, the challenge wasn't met. The lasagna-loving feline is popular enough to accumulate 2,600 subscribing newspapers worldwide, but he didn't translate well from the static medium to the moving one. Davis, however, is not likely to give up. Garfield was deliberately conceived as a marketing product as much as a comic strip character, and it has undeniably been a licensing bonanza for Davis. But Davis likes comedy, too. Asked if he is ever bored in manufacturing gags for the lazy cat (which he does once a month in a two-three day session with a co-conspirator, Brett Koth), Davis said he wasn't: "I'm still trying for that one perfect gag that will make the whole world laugh."
            The Tribune Company, which in 2000 added to its holdings the Times Mirror newspapers (including the Los Angeles Times and the Baltimore Sun), is going to cut jobs across the board in order to compensate for declining advertising revenues. The L.A. Times, which garnered five Pulitzers in the most recent round of awards, was singled out for its failure to generate enough ad income. The Tribune Company reported that its profits dropped 15 percent in the first quarter. Since newspaper profits are generally about 15-20 percent, a drop of 15 percent of that 15-20 percent is, actually, fairly negligible-to anyone in the business world but newspaper owners, who, these days, are stock-holders and Wall Street sharks, not journalists. They're interested only in profit margins, not public service or civic pride or any of the things that once motivated newspaper publishers. Sad.
            The Stan Lee inspired reality tv show, "Who Wants To Be a Superhero?" surfaced in the news again recently as MTV took up the prospect. Apparently it's a "go." On the show, it sez here, "eight lucky comic book fans-who dress up as their own original comic book heroes-will get a chance to compete against each other in games and challenges that transform their comic book fantasies into the most exhilarating real-life situations they could ever imagine." The winner "gets to see his/her character featured in his/her very own comic book-written by none other than comic book legend, Stan Lee." Talk about reality.
            Over at DC Comics, a new law suit looms. Carmine Infantino, freelance cartoonist who was once publisher of the comic book line, is suing Time Warner for "breach of contract" in connection with his creation of several Silver Age characters-Batgirl, Poison Ivy, and the Flash, not to mention the Batmobile. Inspired, doubtless, by several other claimants of recent years who seek compensation for creating such superheroes as Superman and Captain America, Infantino approached DC two years ago and was insulted when he was offered $25,000. Said Infantino: "I told them, I'll give you $25,000 and you give me the characters. That shut them up."
STRIP WATCH. In Jimmy Johnson's Arlo and Janis, you'll remember, Johnson conducted a reader poll to select from an assortment offered by Arlo the new hair style for Janis (whose former hair style, it was alleged by some aggrieved reader, looked like a saucepan). The week of June 7, Johnson revealed the results. Of the seven hair styles in the running (see Opus 138), the one with the long locks dubbed "Retro" won (reportedly getting nearly 15,000 votes, which beat the nearest competitor, the "Tweak," by a couple thousand). So on June 8, Johnson started announcing the outcome to his avid readers.

In case that last strip isn't clearly readable, what happened after all the fanfare and flourishes is that Janis promptly went out and got her new long hair cut, reverting to her previous "Saucepan" style. Boy-was Arlo ever deflated! All his trumpeting about how this being was "the comic strip that reads you," the readers! What a joke! What a bait-and-switch hoot! Well, some of Arlo and Janis' avid readers were incensed. One, in particular-by the name of Avid-wrote to say, "I and my family, feel duped and insulted." Writing at www.arloandjanis.com, Johnson explained. Or tried to: "The entire exercise was, in reality, an experiment to see just how many of my readers I could upset. First, I managed to anger the thousands of you supporting the Tweak, who alleged the voting had been hijacked in favor of the Retro by men still nurturing fantasies of youthful babes. Now, I'm receiving irate letters from those supporting the Retro, mostly from men still nurturing fantasies of youthful babes. ... But seriously, folks: of course I didn't set out to make anybody mad and certainly not to insult anyone. It's all in fun. ... As those of you who voted several times know, the polling was not exactly scientific, and many of you who took the time to actually write me expressing an opinion did, indeed, favor keeping Janis more or less as she is." But, he hastened to say, he hadn't decided what to do about Janis' hairdo before the poll; he really did want to know how his readers felt about it. "In a way," he continued, "the Tweak, which ran a close second to the Retro, did win. I intend to tweak her current hairdo so maybe it won't look exactly like a saucepan." As for those who feel "cruelly toyed with," he apologized and offered what he called "my stock excuse in these situations-it's just a comic strip!"
            In a quite possibly satiric remark, Greg Evans, who won NCS's Reuben last month for his comic strip Luann, observed later that the Reuben statuette he received is "bizarre"-depicting, as he said, a pile "of naked guys stacked on top of each other."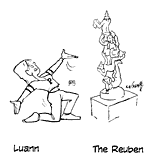 He also noticed, later on, that his Reuben is unique: it is probably the only one on which the manufacturer managed to misspell its name, engraving it "Ruben." "Fifty-seven people have won a Reuben," Evans said. "I'm the only one to win a Ruben." Not only that, but the name of the organization appears as "National Cartoonist Society" instead of "Cartoonists," plural. Said Evans: "I guess with a Ruben, I'm a society of one."
            Elsewhere in the funnies: in Dick Tracy, our favorite villain-turned-comic-relief, B. O. ("Body Odor") Plenty has returned and has summoned Tracy to the farm where he found a foot sticking out of a pile of manure. The foot, it seems, belongs to his cousin, whose name, suitably, is Aroma. ... In Annie, the artwork, ostensibly by Alan Kupperberg for the past couple years, started looking a little strange recently, not quite up to Kupperberg's crisp standard. Turns out he's leaving the strip at the end of this month; beginning July 5 (for the daily strips, July 18 for Sundays), Annie will be drawn by Ted Slampyak. As for the unsigned strips the week of June 14, no one's saying who drew them: they look vaguely like Kupperberg's work, but a little sloppy. Maybe he has an assistant, trying to ape his master? ... In the Sunday Phantom, one of the most popular comic strips worldwide, the Ghost Who Walks is puzzled by an underwater mystery and decides to consult "old man Mozz" for an explanation. As those of us who have perused Al Capp's Li'l Abner over the years know, Old Man Mose was the character in a mountain-top cave to whom Abner resorted every year just before Sadie Hawkins Day to find out of he was going to escape the clutches of clutching Dogpatch womanhood on the annual footrace in which the women caught bachelors and made husbands of them. Mose, unfortunately, always spoke in riddles, which were so obscure in meaning that Abner never knew, in advance, whether he'd emerge from the footrace still a free man or not. So-is the Phantom going to run a footrace for bachelorhood now? Or, considering the source of his dilemma, will it be a swimming contest? And will there be a riddle to solve? And, at last, will it be a joke? Or what?
Happy Comic Book Day
The comic book industry is bent on establishing a new national holiday-Free Comic Book Day. This year, it's on Saturday, July 3, and, like its three predecessors, it is hinged to the opening of a movie based upon a comic book, in this case, "Spider-Man 2," which is destined to open on or about June 30.
            "Free Comic Book Day is a holiday!" proclaims publisher Nat Gertler of About Comics (quoted in CBG's June issue). "Set your mind back to when you were ten. Think of how the words 'Free Comic Book Day' would have sounded to you then. It sounds as good as 'National No-Homework Week,' better than 'Cake for Breakfastmas.' On the chart of holidays, it would fall just below 'Get Up In the Morning and Unwrap Piles of Gifts Day' and "Dress Up In a Costume and Get Candy Just by Asking Day.'"
            The essence of FCBD (as it is denominated in the comics press) is that comic book specialty stores will be giving away, absolutely without charge, a whole lot of comic books. This is the fourth year this event has been staged, and it's now a long-established fact: vast quantities of comic books in these stores are free for the taking on this day, July 3. Two million of them, it is estimated, will fly out the doors of the nation's 3,000-plus comic book shops.
            Not all the comic books in the stores are free. But a great many are, and some of them have been manufactured expressly for the occasion. Some publishers have produced "sampler" comic books-titles that bundle together several short tales taken from different regular, continuing titles by way of introducing new readers to the variety of genre available; or "teaser" material, fragments of stories intended to persuade people to buy the books from which they've been culled. Some publishers have created titles designed to introduce newcomers to the wonderful world of the contemporary comic book. But most of the free comic books are like regular comic books with free-standing complete stories in each issue. In some cases, the books are overstock-titles that didn't sell that well in the first place and that, until FCBD, were gathering dust in the distributor's warehouse. Now, they're free.
            More than 20 special edition FCBD comic books will be available. Most stores (according to CBG) offer at least these: *Archie, Walt Disney's Mickey Mouse (a rare reprint of the only Mickey Mouse story famed Duck artist Carl Barks ever did), Marvel Age Spider-Man, Teen Titans Go!, *Star Wars: Clone Wars Adventures, *Image Comics Summer Special, Duel Masters, *IDW Sampler (featuring CSI, 24, and The Shield), and Ballad of Sleeping Beauty (a "dark" retelling of the classic fairy tale). (The asterisk signals new content.) But most stores will be stocking more than these; for a complete list of what might be there, consult www.freecomicbookday.com.
            The purpose, as opposed to the essence, of FCBD requires less explanation: it is an unabashed crusade to get people into comic book shops in the hopes that vast hordes of them will become repeat comic book readers. And buyers. Nothing complicated about that. Straight PR. Free books. The inventors of the holiday hoped, when inventing it, that the maneuver would serve to introduce new readers to a vibrant entertainment medium, and to thank long-time readers for their loyalty. More than that, they hoped to re-acquaint former comic book readers with what the medium has become in recent years. It's no longer just longjohn legions.
            Writing in Sojourners Magazine (July 2004), David Wade notes a benchmark in the development of the medium with the work of British writer Neil Gaiman, who created a 75-issue run of a comic book called The Sandman, published by the mainstream house, DC Comics. "Gaiman explored issues of depth psychology, the relevance of ancient mythology, the sources of Shakespeare's inspiration, the subtleties of Oriental calligraphy, and the relationship between dreams and death." After Gaiman's work proved wildly successful, Wade says, "even the publishers of such staples as Superman, Batman, Wonder Woman, the X-Men, and Spider-Man have created comic lines that mirror this new style" of thoughtful sometimes provoking material. In short-to deploy an over-used bromide-comics aren't just for kids anymore. But there are plenty that are just for kids, too, so bring them with you to Free Comic Book Day.
            While I applaud the notion of FCBD, there are gaseous effusions in the promotional breezes that are a little too pungent for me. Some of the hype incorporates not just a little hysteria by way of indulging an apparently ungovernable enthusiasm. This year, in the wake of several years of successful comic-book-based movies, some of the more extravagant hype connects comic books to motion pictures as a way of promoting the legitimacy of the former as entertainment equal to the latter. The logic that is displaced by this flowing syntax is impressive: it begins by tying comic books to the successful movies many of them have inspired and then reverses the process to proclaim, in effect, that all those movie producers are elevating the comic book medium by making them into movies, as if movies were somehow a superior art form to comics. And then, to turn around yet another time, the discourse swims back upstream to aver that Hollywood is "dependent" upon comics for really good entertainment. The spinning makes me dizzy. I'll recover, I'm sure, in time to pick up a few free comics on FCBD. Hope you do, too.
More News of the Superior Artform
The a-borning new Batman movie made it to the front-cover squib line of the current (June 21) issue of Newsweek, and inside, reporter Devin Gordon provides some insight into the present state of the Christopher Nolan directed venture. "The new chapter, which will hit theaters in June 2005, is called 'Batman Begins'-presumably because 'Batman Sucked the Last Time So We're Starting Over' was too clunky." When Alan Horn assumed the helm at Warner Brothers four years ago, "'one of his mandates was to get 'Batman' back out there,' says president of production Jeff Rabinow." And so they've taken up the gauntlet with Christian Bale as Bruce Wayne/Batman and Michael Caine as Alfred. And they're re-telling the hoary origin of the Caped Crusader. "One chapter [of Batman's career]," Gordon opines, "has never received comprehensive treatment: the first one." The one in which, after seeing his parents murdered before his eyes, Bruce Wayne decides to become Batman. Apparently Gordon hasn't been reading the comic books (indeed, he barely mentions the comic books, so Bob Kane, Bill Finger -all those guys-never get credit at all) where "the first one" has been rehashed only a few dozen times. Nolan's movie version appears set to deal with such questions as: Why does Bruce Wayne become Batman? (He could, after all, extract revenge on the ungodly but some other means.) Where do the suit and cape come from? Nolan reportedly researched 65 years' worth of comics (more than Gordon did) and came up with this story: "After a long exile, Wayne, now a 25-year-old scion, returns to Gotham City intent on kicking criminal butt. His family's military subcontracting business, Wayne Enterprises, has been seized by shareholders, who've relegated the company's most ambitious designs-and their inventor, Lucius Fox (Morgan Freeman)-to the scrapheap. Wayne befriends Fox, using his designs to create an alter ego." Still doesn't say why, exactly, Wayne chose a batman costume, does it? I suppose we'll have to see the movie for an actual answer to that. "In contrast to the gothic fantasia of Tim Burton's operatic 1989 version, Nolan has opted for gritty urban realism," Gordon goes on. Except for the new Batmobile, which, "covered in jagged plates of armor ... looks like something Pablo Picasso might take to a monster-truck rally-a muscle car for a tortured soul. Perfect for Batman." The article also totes up the box-office revenues for the previous Batpics: the original, $251 million; "Batman Returns," $163m; "Batman Forever," $184m; and "Batman and Robin," $107m.  And there's more, much more. It's a three-page article with a massive double-truck photo of Batman spreading his wings, er, cape, and another of the Batmobile, a completely unrecognizable heap of metal, seems to me. But then, I'll have to wait to see the movie.
Lest We Forget
As I watched Ronald Wilson Reagan's corpse being carted back and forth across the country, I was reminded of Elmer McCurdy. McCurdy died in 1911 but wasn't buried until 1977, a lapse of 66 years, a record that Reagan threatened, briefly, to break but that, happily, survived the challenge. Born out of wedlock in Washington, Maine, in 1880, McCurdy took to drink fairly soon-as soon, in fact, as he learned he was, by birth, a bastard, and that was while he was still a teenager. He wandered off in a westerly direction, and by 1903, he was in Iola, Kansas, where he worked as a plumber for a time. In 1907, he joined the army and was stationed at Fort Leavenworth, to which, shortly after McCurdy arrived, a young lieutenant named Douglas MacArthur was posted. While there, MacArthur worked with the Engineering Corps and earned "a considerable reputation as an explosives expert," according to Mark Svenvold, a wonderfully facile wordsmith and author of Elmer McCurdy: The Misadventures in Life and Afterlife of an American Outlaw. McCurdy, Svenvold speculates, learned about explosives from the Fort Leavenworth expert, and, after his discharge in November 1910, he and another ex-soldier were arrested in St. Joseph, Missouri, on suspicion of planning a robbery. They had attracted the attention of local law enforcement officers by the difficulty they exhibited in lugging around a large bag, which, upon inspection, was discovered to contain a force screw, a door jimmy, assorted drills and hacksaws, cold chisels, a nitroglycerin funnel, gunpowder, and a gunpowder funnel-all of which, it was afterwards alleged, seemed to be "mechanical devices adapted, designed, and commonly used for breaking into vaults and safes." At his trial, McCurdy claimed all of this equipage constituted parts of an invention he was working on, the jury believed him, and he was, forthwith, a free man. But while awaiting trial, he had been jailed, and from one of his cellmates, he'd been infected with a criminal contagion, an uncontrollable urge to follow the owlhoot trail.
            McCurdy traveled from St. Joseph to the opposite end of Oklahoma, where he joined up with a nascent outlaw band. Inspired by the legends of Jesse James, this would-be wild bunch held up a train, and McCurdy set himself to blow open the safe, employing such skill with explosives as he'd acquired in the service of his country. With his fourth try, he successfully blew the door off the safe, but by that time, the heat of the previous explosions had fused $4,000 in silver coin to the sides of the safe, a glittering mass that could not be pried loose. McCurdy made another attempt or two at becoming the scourge of western Oklahoma, but his first adventures had established the pattern: he was a resounding flop as an outlaw. But he had nonetheless attracted enough attention among the law dogs of the West that they tracked him to a ramshackle ranch in Osage County near the Kansas border where he had fled following another undistinguished train robbing venture (he and his cohorts stopped the wrong train: the money was in another one). Early in the morning of October 7, 1911, the possee approached the hayshed in which McCurdy reposed with a jug of whiskey and a rifle. He answered their salutation with an oath and a few shots from the rifle; they responded with a fusillade that killed him.
            The body was turned over to the funeral director in nearby Pawhuska, Oklahoma, Joseph L. Johnson, who embalmed the corpse (using a long-lasting preservative containing arsenic) and prepared it for a funeral. When the authorities neglected to pay him for his services, Johnson retained possession of the body. McCurdy became something of a local attraction: newspaper accounts say thousands came to view the remains of the notorious outlaw-an entirely posthumous notoriety, "the desperado who refused to surrender."  Johnson later claimed that every carnival owner who passed through town tried to buy McCurdy from him for show purposes, but he refrained from making the sale, saying the body was "being held in the hope that relatives would claim it." Six months later, McCurdy's body was stiff enough to be propped upright in an open coffin in the window of the funeral parlor. And there he remained for five years. Then in the fall of 1916, "Johnson's outlaw" turned up as an attraction in a street carnival in West Texas. Johnson had, at last, made the sale.
            For the next seven decades, the mummified McCurdy was on display in a succession of sideshows all around the country, and then in December 1976, his petrified remains were discovered, hanging by the neck, in an amusement park fun-house ride, "Laff-in-the-Dark," in Long Beach, California, one of a succession of scary sights the fun-house visitors would be exposed to on their ride. He had been discovered by the crew of the tv show, "Six Million Dollar Man," which was reconnoitering the fun-house as the locale for a forthcoming episode. One of the crew, observing what he supposed was a paper mache nude man hanging along a wall, tugged at one of the "mannequin's" arms, and it fell off, revealing, not hooks or wires inside but what appeared to be a bone. The body was turned over to the coroner's office where the officiating factotum found, in the corpse's mouth, a single, green, corroded copper penny dated 1924 and several ticket stubs, one that read "Louis Sonney's Museum of Crime, 524 South Main Street, Los Angeles." With this clue, authorities were able to identify the body as McCurdy's because, until his sojourn in the "Laff-in-the-Dark" ride, McCurdy's name was part of the outlaw status that made him a carnival attraction. On April 22, 1977, McCurdy was interred at Guthrie, Oklahoma, where the city fathers, anxious to revive an economy that was failing because the Interstate by-passed their town, acquired the remains and subsequently made McCurdy's grave a destination for tourists. Elmer McCurdy, following an afterlife of trekking around the country, had finally come to rest, still a sideshow attraction.
            There is something undignified about our morbid fascination with the dead, even (or perhaps especially) the famous dead. And so when Ronald Reagan's coffin went on display in various distinguished venues hither and yon, I couldn't help but think of old Elmer McCurdy. Not that Reagan is an outlaw by any means. And we've certainly treated his remains with more respect than McCurdy's. Still, the similarity lurks. And the suspicion that more than mere homage motivated the Reagan Road Show. His long-suffering wife Nancy was clearly the only heroic figure in the piece: quite apart from her desire to glorify her beloved husband and secure his place in history was her fortitude over the last decade as she watched him slowly slip into a dark and distant place and her grace during what must have been a physically exhausting and emotionally draining week-and her impassioned plea that the Bush League revise its current posture opposed to stem cell research. Her henchmen in commemorating her husband, however, probably had another purpose in mind in canonizing Reagan. The purpose may be discerned in George W. ("Wishful") Bush's eulogy at the funeral, a transparent attempt at sanctifying his policies and poses by describing Saint Reagan's presidency in terms that echoed those Dubya often uses in describing his own. Hence, if you loved Reagan, you must love me. It was a clumsy attempt at giving himself and the neo-cons a posthumous stamp of approval, issued by the Main Man himself. (One of the highpoints of the funeral, to me, was when, in one of tv's post-ceremony commentaries, one of the video pundits allowed as how the Dubster's speech was wonderful, a marvelous tribute, particularly since it scrupulously avoided altogether any reference to his own attempt to assume the Reagan mantle and concentrated, exclusively, upon Reagan's achievements and leadership. At first, I thought the commentator a complete fool. And then I realized how fiendishly clever he had been. The Bush League is notorious for intimidating the news media and thereby shutting down all hostile coverage. Under the circumstances, the only way to criticize the occupant of White House is to do it covertly-in this case, drawing attention to his self-serving eulogy by proclaiming that it did precisely the opposite.)
            Like newsmen everywhere, John Foreman, publisher of the News-Gazette in my hometown of Champaign, Illinois, reviewed Reagan's term as President and wondered why he was so popular. "Scholars can decide what they will about the greatness of this President, but America has rendered its opinion. We clearly saw something special in this son of Illinois. ... The commentators tried all week to put their finger on what it was-his decency, his candor, his affability, his optimism, his sense of humor, his common touch. Even his critics-and they certainly remain-concede him all of that. But truthfully, these are not uncommon qualities. Nice men and Great Communicators die every day without lines at their funerals. Was it his accomplishments then?" Foreman reviews several-including the collapse of the Soviet Union, the end of the Cold War, restoration of American pride and national confidence. But Foreman still asks: "What did we see in him?"
            What we saw in Reagan was a very good performance in the role of President. He said it himself when he remarked, once, that he didn't see how anyone could do the job of President of the U.S. without being an actor. And Reagan was an actor, first, last, and always. As a people in the second half of the 20th century, we loved celebrities, and most of the celebrities came from one of two venues-sports or acting. Astonishingly-revealingly-a public opinion poll a couple years ago determined that the second most popular President after Reagan was Jeb Bartlett. Two of a kind, surely. And Reagan proved as much a master of the entertainment medium as Martin Sheen in the same medium and role. Reagan wore an ordinary business suit throughout his political career until his press secretary Lyn Nofziger said: "I want you to be a cowboy because that's what the people will identify with. He said, 'Well, all right.' So he went back in and changed into jeans and boots." Nofziger was right. At Reagan's death, three national magazines used an identical photograph of him on their covers, the one of him smiling that lopsided "aw-shucks" grin, his creased and weathered-looking visage under a broad-brimmed cowboy hat. Time, Newsweek and TV Guide -an unprecedented duplication of imagery. (Appropriately, the TV Guide's Special Tribute Edition dealt with the subject from the perspective of Reagan's acting career.) All speak to Reagan's success in assuming so completely the role, the grandfatherly cowpoke who reassured us with his venerable age and his smiling face and self-deprecating one-liners. My favorite of the latter: when he announced, in the campaign against Fritz Mondale, that he didn't want age be an issue in the campaign-"I will not use my opponent's youth and inexperience against him." Mondale broke up over that one. And so did most of us. Humor has a way of uniting us all. Oddly, it validates our common humanity by demonstrating that most of us laugh at the same sorts of jokes.
            So convincing was Reagan in his chosen role that we forget the policies he spawned. He put a smiling face on conservatism, obscuring forever the dour brows of Calvin Coolidge, Robert Taft, and Barry Goldwater, persuading us by his affability that conservatives were not, necessarily, self-centered and greedy. He overwhelmed us with his perpetually sunny self-confidence. Even today, in the week after his ghoulish tour from sea to shining sea and back again, we remain in thrall to the cheerfully optimistic personna he invented, forgetting that he cut federal lunch programs for poor children and subsequently proclaimed ketchup a vegetable, extended tax credits for segregated schools, extolled the inherent virtue of "states' rights" (code for a segregated South), launched a recession and ten percent unemployment with his first massive tax cut, broke the law with the Iran-Contra deal, de-regulated until the savings and loan scandal erupted, attacked OSHA and workplace safety, reduced food stamp allotments, ignored AIDS, presented happy fictions as if they were facts ("Facts are stupid things"), colluded with Guatemalan thugs, defended the apatheid regime of South Africa, cut back funds for public housing and education, and piled up a budget deficit so obscenely gargantuan that it impoverished the federal government and made it impossible to attend to many of the nation's crying needs (a Machiavellian way of making government smaller, Reagan's avowed purpose when he ran for election in 1980)-to take a few from David Corn's list of "66 Things to Think about When Flying in to Reagan National Airport" (The Nation, March 2, 1998), "a cheat sheet," Corn says, that remains relevant for "those who dare to point out the Reagan presidency was not all that glorious and was more nightmare in America than morning in America." A little severe, perhaps, but, as balance for the effusions in the other direction, not altogether untoward.
            Without such a cheat sheet, we forget, conveniently for the marauding conservative half of the population, that Ronald Reagan's shining city on the hill was infested by new multitudes of raggedy unkempt homeless people, sleeping in cardboard boxes and living in squalor under the overpasses of futuristic superhighways. He gave us the Reagan Revolution, all right-a complete about-face, a revolution of 180 degrees, in which we turned our backs on the impulse to compassion for our fellow citizens that had been so successfully inaugurated by Franklin Roosevelt and fostered by his successors for two generations. Much of the time, I liked Reagan in spite of his policies, in spite of his being an actor (or perhaps, because of it). But like Bill Clinton, whose policies and leadership I liked and admired, Reagan ultimately disappointed me because he squandered his gifts. Reagan wasted his singular charismatic leadership by employing it to lead us away from our responsibility to the poor and deprived. He effectively championed our ego-centric selves, persuading us that it was okay-even desirable-to turn our Christian backs on the needy. And so he led us to our baser selves instead of to our better selves, an abdication of the obligations of leadership. But at the first news of Reagan's death, editorial cartoonists fell all over themselves in a gushfest unequaled since the assassination of John F. Kennedy.
            As cartoonist Mikhaela Reid said in her weblog (www.mikhaela.net/weblog/blogger.html), far too many of the cartoons marking Reagan's death and legacy were "overwhelmingly positive and personality-focused (as opposed to policy or history-focused) ... even though he was a very contentious figure while he was in office and probably many of these cartoonists weren't too fond of him back then." It was doubtless inevitable, given the profound sadness of his long, slow Alzheimer's journey into the clouds, that so many commentators chose fond memories rather than harsher ones. The cartoonists celebrated his everlasting affability, not the cold-hearted calculation (approaching meanness) of some of his policies. Reagan's public life was rich in the possibilities for visual metaphors, and so we had scores of cartoons about jelly beans, cowboys riding off into the sunset, and tearings down of walls (Berlin's, the Pearly Gates', or the stem cell). My favorite of the latter is by Robert Ariail, who depicts St. Peter at the check-in desk outside the Pearly Gates; off-camera to the left, a voice says, "St. Peter-tear down this gate!" St. Peter looks to the right and mutters, "Guess who's here." Just the right note, a little mockery mixed with the remembrance. Henry Payne did the best caricature, or portrait, of Reagan, thumbs up with the famous lopsided grin on display, his fabulous hair-do an American flag.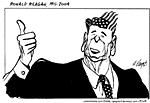 In other cartoons, Reagan's "morning in America" became "mourning in America." We saw the shining city on the hill again and again and heard "one more for the Gipper" over and over. And there were a certain number of show biz "curtain calls." Signe Wilkinson was reflective: she drew a picture of herself at the breakfast table, reading the morning paper's headlines ("Reagan Walked on Water," "Reagan Conquered Communism Single-handed") and saying, "I'm forgetting why I didn't like him." Her husband, overhearing, says, "Uh-oh-political Alzheimer's." Mike Lester drew a tv news anchor (holding his spectacles like Walter Cronkite on the day he announced the death of Kennedy but looking like Dan Rather, a sardonic comment on another aspect of life in the media) saying into the camera, "I have just been handed a note-it is my sad duty to report that all major news outlets will be obligated to say nice things about Ronald Reagan ... for about a week."

            The prognosis was exact, and as the memorializing turned into a week-long indulgence, some edgier cartoons surfaced. Nick Anderson did a cartoon in strip form about George Kennan, with captions explaining that "he was a U.S. diplomat in Moscow 1946-1948 [who] in two profoundly influential writings ... argued that the U.S. would defeat Communism without firing a shot, that the inherent flaws of Communism would lead to its eventual destruction from within, and [that] we would prevail by virtue of the superiority of our system. A fervent anti-Communist, he was the chief architect of the Cold War's policy of containment followed by seven presidents." And then comes the final panel, "But who gets all the credit for defeating Communism?" accompanied by a caricature of Reagan. Among my other favorites are those we show here: Kirk Anderson's acerbic catalog and Bill Schorr's irreverent insight.
| | |
| --- | --- |
| | |
While browsing all of these, I couldn't help but remember my favorite Pat Oliphant cartoon from early in the Reagan era, the one in which Reagan's budget director, David Stockman, shows us how the Gipper's cutbacks in social program spending is not at all endangering the "safety net"-a perfect visual metaphor for the mendacious double-talk of the Reagan Gang (now being imitated so skillfully by the Bush League).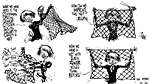 And in the midst of the orgy of grief, Uclick's MyComicsPage was innocently rerunning Bloom County when this Sunday remnant showed up, as if on cue.

Finally, here's Aaron McGruder's The Boondocks.

This brief tour of the past and present was a comfort to a peevish old gaffer like me, revealing, as it does, that against-the-grain commentary has not gone out of style altogether, the Bush League and its muzzling policies to the contrary notwithstanding.
            (Incidentally, E&P reports that the news media are now formally mounting a campaign to thwart the Bush-Cheney program of complete government secrecy by acting through the Freedom of Information Committee of the American Society of Newspaper Editors and a new Coalition of Journalists fo Open Government."[Washington news] bureau chiefs are urging their reporters to get more information on the record and stop allowing federal officials to hide behind the mask of anonymity." Associated Press chief Tom Curley "unveiled a plan on May 7 for a 'media advocacy center' to lobby for open government in Washington. 'The government is pushing hard for secrecy,' Curley said in a speech announcing the plan. 'We must push back equally hard for openness. ... The essence of the FOI Act is that government information is open and accessible to the public unless there is a very good reason to keep it secret." In this emerging climate with its passion for truth, maybe someone will finally notice that in his executive order sealing Presidential papers, George W. ("Whopper") Bush was breaking the law-just as he did when the Bush League used money appropriated for the War in Afghanistan to build a launching pad for the as-yet-unannounced invasion of Iraq. When a public official breaks the law, that's grounds for impeachment, aristotle-a far more grievous offense against democracy that covering up about a blow job. Moreover-and I can't resist this one-I'd much rather have a President who makes love too indiscriminately than one who makes war with the same licentiousness.)
            Before we abandon forever the subject of our affable actor-president, here, from Kristen Schorasch at the Iowa City Press-Citizen, is an account of Berke Breathed's telephonic encounter with the Gipper one Monday morning in 1983 while Breathed was still living in Iowa City, from whence he produced Bloom County 1981-85. The cartoonist stepped out of the shower that morning to answer the phone call, and the voice on the other end sounded, Breathed said, like that of an awkward, insecure fan. It was actually the voice of Ronald Reagan.
            "He had no cockiness. He had no swagger," Breathed told Schorasch, who was interviewing him at his home in Santa Barbara, California, earlier this month. "He didn't even have the conversational patter that one develops from being so at ease with oneself around strangers because of one's celebrity."
            Herewith, Schorasch's narrative, nearly verbatim: Reagan was calling to say how much he liked Breathed's comic strip published that day, which included a picture of First Lady Nancy Reagan drawn in the background. The strip was about a woman who put a personal advertisement in a newspaper for a new husband and had nothing to do with Nancy Reagan, said Breathed.
            "He was basically tickled by seeing a flattering picture of Nancy in the background," he continued. "He wasn't used to seeing charitable drawings of his wife."
            The First Lady's picture was a copy of one taken of her when she was about 40 years old, Breathed said. In 1983, she was about 60. After learning White House staff got his phone number from the Press-Citizen, Breathed at first thought the phone call had been a publicity stunt to better Reagan's reputation. After their conversation, though, he determined he was wrong.
            "Reagan was so confident in his own skin that he had an honest innocence to his conversation that was irresistible," Breathed said.
            What came from Reagan was genuine emotion, Breathed said, thinking that was the source of the former president's popularity. He offered to give the president the original cartoon strip and remembers Reagan sounded flattered.
            "Oh! I didn't think you fellas liked to give those away!" Breathed recalls Reagan saying.
            "Well Mr. President, there's a short list of people that we're willing to give them to, and you're on it," Breathed said.
            But he could not find the original art-the only strip out of Bloom County's 10-year history of 5,000 cartoons he could not find. Instead, Breathed sent to the president a signed copy. He said he doesn't think anyone ever noticed.
            RCH again: It's a good story, I ween, and it aptly illustrates what is as true of Reagan as it is of all of us: we each have virtues as well as flaws, and any genuinely honest assessment of one of our lives must include the good as well as the bad, the bad as well as the good.
POST SQUIB: Ray Charles died while the Reagan paroxysm was in full flower. And we did a better, more honest, job of eulogizing a man who'd brought more happiness to more people for longer than the 40th President: we played his music.
Not the Holocaust This Time
Cartoonist Joe Kubert is 78 years old. He is a comic book legend. The legend began in 1945 when he started drawing Hawkman for DC Comics; it continued through the three decades that he created Sgt. Rock war stories and in 1976, when, in his hometown of Dover, New Jersey, Kubert founded the first and, to-date, the only accredited school devoted wholly to teaching the arts of storytelling graphics.
            "I got my first paying job as a cartoonist for comic books when I was eleven-and-a-half or twelve years old," he said. "I have never been unemployed-even for one day-since that time." Says he: "I am lucky."
            But it might have been otherwise. He might not have grown up in America. He might not have grown up at all.
            In the spring of 1926, Kubert's father and mother left Yzeran, a small town in eastern Poland, for Southampton, England. Because his mother was pregnant, they were initially denied passage to America, but two months after Joe was born that September, they applied again, obtained the necessary visa, and, shortly thereafter, disembarked in the New World. Joe grew up in Brooklyn, where his father was a Kosher butcher.
            "I've always wanted to be a cartoonist," Kubert said. He started by drawing in chalk on the sidewalk. When he was thirteen, he was honing his skills at the famed High School of Music and Art in New York City. He was also drawing comic books. Across the Atlantic, Hitler had invaded Kubert's native Poland and the extermination of European Jews was well underway.
            "If my parents had not come to America," Kubert writes, "we would have been caught in that maelstrom, sucked in and pulled down with the millions of others who were lost."
            The cartoonist could not help but wonder what his fate might have been in Hitler's Poland as a teenage Jew who loved to draw. Last year, Kubert envisioned that unlived life in a graphic novel, Yossel: April 19, 1943 (128 6x10-inch pages in hardback, black-and-white; ibooks, $24.95), a stunningly executed and horrific tale-"a work of fiction," he says, "based upon a nightmare that was fact."
            His fictionalized self, Yossel (Yiddish for "Joseph"), is relocated with his parents from Yzeran to Warsaw, where they are confined to the infamous ghetto. To escape the misery all around him, Yossel draws, making pictures of superheroic characters like those he saw in newspapers, where such American comic strips as Flash Gordon and Tarzan were appearing until the outbreak of World War II. The therapeutic function of art for an artist, repeatedly invoked throughout the book, seems a trifle fantastic, a romantic fiction. But the annals of cartooning offer at least one actual instance of precisely this situation. Britain's celebrated Ronald Searle was serving in Singapore when, in February 1942, the garrison there, hopelessly outnumbered by the invading Japanese, capitulated. Searle spent the rest of the War, all four-and-a-half years of it, being brutalized as a prisoner, working, for part of the time, on the notorious "Death Railway" made famous by the movie, "The Bridge on the River Kwai." By his own account, Searle, afflicted with malaria, beri-beri, and a host of other plagues, survived by drawing. Dedicated to keeping a visual record of life in the camp, he managed to obtain paper and ink, and he drew pictures. A fellow prisoner is quoted in a Searle biography by Russell Davies: "Imagine something that weighs [about 84 pounds], is on the point of death and has no qualities of the human condition that aren't revolting, calmly lying there with a pencil and a scrap of paper, drawing, [and] you have some idea of the difference of temperament that this man had from the ordinary human being."
            For Kubert's young Yossel, drawing is likewise survival. His artwork attracts the attention of the German guards in the ghetto, and they bring him into their barracks daily to amuse them by drawing pictures of superheroes, whom the guards mistakenly take to be the Reich's fabled supermen. When Yossel's parents are evacuated to Auschwitz, the youth is exempted from the trip. And Yossel and his young friends form an underground resistance: they resolve to kill a German every night, night after night, taking the weapons of their victims to accumulate an arsenal. Eventually, the Germans strike back. Reprisal begins on April 19, 1943-the book's subtitle, the date that year of second night of Passover. The Germans expect to destroy Jewish opposition in two or three days; but they are disappointed. The resistance lasts over a month.
            Midway through the book, Yossel meets an escapee from Auschwitz, who reveals (and Kubert graphically depicts) the all too familiar (now) degrading horrors of the death camp-the pointless labor, the starvation, the beatings, the systematic gassing and cremation of thousands. But this is not another book about the Holocaust. This is a book about heroism.
            Fittingly, Kubert, who has depicted heroic action for most of his cartooning career, chose to portray his unlived life in the context of one of the most celebrated instances of Jewish defiance to emerge during the Holocaust, the famed uprising of the Warsaw ghetto. Kubert researched thoroughly in preparing to tell his story. He immersed himself in Holocaust books and diaries and studied photographs  of the streets of Warsaw, the ghetto wall, and German equipage and uniforms.
            In what could have been a fatal assault on the book's verisimilitude, the narrator, Yossel, dies at the end of the book after emptying his pistol into the approaching German horde ("they tumbled and fell ... they were not supermen," he realizes before he dies). But the visual nature of the medium cloaks this incongruity so completely that we do not notice. The pictures, alone without verbal accompaniment, carry the narrative past the cessation of the narrator's voice, beyond Yossel's death. We see the German soldiers standing over the dead bodies of the Jewish youths. One of the soldiers stoops and picks up a scrap of paper. It is, no doubt, one upon which Yossel had been drawing just before the final German attack. The soldier looks at the paper, then drops it. We turn the page, and we see that the paper he was looking at is blank.
            It is a powerful and provocative moment, turning the story inside out. Is this what has become of Yossel's life? Has it come, at last, to nothing, a mere blank? I don't think so. Instead, that last picture jolts us as readers of a "nightmare fiction" into remembering that the life we've been witnessing is the one Kubert never lived. But he might have. And if he had, would it have been as meaningless as a blank sheet of paper? Or would it, like Yossel's, ironically achieve meaning in the act of defiance that marked him for death? Kubert is clearly asking himself this question. But in the life he lived, he filled countless reams of sheets of paper with drawings.
            The visuals of this book are extraordinary. Kubert chose not to ink his pencil drawings but to leave them in varying degrees of finish-sometimes almost sketchy, sometimes burnished to a nearly final state. The gray pencil drawings against a gray background enhance the somber mood of the story. And here and there, splashes of white highlights stand starkly against the otherwise unrelieved gray of the background. Kubert's intention is to give us a sense of Yossel's life: under the conditions of his ghetto existence, the youth would have drawn only in pencil. The raw pencil drawings expertly, tellingly, evoke the atmosphere of the story: their unfinished state suggests the frayed lives of the characters, their reduced circumstances, the depredations they endure.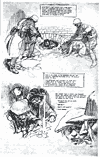 More than in many graphic novels, Kubert's pictures carry the story. There are no speech balloons; only blocks of narrative text and quoted dialogue among the characters. The pictures, then, stand apart. And Kubert's astonishing facility as a draftsman and his pervading sense of design make the artwork beautiful even as it depicts horrors and misery.
            With Kubert's book-as with Art Spiegelman's Maus and Will Eisner's Contract with God and Fagan the Jew (not to mention some of his semi-autobiographical works)-we come again, in a poetic manner of speaking, full-circle, to the Jewish presence in comics-specifically, in the creation of the comic book medium itself. A preponderance of the pace-setting persons whose names dot the landscape of the early history of comics are Jews, a fact that has recently exercised several commentators (among them, Arie Kaplan, in a three-part article in Reform Judaism, Fall 2003, "How the Jews Created the Comic Book Industry").
            A reasonable question immediately arises: Why were so many comic book creators and pioneers Jewish? One theory is that because anti-Semitism in the early decades of the century closed so many avenues of access to the mainstreet of American life, Jews got into comics because it was not yet an established industry. Kaplan quotes Mad cartoonist Al Jaffee: "We couldn't get into newspaper strips or advertising-ad agencies wouldn't hire a Jew ... [but] comic book publishers were Jewish." Much the same reasoning explains why so many of the founders of Hollywood studios were Jews, as convincingly explained by Neal Gabler in An Empire of Their Own. I submit, however, that there are other, tangential, reasons for the Jewish presence among comic book pioneers-part geographic, part demographic, and part ethnic.
            The pulp magazine publishing business, in which comic books were born, was located chiefly in New York; and New York, including its burroughs, had significant enclaves of Jewish population- mostly in neighborhoods that many Jews wanted to get out of, particularly if they were young and second generation. Proximity created opportunity. Would Irving Berlin have become a professional song-writer if he'd grown up in a suburb of Denver rather than in New York's lower east side? What's more, Jewish culture probably encouraged taking advantage of the opportunity. Not being Jewish, I can't speak with much authority about Jewish culture, but from what I have gleaned from over sixty years of observing the comings and goings of the human sapiens (sic), it seems to me that immigrant Jewish culture in the years we are considering always valued art and artists, so children with ability in art or music were encouraged to follow their talents as careers (or to find or invent careers for it) instead of being discouraged in favor of some less intellectual or aesthetic undertaking. That encouragement might lead a kid with drawing skills into the only commercial outlet then readily open to him-namely, as Jaffee said, comic books. And we have a vivid enactment of precisely this phenomenon among the pioneers themselves: Sheldon Mayer, in both life and art, embodied the tradition. As Max Gaines' teenage editor, he drew a comic strip for his boss's comic books called "Scribbly." It was about a wildeyed, spectacled youth who wanted to be a professional cartoonist. Not only that, but in the world of Mayer's stories, Scribbly, like Mayer himself, was a professional cartoonist: as a mere teenager, he was working on the local newspaper as a cartoonist. He thus personified both youthful artistic yearning and its realization in adult terms.
            There are claims of overt evidences in comic books of embedded Jewish culture. "We are people of the Book," Eisner observed, implying a somewhat broader interpretation of that expression than Mohammed intended. "We are storytellers, essentially, and anyone who's exposed to Jewish culture, I think, walks away for the rest of his life with an instinct for telling stories." Even more specifically, some critics see in Shuster and Siegel's Superman an incarnation of the golem, the legendary super-powered creature conceived by a medieval rabbi in Prague as a protector of the community against anti-Semitic enemies. The risk in such extrapolations is that we read too deeply into the material and find evidences of influences that never explicitly existed. I suspect, for instance, that all cultures have storytelling traditions at least as lively as the Jewish tradition. If not all cultures, at least most of them. Storytelling is a human trait, not just a Jewish one. As for the golem, much referred to in the years following Michael Chabon's use of the myth in his Pulitzer-winning novel about the early days of comic book manufacture, The Amazing Adventures of Kavalier and Clay, I suspect that the human psyche is sufficient of itself to spawn the creation of superheroic figures without recourse to Jewish legends in antique Europe. Early comic book readers everywhere, adolescents (then and in subsequent generations, the chief audience for the medium), feel enough put-upon by their parents and other authority figures to fantasize about superpowers and a heroic status that would make them immune from adult oppression. The creators of Superman were explicit in sharing this adolescent fantasy and in creating Superman as a result of its promptings. They didn't need the ancient golem for inspiration.
            The Jewish heritage in comic books does not seem to me to be particularly distinct or obvious. Nor is it, apparently, intentional, even if it is actually there. In the summer of 2002, the current custodians of Marvel Comics revealed that the Hulk, one of the heroes invented by Jack Kirby and Stan Lee, both Jews, is Jewish. Lee, now chairman emeritus of Marvel and no longer associated directly with the production of comic books, was tracked down by an inquisitive radio talk show host who confronted him with the news. Lee sounded both flattered and flustered. "You know, I didn't intend for him to be Jewish," he laughed. "I never thought for a minute what the characters' religions were."
            On the other hand, perhaps without realizing it, Lee and Kirby may have reproduced in the squabbling Fantastic Four some long forgotten but internalized reminiscence of a radio program they must have heard while young: just as with Molly Goldberg and her brood, the familial bickering among the Fantastic Four was endemic and heated but the affection and regard that bound the participants together was the dominant fact of the relationship. Was that the influence of Jewish culture? Or simply of eastern European immigrant culture? Or neither? Regardless, the most fondly recalled of the haunting influences of Jewish culture that can be detected in comic books remains, for me, Scribbly's world, one in which the artistic aspirations of the young are given so much credence as to result in their being accepted, without quibble, into the professional world of adults. Moreover, in Scribbly we may have the emblem for the very development and maturation of the artform of the comics.
            In the ensuing years, the Jewish influence became obvious. Chris Claremont, a Jewish immigrant from England, revitalized Marvel's X-Men in the mid-1970s and made the connection explicit. The X-Men were superheroes because they were born with a "mutant gene" that gave them each different superpowers. They were "mutants,"different from other human beings, and they were persecuted precisely because they were different. At their conception in 1963, they could have represented Jews as "outsiders" although it's my guess that they were more in step with another kind of persecution prevalent at the time: the civil rights movement was gaining momentum in those days, and the X-Men's "difference" could have been a metaphor for racial difference. But when Claremont took up the writing task, he needed, as a writer, to find motivation for his characters and their stories. "What would tie in the super-concept of the X-Men as persecuted outcasts," he remembered asking himself. His answer: "It has to be the Holocaust." For Claremont, the touchstone was the 20th century history of the European Jew. He even introduced a Jewish character, Kitty Pryde, whose appearance and, to some extent, demeanor were inspired by a girl Claremont had seen during the time he'd spent on a kibbutz in Israel. As the years had ticked by, the need felt by most first- and second-generation Jews to assimilate into the prevailing culture began to wane in their children. It was no longer as important as it once seemed to deny, figuratively-even actually-one's Jewish heritage in order to be accepted. By the time Howard Chaykin created Reuben Flagg in 1983, he could make the character explicitly Jewish, perhaps the first time for the title character of a comic book. Said Chaykin: "I'm no longer afraid, ashamed, or uninterested enough in my personal background to keep it out of the work. I'm no longer a Jew masquerading as a gentile through comics."
            Comics created over the next twenty years became more and more introspective and artistically ambitious, and the issues in Jewish history and culture could be faced directly, not metaphorically, just as the issues in all ethnicities could be encountered. Jews have a huge role in the creation of the medium from the very beginning, but in my view, their influence at the beginning was as artists and creative personalities, not as Jews. Their Jewish heritage influenced them, surely, and therefore influenced what they created and how they created it. But the driving force in their work was probably their common humanity rather than their Jewish heritage. Comics are not a Jewish phenomenon, as denominating Superman a golem seems to imply. Superman was not so much golem as he was the enactment of an adolescent daydream. But for those of us who love the medium, we're lucky comics got started in New York where there were communities of Jews whose traditions of artistic enterprise nurtured the infant artform.
            Without further adieu, metaphors be with you.
To find out about Harv's books, click here.