Opus 139:
Opus 139 (June 6, 2004). We begin with a report on the Reubens Weekend of the National Cartoonists Society that includes not only a complete list of the winners but a few of the bon mots flung about that weekend and a glimpse inside the jurying for the awards. We conclude with a review of two Gil Kane books, Blackmark and Space Hawks-by turns, a ground breaking graphic narrative form and a stunning visual narrative achievement in newspaper comics-and the annual volume of the Best Editorial Cartoons of the Year (for the year 2003). In between, we consider the careers of two giants, Syd Hoff and Gil Fox, who recently departed this vale, and the singular achievement of a favorite, Jack Bradbury, also recently deceased. And we ponder the future of the Comics Buyer's Guide, the new Disney postage stamps, Scancarelli's misfortunes in plotting Gasoline Alley, and a few other tidbits. It all starts next.
ANOTHER BATCH OF RUBES: NCS AWARDS FOR 2003. Strip cartoonists Pat Brady (Rose Is Rose) and Greg Evans (Luann) have been engaged, for the last six or seven years, in a competition. It has been the least rambunctious competition in a world otherwise mad with ferocious contentions: both contestants are low-key and respectful of each other's work. They are even friends, each wishing the other well. The competition has been so unprepossessing that few, probably, even realized that it was going on. And now, with the presentation of the National Cartoonists Society's Reuben for "cartoonist of the year" to Evans, this noncombustible rivalry has ended.
            Brady's nomination this year for the NCS's ultimate honor was his seventh consecutive nomination; it was Evans' sixth, albeit not consecutive. Thus, the two have been facing off for at least the last five years that I know of, perhaps for all six of Evans' nomination years. And every year until now, they both lost to someone else.
            The presentation of the Reuben, a weighty statuette named for its legendary creator and a founder of NCS, cartoonist Rube Goldberg (who thought, when he was sculpting the object, that he was making a lamp stand), took place in Kansas City at the annual banquet on Saturday, May 29, during the weekend's traditional round of seminars and cocktail parties and other tomfooleries. When he was announced as the winner, Evans, one of the

profession's most unflappable personalities, came to the microphone amid the cheers and applause of his peers and, with only a trace of a smile, expressed his gratitude by introducing the person he said was most responsible for his being there that evening-his wife, Betty. "She took the suit to the cleaners," he explained. Betty, brimming with joy and pride, made the acceptance speech, an exuberant recital of the ups and downs in the life of a cartoonist and his wife.
            Betty's bubbling happiness contrasted beautifully (dare I say "comically"?) with her husband's quiet demeanor, a fittingly humorous culmination to an evening of honors conferred and gratitudes extended. Earlier in the evening, Jules Feiffer -cartoonist, children's author, novelist, playwright, and perceptive chronicler of the medium's history as well as of society's foibles-had received the Milton Caniff Lifetime Achievement Award, named for the last great gentleman of the comics, creator of Terry and the Pirates and Steve Canyon (not to mention Miss Lace). That afternoon, during his presentation at one of the Saturday seminars, Feiffer had reviewed the history of his love affair with comics and speculated upon the future of the artform. Newspaper comic strips may shrink out of existence, he said, but the form will reinvent itself; words and pictures are part of our very nature, and that combination will survive. Publisher John McMeel, co-founder of the Universal Press Syndicate and Andrews McMeel Publishing (the industry leader in publishing comic strip reprint volumes), was also summoned to the podium to be presented with the Society's Silver T-Square for his long service championing the profession and the artform. Said McMeel, explaining his success by way of extending a piece of advice: "Be sure to surround yourself with people smarter and brighter than you are."
            Also presented at the banquet were the NCS Reuben "division" or "category" awards for cartooning in its various modes-comic strips, comic books, advertising, animation, and so on. Division awards are juried and selected by the seventeen NCS chapters on a rotating cycle that moves a category around from one chapter to the next over the years. (The Reuben for "cartoonist of the year," on the other hand, is voted on by the entire NCS membership.) Since being one of the final three nominees in a category is a mark of peer esteem, I'm listing here all the nominees by category; the winner in each category is marked with an asterisk (*). Newspaper Panel Cartoon: Vic Lee (Pardon My Planet), Mark Parisi (Off the Mark), *Jerry Van Amerongen (Ballard Street); Comic Strip: Brian Basset (Red and Rover), Glenn McCoy (The Duplex), *Stephan Pastis (Pearls before Swine); Greeting Card: Richard Goldberg, Gary McCoy, *Glenn McCoy (who won this category last year, too-and, in Gag Cartoons; he's also won in Editorial Cartoons, and you'll notice he was among the nominees for comic strips this year; busy guy); Newspaper Illustration: Grey Blackwell, John Klossner, *Bob Rich; Magazine Feature / Magazine Illustration: Steve Brodner, *Hermann Mejia (of Mad), Ralph Steadman; Advertising Illustration: Pat Byrnes, *Tom Richmond, Bob Staake; Editorial Cartoon: Mike Luckovich, Ted Rall, *Tom Toles (who, two years ago, left Buffalo, New York, to take the legendary Herblock's chair at the Washington Post; at the time, Toles remarked, he was thrilled to be going to Washington, D.C., which, then, he regarded as the best place to do editorial cartooning-so he was disappointed when he realized that the President can't read); Gag Cartoon: Robert Weber, Dean Yeagle, *Jack Ziegler (veteran New Yorker 'toonist); TV Animation: Rob Renzetti ("My Life As A Teenage Robot"), *Paul Rudish ("Star Wars: Clone Wars"), Tom Warburton ("Code Name: The Kids Next Door"); Feature Animation: Sylvain Chomet ("The Triplets of Belleville"), Eric Goldberg ("Looney Tunes: Back in Action"), *Andrew Stanton ("Finding Nemo"); Book Illustration: Bucky Jones, *Chris Payne, Ralph Steadman;
Comic Book: Eric Shanower (Age of Bronze), *Terry Moore (Strangers in Paradise), who remarked, upon accepting the award, that he was relieved that he wouldn't have to resort to Plan B-"booze." The third nominee for the Reuben (not to overlook the distinction in being nominated) was Dan Piraro, his second consecutive nomination for his newspaper panel Bizarro. Piraro has also emerged in the last couple years as the Society's duty emcee: he presided over the Reuben presentations and the Sunday evening festivisties, roasting veteran Mell Lazarus (Miss Peach, Momma). The comic book division nominees at first included Batton Lash for his self-published comic book, Supernatural Law; but his name was subsequently removed for reasons explained below under "Lash Out."
            While all the nominees, as I've said before (Opus 136), are sterling representatives of their craft, these round-ups always include a few mild astonishments. I'm surprised, for instance, that the categories of Newspaper Panel Cartoon and Comic Strip include such hefty helpings of relative newcomers. Van Amerongen has been doing outstanding work for years and his award is certainly over-due; but his competition, Vic Lee and Mark Parisi, have been working for only a few years. Similarly, both Glenn McCoy and Stephan Pastis have been producing comic strips for only a couple years, so Pastis's win is a signal achievement. Ditto Hermann Mejia of Mad -brilliant, no question, but his competition included such champions as caricaturist Steve Brodner and that china shop bull, Ralph Steadman. At the same time, van Amerongen's win and Jack Ziegler's confirm the Society's allegiance to quality, whether newcomer or old timer, so even in my ostensible surprise there is no alarm. The surprises thus validate the rigor of the awards system, which, notwithstanding, NCS is continually working to improve even more. (One step in that direction might be, I'd say, to resolve to give awards in this medium of visual artistry only to manifestations that cannot be accomplished by the use, day after day, of a half-dozen rubber stamps.)
            Membership in NCS stands at a little more than 600, including 449 regular members (those who earn more than half their livelihood by cartooning), 42 associate members (who don't), 44 retired, and 73 over 80 years of age (who don't, therefore, pay dues any more). Attendance in Kansas City was about 350, including about 200 members plus their spouses and families. Now in its 58th year (Beetle Bailey's Mort Walker, who, as unofficial dean of the profession, presented the Reuben, noted that this was his 53rd Reuben banquet), the Society was not expected to last long by some of the less sanguine members of the profession in the year of its birth. How, these Cassandras wondered, could any club last for long whose members were in fierce competition with each other for newspaper clients and magazine sales? But last it has-perhaps because the activities of the group have always been mostly social with only a smattering of professional preoccupations.The Reuben Weekend is typical: a jubilant succession of cocktail parties and dinners, it also offers seminars on Friday and Saturday, usually "power point" presentations (that used to be slide shows) of a cartoonist's work which he or she accompanies with a quantity of verbal patter or explication.
            These festivities commenced with a panel of cartooners from the other side of the globe led by James Kemsley, the current president of the Australian Cartoonists Association, NCS's "down under" counterpart, at 80 the oldest cartoonists club on the planet. Kemsley, who produces the national icon, Ginger Meggs, introduced his 'tooning mates, editorial cartoonist Peter Broelman, comic strip Swamp creator Gary Clark, and Sean Leahy, ACA's "cartoonist of the year" and creator of the strip Beyond the Black Stump. They introduced their characters and talked about cartooning in Australia. Next, Paige Braddock, who produces the online and comic book Jane's World, introduced Patrick McDonnell -who represents, she said, "everything that is good about comics." And the Mutts master talked about his love affair with the medium, with the way words and pictures blend to yield unique meanings. Mad's Nick Meglin introduced Mad's Mort Drucker, who explained his life's work as one of the medium's foremost caricaturists as a continuing effort "to be the best that I can be" without imitating others, no matter how much he admired them. He warned against the sort of rote creativity that occurs once a cartoonist has reached that plateau where his/her performance has achieved "a certain polish." He admonished: "Keep learning and experimenting." Greeting card maven Sandra Boynton, who, against all odds, revolutionized her industry, gave a hilarious and warmly humane presentation consisting largely of a recitation of how she learned to create and operate a "power point" presentation, illustrated by the power point presentation as she talked. She began by asserting, unequivocally, that "I became a cartoonist so I would never have to speak to a group-ever." Then she demonstrated her complete mastery of the mode, every gesture and head wag a comedic nuance. And when there were no more questions to answer, she flashed a smile and quickly brushed her hands together in a gesture of finality. Beautiful. Jules Feiffer resorted to the traditional slide projector in revisiting the comics he'd fallen in love with as a youth. And he remarked about various stages of his own career. About the motion picture he wrote, "Carnal Knowledge," he observed that no one, not even he, expected any actor to perform the role that Jack Nicholson took on. It was an impossible assignment. But Nicholson, Feiffer said, did more than anyone could wish with the part. Feiffer later asked director Mike Nichols what he'd done to get Nicholson's performance. He hadn't done anything, Nichols said: Nicholson came up with it all by himself.
            The parties began with a Friday afternoon visit to the offices of Universal Press Syndicate, headquartered in Kansas City, where a small ensemble of musicians and several pitchers of martinis assured that we got "Jazzed with Jules," in recognition of Feiffer's long and distinguished career. After an evening of more cocktails and heavy hors d'oeuvres, a karaoke contest in the Fairmont Hotel's rooftop bar concluded the day. Sunday evening was set aside for more liquid libation, hors d'oeuvres, and the "roasting" of Momma's Mell Lazarus. Dan Piraro was, once again, a polished emcee of the shenanigans. But his long-time predecessor in the role, Family Circus' Bil Keane (who had given up an 'l' in his name so that Mell could have two), most consistently achieved roars of laughter. An accomplished deliverer of one-liners, Keane started off with a classic: "As a rule, we roast only people we love," he said-"but tonight, we make an exception." This was followed by an explosion of Keane's supreme achievement, rambling meaningless double-talk, and several of Lazarus's closest friends, one of whom said, "We don't get Momma. We see it every day: we just don't get it." Cathy's Cathy Guisewite regaled the assembled multitude with an account of her one and only date with Lazarus, an encounter so bleak and humiliating that it made her career: "In one unforgetable evening," she said, "Mell took a tiny spark of insecurity in me and turned it into a 28-year career of neurotic obsession." Lazarus, as is the custom for the roastee, had the last word, a chance to zing every one of his pesterers. And he managed the assignment with aplomb, beginning: "You promised you wouldn't tell any funny jokes at my expense-and you kept your promise." He emerged with more dignity than some of his roasters. But that, I ween, is the object of the exercise.
            On Sunday afternoon when nothing else was on the NCS schedule, several of us joined Dan Viets on a tour of the Walt Disney sites in the city. Disney lived in Kansas City from 1911 until he left for California in the summer of 1923, and the little two-story house he and his family lived in for most of that time is still standing, still occupied; and in the rear is, still, the garage young Walt helped his father build and later used for his earliest experiments in animated cartooning. The building in which he rented offices for his Laugh-O-gram business is also still there, albeit about to fall down. Viets and his associates have purchased the property and propped it up while they raise more money to restore the building and turn it into a Disney museum. Viets is one of the authors of an amply illustrated record of the famed animator's early life, Walt Disney's Missouri (200 9x12-inch pages, slick paper in hardcover; Kansas City Star Books, 2002, $34.95; www.kcstarinfo.com or phone StarInfo 816/234-4636), an impressive tome, which, as guide, Viets had so memorized as to make him a walking encyclopedia. And speaking of informative tomes, if you want to know more about Milton Caniff and why NCS named its Lifetime Achievement Award after him, click here to be transported to a description of Milton Caniff Conversations, a book I edited. For Rube Goldberg's role in all this, click here to be transported to our Hindsight Department where he's listed among the features.
LASH OUT (adapted from a report in the online Comics Journal). Batton Lash's self-published Supernatural Law  was subsequently dropped from the award nominations list after the initial announcement on the NCS website. A few weeks after the posting, Lash and his wife, co-publisher and editor Jackie Estrada, received an e-mail from NCS board member Greg Evans that explained the disappearance of Supernatural Law: Estrada had served as a judge on the Comic Book Division selection committee, a circumstance that could be interpreted as a conflict of interest.  Said Evans: "The NCS board decided to omit Batton as a nominee in the Comic Book Division. The board felt that Jackie's position as a judge and her involvement with the books could be seen as biased and inappropriate. So to maintain the integrity and fairness of the awards, Batton was removed. Just wanted to be the one to tell you before you heard it elsewhere. I should have been more diligent at the judging and not allowed Batton to be considered. I've accepted full responsibility for not catching it before it went this far."
            Lash and Estrada were unwitting and innocent bystanders in the NCS's continuing effort to improve the standing of its awards. Although many of the NCS division awards are juried by NCS chapters, the Society's membership is predominantly syndicated cartoonists. In an effort to make sure that all nominees represent the best work being done in their category or division, the NCS board has in recent years gone outside the chapter membership to find competent juries in such divisions as animation and comic books. At the board's behest, Evans, a member of the Southern California Cartoonists Society, the venue of which is, roughly, San Diego, had turned to comic book industry leaders associated with the city's annual International Comic Con and had invited Estrada and a couple other Comic Con officials to serve with SCCS members on the comic book selection committee. Estrada and Lash had served on the committee last year, but Lash declined this year so that his work could be eligible for consideration. Estrada is also involved in administering the Eisner Award, and she has routinely disqualified her husband's Supernatural Law from Eisner consideration in order to avoid the unseemly appearance of a conflict of interest. Estrada brought Lash's books to the NCS selection committee meeting but declined to speak on them, making her comments only on other books that she and other committee members had brought to the meeting. During the voting, Estrada abstained and her vote counted as an average of the other votes. Under that system, Lash made the final cut. And Estrada was delighted. "Seeing as how his work is really award-worthy (he was nominated for two Harveys last year and three this year)," Estrada wrote in an e-mail to the Comics Journal, "it's a shame that he is ineligible in the Eisners, so it was nice to see the recognition from the NCS committee." It was, alas, a fleeting distinction.
            Next year, the comic book selection is likely to move to a different NCS chapter, following the practice of periodic rotation from one chapter to another.
NOUS R US. Fantagraphics' first volume of the proposed 25-volume Peanuts reprint project hit the New York Times Hardcover Bestseller List , debuting at 19th place on May 23. ... Paul Dini, who has been producing a number of elegant comic book projects for the last several years, left Warner Bros. Animation on June 1, concluding ("at least for the foreseeable future") a 15-year career there. In a farewell note on his www.jinglebelle.com site, he said he'd miss working on "great projects with a truly gifted assortment of artists and writers," but other projects beckon: "I look forward to doing more live feature film writing, more comic book writing (my own characters and others) and generally stretching myself in other creative areas." ... Editoonist Jim Larrick has been replaced at the Columbus Dispatch by Jeff Stahler, who leaves the Cincinnati Post without an editorial cartoonist. Larrick, who has been the staff cartoonist at the Dispatch for 22 years, will continue on staff in the art department. No specific reason was given for the decision. Larrick's cartoons are more in the reportorial mode than adversarial, reflecting "conventional wisdom" on issues. And Larrick isn't syndicated. Stahler is. Mike Curtain, associate publisher at the Dispatch, referred to Stahler's "national reputation" in announcing the hire; he was also complimentary about Larrick, saying that the veteran cartoonist has "the talent to do other things." ... I just received my second Harvey Awards ballot; and I've already received two for the Eisners. I guess that means I could stuff the ballot boxes, voting for my favorites twice twice. ... This month, Disney creations finally make it to postage stamps. Mickey Mouse was conspicuously absent from the Postal Service's comics commemoratives of 1995, but now the Ubiquitous Rodent and his crew are comin' on strong. On June 23, the four new 37-cent stamps will be available only at Disneyland at Anaheim, California; the next day, the stamps will go on sale at all post offices. The stamps ostensibly honor "Friendship," not cartoon characters, and each stamp depicts one set of Disney's classic buddies: (1) Mickey, Goofy and Donald Duck symbolize the perfect fun-loving relationship; (2) Bambi and Thumper, childhood best friends; (3) Pinocchio and Jiminy Cricket, mentoring; and (4) Mufasa and Simba (the only "new" friends among these classics), parent and child bonding. To see the stamps, visit www.usps.com/shop and click on "Release Schedule" in the Collector's Corner.
CIVILIZATION'S LAST OUTPOST. The New Yorker published, in its "Sketchbook" in the April 15th issue, a page of Saul Steinberg's drawings, colored pencil mostly. Steinberg has done some brilliant work over the decades, but this page isn't among that crop. In the past, a facile pen has often rescued otherwise infantile scrawls, but it's the line that rescues, not the composition or conception. Here without a looping line in sight, we have little more than childish doodles. Not everything Steinberg does is a masterwork, aristotle. Same with the other graphic genius, Picasso, who, legend has it, once tried to pass off as a work of art just his signature.
            A 14-year-old California animator was marched out of his schoolroom in handcuffs on May 27. The miscreant, a student at the Walnut Creek Intermediate School, had created an animated cartoon that his mother claimed was in the style of South Park. Circulated on the Internet, the cartoon commented on the boy's teacher calling him "a good looking peacock," a remark apparently not intended as anything but playful allusion to the kid's self-confidence. The boy heard "pee" and "cock" and produced a cartoon in which he says: "He called me a good looking pee-cock. Maybe I should kill him and urinate on his remains." The school, which, like many in these post-Columbine years, has a zero tolerance policy on violence or the threat of same, allowed itself no choice, the school board president said, but to treat the "threat" seriously. So the cops showed up. (Maybe a SWAT team, but it doesn't say here.) The boy and his mother were upset that he was handcuffed in front of his classmates, but the mother is most upset that the school didn't phone her to tell her what they were about to do. Ahhh, the times we live in. If permitted.
            In San Francisco's free speech bastion, North Beach, Lori Haigh put a provocative painting in the front window of her gallery on Powell Street. She'd displayed other unconventional works before-that, after all, was actually conventional in the venue of the Beat Generation. But this one, a rendition of the torture of Iraqi prisoners by Guy Colwell, provoked more than thought. Haigh started getting hate calls and threats, and her gallery was vandalized, malcontents egging its exterior and dumping trash in the entrance. A single mother, she closed the gallery, disillusioned and frightened for her two children. San Francisco's avant garde community, however, hoped to persuade her to re-open. Famed Beat poet and City Lights bookstore owner Lawrence Ferlinghetti called the reaction to Colwell's work "an alarming development" fostered by a growing attitude nationwide that dissent must be suppressed. Haigh, although not supportive of the invasion of Iraq, is not a crusader, she says. She's torn between her desire to defend Colwell's artistic vision and her need to preserve her business. But when callers started threatening her children, she gave up. "I wish they would aim their criticism where it belongs, at the military," she said; "but I can't sacrifice my family for principles."
GOOD-BYE CBG. Issue no. 1594 of The Comics Buyer's Guide is a keepsake here at Rancid Raves Central: it's the last weekly issue of a newspaper that's been weekly for over three decades. Alan Light, age 17, launched it as The Buyer's Guide for Comic Fandom in February 1971. With twenty pages of ads, it went to 3,600 "subscribers." It was monthly at first, but within a year or so, it was coming into my mailbox every week. I'm not sure why the current management of CBG decided to go back to a monthly publication schedule. A monthly publication will be more humane: staffers can get a day off easier, I'd guess. But the size of the new monthly "magazine," a huge page count, is daunting. The magazine format itself was doubtless part of the temptation to go monthly: slick stock, color pages, all that. Most editors are easily seduced by the high production values usually associated with magazine publication, and in a field in which graphics are paramount, the appeal is just that much greater. And probably Krause, the publisher, couldn't afford to staff for a weekly magazine; so if the publication would take magazine form, it would have to be on a monthly basis. A monthly magazine may, indeed-as proclaimed-give its readers "more" in the way of in-depth articles and nifty illustrations. The page-count, as I said, is impressive. Then there's the "price guide" aspect of the enterprise. I haven't researched any of this (that is, I haven't read extensively in CBG's prospectus or anything like it), but my guess is that the new magazine will include more "data" on comic book prices, their so-called values. It will become, more and more, a publication for the most fanatic speculator collectors, those who can barely stand to hold their comic books in their hands for fear they'll somehow damage the things by imparting to them a microscopic patina of palm sweat. The new monthly CBG may be running head-to-head competition with Wizard; sure seems that way. And I suppose the chaotic layout practices of the Wizards will insinuate themselves into the new publication.
            But for all the appeal of a slick magazine format, I suspect that advertising was the clincher in deciding to go monthly. The weekly paper has been for the last few years fairly consistently about 50-60 pages in scope, a size determined more by the number of pages of ads than by the amount of editorial material available. Compared to the size of CBG a decade or more ago (when 100-page issues were almost common), I suppose the publisher was diligently casting about for a way to improve the advertising side of his equation. Dunno how the balance sheet works out, but my guess is that the Powers That Be are convinced their advertising revenues will go up with monthly publication.
            Whatever the appearance and content of the monthly CBG, though, I'll miss the weekly paper. I gave up reading it cover-to-cover long ago, but as a potential vehicle for fast-breaking news, the weekly was a boon. No other publication in fandom could cover developments on a more timely basis. While the online version of CBG promises to perform than function, it won't be the same as that package in the mailbox. Hasn't been so far anyhow. But we'll see. I'll be looking forward to getting No. 1595, the first of the monthly onslaught.
STRIP WATCH. In Gasoline Alley, the mystery that Walt Wallet's wife Phyllis ("Auntie Blossm") promised to solve-explaining why Skeezix's mother left him on Walt's doorstep 83 years ago-was being solved last week, even though Phyllis died a month ago, ostensibly taking the secret with her to the grave. Phyllis' death came after cartoonist Jim Scancarelli had carefully created the suspense about Skeezix for several weeks. Her death ought to have prompted a great outcry of frustration from Alley fans who were, presumably, hanging on tenterhooks awaiting the revelation. Having primed the pump, Scancarelli is too good a storyteller to disappoint us: on May 20, he returned to the mystery and started unraveling it. Skeezix, looking among Phyllis' effects, finds old letters from his birth mother, Madame Octave-who, it turns out, is Phyllis' sister. Pregnant and abandoned, for all practical purposes, by her philandering husband, Octave, a professional singer, could scarcely cart a baby around with her, so she left her son with ol' Walt, a bachelor at the time but one who, in sister Phyllis' opinion, would make a good parent. And Walt lived only a couple doors away from where Phyllis was living then, so Phyllis could keep an eye on her sister's offspring. At the time, Phyllis was known as "Auntie Blossom," a widow; eventually, she and Walt married. And she became Skeezix's "mother" (although she was actually his aunt). Octave couldn't leave the baby with her sister, Phyllis, because Phyllis was a widow and a scandal would ensue if she suddenly turned up with a newborn baby. In explaining this last scrap of intelligence, Scancarelli nearly violated the strip's continuity. He'd forgotten, apparently, that Phyllis's husband, a soldier named Jack Blossom, had been killed; he thought the two had divorced. At the last moment, though, his memory was jogged (by me, actually-aided considerably by Bob Bindig), and he phoned a correction into his syndicate, Tribune Media Services. In the strip for May 29, Walt's speech balloon in the last panel has been altered. Originally, he said, "Phyllis was divorced ..."; but Scancarelli changed "divorced" to "widowed," an adjustment supposedly made before TMS had circulated the week's strips to client newspapers. Alas, it didn't quite work out. Some papers ran one version; some, the other. And on this ethereal 'Net, fans pondered the discrepancy: is Phyllis a widow or a divorcee? Whatever the case, the confusion was inaugurated, briefly; now, here, cleared up.
            Scancarelli has been puzzling about the mystery of Skeezix's abandonment for months-years maybe. And he had set himself the task of figuring out an explanation. The strip's creator, Frank King, had introduced Skeezix's real mother, Madam Octave, who kidnaped her son once (as Scancarelli rehearsed earlier this year in a flashback sequence with Walt telling Skeezix about it). But King never got around to explaining why Madam Octave abandoned her child. Once Scancarelli doped out an explanation, he then staged the last three months of painstakingly wrought prolongation, interrupting the "main story" (the explanation of Skeezix's abandonment) for the season's most sensational development, the death of a major character, Phyllis. All very artfully arranged and deployed. But, as the philosophical Scancarelli will be the first to admit, the best laid plans of men as well as mice oft gang alay (as Bobbie Burns would have it). Jim had deliberately conducted the death of Phyllis in a way that led some readers to suppose it might have been Walt who died. And then when it was revealed that it was Phyllis who had expired in her sleep that night, the sensation of the revelation was overshadowed by another comic strip event that week: in Doonesbury, B.D. lost his leg in Iraq. Then in the midst of the disclosures of Madam Octave's letters, Garry Trudeau again sucked the oxygen out of the media with a Sunday Doonesbury in which he listed all 700-plus names of the U.S. soldiers killed in Iraq. If Scancarelli ever figures out how to deal with 104-year-old Walt Wallet, whose demise must be imminent, he may never actually execute the plan for fear that Trudeau will upstage him yet again as he has now formed the habit of doing.
            If not Trudeau, then maybe Aaron McGruder. The Boondocks, now drawn by Jennifer Seng, is no less acerbic in attacking the policies of the Bush League, but it's panels are now filled with more drawing than before, when McGruder resorted to an endless parade of talking heads. Now we see actual figures. And the manga influence is much more readily discerned.
            In Betty, a strip about a middle-aged self-reliant and self-respecting lower middle class housewife and her husband Bub and son Junior, Betty and Bub were at a newsstand earlier this week, where Bub looks the crop of comic books. "I used to read Batman and Superman," he says, "and also Dr. Strange, the Fantastic Four, and the Green Lantern, but," he continues with an anticipatory grin of pleasure on his face, "let's see what's new and exciting." Says Betty: "Here's one about a bald guy who works in a mail room." And Bub, looking suddenly somewhat glum, says: "This one's about a dead guy." The next day (June 2), he decides to buy one about "the usual-a lone hero who stands for what's right." Betty decides to get something like that herself, she says, and heads for the Oprah magazines. The visual staging for this gag is essential to its comedy (see www.comics.com ). Bub and Betty are standing next to each other in the penultimate panel in which Betty announces her intention to find "something like that" to read herself. In the last panel, she heads off to the right; Bub points in the opposite direction and says, "Um ... the comic books are this way." Betty, pointing, says: "The Oprah magazines are this way."
            Betty is one of many contemporary comic strips produced by a team, a writer and an artist. Gerry Rasmussen draws it, and Gary Delainey writes it. But Delainey is as much the artist as Rasmussen. They met while in college taking art courses. They were in a painting class together. "After class we would get together with a group that was interested in cartooning," Rasmussen said. "We'd have some late night 'jam sessions.' We would make up characters and different strips. We would each start a strip on a page, which would be the first frame, and then we would pass it to the next guy. Some of these sessions started off with as many as twelve people. Slowly, Gary and I felt it was time to pool our resources because we thought we were doing some stuff that was really interesting and we worked well together. That's how Betty was formed." Their mutual artistic inclinations have been important to their successful collaboration. "The thing I've really enjoyed," Rasmussen said, "is that we both came from a visual art background. When Gary writes, he writes in pictures so it's not something that I really have to translate from a written idea. He conceptualizes it visually from the start. One of the biggest stumbling blocks in doing good comics is to always think in pictures. ... It's all got to be in the drawings." Delainey agrees: "A lot of times I have to draw because the writing itself would leave Gerry scratching his head. It has to be with the appropriate pauses and camera angles in order to come off at its maximum." Rasmussen's drawing style has about it a comfortable lived-in feel. An antique nimbus hovers, making me think of E.C. Segar's Popeye but only vaguely: Rasmussen's work is entirely modern-clean, uncluttered, blacks adeptly spotted-but modeling notches cut at the edges of noses and necks invoke the galoot manner of the masters. Nicely done. Back to Bub and his comic books: in the first panel on June 3, he's reading a comic book. In the next, he's scribbling on a pad of paper as he works a calculator. In the third, he mutters, "I was afraid of this ..." And he turns to Betty and says, "Using the current price of comic books as an indicator of inflation, I'm making about the same income today as I did when I had a paper route." Timing is all.
SEND-OFFS. May's toll was pretty heavy: the cartooning firmament lost three of its stars. On May 12, Syd Hoff, veteran New Yorker cartoonist and children's book author, died of pneumonia at a Miami hospital; he was 91. Born in the Bronx, he enrolled in the National Academy of Design in New York, hoping to become a fine artist. It didn't work out that way. Said Hoff: "A natural comic touch in my work caused my harried instructors to advise me to try something else." So he did. At the age of 18, he sold his first cartoon to The New Yorker; it was published in the issue for August 1, 1931. He did 571 more for the magazine, according to the present cartoon editor, Robert Mankoff; the last was published January 27, 1975. Hoff specialized in cartoons about his old neighborhood, depicting portly working class families, whose fathers sat around in their undershirts, all rendered in simple rotund shapes outlined with a bold brush stroke and embellished with a gray wash. In one cartoon, an undershirted man at the window of his apartment looks through the window of the apartment across the air shaft and watches a quarreling couple; he says to his wife, dressed to go out, "The drama of life is under our noses, but you have to rush to the movies." In another, as an unhappy father inspects his son's report card, his wife says, "Suppose he doesn't get the best marks in his class. Do you get the highest salary in your office?"
            In 1987, Hoff explained his niche to Jud Hurd, editor of Cartoonist PROfiles: "Harold Ross, who was the founding editor of The New Yorker, sort of made me the Bronx correspondent of the magazine as far as the cartoons were concerned. He thought my style represented or was catching the image of the Jewish people, mostly in the city of New York. My cartoons expressed my natural feeling-the types of people I was drawing were the people I had always seen all my life. The captions echoed what I heard these people say. I felt that I was doing something that came naturally to me. After a few years of this, it became apparent that I had been typed. So they were buying only this kind of drawing from me. I wasn't really thinking of trying to emulate, for example, the kind of [dissolute upper-crust] characters that Peter Arno was doing. From me, they were buying cartoons about these low-income group people who lived in tenement houses and had problems with being able to hear what the people next door were saying, and so on. This became my bailiwick, the environment for my drawings. Occasionally, for other magazines, I did cartoons involving Park Avenue types, but never for The New Yorker. Ross was the only editor I really revered and the one who 'discovered' me, if I can use that expression. I grew up in the Bronx and the furthest I ever got from it was when I met my wife who came from Brooklyn. It was an inter-city romance-we've been married 49 years but it seems like 19."  Hoff was heart-broken when his wife, Dora "Dutch" Bermann Hoff, died in 1994, but he remained active, playing handball at Miami Beach's Flamingo Park courts until he got skin cancer.
            Hoff sold cartoons to virtually every major magazine, and in the 1930s, he produced several cartoons ridiculing the moneyed classes for a socialist magazine; these, he signed "A. Redfield" or "A.R." Late in the decade, he joined the ranks of newspaper cartoonists: his Tuffy comic strip was syndicated, May 6, 1940-September 2, 1950; and he followed that with a daily gag panel, Laugh It Off, which ran from January 6, 1958 to January 8, 1977. In the 1950s, he starred in a series of tv programs, "Tales of Hoff," in which he told a story and drew cartoons. His on-camera experience was a direct result of his second career as author of children's books.
            "I sold Danny and the Dinosaur to HarperCollins in 1958," Hoff remarked, "and suddenly, at 46, I had a new career." The story of the towheaded boy who rides a brontosaurus out of the natural history museum originated in the stories and pictures Hoff drew for his daughter while she was undergoing physical therapy to remediate a disability. It landed at HarperCollins in late 1957, just as Random House was contemplating the launch of its Beginner Books series, ostensibly edited by another cartoonist, Dr. Seuss, whose The Cat in the Hat had flown off the shelves at bookstores earlier in the year. It was the dawn of the age of "learn to read the fun way" books; Seuss's Green Eggs and Ham, which he wrote when challenged to write a book with a 50-word vocabulary, appeared in 1960. At HarperCollins, Danny was among the first titles in that publisher's I Can Read series. Hoff would eventually produce nearly 200 books for children, including some that he illustrated for other authors. Said Hoff's editor: "Syd was so good at humor for young readers and for creating big-hearted characters. There is so much competition [in entertainment], but children are still very excited to be able to read. That magic hasn't gone away."
             Most of the Hoff obituaries headlined the death of a children's book writer, not a cartoonist. But the sensibility of a cartoonist is akin to that of a good storyteller for children. According to Eric Nash in the New York Times obit, "Mr. Hoff's books are so successful because they clearly link words and pictures"-a cartoonist function. Esther Peart, a neighbor of Hoff's in Miami Beach, recalled going to Hoff's place and listening to him read his books. "You could tell he had such a connection with those books," she said. Peart, who has a 7-year-old son who reads Hoff books, isn't surprised that kids like the books. "Maybe it's the way he related to being a kid in his books. It so outweighs all the bells and whistles and computer games," she said. Hoff also produced a book on how to cartoon, Learning to Cartoon (1966 reissued as The Art of Cartooning in 1973) and an ambitious and mostly successful illustrated history of editooning, "from the earliest times to the present ... with over 700 examples from the world's greatest cartoonists," Editorial and Political Cartooning (1976).
            Three days after Hoff left us, two more cartoonists died, both on May 15. Near his home in Redding Ridge, CT, Gill Fox died at the age of 89. In recent years, he'd been producing editorial cartoons for a local three-times-a-week Connecticut newspaper, the Fairfield Citizen News, but his career ran the gamut of cartooning. His first cartooning job was as an inbetweener with Fleischer Studios, and when that outfit moved to Florida, Fox found work in the comic art shops of Loyd Jacquet (1935) and Harry "A" Chesler (1936-37), and he was an editor at Quality (1940-42), where (1939-43) he also drew covers and such dissimilarly styled features as "Death Patrol," "Poison Ivy," "Slap Happy Pappy," "Wun Cloo," "Granny Gumshoe," and "Candy." He followed, and deftly imitated, Bill Ward on "Torchy." He could draw expertly in any style. In fact, he claimed he had no style of his own-but he didn't mind: "All I can say is that I love to draw-no matter in what style it is." He arrived at this enviable situation through diligent practice. When learning to draw, he, like most neophyte cartoonists, copied the people whose work he admired. "I used to lie down on a studio couch with a huge pile of originals and reproductions of the cartoons of a man whose work I wanted to study," he explained to Jud Hurd (Cartoonist PROfiles, no. 6, May 1970). "This takes a good deal of time and I'd spend hours discovering the key to his style. There's a key to everyone's style-you begin to notice repetitious patterns, the things the cartoonist does, the tricks he uses, etc. And when, later, you're trying to imitate him, you also have to maintain the mood that is associated with his feature. ... I might add that a cartoonist who had developed his own very definite style over a period of years would find it very difficult or impossible to to develop this ability I've been talking about. You see, when I started this method, I didn't have a style of my own."
            During World War II, Fox found a drawing billet on the base newspaper where he trained and then, when shipped overseas to the European Theater, he eventually wound up on the staff of one of the editions of Stars & Stripes, the newspaper for the armed services. When he returned to civilian life, he freelanced for Quality and tried to get on the staff at Johnstone & Cushing, the legendary agency doing advertising cartoons. Staff members at J&C were essentially on-the-premises freelancers: they were given rent-free office space and had unfettered access to equipment and materials in return for which the artist gave J&C assignments priority over all other freelance work. Before being invited to join the staff, Fox freelanced out-of-the-office for a time. His first freelance assignment was a series of roughs for the Ex-Lax account, the famous laxative of the day. Fox recalled the circumstance: "Just about this time, I had been leafing through some book and had noticed a photo of Rodin's famous statue, 'The Thinker.' And I worked an idea for the Ex-Lax roughs using this figure. Believe it or not, it never occurred to me until I showed the roughs to Jack Cushing that the position 'The Thinker' was in made the use of that particular cartoon impossible in an Ex-Lax ad. Cushing really broke up when it saw it."
            Once on staff at J&C, Fox joined such luminaries as Dik Browne, Lou Fine, Creig Flessel, and Stan Drake. But Fox was eager to get a syndicated feature and spent his spare time conjuring up ideas for strips. He later estimated that he produced 22 strip ideas in 25 years. Before the War, Fox had briefly drawn a ersatz Chinese philosopher newspaper panel cartoon called Ching Chow. In the early 1950s, he teamed with a radio and tv writer, Selma Diamond, to produce a semi-straight story strip called Jeanie (1952-54). Jeanie was an aspiring young actress who came to New York to make it big, and the strip dealt with her breaking into show business. (Sound familiar? Leonard Starr made it big with another strip along these lines called On Stage, which debuted in 1957. But Jeanie wasn't the first ingenue strip; she was preceded by Dixie Dugan and, even, Ella Cinders, to mention a couple strips that focused on showgirls.) Subsequently, Fox did a humor panel about a little kid who looks remarkably (and not at all coincidentally) like Hank Ketcham's Dennis, Wilbert (1954-59), and, nearly simultaneously, a Sunday strip, Bumper to Bumper (1952-63) before settling in with Side Glances, a panel cartoon that had been originated by George Clark in 1930 and continued by William Galbraith Crawford (who signed it "Galbraith") when Clark gave it up in 1939. Originally, Fox had come in to substitute for Crawford when the latter took ill; in 1961, Fox took it over himself and continued it until it expired in 1982. After that, Fox did a variety of freelance jobs and then, in 1990, started doing political cartoons for the Connecticut Post; when that job evaporated in 1996, Fox found work for his crusading pen at the aforementioned Fairfield Citizen News. Looking back over his career in an interview reported in Alter Ego no. 12 (January 2002), Fox said he was proudest of his political cartoons: "I've gotten more satisfaction from doing those than anything I've ever done," he told Jim Amash.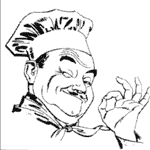 Among Fox's freelance artworks is a drawing of a chef that has appeared on nearly every pizza box since the dawn of pizza-probably, as Craig Yoe put it, "one of the most iconographic pieces of art in history. I'd even venture to say it may be the most reproduced image of all time. Gill enjoyed this fact [the never-ending re-use of this scrap of art], and so I wanted to be sure and mention it. He was one of the sweetest, nicest guys I've ever had the great pleasure of meeting." So persistently did Fox help young cartoonists on their way that the National Cartoonists Society gave him its Legend Award. He was a giant.
            The same day, May 15, that Fox departed this vale in Connecticut, on the other side of the country, Jack Bradbury died in Santa Rosa; he, too, was 89. Bradbury was a veteran animator, who worked on such Disney film sequences as Bambi's stage fright, the Pegasus family in the original "Fantasia," and Figaro in "Pinocchio." But Bradbury's impact on my young imagination occurred through the funny animal comic books he drew stories for, ACG titles, mostly- Ha Ha, Giggle, and Coo Coo. Like other West Coast animators of the day, he moonlighted in comic books. Bradbury had been working at Warner Brothers for a couple years when Jim "Fox & Crow" Davis set up his shop to supply comic book art to such East Coast publishers as ACG, and Bradbury joined the crew of late-night laborers, sometimes actually working in Davis's offices. Bradbury also drew Beany and Cecil Comics in the early 1950s, but the characters I loved were the ones he wrote as well as drew-Spunky the Junior Cowboy and his talking horse, Stanley. Spunky debuted in Nedor's Coo Coo no. 22, February 1946, as "Spunky the Pronto Kid." Thereupon, he meets a stray cayuse named Stanley and discovers the horse can talk. Spunky got his own title under Standard's banner in April 1949, and Spunky ran for seven issues through November 1951. Bradbury told me he wrote them all as well as drew them and had a great time doing it. Apart from Bradbury's deft anthropomorphizing of the horse, I particularly doted on the way he drew characters when running. It was, I told him, "the Bradbury Dash," in which the characters were always bent impossibly far forward at the waist, elbows up high. They even walked with their elbows up-"the Bradbury Saunter," I dubbed it. Once witnessed, never forgotten. When I met him, he was already suffering from macular degeneration and had only peripheral vision. Gasoline Alley's Jim Scancarelli is also a big Spunky fan, and he drew Stanley in one of his Sunday nostalgic pages, July 28, 2002. He sent a copy of it to Bradbury, and Bradbury, using a computer with giant type, typed a letter back: "Months ago, our long absent friend Stanley was suddenly resurrected in a Sunday issue of your grand old Gasoline Alley. He was pleased as punch, clear out of his jug-headed gourd. Now I, his long suffering stable-mate, have a swell-headed nag on my hands who thinks he might also like to be in the movies. The old hayburner has apparently lost none of his desire to take advantage of every opportunity." In a subsequent exchange of correspondence, around Christmas 2003, Jim wished Jack and his wife, Mary Jim, the season's best and told him to say "Hey" to Stanley. Bradbury wrote back: "As per your instructions, I said 'Hey' to Spunky and Stanley, and you should have seen ol' Stan's ears perk up and his face brighten. 'Where?' he shouted, looking around expectantly while drooling a bit. He thought I'd said 'hay.'" Just for laughs and a lingering look at the Bradbury Dash and the Bradbury Saunter (not to mention a talking horse), here are a couple pages for Spunky and a copy of Scancarelli's Sunday page with Stanley giving us all the horse laugh.
BOOK REVIEWS. Pelican Publishing's annual collection of a year's worth of political cartoons has been out for a couple months, Best Editorial Cartoons of the Year: 2004 Edition (208 8.5x11-inch pages in paperback, $14.95;  www.pelican.com), and, as always, it is well worth its price tag and the time it takes to leaf through its pages. Assembled by a retired editoonist, Charles Brooks, the volume showcases what purports to be the "best" of the cartoons published in 2003. Every year since 1972, Brooks, who worked for 38 years as editoonist at the Birmingham News, has selected the content of this tome from contributions solicited from the inky-fingered fraternity.
            The cartoonists submit what they regard as their best work, up to five cartoons; but the published selection often betrays the conservative bent (or gentlemanly decorum) of its editor's Southern base, and for that reason, some of the more liberal, or iconoclastic, cartoonists have often not been well represented in past years. Some do not participate at all-the acerbic Pat Oliphant, for example. Still, the series is the closest thing to a year-by-year review of the work of the nation's editorial cartoonists available; and in recent years, the decibels of the liberal drumbeat have somewhat increased herein, providing balance and thereby a much more representative glimpse of the temper of the times.
            The current edition, for instance, is much less doctrinaire conservative (or "decorous") than many of the previous volumes. That may be due, largely, to the events of the year itself. The invasion of Iraq was the principal happening of the year, and although it went quite well, considering, until the "mission" was "accomplished," it very soon thereafter deteriorated into a fiasco of mismanagement, becoming, thereby, a windfall for editoonists, who delight more in attacking stupidity and pomposity than it championing brilliance and humility. Cartoons on the Iraqi adventure, then, are understandably more critical of the Bush League's policies than supportive.
            The faltering economy and the on-going failure in resolving the Israeli-Palestinian conflict also come in for lumps. As do news media excesses. The annoyance and ineffectuality of Homeland Security and airport screening, however, don't seem to rate as much attention as the suspension of NASA's space program.
            The book's chapters include, in addition to the Iraq/Terrorism section, Bush Administration, Politics, Democrats, the Economy, the Media, Foreign Affairs, and so on. The Bush Administration does not fare well in its section; neither do the Democrats, although their section is much briefer. (Assembly of the book begins in November, so the results of the race for the Democrat presidential nomination aren't touched on herein.)
            A glance at the book's index provides statistical support for the contention that liberal as well as conservative points of view are well represented. In many of the previous volumes, cartoonists of a conservative bent get all five of their submitted cartoons published; the more rampant liberals, far fewer. But this year's index reveals that many of the liberal persuasion logged in five cartoons this year.
            Visual metaphors are the weapons of the editorial cartoonist, and the clout of an editorial cartoon lies in the impact and duration of its imagery. A memorable picture will presumably lurk in the minds of its beholders, influencing their opinions forevermore. Steve Sack of the Minneapolis Star-Tribune has emerged over the past couple years, generating striking images with his stunning new pencil-shading technique. Here's a picture of President Bush shaking an opened box labeled "Iraqerjack-WMD Prize Inside,"  and when nothing but crackerjacks falls out, Bush mutters to himself, "Dang." By using a child's treat as his metaphor, Sack describes Bush's predicament in terms that reduce the entire bellicose enterprise to a childish indulgence.
            Sometimes a good gawfaw is the best comment. Addressing the recall vote in California, Scott Stantis of the Birmingham News drew a three-panel cartoon: in the first panel, a Californian is holding a baseball bat aloft and saying, "I'm mad as hell and I'm not going to take it any more"; in the next panel, he hits himself repeatedly on the head with the baseball bat; and in the last panel, he's prone on the ground, and he says, "So there ..."
            The book contains many more memorable images from the likes of Clay Bennett, Dave Horsey, Kevin Kallaugher, Dick Locher, Mike Luckovich, Ed Stein and more. It also lists the award winners in cartooning for the last year and provides a cumulative list of the winners of Pulitzer Prizes, the Sigma Delta Chi (National Society of Professional Journalists) Awards, and Canada's National Newspaper Awards. In short, the BECY is, as always, a handy source of historical information as well as an entertaining, and provocative, review of the major events of the year.
Marks of Kane. Two superb books of comic book artistry rose up out of the mire of general mediocrity last winter. Both feature the work of one of the medium's masters, Gil Kane. Kane had been drawing comic books since he was about 16 years old in 1941 or so, and by the time he got to 1977, he'd worked for just about every publisher and had drawn the heroic human figure in action in just about every genre of the medium. Then came Ron Goulart and Star Hawks. Apart from Calvin and Hobbes in its latter-day Sundays, there has been only one shining example in the last half of the century of the dramatic potential of cartoon strip layout. And that was Star Hawks.
             Star Hawks was drawn by Kane and written by Goulart, who created the feature. It ran for only four-and-a-half years (October 3, 1977-May 2, 1981), but it was the most imaginative innovation in the newspaper strip since adventure stories invaded the funnies. Goulart furnished fast-moving stories, crisp and economical scripting, and more than an occasional flash of humor. This alone made Star Hawks almost unique among its fellows, whose stories so frequently must plod humorlessly along through an unruly undergrowth of verbiage. But Star Hawks' toe-hold near the pinnacle of note-worthy comic strips is best secured by its graphic treatment. In format, Star Hawks was a two-tier strip: it occupied the space normally filled by a stack of two daily strips. The notion of a double-decker strip was Flash Fairfield's. Director of Comic Art for the Newspaper Enterprise Association syndicate, Fairfield began toying with the idea of a space adventure strip in the summer of 1976 (in other words, before "Star Wars"). The double-truck format he saw as a way of putting life back into the adventure continuity strip.
            "Basically, we felt that continuity strips would never make it the way they've been presented in recent years," Fairfield recalled in Cartoonist PROfiles: "they just don't have enough space. But with the success of tv [serial] specials such as 'Roots,' 'Rich Man, Poor Man,' and so on, we figured we could get back into the comic sections and demand more space. If we got more room in which to operate, then we could show newspaper editors how exciting a continuity could be if it had this extra space, and could demonstrate to them that readers would be receptive to the idea."
            Fairfield ran into Goulart, found out he was a science-fiction writer, read and liked some of Goulart's books and stories, and eventually enlisted him to write the new strip. It was an inspired choice: not only was Goulart an sf writer of years' experience, he was a collector and fan of comics and author of numerous books on the medium. Goulart knew and understood comics, and the Star Hawks stories reflected his thorough grasp of the form's nuances. Goulart contacted friend and neighbor Kane, and the creative team for Star Hawks was born. Kane was as inspired a choice as Goulart. The two-tier format of the strip opened up possibilities that would be most apparent to someone accustomed to the more expansive format of the paginated form. And Kane, as I mentioned, was more than a little accustomed.
            Kane was clearly the artist for the assignment. And he, like most of his generation, had "studied" the newspaper strip work of such early masters as Harold Foster in Prince Valiant, Alex Raymond in Flash Gordon, and Milton Caniff in Terry and the Pirates. He grew up on newspaper adventure strips in the pre-war years when they occupied lavish amounts of space. And he, like many of his colleagues, aspired to doing a newspaper strip. Star Hawks was a dream coming true. "We soon realized," Goulart said, "that because of its unique size, our strip had to have a look of its own. What we were providing was the equivalent of a full comic book page every day. Gil decided not to pile two dailies on top each other but to break up his space in much more effective ways."
            In its unprecedented expansive format, the strip afforded Kane the space a high adventure story needs. Varying panel size and layout from day to day, as I point out in a book of mine (The Art of the Comic Book, which you can see more hints of by clicking here), Kane broke old molds for newspaper strips. His panels slashed vertically through the two-tier space allotment, and Kane filled the large panels with exotic scenery and complex machinery and crowds of fighting men: with this much elbow room, Kane could create and sustain an authentic futuristic atmosphere for Goulart's stories. "The story and dialogue were mine," Goulart explained, "but the actual staging was a collaboration. Gil's input was usually on how the story was told, not what was said. And we kicked around ideas for characters. Gil was always enormously conscious of staging. We devoted a great amount of time to the timing-and how you went from one scene to another."
            The spacious Star Hawks format permitted Kane to do more than set his scenes with impressive splash panels. Kane cut up his space to suit each day's story installment. And on days when the narrative demanded it, he staged the story in five or six panels, timing the action in ways that the standard one-tier strip in the diminutive dimension of the 1970s could no longer aspire to. Sometimes a series of strip-wide horizontal panels emphasized the sprawling action of a sequence; sometimes the panels were narrow verticals, suggesting slices of time or, like one of the two daily strips reproduced near here, representing towering heights.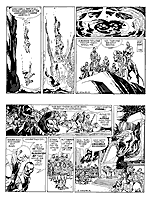 And throughout, Kane's distinctive graphic style-a crisp, almost brittle, line of unvarying width, whose delicate delineations are sharpened and made emphatic by liberal use of strategically placed solid blacks. Kane's style contrasts what he calls "geometric" and "organic" qualities. The geometric line "drops precipitously and brilliantly from one point to another and actually accents the shape by being natural and geometric." A geometric illustrator, for example, makes fingers squarer-"but always with the idea of evolving the shape, the silhouette." In Star Hawks, we see clearly Kane's stylistic objectives being realized: the rounded, flowing forms of the human figure are in stark contrast to the flat planes of space machinery and buildings. But even in the human figures, balled knots of muscle, sinew, and bone take geometric shapes as they also mesh together to define the natural forms of anatomy in motion.
            Stylistic achievement aside, Kane's signal accomplishment in Star Hawks lays in the manner in which he exploited the potential of his strip's novel format, giving us an impressive demonstration of the storytelling potential of comics art. Not since the thirties had an adventure strip been afforded the sort of room that permits this kind of storytelling-the kind that displays the best of which the medium is capable. The National Cartoonists Society recognized Kane's newspaper strip achievement with a silver plaque for best story strip in 1977-as it had his work in comic books with similar awards in 1971, 1972, and 1975.
            But after a couple years in the sun, Star Hawks faded. Partly, the very ambitiousness of the project contributed to its downfall. To publish Star Hawks, newspapers had to make room on their comics pages by dropping two other comic strips; no matter how they managed that, scores of readers would complain. So newspapers didn't line up by the dozens to buy the strip. Without circulation, income was iffy. And Kane, who had to earn a living, tried to keep up his commitments with Marvel while also doing the strip. Inevitably, he began to fall behind. Other artists helped out. Kane fell ill; more substitutes. Then the strip acquired a new editor who didn't like Goulart and eased him off the strip he'd invented! Archie Goodwin took over scripting with the April 30, 1979 release. Three months later, on July 30, Star Hawks became a single-tier strip, like all others.
            But the glorious days of the Kane-Goulart team are well preserved in this giant 9x12-inch, 320-page volume from Hermes Press, which has published two other Kane books (Gil Kane: The Art of the Comics and Gil Kane: Art and Interviews). Star Hawks: The Complete Series ($49.99) includes the whole run of the strip, Goulart-scripted and post-Goulart. Dailies and Sundays. The whole enchilada. The book's only flaw is a significant one: it prints four daily strips to a page, which reduces them to a horizontal dimension about an inch or so smaller than they appeared when first published in newspapers. Considering the extravagance of the visual concept of the feature, the decision to run the strips so small seems a rank disservice to Kane's art. But the cost of production is ever a factor in such endeavors. And to make up somewhat for this blemish, the book is printed on slick coated paper that is capable of retaining the smallest details in the artwork. And the art in most of the strips is well served here. The book is outfitted with a Foreword by Goulart and an Introduction by Hermes' Daniel Herman. Goulart gives a short history of his partnership with Kane; Herman rehearses Kane's career. Although the bulk of the pages are in black-and-white, a concluding section reprints the first two-and-a-half months of the Sunday strips in color. Star Hawks is one of the great achievements in the medium, and we are fortunate to have the whole of it at hand, even at the size it appears. Even at that size, the elegance of Kane's visualizations shines forth, and the wit and pace of Goulart's stories remain entact, racing from page to page.
            One of Kane's other great accomplishments as a visual storyteller was what is arguably among the first graphic novels, and Fantagraphics has reprinted both of them between a single set of covers. Blackmark: 30th Anniversary Edition (252 6x9-inch pages in paperback; black-and-white, $16.95, www.fantagraphics.com) actually appeared in 2002, but I didn't get a copy until recently. Blackmark is the hero of a tale set in that fictional age of sword and sorcery where science and magic mingle. Kane did two stories: the first traces the title character's life from youth to maturity; the second shows us Blackmark as ruler of his people. In both, Kane juxtaposes narrative text and pictures replete with speech balloons, achieving a new kind of narrative economy and dramatic power by letting words do what they do best (describe intangibles and span time with a few phrases) and getting pictures to do what they do best (depict emotions and actions and to establish mood with atmospheric visuals). This is what a graphic novel would be if it had been intended, as Kane intended it, to be something other than long-form comic books. Each story was structured and designed to appear as a single book-length tale. The first was published in paperback by Bantam in 1971; the second was finished and ready for publication when Bantam gave up on the project. A third, which Kane said he'd almost finished penciling, never went any further. The second was subsequently published in the late 1970s in a Marvel publication, Marvel Preview. In this Fantagraphics incarnation, both stories appear as Kane originally designed them but at a slightly larger dimension. "Large enough," says publisher Gary Groth in his helpful Afterword, "to serve as an improvement on the tiny original paperback but small enough to maintain the quality of the art." The second story, which had been reconfigured for the Marvel magazine, appears here as Kane had intended it. Scripted by Archie Goodwin over Kane's concepts, these are powerful, affecting stories, dynamically told as only the comics medium, yoked to narrative text, can tell them. A brave beginning for the graphic novel form.
            Metaphors be with you.
To find out about Harv's books, click here.