Opus 133 (March 1). In-depth features this time on Cathy's engagement and forthcoming nuptials (what was Cathy Guisewite thinking of, anyway? Cathy married?) and Julie Schwartz's departure from this four-color realm, plus another dose of Janet Jackson's exploding bodice (with a startling photograph, never seen before on this side of the Atlantic) and the Last Word on what stirs up the newspaper reading public. In between and along the way, we hear a few insightful words from Art Spiegelman on the state of the art of cartooning, Garry Trudeau's campaign to smoke out eye witnesses to George WMD Bush's so-called military service, Will Eisner's work-in-progress and a glimpse at the meaning and purpose of his latest, Fagin the Jew; plus ranting about Opus, Eustace Tilley, the truth about the retirement of Flash Gordon, the new guy on Prince Valiant, and the last year for "Peanuts on Parade." And now, here's Janet.
JANET'S JUG, PART II. I just started subscribing to The Economist, and my second issue, cover-dated February 7, arrived last week (or thereabouts) and with it, my resolve to become a lifetime subscriber. The journalistic integrity on display here is simply breathtaking. On the earth-shaking matter of Janet Jackson's Superboob, the distinguished British journal committed a small essay on the question of transAtlantic taste and tradition in the public prints. Despite the obvious and undeniable national importance of Janet's boob, saith The Economist, "Highbrow American papers reported the incident, but with no photo. Lowbrow papers pictured the recapture [of the errant hooter] but not the [exposed] breast.  ... This seems odd to Britons, whose smaller broadcast channels keep themselves afloat on a sea of smut. Not only tabloid newspapers, but also the Times and even the Daily Telegraph (average age of reader, 55) showed the star's spangled nipple, waving joyfully in the wind." Why the difference? For one thing, "Americans have clung to their religion and associated puritanism." And then there's the simple matter of competition: in Britain, where numerous newspaper vie for buyers in every city, the paper with the most news (or the barest torsos) sells more copies; but in the U.S. where most cities have only one newspaper, that paper can afford to be "loftier in attitude." Then comes the part that has made me a lifetime subscriber: "The Economist, of course, deplores the degradation of the British press. As a service to American readers, who should know how low it has fallen, we reprint the picture below." And so do I, herewith.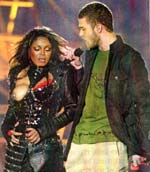 I realize this is not the clearest photographic depiction of the criminal, but it's the best I can do at the moment. For a truly magnificent view of this national artifact, we'll have to await the triumph of journalism on such subjects that usually transpires on the pages of Playboy, which is no doubt, at this very moment, negotiating with Janet-NFL? CBS? -for pubooblication rights. And for that, naturally, we shall be forever grateful. For that, and for The Economist.
            Meanwhile, over in Philadelphia at the Daily News, editoonist Signe Wilkinson created the most mammorable (as David Astor put it) cartoon on the subject, offering it as a caption-writing contest. She drew a family watching the tv out of which, suddenly, a huge breast projected itself into the livingroom. The father covers his young son's eyes as an empty speech balloon blurts out of his mouth. Readers were invited to supply the verbiage for the balloon as a way of commenting on "Jackson's boob tube appearance."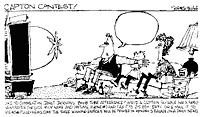 According to E&P, over 800 readers sent in suggestions. The winning entry was a wholly local reference: "Well, that's another one that Pinkston and Thrash would have dropped!" Todd Pinkston and James Thrash, wide receivers for the Philadelphia Eagles, have been underperforming of late. The other entries: (1) "Now, now, Willie-it'll be on the front page of the Daily News soon enough." (2) "Houston, we have a Jackson!" (3) "You'd think Justin would be weaned by now." (4) "Got milk?" Number 2 here is an allusion to the Super Bowl's Texas venue. Number 1 is, according to Wilkinson, typical of most of the responses. People apparently enjoy getting to lambast a favorite target, the news media (in this case, the newspaper). "The contest was a lot of fun," Wilkinson said. "The only lesson I take from it is that people are genuinely sick of what passes for American culture-even as they are glued to the tube-and that they love to get their two cents in whenever they're asked." In an aside to cartoonists, she said, "The whole thing was a good reminder that while we serious cartoonists spend a lot of time fuming about WMDs in Iraq, readers-my readers anyway-spend a lot more time fuming about WMdoubleDs on the boob tube. Very humbling." No doubt the most significant fact to be derived from the caption contest is this: No one objected to the depiction in a family newspaper of a giant female breast, adorned with nipple jewelry-exactly as Jackson's somewhat smaller protrubence was in actual life. And this development is cause for celebration: clearly, "boob" has been outed at last after centuries of Puritanical cover-ups. But let me give Signe the last word: "To quote a great philosopher, the Cat in the Hat, 'It's fun to have fun but you have to know how.'"
NOUS R US. It was rumored around the Internet a week or so ago that King Features has pulled the plug on Flash Gordon, that icon of space opera that started in 1934, written, most of the time, by Don Moore and drawn by Alex Raymond, whose stylish visuals made the planet Ming and all its inhabitants seem gloriously alive. But Flash, the syndicate folks tell me, isn't finished. The syndicate is merely looking for someone to draw the strip; and in the interim, the strip will feature reprints. ... John Cullen Murphy, who has been drawing Prince Valiant since Hal Foster retired, is retiring himself now, after 33 years, nearly surpassing the creator's 34-year tenure. Starting March 21, the classically illustrated feature's artist is Gary Gianni; Cullen Murphy, son of the retiring artist, continues as writer.
            This summer will see the fifth and final annual tribute to Peanuts and Charles Schulz in the cartoonist's hometown, St. Paul. "Peanuts on Parade" has, in previous summers, featured 5-foot tall statues, about a hundred of one of the Peanuts principals, distributed around town. The four previous years have, in turn, presented a dancing Snoopy, Charlie Brown, Lucy, and Linus. This summer, the finale will be a statue of Snoopy reclining on top of his doghouse. Local businesses sponsor each statue, local artists then paint them before they're dispersed, and afterwards, they're auctioned off, the proceeds going to various worthy causes. ... In Marion, Indiana, a former county councilman is promoting the idea of creating a platoon of 5-foot Garfield statues to be deployed at seven or eight towns in the county where Jim Davis' orange tabby was born. Paws, the corporation that controls Garfield, would support the project (and help get the sculpture to look right) but won't finance it. "We did a project in Muncie last year for Garfield's 25th birthday," said Kim Campbell, Paws PR person; the 25 statues were decorated and then auctioned to raise funds for non-profit organizations.
            On February 23, Garry Trudeau launched in Doonesbury a campaign to help George W. ("Whopper') Bush find someone who could testify to his having served in the Air National Guard in Alabama sometime (any time) between May and November 1972. Trudeau is offering a $10,000 prize to anybody who can say, with assurance, that Dubya was on duty any time during the disputed period. At the strip's website, FAQs and answers include: Q. Isn't this just a publicity stunt? A. If by a publicity stunt, you mean an attempt to draw attention to the problem of gutter politics, trolling-for-trash, and cheap smear tactics, then sure, guilty as charged. Q. Is there some sort of hitch? A. Well, yes, but it's a hitch for a good cause. The winner won't actually receive the reward for himself; instead, we'll be donating $10,000 in his name to the USO. That way everyone's a winner, including Trudeau's tax accountant.
            Trudeau is following the only course that will lead to establishing that George W. ("Warlord") Bush was ever there, at Dannelly Air National Guard Base in Alabama, as he claims. In all probability, the Guard has no records of his having served-that is, nothing other than the pay stubs and dental chart we've now seen. The Guard was, at the time, notorious for bad record-keeping. It was also notorious for slovenly discipline. According to an article in the Washington Post National Weekly (February 23-29), 90 percent of the personnel files at the Denver National Guard depository "arrive missing one or more elements." A senior congressional staffer is quoted: "Record-keeping in the guard has always been spotty. Low participation, or non-participation, has been chronic." At the time Dubya-boy was so-called "attending" Guard drills, a Guardsman could miss as many as nine drills before being dropped. At two drills a month, someone could be AWOL for four months without being chastised. The Texas Playboy was in the right outfit, no question. But without any documents, our only hope of establishing the veracity of the current occupant of the White House is the one Trudeau is pursuing. It's certainly a puzzle. Here we have li'l Dubya, a 26-year-old rich man's son in his bachelor post-undergraduate years when he was still the hail-fellow well-met back-slapping frat boy boozer that he'd been at Yale, no doubt. And nobody can remember this guy in his Alabama year? Maybe no other servicemen remember him because his behavior was no different than all other Guardsmen at the time? That seems a little extreme. Maybe no military official remembers him because he was never there on duty? Nah, how could that be? As his present wife, Laura Bush, so memorably said when asked how she was so sure her husband had served faithfully in the Guard in Alabama: "Why, he told me he did."
            Will Eisner found his face on the front page of the Arts Section of the New York Times, February 23. The article heralded his work-in-progress, The Plot, an examination of the origins of the infamous "Protocols of the Elders of Zion," a scabrous concoction brewed in the early 1900s which purports to demonstrate that Jews are all engaged in a worldwide plot to rule the planet. The fraudulent nature of the Protocols was revealed in 1921, when the London Times showed that it was derived from a 1864 French satire. Eisner was astonished to discover, when surfing the 'Net, that "there are people who still believe the Protocols were real." Eisner, who has been exploring the literary potential of the graphic novel for the last two decades, recently published Fagin the Jew, the first of what he calls his polemic works, this one intended to correct the impression too often left by Dickens' Oliver Twist that all Jews are thieves and corrupters of the young, like Fagin. Eisner gives Fagin a life before he becomes the underworld character we meet in Oliver Twist, the fictional "facts" doing what facts always do, discredit and displace the erroneous beliefs upon which prejudice builds damaging stereotypes. The book also tackles the visual stereotypes often deployed by cartoonists and illustrators in drawing Jews. Eisner recognizes that stereotyping is inherent in the cartooning medium's modus operandi and admits to having done some of it himself. There are "good" and "bad" stereotypes, he says. "We are in an era that requires graphic portrayers to be sensitive to unfair stereotypes."
            The good news out of the beleaguered Mouse House is that all the current projects being pursued by the tattered remnants of the once world-class animation department are traditional, hand-wrought animation. Many animators prefer the old way to the new, CGI way-a useful factoid to keep in mind when contemplating the outcome of the Oscar competition among two computer-generated productions, "Finding Nemo" and "Brother Bear," and one representative of the vintage mode, "The Triplets of Bellesville." The voting that picks the winner is by animators. ... A project to bring the Simpsons to the big screen is in the infancy stage, but no one is saying much about it. Director James L. Brooks murmured: "We have a very good and interesting idea, and it's different from the tv show." Bigger, longer, louder, I suppose. ... And Sony started production on its first full-length CGI motion picture, "Open Season," about a 900-pound domesticated grizzly stranded in the woods with a scrawny, one-horned deer, together fashioning a defense against hordes of hunters. ...
            Mark Hamill, lately Luke Skywalker of parts of the famed George Lucas film, has produced a movie about comic books called, without even a blush of a swashbuckle, "Comic Book: The Movie." The production is a comedic "fictional exercise in cinema verite" in which Hamill plays a comics scholar, and his adventures are focused on the San Diego's annual four-day comics extravaganza. Hamill, who is a genuine comics collector with an impressive hoard of his own, thinks of his film as "a valentine from one obsessive-compulsive to another." He intends the film to celebrate the diversity-even normality-of comics fandom and asks the question: "Is it possible to make a movie where we don't make comic-book fans into some outside geeks?" Yes, he concluded-by making "us"-the comic book fans-the insiders and "the civilians" (the non-comics-reading public) the outsiders. The production went direct to DVD, which may be an indiction of what caliber it is; but it includes an impressive list of cameo appearances-Stan Lee, Hugh Hefner, Gary Owens, Matt Groening, Sid Caesar, and Jonathan Winters, to drop a few names.
MUSINGS. The Manhattan-based Museum of Comic and Cartoon Art (MoCCA) is moving, after only a little more than a year under one roof, from its Union Square locale to more commodious facilities at 594 Broadway (between Houston and Prince) in the Soho arts district. According to a news release announcing a house warming on February 27, MoCCA is "the first cultural institution to move into Lower Manhattan under the City's new program to foster growth of the arts and culture as part of the economic revitalization of Lower Manhattan." ... The International Museum of Cartoon Art (IMCA), once in Boca Raton, Florida, is poised to set up shop in Manhattan, too, which would make New York the only city to have two cartoon museums, albeit each with ad ifferent emphasis: MoCCA is focused on comic book and graphic novel art; the IMCA, on newspaper strips and gag cartoons. Meanwhile, Mort Walker, IMCA's founder, has signed a purchase agreement to sell the multi-million-dollar facility in Boca Raton, provided the city's Community Redevelopment Agency approves the new owner's plans for the structure-to turn it into a museum and learning center for the humanities.
A FEW WELL-CHOSEN THOUGHTS ON THE ART OF CARTOONING. Asked whether comics are now an acceptable aspect of American culture, Art Spiegelman said, "It's a done deal." Interviewed by Jack Fischer in the San Jose Mercury News, Spiegelman elaborated: "There are museum shows that will ilnclude comics without blinking an eye. And bookstores all have their sections for comics or graphic novels or whatever they're calling them. Universities are teaching comics." One no longer needs to apologize for reading a comic book. The down side, though, is that with respectability comes the impulse to be respectable. Part of comics' vitality, he said, derived from they're being "lowbrow trash." And that permitted those who commit them to "fly below the radar. It meant you could work without having to keep a critic on your shoulder. ... You could allow the id monster prone to inhabit this medium to be free." As for political cartooning, Spiegelman said, it has become just a gag cartoon. "We've gone far from the tradition of Daumier, which is where political cartooning originated. Then it was a desire to distill a complex thing down to a memorable image. Ridicule [that became attached to political cartooning] is good, but it leads you down the path where a cartoon is good if it makes you laugh." Which is where we are today. Spiegelman worries about the American culture's apparent failure to producing a reading public in the latest generation of the young. He and his wife, The New Yorker cover art director Francoise Mouly, started a line of books for children a couple years ago-"Little Lit"-designed to encourage literacy. People have been losing the habit of reading as a way of getting information, Spiegelman says; they watch tv instead, and that's dangerous. Television is always in motion, which means "you can't analyze it. ... You can sort information out as it stands still in front of you." And comics, he believes, "are a good gateway drug to reading."
TICS AND TROPES. Opus is now well into its third month, and Berke Breathed, if anyone is questioning him about it, must be having a hard time explaining why it was that he needed a half page for his strip. In the first few installments he played around with the space a little-using extra-large panels and whatnot-but for some weeks now, he's achieved his comedic effects with the traditional grid of rows of panels in tiers. Because he knows all of his panels will be published, he can stage his humor better than his colleagues can, forced, as they usually are, to arrange matters so newspaper editors can discard one or more panels. But you don't absolutely require a half page to do what Breathed's been doing. A half page is a nice bonus, but Breathed doesn't use the space in any particularly unusual way. He also boasted that the artwork in Opus would be spectacular. (Well, suitable for framing is what he said.) I don't see that either. On February 15, Opus found himself in a field of dandelions, all gone to seed-a field of stemmed puff balls, in other words. And that was nicely handled, but not suitable for framing particularly. Now Pat Brady's Rose Is Rose -now, that's sometimes suitable for framing. And so's Michael Jantze's The Norm. Jantze actually plays with the Sunday strip format in ways that would justify devoting a half page to the strip.
            And maybe Gary Gianni's art in Prince Valiant will revive fine illustration in the funnies, too. John Cullen Murphy's work on the feature in the last few years has been casual to the point of sloppy.
            Eustace Tilley is back on the cover of the anniversary issue of The New Yorker, where he's been every year except two or three during Tina Brown's administration of Harold Ross's legacy. During the Brown Buzz, Tilley was replaced, first, by a Crumb-rendered teenage slacker, then a female version of Tilley, and then a Dick Tracy simulacrum-all approximating Tilley's pose; and maybe one year, I'm not sure I'm remembering this aright-maybe one year there was no Tilley and no echo either. But for the past several years, Tilley has been reinstated on the magazine's last February issue as a way of celebrating the surviving of another year. That's probably what founder Ross wanted to celebrate when, for the last February issue of 1926, he used again the Irving Rea drawing that had introduced the magazine to a buying public in February 1925. For several years, the survival of The New Yorker was in financial jeopardy, so every anniversary was cause for festivities. And Ross had said that the drawings in the first issues of the magazine were the best things in it: they came closer to realizing his vision for the weekly than the prose he was publishing. So reprinting the first cover drawing, which had been whipped up by Rea, whose artistic taste for years informed the appearance of the magazine as well as the selection of cartoons, celebrates not only survival but magazine cartooning itself. And for that reason, I've always sort of revered the traditional anniversary cover. But Tina Brown wasn't the only person on the magazine's staff who had reservations about using Tilley every year. Lee Lorenz, the cartoon editor for years, told me that every year as they approached the anniversary issue, they tried to think of some alternative to the traditional cover. They never came up with anything they thought was satisfactory, so, by default, Eustace Tilley re-appeared, every year. Until Tina Brown and Francoise Mouly and Robert Crumb came along.
            The anniversary issue this year (and last year, if recollection remains functional-always, alas, at my vintage, a consideration) was accompanied by a supplemental pamphlet that reprints on highly glossy paper a selection of New Yorker covers and an essay by Ben Greenman and Francoise Mouly. In the listing manner of an art auction catalogue, Greenman and Mouly wax reflective about how the covers, over the years, have represented the city it's named after and its inhabitants. It's a genteel saunter through a graphic topiary garden. None of the cover art, however, appears to have titles. In recent years, all the covers have been given titles. And the titles, oddly, make the covers function as cartoons-that is, as blends of words and picture that achieve a meaning neither manitests alone by itself without the other. Well, not quite as cartoons: New Yorker covers stand alone as pantomimic glimpses of the city and our species and are often humorous in a mild way. But the titles add a dimension of meaning, sometimes escalating mild humor to an audible chuckle. One depicts the sumptuous carpeted and draped interior of a men's club with two-story windows and an impressive staircase; the men, seated and walking about, are all in shackles or chained to chairs. The title, "Lifestyles of the Rich and Felonious." Another cover shows a man seated on the ground in the snowy forest reading a book to his dogsled team; entitled, "Winter Tails." One more: a domestic Thanksgiving scene with aproned men in the kitchen and the women clustered around the tv in the livingroom, watching the football game; entitled "Reverse Play." If we wander off in this rhetorical direction any further, we'll eventually find ourselves in an epistemological swamp, drowning in our own terminology. If the artful covers of The New Yorker are cartoons by reason of their titles adding meaning to the pictures, then what about all graphic or visual art? Paintings on the wall in the museum-if they have titles, are they, then, cartoons? Geez, I hope not.  (Not to worry: think of intention.)
ANOTHER SUPERMAN LEAVES THE PLANET. Julius Schwartz died early Sunday morning, February 8, at a hospital in New York. He was 88 and suffering complications from pneumonia. He is a giant figure in the history of comic books, and his departure was hailed with numerous heartfelt encomiums, but in extolling the achievements of his 43-year career, no one mentioned his having turned Superman into a two-syllable word. Julie was editor of the Superman titles for about 14 years, and he loved to tell stores about this tenure, stories about the writers and artists who produced "Sup'man," as Julie pronounced it.
            A quick run-down of Julie's accomplishments includes his producing, with fellow sf enthusiasts Mort Weisinger and Forrest J. Ackerman, the first science fiction fanzine, The Time Traveller (British spelling), in 1932; founding, in 1934, with Weisinger, the first literary agency specializing in sf (among whose clients were Ray Bradbury, Alfred Bester, H.P. Lovecraft, Robert Bloch and others of the same ilk, most of them before they were well known); and helping to organize, in 1939, the world's first science fiction convention. He also claimed having played a "seminal part" in founding comics fandom:  in his practice of publishing letters to the editor in comic books, he included the writers' addresses, which, in turn, led to their exchanging letters-and, eventually, forming networks that evolved into fandom.
            His signal achievement, however, was in rescuing from obscurity the superhero genre of comic books when, in 1956, he revived and revised the Golden Age Flash. The success of the new Flash inaugurated a series of rejuvenations, culminating in the creation of the Justice League of America in 1960-and that led to the creation a year later, at the rival Atlas publisher, of another group of superheroes, the Fantastic Four, by Jack Kirby and Stan Lee. The notion of superheroes who had actual personalities and bickered among themselves, the Kirby-Lee modification of the traditional formula, attracted an older reader, often college age, and that, in its inevitable turn, revitalized the comic book industry. Without Julie's persistence in trying to save superheroes, chances are we wouldn't have many comic books today.
            By the time I knew Julie, he had become a comics convention personality-a character of his own invention, part legend, part history. He had retired in 1986 from active editorial duties at DC Comics, where he'd spent his entire comics career, and was now a so-called "goodwill ambassador" to the comics fandom he'd helped bring into being. I don't mean to imply that we were friends or cohorts of any sort: I knew him, but I'm pretty sure he didn't know me (although when we'd run into each other in convention  center hallways, he sometimes looked at me as if he'd seen me before). In 2000, Harper Collins published a book of Julie's recollections and anecdotes about his career in comics and science fiction, Man of Two Worlds (written with the help of Brian M. Thomsen). By then, I'd heard Julie talk at conventions enough to recognize in the book many of the stories he'd regaled us with at various presentations over the years. A typical story is the one about how he'd effectively created Sup'man. Here it is, in a nutshell: one of the subscribers to The Time Traveller was Jerry Siegel, who, in 1933, was aspiring to be an sf writer. Inspired by Schwartz's fanzine, Siegel produced his own, calling it Science Fiction. And in the first issue, he wrote a story entitled "The Reign of the Superman." This superman was a villain, but Siegel and his drawing partner Joe Shuster later revived the idea and made the superman a heroic figure in a circus strongman costume. History was made. Julie's chaos theorizing went like this: if he and Weisinger and Ackerman hadn't produced a science fiction magazine, Siegel would not have read it and would not have created his, would not have written the original superman story, and would not have created, eventually, the Man of Steel, who, in turn, fostered the modern comic book industry. So we all have Julie to thank for our present livelihoods. (Thanques, Julie.)
            Many of Julie's stories were of this sort-blatant, unabashed self-aggrandizement but with what seemed suspiciously like tongue-in-cheek self-mockery beneath it all. You thought he was making fun of himself-and the rest of us, too, with our inflated sense of the importance of funnybooks-but there was always enough truth in Julie's tales that you could never be quite sure. My guess is that the mixed message means that he never took himself too seriously, but he had a high regard for the creative enterprise of which he was a part and he diligently performed his duties to the best of his ability-and he didn't want to sell his life's work short. He knew he had figured importantly in comics history, and he wanted us to know what his contribution had been. But he also wanted us to realize that there was something more playful than pontifical in his self-appraisal.
            Perhaps the strangest thing about Julie's career is that he maintained he didn't know anything about art. He was working in the creative enterprise of a visual artform, but he claimed not to understand that part of it. Stranger still, this professed incompetence endeared him to artists, who, doubtless, had encountered their fill of ignoramuses among editors, wordsmiths who pretended to understand graphic art, too-but who clearly, the minute they opened their mouths, didn't. On this subject, here's artist Murphy Anderson, who'd encountered plenty of such "people in a gate-keeper situation who have no understanding of the craft that's involved, or the art, and they're trying to call the shots. ... Maybe it gives them a little sense of power. But I don't like to think it's that. I think it's just wanting to do something but not knowing what or how. ... They think they're helping somebody." But they're not. Anderson continued: "That's why Julie Schwartz was such a great guy to work for. He's the first to tell you that he doesn't understand art. He'd say, 'I only look at a picture, and I know if I like it or not. And if I don't, I'll just say, I don't like it-let's see what we can do to make it meet my standards but without my trying to tell you how to draw it.' And he, more or less, just left his artists alone. He picked those whose work he liked and let them do their thing."
            When Maggie Thompson, editor-in-chief of the weekly Comics Buyer's Guide, heard Julie was ill, she thought she could cheer him up by producing an issue of the newspaper dedicated to him and his career. But, sadly, Julie died before he saw that issue. She was commiserating with a sympatico editor at DC after she'd heard Julie died without having seen the tribute, and the DC factotum consoled her: "Like the editor he was, Julie just moved up the deadline." To which Maggie said, "It is possible to laugh and cry simultaneously."
            And so Julius Schwartz left in the full command of the circumstances, ever the editor, the panoply of his calling furling behind him in somewhat the same vein of self-mockery that he'd employed himself. As Harlan Ellison said, marking Julie's departure: "He was a living legend. He told me so himself. And how could I doubt anyone I loved so much?"
THE NEW WEDDING BELLE. Cathy, the comic strip heroine whose struggles with young single working womanhood made her an icon for an entire generation of American women, will be getting married sometime in the next year. Irving, her long-suffering beau, finally popped the question on Valentine's Day and-in a move that shook to the foundation the comic strip tradition of postponing outcomes indefinitely in order to sustain the suspense that keeps readers buying newspapers day after day-Cathy accepted. All in a single daily installment of the strip. But then, Cathy has been a pace-setter all along.
            When Universal Press introduced the strip in November 1976, it was the only one of its kind-a daily comic strip about a young single working woman, produced by a young single working woman, Cathy Guisewite. Another woman cartoonist, Dale Messick, was still doing Brenda Starr, definitely about a young working woman. But Messick, who would retire from the strip in 1980 after a 40-year career with Brenda, was only young at heart by this time. Besides Brenda Starr was a serious adventure strip. Cathy was comedy. "The comic page was almost solely a male province," said Lee Salem, Vice President and Syndicate Editor at Universal. "Cathy brought a much-needed female perspective to humor comics-a breath of fresh air," he said. But Cathy's uniqueness arose not so much from the genders of its star and its creator as from the emotional posture of the strip. Said Salem: "Women's feelings of insecurity in relationships and at work weren't discussed openly on the comic pages or many other places in the newspaper, for that matter. Cathy made it okay to be candid and open about these issues."
            Guisewite says she owes it all to Charles Schulz and his landmark strip, Peanuts. "Peanuts had helped define my sense of humor," she once said. "I'm sure I never would have thought to sum up my insecurities in picture form if Sparky [Schulz's nickname] hadn't done it first. A strip like mine would never have had a place in the paper if Peanuts hadn't paved the way."
            That Guisewite's strip bears the same name as its creator is not merely coincidental. Cathy has been, from the very first-in fact, before the very first-autobiographical to a great degree. In the 1970s, Guisewite, working by day as a writer in a Detroit advertising agency, would come home to her empty suburban apartment and, at night, assuage her frustrations and disappointments by drawing comical pictures of herself, which, shortly, she began sending home to her mother as a way of demonstrating that "I hadn't completely lost my sense of humor." Her mother, duly impressed, did as all good mothers do in such situations: she assembled a list of newspaper syndicates to which she thought her daughter should submit her work. Universal bought it: "They told me," Guisewite said, "that they bought Cathy because the writing was so genuine. They had been hoping to find a strip that dealt with how radically the world was changing for women. All the submissions they'd seen before mine had been created by men and didn't exactly have the same emotional honesty about the massively conflicted feelings women my age were experiencing in the late seventies."
            For the next 27 years, we've had chorus after chorus of massively conflicted encounters between Cathy and chocolate, Cathy and swimming suits, Cathy and diets and fat thighs and a host of other plagues to which contemporary women are subjected, including sexual harassment and, briefly, decision-making in the voting booth. And the terrors of dating and of aspiring to some sort of relationship with the opposing sex. In some fundamental way, the core of the strip's appeal has been Cathy's day-by-day quest for the unattainable, as Mike Peters at the Dallas Morning News wrote. With engagement achieved and marriage in the offing, he asked Guisewite if she is at all hesitant about giving her alter ego "a chance to win one." In short, is she worried that the comedic steam will go out of the strip?
            Guisewite admits that the prospect is harrowing: "I feel exactly the same way I did when I got engaged," she said, "-partly thrilled and partly panicked. But it's too late to back out now!" Besides, she adds, "Irving and Cathy haven't had a functional relationship for more than 50 hours at a time, so whatever happens, it will be another evolution of relationship." And with each evolution, more possibilities for comedy ensue.
            Guisewite has been thinking about getting Cathy married for several years. The cartoonist adopted a child 11 years ago and got married in 1997. And since the strip is more than somewhat autobiographical, Guisewite found it difficult to create situations for a character living a life she no longer lives herself. "My relationship with the dating world had changed drastically, to say the least," she told David Astor at Editor & Publisher. "I missed being able to write a little bit closer to home. And whenever Cathy went out on a date, I felt like I was cheating on my husband."
            Moreover, she continued, at 57, she's closer to the age of Cathy's mother and identifies with her as much as (perhaps more than) with Cathy. And Cathy's mom, as faithful readers know, has always wanted her offspring to marry. But the real reasons for the change in cartoon Cathy's life are creative and, maybe, just a little competitive. Guisewite told Astor she wanted to get out of the ruts of routines that had become too familiar, even repetitive, in the strip. "Part of why I'm doing this," she said, "is to re-energize the strip for readers and myself."
            Helena Oliviero at the Atlanta Journal-Constitution asked Guisewite whether Cathy's engagement, her having achieved her presumed goal in life, signals the end of the strip. "Boy, that's a tempting thought," laughed Guisewite, thinking, doubtless, that she would, perforce, escape deadlines forever after. But, no: "The truth is, for me, this is a great new can of worms that gets opened and is going to be too much fun to write about."
            Another aspect of Guisewite's thinking is that Cathy's most dedicated readers, the ones that started reading the strip ten or twenty years ago, are now married themselves. They can can longer find echoes of their lives in Cathy's, and many of them have written Guisewite, urging her to let Cathy move on. And then there's Tina's Groove, a new comic strip about a young single working woman by a young single working cartoonist, Rina Piccolo. Since its debut a couple years ago,Tina has elbowed Cathy off the comics page in several newspapers. And surely this circumstance, combined with a cartoonist's never-ending search for fresh source of humor and readers' supplications, has had some bearing on Guisewite's decision. In any case, the satirical comedy in Cathy in the weeks following Irving's proposal has had a fresh sparkle without sacrificing in the least Cathy's essentially befuddled personality. The strip, in other words, is still "in character."
            Meanwhile, Picollo recently got engaged. Maybe, by now, she's even married. So whither Tina?
FOOTNIT: "Cathy opened the door for the female cartoonists we love today," Lee Salem observed. "But even 27 years later, the reality is you can count the number of women cartoonists in the newspaper almost on one hand."
JUST A LITTLE BUSHWAH TO CLEANSE YOUR PALATE. George W. ("Whopper") Bush predicted, just a few weeks ago, that his tax cutting economic policies would create 2.6 million jobs before the end of the year. Now he's backing away from that prediction, saying it is the result of "economic modeling" and he's not a statistician. Well, sure. But all we expected of him is that he can read the reports he's handed by his advisors with some measure of comprehension. That, it turns out, is a vain hope. And if his mistake about the existence of WMD in Iraq weren't clue enough that he's a complete dunce when it comes to reading reports and divining meaning in them, there's the cost of the new Medicare that he was wrong about. Now this, the number of new jobs he'll create. "The president," his press secretary said, "is interested in actual jobs being created rather than economic modeling." Say what? This is the sort of gobbledegook that results when you try to talk out of both sides of your mouth at once. (And if you want to know what that looks like, watch Dick Cheney's lips moving around his face, east to west, any time he's speaking.) The alarming thing is that the White House apparently expects us to embrace this Bushwah as if it had some sort of actual meaning, some relationship to a reality we would recognize. All that spinning at the White House is making the inhabitants dizzy.
A Political Confession. In case my political perversions haven't been more than evident in the past, it's now time, as we gather speed racing downhill to the Presidency, that my biases be formally announced. Not unexpectedly, surely, my choice is based upon the same criterion as any editorial cartoonist's: who do you want to spend the next four years caricaturing? Not George W. ("War Lord") Bush-no surprise there: he is difficult to caricature because there's not much distinctive about his physiognomy except, mayhap, the vaguely simian aspect. As for the Democrats, Kerry is the winner by several noses. (Not to mention a magnificent brow and a chin of heroic dimension.) So there.