Opus 111 (March 23): NOUS R US. One of Playboy's regulars since the late 1950s and an editorial cartoonist and caricaturist nonpareil in his native Austria, Erich Sokol died February 20. In general style and appearance, Sokol's full-page color cartoons seemed a replacement for Jack Cole's after that cartoonist had committed suicide. ... Some 40 students at the University of Maryland (alma mater of both Frank Cho and Aaron McGruder) staged a sit-in at the campus newspaper, protesting the insensitivity of an editorial cartoon that commented upon the death by Israeli bulldozer of Washington state college student Rachel Corrie, who had gone to the Middle East to demonstrate in favor of more even-handed treatment of the Palestinians. The cartoon depicted Corrie over a mock definition of "stupidity," which the cartoonist (unnamed in my source) defined as "sitting in front of a bulldozer to protect a gang of terrorists." Thousands of e-mails joined in objecting to the cartoon, which, they said, was disrespectful of Corrie and implied that all Palestinians supported terrorism. Diamondback editor Jay Parsons upheld the cartoonist's right to express his opinions, even if those views do not represent the opinion of the newspaper or its staff.
Bloom County is back—on the Web, at www.mycomicspage.com, the online comics subscription service sponsored by uclick, the Andrews McMeel/Universal Press website. Starting March 17, the strip is offered at the highly accelerated rate of six daily strips on one day, the Sunday strip on the next, alternating back and forth until the entire run of the strip (1980-1995) is digitally back in print. Plans are afoot to put Berk Breathed's college strip, Academia Waltz, up on the Web, too—and, of course, Outland. Subscriptions are $9.95/year, a bargain. But you can read the strip for free, too, by going to www.uclick.com. The online offering, said Breathed, "is a welcome change from the '80s, when strips couldn't get any smaller than the postage-stamp-sized boxes I had to stuff my characters into." The re-cycling begins with the first strip, December 8, 1980, and we shortly meet Ma Bloom, "famous landlord" of the rooming house, and her offspring, Milo Bloom, and his grumpy grandfather. Bill the Cat is nowhere in evidence yet; neither is Opus (whose beak, at first, was much better than the overgrown proboscis it eventually became). All the bloomin' makes me wonder if Breathed was smitten by James Joyce's Ulysses at an early age. In any event, this generation's Blooms Day is March 17.
Berry's World, Jim Berry's hybrid panel cartoon, part comedy and part political and social satire, retired at the end of February after a 40-year run with NEA. According to David Astor in Editor & Publisher: the Newspaper Enterprise Association syndicate wanted to take him off the payroll and make him an "independent contractor," which led Berry, 71, to rethink his future. Perhaps it was time, he thought, to stop doing a seven‑day‑a‑week feature. Berry will be busy settling the estate of his mother, who died Feb. 4 at the age of 98. He'll also be "downsizing" his living arrangements. He currently resides part of the year in Boynton Beach, Fla., and part on Cape Cod in Massachusetts in a house built by his great-grandfather in 1840. He will either live full‑time on Cape Cod or spend part of the year in a smaller Florida abode. "It's tough to stop doing Berry's World, but I had a good run," said Berry, "I'm about ready to try some other stuff." A native of Chicago, he is already working on a children's book and may also freelance‑‑possibly contributing to syndicated comics or doing greeting cards. When Berry's World started in 1963, it was an innovative feature that wasn't quite an editorial cartoon and wasn't quite a traditional comic, though it had a comic‑panel shape. On any given day, Berry might make a political point, provide social commentary, offer a funny gag, or combine all three approaches. Berry served a year as president of the Association of American Editorial Cartoonists. Obviously, the AAECers who elected him thought Berry was at least partially an editorial cartoonist! Taking the Berry slot in the NEA package (600 subscribing newspapers) will be Moderately Confused, a single-panel cartoon by Jeff Stahler, editorial cartoonist at the Cincinnati Post.
At the Movies. For about a day last week, it was rumored that Tobey Maguire wouldn't do the Spider-Man sequel. Because of a sore back brought on by the strenuous work performed as a jockey in Seabiscuit, so the rumor went, Maquire wouldn't be able to to the stuntwork in the Webslinger flick. What? He does his own stuntwork as Spider-Man? Why? It's not as if we could tell who's doing the stunts: the whole point of the masked costume is to disguise the personage within, after all. Yeah, I know: professional pride and all that Tom Mix testosteronic foufou; but given the value of a movie star, it seems to me highly foolish for a star to do his own stunts if he doesn't have to in order to keep his face on camera. Well, it was all a false alarm anyhow, said USA Today's Susan Wloszczyna. Maguire is healing, she said; and he's back in yoga and training, hoping to put back on the 20 pounds he lost for the jockey role. Filming of the Wall-crawler sequel is to start April 12 with a May 7, 2004, release date. ... Halle Berry, meanwhile—just off playing Storm again in the X-Men movie—will be doing Catwoman in the long-awaited follow-up to the Batman picture in which the Felonious Feline was played by Michelle Pfeiffer. Berry is the second black woman to play the Catwoman: the fabulous Eartha Kitt played the part in the tv series. ...
The Curse of Superman. Brett Ratner, the supposed director of the new Superman movie, has quit because they've been unable to find anyone to play the Christopher Reeve role, which leads celluloid look-outs to speculate that the Man of Steel in motion pictures is "cursed." Reeve, who was paralyzed in a horse-riding accident in 1995, isn't the only Superman to suffer: George Reeves, who played the part in the 1950s tv series, died of a gunshot in 1959, and Margot Kidder, who played Lois Lane opposite Reeve, was found "frightened and paranoid" after a three-day wandering in the streets of Glendale, California. Makes you wonder. ...
STRIPTEASING. In case you haven't noticed, Alan Kupperberg is doing a terrific job on the newspaper comic strip, Annie. Kupperberg, veteran of comic book illustration and other cartooning venuex ("greeting cards to bubble-gum cards, placemats to doormats," as he put it once) took over illustrating Jay Maeder's scripts for the venerable strip with the April 2, 2001 release. Two years later, he's still at it, and with undiminished enthusiasm, if we are to judge from the artwork. It is, perhaps, not surprising: the strip is about American pop culture's iconic survivor, and Kupperberg is therefore surviving, even thriving, I'd say. Crisp, clean artwork with dramatic blacks carefully spotted. And, just to preserve the Harold Gray tradition, all the characters have blank eyeballs. In every other respect, however, Kupperberg follows the Leonard Starr model, a stylized realism, in drawing the strip.
When Kupperberg got the assignment, he was delighted at the chance to draw what he called "the touchstone of the American spirit." Said Kupperberg: "She's a powerful image. She's the indomitable will to survive the worst that fate can throw at you and still stick to your principles all the while." Although he started out aspiring to do comic books, Kupperberg eventually came to see the four-color pulps as a ghetto, "the bastard child of newspaper comic strips," and he believed, at the time, two years ago, that comic books were on their last legs, kept alive by corporate owners who wanted merely to maintain the viability of licensing contracts. So he was eager to try out for the artist's chair at a syndicated newspaper comic strip. Particularly Annie. Everyone knew Annie. "My grandmother (Annie, ironically) wouldn't know the X-Men from a hole in the wall," Kupperberg said. "But she'd know Little Orphan Annie. My great grandmother, who walked out of Russia, surely knew Little Orphan Annie."
Currently, the strip belongs to Annie's ostensible guardian, Daddy Warbucks, who is wearing robes and a turban in some impoverished desert country that looks suspiciously like Afghanistan. And the world's most celebrated female foreign correspondent, Justine Balthazar, has disappeared en route to her assignment in Warbucks' vicinity, so Warbucks sends the Asp to find her. On board the helicopter searching for the reporter, the Asp's pilot turns to him and says, "You're kind of a spooky guy." ...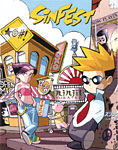 REPRINT REVIEWS: Sinfestival. How to describe this comic strip? Try this: one of the best comic strips you'll ever see. It has everything that makes this medium an artform. Beautiful crisp drawing style—simple delineation but with astute variation in contrasting thick and thin lines, differing textures, uncluttered imagery, dramatic blacks. Canny deployment of the capacities of the medium for comedic effect, exquisite sense of timing and witty pacing of visual variety. "Witty," in fact, may be the best single word for Tatsuya Ishida's Sinfest. In every respect—pictures, humor, concepts, exploitation of the form—Sinfest is inventive and clever and hilarious and smart. Witty. Even individual pictures dislay wit—in the decisions about what to hint at and what to actually depict, for instance, and in tiny comedic touches (a gesture, a raised eyebrow, an errant finger). Until recently available only online (www.sinfest.net), Sinfest is now out in book form: 128 8x10-inch black-and-white pages in paperback ($15 at www.Cafepress.com). At last! Now I can savor the strip at leisure, dwelling on the strips (three to a page) while relaxing in my favorite easy chair.
The strip is a sort of existential mockery of accepted theological concepts. It's blasphemous, profane, sexy, and culturally aware. To give you the flavor (before you click on the URL above and see for yourself), meet the cast (also at http://sinfest.net/cast.htm). The chief actors in Ishida's sitcom are: the shade-adorned Slick, a horny 14-to-21-year-old slacker, occasional pimp (he wishes) with an assortment of aliases (Uranus the Bard-Ass—that is, a saloon poet—and Wasabi the Pimp Ninja) and a single, driving ambition (to hump every attractive female he sees), who, boorishly, imagines himself a chick magnet; and Monique, a wonderfully sassy, cute 16-year-old piece of jailbait (aka It-Girl, Yellow Tail the Geisha Slut Villainess, Money, and 'Nique) with "many tramp-like qualities but deep down inside she's still a tramp" in baggy low-rider pants, tank top and bare midrif, who flounces through the strip, flouting convention and vaunting her tush. Slick, whose pint-size and spikey hair-do remind us of Calvin, tries to sell his soul to the Devil (another re-curring member of the cast, complete with horns and tail but attired in a tasteful black business suit) but his "application" is rejected, so he returns to his usual pursuits—namely, lusting after wimmin, reciting nasty poetry in bars, calling Monique a "ho," and generally inciting a-social behavior while aspiring to the stardom he is certain he deserves.
Other characters include Crimmy, Slick's starkly staring hanger-on; Squigley, a beer-quaffing male chauvinist pig in the guise of a pig; Seymour, a "devout Puritan and member of the Christ Fan Club" (prude, crusader, goody-goody boy scout); Pooch, an emotionally indulgent dog, and Percival, a cynical cat (is there any other kind?); Ezekiel and Ariel, angels ("The Goody Glitterati, Chummy Cherubs of Chastity"); and, of course, God, who appears as a giant hand in the sky, sometimes animating one or another of a collection of hand puppets. With these ingredients and an appropriately iconoclastic attitude, Ishida breeds the most irreverent comedy in comics, poking fun at everything whether sacred or profane—religion, of course, but also popular culture and, even, politics. Obviously, Sinfest will never make it into your daily newspaper (although ours would be an admirable civilization if it could).
While Ishida somedays strings together a series of gags on a common theme for several days running (and he produces this diminutive masterpiece daily, seven days a week, kimo sabe), he often takes detours into the nature of his medium. One day, he presents the strip "for a limited time" in "widescreen format"—duplicating exactly what happens on your tv screen when widescreen appears there, reducing the vertical image in order to accommodate the full width of the horizontal image. "Sinfest," this installment concludes, "in widescreen format, the way the director intended you to see it." Says Slick, shrunk down to fit in the shortened vertical dimension: "I feel small." Says Monique: "I'll say."
The effect is all the more telling because Ishida usually depicts his cast in full figure, head-to-toe (albeit varying camera distance for the sake of dramatic variety).
Occasionally, Ishida gives us a daily installment in which the speech balloons have dialogue interrupted by blanks that we are invited to fill in (and he suggests possibilities—"a religious activity," "euphemism for 'die'," "noun," or "nonsensical word").
Another time, a 4-panel sequence shows the four principal characters, each thinking a single word. Monique, "Sigh." Slick, "Nobody." The Devil, "Understands." God (speech balloon only, emenating from a cloud), "Me." Yet again, addressing the sky, Monique sighs and says, "Why me?" After a panel-length pause, God, speaking in giganatic Old English type, replies: "Why not?"
Finally, here's Monique, saying, "I hate this world! I hate this life! I hate everything!" Then Slick, "This place sucks! Humanity sucks! Everything sucks!" And the Devil, "Damn creation. Damn your laws and damn your holy-ass self!" To which God, again appearing as a speech balloon with huge funereal Old English type, says, "Everyone's a critic."
The only drawback in the print collection, which begins with the first Sinfest strip, is that the reproduction isn't quite up to snuff. Ishida's fine lines, which carry the visual nuances of the artwork, often disappear. That's too bad. But the collection is still the best example we're likely to have at hand (as opposed to on the screen) of one of the best comic strips to come along since Frank Cho treated us to Liberty Meadows.
And from Andrews McMeel: Stephan Pastis' new strip from United Feature, Pearls before Swine, must be doing just fine. It's my theory that Andrews McMeel, the famed comic strip reprinting publisher, doesn't issue a reprint volume unless the popularity of the strip being reprinted is such that it virtually guarantees sales of the book. Launched in January 2002, Pearls is now, it sez here, in about 100 newspapers. That's not gangbusters, but its better than a poke in the eye with a sharp stick. In any event, Pearls before Swine: BLTs Taste So Darn Good (128 8.5x9-inch pages in paperback, $10.95) is out, and if you haven't seen this strip, you gotta buy the book and take a look. You won't believe it.
To say that the strip is about a dumb pig, a mean rat, an activist zebra, and an intellectual goat scarcely does justice to description. It is, rather, about comedy, the non-traditional sort that takes you where you least expect to go.
The syndicate brochure thinks the strip is about "commentary on humanity's quest for the unattainable." But I think it's about humor. And Rona Marech, a staff writer at the San Francisco Chronicle a year or so ago, said the strip is about "fatalism, the unlikely juxtaposition of innocent and dark, the simple but effective drawings, the bizarre but somehow lovable characters." She was, as you can tell, at a loss for words. But she was right.
Much of the humor is generated by the pig and the rat who personify, respectively, stupidity and causticity. The pig notices a pig doll that the rat has bought "to remind me of you when you're not around."
"How sweet," says the pig. "That really makes my day. I'll leave now and you can see if it works."
"Okay," says the rat. "See ya."
By the next panel, the pig has gone, and the rat turns to a swami-like character standing next to him and says: "Okay, now—show me again where to stick the pins."
Nothing in the setup for this gag predicts where we'll wind up. And much of Pastis' humor is of this breed of hilarity, hence, as I said, "non-traditional humor."
It isn't clear to me, however, why the strip should be about a pig and a rat and a goat and a zebra. They don't have names. Maybe that's the reason they are animals.
The humor would probably work if the characters were human, but it works better if the "characters" are just bitter shorthand for personality traits. If that's what Pastis thinks they are, and I gather he does.
"Not giving them names is part of the simplicity of the strip," Pastis said. "The animal names alone are insults—rat is so despised and pig is so looked down upon."
Yes, there are humans as well as animals in the strip. The humans wander in and out of the strip without anyone noticing the difference in the species. And the humans are better drawn than the animals. The animals barely rise above stick figures. Their bodies and heads are blobs, and their arms and legs are sticks.
It's an approach to drawing that makes Cathybert look like Rembrandt rendering.
It's the sort of so-called artwork that is frequently found on the Internet. And that, in fact, is where Pastis' strip originated. There, he attracted the attention of that guru of fine art, Scott Adams (famous in some circles for not drawing Dilbert).
"I'm a big fan of Stephan's comic," Adams said. "It's one of the few that make me laugh out loud. I'm sure he'll get a lot of criticism about the simple line art but it's the simplicity that makes it work. When people figure that out, he'll be huge, and then everyone will want to draw like that."
With the steel-trap mind of the satirist, Adams is, of course, commenting upon the inspirational function of his own work on people like Pastis.
And Pastis returns the compliment with a sequence in Pearls in which rat does a comic strip called "Bildert" that everyone immediately recognizes as a rip-off of Dilbert—except that, as rat points out, his Bildert has four lumps of hair on his head while Dilbert has five.
The goat accuses rat, point-blank, of stealing his strip, and rat defends himself: "Do you think Da Vinci's 'Last Supper' is a rip-off? After all, the Last Supper wasn't his idea, now was it?"
"You're a good debater," says pig.
Regrettably, Adams is probably right: more so-called cartoonists will now come along, drawing stick figures. We aren't far from Vera Alldid, a cartoonist character years ago in Chester Gould's Dick Tracy; Alldid's comic strip was called Sawdust, and the drawing consisted of specks representing sawdust.
Pearls is by far the most badly-drawn strip in circulation. No: I take that back. Pastis' lines are confidently laid down (like Adams'). There's none of the tremulous hesitancy that marks the truly badly drawn art (like Drabble, for instance—at least at the beginning).
Syndicate officials refer to this abysmal scrawl as "abstract." Or "simplified." Or "minimalist." Let them. But do not be fooled: to call this manner of drawing "simplified" is the same as saying "ignorance" means "absence of guile." Both statements are true, but they scarcely reflect the actual situation.
Still, although it hurts me to admit it, Pearls before Swine is very funny.
And, ultimately, it won't matter if it's badly drawn. The newspaper editors who buy it are not art critics. In fact, they have difficulty thinking in visual terms at all. They are word people, and the humor in Pearls is chiefly verbal, the pictures acting merely to time the dialogue. It's sure to be a big success.
Pastis, who works three days a week as a litigator for a San Francisco law firm, draws in his basement the rest of the time. Down in that subterranean cavern, he stokes up on coffee and goes into a trance, thinking up ideas.
"It's almost like I'm not responsible for it," he said.
At UCLA law school, he drew a comic strip for the campus newspaper. Based "loosely" upon a classmate named Larry Rosen, it was called Rosen, and it was about a neurotic law student. Eventually, Pastis tired of the feature and killed the character "in the rain at a bus stop." It's not clear whether it was Pastis or Rosen who was "in the ran at a bus stop."
Then Pastis invented rat "in all his mean, bitter, cynical superior glory," followed, soon, by the creation of the perpetual sidekick, the "super moronic but always kind pig."
UNDER THE SPREADING PUNDITRY. "Yessir, Marshall Dillon. Right away, Marshall." The Ol' Bushwhacker got the lines any make-believe fancy-pants Hollywood cowboy gunslinger lusts after: "You got 48 hours to get outa town, and if you ain't outa town by then, I'm a-comin' after ya." Shore 'nuff. And so our cowboy President gets his wish.
So now, as I write this on Friday afternoon, March 21, we are at war. As much as I cringe when I think of the country of my birth and preference launching an unprovoked war, I can countenance it when I blot out of memory the last two years of the Bush League's imperious breast-beating and negotiation by proclamation. And if I go all the way back to 1991, I recall that according to the treaty that ended that "war," Saddam was supposed to destroy his weapons and disarm himself. He hasn't done that. The treaty, then, is abrogated, and the war—the "Gulf War" of 1991—is resumed.
Still, I am saddened and embarrassed and ashamed and disgusted. And, strangely, proud. I am sad because our action will result in the tragic waste of life and treasure that always accompanies war—"treasure," in this instance, meaning the physical evidences of civilization, the buildings and roads and other artifacts, those man-made accouterments that made it possible to move out of the caves. I am embarrased by the Bush League's bullying tone and method. Everyone always knows when there's a 8,000-pound gorrila in the room. The gorrila doesn't have to announce its presence. And when it makes a request, it doesn't have to say, "You're either with us or you're against us." Everyone knows. It is one of those things that goes without saying. And if you have good manners, you don't say it. I am embarrassed by our so-obvious lack of manners. I'm not just embarrassed: I'm ashamed.
And I'm disgusted that our so-called leaders have so little discernment and experience in international relations that they cannot understand how a civilized people and its government should maneuver among other civilized peoples and their governments. Splendid aloofness in the self-proclaimed grandeur of your intentions is not enough. I am disgusted at the hypocrisy of the Bush League—of the ruse of its appeal to the United Nations when all it really wanted was a rubberstamp approval of its war plans, of its well-known and earlier-announced intention to take Saddam out. The appeal to diplomacy was a transparent ploy, a shallow deception revealed by what the Bush League did while the diplomats talked—they moved 250,000 combat troops into position to invade Iraq. Under these conditions, how could anyone take seriously our oft-invoked faith in diplomacy to solve the crisis?
I can't help but think that the Bush League's "go-it-alone and damn-everyone-who-doesn't-join us" foreign policy is what got us into this mess. This arrogance provoked the French. A commentator the other day averred as how the French veto in the UN was merely the tip of the EU iceberger. What the French are really up to is denying the US hegenomy. They want to rein in the runaway, to slow the stampede. The French—even with the rest of the EU—can't defeat the US militarily or economically or any other way. But they don't intend to let the US dictate to the rest of the world either. The Iraq situation merely provided the French with the most dramatic and opportune moment to launch their objection to US dominance. And maybe, if the Bush League hadn't taken such a bullying, highhanded tone from the very beginning, we might have won unanimous support from the Security Council (even from France, which might have waited for a better opportunity to assert itself but which, given the decline in America's prestige under Boy George's bullying, could scarcely pass this chance by). Perhaps the French obstinance is a good thing: they've done for us what we failed to do at the voting booth, check the galloping progress of a government that does not listen to alternate views and has not the patience for talking through problems to find mutually satisfying solutions. They champion democracy but practice autocracy.
But life-and-death for American troops—and Iraqi civilians and conscripted soldiers—is serious, whether we agree with the Bush Leaguers or not. So it's time to stifle the criticism and salute the flag. Boy George Dubya may be a simple-minded cowboy, but he's our simple-minded cowboy, and those dogies out there in the desert are ours, too.
Sadness, embarrassment, shame, disgust—and pride, too. Yes, I feel the surge of pride every now and then. I am proud of the dedication and loyalty of American soldiers. I'm proud of their ingenuity and of American technological skill. And I am proud that various government officials, including, even, Boy George himself, still feel it important to utter ideas that I am glad to hear uttered. I am proud of a nation whose leaders want the world to know that the oil in Iraq belongs to the Iraqis. We may, ultimately, get a hunk of one kind of revenue or another from those oil fields, but in the meantime, it's nice to know that our leaders still think enough of American ideals that they feel obliged to say that we're not doing all this just to get our hands on that black gold. And that in the conduct of this war, we'll do our highly technological best to avoid killing civilians.
That the 8,000-pound gorrila feels it necessary to say these things is both gratifying and problematical. It is gratifying because it seems to prove that we have not, our recent past conduct notwithstanding, changed our values. But it's problematical, too, that we have to say it. It is symptomatic of the present standing of the U.S. in the world community. Our values should be so apparent that no one could, for a moment, imagine that we would conduct a war in any other way. But, alas, thanks to the hypocrisy of the Bush League, to their too frequent reliance upon the Big Lie to make their case (when actual facts cannot), we are compelled to say, "We want to avoid killing civilians."
In the current issue of Newsweek (March 24), a long essay by Fareed Zakaria discusses "The Arrogant Empire" and "Where Bush Went Wrong." The U.S., Zakaria argues, must scare its enemies, not its friends, and lately, it has been doing too much of the latter. "Above all, the U.S. must make the world comfortable with its power by leading through consensus. America's special role in the world ... is based not simply on its great strength, but on a global faith that this power is legitimate. If America squanders that, the loss will outweigh any gains in domestic security. And this next American century could prove to be lonely, brutish and short."
Until then, stay 'tooned (and for a roadmap to this site and all its other wonders, click here, and you'll be transported to the Main Page, where all the fun starts).